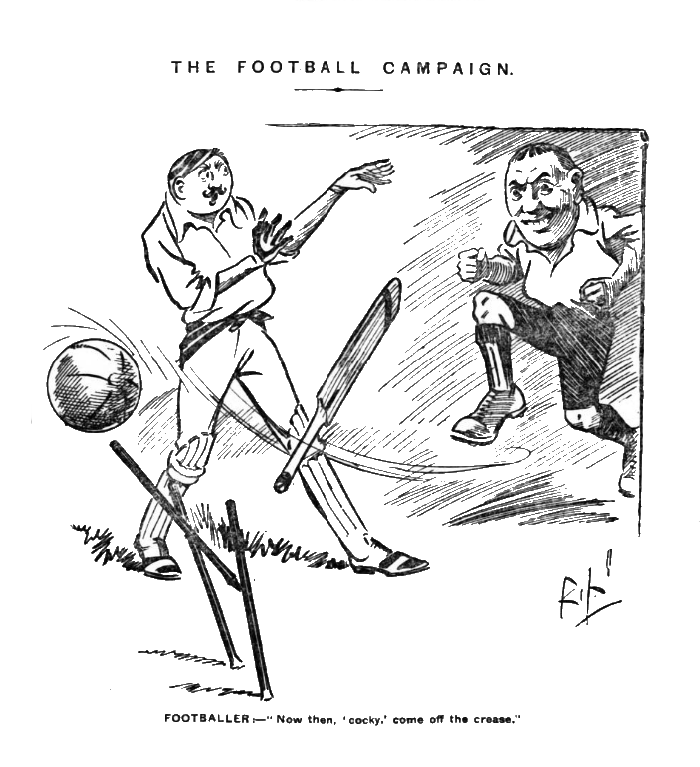 SMART ARRIDIGE
Dundee Evening Post - Monday 05 August 1901
Smart Arridge, the once-famous Everton and Welsh internationalist, has been signed by Stockport County. This back was, at his best, a top sawyer and could satisfy the "Porters."
Molyneux, the ex-Everton back, and last winter with Southampton, has again fixed up for the last-named organization. His name was left out of Southampton's recently published list of players in error.
LEWIS AND SHARP
Dundee Evening Post - Tuesday 13 August 1901
Footballers have been well to the fore in cricket during the past week. Lewis, the Everton full back, excelled in the game against Sussex. Next to his great effort comes that of Sharp's against Derbyshire, at Old Trafford on Saturday. This Evertonian has seldom played better. It was his policy to force the game, and he did it better than most other batsmen on the side could have done. His speed of scoring was at times terrific. During one over alone he scored three fours, and on one occasion made a five, all run.

TRANSFER NEWS
Derby Daily Telegraph - Wednesday 21 August 1901
The following transfer were passed at the English Association meeting; T. Wolstenholes, Everton to Blackpool; R. Taylor, Everton to Bolton Wanderers. Meeting at St Annes, reported on 13 August, R. Struthers, Everton to Bolton,
WILLIAM WILLIAMS
Dundee Evening Post - Wednesday 21 August 1901
William Williams hasgone to Newton Heath with a transfer from Blackburn Rovers. Williams has been attached to Blackburn, Everton, and Bristol City. He is a speedy right-winger.
T. Booth has been elected the Everton League team captain, and three other "B" take up the other cpatainships – Balmer, sub-captain League team; Boyle, captain Combination and Blythe, sub-captain of Combination. Jack Bell who is the only recognized outside left signed by Everton for next season, has been holidaying in Scotland. Jack Sharp, Everton's popular right-winger, and a man equally popular as a Lancashire county cricketer, has been granted permission by the Toffees to finish the month out in the ranks of the small ball chasers. Sharp, however, has been requested to take his place in Everton's "white" trial team for Saturday next.
EVERTON TRANSFERS
August 21 1901. The Liverpool Mercury
The following transfer were confirmed T.Wolstenholmes, to Blackpool, and R.Taylor to Bolton Wanderers.
EVERTON FOOTBALL CLUB
August 24 1901. The Liverpool Football Echo
Goalkeepers.
Willie Muir , Goal, born Glenbach 1877, height 5ft 11ins; weight 11 st 8lbs Played for Glenbach, Athletic Kilnarnock, and joined Everton at 1898-99 season, steady, cool, and fast.
George Kitchen : Muir's consistency prevent his appearance in League fights, joined from Stockport County, 1898. Weights 13st 10lbs, Born at Buxton 1876, height 6ft
Backs.
George Eccles: - secured from Wolverhampton Wanderers, in 1898, after service with Middleport Alliance and Burslem Port Vale. Born at Newcastle under Tyme, 1875. Height 5ft 9 and half inches and Weights 11 st 7 lbs. did not figure regularly in last season's League eleven until the closing stages.
Walter Balmer: - the Toffees leading defender, who has taken Inter-League honours. Born Liverpool 1877, he stands 5ft 9 and a half inches and draws the scale at 12st 4lbs. His only previous club was Aintree Church. Considered on Merseyside to be England's best right back last season.
John Watson: - Everton's regular left back, until the last two months of 1900-01 season, when Eccles stepped in. Born Dundee 1876, height 5ft 8and a half inches and weights 11 st 7lb. Played for Dundee Wanderers, New Brompton, Dundee, and joined Everton in April 1900
Bertie Sharp : - an elder brother to the forward of the same name, who was secured from Hereford Thistle by Aston Villa, and last season selved Southampton. A smart all round athlete. He should make a name for himself in League football.
Half-backs.
Richard Boyle: - now in his ninth season with Everton one of the best workers the club ever possessed. Born at Dumbarton 1871, height 5ft 6ins, and weights 10st 7lbs.
Sam Wolstenholmes : - went through last season without a miss. Born at Little Lever 1878, height 5ft 9 and a half inches, and weights 12st. Played for Farnworth Alliance and Horwich. Frequently named for internationals honours.
Tom Booth : - capped for England against Wales 1898. And was at the height of his form between 1896-1900 for Blackburn Rovers. Also figured with Hooley Hill (native place), and Aston North End, joined the Toffees in 1900-at 25 years old, height 5ft 10ins, and weights 12st.
Walter Abbott: - born Birmingham 1878, weight 13st 11lb and height 5ft 9 and a half inches. First played for Rosewood Victoria, joined Small Heath 1895, and headed the second division goal getting in 1898-99. Everton converted him into a half-back when his scoring powers failed, and in this position he is a success.
Clharlie Clark: - figured regularly at half-back last season for Hamilton Acadmicals.
J Blythe: - Born Berwick on Tweed 1887, played for New Delaval Villa, Blyth, and Jarrow and joined Everton 1899, but his League appearance were most infrequent last season. height 5ft 8 and a half inches, and weights 11 st 7lbs.
Forwards.
Jack Sharp: - Born at Hereford, played for Hereford Thistle and Aston Villa, as a centre forward, but found his correct position at Goodison park, as an outside right, very fast and a terrific shot, and only 21 years old, height 5ft 6 and three quarters inches, and weights 11 st 7lbs.
Jack Bell : - the famous Scottish International returns to the scene of former triumphs, to fill the outside left position. Last season he was New Brighton's second best score. Jack was capped against England in 1896, 97, 98, 99 and 1900, Wales 1899, and Ireland 1898 and 1899.
Alex Young : -A smart young pivot, who is in his first season at Goodison Park. Played for St-Mirren and Falkirk.
Brown: - Born Liverpool 1880; has figured with Staylebridge Rovers, for two seasons is fast clever with the ball and should come on in League football.
Peter Paterson: - A very promising inside right, who last season played for Lanarkshire against Ayreshire, and was attached to the Royal Albert club.
Bone: - first season with Everton, hails from Heywood Wanderers, Lanarkshire. A smart inside left.
W.Roche : - third season at Goodison Park, previously played for Scacombe Swifts. Born Seacombe 1878, heigh 5ft 8 and a half inches and weights 11 st 8ib.
Chadwick : - a young brother of the famous ex-Evertonian "Edgar" who was born at Blackburn 1881 and as played for Rising sun, St George misson; High 5ft 7 and a half inches, and weights 10st 5lbs.
Worthington: - first season with Everton, very clever on the ball and speedy.
Jack Taylor: - played regular after the opening two months last season. Seen service with Dumbarton (where he was born) and St Mirren. Joined Everton 1895. Still a good winger despite advancing years. He is 29 years of age, height 5ft 10ins; and weights 11 st 8lbs.
John Proudfoot: - A consistently played centre, small; 5ft 6ins, on the heavy side; 12st 8lbs, but a worker and takes some stopping when on the ball. Born in Glasgow 1875, and joined his present club in 1899 after a turn with Thistle and Blackburn Rovers.
Wilf Toman: - Born at Bishop Auckland was assailed with Newcastle Junior team, then in turn served Aberdeen, Stolters Victoria United, Dundee and Burnley (three seasons). Joined Everton in 1898-99 season, and now returns after spending 1900-01 with Southampton. Age 25 years old, height 5ft 10ins, and weights 11 st 11lbs. Played in the inter-League game against Scotland 1898-99.
Jimmy Settle: - seen service with Bolton Wanderers, Hollwell Rovers, and Bury. Gamed his cap against Scotland, Ireland and Wales in 1899, and also appearance for England against Scotland Inter-League match. Born at Millong 25 years ago, height 5ft 6ins, and weights 11 st . dashing, clever, and shoots well.
EVERTON
Athletic News - Monday 26 August 1901
After barely four months rest the football fever is again with us, and the general theme of conversation is the prospects of the two teams in Liverpool.  Not that there is anything striking to relate or any great chances to speculate upon, and in this respect the subject partakes more of what is expected of the men whose abilities are well known, than what used to be the case when "stars" were engaged and their reputation was all the public had to rely on for form.  In those days the enthusiasm appeared more intense, but experience has given a more sober tone to the partisans, and a better insight, if less boisterous judgement of the capabilities of the players engaged.  There will be few changes in the composition of the Everton team that did duty last season, although several new men and three old friends have been engaged.  These are C. Brown (right half-back), who did duty for New Brighton in 1899; Peterson (inside right), who played for several seasons with a junior Scotch club; Young (centre forward) who comes from Falkirk; and Bone (inside-left), likewise a Scotch junior player.  Then there are the old friends in Bert sharp and Toman, who have had a season with Southampton; and Jack bell, who left Everton in 1898.  The new men are all young and are a likely looking lot for the job, but it must be acknowledged the old players will require a lot of shifting from their positions.  The only vacant place from last season is the position of outside left, and expediency, if nothing else, will give Bell the position.  If his sojourn in the South has given Toman a "dash" of grit with his tackling he will run several of the old forwards a tight race for a place in the team.  In all probability the directors will not place on the field a team of many changes, and I fancy the following will appear against Manchester City on the end of September at Goodison Park-Muir, goal; Eccles and Balmer, backs; Wolstenholme, Booth (Captain), and Abbott, half-backs; J. Sharp, J.D. Taylor, Proudfoot, Settle and Bell, forwards.  Several of last season's players notably Crelley, Gray, and Corrin, have gone south, but with the new men the reserves appear to be quite as strong as do duty for the club for several seasons.  Kitchen is a goalkeeper of the first rank, and Watson is a back much above the average, whilst Bert sharp, and Toman only wait for an opportunity to gain League honours.  The team is again in the Lancashire Combination, of which organization they gained the championship last season and "Dicky" Boyle will be captain. 
EVERTON PRACTICE MATCH
August 26 1901. The Liverpool Courier
An crowd of people visit Goodison Park on Saturday afternoon, to watch the Everton football players played their full dress rehearsal prior to the lift of the curtain for the season, between 25,000 and 30,000 being present, which shows keenly the opening of the campaign is anticipated. The sides were distinguished by the following : - Blues: - Muir, goal, Eccles, and Watson, backs, Boyle, Booth (captain), and Abbott, half-backs, Proudfoot, Paterson, Young, Bone and Chadwick, forwards. Whites: - Kitchen, goal, Jones and Sharp, backs, Blythe, Clark and Brown, half-backs, Bell, Settle, Toman, Taylor, and W.Roche forwards. ( The last name substituted J.Sharp who was engaged in Cricket at Old Trafford) from the disposition of the teams will be seen that the Blues were composition of what may be called the League defenders and the combination forwards and the Whites combination defence and the League forwards. The weather was very warm, too much so perhaps for the players to indulged to any degree in violent exercise for the space of an hour and half, consequently the exhibition was tame and slow, and scarcely worth of the trouble of the many spectators putting up a appearance, many hundreds of whom probably ropped themselves of a trip across the "Water" for the sake of being present. Neither front line tested the worth of the other, though the League left wing (Bell and Settle) gave one or two grand displays and enable Toman to score twice during the play for the Whites.
Everton
Sheffield Independent - Saturday 31 August 1901
Goal; W. Muir, and G. W Kitchen; backs, W. Balmer, G. Eccles, J. Watson, and B. Sharp; half-backs; T. Booth, S. Wolstenholmes, R.H. Bovic, W. Abbott, J. Blythe, C. brown, C. Clark; forwards, J. Sharp, J.D. Taylor, Roche, P. Paterson, W. Toman, J. Proudfoot, A. Young, J. Settle, J. Bone, A.N. Chadwick, J. W. N.W Bell, J. Worthington
It must be confessed that with the wealth of talent they had at their disposal last season the Evertonians put only a moderate figure in the football world, figuring seventh on the League list, and being knocked out in the second round of the English Cup Competition by Sheffield United. There are not likely to be many changes in the team, though several new players or repute have been engaged. The most notable absentee from the Everton ranks will be Turner, who last season took part in no fewer than 31 League matches. The new men engaged are C. brown, a right half-back, who was born at Greenock, but who last played for Stalybridge; P. Paterson, who has played regularly for Royal Albert, a young Scotch club, since the season 1897-98; A Young,, born at slamannan, who last played for Falkirk; and J. Bone, born at Glenbank, an inside right, who last played for Haywood Wanderers. Then in addition three old friends have rejoined the fold in Bert Sharp (Left full back), W. Toman (Inside right or centre), and Jack Bell, who since he left Everton in 1898, has played for Celtic and New Brighton. Muir is a certainty for goal, while Eccles and Balmer are the most likely pair for the back division. Wolstenholmes, Booth, (who will captain the team); and the only trouble the directors will be will either have to go inside right or centre, as Bell and Settle are sure to be the first choice for the left wing, and it is hardly likely Proudfoot will be shifted from the centre; whilst failing Toman, J. D. Taylor, and J. Sharp will form the right wing. Everton should do better this season than last.
T. Wolstenholme
Dundee Evening Post - Saturday 31 August 1901
T. Wolstenholm, brother to S. Wolstenholme, the popular Everton half-back, has been transferred to Blackpool. This young branch, who in appearance is a second Raisebeck, is also a half-back, and was tried in a couple of Combination fixtures by the Toffees last seasons.
TOMAN AND SHARP
Portsmouth Evening News - Saturday 31 August 1901
Southampton, the champions of the Southern League, appeared in danger of losing quite a number of the men who gained them first honours in the competition last season –and, as it is Toman, and B. Sharp have thrown in their lot with Everton –but the secessions are not likely to prove quite so numerous as was recently feared.