EVERTON IN LAST SIXTEEN
February 2, 1953. The Liverpool Daily Post
Everton 4, Nottingham Forest 1
By Leslie Edwards
Everton's Spirit
Every Everton ear will be cocked today for the luck of the draw. Many will hope for Halifax at Goodison Park, manager Cliff Britton with thought for his side's uncommon spirit in the past ("I think it has been excellent") is prepared for anything. "It does not matter who we get so long as we strike our form," he says. With two played and won, and four to go, Everton are not dormie, but they are in the last sixteen and we must be grateful to them for maintaining interest in a season which has had few enough good things. This defeat of Nottingham Forest by 4-1 showed Everton to be more aggressive in style than ever in history. No one least of all Forest, was left in doubt that winning was the uppermost though in Everton minds. Occasional clashes passed unnoticed by a referee who seemed to be in an even better position to see them than we did. Though he came from Aldershot, Mr. A.W. Smith proved himself, to be no sergeant-major. Everton virtually won the tie when they won the toss. That gale swirled the ball freakishly, but mainly in the direction of the Park goal, and Farrell, by making the wind his first ally could scarcely have dreamed how well Everton would harmness it. Forest were on the collar from the moment the ball was first kicked. They could no more punch it clear they could work it upfield by short-passes in a little over the half-hour Everton led 3-0 (Clinton penalty, Parker, Eglington) and only some tremendous Forest rally could deny them. Yet when O'Neill numbed hands dropped the ball from a corner kick and Capel made the score 3-1 and when Lindsay somehow contrived to stop the ball on the line when 3-2 seemed likely the prospect of holding that lead "against the draught" in the second half, was not very inviting. Right from the start of the second half Everton showed good ideas in countering the elements and Forest showed elementary ones. During this testing period Everton not only held their lead but increased it (Parker) and Forest, for all their neat beginning in approach gave no hint of producing the recovery they wanted. They were slow and over elaborate, and when policy called for long passes swerving in the wind they indulged instead in short lateral movements with the defence intervening time and again. This was due mainly to Clinton's careful marking of Collindridge and Tom Jones first-class show against Ardron and others. Jones contribution was continuous and valuable. Moreover it was scrupulously clean. With productive work to add to a defence Lello too was outstanding and Farrell came out in the glory if his enthusiasm and ability. Everton's attack moved with conviction Cummins played well, and the Forest defence had evidence to prove it. Hickson used his feet better I thought, than in any other game, and while Buckle will be pilloried for shooting mistakes, he had a foot in at least one of the goals. Forest, with Gager and company defending manfully but unsuccessfully against tremendous pressure in the first half were talented footballers but except for some typically brave Walker saves, Forest would have been even further behind at the interval. It took two Clinton bites to convert the penalty Walker making a grand save before being powerless to stop Clinton scoring with a left foot shot at his second attempt.
O'Neill's Cramp
The explanation for what seemed to be a serious if unaccountable injury to O'Neill – he had to fokesake his post for two minutes in the second half –was cramp. The crowd drew the referee's attention to O'Neill's plight as he sat on the goal-line. He was lifted to the sideline with legs stiff as boards. Lello took over, but did not need to kick away much less handle the ball. Then when massage had freed locked muscle O'Neill came back and in ten seconds was catching and clearing a corner kick inactivity in such cold or garter tape tied too tightly may have contributed to his discomfort. Not a great match but a good one in the conditions. Everton Oppose Tom Layton's Brentford. Maybe while Everton's cup ties continue they will have better success in the important business of maintaining a good place in Division 2.
• Bootle v. Everton "A" postponed
• Everton "B" 1, Liverpool "B" 2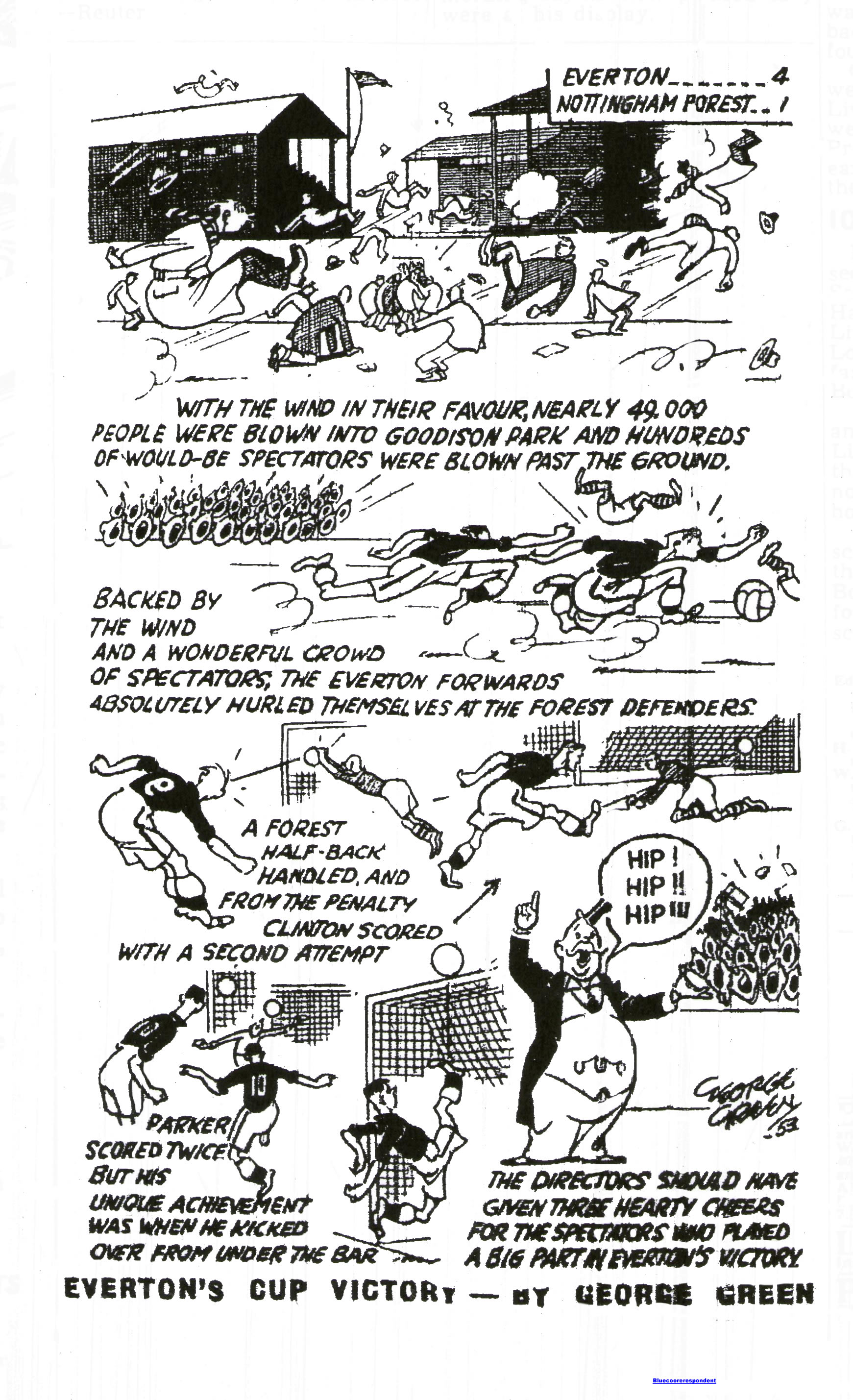 EVERTON'S FINE VICTORY
February 2, 1953. The Liverpool Echo
How An Old-Timer May Recall It Sixty Years Hence
Ranger's Notes
The scene is the snug of the Everton Arms on a February Sunday evening in the year 2013. The only occupants are Rosie a pert young, barmaid and a rather roguish-looking old man of around 80, known as Grandad. The door opens and in pour several young men wearing blue and white rosettes and carrying electrically operated gadgets similar to the ancient hand-rattes of the middle twentieth century which are now in various amusements. They are just back from America where the previous day they had been cheering Everton to victory in the semi-final of the World Premier Cup "Well," Grandad the Blues pulled it off" shouted one boisterously. "They licked the socks off Pennsylvania Panthers, if we can get tickets we're all going to see em play Los Angelas in their final at Rio de Janeior next month." The old man lifted his rheumy eyes reflectively. "They'll never win at Rio" said he. "Weather'll be against 'em. Too blinkin lot. This World Premier Cup business ain't no good for English teams. Stands to sense Flying to India and Australia and China and goodness knows where else. Fancy splendid nearly; art a day in one of them there super-stratosphere rocket-planes all dolled up in high pressure suits. It takes all the vitality out of em. No give me the good old days when it took nearly as long waiting for a tram to get one from work as it takes you lads now to cross the Atlantic." "Go on, tell us about those days," said one eager looking young fellow.
Grandad –Nay, not tonight Jimmy, I've a bit of a tickle in me throat and it hurts to talk.
Jimmy –All right, give him a pint, Rosie.
Grandad (taking a deep swig) –That's better. Me tickles gone, but the beer ain't, what it were when I was your age. All right then; gather round lads, and I'll tell 'ow Everton knocked Nottingham Forest out of the English Cup –not your new-fangled World Cup –almost 60 years ago to the day. "I remember it well. Our supporters had all gorn a nasty colour two days before when they eard as ow three of the Blues best forwards weren't fit to play. Blimey, they ses, that's torn it. We've ad it now. Liverpool are out already and we'll join em this week-end.
"We Won Handsomely."
"There was a fellow writin for the papers at that time. Called himself Ranger. When I didn't agree with im I used to write and tell im as low the cookery notes would be more in is line. Poor fellow; he's dead and gone now and never lived to see Liverpool win the cup. He'd ave been about 90 if he ad done. "But about this ere Forest game. This fellow Rangers ses on the Friday before as it would take Everton all their time to win. Mind you e wasn't the only one as thought that."
Here Grandad chuckled took another pull at his beer, and grinned in happy memory. Instead we won handsomely. In fact, we'd nowt much to beat Forest were a poor lot. Their defence was as weak as this ere beer and their forward line had just about as little kick in it. "Everton were three up in 'arf an hour. The first was a penalty by a laddie named Clinton, the second was a grand header by Parker, and it were the Donegal fier Tommy Eglington wot got the third from a corner. "Mind you the Blues ad a gale blowing at their backs, which were a great elp, but even allowing for that they were in grand form. Just before this cup-tie they and't been playing too well in some matches. This victory rubbed out the memory of all that 'ad appened before. They was as popular as ever that night and all was forgiven.
A Gift Goal
Forest got a goal given em when O'Neill, one of five Irishmen we ad in the team that day dropped a corner kick and presented Capel with a simple chance. We didn't blame O'Neill, it was cold enough that day to freeze a brass monkey and in the second 'arf O'Neill was so chilled that 'e got cramp and 'ad to go off for a couple of minutes, while the ambulance men rubbed is legs and got im right again. "it'd been me I'd ave asked em for a spot of ot rum. When John Willie Parker got another goal midway through the second 'arf the Everton supporters nearly went off their rockets with delight. It was only the second time that season the Blues 'ad scored so many goals at 'ome, and the folk could 'ardly credit their eyes. "One thing I remember about that game were the cheering. Not for years 'ad I eard an Everton crowd let itself go like it did that day. The poor newspaper scribes could 'ardly ate 'eard themselves shouting into their telephones and I did 'ear as ow this fellow said afterwards that is throat were like a sheet of sandpaper, just same as mine is with all this ere reminiscing. "Thanks Jimmy, I don't mind 'aving another if you think it ll do me throat good. our star that day were a lad called Tommy Jones not the Welsh Tony Jones you may ave 'eard on, but one who came after im. He out the shackles good and proper on Ardon, who were the sharp-shooter Everton ad feared most of all.
"Battle Of The Boyne
"Then there was George Cummins, one of the Irish lads, who were a grand schemer in the forward line. The only blot on George's display was that e lost is wool a bit early on. Once he took a swipe at the Forest fellow. Mind you there 'ad been some provocation –good word that Jimmy –but it wasn't like the old Everton to see that sort of thing. Maybe, being Irish, the blood of George's acesstors came to the top. Perhaps the lad didn't know but wot 'e was back at the Battle of the Boyne. "There was another Everton laddie wot also tried a spot of retaliation, Jock Lindsay they called Im. Jock 'ad suffered one or two aggravating things fur wot must have riled him, for he was usually as mild as this 'ere beer, and a real stylish back. Still, itre typical cup football and with their strong 'arf-back line and lively forwards smartly led by a youngsters called 'Ickson the Blues well deserved to win.
Jimmy –And what happened after that, Grandid? Did Everton win the cup that year?
The old man looked up with twinkling eyes. "Eh lad you want too much for your money. It's too near closing time now to tell you. Meet me 'ere a fortnight today and I'll let you know all wot 'appened in the next round.
EVERTON YOUTH TEAM
February 3, 1953. The Liverpool Echo
Ranger's Notes
There will be an interesting game at Old Trafford tomorrow (2.30) when Everton's youth team will be opposed to Manchester United's Youngsters in the fourth round of the National Youth Cup. This competition is open to players, amateurs or professional, under 18 an several of the lads who have taken part in it this season have figured in First and Second Division football. Others have been Central League regulars. Everton have so far beaten South Liverpool 7-0, Liverpool 3-0 and Blackpool 3-0 all in away games. Manchester United have defeated Leeds 4-0, Nantwich 23-0 (yes that is not a mis-print -23 is correct) and 1-0. Everton are unable to announce their side until later as three of their players are rather doubtful due to injury and colds. In previous games their goalkeeper has been Cyrl Hatton a 17 year old amateur formerly with Florence Institute and the backs have been Ken Heyes and Jimmy Irving. Heyes only just turned 16, is a former England schoolboy international who will play for England Youth team against Scotland Youths on Saturday. Irving aged 17, used to be an Ellesmere Port school-boy star.
Stars of the Attack
Ken Rea right half, a 17-years-old professional, has been with Everton since leaving school. Centre half Alan Savager, aged 18 is an amateur from Port Sunlight and Jerry Joyce at left half in earlier games, is a former Liverpool school boy, and still an amateur. The forward line has been changed somewhat in each previous match. It has been chosen from Brian Harris, Peter Chamberlain, Jimmy Gregery, Alec Farrell, Derek Mayers, Peter Cuffe, and Colin Williams. The only professional among those seven is Mayers and the average age is just below 17. Gregory is 15 and Farrell is 16. Gregory has a knee injury and is a doubtful starter tomorrow, Farrell and Mayers have heavy colds.
Manchester United also have not yet chosen their team. In two instances there is a possibility that instead of playing in the Youth match the lads concerned will be wanted for Thursday's replay against Walthamstow Avenue! Lewis Pegg and Doherty who have figured in all the Youth cup games for United have also been in the Mancunians's First Division side this season on several occasions.
EVERTON UNCHANGED
February 4, 1953. The Liverpool Echo
Ranger's Notes
Everton will be unchanged for their home game with Brentford on Saturday. Although Potts and Wainwright have resumed training they will not be fit by the week end. Fielding so far has not resumed training. Everton; O'Neill; Clinton, Lindsay; Farrell, Jones, Lello; Buckle, Cummins, Hickson, Parker, Eglington.
Everton Reserves (v. Bolton away); Dunlop; Tansey, Rankin; Gray, Woods, Melville; McNamara, Thomas, Lewis, Farrell, Easthope.
EVERTON YOUTH HAD BAD LUCK
February 5, 1953. The Liverpool Daily Post
Manchester United Youth 1, Everton Youth 0
Everton had the hardest of luck at Old Trafford yesterday when they lost to Manchester United in the fourth round National Youth competition 1-0. Not only did they provided a polished style of approach play, but Farrell, a hard working inside left hit the upright after Rea had created a grand opening with a sparkling run. Their forwards however, did not take their chances. Keeley had an excellent chance of equalizing in the dying minutes but failed. Edwards scored Manchester's goal in the fifty-sixth minute.
IN SEARCH OF POINTS
February 6, 1953. The Liverpool Echo
Ranger's Notes
Tommy Lawton, former hero of Goodison Park, will pay a visit to tomorrow to his old hanunts, but in a new capacity, for Lawton these days is team manager of Brentford a position to which he was appointed a month ago. While Everton are seeking strengthen their league position at the expense of the Londoners in order to leave them free of anxiety to concentrate on further Cup progress. Everton will be unchanged against Brentford. Although Potts and Wainwright are making good progress following recent injuries they were not fit enough to come into consideration. Neither was Fielding. This saved Manager Cliff Britton making a couple of awkward decisions after the good show of the emergency forward line last week.
Stock Rising
A further display of fighting spirit in attack and half-back support of the same nature should see Everton chalk up another victory. The Blues are enjoying a spell of comparative success. They have suffered one defeat in the last seven League and Cup engagements and after the convincing win against Nottingham Forest their stock must inevitably rise somewhat as well as their own confidence. Brentford's recent displays have also shown an upward trend though their away record is still far from impressive. Their only two wins on opponents grounds have been against lowly Barnsley and Doncaster. Three draws is all they can point to in addition. A victory for Everton would be extremely helpful for the Londoners at the moment are two points behind the Blues for the same number of matches played. Everton thus have a chance to further widen the breach between themselves and one of the lowlier clubs. As they have but three points in hand over Southampton next to the bottom there is not too much to spare. Everton; O'Neill; Clinton, Lindsay; Farrell, Jones, Lello; Buckle, Cummins, Hickson, Parker, Eglington. Brentford; Jefferis, Monk, Munro; Harper, Bragg, Latimer; forwards from; Bloomfield, Goodwin, G'Arcy, Lawton, Coote, Ledgerton.
IT'S THAT MAN AGAIN
February 7, 1953. The Liverpool Daily Post
By Leslie Edwards
Tom Lawton, cradled in football by Everton, plays today for Brentford against his old club at Goodison Park. He has wandered a bit since we used to take great joy in his play and we have learned to fear him, first when he came with Chelsea then with Notts County. It was his clever tutoring of two Notts County inside forwards at Goodison Park which precipitated something of a crisis in Everton affairs. But this season with a winning streak in the Cup-ties bringing hope where none had seemed possible, the Everton atmosphere is changed. There is confidence about the place, and the team has at least proved it can meet temporary reverses and fight back to victory. In his new role as player and team manager, Lawton may be expected to take special pains today to see that the Brentford attack succeeds. The London club are no less eager to win than Everton. Though Lawton is not so mobile as he was, he is still a tremendously commanding player when the ball is in the air. To measure and counter Lawton's headed passes will be an urgent Everton commitment. It is not so much what Lawton himself does nowadays as what he causes others to do. Everton's team is as against Nottingham Forest. Had Potts, Wainwright and Fielding been fit, choosing the eleven would have been a m ore head-scratching business. Unlike other Cup sides who can afford to steer clear of injury today so that they may have full strength for the cup-ties. Everton have to secure their League position before they can go all-out in Wembley effort. It is on the cards that Brentford will give debuts to two wingers, Ledgerton their outside-left, broke down in training and M. Bull, a twenty-two-year local junior is to have his chance. Eighteen year old James Bloomfield, who is travelling with the Brentford party, may also have his first senior game on the other wing. Having had a hard mid-week replay against Aston Villa, Brentford will start at a disadvantage but the low position of both clubs ensures that it will be a game containing "needle." Everton; O'Neill; Clinton, Lindsay; Farrell, Jones, Lello; Buckle, Cummins, Hickson, Parker, Eglington. Brentford; Jefferis, Monk, Munro; Harper, Bragg, Latimer; forwards from; Bloomfield, Goodwin, G'Arcy, Lawton, Coote, Ledgerton.
EVERTON HIT BRENTFORD FOR FIVE IN LIVELIEST SHOW OF SEASON
February 7, 1953. The Liverpool Football Echo
Everton 5, Brentford 0
By Stork
A grand Everton victory, thoroughly deserved and won by teamwork. There was not a weak link in the Everton armour and their five goals did not flatter them in the least. They simply played Brentford out of the game. Everton; O'Neill, goal; Clinton and Lindsay, backs; Farrell (captain), Jones and Lello, half-backs; Buckle, Cummins, Hickson, Parker and Eglington, forwards. Brentford;- Jefferis, goal; Monk and Munro, backs; Harper, Bragg and Latimer, half-backs; Goodwin, D'Arcy, Lawton, Coote, and Bull, forwards. Referee; Mr. B.M. Griffiths (Newport). Lawton kicked off, and Brentford immediately ran into a nice spell of passing which, however, did not take them very far, and Everton were on the attack. Once again the defence held the upper hand. Hickson, by his worrying tactics caught Harper in two minds, and the Everton leader's shot pass to Eglington could have produced fatal effects had not Jefferis come out and punched away so that Buckle was unable to get in contact with the ball. So far Lawton had not had much chance for immediately he gained possession, he was tackled quickly and keenly. He was instrumental in getting a free kick for his side but nearly half a dozen of their players were offside when the ball was kicked towards the Everton goalmouth. A corner also came Brentford's way and Goodwin centred a nice ball with Lawton eagerly awaiting his opportunity but he was out-thought by O'Neill who came out quickly and took the ball almost from off Lawton's head. Straight from this Everton went down and Parker won a corner for Everton. This was taken by Eglington and Hickson just managed to get his head to the ball and directed it over the goalkeeper's head and although Bragg made a desperate effort to keep the ball out he was not successful. This was Hickson's first league goal at Goodison this year.
A Second Goal
Bull looked like creating trouble for the Everton goal area defenders when he lofted the ball straight across to Lawton whose header just passed wide of the post. Hickson created difficulties for the Brentford defence by his pertinacity and after he had upset their balance he managed to push the ball through for Eglington, whose shot cannoned back, and Hickson without hesitation, hit a left-foot shot which hit the lower half of the upright. Cummins who is playing grand football these days, was the arctitect in Everton's second goal. He bewildered the opposition with his control and command of the ball and having won the position he desired, he slipped the ball over to Eglington whose good length centre was headed downwards by Hickson out of the reach of Jefferies and the ball entered the back of the net at the 13th minute. This was indeed a happy position for Everton to be in for in the next minute, O'Neill lost possession of the ball but his quick recovery enabled him to regain possession and clear before further danger befell him. He made a save from a centre by D'Arcy and although he was charged, in possession, by Lawton he managed to keep on the right side of the line.
Lively Lawton
The Brentford player-manager had one shot but this rattled up against an Everton man and went on to a colleague. A long centre by Lawton was quickly taken by D'Arcy but his direction was not so good so that O'\Neill was not even called upon but he was in the next minute when Bull beat Clinton, got inside and then delivered a hard shot which O'Neill parried, and although Bull followed up, the Irish goalkeeper had quickly recovered and snatched the ball away from the oncoming Brentford winger.
Confident Everton
Everton were certainly playing with the utmost confidence and ability and Hickson actually netted the ball a third time, but the goal was disallowed because the whistle had sounded for a free kick for Everton for a foul on Cummins. The third goal, however, was not long delayed, for from the free kick taken by Buckle, Eglington ran in to nod the ball downwards and beyond the uncertain Jefferis at the 35th minute. It was going to take something sensational by the Lawton party to pull those goals back. There was a bit of a scrimmage when Parker went to earth with the ball between his knees. A Brentford man tried to kick away when up came Cummins and Hickson, and the matter ended with Hickson suffering a leg injury, but he was soon back in the thick of the fray once again. Some of Cummins work was that of a genius for he often had the opposition running the wrong way and he was brought down well inside his own half and it was straight from this that Everton went on to tot up their fourth goal. Eglington, having beaten his man, pushed the ball across to Hickson who allowed the ball to pass between his legs and go on to Buckle. The outside right only half hit his shot and the ball only trickled over the goal-line to give Everton a substantial lead at 44 minutes.
Half-time; Everton 4, Brentford nil.
Ted Sagar, Everton's veteran goalkeeper was delighted with his side's success, particularly as he was celebrating his 43rd birthday. Everton suffered a misfortune in the first minute of the second half when Cummins was injured in a tackle with Lawton, and he had to be taken to the side line for attention. While he was off O'Neill had to save a header from Lawton and at this point Brentford were showing better form than at any other stage of the game.
Hickson Does It Again
Cummins returned with a slight limp and went on the right wing. A defensive slip let in Parker who raced on but was eventually beaten by Munro. Everton, however, now got back to their attacking ideas and Buckle, after beating off a Monk tackle carried the ball almost on to the goal line before he pulled it back for Cummins to give a perfect pass for Hickson whose shot passed into the net via the upright at the 54th minute. Brentford were sadly lagging behind this game and Everton were complete masters of the situation and looked dangerous whenever they launched an attack.
Superlative Save
A sixth goal would have come Everton's way had not Jefferies brought off the save of a lifetime and it was following a super move by four Everton players. Farrell started it off with a lovely ball to Parker who tapped it back to Buckle who in turn centred close into goal where Eglington had taken up position. The Irishman's header was a beauty and it certainly appeared as though it would find the back of the net but Jefferies stretched out to his full length and managed to finger tip the ball over the bar to make a superlative save from an equally superlative header. O'Neill had one of two things to do and did them in his own accomplished fashion. No slip fielder ever took a ball more cleanly than this young Irish goalkeeper, one from the wing being a thing of beauty to behold. Jones had kept a stranglehold on Lawton, who was the only Brentford forward likely to cause Everton any serious damage. Furthermore young Tom was delivering the ball to colleagues. He started a movement which ended with Buckle crashing the ball into the back of the net just after the whistle had sounded for an infringement. Lindsay and Lello were thoroughly enjoying themselves the former actually coming through to make a hard drive which passed outside. Lawton had no support whatever. He did his best for his colleagues, but they did not respond to his promptings.
One-Handed Punch
Jones conceded a free kick to Lawton for putting his foot up as Lawton was about to head the ball. The free kick culminated in O'Neill making a really splendid one handed punch away. Both Parker and Buckle had fierce shots cannoned down which explains in a nutshell just how much on top this Everton team was. I don't think I ever saw Clinton play better. The game was stopped for a few moments while trainer Harry Cook attended to an injury to Lello.
An Uphill Fight
On this showing Brentford have an uphill fight ahead of them if they are to stay in the Second Division. They had no answer to Everton's positional football. Jefferies had to go down smartly to stop another Buckle shot. Brentford certainly had one glorious chance of scoring at least one goal when Goodwin went right through the opposition and then shot widely over the bar. Hickson tried hard for a sixth goal and so did Eglington, but goalkeeper Jefferies stood between the latter and the net with a good save. Parker was right on the fringe of making it the half dozen till Jefferies again intervened. Almost dead on time O'Neill turned a centre by Latimer over the bar. Final; Everton 5, Brentford nil. Official attendance 36,431.
EVERTON CUP TICKETS
February 7, 1953, The Liverpool Football Echo
All tickets set aside for the general public for Everton's fifth-round F.A Cup-tie against Manchester United have now been disposed of and the second safe, which was to have taken place at the ground tomorrow morning has been cancelled. The sale of tickets to members and shareholders will take place on Sunday afternoon as announced.
BOLTON RES V EVERTON RES
February 7, 1953, The Liverpool Football Echo
Bolton Res;- Grieves, goal; Banks (T.) and Bingley, backs; Howe, Higgins (J), and Edwards, half-backs; Pillings, McIIwaine, Codd, Webster and Beards, forwards. Everton Res; Dunlop, goal; Tansey, and Rankin, backs; Rea, Woods and Melville, half-backs; McNamara, Thomas, Lewis, Farrell, and Easthope, forward. Referee; Mr. W. Moreton (Stoke-on-Trent). Codd but Bolton in the lead after only five minutes. A second goal came through Webster in 20 minutes. Lewis missed a great chance from a free kick, and just before the interval the same player was unlucky to see Grieves make a spectacular save when he tried to head through. Half-time; Bolton Reserves 2, Everton Reserves nil.
Everton opened in determined fashion and Grieves made a splendid save when he finger-tripped a Thomas shot past the post. When Bolton stuck back Rankin kicked off the line with Dunlop out of goal and then Webster shot very weakly when well placed.
Everton "A" v. Stork
After a quiet opening Mayers opened Everton's score. Everton were well on top and the Stork goal had many escapes. Leach for Stork made several fine saves. Half-time; Everton "A" 1, Stork nil.
"ENCORE" IS THE CRY AT EVERTON
February 9, 1953. The Liverpool Daily Post
Everton 5, Brentford 0
By Leslie Edwards
Strange how after a season of such mediocrity everyone has suddenly come to life through Everton's mounting Cups hopes. The much sought Cup-tie ticket now assumes its old importance, and after Everton's best work of the season against Brentford, a Goodison Park on Saturday, the skeptics begin to wonder after all whether Manchester United can stop the Everton gallop or whether they will be frodden beneath it. The most discerning football expert I know –he saw United beat Walthamstow last week – says "I'll plump for Everton." His confidence is based on the belief that if United were as great as they used to be they would have had no difficulty in beating the amateurs. Matt Busby, he says seemed a very worried man midway through the replay second half. Everton followers are most disposed to take the positive view that if Everton play as they did against Brentford it will not matter how well or badly United perform. This 5-0 smashing of Brentford came opportunely. Everton fairly bulged with confidence when virtually winning the match in the first half hour. Brentford helped to prove themselves to be one of the poorest sides seen here this season, and Everton did their share to convince us of the great gulf between one side and the other.
Cavalier Hickson
Three goals by the cavalier Dave Hickson, who had an especially good first half, and one each for Eglington and Buckle, was a return Everton's smooth and riotous play deserved, and there was hardly a moment when Brentford looked dangerous. Lawton still very fit and still making beautifully judged headers and the debutant Bull were occasional threats but Everton maintained complete command despite an injury to Cummins which caused him to spend most of the second half on the right wing. No Everton forward played better than Cummins until he got his knock. He was impishly cheeky in his dribbling and used the ball well, and among a line which seemed to hit its best form at the same moment he found some fine support. Hickson's first two goals both headed, were streaky in that Jefferies might conceivably have saved both Ironically Hickson was denied a hat-trick by a free kick decision which took the ball to a spot just outside the penalty area after the Everton centre forward had gone on after the whistle to beat Jefferies for the third time. from this free kick Eglington nodded his goal. Buckle scored a fourth shortly before the interval and Hickson rounded off a magnificent Everton move for the fifth in the second half. This refreshing Everton bounding in confidence and good football made the Everton edition of only a month or two ago see m a nasty dream. One move they used time and again with excellent results was the reverse pass by either of the two inside forwards to wing half-backs whose a most invariable reaction was to hit passes accurately down the wings. If Brentford had made as good use of their wingers they would have done far better.
Lawton's Heading
Brentford's defence the goalkeeping blunders excluded, was a too-pedestrian thing. Bragg got through a lot of work, but Everton were oftener on the verge of a goal than their five indicated. Buckle had a fine match and it is difficult to see how Everton can change this eleven, irrespective of what others make themselves available for selection. Lawton must have pleased old followers by his heading, I am afraid Jones had to admit defeat "in the air," but when Lawton's support was so unforthcoming the Everton defence was able to stand easier than might otherwise have been the case. Manager Matt Busby told me yesterday that he has no illusions about the job. United face. Only Jack Rowley (a hip injury) suffered injury on Saturday and Matts says that his Cup side is likely to be substantially as against Villa. It promises to be a tremendous battle, Everton fans believe their side must reach the last eight if current forms means anything and not unexpectedly the cry at Goodison Park today is "core!"
BOLTON W RES 3, EVERTON RES 0
February 9, 1953. The Liverpool Daily Post
Everton Reserves were beaten with surprising ease at Bolton, their forwards giving a disappointing display and wasting their few chances. Dunlop, Rankin and Melville shone in Everton's defence which, however conceded three goals headed in by Codd, Webster and Beards.
• Everton "A"3, Stork 0
LOOK OUT, MANCHESTER
February 9, 1953. The Liverpool Echo
By Stork
Manchester United will have to sit up and take notice of this Everton team which has not lost a game since January 3, for it has become a competent footballing side with a high degree of confidence in itself. Gone are the days when Everton were nervy and jittery because of their non success, and in its place comes an Everton which has a great belief in itself and what is more, a lot of football ability. This more or less has always been there, but they fell from grace because the front line, was without the necessary punch. That is another thing which has been conquered, for today they are great shooters and if the United think they are going to waltz into the next round on Saturday, they may receive an unpleasant surprise. They say nothing succeeds like success. Well, that is undoubtedly true in the case of Everton, for since their defeat by Blackburn Rovers at Goodison Park on January 3, they have been playing top-class soccer and gathering in the points. Can Manchester United, be so sure after their unconvincing displays in the two rounds of the Cup already played? They were lucky to scramble home against Millwall and had to have two bites at the cherry before they could dispose of the amateur side Walthamstow Avenue.
Lawton's Task
I know that the United can rise to great heights on occasions, but they are not the side they were a few years ago. Their forthcoming meeting with Everton has all the ingredients for a wonderful cup tie, with an array of first class football talent on both sides. I saw Everton pull back Nottingham Forest at Nottingham, and from all accounts they gave a wonderful exhibition in the Cup tie against the same foemen a week later. On Saturday they made Brentford look like a Third Division side which they may well be at the conclusion of the season, unless they can pull out something better than they did at Goodison Park. Player-Manager Tommy Lawton has a lot on his plate to out his side to rights Brentford were never at any time a threat to the fast moving progressive Everton, who got to work almost immediately and for the remainder of the game dictated its progress even when Cummins was limping on the wing.
No Weak Link
But even in such a fine triumph it is necessary to consider the strength of the opposition and this was undoubtedly very feeble, although it was partially rendered so by the quick-pouncing wing half backs Farrell and Lello, to say nothing of Tom Jones, who kept Lawton uncommonly quiet and was rarely beaten by the former English international. The "bees" two inside men, D'Arcy and Coote, hardly got a look at the ball and were no help at all to Lawton, who had to plough a lonely furrow, and that against a Jones who is at the peak of his form. I could not detect a weak link in the Everton side. It simply bubbled over with enthusiasm and skilful play, with every man pulling his weight. They went for the ball and usually got it – it was not always thus-and so it can thruthfully be said that Brentford played as well as they were allowed and that is not saying much, for it was practically one-way traffic throughout. Having scored three goals Hickson naturally took the ye, but how well he was looked after by Parker and Cummins in particular and Eglington and Buckle the other scorers. Hickson is going to be a source of trouble to Clinton, the United centre half, who will know long before the end that he has a mighty task on hand to curb this bundle of dynamite. Carey knows his Tommy Eglington but even so may not be able to cope with "Eggo's" amazing speed. He simply ran round Harper and Monk on Saturday. But the most outstanding forward was Cummins. He had the opposition running all ways by his feinting and dribbling power. O'Neill had a few shots to save mostly from Bull the left winger but so well covered was he by Clinton now steadied down a lot, and Lindsay that he had a fairly easy afternoon. Not only did Everton won two valuable points but they enhanced their cup prospects considerably, I know Manchester United are not Brentford but neither are Everton the Everton of a couple of months ago when nothing would go right for them. Things are going right today through their own endeavour.
All being well Everton will have their full complement of senior players available from which to choose Saturday's cup-tie team. Wainwright, Potts and Fielding were back in full time training today and are almost completely fit again. Cummins is under treatment for his knee injury received against Brentford, but is expected to be right again in time for Manchester United's visit.
DOWN TO SERIOUS BUSINESS
February 10, 1953. The Liverpool Echo
Normal Training Again The Order For Cup-Tie Preparation
Ranger's Notes
Everton and Manchester United in company with other clubs still standing in the F.A. Cup, today go down to serious preparation in readiness for Saturday's fifth round tussle. Everton are following their normal routine, expect that they will have a full day's golfing tomorrow, weather permitting, instead of the usual half-day. Today's training should have consisted of plenty of ball work and shooting practice at the Bellefield ground, but owing to the conditions the players remained a Goodison and did track and gym work. There will be the usual training at Bellefield with variations designed to relieve the tedium of too much stereotyped work, on Thursday and then a slackening off on Friday when the training will consist only of minimum exercise needed to maintain the players at the peak of condition. Everton are in a happier position today than at any previous period this season. Happy in their freedom from injuries for Cummins is pretty certain to be fit and the other first-teamers are now all right, and also in their recent improved displays which have come just at the right time pyscholgically. We shall have opportunities a little later to go into the pros and cons of Saturday's match but let me say now on what I saw of Manchester United against Walthamstow in Thursday's replay when they were struggling hard against the amateurs for much of the second half that Everton have a good fighting chance of getting to the last eight.
United's Outlook
Manchester United will also be following the usual routine training. They had a day's golf at Davyhulme yesterday, and got down today to their serious preparation. At the moment Manager Matt Busby has three players under special treatment. Clinton and Rowley have thigh injuries and Berry also suffered a knock on the knee on Saturday. Matts tells me, however, that he hopeful all three will be fit in time for Saturday's tussle which he considers will provide as good a game as any in the fifth round United will not delay the announcement of their side any longer than is necessary to decide whether their three injured players will be available or not. We shall probably know it by Thursday. At the moment everything is building up to a great trial of strength between the best talent of the two clubs and Soccer interest in this city, which at one time looked in danger of petering out rather tamely, has taken on a new lease of life. Goodison Park may well house a record crowd on Saturday.
For The Unlucky Ones
The Everton office staff has been inundated with postal applications for tickets ever since the prices were announced on the day of the draw. Although all such applications from the general public were unsuccessful, if received after Tuesday last it has been found impossible to return all the money yet. The vast bulk of it has gone back to the unlucky ones and the remainder is being returned as quickly as possible. In the meantime, it is requested that inquiries should not be addressed to the club either by telephone or letter regarding such applications. This only delays the staff in endeavoring to cope with a big task.
EVERTON ORIGINAL MEMBER
February 10, 1953, The Liverpool Echo
Ranger's Notes
Mr. T.V. Williams, the Liverpool director who was marked absent on Saturday, at Middlesbrough, although he had originally intended being present was attending the funeral of a relative at Llanfairfechan. Mr. Edward Williams, who was buried there on Saturday will be remembered by the older followers of Everton as a member, along with his two brothers of the original St. Domingo Sunday School club, out of which Everton eventually emerged. He was for 30 years superintendent of the Oakfield Road Wesleyan Sunday School and worked for half a century in the accounts department of the Mersey Docks and Harbour Board, retiring just before the last war began. He was an uncle of the Liverpool director.
EVERTON UNCHANGED AGAIN
February 11, 1953. The Liverpool Echo
Team Which Has Done So Well Lately Will Carry The Cup Banner
Ranger's Notes
Everton will play an unchanged side in their fifth round Cup-tie against Manchester United at Goodison Park. Cummins having recovered from the injury he received against Brentford last Saturday. This will be the third successive game in which the Blues have fielded the same formation. Potts, Wainwright and Fielding who had to miss the fourth round game against Notts Forest through being unfit but have since recovered, are not able to command a place after the two recent improved displays which have shown Everton up in a new and more pleasing light, and encourage hope that they will progress still further in the Cup. They are up against a tough task this time. Manchester United themselves are no mean battles. They have just the right blend of youth and experienced with the commanding presence of Carey maintain equilibrium and set the right example should the tide start to run against them. Whatever happens United always endeavour to keep playing good football. The Mancunians will not announce their side before tomorrow. Latest news from Old Trafford is that Clinton, Berry and Rowley are making good progress following comparatively minor injuries received last week-end. In the absence of any unexpected set back all three will play and the side will probably be the same as that which defeated Waltenstow in the replay last Thursday and Aston Villa on Saturday. Everton; O'Neill; Clinton, Lindsay; Farrell, Jones, Lello; Buckle, Cummins, Hickson, Parker, Eglington.
EVERTON, UNITED STAND PAT
February 12, 1953. The Liverpool Daily Post
By Leslie Edwards
Everton and Manchester United will be unchanged for the Cup game at Goodison Park. Cummins had been doubtful and United whose chosen side is the one which beat Waltahstow Avenue had not been happy over a hip injury to Jack Rowley. The teams will be;- Everton; O'Neill; Clinton, Lindsay; Farrell, Jones, Lello; Buckle, Cummins, Hickson, Parker, Eglington. Manchester United; Wood; Aston, Byrne; Carey, Chilton, Cockburn; Berry, Lewis, Rowley, Pearson, Pegg.
I do not doubt that news of the battle will be available for those looked out at Everton who on to Anfield. These are two opinions about Everton's cup chances. Either you see in their recent victories a completely new confidence and ability, or you rate these wins as ordinary successes against teams which might be described as fair to average. The Manchester game will prove or disprove these contentions. If the confident look of the Everton side means anything the tame and name of Manchester United will not count. My view is that we must not place too high a rating on victories over teams like Ipswich, Nottingham Forest and Brentford through to be fair I am bound to say that the best team in the world can but win.
Way Open For Surprises
A week ago Everton faced a Brentford attack which had only two danger men- Lawton and Bull. However United play on Saturday it is likely that their attack will be firing on all five cylinders. The bookmakers still lay 50-1 against Everton, but if Everton were to make those odds seem foolish they would not be the first side to do so. Indeed, with so many Second Division clubs still in the competition and two from the Third Division, the way is open this year for surprises such as we have not had for years in the late stages of the tournament. Not one expects that Halifax Town can repel the mighty Spurs but Luton, Everton, Rotherham and Birmingham are all Second Division sides with a first-class chance of being in the draw again on Monday. Manchester United's cup record since Manager Busby joined them is a wonderful one, but there is a feeling that they are not the truly great side they were when they beat Blackpool at Wembley. A Llandudno fanatic with implicit belief in United's chances on that occasion laid odds on them all over the town and then went to see the match. The shock of Blackpool scoring was so much for him he fell in a faint. A friend half carried him from the ground and only when he had been told that Manchester United had taken the lead did he recover sufficiently to go back and watch the closing minutes.
GOODISON TIE SHOULD HAVE EVERYTHING
February 13, 1953. The Liverpool Daily Post
By John Peel
A greatly improved Everton team, a visit of none other than the First Division champions and a victory meaning a place in the last eight. What more could the soccer fan went to make Everton's fifth round F.A. Cup-tie at Goodison Park tomorrow more attractive.? Perhaps the only other wish the soccer lover could have is that the tie will provide plenty of good football; will be fought out in a sporting manner (as I am sure it will) and that victory will go to the deserving side. The United have been a grand team during the last few seasons, but have not been so powerful this term and it is only over the past few weeks that the side have shown something like their previous known form. As a result of this improvement they now stand seventh from top of the First Division with 32 points from 28 League games, thirteen of which have been won and six drawn.
Away Successes
Fourteen of the United's points have been won on opponents' grounds by means of six victories and two drawn games and in addition they have won both their previous Cup rounds away from Old Trafford –at Millwall 1-0 and against Walthamstow, at highbury 5-2 after a 1-1 draw at Manchester. Like most other League clubs United have had their ups and downs and since becoming members of the First Division in 1892, have lost their high status a few times. They were last relegated at the end of 1936-37 but regained their place in the top fight within one season since when they have been Division 1 runners up in the season 1946-47-48-49 and champions winners last season. Only once previously in 1910-11 have United carried off the First Division title. F.A Cup final successes have come United's way on the only two occasions they have reached the last stage. First triumph was in 1908-09 when Bristol City were beaten 1-0 and the second in 1947-48 when Blackpool were vanquished 4-2 at Wembley. Of the 1948 Cup final eleven six members of that side will be in United's ranks tomorrow namely; Carey, Aston, Chilton, Cockburn, Rowley and Pearson. Rowley's leadership of the United attack is always inspiring. He links up grandly with the rest of his colleagues and is ever on the look out for shooting opportunities. Thus, Tommy Jones will have to keep a close watch on him throughout the whole ninety minutes to morrow otherwise Rowley might easily give O'Neill a lot of work.
The Three "C's"
United half back line of Carey, Chilton and Cockburn are formidable trio as numerous opposing attacks have found when up against them. In addition to being grand defenders each uses the ball well and links up with the attack in machine like fashion. A "repeat" performance of the display given against Brentford by the Everton forwards last week, however, will give the United intermediate line little opportunity to ply their attack with all the passes they might need, for an Everton vanguard in last week's mood will keep the United rear-guard fully occupied in defending their goal. If Hickson and his co-forwards can accomplish this then I think an Everton victory will be cheered at the end of the game.
EVERTON CAN DO IT
February 13, 1953. The Liverpool Echo
Manchester United Are Good, But There Are Chinks In Their Armour
Ranger's Notes
The stage is now all set for the most intriguing match which has taken place at Goodison Park for three years, when Everton tackle the might and prestige of Manchester United in the fifth round of the F.A Cup tomorrow. Can Everton pull it off? Admittedly a terrific task confronts them but it was as difficult a job in the same round three years ago. Then the all-conquering Tottenham team came to Goodison. They were knocked out, after many folk had been naming them as eventual Cup Final victors. What Everton did to Tottenham they may also repeat at Manchester United's expense. Everton's display in their last couple of matches have encouraged high hopes of further progress. Whatever the cause there is no doubt that the Blues just now are a more virile combination that at any previous period this season. There have been times before when they have promised better things but not maintained the improvement. There have also been occasions when they have almost driven their supporters to distraction. All that is forgiven and forgotten in the bright and alluring anticipation of seeing them in the last eight of the Cup. Manchester United, most consistent of all teams in six seasons of post-war football until this campaign started, have latterly recovered from a very bad start. But they are still not yet the side they were against Liverpool at Anfield a couple of months ago they gave a first half exhibition as unlike their championship form as anyth8ing could be. True, they won in the end, but that day they had nothing much to beat. When Liverpool were doing most of the attacking early on, the Manchester's defence looked as panicky as any struggling bottom-of-the-table side. Never before have I seen them pass back so often or from such long distance as they did that day.
They Can Be Shaken
Since then they have been doing better. Changes in their composition have had the desired effect of strengthening both the attack and the defence. Yet in last week's replay against Walthamstow Avenue at Highbury, there was a long spell in the second half when the Busby brigade looked far removed from what one has come to expect of them. They became decidedly anxious and worried looking when the amateurs were crowding on full sail in an effort to get on level terms. That they weathered the storm was due largely to the inspiring example of Carey. Always cool during the hottest pressure Carey stood out above all others. He was almost regal in his claim. Gradually he pulled the team round, got them back on off once again playing precise and machine-like football. But that second half spasm proved that United to some extent are still vulnerable against speedy and determined opposition.
Sleeves Rolled Up
There in lies the possible key to Everton's success, I didn't see the Blues against Brentford, when I am told they were exceptionally good, but what I liked most about the victory over the Notts Forest in the fourth round was their all-out determination from the start. They rolled up their sleeves, literally in some cases and metaphorically in others and proved that not only can they start strongly, which has not always been their halfmark but also that they could keep up the fight to the last minute. Another satisfactory aspect of the Forest game was that the team was going forward whenever possible with a five prong attack and good support the wing halves. They cut out all back-passing except in absolute emergency and with rare exceptions there was a complete absence of "fiddling" in the defence. The ball was cleared first time, and invariably used no advantage as well. A repetition of these tactics against United may bring about the result we all desire. Rowley will be the big danger in the visiting attack. His shooting against Walthanstow was most impressive. With a bit of luck he might have had half a dozen goals instead of two. Several sizzling drives flashed only a foot or so past the woodwork with the home goalkeeper hopelessly beaten. Jones however has been in such vastly improved form of late that Rowley may not find himself with so many shooting chances.
Great Duels In Prospect
The tussle between fellow Irish men Carey and Eglington should be worth going a long way to watch. The latter's speed, allied to accurate shooting could make him the man of the match, for Carey will not be able to match him in a sprint. But United's skipper is a great player, with an uncanny positional sense and other attributes that enable him to counterbalance the inevitable loss of speed with the passing of the years. United have in 17-years-old Pegg one of the best young winging prospects I have seen for a long time while Lewis, who has scored a goal in eight of the ten senior games he has played since making his debut two months ago is another splendid youngster. Hickson strong and determined dashes may upset Chilton, whose comparative slowness on the turn could lose him a valuable yard or so against a player of Hickson's liveness. There are other points of comparison between individuals where the balance could be in Everton's favour if all their players hit top form, simultaneously, as they did against Brentford. If not the advantage will rest with the visitors.
Get There Early
Whatever happens this game promises to provide a tense and exciting struggle. One goal might settle it either way, but if one side hits its highest note and the other cracks we might see quite a few goals. Intending spectators are asked to arrive as early as possible in order to avoid long queues and to tender the exact admission money. Tickets holders should also take their seats as early as convenient but not later than 2.45. Given a steady flow of people there should be no undue delay in getting into the ground. When Liverpool were at Goodison four years ago they net up the record crowd of 78,292. Five minutes before the start I walked the length of Goodison Road. There was not a queue in sight and late comers were walking straight in. But please don't let that induce you to leave it late tomorrow, It is only by those who can do so getting there early that the crowds can be handled comfortably and expeditiously. Everton; O'Neill; Clinton, Lindsay; Farrell, Jones, Lello; Buckle, Cummins, Hickson, Parker, Eglington. Manchester United; Wood; Aston, Byrne; Carey, Chilton, Cockburn; Berry, Lewis, Rowley, Pearson, Pegg.
BLOOD-STRAINED HICKSON WAS HERO OF GRIM GAME AT GOODISON
February 14, 1953. The Liverpool Football Echo
Everton 2, Man United 1
By Ranger
Everton put up a splendid fight to enter the last eight for the cup. Manchester United were never allowed to produce brand of prestige football. Everton never let them settle on the ball, but tackled strongly, fought and after a display, which must rank as one of the most memorable Everton; O'Neill, goal; Clinton and Lindsay, backs; Farrell (captain), Jones and Lello, half-backs; Buckle, Cummins, Hickson, Parker and Eglington, forwards. Manchester United; Wood, goal; Aston and Byrne, backs; Carey (captain), Chilton and Cockburn, half-backs; Berry, Lewis, Rowley, Pearson and Pegg, forwards. Referee. Mr. Beacock.
The pitch at Goodison looked in ideal condition when the teams came out, but top surface appeared just a trifle greasy and cut up as the game goes on. The crowd must have been in the neighborhood of 70,000 just before the start, and in portions of the enclosure blow the Press box the packet spectators swayed considerably even before a ball had been kicked. Farrell won the toss for Everton and elected to defend Gwladys Street end. Coloured favours though in prominence in many places, did not seem as numerous as usual. United were the first away and a centre by Berry which passed over his colleagues was returned to the middle by Pegg and finally after bobbing about for a moment or two produced a header which was caught and cleared by O'Neill.
Neat Combination
A foul against Chilton for an offence on Hickson brought a free kick that outside United's penalty area. It came to nothing however, and next we saw a neat bite of combination between Pearson, Pegg and Rowley break down when Farrell nipped in to collect the ball. Hickson was already proving that his speed and fire were going to be a trouble to Chilton. Parker tried a long shot which had neither power nor direction and then back came United in a triangular move between Lewis, Rowley and Pearson which came to nothing when Cockburn fired hurriedly yards over the bar.
Penalty Appeal
Pegg, who always promised good things got through to centre the ball nicely without a shot and in Everton's next attack there was a strong appeal from the crowd for a penalty when Bryne brought Cummins down Referee Beacock waved play on to my mind quite rightly. For a couple of minutes United had penned Everton in their own penalty area. All three inside forwards failed to get in a shot until eventually Pearson, after a clever little dribble tested O'Neill. Everton next raid saw them pulled up for an offside decision and then back came United. This time they were repulsed quickly and Everton staged a five-point raid which promised more than was accomplished, for Aston robbed Eglington and transferred play to the other end.
United Take The Lead
United while not playing as good football as they used to do 12 months ago still looked the more dangerous side. When they attacked, it was usually with all forwards up, whereas Everton's attack frequently saw the inside men well back and the half backs after their defensive efforts unable to lend a hand. At the 27th minute United took the lead. Berry was the man who should get more credit, though Rowley was the scorer. Berry, put on his own on the right flank, foxed Lindsay by a faint to centre, instead he turned inwards beat his man, and then tried a shot when O'Neill dived to parry, Everton's goalkeeper could not gather the ball, however, and the rebound, going straight to Rowley, was lashed by the latter into the net from six yards range. Everton were not discouraged and in the next two minutes two splendid efforts by Buckle cheered the home followers. The first was a strong left foot shot which Woods caught very coolly. The second was a header only a couple of feet over the bar.
Eglington's Reply
Everton have lacked nothing on the score of fighting ability recently and they were now hammering back strongly in an effort to get an equalizer. Twice Chilton and Carey nipped in with timely interceptions before at the 34th minute Eglington put Everton on level terms. The start of the movement as a very clever pass by Cummins to Hickson, who was in the outside right position. Hickson quickly transferred the ball to Eglington who came in to round Aston and then score with a grand right foot shot from 10 yards distance. This makes the fifth goal to Eglington in his last five games.
It Was Almost Disaster
Carey, in his usual collected manner took the ball well up before delivering an upward pass for Pearson, which was collected instead by Farrell. A pass back by Aston almost led to disaster for it took the visiting goalkeeper all his time to get to it before Hickson and Parker. This was strong aggressive football from two well matched sides with the advantage veering first one way and then the other. Five minutes before the interval Everton suffered a blow when Hickson had to go off with a badly cut right eye. He had made a valiant effort to connect with a ball from Lindsay which had dropped near the penalty spot. Hickson flung himself at it in a praiseworthy effort to score, but in the act of falling appearing to come in contact with an opponent's out-stretched foot and blood poured from his eyebrow. He was led off by trainer Harry Cooke with a pad of cotton wool held to his face. The first half ended with Everton still on the attack, but unable to force home their advantage against a quick tackling and close covering defence. Half-time; Everton 1, Manchester United 1.
Although Hickson was not in his place when the teams lined up for the restart, he trotted out a minute later to the accompaniment of a resounding cheer. He carried a handkerchief in his hand which now and again he applied to his eye. When Hickson, harassed by two defenders, trying to bore his way through, was brought down by Carey, he adopted a rather truculent attitude on getting up, but matters were soon smoothed out.
Hickson Again In Trouble
Eglington came in to beat Carey and put across to Buckle, who shot first time. Wood palmed the ball away and Cockburn, in a momentary fit of panic, booted it behind for a corner. This might have been very expensive for United, for Hickson from the corner headed the ball against the upright. The game was stopped when this happened for Hickson's eye was obviously giving him trouble again and the referee appeared to be suggesting him that he should go off. Hickson, however, indignantly waved away any such suggestion. A moment later, following a mix-up in the United goal, Farrell, Cummins, Parker, and other Everton players, crowded round the referee demanding a penalty when Buckle appeared to have been fouled by Wood. The referee waved them away and consulted his linesman before play proceeded.
In Fighting Mood
Everton this half had been well on top, Jones twice held up Rowley during brief United raids, and then back came Everton fighting as they have rarely fought before for a very long time. Hickson, with blood running down his face, twice linked up with Buckle to produce angled shots and Cummins just failed to make contact with a high centre which might have produced a goal had he been able to reach it. Farrell and Lello were doing excellent work, backing up the Everton forward line and the way things has been going this half United will have to improve considerably to get in front again. Farrell set off another Everton raid which ended finally with a beautiful lob by Eglington which went just over the bar. United were tackling very strongly and one incident in which Lewis was concerned called forth some very obviously strong remonstrance from Cummins. Lindsay wisely elected to pass back to O'Neill when he was harassed by Lewis and then a wise clearance-come pass by Jones set Hickson going again away in the outside-right position.
No Quarter Given
Referee Beacock called Rowley and Clinton together for a few admonishing words after they had had a bit of a set-to on the far side of the field. Tempers were getting just a little bit frayed in one of two cases. It was case of no quarter being given or asked for, with every man putting everything he had got into a game full of thrills and incidents. Parker could have put Everton in front when Cummins squared the ball to him as he stood with no one within several yards of him. Parker had time to get the ball to his liking and choose his spot – instead he hit with a left-footer on the turn and fired well behind. Everton took the lead at the 63rd minute through Hickson, who all the second half, with blood streaming from his face, had played a hero's part. The move began with a long ball from Clinton near the half way line which went over to Eglington who wasted no time in squaring it to Hickson. He appeared to have little chance with two men in attendance but he was a Liddell-like persistency about going for every possible chance. Chasing the ball he beat one man, side-stepped another and then screwed back an oblique shot which Wood failed to reach.
Rejuvenated Everton
This a very comforting state of affairs for Everton and a moment later it might have been more comforting when Cummins just failed to steer a Lello free kick beyond the reach of the United goalkeeper. Nobody seeing Everton for the first time for a couple of months would recognize them as the side they were round about the turn of the year. They fought grimly and resolutely for every ball. They were going to it more quickly than the opposition, and they were swinging it about nicely and their defence covered up even more convincingly than United's. Hickson was the man of the attack. His grit and determination which carried him through despite his handicap and he still chased the ball as though his very life depended on it. Hickson almost got a third for Everton when he ran through on his own, but unfortunately Wood had narrowed the angle and he could not find a way past him. He also had hard lines with another header from Parker's centre all one side of his face was covered with blood but still he kept pegging away. Lewis had a great chance of leveling matters when Berry crossed the ball to him perfectly, but Lewis trying to break the back of the net, completely kicked round the ball and missed it completely. Hickson set Parker going and another goal looked a possibility until the latter's intended pass to Buckle struck a United man. This is a new Everton. The League champions many not be the side they were a year ago, but they were still a good team well above most First Division sides, so that it says much for Everton that they could in this half be so much on top.
United Make A Switch
Referee Beacock appeared to err when he gave a corner to United when Berry had seemingly been the last man to touch the ball. Fortunately for Everton it came to nothing through three United heads just failed to make contact as the ball came flying across the face of the Everton goal. United altered the formation of their side in a last desperate effort to force the equalizer. Carey went right full back, Aston centre forward, Rowley inside left and Pearson inside right. It was Farrell to the rescue again to clear a centre by Berry, and United were now having the better of matters against an Everton defence which seemed to be tiring just a little. An Everton breakaway saw nobody up to help Buckle and Hickson and again United bore down on the Everton goal until Lindsay raised the siege. When the final whistle went O'Neill dashed half the length of the field to throw his arms around Hickson, the hero of a wonderful win, but one which was shared equally by all eleven players. Final; Everton 2, Manchester United 1.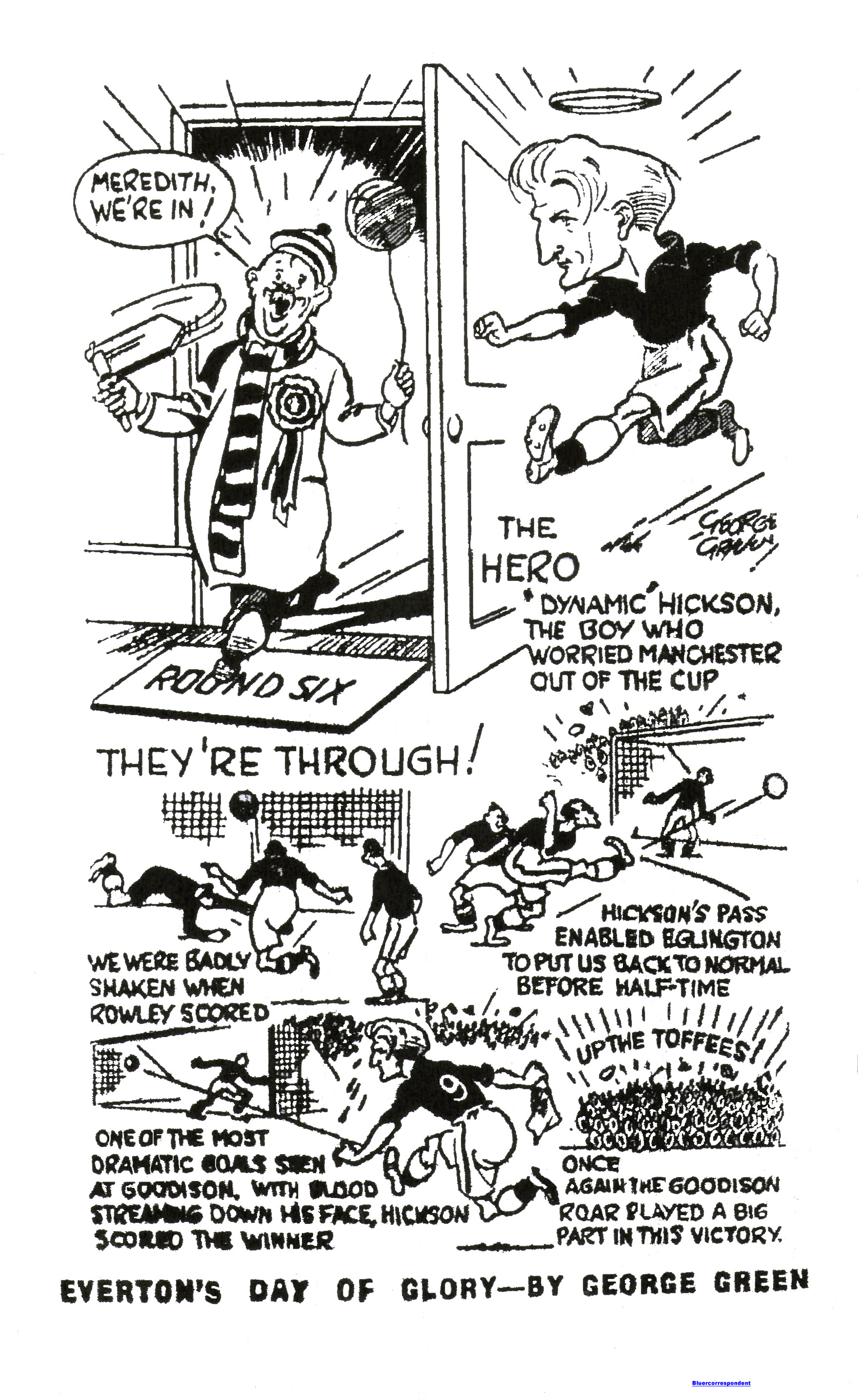 EVERTON'S FINEST HOUR –AND A HALF
February 16, 1953, The Liverpool Daily Post
Everton 2, Manchester United 1
By Leslie Edwards
At Goodison Park. Attendance 77,920; receipts £10,369.
This was Everton's finest hour and a half. It will be recalled as nostalgically as that famous 6-4 victory against Sunderland on the same ground. Maybe more nostalgically because though goals were fewer the football was better; and because Everton, in humber days had to do so much more, this time, when the best Manchester United I have ever seen. The crowd, too had its part in this great performance. Nearly 78,000 of them roared almost continually –and well they might. When the game ended with Cummins all but getting his side's third goal, the uproar was such that referee Beacock's whistle could not be heard. But he made the signal to the players and once it was seen that this really was the end, the Everton roar of relief and realization must have been heard miles away. Dancing dervishes then appeared from nowhere. Police patrolling the touchlines were powerless to prevent these fanatics from giving homage to Everton heroes. They kissed them, hugged them, slapped them and cut ecstatic capers with them. And not surprisingly, Everton players themselves joined the frenzy. Dave Hickson blood stained from a deep cut over his right eye and the day's most galliant representative of walking wounded came in for special treatment. In a few minutes the ground was cleared and exits were thronged with thousands too dazed to realize how their side had won, too limp from shouting to talk. These Everton fans who have suffered such disappointment and disillusion went away like men in a trance –one in which they could not keep, the corners of their mouths from turning upwards. The teams gave their last ounce of effort and them mysteriously found another last ounce, spectators punch-drunk from the bewildering battering of super football and drama and staggered by Everton's fighting ability, can have been no less exhausted. The thrills of this game came so continuously and were so spine-tickling they had the huge-crowd swaying and surging sometimes rather dangerously almost from start to finish. I confess the spirit and drama of the game and its beautiful football registered on a spine hardened like mine – through half-an-inch of plaster.
Full Marks For Referee
And full marks to referee Beacock for handling admirably such a tempestuous match, throbbing in vitality. He made only one mistake. Yet it is easier said than done to prevent players from "mobbing" you when you have failed to award them a penalty. The danger of Everton when they did this was that United would take a goal merely because the others were busily engaged in no playing to the whistle. That point and a horrid foul on Cummins are things which must be mentioned as the only blemishes of the finest game, on every count, we have been privileged to see for years. The great thing about it for Everton was that they won 2-1 after being a goal down; that they beat the present First Division champions that they won despite the handicap of being without Hickson for ten minutes in the first half and for a few minutes in the second. Allowing that Manchester United for the first 25 minutes played the best football I have seen in a life-time of watching and you will understand that Manager Matt Busby and his team had a problem to solve when they sat down in the dressing room to try to discover how it happened. This mystification can never be satisfactorily cleared.
Magic Goal
I should say that defeat was due partly inside forwards who did not strike when they had got Everton at their mercy to some fine covering defence by Everton and mainly to Everton's new found fighting spirit and general toughness and their will to battle when the game flowed against them. Add a truly magnificent day's spade work and a magic goal, right foot-by Eglington and an equally good but sometimes luckless, performance by Hickson and you have the kernel of Everton's offensive force. These two did more than anyone to knock off balance a defence whose virtuosity for two thirds of the game at least was nothing less than fantastic. United have been well and truly schooled in their football. A (Aston) B (Byrne) C's (Carey, Chilton, Cockburn). In the tightest corners these men elected to do what we thought was the impossible –and succeeded. I cannot find superlatives to described their work . It was all so reasoned and poised. As near perfection as anyone will ever get. But Everton won. Carey may show signs of age but leading his phalanx of football artistry he enhanced his wonderful reputation. Only when Everton and the crowd's intense encouragement of them knocked United defenders off their perches did the defence begin to win, and it was than that Hickson made the half-chance tell. The way he kept Chilton at bay and went on strongly before angling his shot was evidence that he can use head and feet. All the goals were good ones Rowley's was virtually made for him for Berry, the best forward of all. Once the winger had mesmerized Lindsay and had made his angle squarer he delivered a shot which O'Neill could only push away. Rowley supplied the coup. A smash hit from zero range.
Eglington's equalizing shot came from his right foot. He had intelligently drifted into the centre to bring the ball down and hit it on the half-turn beyond Woods reach. Tom Jones through ball down the right wing was the real beginning of this vital goal –the one which put Everton into gear at a time when United supremacy was promisingly that Rowley's goal would lead to others. Retrospectively it is hard to reconcile United's fine beginning with the reward it brought. Young Pegg played like a Matthews, Berry was always menacing. Possibly the three inside men fiddled while their Cup chances burned. Never again were they given opportunity to frisk the ball between themselves as they did in those early stages.
Feel of Triumph
When Aston went forward to take Rowley's place ten minutes from the end the United attack had extra punch but by this time the Everton defence so got the feel of triumph in their bones they were playing as though their lives depended on success. Everton's defence guts, I think were due much to Lello. This sturdy. John Bull type sets his raw and is blessed with abundant stamina. Tom Jones facing what should have been the main United threat had a grand match and Farrell by judicious touches with head and feet rescued his side in some critical moments. Considering the calibre of the men they faced Lindsay and Clinton did well enough. O'Neill had little to do, the first ten minutes, excepted; Wood was more often under fire. Some dazzling headers by Hickson flew very close to the goal frame and one stuck the post. It was making this one that Hickson suffered the cut above the ye. He came back with two stitches in the wound and continued to put his acing and bloody head to any centre which came his way. Buckle with the game's best shot and a flashing header (all in the space of a minute or two) had moments of greatness and I do not forget that when his centre's were being delivered with admirable promptness in the late stages Everton were much more dangerous. Though a home tie this round apparently meant little –except to Everton of the eight Cup teams involved –the pavers this morning will be "Oh let it be Gateheads." A more intriguing match would be against Arsenal at Goodison Park, in which case captain Joe Mercer who was so confident of Everton's ability to beat United might prefer this time not to attempt a prophesy. But as Arsenal, these past three seasons have played twenty one cup-ties and have lost only two (each by 1-0) it is just possible that Joe would fancy Arsenal to succeed where United failed. And where United failed with distinction, since they played well and lost with great grace. Meanwhile on Wednesday, Everton go to Doncaster with laurels (and requests for Cup tickets) thick upon them.
• Geo Mahon Cup First round, Hoylake Ath 2, Everton "A" 4
• Everton "B" 1, Marlborough 2
EVERTON'S GALLANT VICTORY
February 16, 1953. The Liverpool Echo
This Was A Match Which Will Long Linger In The Memory
Ranger's Notes
(The scene is the same as a fortnight ago) the smoke-room of the Everton Arens on a Sunday evening in the year 2013. Seated in his usual corner, is the same cheery-looking old man, known to habitués as "Grandad," with an almost empty glass before him. Rosie the pert young blonde-behind the bar, looks at him quizzically.
"What the matter Grandad?" she asks;" "You've been fidgeting like a flea in a bottle this last half hour. What's worrying you?"
"Nothing's worrying me, my gal," says the old man peering piercingly over his spectacles "but them lads is late. T'plane from Madrid were due long ago. Tain't as thought it were a long trip, I one as nothing as appened to em. Hardly had the old man finished and gazed abstractedly at Rosie than in burst half-a-dozen high spirited young men wearing blue and while rosettes. "Sorry we're late, said one of them, but we got held up by fog and the pilot could only crawl along at 800 miles an hour.
"I'm reet glad to see you Jimmy" remarked the old man. "I were beginning to get a bit anxious . Did you enjoy your trip?" "Aye we did an all. The Blues were right on top of their form and made those Spaniards look like a lot of cabhorses. But we'll tell you about that later, Granddad. You promised a fortnight ago that you'd tell us what Everton did to Manchester United in the Cup in 1953. I hope you havn't forgotten."
"Forgotten?" remarked Rosie scornfully "The old fellow's been fit to bust this last half hour in case you didn't turn up. You couldn't stop him telling you.
"Now then, me gal, replied the old man, shaking an admonishing finger, "you respect your betters. Ay, Jimmy I'll be glad to tell you, I ope I'll be able to finish the tale. That there nasty tickle in me throat still bothers me if I talk too long, y'know.
Turning Back The Pages
"O.K, granddad, We'll see it's properly lubricated. Give him a pint to be going on with, Rosie." "Well, then," began the old fellow, taking a deep swig, with eyes sparkling as memory turned back the pages 60 years," when the Blues were drawn against Manchester United, who ad bin the best team in the country for six years, there were many as reckoned Everton 'ad come to the end of the road. They'll never beat United they said. "It certainly looked a tought job for our lads, but unfortunately they were just then coming to their best. Mind you, they'd been a long time about it, and some of us had almost begun to despair. But suddenly just after Christmas they seemed to find a new spirit. You'd ha' thought they'd bin given a double dose of pep pills. Instead of playing wi' tails between their legs, they up and started fighting like demons for the full ninety minutes. "For the first 'arf hour against United the visitors were slightly the better team. When Jack Rowley scored for 'em after 27 minutes the faint earted thought it were the beginning o the end for us. But them as thought that was soon proved wrong, George Cummins and Dave Hickson made an opening which Tommy Eglington took wi' his right foot to equalize. The old man took another pull at his beer and wiped the back of his mouth thoughtfully "You youngsters won't know of course," he went on "but Eggies right foot were not exactly renowed. His left were his real shooting boot, so that when 'e 'it a real snorter wi' 'is right the folk was so pleased they nearly lifted the roof ort the stand.
Hickson's Match
"One each were the half-time score, but just before then Davie Hickson our centre forward was led off with a badly cut eyebrow, and it looked as though 'e wouldn't be able to do much in the second half." The old man paused then chuckled with intenses delight. "Not do much, did I say? By gum lads, I never in all my life seen a player wi' so much guts as young Davie showed. Wi' the blood streaming down is face e got stuck into 'is job like as if is very life depended on it. Twice the referee suggested 'e should go off for attention but Dave waved 'im aide just like a teetoller refusing a drink. Eee, but it were grand to watch" –and again the old fellow's eyes lit up with happy remembrance. "Young Dave got the winning goal by as grand a bit of persistent play as ever I seen in my life. Them folks as were so misguided as to follow Liverpool used to say sd ow there was no match-winner to equal a lad they 'ad called Billy Liddell. Well, I'll 'grant 'em Liddell were a great player, but that day our Davie were as much a match winner as Liddell at 'is best. "Yes for years afterwards and even to this day among us old as-been that game against United is always called Hickson's match. Mind you, the victory were a tribute to grand team work too. Every lad played 'is part well, some was better than others, o' course, but every men jack of 'em rolled up 'is sleeves and gave everything e'ad. "Farrell, Jones and Cummins were grand; so was Jimmy O'Neill in goal also Lindsay once 'e'd got the measure of United's outside right, a tricky little chap named Berry. Aye, Jock buried Berry in the second 'arf all right. All on em deserved high praise. "Man and boy, I followed Everton for over 50 years, and I reckon this were the finest show they ever put up in their 'istory. United played like champions for 'arf an hour. After that they played brily as well as the Blues let em and were bottled up almost the 'ole time I can tell you lads. I were never more pround to be an Evertonian than that day.
A Bitter Blow
"It nust 'ave bin a bitter blow to Manchester United, who 'ad set their 'earts on getting to Wembley again, but like good sports they was first to admit the better side won. "Aye and the margin might easily 'ave bin much bigger, 'Ickson eaded one ball against the post and provided two wonderful chances for John Willie Parker. But John Willie were so lost in admiration, watching wot 'Ickson were doing, that 'e couldn't make the most of em. "Another bloke who must 'ave bin lost in admiration were that fellow Rangers I told you about last time, 'im as wrote for the papers. Only the same night as we whacked United 'e'd bin saying as 'ow 'e were going to wait a bit longer before makin' up 's mind just 'ow good the Blues really were 'E reckoned as two good performances weren't enough guarantee that the worst were over. I did that 'e were seen eating is bowler 'at afterwards, but I didn't believe it 'cos I 'appen to know as 'e never were an at. Still give the devil is due 'e did say the day before as 'e thought Everton would win.
A Great Day
Once again the old man paused reflectively emptied his glass, and looked around the company proudly. "Yes," he said happily "that were a great day. Once again we could look Liverpool's supporters in the eye and not 'ave to slink away shamefacedly. "I'll bet Cliff Britton, our manager were a 'appy man that night too. They did say as 'ow somebody jokingly suggested 'e should 'ave the freedom of the city, but Cliff sed that if anybody got it, it should be the players." "Well, boys I must be getting' along 'ome now. The missus 'll be playin' old 'arry if I'm late." "Half a tic-tac, Grandad," broke in one of his audience. "Finish sud-the-story. We're waiting to hear what happened after that. Did Everton win the Cup and how long we're they getting out of the Second Division?"
Grandad fumbled with his over-coat and jammed on his hat. "You want too much for your money son," he said indignantly. "Don't be impatient. Just you ask me to come and a've one again a fortnight today and I'll tell you wot 'appened after but I've talked enough to night for a fellow of my age. "Righto, granddad, we'll make it a date. See you here a fortnight tonight, when we get back from the match in Rome. Sleep well and dream of Wembley."
Queue Confusuion
Having seen granddad off, let me now sympathies with those unlucky ticket holders for Bullens Road, who did not get in until anything up to 25 minutes after the game had started, although they were outside the ground in good time. The trouble arose because of the terrific crush of folk hoping to get into the paddock. A mass of people jammed all the approaches at the north end of Bullens Road, and the foot police were almost powerless to do anything about it. Ticket-holders could not force a way through to the entrances. Even after the paddock gates were closed the position remained bad. Mounted police were called to straighten things out, but by the time order was restored the match was well under way. There is a lesson in this for any future games likely to attract such a tremendous crowd.
Saturday's combined total of 102,900 specatators at Googison and Anfield was a record for one day in Liverpool. The previous best aggregate was 95,806 on January 31, 1948.
Everton will not be able to announce the prices and methods of allocation of tickets for the sixth round cup-tie until tomorrow. The club specially asks that supporters should not apply for tickets until these detaiuls are made public. All applications bearing a postmark earlier than the announcement will be returned.
EVERTON AT DONCASTER
February 17, 1953. The Liverpool Echo
Win For Blues Would Make League Position Doubly Comfortable
Ranger's Notes
Everton, flushed with success after their victory over Manchester United should tackle lowly Doncaster Rovers at Doncaster tomorrow with plenty of confidence after a display considerably against the Firest Division champions could see the Blues registering another victory, for Doncaster are rather a struggling side these days. They have won only four out of 14 games on their own ground. Seven have been drawn, however, which shows they are a pretty hard lot to beat at Belle Vue. They are not easy even always and actually have lost one game less than Everton having suffered only nine defeats in 28 League matches. Everton are the only team who have beaten them decisively this season. That was when the Blues won 7-1 on September 27, and Eglington got five goals. No other club has beaten Doncaster by more than a two-goal margin this season except Arsenal who won 4-0, at Highbury in the third round of the Cup. Three months ago Doncaster were in the danger zone, being second from bottom. Then came a revival and since November 1 they have been defeated only once. When they lost at home to Sheffield United on Boxing Day.
Has Played A Big Part
One man who has played a big part in their revival is centre forward Raymond Harrison, who was brought from Burnley for £10,000 a few seasons back. Liverpool's followers will remember Harrison as the man who scored the goal for Burnley which knocked Liverpool out of the replayed semi-final against the Turf Moor club at Maine Road in 1947. Harrison was dropped by Doncaster earlier this season in favour of Adey, but as soon as he was restored three months ago the team began to improve. Another man who has strengthened that Yorkshire team this season is right half Tommy Brown, whom Doncaster got from South Liverpool. A powerful attacking wing half, Brown has been off injured for the last three weeks but is expected to be fit to play tomorrow. Player-Manager Peter Doherty, still one of the greatest inside forwards in the game has also been off following an injury received in training but he too is fit again and will probably play against Everton.
Blues Can Make Sure
In addition to Brown centre half Paterson is another powerful figure in Doncaster compact and dour defence. This young Scottish player has improved out of all recognition since the early part of the season. He was recalled to the side after the debacle at Goodison Park, and has not been absent since. The way Everton have been playing these last few weeks disposes of any lingering anxiety about their League position, bit they can make assurance doubly sure by another victory tomorrow and with a game or more in hand over the clubs immediately above them they may soon for the first time since October, return to the top half of the table. As announced in our later editions yesterday, Hickson is not fit following his injury and Buckle is being rested so that there are three changes –one of them positional –compared with Saturday's victorious eleven. Everton; O'Neill; Clinton, Lindsay; Farrell, Jones, Lello; McNamara, Cummins, Parker, Fielding, Eglington.
Doncaster team subject to fitness tests later will be;- Hardwick; Makepeace, Graham; Brown, Paterson, Miller; Doherty, Lawlor, Harrison, Herbert, Tindill
Everton's Ticket Plan
Unless you are an Everton shareholder or season ticket holder, the news today about tickets to the sixth round Cup-tie at Aston Villa is not very cheery. Only the fore-going two classes of Evertonians will be able to get those much desired bits of pasteboard for the Goodison club's allocation of seats which is limited to one-fourth of the available accommodation, is very small. It will not even suffice to provide a ticket for all supporters in the two classes names if everybody decides to go to the Villa ground on Saturday week though that of course, is hardly likely. Admission to the terraces will be by payment at the turnstiles and with Birmingham also at home to Tottenham the same day, there should be ample room at Villa Park for the cash cutomers, Villa's ground record is 76,588. Everton's ticket distribution will be on these lines; Shareholders with a "self" season ticket will be allotted one 7s ticket. They must apply by post before Friday February 20 enclosing remittance stamped addressed envelope and the sixth round voucher from their book. This will be returned for further rise in case of a replay. After the requirements of shareholders have been fulfilled the remainder of the tickets will be available to season ticket holders. They will be allotted one 7's ticket for each sixth round voucher. Methods of application is the same as for Shareholders and is by post only. Don't forget to enclose the vouchers –that is vital. Envelopes must be marked "Shareholders or "Members" as the case may be. As there will not be sufficient tickets for all season ticket holders applications will be dealt with in strict rotations as received starting with the first post tomorrow morning. Everton regret that there will be no tickets for the general public, and it is requested that supporters other than shareholders or members should not apply.
The Last Post
Though they did not know him personally, thousands of Everton supporters will regret to learn that the Everton "bugler" is dead, Mr. Hamill, who lived in Foley Street, Kirkdale had taken his bugle along to Goodison Park for may years and used it to urge on the Blues from time to time. Latterly he had not been as regular an attendance as once was the case, but Everton followers had not forgotten him, and in one of the Forces programmed some time ago there was a request for him to be included in the "Noises from Home" feature. A recording as made and duly played over to the lads abroad which must have given many a loyal Evertonian a real breath of Goodison Park and revived happy memories.
Hospital Broadcasts
Following the wonderful success of the scheme for running commentaries on Everton and Liverpool matches to inmates of Walton Hospital, inaugurated four months ago by the League of Friends of Walton Hospital, attempts are now being made to extend the idea to 16 more hospital in the city by the start of next season. To do this will involve an outlay of £700 per annum for telephone line facilities. There will also be another £300 for the cost of connecting up the post office lines at each hospital for the existing internal diffusion systems. Mr. John Moores has generously offered to defray the later amount and the League of Friends have contacted the Merseyside Hospitals Council regarding the possibility of their defraying the annual charge of £700. Mr. J. Worthington, chairman of the League of Friends has also written the various hospitals acquainting them of the position, if it is possible to extend the present commentary system to all the other main hospitals it will be a boon to thousands of folk, I know that the Walton broadcast system has brought much joy to all male inmates and to many female ones as well. The League of Friends has done a grand job of work and I thrust their efforts to extend the scope of these commentaries will prove successful. The hospitals to which it is hoped the scheme will apply next football season are Aintree Royal, Stanley, Newsham, Radium instate, Sefton Southern, Boole, Broadgreen, Westminster House, Ministry of Pensions (Mossley Hill), Ear, Nose and Throat St Paul's, St. Catherine's (Birkenhead), Birkenhead Central and Barrowmore (Chester).
GOODISON SIDE MAY BRING BACK POINT
February 18, 1953. The Liverpool Daily Post
By John Peel
Many of those soccer lovers who are deprived of the opportunity of watching their favourities sports on Saturday are provided with the chance of seeing a game today. Although there is no big game n Merseyside our interest will be concentrated on Everton's game with Doncaster Rovers at Doncaster and in consequence of their excellent form during recent matches the Goodison Park side in spite of team changes, should not be beaten. The changes in the Goodison ranks compared with the successful cup side against Manchester United are confined to the attack. Hero McNamara takes over the extreme right wing position in place of Buckle, Parker moves from inside left to take over the leadership for the injured Hickson and Fielding comes in as partner to Eglington. Doncaster have not enjoyed a great deal of success this season and to date have collected only 25 points from 28 matches having won only four times at home in fourteen engagements. Only on three occasions have they lost before their own supporters this season so today's game is sure to be keenly contested. The teams will be;- Everton; O'Neill; Clinton, Lindsay; Farrell, Jones, Lello; McNamara, Cummins, Parker, Fielding, Eglington. Doncaster Rovers; Hardwick; Makepeace, Graham; Brown, Paterson, Miller; Doherty, Lawlor, Harrison, Herbert, Tindill.
NOT ONE OF EVERTON'S BEST DAYS
February 19, 1953. The Liverpool Daily Post
By Ranger
Doncaster Rovers 3, Everton 0
After their Cup-tie victory it may have been natural to anticipate something exceptionally good from Everton in their rearranged League match with Doncaster Rovers at Doncaster yesterday. The anticipation however, was not fulfilled and never looked likely to be. One could hardly recognize this lusterless and insipid Everton as in the slightest degree related to the team which had preformed so brilliantly against Manchester United. Everton started reasonably promisingly, though without being in any way impressive but after Eglington had bad luck in striking the woodwork early on they gradually allowed Doncaster to wrest the initiative from them and eventually to go on to a well-merited victory. For quite an appreciable period in the second half before Doncaster, got their second goal. Everton were slightly the more dominating combination but weak finishing robbed them of some good chances. They particularly missed the fire and inspiration of Hickson, and all through the game, the five forwards produced nothing worthy of mention in the way of shooting. Indeed the most powerful shots came from wing halves, Farrell and Lello. Twice Parker had an excellent opportunity to put the visitors on level terms. Once he missed the ball completely and on the second occasion, with only the goalkeeper to beat from six yards when Farrell's terrific drive bounced straight to his feet off a defender, he fired yards outside. Doncaster were quick and keen in their tackling, found their men much more accurately and were always quicker to shoot than the visitors.
Desperate Defence
But for some desperate defence by Clinton, Jones, and Lindsay, plus some smart saves by O'Neill, Doncaster's margin might have been still greatest. Everton were certainty a trifle unfortunate not to go ahead at the eleventh minute when Eglington cutting in to meet a clever pass by McNamara, hit the upright with a strong drive. From that point onwards however Doncaster slowly but surely began to assume the upper hand. Once they had got it they rarely let go their hold on the game. It was no more than Doncaster deserved when Lawlor gave them the lead at the thirty-second minute. Tindill snapping up a pass by Teasdale, lobbed over a tentative ball which O'Neill misjudged. It bounced back into play off the post and with O'Neill unable to recover. Lawlor had nothing to do but place it into the net from six yards. Doncaster scored again at the sixty-fourth minute when a high ball from Tindill helped on its way by Harrison, bounced awkwardly as two Everton defenders attempted to clear and then ran loose to Herbert, who gave O'Neill no chance. Harrison got the third six minutes from the end after he had previously hit the woodwork with the best shot of the day. Eglington and Fielding were the best of an indifferent Everton forward line, in which Parker was not a success in the middle. McNamara did some nice things at times, but as a line the Everton attack was much below in recent standard. Farrell and Lello did excellent work and took main honours in the shooting department, while the backs though not as dominant as usual held their own reasonably well against a speedy and aggressive Doncaster attack.
Penalty Claim Fails
Kingscot a nineteen-year-old amateur making his debut for Donacster after less than a fortnight's association with the club never had anything very difficult to deal with. There were periods during the second half when Doncaster's defence looked as though it would be none too secure had it been severely tested. Brown formerly of South Liverpool played a sound game throughout but Doherty who changed places with Herbert in the second half is not the Doherty of old. Everton claimed that they should have had a penalty before Doncaster got their second goal when Cummins was brought down by Makepeace as he was bearing down on goal. The referee, however gave a free kick a foot outside the area. This, however, would hardly have swayed the game in Everton's favour. It was not one of their best days and the points went to the side which most deserved them.
THEY FELL FROM GRACE
February 19, 1953. The Liverpool Echo
Everton Failed To Produce Their Best Against Doncaster
Ranger's Notes
After their cup-tie victory, Everton disappointing showing at Doncaster was a decided anti-climax. They will need to do much better than this to fulfill our hopes that they will get to the semi-final. Maybe it was reaction after their all-out effort of Saturday, or perhaps they are saving themselves for Villa Park. Whatever the cause if you'd been at Belle Vue you wouldn't have recognised the Blues for the same team as that we saw against Manchester United. First and foremost the attack missed the electrifying example of Hickson, Parker has his good points on his day-but this wasn't his day. Twice he missed gilt-edged chances of putting the visitors on level terms and though he tried hard enough to make amends nothing went right for him. It was disappointing to see so much effort achieve so little. His front time colleagues were equally as anxious to do well, and there was period in the second half when it looked just a possibility that the Blues, then only one goal behind might stage another of those fine rallies which have marked some of their recent performances. It was promise without fulfillment, however, and once Doncaster had got a second goal the result was a foregone concussion. Yet Everton never gave up trying. That at least must be said in their favour. But they were slow to the ball, their finishing was lack to the old wasteful pattern, and the speed precision and power they had shown against Manchester United was conspicuous only by its complete absence.
Wing Halves Shone
Farrell and Lello made praiseworthy afforts to show the forwards the way, and to make up for the latter's jack of finish by having a go themselves. Each put in several splendid shots, Farrell in particular having hard luck on a couple of occasions. They also did sound work in defence when Doncaster were crowding on heavy pressure, and along with Jones, helped take some of the weight off the backs. The latter though rarely making a real mistake, were not so dominating as we have seen them latterly. How the game might have gone had Eglington scored at the 11th minute, instead of hitting the foot of the post, is something we can only surmise. Success then might have set Everton off in a more commanding and confident mood. As it was they never really got a grip on the game, and in some instance the players seemed more concerned with avoiding injury than going all out for victory. With the Cup-tie so near this was doubtless human enough. Doncaster's fire goal after 32 minutes was partly due to O'Neill misjudgment of a lob from Tindill which came back off the post to present Lawlor with a simple chance. An awkward bouncing ball which eluded two defenders and ran loose to Herbert enabled the latter to get the second at the 64th minute, and Harrison finally put paid to any hopes of an Everton revival by getting a third six minute from the end. After last week's great Cup-tie display this Everton performance reminds one of the old tag about the Lord Mayor's show and the dustcart. And so did the attendance. Nearly 80,000 one day and barely 8,000 the next.
VICTORY IN RHYME
February 19, 1953. The Liverpool Echo
Ranger's Notes
I get many poems from readers but most neither rhyme nor scan and reflect more the enthusiasm of their compilers than their talents as budding Longfellows or Tennysons. One to hand from Mr. D. Black, of * East Orchard Lane, Fazackerley, is so good, however that I am giving it here. It will form a nice souvenir for keen Everton fans if they cut it out. I'll bet Grandad will be jealous. He's often tried his hand at poetry, but had to chuck it away in disgust. This is Mr. Black's praiseworthy effort.
The day of Cup (Round Five) has passed,
And many fans delighted
Will tell the tale for years to come,
Of Manchester (Dis) United
Of how the local lads in blue,
Though being one goal down
Come back and had another go
Then really went to town!
It seemed as if Dame Fortune fair
Had cost a cunning wink,
When Rowley put the Reds one up
Our hopes began to sink
The Manchester supporters said;
"An equalizer? –Never."
But days may come and days may go,
-Our Pete goes on for ever
He rallied all the boys around
-The fight was in them yet,
Till Tommy did a ballet act,
And smashed it in the net!
The current then was switched to "Full"
And Carey's boys were within'
Friend Hickson made the sparks fly high
-Electrfying Chilton!
But then, Dame Fortune wasn't through
And in a manner sly,
She worked a bit of overtime
And cut Dave Hickson's eye
The tide of hope had turned again
For after Davey's cropper
He had to leave the battlefield
And have it patched up proper
The second half was under way
And how the fans all cheered
When Dave, in shirt of red, and blue
At last had reappeared.
And what a dance he led those boys,
They stormed United's goalie
And all the forward line fell back
-a fine defender Rowley
It had to come, it wasn't long,
Dave did a bit of higging,
When Wood turned left, our Dave turned right
-The ball was in the rigging
The scoring for the day was done
With Manchester "on toast"
Our gallant centre forward tried
Again –and hit the post
The welcome full time whistle blow
And Dave –the box of tricks,
Through sheer guts, and "Do or Die."
Had put us in round six
Congratulations, David lad,
And Peter –same to you
Let's see you all at Wembley
Best of Luck –The boys in Blue!
And Another
The above effort reached me on Tuesday. On returning from Doncaster this morning there was another awaiting me from 70-years-old Mr. H. Bell, 6, Avon Street, Liverpool writes
Readers hail your football news,
Full of humour, wit, and views
Ranger's notes have gone quite gay
Since Reds and Blues both win each day
He smiles and sings with sweet refrain,
With hopes revived he's happy again.
No more pangs or groans of fear,
His further notes should bring good cheer
Making Grandad's story true this year!
Thanks Mr. Bell it must be the coming of spring that's made me go all gaga lately.
VILLA AND EVERTON HAVE MUCH IN COMMON
February 20, 1953. The Liverpool Daily Post
BY John Peel
When two clubs like Aston Villa and Everton are drawn together in the F.A. Cup it is natural that every supporter of both sides and thousands of "neutrals" too, will wish to see the tie and consequently the sixth round meeting between the pair at Villa Park on Febraury 28 is bound to attract a capacity crowd. There is a strong parallel between the Villa and Everton clubs for both found their origin from members of church teams; both are original members of the Football League and it has always been the policy of the managements to possess teams that displayed all the finer points of football. Perhaps of the pair the Villa have more achievements to their credit in the matter of honours for they have won the Cup on six occasions, the First Division championship the same number of times and are one of the only two clubs to accomplish the elusive double that of winning the Cup and championship in the same season. This latter feat the Villa achieved in 1896-97 when strangely enough it was Everton who Villa beat 3-2 in that season's Cup final, the record of the two clubs to the last stage on that occasion reading;-
Aston Villa
First round; beat Newcastle 5-1
Second Round; beat Notts County 2-1
Third Round; beat Preston North End 3-2
(after 1-1 and 0-0 drawn games)
Semi-final; beat Liverpool 3-0
Everton
First Round; beat Burton Wand, 5-2
Second Round; beat Bury 3-0
Third Round; beat Blackburn Rovers 2-0
Semi-Final; beat Derby County 3-2
Villa's first appearance in the Cup final was way back in the season 1886-87 when they defeated West Bromwich Albion 2-0. Since then they have made seven further appearances in the last stage, succeeding five times -1894-85 beat West Bromwich Albion 1-0, 1896-97 beat Everton 3-2, 1904-05 beat Newcastle United 2-0; 1912-13 beat Sunderland 1-0, and 1919-20 beat Huddersfield Town 1-0 (after extra time). Besides their Final meeting Villa and Everton have met on only two other occasions in the Cup curiously enough each time being in the semi-final in 1897 when Villa won 3-2 at Crystal Place and 1905 when the Midlanders were again successful this time by 2-1 at Nottingham after a 1-1 draw at Stoke. In all their long League career Aston Villa have only been relegated once. That was at the close of the 1935-36 season when some £35,000 was spent by the club in an effort to ward off the "drop." The new players were signed just too late, however, and so came to an end a run of nearly fifty years of continuous membership in the top circle. Within two seasons the club had regained their former high status for in 1937-38 they won the Second Division honours since when they have maintained their position. So far this season the Villa Park eleven have not enjoyed a great amount of success in League matches and at the moment occupy the eight position from the foot of the First Division showing 25 points for twenty-seven matches. Only five victories have been recorded at home in fourteen League engagements, five drawn and four lost with twenty-two goals recorded against seventeen by opponents. As Everton have avoided defeat in seven of the fifteen games they have played away from Goodison Park-they have won three and drawn four –the outcome of the Cup-tie on February 28 looks a difficult one to forecast, especially in view of the present form the Everton team are displaying form which may negative Villa's ground advantage.
EVERTON'S TWO DESIRES
February 20, 1953. The Liverpool Echo
To Save Themselves For The Cup And Capture League Points
Ranger's Notes
Everton home to Swansea Town tomorrow, will be torn between two desires. First will be very natural anxiety of the players to avoid injury in view of the sixth round cup-tie against Aston Villa. At the same time there is a keen desire to improve their League, particularly after the Doncaster defeat. Although Everton's place in the chart is reasonably comfortable now, the comparatively slender margin between them and some of the clubs bellow means that points cannot be needlessly sacrificed, especially at home. That is always a problem when a lowly side is doing well in the Cup. When Leicester City got to the final four seasons ago they came within an ace of losing their Second Division status. Their only saved themselves by drawing at Cardiff in the last match of the season. I don't for a moment think that Everton are likely to suffer a similar experience if they continue in the national competition, but at the same time they cannot be too complacent.
Substantial Hope
Nobody knows when some of the lowlier clubs may start a sustained revival. Fortunately this unlikely they will all do so together, and in any case Everton's improved displays have given us new and substantial hope. Taking a line through previous results is often the quickest way of finding oneself right up the garden path, so we can ignore the fact that Swansea were victorious at Doncaster, which was the scene of Everton's latest defeat. Let us remember the more consoling fact that the Swans have not got a solitary point out of their last seven away matches in four of which they have failed to score. Yet that may not be too comforting a though for every run, whether of success or failure, comes to an end sooner or later, and Swansea are sure to be trying desperately hard to bring their pointless period to a finish. During these seven fruitless away games they have scored only three goals and forfeited no less than 26. That makes Everton's prospects bright enough.
Where The Blues Have The Pull
With the proviso that the Blues can reproduce form comparable with last Saturday there should be no doubt of the outcome. But if they don't do any better than at Doncaster the result may well be in the balance. Even if not quite up to its best standard however, I reckon the Everton defence will be able to keep Swansea's forwards in check Ivor Allchurch is the man they will have to watch carefully, and at no time than during those periods when he seems to be taking a bit of a breather. This is when he is most likely to spring to action and dart through if there is half a chance. The result of this match is most likely to hinge on whether the Everton forwards can recapture their smooth and precise combination and shooting power. The Swans defence is not what it once was not by a long chalk. It may crack under strong and sustained pressure. Swansea Town; Groves; Keane, Thomas; Lucas, Charles, Williams; Medwin, Scrine, Beech (C.), Allchurch, Griffths.
MR. WILL GIBBINS SAYS "I DON'T KNOW"
February 21, 1953. The Liverpool Daily Post
By Leslie Edwards
Of the considerable number of Everton rumours going the rounds it is possible only to comment on one this morning – the reported retirement at the end of the season of forthright Mr. Will Gibbins, doyen of the board of directors, with thirty-seven year's service. He is in his eighty-second year, but you would never guess." Young mentally and, physically, he told me, yesterday "I had thought of not seeking re-election this time, but I am being pressed to stay on. I don't know –what I shall do yet, it depends on many things." Sparse and active and still pulling meditatively on that famous (and pungent) pipe of his. Will Gibbins can recall other days when clubs were concerned about the possibility of serious trouble to players whose injuries have picked up some "bug" from the soil of the pitch. He said; "I remember, years ago, when Dr. Cecil Baxter was club doctor, how he always insisted that trainer Harry Cooke should treat anyone with cuts or abrasions at the sideline without delay, in those days the best precaution was to swill the injury, dirt and all with iodine.
Everton dearly want two points from their home Swansea Town match today. After the Cup triumph the Doncaster verdict came as a sharp shock, and to maintain morale at high pitch there must be no mistake this afternoon. The team chosen only yesterday brings in Rankin as deputy for Lindsay with Buckle at outside right and Parker and Fielding of the attack replaced Hickson and Potts. Lindsay and Parker are rested. Swansea come with the young brother of John Charles of Leeds United at centre-half with Ivor Allchurch at inside left. On his last appearance at Goodison Park Allchurch was below bar, he will need to be in international form today to help Swansea revive their poor away figures. Hickson's appearance ensures that Charles will have a busy and maybe profitless afternoon, but Everton's main care after thought for their League position will be of fitness for the Cup-tie a week hence. The teams are; Everton; O'Neill; Clinton, Rankin; Farrell, Jones, Lello; Buckle, Cummins, Hickson, Potts, Eglington. Swansea Town; Groves; Keane, Thomas; Luucas, Charles, Williams; Medwin, Scrine, Beech (C), Allchurch, Griffths.
LIVELY GOODISON GAME ENDS WITH TWO ORDERED OFF THE FIELD
February 21, 1953. The Luverpool Football Echo
Everton Nil, Swansea Nil
By Stork
It was obvious that Everton were not full out. They have next week's important cup game in the back of their winds. Nevertheless, they did so much attacking, that they should have won, although one must give credit to Groves for some of his saves. Everton; O'Neill, goal; Clinton and Rankin, backs; Farrell (captain), Jones and Lello, half-backs; Buckle, Cummins, Hickson, Potts, and Eglington, forwards. Swansea Town; Groves, goal; Keane, and Thomas, backs; Lucas, Charles and Williams, half-backs; Medwin, Scrine, Beech (C.), Allchurch and Griffiths, forwards. Referee; Mr. A.H. Blythe (London).
Although it was the Welsh team which made the first move of note it was Everton who made the next one, and it looked full of promise when Cummins collected a clearance near his own penalty area and then worked the ball adroitly until he had led the opposition into the belief that he would dispatch the ball to Eglington. Instead of doing the obvious thing he pushed it through the middle to Potts who in turn, swept it out to Eglington, and it looked as though there would be extreme danger to the Swansea goal. Unfortunately, Eglington put the ball a shade too far in front of him and it went over for a goal kick.
Lob Effort Fails
Hickson and Buckle had a nice little spot of play between themselves which culminated in the ball eventually arriving to the feet of Cummins. The Irish inside forward was a shade out with his lob effort. We had not seem a great deal of Swansea so far as attacks were concerned. From of their movements, a very nice one too, they were able to win a corner, because Jones' intended defensive header passed over his own line. Medwin took this kick, and the ball went soaring close to the Everton goal, but O'Neill, with cat-like agility, jumped up to pluck the ball, away from the heads of quite a number of players.
Very "Fine" Decision
This save was grealty appreciated by, the crowd but the next move was appreciated even a lot more for it showed Everton up in a good football light, and Buckle actually shot the ball into the net, but the whistle had previously gone for offside. It was a very "fire" but a just one. Straight from this the Welsh team moved up in strong formation and Griffths was responsible for a low centre slap bang in front of the Everton goal, and there was no denying that there was extreme danger in this ball, for it was an awkward one. Rankin, however, just got to it before his Welsh rival. Groves had so far been much the busier goalkeeper and one of his best saves was made from a right footed short range drive by Buckle.
Eglington's Hurt
The game was held up for an injury to Eglington, in collision with Keane, it was some minutes before he was in a fit state to be led off the field. He seemed to have received a nasty blow on the jaw, and a doctor was sent for. Eglington soon returned after standing on the line for a while. Ivor Allchurch, one of the most sought after players in the country, sent in a beauty of a shot which was speeding, like an arrow for the back of the net until O'Neill moved his position to receive it with every confidence in the world. Everton went on to the attack and Groves had to make a good save at the expense of a corner from Buckle. A debatable corner to the Town was speedily cleared Jones and Clinton got together to bring about the defeat of the Swansea left wing pair, Griffiths and Allchurch. Medwin sold the dummy to Rankin, and then offered the ball to his inside man, but Tom Jones was there with his reliable head to stem the tide although Williams was able to get in a drop shot which passed over for a goal kick.
O'Neill In A Scene
Potts had another go, but Groves was quite equal to the call, and then we saw O'Neill fly into a temper with Scrine. The referee had a word with both, and the game proceeded.
With the interval drawing near, Everton were trying hard for the lead, for after O'Neill had made another perfect save in the air, Potts tried to flip a ball from Buckle beyond Groves, but the goalkeeper had sized up matters and was able to save. Allchurch showed why he is so well fanced by many clubs by the way he controlled the ball beat off challengers and then delivered the ball to where he wanted it to go and it was from his head that O'Neill had to make a one-handed punch away to prevent Griffths who was closing in, from having a nice opening. Everton's reply to this, put the Welsh goal in trouble and Groves had twice to be pretty smart to prevent goals. Half-time; Everton nil, Swansea Town nil.
Everton struck an attacking vein immediately on resumption and within less than half a minute Potts had a shot blocked Eglington had won a corner and Hickson had bundled both goalkeeper and full back over the line, while Keane kicked away a low drive by Cummins with Groves well out of his goal. This was more like the tenacious Everton tan we had seen in the first half and Eglington added to the thrills when he headed a yard over the bar.
Groves Kept Busy
Swansea broke away but it was only for the matter of half a minute for Everton came back and crowded on pressure, and Eglington tried to edge on a Buckle pass, past the watchful Groves. The ball, however, trickled outside. A free kick to Everton saw Groves cleverly edge the ball over his crossbar as several Everton forwards thundered down on him. Charles who is very much like his brother in build had done quite well at centre half, but it was obvious to me that Hickson was not going full out. A throw in for Everton spilt the Swansea defence wide open, but Potts was a little slow when it came to the all important task of getting in his shot. At this stage of the game Everton were well on top. Still that goal would not arrive. Buckle had a shot deflected; Groves however, took a flag kick confidently. There was no doubt that Everton wanted that goal which so far had proved so elusive. They nearly had it when Potts allowed the ball to pass between his legs and go on to Eglington who tried to repeat history and score with his right foot, but Grooves denied him the honour with a good save. A little later Groves was well out of his goal when a Hickson effort was passing into the net until Keane, who had fallen back, kicked the ball out.
Goal, Chance Missed
From one of the few Swansea raids Scrine tried to hook the ball in, but got too much under it and it went over the bar. After Swansea had made some headway they were held up in the Everton penalty area, and it was straight from this that Everton could and should have scored for Buckle had run into position before Potts passed but his shot passed less than a foot outside the post.
A Penalty Claim
Everton claimed they should have had a penalty when Potts appeared to be held just as he was about to shoot, but Referee Blythe took no notice of the appeal. Lello, Buckle, and Hickson were instrumental in forcing a corner. Twice Hickson was fouled and in both cases the free kicks awarded to Everton brought no success. Hickson was fouled again by Charles and the referee deemed it necessary to have a word with the Swansea man. A little temper was now being display and following a corner to Everton. Lello had a long shot well off the mark. Everton were much more the persistent side, but occasionally the Swans broke away and Charles had to use his speed and tackling power to save the situation.
Temper –And The Sequel
The little show of temper earlier on developed into a much more serious matter when Thomas and Cummins grabbed each other and appeared to want to strange one another and they had to be pulled apart. That referee had no hesitation in ordering both men off the field. With two minutes remaining for play Hickson broke through the Swansea defence and netted with a short-range shot, but the whistle had previously sounded for an infringement, so that the goal was disallowed much to Hickson's disappointment. There was a lot of booing as the teams left the field. The referee and his linesmen waited for all the players to go down the alleyway before they left. Final; Everton nil, Swansea nil. Official attendance 39,608.
BURSCOUGH V EVERTON "A"
February 21, 1953. The Liverpool Football Echo
Everton the league leaders were quicker on the ball, and after 10 minutes Gibson gave them the lead from a penalty. Nine minutes later, Vizard went through in fine style to convert a forward pass from Meagan. McLean and Parker came near for Burscough. Half-time; Bursclough nil, Everton "A" 2.
EVERTON REVVING UP
February 21, 1953. The Liverpool Football Echo
By Ranger
On the basis of their splendid victory over Manchester United in the fifth round, of the F.A. Cup, Everton must have a very good chance of going yet a stage further at the expense of Aston Villa today week. We may well see them get to the semi-final for the second time since the war, thus equaling Liverpool's record. If they can go still one stage beyond that, in further emulation of Liverpool's post-war performance, and follow the Red to Wembley, Soccer enthusiasm in this city already almost at fever heat, will be re-kindled in a manner we shall long remember. I doubt whether one per cent of Everton's most loyal supporters would have ventured to suggest three months ago, when the Blues were struggling to get on an even keel –and had taken only two points out of six games in November and early December –that they would fight their way to the last eight of the cup. That they have done so well after such an indifferent start to they season is a tribute to their keen determination and fighting spirit. How have the mighty "fallen" summed up the exit of Manchester United in Everton's case we could with equal truth add; "How have the lowly risen." Since their disappointing display in the League game against Blackburn Rovers, and the not too impressive one against Ipswich Town in the Third Round, they have certainly given their supporters plenty to enthuse over.
A Revitalised Team
The last three games at Goodison Park have shown us a new and revitalized Everton, as full of fire, spirit and good football as anybody could wish for a side which rolls up its sleeves as soon as the game begins and doesn't wait until it has its back to the wall to stage its big effort. Many times in the past I have said that if only Everton could enjoy reasonably sustained spell of success to give them just that little extra confidence and psychological boost they would do much better. Yet I confess without shame that I didn't expect to see such a complete metamorphosis as we have witnessed in their last three Goodison outings. I hope it long continue. A word of praise too, to the club's supporters for their share in these triumphs. That share is perhaps greater than many folk realize. It means a tremendous lot to the players to feel that they have the full and whole-hearted backing of their followers. Scores of times have I pleaded here and elsewhere for greater vocal encouragement from the terraces. There have been days when one could almost have heard a pin drop for quite long stretches during a Goodison match so listless and apathetic were the crowd. The funeral feeling took some of the heart out of the lads in Blue. Now the supporters having something to get excited over, have really let their hair down and gone to town in a way I have not heard at Everton since pre-war days, keep it up chaps. And to those who are going to Aston Villa today week may I suggest putting in a bit of overtime to make up for your numerical minority?
Man Behind The Scenes
One final word, in all the praise showered on Everton, don't forget the man who has laboured so earnestly and conscientiously behind the scenes. Manager Cliff Britton and I have not always seen eye to eye. Many a time he might have been forgiving had he told me just what I could do with myself. But in face of honest, criticism(which mine has been or of malicious rumour (of which there has been fat too much, though it has never been allowed expression here) he has maintained imperturbable good humous and a sane and balanced outlook. For his sake I sincerely trust that Everton's bad days are finally over and that the new era he has worked so hard to bring about is ready to dawn. He has earned his reward by his patience and perservence.
RANGER'S LETTERS BOX
February 21, 1953. The Liverpool Echo
Having been highly critical in the past may I now congratulate Everton on the vastly improved displays given since and including the game at Nottingham. The aggression, "bite" and general desire to go forward have been glorious to watch, Long may it continue and may we see the "Blues" not only win at Villa Park but go on to Wembley –R.R. Knowles, M.B. Ch B. Clwyd House, 38 Wood-church Road, Birkenhead.
On, Stanley On!
It is great news to learn that the scheme successfully initiated at Walton for running commentaries on the Everton and Liverpool matches is to be extended to 16 more hospitals in the city. Maybe Walton as the largest hospital in the provinces, if not in the country, merited first claim, but one would like to put in a word for Stanley Hospital at the next to be on turn of the "16" deserving cases? It was founded in 1865, and erected in 1872 n the vincity of the Everton and Liverpool grounds, has been the immediate casualty hospital for the players, Everton's since 1879 and Liverpool's since 1892. On the outside wall above the front entrance is the inscription "I was sick and ye visited me!" Speed the day when the patients will rejoice to say "We were sick and the football commentaries of Everton and Liverpool cheered us up wonderfully," On, Stanley on! "Vin," Waterloo.
"Hear, Hear! But it should be made clear that Walton came first because the scheme was the brain wave of one of their staff, who on putting it to the Walton Hospital League of Friends, found immediate and willing co-operation. The League of Friends have done a grand job of work, which has earned them the gratitude of hundreds of people already.
HUDDERSFIELD RES V EVERTON RES
February 21, 1953. The Liverpool Football Echo
Huddersfield Town Reserves; Mills, goal; Gibson, and Howe, backs; Lonsdale, Cockerill, and Boot, half-backs; Gunn, Frear, Burke, Shiner, and McKenna, forwards. Everton Reserves; Leyland, goal; Tansey and Anderton, backs; Donovan, Woods and Melville, half-backs; Wainwright, Farrell (A), Saunders, Lewis, and Easthope, forwards. Swift interpassing by a spirited Huddersfield forward line in which Shiner, with 17 goals to his credit in 22 matches, was a frequent menace, held the Everton team on the defence for prolonged spells in the first half of their game at Leeds Road. But Woods and his colleagues showed coolness in breaking up some of these attacks and Leyland proved himself an efficient goalkeeper. Saunders' occasional switches with Wainwright perplexed the useful Cockerill at times but Wills was rarely troubled. After several close calls the Everton goal fell after 40 minutes when Burke appeared to turn Gunn's pass over Leyland's head. Half-time; Huddersfield Res 1, Everton Res nil.
On resumption Shiner missed two chances of increasing their lead. First he headed over from Gunn's corner and then, when Burke slipped the ball to him in the goalmouth, he failed to get in a shot. Farrell was through in Everton breakaway but Mills saved at point-blank range Town Reserves went further ahead 16 minutes after the interval. Burke scoring with a header from Gunn's pass.
EGLINGTON'S JAW STOOD UP TO K.O.
February 23, 1953. The Liverpool Daily Post
By Leslie Edwards
Tom Eglington, Everton's Irish Winger, who was completely knocked out by a blow to the side of the jaw in the match against Swansea Town at Goodison Park, on Saturday is likely to be quite fit for the Cup-tie against Aston Villa. Although he had to leave the field for ten minutes and was obviously badly shaken, examination has shown that no bone was broken. Aston Villa who also had a goal-less match, have doubts about their centre forward pocket Hercules Dave Walsh, who was injured at Bolton. Villa inside forward, Dixon was also damaged in the match. Everton and Swansea defences, took a stranglehold on the respective attacks and the game was goal-less; Swansea full back, Dave Thomas and Everton forward George Cummins, not to be out done, look a stranglehold on each other, and the inevitable sequel was that both were went off. Referee Blythe, of London, caught the players in the act – and it was a pretty act – but he did not attempt to discover the rights and wrongs of the case. Like a dutiful father, he packed them both off, first Thomas, then Cummins having duly entered their names in his little black book. The incident happened ten minutes from the end. The Everton crowd showed their dislike of the referee at other times than when Cummins was dismissed. So far as I could judge the referee was never more right than when deciding on the dual send-off. His one mistake I thought as when he gave Buckle off-side when that player had seemed very much on-side at the time the ball was last played. All told a draw was a fair if very disappointing result. On such Everton form it is impossible to be enthusiastic about the Cup game at Villa. Everton will have to find the inspired touch which got them through the last round. They are evidently a team of moods at best good enough to beat almost any side. At worst they have proved incapable of beating such middling teams as Doncaster and Swansea.
Groves Goalkeeping
Swansea would never have escaped with a draw if Everton had taken their good chances. Twice in the first half Hickson failed spectacularly. Buckle shot across the face of goal from a range and position which should have been lethal though in fairness to him it must be said that he put the ball in the net after suffering that extremely doubtful off-side decision. By any standards the game was dull and uninspiring. One of the few enlivening things was the desperate but effective goalkeeping of Groves. This tall rather crude goalkeeper played gallantly if unorthodoxly. He is not Swansea's regular goalkeeper but he certainly contributed much to the winning of the point. The other Swansea player who impressed was Ivor Allchurch. Here was a great player in a poor side. If effort meant anything Allchurch himself deserved two points. His artistry shone out amid the general drabness. Beech at centre forward was lively but was so alone when faced by the defence, he was rarely dangerous. It was in the last ten minutes that Swansea came close to what must have been a winning goal for the rest they were mainly on defence and vast gaps in midfield allowed the Everton half backs all the latitude they needed. Only desperate defence by the full backs and a good tempered display by seventeen year old Charles brother of the Leeds United player, saved critical situations at least two of them literally on or ever the goal-line. Lello nearly decapitated Scrine with the day's best shot and played in that solid progressive way of his all through. Jones was excellent in defence, but was less accurate than usual in his passing. Clinton in less, boisterous and more studious vein, had one of his best games.
• Huddersfield Res 2, Everton Res 0
• Bursclough 0, Everton "A" 4
• Bootle Co-op Y.C 0, Everton "C" 7
• Everton "D" 3, Springwell 1
WATCJING BRIEF
FEBRUARY 23, 1953. The Liverpool Echo
By Stork
I wonder what sort of report George Martin the Aston Villa manager will take back to his players today, I don't think the canny George was misled by what he saw at Goodison Park on Saturday, for it must have been obvious to all that the Everton players had not to take undue risks. He himself will know what instructions he had given his players before they left for Bolton where they sneaked off with a valuable point – a good performance. One thing he must tell the lads and that is that Everton were up against a side that had little to commend it, but they must look upon their forthcoming cup-tie with Everton as a really tough assignment, for as he is bound to explain; "Any side that can beat Manchester United is not going to be easy." Twice Everton had the ball in the net against the "Swans" but neither was allowed to count. Yet there were so many other opportunities that these two would have made no matter for Everton's goal tally should have been high enough to put Swansea out of the chase. Yes, Everton tried hard enough to produce that winner for one would have done against a side that was never a threat to O'Neill, whose main attention was the catching of high balls in front of his goal.
Mighty Lucky
O'Neill had one real shot to save and that was from Allchurch a clever ball player who never got the chance to show why more than half the clubs in the First Division would part with a hefty cheque to get him to sign on the dotted line. The Welshmen would be delighted to take a "half" from Goodison Park, but they were mighty lucky to do so for Everton were on the attack for fully 8- per cent of the game, yet the elusive goal would not come. Games often run that way and while slowness at taking chances was often the reason for this, one must not forget the many fine saves made by goalkeeper Groves while Keane once kicked off the line and Hickson grazed the woodwork. Everton pulled out some nice football but that "zip" which was of such paramount importance against Manchester United was not there. I say Hickson refuse to take the ball on his sore forehead "skill plastered –and who could blame him but he ,made several worthwhile shots in feet all the forwards had shots but none of them could hit the bull and if they did Groves was there to foll them.
Frayed Tempers
Midway through the second half tempers became frayed aye slightly before that when O'Neill resented the way Scrine went for him. Thirty fouls on Hickson were perpetrated in the space of three minutes and the game eventually flared up when Cummins and Thomas came together just below the Press Box I don't know who was to blame but before you could say knife the two players were involved in a wrestling match, with Farrell and Buckle end you ring to part them. It was a spry sight and when the referee Mr. Blythe from London, came on the scent he immediately ordered Thomas off and then gave Cummins his marching orders. The game had 12 minutes to go. I am sure both players were sorry for their action but must learn to curb one's temper. By this time the majority of the onlookers had given up the idea of ever seeing a goal scored and it turned out that way, so for the second time this season the clubs have drawn with each other. A point would be welcome to Swansea and Everton would have been better served with two and what is more they deserved two.
EVERTON'S NORMAL ROUTINE
February 24, 1953, The Liverpool Echo
Blues Stick To Home Training And Have Clean Bill Of Health
Ranger's Notes
While Aston Villa are undergoing special training for Saturday's sixth round Cup-tie against Everton, the Goodison Park club is still following ordinary routine. Villa departed on Sunday afternoon for Letchworth, the Herefordshire town some thirty miles from London, where they have previously paid a couple of special training visits this season. Walsh, Dixon and Roberts, who stayed behind for treatment for injuries are all making good progress and are expected to be fit by the week-end. Contrary to the original plan they will not join their colleagues at Letchworth. They will remain at Villa Park for regular physiotherapy treatment and do their training there as soon as they are able to start. Everton are in a happier position than their opponents for the Blues again have a clean bill of health. Eglington is all right apart from a little soreness around his jaw and not a single senior player is under treatment at the moment. The players had an off day yesterday which most of them, according to custom spent on the golf course. Today and Thursday will be spent as usual at Bellefield, when the schedule will embrace the normal training routine of ball practice shooting in heading, sprinting and so on. Wednesday will be a day of relaxation to be spent at a golf course which I am asked not to name because of the possible attention of autograph hunters. The players and officials will leave Goodison on Friday afternoon by coach and will stay at a Birmingham hotel.
Villa's Revival
Aston Villa's League performance before Christmas hardly inspired confidence for a long run in the Cup, but they started a revival on Christmas Day when Dennis Parsons, the former Wolves goalkeeper made his debut against Charlton. There had been a weakness in goal before this and the defence generally suffered in consequence. Parsons –cool, resourceful and reliable –gave his colleagues the confidence they needed, and from December 25 only one League match has been lost. Thompson and Dixon, the two inside forwards are now back in their brilliant form of a year ago. Thompson had missed the first 14 League matches of the season owing to cartilage trouble. This robbed the attack of his intelligent scheming but it gave Ken Roberts the former Crewe railway man, a further chance to developed Roberts has gone to outside right since Thompson returned and has been one of the successes of the side. If there is a slight weakness anywhere it is on the left wing, where several players have been tried. Goffin who has played in the last three or four matches is not quite as strong as Roberts on the other flank.
Strong Defence
Villa's main strength recently however, has been due to the soundness of the defensive system. The wing halves and inside forwards come into the scheme by quickly moving back to cover the full backs and centre half when one or the other of these defenders goes over to the danger spot. Moreover there has been a resiliency about Villa which was not always apprenent. Many times after long periods on defence they have attacked with purpose and skill, through the sharp incisive thrusts of Thomson and Dixon. Thompson is the man Everton must watch for he is skilful in drawing the defence and making openings and can shoot strongly. Another heartening feature for Villa recently has been the return to form of Dave Walsh, the Eire international. After a lean spell he is right back and has averaged a goal a game since his reinstatement as leader of the attack
Everton Supporters
Last night's first annual meeting of Everton Shareholders and Supporters Federation, which attracted a large attendance, was a very harmonious affair. There was no criticism or "Kite-flying," for Mr. W.H. Sawyer who presided, set the right note from the start by keeping discussion strictly to the business of the Federation. That disposed of however, he spoke some encouraging words regarding the club.
"There is evidence that a spirit of revival has been kindled at Goodison," he said. "It is our sincere wish that with enthusiasm and loyalty on the part of the playing staff, sound administration and the Goodwin of supporters, this revival may extend until Everton reassert their former greatness. We are all anxious to see the club back in its proper sphere in the First Division. He also made a special appeal to those present to ensure the continuation of the new "Goodison roar," which gives so much encouragement to the players. It was reported that the Federation now has 630 members. A decision was taken to delete the word "shareholders" from its title in future, so that it is now to be known as the Everton Supporters Federation. Mr. Sawyer was elected president for the coming year, R.A Joynson vice-president and J. McCall chairman.
ASTON VILLA UNCHANGED
February 26, 1953. The Liverpool Echo
Walsh, Roberts and Dixon All Fit To Appear Against Everton
Ranger's Notes
As Walsh, Roberts and Dixon all passed fitness tests at Villa Park this morning the Midland club have decided to play an unchanged side against Everton in the sixth round of the cup. This will be the fourth successive game in which Villa have fielded the same formation. Walsh was the main doubt. It was not until Tuesday night that the heavy bruise on his thigh started to work out under electrical treatment. Since then he has made such good progress, however that it was personably certain he would be fit in time. like Dixon and Roberts he came through today's test in such good style that Manager George Martin breathed a sigh of relief and Villa like Everton will be able to field their strongest combination. Roberts trouble was also extensive brushing while Dixon had a leg injury. These three players have been undergoing special treatment at Villa Park since Sunday. The rest of the Villa party have been relaxing and enjoying themselves in spring like weather at Letchworth with only light training on the schedule interspersed with plenty of golf. There is confidence in their camp that they will get through at the first time of asking. Everton have a similar feeling too! Aston Villa; Parsons; Aldis, Parkes; Blanchflower, Moss (F.), Dorsett; Roberts, Thompson, Walsh, Dixon, Goffin.
Everton's team will not be announced until later today. It can be taken as reasonably certain however, that there will not be more than one change –if that – compared with the side which defeated Manchester United. The defence which has given little or no cause for anxiety since Clinton and Lello were recalled as a stiffening measure early in November will be the same as in the last round. Manager Cliff Britton's one problem hinges on his desire to add if possible a little more punch and determination to the attack. Sound defence can prevent defeat but it needs goals to win Cup-ties and if he can effect any improvement in the front line then obviously this will be his aim. One comforting thought is that whatever the eventual selection Everton will not have to make any makeshift moves. With every likely first team candidate fit and well, the club field its greatest strength and the chosen players can be relied upon to give of their utmost. Apart from their natural desire to take the club yet a stage further there are also useful cash bonuses in the offing. There are £8 for a win on Saturday, £15 for a semi-final victory and £20 for a win at Wembley. The bonuses for a draw are half. On top of these rewards the rules permit clubs to distribute additional talent money in appreciation of meritorious service. Each club defeated in the sixth round can hand out a total of £220 the defeated semi-finalists an aggregate of £330, the losers in the final £440 and the winners £550. Success in the later stages of the cup can mean quite a big increase in the players wage packages.
No More Room
Mr. L.B. Osborne secretary of Everton Supporters Federation asks me to request members not to apply for tickets for the Federation's excursion to Birmingham. All the available 540 seats in their special train have been sold.
VILLA FANS LAY 7-2 AGAINST
February 27, 1953. The Liverpool Daily Post
By Leslie Edwards
There's none so queer as folk –and no folk queerer than football fantasics. Thus, in Birmingham yesterday, exiled followers of Everton were busy snapping up the proffered odds of 7-2 against. Whatever the outcome of the Cup-tie against Aston Villa they are on good odd –odds which only, the rabid fan can lay. Meanwhile Everton announce their team in good time. No one is surprised that it is the cup-tie mixture as before. If it is as full of tonic as it was against Manchester United we shall be more than grafeful. When Everton and Villa's first met –in the long ago of the 1890's – the occasion was a final tie. All five goals were scored in the first half and everyone was pleased to name the game as the best final for forty years. The meeting tomorrow may have many uncertainties but of one thing we can be sure –it will be tough. The Aston Villa of today are different from the classic Villas of the past in that they have size and strength all along the line and are known for their use of the shoulder. Following tests of their three injured players yesterday Villa too announce an unchanged team. The programme will therefore read;- Everton; O'Neill; Clinton, Lindsay; Farrell, Jones, Lello; Buckle, Cummins, Hickson, Parker, Eglington. Aston Villa; Parsons; Aldis, Parkes; Blanchflower, Moss, F. Dorsett; Roberts, Thompson, Walsh, Dixon, Goffin.
EVERTON'S GREAT CHANCE
February 27, 1953. The Liverpool Echo
Another Show Like A Fortnight Ago And They'll Be Through
Ranger's Notes
One question is on every-body's lips today. It has been there ever since the sixth round draw was made. Can Everton reproduce the form which enabled them to topple Manchester United from their perch, and repeat that fine performance at the expense of Aston Villa? With the increasing tendency to "nerves" on the field as Wembley begins to loom on the horizon, anything can happen. Everton in their best and most determined mood have a good chance of either winning this game at the first attempt or forcing a replay at Goodison next Wednesday. But Villa, too, might be on top of their form, and Everton might just fall short of their recent scintillating Cup-tie displays. In that case ground advantage could turn the scales in Villa's favour. In short this Villa Park encounter is wide open with any one of the three possible results as likely as either of the other two. It should be a thrilling game, however, whichever way it goes. Hickson is Everton's greatest asset in attack. Eglington runs him close in some directions but for sheer courage and dogged persistence in the face of heavy odds and physical injury I reckon Hickson's display at Goodison a fortnight ago was as good as anything I've seen for years.
Trouble For Moss?
Another offering like that and Frank Moss, Villa's centre half will hardly know whether he is on his head or his heels. Moss, like Chilton is inclined to be a little slow on the turn, a fault with some big men. Hickson may cash in on this if he gets a chance –or anything remotely resembling a chance which his speed and skill will enable him to improve upon. Providing Hickson's in the same inspiring and devastating mood that he was against Manchester United, Villa's pivot may feel like the seasick passengers who was asked by a steward whether he would like anything special. "Yes" he said as he pressed his hand to his weary brow, "just bring me a firmly anchored island where I can get rid of this dizzy feeling." Neither of Villa's extreme wing men measure up to Eglington in either speed or scoring ability. The Irishman's thirteen goals this season represent his best bag since he came to Goodison and his recent grand play encourages hopes of more to come.
Half-Backs The Key
Everton's strong suit against the Mancunians and Notts Forest was the manner in which they went one way all the time. They cut out the reverse pass to a full back or the goalkeeper except when it was absolutely unavoidable during sudden emergency and their wing halves were up on the heels of the forwards at every opportunity. Even when the Blues were beaten in the League game at Doncaster Farrell and Lello stood out for their willingness to concentrate on attack and have a shot themselves at every opportunity. If they do the same tomorrow then Everton's chances will be further enhanced. Villa will naturally have their own schemes and ideas about how this game can be won. Everton will not be allowed to take the initiative if the home side can prevent it. Neither will the side which gains the upper hand at the start be granted freedom to continue in a dominating role. It will be a real he-man-struggle and stamina and "guts" may play as big a part in the eventually verdict as football skill of the more academic variety. It is always thus in Cup-ties particularly when the contestants are whittled down to the last few contenders and Wembley cocks an inviting finger. Everton's defence will have all its work cut out to hold in check such accomplished players as Thompson, Dixon and Walsh all of whom have come to their best again just at the psychological moment.
In Good Hands
Tommy Jones, however, has been playing so well lately that I fancy the Blues can safely leave Walsh to his care. Jones is among the most improved players of the season while Clinton, having overcome his former impetuosity, is also serving up sound and reliable football. With the accomplished Lindsay on the other flank, to say nothing of O'Neill's outstanding ability beneath the sticks the Everton defence looks quite capable –always assuming that it maintains its recent form –of preventing the Villa forwards becoming the dominant force. So long as this is a good clean, sporting game, and the better side wins, we cannot ask for more. But I hope with all Everton supporters, that the better side proves to be Everton. A last few words to those from Merseyside who are going to Birmingham, I've said it often, particularly in our Saturday morning sports editions –tomorrow's issue of which by the way will be available before you leave –but make no apology for doing so again. Give the lads in blue the absolute maximum vocal encouragement of which you are capable. You will be outnumbered by the home supporters, of course, but don't let that upset you. Just out-shout them, or at least do your best. And don't let up in your efforts even if things don't go always as you would like. Everton; O'Neill; Clinton, Lindsay; Farrell, Jones, Lello; Buckle, Cummins, Hickson, Parker, Eglington. Aston Villa; Parsons; Aldis, Parkes; Blanchflower, Moss, F. Dorsett; Roberts, Thompson, Walsh, Dixon, Goffin.
The score at Villa Park will be announced every 15 minutes at the Everton Reserves game with Bury Reserves at Goodison.
Please do not ring this office on Saturday afternoon to inquire about Everton's progress at Villa Park. Such calls choke the lines and cause delay, we regret that it is impossible to answer such inquiries because the entire staff is concentrating upon bringing out the paper as quickly as possible for our hundreds of thousands of readers. Should Everton get throught for the semi-final, readers are similarly requested not to ring for information about the draw on Monday. This will not be given over the telephone.
EVERTON? OR THE VILLIANS?
February 28, 1953. The Liverpool Daily Post
A Clash of Personalities
By Leslie Edwards
They'll be standing on each other's heads in Birmingham today. A Cup-tie at Villa, another at Birmingham and a League game at West Bromwich. The estimate is that about 150,000 people will be in the city purely for football, in which event the previous aggregate record of 140,000 made in 1919-20 season would be handsomely beaten. Oddly in that season Villa won the Cup, Albion the League championship and Birmingham finished creditably high in Division 2. Circumstances today make exactly the same thing possible again – but do not mention it at Goodison Park. There is abounding belief there that Everton, not Villa, are going to win the Cup. No wonder Everton hearts pound one victory brings in semi-final appearance, two takes the side to Wembley, three takes captain Peter Farrell to the Royal dais-at Wembley in Coronation year triumph. But wait…winning Cup-ties mentally and on newspaper's too easy the difficult thing is to win them on the field. With all the good will in the world I do not see Everton at Wembley. It is up to them to prove that estimate wrong. If they can, being wrong will have compensations because it is impossible to ignore personalities in football and travelling with teams one cannot help but make good friends. My fear is based on their Cup record this season. They beat Ipswich, but only just; they whipped Notts Forest and they won handsomely against Manchester United in one of the finest games ever played. My point is that only Manchester United were of the highest class. Villa though of Division 1, are not of that class but we had seen enough of them to know that they will be very much on the ball today and to know that they have a strain of physical toughness which makes them feared. Everything points to a hard close game. Maybe everything will be decided by one of those cup-tie freaks which occur when the tension is strong and doing the simple thing is not always easy.
Not Convincing
Were Everton to find the inspiration of their day of glory against Manchester United we could be sure of their further appearance in the tournament. But (if the dangerous process of tying up League and Cup football threads id not resisted) the Everton of post Manchester United has not been convincing. Only if they find their fire and fight again will they succeed in this, their first away Cup venue. On fitness, on enthusiasm, on refusal to be beaten, Everton will base high hopes. The experienced Villa defence may possibly find themselves pushed for pace and in that event Hickson and Eglington might well have the promence they had as chief architects of their club's previous win. How the Hickson-Frank Moss duel goes must have much bearing on the game's result another important personal battle will be that between Dick Dorsett and George Cummins. We know Dorsett of old, as friend (he guested with Liverpool during the war) and for and veteran, though he may be no one can deny that he knows most of the answers. Everton expect Tom Jones to master Irishman Dave Walsh. This again is a clash of personalities. No one can help admiring Jones because he not only plays his man out of the game but does it with such admirable-balance and gentlemanliness. This latter may be a quality much missed in Cup- ties and all referees today will keep a sharp eye for heavy weather. Soccer football has lost none of its masculinity when clubs shapes toward the glamour and monetary reward of semi-final and finals. Everton for so long rather in the cold through non-successes have a wonderful chance today to prove their current Cup form reliable. They have everyone's good wishes in facing Villians in their own country.
HICKDON AGAIN DOES EVERTON PROUD
February 28, 1953. The Liverpool Football Echo
Villa Giants Beaten
By Ranger
Aston Villa 0, Everton 1
Thanks to a Hickson goal which, like the one in the last round, was the result of his great pluck and determination. Everton are through to the semi-final for the second time since the war. They were worthy victors, once again this was a victory for a side which had indomitable team spirit as well as an abundance of skill. No First Division side could have bettered Everton's display, it is almost invidious to single out any one player, because every man did his lob amazingly well and gave every ounce of effort for the full 90 minutes. I must, however, mention Hickson, who although held by Moss in the early stages gave another fighting display later every bit comparable to his 5th round exhibition, Jones, too, was brilliant in defence. But so also were Farrell and Lindsay, with their colleagues not far behind in point of solidity and grim determination. O'Neill was sure and reliable in goal, bar one solitary instance while Eglington and Cummins did noble work in attack. Villa fought hard and though it would be an exaggeration to say they were run off their feet, at times they never looked so speedy or impressive as Everton after the first 20 minutes. Aston Villa;- Parsons, goal; Aldis, and Parkes, backs; Blachflower, Moss (F.) and Dorsett (captain), half-backs; Roberts, Thompson, Walsh, Dixon, and Goffin, forwards. Everton; O'Neill, goal; Clinton and Lindsay, backs; Farrell (captain), Jones and Lello, half-backs; Buckle, Cummins, Hickson, Parker, and Eglington, forwards. Referee. Mr. A. Bond (London).
It was a beautiful spring day at Villa Park, and when Everton arrived at the ground an hour before the start all the surrounding streets were choc-a-bloc with intending spectators. It looked as though the gates would have to be closed before the start. Cummins set Eglington going and the winger turning on his best speed won a corner off Aldis. This was headed away by Thompson and transferred quickly to see Villa right where following a throw-in. Roberts again tried a shot, this time from just inside the penalty area which Clinton, for safety first reasons, put behind. A beautiful cross-pass by Dorsett from inside his own half to Roberts on the far side of the field 50 yards away, was not turned to full advantage by the winger.
Hooked Over The Bar
Dorsett the Villa captain put yet another similar long distance pass to his forwards this time in the middle and although Jones headed away the ball came back to Walsh from Goffin and the Villa centre forward cleverly hooked it over his head towards the Everton goal. It was only a foot over the bar, thou O'Neill had it well covered. A grand run by Eglington in which he outwitted Blanchflower and Aldis, resulted in a peach of a centre, which Buckle tearing in, headed just over the bar. This had been a thrilling start. First Lindsay and then Jones held up Roberts and Walsh in turn by finding touch. Thompson, a course of yards outside the penalty area, and finding himself faced with a ruck of layers cannily lobbed the ball over their heads in the hope that O'Neill might be unsighted.
Excited Crowd
The ball soared just over the bar. Roberts came across to the inside left position to try a first time drive which screwed away without danger to the Everton goal and then Farrell keeping control despite being harassed by two opponents, put through a pass which just eluded Hickson. Play for the first quarter of an hour had been fast and thrilling. There had been plenty of incidents to keep the crowd excited and each goal in turn had been under first quite frequently. So far Villa had more shots either on or very close to the target but Everton were quick and incisive and there is plenty of time yet. Eglington and Hickson took the ball up in one notable run in which the winger, cutting in diagonally to meet Hickson's final pass, fired strongly a yard or so over the angle of upright and crossbar. One of the best moves came from Dixon, Thompson and Walsh, who combined in a three-piece offering which looked as though it might result in a goal until Jones leapt to a tremendous height to head away. This was not just a rescue act, Jones's header was so cannily directed to Cummins, nearly 30 yards away, that it provided the starting point for an Everton attack. The Villa goal had a very narrow escape when Cummins, seeing Buckle temporarily hurt with a blow in the back, stepped in quickly at outside right, and after beating his man, seat over a splendid centre which Hickson headed goalwards. Parsons at the other end of the goal, was well beaten, but Aldis making a desperate lunge, kicked away standing almost under the crossbar. Thompson delivered the best shot of the match so far, a 20-yards daisy-cutter of terrific strength which O'Neill saved brilliantly at the foot of the post at the expense of an unproductive corner. Everton were next on top for a spell, and their supporters gave them most encouraging support. The cheering was really amazing whenever the Blues were on the attack. There will be some sore throats in Liverpool tonight. The Everton contingent behind Parsons claimed loudly for a penalty when Buckle was brought down by Parkes. To my mind referee Bond did the right thing when he refused to consider it. Parker had a nice shot saved and then Buckle after beating two men shook his head disappointingly when a good pass was intercepted y Dorsett's toe end.
Hickson Injured
Hickson was injured when he came from behind Parkes in an effort to dispossess him. For a moment it looked as though it was a serious mishap for Hickson's face was contorted with pain but fortunately he recovered quickly. He seemed to have hurt his knee by kicking the ball against Parkes's foot. Parson's goal kicks and clean saves were a feature of the game. Everyone was nearly three quarters of the length of the field. There was another stoppage just before half-time when Eglington beat Blanchflower and shot hard for a corner of the goal. Parson went down and either his thumb was knocked back by the force of the shot or else he knocked against the bottom of the upright. Whatever it was the game was suspended for a couple of minutes while the Villa trainer bound up his thumb and wrist with tape. This was last incident of the half which had been as thrilling and satisfying as anybody could wish for. There had been little in it for the first 20 minutes, but for the last half hour Everton had certainly been on top. Not to any great extent but sufficiently to warrant one goal lead.
Half-time; Aston Villa, Nil, Everton nil.
Hickson's Somersault
The Villa defence, though playing well enough, was often glad to had touch or pass back to parson for a means of temporary relief. Walsh who had not been seen very much in this half now took a quick incursion to outside right and tried a very angled shot-cum-centre which O'Neill caught and cleared. Including a challenge by Dixon in the process. Clinton was hurt when he got Dixon's shot in his groin and then Hickson's took a somersault over Blachflower's back. The Everton leader appeared to catch Blanchflower with his heel in the processes and sportingly turned behind straight away to see that no serious damage had been done. Villa's forward line was not serving to the same class of combination or punch that marked the Everton front line. When Moss brought down Hickson though not with any deliberate intent, the free kick to Everton a yard outside the penalty area, brought a lob from Buckle which Parker just failed to deflect with his head into the net.
After The Vital Goal
Everton were now pegging away harder than ever they had done before, if that was possible, but still the vital goal would not come. Twice Lello, another grand man in the Everton defence foiled the Villa by getting his body in the way of shots but the second time the ball cannoned away to Dixon, whose shot was saved by O'Neill at the angle of the post and crossbar. Obstruction against Moss, who ran across Hickson as the Everton leader was trying to force his way through brought an unproductive free kick. Everton's defensive covering was excellent. There always seemed to be one man there behind his colleague in case the former was beaten, as when Farrell came to the rescue with a mighty kick after Jones had failed to get across from the left wing. The Everton goal now had a narrow escape. O'Neill coming out seemly to get himself into two mines when Dixon was bearing down on him. Not only did O'Neill fail to get the ball, he didn't seem to know were he was for a second or two. Luckily he recovered in time to take a shot by Roberts very confidently, and the Everton spectators breathed freely again.
Hickson The Danger Man
It would have been no surprise to an body had he pace slackened off. The contrary was the case, however. The tempo seemed to even accelerate with both sides striving might and main for the one goal that could decide the issue. Hickson as usual, was chasing every ball as though his very life depended on it, and after beating two men in one good run, was unable at the last moment to get in his hot. Then at the 75th minute came the goal which sent all the Merseyside fan frantic. Villa had borne down on the Everton goal and a melee developed in which the ball was desperately sliced anywhere for safety. It went out to Hickson near the touchline just inside the Everton half. Hickson put it up to Buckle who was then in he outside left position, and he raced like a man possessed for the return pass. When it came, Hickson held off a challenge by Moss –just as he had done against Chilton in the Manchester United game –then rammed home a great shot to put the Blues in front. Immediately after the goal there was another Villa attack in which O'Neill caught the ball, and then sweeping this way and that, eluded no fewer than four Villa men before clearing.
Back In Defence
Every Everton man was back in the defence for a moment or two, but then away the Blues went again to force their first corner of this half which Buckle put up against the upright. "We want two" chanted the Everton supporters in a terrific roar. Everton supporters had certainly done a grand job of work today in the way of vocal encouragement. They just blotted out the Villa roar but how they did it, bearing in mind their numerical inferiority beats me. As soon as the final whistle went an excited crowd of Everton supporters swarmed all over the field and literally mobbed those Everton players who were not able to get away before they were surrounded. A crowd of about 200 people chaired Hickson to the touch line and jumped for joy on the sacred turf. Final; Aston Villa nil, Everton 1.
EVERTON RES V BURY RES
February 28, 1953. The Liverpool Football Echo
Everton were the supreme side, one feature being the splendid co-operation among the forwards with Wainwright outstanding. The shot of the match was delivered by Wainwright but Goram saved magnificently. From a breakaway Hays gave Bury the lead in the 42nd minute. Half-time; Everton Reserves nil, Bury Reserves 1. Everton stormed the Bury goal, Goram again distinguishing himself with saves from Fielding and Farrell. Bury, were, however a force to be reckoned with and Woods Everton's pivot did exceedingly well.