THIS EVERTON CAN AND WILL WIN SOON
September 1, 1952. The Liverpool Daily Post
Blackburn Rovers 3, Everton 1
By Leslie Edwards
"Vin" writes "Cucumber" Jones! –Your fine eulogy of W.H. Jones is timely and as well deserved as the honour of captaincy –a laurel he wore so well. In my measured and measuring opinion he played an exemplary game which must have edified the other twenty-one players and the three ruling officials. Jones was provoked on at least two occasions by Mister Dooley and dignifiedly left it to Referee Hartley to administer the verbal quinine dose to take the fever out of the fiery-headed centre.
Even your best friends won't tell you ran the old advertisement. Well Everton cannot say that. Their best friends have been telling them now for a considerable time. And usually the keener the Evertonian the harder the telling. After this third successive defeat in the new season the people close to the club is not candid, but brutal. Let us preserve a sense of proportion. Everton are not the only club who will go three matches without victory this season. Time, if not circumstances, are on their side and if they use it intelligently, enterprisingly, things may yet be put right.
Everyone who saw it rated the Blackburn Rovers as the world's worst. It satisfied neither Everton nor followers of the team which beat them 3-1. Yet, running counter to this view I put on record a belief that Everton, though losing, showed promise of winning soon – maybe against Sheffield United on Wednesday. There is not a world of difference between a winning and a losing side and self-confidence is such an asset the losing team of today is often the great success of tomorrow. I offer no apology for this Everton apologia because I am perfectly honest when I say their football at Ewood was more deserving than the score indicates. There were fine individual performances from the losing X1; there was enough spirit about it to go from 3-0 almost to 3-2 any self respecting fan will say is not too bad in an away match.
A Player Beyond Price
Everton lost because in the amateur W. Holmes, Blackburn have a player beyond price. This first view of him proved him to have ability, dash, and that much-sought quality of snapping up chances ravenously, as though scoring were the easiest and most joyful part of a forward's task. Thus out of an opening which could scarcely be described as a crevice, Holmes went in boldly and fast to score the most brilliant goal I have seen for months. No wonder Tom Jones who had played so well, looked crestfallen.
That goal put new life into a Blackburn who had been even more out of sorts than Everton. Now, instead of moving with lateral passes (the curse of so many games in that the player who makes them so often seeks to place responsibility and the ball at the feet of others) they sensed the game might not turn out so badly after all, and Lindsay cut head which took him off the field for stitching only helped to confirm that realization. Holmes, with two further goals – the second one from his head early in the second half –went on to his hat-trick and it was left to a Fielding shot taken with the utmost deliberation to set Everton going again. From this point the game toughened –Hickson was often concerned in its fiery battles –and Everton improved to the stage at which they were worth 3-2. But Elvy made no mistakes.
Maybe One Change
Holmes of course was outstanding among such mediocrity but in the intense sultriness of a day better suited to cricket there were signs that Everton have at least mended some of their faults and that one change may be sufficient to convert them from failure. Tom Jones played so well; Holmes performance in making something of nothing is all the more worthy of praise, Harris on the right wing showed enough football sense and ability to be given many further chances to make the position his. Moore played splendidly especially in his use of his left foot to send an Eckersley brand of passes to Harris Lindsay in that studious style was effective, and Farrell tactically and in every other way gave his side a maximum of effort. Only in the attack was the team poor. Here Fielding whose reponsibities are those of Liddell at Anfield, just could not place a pass for three parts of the game. This fault is so uncommon in him his continued failure seemed to make things worse and worse. Parker was slow to the point of sluggishness and Hickson in these circumstances had few chances and became rather too vigorous. Eglington and Farrell are carrying the ball less and are moving it about the field to greater effect and had Fielding and Parker played really well I do no doubt Everton would have been nearer 3-1 than 1-3. Trainer Harry Cooke speaks of Everton's brilliance at Sheffield. The side cannot be as bad as people imagine if a man of such standing and experience rates them so high in defeat. A man like Buckle in the attack with his natural flair would be helpful. Whatever change is made for Wednesday he should find a place. Blackburn Rovers;- Elves, goal; Stuart and Eckersley, backs; Campbell, Kelly and Bell, half-backs; Glover, Crossan, Holmes, Nightingale, and Wharton, forwards. Everton; O'Neill, goal; Moore and Lindsay, backs; Farrell (captain), Jones and Grant, half-backs; Harris (ja), Fielding, Hickson, Parker and Eglington, forwards. Referee; Mr. Hartley.
• Earle 2, Everton "A" 2
• Everton "B" 5, Burscough Res 1
NOT THE WORSE
September 1, 1952. The Liverpool Echo
By Contact
A sport writer whose paper only a week or two ago had proclaimed Everton at potential world beaters came to me after the Blackburn match, with the opinion that this was the worst Everton he had ever seen. I disagreed (just as I had at the time with the too rosy estimation of Everton's seasonal prospects so no one can say that I am inconsistent, or that I blow hot or cold, like so many people who follow Everton. Already people are beginning to say that drastic action should be taken at Goodison Park, but it is no secret that gradual processes are more likely to succeed. Other sides will lose three matches in succession even though they have not lost them at the outset of the season. There is time for the club to get themselves out of the mess in which they find themselves. Indeed the careful introduction of one or two players could make the side tick where now the clockwork stand silent. It is no use saying Blackburn Rovers were almost as ineffective as Everton because a 3-1 victory tells an eloquent story. What it does not tell is how brilliantly this young amateur Bill Holmes made those goals possible. Here is a centre forward who must stand more chance than Dooley of getting a heap of goals in Division 1. And Burnley, reminds Cliff Briton, once had him on their books and let him go.
Some Compensation
That Holmes scored three times is no disgrace to Tom Jones. Holmes scored despite Jones excellence in a match in which many movements especially those by Blackburn travelled laterally and therefore with little penetration. Though they failed as a team, Everton's individual contributions in many cases were first class and I am thinking specially of Jones. O'Neill, Farrell, Moore and Lindsay among others. The story of the attack was a different one. Here we had Harris showing unmistakable signs of footballing sense with Fielding unhappily spreading the ball all round him to the wrong people. For Fielding it was just one of those days. He has so few he should be forgiven forthwith. Eglington played well enough, but Parker is not the man he was, his notable fault being tendency towards slowness, though he is still valuable as a taker of chances. Hickson, besides having few chances, got in the crowd's bad books in the second half, which developed on the worst lines. On Wednesday Everton play Sheffield United here. Despite the tragic –beginning I think they will show their following that all is not so black as the early League chart makes it out to be.
THE OLD FAMILIAR STORY
September 1, 1952. The Liverpool Echo
Everton Outlook May Be Bad, But Give Them A Chance
Ranger's Notes
Three successive defeats, disappointment though they are, do not necessary mean the end all hope for another season. Many clubs have got off the floor and staged a come-back that has sent them to the top of somewhere near it. While never having any very solid faith in Everton's promotion prospects I have so far tried to be optimistic and helpful and want to remain that way as long as there is any chance of the present disturbing position being remedied. To my mind the most useful part anybody with the club's best interest at heart can play just now is to give the players every encouragement and a fair chance to do themselves full justice on the field. The case of McNamara is one in point. The barracking he received in the first game of the season led him to go from bad to worse. More than that it means that if and when he returns to the senior side, he will tackle the job with the disturbing feeling at the back of his mind that he has to win back the esteem of the crowd. What many players require to hit their best is the certainty that whatever they do good or bad, the spectators wish them well and are behind them to the limit.
Reasons for Decline
Loss of form in a side depends on many factors. It may arise from changes due to injuries from certain key men being temporarily off their game, or from the feeling that a proportion of alleged supporters are antagonistic, as well as other causes. So far as crowd antagonism is concerned I hope Everton will be spared that for their next two home games, which are so vitally important if confidence is to be restored. A couple of good victories over Sheffield United on Wednesday and Notts Forest on Saturday might go a tremendous way towards, putting the team on a more even keel and building up its belief in itself. It has been an unhappy start to a season which everybody hoped would hold promise of better things. This, however, is not impossible of attainment yet. So for the time being let us have a little more patience and see what next week or so produces. All is not lost because of this poor start.
EVERTON ARE UNCHANGED
September 2, 1952. The Liverpool Echo
Ranger's Notes
Everton in their return game against Sheffield United for which the Blues will field an unchanged side. It seems strange to be writing of any game at this early stage of the campaign as a vital one, but that is so in the case of Everton. Another defeat would put them right down in the dumps. There is nothing worse than a run of reverses at the beginning of the season to induce a feeling of despondency. During the war our public buildings –and public houses – exhibited notices warning people against spreading alarm and despondency. Everton might do the same in their programme and elsewhere for both these feelings are beginning to be felt by their supporters. Another war-time motto used to say in effect "Don't talk of defeat for we do not regard it as a possibility. Here unfortunately, Everton cannot say the same. Three defeats in a row and only one goal to six against is a shockingly disappointing start, even remembering that two of the games have been away from home and that the one at Goodison was against a Hull City team which is proving itself something of a surprise packet. The team will need to improve on Saturday's display against Blackburn Rovers to avoid Sheffield United getting at least a point.
Blades Have Weaknesses
The "Blades" got off to a good start with an away win at Swansea and home triumph over Everton last week, but Huddersfield blunted the edge of their progress on Saturday at Bramell Lane. A Sheffield friend, however, tells me their play is not of the high standard displayed at the beginning of last season when they topped the Second Division until early November. The forwards are not moving with their former speed, and the front –of- goal marksmanship could be better. Jimmy Hagan who has been at Bramell Lane since 1938, is again carrying the responsibility of schemer-in-chief, and their best scoring potential is right winger. Alf Ringstead the Eire international and former Northwich Victoria and Ellesmere Port player. Ringstead has made 71 first team appearance for United since he joined them in December 1950 and his goal tally is 38 a very fine one for a winger. The pity of it is that he might have gone to Everton. The Sheffield front line would be more dangerous if the ex-Leeds United centre forward, Len Browning could find his shooting form. Signed in November last year he has scored only eight goals so far and has yet to break his "duck" this season.
Same as Last Season
United are happier now that versatile player Harold Brook is fit. His appearance against Everton last week when he scored the winning goal was his first since January. He was out of the game owing to a troublesome knee injury. United's problem at left back which came with the departure of Cox to Halifax and McLefferty to Brighton, looks like being solved by the close season signings of Wood from Hull City. He cost the "Blades" a fee of £8,000 and so far has played promisingly. The rest of the team shows little change from last season. Right half Harry Hitchen who used to be with New Brighton is captain again, and Latham who was out on the transfer list at the end of last season, but later taken off, continues at centre half. If United can swing into the form displayed early last season they may be promotion candidates but at present they are rather an unpredictable lot. Everton; O'Neill; Moore, Lindsay; Farrell, Jones, Grant; Harris, Fielding, Hickson, Parker, Eglington.
The Yorkshire side, now managed by Wallasey-born Reg Freeman, formerly of Rotherham United, will be selected from the following twelve with the possibility that Brook will take over at centre forward from Browning. Sheffield United; Burgin; Furniss, Wood; Hitchen, Latham, Shaw; Ringstead, Hutchinson, Brook, Browning, Hagan, Hawksworth.
Everton Reserves; (v Barnsley away); Leyland; Tansey, Saunders; Donovan, Lindley, Lello; McNamara, Potts, T. Cronin, Cummins, Buckle.
Everton Supporters
The Walton branch of the Everton Shareholders and supporters Federation hold a meeting at the Salutation Arms Hotel, 190 Walton Road, Liverpool, tomorrow (5.15 p.m.) All members are invited.
"CLAIM OF SUPERIOR EVERTON"
September 3, 1952. The Liverpool Daily Post
By Leslie Edwards
Reader Mr. W.J. Mealor of Warison Road, Liverpool 14, writes;-
"How gratifying to have your fine article on a truly fine player like W.H.Jones, it will be more; it will be more gratifying when the powers that be remember that there is a place on the football map called Liverpool and that it has two teams which have provided international players for the home countries in great numbers over many years. Many good judges of football and players must wonder why the selectors persistently avoided Hughes and Jones when looking for the best centre half. It was in my opinion the proud boast of this great footballing city when T.G. Jones was at Goodison that the three best, fairest and most gentlemanly centre-halves in any country were attached to our two teams. "To a good Liverpoolian who, none the less, is proud of the great Everton tradition and the lustre it sheds on the game and one who is desirous of seeing a speedy return of Everton to the proper sphere it was extremely interesting to read your remarks on the difference between the Liverpool and Everton crowds and their vocal support. It was also very gratifying to have your assurance that the ancient claim of superior Everton class has little basis today. Your old-time Evertonians is as you assert, the bitterest of critics of the club today; that is because he realizes this too, well and is sore about it. Maybe his almost contemptuous attitude toward the football at Anfield was irksome at times, but he certainly could put up a good case in justification thereof. The old True Blue will tell you with candour that even the crowd at Goodison that is of the younger generation, does not know real class and is content to roar its head off when the ball is booted upfield with someone chasing hard after it.
"Almost A Theme"
"Liverpool's skill and class has been almost a theme song for the critics since the resumption of football after the war, it was so for four season after World War 1, while per contra, Everton have been concerned in many utterly drab games. "To those who knew Everton when the football served up with unfailing regularity was a vintage of its own with its own proud label, this post-war Everton is too had to be true and, what makes for greater bitterness there seems little prospect of a return to those halcyon days. One can only hope that with the ever growing challenge of the South to our Northern supremacy in football matters this city of League championship (more than all the South can show) will again be represented by two first-class teams always there, or thereabouts when the honours are being handled out."
EVERTON SECURE FIRST POINT
September 4, 1952. The Liverpool Daily Post
By Ranger
Everton 0, Sheffield United 0
Everton will win-many games this season without having to put in half the effort which they conjured up in their drawn game with Sheffield United at Goodison Park last night. If ever there was a moral victory, this was it, but points are awarded on goals, not territorial superiority. On goals Sheffield United, despite being overplayed for ninth-tenths of the game, broke even with the home side and thus took away a very fortunate point. In the first half it was almost exclusively one-way traffic, with Everton sweeping down in wave after wave of attack upon a Sheffield defence which was anything but united. It seemed that sooner or later this ragged and jittery Sheffield rearguard, must eventually cave in. But always something fortuitous happened to prevent Everton scoring. Once Hitchen headed off the goal line a Hickson effort which well deserved to score. Several times Burgin made excellent saves, none of them better than a full length one from Eglington's fierce drive from the centre forward position. On other occasions a foot or some other part of a defender's anatomy was insinuated in the path of a goal-laden shot to rob Everton of the fruits of their efforts. Not for a long time have I seen a defence so overwhelmed and yet maintain a clean sheet. The United backs and half backs were reduced to kicking anywhere for safety and temporary relief. They conceded many corners when a little coolness could have avoided such panic measures. Even Hagan, despite his great experience was once tarred with the same brush when he came back to lend assistance. During the first half Sheffield were hardly out of their own territory for more than ten minutes in all, and then only the result of spasmodic rushes which looked more dangerous than they really were because Everton's defenders were so intent of helping the attack that the way to goal was less closely guarded than would otherwise have been the case. Sheffield United's only shot of note in the first forty-five minutes was a strong one by Hitchen which O'Neill fielded confidently. The next best was a Ringstead drive which almost shaved the angle of post and upright. That apart, United never remotely looked liked scoring.
Began to Tire
It was much the same during the first half of the second portion – Everton throwing everything they had into attack, and Sheffield United defending desperately and hurriedly, with fortune always on their side. Then Everton began to tire, which was only natural. Their heroic efforts for over an hour had taken so much out of them that United gradually came more into the game. Once or twice the home goal seemed in danger, though O'Neill was never really seriously tested with before this, however, Sheffield had been saved a second time by Wood kicking off the goal line. Again the marksman was Hickson, whose lucky night this certainly was not, though no player could have tried harder. Parker was Everton's most dangerous marksman until the pace began to tell on him and he went slow in the closing stages. He contributed the majority of Everton's scoring efforts in the first hour, and was usually well on the mark. Occasionally he tried to do too much and paid the penalty. Eglington was another who shone. He gave Furniss an evening he will long remember but he had no luck with his shooting though he was rarely very far off. Fielding schemed well and shot strongly on occasion; Farrell was the best wing half on the field, and Jones had nothing much to worry about in keeping Brook in subjection." Everton will soon be registering their first victory of the season if they can maintain this form. There was punch in the attack and solidity in the defence and when the ball runs a little more kindly for them the turning point will be close at hand. Harris was some little time before coming to his best, but in the second half he had the mastery of Wood and put over several good centres and a few notable shots. On the Sheffield side nobody stood out to any appreciable extent. Hagan was only a shadow of his old self, Ringstead was rarely seen, and the halves and the full backs were decidedly shaky.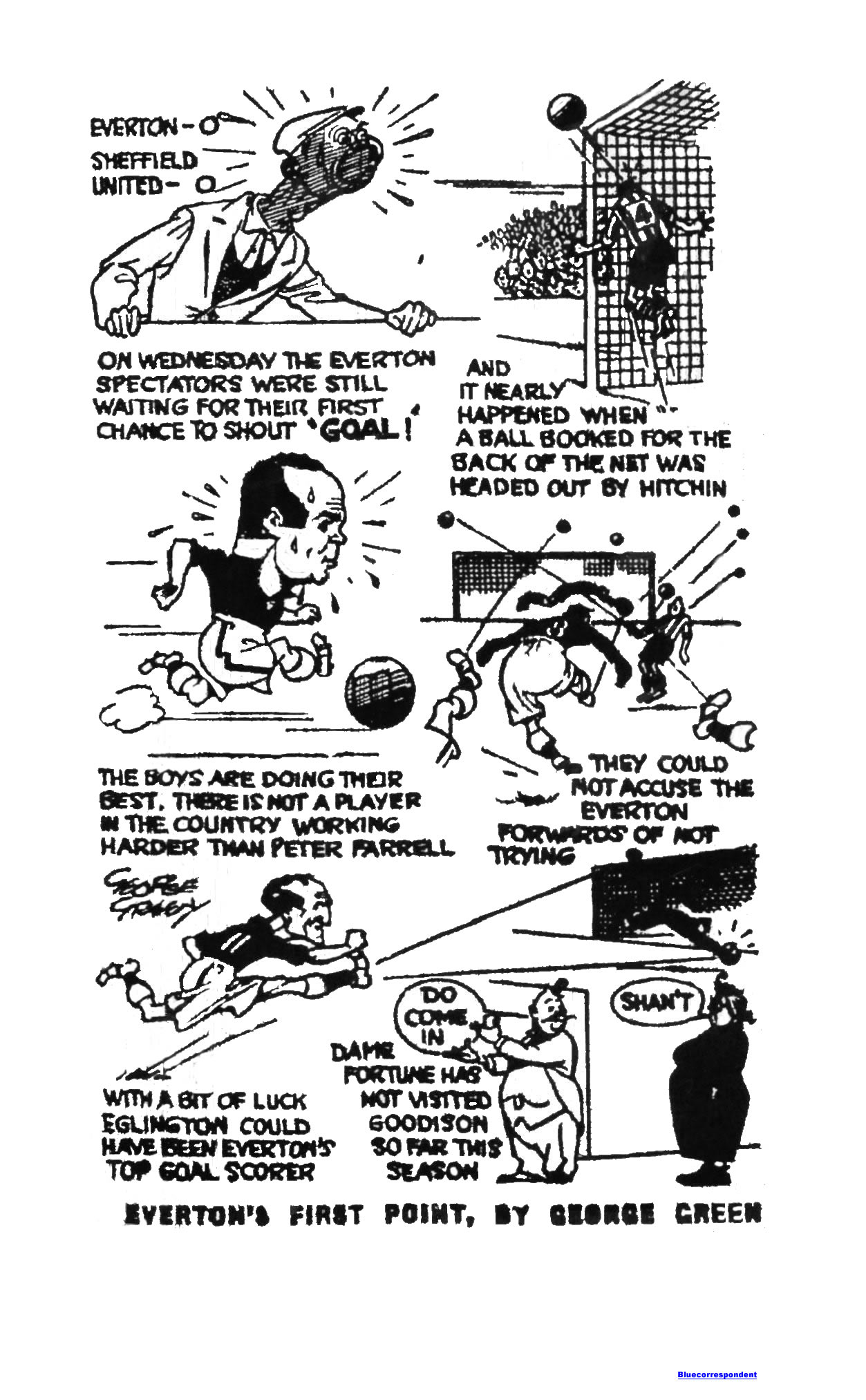 BARNSLEY RESERVES 4, EVERTON RESERVES 1
September 4, 1952. The Liverpool Daily Post
A hat-trick by Douglas Kelly Barnsley's twenty-year-old centre forward was the feature of a veil contested game. Everton raids in which Cummings and McNamara were prominent were well repulsed, Saunders and Donovan worked hard in Everton's defence, Wood scored Barnsley other goal. Cronin got Everton's goal.
EVERTON WILL PLAY MUCH WORSE AND YET GET MAXIMUM POINTS
September 4, 1952. The Liverpool Echo
The advantage of a good start are many. It relieves the players –to say nothing of the manager and directors –of anxiety gives the team unbounded confidence to tackle what lies ahead and should a lean period come provides a useful safely margin until there is an improvement. The pity of it is that Everton are not keeping them company in the lower sphere. But if the Blues continue as they played last night against Sheffield United they will win back much of the esteem they have lost and soon start moving up the table. The Blues performance was good enough to win both points, if only the Sheffield United goal had not borne a charmed life. Not for a long time have I seen a side so out generalled, but played and completely mastered –bar the last 20 minutes –as Sheffield were, and yet get away with a point. Luck was not with Everton. Twice Hickson was foiled by defenders clearing off the line when the visiting goalkeeper was beaten. After enjoying nine-tenths of the play and delivering shots in the ratio of six to one Everton had to be content with a draw. True that is better than nothing but the Goodison lads will get full points in many games this season without enjoying anything like the same superiority in all aspects of the game than they had last night. It was only when Everton's terrific efforts had the natural result of slowing down their tempo that Sheffield United came into the game to any appreciable extent. In the first half they had been penned in their own half of the field as securely as ever Houdini was chained and manacled. For quite lengthy spells. O'Neill and Jones were the only players in the Everton half, with Moore and Lindsay over the half-way line giving support to their forwards and occasionally having a shot themselves.
Defence Had The Jitters
The Sheffield defence was as jittery as any air-scared passenger on the first flight. They were reduced to kicking into touch times without number, and gave corners away as though it didn't matter a hoot. They never looked like mastering the nippy and incisive Everton attack, and it was only weight of numbers and the interposition of bodies between a shooter and goalkeeper that kept Everton from taking the lead. Parker and Eglington were the main striking forces in the home attack, with Hickson lending valiant support and Fielding srving up a constant supply of good passes. Parker shot the most usually with fair accurary and power, but Burgin was in good form and positioned himself so well that some of his saves looked easier than they actually were. In the second half Everton continued to rule the roost until at last their sustained affords took some of the edge off their pace and finish. It was then, and only then that Sheffield United came into the game in a manner which represented occasional danger to the home side. Once or twice the Everton goal looked in jeopardy towards the finish though O'Neill rarely had anything difficult to deal with. Possibly the threat seemed more severe than it was because the home rearguard had been so little troubled previously. One felt that it would be just Everton's ill-luck to have a goal slipped past them after enjoying so much territorial superiority that we got the Sheffield attacks a bit out of perspective. Everton may still be bottom of the table but if they can keep on fighting with the speed, combination and courage they did last night they will not be there very long. The big problem is whether the lack of success will have any effect on the players. Being only human there may come a time when they begin to think there must be a "jinx" on them. A similar fighting display against Forest on Saturday, however should turn the tide in their favour. And if they can keep on keeping on in this fashion the outlook will soon be bearing a much brighter aspect.
Forest Unchanged
Nottingham Forest have chosen the side which completed the double over Barnsley, last night for their visit to Everton on Saturday. Thus North Country 22-years-old right half Sid Thompson who made his second Division debut in the Barnsley game retains his place. Notts Forest;- Walker; Thomas, Hutchinson; Thompson, Gager, Burkitt, Moore, Scott, Leverton, Capel, Collindrige.
THIS MAY BE FIRST WIN
September 5, 1952. The Liverpool Echo
Everton Have Good Chance Against Forest
Ranger's Notes
Everton followers will go to Goodison Park tomorrow in a much happier frame of mind than they had entertained up to the Sheffield United game and with high hopes that the Blues will register their first victory of the season. Nottingham Forest who went close to winning promotion last season have not made a particularly impressive start this year. Their only points have been secured from Barnsley, against whom they completed the "double" on Wednesday. As a result the Forest who lost at home to Blackburn and away to Notts County have enjoyed only 50 per cent success so far though this is much better than Everton's returns. They began the season by playing brilliant football but have lapsed from the early promise and shown surprising signs of shakiness in defence, which is usually with a club which traditionally has always been well served in this department. The attack which contains elements of outstanding individualism I playing clever enough football in midfield, but too often makes three moves where one would suffice and also is lacking finish. The right wing pair Moore and Scott are on the small side, but the latter, a former winger now operating inside is the schemer of the line and a creator of many likely scoring chances. On the left ate the two men upon whom Forest most rely for their goals, though neither had scored until this week's game against Barnsley. Capel, an outstanding juggler and dribbler, with a terrific left foot shot and Collindridge a fast raiding winger. Centre half Gager, the strong man in defence, is surrounded by locally produced players with the exception of veteran goalkeeper Walker, who was in Portsmouth's Cup winning team in 1939. Everton field an unchanged side for the fourth successive time, viz;- Everton; O'Neill; Moore, Lindsay; Farrell, Jones, Grant; Harris, Fielding, Hickson, Parker, Eglington. Notts Forest;- Walker; Thomas, Hutchinson; Thompson, Gager, Burkitt, Moore, Scott, Leverton, Capel, Collindrige.
Everton Reserves; - (v. Manchester United, away); Leyland; Tansey, Rankin; Donovan, Woods, Lello; McNamara, Potts, Lewis, Cummins, Buckle.
UNCHANGED ELEVENS
September 6, 1952. The Liverpool Daily Post
By John Peel
Everton won the corresponding game last season by a goal to nil and with an unchanged side from the one that did so well against Sheffield United on Wednesday they should improve on that result. The Forest will field the same eleven who by their mid-week victory over Barnsley completed the double against the Yorkshire club. The 22-year-old North Country right half back Thompson who made his debut in the mid-week game, retains his place. The kick-off is at 3.15 and the teams will line-up as follows. Everton; O'Neill; Moore, Lindsay; Farrell, Jones, Grant; Harris, Fielding, Hickson, Parker, Eglington. Notts Forest;- Walker; Thomas, Hutchinson; Thompson, Gager, Burkitt, Moore, Scott, Leverton, Capel, Collindrige.
EVERTON'S FIRST WIN WAS A TRIUMPH FOR JOHN WILLIE PARKER
September 6, 1952. The Liverpool Football Echo
Everton 3, Notts Forest nil
By Contact
Everton's 3-0 win against Notts Forest was deserved and was long awaited. Any victory at Goodison Park these days is doubly welcome but there was not a great deal of promise for the future, although Everton's confidence may grow. Goalkeeper Walker was the man of the match and although beaten twice by Parker he played brilliantly. Everton; O'Neill, goal; Moore and Lindsay, backs; Farrell (captain), Jones and Grant, half-backs; Harris, Fielding, Hickson, Parker and Eglington, forwards. Notts Forest;- Walker, goal; Thomas and Hutchinson, backs; Thompson, Gager, and Burkitt, half-backs; Moore (A.), Scott, Leverton, Capel, and Collindridge, forwards. Referee; Mr. T.W. Glendenning (Sunderland).
Forest at Everton were forced to play Leverton for Ardron. The Everton team was unchanged and one of the barriers towards Everton progress was the fact that both Forest wingers are reputed to be well above the Division 2 class. The weather was perfect and I estimate a good 30,000 present. Farrell arrived on the pitch with his shirt outside his shorts after the style of players of 1920 or there abouts and it did not take the crowd long to remind him to adjust the garment. Everton started rather better than usually, and when goalkeeper Walker toe-ended a goal kick, Parker side-footed the ball straight back to Hickson whose pass to Eglington allowed that player to round young Thompson and make a slashing shot which went high and wide. Tom Jones was already showing a command of Leverton, but the Notts Forest player was quick and stern in his challenge as Jones and O'Neill had a moment of indecision and although the goalkeeper got his hand to the ball Leverton dispossessed him, fortunately without doing any damage. The nice-sized Capel was now showing his wares, and when the whistle had already gone O'Neill brought off a save in a thousand from a tremendous Collindridge shot. Collindridge hit the ball with all his force from 10 yards and O'Neill edged it over the top in almost a back-breaking save.
Forest Now On Top
Forest was now on top and Scott from 25 yards hit a beautiful right foot shot which sailed so neat the far angle that O'Neill must have been vastly relieved to see it pass outside. A stunning Fielding pass beautifully taken by Harris who went on to beat Hutchinson in a matter of inches, was the next drama. Harris's centre was so fierce that Eglington did miraculously to head it anywhere near goal. Again Walker with one hand turned the ball away, another most valuable save. As ever, Collindridge as proving himself to be a great menace and it was merely Everton's good fortune that he cracked a shot against the side netting rather than into the back netting. Parker was not, slow to take up an offering from Hickson and poked a long leg at the ball to produce a surprise shot, but Walker seemed unbeatable on this form, and was prepared for it. A moment later Parker was quick to follow up a Hickson header, and deflect the ball against the oncoming Walker to Eglington whose instant shot was low and fierce but into the side net. Walker needed attention after this crash with Parker and one recalls that it was injury to his player when Forest were leading 2-0 which gave Liverpool a Cup tie replay about three seasons ago. After attention Walker was able to resume. None did better than Tom Jones who was getting up to the ball wonderfully well and placing his clearances splendidly. Yet the Everton defence was not as solid as it should have been –witness the way little Scott almost stole a goal direct from a throw in when Everton should really have been in no danger. Harris might well have got into the crowd's good books with a full blooded volley but timing this one was a great problem to him, and though he got all the force in the world on it, it found a resting place among the spectators far beyond where it was meant to finish.
More "Near Misses."
With a back header from a Lindsay clearance Harris beat everyone including Walker, but the ball passed a few feet wide of the post. Nothing was better than the move in which Fielding passed to Hickson, and Hutchinson turned the ball with a misheader to make a ready made shooting chance. Hickson hit a left foot shot, but Walker, who flung himself full length caught the ball as he fell and "touched down" like a Rugby three-quarter. Moore (A.) and O'Neill now indulged in such accuracy that one might have thought that they were both Joe Davis's. Moore with successive corners put the ball so close to the Everton bar that O'Neill could only turn it over. Then a third corner from Collindridge offered O'Neill the same task but this time the ball had been out of play before it arrived in goal. At this stage the game had become rather scrambling with Forest showing too much ability to leave anyone with much confidence in Everton's chances. Half-time; Everton nil, Nottingham Forest nil. Hickson started the second half with a bang. He refused to be saken by the Forest defence and coursed the ball like a hare before falling in a heap with Fielding as he hit a fine foot shot on the turn. Walker who had a moment before received an ovation from the crowd, back of the goal, did extraordinarily well not only to save but to make a catch.
Everton Take The Lead
At 47 minutes Everton forced a corner, and Hickson's effort to score was kneed from the line across goal to where Parker was able to score almost as he pleased. In another Everton attack a moment later Hickson rammed a shot against Gager when it seemed Everton were certain to be two up. Hickson was knocked out by a blow to the head, Burkitt, who went over to pick him up, also collapsed over the Everton player so both trainers were needed. Happily no for damage which proved serious.
Harris Doing Well
Harris was now doing very much better, and centering without delay he was able to give Eglington a close in chance. Thomas however, killed the shot early in its flight and went on to make a clearance. O'Neill had nothing to do for a long spell, and was jerked into live if not an actual save when Collindridge from far out delivered one of his best shots, the direction being right but the elevation faulty. In one of the best spells of combined movements in the whole match Moore and company linked up so well that it seemed odds on Collindridge equalizing. Farrell however, crowded out his big shot from almost point blank range. When Referee Glendenning involved Parker in a free kick against goalkeeper Walker someone behind was so incensed as to throw his cap on the pitch and a Notts Forest player returned it with a well placed flick of the foot.
Rescued his Side
After a spell when he was not quite so good as in the first half Jones now began to take full command again and rescued his side cleverly hereabouts with a spectacular hooked clearance. Forest were rather like Everton in that they could do almost everything except shoot or head goals. The game badly needed enlivening, and Parker was the man to do it. At 80 minutes after Forest had been on the attack for a long spell, he received a through ball from Hickson took it to inside left veered even further towards the wings when advancing then shot the ball out of the reach of Walker's left hand. At 88 minutes Harris beat Hutchinson and took the ball along the goalline before making a very narrow pass for Fielding to walk on to the goal and make it 3-0. Final; Everton 3, Nottingham Forest 0. Official Attendance 34,254.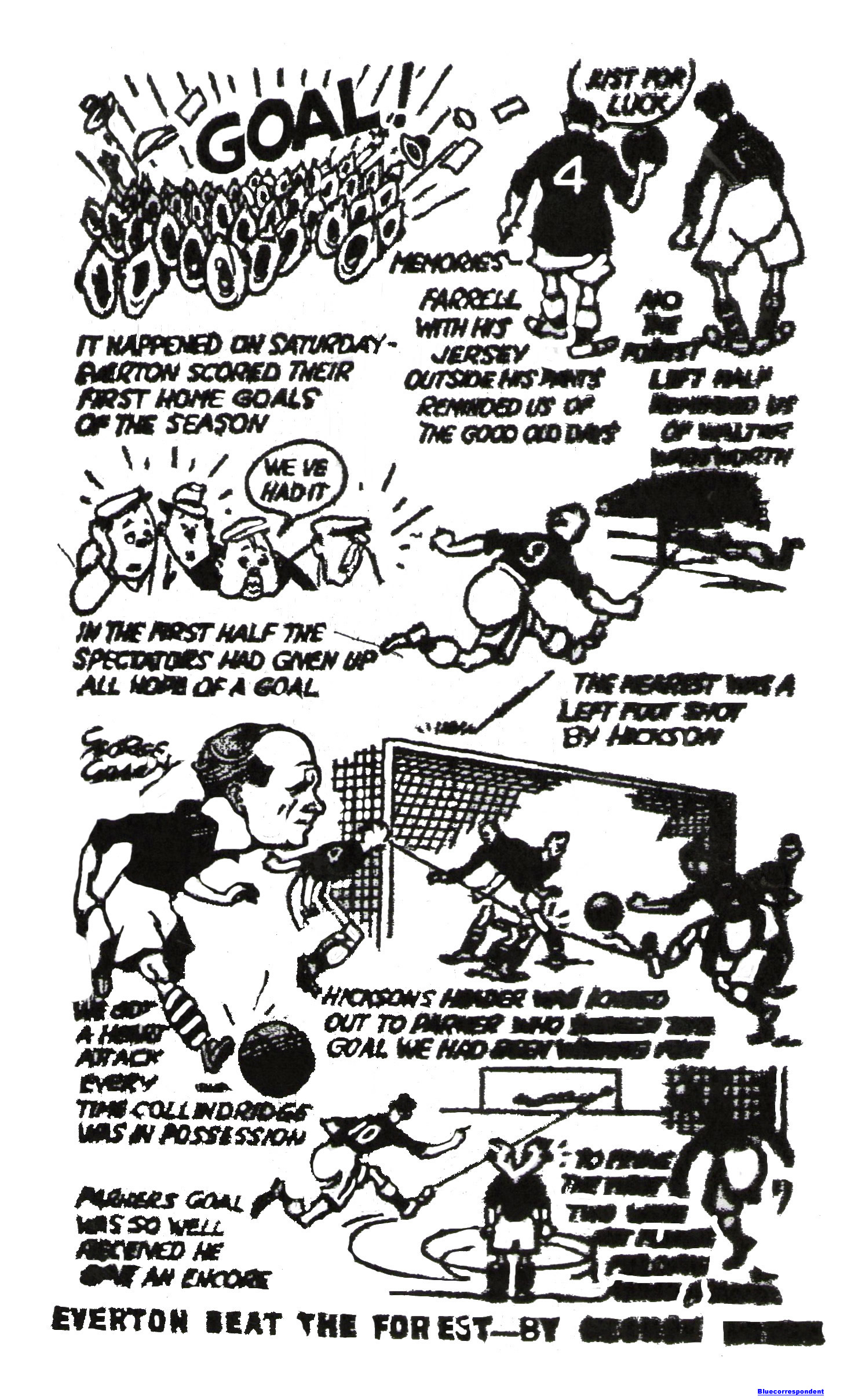 MANCHESTER UNITED RES V EVERTON RES
September 6, 1952. The Liverpool Football Echo
Manchester United Res; Wood, goal; Fouker and Redman, backs; Whitefoot, Jones and Blacnflower, half-backs; Downie, Lewis, Violett, and Pegg, forwards. Everton Res; Leyland, goal; Tansey and Rankin, backs; Donovan, Woods and Lello, half-backs; McNamara, Potts, Lewis, Cummins, and Buckle, forwards. Referee; Mr. W. Moreton (Stoke). There was little to choose between the teams although the visitors might have scored when Buckle was only inches wide with a grand drive. Manchester were finding Donovan, Woods and Lello a difficult trio to pass although Voilett did test Leyland with a smart shot. Wood next saved a certain goal when Lewis (of Everton) drove in powerfully from five yards. Half-time; Manchester United Res nil, Everton Res nil.
EVERTON VICTORY WITH RESERVATIONS
September 8, 1952. The Liverpool Daily Post
Everton 3, Nottingham Forest 0
A week ago, when Everton's record was played three, lost three, columnist, besides putting forward a plea for a sense of proportion suggested that this Everton could and should win soon. The same team drew with Sheffield United on Wednesday and on Saturday beat Nottingham Forest handsomely on goals, if not in play. This proves I think how unwise it is to change a team merely because some part of it has had one poor match and that the footballer, like everyone else, will work out his own (and his club's) salvation, if given a fair chance.
What followers of the club want to know now is whether, not they have broken the ice, Everton can continue to win consistently as they must to challenge for one of the two places qualifying them for Division 1. Here again I suggest that a sense of proportion would be useful since there were clues in the latest Everton performance, to suggest that they were not as riotously good as the score makes them out to have been.
Not So Academic
A admit that goalkeeper Walker played almost faultlessly, and that he made some telling saves before and after Parker (2) and Fielding scored second half goals, but I cannot help wondering what the result would have been had Arrdon and not Leverton been in the Forest attack. This may seem to be a question of academic interest, but it is not so academic when one realizes that not all clubs will be without their usual centre-forward when Everton play them.
I Everton tried hard and persistently but he was obviously no Ardron and he must plead guilty to missing the best of chances before Everton scored. At other times he played with so little craft the Forest line, well as it did to a point never reached the stage when it looked really dangerous. Yet after Parker had scored early in the second half there were times when a 3-0 ticket for Everton looked less likely than say a score of 1-1. Lest anyone should accuse me of being captious over this Everton victory let me confess forth with that it pleased me as much as it pleased everyone else except that the score indicated a generous superiority which was not shown in play. Indeed Parker's second goal –easily the best of the three –came very late and Fielding's almost with the final whistle. Forest would go away claiming to be not three goals inferior to their opponents and to be candid few would dispute this.
But at least Everton showed signs of life and signs that they are not, as people said a week ago, the worst eleven ever to represent the club. Parker, for instance not only quickly, but intelligently into position, but showed inclination to shoot –an onus Everton forwards sometimes dislike accepting. His first goal was easily taken after Hickson and a quickly-taken Harris corner had paved the way; the second came from a through pass from which the scorer feinted an opening for a shot which found the further recesses of Walker's goal, near the post Fielding, who had played so much better than all Blackburn, joined the revelry with one for luck ten minutes later, almost in the 90th minute.
Whether it was because he faced Leverton and not Ardon or not I would not know, but Tom Jones, who has been playing progressively better and better, had long spells of brilliant work. He rose to the high balls well; made some telling tackles and interventions and, more important, studiously hit the ball upfield to where it could be of best service to his forwards or half-backs. Moore (A.) and Collindridge were the best Forest forwards, but Jones sureness and some thoughtful back play by both Lindsay and Moore meant that little succeeded "down the centre."
Forgotten and Forgiven
It was not a wildly exciting match, but thanks to its goals to Walker's admirably sure goalkeeping, in had its moments. There was a time mid-way through the second half when Everton led 1-0 and seemed incapable of improving their position when it looked to be a most ordinary Division 2 match but all was forgotten and forgiven in the joy of belated victory.
Again the crowd took upon itself authority over young Harris. Not having a McNamara to chivvy they chose, instead his debut. Harris has not yet played in League football half a dozen times. He will never upgrade himself if he is not given an adequate chance. Not for the first time he proved himself to have a good football brain and a talented pair of feet. It is monstrous that people will not leave him to play his own game.
Everton's confidence cannot be other than strengthened by their recent performance and it may be that confidence is what they have lacked most. They cannot do more than win and if they go on to take other games by 3-0 (however unimpressively; they will be fulfilling the dearest wishes of their great following.
MANCHESTER UNITED RES 0, EVERTON RES 1
September 8, 1952. The Liverpool Daily Post
Everton Reserves 1-0 win at Manchester, against United did not emphasize their superiority. Only for a brilliant display by Wood in goal, a much bigger figure might have been recorded. Buckle was the unlucky marksman. He sent in many shot's without success, but he had a hand in Pott's goal. Lewis led a line that showed balance but his namesake of the United could make little headway against Woods.
• Everton "A" 3, Bursclough 2
"WHAT'S WRONG WITH EVERTON?"
September 8, 1952. The Liverpool Daily Post
T.M.D from 113 Upper Meadow Street, Belfast, writes; "What has gone wrong with Everton? This has been a debating point among so-called critics for weeks or months now, and is yet no near solution, but to anyone who has known the club in its former days of glory the fault is not hard to find. "For a number of years now Everton have more or less been nothing but a semi-free State eleven. No doubt if this policy were to attract the always large Irish element in Liverpool some people would say it has been most successful. On the other hand some would go by playing standards would say it has been a disastrous failure. You pay your money and take your choice, as they say. "When the Everton of the past wanted a star they went North, South, East or West and usually got him. They were them a power in the land. When did the present Everton team last do anything worthwhile in this line? "Unless the present Board of Management at Goodison Park is taken in hand one could even yet visualize Everton alongside the New Brighton, Tranmere &c, of the Third Division."
ALL'S WELL THAT ENDS WELL
September 8, 1952. The Liverpool Echo
Ranger's Notes
Everton completed the day's joy by getting their first victory of the season at the expense of Notts Forest, though they did not play as well as against Sheffield United the previous Wednesday. I said after the latter match that Everton would play worse many times and get both points. The Forest game proved it, for it was not until well on in the second half that Everton played as though they had confidence in their ability to win and were keeping something in reserve. Earlier on they had shown much the same trials as on the previous Wednesday –inaccuracy in shooting, too much endeavour in relation to results and a tendency at times to make the extra pass when within shooting distance that resulted in possible chances, going begging as the opposing defence closed up the gaps. Nevertheless this victory, plus the comfortable margin of it, should give the side a greater belief in itself to tackle what lies ahead. And that isn't going to be easy though Wednesday's game against Barnsley at Oakwell should provide a couple of points. From what I hear the Yorkshire side are a very poor lot completely bereft of that old-time fighting spirit which so often used to get them out of a tough spot.
No Complaints This Time
Everton cannot complain this time that the run of the ball was against them. There was a bit of luck about the making of Parker's first goal, though he took the chance well, and the second preceded by a brilliant bit of dummying and finished off with an equally splendid shot was one of those bow-at-a-venture efforts that fail far more often than they succeed. Still, nobody's going to look in the mouth any gifts that come Everton's way. All will be thankfully received. The sooner they get right away from the danger zone the better. They played some nice football against Forest at times, but in the first half it was the old, old story again –no finish worth speaking of. There were, of course some shots on the mark which brought forth excellent saves from veteran goalkeeper Walker. But that is what he is there for. There were not enough concerned moves to take the forward play on the point where a goal was almost a certainty, no matter how brilliant a custodian there may have been against them. Harris was a long time coming to his best which meant that the attack depended too much in the first half on Parker and Eglington with Hickson filling his usual role of trying to batter a way through. That will bring him occasional goals, but is not a satisfactory method. A little more craft would be acceptable.
Occasional Lapses
The defence also had occasional lapses and moments of anxiety particularly against Collindridge the best forward on the visiting side but on the whole played its part well Jones kept Leverton well in subjection and Lindsay one slip apart, contributed another polished display. Farrell was at his best when he kept a curb on his desire to take the ball himself. On the occasions that he directed it where he wanted it to so with a quick pass he usually got the Forest defence on the wrong side foot. As usual he worked himself almost to a standstill and did much to inspire the rest of his colleagues when it looked as it did throughout the first half as though the goals simply would not come. Three of Everton's next four games are away from home, which means that their task of climbing is not being made easy, but now they have broken the ice and laid the "jinx" which has shadowed them they should begin to cash in on their midfield superiority and territorial advantage. The latter was not as pronounced as against Sheffield United, and Forest at times looked decidedly dangerous. Had Leverton taken the gift goal that was here for him before Everton had scored the course of the game might have been vastly changed. A good job for the Blues that he muffled it.
EVERTON UNCHANGED
September 9, 1952. The Liverpool Echo
Ranger's Notes
Everton will make no change in their side for tomorrow's evening game against Barnsley at the Yorkshire club's Oakwell ground, and now that they have started to score goals and have a victory to their credit that Blues hope to forget further ahead. Barnsley have plenty of problems on hand and like Everton made a poor beginning allied to which they have already several players on the injured list. With Hough Yersall May Jackson and Wood all unfit Manager Angus Seed had made seven changes for Everton's visit. Allen comes into goal, and Betts and Thomas both 20-year-olds, make their senior debut at full back. Another debutant will be 18-year old Douglas Kelly at centre forward. Kelly got a hat-trick against Everton Reserves at Oakwell last week. Other players making their first appearance for Barnsley this season are Smilie who is also 18. Dougall formerly of Preston, and Archer. In their 50 years association with the Second Division –Barnsley have seldom started in more disappointing manner. In the course of five games they have suffered a double defeat at the hands of Notts Forest and on Saturday Huddersfield Town ran up six goals against them. They had a rather lucky draw at Doncaster in the opening match and have won one home game, against Swansea Town. Their displays in the two games against Notts Forest were very feeble and a harassed defence had no answer to Huddersfield Town's lively attackers. In their endeavour to find a winning combination, Barnsley have already called upon no less than 17 players. Now the total goes up to 24, an amazing figure so early in the season. Like Everton, Barnsley have only four goals to their credit, and have failed to score in three of their five games. Everton; O'Neill; Moore, Lindsay; Farrell, Jones, Grant; Harris, Fielding, Hickson, Parker, Eglington. Barnsley; Allan; Betts, Thomas; Archer, McNeill, Gougall; Smillie, McMorran, Kelly (D.), Taylor, Kelly (H).
Everton Reserves; who have taken seven points from their first five Central League matches are home tomorrow evening to Sheffield Reserves when their side will read;- Leyland; Tansey, Rankin; Donovan, Woods, Lello; McNamara, Potts, Lewis, Cummins, Easthope.
LINDSAY FAULTLESS AT BARNSLEY
September 11, 1952. The Liverpool Daily Post
By Stork
Barnsley 2, Everton 3
For their first away victory of the season, Everton had to fight very hard. The Barnsley team, which included seven reserves players, none over twenty-one, put up as brave a battle as one could wish. They did not have the skill of their opponents, but their enthusiasm and fighting quality was superb. The Oakwell side played exceedingly well for 15 minutes and it was no surprise when they took the lead at the point (Taylor). True, Everton should have been a goal up even earlier –Hickson was offered a grand chance in the first five minutes but failed to connect with the ball –but ifs and buts count for nought. Taylor's goal was from McMorran who gave him a glorious opportunity to crack the ball in on the underside of the cross-bar. Afterwards Everton got into tune with themselves and they played really well until the interval, Hickson produced the equalizer at 33 minutes, following good work by Parker and Fielding, and then along came Farrell to deliver a cracking shot which had Allan beaten all ends up. Barnsley, however, never gave up the fight. They battled along bravely and at times showed accurate combination. But the Everton defence proved itself good enough. Harris scored Everton's third with a header from a perfect pass by Hickson and it seemed that Everton would run out easy victors but Barnsley scored through Kelly at the 80th minute.
Strong Pressure
Finding themselves within striking distance of Everton's tally Barnsley put on even stronger pressure and in the dying light Everton were hard pressed to prevent the equalizer. In fact a Kelly header came very near to making it 3-3 and McNeill shot passed inches outside. At this stage much of the unity had gone out of Everton. They were so hard pressed in holding their lead they rarely framed an attack. This was not one of Everton's best matches, but as they took two points that is more than satisfactory. Parker while doing a lot of good work in midfield should have had a goal indeed Everton could easily have run up four or five goals had they taken their chances. Fielding as usual, was the pinpoint of the attack but the man who stood out in my view was Lindsay. He did not put a foot wrong. Towards the end the game became hard rather than subtle for Barnsley fought the battle of their lives for the equalizer.
Barnsley; Allen, goal; Betts and Thomas, backs; Archer, McNeill, and Dougall, half-backs; Smillie, McMorran, Kelly (D), Taylor and Kelly (H), forwards. Everton; O'Neill, goal; Moore and Lindsay, half-backs; Farrell (captain), Jones and Grant, half-backs; Harris (ja), Fielding, Hickson, Parker and Eglington, forwards.
EVERTON RES 2, SHEFFIELD UNITED RES 2
September 11, 1952. The Liverpool Daily Post
Everton managed to divide the points with Sheffield United Reserves at Goodison Park in spite of the United being much the better side both in attacking and constructional play. Everton had their chances, Potts and Lewis missing grand openings. Birch was the shining light for Everton at right half and broke up many attacks. Everton marksmen were McNamara and Cummings, the United's scorers being Cousins and McNab.
BARNSLEY'S SPIRIT
September 11, 1952. The Liverpool Echo
By Stork
Right at the beginning of the Barnsley-Everton game at Oakwell last night I heard one man call out "Keep at em lads, we are all behind you" and this is just what the Barnsley team did, so that Everton had to fight every inch of the way for their success. It may have been youthful enthusiasm and spirit, for the team included seven reserves players who had never donned a senior jersey before, so in the circumstances they can be considered to have put up a grand show. Mr. Angus Seed, the manager, was as pleased as punch after the match and well he should be for he has got together a lot of youngsters who will fight for everything, and what is more there is a lot of skill among these junior members. They put up a bonny fight; in fact they almost sneaked a draw by heir strong rally in the last ten minutes. For thirteen minutes they were the more progressive side and it was not just kick and rush stuff but football with ideas. It was the old head of McMorran however, which laid on the pass which enabled Taylor to strike the first blow with a shot which hit the underside of the crossbar before it settled in the net.
Boys Will Be Boys
Were those boys delighted. They jumped with joy and went on to test the Everton defence in no half-hearted manner. They held their lead for eighteen minutes when disaster befell them through a Hickson goal –his first of the season –made possible through Parker and Fielding. Everton should have had goals before this but missed their way. The goal, however was sufficient to set Everton alight, and from then until the interval their superior craft paid the expected dividend, and when Farrell pumped in the best shot of the game it seemed that Everton would finish up with a handsome lead. Harris made it 3-1 with a header from Hickson's perfect centre, and with Barnsley looking a little spent but not done with by any means a convincing victory to Everton seemed assured. The Merseysiders were the better tacticians but to counteract that the Barnsley boys, prompted by Johnny Kelly, their outside left who by the way has had four cartilages out of his knees, put up a strong finish and Kelly (D.) reduced the lead at the eighteen minute.
Magnificent Rally
The battle became grim. The fighting quality of these youngsters was to be admired and in the last ten minutes they gave the Everton defence a rough time and almost won a half when a Kelly (D) header switched by the post and a McNeill shot hurtled a few feet outside the post. It was a magnificent rally and Everton were glad when the final whistle sounded. I feel sure that Mr. Seed will give this team a long run. The old hands McNeill, McMorran, J. Jelly and the newcomer Douglas did what was expected of them. The youngsters were naturally over anxious at times but Archer, the former schoolboy international look's a good prospect and so did the left back, Thomas but their two main props were McNeill and J. Kelly. I don't think Barnsley would have scored that second goal had the white ball been called for earlier, for the original one was hard to follow in the dimming light. The Everton defence was sound and the forwards shot often enough, but there were several simple chances missed. The honours really went to Barnsley for their magnificent fight.
CAN EVERTON DO IT?
September 12, 1952. The Liverpool Echo
Ranger's Notes
Everton away to Southampton also meet a side in a lowly position with only the same points return from six games as their near neigbour at Fratton Park, and with but one victory to their credit in three home matches Southampton naturally will be anxious to please their spectators with a victory at the Dell, and Everton will need to be on form to get even a point. Southampton's future just now is unpredictable. They touched their best when they beat Leicester City convincingly but touched the other end in two defeats by Plymouth Argyle. Even the away victory over Notts County cannot be regarded as confirmation of form calculated to pick up points consistently, because, although the defence played solidly enough, the forwards were patchy. There is only one newcomer in the side this season, Jack McDonald signed from Fulham during the close season, but Manager George Roughton, in his first season with the club makes no secret of the fact that he would like to sign a class inside forward. McDonald is now beginning to fit in and should improve the striking force on the left flank. There is also pace on the other flank, where Eric Day has been the most dangerous forward so far. Hampshire-born Judd has been holding the centre forward berth and has scored four goals to date. Though he could do with a little more "devil" in front of goal, he is a very useful player. Irish international goalkeeper Kiernan has found his form quickly, and has been a source of strength. Indeed the defence with international Ellerington and former Youth international Sillett now serving in the R.A.F both playing well, has not been often at fault. The half-backs also have done fairly well and Southampton have this department covered more strongly than any other in the side. Southampton make two changes compared with Wednesday's team. Horton coming in at inside left with Mallett taking his place at left half. Everton will rely on the same formation for the sixth game in succession. Southampton; Kiernan; Ellerington, Sillett; Elliott, Clements, Mallett; Day, Purves, Judd, Horton, McDonald. Everton; O'Neill; Moore, Lindsay; Farrell, Jones, Grant; Harris, Fielding, Hickson, Parker, Eglington.
EVERTON'S MANY CHANCES, FADED, BUT DRAW WAS WELL DESERVED
September 13, 1952. The Liverpool Football Echo
Southampton 1, Everton 1
By Ranger
Everton were unable to hold on to a one goal lead which they established in the ninth minute. Although they were the better side in the first half, when Southampton were without Clements for ten minutes they surrendered the initiative for a brief spell in the second portion, during which Southampton equalized through Horton. Everton battled back strongly later and were the more precise and better-balanced side but their finishing was weak. Southampton; Kiernan, goal; Ellerington (captain) and Sillett, backs; Elliott, Clements and Mallen, half-backs; Day, Purves, Judd, Horton, and McDonald, forwards. Everton; O'Neill, goal; Moore, and Lindsay, backs; Farrell (captain), Jones and Grant, half-backs; Harris, Fielding, Hickson, Parker and Eglington, forwards. Referee; Mr. C.W. Bucknall. Ellerington who captained the home side in the absence of Bates, won the toss and decided to face the sun in the first half. Harris set Everton on the attack but his centre was headed away by Clements before Parker could connect. Eglington did better finding Hickson with a nicely-judged cross. The Everton leader was on the mark with his header his header, though there was nothing behind it was cause Kiernan any bother. It was Eglington again who gave Hickson another and much better chance and after setting the dummy to Clements, Hickson delivered a strong shot which Kirenan punched. Away by diving full length. Then it was Southampton's turn but first Lindsay and then Jones cut out their moves before they got within striking distance. When Saints came again they contributed to their own undoing by a succession of cross-field passes when a first time shot would have been a better proposition. When at last they did shoot McDonald fired well behind. A sparkling bit of work by Hickson came to nothing when the Everton man was pulled up for a foul on Clements. Hickson did better a moment later when he laid the foundation of an Everton goal, scored by Harris in nine minutes. After beating Ellerington, Hickson swiveled round and tried a shot which Kiernan stretching well forward could do no more than put out to the feet of Harris who was closed in to the middle. From six yards range Harris chose his spot carefully and deliberately and put the ball into the net well out of Kireran's reach. Two long cross-field passes by Grant again set Harris on the attack without anything dangerous eventuating. A free kick by Eglington was headed forward by Hickson to Parker but caught him on the wrong foot, otherwise Everton might have been two ahead. Fielding was doing grand work in the Everton attack by his telling distribution. Then we saw Hickson beat three men in close space and try a 20-yard shot which soared only a foot over the bar. Everton so far had been well on top and what few attacks Southampton had staged had never been carried to the point where danger existed to the visiting goal. McDoanld had more than one shooting opening but again was high and wide. Day similarly made a hash of an equally promising opening when he tamely tapped the ball behind. A square pass would have been far better.
Headed Off Line
I had only just written that when there came a lucky let-off for Southampton, Ellerington heading away off the line, from Hickson following a corner. The ball went to Eglington whose close in shot veered away at right angles to its intended billet. After half-an-hour O'Neill had still not had a shot to save. True, Kieran had not been overworked at the other end, but at least Everton had always looked the more dangerous to their approach work. At last O'Neill had something to do when he went down to save from Judd at the foot of the post and a moment later dashed out to kick away in the nick of time as the same player was overhauling Jones in a goalward dash. Everton had now lost some of their earlier sparkle. For some minutes Southampton were on the attack and only desperate interception by Jones, Moore, and Grant in turn kept them from testing O'Neill. After 35 minutes Clements left the field with a face injury following a collision with Hickson, who also rubbed his head gingerly for some moments. Horton took over at centre half. Play in the concluding stages of the first half became rather scrappy with Everton by no means having it all their own way against Southampton's depleted and disorganized side. The defence however was rarely troubled to any appreciate extent. Jones had the full measure of Judd. Some of his interceptions were first class.
Half-time; Southampton nil, Everton 1.
Clements returned to centre half when the game was resumed with a strip of plaster on the chin. A free kick for hands against Moore saw Sillett's cross provide Day with an opening. Again he found the wrong side of the post. O'Neill ran out to clear a long centre from the Saints right Harris was checked by Sillett and then Farrell nipped in at the right moment to hold up Purves. Southampton were more aggressive now than at any previous stage but Jones and company were standing firm. At the 54 minute however Southampton's persistence's brought them due regard. A long pass by Purves to Day saw the latter get the better of Lindsay whose attempt to being the ball down, did not come off. Day's centres come shot was handled out by O'Neill by a full length dive but he could not divert it. The former Blackburn Rovers man flashed it into the net to put the Saints level. It was a very similar goal in some respects to that scored earlier by Everton. Southampton were now playing with more method and purpose than Everton, and with more determination as well. O'Neill made a brilliant saves from Purves and the Everton defence hitherto cool and confident was now losing some of its poise. The home crowd who had been strangely silent most of the time were now encouraging their players strongly and one visually the possibility that Everton might fade out.
Parkers Gore Wear
Kieran was again on the spot to fell Hickson and then back came the Saints though this time without producing a final shot. Everton were far from done with. Twice the "Saints" goal had a narrow escape when Grant's shot was almost deflected into his own goal by Mallett and again when Parker almost snatcher the lead with Kiernan on his knees. Kiernan also saved from Eglington and Hickson won a corner "against Clements. After their temporary shakiness Everton were fighting back with vigour and determination and it was still anybody's game. The home defence was far from reliable under pressure. Sillett breasted down a toe-ender by Harris as he stood alongside the post, though I doubt whether the ball would have gone in at any case. A Hickson header from Parker's centre was saved by Kiernan. After a good run Parker did not finish strongly enough to have any hope of scoring and at the other end O'Neill saved at the foot of the post from Horton. Jones twice headed away to spoils the Saints attack. Hickson was working hard but having no luck with two shots and a header he was only narrowly off the mark. Everton enjoyed most of the play in the last 15 minutes but lacked the punch in front of goal to add the right finishing touch to their approach work. Final; Southampton 1, Everton 1.
EVERTON RES V LIVERPOOL RES
September 13, 1952. The Liverpool Football Echo
Everton Res; Leyland, goal; Tansey and Rankin, backs; Birch, Woods and Lello, half-backs; McNamara, Potts, Lewis, Cummins, and Buckle, forwards. Liverpool Res; Crossley, goal; Parr and Morris, backs; Saunders, Jones (H), and Maloney, half-backs; Jackson, Robertson, Clugston, Dickson, Jones (JM), forwards. Referee; Mr. E.T. Jenkins (Manchester). The junior "Derby" game attracted a good attendance at Goodison Park today. Everton were definitely the better side, their approach work being a marked feature. It was in the 18th minute that the Blues took the lead, Buckle placing a delightful centre with which Lewis made no mistake. The Liverpool goal was very fortunate to escape when Moran cleared a shot from McNamara on the goal line. Everton still held the monopoly of the play and Crossley did remarkably well to bring off many excellent saves. Half-time; Everton 1, Liverpool nil. The Reds should have equalized 15 minutes after the interval when Clugston running through on his own and with only Leyland to beat shot well wide of the mark. In the 75th minute Everton were awarded a penalty, Potts took the kick and made no mistake. Final-Everton Res 2, Liverpool Res nil.
SO NEAR TO TWO POINTS
September 15, 1952. The Liverpool Daily Post
Southampton 1, Everton 1
By Ranger
While a point away from home is usually regarded as satisfactory, Everton could have had two from Southampton if they had produced finishing power comparable with their approach work. They enjoyed the encouragement of a goal lead after nine minutes, but could not hold on and for a short spell after Southampton equalized early in the second half, one sensed that they were beginning to lose their belief in themselves. Though the defence had shaky moments it quickly regained its earlier poise, and the initiative was recaptured before any damage was done. Everton apart from their one nervy period were the better side throughout. Yet with all their promising approach wok they rarely gave Kiernan anything very difficulty to handle. Southampton had a narrow escape when Ellerington cleared a header off the goal line from Hickson, and another when Sillett breasted down an effort by Harris alongside the post. Occasionally Kiernan was blessed by good fortune in saving at the second attempt. These double efforts however, were usually due to his own misjudgments rather than to the sting behind the shot.
Grand Start
Everton started off in grand style, with Harris putting them ahead in nine minutes when Kiernan, diving to save from Hickson could only turn the ball into the path of the advancing winger. This reverse so upset the home side that they were at sixes and sevens and Everton were in almost complete command. For the last ten minutes of the half Clements was off with a cut chin following a collision with Hickson but still Everton could not break down the opposition. Southampton equalized through Horton at the 54th minute the goal being almost a carbon copy of that scored by Harris. Diving to save from Day, O'Neill could only push the ball out to Horton, who made no error with this simple opportunity. The visitors superiority in midfield and defence was never in doubt, but their lack of finishing power nullified all this. With better shooting Everton would have had both points. Fielding, Hickson and Eglington were the best of the attack, the half-back line played well throughout with Farrell an inspiring example and Jones always reliable and outstanding when the ball was in the air. Lindsay was cool and resourceful. Everton will need to produce stronger shooting when they come up against better teams.
FINE JUNIOR "DERBY"
September 15, 1952. The Liverpool Daily Post
Everton Res 2, Liverpool Res 0
Everton's victory in this junior local "derby" game at Goodison Park on Saturday, was more pronounced than the score suggests. It was a fine encounter with Everton dominating the play for the major portion of the game. Crossley the Liverpool goalkeeper saved his side on frequent occasions. Lewis missed two great chances for Everton, as also did Clugston for Liverpool. Birch, Wood and Buckle were prominent for the winners, while Jackson worked well on the Liverpool right. Lewis gave Everton the lead in the eighteenth minute and in the seventy fifth minute Potts secured a second goal from a penalty.
BLUES LACKED POWER
September 15, 1952. The Liverpool Football Echo
By Ranger
Had Everton been able to finish off their approach work in the same convincing manner as they initiated so many promising moves, they would have built up a solid lead against Southampton by half-time instead of being only one goal to the good. It was all Everton for the first half hour but after Harris had given them the lead in nine minutes they failed to take further advantage of a Southampton defence which was decidedly shaky. It wasn't that Everton did not shoot often enough but rather that there was not enough power behind their efforts and not the requiring direction at times. Southampton packed their goal area and defended desperately and though they were often fortunate to get away with things they managed to hold out. Even when Clements had to go off for the last 10 minutes of the first half, Everton still could not cash in against the depleted Saints. Once Ellerington headed away a Hickson attempt of the goal-line, but otherwise Everton seldom looked like increasing their lead.
Farrell Inspired
Southampton were at full strength in the second half, Clements having resumed after medical attention to a cut chin and after the home side had leveled the score through Horton at the 54th minute Everton suffered a nervy period to which there looked more than an outside chance that Southampton might forge ahead. The coolness and resource of Lindsay and Jones, however plus the inspiring example of Farrell soon restored their earlier confidence and though Southampton now and again looked dangerous on the whole Everton were in complete command and should have taken the lead again. But once more uninspiring finishing and occasional hesitancy along with the absence of hard first-time shooting nullified much of their work. It was not a particularly good game though it had its moments and nine-tenths of the best football came from the visitors. The Southampton defence, though frequently in difficulties was not made to pay the full penalty. A few good shots were rather fortunately blocked by defenders who fell back in front of the Blues onslaughts to pack their goal area but with their chances Everton should have had the game well won long before the finish. Lindsay and Jones were the stars of the visiting defence. The former always cool and reliant was unfortunately in that a partial error with an awkward chest-high ball let in Day to lay the foundation of the equalizing goal. O'Neill dived full length to save his shot, but could do no more than push the ball out to the feet of Horton, who made no bones about accepting the easy chance. Everton's goal had come in somewhat similar fashion a partial save by Kiernan from Hickson resulting to Harris being presented with a simple opportunity from six yards range. Harris played well, and got a splendid service of passes, particularly in the first half from Fielding and Farrell. Hickson up against a rugged centre half, who, was not too ceremonious in his methods had few real chances, but was always a thorn in the flesh of the home defence. Fielding was good, and so was Parker top a point but his slowness was sometimes his undoing. A point away from home is always encouraging but had Everton only shown the same ability in front of the goal that they had in midfield they would have had them both, and by a convincing margin.
GIFT GOALS IN DRAW
September 16, 1952. The Liverpool Daily Post
Sheffield United Res 1, Everton Res 1
Luck broke even and the points were shared in this Central League game at Bramell Lane last night where both Everton and the United scored "gift" goals. A misunderstanding between Johnson and Crookes allowed a flick from Buckle to roll across the United goal-line and a penalty award when an indirect free kick appeared more fitting, enabled McNab to equalize.
EVERTON AGAIN UNCHANGED
September 18, 1952. The Liverpool Echo
Same Side Will Represent Blues For Seventh Successive Time
Ranger's Notes
Everton will field an unchanged side against Brentford at Griffin Park on Saturday, which will be their third successive away game and will see the side unaltered for the seventh consecutive engagement. After their disappointing start, which yielded them no return from the three opening matches Everton have improved to the extent of taking six points from the following four engagements. They have shown not only greater penetration in attack, but an improvement also in defence. Notts folk will agree that Everton have acted wisely in giving the present eleven in extended trial. So far their results to have jusfield this course. There is nothing more calculated to upset the confidence of either individual players or a team than too frequent changes. Even when one or present side have not always performed at the top of their form. Everton have not been swayed in their policy. All players have an off day now and again but on the whole this Everton side is gradually welding together nicely. When once the forwards enjoy more success with their shooting the side will be still nearer the ultimate objective. Brentford's record so far is very similar to Everton's except that they do not appear to be quite so sure in defence. After keeping a clean sheet against Lincoln and Huddersfield in the opening games they forfeited 13 goals in the next five matches. At one time the Brentford rearguard was very sound and solid. Now it looks as though it is not quite so good. Everton will be renewing acquaintance with an old colleague at Griffin Park for Tommy Lawton, formerly of Goodison Park is now leader of the Branford attack which is also includes a Liverpool born player in Terry Ledgerton. Ledgerton was formerly outside left with St. Dominic's, Huyton and played for the Liverpool County F.A. youth eleven. He first signed an amateur for Brentford three seasons ago. Everton; O'Neill; Moore, Lindsay; Farrell, Jones, Grant; Harris, Fielding, Hickson, Parker, Eglington.
EVERTON CHANGES
September 19, 1952. The Liverpool Echo
Ranger's Notes
Although originally announcing an unchanged side for tomorrow's game with Brentford, Everton have now to make two alterations compared with the team which has done duty in the last six matches. A slight knee injury which Hickson received at Southampton began to reassert itself yesterday after seemingly having cleared up and as Gwynfor Lewis, who would probably have come in is also on the injured list, Everton have decided to play Parker in the middle and bring in Harry Potts at inside left. Potts will be making his first senior appearance since last December, following his injury, but he has been playing regularly and well in the Central League side this season and is back to complete fitness. If Everton can continue their recent improvement, which has brought them two victories and two draws, compared with three defeats at the start of the season, they may well get a point from Brentford at Griffin Park in spite of the enforced reorganization of an attack which was beginning to benefit from constant association. They should have won by a very convincing margin against Southampton last week. That they did not do so was partly their own fault, but there was such an improved balance and forcefulness generally that points should continue to come along so long as the team can serve up football of this calibre. This does not mean that Everton are a particularly outstanding side yet. Their last two opponents have been rather poor teams. That may have made Everton look a shade better than they will seem when they come up against something stronger. Brentford hardly come into the reckoning as one of the best sides in the Second Division. Everton's big test will come when they meet those up in the top half dozen positions. Among these at the moment, however are Sheffield United and Notts Forest against both of whom Everton put up reasonably good performances. I sometimes wonder whether the Blues will not do best when they are up against the strongest teams. It sometimes works out that way. At least they are allowed to play real football. Brentford will be led by a former Goodison Park favourite in Tommy Lawton. Lawton has not been in his best form so far. Two goals in eight matches is not the dynamic Lawton of old. Tommy however, is playing a different type of game today than he did when he was the spearhead of the Everton line. He is specializing more in manufacturing the "bullets" for somebody else to fire. Brentford (from); Jefferis; Monk, Munro; Latmar, Greenwood, Bragg, Goodwin, Lawton, Ledgerton, Harper, Dara, L. Smith. Everton; O'Neill; Moore, Lindsay; Farrell, Jones, Grant; Harris, Fielding, Parker, Potts, Eglington.
Wainwright in Reserves
Eddie Wainwright, back from "Z" training, plays his first game for Everton Reserves since he broke his leg nearly two years ago. He had some "A" team outings towards the end of last season. Everton who entertain Bolton Wanderers Reserves (3.15) include two amateurs in their side in MckInley and Cronin. Teams;- Everton Reserves; Leyland; tansy, Rankin; Donovan, Woods, J. McKinley; McNamara, Wainwright, T. Cronin, Cummins, Buckle.
EVERTON REGAINED THEIR SHOOTING BOOTS AFTER DETERMINED PRESSURE
September 20, 1952. The Liverpool Football Echo
Brentford 2, Everton 4
Everton's tremendous rally midway through the second half had the crowd shouting. Their football at this stage was direct, skilled, powerful and Evertonlike. However, they deserved the two crisp goals scored by Parker and Potts. Everton's outstanding players Eglington and Fielding often had the Brentford backs bewildered. Parker was not a big success at centre forward, but there was not such amiss with the play on the Everton wing. Potts was Everton's best marksman. In the Everton defence Jones and Lindsay tackled powerfully, used the ball well, O'Neill in goal made no serious mistakes. Brentford;- Jefferis, goal; Monk and Munro, backs; Latimer, Greenwood, and Bragg, half-backs; Smith, Harper, Lawton (t), Dare and Ledgerton, forwards. Everton; O'Neill, goal; Moore, and Lindsay, backs; Farrell (captain), Jones and Grant, half-backs; Harris, Potts, Parker, Fielding, and Eglington, forwards. Referee; Mr. R.M. Griffiths. Brentford who won only two home matches –against newly-promoted Lincoln City and Blackburn Rovers –had secured only one point in their last three games. Today against Everton at Griffin Park experiments were made to try, out more punch into the attack. A new right wing was tried Leslie Smith, who returns to his old club after several seasons with Aston Villa was at outside right, and Harper, usually at right half back, was at inside right. Latimer took Harper's place in the half-back line and Tommy Lawton was at centre forward. Everton had captured five points in their last three games scoring seven goals. Everton had to make changes, Hickson was injured when training on Wednesday, so Parker was moved to centre forward, Potts came in at inside right and Fielding moved to inside left. The turf looked good and the weather as delightful and sunny and warm. Winning the toss was of little advantage to Brentford but 22,000 spectators were soon cheering Ledgerton for a fine run. He centred right across the goal, but Lindsay positioned himself and headed the ball well clear. The game had opened at a fast pace. Harris and Potts tried to make headway on the Everton right wing. The ball was passed right across the field, but Eglington was robbed by Latimer. Back came Everton, and when Harris centred the ball sharply, Fielding cut in and shot, and Jefferis was only in time to catch the ball. O'Neill was in action twice. He dived to save a shot from Lawton, then cleverly held a shot from Dare. Still another corner came, and this was only cleared with difficulty. So far it was up and down football, with each side attacking in turn. Brentford made a dangerous-looking attack on the right, but Lindsay who was playing well, dispossessed Harper just as he was shaping for a shot. Fielding supplied some delightful touches. He also got a lot of good work out of his partner Eglington. At this stage Everton were playing with more rhythm than Brentford. Potts made one acute pass to Parker and the Everton centre forward lost no time in rounding Greenwood and whipping in a shot which Jefferis did well to save. A free kick to Everton was well-placed, but Monk cleared with a long kick. Twice in Everton attacks Harris and Potts were prominent, but they did not succeeded in getting in a dangerous shot. Bragg sent the Brentford forwards away. Lawton gathered the ball and passed inside to Dare but before the inside left could shoot Moore dispossessed him finely and passed the ball up to Harris. At this stage the Everton forwards were very active. Eglington put in one great angled shot and it only missed by a yard or so. The Brentford left-wing pair Dare and Ledgerton were giving Farrell plenty to think about. Ledgerton placed one centre just right for Lawton, but he headed over the bar. Jones earned applause for some fine headwork when the Brentford forwards were threatening to score. Good work followed by Fielding and Eglington and from Fielding's pass Eglington fired a shot from ten yards. Everton's heavy pressure brought them a goal in 15 minutes. Fielding place the running and from his neat pass, Potts scored a good goal. Brentford's attempt to make headway down the middle was twice thwarted by the sterling tackling of Jones. Brentford drew level in the sixteenth minute. Lawton was put onside by an Everton defender playing the ball, Lawton dashed forward to within five yards of O'Neill. The centre-forward shot, but O'Neill smothered the ball, Lawton however carried on with his effort and scored at the second attempt. Good passing between Eglington and Fielding quickly had the Brentford goal in jeopardy, but Parker wasted a chance when a loose ball came to him from 15 yards out. With the teams level the game became very hard, and the football was speeded up a lot since the goals came. The Everton forwards worried the Brentford defence repeatedly but somehow they could not get in a shot that looked like beating Jefferis. More corners came to Everton, and they also had a free kick from which Fielding lofted his shot over the crossbar. The ck, which was quite often. After Everton defenders were covering each other splendidly when Brentford were on the attack which was quite often. After half an hour Brentford took the lead, Lawton moved over to the right and centred the ball astutely. Harper dashed in and scored. This was a really fine goal and well deserved. Everton were soon fighting back, with splendid foraging work by Potts and Parker, but Greenwood was keeping a tight hold on the Everton centre forward. Near the interval Jefferis saved a hot shot from Potts.
Half-time; Brentford 2, Everton 1.
Once Farrell found Fielding with a beautiful pass when he was unmarked. A splendid bit of close footwork enabled him to beat Monks but he made a hash of his shot –taken much too hurriedly. A minute later, the Brentford goal was lucky not to fall, Eglington took the ball to within two yards of the post. He looked back and everyone was amazed when Jefferis literally took the ball off Parker's foot two yards from the goalline. Brentford struggled valiantly to keep the lively Everton forwards in check, but it wanted a bit of doing as Everton were playing well. Only in one respect were Everton not impressive –that was in marksmanship as when seen on one occasion when Eglington actually missed a sitter. It was all Everton's left flank at this time, and Parker from a centre shot just over the crossbar. Everton equalized in the 62nd minute. It was curious goal. Jefferis laid on the ball about on the goal line and the referee adjudged Parker had forced the ball home for Everton. Eglington centred and Parker headed the ball on for Potts to score. The Brentford right wing was called into action. Leslie Smith put across an ideal centre but Lawton headed the ball over the bar. Now leading Everton took no chance, but they attacked rather than resort to defence. Eglington almost notched a fourth goal. Potts scored for Everton after 64 minutes. Parker scored Everton's 4th goal. Final; Brentford 2, Everton 4.
EVERTON RES V BOLTON RES
September 22, 1952. The Liverpool Football Echo
Everton Res; Leyland, goal; Tansey (J), and Rankin, backs; Donovan, Woods and McKinley, half-backs; McNamara, Wainwright, Cronin, Cummins and Buckle, forwards. Bolton Res;- Grieves, goal; Banks (R) and Binghley, backs; Howe, Hartle, and Neill, half-backs; Pillings, Hughes, Codd, Gallagher, and Beards, forwards. Referee; Mr. F. Dearsden (Endon). The reappearance of Wainwright drew a good crowd at Goodison Park. Bolton produced fine football and were two goals up in the first few minutes through Gallagher. The Blues reduced their arrears in 20 minutes through McNamara with a penalty. Gallagher with another great shot completed his hat-trick, Wainwright appeared quite fit again and was unfortunate when he netted a lovely long range shot which was ruled offside. Neill in the 40th minute increased the visitors lead. Half-time; Everton Reserves 1, Bolton Reserves 4.
• Everton "B" 1 Dunlop (Speke) 0
• Everton "C" 0, Crichton Soc 0
• St. Philomen's Colt 1, Everton "D" 4
INSPIRED DISPLAY BY EVERTON ATATCK
September 22, 1952. The Liverpool Daily Post
Brentford 2, Everton 4
The return of Harry Potts, Everton's most expensive post-war import, coincided happily with an inspired display of attacking football played at top speed, bringing with it the club's first-ever victory over Brentford at Griffin Park on Saturday and their second away success of the season. This high-powered brand of Everton football coupled with immense shooting power had to be seen to be believed. It is no exaggeration to say that if they had won by a margin of ten goals they would have been in no way flattered. From the start the attack swung easily into action and in contrast with so many previous occasions when there has been no shot; to round-off sparkling approach football; there were so many in this instance that it was impossible to keep count of them. Even when Brenford, fought back to wipe out Potts goal, scored in the 15th minute and take an interval lead as a result of goals from Lawton and Harper, one always sensed that an Everton triumph was assured. And the way Parker, an outstanding success in his new role as leader of the attack and his colleagues set about on their task was an inspiration that goals just had to come. Time and again either luck or the brilliant Jefferis foiled them but still that barrage of shots came. Eventually Potts and Parker between them forced home a Harris centre just inside the post and the house came down by brick as Parker's and Potts in two minutes.
Vital Factor
The thrust generalship and strength which Potts introduced was undoubtedly one of the vital factors in revitalizing an Everton attack in which Eglington was superb –he might easily have had four or five goals. Parker a wholly enterprising and quick-shooting reader, Fielding the unconstructive schemer who so often brought Eglington into the game and Harris a young winger who has definitely come to stay on this showing. When those Everton forwards approached goal they had only one subject in mind and that was to shoot and shoot hard. Apart from occasional glimpses of Lawton genius the Brentford attack was rarely seen. In fact for the most part Lawton found his master in the ever-improving Jones. Just once was he seen in the second half and that was when he contributed a brilliant flying header from a Greewood freekick but O'Neill was equal to the call and edged the ball cleverly over the top. Grant had another excellent game and he continue to improve markedly in his distribution. Farrell, Moore and Lindsay all played their parts notably in the most outstanding Everton display for at least two seasons.
NEW LOOK EVERTON
September 22, 1952. The Liverpool Echo
Ranger's Notes
Too often in the past few years have Everton enjoyed complete monopoly of the play but failed to produce the finishing power needed to bring the vital goals. What a pleasant change it was therefore to watch the forwards in action against Brentford at Griffin Park. They unleashed more shots in the second half during which they overwhelmed a side which had rubbed a goal deficit and taken an interval lead, than in all their previous games put together this season. This was indeed a new-look Everton front line sparkling on all five cylinders and with every single man imbued with the necessity for shooting hard and shooting often. Jeffereys the Brentford goalkeeper, must have wondered what had it hit him. No often is he likely to run up against a side so chockfull of powerful shots.
Potts Brought Thrust
For over 15 minutes immediately after half-time Everton did everything but score. For a passing moment one began to wonder if they would become discouraged. But they didn't. Parker and Potts between them forced the ball inside the post for the equalizer in the 62nd minute –the goal was awarded to Parker –and two minutes later Potts capitalized on an intelligent headed glance by Parker to hook in the third. Parker scored the final goal nine minutes from the end when he took over from Harris to beat Jeffereys with a shot which the Brentford goalkeeper got his hands to but could not prevent crossing the line. What brought about this unexpected transformation as far as Everton were concerned. Undoubtedly, there were two essential factors contributing to the new-found power in attack –the reintroduction of Harry Potts and the switching of Parker to centre forward. Potts, strong on the ball, was not only a goal scorer, but a goal maker. He coaxed young Harris into the best performance to date scored two excellent goals and generally added much-needed thrust to the front line.
Eglington Stars
Parker fitted into his new position to the manner born. No slave to the centre of the field, he was constantly drawing Greenwood out of position, he distributed the ball with rear judgement scored two goals and in all looked the part in every way. Fielding was always fetching and carrying to useful effect and there is no doubt left position had much to do with the fact that Eglington had a "wonder day." This was the fleet-footed Eglington best outing for many a day. He repeatedly left Monk standing and his shooting was a revelation. Only a combination of inspired goalkeeping by Jefferis and some degree of luck prevented the Irishman from helping himself to the four or five goals. Apart from one brief spell of unsteadiness during which Lawton scored in the 17th minute, the defence acquitted itself admirably and could not be blamed in any way for Brentford's second goal which was "made" by Lawton and headed home by Harper in the 30th minute. That Brentford were never in the game in the second half was due to the firm grip imposed by Jones. Grant and Farrell while O'Neill, Moore and Lindsay all contributed usefully to a championship-class performance which augers extremely well for the future.
MORE GALS FOR PARKER, POTTS
September 23, 1952. The Liverpool Daily Post
The Army 1, Everton 2.
Everton were given hard game by the Army in the annual fixture at Aldershot last night, but after being a goal behind at half-time they eventually ran out winners, Parker and Potts who were Everton's marksmen at Brentford on Saturday, being the scorers. Everton's forwards were slow at the start and Parker always closely watched by Twentyman (Carlisle United), who played a clever stopping game for the Army, but Fielding troubled King with a rising drive that shook him as he held it although at this period most of the danger came from the Army, and O'Neill did particularly well to hold two very dangerous shots from Marchi (Tottenham H) who produced the Army's best efforts of the game. In fact the Army did so well that after 30 minutes they went ahead when a swift drive from Parry (Derby County) beat O'Neill. Gunter (Portsmouth) brought off a goal line clearance from an effort from Potts before the Army scored. Parker sent a fine effort curving over the crossbar and Potts and Fielding both saw promising shots fisted out by King before Parker equalized from a centre from Potts. This was after 58 minutes but it was three minutes from the end before Potts put Everton ahead when he was placed through by Eglington.
EVERTON JUNIORS SUCCESS
September 25, 1952. The Liverpool Echo
Stork's Notes
Everton supporters will be pleased to hear that Ronnie Saunders a former youth international centre-forward on the books of the Goodison Park club, has achieved no little success in the Army sports at Aldershot. He was 440, 220 and 100 yards throwing the discuss, putting the shot, and was second in throwing the hammer. Before starting his national Service Ronnie enjoyed great success with the Everton junior sides. A former Birkenhead Park High School boy, he came to Goodison Park in season 1949-50 following a trial with Tranmere Rovers; but he wanted to be with his uncle George Saunders. Ronnie now weighs 13st 8lb but is getting all the training he can, and Everton are expecting big things from him after he is demobbed in February.
LINDSAY DOUBTFUL FOR EVERTON
September 25, 1952. The Yorkshire Evening Post
Everton have one doubt about their side to meet Doncaster Rovers on Saturday. This is at left back were Lindsay, who injured a thigh against Brentford last week, is doubtful. If he is unable to come though a test successfully tomorrow his place will be taken by George Rankin, a former Liverpool schoolboy, and at present in the Army. Team; O'Neill; Moore, Lindsay; or Rankin; Farrell, T. Jones, Grant; Harris, Potts, Parker, Fielding, Eglington.
GOALS GALORE AT GOODISON FROM PARKER (2) AND EGLINGTON (5)
September 27, 1952. The Liverpool Football Echo
Everton 7, Doncaster 1
By Contact
Five goals for Eglington, four of them in succession and a splendid display of chance-taking by Everton rubbed out the memory of that Boxing Day performances last year. Harris-too had a big share in the day's glory and the promptitude with which centres came from either flank was not only a refreshing change from old Everton policy but a tactic to which Doncaster had no answer. Everton; O'Neill, goal; Moore and Rankin, backs; Farrell (captain), Jones and Grant, half-backs; Harris, Potts, Parker, Fielding and Eglington, forwards. Doncaster Rovers; Hardwick, goal; Makepeace, and Graham, backs Jones (W), Miller and Teasdale, Doherty, Morris, Adey, Walker, and Tindill, forwards. Referee; Mr. R.P. Hartley (Burnley). Twice in the opening minute the Doncaster attack worked the ball by short passes to first-class shooting chances, but in neither case was a shot forthcoming. Martin and a busy outside left, Tindall, were mostly concerned in these moves in which the Everton defence closed up to good purpose. On a ground made slippery by rain and with a strong wind swirling the ball considerably, judging the ball in the air was a problem.
Good Everton Move
Everton's best move was one in which Fielding and Potts got Harris going so that he could centre beyond the far post to where Eglington was probably unsighted by a Doncaster defender, as the ball came across could not get the full power of his head into his effort. Parker next indulged in a class right wing run with a square centre which was so close in that Hardwick reached it first without difficulty. Eglington beat Makepeace by the simple process of pulling the ball between the full back's out-stretched legs but the goalkeeper by going to the far post edged Eglington's centre to safety. Everton were to score dramatically at seven minutes through Parker. Farrell from a position midway between his own goal and the centre line flung up a pass to Parker, who stood challenged by Miller. The Everton centre forward won the duel of heads and moving quickly on where the ball dropped hit it on the half volley for as good a goal as one could wish.
Thanks To John Willie
Though they led and threatened to make it 2-0, Everton had moments of anxiety, indeed when Moore chose to put the ball, back to O'Neill high and with a little pace, the goalkeeper had no safety margin as he went up at the last moment to hold the ball in front of the bar. John Willie Parker though not getting the second the second goal, was instrumental in its production with a left wing feint a downward nod of the head to bring the ball to his feet, and a centre when he seemed to be well covered brought about the situation which gave the scorer an almost unmisable chance. Makepeace only half cleared the ball as it arrived from Parker and Eglington standing not more than five yards out, shot it home without any compunction whatever. Fielding with a shot taken on the angle aimed to make it 3-0, but needed to lower his sights a bit and Doncaster though playing rather harder than at the outset were no nearly so successful. Harris with a full volley from Hardwick's punch away of Fielding's quickly taken corner kick had the right idea and Hardwick must have been relieved to see the ball fly wide.
This Was Joy Day
The joy on faces of Evertonians when Parker scored at 21 minutes had to be seen to be believed. Harris started this one by retrieving himself after putting up a ball which Fielding was to have received but didn't. Harris won a clinch for the ball, went on to centre and although Parker almost completely mistiming his shot the ball spun up a yard or two in front of him and by poking his foot at it as Hardwick came out to held it he was able to score when the odds were heavily against him. That was at 21 minutes. A minute later Harris run almost half the length of the field for an oblique past in the region of the corner flag, arrived in good time to get the ball across and Eglington must have shouted "Leave this to me" as the ball dropped perfectly for him to nod goal number 4. Parker, who had been standing inside Eglington, wisely let the ball pass on to where it could be more easily converted.
Goalmouth Scrums
Doncaster were far from being four goals behind in the play but they worked the ball so close and the Everton defence became so oyster-like that some of the incidents in front of O'Neill resembled a rugby scrum. Out of one of these Adey hit a shot just inside the post and O'Neill did exceptionally well in edge it for a corner. Parker's artistry at centre forward was clear to all but it did seem that Miller was easily fooled by some of J.W's body swerves. Jones was having a good spell against the rangy Adey but Doncaster certainly deserved a goal or two, and were unlucky not to have them.
Half-time; Everton 4, Doncaster Rovers nil.
The game had not been going more than a minute when Everton became five up, and the recent policy of Everton wingers centering the ball the moment the chance arose was never better exemplified. Fielding said "after you to Potts in midfield, Potts immediately brought Fielding into the picture –a Fielding pass laid on to the inch was superbly trapped by Harris, and in a flash the Everton new boy had swing the ball across goal with a valorous centre. Eglington had this one lined up all the way and flinging himself at the ball headed a truly glorious goal. A moment later, by way of thanks, Eglington all but returned the compliment to Harris, whose header was stopped on the line and with difficulty by Hardwick. Though their team was five up the Everton spectators did not relish an offside decision against Harris but the verdict stood. When the referee came over before the free kick was taken and examined the ball one sensed the possibility of a throw-down, but Mr. Hartley merely wanted to change the ball. Doncaster from being first class in the first ten minutes were now merely a side of loose ends, and it seemed to be only a matter of time before there would be another goal or two from Everton.
….. And More To Come
It now became not so much a match, but a question of how many Everton would stop at. When Harris chose to pull a ball back markedly to allow Farrell to run on to it for a shot it was wise variation in tactics even if Farrell's effort bored into the crowd, having skimmed the bar. Whatever their faults in this fixture last season. Doncaster played with scrupulous fairness today. The elusive Parker swerving his way almost from the corner flag to the post tried to lay on a made-to-measure goal for Eglington without success, and O'Neill had one of his rare moments of activity when collecting a shot from Tindill. Doncaster got no more than they deserved when Everton who were playing time out, were in a relaxed mood. The goal came after 67 minutes to Tindill, and if ever a move was worth a score this one was. Much of the credit went to Martin, who was figuring at the time at outside right. Had Adey shown any confidence a moment later he would have gone clean through after beating Jones for a second goal. But he delayed fatally and all was lost. Anyone coming in at three quarter time would never imagine Everton to be leading 5-1, but such was the way things ran today, another goal was in the offing, and to Eglington. This one came exactly a quarter of an hour from the end and was taken with a ready shot the ball close in creating an opening. A linesman flagged for what presumably would have been a penalty against Doncaster and this would have been interesting, but the referee over-ruled the minor official and waved play on. Fielding with a header when the whole of the Doncaster defence was unhappy and far from home put the ball inches wide. Oddly, Hardwick had to make a few saves but he now made a good one at full stretch from Grant. For Eglington every shot was a winner today. A minute from the end when awkwardly angled he slammed the ball home for Everton's seventh goal and his own right the last four of them in succession an unheard of for an Everton forward much less a wing forward. When it was over Eglington had a handshake for Makepeace and overjoyed Everton spectators rose to Eglington and to the team as a whole. Final; Everton 7, Doncaster Rovers 1.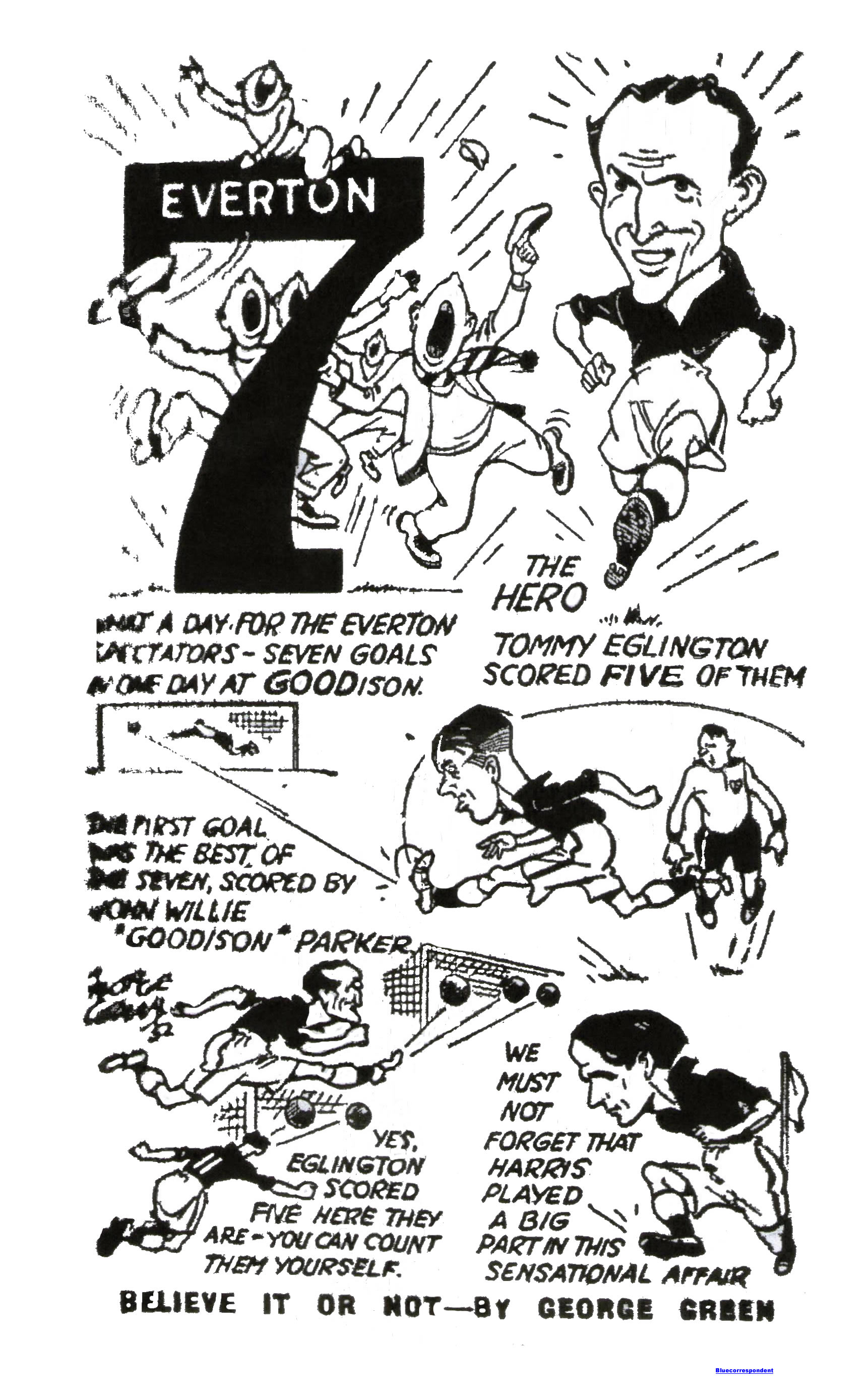 FOUR GOALS AGAINST ROVERS IN FIRST HALF
September 27, 1952. The Yorkshire Evening Post
By Hughie Goodall
The League Division II
Doncaster Rovers, in urgent need of points, today journeyed to Everton, who have gained only two more points than the Belle Vue side this season. The Rovers played the team which beat Nottingham Forest last week. It included at inside left, 20 year old Ronnie Walker, the former Sheffield nursery winger who is showing great promise as an inside forward. Everton left back Lindsay failed to pass a fitness test, and Rankin deputized. Everton; O'Neill, goal; Moore and Rankin, backs; Farrell (captain), Jones and Grant, half-backs; Harris, Potts, Parker, Fielding and Eglington, forwards. Doncaster Rovers; Hardwick, goal; Makepeace, and Graham, backs Jones (W), Miller and Teasdale, Doherty, Morris, Adey, Walker, and Tindill, forwards. Among the spectators was Ted Sagar, former Everton goalkeeper, who has strong associations with the Doncaster district. The Rovers launched an early attack, which ended with Adey pushing the ball back to Doherty to shoot. It was a good effort but went wide. Everton took play to the Rovers end, forced a corner on the right, but nothing came of it. Neat combination between Martin and Doherty nearly brought the downfall of the home goal, for Martin sent in a lowly pass and Adey's shot went close. When Teasdale came in to shoot he was also off the mark, but it was a commendable effort. Tindill carried on the good work and Miller effectively closed the middle to Parker when he tried to break through. But Harris broke clean away and dropped a centre, which Eglington tried to head home, but it was a poor effort.
Happened in A Flash
When the winger again got the ball Makepeace was his master. Swerving out to the wing, Parker beat two defenders, but the centre dropped at Hardwick's feet and away went the Rovers in a rush for goal. When Jones mis-kicked there appeared to be a chance, but Rankin slipped in just in time. A grand save by Hardwick, he anticipated Fielding's centre in grand style, helped the Rovers, but he had no chance at all with the shot from Parker which gave Everton the lead after 15 minutes. The centre forward beat Miller in the air for a high ball which went like a flash into the net. It happened in a flash, and came as a distinct surprise. In the 20th minute Everton were two up, and this time Eglington had little to do but push the ball home. Parker went streaking down the left wing, and when challenged by Martin, he centred Miller tried to cover and killed the ball, but it went straight to the winger who had slipped inside and Hardwick was well beaten from close range. Both goals were opportunist chances by nippy forwards. The Rovers were playing well enough and they should have replied when Doherty engineered an opening for Walker who carried on the good work and gave Jones a great chance. He failed to take it, and the Everton goal escaped and so did the Rovers goal, too when Potts crossed the ball hard and high across the Rovers' goal. Yet another defensive error brought Everton a third goal to Parker. Jones tried to dribble round Harris, and lots it. Although Parker appeared to lose the ball he regained possession to beat Hardwick in the 25th minute. A minute later the home side were four up with Eglington heading home the ball with the Rovers defence all at sea.
Chances Goes Begging
It was remarkable in the opening 20 minutes that the Rovers had as much of the play as Everton, but there was no doubt that the home forwards were in brilliant form and taking their chances too. A shot from Adey, which O'Neill pushed round the post, was the nearest the Rovers had come to getting a goal, but they were getting the chances against an Everton defence which was decidedly shaky under pressure. Martin worked the ball well but Adey's header went over, while a lovely centre from Martin again nearly had O'Neill beaten. He could only push the ball away, and with no one up in support the chance went a begging. Everton were dangerous every time they got possession, for their attack was working like a machine and Hardwick was kept busy.
Half-time; Everton 4, Doncaster Rovers 0.
BACK TO THE SCHOOL OF SCIENCE
September 29, 1952. The Liverpool Daily Post
By Leslie Edwards
Everton 7, Doncaster Rovers 1
Not all the funny men Liverpool products end up in front of B.B.C microphone. Some of them stay but conductors all their lives. Thus, the collector of fares on a football "special" to Goodison Park on Saturday had a quip for every Customer and stop and finished his recital with "Spellow Lane All The Way! Alight for the school of Science." No one believed him, because the school of science (though standing as magnificently as ever as a school) is not known these days for the special wisdow of its professors, but within twenty minutes of the start of this 7-1 victory some of us began to wonder whether after all, Everton have found the scientific approach to Division 1. People will say this was Eglington's match, and in so far as he scored five times this is true. But there was more to those seven goals than a day on which anything from one's players boot beats the goalkeeper. The Everton Professors of Science showed a nice, regard for the time factor which, although so important in every phase of the game, seems so generally disregarded. Let a referee play ten seconds over or under the ninety minutes and the crowd will recall the crime for years. Let any winger take three seconds longer than necessary, when making his centre and the offence always passes unnoticed. After all they say a winger with plenty of time to make his centre must determine where he wants to place it.
Without Trimming
How rarely a centre means anything when time has been allowed to pass and a defence has had time to deploy itself perfectly for whatever comes over. How often both Harris and Eglington proved the shinning effectiveness of the quickly-made centre against this indifferent Doncaster defence. A better example of practical wing play, without trimmings, could not be. The result was that Everton were always dangerous and that the extreme wing forwards did more than anyone to bring joy to faces which have scarcely creased into a smile for seasons. The odd thing is that Eglington deserved this mammoth bag of five a week ago at Brentford. Here, says Manager Britton, he shot just as well, if not better than against Doncaster, but the goalkeeper stopped em all. Odd too, that Eglington's three in the second half at the Park end should be the only goals in that net this season by anyone. Last Boxing Day Doncaster were impudently and imprudently vigorous. Now they came with Doherty in demure role and with the whole side (the first ten minutes excepted) seeming to have the conviction that they would be put through the mill. Well, if they did, their thoughts were prophetic, Goodison Parker, as they call him now, had a picture goal, in seven minutes (a beautiful taken half-volley) and crossed the centre from which Eglington hit the ball home viciously for No 2 shortly afterwards. Then Parker poked one through by stretching out a leg for the third at twenty-one minutes and Eglington better placed than Parker, said, "Leave this to me" as Harris' perfect centre came in to be headed downward and a great pace beyond the goalkeeper.
His Trusty Left
Eglington's three in the second half, two to his trusty left foot and one glorious header from yet another Harris centre which asked for conversion and a well-worked goal by Tindill completed the business for the day and no Evertonian can be cross anyone this week. Their pleasure was almost pathetic (I wonder how we will "go on" next week, at Swansea). So far as it goes a 7-1 defeat of Doncaster Rovers is first class. The match flizzed badly, except for the dazzling goals which enhanced it in the second half, and one could not help mooting the number of times the Doncaster defence failed and the number of times Everton's defence became tangled for no apparent reason. However, it would be churlish to be critical of this Everton with Potts fine spadework and Harris brilliantly effective performance and Fielding's provision of passes laid on to the last half-inch. No one suggests or expects Everton to be so riotous in matches against teams more testing, but they cannot do other than with many matches now they have found new confidence and have learned that the elements of time in football, is as important as any other. The long winging run or the prosperity of wingers to go inside and take the ball fat across field, takes time. Almost invariably a defence uses that time to advantage.
BEST FOR FIFTEEN YEARS
September 29, 1952, The Liverpool Echo
Eglington Writes His Name Large in Football's Record
Ranger's Notes
The toast today is Everton, and coupled with it the name of Tommy Eglington, whose five goals helped the Blues to register their most convincing victory in a peace time Football League for over 15 years. The last time Everton scored seven times in a League game was in March 3, 1937, when they defeated Leeds United 7-1 at Goodison Park. Three months earlier they had beaten Derby County 7-0 at Goodison on Christmas Day, 1936. The only other occasion in post war football that either or our senior sides has scored seven goals was when Liverpool defeated Chelsea 7-4 in the 1946-47 championship season. Everton's highest match score in their 1938-39 championship campaign was six, against Sunderland, who also got two in reply. Many a time the remark has been passed here that if only Eglington could enjoy a little more luck with his shooting and thus take full toll of the chances he carves out for himself by his speed and positional play, he would get a big crop of goals. Yet, I never visualized that five would come from him in one game.
First on Record
So far as my record go I have been unable to trace any Everton winger ever having scored five goals in a single Football league game, throughout the club's long history, which dates back to the start of the League in 1888. Bill Dean three times registered a "nap hand" from centre forward. These were against Sheffield Wednesday and Chelsea when the "Blues" won the championship of the First Division in 1931-32 and the other against Manchester United in 1927-28 which was Dean's record 60 goals season. Curiously enough the last time an extreme winger got five goals in a Football League match, Doncaster Rovers were also one of the sides, though on this occasion they were not on the receiving end. Albert Turner, Doncaster's outside left popped in five against New Brighton for whom Bird was in goal on February 16, 1935, nearly 18 years ago. Another coincidence is that one of Everton's biggest wins in a cup tie was also against Doncaster Rovers, whom they defeated 8-0 at Goodison Park in the fourth round on January 21, 1929 when Tommy Lawton got four goals. This, however, was not their record cup victory. In 1890 they defeated Derby County 11-2. The late Andy McGuigan playing at outside right for Liverpool against Stoke City 50 years ago, also got five goals. But this was against a Stoke side which finished up with only eight players on the field. The visitors had eaten some tainted foot before the match and several were taken ill during the course of the game.
The Hall Of Fame
Eglington has written his name in football annuals in a manner that dozens of outstanding wingers of former days never achieved. To mention a few at random, one recalls Alec Troup, Fred Hopkins, Billy Smith, Louis Page, Fred Tunstall, Ted Vizard, Arthur Dorrell and a host of others brilliant players all of them and often prolific scorers but never did the good fortune to register a nap hand come their way. Louis Page once go six for Burnley but on that occasion he was playing at centre forward not his usual; outside left berth. Incidentally, while on this topic –and not as an optimistic indication of future Eglington hopes –the highest seasonal aggregate of goals by any winger in English football is 36 scored by Billy Meredith for Manchester City 54 years ago. Ken Dawson when playing for Falkirk once scored 87 goals from the wing in three successive seasons, but never had the same success when he joined Blackpool. In order to keep the records straight for I foresee a spate of queries from readers for years ahead about this Eglington feat let it be noted here that four of the Irishman's goals were in succession and that three came from his left foot and two were headers. To my regret I did not see Eglington's performance. I only returned from Scotland yesterday but Contact who was at Goodison tells you about the match below.
A GREAT PERFORMANCE
September 29, 1952. The Liverpool Echo
By Contact
Never before in Goodison history has an Everton winger scored five goals as Tom Eglington did against Doncaster Rovers and to find a tally of seven one needs to go back to pre-war seasons. Never has an Everton victory these past few seasons been received with such joy. Does this presage the beginning of the end of the club's spell in Division 2? There are good grounds at least for anticipating that Everton will be in the battle for promotion even if they do not get it. Doncaster on the play, were probably not 7-1 goals the weaker side, but in view of what happened when the teams last met there was no great sympathy that the Yorkshire side hardly got what their midfield play deserved. Though J.W. Parker, now firmly established in the centre of the attack, led the line splendidly and scored twice the real reason so many goals were scored was due to some wonderful winging by both Eglington and Harris and to the ground work, without which no goals can arise by the hardworking Potts and the artistically, inclined Fielding. Nearly every shot and header Eglington made was drawn, like a magnet to the back netting -his three goals in the second half were the only ones scored this season at the Stanley Park end –and the odd things is that according to Manager Britton, Eglington shot well enough at Brentford a week ago, to have earned five there. Only a great goalkeeping baulked him.
A Grain of Salt
Though the Doncaster defence was plainly far below even Division 2 class, the attack, especially in the first ten minutes played well enough to have scored once or twice. It was this poorness in defence which caused many people who saw the match to take the seven goals with a grain of salt. Yet Everton cannot do more than win so handsomely. Rather disturbing, I thought was that a side such as Doncaster could get the Everton defence in a tangle. Only Tindill scored, but Everton might well have been debited with others. Harris's play was as valuable as Eglington's. Both centred the ball well, and more important without a moment's hesitation. If Everton continue to show such desire for shooting and for developing their attacks quickly they must win many more matches –no matter what the opposition. Fortunately there was no recurrence of the temper of the previous match between the teams; indeed Doherty and company were demure, and scrupulously fair. Everton will get a real testing at Swansea on Saturday, but in given the confidence they have lacked for years they may well prove that unbeaten September can be followed by other unbeaten months.
GOODISON CLOUDS LIFTING
September 30, 1952. The Liverpool Echo
Everton Hopes
Board's Faith In Managerial Policy Looks Like Being Vindicated
Everton Hopes
Ranger's Notes
At long last the Everton outlook takes on a brighter aspect. Though it is early yet to talk of promotion prospects if the Blues continues the good work of the past few weeks the possibility of their return to the First Division next May will become increasingly likely. But for the poor start Everton today would be contesting the leadership with Huddersfield Town. No team has obtained a better return from its last six matches than the Blues. Ten points from a possible twelve, and 18 goals for to six against, is championship form. But it has to be maintained. The season is a long and arduous one. The race is not to the swift so much as to the sure and steady Everton however should now be full of confidence to tackle whatever lies ahead. It is a heartening vista for the club's supporters. Those readers-and there were many –who wrote me strong letters after those first three defeats must now regret that they did not have a little more patience. Their criticisms were not given here because I felt, first that Everton's dismal start was too poor to be true, and secondly because I considered it decidedly unfair to do so before the team had an opportunity to prove itself. Now the policy of manager Cliff Britton who has had to withstand much criticism seems at last to be bearing good fruit. Everton have had their full share of anxiety of recent seasons. Some of the pleasures of a sustained run of success will not come amiss. Throughout all the gloomy periods however, the faith of the majority of the Everton directors in the Britton policy never wavered. They are the folk best placed to know all that has been going on. Their solid belief that in the long run the club would prove itself, on the right lines looks as though it is going to be vindicated. I hope it turns out that way. At the same time, I must confess that while feeling before the season started that Everton would do reasonably well, I never entertained very strong promotion hopes. If I'm eventually proved wrong so much the better. A return to First Division cannot come too quickly for me. I've written so much in past years about the writing being on the wall the red light showing, and all the rest of hat depressing stuff which falls to the lot of the critic when the team is doing badly that it is a sincere pleasure to have something more cheerful to discuss. Long may it continue.