EVERTON MORE HOPEFUL
December 2, 1953. The Liverpool Echo
Ranger's Notes
While Everton also have queries about three of they regular first teamers, in their case the position is rather more hopeful. It is just possible that Farrell, Parker and Jones may all be fit for Saturday's visit to Birmingham City. Farrell tried out his injured ankle yesterday. The result was that another 48 hours rest was prescribed after which it look to be alright. Jones has started light training, Parker's back injury also seem signs of recovery.
CONFIDENT BLUES
December 4, 1953. Liverpool Echo
Ranger's Notes
Everton away to Birmingham City, are up against a club which has looked possible promotion candidates ever since they fell from the First Division nearly four years ago, but which has not yet liven up to its promise. The Blues go to St. Andrews with their best away record in the Second Division, which must give them confidence, even in opposition to a team which has so far suffered only one home defeat. Four clubs have drawn at Birmingham, however, including, lowly Bury, so that Everton's prospects of one point appear reasonably good. With their much-charged side last week, Everton may not quite have liven up to some of their earlier and more sparkling appearances. But at least they had fighting spirit and grit and these attributes are very vital for any club which aims to finish high in the promotion stakes. So far as the figures in the league tables go, Birmingham appear to have a slight edge on Everton defensively but it is so slender as to be almost negligible. At home the Midlanders have forfeited but nine goals in eleven engagements in six of which they have kept a clean sheet. Obviously the Blues front line will have to be at peak form to hope for much reward from their efforts, and Hickson, despite his dash and determination will find it no easy matter to get to grips with Merrick, England's goalkeeper, who is only one of the many reasons for Birmingham solid defence. The Birmingham attack is a well-balanced one, with every forward bearing a fair share of the onus of marksmanship. South African Ted Purdon is top goalscorer with twelve to his credit, inside left Murphy has ten inside right Kinsey eight. Outside left Govan five, and Stewart, the other winger, in whom Liverpool were once interested has four. The return of Farrell and Parker will strengthen the Blues and if Donovan is in the same form as he was against John Charles there need be no fear there. Birmingham City will be unchanged. Birmingham; Merrick; Hall, Green; Watts, Smith, Warhust; Astall, Kinsey, Trigg, Murphy, Govan. Everton; O'Neill; Clinton, Lindsay; Farrell, Donvan, Lello; Buckle, Fielding, Hickson, Parker, Eglington.
OPPORTUNITY KNOCKS
December 5, 1953. The Liverpool Echo
By Leslie Edwards
Everton have their worries but they are more pleasant ones. Their main concern these next few weeks will be to try to establish themselves by their preponderance of home fixtures. And if they could get a point or two at Birnmingham today what confidence they would have in the games between how and the end of the year. Birmingham by long custom are tough home or away. That is mainly why I think Everton will not do better than get a draw, Donovan's second game at centre half in place of the injured Tom Jones should add to the belief that he is well suited here as he was at full back. Peter Farrell's return complete with the enthusiasm, is a point on the credit side and Parker, who get among the goals to silence his critics his return appropriately. His side will need all his chances taking today. Hickson showed Villa in a cup tie how disconcerting he can be. Today the Birmingham defence will sample his enthusiasm and zest for success. Above all it should be hard game. Everton; O'Neill; Clinton, Lindsay; Farrell, Donavan, Lello; Buckle, Fielding, Hickson, Parker, Eglington.
GOALS CAME WITH A RUSH IN SECOND HALF OF STERN MIDLAND STRUGGLE
December 5, 1953, The Liverpool Football Echo
Birmingham 5, Everton 1
By Stork
This game was won and lost in five minutes. Everton had played well, but after the interval a transformed Birmingham were far too strong for them. Birmingham; Merrick, goal; Hall and Green, backs; Watts, Smith and Warhust, half-backs; Astall, Kinsey, Trigg, Murphy, and Groves, forwards. Everton; O'Neill, goal; Clinton and Lindsay, backs; Farrell (captain), Donovan, and Lello, half-backs; Buckle, Fielding, Hickson, Parker, and Eglington, forwards. Referee; Mr. J.V. Sherlock (Sheffield).
Everton played in white and the white ball was used from the start. Birmingham went straight into the attack and Murphy put across a couple of centres which had the Everton defence defending stubbornly, Donovan cleared the danger and in a race for the ball Hickson was only just beaten by Merrick. Astall pulled back a centre which came behind his forwards for Clinton to clear. Farrell cleverly tucked an opponent and an Eglington shot was cannoned back to him. He quickly whopped the ball over to the right but Smith calmly headed back to Merrick. Murphy but a high powered shot outside and sent another with no great strength behind it, which took O'Neill two attempts before he could gather. Eglington had another shot blocked and from the rebound Fielding sent over the bar. Much of Birmingham's pressure came from the right wing, but Astall's centre were not always used to the best advantage. O'Neill had some difficulty in clearing when harassed by Trigg. Eglington left Hall and others standing and finished off his run with a fierce left-footed drive which Merrick did well to turn over the bar. Buckle swept the ball over to Eglington who again saw his shot bump against an opponent. Murphy had a glorious chance of giving his side the lead but he only half hit the ball and O'Neill was able to save. Play was rapidly transferred from one end to another. Lello pushed the ball across to Fielding who preferred to make a return pass, which was covered. He atones with a grand pass to Eglington who forced Merrick to another good save. The Birmingham goal almost fell when Parker centred for Hickson to shoot hard and low a couple of feet outside the upright. Eglington's speed was sorely troubling the City and he gain set off on one of his runs which brought him through the middle only for his pass to go astray. Astall dropped the ball on the top netting and O'Neill picked the ball off Trigg's toes as the whistle blew for foul by the centre forward. Everton escaped when Astall was through only to shoot at the advancing O'Neill and Govan made a header which O'Neill caught and cleared. Farrell was doing a two-man job which was just as well, for the Birmingham forwards were often on the rampage even though Merrick had the more difficult shots. Half-time; Birmingham nil Everton nil.
The Evertonians present had their hearts in their mouths when O'Neill failed to retain his old on a Trigg centre and the ball dropped in front of him. The Irish keeper made full amends a minute later with a great save from a terrific drive by Murphy. Birmingham were undoubtedly trying hard to break a sequence of 220 minutes without scoring at St. Andrews. Buckle shapped up a Merrick punch away and his centre only just missed Hickson's head. Two goals in two minute to Birmingham changed the outlook of the game completely. Astall made a centre which was deflected, O'Neill parried the ball out to Trigg and on to Murphy who stopped it and fired into the Everton goal at the 55th minute. Two minutes later, Clinton mis-kicked and Astall who was over on the left wing, slammed the ball into the net. This was a rapid change, but the thrills were not over for at the 59th minutes, Parker took a back header from Fielding to put the ball well out of the reach of Merrick. A run by Donovan and a centre by Fielding almost brought the equalizer. Murphy got the better of Farrell and pushed the ball across to Trigg who cracked it into the net at the 66th minute. One minute later Astall scored a fourth as the Everton defence stood still when Goran's centre came over. To say this was a surprise was only to put it mildly, although Birmingham had been attacking almost throughout the second half. Murphy nearly made a fifth goal. He slipped a pass to the oncoming Warhurst who hit a pile-drive for O'Neill to drop on. With five minutes to go, Birmingham made it 5-1, Clinton turning in Astall centre into his own net. Final; Birmingham 5, Everton 1.
EVERTON RES V MAN UNITED RES
December 5, 1953. The Liverpool Football Echo
Everton Reserves;- Leyland, goal; Tansey and Moore, backs; Grant, Woods, Melville, half-backs; Rabone, Potts, Lewis, Stewart, and Mayers, forwards. Manchester United Reserves; Clayton, goal; Aston and Redman, backs; Gibson, Jones, Cockburn, half-backs; Webster, Pearson, Lewis, Cassidy, and Pegg, forwards. Everton had slightly the better of the matter, but were rarely able to get the better of United's defence. Rabone got the ball in the net, but this point was disallowed owing to an infringement on Clayton. Leyland brought off a splendid save from Cassidy. Half-time; Everton Res nil, Manchester United Res nil. Everton were largely in command after the interval and Potts went close with a particularly fine drive from just inside the area. Lewis also came within an ace of scoring and Stewart flashed one shot across the face of the goal.
BIRMINGHAM HIT EVERTON IN SECOND HALF BLITZ
December 7, 1953. The Liverpool Daily Post
Birmingham 5, Everton 1
By Stork
Last week I told you of a travesty of a result at Cardiff, today I tell you of one at Birmingham for this victory over Everton flattered the St. Andrews team and was due entirely to blitz tactics, after an hour's play, which turned the game inside out. The Everton defence as a whole lost its grip to the hammering attacks of the Birmingham forwards which had been held convincingly up to this point in a sudden blaze of fury they hit three goals in a matter of minutes. Birmingham had been goalless in their two previous games. Up to the interval Everton had been the better team. They were the more creative and Merrick had to make better saves than O'Neill. No onlooker could "see" Birmingham taking such a convincing victory. Whatever happened in the City dressing-rrom I cannot say, but someone must have insisted on the need for more shooting. They came out for the second half, a more lively and penetrative force and the Everton defence for the first time, was harassed and troubled. Eventually it lost its grip before mighty and sustained attacks. Birmingham were rampant and here was no holding them. Five goals came within twelve minutes only one to Everton. Even then Everton were still in the game and testing he issue but Birmingham hit back and finally clapped on two more to make their score look most convincing.
Upset Their Poise
Hard to find excuses for a team which has been hit for five goals and I have none to offer other than that Birmingham's transformation upset Everton's poise and turned them into a defensive organiastion. They struggled manfully but could no master this goal-minded attack. Apart from the dropping of one centre O'Neill did great work in the Everton goal, saving some scorchers from Govan and Astall it was a miskick which gave Astall his first goal and the fifth was lodged in the Everton not by Clinton but there was no luck about Astall's second or Murphy's or Trigg's. When Parker nearly slipped the ball out of Merrick's reach for his side's orphan goal there was still a chance but it soon faded. Eglington's speed was one of Birmingham's greatest worries. His shooting brought out the best in England's goalkeeper, Hickson was not the fiercy young man of other games, so that the ball rangy Smith was able to hold him, Fielding and Parker I enabled Everton to play the better football in the first half. After that the game was Birmingham's. Donovan found Trigg a different proposition to Charles for Trigg kept moving away from the middle.
THIS WAS FANATSTIC
December 7, 1953. The Liverpool Echo
By Stork
For 60 minutes the Blues game at St. Andrews was as wide open as a barn door for Everton were playing just as well if not a shade better, than Birmingham and the home folk had visitors of a defeat for Everton were much the better creative artists than their rivals. The final score does not suggest it, but it was nevertheless perfectly true. They had given England's goalkeeper Merrick much more to do than the Birmingham forwards had given O'Neill but a 15 minutes spell of pounding football in the second half had crushed the Everton defence which ultimately yielded five goals the biggest defeat Everton have suffered this season. It was fantastical really for goals seemed the last thing of which Birmingham seemed capable. Everton by superior football looked good enough to draw if not win, and the Birmingham people would have been satisfied with a "half" at that stage for they feared a defeat which looked on the map at the interval. I think someone in the City dressing room had insisted on more shooting from the forwards. At all events it was a different City which started the second half- punchful and pro aggressive where they had been tender and without any great danger.
Set Alight
Murphy took his first goal and that set Birmingham alight. They simply swarmed over the Everton defence which was broken down and yielded a second goal to Astall within minutes but a coolly taken Parker goal put Everton back in the game. Birmingham after two games without a goal had tasted "blood" and liked it for they came again sweeping everything before them and the Everton defence was finally prized wide open. Everton fought courageously but their confidence had been impaired and their "cover" taken off by the ponderous weight of the Birmingham onslaught. They Just could not strave off the inevitable for it had been only too obvious that Birmingham had got their tenth into things and had no intention of letting loose. Astall was the leading light in this turnabout, taking two goals himself and having a hand in the others –Trigg and Clinton. Yes, it was the Everton back who put the fifth goal beyond his own goalkeeper when trying to clear a centre from the winger. Everton's first half display was really good. Their mode of attack was high-class and it was done without the scurry shown by the Birmingham advance. But for Merrick Eglington would have had a goal or two and I must admit I was very confident when the whistle sounded for the interval. No one not even the most ardent Birmingham follower could visualle such a revival by his team although one could see in the first few minutes of the second half that things were going to be different. Goals and not by play was to be the order and by dint of pressure unsettled the formally compact Everton defence which under its impact lost its grip of things so that Birmingham streamed through the loopholes like a lot of hounds on the scent Everton just could not hold although they tried desperately hard to check the avalanche. O'Neill was grand all through but Donovan had not a stationary' Charles to complete against this time. Trigg moved around and about and took Donovan with him. Eglington was one of Birmingham's big worrier for the speed left Watts and Hall standing and Merrick alone defied him. Hickson was uncommonly quiet, gentlemanly in fact without that "fire" which is so insetting to a defence. Well that is the story of Everton's heavy fall after they had promised so much. But isn't that football?
FOREST CHANGES
December 10, 1953. The Liverpool Echo
Ranger's Notes
Following a crop of injuries Nottingham Forest will have a much re-shuffled team against Everton at Goodison Park. Skipper and centre half Horace's Gagar comes back to the side as also does inside left Tommy Capel, but full back Bill Whare will be missing, for the first time this season, Outside left Colin Collindridge is still a doubtful starter after an injury at Bury a fortnight ago. Collindridge is one of six forwards from which final choice will be made. If he is still unfit Arthur Lemon will be on the wing. Lemon a Welsh-born young player, was at inside left last week in another reshuffle when Walter Ardron the club's former record goal-scoring made his first appearance of the season. Ardron is likely to lead the attack at Goodison with Alan Moore returning for his outside right position after being on the other flank last week. Whare's place at full back is taken by a former regular defender Jack Hutchinson whose last senior appearance was at Fulham in September. Thomas moves over to accommodate him. The team will be chosen from;- Farmer; Thomas, Hutchinson; French, Gager, Burkitt; Moore, Thompson, Ardron, Cape, Lemon, Collindridge.
EVERTON REVIEW
December 11, 1953. The Liverpool Echo
Ranger's Notes
While this might appear to indicate that Everton have not too difficult a job on hand, to assume that truth could be misleading. No side come easy in the hurly-burley of Second Division warfare. Everton have already discovered that. The League home-and-away charts are often a delusion, and never more so than when a team as in the care with Forest are within striking distance of the leaders. The Midlanders are obviously aware that if they are to have a chance of going up it is incumbent on them to make up the balance from away, and we can safely assume that they will be most keen to do this against one of their main competitors for promotion, if Everton are to be sure of victory they will need to give of their best and not take anything for granted. Everton make one change in their side, Moore taking the place of Clinton at right back. Jones is not yet fit. Everton; O'Neill; Moore, Lindsay; Farrell, Donovan, Lello; Buckle, Fielding, Hickson, Parker, Eglington. Nottm. Forest;- Farmer; Thomas, Hutchinson; French, Gagar, Burkitt (forwards from) Moore, Thompson, Ardron, Capel, Lemon, Collindrige.
Everton Reserves away to Newcastle will have a Central league debutant in 17-years-old Ken Heyes at left back. Heyes a former England schoolboy international has been with the club since leaving school, and signed as a part-time professional last February. Everton Reserves; Leyland; Tansey, Heyes; Grant, Woods, Melville; Rabone, Wainwright, Lewis, Potts, Mayers.
LATE CHANGES
December 12, 1953. The Liverpool Daily Post
By Leslie Edwards
For the game against Notts Forest at Goodison Park today Everton will be without Jones, whose knee injury persists Donovan continues at centre half. The one team change is that which brings in Eric Moore at right back in place of Tom Clinton.
Forest have been forced to make late changes. The veteran Harry Walker, returns to goal in place of Farmer, and Noel Kelly formerly of Arsenal, makes his first appearance this season at inside left. Both Capel and Collindridge the regular left wing pair, are out the side through injury. It is always good to see Manager Billy Walker, side if only because they are among the few teams today who try to play the game as it should be played –ball on the ground. Everton drew the game at Nottingham on the first day of the season. They are hoping that victory now will enable them to take a step nearer outright leadership of the Second Division. Bu Notts Forest in Cup and League have always proved themselves to be a difficult side to beat when playing on Merseyside. In Gagar they have a splendid centre half and Ardron at centre forward, is one of those forwards hose goals tally speaks for itself. The duel between Gager and Hickson should be a good and entertaining one, so should that between Donovan and Ardron. If Everton are to end the season triumphantly as championship or near championship hopes they must rub out in this game, the memory o that damaging defeat at Birmingham a week ago. Providing they do that they seem likely to consolidate their position between now and the beginning of the New Year. Everton; O'Neill; Moore, Lindsay; Farrell, Donovan, Lello; Buckle, Fielding, Hickson, Parker, Eglington. Nottm. Forest;- Walker; Thomas, Hutchinson; French, Gagar, Burkitt Moore, Thompson, Ardron, Kelly, Lemon.
EVERTON STIRRED THE FOREST AND HAD TO BATTLE WITH STORM
December 12, 1953. The Liverpool Football Echo
Everton 3, Notts Forest 3
By Ranger
After seemingly having made themselves almost certain of victory by two goals in the first 13 minutes, Everton fell away badly in the second half against a determined and well-balanced Forest side which well deserved a point. Everton; O'Neill, goal; Moore (E.) and Lindsay, backs; Farrell (captain), Donovan and Lello, half-backs; Buckle, Fielding, Parker, and Eglington, forwards. Nottm Forest- Walker, goal; Thomas, and Hutchinson, backs; French, Gagar, Burkitt, half-backs; Moore (A), Hampson, Ardon, Kelly, and Lemon, forwards. Referee; Mr. T. Seymour (Waterford). The game was five minutes old before a goalkeeper had to make a save. Then it fell to Walker's lot to dive near the post to cut off an angled shot-cum-centre by Buckle. Fielding was spreading the ball about well, and in the first 10 minutes Everton looked the better side. The referee had started with a white ball and already it was playing some queer tricks when caught in the fairly stiff breeze. Between the tenth and the thirteen minute Everton scored two goals one to Hickson and one to Parker, which out them in a commanding position. Although Hickson got the first the major portion of the credit goes to Eglington who ran half the length of the field, before squaring the ball for Hickson to have the simplest of finishing touches from short range. Parker who has usually done well against Nottingham Forest had Buckle to thank for Everton's second goal, the winger's centre being safely steered into the net beyond Walker. Though Nottingham were quite lively in attack, particularly on the left flank their rearguard looked anything but happy. Fielding by use of some judicious cross-field passes, had helped to spilt the Forest defence more than once. When he provided another for Eglington, the winger took the ball forward and then let fly with a rasping drive just over the bar.
Forest Hit Back
Everton, for some minutes, had been playing rather casually, as though the game was already won. That this could be a false feeling of security was evidence at the 26th minute when in three snap moves Forest took the ball from one end to the other and reduced the deficit. Walker began the attack with an out-of-hand clearance which landed just beyond the centre circles. Ardron helped the ball forward and Thompson, breasting it down and side-stepping the opposition took it upwards some fifteen yards or so until he had only O'Neill to beat. This he did in confident fashion when Moore and O'Neill got themselves in a tangle and Lemon winning possession had an open goal facing him. O'Neill diving at his feet brought the Forest man down, what looked suspiciously like a Rugby tackle. Referee Seymour was apparently of that mind, also, for he pointed to the penalty spot without hesitation and Gagar coming up to take the kick, made no mistakes. Thus after Everton had seemingly been in complete command of the game they found themselves at the 34th minute, back where they had started.
…And A Quick Reply
Within a minute, however, the Blues were in front once more Gager brought, Hickson down heavily just outside the penalty area. Buckle lofted the free-kick just in front of the Forest goal where Hickson, Parker, Fielding, Gager and Thomas plus goalkeeper Walker all went for it together. The ball was forced ever the line, with Walker on his back and while it was a combined operation on the part of the Everton inside forwards, Hickson was scorer. Forest were now having more of the game than earlier, though their defence was still vulnerable to Everton's speedily, left wing. Everton were shooting whenever they got the slightest chance and while some efforts were off the mark, Walker had to be ready on two occasions. Half-time; Everton 3, Nottingham Forest 2.
Forest having found a new belief in themselves, started the second half very promisingly, and for some minutes had Everton tied up in their own territory with they Blues defence looking none too confident, Lemon was giving Moore (E) a tough time and whenever the Forest winger got within shooting distance he let go strongly.
Bursting With Energy?
There was an usually incident when the white ball burst its outer cover but the bladder remained intact swelling outwards like a gigantic cyst. When the new ball came, Hickson got the Forest defence in a tangle and hooked back a pass for Eglington to seem a certain scorer when he lobbed the ball over two defenders with Walker out of position. Just as a Forest defender was shaping up to head the ball away off the line, Walker leaped to his charge and tipped it over the bar.
Narrow Escape
After having been overplayed for quite a while, Forest came back into the game, and almost snatched the equalizer when slowness to tackle in the Everton defence allowed Thompson to screw in a shot which was on its way to the back of the net when Moore (E.) kicked away in the nick of time. Donovan was giving Ardron no possible loophole and hereabouts the Everton pivot twice held up the Forest leader with timely tackles. The Midlanders were still in with a fighting chance, Everton looked dangerous when they got away and never more so than when Eglington again beat Thomas for speed and won a corner. From this Hickson headed in smartly only for yet another on-the-goal line kickaway to save the situation.
Penalty Appeal
Everton unsuccessfully appealed for a penalty when Parker was brought down and Forest got an indirect free kick for obstruction without being able to turn it to advantage. With quarters of an hour still to go, Everton were not yet assured of victory, Forest were fighting grimly for the equalizer and it was taking the home defence all their time to hold them at bay. Ardron almost snatch a goal. O'Neill saving a short range and the Forest leader had another effort cleared by Moore, though this time there was no real danger for the ball would have gone behind. In an isolated Everton break-away, Hickson sent Buckle away on the left wing, Buckle's final shot swerving away outside the far post.
The Blow-Clap
A handful of spectators probably recalling what happened when Liverpool were at Cardiff, started a slow hand-clap. Certainly Everton had become more and more disappointing this half, but there was no need for this. Forest at last got the equalizer they had so richly deserved. Following a corner at the 87th minute Moore (A) and Kelly went for the ball together and the former hooked it into the net. Fielding also put the ball in the net a moment later, but the whistle had already gone for an infringement. Final; Everton 3, Notts Forest 3. Official attendance 33,192.
NEWCASTLE RES V NEWCASTLE RES
December 12, 1953. The Liverpool Football Echo
Everton were on the defensive in the early stages, dealing with frequent Newcastle attacks. Leyland was kept busy by Riding, the home outside left, whose hard shots from either foot were always on the target. Everton opened the scoring in an unexpected way when Lewis netted on the 36th minute with a 30 yard lob which completely deceived Mitchell. Half-time; Newcastle United Res nil, Everton 1
After only two minutes of the second half Newcastle drew level when right half Casey scored from a free kick just outside the penalty area and a foul on Mulgrew. His shot got through the usual set-up of players, goalkeeper Leyland just failing to stop it from going over the line. Final; Newcastle United Res 1, Everton Reserves 1.
• Brenka 1, Everton "A" 3
• Everton "C" 3 Bromboro P nil
THE GOODISON OUT-LOOK
December 12, 1953. The Liverpool Football Echo
By Ranger
What about Everton. Unfortunately while it is becoming increasingly clear that the flight for promotion is going to be keener this season, than for some years – at the moment of writing only nine points divide the first 15 clubs, and only four separate the first seven – Everton have lost a little leeway of recent weeks. Despite their heavy away programme at the start of the season the Blues took 18 points from their first 11 games during which –they scored 25 goals to 13 by the opposition giving them the favourable goal average of two to one. Since then they have obtained only nine points from 10 matches, scoring 15 goals to 21 goals against. While it was perhaps too much to expected that their sparkling opening would be uniformly maintained the extent of the fall-away has been greater than one anticipated from their earlier displays. As the Blues now have three successive home fixtures including that against Notts Forest today, the deficit could be restored to some extent. Yet last four home engagements have averaged only a point a match which is hardly promotion form.
Defensive Lapses
Without wishing to harp on the topic has been unfortunate that occasional points have been scarified through goalkeeping lapses –now apparently a thing of the past – and that in some instance visiting goalkeepers have played the game of their lives at Goodison thus robbing Everton of points which by virile of superior play and territorial advantage should really have come their way. But through this is aggravating goalkeepers are as much a part of the opposition as many other players. That they should have chosen Everton to display their talents in superlative measures is unfortunate but nothing more. Another slightly disturbing aspect of the Everton outlook is that opposing forwards have latterly been finding it easier to get goals than was the case of couple of months ago. Last week's heavy defeat at Birmingham appears to indicate that the defence apart from O'Neill who cannot be blamed is not quite as dominant as it used to be. At this stage I do not produce to attribute blame to individuals. One or two fell below their normal form at St. Andrew's. That however, happens to everybody at some time or other. The point is whether the defence can be tightened up sufficiently to arrest the recent adverse goal average and prevent occasional points leaking away which should be retained. I trust that today's display against Nottingham Forest will have proved that the lapses has been only a temporary affairs. The successful promotion side is not always the one which gets off to the best start. Unlike the Cup, the League programme, is football's acid test of reliability and consistency. There is a long way to go yet, and Everton are nicely poised for an even greater challenge in the New Year. But there must be no sacrifice of points which could be won by more determined efforts.
BETTER FOR THESE SPECTATORS TO STAY AWAY
December 14, 1953. The Liverpool Daily Post
Everton 3, Nottingham Forest 3
By Leslie Edwards
With Everton leading by three goals to two and the game ebbing two strange things happened at Goodison Park. One was sporadic, but unmistakable, slow-handclapping –directed, one can only suppose at Everton, who were having a thin time; the other a time-wasting bouncing of the ball by goalkeeper O'Neill prior to clearing from hand. One did not know which to deplore most. For the goalkeeper of a potential championship side to waste time when his side led 3-2 was odd; for many of 33,000 people who so forget themselves as to begin a slow-handicap as odder still. Does anyone; however partisan consider that this can have anything but harmful effect? Would it help any of the spectators at their week-day job if someone stood by them one of their off days and ridiculed by hand-clapping everything they did? The answer is too obvious. I hope that never again, either at Goodison Park or Anfield, shall players be so treated. They are there to do their best; they cannot do more. It is unsporting and unkind to ridicule them –and ineffective. If people cannot bear to see teams come to Goodison Park or Anfield and outplay Everton and Liverpool by legimate means they should stay away.
Inescapable Aspect
Everton led 2-0 in under the quarter hour (and playing against a heavy wind) and everything in the garden was lovely, No derision from the crowd, only delight and satisfaction that their team should be so well on the way towards winning the first of three consecutive home fixtures. But one aspect of the game then was inescapable – the fact that Everton had scored in virtually their only two full-scale attacks. For the rest Notts Forest doing everything right in midfield but little right in front of goal, were clearly on top. An Everton defence which seemed lethargic and slow and often badly positioned was pierced by Thomson at twenty-five minutes and the game was open again. At thirty-four minutes O'Neill to avoid being out-maneuvered by Lemon, who seemed certain to score, indulged in an impermissible leg-pull and the excellent Referee T. Seymour, of Wakefield, awarded the penalty kick from which Gager made it 2-2. Hickson carried all before him in more ways than one when restoring Everton's lead a minute later. A Buckle free kick soared accurately under the bar and while Walker and full backs wondered Hickson drove in his challenge, taking ball, goalkeeper and all over the line. Five goals in one half and Hickson's at ten minutes and Parker's from Buckle's centre, at twelve minutes, splendidly made and taken chances. At 3-2 with their opponents still to face the handicap of the wind, Everton must have felt-confident that all would be well.
Fine Volley
If they did what happened later must have been a considerable shock. Forest playing concertedly, and in that studiously careful short-passing Continental way, took such command that the probability was that they would win. It took them until a minute or two from the end to get that equalizing goal –a brilliantly taken volley by Moore did it – but more than once they had the ball literally on the goal-line before Everton's perplexed and sluggish defence could move it in haste and desperation to safely. Had Forest won it would have been no more than justice. Considering that they were 2-0 down and then 3-2 down their was a first-rate performance and one think which indicates that they will be there or thereabouts, when the championship trophy is presented. Another oddity came in the first half when a clash of studs fore a section of the stitching of the ball and part of the bladder emerged like a sausage which characterized those elephantine barrage balloons which helped (they said) protect us during the war. As this balloon went up so did another; at that time it was beginning to be evident that Everton were not as we thought, strolling towards victory, but were anxiously fighting to avoid the logical sequel to so much Forest pressure. This match above others suggested that Everton have nothing at all to spare if they are going to reach their Division 1 goal.
Missed Chances
Apart from defensive indecision and blunders, of which there were many, Everton were not happy in attack. Hickson, his goals apart, missed two easy chances, Fielding was not quite the Fielding of old but he did well enough to suggest that it will not be long before he is scintillating again. Whether the heavy going had any bearing on Everton's form one can only surmise. Forest seemed a strong vital quick-moving side by comparison and the further the game went the better they seemed to like it Everton tired and seemed, in the end, as jaded as if they had finished a season's campaign. A pity because this series of three home games in succession seemed likely to put them top of the class. Donovan was never happy against the searching centre forward play of Ardron. Yet when Ardron enjoyed his clearest chance be blazed the ball over the angle. Kelly was one of the mainsprings of the Forest attack (which had the Rugby convert Lemon at outside left) but the real strength of the side was in the half back line. Here Gager, faulty in tactics in the first goal, recovered his posts and linked two fine wing half-backs who knew their job and never seemed to tire. Walker in goal, veteran though he is, had his moments of greatness too, and the lively Moore, at outside right, was quite the most painful thorn the Everton defence endured. This game had everything, within reason, except two points for Everton. It was entertaining and thrilling and despite Everton's minor role in there was nothing in it to sting people to derisory "applause." And the give-them-a-big hand dictum before players have done anything to deserve it, is, I contend equally futile and infantile.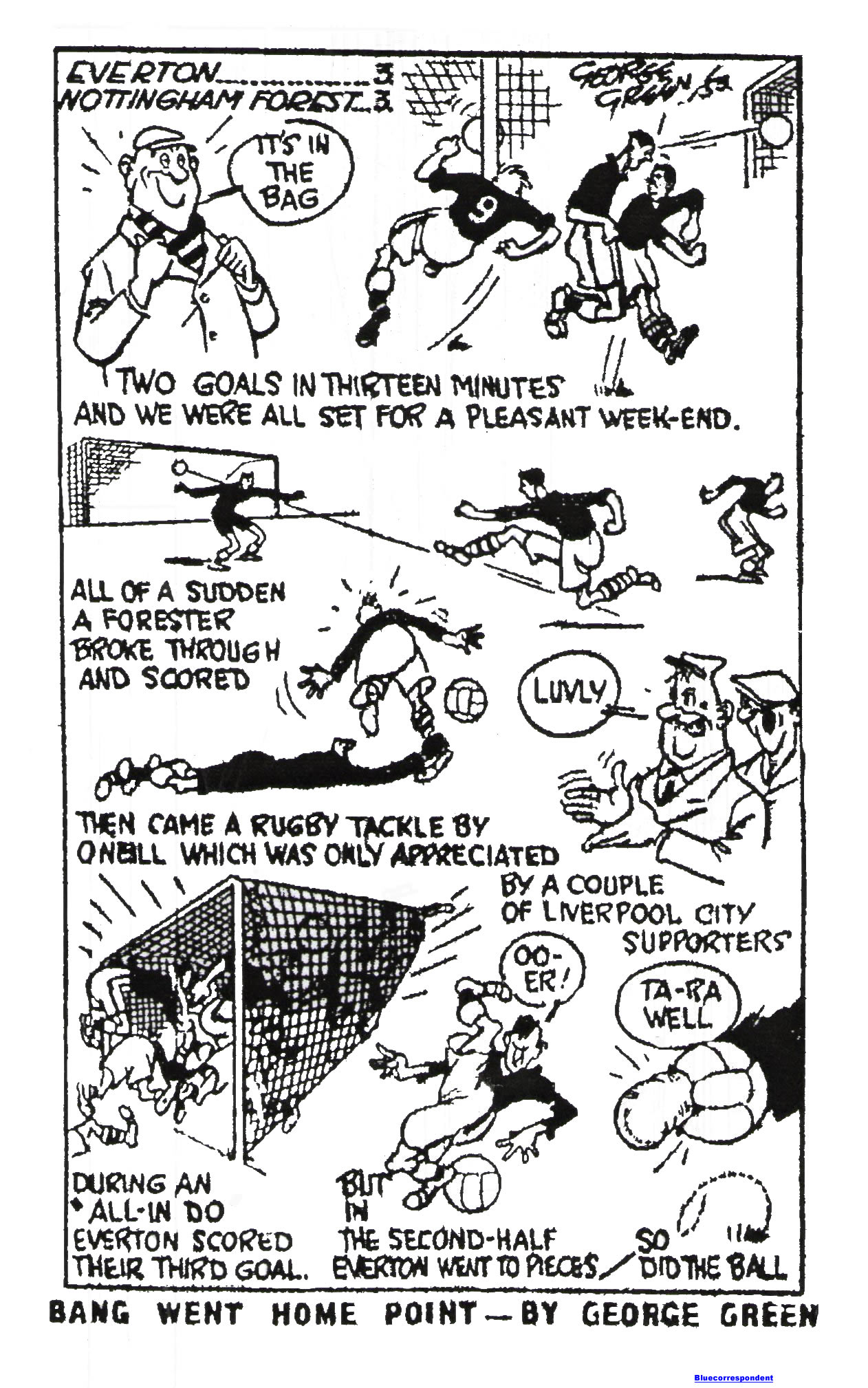 WAINWRIGHT STARS
December 14, 1953. The Liverpool Daily Post
Newcastle Res 1, Everton Res 1
Newcastle United Reserves inside trio, Mulgrew, Gaskill an Keeble, cost £27,000, but they had neither the craft nor the polish of their Everton counterparts in the Central League game at Newcastle. Wainwright was easily the star in a visiting side which deserved more than a draw. Lewis scored for Everton and Casey for Newcastle.
EVERTON ARE SLIPPING
December 14, 1953. The Liverpool Echo
Over-Confidence and Laxity Lose Another Point at Home
Ranger's Notes
Only once this season have we had pleasure of hailing a double victory by Everton and Liverpool on the same day, and the way things have been shaping recently we may have to wait a while before enjoying another. To make things worse, Everton's championship prospects have lost some of their earlier brightness, and Liverpool's revival against Blackpool was not sustained at Portsmouth. The game at Goodison showed that the Blues' decline in defence to which attention has been drawn here before is still present. In this game of two diametrically opposed halves Everton were right to pieces and in the end it took them all their time to hang on to a single point. Yet Everton had started in such smooth and precise manner, with goals to Hickson and Parker in the first thirteen minutes that it seemed only a question of the eventual margin of their victory. But the elementary things of football are still most true, and one of these is that no matter how far a team may be in front or how superior they appear, effort should never he relaxed. Everton might have been four up before Forest scored if Hickson had not slipped at the crucial moment or Buckle failed to turn a square pass by Eglington to proper account instead they found themselves struggling against a side which gained unexpected belief in itself once a long goal clearance allowed Thompson to reduce the deficit and a misunderstanding between Eric Moore and O'Neill led to Gager putting the scores level from a penalty, after Lemon had been fouled. Everton not only contributed to both these goals by loose defensive work, but lost their grip on the game in consequence.
Forest Called The Tune
Forest, despite being without four of their regular players through injury, soon showed they were not a side to under-estimate. Although the Blues scrambled another goal a minute after Gager's equalizer –with Walker being simultaneously bundled into the net in a manner which could have led to the goal being mollified –Everton had let the opposition smell the chance of a point at least and possibly victory. From playing second fiddle Forest now began to call the tune, and in the second half there was practically only one side in it, apart from occasional spasmodic raids by the Everton attack, in which Eglington and Hickson were the most persistent triers. The longer the game went the more shaky did the home defence become. Forest were quicker to the ball, moved better collectively and though they had to wait until three minutes from the end for Alan Moore's equalizer, they had earned it long before it came. An average of a point per home game, which is all Everton have earned from their last five Goodison fixtures, is not championship form. Their fall from grace this time was all the more disappointing because it seemed so certain that had they retained the initiative and kept hammering away at the Forest defence which itself was shaky in the opening stages they could have won with reasonable easy.
Luck Against Them
One point in Everton's "alibi" was that practically all the luck ran Forest's way. Three times the ball was cleared off the visiting goalline and once the bar prevented Eglington from scoring. Against that was one instance when Eric Moore saved Everton in similar fashion. Moore, recalled in place of Clinton did not have a happy day. Apart from partial responsibility for Forest's second goal, he never got to grips with Lemon, who was Forest's outstanding forward in the second half Lindsay often lottered without intent and though Donovan saved some awkward situations, he was not the dominating centre half that Jones has been. The more Forest came into the picture the less support did Everton's forwards get from their wing halves, until finally the attack became only a thing of shreads and patches compared with its promising beginning. Forest even at their best did not measure up to Everton's early sparkle but they were direct, persistent and forceful and once they had got on level terms made it obvious that they intended to be first to the ball. Their passing improved in accuracy in direct ratio to the decline in Everton's. Whereas in the opening spasm it was Forest who most frequently kicked anywhere in hopeful anticipation the boot was on the other leg towards the finish.
This Was No Help
Yet that was no justification for the outbreak of slow handclapping. Presumably having read how this aggression of disapproval led to Cardiff City pulling up their socks and "stealing" the points off Liverpool recently, some Evertonians thought it might bring a similar revival. That sort of thing can be a two-edged weapon, however, and in this case it seemed to inspire the visitors more than the home team. The two lines which follow need little comment, I am giving then in the hope that they may ginger up the Blues. They show their return from the first eleven games of the season and the subsequent eleven.
Up to Sept p31, w7, d4, l0, f26, a13, pts 13
From Oct p11, w3, d4, l4, f18, a23, pts 10
The first line gave Everton supporters great hopes. The second is not so encouraging. But it can be remenedied, given the determination and the spirit. Here's hoping we shall soon see it put right.
Everton's Fortune in F.A Cup
Everton's fortune in missing First Division opponents in post-war third-round ties continues. They have only twice had to face senior opposition in Grimsby Town and Manchester City respectively. This makes their fourth third-round home game in the last eight seasons, and their first-ever meeting with Notts County in the competition, though they have four times clashed with the neighboring Nottm Forest side. In league warfare Everton have a "double" over Notts County this season, having won 2-0 at Meadow Lane and 3-2 at Goodison though the visitors in the latter match but up a very strong fight. Nott County, after starting the season very shakily have recently come to their best form, and have taken 13 points from the last 10 at stake.
NOTTS COUNTY NOW CONFIDENT TEAM
December 15, 1953. The Liverpool Echo
Ranger's Notes
Although Notts County regard their cup-tie visit to Everton next month with considerably more confidence than they would have done had it taken place a couple of months ago, there is a strong feeling at Goodison Park that the Blues will get over their first hurdle all right. Not that Everton are likely to fall again into the error of holding their opponents too lightly. They have tended to do that to their cost, in some League games this season. After their experience against Nottingham Forest one imagines that they will at last have learned the folly of assuming that class is always bound to tell. Even a two goal lead, as Forest demonstrated, by no means indicates that there is scope to ease off. Such an attitude against the County would be even more dangerous. There is no second chance in the Cup apart from the replay which follows in the wake of a draw. Everton's aim must be not only to establish an early lead if possible, but if such comes their way to endeavour to increase it still further, not to rest on their laurels and let the other side rob them of the initiative. That way laurels soon wither. Notts County are unbeaten in their last eight games, during which they have collected 13 points including away victories at Stoke, Rotherham and West Ham, In these eight engagements they have scored 13 goals to five by their opponents. My Nottingham correspondent tells me County are playing better away than at Meadow Lane. If this is so and remembering their narrow defeat at Everton in the League game in October they will be a much more dangerous side than when they were last here.
New Manager's Record
The County's new manager George Poyser who was formerly Wolverhampton's chief coach, has yet to see his side defeated in a League game since his appointment. He is hopeful they will at least hold Everton to a draw at the first meeting. Back to the best form in a defence which has conceded so few goals in recent weeks is centre-half Leon Leuty a former captain of England "B" team, while Gordon Bradley, who played for Leicester City in a Wembley final, is proving one of the best goalkeepers in the division. He recently took part in a professional tennis tournament in London where he appeared on television. Starring at full back is the former Clyde player, curly Tommy Deans, while a newcomer playing regularly and well is wing half Harry Jarvial a Rotherham pit worker who joined the club last back end. Since they were at Goodison the Meadow lane club have increased their forward strength by signing a new right wing pair in Ted Leverton from neighbouring Forest and Billy Cook from Mansfield Town. This pair have linked up well, though it is the left wing which is causing most damage to opposing defences. Here ex=Scottish schoolboy international Ron Wylies has struck up a fine understanding with speedy Bob Crookes the Betford schoolmaster and part timer player. Leading the County's attack with much success that he is keeping £20,000 Cecil McCormick in the reserve is utility player Tom Johnston who last Saturday scored his 100th goal in League and Cup for the two Nottingham clubs. He was previously with Forest before crossing to Meadow Lane, five seasons ago. The Midlands side has no fewer than five part-time players in their side. These are Cooke, Crookes, Wylie, Jarvis, and Bradley. Nearer time of the cup-tie however they hope that score at least of these may be granted time off for special training.
EVERTON CUP TICKETS
December 16, 1953. The Liverpool Echo
Ranger's Notes
While on the topic of cup-ties here is the information for which Everton supporters have been waiting regarding tickets for the game against Notts County at Goodison Park. Reserved tickets for stands seats will be available next week at 7s 6d and 5s and for the paddock at 3s 6d. shareholders will be entitled to two seats each and season tickets Holders to one seat. These should be applied for by post and letters should contain a stamped addressed envelope the correct amount and also the third round cup-tie voucher from the applicant's ticket book. All applications should be received by the club before January 2. After that date unclaimed stand tickets will be sold to the general public. Members of the public other than shareholders and season ticket holders may apply for stand seats and paddock ticket by post or personally at the club officials. Postal requests should include the correct remittance and stamped addressed envelope but personal applicants should note that the tickets will not be ready until next week. It is no good calling at Goodison before them.
EVERTON'S CHANGE
December 17, 1953. The Liverpool Echo
Ranger's Notes
Everton make one change for their home game with Luton Town, Wainwright being preferred to Buckle outside right. Everton; O'Neill; Moore, Lindsay; Farrell, Donovan, Lello; Wainwright, Fielding, Hickson, Parker, Eglington.
Although Jones is making good progress after his knee injury and will be fit by Saturday it is felt advisable for him to have a run out in the Central League side against Manchester City, Woods is out of the reserves owing to a cut eye received in training which necessated four stitches and Rabone had a knee injury. There is a fear that Rabone's injury may turn out to be cartilage troubled but this will not be known for a little while yet. If he has to have an operation, he will be the ninth young Everton player to suffer one this year. Everton Reserves; Leyland; Tansey, Heyes; Grant, Jones, Melville; Mayers, Potts, Saunders, Lewis, Stewart.
LTON AT GOODISON
December 18, 1953, The Liverpool Echo
Ranger's Notes
Everton will have another stern task at Goodison Park tomorrow in the visit of Luton Town who are only a point behind the Blues in the struggle for the Second Division leadership. Luton after starting the season very shakily have latterly come to their best having won eight and drawn two of their last ten engagements, Four of these victories have been away from home, and another against Bristol Rovers at Eastville brought them a point. Everton drew at Kenilworth Road on the first Saturday of the season when the Hatters, were without two of their mainstays in centre half. Owen and centre forward Pye. Since them Owen has returned to the side but Pye, who also came back for a time will now be out for the next couple of months on so, due to a broken ankle sustained at Oldham last week. One familiar figure in the visiting team will be inside left George Cummins who was transferred to Luton by Everton just before the season commenced at a fee of around £10,000. Although Cummins never succeeded in getting a goal for Everton in 25 senior appearances he has improved upon this with the Hatters. Though he has not done a great deal in the scoring line for his main attribute is still the provision of opportunities for the men alongside him, he has three goals to his credit in 19 outings. Luton have had a much more settled side during recent weeks than in the early part of the campaign and the benefit of this has been proved by their results in 21 fixtures the forwards line has only once failed to score at least one goal, while the defence has kept at clean sheet on four occasions.
A Well Balanced Side
Luton's leading scorers is outside left Mitchell who has nine goals to his credit in 15 matches with inside right Turner next on the list with seven. Like Everton Luton have a strong Irish favour. Both Dunne and Aberne have played for Eire on many occasions, while Cummins would have had his first "cap" while with Everton but for his suspension. Downie formerly of Manchester United has not been in the Luton team recently, and there have been rumours, subsequently denied of his probable departure from Kenilworth Road. The visitors on their recent performances appear a well balanced side who should extend Everton to the full. Everton; O'Neill; Moore, Lindsay; Farrell, Donovan, Lello; Wainwright, Fielding, Hickson, Parker, Eglington. Luton Town; Streten; Dunn, Aherne, Morton, Owen, Watking, Davies, Turner, Scott, Cummins, Mitchell.
SEQUENCE BROKEN
December 19, 1953. The Liverpool Daily Post
In Harold Bell who rarely seems to play a poor game, Tranmere Rovers, have football's present record holder for consecutive appearances. Luton Town, who come to Goodison Park today had a great regular Bob Morton at right half-back but after 103 consecutive games, he cannot appear for his side today because of an injured knee. He is replaced by Wally Shanks. Luton have a more serious handicap –the absence through an ankle injury of Jesse Pye. But the side is still quite a formidable one and one, like Everton's containing seven men from Eire. Streten the Luton goalkeeper, I popular here. His competent and clean handling of shots is not lost on us. Nor is the fact that George Cummins, an Everton player until the end of last close season, makes reappearance on the ground of his old club. I daresay there has been much leg-pulling between Cummins and Everton players during the week –he has been training at Everton – but things will be very serious when the game begins this afternoon.
No More Please
Everton's recent home lapses are such that they cannot hope to maintain the momentum of their championship challenge if they do not improve. Here and against Bristol Rovers next Friday they have a wonderful chance of touching top place before the end of the year. Wainwright at outside right in place of Ted Buckle is the only Everton change, Everton must have more life and enthusiasm that they had against Notts Forest and all should be well. Anything less than victory will be a damaging result and will prompt the thought that this after all is not to be their championship season. Everton; O'Neill; Moore, Lindsay; Farrell, Donovan, Lello; Wainwright, Fielding, Hickson, Parker and Eglington. Luton Town; Streten; Dunne, Aherbe; Shanks, Owen, Watkins, Davies, Turner, Scot, Cummins, and Mitchell.
EVERTON FOUND LUTON WERE NOT MEN OF STRAW IN GOODISON TUSSLE
December 19, 1953. The Liverpool Football Echo
Everton 2, Luton Town 1
By Contact
Everton won narrowly after the most disappointing first half in which they could do nothing right. They might have won more readily but for some desperately bad finishing. George Cummins with never a goal while he was an Everton player came along with one at the first attempt here as a Luton player. Everton; O'Neill, goal; Moore and Lindsay, backs; Farrell (captain), Donovan, and Lello, half-backs; Wainwright, Fielding, Hickson, Parker and Eglington, forwards. Luton Town; Streten, goal; Dunn and Aberne, backs; Shanks, Owen, and Watkins, half-backs; Davies, Turner, Scott, Cummins (captain), and Mitchell, forwards. Referee; Mr. A.W. Lety, of Leeds. Cummins, ex-Everton, was Luton's captain for the day. There was some doubt as to whom had won the toss, and the Luton line came to make the kick-off, but moved back in favour of Everton. The early moments were really nothing more than a chapter of mistakes. First a bad goal kick by O'Neill led to a corner on the Luton left and then with Fielding and Wainwright, combining and the Luton defence got into such a tangle that it took some desperate work by Cummins in the region of left back to retrieve the situation. A moment later Cummins with an extraordinary fierce back pass was getting his side out of further trouble. Be this time the crowd numbered towards 40,000 and Fielding from far out thrilled everyone with a shot so well directed that Streten could only grasp it at full stretch at the second time of asking. Luton were guilty of more than one classic misunderstanding and it seemed incredible that Everton should not have profited by any of them so far. Owen sportingly drew the referee's afternoon to an injury to Fielding but Mr. Lefy waved play on as he had wisely done a moment or so earlier when to have given Everton a decision would have been penalizing the innocent side.
Streten Kept Busy
A quick throw by Davies to Scott led to Cummins very nearly toe-ending a goal, and it seemed that he had at least a corner at Farrell's expense. Gradually Luton began to play confidently, and for minutes on end, prompted by Cummins, their left wing was embarrassment to the Everton defence. A good catch by O'Neill was followed by an equally good bit of goalkeeping by Streten when an over strong reverse pass seemed likely to cost a corner. His quick catching of the ball on the bounce was superb.
Crowd Is Puzzled
Quite the best move of the game came when Scott went to outside right to centre for Turner to head just wide of the post. The crowds, who had been so joyous at the start were now puzzled at Everton's inability to do anything worthwhile. They made mistake after mistake. The game was nothing but a series of thumping O'Neill clearance from hand, with Luton continually working the ball back into the Everton half. Streten made a brave and useful save when he fell on the ball at the feet of Fielding, but this was one of the few enlivening moments of a dull and, for Everton, disturbing game. Luton's and the game's first goal, was a good one when it came at 37 minutes. The Everton defence was being carved up on the right, and eventually Scott, from outside right crossed the ball which spurs from Donovan's legs on the goal line, where Cummins only needed to make a gentile hook.
Spectacular Save
Streten knocked up with a most spectacular save, Everton's best shot from Wainwright and it was not long before Luton were back again and full of menace. Centre half Sid Owen had given Hickson little or no chance and had received fine help from Watkins a terrier tackler.
Half-time; Everton nil, Luton 1.
Fielding started the second half with a long range shot solidity, hit but I am afraid that to give Streten a view of the ball from this range means that he is certain to save it, as in fact he did on this occasion. Everton got on terms a moment later when Hickson and Streten went up for a centre from the left, neither quite succeeded, the ball running free to Parker standing on the line, Parker only needed to poke out his foot, and the scores were level. This goal came at the 47th minute. A moment later Streten was taking to his body a fierce shot from Parker. Everton were now in livelier mood, but a tragic miss by Hickson was to come.
Hickson Bad Miss
Wainwright in one of the few really successful things he had done hooked the ball beyond Aherne and offered the Everton leader a square pass in front of goal. Hickson slashed the ball yards over the bar when everything pointed to his side taking the lead. O'Neill caught, high overhead, a header from Scott from a good length corner by Mitchell. A cross ball by Cummins beat every one and trickled inches wide of the far post with no Luton forward at had to apply the finishing touch. In making his tackle on Cummins, Donovan was injured and needed attention. Hickson and Streten were involved in yet another battle in the air, and again the ball travelled free from them, with Hickson vainly trying to edge the ball into goal as he lay on the line, outside the post. Again the Luton goal escaped miraculously, this time in a movement which ended when Parker blinded a shot over the bar, from precisely the same position as Hickson in his earlier miss.
Overworked Streten
Streten was now a heavily overworked man, but maintained his poise and sharpness and outwitted both the challenging Hickson and Wainwright and still threw the ball to his outside left Mitchell. O'Neill misjudged a lobbed ball and Donovan slashed the ball to safely to avoid further trouble. Hickson's best run was one in which he veered to the left hand side of the penalty area and fired a left foot shot. Again he was over the top. Everton took the lead 15 minutes from the end when both sides seemed tired and incapable of producing either than stalemate. Hickson made the running, and got the Luton defence all at sea before slipping the ball out to Eglington, who more or less scored as he pleased.
Two Good Saves
A minute later Fielding fired in a fierce shot which Streten acrobatically tipped over the bar at the last moment. O'Neill had to make a good save from Cummins immediately afterwards. Thus never having scored for Everton in all his matches, Cummins in this game had not only scored but had come close to scoring twice. The flight of eight wild ducks over the ground in the dusk 10 minutes before the end was not half as wild as the Parker shot which was made as they crossed the Park. Final; Everton 2, Luton Town 1. Official attendance 33, 344.
MAN CITY RES V EVERTON RES
December 25, 1953. The Liverpool Football Echo
Manchester City Res; Savage, goal; Hannaway, and Horriday, backs; Barnes, Rigby, and McTavish, half-backs; Anders, Bourne, McAdams, Williamson, and Cunliffe, forwards. Everton Res;- Leyland, goal; Tansey and Heyes, backs; Grant, Jones and Melville, half-backs; Mayers, Potts, Saunders, Lewis and Stewart, forwards. Referee; Mr. C.A. Sharp. The Manchester defenders had some anxious moments with Lewis and Potts going close. The visitors did manage to get the ball into the net through lewis but the referee ruled off side and McAdams gave City the lead five minutes before the interval.
Half-time; Man City Res 1, Everton Res nil.
After 55 minutes Lewis, with a first time shot leveled the scores and put the visitors in front from a penalty.
THAT GOODISON OUTBREAK
December 19, 1953. The Liverpool Football Echo
By Rangers
There is not much to add today to what was said earlier this week about the foolish outbreak of slow hand-clapping at Goodison. Though it was confined to a very small percentage of the crowd and at its best –or worst –sounded a very half-hearted business, that sort of things needs nipping in the bud right away. Admittedly Everton fell away badly in the second half, yet there was still not the slightest excuse for such a demonstration. The players knew they were having a bad day. They did not need to have it rubbed in. Cheering a successful team is easy, it is when things are not going right that it needs encouragement. Onlookers who feel they cannot provide that encouragement at such a time might at least, if they profess to be "supporters" refrain from direct discouragement of which slow hand-clapping is the worst form of all. Although there have been many occasions at Anfield when Liverpool's supporters must have felt more like crying than cheering they have always come up to scratch gallantly with the "Anfield roar" upon the slightest provocation. Equally important they have refrained from barracking either individuals or the team if things have not been going too well. Football has always had and always will have its successes and failures, individually and in a team sense. If it wasn't for its ups and downs its queer results and its unexpectedness and uncertainly, it wouldn't be the attraction it is. Supporters should take the bad and the good with equal sportsmanship I hope that this latest Goodison outburst will not be repeated no matter what happens.
Everton and Promotion
Believe it or not there are some folk who agree with the claim of a reader last week that Everton are not seeking promotion. This is what Mr. H. Campebll of Alder Road, Liverpool says about it. I add my support to the view that Everton have no real desire to regain their senior place. Too obvious are the weaknesses in the team that the youth policy should have remedied. Reserves who began as youths and are now one for benefits continue to be used only for Central league purposes and cannot be considered as potential First Division players. "To finish third in the Second Division would be view from the club's point of view but on Saturday's showing this would flatter the best team that Everton can muster from the 50 players on their books. There are also some supporters who would prefer to see the team in the Second Division rather than cross swords with the majority of the First Division clubs.
Don't you believe it.
And don't take one game as a standard of comparison. Admittedly they have been other disappointments, besides last week, but Everton have still a great chance. On the other hand I feel that if they don't go up this time the prospects will be less bright next season, and my original estimate that it would take five years or more to get back may them be right. All the same I'm still hoping to be proved wrong.
Back In One Year
"Everton Blue" (name and address supplied) writes "What I think is foolish to say Everton don't want promotion, their lack of effort to strengthened obvious weaknesses rather conveys this impression. As we now know they have no intention of signing players to gain promotion with the team as present constituted would be fatal. They would be a chopping block in the First Division and back in the Second Division in one season. To hold their own would require a concentrated effort every Saturday, of which I am afraid the present team are not capable.
Apart from the question of buying players, I don' agree that the Blues as at present constituted would be a chopping block in the First Division. I have seen several senior sides this season that I reckon they could beat.
Where Weakness Lies
Mr. J.H. Williams, 15 Regent Road, Crosby, says;- "It is obvious where Everton's weakness lies. It is lack of stamina. Several players have played themselves to a standstill by half-time. The policy not to buy is also penny wise and pound foolish. Given a really good consistent team the gates would average 50,000. All your past criticisms have been fully justified. Keep it up.
There is some truth in this. In one or two instances, in addition to incapacity to provide a full ninety minutes' effort there is an indolence which is sometimes irritating. But you cannot change the style of a player once he gets beyond a certain age. All you can do is try to make the best of what he has to offer and devise strategy that brings out his good points. Or, a course, get somebody who has all the right attributes and none of the drawbacks. Last week I thought the biggest combined Everton weakness when Forest started fighting back was their failure to go into a quick tackle. I heartily dislike to see defenders retreating goalwards and allowing using halves to come through with the ball unchallenged.
BILLY LIDDELL ON….
December 19, 1953. The Liverpool Football Echo
The Slow Handcalp That Hasn't A Point About It.
When I was writing about the crowds last week, I thought I had covered most points, and believed that they were solidly behind the players, but after watching Everton again I must have second thoughts about it all, after that outburst of slow hand-clapping in the second half.
Everton having taken a worthy two-goal lead, they should have scored more, but by two defensive mistakes they found themselves struggling to get the ball in the Forest net. The start of the second half saw the Blues all out to win the sweep, but after some bad luck with shooting and some good positional play by the Forest goalkeeper the ascendancy passed to the Forest who piled on the pressure in an attempt to gain a point. I know how anxious the spectators are to their favourities to win, but I hope the irresponsible minority who were responsible for the slow handclap will think twice next time. They are no sportsmen or football lovers or they would think more of their team. I enjoyed the game from the playing point of view, but I was disappointed in the crowd reaction during the game and after. While waiting in the Gwlady's Street, for the Reds score, I was spotted by some boys and men on the terracing and was given a mixed reception. Some of the men obviously disgruntled by their team's failure to win found the reason in my presence and told me to get back across the park and not to watch Everton any more. They must have been superstitious seeing that my last visit to Goodison was when Fulham stole a point. When the result came over the loudspeakers, Portsmouth's score of five was greeted with a cheer which obliterated the rest of the message. I am sorry that there are some people who have such a warped sense of enjoyment. The majority of people in Liverpool both Blues and Reds, believe that this city is worthy of two First Division teams, a sentiment echoed by both sets of players and it is towards that end that the players are striving. The spectators sets the chance to tell the players which ones should pack up the game, but the boot could be so easily on the other foot if the players had their chance to talk. I will be a hard struggle for both teams till the end of the season, but I still believe that the solution will be found in the support and encouragement of the spectators. Now for a lesson in opportunities by Dave Hickson, one that can be of use to all types of teams. Tommy Eglington raced from the centre circle with the ball, cut in from the wing and let fly a terrific shot which appeared to be going past the far post when Dave steered it into the net. It was the half-chance that became a goal and points to the value of following the play to its ultimate conclusion and also the desirability of shooting for the far post when you are at an angle.
BEAT THE TOWN FOR FIRST TIME IN A LEAGUE MATCH
December 21, 1953. The Luton News and Bedfordshire Chronicles
By Chiltern
Everton 2, Luton Town 1
For the first time in a League match and, at their first attempt, Everton beat the Town, from whose point of view, ironically enough, this was the vital meeting of the six and the one from which they most needed both points. A check though this was to their promotion progress at the end of their long unbeaten run, the Town, lacking the services of two of their stalwarts, Pye and Morton, still managed to give their opponents a fright. Right through the match it was very much on the cards that they would at least hold this strong opposition, and they could perhaps consider themselves a bit unfortunate that they did not do so in the circumstances, though there is no gainsaying that Everton deserved to win in view of the way they struck back in the second half. Turning point of a hard, "no quarter" duel came in the opening minute of the second half, when Everton managed to rub out the arrears they had suffered 10 minutes before the interval when Cummins scored against his former colleagues. The Town came out well aware of the danger that the opening spell would hold for them, and they had already had a sample of it early in the first half, but, even so, they could not prevent their lead being wiped out by a snap goal from Parker. A free kick just inside the Town half that led to the ball being worked out to Eglington, eventually, was the forerunner of the success and when Eglington centred there did not appear to be, on the surface, any more danger than previous crosses from the winger had held.
Streten Claimed A Foul
This time, Streten tried to make a catch and, because Hickson went up with him, could not get a hold of the ball which fell to Parker, who drove it through despite Owen's attempt to get his body in the way. There was an immediate appeal by Streten for a foul – ignored by the referee- and the Town defence had to face a very sticky 10 minutes or so after this. At length, the Town forwards began to take a hand, produced some uneasy moments for the home defence, none more anxious than when Cummins crossed the ball in front of their goal, with Mitchell just short of being able to apply the finishing touch. More of the play, however, was going the way of Everton. They missed two or three chances that had a gilt-edged look about them before they gained what proved to be the deciding goal 15 minutes from the end. A quick clearance up the middle was seized on by Hickson, who beat one cleverly and made a reverse pass to Eglington, who looked to be in an offside position. At least he was so far as the players in the immediate vicinity were concerned, but Aherne, on the other side of the field, was lying back, and the linesman judged Eglington to be onside as he swept the ball through. It was a forlorn hope for the Town after that, though they put up a commendable fight, and both Turner and Scott went close in the last minute. Story of the first half had been different, with the Town more dangerous than they were later, with their attack better together and showing more zip in their finishing.
Scott Made Town's Goal
It was from a centre by Scott that struck Donovan en route that Cummins obtained his chance of putting the Town ahead, and there might have been other goals. Yet, before they obtained anything like a grip, they had to survive a remarkable period during which Everton used the ball with such effect that pass after pass found its billet, with the Town powerless to do much about it. Fortunately for them, this phase did not last long, and did not carry with it the finish that could have turned much immaculate work into goals. Neither of the Town wingers was in anything like the best form which was a pity, for more harassing work from them might have upset the equanimity of an Everton defence that belied its somewhat doubtful reputation. Cummins toiled and toiled, with a fair amount of success, despite a tendency to hold the ball too long, at times, and could certainly be put down as one of Town's successes. From Scott there was quite an encouraging show in not particularly easy circumstances, for he was whole-hearted in everything he did and, with not the best of support in the shape of through passes, still managed to worry the opposition. While Shanks and Watkins were more or less in control of the middle of the field, as they were for the greater part of the first half, the Town always had a real chance, but, gradually they were worn down, and Everton got a hold of the situation. Even, so the pluckiness of the defence nearly retained a vital point which was not surrendered without a tremendous battle. Watkins was the more successful wing-half and Owen was outstanding in the middle where Hickson found little scope. Both Dunne and Aherbe did well against elusive wingers, but the biggest cheer of all was reserved for Streten, who made several dramatic saves and things might have gone even worse for the Town had he not been in top-flight form. Even so, things might have gone better for them, which only goes to show just what a toss-up this game can be. Everton; O'Neill, goal; Moore and Lindsay, backs; Farrell (captain), Donovan, and Lello, half-backs; Wainwright, Fielding, Hickson, Parker and Eglington, forwards. Luton Town; Streten, goal; Dunn and Aberne, backs; Shanks, Owen, and Watkins, half-backs; Davies, Turner, Scott, Cummins (captain), and Mitchell, forwards. Referee; Mr. A.W. Luty, of Leeds.
THAT EVERTON INERTIA
December 21, 1953. The Liverpool Daily Post
By Leslie Edwards
Everton 2, Luton Town 1
The Everton victory once again was lose with reservations. They got home by two goals to one against Luton Town but the manner in which they did so was unconvincing. Time was when Everton petered out unacceptably in the second half. Now they are suffered by a martial which seems to affect them at some part of every game. On Saturday it was in the first half and after they had enjoyed a good opening ten minutes it was Everton's good fortune that Luton did not profit from this period of hesitancy, slowness and misunderstanding except when George Cummins poked the ball over the line after a hard kick to him from the shins of Donovan standing almost on the line. The strange thing about the goal was that it was scored by Cummins, in his days at Everton he never scored for the first team. Everton equalized in the second half after centre which Streten and Hickson went for was missed by both, and did not caught it, he assured the waiting Parker of the easiest of scoring chances. In the second half, Hickson had the Luton defence guessing in a dummying run before laying on another easy scoring chance, this time for Eglington. But both Hickson and Parker missed simple chances. Both would have scored if they had not been so ever-eager. Both stood close in and blazed shots over the bar.
Close Call Corners]
Given those goals Everton could have coasted home safely and comfortably. Denied them, as they were, they found that Luton fought on to the end. In the last minute or two Luton corners all but gave them a draw. Outstanding in a match which had long periods of dullness was the former English amateur international goalkeeper Streten. He is still one of the best in senior football. Once before he came to this ground, and demonstrated his sharpness of hand and eye. Now with many good saves and sure and slick handling of the ball from centres he had the crowd completely on his side. No ovation was better deserved. Streten referee move like lightning –so do his hands. His best piece of work academicals was the prevention of a corner from a pass back. It seemed hundreds to one on the ball passing over the line. And when have we seen a goalkeeper throw the ball to such good use to either wing? On their first half work it is impossible to say anything complementary of Everton. How and why they snapped out of their lethargy one can only guess. Certainly in the second half they seemed like a team given large quantities of oxygen or champagne and we can be sure that they got neither. Lello after starting as badly as the rest regained his old form. From that moment the left flank looked good. With Lindsay, Lello, Fielding and Eglington turning it one can always be sure that whatever move is made it is made with much thought. Donovan had a difficult man in Scott to hold and did not always succeed. Only when they came to life in the second half did Hickson and others in the attack start to play impressively. In Turner a son of an New Brighton player Luton have a nice opportunist. But despite their high position I would as soon as bank on Notts Forest to gain promotion as it would in Scott Duncan's side.
EVERTON VICTORY
December 21, 1953. The Liverpool Echo
By Contact
Everton gained two valuable points from Luton Town, but there were times when the issue was in grave doubt especially in the first half, when Everton seemed unable to do anything right. On such form as this, it is difficult to see Everton being promoted but fortunately for them the second half was a different story and had Hickson, and Parker accepted the easiest of chances they would have won comfortably. One of several curious things about the match was that George Cummins who did not score while an Everton player should get a goal on his first visit here with Luton. He opened the scoring and Luton seemed likely to hold their lead until Hickson caused Streten to lose possession of the ball to allow Parker to score from close range. It was Hickson who made Everton's winning goal, too, in this case he got the defence in a tangle before slipping the ball to Eglington for that player to score almost as he pleased. The game outstanding figure was the former English international goalkeeper Streten. He did everything cleanly and competently and that Luton lost was no faulty of his. Scott at centre forward also played well and Donovan was never happy in trying to hold him. Everton's revival saved a tricky situation but only when Hickson burst into life did the attack begin to function with any promise. Lello and Lindsay used the ball well when Everton were at their best but they were no better than any other in the side when things were going badly.
BRISTOL'S FIRST VISIT
December 23, 1953. The Liverpool Echo
Ranger's Notes
The visit of Bristol Rovers to Everton on Christmas Day marks the first meeting between the two clubs under Football League auspices. For manager Cliff Britton the game will stir old memories for it was from the Rovers that Everton signed him as a wing half 24 years ago. The clubs have met once in the F.A. Cup. That was before the first world war when Everton went to Bristol and conquered the Rovers 4-0 in the old third round, now equalivalent to the fifth. Everton have not yet decided on the side. They are waiting to see how Tommy Jones comes through another fitness test, following his preliminary outing in the Central League side on Saturday. If he passes all right as seems likely, then the team will probably revert to the formation which carried it through the early part of the season so well, with Donovan at right full back again. At least two supporters of Bristol Rovers will be in this city on Friday through one on this occasion will be rotting for Everton. That will be Cliff Britton's father, who is staying with the Everton manager over the holidays. The other Bristolian is Captain Prince Cox, who is running the circus at Liverpool Stadium. Captain Prince Cox was formerly manager of Bristol Rovers for some years is an old Football League and Cup Final referee and at one time was prominently associated with boxing promotion in various parts of the country. Everton (from); O'Neill; Moore, Lindsay; Farrell, Donovan, Jones, Lello; Wainwright, Fielding, Hickson, Parker, Eglington.
Everton's reserves side to meet Aston Villa Reserves at Villa Park tomorrow (2.15) will be;- Leyland; Tansey, Heyes; Grant, Woods, Melville; Mayers, Potts, Saunders, Lewis, Stewart.
FIRST LEAGUE MEETING
December 24, 1953. The Liverpool Echo
Ranger's Notes
This will be the first ever League meeting between the two clubs and remembering that 12 months ago the Bristolians were a Third Division side, nothing less than a victory for Everton, will satisfty Goodison Park followers. In defence the Rovers have made very few changes this season, thorugh now and again they have fortieth goals with a greater frequency than was the case with their cast iron defence in the lower sphere. Despite the absence of Bradford and Lambden, they have kept the goals for at a respectable level. They defeated Notts County 5-1 at Nottingham and also got four against Fulham and Hull City. Obviously the Bristolian attack must not be held too lightly. Manager Bert Tann will not definitely decide Bristol's team until tomorrow the point at issue being between Cairney and Leonard for the inside right position. Cairney had been giving some excellent displays in this position in the Rovers' reserve team. Mayers now second highest scorer in the side, return after missing last week's match and Petherbridge resumes in his normal position at outside right. Everton return fixture with Bristol Rovers at Eastville Stadium is next Monday afternoon so that the Blues players have a day off on Boxing Day when several of them will doubtless be at Anfield to watch luckless Liverpool. Everton (from); O'Neill; Moore, Lindsay; Farrell, Donovan, Jones, Lello, Wainwright, Fielding, Hickson, Parker, Eglington. Bristol Rovers; Radford; Bamford, Fox; Pitt, Warren, Sampson. Patherbridge, Cairney or Leonard, Hale, Mayers, Watting.
JONES HAD A HAPPY RETURN
December 28, 1953. The Liverpool Daily Post
Everton 4, Bristol Rovers 0
By Ranger
Although Everton's substantial victory over Bristol Rovers on Christmas Day did not exaggerate their superiority, at the same time it hardly did justice to the visitors, who played much better than the score suggests. Everton started rather lethargically, Lindsay in particular being out of touch in the early stages but once the home side had warmed up to the task confronting them they never looked in danger. Bristol's biggest falling was lack of shooting power and a tendency to take two or three moves where one would have sufficed. Their defence, although no match for Everton's speedy and streamlined attack never resorted to lusty or aimless kicking but always tried to keep the ball in play and on the ground. The return of Jones with Donovan dropping back to his old position brought greater stability to the Everton rearguard while the forward line was strong and consistent in every link. Wainwright got the first goal at the 41st minute, Eglington got the third and Hickson the second and fourth. In addition, Hickson had the ball in the net a third time, but was ruled offside and twice Everton hit the woodwork with the Rovers goalkeeper beaten. Everton; O'Neill, goal; Donovan and Lindsay, backs; Farrell (captain), Jones and Lello, half-backs; Wainwright, Fielding, Hickson, Parker, and Eglington, forwards. Bristol Rovers;- Radford, goal; Bamford and Fox, backs; Pitt, Warren and Sampson, half-backs; Petherbridge, Leonard, Roost, Mayers and Watting, forwards. Referee; Mr. H.L. Broadhurst.
EVERTON'S VICTORY
December 28, 1953. The Liverpool Echo
Ranger's Notes
After the first 15 minutes of Everton's Christmas Day game with Bristol Rovers there was never any doubt regarding the outcome despite the fact that it was not until the 41st minute that Everton took the lead. Once the home side had settled down they were much the superior combination, in addition to their four goals, Hickson and Parker each headed against the woodwork with the visiting goalkeeper well beaten and Hickson also had a goal disallowed for offside. Despite Everton's territorial superiority, Bristol played some very good football. Their attack, however, produced little worth mentioning in the shooting line, and frequently fell prey to Everton's quick tackling and good recovering up when a greater sense of urgency by the Rovers' inside men could have given O'Neill much more to do. Everton were sound in every link. They went to the ball instead of waiting for it; their passing was accurate and crisp, and Farrell and Lello backed up the front line extremely well. The return of Jones to centre half, with Donovan switching to right back, brought greater stability and understanding to the rearguard. Lindsay started very shakily, making three early errors, any one of which might have been costly, but redeemed himself later. Wainwright had a splendid game at outside right and the rest of the line played well throughout with Eglington probably the best of all. Wainwright scored Everton's first goal at the 41st minute after an Eglington shot had been stopped by a defender to provide him with an unexpected chance. He took it very smartly. Hickson got the second and fourth and Eglington the third.
EVERTON IN GOALLESS DRAW AT BRISTOL
December 28, 1953. The Liverpool Echo
Eglington Pick Of The Attack
Anderson Saves
By Ranger
Everton; O'Neill, goal; Donovan and Lindsay, backs; Farrell (captain), Jones and Lello, half-backs; Wainwright, Fielding, Hickson, Parker, and Eglington, forwards. Bristol Rovers;- Anderson, goal; Bamford and Fox, backs; Pitt, Warren and Sampson, half-backs; Petherbridge, Cairney, Roost, Mayers and Watting, forwards. Referee; Mr. H.L. Broadhurst. Everton were unchanged for their return game with Bristol Rovers at Eastville, but the home side were without Radford and Leonard, both of whom pulled muscles in the Goodison Park game. Anderson and Cairney deputized. Everton almost took the lead in the first minute, when Wainwright sent Eglington off with a long cross-field pass and the winger firing strongly across the face of the goal. A long clearance saw Roost challenge Jones who had to find touch to be on the safe side Watting put over a centre intended for Roost which was cut out by Donovan. Sampson came tearing through at top pace, only to be crowned out before he could get in a shot. Cairney should have put Bristol in front after five minutes from a hook by Roost over Jones's head as he had only O'Neill to beat. The Everton goalkeeper came out to narrow the angle and managed to beat the ball away rather fortunately. Everton were soon back on the attack, Fielding testing Anderson at the foot of the post. A header by Mayer from Roost's centre near the left corner flag was well caught by O'Neill. Here again Bristol should have given the visiting keeper something more testing.
Crowd Congestion
Eglington as on Christmas Day, had the beating of Bamford for speed and twice provided centres without anybody being able to take full advantage. The home attack was displaying more punch in front of goal than in the previous meeting, and O' Neill had to be lively to save from Roost and Petherbridge. Eglington fired a rasping drive down a narrow angle which Anderson saved brilliantly. The crowd at this stage were shepherded on to the space behind both goals and it looked as though it would prove a record gate for Bristol Rovers. At one period the referee had to move spectators back from near the flag to allow Eglington to take a corner. Everton at last began to produce more fluent moves and for some minutes the home defence was kept at full strength. Anderson however had nothing very testing to deal with. The best effort was a flying header by Eglington which rounded off a neat bit of combination in which four forwards had taken part.
No Loophole
Roost kept pegging away without ever getting the better of Jones and of the two attacks Everton's was now the more precise and dangerous looking but the Rovers defence was playing well and giving the visitors no loophole. Rovers hit back, with both wing halves giving good support, but the finishing was erratic and hasty. Everton defensive covering was good, Donovan in particular being quick to put possible danger. The home goal had a narrow escape as a long Parker centre was headed goalwards by Hickson and was about to cross the line when Fox kicked away. Half-time; Bristol Rovers nil, Everton nil.
Fox saved Bristol by kicking off Wainwright's toe as the latter was about to shoot from close range. From a corner which followed Eglington hooked the ball goalwards, only to find Anderson on the spot. Everton were fighting hard against a resolute defence with Bamford finding Eglington's rare handiful. Both sets of forwards were inclined to play into the hands of the opposition by keeping the ball too close. Jones was playing splendidly and the whole Everton defensive covering was good. Everton's best chance this half came when Hickson worked his way through from a Wainwright pass and tried to pull the ball back but it struck a defender and was deflected out of Parker's reach. Then came two splendid saves by Anderson, both off Wainwright efforts. The second was made as the goalkeeper was falling backwards. How he got to it was amazing. Then came another save of a header by Hickson. Farrell and Lello were taking a hand in the attacks and for a time the Rovers were penned in their own half. When they did get away they seldom looked likely to produce a goal against Everton's well-knit defence. Everton three times found shots strike defenders before Wainwright lifted one just over the bar. Final; Bristol Rovers nil, Everton nil. Attendance 34,015.
EVERTON'S ONE POINT MIGHT HAVE BEEN TWO
December 29, 1953. The Liverpool Daily Post
By Ranger
Bristol Rovers 0, Everton 0
A point away from home is always a useful performance, and while it was so in Everton's case at Bristol yesterday, it could have been still more satisfactory from the Goodison Park side's point of view. Had the visitors only produced shooting power comparable with that of the Christmas Day game at Goodison Park, they would have won. Their approach work was neat and precise for most of the game, but when it came to testing deputy goalkeeper Anderson –Radford was unable to play owing to a pull muscle –with anything like a really severe shot, they were lacking. The nearest approach to an Everton goal was when Fox kicked the ball off the goal line in the first half as Hickson's header was about to enter the net. Everton claimed that the ball had actually crossed the line, but the referee overruled them. The home side also had another equally narrow escape when Anderson having punched out a Wainwright shot very weakly, switched round and tipped the ball from the same player's header over the bar in the nick of time. That was a wonderful save, for Anderson was falling as he made it, but apart from these two incidents the Bristol goal was never in any great danger. Everton also had two escapes, both in the first five minutes, though neither quite so close as those experienced by Bristol. First Cairney missed a gilt-edged chance, shooting almost straight at O'Neill from close range when he had all the goal to aim at. O'Neill stretched out a leg and the ball cannoned to safety. Then Meyer headed into the Everton goalkeeper's hands when he might almost as easily have put the ball out of his reach.
Eglington, Danger Man
These two Everton escapes more or less balanced Bristol's good fortune and for the rest of the game honours were even. Though neither goalkeeper had anything really testing to deal with there was nevertheless quite a fair amount of shooting from both sides. The trouble was that much of it was hasty and ill-directed while the efforts which were on the mark had very little sting about them. Eglington was Everton's most dangerous forward. He had the beating of Bamford for speed throughout and produced the strongest shots of the day. Unfortunately for Everton most of the efforts were from very acute angles and though some went very close, none found the right billet. Hickson battled valiantly throughout without ever having a real scoring chance, and while much of Everton's approach work looked promising up to a point, it was never suitably rounded off against a strong and resolute Bristol defence. Everton's defence was just as sound. The visitors tackled quickly and covered up well and this combined with Bristol's own waste of openings meant that O'Neill had a comparatively comfortable journey. Roost was completely subdued by Jones except on one solitary occasion. Then on breaking through the Bristol centre forward shot from so far out that O'Neill had the simplest of catches.
Made Fight Of It.
As the game wore on, the chances of either side scoring seemed increasingly remote. Bristol however came into the game in the last ten minutes with some strong assaults which might have brought the deciding goal in the gathering dusk when it must have been difficult for O'Neill to see the ball had it not been for the splendid manner in which the visiting defence struck to its task. A goalless draw was a very fair result to a hard and sportingly contested game in which there was hardly a foul-except those of purely technical character. Though Everton were not as impressive in finishing as they have been in other games their defence was rarely at fault, Jones and Donovan had an excellent game, Lindsay was reliable and the wing halves put in some splendid work, particularly when Everton were on top. Had the visitors got the goal which their first half superiority merited they might have found others coming their way. Instead the home side having weathered the storm found increasing confidence and made a really good fight of it. In spite of being frequently beaten by Eglington, Bamford did much good work in other directions and as at Goodison took on an attacking role on many occasions and had some long range shots. Sampson was the best Bristol half back and Meyes was their chief marksman, Petherbridge was often in the picture but wasted quite a few openings by a tendency to dribble partial with the goal and thus slowed up the line.
BLUES' ATATCK WAS GOAL-SHY
December 29, 1953. The Liverpool Echo
Better Finishing Would Have Brought Double Over Bristol Rovers
Ranger's Notes
Bristol, Tuesday.
While Everton's draw with Bristol Rovers in a crowed the margin between themselves and the Second Division leaders to a single point, if their finishing had been on a par with the rest of their play their would today be level with Leicester City. This was not one of Everton's best promotion displays, yet a point away is never a ad performance. Drawing power of the name, together with their high position in the table was reflected in an attendance of 34,015 only a few hundred below the Eastville record and nearly 7,000 more than the gate at Goodison on Christmas Day. Comparisons between these two games are inescapable in other direction besides the attendance. The one which stood out most was the failure of Everton's forwards to cash in on some attractive and promising approach work. One reason for this was the clever covering of the Rovers defence. On most occasions when Everton got in the vicinity of the penalty area, it seemed crowded with blue and white quartered shirts. The consequence was that many shots which might have found the net with a clearer avenue came to nothing through being blocked, intentionally or otherwise by home defenders. When Everton did find themselves with an unhampered sight of goal they were as eager to take advantage that they invariably shot hurriedly and erratically. While several efforts were close enough to make goalkeeper Anderson move smartly there is nothing so true as a miss being as good as a mile and most of Everton's shots came into the former category.
Eglington Out Of Luck
Eglington was particularly unlucky. He skimmed the bar and the post, and shot one into the side netting when everybody was preparing to shout "Goal" Hickson also saw a grand header from Parker's centre kicked off the line by Fox with the goalkeeper beaten and Wainwright was similarly deprived of his reward when Anderson leaps backwards to tip his effort over the bar when a goal seemed certain. This was the best save of the day. These narrow escapes by the home side were balanced by two to Everton in the first few minutes. Cairney with all the goal to shoot at from six yards was foiled by O'Neill's outstretched leg and Meyer, with a similarly wide expanse yawning before him headed straight into the goalkeeper's hands. Apart from these incidents however, neither goalkeeper had anything very difficult to deal with. It was nevertheless an entertaining game fought at a fast pace, juctiating rapidly in interchange of attacking advantage and without a single goal beyond those of a purely technical origin. Both sides deserved praise for the sportsmanship and willingness to let the other fallow play the best brand of football of which they were capable. If in Everton's case the brand did not bear the same hallmark of finishing that they showed on Christmas Day that was practically the only blemish.
Resolute Defence
Not only was their approach work quite good but their defence was sound and resolute. To some extent the Rovers eased Everton's task by their short passing tactics, and the frequency with which they squared the ball instead of putting it goal wards. Petherbridge probably covered more ground than anybody except Eglington but often was no nearer goal when he finished than when he started. Jones blotted out Roost completely except for one line break away. Donovan and Lindsay were well on top of their task, and the wing halves did good work all through most notably during Everton's spell of superiority, when they were always on the heels of the forwards to give them every support. Wainwright though not as outstanding as last week was a useful link in the front line, with Eglington the most dangerous and Hickson finding Warren more difficult to beat on his own ground than at Goodison. The Rovers were well pleased with their point. Their defence was not quite so certain as Everton's and Bamford made up by some unorthodox attacking raids for those occasions when Eglington had left him toiling in the rear. The home folk reckoning that had Bradford been playing they would have won. This is pure supposition. He might have fared no better against Jones that Roost. On the other hand Bristol's shooting was nothing to boast about. In many respects they were less effective in this manner then Everton.
BILLY COOK'S HONOUR
December 30, 1953. The Liverpool Echo
Ranger's Notes
Billy Cook the former and Irish international footballer must be one of the most travelled soccer coaches in the county. Not long ago he returned after lengthily spell in Peru and the Peruvian football administrators were so pleased with his work that they did not want him to leave. Billy, however found the not climate rather trying and although the terms of the contract would have been renewed at a much higher fee he decided to return to the old County, where he has taken up his former post as schools coach. Year after year Cook journeyed over to Norway where he is lightly thought of, and now comes an invitation from the Football Association, who have appointed him trainer-coach to the F,A. Youth X1 for their match with Manchester City Juniors X1 at Maine Road, Manchester on January 9.