THANKS A MILLION YOU EVERTONIANS
May 1, 1954. The Liverpool Football Echo
Peter Farrell, Captain of Promoted Everton, Says as the final whistle sounded last Thursday night and the realization that Everton were again back in the First Division began to dawn, a strange feeling came over me, a feeling of ecstasy and delight which is very hard to describe in words. In these great moments of joy my mind strayed back to the disappointment s of two Cup semi-final defeats and relegation three seasons ago, setbacks which the winning of promotion has certain more than atoned far. It was certainty the greatest moment of my life and I know from the look of the lads in the bath after the game that they were experiencing the same emotion. You can imagine the feeling of our team when we all realized that at last we had given our supporters some reward for the way they have stood by us through thick and thin. I should like to take this opportunity if playing a tribute to our manager Mr. Cliff Britton. I think he was even more excited than the lads in the dressing room after the game, as everyone showered congratulations on him. He must now rank as one of the most successful managers in the game, especially as the team that did duty last Thursday night cost comparatively little in these days at high-priced players. On behalf of the players and supporters a very sincere thank you Mr. Britton and may this success be, but the forerunner of many more in the future.
What A Team Spirit
I should also like on my own sleeve in thanks to the players for their efforts throughout the season, and the honor of being skipper to a better crowd of lads. The fact that Everton are now back where they belong in Division 1 can be attributed in no small way to the team spirit of the boys that made it possible. Whatever our faults and irrespective in whether we played well or badly one thing predominated over everything else, namely that to every game during the season we were all pads both on and off the field. I know the lads will forgive me if I single out one man, who was unable to be with us at the finish. The name of course, is Jock Lindsay. He paid a tremendous price in his efforts to win promotion namely a broken leg, but I know that neither supporters nor players will ever forget that great but unfortunate tackle against Stoke which prevented a certain goal and won us a point, which proved so valuable in the final reckoning. Incidentally Jock has asked me through this column to express his sincere thanks to all those people who brought so much happiness to him while he was in the nursing home by their messages of good wishes through the post and by calling to visit him.
Congratulations to the reserves in winning the Central League championship so convincingly. Jackie Grant and his boys have certainly played their part in making it such a great season for the club. So with the pleasant thought of entertaining Arsenal, Wolves and all the big shot, next season I say cheerio with a final pat on the back for our supporters. Thanks a million to all you Evertonians for your tremendous and loyal support throughout the year. I should like you to know how we, the players feel that we haven't let you down.
EVERTON KEEP FIRST DIVISION FOOTBALL FOR LIVERPOOL
May 1, 1954. The Liverpool Football Echo
By Ranger
After three years in the Second Division Everton will return to their rightful place in football" society" next season, thanks to their victory at Boundary Park on Thursday. In congratulating the Blues on the successful achievement of their ambition let me wish them also a long and happy sojourn in the higher sphere. The one saddening thought during this period of rejoicing is that Merseyside will not have the pleasure of a resumption of "Liverton" games. In their joy of Everton's success all but the most rabid and partisan of their supporters will regret that Liverpool will not be able to welcome the Goodison lads back to the top flight next winter. It has been a long and arduous season and these last few weeks have been especially trying and tense for all concerned with Everton. –directors manager players and even spectators. Mr. Johnny Best, the Stadium promoter who can sit through the most thrilling boxing championship fight with imperturbable clam told me after the Birmingham game that he had been so on edge that he was perspiring with anxiety. That is how football gets many people which is one of the secrets of its never falling attraction. In the part I have done some straight speaking about Everton affairs. Not everybody has agreed with me but right or wrong I wrote what I honestly felt and believed. Now comes the time when bouquets can be handed out, which is a more pleasant business. They are given with just as much sincerely as when I had to write in a manner far less acceptable to many people. First and foremost comes a tribute to the man at the helm. Cliff Britton has been subjected to much criticism since he took over the Goodison reins. He and I have had many a fierce argument, and frequently have had to agree to differ. But I have every admiration for his singleness of purpose his level-headedness in victory, his patience when things were going very much awry, and for the painstaking manner, in which he has rebuilt the structive of Everton –which has involved far more than just the first team –over the last few years. When Everton went down I expressed the view that they would come back inside five years unless there was a determined and all out effort at rebuilding and rehabilitation. That effort was forthcoming and now we have the pleasing culmination of promotion in three years.
Tribute To Team Work
Next for a pat on the back the players. There may be some who feel that they should be first on the list. It is a debatable point but I put them after the manager for the reason that to get the ball from any staff there must be wise and experienced direction from the top. Without it the best of teams could not keep up the highest standard week in and week over eight; very testing months. First for special mention in the playing category must come the skipper Peter Farrell. Thursday was the happiest day of his life. Even since Everton went down Peter's one thought has been to lead them back from the "wilderness." There may perhaps be more famous captains than Farrell there may be more brilliant players, it there is turned out, such wholehearted purposes as Everton's Dublin-born captain. I do not propose to go through all the player's individually. Everton's success has been a triumph of team work and combined endeavour far more than of individual brilliance. The track of their followers are due, a most equally, to all who have carried the club's colours. At the same time I feel that in addition to Farrell it is appropriate to mention O'Neill's brilliant goalkeeping after his recall to the side in November the great hearted work of Tommy Jones, the big improvement of the now stylist Donovan the opportunism of Parker the solid reliability of Lello, and the fighting spirit of that stormy petrel Dave Hickson. The others have all added an equally useful contribution to the general success. Some may have been better than others on certain day, but the boot has been on the opposite leg on other occasions, and every man of the recognised first team eleven has been a very vital cog in the success of the whole. Having said that let me now pass on to a review of the season in fairly detailed. The winter's programme as things have turned out, divided itself into four very clearly defined sections. First of all came the very encouraging opening of eleven games, without defeat a performance which few of even the staunchest Evertonians anticipated when the fixture list disclosed that six of the club's first nine engagements were away from home. for the first time in history the season began on a Wednesday, owing to the May; matches being brought forward to avoid clashing with the televised Cup Final today Everton opened their programme at Nottingham Forest where they led 3-2 until the closing minutes when as error by O'Neill cost them a point. Goalkeepers are a race apart when it comes to human faulty. Others can make mistakes and get away without they team paying for them. Not so the poor chap beneath the crossbar. If he makes in error it is usually a goal and O'Neill paid the prise by being dropped and missing the next twelve matches. As I did not see that game I should perhaps not express an opinion but I felt at the time and nothing surge the caused than to change my mind that it would have been better to give O'Neill another chance and endeavour to increase his confidence by showing faith in him. In any case Leyland who took his place for the subsequent twelve games was himself dropped for similar causes so that if the ultimate outcome Everton have had to rely upon O'Neill during the individual vital part of the season. That however, is by the way.
Fighting Recoveries
The first Saturday game was at Luton where after being a goal down, Everton back strongly to pick up another in it. As you read on through this resume you will be struck by the number of occasions on which the Blues have brought back to equality of victory after being one, and sometimes two goals in arrears. That has been one of the outstanding features of the season and in this reverse they have set up a record. Then they drew at Luton 1-1, and won at Hull 3-1 when the only change was McNamara for the injured Buckle. On Saturday, August 29, the Blues played their first match at Goodison Park against newly promoted Oldham Athletic. The visitors gave them a shock by scoring early on, but a Parker hat-trick inside nine minutes ensured that the unbeaten record remained intach Buckle returned to the side which lacked the services of Jones who was injured. Donovan took his place at centre half, with Rankin at left back. The following Wednesday the return game with Hull at Goodison brought Everton their first double of the campaign. For this Jones returned with Donovan reverting in left back in place of Rankin, and Moore supplanting Clinton in the other full back berth. Then followed a visit to Bury who had been beaten 5-0 at Gigg Lane in the previous season. This time, however, the Blues found themselves two down after only 18 minute. They cut the margin to a single goal by the interval and equalled during the second half. Parker was at centre forward for the injured Hickson and Alec Farrell came in at inside left for his second senior game but the first of the season. The next mid-week fixture took Everton to Nottingham once more this time to oppose Notts County who were beaten 2-0, Hickson returned with Parker at inside left while Donovan moved to right back for Moore and Lindsay came in at left back making his first appeared of the season since being hurt in a pre-season practice game.
Doncaster Humbled
The second Saturday home match was against Doncaster who were then at the top of the table. The visitors took the lead after 33 minutes, but Everton scored four times in reply, to inflict upon Doncaster their first defeat of the campaign. One change was made for the visit to Blackburn the following Saturday. With Farrell injured Grant deputized at right half. During the game McNamara was hurt and left the field for ten minutes the start of the second half. This was the first game in which Everton had failed to score. Fortunately Rovers also failed to find the net. The following Wednesday saw Everton home again for the return fixture with Notts County which brought their second "double" Farrell was back but McNamara dropped out through injury, Buckle's returning Everton won 3-2. Derby County provided the opposition on Saturday, September 25 when Everton netted two goals in a minute after half an hour Hickson went off with an eye injury ten minutes from the end returning with two minutes left to play. They also won this game 3-2. This victory against the former First Division side brought to an end Everton's opening sequence of eleven games without defeat. At that point they were top of the chart and their record read;- P11, Won 7, Draw 4, Lost 0, For 26, Against 11, Points 18.
A Temporary Slump
Then came a temporary slump and in the next eleven matches their return very disappointing compared with their bright opening, for only three times were won. The first defeat was at Brentford on October 3 by the only goal of the match, Farrell and Eglington were playing for Eire so that Grant played right half with Buckle on the left wing and Mayers on the other flank. A week later the side suffered it's second successive defeat by 4-0 at Plymouth, despite having Farrell and Eglington back in a full strength team. This was a very tough match with some of the visitors being accorded harsh treatment by Argyle defenders. A home meeting with Swansea followed, the only change in Everton's side being O'Neill for Leyland after the latter had played 12 successive matches. Everton led 2-1 only for the visitors to equalize with almost the last incident of the game. For the visit to Rotherham Leyland was restored to goal and Everton recorded their third away victory of the season, winning 2-1. The same side also did duty against Leicester City which brought the first home defeat of the season by 2-1. Leicester scored first and Everton had Hickson sent off for arguing with the referee a few minutes from time. Leicester were also reduced to 10 men when goalkeeper Anderson was taken off with a broken nose six minutes from the end after a brilliant display which alone had prevented a home win. A visit to Stoke followed, O'Neill returning in place of Leyland and being a regular ever since. Fielding was injured and Wainwright made his first senior appearance. Hickson scored the side's second hat-trick. Everton winning 4-2 after opening the scoring in three minutes. Stoke had two men injured after 35 minutes.
Two Down, But Drew
Against Fulham at Goodison the Blues found themselves a goal behind in 10 minutes and two down soon after the interval. They rallied strongly and forced a 2-2 draw. Visiting West Ham on November 21 Lewis was at centre forward for Hickson, who had been suspended for a week followed the Leicester incident. After leading by a single goal for most of the game, Everton had to settle for a draw. West Ham equalizing from the first penalty of the season against the Goodison lads. Leeds were the visitors the following Saturday, when Everton were hard hit by injuries, Farrell, Jones and Parker all being absent Grant was at right half, Donovan in the middle and Clinton at right back with Fielding returning at inside left after three games on the injured list. By way of a change Everton scored first and recorded their first home win in four attempts by the odd goal in three. December started disastrously for on the 5th of the month the Blues suffered their heaviest defeat of the season, going down 1-5 to Birmingham City at St. Andrews's. Parker and Farrell had returned with Fielding switching to inside right in place of Wainwright. This ended the first half of the campaign being followed by a visit from Nottingham Forest, who forced a 3-3 draw after Everton had led 2-0 after 13 minutes. Donovan was still at centre half the only team change being the displacement of Clinton by Moore at right back. Though they were not to know this at the time, this tussle with Nottingham signified the end of Everton's shaky period. This second period of 11 games had resulted as follows;
Play 11, Won 3, Draw 4, Lost 4, For 18, Against 24, Points 10.
The Best Run Of All
Then began the most successful spell of the campaign with another eleven matches being played without defeat. Luton provided the opposition on December 19, and once more Everton were a goal down, Cummins scoring against his old club in 35 minutes. As had so often happened before however the lads in blue rallied to win 2-1. The only change in the side that day was the return of Wainwright, this time on the right wing for Buckle. Christmas Day saw the Blues defeat Bristol Rovers 4-0, Donovan returned to right back with Jones recovered from injury at centre half. In the return fixture at Bristol there was no score. Everton were again unchanged as they were to remain for the next 14 league games. After the game at Oldham on January had been postponed through frost and fog Everton next met Bury at Goodison. This game was the first in which they failed to score at home. Fortunately as at Blackburn the opposition also failed to beat O'Neill. Their third successful draw followed at Doncaster where they were two down after 34 minutes. The equalizer came only two minutes from the end, Hickson getting a great goal –and ensuring a valuable point. Yet another draw came when Blackburn visited Goodison on February 6. Blackburn scored first after 26 minutes but the Blues were level before the interval, Hickson once more doing the trick. Lindsay missed a penalty; Everton's first of the season seven minutes from time, Elvy making a fine diving save.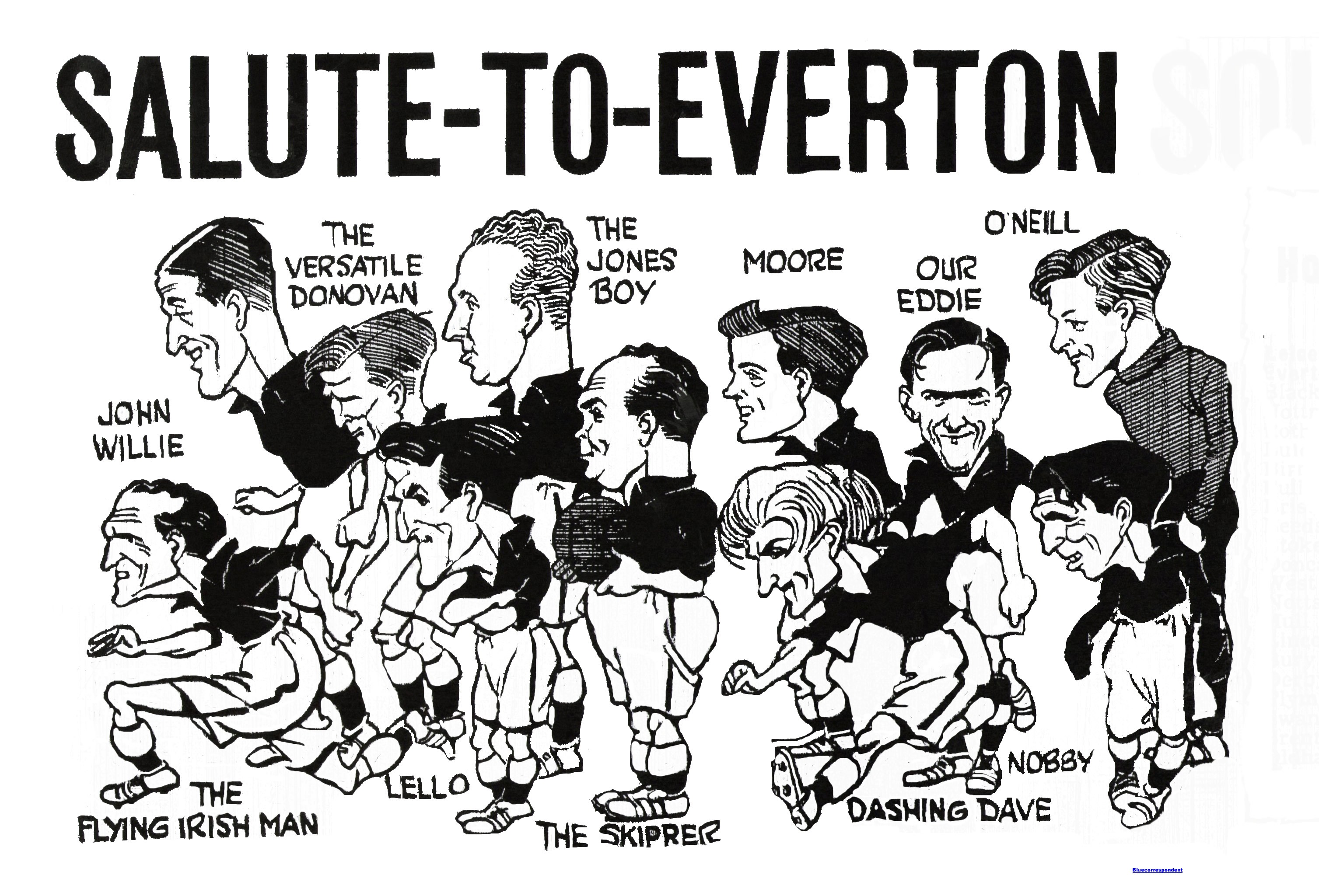 Some Big Scores
February 13 was a lucky day. Everton went to Derby and won 6-2 thanks mainly to a Wainwright hat-trick. This game was the forerunner of several big scores totted up by the attack in successive League outings. Brentford the next victims were beaten 6-1 at Goodison in midweek and on the following Saturday Plymouth were hammered to the tune of 8-4. Parker scoring half Everton's total. Thus 20 goals had been scored in three consecutive matches of which Parker (6), and Hickson (4) had got half. The visit to Swansea brought the fourth successive victory by 2-0 and them Rotherham were beaten 3-0. Parker getting a hat-trick to bring his total in four games to 10. Five wins in a row with 25 goals to seven against made the best spasm of the season. This victory against the Yorkshire side brought to an end the third and brightest period of the campaign. This is the line denoting the Blues successes over those three months;- Play 11, Won 7, Draw 4, Lost 0, For 35, Against 11, Points 18
While the points return was only the same as from the first eleven games of the season the goal average was more than three to one, as against two to one in the opening period.
13 Unbeaten Outings
Actually during this mid-season spell Everton went thirteen games without defeat from December 12 to March 20 inclusive but for comparative purposes the drawn matches at the beginning and end of that spell have been included in either the previous or subsequent spells. Then came the start of the fourth and last "spasm" when was promotion looking a distinct possibility by the end of the Easter holiday programme the long and arduous struggle began to tell upon the players and points were dropped when it seemed that they were as good as in the bag. At Leicester on March 20 the Blues did well to take a point after twice being in arrears but on the run of play they should have won by a good margin. They had the chances, only to let them slip through their fingers. The visit of West Ham on Grand National Day, March 27, meant a late kick-off and also an upset of form. After their scoring feats in the previous matches the home lands were right off form and were a goal down quite early on. Even though the visitors took the lead again after Everton's equalizer the Blues had yet another chance, only for Lindsay to miss a penalty. Then came a 3-1 defeat at Leeds when the visitors were one behind but equalized in the first half. These two defeats were followed by a home draw with Stoke, who took lead in 17 minutes. Three minutes later Lindsay broke his leg so that Everton had to fight for 70 minutes with ten men. Fortunately an equalizer came with 13 minutes to go thanks to Hickson's persistence and Eglington's header.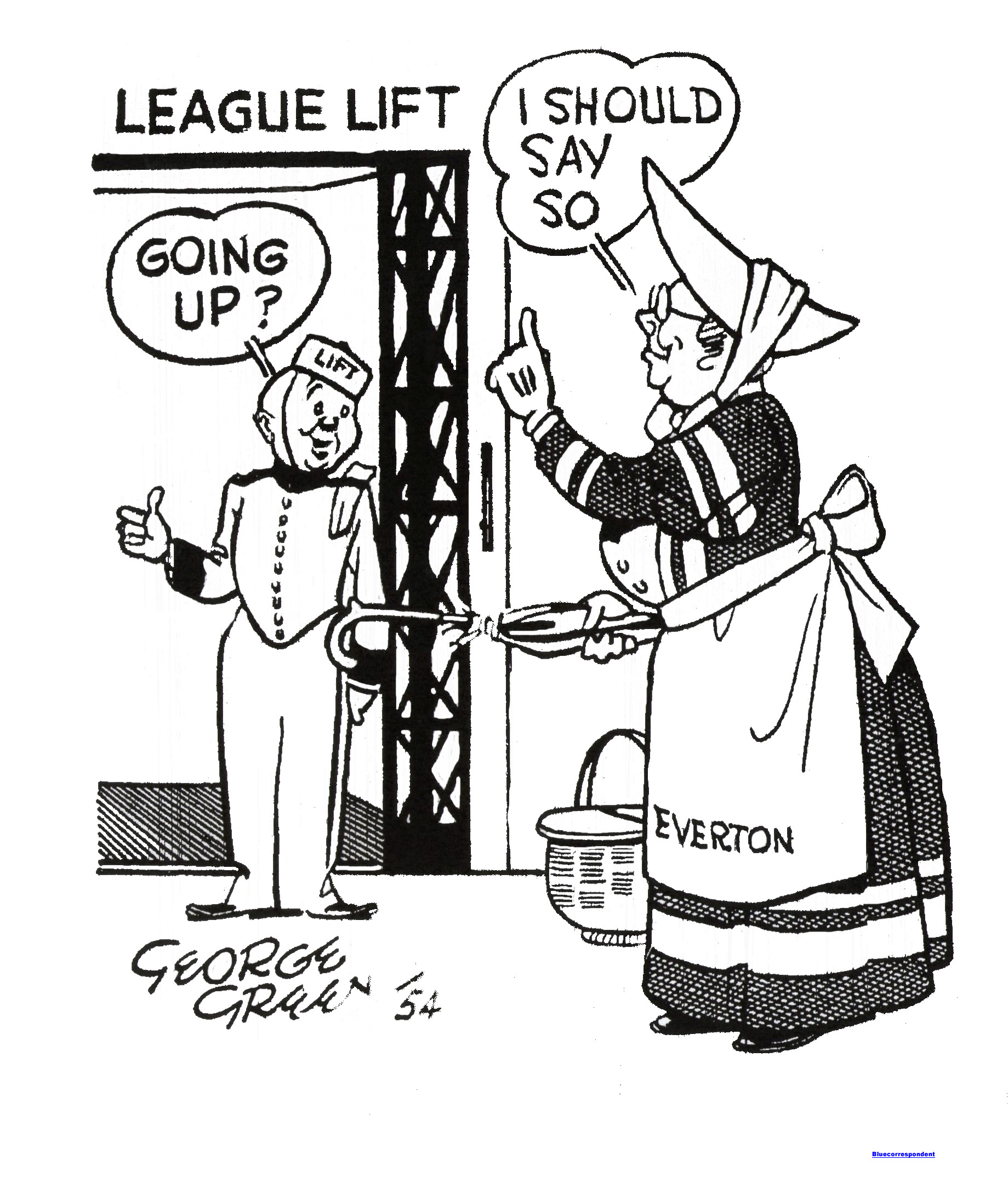 The Stormy Petrel
Without Hickson's fighting spirit Everton might not have got this point, but while giving full and willing credit to the home leader, and allowing for a considerable amount of aggravation Everton's "storm-trooper" was responsible for some things which we would rather not have seen. One incident would almost certainly have nullified the equalizing goal had it not been on the blind side of the referee. Lindsay's enforced absence meant that Moore was brought in at right back, with Donovan on the left for Lincoln City's visit to Goodison on Good Friday. Yet again Everton were a goal down early on but once more rallied to score three goals. Another enforced alteration was the substitution of Lewis for the injured Parker, Farrell netted for the first time. The visit to Fulham the following day brought another change, Lewis being absent through injury and Potts making his first senior appearance of the campaign. The game resulted in Everton's fourth 0-0 draw. The return with Lincoln on Easter Monday saw the Blues leading until a few minutes from the end when Lincoln scored the equalizer. Lewis was back in place of Potts while Buckle deputized for Wainwright injured. Last Saturday saw Everton with enough chances to register a big victory against Birmingham City only to scrape through by a brilliant Hickson goal, one of the several extremely valuable once he has scored this season. Then came Thursday's game at Boundary Park to end the season on a note of great expectancy. As for the Boundary Park game which I discussed in detail last evening there is little to add beyond saying that on their first he display Everton promise to make a good showing in the First Division. The second half brawl was something we can forget in the rejoicing at the Blues return. In most cases they were much more sinned against than sinning.
The Men Who Did It
The following table gives the total appearance and goals of Everton players this season in Second Division games. Cup-ties are not included; goals are given in brackets.
O'Neill 28 games, Leyland 14; Lindsay 33 games (2); Donovan 42, Moore 9, Clinton 6, Rankin 1. Farrell 39 (1); Jones 37 (1), Lello 42 (2); Grant 3. Wainwright 25 (8), Fielding 30 (6), Hickson 40 (23); Parker 38 (33), Eglington 41 (11), Buckle 19 (3), McNamara 4 (1), Mayers 1, Lewis 3 (2), Farrell 1, Potts 1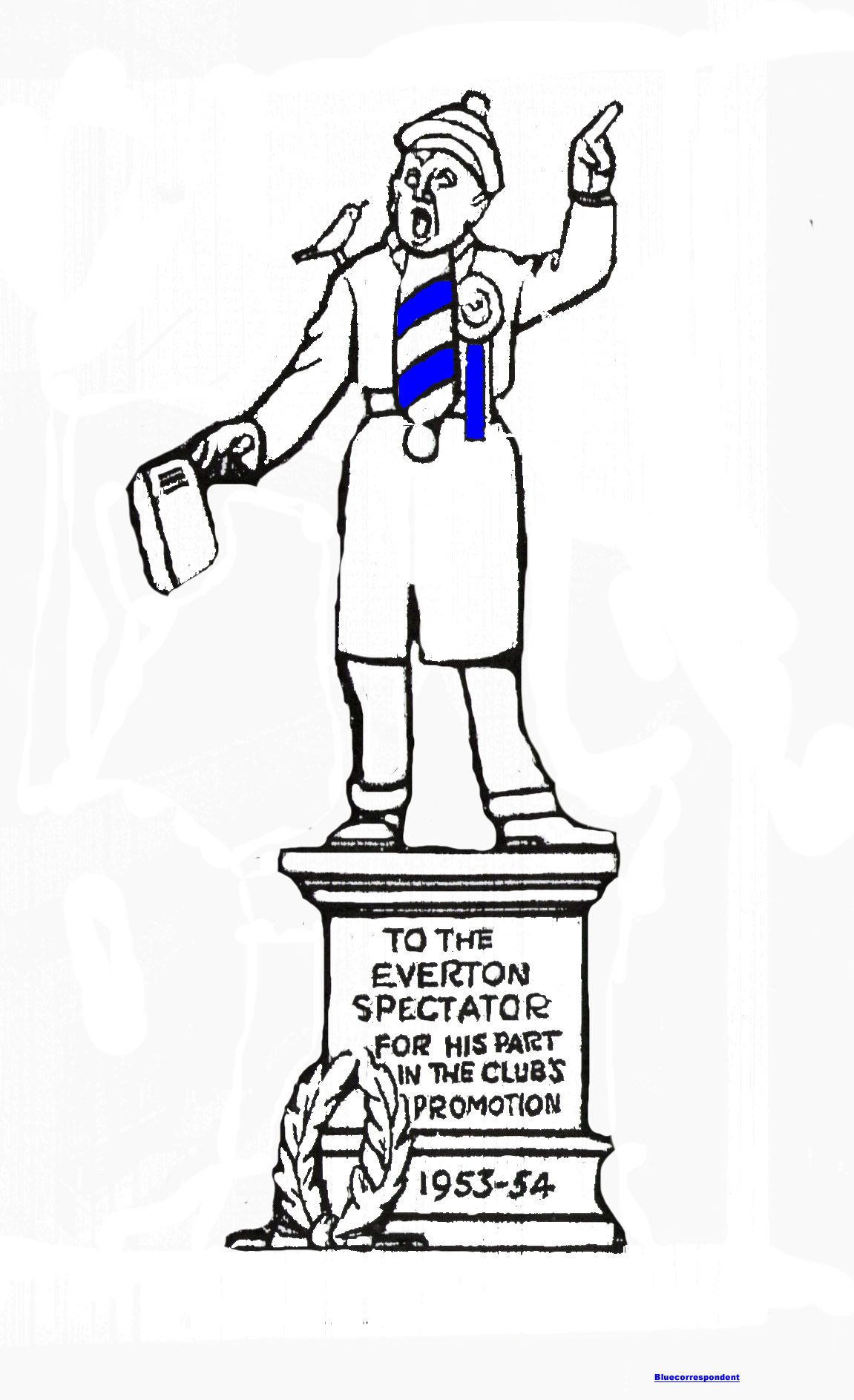 RISING EVERTON POTENTIAL
May 3, 1954. The Liverpool Echo
Proven, Team Work, Captaincy and Reserves
By Ranger
Congratulations to Everton upon a splendid achievement and another milestone in their long and distinguished career. Pleasure of their return to the First Division is not limited to Merseyside. All the senior clubs in the county are delighted that once again they will be visiting Everton's palatial home. the only folk sorry to see the Blues leave the Second Division are those humbler clubs who have shared the tremendous gates Everton have enjoyed this season. If only Liverpool had avoid relegation this would have been the most memorable season in the City's soccer history since the Blues previously waved goodbye to the Second Division 23 years ago, on that occasion after only 12 months stay. We must hope that one year in the wilderness will suffice to see Liverpool regain their senior status so that our winter's enjoyment will be enlivened again by League meetings of these old but now friendly rivals. Saturday's Football Edition reviewed all Everton's League matches, paying tribute to Manager Cliff Britton, skipper Peter Farrell and all whose excellent work had helped the cause the happy culmination of the club's promotion hopes. There is no point in covering that ground today. I mentioned the fact, however, for the benefit of the few readers who may have missed their copy of that commemorative issue, and wonder at the absence here of praise to those who have so richly deserved it. Along with Mr. Britton and Peter Farrell I coupled the splendid work of all the players with special mention of threat wonderfully keen, but sometimes over impetuous lad in the middle who, perhaps more than any other single player, ensured that Everton achieved their heart's desire namely, energetic determination and tear away Davie Hickson, Soccer's modern Don Quixote with a dash of Captain Blood. This is not the place to go into all the pros and cons of Hickson's style, ability or provocative displays. Suffice it to say that I firmly believe that without Hickson Everton would not have gained promotion. He has embodled in his strong and resolute body and pugnacious temperament more fighting spirit than the rest of the forward line put together.
Hickson's Big Chance
I pay the tribute to his worth with the greatest sincerely. As for those more doubtful qualities which have led to such controversy in the past few months this is no place for critical analysis. Whatever "inquest is needed it can wait for a more appropriate time. One thing I will say however. Not only has Hickson a great chance nest season to prove that he can clasm to rank among the best of modern centre-forwards on pure footballing ability as apart, from robust fighting displays, but if he sets himself out to do it he can succeed far beyond the expectations of those who are ready to write him down as a player of one type only. It will be interesting to see whether I prove correct! Now for the team as a whole. The question which is intriguing most Everton enthusiasts relates to the Goodison club's chances in the First Division. There are many who reckoned that they will have a stiff struggle to retain a position around the middle of the table. Some of whom I have spoken have expressed the view that they will be fortunate not to be involved in another anti-relegation fight. The latter is so jaundiced and pessimistic that it demands little serious consideration. It is on the same plane as the opinion of those who at the start of the season just concluded gave Everton no possible hope of promotion.
They Will Hold Their Own
Unless there are extremely solid grounds for apprehension –as unfortunately, there were in the case of Liverpool –it is foolish at this stage to be either too hopefully optimist or too dismally, pessimistic. Let us take our pleasure while we may. My own view, based upon what I have seen of such woefully weak and unbalance sides as Manchester City, Sunderland, the two Sheffield clubs, Newcastle and one or two others is that Everton – given a reasonable rug of the ball and freedom from too cripping a succession of injuries –will hold their own sufficiently well to occupy a fair comfortable place. I grab that latterly the side has not been as convincing as it was in the opening stanza of 11 unbeaten games or the mid-season period when they did even better and went 13 games without a reverse. That fall from the earlier sparkling standard was largely due to the strain of the long and arduous programme and to the over anxiety which afflicted some members of the team when promotion became a practicable possibility it was then that a certain hesitancy and apprehension became apparent in the play of some of those, who earlier on when matches could be approached in a more care-free attitude had been right at the top of their form.
Britton Vindicated
It may be that one or two of those who have been in mainstay of the team for some years will find the faster tempo, and higher standard of First Division football too much for them on occasions, If it does, then the policy of Cliff Britton will have a further opportunity of vindication. Three years ago Everton set their face against dabbling in the transfer market. The board reaffirmed its belief that the Britton policy of producing his own stars by coaching and training the younger members of the staff would prove Everton's salvation. Perhaps that was a gamble just as a dive off the deep end into the transfer market is a gamble, But at least it was bold and ensured that the club would not be placed in an embarrassing position financially. The first part of that policy has proved successful. Promotion has been gained without the purchase of a single player of note. Some of the younger professionals, such as O'Neill, Donovan and Jones have shown that the home produced article can be as good as anything available at a reasonable figure in the transfer market. Should next season's programme disclose weaknesses in the side compared with the requirement of First Division football it will be but a further challenge and opportunity for vindication of Everton's faith in the ability of their manager to keep up the flow of potential stars from his junior ranks.
The Future Look s Good
If this position does arise possibly the answer will be forthcoming satisfactorily. All along I have felt that on a long term view Everton have been right. The only point on which I parted company with the official opinion was in feeling that a more determined and earlier effort might have been made to preserve senior status when the writing was so plainty on the wall for so long. Don't quote Liverpool's recent experience as evidence of the folly of that assumption. Liverpool with equally long and clear warning of their impending fate, left their plunge too late. They locked the stable door after the horse had been stolen. We can leave full discussion of Everton's future prospects for attention later, however. All I want to say now is that given a fair share of fortune, I think we can count on them to consolidate their position personably satisfactorily next winter and as time goes on build further upon the solid foundations laid during the past few week years as that their future will be assured for a lengthy period. I do not pay too serious attention to Everton's recent lapses comparatively speaking from the standard that one expects from promotion teams. It is true that there were periods particularly in the autumn and again in the past two months when it seemed, one would have to be satisfied with a near miss. There were occasions when defensive slips of forward failings cost points that should have been won. These instances were by no means inexplicable, though they may have been disappointing. The fact is that football, like any other game, is governed by several factors over which neither manager nor players have no control, no matter how brilliant individually or collectively. Injuries temporary loss of form, enforced chances and the "run of the ball" are vital things. The last named is often the deciding factor.
They All Did Their Bit
Skill determination team spirit, confidence and other attributes are all helpful, but the best team in the world may occasionally find that nothing goes right no matter how desperately they try. On other days everything seems to run their way and victory comes almost with the case of shelling peas. I have little patience with these who compare the present Everton side with those of former years – in the detriment of the modern one. As I have said before, the present side is one of hard working and conscientious players, who have been imbued with club loyalty and genuine enthusiasm. I would rather have a team like that any time than one with starstuppded names and out-sizes in hats. You may say that Everton should have made certain not only of promotion but of the championship too without having to wait for the Birmingham and Oldham matches to clinch the matter and keep their supporters on tenterhook for a fortnight. Perhaps they should if they had been the one exception to the football rule that the best of sides have their off days.
WHAT THEY SAY
May 3, 1954. The Liverpool Echo
Mr. Ernest Green (Everton chairman)
For the first team to win promotion and the second team to top the Central League is a good season's work, it has been brought about by the assiduous attention of Mr. Britton our manager, to all the duties of the club, is has not been an eight hour days, or even a 16 hour day but a job involving every working hour, I told the shareholders three years ago that we had adopted the bold and courageous scheme of training as far as possible our own young players for senior positions. This has been complete success which is also a further tribute to the splendid work of our manager. No pries is too high for Peter Farrell. The spirit of the team has been excellent and Peter has in great measure helped. Mr. Britton to bring this about. The spirit shown by the Central League side has also been fastened and encouraged by the excellent work of their captain Jackie Grant. It has been a wonderful season, and on behalf of the board, I am pleased to have this opportunity of thanking all who have contributed to it.
Mr. Cliff Britton (Everton Manager)
We are all very pleased to have regained our statics in Division One, and to have given our many loyal followers some happiness by our successful run this season. They well deserve it for their wonderful support to the team during the past season and the not so successful ones. I cannot pay too high a tribute to the players and staff for their affects in training and in match days on behalf of the club. All the players have done well but a special word of praise is due to Peter Farrell, who had the added responsibility of captaincy in a season full of tension. He has fulfilled those duties both on and off the field, by a most creditable manner. As far as my recollection goes the club has had no better captain. While most of the glamour in football centres on the first team, we must not forget the excellent work of the Reserves also this season. We are very pleased they have a brought the Central League Championship to Goodison. Again thank, yes to the players and staff for all the wholehearted co-operation I have received from them to make this a most wonderful season for me.
OVER TO YOU
May 3, 1954. The Liverpool Echo
Peter Farrell
Evertonians will turn up at Goodison tonight in the best spirits they have been in for many years, and the fact that Liverpool have had a luckless season will not dampen the ardour of their supporters, who will assemble in their thousands to cheer their favourities against the "old enemy." I should like to sympathise with the Liverpool players on their drop to the Second Division. Certainly nobody should know better than I how they feel and here's hoping that, the season after next, we will not have to depend on the Liverpool Cup for our "Derby" game. In tonight's game, the thoughts of promotion and relegation will be far from the minds of the rival fans. The only thing that will matter during the ninety minutes as far as "Liverpoolians" and Evertonians are concerned, is that their favourites will ensure that they will be able to go in to their workshop, factory or office tomorrow with their heads held high in the air. In recently years these games have been thrillers; and although naturally I am hoping for an Everton victory with which to wind up the season should it be otherwise there will be no regrets from either side I the fare served up is as good as last year's vintage. Readers may be interested to know that although there are no medals for the players in this game, both the winners and the losers receive valuable presents such as clocks, coffee sets, &c. Now that the general hub-bub and excitement of Thursday night has settled down, I should like to sympathise with those thousands of loyal Evertonians who made the journey to Oldham, but were to gain admission. What a tremendous disappointment to be locked out from seeing the last game especially to those loyal fanatics who have followed Everton up and down the country all season. It must have been terrible agony to those outside to hear the cheers from within, and not know what was happening inside although I am sure they guessed when they heard the famous "Goodison Roar" on those four joyous occasions that their favourities had scored.
Tickets No Good
The position was so bad outside the ground that three or four of the players' girl friends, who had complementary tickets were unable to gain admission and never saw any of the match. One behalf of the rest of the team and myself, I should like to say how gratefully we all are for the numerous telegrams and letters which we have received congratulating us on gaining promotion. One of the most touching letters received by myself was from a young girl of 10 years, who wrote "Dear Mr. Farrell thank you very much for making my daddy so happy." One of the first into the dressing room at Oldham after the game was my old friend Jackie Carey whose team we just pipped on the post. Jackie's remark to me was typical of the sportsman and gentleman we all know him to be. "I'm glad, Peter, he said "not only for your sake, but for the sake of football, as there is only one place for a team with the ground, support and tradition of Everton and that is the First Division."
Jackie Coulter, the former Everton winger, called at the ground last Wednesday while in Liverpool on business to wish the lads all the best. He looked very fit and well and had a long chat with Harry Cooke about the good old days.
TONIGHT'S DERBY GAME
May 3, 1954. The Liverpool Echo
Fitting Climax To Merseyside Soccer; Full Teams Likely
Stork's Notes
Those who expected a resumption of the "Derby" games next season had their hopes quashed last Thursday when Everton won their way into the First Division so tonight's meeting between Everton and Liverpool at Goodison Park ( p.m.) may be the last meeting of the pair we will see for some time to come, unless of course, they clash in cup-ties. Liverpool were soon in the field with their team, which was announced last Wednesday. It showed two changes from the side which feel to Blackpool, Hughes and Evans returning at centre half and inside right respectively so that the team will be at full strength for this Liverpool Senior Cup Final which has in the past produced top-class games. There is something about these Everton-Liverpool meetings. While there is a friendly attitude about the keenest of rivalry exists to win the handsome trophy. Last year it produced a grand game and I expect this to live up to tradition. Liverpool in their last few games seemed to have struck a better understanding and there are great expectations that the team will blend into a side which will win them promotion the first attempt . Everton will be all out to show that they are a worthy Division 1 team. Whatever the result there is every indication of a fine game with plenty of excitement for "Liverton" games rarely fall about in any phase of the game. Everton will most probably field their promotion side, almost there is a doubt about Wainwright. Everton; O'Neill; Moore, Donovan; Farrell, Jones, Lello; Wainwright, or Buckle, Fielding, Hickson, Parker, Eglington. Liverpool; Underwood; McNulty, Lock; R Wilkinson, Hughes, Twentyman; Jackson, Evans, Bimpson, Smyth, Liddell.
Everton's Retained
Everton today announced their retained list. There are no surprises in fact, only three are on transfer. Fairclough (goalkeeper) and Anderson (full back) who receive free transfers and Easthope (outside left) who is on the transfer list. The players staff is made up of 24 full-time professionals, six part-time professionals and eight in the Army. Here is the complete list of players retained.
Goalkeeper; J. O'Neill, H. Leyland, B. Caldwell, A. Dunlop
Full Backs; T. Clinton, D. Donovan, K.Heyes, J.S. Lindsay, K. Moure, B. Molyneux, G. Rankin, J. Sutherland, J. Tansey.
Half-Backs; P. Farrell, T.E. Jones, C. Lello, K. Bitch, B.R. Capper, C. Fitsimmons, E. Forshaw, J. Grant, L. Melville, K. Rea, M. Woods
Forwards;- E. Wainwright, W. Fielding, D. Hickson, J. Parker, T. Eglington, E. Buckle, A. Farrell, D. Gibson, B. Harris, J. Harris, G. Kirby, G. Lewis, D. Mayers, M. Meagan, A. McNamara, H. Potts, E. Rabone, R. Saunders, J.S. Stewart, G. Tansey, C.J. Vizard, K. Williams, J. Tomlin, E. Thomas.
FAMOUS EVERTON FOURTEEN
May 3, 1954. The Liverpool Echo
Here are the photograpghs and brief pen-picture of the fourteen players who had most to do with Everton's successful season. Nine are English, four Irish, and Jock Lindsay the one and only Scot.
Jimmy O'Neill (goalkeeper)
Dropped after the opening game of the season, O'Neill's return coincided with a 4-2 win at Stoke and the young Irishman was under the Everton bar for every other fixture showing himself to be one of the finest players in that position in the country. he was signed in May, 1919 from an Irish junior combination and owes much of his success to Ted Sagar, who took him in hand on his arrival at Goodison Park and did a great deal to bring out his natural talent.
Eric Moore (right Back)
St. Helens-born Moore was discovered playing in minor circles, and served his apprenticeship in the junior sides before making his senior debut against Middleborough on December 14, 1949. He career has been up-and-down, but since regaining his place on Lindsay breaking his leg he has shown glimpse of the form which made him so outstanding in his earlier days in the top grade. He has made 10 League and cup appearances this season, and did not finish on the losing side of any of them.
Don Donovan (left Back)
Donovan must rank as one of the discoveries of the season. Prior to last August he was generally looked upon as a promising reserve wing-half (though an inside right when signed, three weeks after O'Neill from an Irish junior side). Donovan figured in 44 out of 45 league and cup games Everton played. His only miss was the Fourth Round cup-tie with Swansea when he was nursing a minor knock.
Peter Farrell (right half)
Last Thursday saw the realization of Peter Farrell's great ambition –to lead his club back to the First Division. With Farrell as leader Everton will set a lively pace among the elite next term! This burly Irishman a 90-minute player if ever there was one, has done much to inspire his me to their triumphs. By personal example he has shown the way, and if over-eagerness in the cause of his club has sometimes put him on the wrong path, he is the first to try remedy matters. Signed just before the start of the first full season after the war, Farrell has been worth over and over again the small fee paid to Shamrock Rovers.
Tommy Jones (Centre-Half)
A Liverpool lad now in his seventh season with the club. Jones is yet another picked up a cost of £10 –his signing on fee. He may never be of the class of his predecessor and namesake, the Welsh international, but for honest endeavour and consistency he has few superiors. His goal at Oldham was admittedly tinged with good fortune, but came as a fitting reward to a campaign in which he has prevented so many going into the Everton net that he deserved to get one into the opposition's.
Cyril Lello (Left half)
Shortly after the start of the 1947-48 season, Everton signed Lello, a promising inside left from Shrewsbury. "Let" as he is known at Goodison, now that loss of form and injuries are behind him, has few superiors at the art of wing half play. Whether in attack or defence Lello is always doing his bit, and part of someone else's if the need arises. He played in all 42 League games for the Blues scoring against Derby County and Plymouth Argyle and also appeared in the three cup-tie in which the club took part.
Eddie Wainwright (outside Right)
Has had internal trouble a broken leg and numerous other injuries. Just before Christmas he was switched to the wing after four games at inside right as deputy for Fielding, and kept his place to the season's end, making only one match. One of Southport's major grits to football, Eddie played for High Park in the seaside town's amateur league and joined Everton in 1944. His First Division career was ended, many thought, when he broke his leg against Derby County in December, 1950 but he fought back to fitness and will be ready to resume in August.
Wally Fielding (inside right)
Everton's "Cheekie Chapple" Long shirts, sleeves flapping over his finger-tips, dark hair cutting over his forehead, his brilliant footwork and accurate well-timed passes stamp him as an inside forward comparable to the best in the game today. Once with Charlton as an amateur and signed for the Blues in September 1945. Charlton must often have mourned his passing to Everton Valley instead of their own. Not a prolific marksman, but his rare goals are always valuable.
Dave Hickson (centre-forward)
Hails from Ellesmere Port, the town productive of Joe Mercer and Stan Cullis. Since his debut at Leeds in September 1951, after three years' grooming in the junior combinations, he has been more or less a regular and whichever way you view him his worth to the team has been immense. How many pounds has he put into the club coffers by his winning goals over Manchester United, Villa and others?
John Parker (Inside Left)
Goals are the spice of football, and Parker's the man to provide them Thirty-three in 41 games represents a large portion of Everton's tally. Dean, goal-getter-in-chief, came from Birkenhead; so does Parker. Does not look the part but there are few players with a better developed sense of anticipation. And his worth stretches beyond the scoring important though that may be six years at Goodison, three as a regular in the seniors.
Tommy Eglington (Outside-Left)
Came from Sharmock Rovers with his boon companion, Peter Farrell, one time the butt of the crowd, and still raise a chuckle when his right foot does not do its appointed task but for speed there aren't many to touch this Irish man. And, for a winger he fast the novice some people would have you believe when it comes to scoring goals. Five against Doncaster represents his best and anyone who can do that must be worth inclusion. Latest captain of Eire.
Harry Leyfield (goalkeeper)
Goodison goalkeeper, must always be on top form, otherwise their rival is likely to replace them. Leyland lost his place to O'Neill after the home defeat to Leicester and could not regain it but the burly Liverpool boy is a capable reserve.
Ted Buckle (outside right);
First choice at the start of the season, Buckle has always been subject to vagaries of form, and Wainwright superseded him. His whip last shot has often provoked surprise.
John Lindsay (Left Back)
Everton's only Scot, who broke a leg making a tackle on a Stoke player, which in all probability saved a point vital in the promotion reckoning. Came to Goodison from Rangers just before relegation, but on his recovery will grace the senior sphere for some tom e to come.
The Manager
Mr. Cliff Britton (Manager)
Seen here in his playing days with Everton, when he had few peers as a wing half, Cliff Britton is now one of the game's most successful managers. He mastered ever angle as a player and has done likewise in his job at the helm, first with Burnley and then with Everton. He guided the Turf Moor team into the First Division and a Cup Final and is now showing that his policy of introducing youth to Goodison Park, rather than signing star names, is a wise one. Two semi-final appearances and promotion to the First Division have come in the past four seasons.
The Secretary
Bill Dickinson (secretary)
In a job where public praise is almost unknown, Bill Dickinson has for many years done a traffic job of organization behind the Goodison Park scenes. Hails from Southport, and was an accountant before going to football. He was horary secretary of Southport for some years during the war.
The Trainer
Charlie Leyfield (Trainer)
Brings a former players knowledge to the trainer's bench. Leyfield was always a useful performer as a player and now does good work with his "magic Sponge" whenever required. Behind the scenes too, his many tasks are all performed in the manner necessary a follower in the footsteps of veteran Harry Cooke for many years the doyen of his fraternity.
NOW EVERTON WIN A CUP, BUT….LIVERPOOL DESERVED A BETTER FATE
May 4, 1954. The Liverpool Daily Post
By Stork
Everton 2, Liverpool 0
A few days ago I was at Wembley's final which is the show-piece of football but it fell very much short of expectations. In fact it had nothing to commend it compared with the Liverpool Senior Cup Tie Final between Everton and Liverpool at Goodison Park last night, here was a game which had everything, good football, plenty of goal thrills and for the Everton supporters a pleasing victory which will no doubt lead them to think that Everton's prospects in the first Division next season are going to be good. But let us be a little wary, for while Everton who they had a lot of luck in the second half when Liverpool were deserving of a better fate than that which beset them. Derby games usually bring out the best and this game was no exception. It was clean and entertaining, and although Everton won, Liverpool can rightly consider themselves a trifle unfortunate not to have got a least a "half." Everton were undoubtedly the better side in the first half. They moved with more rhythm, were more accurate in their passing and they got an all-important goal but after the interval they seemed to lose their grip. Where they had been so strong they now became weak, and Liverpool took such a hold on the game that it took all the combined efforts of the Everton defence to hold on to their slender lead. How they did it I do not know for there times when the Liverpool forwards were only a matter of yards away from O'Neill yet could not force the ball into the net. O'Neill was responsible for a lot of his side's success for he made some winder saves when Liverpool were literally pounding his goal. the "Cover" for which Everton are so well known, seemed to go to pieces and on occasions it was sheet desperation which prevented Liverpool from scoring. Exciting it certainly was and the roars were twice as strong as were hard at Wembley.
Touched Top Form
In the first half Everton touched really top form. They ran into the open spaces, switched about, in fact, they did everything a good footballing team should do, but then for some unknown reason all this left them and it was Liverpool who were in charge. The Anfield side had a Parker goal (made by Hickson) to pull back and they set about doing it with a heartiness which must have been encouraging for their followers. They tried hard for the equalizer and two saves by O'Neill which stand out in my mind from Evans and Liddell, were worth going a long way to see. During this half, the luck was certainty against Liverpool and with Everton. With a minute to go the best goal of the match was produced by Hickson. He collected a perfect pass from Fielding and unleashed a shot which Underwood simply watched fly into his net. He could do nothing else. That goal was without question much against the run of the play but that is football. When things are going right for you things come easy and they undoubtedly went right for Everton in this second half. Taken all through it was a grand game and the 52,012 spectators must have gone away hoping next season was not took far away. Everton; O'Neill, goal; Moore and Donovan, backs; Farrell (captain), Jones and Lello, half-backs; Wainwright, Fielding, Hickson, Parker and Eglington, forwards. Liverpool; Underwood, goal; McNulty and Lock, backs; G.B. Wilkinson, Hughes and Twentyman, half-backs; Jackson, Evans, Simpson, Smith and Liddell, forwards.
GOODISON ROAR AGAIN
May 4, 1954. The Liverpool Echo
Thrilling "Derby" Game Earned Its Cheers
Stork's Notes
I have heard the roar at Wembley, I have heard the roar at Hampden Park, but the roar at Goodison Park last night almost excelled the lot. Furthermore, it was a prolonged roar, and the match was well worthy of it. The meeting of the Reds and Blues is always an occasion on Merseyside for one can usually guarantee a thrilling and enthustic encounter. We had it in full measure in the final of the Liverpool Senior Cup at Goodison Park last night, and although Everton won by two clear goals the score was hardly a true reflection of the play. We know of course that goals count but we can also commiserate a little with a side which has done so much yet reached so little reward for its endeavour, Everton undoubtedly took the honours of the first half, but the second went wholly to Liverpool, but they could not force the ball into the net. Try how they would they could not get the ball beyond O'Neill. It often happens in this great game of ours but really one had to be there to realize just how unlucky Liverpool were in this second section not to have at least equalized or possibly won.
Lost Their Grip
Everton had looked such a confident side for 45 minutes that it was hard to understand why they fell off as they did. Perhaps it was that they waited for the ball rather than went to it which had been one of the secrets of their success in the first half. It was Liverpool who went for the ball ad Everton seemed to lose their grip of things. The wing halves were not probing as they had been and the defence which had stood so securely against the Liverpool attack became uncertain. Well, that to some extent was due to the power drive which Liverpool produced. It was an astonishing turn about and I know a few Evertonians whose hearts were in their months all through the second half. Unfortunately this may be the last "Derby" game we may see for some time, I hope it isn't for we can do with a lot of games like the one we saw last evening. The best class football was undoubtedly produced in the early portions of the game and it was not all on one side but the Everton rhythm was more smooth and their passing more accurate. Yet the goal came rather expectedly and although Parker's name goes on the score card in reality it was Hickson's goal, for I think that his header would have crossed the line even without Parker's help.
"Poacher Made Sure
"Poacher" Parker intended to make sure, stepping in to slip the ball beyond Underwood to chalk up his first goal of the day. It was a very slender lead considering the way Liverpool hammered too clear it off the slate. With the slightest bit of good fortune it would have been done for on balance the Reds were definitely on top and had been almost from the interval. The allusive goal however would not come. At me. O'Neill was one of the reasons for this for he made some excellent saves, scrapping one or two over the bar but his two most outstanding efforts were when he pushed away a header by Evans and was there to parry Liddell's return. At this stage Everton had fallen from their high estate becoming rather gagged by never losing their fighting spirit, and they needed every ounce of that for Liverpool were hitting them very, very hard. Quite unexpectedly a second goal came to the "Blues" with just one minute remaining and it was the best of the evening. A perfect pass by Fielding up the middle found the unattended Hickson and the fair-haired Everton leader left Underwood standing with as good a shot as he had delivered all season. The Liverpool goalkeeper could do no more than stand and watch the ball fly into his net. He was helpless to do anything else. And so concluded another derby game, a derby game which lived right up to the best traditions. Everton were naturally keen to show that they were worthy of the new sphere in which they will operate next season and on what we saw they should do reasonably well. They will not have to fall away as they did in the second half, for luck will not always be on their side. As to the Reds if they can fight back as they did last night they may well be knocking at the First Division door this time next year.
LORD MAJOR; EVERTON ARE BACK WHERE THEY BELONG
May 5, 1954. The Liverpool Daily Post
In the candle-lit dinning room of Liverpool Town Hall, the Lord Mayor Alderman W.J. Tristram last night honored Everton Football Echo at a dinner to celebrate their promotion to the First Division. Speaking on behalf of the citizens of Liverpool, he said he was delighted that Everton were back in their proper place. It has been a hard road and a very trying time for directors, officials and players but you are back where you belong" he declared. Alderman J.J. Cleary said everyone in the Everton Club have done their bit in a trying season, and they have ended in their rightful place." He added "Football has a great place in the life of Liverpool, and I hope that our two great teams will go from fame to fame and add to the lustre of this city." Concillor J. Bradock said he had been an Everton supporter for many years. "If ever we reach a time when the citizens of this city are not attracted by the magnificent sportsmanship in Liverpool as exhibited by Liverpool and Everton, then this city will be in a bad way," he said.
Not Going To Weep
Alderman W.J. Harrop (chairman of Liverpool Football Club) declared that his club were not going to weep because they had gone down into the Second Division. "Even when we were doomed we sincerely wanted Everton to win because it would have been a bad thing for football in Liverpool if the city had no First Division team," he said. Since it was known that we were going down into the Second Division there has not arrived a single letter of complaint or abuse. And I anticipate that in the season to come we will be back again." Other guest and officials of Everton F.C. paid tribute to Liverpool F.C., and declared that they would regain their place in the First Division. Other speakers were Alderman L. Robinson (hon, secretary of Liverpool County Football Association); Mr. W.H. Evans (referee), Mr. E. Green (Everton F.C chairman), Alderman W.R. Williams, (a director of Liverpool FC); Mr. Cliff Britton (Everton FC), and Mr. P. Farrell (captain of Everton's first team).
EASY FOR EVERTON "C"
May 7, 1954. The Liverpool Daily Post
Everton "C" the West Cheshire League Champions had no difficulty in defeating Tranmere Rovers "A" the West Cheshire Pyke cap winners by 8-0 in the final at the West Cheshire Benevolent Cup at Preston Park last night. Everton were in brilliant form and had made the issue safe after twenty minutes when they scored three goals in four minutes. Their scores were J. Harris (2), Thomas (3), Vizard; Tansey, Fitszimmons.
EVERTON'S DANISH TOUR
May 10, 1954. The Liverpool Echo
Fifteen Players Comprise Party To Fulfill Four Fixtures
Ranger's Notes
Everton will take 15 players to fulfill their four of four matches in Denmark for when their leave Liverpool on Saturday morning next. The players making the trip are O'Neill; Moore, Donovan, Tansey (James); Farrell, Jones, Lello, Grant; Wainwright, Fielding, Hickson, Parker, Eglington, Potts, Buckle. The journey is being made by sea from Harwick and the first game of the tour is against an Aalborg Combination side on Thursday week, May 20. On the following Sunday they meet Aarhus Combination and four days later face a side drawn from four strong Danish teams in Aalborg, Chang, Hjorring, and Frederikhaven. This game takes place in Hjorring. The final fixture of the tour is against a team representative of Copenhagen side, which is to be played at Copenhagen on May 30. The party is due back in Liverpool on June 2. In addition to this tour which makes an attractive spot of relaxation for the senior players after their strenuous season, the club has also accepted an invitation to send a youth team to play in an international knock-out tournament at Amsterdam during Whit-week. This invitation is an honour for Everton as less than a dozen clubs all told from several countries will be taking part. The players to make this journey will not be chosen until later. Those taking part must be under 18 but professionals are eligible as well as amateurs.
All Re-Signed
All the Goodison club's first and second team full time players have now been re-signed for next season. Some part-time professionals have not yet done so but this is only a matter of time. In some cases the business is being done by post, otherwise it would have been fixed up by this.
EVERTON SEASON TICKETS
May 11, 1954. The Liverpool Echo
Ranger's Notes
Everton have decided that the price of season tickets for next winter will be the same as for the season just completed, namely, five guineas. Seats will be reserved as before. Holders of members tickets should note that applications for renewal should be made before June 19. Members who have not received a renewal form should make application for this by letter and later, when remitting the cost of their tickets should include the renewal voucher or voucher from last season's book. New applications for season tickets for Bullens Road (north end) cannot be made, accompanied by remittance for five guineas for each ticket and the name or names of the persons for whom the tickets are required. Season tickets will be posted when ready; but this will not be until August.
EVERTON SURPRISE
May 14, 1954. The Liverpool Echo
Ranger's Notes
Gordon Stewart, Everton's Canadian outside left has decided to go back to Canada for good. Stewart who flew to this country last summer to have a trial with Everton was signed on professional forms after a couple of Central League games and was a regular in the reserve side all last season. He feels however that his future is more secure in his own Country. Player and club are parting on the most amicable terms.
Reserves Teams Tour
Everton's Central League side is to tour Eire for a week at the end of this month, playing in Dublin (May 26) Waterford (28th) and Limerick (30th). The following players comprise the party. Leyland; Clinton, Rankin; Sutherland, Birch, Woods, Melville; Fitzsimmons, McNamara, Thomas, Harris, Saunders, Meagan, Easthope, Vizard.
This is the third touring Everton team of the close season. The seniors leave tomorrow for Denmark –with Lewis added to the names originally announced for this trip –and the Youth team goes to Holland at Whit week.
EVERTON FOOTBALLER TO RETURN HOME
May 15, 1954. The Liverpool Daily Post
Gordon Stewart Everton's Canadian forward who had been placed on the retained list, has decided to return to Vancouver. He played one season in English football and helped Everton to win the Central League championship this season.
Everton who today set out on a tour of Denmark are to take their Central League team on a tour of Eire on May 25. They will play in Dublin on May 26, Waterford on May 28, and Limerick on May 30.
EVERTON IRISH CAPTAIN PETER FARRELL TELLS HIS STORY FOR THE ECHO
May 15, 1954. The Liverpool Echo
Farrell In Line
Born August 16, 1923
First schoolboy match- played inside left at age of 13 for Cabinteely United Boys
Signed For Shamrock Rovers July, 1939, as an amateur, turned professional on his 17th birthday in 1940.
Transferred to Everton July 11, 1946
First cap for Eire –June 1948 against Portugal at Lisbon.
First cap for Ireland –November 27 1948, against Scotland at Hampdon Park.
Appointed Everton captain start of 1948-49 season
Total number of "caps" 22 for Eire, 9 for Ireland
One of the biggest problems when you sit down to write your life story, as I am attempting to do during the coming weeks is to know where to start. Memories crowd in upon you the longer you turn over the subject in your mind, and events which you had thought had been long forgotten spring to mind as one train of thought leads to another.
First, however, let me say how honored I feel at being asked to tackle this task. When I first crossed to England to make my living as a professional footballer I did not dare to hope of achieving any great prominence in the game. I felt I would be content if I could jog along, just making ends meet and perhaps putting a bit aide for the rainy day which all who earn their living at football must expect some time or another. I have been fortunate in finding that things have panned out so much better than I dared to anticipate when on the threshold of my career. Had anybody told me when I first joined Everton that I should have the pleasure and privilege of leading them as captain, and better still, helping the club to regain its First Division status and that eventually I should be considered worthy of seeing my life story in print, I'm afraid should, while somewhat gratified have been at the same time a little skeptical. I suppose the proper way to begin the story of one's life is to start at the beginning with the date of your birth and your early childhood. So far as I am concerned, however, I shall put the cart before the horse, and start with that eventful Thursday night – or rather the early hours of Friday morning –at the end of last month, when I lay in bed after our last game of the season at Oldham and could not sleep for hours with excitement and thankfulness at the realization that Everton were once again a First Division side. I should not like to live through the last few weeks of last season again. Now that it is all over, not only myself but all my colleagues and of course our manager and the club directors can look back on that final testing period happily enough.
But it was a tense and nerve-wracking business while it lasted, and no matter what my future years in football may hold, I do not think that anything will remain so deeply imprinted on my memory as that last match at Oldham. "Ranger" told me the next day that he had never before seen me look so frightened as I did when the spectators hoisted me on to their shoulders and carried me off the Boundary Park pitch. He wanted to know what I seemed so scared about.
Reflection
Well, I didn't know that my features so clearly reflected the reaction which was in my heart and mind, but if I did appear as worried as he says, it wasn't because I was afraid the supporters might drop me. What was running through my mind was what a tremendous disappointment it would have been to our thousands of loyal and warm-hearted followers if we had dropped a vital point and Blackburn had pipped us on the post after all! However, all that is past now, and later on in this series I shall have an opportunity of discussing the thing which now lies nearest to all Everton supporters, namely our prospects in the First Division next season. That can wait a while, though and for the time being I must really get down to guiding this pen of mine along reasonably logical lines in setting out my life story before you. All I hope is that you will find it as interesting and exciting as the living of it has been to me over the past 30 years. As I have already said I had no wildly optimistic hopes of making a big name for myself when I crossed the Irish sea to the hospitable shores of Merseyside but if I had my time to come over again I could not hope to make a better choice or too fine a better club than Everton, which to my mind, is the finest in the British Isles.
I was born in a little Irish town by the name of Dalkey, a few miles outside Dublin on August 16, 1923. One of my earliest memories is of kicking a small ball around on a piece of waste ground not far from my home. As I grew up I naturally followed the doings of our local side and, like other small boys, thought there was no other team like them. With the passing of the years however, I began to take an interest as many Irish lads do, in English football. Naturally we rarely got the chance to see an English or Scottish side in action. The only occasion were when happened to be playing in Dublin an opportunity which we tried not to miss.
Paper Followers
We were thus forced to be only paper "followers of our favouritie English teams, but I can assure you that that did not mean that we were any the less keen and anxious about their progress. Believe it or not right from my earlier days my favourite English team was Everton. That was not due to any feeling that one day I might wear their colours but mainly to the fact that my family had relatives living in Liverpool who used to visit us every summer and the male side of these Liverpool folk were all keen and loyal Goodison fans, particularly my uncle the late Jack Farrell, who lived in Dundale Road, Old Swan. I have many pleasant memories of my early days in Dalkey, and look back rather nostalgically to the time when I used to think nothing of playing football three hours or so every afternoon during the school holidays, six days a week, often after having kicked a ball about for quite a while in the morning as well. Like most lads of school age, I occasionally broke a window with some Ill-directed shot when we were playing in the village, but that was not often as there were plenty of fields in the immediate neighborhood of my home which were a safe distance from surrounding houses and where no damage could be done. My early Soccer ambitions were somewhat handicapped by the fact that at Christian Brothers School in Dunlaoghaire, which I attended, the only games permitted were either Rugby or Gaelic football.
In My School Gaelic Game We Could Score Points Over The Crossbar
As possibly you know, this latter is Ireland's national game. It is played with a football similar to that used in soccer but there the similarity of the two ends, in Gaelic football, the use of the hands is permitted without hindrance by all of the 15 players on either side. Furthermore as well as goals points may be scored by kicking the ball over the crossbar. I can imagine the crack which some folk may make at that assertion. They will say that if Everton last season had scored points for all the shots that were put over the bar we would have been champions long before Easter. We will let that one pass, except that I might add that the forward who never missed a gilt-edged chance has not yet been born, and that it is not always as easy to put the ball into the net as it seems from the stands. It only needs a slight deflection due to the ball coming off at an unexpected tangent from a tuft of grass, to upset the best laid schemes and intentions of the finest forward ever to kick a ball.
The Gaelic Game
Gaelic football was the game of my choice at school, but after school hours whether in the street with rocks or our coast as goalposts or on the nearest field, it was Soccer only for everyone. Mention of my school days reminds me of the only really hard year's study I ever did. When I was thirteen my dear father, who had taken me to my first Soccer match, and who was chiefly responsible for my growing enthusiasm for the game died. At this time I was attending a secondary school, and as the fees were pretty stiff it looked as though with the passing of the family's chief breadwinner that I would have to leave school as soon as possible and look for a job which would help to augment the family exchequer. At this time my elder brother Jim and my sister Sheila had only been working a little while, and were not bring in a great deal of money. My mother, however, determined that if it was humanly possible I should continue with my education and to that end she encouraged me to enter for a scholarship examination which would ensure –assuming I was successful –that I should be able to continue at school for a further four years. I'm afraid that I had no great hopes myself of getting through. There was an entry of over 500 boys and only 23 scholarships were available. My chances looked pretty slender but once more good fortune was on my side as it has been, I am thankful to say, on many other occasions since.
Wonder Mother
The high standard shown by the leading boys in this examination was such that the education authorities decided to increase the number of scholarships to 37, and I scraped in, by the skin of my teeth, in the 33rd place. You can imagine how delighted I was for this meant that I could now continue my studies without being a burden to my mother and brother and sister. I cannot pay too high a tribute to the wonderful part my widowed mother played in those early formative years. The most solid foundation for success in any walk of life, and particularly in sport, is a contented and happy mind. My dear mother by her deep love of family life and by her continual kinder nesses and sacrifices made us a very happy and put me under a debt of gratitude which I can never fully repay.
Next week Peter Farrell will tell of his association with his first amateur club, a team called Rangers in the Dalkey League, and how he won his first medal for football. It cost only 2s 6d, but is still one of his most treasured soccer souvenirs.
• Pictures in Echo of the Farrell family, showing Peter on the right next to his mother, with his sister Shelia and brother Jim. This was taken when Peter was 18.
• Second picture;- shows Peter Farrell (marked in centre) on a panic with other members of the Harold Boys School football team, Dalkey.
WHY STEWART IS LEAVING
May 17, 1954. The Liverpool Echo
Everton's Canadian Winger Reckons Prospects Are Brighter At Home
Ranger's Notes
The news that Gordon Stewart is shortly returning to Canada for good has been a disappointment on many Everton supporters and particularly those who have watched his progress with the Central League side and have seen in him a likely first team player of the future. In a chat I had with Stewart over the week-end he assured me that he is parting with the club on the friendliest possible terms and that in several respects he is sorry to be leaving England. "I have enjoyed being with Everton" he said" and have made many friends here. One could not wish to be with a finer bunch of players and before leaving I would like to express my sincere appreciation of the encouragement I have had from the chairman, the manager, trainers and everybody else at Goodison." Stewart told me that he has decided to return home for a variety of reasons. "It is hard to explain" he said" but my wife and I have talked it over long and earnestly, and have come to the conclusion that my prospects of getting ahead in business as part from football would be greater and more secure back in Vancouver."
A Long Term View
I gathered that Stewart had been led to this decision after reflection upon his likely prospects of earning a living in this country when his playing days are over. Though that is a good while of, he is wisely taking the long term view. He does not wish to be entirely dependent on football. Though he does not know what he will do when he gets back to Vancouver, he may return to his former employers, the British Columbia Telephone Company. That is what he hopes. Another contributing factor to his decision was that although he and his wife have made several friends on Merseyside they still feel homesick no and again. Everton are paying all the expenses of himself and family – he has a 10-month old boy –back to Vancouver. They will leave Liverpool about the middle of next week for Southampton sailing by Cunard boat to Quebec. Stewart hopes to resume playing football in British Columbia. First however, he will require to seek reinstatement as an amateur, as there is no professional football in Vancouver. That is not likely to present any great obstacle and Everton have promised to help in that direction by putting in a good word for him with the our F.A. On the only two occasions I saw Stewart in competitive games he impressed me by his promise. I think he would have made first team grade in due course. Now all we can do is wish him good luck as he starts life again in his native country.
EVERTON SIGNINGS
May 18, 1954. The Liverpool Echo
Ranger's Notes
Everton have signed three of their amateur Youth stars on professional forms, one of them as a part-timer. The players are John Keeley and Ian Hillsdon, who have accepted full time contracts and Keith Williams, who is to continue his apprenticeship to the printing trade.
John Keeley is the former Liverpool, Lancashire and England schoolboy international who last season played for Liverpool County and England Youth teams. Aged 17 he has been on the Everton ground staff since leaving school. Last winter he figured in the Goodison Park "A" and "B" teams in all forward positions, except outside left.
The career of left full back Ian Hillsdon has run on similar lines to that of Keeley, for he has played for Liverpool and Lancashire Schoolboys and the Liverpool County F.A. and the National Youth teams. He was also a school-boy international trialist and has been on Everton's ground staff for the past two years.
Keith Williams is the former Wirrall and Cheshire County school-boy player and a younger brother of Ray Williams of Tranmere Rovers. Aged 17 like the other two signings he also has been with Everton since leaving school. Keeley and Hillsdon are native of Liverpool, Williams was born in Bebington.
Everton have also signed Roy Jones, inside forward of Cambridge United (Ellesmere Port) who scored 53 goals last season when his team won the championship of the Bebington League (2nd Division). Jones has signed as an amateur in which capacity he has had a number of games with Wolves junior teams.
EVERTON SIGNINGS
May 19, 1954. The Liverpool Daily Post
Two England youth internationals John Keeley, inside right and Ian Hillsdon left back yesterday signed professional forms for Everton. Another young professional signed for the Goodison Park Club was Keith Williams an inside forward.
BEST OF THE LOT
May 20, 1954. The Liverpool Echo
Ranger's Notes
During the past few weeks I have had scores of letters from Everton followers, including several from abroad, expressing pleasure at the Blues return to the First Division. The one which gave me the most pleasure came from Stan Eggleton, of 21 Bell Street, Swanage, Dorsett with whom I have been corresponding for some time. I didn't know Stan Eggleton from Adam, when a couple of years ago, I received a letter from him asking for certain information about the club and players. "That rather a tall order" I thought and was about to shelve the letter for later attention when I noticed a postscript. After I had read that I dropped everything else to send the reply at once. This is why. In the "after though" to his letter this 37-years-old Swanage man told me that he had been helplessly crippled with a thrills for 12 years. He cannot move an inch for every joint in his body is locked rigid, bar a slight movement in the left arm. As the right is useless he has had to learn to write with his left. His first letter to me had taken him five hours for he has to rest after every few lines, and his hand goes numb and painful. Despite this terrible handicap his letter was one of the cheeriest epistles imaginable. He made light of his trouble in most courageous fashion and in all the letters we have exchanged since there has never been the semblance of a moan or grumble. When I took up some team and individual photographs to Goodison to get players autographs for him I discovered that the club knew of this Dorset shire follower and kept him supplied with programmes and other items of interest. So also does a Toc H. Friend in Liverpool while I have sent him various souvenir editions and other things of interest from time to time. Now Stan Eggleton has once more driven his crippled hand over two quarto pages to tell me of his pride and pleasure at Everton's splendid performance this last season. To him Everton is the finest club in the country though he has never seen them play. Following Everton's progress this last season he tell's me, has given him more pleasure than anything in the last twelve years apart from the devotion of his wife and youngsters. Of all the thousands of letters I get each year none has been so touching in its simplicity and sincerity as this. I only wish that some day in the future this courageous Dorset shire man might come to see his favourite team in action. Alsa, that seems impossible, for doctors and specialists have told him that he will never walk again and that for the rest of his life he will be confined to his bed. How true it is that one half of us never know how the other half lives, but so far as Stan Eggleton is concerned he may get some pleasure from the fact that just as he so keenly follows Everton, so he has a warm corner. In the hearts of officials and players at Goodison Park.
EVERTON SAVE OUR SOCCER LAURELS
May 21, 1954. The Liverpool Daily Post
Copenhagen, Thursday
Alborg 1, Everton 4
Everton saved England's football laurels from being completely withered tonight when they best a reinforced Aalborg's team y 4-1. Huddersfield Town and Hull City, two other English League sides playing in Denmark this evening were beaten. Everton gave a good demonstration of English football and from the start they outplayed their opponents. Relaxing somewhat in the second half Everton were dominated for a short spell by the home side, but they returned to take command and were not flattered by the score. Wainwright opened the scoring after twenty minutes following a centre from Farrell. Eleven minutes later Parker scored with a hard long shot and within three minutes Fielding took advantage of a defensive error to put Everton three up. Aalborg scored their only goal five minutes before half time and Everton completed their tally in the thirtieth minute of the second half when Hickson scored with a long shot. Fielding and Parker were outstanding for Everton –Reuter
EVERTON WIN
May 21, 1954. The Liverpool Echo
Ranger's Notes
Everton won their first game in Denmark against an Allborg Combination side by 4-1, their scorers being Wainwright, Parker, Fielding and Hickson. Huddersfield Town and Hull City also playing in neighboring Danish towns last night, were both beaten.
PETER FARRELL'S LIFE STORY-MY FIRST BOOTS MY FIRST FOOTBALL
May 22, 1954. The Liverpool Echo
Last week I recalled how, with the encouragement and help of my mother, I managed, at the age of thirteen to win a scholarship which enabled me to continue my education, after the death of my father, without being a burden to my family. At that time the thought of earning my living as a professional footballer had now entered my head. Indeed had given little thought as to what I should do when the time came to begin work. Like most youngsters, I had alternated between all sorts of ideas, some of them pretty wildcat schemes, but so long as father was alive and the family was comfortably provided for I had shelved the problem. I was content to jag along, getting the maximum of happiness from my schoolboys, without bothering my head about what the future might hold. During the time I was studying, for this scholarship examination one of the masters seemed to take delight in continually reminding one, sometimes with the assistance of his swishing leather –which took the place of the crane which I'm told was more normal in English school –that my chances of success were so slender that they could almost be written off. This master was the exception to the rest, who were all kindly disposed towards me and gave me every possible assistance. He unfortunately was of the inherent domineering type which seems to lose proper perspective when dressed in the robes of authority, and for some reason or another he appeared to take an instinctive dislike to anybody who was willing to work really hard in order to ensure success. And though I say it myself I did really work hard, getting my nose down to the grindstone with determination I don't think I have ever labored so hard in my life since, certainly not so far as swofting is concerned.
Firm Reply
There were two reasons for this. The first and most compelling one was that I wanted to please my mother. I knew she had set her heart on my continuing at school until I was 11, and that even if I failed in this examination she would still want me to stay on, no matter what sacrifice it entailed. If it was humanly possible I meant to get through that examination so that she and my brother and sister would not have to skimp and save in order to meet my fees. But there was also a second reason. I felt I would give almost anything to prove this dominsering teacher wrong. This desire coupled with the wish to please my mother, kept me hard at it, with the result which I mentioned last week that I got through in 33rd place out of 500 competitors, and duly saw my name in the scholarship list. I was glad, also, for the sake of the school's reputation. As only nine lads from the Christian Brother's school had succeeded out of an entry of just over 50, I felt that I had done a bit for the school as well as for myself and my family.
Cocky
Naturally, I felt a bit "cocky" when the results came out and the master who had been so discouraging found his prophesy falsified. That, however, was nothing compared with the satisfaction I received a few years ago, when I was invited back to my old School to present the prizes at the annual sports. As I was ushered on to the platform to sit in the seat of honour I espied the teacher who had "put me through it" sitting among the rest of the staff. He at once stepped forward shook me by the hands and said how pleased he was to see that I was getting on so well at the football game. I have sometimes wished that what happened after had not been said, because possibly I was a little harsh, but at the time I could not resist the temptation to reply "Thank You Sir, I only wish you meant it!" I did not mean to be unkind and it is not my normal nature to harbor a grudge against anybody, no matter what they may have been guilty of, but I knew that his expression of pleasure was not sincere and somehow it seemed to rub me the wrong way. I would far rather he had said nothing at all.
First Boots
Lest anybody gets the impression that my schoolboys were unhappy, let me disabuse them of that impression right away. They were among the happiest and most care-free days of my life, once time had dulled the memory of the loss of my dear father, and this master of whom, I have written was the only one from whom I did not receive the utmost kindness, consideration and helpful assistance while I was in my early teens. Long before I went to the Christian Brothers school I had been keen on football. One of the proudest day of my early life was that on which I was presented by my parents with my first pair of football boots. At that time father was alive and so long as he was with us I never needed to ask for a new pair when the old ones began to get past their best. Father did his best to foster my love of football, and also endeavour both by example and by word of mouth to teach me the essentials of good sportsmanship and good manners, on and off the field of play. I'm afraid that I wore out my football boots pretty quickly for they were hardly off my feet out of school hours apart from the time when I was swotting for my examination. In later years when the only family income came from my elder brother Jim and sister Shelia, it was not always easy for my mother to keep me supplied with new ones, but she managed it somehow as mother so often do, no matter what other things had to be gone without. As far as I can remember, I would be about 10 years of age when I became the proud possessor of a football of my own. Father was alive at that time, but as I had not long previously had a new pair of football boots I felt I would like to show a little independence and secure my own ball without the help of my parents. About that time a firm of meat extract manufacturer had started a competition for youngsters. If you collected coupons from their products you could send up for various presents the value of which varied according to the number of coupons. I had obtained a pamphlet from our local grocer explaining the scheme and found that I collected 20 coupons I could get a size 3 football. At the rate at which we used this firm's products at home I reckoned it would take me too long before I could become the proud possessor of a ball of my own, so I canvassed all my relations in Dalkey and even wrote to those in Liverpool, enlisting their aid.
Parcel Past
A couple of school chums also offered to help and, to cut a long story short, within a very little time I was posting off the requisite 120 coupons on the form concerned. You can probably imagine the delight with which I tore open the wrapping of the brown paper parcel which arrived a few days later. As soon as I had shown the ball to mother –rather and the rest of the family had already gone to work when it arrived –I dashed along to the shoemaker around the corner, who kept a football pump on the premises and had it blown up. There wasn't a happier lad in the whole of Ireland that day when Peter Farrell. Around this time there were four schoolboy teams running in Dalkney, I played at inside left for one of them, known as Rangers, and well remember the day when I scored five goals in one match against St. Patrick's school. At the end of the season the Rangers came out top of the little schoolboys league in which these four teams took part and I was duly presented with my first football souvenir. It was a medal costing only 2s 6d but at that time it meant as much to me as a Wembley cup winner's medal does to those who are fortunate enough to get one. I have still got it and it will always remain one of my most treasured football mementoes. Incidentally I was captain of the Rangers and in that season in 20 schoolboy matches –most of them friendly games –I scored 31 goals from the inside left position.
Next week Peter Farrell will tell of his further progress in schools boy football and of an event which proved one of the main stepping stones of his career.
• Three pictures in the Echo; Peter (front, complete with teddy bear) with his sister Shelia and brother Jim all together in the family raintub
• A group of schoolboys at Harold House, Peter Farrell marked in centre
• Loretto Abbey, Dalkney which Peter Farrell attended until he was aged eight.
CHEERS FOR EVERTON AFTER WIN
May 24, 1954. The Liverpool Daily Post
Copenhagen, Sunday
Aarhus 0, Everton 1
Everton beat Aarhus by one goal to nil in an evenly matched game here today, after a goalless first half. Although the sides were well matched it was not particularly exciting play but about 4,500 spectators warmly cheered the visitors at the finish. Everton were much faster than the combined Aarhus team and much neater with their headwork. Consequently the visitors did most of the attacking in the first half. In the second half the Danes pressed hard and the Everton goalkeeper O'Neill brought off some good saves. The Danes gradually tired, however and Everton resumed their attacks. Everton took the lead following a scramble in front of the Aarhus goal and eighteen minutes in the second half Parker being the scorer. Parker was the most conspicuous player on the Everton side but Jones was also outstanding in the half back line. The spirit of the game on both sides was admirable. This was Everton's second win on the Danish tour, having beaten Aalborg 4-1 last Thursday –Reuter.
EVERTON WIN
May 24, 1954. The Liverpool Echo
Ranger's Notes
Everton registered the second win of their Danish tour by beating a combined Aarhus side 1-0, Parker being the scorer. The visitors were much the superior team and were warmly cheered at the finish. O'Neill Jones and Parker were the pick of the Everton team.
NEWS FROM EVERTON
May 26, 1954. The Liverpool Echo
Ranger's Notes
Peter Farrell writing from Denmark where Everton have now won their first two games, says that he was much impressed with the ground at Aalborg. The turf which was in perfect condition, was completely covered by grass in the best Wembley traditions. Our last game in Copenhagen looks like being a stiff test, for almost what is reckoned by the people here to be the best side in the country. Danish pitches and facilities for the players are well up to the best modern standards. Even on the local practice ground, on, which we did a spot of training the pavilion showers and general accommodation was top class. "It was explained to me before the Aalborg game that Danish referees do not hold with players not even the captain, appealing for or against decision. A player can be ordered off for protesting against a decision. Judging from some of the decisions in our games I am convinced it is a good law!"
Everton's Reserves Tour
Everton's Central League team leaves tonight for a short tour of Eire starting tomorrow with a game in Dublin against a powerful Leinster League team. The Irish side is built up around five Shamrock Rovers players who helped the famous Dublin club to win the League of Ireland championship title recently and include four Irish amateur internationals and three inter League players. The "babe" of the team is 17-years-old inside-right Noel Peyton who, in his first senior season with Shamrock Rovers has been already stamped as one of the brightest forward hopes of Eire. Two club mates alongside him, are centre forward Paddy Ambrose goal scorer in the League championship and an inter-league amateur international and outside-left Liam Tuahy, who was only brought into Rovers first team, half-way through last season, but proved a distinct success. Billy Giffney, Shamrock's right half, is one of the most improved Eire players of the past winter while centre-half Peter Carrick an amateur international is captain of Jacobs F.C. Amateur international goalkeeper Jim Farmer of Shelborne will be covered by full backs Gerry Mackey (Shamrock Rovers) and Fergus Crawford (St. Patrick athletic) the latter regarded as the full back "find" of the season. Left half Eddie Whelan and inside left Tommy Rowe helped Drumcondra to their Cup triumph last month.
EVERTON RESERVES WERE FORTUNATE
May 27, 1954. The Liverpool Daily Post
Leinster 1, Everton Reserves 2
Everton Reserves just scraped home 2-1 and were a bit fortunate to do so against Leinster League X1 in a drab match at Dalymouth Park, Dublin, last night. Only stars in the Everton side were goalkeeper Leyland, and powerfully built centre half Woods who blotted out a shot-shy Irish attack which had plenty of chances to win the game. For hands, against K. Birch, G. Mackey put the home side in front from the penalty kick after forty one minutes, but a minute before half time E. Thomas from a lob by M. Meagan, headed the equalizer. Meagan scored the winner nineteen after the interval from a pass by J. Harris.
HICKSON WAS STAR MAN
May 28, 1954. The Liverpool Daily Post
Hjoerring, Northern Jutland, Thursday
North Jutland 1, Everton 6
Everton beat a selected team from North Jutland 6-1 here today after leading 2-1 at half-time. In spite of the predominance's of Everton the game was very interesting and both teams were applauded by the crowd of about 5,000 comprising one third of the whole town. Everton scored their first goal in the fifteen minute through Potts but Hiberring equalized two minutes after one of the best moves of the match. Hickson made it 2-1 in the twenty-nineth minute after a centre from Eglington from the left wing.
Another For Potts
The third Everton goal was scored by Eglington in the fifth minute of the second half with a fine header. Potts scored his second goal two minutes later taking advantage of a temporary lapse in the Hjoering defence. The fifth goal was scored by Buckle with a long side in the fifteen minute of the half and the last by Lewis fifteen minutes before the end of the match, Lewis scored from a pass by Hickson, who was the best man of the Everton side. It was the a warmest day of the year with 75 degrees Fahrenheit in the shade, Everton will play their final match in Denmark in Copenhagen on Sunday –Reuter.
COPY-BOOK PLAY BY EVERTON RES
May 29, 1954. The Liverpool Daily Post
Waterford 2, Everton Res 2
The Waterford selected team forced a 2-2 draw with the Everton Central league team close on time at Kilcohan Park, Waterford last night. There was only a small attendance, but those present saw the Everton side play real copy-book football, and though never really at full pressure and in no way extended did not mar the enjoyment of the game by over elaboration. Everton outside right McNamara was the star of the match. A goal in the twenty-first minute by Vizard was disallowed for offside, but recompense came five minutes later, by Harris when he caught Dwyer out of his goal. After the interval Saunders added to the visitors lead and it was twenty minutes from that that Price reduced the arrears. In the last few minutes G. Hale the Waterford centre half, obtained the equalizer.
PETER FARRELL'S STORY –OFFER WHICH SET ME ON THE RIGHT ROAD
May 29, 1954. The Liverpool Echo
It was while I was playing with Dalkey Rangers, a school-boy side near Dublin, that I received an offer which, although of course I did not know it at the time, was to prove one of the main stepping stones of my future career, and eventually lead to my taking up football as a means of livelihood. I almost refused this offer, and sometimes wonder that my future would have been had I done so. It happened this way. One night I was at home, fulgurating burning the midnight oil over my school studies when there was a knock at the front door, and my mother, who had answered it, called out to say that a gentleman wished to see me. Immediately my mind went over my most recent "misdeeds" but as my conscience was pretty clear I was not unduly perturbed. All the same, as I went into the front room to meet him, I wondered what on earth he should want to see me about. Obviously he was not a native of Dalkey, for mother was acquainted with practically everyone in the place, and would have said who it was had side known him. The gentleman introduced himself as Mr. Christy Devlin, and told us he was secretary of Cabinteely United schoolboys team. Cabinteely a small village about four miles from Dalkey, and for some time been the proud possessors of a schoolboys side which was reckoned to be one of the best in the neighborhood. Mr. Devlin soon came to the object of his visit. He told me he had heard about my form with Dalkey Rangers and had also seen me himself on a couple of occasions and that he would like me to sign for Cabinteely. This was a bit of a problem for me, for I was torn between two desires, I wanted to remain with Dalkey Rangers, among whom were all my closest friends but to be asked to sign for Cabinteely was certainly a step up the ladder. My mother who had listened to all that had been said without expressing her own opinion now asked certain questions of Mr. Devlin. The answers to these must have satisfied her just as much as they did me, for when Mr. Devlin finally said; "Well what about it?" my mother gave me a cue when she just smiled and nodded her head, if she was satisfied than so was I.
Happy Youngsters
The forms were produced and completed and I went to bed, that night dreams that all schoolboys footballers have –of turning out in my first game for Cabinteely and scoring a brilliant winning goal in the last few minutes to e surrounded by enthusiastic colleagues and cheered by the assembled "multitude" Believe it or not that was how it turned out too! I never regretted for one moment having thrown in my lot with Mr. Devlin's team, and I cannot pay too high a tribute to the wonderful work this very humble man –he was only an ordinary working man, earning his living as a grave digger –did for all the boys in his team. Neither must I forget Mrs Devlin for she worked just as hard and equally as self-sacrificing. Mrs. Devlin washed and froned all our kit after every game, often when we boys did not think such labour was necessary, and saw to it that we turned out spick and span every time. Furthermore as our home games each alternate week were usually on a Sunday morning, those of us who did not live in Cabinteely itself were always entertained to dinner in the Devlin household with the rest of the family. Naturally at the age we were then, the boys who received such willing hospitably never gave a thought to what it cost the Devlins, who were bringing up their own family on a very modest wage, but I have pondered on it many times since I became a married man myself and realized more keenly the problems of housekeeping. The Devlins must have denied themselves of many a possible little luxury in order to look after the Cabinteely players as they did. On top of feeling several hungry youngsters so often, Mr. Devlin frequently took the whole lot of us on Sunday afternoons to watch Bray Unknowns a League of Ireland side, whose ground was some six miles or so from Cabinteely. As he insisted on paying our bus fares and admission fee to the ground, it must have made a big hole in his spare cash. The only return he and his good wife got from all this was the undoubted pleasure it gave them to have so many happy youngsters around them. I am sorry to say that Mr. Devlin died about six months ago. He followed my career extremely closely when I turned professional for Shamrock Rovers and also since I have been at Everton. It was a great blow to me that he did not live to see Everton win promotion. It would have pleased him almost as it did me, for he took a great pride in the career of all his "boys" whether in football or any other walk of life. There are many such great hearted folk scattered about this country men and women who think nothing of personal sacrifice when it comes to helping youngsters like I was then, to make their way in the world. I valued the help of Chris Devlin all the more because of the loss of my own father. To a large extent he helped to fill the void which had been left in my life and I can never be too grateful for all he did for me.
Dream Came True!
I well remember my first game for Cabinteely, which was against a team called Grace Park, who were reckoned very stiff opposition. I felt a little nervous at the start for there was a crowd of about 400 people present, which was my biggest "audience" so far. It seemed to me then to be quite a vast congregation. It was also the first occasion I had played on a ground which had the luxury of nets attached to the goalposts, I felt almost aristocratic. You can imagine the satisfaction I experienced when I saw that not bulge out at the back after I had fired in a shot ten minutes from the end which gave Cabinteely a victory. My dream had come true after all –which is more than some others of later years have done. The only disappointment I had on this occasion was that there was no enclosed dressing accommodation; I had visualized some kind of shed or other to afford protection for our clothes while we were playing.
Nature's Pavilion
However, nature proved our "Pavilion" by means of a hugh tree with thickly covered branches at the back of one of the goals, and here we deposited our clothes while the game was in progress with the precaution of leaving our valuables, which rarely exceeded a shilling or so, with our tried and trusted friend and secretary. As already mentioned our Cabinteely games were all played on Sunday. It was generally a very busy week-end for me, as I turned out each Saturday for the School Gaelic team, in these early days my position on the soccer field was always as an attacker in either of the inside forward positions, whereas in the school Gaelic team I was always a defender. I think this double role was a good idea as it helped to increase my versatility and assisted in my apprenticeship for the wing-half position I now occupy which of course, calls for so much attacking as defending. These Gaelic school games also recall very pleasant memories. They were played on much better grounds than our soccer one at Cabinteely. We also had a well equipped pavilion with showers &c, on our school sports ground at Dun Laoghaire. Furthermore after every away game we were treated to tea by the powers that be. Although usually consisting of tea, bread and butter and cakes this simple meal in those days seemed quite a party.
Special Study
Around this time of my life came the usual clash that confronts every student who is fond of outdoor games. What with my Gaelic and soccer at week-ends as well as practice matches during the week, my master at last informed me that I was not devoting sufficient time to my books, either at school or at home. It was a terrible blow when a new rule was introduced whereby we were brought back every afternoon for special study in an effort to improve the prestige of the school in forthcoming examinations. Although I was inside presumably working hard at my desk, my heart, I am afraid was more frequently out of doors on the football field. Needless to say when afternoon work finished at 4.30 I hastened to the local football pitch and endeavoured to make up for lost time with my other schoolmates and got down to practicing football at every possible opportunity. I think I worked as hard as trying to make myself a better footballer than I did at my studies. It was certainly a more pleasant method of "work" than swotting, though I struck very closely to my school work for I was still anxious to do well at school for the sake of my mother, who as I mentioned in a previous article had set such store by my remaining on at my studies.
Next week Peter Farrell will tell of how he was first approached by Shamrock Rovers the club for which he first turned professional and from whom eight years ago he was obtained by Everton.
EVERTON END TOUR-MAKE IT 4 OUT OF 4
May 31, 1954. The Liverpool Daily Post
Copenhagen, Sunday
Copenhagen 1, Everton 4
Everton completed their tour undefeated here today with a 4-1 win over a Copenhagen eleven that was practically a Danish national side. Playing splendid football, Everton redeemed the poor reputation gained by recent English sides touring Denmark and it was the Goodison Park side's fourth victory out of four games they have played on the tour. Everton looked a formidable side, and after sharing two goals in the first half, they quite outplayed the Danes.
Eglington Stood Out
The Danish side took the lead after 20 minutes but Hickson equalized five minutes before half-time. Everton's victory was essentially a reward for teamwork, but if there was a man who stood out he was left winger Eglington, who gave one of the best wing displays Danish football has seen. A 20,000 crowd saw Wainwright put Everton in the lead with a neat header in the 55th minute. The Danish centre half Andersen diverted an Eglington shot into his own net, after seventy minutes and five minutes later Lello got Everton's fourth from a free kick. Reuter.
EVERTON'S £21,374 PROFIT
May 31, 1954. The Liverpool Echo
Ranger's Notes
Goodison Club's Balance Sheet Discloses strong Position
Everton's success on the playing field is reflected in the balance-sheet for last season which shows a tremendous increase in receipts over any previous year and a gratifying profit of £21,374 on the season working compared with a loss of £2,296 the previous year. Although it has long been obvious that the balance-sheet was going to be an extremely healthy one the increase in support has exceeded even the most optimistic estimate. The gross gate receipts from league games are up by as less than £30,770 on the previous year which is a tremendous jump. They are also up by something like £37,000 compared with the last season the club was in the First Division, though it must be borne in mind that admission prices have increased slightly since then. The profit, however is not a record. In 1947-48 season the club had a surplus of £25,780 on a gross gate income of £11,413 and in 1945-46 there was a profit of £21,557. The following are the main items of income with the corresponding figure for the previous season in brackets.
Gross League gate receipts £100,377 (£69,907)
Receipts from cup-ties, £20, 510 (£28,116)
Percentages from other League clubs £7,587 (£5,402)
Sale of season tickets 8,244 (£8,113)
This gives a total gross income of £137,019 from all matches which is a club record, against £111,539 last season. On top of that £12,550 was received in transfer fees, against £975 the previous year. Though no players' names appear in the balance sheet in relation to transfer, the bulk of this item obviously relates to the transfer of George Cummins to Luton Town, who was the only player of note to leave the club last winter. With the addition of £1,985 (£1,260) from the programme and one minor item, the gross total of the season's income from all sources reached £151,561.
Expenditure Items
One the expenditure side the main items with last season's corresponding figures in brackets are;-
Players wages and bonuses £24,742 (£24,920)
Players benefits £7,325 (£2,723)
Transfer fees Nil (£505)
Gate division to visitors £12,275 (£10,381)
Gate percentages to league &tc, £7,543 (£7,705)
Visitors share of cup-ties £4,743 (£5,594)
Travelling and match expenses £10,395 (£12,807)
Gates expenses £3,732 (£3,510)
Training expenses £4,178 (£4,160)
Ground expenses and maintences £6,945 (£7,459)
Rates and water £3,955 (£3,795)
Entertainment tax £25,318 (£19,459)
Office expenses £5,551 (£4,840)
Bonuses £4,319 (nil)
No details are given in the balance sheet regarding the last item, which presumably includes payments to stipendiary officials and office staff in recognition of winning promotion. It may also include the £1,000 gift to Ted Sagar and the £750 to head groundsman Ted Storey. One presumes that talent bonuses to players are included in the normal players wages and bonus, though they may come under the last named item on the list above.
Over drafted Wiped Out
The profit and loss account for the year shows that £27,732 was brought forward 12 months ago, and this, plus the profit of £21,374 income from properties of £910 and a war damage claim of £1,307 gives a total of £51,323. After allowing depreciation (£1,469) dividend at 7 ½ per cent (£80) and provision for taxation (£6,650) there is a balance of £43,123 to carry forward to next year. Twelve months ago Everton had an overdraft of £19=8,637. This has now been wiped out, and in its place is a credit item with the bank of £5,658 under current assets.
No Election Contests
Under the heading "Property and assets" the freehold land property belonging to the club are given as £53,139 and stands and reactions at Goodison are £9,685 the latter an extremely small figure due to successes and deductions for depreciation. The annual meeting of the shareholders is at the Central Hall Redshaw street on Wednesday June 23 (seven O'clock) Messrs C.E Baimforth messrs Coffey and T.C. Nuttall will be re-elected to the board. This is the second year in which there has been no directorial election at the annual meeting.
THEIR FOURTH WIN
May 31, 1954. The Liverpool Echo
Ranger's Notes
While on the subject of Everton affairs a word of thanks is due to the playing staff for doing a bit towards restoring the reputation of English football abroad. Yesterday the Blues won 4-1 against a combined Copenhagen team which to all intents and purposes was as near a Danish international side as made no difference. This made a return four victories in four matches for the Everton lads, with a total goal average of 15 to 3 against. After the disappointing show of many touring sides in Denmark and elsewhere it is good to see Everton victorious all long the line. All the Everton players who have been on tour of Denmark have been most impressed by the high standard of the appointment at the grounds where they have played. According to a letter from Peter Farrell, these have to be seen to be believed. At Aarhus he says the stadium was an education in itself. With its massive entrance resembling that of a palace, and a wonderful hall. This enormous hall is used for many different forms of sports including indoor football and P.T . You can imagine our surprise when, prior to the game, we had the entire opposing team limbering up for more than 10 minutes. Yet these Danes certainly take their sport seriously. "The grounds outside of the stadium are covered by trees and plantation as far as the eye can see, and adjoin it is a course, where we were received as guests after the game , so that in one day we had the unusual experience of playing football at 1.30 on Sunday and watching a race meeting at 4'o'clock. Eddie Wainwright who presented with a beautiful silver spoon after the Aarhus game by the Danish supports for being the best visiting player on the field. Hickson was the outstanding man of the third game and while yesterday that went to Eglington who give the best display of speedy winger play. The scorers in yesterdays match were Hickson, Wainwright, Lello and Andersen own goal who diverted an Eglington shot into his own goal. Everton's scoring record for the four matches were Hickson (3), Wainwright, Parker, Potts (2 each), Lello, Eglington, Fielding, Buckle, and Lewis (1 each). And an Anderson own goal.