LOST HOME RECORD AND HICKSON
November 2, 1953. The Liverpool Daily Post
Everton 1, Leicester City 2
By Stork
Is it possible to play too much good football? After watching Everton lose their home record to Leicester City, I say yes. The whole substance of football is goals, and if you make openings and then miss them it is so much wasted effort. One naturally expected good football from two such teams as the City, leaders and Everton stationed close at hand. We got an abundance of high class soccer enjoyable but missing the vital factor goals. Leicester with 50 per cent less of the attack, were definitely the more dangerous looking side in the first half, for so much of Everton's excellent combination fell down at the crucial moment –the moment it came to beating the goalkeeper. True, the ball did not run too kindly for them at times. More than once it was sheer good luck that the Leicester goal did not fall but against bad luck were occasions when the goal was there foe City goalkeeper Anderson, a lad of twenty-two years, was in a measure responsible for Everton not taking an early lead, but a greater reason was the hesitant shooting of some of the Everton forwards, Parker in particular. He should have had a goal in each half, but on each occasion put the ball tamely to Anderson's hands. And what a grand pair of hands. They never failed him. When he was carried off ten minutes before the end with a broken nose he received an ovation –fitting reward for his fine goalkeeping.
Persistent Hammering
Anderson never made a mistake though Everton hammering away persistently almost throughout. The ultimate score was not a true reflection of the play. The City owe a debt of gratitude to Anderson, one of the most confident goalkeepers we have seen. He saved shots from parker, Hickson, Fielding, Eglington and Buckle and was only beaten by a really great goal. Morris had scored at the 25th minute when Leyland pulled down a centre from the right and allowed the ball to drop at the feet of Morris, who slashed it into the net. Everton have suffered from goalkeeping errors all too often this season. It is undoubtedly one of their great worries Leicester fought tooth and nail to hold that lead and did so until the 65th minute when a beautiful move by Everton cut the City defence to ribbons. Everton had been on top for some considerable time when Parker slipped a square pass to Fielding who drew the defence before pushing the ball ahead of Eglington so that he could run on to it. His trusty left foot delievened a shot which not even an Anderson could cope with. The game was open once again with the odds on Everton, but the City defence defied all comers and with six minutes to go, Farrell lost the ball to Rowley, whose centre was guilded home by Hines' head. Then we had the unsavory sight of Dave Hickson being ordered off after an incident near the Leicester goal. The referee had occasion to speak to the Everton centre forward who presumably answered back. An unpleasant ending to an interesting game.
AN EVERTON PROBLEM
November 2, 1953. The Liverpool Echo
Goalkeeping Lapses This Season Have Cost Vital Points
Ranger's Notes
The last line of defence in every team is the most vital of all, and any shakiness there demands a quick remedy. Others may make mistakes and get away with them, but the poor goalkeeping except when a colleague saves him, usually finds his errors expensive to his side. It has been so with Everton this season. A goalkeeping slip cost them a point against Notts Forest in the opening match, and led to O'Neill being dropped. Leyland shaped well, until the Plymouth game. Though that would probably have been lost in any case –and paid for it by temporary banishment. O'Neill recalled for the next fixture and not surprisingly rather nervy again had bad luck which cost a point against Swansea. So back comes Leyland, to find the hoodoo on him against Leicester with the only really difficult ball he had all day. So bang went another point and the Blues unbeaten home record. Don't think I'm criticizing either goalkeeper too severely. They have each played brilliantly on many occasions, but both being human make occasional errors. The goalkeeper who never did that hasn't yet been born. Unfortunately, too much chopping and changing doesn't instill confidence. One can imagine O'Neill feelings on his recall and his eagerness not to let the side down. The possible psychological damage does to his confidence by his early banishment and then a second one is something we can only guess. With Sagar now in another line of "business" and Caldwell and Dunlop –both very inexperienced in any case –in the Forces, Everton's next on tap in the goalkeeping line are more 18-years-old lads of even less experience, in part-timer Peter Fairclough and amateur Alan Sloan. I hope both O'Neill and Leyland will get over their recent ill-luck and prove as I feel they can that they are in the top flight. If not then Everton have to consider going into the market if they are not to see further vital points slip away.
No Luck This Time
Earlier this season the luck and the run of the ball went Everton's way. Latterly the tide has turned. They should have won by a good margin against Leicester, for they had most of the play, particularly in the second half, and produced considerably more shots than the visitors. But nothing went right for then. It was not so much that Everton finished badly, despite some gifts going begging as that Leicester's goal bore a charmed life. At one period Everton had four likely scoring shots charged down and three others saved brilliantly by Anderson, all in the course of a few minutes. It was enough to break the heart of any attack, yet Everton kept pegging away. Parker had almost snatched a goal very early on and then found himself debited in a free kick when it looked like a penalty the other way. Had Everton taken the lead then I think they would have won handsomely for the Leicester defence was inclined to be a little "windy" at times. Instead of being ahead, Leyland's failure to deal properly with a high shot from the wing let in Morris for an easy goal and there were Everton right on the collar against a side which tackled with grim resolution, speed and vigour, Parker missed a sitter when a simple tap would have done the trick, and though Everton shot often and usually fairly accurately Anderson barred the way time and again. Anderson indeed, was the hero of the day. He saved at least four shots which would have beaten most goalkeepers. When taken off on a stretcher with concussion and a nose injury five minutes from the end he had thoroughly earned the ovation the crowd gave him Leicester's manager, Norman Bullock tells me today that the X-ray photo has disclosed a comminuted fracture and depression of the nasal organ. It is impossible to say at the moment when he will be fit to play again. Before this happened Eglington had put Everton level with a great shot from a canny Fielding pass at the 65th minute only for Hines to give Leicester the lead again six minutes from the end of normal time. Actually, four minutes extra were played on account of stoppages. Although it had been a pulsating and exciting struggle all through what had gone before paled almost into insignificance compared with the dramatic closing stages, which culminated in Hickson being sent off.
Hickson Too Impulsive
While admiring Hickson's great fighting spirit and determination by sometimes allows eagerness to outrun discretion. He got away with some doubtful demonstrations against the referee the referee at Plymouth. On Saturday he found an official who, through he made some mistakes –it was a glaring one which called forth Hickson's protest –was determined not to overlook the remark the Everton man made. I'm not altogether blaming Hickson. I'm a bit impulsive myself under stress. But Davie sails very close to the wind at times. If this dismissal tempers him down a trifle it may not be without ultimate profit. Taking things all round, Everton did enough to satisfy in most respects bar Leyfield's lapse Parker retrieved his misses to some extent. Fielding and Lello had a grand day, Buckle was steady and Eglington shone in the later stages when Baldwin was handicapped by injury. Jones never let Hines out of his tight grasp, and Lindsay also did well without being as outstanding as he sometimes is. Hickson's courage and persistence was notable enabling him to turn many half-chances into what might have been goals against a less reliable defence. The highest award of all, however goes to Anderson, a brilliant and courageous custodian. Several goalkeepers have distinguished themselves at Goodison this season, but none has done better than this 22-years-old Scot Gillies was the backbone of the Leicester's intermediate line, with Baldwin a grand worker until his injury. Rowley did excellent work, not the least being his fine efforts as a deputy goalkeeper.
BLUES' DOUBLE BID
November 3, 1953. The Liverpool Echo
Ranger's Notes
Everton go to the Potteries with a doubt-object. Apart from trying for their first post-war victory at Stoke, they will also be attempting to score a goal for the first time in four visits to the Victoria ground. Stoke are not finding things too easy in the Second Division and are troubled by lack of punch in attack. Of their eight home games three have been won and the other five drawn. If the luck runs Everton's way the cipher in the Potters "Ted" column may go west. This will be the Blues first encounter with Kenny Thomson, Stoke's Scottish centre half, whom they signed from Aberdeen at a big fee just over a year ago. In the opinion of many people he is a likely Scottish international of the future. Judging from Stoke's performance this season the Everton rearguard shot not have undue trouble in checking the home forwards and if the visitors shoot as strongly and as often as they did against Leicester, they stand a good chance. It would be just too bad if they find the Stoke goalkeeper in the same brilliant form that Anderson displayed last week and thus be foiled again. I hope that Jimmy O'Neill restored to the Everton goal, gives of his best and makes no mistakes. Goalkeeping errors have already cost Everton dearly. O'Neill need have no fear if his tackles his task with confidence and the skill that he has shown so often before. The absence of Wally Fielding is rather a blow for he has been the schemer of the attack this season and had a big share to welding it together into a fine striking force. Wainwright however if not quite the same type of player, has speed and penetration and will not let the side down. Now he has got back into the first team he will be keen to show that he has lost none of his former ability. Stoke will not decide their forward line until tomorrow, when they will see how Bowyer comes through a fitness test. If he is not able to play, the side will be the same as last week. Stoke City; Robertson; Bourne, McCue; Mountford, Thomson, Martin; Martin, Bowyer, or Siddall, Finney, King, Oscroft. Everton; O'Neill; Donovan, Lindsay; Farrell, Jones, Lello; Buckle, Wainwright, Hickson, Parker, Eglington.
CUSTOM STALES
November 7, 1953. The Liverpool Daily Post
Everton's need, again, is to regain their poise and balance after aggravating defeat. At Stoke they face a difficult test because Stoke are among the more useful of Division 2 sides and because the custom post-war has been for Stoke to win this fixture. Everton have never won at Victoria ground since the war and their past four visit to the ground have not produced so much as a goal. The absence from the attack, of Fielding is a great blow, but if Wainwright touches his best form the attack should not suffer so much from lack of prompting by Fielding. O'Neill make his return in goal and one can only hope that the series of goalkeeping mistakes, beginning in the first game of the season, will not be "continued in our next." I maintain that the Stoke forward who does so much damage so quietly is Bower –a man unsung among football critics, but one who is continually getting goals. Out of the team for some weeks through injury his return today is good for his side and unfortunate for Everton. Yet Everton have shown, more than once pretensions to class. What they need on these occasions is finishing of a more practical nature. Stoke City; Robertson; Bourne, McCue; Mountford, Thomson, Martin; Martin, Bowyer, or Siddall, Finney, King, Oscroft. Everton; O'Neill; Donovan, Lindsay; Farrell, Jones, Lello; Buckle, Wainwright, Hickson, Parker, Eglington.
EVERTON SCRAPE THROUGH IN ROUGHT-AND-TUMBLE WITH GAME STOKE SIDE
November 7, 1953. The Liverpool Football Echo
Stoke City 2, Everton 4
By Contact
Although Stoke had two passengers for three-parts of the game they made Everton fight like demons. Hickson got three very good goals and a tremendous volume of barracking from the crowd. It was a rough and tempestuous match not very well controlled, and Everton can consider themselves fortunate to have come out of it with a valuable away victory and no serious casualties. Wainwright fitted in well, indeed the Everton team as a whole played well against some formidable tackling. Yet one could not help praising Stoke for their refusal to lie down when so severely handicapped by the damage to Bourne and Mountford. Stoke City; Robertson, goal; Bourne and McCue, backs; Mountford, Thomson, and Martin, half-backs; Malkin, Bowyer, Finney, King and Oscroft, forwards. Everton; O'Neill, goal; Donovan, and Lindsay, backs; Farrell (captain), Jones and Lello, half-backs; Buckle, Wainwright, Hickson, Parker, and Eglington, forwards. Referee; Mr. H. Jackson (Leeds). Everton played Wainwright in place of the injured Fielding, and O'Neill returned to goal. Mr. Jackson quite sensibly ordered a white ball to be used from the beginning. The going was treacherous. Everton went ahead in three minutes, Farrell found Parker who had gone to outside left, and Parker's centre was turned squarely by Buckle to the scorer, Dave Hickson. His shot was a beauty, right foot and of such pace that it always had Rotherham beaten. Lello, coming upfield to join Everton's next attack, all but made it 2-0. Robertson went to his big shot, but did not reach it as it flashed inches wide of an upright. Hickson, with a characteristically strong left wing surge, produced a centre which was crowded out, and then Bowyer, in a Stoke side which was reviving, produced a lob shot which O'Neill got over the bar only with difficulty. Buckle, who had a knock, and Wainwright was playing well, had a mind to change places but Farrell signaled no and then Finney refused to be beaten on the left wing by Donovan and rather than let the ball go for a corner crossed it so that Bowyer could nod a perfect goal. This came at 19 minutes. Stoke, who seemed haphazard in most things, were at least playing with tremendous verve and a skidding low shot by Bowyer needed careful watching. The game, which had begun keenly, now developed on the wrong lines and it was while Mountford lay injured after a clash with Hickson that Parker hooked the ball home at 30 minutes for Everton's second to crown a long period of pressure. The referee consulted a linesman while Mountford was attended to, and by this time Hickson was being booed every time he touched the ball. They were booing as Eglington crossed a low centre at 35 minutes and the Stoke defence allowed it to pass right across the face of the goal to where Hickson, with steady aim, took an easy chance effectively. The game restarted with right half back Mountford limping at outside left and full back Bourne hobbling at outside right so Stoke were really highly disorganized. Nevertheless the lively Oscroft drawing a very long bow from the centre of the field had O'Neill fumbling.
Half-time; Stoke 1, Everton 3
The injured Bourne began this half at centre forward with Mountford also injured at outside left. Hickson was so mild mannered and Everton were so content to sit on their lead in the early minutes of the second half that one was prepared for some sort of Stoke rally and when it came it brought not only one goal, but nearly two. First at 49 minutes Malkin put Finney in with a centring chance at outside right and the centre forward's low centre, deflected in flight, sped right across goal to where Bourne picked it up and tapped it across the line to narrow the goal gap. Within seconds, Bowyer, measuring his shot beautifully, hit a glorious drive just inside the post, and only a superb piece of work by O'Neill got the ball round the post. Ever alive for the snap chance, Buckle took possession in the centre circle and chugged up through the mud with practically 20 other players in pursuit, and then, with only Robertson in front did not angle his shot sufficiently and struck the goalkeeper. The light went worse and worse, and although the crowd had now ceased to barrack, Hickson they found a new mark in Parker. Indeed the game became something of a procession of free kicks, many of them against Everton. It was as well for them that Lello and Jones stood firm in face of some brilliant, if ragged attacking by a Stoke team which, whatever its other failings did not lack the will to win when tremendously handicapped.
Light Bad
Some of their football too was good and only a gallant excursion by O'Neill to Borne prevented an equalizer. Both players were hurt as they clashed and both needed treatment. Both resumed. By this time the light was very bad, but the riotousness of the match was maintained and showed no signs of abating. A breeze cleared the smurk and the players and the game became three-dimensional again. Thomson now had Hickson measured, but once Stoke's tremendous efforts began to peter out. Everton came more and more into the picture. It needed superhuman efforts by Stoke, with their semi-passengers to bring about the desired third goal. Yet they were within cigarette paper thickness of getting number three when, after Malkin had got the ball across at the second attempt, Bowyer hit a first-rate snap shot just over the crossbar. Lello was having a good innings. Hickson's and Everton's fourth goal was a brilliant piece of chance taking and, as one might have expected, it led to a scene. Thomson and Hickson each went for a fast ball down the middle and Hickson hooked it away from the big fellow and tore off to take the ball straight to goal and plant it wide of Robertson. By this time Thomson had recovered and he and the scorer went down in a heap. While Hickson was receiving congratulations as he sat on the ground he and the centre half exchanged more than words. The goal came at 75 minutes. A foul by Hickson on the right wing had the crowd roaring again and before the free kick was taking the referee spoke to him. Final; Stoke City 2, Everton 4.
DEAN'S ADVICE TO DAVID
November 9, 1953. The Liverpool Daily Post
Dean's Advice To David
By Leslie Edwards
The one, the only William Ralph Dean called last week en route to Aintree, at Goodison Park, scene of his finest hour. To most of the players there he was just a great name come to life, perhaps even larger than life. The boy from Ellesmere Port, David Hickson whom "Dixie" trained as an Army cadet had words with the finest header of as ball the game has known. Then Dean shot the question; "Sent off last week, weren't you? Why?" For arguing with the referee Mr. Dean," answered Hickson. "I'll cure you of that" said Dean." Get married; hen you won't have the chance to argue with anyone." Too early for David to take that advice in full, but he has acted on part of it. He's not arguing with referees, or full backs, or half backs. Yet he is making their life, on the field I misery, if he will forget for all time, the tempestuous things he is liable to do on the spur of the moment he may yet get the cap for which his recent play makes him fitted. You may not like his bustling methods but you cannot but admire enthusiasm, has new-found ability to take chances –some hard training behind this –and his enthusiasm. In this latest match, at Stoke, one could not help feeling that although the crowd disliked his riotous robustness they had more than a sneaking admiration for the way he took his three chances. Had he not played so well the police who line the touchline immediately before the final whistle is blown might have had to rescue him from fans so incensed as to jeer and boo every time the ball was at his feet. Fortunately the further the game went, the milder it became. Hickson was no entirely blameless in this tough fast battle in thick Potteries smurk nor was Referee Jackson of Leeds. He let things get more than a little out of hand and then, when everything Everton did was "wrong" allowed Stoke City to use almost go-as-you-please tactics.
Hard and Well Won Points
Everton were worth their 4-2 victory, but they will not have to play harder for points. Remembering that both Bourne and Mountford were passengers for three-parts of the game this score suggests (as was the case) that Stoke put up a magnificent performance to stay within two goals of their opponents. It was their first home defeat this season and handicapped almost completely out of a winning chance they did superlatively to recover from 3-1 down and all but equalize before Hickson's third, and Everton's fourth goal finally quenched the flame of their endeavour. Had the match been played normally there is no doubt that Everton would have won more readily. For ten minutes they were so much on top that Stoke, it seemed, had no chance at all. It was during this spell that Hickson smashed home a lovely shot, from a Parker pass, for the lead, Stoke equalizer with a glorious Finney-Bowyer move concluded by a nod by Bowyer from the other's left wing centre. Parker made it 2-1 with a clever hook and while Mountford lay injured, after a clash with Hickson, Hickson got his toe well down and his weight well over the ball to convert a difficult chance. His clashes from that point with the giant Scott, Thomson (a contender for a cap) were always things of friction. When Hickson rounded Thomson and bounced on the ball like a tiger, to score the third of his goals he was tackled, as he shot, by the Stoke centre-half and more tangible things than words were exchanged as they sat on the ground. Good to see them share a handshake as they came off. Neither pulled their punches in a duel which mostly went Hickson's way. Hickson's three goals came opportunely because he is so unselfish he rarely gets the reward he deserved. He will score many more goals if he continues to keep himself poised and takes care of his natural impetuosity. Stoke, with Oscroft always a great nuisance –his speed with the ball was something a bit too much for the slick moving Donovan – and Bowyer and Finney, splendid forwards, produced tremendous energy and ability to remain in the game with a chance and until Everton went two goals ahead, there was more than slight chances of them performing the football miracle. At two critical moments O'Neill the man currently in possession of the Everton goalkeeping job excelled. He made a superb save from a Bowyer shot, so measured and fierce it seemed all the pots in stoke on it finding the inside of the post and then the back of the net. His second medal O'Neill earned when leaving his line and finishing in a heap with the potential scorer Bourne, who had limped his way to a good goal via Finney a outside right, not long before. The cute policy of playing an injured man at centre forward bore fruit, as it did when Laurie Hughes went there two seasons ago and one wonders why any team should ask a passenger to take a wing position the essence of which is that he should be able to move with reasonable speed. An ordinarily intelligent player, despite injury, should be able to pay his wal reasonably in the centre, even though he may act in a circle of twenty yards circumstances.
Won Part of the Initiative
Wainwright, I thought had a very good match and so did Eglington. Indeed there was nothing wrong with Everton, in any department, save the tendency, when they led 3-1 and the crowd's displeasure was at its worst, to seem to want to play the game without further embarrassment to themselves or to their opponents. Stoke seized on this weakness to take a good part of the initiative and until Hickson with his brilliant third, clinched things Everton left themselves too open to the possibility of a draw. This, after their all-round supremacy, would have been as aggravating as Leicester's last minute goal the previous week. Of the defence Lello (very strong and sure of the ball) and Jones (immaculately gentlemanly and fair) were excellent. Lindsay with a goal-line header from O'Neill's half-cleared centre and a lot of other heady work was first rate, too.
Postscripts; Manager Cliff Britton's contract which is due for renewal is likely to get it at the club's next board meeting.
EVERTON MANAGER
November 9, 1953. The Liverpool Echo
Ranger's Notes
Everton board some time ago decided to renew Mr. Cliff Britton's contract for a further period of years, on terms harmoniously arranged between both sides, but until the agreement has been drawn up by the club's solicitors and completed by the interested parties, there will be no official announcement. Mr. Ernest Green, Everton's chairman informed me again to-day as he has done on several previous occasions that until the agreement is signed and sealed no statement can be made.
TOP CLASS
November 9, 1953. The Liverpool Echo
By Contact
Dave Hickson, one o the most unselfish players in the Football League scored three grand goals for Everton at Stoke, and continuing this sort of form will soon have the selectors taking notice. Hickson has usually been very impetuous with easy chances, here in a 4-2 Everton win which brought about Stoke's first defeat at home this season he shot the ball home coolly and with devastating direction and speed. The first was a cannonade of a shot from a pass by Parker than at outside left the second was a difficult ball, well driven pass Robinson and the third, probably the most spectacular of then came after Hickson had won a battle against the big Scot Thomson and had rounded his man quickly before choosing his spot cleverly. The match was not only eventful for Hickson for his three goals but for his almost constant barracking by the crowd. Following his clash with Mountford the Stoke people never failed to raise a jeer or a storm of booing every time the ball went anywhere near the Everton centre forward. Had the match been better controlled both sides would have been better pleased. Once Everton got on the wrong side of the crowd, too –many decisions went against them, and too few against Stoke.
Damaged Players
Considering that Stoke had only nine sound men for three-parts of the game –Borne and Mountford were the damaged players –Stoke did wonderfully well to reach 3-2 and very nearly 3-3. The issue was always in doubt until the last of Hickson's goals not long before the end. Everton again seemed to slack up when they appeared to have the match won. Their confidence was shaken by a Stoke side which fought with courage and ability, mainly through Finney and Bowyer and which was within sight more than once of getting a draw. Measured in terms of football Everton were always the better. Stoke were full of fire and enthusiasm but had not the close-linked Combination of their opponents. Wainwright had a good match and Hickson was outstanding. Jones and Lello, when Stoke were most menacing kept their heads and their feet and saved some critical situations; so did Lindsay when he headed from the line after O'Neill had only half punched away. O'Neill earned his bonus when he saved from Bourne by leaving goal and crowding the injured-shooter, and again when he made a stunning save from a great shot by Bowyer. Bowyer and Bourne got Stoke's goals. Everton will not often have to fight as hard for points. This latest away victory puts them into the promotion race with unmistakable chances. Their main weakness may be that they ease up too readily. There are plenty of bad side in Division 2, but few sides in this football know when they are beaten.
EVERTON'S MANAGER?
November 11, 1953. The Liverpool Echo
Ranger's Notes
Everton's long awaited statement regarding the renewal of their agreement with Mr. Cliff Britton whose original terms of five years recently expired could not be more brief. This is it;-
"The board have agreed to re-engaged Mr. Cliff Britton for a further period of five years."
This ends speculation regarding the period of the agreement, the individual clauses of which have been under consideration by the directors, for some time and makes clear that Mr. Britton has the confidence of the board. Unofficially I understand that his salary has been increased.
HICKSON, OF EVERTON, SUSPENDED
November 13, 1953. The Liverpool Daily Post
By Leslie Edwards
The Football Association Disciplinary Committee which met this week dealt with no fewer than eighteen cases of misconduct, either by players, officials, or spectators. Dave Hickson, the Everton centre-forward, suspended for seven days from next Monday, November 16. He was sent off the field in the match against Leicester City at Goodison Park on October 31.
FULHAM IMPROVING
November 13, 1953. The Liverpool Echo
Ranger's Notes
Everton have a chance tomorrow when Fulham are the visitors to Goodison of further improving their challenging position in the table. Both Everton and Fulham will be unchanged from last week. Fielding failed to pass a fitness test, so that Wainwright had an opportunity to show the home folk whether he is back to the form which made him so dangerous a forward a few years back. Fielding's generalship and service of passes have been a big factor in Everton's forward work this season. Wainwright must be at his best to make up for this. After their excellent play at Stoke during the time the Potters were at full strength, Everton should win back some of the medals they have lost in their last two home games. Fulham, however, are a much improved side now compared with the early stages of the season. After taking only three points from their first nine matches the Cottagers have obtained 11 from the eight subsequent games, during which they have won two and drawn one on opponents' grounds. Curiously enough these wins have been at Luton and Bury where Everton, in the first flush of their unbeaten run, could only bring back a point. That may or may not be significant I don't think it has much value, really. Every match in these hectic days stands on its own feet, and though current form can sometimes be a reliable pointer on other occasions it can be most misleading. Assuming the home attack is up to top standard, it should do well against Fulham's rather shaky defence which has forfeited a big crop of goals this season and has never yet managed to prevent the opposition scoring at least once. The Fulham front line, however, is a cut above the average Second Division standard, with Bedford Jezzard the man to be feared most. He has 16 goals to his credit, 13 of them scored in the last eight matches. Mitten is another danger man, while both inside forwards are speedily and strongly marksmen. Fulham will be no easy side to beat if they are in the mood, but it still fancy an Everton victory. Everton; O'Neill; Donovan, Lindsay; Farrell, Jones, Lello; Buckle, Wainwright, Hickson, Parker, Eglington. Fulham; Black; Chenhall, Lawler; Hill, Brice, Lowe (E); Stevens, Robson, Jezzard, Haynes, Mitten.
GOALS IN THE OFFING
November 14, 1953. The Liverpool Daily Post
By Leslie Edwards
Everton can pick up the threads of promotion weaving at Goodison Park today. They are still without Fielding, whose injury has not responded to treatment, so Eddie Wainwright whose broken leg kept him out of football for practically two seasons gets a further chance as partner to Ted Buckle, if Wainwright's game a week ago against Stoke is a reliable guide and I think it is, he will demonstrate to another big Everton attendance that he is completely back to form. Fulham are always feared because we cannot forget their cup-tie feats against our seniors. They are an improving lot and with first rate wingers in Mitten and Stevens and a player like Jezzard in the centre they possess a forward line far above the average in the Second Division. Stevens of the solid, barrel-chest is always doing practical things Donovan and Lindsay will be thoroughly –tested. Everton's last two home games were disappointing. They can hardly afford further slips. Their play at Stoke was so good their did confidence must be returning and with Hickson, taking his chances brilliantly as he did last Saturday his side should get the necessary goals in what may well be a game full of them. Hickson is the stormy petrel of present-day soccer. One scarcely knows what to expect next when he is about. His football is so improved especially "on the floor"; one wishes he would concentrate more on that and less on the possibility of a foul by the man marking him. Everton, I think are gaining a reputation, for robustness where previously they were known as weavers of pretty pattens. They can hardly add to their repute each way while aiming for the points they must obtain to keep them ahead of promotion rivals. Everton; O'Neill; Donovan, Lindsay; Farrell, Jones, Lello; Buckle, Wainwright, Hickson, Parker, Eglington. Fulham; Black; Chenhall, Lawler; Hill, Brice, Lowe (E); Stevens, Robson, Jezzard, Haynes, Mitten.
THE BLUES BEAT BLACK BOGEY TO SAVE A POINT AT GOODISON
November 14, 1953. The Liverpool Football Echo
Everton 2, Fulham 2
By Ranger
Everton made a wonderful fight back after being two goals down and deserved to win. Once again, as a fortnight ago, despite having three parts of the game and putting in four shots to every one of the opposition, they could not break down the Fulham defence, in which Black performed amazingly well, saving his side times without number. Everton; O'Neill, goal; Donovan and Lindsay, backs; Farrell (captain), Jones and Lello, half-backs; Buckle, Wainwright, Hickson, Parker, and Eglington, forwards. Fulham; Black, goal; Chenhall and Lawler, backs; Hill, Price and Lowe (H), half-backs; Stevens, Robson, Jezzard, Haynes and Mitten, forwards. Referee; Mr. H. Hawthorne (Northumberland).
The slippery and treacherous turf was responsible for many misplaced passes and sliced clearances in the first few minutes of this game and contributed in no small measure to Fulham taking the lead through Jezzard at the ninth minute. After the players had slid about in uncertain fashion endeavouring to become accustomed to the awkward conditions a goal kick quickly put forward by Robson to Jezzard well outside the penalty area, gave the Fulham sharp-shooter a glorious chance when Jones lost his footing in attempting a tackle. Jezzard with a straight path to goal and nobody but O'Neill in front of him, strode forward confidently almost to the penalty spot before unleashing a strong drive which was a goal all the way.
Greasy Ball. This was bad luck for Everton, for had Jones not fallen to the ground Jezzard would at least have been harassed. The trickiness of the greasy ball was shown when Hill, attempting a clearance while at right angles to his goal, sent the ball east when he meant it to go west, and forced Black to make a save.
Everton Attacking
Hickson looked aggravated as well he might when a Fulham man was allowed to get away with a charge in the back, and then Parker, from a very angled position gave Black a confident catch. Everton were attacking strongly, though without either the precision or the frequency of shot that they showed against Leicester. Wainwright who had a knock quite early in the game, did not seem to be affected by it and was showing a useful turn of speed. Hickson was having a go at anything and everything that came his way, bit so far after 20 minutes Black had nothing of any consequence to deal with.
Two Near Misses
Straight from a clearance Jones, helped on its way of Buckle, a grand bit of passing between Parker and Hickson won a corner for Everton. This in turn almost brought a goal when Farrell put the ball upwards for Parker to take a quick fist-timer which Black saved at the foot of the post. Parker followed up and almost sneaked the ball over the line by his sheer persistence. It was also persistence which enabled Hickson to get the better of Hill and Brice and finally get a shot into the side netting. Jezzard who had a good understanding with Robson, was the biggest danger to Everton. Like Hickson, he roamed over to either wing in turn and was always looking for the half chance.
First-Time Efforts
The Fulham goal bore for a couple of minutes the same charmed life as did Leicester's a fortnight ago, shots by Eglington, Parker and Hickson all being charged down by defenders, while a long one by Wainwright was safely dealt with by Black. Everton had now forsaken their fanciful touches when in the penalty area and were doing what they might have done with advantage earlier, having a first-time shot whenever possible. For 10 minutes they had penned Fulham up bar occasional breaks away, but still the equalizing goal would not come. Although they forced several corners in quick succession the Fulham defence stuck out grimly and actually the visitors with the last kick of this half might well have gone further ahead but for a brilliant full length save by O'Neill from Jezzard. The whistle went before the corner could be taken. Half-time Everton nil, Fulham 1.
Everton restarted as they had left off with a few minutes ho assault on the Fulham goal. The Cottagers however, packed their goal area tightly and Everton when they did manage to get a shot through which did not strike a defender, found Black sound and confident. Then, as so often happens, the side on defence break away and get a snap goal. Stevens was the scorer of Fulham's second, which again had a tinge of fortune about it in the first place, I thought he was offside when receiving the ball –a view which was confirmed by an experienced referee sitting hearby –and, secondly, by the fact that when O'Neill saved his first shot, Stevens found the ball coming straight back to him with O'Neill on the "deck" so that he had nothing difficult to do at the second attempt. The time of this goal was 49 minutes.
Hitting Back
This goal put Everton on the spot for against a defence which closed its ranks as Fulham did scoring is not an easy matter. Hardly had I dictated this paragraph than Everton reduced the lead through Parker at the 56th minute Dave Hickson was the man who made the opening when he withstood a challenge by Brice and centred the ball almost from the dead ball line. Parker coming in strongly headed it into the roof of the net, at the same time, so far as I could judge appearing to foul him. Fortunately for Everton the referee thought otherwise and the goal-stood.
An "All Up" Onslaught
This match was now developing on similar lines to that of a fortnight ago with the Blues piling on full sail in a desperate endeavour to get the equalizer and Fulham fighting tooth and nail and contesting inch of ground. For some minutes there was not a man in the Everton half of the field except O'Neill and even Lindsay at one period was only a few yards outside the Fulham penalty area.
Narrow Escape
Just as a breakaway had brought Fulham's second goal, so now, just after the hour, a similar quick upward movement saw the visitors almost get a third when Robson and Mitten aided by Lowe, transferred play from one end of the field to the other. Mitten hit the crossbar with a fierce rising shot. Two inches lower and it would have been in the net. A couple of minutes after this it was Fulham's turn to be saved by the woodwork. Lello hitting the foot of the post with Black well beaten. Farrell also had a go from 25 yards but was just off the mark. This was not the end of Black's good work. A minute later he saved well from Wainwright, and with Everton cluttering round the Fulham goal like wasps around a jam pot, it was taking the visitors all their time to hang on to they lead. After an absence of five minutes Brice returned and resumed in his normal position. Referee Hawthorpe refused an appeal for a penalty and quite rightly so in my opinion as far as I could judge from the Press box when Hickson tackled by Chenall threw himself down on the ground, was a little too obviously.
Hickson Does It
Everton were back in the Fulham half, with O'Neill still the only man in the Everton territory, but as a fortnight ago they were up against a resolute defence and a goalkeeper who was in brilliant form.
At long last Everton's pressure brought the reward it deserved when Hickson from a corner on the left headed the ball on to the underside of the upright from whence it bounded down over the line. Black unsuccessfully appealed to the referee on the ground of some infringement.
Goal Is "Charmed"
It was now cut and thrust stuff with neither side standing on ceremony and Everton undoubtedly the better side but still unable to force that vital goal which meant so much. The Fulham goal continued to bear a charmed life. Black was the hero of the day, an honour shared with Hickson. Final; Everton 2, Fulham 2.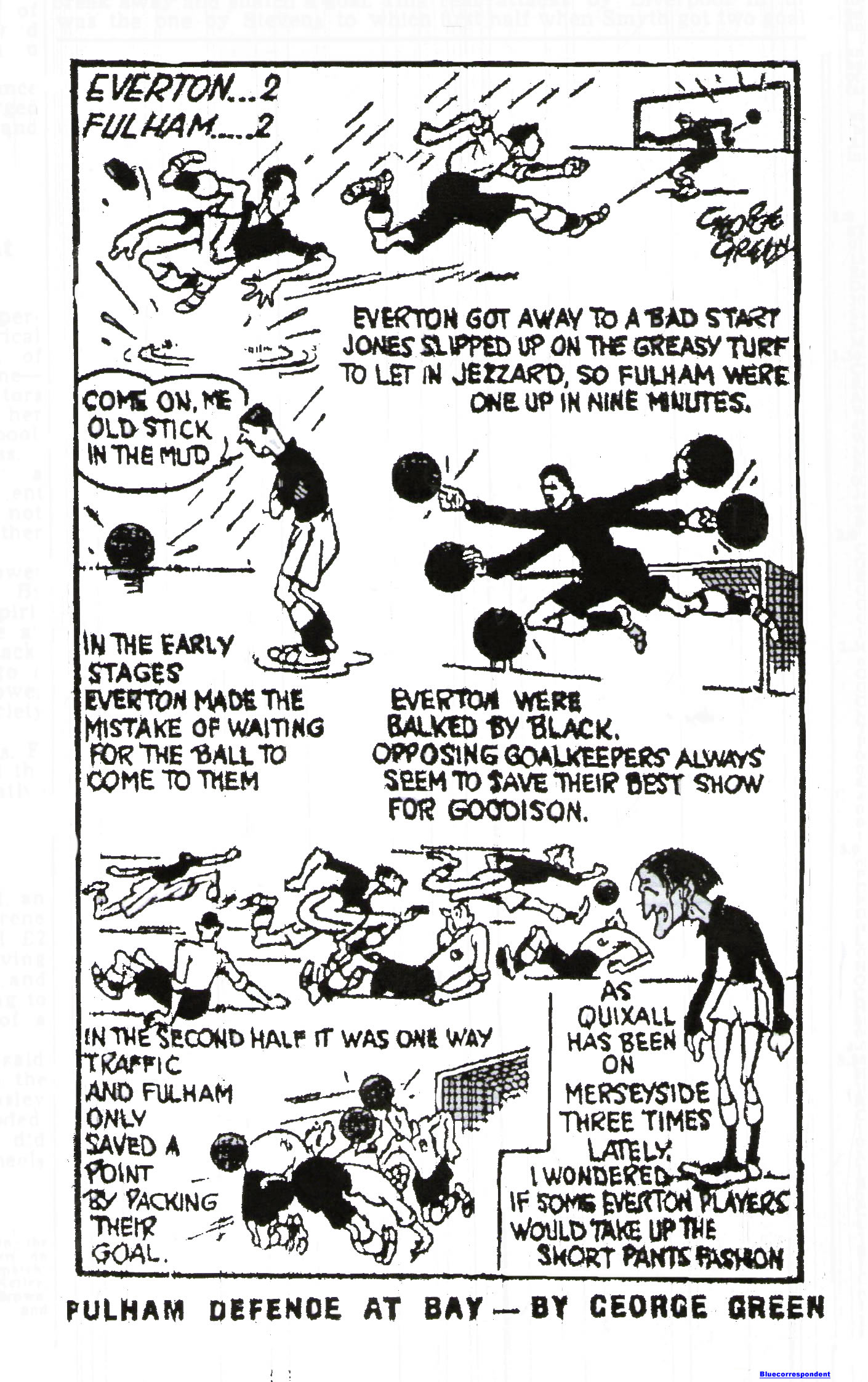 PRESTON RES V EVERTON RES
November 14, 1953. The Liverpool Football Echo
On a heavy pitch Everton Reserves set the pace at the start and Mayers struck the crossbar with a header, Potts forced out to save a strong shot before Foster gave Preston the lead with a header. A minute later Mayers equalized. Half-time; Preston 1, Everton 1.
Everton took the lead after the interval from Mayers, Lewis scored Everton's third goal from Ralone's centre.
• Everton "A" 2, Prescot B.I. nil
• Everton "C" 9 Shell Mex 1
EVERTON
November 14, 1953. The Liverpool Echo
By Ranger
The decision of Everton's board not only to renew Manager Cliff Britton's contract for a further five years, but to do so at an increased figure, is ample evidence of the confidence which they have in him. Whether Everton will gain promotion this season is something which is still very much in the air. Latterly they have slipped back a bit after a most promising start. There is still a long way to go, but eventually I fancy the question will narrow itself down to a struggle between Everton, Notts Forest, Leicester City and possibly Birmingham.
Time Will Show
Whether Everton go up or not it is obvious from the board's decision and they are best qualified to judge that they believe their policy is going to prove successful if it does, then the man who for the past few years has had such a hard row to hoe may go down in Everton's history as "Great Britton." Incidentally "Vin" drops me a note recalling the sensation, prior to the first war, when by a majority vote of directors the salary of the late Mr. W.C. Cuff as secretary was raised to £400 per annum. We have moved a lot since those days. Today the Everton managerial position must be one of the three of four most lucrative in the Country. Everton's manger is not, as many people seem to think, opposed to paying big transfer fees. What he is against is paying an exorbitant sun for a player whose worth has been swollen because of the scarcity of transfer deals and shortages of tip-top men. If he can build as he still firmly believes he can, a reservoir of talent, produced from his own "nurseries" of class players who can not only put the club back in the First Division, but keep it on a high pedestal once it gets there then he will have the last laugh on those who have been skeptical it is a policy which takes time and patience. Players cannot be rushed like hothouse plants. Much progress has been made in the last year or two and that process may be accelerated in the not too distant future. All along Cliff Britton has indicated his willingness to be judged solely on results. He has never attempted to shirk the issue in that direction. I have said often enough that in the long run I think his policy will pay dividends. Certainly the club has not been run into expensive deals during the Britton regime. Apart from the purchase of Potts, who to my mind, came a couple of years too late –even allowing for the bad luck he had with injuries-Everton have nothing to regret in transfer deals. The few players they have brought have been obtained at an extremely modest fee. Possibly before long they may be going into the market as sellars when the good youngsters they have coming along prove more numerous than their needs and the patient work of the past may yet show a good profit.
EVERTON BEHIND THE 8-BALL
November 16, 1953. The Liverpool Daily Post
Everton 2, Fulham –Attendance 36,000
By Leslie Edwards.
They have, in America, an expression "Behind the eight-ball." The equivalent here is to be snookered behind the black. That is precisely, where Everton found themselves at Goodison Park. But this black had a capital B and the good Aberdonian Christian name if Ian Hardly surprising he gave nothing away. I have never seen thriftier –or niftier-saving in a season's watching. What made his performance superb was the fact that there was every reason for the handling or a heavy greasy ball to be other than clean. Thus, for the second time in a few weeks, Everton fans -36,000 or them –went away vexed that Goodison Park should so inspire the Honorable; member of the Opposition. First it was Anderson of Leicester, now Black of Fulham. But let on one forget that the goalkeeper is there to do exactly what Black did gallantly in this match. He was still part of the team even if it seemed more than once, that he might have sent the others home and defied Everton single-handed. That is virtually what he did in the closing moments of the first and nearly all the second half.
A Brilliant In Mud and Murk
Most of Black's saves were to the dismay of Parker This deceptive, drifting forward (whose repute among habituates of Goodison Park is not always what it should e) is never slow to size a chance or seize it and though he scored, he can rate this the unluckiest game of his career. Black anticipation and his equally surprising sure handling of a difficult ball shone brilliantly through the mud and murk and was quite the most entertaining, if aggravating phase of a game fit to rank as a Cup Final. He caught them when we felt he could only edge them for corners, he slipped them for corners when everyone was quite sure that this time, at least, he would be defeated. A little more last-line virtuosity such as this would be welcome at Goodison Park and at Anfield. No wonder Everton players, defeated so often by Black's snookering, shook him by the hand as he made for the subway. No wonder his own players came to thank him, individually, for their £1 draw bonus. They could not blame him for either of Everton's goals or for the fact that Everton revived, after being 2-0 down, to get a draw when circumstances pointed to Fulham following Leicester City and damaging promotion hopes almost irretrievably. That they were spoiled when appearing to have the match in hand was due to the enlivening influence of Dave Hickson. He had a share in both goals Parker's had a tinge of doubt because when he headed into an empty net he appeared to hand off Hill, but the referred made no consultation. Hickson a was a full-blooded header, as he came leaping in fast among the ruck.
Four Was Nearly Twenty-Four
On Saturday, I said I thought the match might have many goals. It had four. But for Black it might have been twenty-four. And that is not allowing for Lello nicking the foot off the post with a shot which had Black beaten, or for Jezzard hitting the post (with ditto reference to O'Neill) or for Robson, from inside left, almost shattering the crossbar after wandering without visible means of support through the Everton defence. All these things, plus Black's wonderful display and good approaches by both attacks made the match memorable. After that dreary uninspired England stuff of last Wednesday it rehabilitated one's faith in the game. I thought Fulham worth a draw, It was Black's day and they were prepared to make his inspiration tell. There were times when the Goodison roar was damped to lets than a whisper, notably when Jezzard, a first-rate centre, and a big one, was refusing to let anyone interfere with his cross-dribbing plans. He had opened the score with a perfectly-taken goal when the skid of the ball (like one of Larwood's nipping quick off the punch) bamboozled Jones and left the way clear. Mitten who was so dominant as usual, had feed up the most perfect pass for the businesslike Stevens on the other wing to make an initial shot and return the ball over the line when O'Neill had inadvertently served the ball to him "on a plate."
Hickson Still On The Rampage
Hickson, a great favourite with the crowd was his rampaging self and with Parker, the mainspring of Everton's fine recovery. He never gave a tightly-weaved defence a moment's rest though he was sometimes rather more vigorous than one expects. Parker and Lawler too, had a moment when the absence of the ball did not interfere with the game. They crashed heads in this personal duel and Parker came off the unluckier. Neither Stevens nor Mitten was as dangerous as I expected them to be but Jezzard more than counter-balanced for that, and Haynes a youngster, showed signs of class. The veteran Lowe- difficult to even imagine him not long ago, as a Bevin boy played better than ever. Brice and Hill, too, helped in the prompting of a very useful attack. Jones one big error was a most understandable one – on the day. To be beaten by a skidding ball was inevitably someone's tale and just as inevitably someone had to score from such a chance. Lello, as fine a club man as one could hope to have, was again outstanding. Farrell confining his best work to when he popped up characteristically to save a tricky situation. Buckle found the going too heavy, Eglington no nearly so much in the show as usual missed at least one scoring chance. One hesitates to be critical of anyone in such conditions, especially as the game had all the things that make football so attractive. Hickson's period of suspension cuts into the match at West Ham next Saturday. Manager Britton will do well to have Parker as deputy and the injured Fielding ready to give further service to a team which must offset home failure and half-failure by away victories.
EVERTON NOT PARTING
November 16, 1953. The Liverpool Echo
Unless Offer Is Too Tempting, They Prefer Players To Fees
Ranger's Notes
In Everton's present position with the possibility of promotion looking brighter than at any time since they entered the Second Division, the club is unlikely to part with any players of first team experience unless the offer is such that it would be foolish to refuse it. Humours have circulated lately indicating that they might consider letting Wainwright go Swindon Town, now managed by ex-Evertonian Maurice Lindley, are stated to have been asked £8,000 for him. This is not so. The truth is that while Swindon did ask whether Everton would consider parting –they have also asked the same regarding other Goodison players – they were given neither an estimated fee nor any encouragement about the possibility of a deal. Obviously Everton cannot say that they will not sell any player. Everything depends on whatever offer they might receive as well as the player's willingness to be a party to a change in some cases no matter what the offer Everton would say. "No" in others they might be willing to consider the matter. As a road principle however it can be taken hat in their present promising position and with gates showing such a big increase over last season, they prefer any player of proved ability to the money which he would bring in the market.
MAYERS GETS TWO FOR EVERTON RES
November 16, 1953. The Liverpool Daily Post
Sharp-shooting by Everton's reserve outside left Mayers led to a 3-2 home defeat for Preston Reserves in their Central league match on Saturday. Mayers got two good goals after Foster had put Preston in front with a header. Clever play by diminutive outside left Campebll was wasted by poor Preston finishing. Lewis increased Everton's lead and Waterhouse reduced the arrears near the end.
BLUES' SUPERIORITY
November 16, 1953. The Liverpool Echo
Ranger's Notes
As so often happens, the side which had been doing all the pressing found the opposition break away and snatch a goal. This was the one by Stevens to which I have already referred and which came at the 49th minute. After that despite the dangerous look of Fulham whenever they got within sriking distance it was Everton who did nine-tenths of the attacking. But Fulham like Leicester packed their goal area as tightly as ever sardines were packed in a tin, and it begin to look as though Everton despite their pressure would never find a way through the "forest."
Worth Two Men
That they did do so twice was due to the pluck and terrific determination of Hickson. Hickson's tactics as some people say, may be a bit crude of the bull-at-a-gate variety. He certainly deals out some vigorous stuff –and is prepared to take it in return – but without his contribution Everton would not have saved a point. Hickson, worth two men, "made" a goal when he cashed a ball which seemed certain to go out, and pulled back a centre for Parker to head into the net. Hickson himself got the equalizer from a corner ten minutes from the end with a header, which struck the underside of the bar and crossed the line before being booted away and thus completed as heroic a contributed, in its own way, as Black's. This is the sixth time this season that Everton have come from behind to either draw or win. They certainly have plenty of fighting spirit. They will need it too, if they are to keep alongside the leaders, for some of these Second Division sides, even the lowlier clubs, are a tough job.
Jezzard Was Great
Hickson stood out as Everton's most dangerous forward, with Parker, next best and the rest, particularly the right wing pair only ordinary. Farrell and Lello were excellent –Lello was one of those to be robbed by the woodwork –but Jones had an anxious afternoon against the lively and clever Jezzard. No wonder Jezzard has got such a good crop of goals. On this showing he looked better then Lofthouse last Wednesday. He has skill as well as speed and shot. Donovan and Lindsay had the upper hand of Fulham's wingers most of the time, yet both found them troublesome on occasion, Haynes and Robson looked threatening when Fulham were on the attack, for they made good use of the ball, and Brice did as well as anybody could expect against Everton's "hurricane," Chelnell was good but main honours of the day undoubtedly went to Ian Black. Had it not been for this Scottish goalkeeper, who lived up to his countryman's record of giving nothing away, Everton would have won well. One could not help thinking that if only the Blues had had an Anderson or a Black in goal this season –always assuming them in the same form and never making a mistake which may be a little optimistic –then Everton today would be points ahead of anybody else in the Second Division.
FOUR EVERTON CAPS
November 17, 1953. The Liverpool Echo
Ranger's Notes
Evertonians still continue to provide the backbone of Eire's international side. Four Goodison players have been chosen for the return World Cup qualifying match against France in Paris tomorrow week, November 2. The Irish folk might be worse than rename their side. How would Eireton do? The players are O'Neill, Clinton, Farrell and Eglington.
EVERTON PLAYER FOR EARLESTOWN
November 19, 1953. The Liverpool Daily Post
Earlestown F.C leaders of the second Division of the Lancashire Combination late last night secured the signature of J. Harris the Everton winger, who was transfer listed at £3,000. Harris appeared fifteen times with Everton's first team last season and he will be in the Earlestown line up on Saturday.
The Army 2 Scotland 3
Practically all the thrills and four of the five goals came in the second half of the game, which drew a crowd of only 8,208 spectators to Goodison Park. Goals; Army;- Quixall, Simpson; Scotland;- Fernie, Reilly, Baird.
EVERTON DEFER DECISION
November 19, 1953. The Liverpool Echo
Fitness Tests Today Are Awaited Before Team Is Selected
Ranger's Notes
Manager Cliff Britton is waiting to see how Fielding and Potts react to an all out test today before deciding on the Blues team to oppose West Ham in London on Saturday. Fielding, who has missed the last two games has been making good progress lately, and it is hoped he may be fit for this game. He was not, however, done any training this week. Harry Potts, injured in the Lancashire Cup-tie against Liverpool, got another knock on resuming in the reserve side last week, but has kept in light training. There is also a little doubt about Parker, who has been suffering twinges from an injury received in the game against Leicester. One position where Everton already know they will have to fine a deputy is centre forward as Davie Hickson, following his little argument with the referee towards the close of the Leicester City game, will not be available. Hickson was right in his view about the incident in that match but wrong in the way he expressed his feelings and thus has an enforced rest this week-end. West Ham despite a 3-1 beating at the hands of Oldham last week have decided to put their faith to an unchanged team, namely;- Gregory; Wright, Cantwell; Parker, Allison, O'Farrell, Southran, Sexton, Stroud, Dick, Andrews.
HARRIS GETS NEW CLUB
November 19, 1953. The Liverpool Echo
Ranger's Notes
Jo Harris, former Everton winger, has joined Earlestown, for whom he will make his debut on Saturday. A former Marine player he figured in 13 first team games for Everton at the start of last season, scoring four goals. Later he asked to go on the transfer list, and was not retained last May when Everton placed a fee of around £3,000 on him. This is only payable if, he goes to a Football league side. Earlier this season he was with Bangor, and now returns to the Lancashire Combination.
Earlestown have declined an invitation to move up to the first division of the Lancashire Combination to fill the vacancy caused by the resignation of Bootle.
MERCER UP SET
November 19, 1953. The Liverpool Echo
Ranger's Notes
Joe Mercer, Arsenal's skipper although upset at his omission from the Highbury team for the last two matches, asked me today to make it clear that there is nothing in the nature of a "row" in the wind. His only grouse is that after ten games this season in only one of which he gave an indifferent display, he should have been dropped without any excuse. He feels that all he has done for Arsenal in the past six years warranted some official explanation. "I realize of course that living so far away makes things rather difficult, he added. "Mr. Tom Whittaker is entitled to make any changes he likes but I feel a little hurt under the circumstances. Mercer emphasized that apart from the "difference of opinion" –to use his own words –he is still quite happy with Arsenal and that there is no question of him considering severing his connection with them. "When I finish with football, it will be as an Arsenal player" he added. "Whenever they want me again I shall be ready to do my best. Under no circumstances would I consider joining anybody else even if they wanted me at my age."
GOOD AWAY RECORD
November 20, 1953. The Liverpool Echo
Ranger's Notes
Everton away to West Ham should also be encouraged by the fact that their record on opponents grounds this season is better than any other Second Division side. But for occasional lapses, which one hopes are now exclusively things of the past, and will not be repeated it might have been even better. The Blues will be without Dave Hickson, paying the penalty of his outspokenness in disputing the referee's undoubted error against Leicester. West Ham have a very useful record on their own ground having won seven of their nine games and lost the other two only by a single goal margin. Their defence has conceded but seven goals in these nine matches, what time the Hammer's attack has been popping in 27 at the other end. Everton, however have met and overcome harder tasks than this and if the forward line can produce form of the calibre it did against Leicester, Fulham, Stoke, and Rotherham –and does not have the misfortune to again come up against a goalkeeper giving the display of his life –the Blues have a good chance of at least sharing the points. West Ham; Gregory; Wright, Cantwell; Parker, Allison, O'Farrell; Southern, Sexton, Stroud, Dick, Andrews. Everton; O'Neill; Donovan, Lindsay; Farrell, Jones, Lello; Forwards from; Buckle, Wainwright, Lewis, Parker, Fielding, Eglington.
THE REAL EVERTON
November 21, 1953. The Liverpool Daily Post
By Leslie Edwards
West Ham will see the real Everton today. Last season the Everton they saw was a very tentative one, the reason being that Everton's next match was the Cup, semi-final against Bolton Wanderers at Manchester. Manager Cliff Britton left over until this morning selection of his team because there is still a doubt about Fielding. Gwynfor Lewis accompanied the party which travelled to London yesterday and if Fielding is out, Lewis will find a place in the attack. His last first team match oddly enough was on the West Ham ground in the corresponding match last season. Hickson the Everton player whose suspension comes at this vital moment is out of the Everton side when they could well do with his robust aid. A week's suspension also involves a week's loss of wages but if the past is any guide, his team-mates will ensure that he does not suffer much financially. The Everton team will be O'Neill; Donovan, Lindsay; Farrell, Jones, Lello; (forwards from); Buckle, Wainwright, Lewis, Parker, Fielding, Eglington.
SEXTON TOOK FULL TOLL WITH PENALTY AFTER EVERTON'S INJURY BLOW
November 21, 1953. The Liverpool Football Echo
West Ham 1, Everton 1
By Contact
West Ham United;- Gregory, goal; Wright and Cantwell, backs; Parker, Allison, and O'Farrell, half-backs; Southern, Sexton, Stroud, Dick, and Andrews, forwards. Everton; O'Neill, goal; Donovan and Lindsay, backs; Farrell (captain), Jones, and Lello, half-backs; Buckle, Wainwright, Lewis, Parker, and Eglington, forwards. Referee; Mr. P.F. Power. Right up to the 11th hour Manager Britton hoped that Fielding would be fit but he was not and young Gwynfor Lewis from Bangor, got another run. It was against West Ham here last season that he last played for the first team. The weather was dull and cold and thus early the black clay Upton Park ground was showing a sparse growth of grass. West Ham were as slight quicker on the ball in the early minutes yet Everton should have scored first. Cantwell was caught napping by Buckle lost possession and Buckle diagonal pass was a perfect on for Lewis. Instead of going to it, and hitting it he was so slow that Wright could intervene. From an Eglington corner, which passed clean across the goal face, a Buckle shot was headed away for a corner by Cantwell. O'Neill first real work was to catch a spinning shot from little Andrews who came in and hit the ball on the turn. West Ham's attacks were too intricate and close to succeed and when Sexton brought life to them with a curling shot O'Neill was almost surprised by it. An Eglington corner produced a spot of trouble, Buckle nodded this fast one at speed just under the bar and only a despairing last second one-handed save by the giant Gregory saved the day. Buckle, with yet another intervention did gallaintly. He nipped an Andrew-Cantwell duet in the bud at the half-way line and went on five yards into the penalty area to hit a fierce shot which travelled wide. Cantwell tackled him as he shot Half back Parker came up to join the West Ham shooters and O'Neill had to make a first-class save to deny him. Southern's cross-shot passed inches outside the far post –one of those flashing drives which a foot or head could have converted with a flick. Buckle, prompted by Farrell, turned the ball in from a difficult angle and his centre passed over the far goal angle with Gregory out of position. West Ham were persistent shooters Southern no at inside left hit one hard over the top and O'Neill shaped for it us through it might have beaten him had it been a trifle lower. The most enlivening moment came when Andrews was fouled by Donovan, Sexton from about 25 yards hit the ball like a rocket and even a slight deflection could not effect its pace or direction. It thumped the bar and the shooter following up, tried to head in the rebound. In the next moment, Jones was heading away from the line, a downward header, by Dick, Lewis was having a thin time –he was rather slow –but the side as a whole showed promise and Lello and Jones particularly were good in defence. Stroud not remembering how near he was to the concrete surrounding wall, crashed into the barrier and was lucky to escape a broken leg. A free kick by Wright breasted down by Dick and taken forward had the Everton defender hopelessly spread-eagled but Dick tried to dribble the ball found Everton's last line of defence and O' Neill not being able to be believe the evidence of his eyes, threw himself at the ball and saved when the odds on Dick scoring must have been 100-1. The crowd roared when Wright mis-hitting a pass put up the easiest ball for Gregory in goal. But the big fellow completely misjudged the bounce of the ball and had he been standing in front of goal, Wainwright must have been a scorer. Eglington and Parker changed places in an effort to bring to the centre the punch which had been lacking and the game was stopped for the first time when Allison was injured. Half-time; West Ham United nil, Everton nil.
Weaving his way single-handed and all too easily through the Everton defence Souhern began the second half with a cracking low shot near enough to the post to cause O'Neill concerns. West Ham nearly took the lead when full back Cantwell stole up to hit an Andrews corner into the goalmouth. Sexton tried to hook this one over the line, and from my position a goal seemed certain. But it was merely an optical illusion. Sexton shot was ballooned and was never in danger of scoring. Eglington who had started this half at outside left again came inside for the second time and with Lewis completely out of the picture his present there was essential. Parker was injured and left the field for attention but was back again within a minute and playing inside left again to Eglington on the wing. Fifteen minutes after the restart when it was all West Ham, Everton took the lead. Lello made a good intelligent anticipation and hit a pass to Buckle. A flick from Buckle's head put Lewis through and to his great credit he took the chance splendidly with a ready shot close in. Tom Jones needed attention and limped off the field. Although they were in front Everton's task was still a severe one. Everton were lucky to escape a penalty when Wainwright sailed in to a cross from Southern and "disturbed" the incoming Dick Jones returned and went to centre forward. West Ham still battered almost persistently but they still finished weakly, and Everton with Lello doing two men's work, hand on courageously. West ham equalized through a penalty in 70 minutes. It was a harsh decision against Eglington who was adjudged to have brought down West Ham's Parker as he was about to shoot. There was much delay over the kick. The referee had words first with Sexton who took it and then with O'Neill. Then Sexton shaped as through to run on to the ball, halted half way and delivered a cross shot into the corner of the net-most unusual penalty taker, this. Final; West Ham 1, Everton 1. Official Attendance 25,000.
EVERTON RES V STOKE RES
November 21, 1953. The Liverpool Football Echo
In a goalless first half, Everton enjoyed much more of the play. Hall in the visitors goal saving well from Stewart and Thomas, Wilson and Pickup were the most troublesome for Stoke, so far as Hall was concerned. King from here yards out, with only the keeper to beat, skied the ball over the bar. Half-time; Everton Res nil, Stoke Nil. Everton predominated the play after the interval. McNamara and Mayers the respective wingers presented the inside trio with some lovely centres. Stoke were still lively side. Their forwards had better understanding when with the firing-zone. It was Stoke however who took the lead in the 60th minute. Whiston beat Sloan from 20 yards.
"GENTLEMAN JOHN" IS NEXT ON TURN
November 23, 1953. The Liverpool Daily Post
West Ham 1, Everton 1
By Leslie Edwards
Everton manager, Cliff Britton, will be offering prayers on Wednesday, not so much for what happens in the game at Wembley but for the emergence, safety, of the four Everton players from the France v. Eire match in Paris. Farrell, O'Neill, Clinton, and Eglington are to fly to France from London today and it is only natural that until they return fit and well, their Manager should be a bit apprehensive. Especially as Fielding and Parker have arthritis and Tom Jones is a casualty from the 1-1 match at West Ham on Saturday. And the great game against Leeds United is next on turn at Goodison Park. For this I think gate will near 60,000 mark if the weather is fine. Matthews apart, the young Leeds giant, John Charles, is the most talked-of man in the game. Everyone here, and in North Wales where he is equally renewed will want to see him at centre-forward. It is quite on the cards that Dean's sixty goals in a season may be bettered by Gentleman John.
Seniors On The See-Saw
Everton also need all the points they can collect, too, and between now and the turn of the year their card is so full of home games they are sure to find top position if they take a reasonable toll of points. But Everton joy in home matches mans Liverpool gloom. We seem fated to over one or other of our seniors "in trouble." Tom Jones' damage –he seems to be prone to injury to that swivel knee-cap of his –could not have come at a worse time. the coincidence of Clinton being tried by Eire gave s Everton a ready-made chance to put him in against Charles, if occasion arises, but that is poor recompense when one considers that had Jones remained fit at West Ham after Lewis gave his side the lead they might well have gone on to take two points not one. Lewis had no sooner scored this second half goal –Lello's intervention and quick pass to Buckle's head were important leads to it –than Jones had to go off. He came back to hobble at centre-forward but never with much chance of being other than nuisance value.
Hufton Rating of O'Neill
A draw was fair, indeed it might be argued that what luck was going in the first half did not favour West Ham. They played and shot well, but O'Neill was splendid and when he was beaten first the bar and hen Tom Jones, standing on the line gave aid. Ted Hufton the West Ham and England goalkeeper of other days, told me afterwards he though O'Neill was first-class. One could hardly have higher praise. I confess that when the earnest Eglington dropped back was found guilty of a foul against Sexton a yard or two inside the area I felt a penalty was rather harsh. It seemed that the ball had run from Sexton and that Eglington had made a genuine tackle. The blow was softened because not five minutes before the referee had missed what I thought was a penalty against Wainwright who was likewise adding weight to defence. Of all penalties I have seen the one converted by Sexton, a son of the old boxing champion of that name, was the oddest. The ball was placed on the spot. Then the referee held up proceedings while he spoke to Sexton. That done he walked to O'Neill and had words with him, presumably warning him not to move. The signal given Sexton started to run to the ball, then halted as though O'Neill were moving and he wanted to draw the referee's attention to it. Then making up his mind quickly he jogged into a trot again and with much deliberation placed a lovely shot wide of the goalkeeper's left hand.
Fought Out To A Finish
Though they had their big forward Dick, injured West Ham seemed incapable of clinching in what remained of the game. Rather was it likely that Everton would strike the decisive blow. They fought the game out with fine spirit and maintained an initiative they seemed certain to lose. More and more people up and down the country must be satisfied that Cyril Lello is as near up to international class as makes no matter. He is severely practical; he works unceasingly and his stamina keeps him going long after others have tried. This was truly his match. He broke down attack after attack and used the ball effectively. It was mainly due to him, I am sure that Everton scored a point when without Hickson's undoubted power and without Jones help for the last twenty minutes.
No Power "Inside" Attack
Until his injury Jones, too, was solidly in the picture. He read the play well and it was no fault of his that West Ham enjoyed chances. Lello and Jones with Donovan and the steady, if never spectacular. Lindsay shouldered most of the defensive burden and O'Neill did not make a mistake. Had the attack as a line played as well Everton must have won. The trouble here was that Lewis, after his long absence from the first team –he last played in the first team at this ground last season –was slow and easily overcome. Within five minutes Buckle had presented, for him, the best opening of the match but Lewis tried to let the ball run to his left foot and the delay was fatal. He took his later chance well, if rather late. Had he missed that it would have been damaging and damning. Buckle will rarely have a better game or in which he became marked man in more senses than one. He was victim of fouls at moments when he was in full cry. His intelligent positioning and his speed over fifteen yards made him the best in the game. His headed pass to Lewis was the inspired touch which opened the way to goal. West Ham were disappointing after a good start. At centre their young former amateur centre-forward, Stroud was hardly in the game. Gregory in goal made one serious mistake without being involved in penalty and little Andrews, usually live and entertaining got little change from the Everton defence. Archie Sexton was a boxer with a punch in either hand; son who is in his early twenty's has a punch in either foot and for that reason may follow Stan Matthews and become the famous football son of a boxing father. In days when everyone is so dislinclined to shoot Sexton's persistent liking for the big shot was at least refreshing if not rewarding.
BIG CASULATY LISTS
November 23, 1953. The Liverpool Echo
Everton Strike Unlucky Patch
Ranger's Notes
After having been fairly free all season from anything approaching a big crop of injuries, simultaneously Everton have struck an unlucky patch and the Goodison treatment room today was more congested than it has been for over a year. Backwash of the tought West Ham encounter leaves Jones, with a kneecap injury to those which have caused him occasional trouble before Buckle with a cut on the calf reopened and Parker who has never really got over the back injury he received against Leicester City got a knock which aggravated it further. Wainwright has a slight thing injury. As though this was not enough Fielding now has arthritis in the shoulder, McNamara knee did not stand up in the reserve game to his first outing since he was injured at Blackburn and Easthope injured in a Central League game a fortnight ago is now a suspected cartilage case. It is hoped that manipulation may render an operation unnecessary and with this in view Easthope went into hospital today.
Six Cartilage Cases
Everton have already had six reserve players in hospital for the removal of a cartilage in the last nine months. Farrell was the last following the floodlit match at Exeter and although he is making good progress, it will be some time before he can play again. Potts is also under treatment for a knee injury. This is the heaviest aggregate blow Everton have received this season. It is too early yet to say how many of the first team men how under treatment will be fit for Saturday's game against Leeds United but if they make Satisfactory progress meantime there is hope that not too many changes will be required. Hickson of course will be available after his suspension. Needless to say Manager Cliff Britton will be holding his breath until he hears how the four Evertonians due to play for Eire against France in Paris on Wednesday in the World Cup qualifying game have home through.
SET FAIR
November 23, 1953. The Liverpool Echo
By Contact
Everton position in the League table today is set fair. Their latest away display showed them up in the role they have filled very well all season –probable promtionists. The West Ham people were impressed by their crisp football only the lack of punch in the three inside forward positions left something to be desired, I suppose that as young Gwynfor Lewis got the goal which earned a point he may be said to have done well enough; but candidly he did not have a good game. He missed one very good chance early on when Buckle feed up a chance for the taking, in this rate Lewis was obviously trying to make sure of his shot the same thing almost undid Buckle's flicked header from which Lewis later scored. No sooner had Everton taken a lead than Tom Jones hobbled to the side line for attention in his knee cap. This is not the first time he has had troubled from it. A double pity because he had played outstandingly until it happened. From this point Jones played a centre forward. But it was clear that his trouble pained ho go much he could only tag the ball occasionally and hope to have a nuisance value. West Ham who had started so brightly it unluckily equalled by a penalty that came when Eglington was adjudged to have fouled West Ham's Parker. This I thought was a harsh decision though it countered the penalty Everton might have conceded a few minutes earlier when Wainwright came back to help in defence.
Fought Galliantly
In view of the non-success of all three inside forwards and Jones's handicap what was left of Everton fought gallantly and most effectively, Lello the lad from Ludlow went far towards that he may yet wear England colours. Certainly England have played men who claims have not been so high. He worked untiringly, used the ball well and was quite the mainspring influence in a defence which was opened up two or three times in the early moments.
SAGA FUND CLOSING
November 24, 1953. The Liverpool Echo
Ranger's Notes
The Everton Supporters Federation testimonial fund to Ted Sagar closes tomorrow week, December 1, and the last social event in connection with it is a dance at the New Brighton Tower ballroom tomorrow evening when several Everton players will be present.
FARRELL INJURED
November 26, 1953. The Liverpool Echo
Ranger' Notes
In addition to injuries news about Jones, Parker and Wainwright, Everton are also waiting the return of Farrell and this Eire colleagues from Paris before Manager Cliff Britton can get down to the selection of the Blues team. They are due in Liverpool this evening, Farrell was injured in the match against France and was little more than a passenger in the closing stages, but whether this will keep hymn out of Saturday's game will not be known until later.
DEFENSIVE SHAKINESS
November 27, 1953. The Liverpool Echo
Ranger's Notes
Everton, beset this week by their biggest crop of injuries since the season started, will be home, to Leeds United. With every point of vital importance in the Second Division promotion struggle, Everton cannot afford to take any chances against Leeds, who are themselves in the race with a possible chance if they can improve their away record. They are only six points behind the leaders and these could well be wiped out in the second half of the campaign. On a few occasions this season Everton have given the impression that they consider themselves beyond defeat when a goal up or even before reaching that position. On the other hand, they have also eight times recovered from a deficit of either one or two goals to save a point or go on to win. A display of this sort of spirit throughout tomorrow's game can see them through. Defensively, Leeds have experienced their shaky periods. They have conceded 38 goals -24 of then in nine away matches –which seems to indicate a necessary for tightening up the rearguard if there is to be a real bid for promotion. Everton have had ten fewer put into their net. Judging from their record, Leeds will not be an easy side to beat. True, they have only won once away against Fulham, bit draws at Plymouth, Birmingham and Blackburn are good performances. Much will depend on John Charles. This brilliant young man, remembered here for his wonderful display at centre half two seasons ago against Hickson at his most rampageous has scored 22 goals in 17 League games with two for Wales and several in floodlight matches thrown in. If he can be kept in comparative subjection Everton's task will be eased tremendously. Can the Everton rearguard do that? The remainder of the Leeds players are workmanlike rather that brilliant. Nightingale who has 11 goals to his credit seven of them in the last five games is next biggest danger to Charles. Those two have collected three quarters of their club's goals. As Farrell, Parker and Jones are not fit Everton have had to make several changes. Clinton comes in at right back, allowing Donovan to deputized for Jones at centre half. Grant takes Farrell's place, Fielding is at inside left and Hickson resumes at centre forward following his suspension. Everton; O'Neill; Clinton, Lindsay; Grant, Donovan, Lello; Buckle, Wainwright, Hickson, Fielding, Eglington. Leeds United; Woods; Dune, Hair; Kerfoot, Marsden, Burden; Williams, Nightingale, Charles, Iggleden, Tyrer.
EVEN SPECTATORS
November 28, 1953. The Liverpool Daily Post
By Leslie Edwards
"We're All In This!" Says Cliff Britton
At Goodison Park yesterday, Manager Britton and his players discussed the greatest topic the game has thrown up for twenty years and he professional himself last night as very pleased indeed with their intelligent approach top their task and their keenest to understand the problem and so what they can to help put things right. He told me last night; - "I agree with all you have written about the Hungarian match and its implications. It is no use pointing a finger at any section of football authority or a the players. We are all in this ting. We are all partly to blame –even spectators. "At Everton we have been working towards his different approach to the game for some time. It is no secret that when first I introduced a system of training I was looked on as something of a martiner. But players have come to realize that the game in their livelihood and that anything they do to improve their standards is in their own interest as much as ours. "Players must be well disciplined. When they accept that must be so. All goes smoothly, as it has at Goodison Park. It is not as though clubs must ask players to take training to absurd lengths. I contend that four hours a day for five days a week is a fair time to devote to training. "The players Union too, must realize that they have a part to play. Raising standards depends on them as much as anyone. The possibility of our losing our prestige as sticking out before the War. It is not as if the Hungarians are the only people to show supremacy. The South Americans and others have done so. "Football in Britain cannot be changed and put right over-night it may take a generation. "The answer is practice, practice and more practice. It is no use players thinking what they have got to do next. They must be trained until they do things automatically instinctively. "I remembered a coach in Sweden and a match in which a slightly smaller or larger ball was to be used. "What is the difference" he said. "WE will play with either. This is my attitude. To e finicky about things like that is wrong. "These Continentals are always wanting to learn. They seen happy to learn. They are happy working at their football. They take a pride in it." We must have more of that here." "Our coaching systems for boys, keenly as they are carried out, may be faulty. Better to discover fifty boys with a flair for the game and coach them than get 200 and ask one coach to try to teach them all. "Coaching here usually starts at 15. It might e better to get boys when they are six, seven, or eight years old and attach them to clubs and have them coached, as is the case in many Continental countries.
"Negative Approach"
"Spectators here are forever telling players to Get rid of the ball' irrespective of whether the player is going to use it constructively, In Sweden, spectators applaud only really good, combined moves. The slow handicap is reserved for those who slash the ball haphazardly upfield. There is no more negative approach to football than the big clearance made inaccurately. Britton's final salvo of commonsense is this:-
"They used to put down the red carpet for England players whenever they went abroad. If we do not learn the lesson of the Hungary match the probability is that far from walking a carpet we shall not even be wanted."
GOODISON'S 55,000 ROAR INSPIRED EVERTON TO A GREAT WIN
November 28, 1953. The Liverpool Football Echo
Everton 2, Leeds United 1
By Rangers.
Everton won a hard and dour game against a side which often held the upper hand, but did not take full advantage of all its chances. Hickson was Everton's outstanding forward, with Donovan giving a great show at centre half against John Charles. Charles always looked dangerous when he got out of Donovan's clutches, but that was not often enough to pull the game out of the fire. Everton; O'Neill, goal; Clinton and Lindsay (captain), backs; Grant, Donovan and Lello, half-backs; Buckle, Wainwright, Hickson, Fielding and Eglington, forwards. Leeds United; Woods, goal; Dunn and Hair, backs; Kerfoot, Marsden and Burden, half-backs; Williams, Nightingale, Charles, Iggledon, an Tyrer, forwards. Referee; Mr. S. Hesleton. John Charles got a warm welcome from the crowd, and young autograph hunters were dispersed by a policeman. Charles let fly a fierce drive. It was off the mark, but the power was there all right. Hickson twice shot wide and Nightingale lofted one over the bar, Charles showed artistry with an overhead flick with his heel which enabled him to get away from Donovan's clutches, but Lindsay came to the rescue before Charles could get in a shot. Buckle dribbled half the width of the field only to be robbed by Iggleden. Everton gained two free kicks near the far corner flag, one against Marsden and the other against Kerfoot. The first produced nothing of note, but the second brought a goal. Eglington on whom a foul had been perpetrated put a strong ball over which Buckle could not reach, but which Hickson headed out of Woods' reach at 14 minutes. Leeds might have been on level terms within a minute had not Iggledon completely missed the ball with only O'Neill to beat and Tyrer, when it ran on to him taken his shot so hurried that he fired over the bar.
Good Attacking Moves
Everton, after starting a little causally were now showing some good attacking moves and Lello and Eglington each had shots –no more than six inches on the wrong side of the woodwork. So far Donovan had been getting to the ball before Charles and keeping the Leeds leader more or less in objection, but when Tyrer took a corner we saw how dangerous Charles could be. This time he got his head to the ball beautifully, and it would have been a certain goal had not Clinton kicked away off the line.
Donovan v. Charles
Donovan was having a grand innings against Charles and despite being several inches shorter than his opponents, was getting to the high balls very well. Hickson who had earlier on been admonished by the referee when apparently taking exception to a foul upon him by Marsden now found it was the turn of Marsden to be spoken to when he pushed the Everton leader in the back. Leeds were now fighting with better balance thanks to their inside men having come more into the game, and for a couple of minutes the home goal underwent something of a bombardment, though few shots actually got through to test O'Neill.
A Narrow Escape
There was one narrow escape when Tyrer after having had two shots charged down found Iggleden deflecting his third and O'Neill sticking out a foot to glide it past Charles. To some it might have appeared a miss by the Welshman. I think the deflection caught him on the wrong foot with no hope of getting on the right one. There had been flashes of good combination by both sides but also periods or rather aimless kicking and mis-directed passes which were picked up gratefully by an opponent. Then at the 40th minute Charles got his 23rd League goal of the season with an beautiful a header as one could wish to see. When Fielding was robbed in the centre circle and the ball was pushed up to Charles the latter slipped it out to Tyrer and they run away from Donovan in readiness for Tryer's centre. When it came Charles leapt high and headed the equalizer. Half-time; Everton 1, Leeds United 1.
Hickson In trouble
During a melee in front of the Leeds goal, Burden stuck out a foot to prevent a Buckle shot entering the net and then, as the ball still bobbed about on the six yards line, Hickson bore in collided with Wood, and both lay flat out on the ground. Wood was the first to recover, but Hickson had to go to the sideline for attention to a cut eye, resuming in minute or so. Both teams were at times indulging in too much close passing. It would have been alright had it been accurate or progressive. As it was neither, the game during this period had deteriorated into just a hard and dour struggle. Once again it was Charles who threatened danger to the home goal when Tryer sent over a centre. This time however, Charles was too angled to do more than head just over the bar.
Charles Bamboozled
Donovan got his leg in front of a terrific shot by Burden, O'Neill completing the save. Lindsay bamboozled Charles by feinting as though to pass back and then dashing off in the opposite direction. Considering that Farrell, Parker and Jones were sitting in the Press box and Everton had so many changes forced upon them they were doing reasonably well under the circumstances against a side which lacks nothing in endeavour. Leeds were now beginning to look the more dangerous side, for Everton had lost their earlier sparkle and at least temporarily the essential linkup between wing halves and forwards. At the same time the Leeds inside men not unnaturally, were coming more into the game, and with both wingers getting the ball over smartly, Everton were having to fight hard to hold on the equality.
Eglington Hurt
The game was held up for a couple of minutes when Eglington was hurt as Nightingale came cross him to kick the ball with unnecessary force into touch. Although obviously in pain for some little while, Eglington eventually recovered. Donovan was still playing wonderfully well against "Gentleman John," who at this stage for the first time used his weight to charge Clinton, and then expressed regret by going to pick the full back off the ground. Leeds continued to hold the upper hand though not to the extent that they had done in the early part of this half.
Charles Again
One cannot avoid constant reference to Charles, who once again almost snatched a goal with another great header off a centre by Igglesden. Only a grand save at point blank range by O'Neill prevented it. A lot of the punch had gone out of the Everton attack with only Hickson now looking a real danger. It was Hickson who reads a goal for Buckle nine minutes from the end. The centre forward chased the ball going away from him get his toe to it, to provide Buckle with a chance and Buckle did the needful with a fierce drive. Wood, who had to suffer many hard knocks, got another when Wainwright bundled into him, and then back came Leeds in an effort to force an equalizer.
An Everton Escape
Everton had an escape when Williams shot and Lello kicked into the hands of O'Neill to complete the clearance. Charles had to receive attention after being accidentally kicked on the head by Donovan as the latter tried to hook the ball away. Final; Everton 2, Leeds United 1. Official attention 58,970 –second highest of the season.

BOLTON WAND RES V. EVERTON RES
November 28, 1953. The Liverpool Echo
Bolton were the more consistent attackers, but as Everton settled down their produced flashes of clever passing with Mayers and Stewart the more dangerous wings. Quick thrusts by both teams were the feature of the game but apart from an Allcock header and a Mayers centre which shot across the face of the Bolton goal there appeared to be few real chances of scoring. Just on half time Rabone put Everton ahead when he pressed home an attack and with Grieves on the ground forced the ball into the net. Half-time Bolton Wand Res nil, Everton Res 1. The Everton defence had to withstand heavy pressure on the restart as the Wanderers fought hard to get an equalizer, and one Allcock drive flashed narrowly wide when the Bolton inside right was well placed for scoring. Everton defenders stood firm and their quick tackling smothered the danger time and time again.
• Stork 2, Everton "A" 5
KING CHARLES? BOY DAVID?
November 30, 1953. The Liverpool Daily Post
Everton 2, Leeds United 1
By Leslie Edwards.
Not least illuminating was the big crowd's reaction to centre-forwards of such contrasting builds and style –David Hickson, of Everton, and John Charles, of Leeds United. Both got ovations. Hickson for never giving the defence a moment's pierce and using his sturdy frame like a battering ram Charles for disdaining to do anything save play football and studiously avoiding all possibility of damaging the goalkeeper. Odd that the 56,000 people comparing both styles, should give their commendation to each, notably to Charles as he walked from the held without bonus, but with their affection as very good consolation. The battle between Charles and young Dan Donovan, the substitute centre half who faced him, was instructive and entertaining too, it was as unrelenting as it was fair. Donovan usually out headed the bigger man in midfield and was quick to intervene in on the ground passes to Charles, but one could not help nothing that when Charles really rose to the ball in front of goal it was more often than not his head that made contact. Indeed the persistence with which the Leeds half-backs found their wingers and the menace of Charles head when centres came over from either wing almost gave Leeds United victory. Everton's winning goal late in the game turned a match which at that stage looked to be a fair drew.
A Football Purist
For long spells Charles was hardly in the game, then by some artful flick of the head, or foot he would start an attack and go within inches of finishing it off successfully. He would have no part of an assault on O'Neill. He deliberately stood off to avoid the risk of the goalkeeper being injured. Many clubs would ask more of their centre. Leeds United are to be commended for allowing a great player to play his natural game. If Charles cannot succeed by pure football apparently, he does not want' success by other means. Hickson, back after suspension, once again was the means of setting Everton alight. His headed goal from Eglington's free kick centre at thirteen minutes was a lovely effort three minutes before the interval Charles began and completed the movement from which he got an equally fine headed goal. Hickson and goalkeeper Wood were both knocked out in a second half collision. Leeds, gathering themselves together and playing better and better as the game progressed, got such a command that the possibility was that they would snatch the decisive point; instead Hickson, refusing to be knocked off the ball found Buckle with a short pass and Buckle did well to score from quite a difficult angle.
Only Hickson
Considering they were minus Jones and Farrell and Parker, Everton did well to get both points. I thought they were a trifle lucky to do so. None of their forwards, with the exception of Hickson, had a good day. Fielding, after his spell of inactivity, seemed out of touch on a difficult pitch, and Wainwright and Buckle were disappointing. Eglington's football's most improved player –everything he does now is so practical and his touch is so sure –took a nasty knock and came up gallantly for more. Considering his years and the time he has been out of League soccer Grant was an admirable reserve, hard working and challenging comparison with others, Lello, still in great for, gave Donovan tremendous support. The Irishman, tall and strong, had a splendid game, but one in which Charles usually beat him when a goal was in the offing. Both Leeds wingers, Williams and Tyrer seemed to have too much latitude especially late in the game. Everton by leaving them so much freedom, played with fire since every centre forward, from either side, was to the advantage of Charles. Kerfoot, ex-Chester, had a good match. Nightingale not only got into the crowd's bad books, he failed this time to produce any football of real merit. As a side Leeds started badly, they improved to such an extent they had right to believe that they had deserved a point.
BOLTON WANDERERS RES 1, EVERTON RES 1
November 30, 1953. The Liverpool Daily Post
Shooting into an empty goal after leading three defenders, Rabone gave Everton a goal lead almost on half time, but most of their attacks in a scrappy first half came from Stewart and Mayers. The defence stood up to heavy pressure as the Wanderers fought for an equalizer and Sloane made some magnificent saves. Hennin scored Bolton's goal in the 80th minute.
EVERTON'S VICTORY
November 30, 1953. The Liverpool Echo
By Ranger
Everton have won quite a few games this season with much less effort then they put into that against Leeds United and probably will do so again. Effort, however, is not everything Everton will need to do better in a combined and effective way than they did in this game, they are to get on top and remain there. Their finish of movements precision of passing and interchanging of positions was nothing like so marked at it has been on other occasions. Against that one could advance as a mitigating circumstance than the Blues were without Parker, Farrell and Jones and that Fielding returning after three weeks absence was a bit "rusty" so that altogether they performance was reasonable satisfying. There was one period early in the second half when with the scores level. Leeds assumed the imitative and became so well knit and progressive that it looked likely they would win. They probably would have done had their finishing been more punishing and had gentlemanly John Charles played less unselfishly instead of trying to force his way down the middle. Hickson fashion, Charles often elected to make openings for others instead –and found nobody capable of turning them to advantage. Then Everton started to hit back and with the status one restored in a territorial manner I remarked to a colleague half-way through the second portion, that, whoever got the next goal would be the winners. So it turned out. Before the game I confess to fearing that Charles might have something of a field day against the weakened Everton rearguard, instead this grand sporting player found his opportunities strictly rationed. The man most responsible for this was Donovan who played his tall strapping opponent wonderfully well. It was soon obvious that the Donovan dictum was that even Charles could not do much damage if he did not receive the ball. Not only did Donovan set out to get to it first, but surprised everybody by frequently outheading Charles when both had equal chances.
Potential Danger
By sticking to the Welshman as close as he could Donovan cut down his potential danger. It was only when his opponents left him due to the Irishman trying to keep an eye on both the ball and his opponents at the same time, that Charles got any real opportunity. Clinton kicked one of his headers off the line, another –from a centre by Tyrer –put Leeds level just before the interval, a third scraped the crossbar and O'Neill made a brilliant short-range save from yet another. This latter was the turning point of the game for the score was then level with only fifteen minutes to go, and much of the punch had gone from the rather straggling Everton attack. A goal to Leeds then and they might have held on to the lead to the end. Instead Hickson provided an opening for Buckle a few minutes later and the winger popped in the winner. Hickson shared with Donovan the main honours on the home side. His opening goal in 14 minutes was a grand header off Eglington's free kick and the more the Everton attack faded out in the second half the more did Hickson battle away, sometimes almost singlehanded in his best fighting fashion.
Too Close
Everton frequently fell into the error of keeping the ball too close. This played right into the hands of the quick-tackling opposition. Leeds showed them how to exploit the cross-field pass to good advantage. Both Tyrer and Williams frequently found themselves with oceans of operative space. Tryer was the more dangerous for Williams was inclined to over elaboration and to delay his centres. Fielding as not the dangerous schemer that he can be while Wainwright adopted a modified Hicksonism role without finding the ball running too well. Buckle and Eglington both tendered to fade out for occasional spells yet in between served up some promising play. Charles rarely seemed to exert himself to the full which was perhaps as well. A John Charles with a dash of Dave Hickson would probably have been too much even for the dominant Donovan to master. He was very reminiscent of Charles Buchan in his almost unsurely commanding manner. With three home games out of their next four engagements –and against clubs whose away performances so far have not been outstanding –Everton look to have a good opportunity of giving their supporters a "top of the League" present for Christmas.