EVERTON'S SUPPORTERS
August 3, 1954. The Liverpool Echo
Ranger's Notes
Following the impending formation, as already reported of a Dublin branch of the Everton Supporters Federation, for the inaugural meeting of which Messrs G. Thompson and J. Doyle, two federation officials will be in the Eire capital tomorrow evening another Merseyside branch is to be inaugurated on Friday, August 14 this time in the Ormskirk district. The membership of the E.S.F continues to grow steadily. I am told that the committee's aim is eventually to equal that of Arsenal's Supporters Club, which is not for off the 20,000 mark. That is a terrific target and though I doubt whether I can be achieved there is no harm in having a go. The organization is certainly being run with energy and enthusiasm and has already done much excellent work, even if it never progresses a step further.
HAROLD WILLIAMS DIES
August 5, 1954. The Liverpool Echo
The death took place suddenly today at Southses where he has been living for the past year, of Mr. Harold Williams, the former Everton director, and eldest son of the late Arthur William. He was 45. Harold Williams had been a lifelong Evertonian, and before he joined the board in June 1947 to become the youngest member of it, he used to follow the team all over the country. The longest of journeys never deterred him. His stay on the Everton board, however, was brief, in January, 1952, he resigned his position through inability to agree with his colleagues on certain matters of policy. Mr. Williams who was a director of several Liverpool firms, resided for many years at Heswall. He was also a keen cricket follower. He had not been in good health for some time and while on the Everton board spent several months in a nursing home following a severe illness. Latterly however, he had seemed on the better side, and his sudden death comes as a shock to his many friends.
EVERTON CAPTAIN'S LIFE STORY-PETER FARRELL'S GOAL CLINCHED IT
August 7, 1954. The Liverpool Echo
Eire Claims First Victory Over England In England
I have already mentioned that I was fortunate during my single days in Liverpool, dwelling among such homely and friendly people. My luck has continued in this respect, as my wife and I have splendid neighbours and have made many friends since coming to live in Litherland three years ago. Getting g back to the football angle of my story, I must mention that memorable day in 1949 when Eire defeated England by two goals to nil at Goodison Park. I was lucky enough to be chosen at inside right for my country on this occasion. Naturally nobody gave the Irish side much chance of victory in this game, the consensus of opinion that we would be doing well to escape a heavy defeat. People in Liverpool asked me before the game rather sympathically, what I thought of our chances. I told them I was doubtful if we could match them in football ability, but I did know we could equal them in team spirit. You will remember we confounded the critics and amazed everyone by winning 2-0 thus becoming the first foreign side to beat England on their own soil. Some maintain we were lucky but whether or not when the final whistle blew we trooped off the field at Goodison having beaten our football masters after the greatest display of fighting spirit I have ever seen in my international experiences. I was lucky enough to have the honour of clinching the issue by scoring the second goal six minutes from the end. Once again the large crowd of Evertonians among the crowd showed their loyalty towards their own players by cheering equally as much as if it had been a goal for England. There were tremendous scenes of excitement among my fellow team mates following this goal as we made our way back to our own half for the resumption of the game. I well remember the remark of our skipper Jackie Carey as he shook my hand. "Well, Peter," he said "It will take three goals to beat us now." Another game which stands out in my memory, but which had a less pleasant ending was our Cup semi-final against Bolton Wanderers. Before dealing fully with this game, however, I would like to recall briefly our memorable sixth round tie against Aston Villa at Villa Park.
Dave Hickson's Day
The famous ground has housed, any great games, but I am sure the Villa supporters have never seen such an enthusiastic following or heard such a volume of support for a visiting side as they witnessed that day from those thousands of Evertonians who "invaded" Villa Park. Mr. friend Con Martin, of Aston Villa remarked to me after the game. All Liverpool must be here today." A lasting memory for me will be the ovation that greeted Dave Hickson's match-winning goal in the second half and also the scene at the finish when our supporters rushed across the luscious turf to congratulate the lads. On the return journey to Liverpool we stopped at an hotel outside Wolverhampton for a meal. Some of our followers had also stopped at the same place and I got into conversation with one of them. He was in ecstasy over the thought of our victory, which had put us into the semi-final. I remarked to him; "I am glad you enjoyed the game," whereupon he replied; "Yes Peter, it was the greatest Cup victory I never saw." Seemingly he had travelled all the way from Liverpool only to find the gates of the ground closed on his arrival. He remained outside the ground during the game, and although naturally disappointed at not seeing the game, assured me that his journey had been well worthwhile.
Maine Road Shock
We thus found ourselves in our second post-war semi-final and once again visions of a Wembley appearance began to loon clearly before our eyes. The fact that Maine Road was again the venue didn't daunt our spirit in the least. As we took the field against Bolton Wanderers I had a feeling of confidence mingled with hope that this was going to be our year. Whether or not we were too keyed-up I don't know, but with the first half not nearly finished we found ourselves trailing behind by four goals to nil. We felt very disappointed with ourselves as we made our way towards the pavilion at half-time. A few encouraging words from our manager, Mr. Britton cheered us up considerably and out we came for the second half to the sound of our tumultuous ovation from our supporters which couldn't have been bettered had we been leading 4-0. You all know what happened in the second half, and although we were very disappointing that our rally had just failed to come off, we were pleased that at least we had gone out fighting. Very few if any of the Everton team played up to form that day, but I was as I am sure many of you were, very proud of the way the lads fought when everything seemed to be going against us. Thousands of our supporters gave us a rousing send-off as our coach left Maine Road. I couldn't help hoping on the way home that one day we would give them something to really cheer about, that something being what was then the heart's desire of all Evertonians, namely to see their club back in its rightful position in the First Division. One of the big snags in a professional footballer's life is the number of players or should I say friends who depart from most club each year. During my eight years at Goodison Park I have seen some of my very good friends depart through various reasons. The public judge a player mainly through his ability. We players judge him not so much on the score of his ability, but by the type of man he is. In recent years Everton may not have had many outstanding individual stars in the football world, but they certainty have had some great types of men who have all played their part in making it the happy club it is today. I know the day will come when we will have to part company with some of our best friends at Goodison Park, and naturally I and I know I can vouch for the rest of the lads, dread the thought.
Since he took over the captaincy of the Everton for the first time in 1948, Peter Farrell has experienced both the bitterness of relegation and the joys of two F.A. Cup semi-final appearances and a successful promotion bid. What will be his fate, and that of Everton, in the future? Farrell himself has one main ambition –to lead the Goodison Park club on the field at Wembley in a Cup Final. That is an ambition held by many famous players, but it fails to comparatively few of them to realize it. Next to that, he would like, before his career finishes, in see Everton follow up their Second Division success with a First Division championship. Maybe it is just around the corner!
EVERTON SUPPORTERS
August 11, 1954. The Liverpool Echo
Ranger's Notes
A Walton reader writes to criticize the Everton Supporters Federation for the recent formation of a Dublin branch and alleges that this was done only to "provide a holiday on the cheap for the two officials who went there." The statement is strenuously denied by Mr. G.G. Thompson, general secretary of the Federation who tells me that he paid his own expenses for the trip while Mr. J. Doyle who also attended the meeting was actually on holiday in Ireland there will be no charge on the Federation funds on his account either. Further, I am assured that for every trip to away matches run by the Federation, as well as social events, all officials pay their own expenses and that the modest entry fee for membership is all devoted to further the cause of the E.S.P.
Should Be Scotched
Assuming this to be so, it is well that malicious statements likely to hinder the Federation's good work should be scotched right away. Most voluntary organizations are occasionally subject to ill-informed criticism which is hard on those who are give much time and labour to the cause concerned. So far as the E.S.P. is concerned, for all I am aware it is doing much good work simply out of enthusiasm for Everton and love of football. One effort they propose in the near future and which will have the sympathy of all Evertonians is devoid to helping the widow of the late Johnny McIllhatton, who has been left with four young children all under eight years of age. The committee has been considering various schemes by which Mrs. McIhatton can be assisted and will be staging a number of events in the near future.
Everton's Task
If Everton can score runs on the cricket field as confidently and quickly as they got goals on the Soccer pitch last season they stand a good chance of beating Bootle in the second evening's play on their annual game at Wadham Road which will e concluded this evening. Thanks largely to a not out 69 by J.R. Williams, Bootle declared last night at 137 for six after two hours, Hickson made a couple of smart catches off his own bowling taking two for 23 and Buckle had two for 20. A notable feature of the footballers play was their keen fielding. Runs never came easily.
EVERTON TEAMS
August 12, 1954. The Liverpool Echo
Ranger's Notes
For their practice game at Goodison Park on Saturday (three o'clock) Everton have decided to pit the normal first team, with one exception against the likely Central League side. The exception is Donovan who is still under treatment for his groin injury. Obviously it would be foolhardy to risk him in a match of so little consequence so his place is being taken by Clinton. Donovan is expected to be fit to turn out in the first competitive match of the season on Saturday week, assuming he continues to make satisfactory progress. Manager Cliff Britton will probably make changes in both practice sides for the second half. At the start, however, the line-out will be;- Blues; O'Neill; Moore, Clinton; Farrell, Jones, Lello; Wainwright, Fielding, Hickson, Parker, Eglington. Whites; Leyland; Tansey (j), Rankin; Grant, Woods, Melville; McNamara, Potts, Saunders, Lewis, Buckle.
A USEFUL PURPOSE
August 13, 1954. The Liverpool Echo
Ranger's Notes
Yet pre-season practice games serve a useful purpose to some extent, and after the havoc which the weather has played with cricket and other outdoor pursuits it will be good to get back to something thing which is not so much at the mercy of the heavens. Except that Donovan will be absent, Everton's first team will be up against the probable Central League eleven, if the reserve string beat the top-notchers it won't be the first time, though on the face of things that looks a very unlikely happening. Everton's first team forwards, judged upon last season's performance should be very much at home in the "exhibition" atmosphere of such an engagement as this which will allow them greater scope for risk-taking than normal. After the interval Manager Britton will probably switch several players around, particularly in the second string, so that as many as possible of the younger professionals can show their wares to the public. The line out at the beginning will be;- Blues; O'Neill; Moore, Clinton; Farrell, Jones, Lello; Wainwright, Fielding, Hickson, Parker, Eglington. Whites; Leyland; Tansey (j), Rankin; Grant, Woods, Melville; McNamara, Potts, Saunders, Lewis, Buckle.
FORWARDS SHOT HARD AND OFTEN IN THE EVERTON TRIAL
August 14, 1954. The Liverpool Echo
By Ranger
Blues; O'Neill, goal; Moore and Clinton, backs; Farrell (captain), Jones and Lello, half-backs; Wainwright, Fielding, Hickson, Parker and Eglington, forwards. Whites;- Leyland, goal; Tansey (J), Rankin, backs; Grant, Woods, and Melville, half-backs; McNamara, Potts, Saunders, Lewis and Buckle, forwards. Referee; Mr. A.Jones of Rainhill. Everton's public practice drew a crowd of about 8,000 to Goodison Park this afternoon, when the probable first team was opposed by the Central League side. The early football was fast without the seniors unduly exerting themselves, so that the nearest approach to a goal came from the Whites. Lewis twice being only narrowly off the target. This Welsh boy showed a nice appreciation of the need to be in an open space at the right moment. Eglington pulled out some speedy runs on the left wing and Hickson twice used the ball well without his colleagues being able to take advantage.
On-The-Ground Work
Once the Blues had got their teeth into the game, however, they proved their superiority, and by means of good the ground combined work were two goals up after 20 minutes. Wainwright played a valuable part in each goal. It was he who pulled back a centre for Eglington to open the score at the tenth minute after Parker had muffed an attempted shot, and it was Wainwright again who cleverly flicked the ball backwards for Parker to get the Blues' second goal ten minutes later. Hickson led the Blues line well, distributing the ball cleverly, while Buckle was the star of the White forward line and gave Moore plenty to think about. The Blues forwards were showing willingness to shoot hard and often, and after Fielding had almost skimmed the bar. Wainwright was "robbed" of a headed goal from Eglington's centre when Leyland "shinned" the ball away without knowing very much about it. There was a good proportion of entertaining to please the crowd but the Whites' attack apart from Buckle rarely caused the Blues defence any anxiety. Half-time; Blues 2, Whites nil. Three changes were made in the White side for the second half, Caldwell coming into goal, Hillsden at left back and Harris leading the attack. The White although trying hard could not make much headway against a senior defence which played soundly and confidently. But during one breakaway Harris finding himself unexpectedly in possession when Jones slipped struck the bar with a fierce drive.
Parker Again
Just before this, however, the Blues had got a third goal through Parker, who made sure from close range when Hickson slipped the ball to him up the middle. There seemed to be more than a suspicion of offside about this goal. While not so entertaining as in the first half, for the ball was too much in the air during the second portion there was still good football to please the crowd and Harris was showing useful ideas. Buckle was not so prominent as he had been Fielding several times showed how the open spaces could be exploited and the crowd –which had now grown to about 10,000 –liked the way Hickson provided some quick return passes.
PETER FARRELL CONCLUDES HIS LIFE STORY
August 14, 1954. The Liverpool Echo
A Fitting End To My Most Memorable Season
This article brings me to the concluding stages of my life story to date, and fittingly enough last season was the most memorable of my career so far. We started the season with three stiff away games, at Notts Forest, Luton and Hull and returned well satisfied with our bag of five points, which gave us confidence in ourselves for hurdles that were yet to come. Before the season was for advanced I was confident that we were going to be in the running for promotion by the time April came around. The pessimists shook their heads and said "wait and see." Before Christmas I along with Tommy Eglington and Jimmy O'Neill was selected to play for my country against France in the preliminary stages of the World Cup. This meant that the three of us would be absent from the so far unbeaten Everton side to play at Brentford. That afternoon the Irish and French teams attended a reception in the French Minister's house in Dublin. I had learned from an early newspaper before the reception that Everton were drawing 0-0 at half-time and you can imagine our disappointment when we brought a later paper won 1-0. The Irish people and officials were every bit as sorry that Everton were beaten.
Beaten By France
On the following day when France beat us 5-3 they realized and appreciated Everton's gesture in releasing the three of us. As the season continued we kept among the contenders for promotion and I was selected to play in Paris against France in the return game to decide who would go to Switzerland for the World Cup proper. I have a vivid recollection, not so much of the game –which we lost 0-1 –but of our flight from London. It was a very foggy night as our aircraft circled over the airport preparatory to landing. Visibility was very poor as we started to land and I received a terrible fright when we were about 30 feet from the ground. The plane gave a sudden jerk and immediately started to ascend again before proceeding to another airport about 15 minutes away where we landed safely. I still shudder at the thought of what might have happened had the pilot not noticed in time, through the fog, that he was about to land not on the runway but on rough ground bordering it.
Fine Display
I still maintain our cup-tie at Sheffield was one of our best all round showing of the season. I still fail to realize how we didn't manage to win after the display the lads gave that day. I suppose it can best be summed up by that oft-repeated phrase. It was just one of those days." However our supporters didn't seem too disappointed as we were now able to devote all our time to the battle to regain First Division status. What a fight it was! Leicester, Blackburn, Birmingham, Notts Forest and Everton were all well in the running as we approached the Easter games. Many thought that our fate and that of the others would have been known after these holiday games but such was not the case. We all breathed a sigh of relief after the Birmingham match then started those mementoes five days of waiting for the visit to Oldham. The details of the game itself are well known but it is very hard to describe my feeling and those of the other Everton players as the final whistle blew and our jubilant supporters rushed on to the field to congratulate us. As I was chaired off the field I was nearly overcome with emotion, partially from a selfish point of view as I realized I had led Everton back to the First Division where they had been when I took over the captaincy.
Reward At Last
As I watched that vast sea of happy people, disappointed so often, I knew they had at last been rewarded for their loyalty. The excitement in the dressing room was intense as people came in to offer their congratulations all round, among then that great sportsman Jackie Carey, whose team Blackburn Rovers we had "pipped on the post." All our team felt glad for the sake of our manager, as we remembered that not very long ago the critics had advised him that his team was not good enough to win promotion. We all felt very pleased that we had justified his confidence in us. Another surprise awaited us when we arrived about midnight at Goodison and found a crowd of Evertonians waiting to welcome us back. To complete a very memorable season we had the most enjoyable tour it has been my fortune to be on, either with club or country. The fact that we were unbeaten in our four games helped considerably to make the Denmark trip such a success. I hope you have found half as much enjoyment in reading my career to date as I have found relating the stories which started as a schoolboy in my native Dalkey and which eventually through football brought me to such countries as Spain, Portugal, Finland, Denmark , Sweden, Norway, Austria, Germany, and France.
Many Friends
I have had some great experiences in professional football and have made many friends. Any success I have achieved has been in part due to my parents, family and my wife Mabel who has given me the contentment of mind without which it is impossible to succeed. In conclusion the burning question of the moment –"How are Everton going to perform in the First Division. I never make promises or forecasts but I do think with the team spirit and ability within our ranks, we will hold our own with our First Division friends.
Farrell Carries On
Although Peter Farrell has come to the end of his intriguing life story, he will continue to write for readers of the Football Edition, as he did last season. Starting next week he will deal with current football topics and throughout the winter will keep Everton's followers in touch with all that goes on behind the scenes at Goodison Park. This is going to be a vital campaign for Everton, back in the First Division after an absence of three years they must now continual their position and prospects for the years ahead. Farrell is once more captain of the team, and as in past years should prove a worthy second-in-command to Manager Cliff Britton when the team is out there on the field battling away for what we all trust will be a place on the higher rungs of the ladder.
EVERTON F.C SENIORS SOON GOT DOWN TO BUSINESS
August 16, 1954. The Liverpool Daily Post
Blues 3, Whites 0
By Ranger
Everton's practice match provided no shock result for the 10,751 spectators who saw the Blues comprising the first team victorious by three goals over the Central League eleven. Whites started well enough, but once the seniors got down to business there was never any doubt regarding the outcome. Good work by Wainwright who made the final pass in each case led to Eglington scoring in ten minutes and Parker getting a second goal after twenty minutes. Wainwright was unfortunate not to get one himself just before half-time when Leyland saved a header which stuck him on the leg. Three changes were made in the Whites team for the second half, one of which –the introduction of Harris at centre forward –bore good fruit. After he had gone near to reducing the lead with a fierce drive which struck the bar, Harris was foiled in the late stages by two excellent saves by O'Neill, one of them from a few yards range. Once Parker had put Blues three up at the sixty-sixth minute from Hickson's pass the senior players eased off. As a consequence Whites came more into the game and were actually the more aggressive combination in the last ten minutes. Apart from his saves of Harris efforts however O'Neill had nothing very difficult to deal with though he was well beaten when a header by Lewis passed just outside the post. It was an entertaining game, productive of some nice football when the ball was kept on the ground but as a guide to Everton's future possibilities it was no more information than the usual run of such games. The acid test will come later.
POINTERS TO THE FUTURE
August 16, 1958. The Liverpool Echo
Everton Reserves Shaped Well Against Their Senior Counterparts
Ranger's Notes
Whether it is better to have your first team in a practice match more or less completed to produce maximum effort to beat the reserve string or so superior that they win a hollow victory, is a matter of opinion and opinions on football are never unanimous. In Everton's trial game the first team, who won 3-0 by no means had it all their own way against the Central League side.
Entertaining Display
Everton's trial produced much entertaining football of the type we normally get in such games, in which the tackling is not so deadly keen as in matches where points and bonuses are at stake. When the ball was kept on the ground the first team progressed by smooth and methodical moves which always had plan, purpose and punch about them. When they booted it hard and high, which was not very often they did not look so good. Maybe I've been spoiled by what I saw in Switzerland but I like to see football on the floor and the backs using the ball. The wing to wing play of McNamara and Buckle in the reserve side, was quite good and generally accurate but the longer the pass and the higher the ball the greater the chances of its going elsewhere than its intended billet. I liked some of the senior's first time short-passing much better. The work of right back Moore was good, particularly the way he was always seeking to put his clearance to a colleague, usually by a glided pass with the inside of the foot. As a rule when a winger has a good day as Buckle had the back facing him doesn't get many medals. This was the exception. Both Buckle and Moore were pleasing. Fielding showed his old facility for splitting a defence with a canny pass, Hickson led the line well, and Wainwright laid the foundation for the first two goals for the Blues. I don't propose to analyze the game too closely. Practice matches are headed with too many limitations to make it worthwhile. But, for what this one was worth, it would seem to show that both Everton sides are in good fettle and will hold their own with the majority they meet in their respective spheres. I also liked 17-years-old Hillsdon's promise when he came in at left back in the second half, and the enterprise and forcefulness of centre forward Harris, who would have had his name on the goal list late on but for two brilliant saves by O'Neill. Tansey put up quite a good show against Eglington, who by no means had it his own way, Lewis started off splendidly, then seemed to lose the knack of being in the right spot at the right time.
EVERTON'S OPPONENTS
August 17, 1954. The Liverpool Echo
Ranger's Notes
Sheffield United whom Everton visit for the opening of their First Division programme have done most of their close-season recruiting from junior ranks. Manager Reg Freeman has taken seven former amateurs on the Bramell Lane staff, including two from his old home in the Rotherham area. His only professional signing is inside forward Ron Waldock, from Coventry City. Jimmy Hagan, laid aside forwards the end of last season through a knee injury in a floodlit match at Millwall is back in harness and despite his veteran tag has been serving up some grand displays in trial matches. Len Browning unfortunately is still in hospital and looks like being there for some time yet, while Toner, dissatisfied with the terms offered him, has returned to Scotland and taken up a job outside football. He is now on the United's transfer list. Everton will not announce their side for this Sheffield game until later. Manager Britton wishes to see Donovan's reaction after he had and more testing work. Assuming he is fit, and that everybody else is the same which is the case at the moment, apart from Lindsay, the selection should be automatic.
FOOTBALL'S A BUSINESS AT GOODISON PARK
August 19, 1954. The Liverpool Daily Post
By Leslie Edwards
May I introduce, this morning one of the few men in British football who has not deviated these past few weeks, from the training and playing schedule he sat down twelve months ago? Name Cliff Britton, Club; Everton. Mission for 1954-55; to prove that the training and policy which lifted Everton to Division I can not only maintain the team there, but can maintain them in a respectable position. Ever phlegmatic Britton is unmoved that others have seen fit to follow slavishly the training and playing plans of the Germans, Hungarians and Uruguayans, all of whom showed us a thing or two internationally. He believes that Everton policy which is to convince the player that football is a business and not merely a highly paid recreation is as good an approach as any and makes the point that progress in football comes slowly and surely, not from the sharp, unheaving changes which are being made in so many camps today. Britton likens what is happening at so many League clubs today to someone ill being given a bottle of medicine and swallowing it all at one dose and expecting to be well again next morning" He considers too that wholesale changes may react unfavorably on players who have been used to light preparation. Not all players physically capable of standing up to training in large, (and unexpected!) doses.
As Before
Thus, Everton's preparation is as before. The Britton view is that if big changes are necessary elsewhere, then there must have been something wrong with what passed for training a season ago –before the World Cup started everyone comparing British standards with the ones reached internationally by others. The word internationally I have used twice in italics because the Britton idea is that too many people here are making comparisons (and drawing false conclusions) between the international football of the World Cup and the good club football for which our Football league sides are famous. There is no basis of comparison he thinks. He goes further. He says he is not sure fans here would appreciate the type of football –sometimes played almost farcically at a standstill –by the great international players we saw in action at Berne and elsewhere. Britton feels that British crowds may well be more demanding of good football but he is sure of their loyalty and patronage and he is of the opinion that the cut-and-thrust excitement of a good League match or cup-tie will still compel capacity attendances, irrespective of whether games contain the pattern-weavings of such sides as Hungary and the Austrians. The incisive tackling of British half-backs, he feels adds charm to the British way and purpose. There are, he says almost as many good club sides in England today as ever. The standard is not as high as it was, maybe but there are good reasons for a slight fall and the tendency is for better standards to be re-established.
But
It is hardly possible to disagree with any of these Everton slants yet it is quite clear that the survival of football as we have known it here depends on the appreciation of authority that football is changing and will continue to change and that tactically the third-back game with all its defensive emphasis is not the ideal one to keep followers attracted to their Saturday sport. The public will follow a team which plays attractively whether they win championships or not and a more positive approach (especially forwards who seem to think that scoring is no part of their work) would be as welcome as it would be refreshing. Meanwhile Everton players work at football as they have worked at it since the Britton regime started. The thing their Manager wants of them is craftsmanship of the first order. He will not be satisfied with less.
EVERTON'S TOUGH OPENING
August 19, 1954. The Liverpool Echo
Ranger's Notes
Early Fixtures Will Be Good Guide To Future Possibilities
As Donovan reported fit this morning, following a stiff test yesterday which has produced no after-effects. Everton will go to Sheffield United on Saturday with the eleven players who fulfilled last season's concluding engagements. Hickson and Donovan are the only two making their First Division debut, though Parker had no more than seven senior appearances before the club suffered relegation. Lello did not figure in the first team during that ill-fated season, due to injury. Wainwright appearances for the same cause were limited to eleven, while O'Neill went back to the reserves string after appearing in ten of the first eleven matches. Lello, of course, had previous senior experience. The rest were all-regular senior choice, so that there is a strong backbone in the side of players who are well aware of all that awaits them in the higher sphere and of the stronger competition which lies ahead. Everton; O'Neill; Moore, Donovan; Farrell, Jones, Lello; Wainwright, Fielding, Hickson, Parker, Eglington.
The Central League side, who were champions last season, start off with an attractive home engagement, their visitors being Wolverhampton Reserves, who finished fourth but previously had been champions three seasons running. Everton Reserves;- Leyland, goal; Tansey (J), Rankin; Grant, Woods, Melville; McNamara, Potts, Saunders, Lewis, Buckle.
Formidable Games
Last season Everton appeared to have an unduly stiff opening session, for five of their first seven games were away from home. You know what a good start they made, with eleven matches polished off before they had to admit defeat. This time though the home and away proportion is more evenly balanced they seem to face a pretty tough opening. Saturday's visit to Sheffield United may not be unduly difficult, but after that there are some rather formidable engagements before the mid-week games are all cleared off.
Star Attraction
Next Wednesday sees the visit of Arsenal, always a special attraction. No matter whether the Gunners are high or low in the table, they pull in the crowds whenever they go, and for this Goodison Park evening game (kick-off 6.30) there is likely to be an attendance of around 60,000. Apart from being Everton's first appearance at home, this match should provide a good yardstick by which to measure how the Blues are going to shape up to the more exacting task which faces them in the higher sphere. Next in order of "battling" come Preston, now under the new management of Frank Hill, formerly of Burnley and whom many fancy as likely championship contenders this winter. Preston are at Goodison on Saturday week. Then follow trips to Highbury and Turf Moor, never very productive grounds, for visiting sides. Burnley forfeited only eight points at Turf Moor all last season.
Clearing Them Off
In the wake of these opening encounters follow home and away fixtures with West Bromwich Albion Cup winners and League runners-up with a visit from Leicester City sandwiched between Leicester were the first of the only two teams to win at Goodison Park last winter, thanks to a brilliant exhibition of goalkeeping by John Anderson. He alone robbed the Blues of the two points which they otherwise would have earned. Finally to wind up September, by which time a quarter of the programme will have been completed the Blues are away to Chelsea the most improved of all last winter's teams and home to Cardiff City. Only the last named fixture looks reasonably easy. The others Sheffield United apart promise to test Everton's capabilities to the full. If the Blues are around the middle of the table when these engagements are over the future should be fairly well assured injuries and other setbacks excluded.
Sheffield's Shuffle?
Sheffield United have not yet decided on their team for Saturday's match. Choice will be made from fourteen probables among whom is Ron Waldock their 21 years old close season inside forward signing from Coventry City. Manager Reg Freeman problem is to settle the composition of his attack. Ringstead, Hagan, and Hawksworth are the backbone of it. At the moment the two other positions rest between Wragg, Hoyland, Cross and Waldock.
BLUES AND BLADES
August 20, 1954. The Liverpool Echo
Ranger's Notes
Everton could help wipe out the memory of their last League visit to the Town of Sheffield –though that was to Hillsborough, not Bramell Lane –by bringing back at least a point from Sheffield United. The United did not live up to their name last season, when for a long period they were struggling desperately against relegation. With no outstanding signings during the close season one must assume, unless the evidence of this season's games proves otherwise that they are hardly likely to be very high up the table this time. Everton proved in Cup –ties during recent seasons that they play just as well against senior opposition as against clubs of lesser calibre. True, they lost to Sheffield Wednesday in last year's fifth round game, but if ever there was a travesty of justice that result was. How will Dave Hickson fare in the higher sphere? That, too is the subject of special reference. Sheffield United;- Burgin; Caldwell, Shaw (G); Shaw (J), Johnson, Rawson; Ringstead, Hagan, Cross, Waldock, Hawksworth. Everton; O'Neill; Moore, Donovan; Farrell, Jones, Lello; Wainwright, Fielding, Hickson, Parker, Eglington.
LEADERS OF FASHION
August 21, 1954. The Liverpool Daily Post
By Leslie Edwards
Reaction to Manager Cliff Britton's" Don't panic because we lost at Berne!" theme was favourable. The fashion by the Everton manager to get his players working at the game dates from long before the existing edict of more and better training so, in effect the majority of clubs have come into line with Everton's principle, long held, that football is a full time business commitment not recreation with pay. At Sheffield today Everton will be facing the team managed by Reg Freeman whom I saw as a boy, in junior football at Claremont Road, Wallasey, a ground long since covered by bricks and mortar. Freeman is as good a manager as he was a full back. He has some fine players, Hagan to name but one, hall-marks every link he forges in the attack. Ringstead who learned his football at Ellesmere Port is another attacker of great merit. Everton in their first Division 1 match will need to pay special attention to Hagan's scheming and Ringstead's lively winging. Many of Everton's hopes must rest on the well-muscled shoulders of Dave Hickson. This is the centre forward known everywhere in football for his tremendous nerve and sometimes his "nerve" Division 1 stoppers know his style and duels between him and them promise to be features of Everton Division 1 matches. Hickson will get goals. How many depend on how low he can maintain his flash point. Everton's traditional style, changed but little in recent times, is well suited to First Division football. Their rare cup battles against such sides as Manchester United and Aston Villa (in Birmingham) suggest they will be in their right class. The Bolton semi-final defeat –or rather the first half of it –is the only form which leaves doubt that the present Everton may not be quite good enough. Sheffield United;- Burgin; Caldwell, Shaw (G); Shaw (J), Johnson, Rawson; Ringstead, Hagan, Cross, Waldock, Hawksworth. Everton; O'Neill; Moore, Donovan; Farrell, Jones, Lello; Wainwright, Fielding, Hickson, Parker, Eglington.
EVERTON KICK-OFF WITH 5-2 WIN AT SHEFFIELD; HALF-BACKS WERE GREAT
August 21, 1954. The Liverpool Football Echo
Sheff Utd 2, Everton 5
By Stork
Sheffield United;- Burgin, goal; Caldwell and Shaw (G), backs; Shaw (j), Johnson and Rawson, half-backs; Ringstead, Hagan, Cross, Waldock, and Hawksworth, forwards. Everton; O'Neill, goal; Moore and Donovan, backs; Farrell (captain), Jones and Lello, half-backs; Wainwright, Fielding, Hickson, Parker, and Eglington, forwards. Referee; Mr. G. Gibson (Manchester). The Everton supporters were undoubtedly ready for the opening of the season, for they were at Bramell Lane in strength today eager to see the team play its first game in the First Division for some seasons. There was great speculation as to the kind of football we would see this season but my own opinion was that it would be very little different from any other, with perhaps the exception that it might be speeded up a little. This was a vital match for the Blues, for to get off to a good start is of immense value. There were no changes and despite the heavy rain at Sheffield yesterday the ground looked in reasonably good condition. There was quite a good crowd, which shows that Merseyside is not the only city which is eager for the "off." Everton started off as though First Division football had been their usual procedure. There was no suggestion of nerves about their play and in fact they were complete masters for the first five minutes, playing a type of soccer that should do well in Division 1. They moved the ball well and moved into the open spaces. The forwards went back into defence whenever there was a suggestion of danger. During those first five minutes one could sense that goals would ultimately come, but even I did not expect two in two minutes. The Sheffield defence was being rather easily beaten and it was five minutes before the United made their first attack and gained a corner from which Eglington cleared. Prior to that Hickson had headed narrowly over and there were other times when Everton went close. Parker's first goal after 10 minutes was due to an error by Burgin. He badly mishandled a ball by Lello, lost possession of it and Parker stepped in to shoot with his left foot to the far side of the net. This was a blow to the United. They had not got over their disappointment when Parker came again two minutes later and the ball was in the United net a second time. This Parker shot was so well directed that Burgin had not the slightest chance of saving. It was a little side play by Hickson and Eglington which paved the way for the second Everton goal. United came more into the game and Hawkesworth made a shot which passed just outside. Cross was not far off with a header.
Burgin Alert
Parker almost got a hat-trick when close in he headed just underneath the bar but Burgin was alive and tipped it over. He did the same thing with Fielding's corner kick. Another corner by Fielding was edged away to safely. Everton maintained their supremacy although the United did make a flight back and Cross headed over. Everton, however, were well capable of beating the defence by their precision football. When Eglington got the better of Caldwell he took the ball almost to the goal line before he put over to the far side of the goal where Wainwright was closing in, and the Everton outside right cracked the ball into the net at high speed. Much of Everton's success was due to the work wing halves who kept up a stream of passes to their forwards who responded nobly. So far O'Neill had little or nothing to do, such was the cover his co-defenders put up for him. There were occasions, however, when he had to watch carefully although there were no marksmen of note in the United front line. So far I had seen little of Jimmy Hagan. In fact Sheffield gave me the impression that they were going to have a struggle unless they could produce something better than this.
Nearly A Fourth
A link up between Hickson, Wainwright and Parker almost produced a fourth goal, as the last named tried to back heel the ball past Burgin, who, however, saw what was going to happen and was well prepared for the effort. Sheffield looked anything but a "United" side for Everton were by far the superior tacticians. There was plenty of endeavour to United's play, but they had not the strategy possessed by the Everton side, who to a great extent were making the United look ordinary.
Half-time; Sheffield United nil, Everton 3
While Everton were not so dominating in the second half they undoubtedly had the better moves in their make-up. They opened promisingly Wainwright took an Eglington centre on his head and Burgin had to move smartly to keep the ball out of the net. It was after this that United showed greater striking power and Waldock went close with a volleyed shot which passed inches wide. There was little power when it came to shooting and their best efforts were a couple of corners which Everton dealt with capably.
Two More "Quickies"
Joe Shaw came up to try and show his forwards how it should be done and his shot was too close to be comfortable. Later Moore stopped a ball on the goal line with his knees and it went to O'Neill as though the whole thing had been rehearsed and then came a spurt by Everton which produced two goals in four minutes. Wainwright scored the four at 70 minutes and four minutes later Eglington slammed in goal number 5. This goal seemed to seal United's fate beyond all doubt but a minute later a strong attack by the United saw Hagan make a shot which appeared to go off Donovan's legs to give Sheffield some small compensation. From this point the "Blades" seemed to gain heart and the Everton defence were pressed for the first time. Cross made a shot on the turn but it had neither power or direction. The United maintained their attack for a few minutes but Everton ultimately drove them back temporarily until Hawksworth burst through with a close in shot which O'Neill saved with his foot. This was rather a fortunate save, but he was well and truly beaten at the 84th minute by a shot by Hawksworth, which passed through a ruck of players to enter the net and make the score 5-2. Everton looked a fast First Division side practically throughout the whole of this game. There was only one little patch late on when they lost their rhythm. Other than that their produced top-class football to master the United without any great difficulty. Final; Sheffield United 2, Everton 5. Attendance approximately 30,000.
RIGHT FOUNDATIONS
August 21, 1954. The Liverpool Echo
Rangers Review
What of Everton's chances this coming winter? Football is so fickle and unpredictable that the prophet who makes too dogmatic statements at this stage may find his words used as evidence against him later. I believe, however, that Everton, contrary to what some people think, will make a fairly good showing in the higher sphere. If they can maintain a comfortable place around the middle of the table that would be quite satisfactory for a start. We can wait for something more spectacular later, when their hard-won promotion has been consolidated.
Right Foundations
Cliff Britton had had to stand much criticism in the past some of it very ill-informed but I have always given him too marks for knowing his own mind, having a definite plan and sticking to it no matter what anybody has said, and I am convinced he is building on the right foundations for the future. Everton's training in recent years has been both strict and on constructive lines. There has been nothing haphazard about it. During the past month it has been even more intensive and what is more important and the players have tackled it in the right and most co-operative spirit. Actual hours of training mean little, it is the approach to it which counts and Everton have really put their backs into it, willingly and cheerfully. Running through the side man for man. I can see no reason to anticipate undue anxiety this coming winter. O'Neill is as good as any First Division goalkeeper Donovan earns equal rackets with practically any full back in the top flight, and Moore filled the bill after Lindsay's unfortunate injury in a manner which encourage hopes that he will reach the highest standard. Farrell may be getting on a bit but he had a great season is a splendid skipper, and is good for some years yet especially if he continues to conquer his tendency to take so much out of himself. Tommy Jones is well above the average centre half standard cast in the mould of traditions English pivots and a most gentlemanly and sporting player at all times. When he improves his constructive game a little more he will be in top international class. Lello has never had a better season than he did last. He seemed to take over a new lease of life, and reproduction if the same standard would mean no anxiety in that department. The one thing nobody can forecast is how injuries may upset the side. Their immunity in that respect last season, combined with the team's consistent displays, enabled Manager Cliff Britton to pick an unchanged side on many occasion. Similar good fortune would be equally helpful in the months ahead. What of the Blues' attack? Will it prove up to the task of getting goals with the same frequency in the harder games ahead? First Division defences will, in the majority of cases, be considerably more difficult to penetrate than some of those the Goodison boys faced last season. We are not likely to see 20 goals in three successive matches as we did against Derby, Brentford, and Plymouth last winter. Nevertheless, should the front line hit it off as they can when the ball runs kindly, and display just a little more steadiness near goal, they could give just as good an account of themselves as the defence. Wainwright who started well when restored to the side last season, but faded a little towards the finish, shaped excellently in the practice game. Fielding at his best is a great asset and Parker with his deceptively lazy style has a football brain which leads him to be in the right place at the right time on most occasions. Though Eglington lost some of his effectiveness towards the end of last winter, I am told that in Denmark he was back to his old-time form and speed and that he has been the same in training. That is encouraging. What about that stormy Dave Hickson the man who has disputed more controversy than an the rest of the side put together. Those who admire Hickson do so with a tremendous fervency and loyalty that will not hear a word against him.
Not Much To Beat
There are others who maintain though with less vehemence, that he is not "Everton type" but one thing is certain and I have said it before –had Hickson not been in the side, Everton would not be in the First Division today. He put fight and fire into the line and though many a time I could not condone his actions I give him every credit in that respect at the same time expressing the hope that he will keep himself more in check in the months ahead. When he does that, and plays the good and constructive football that he proved capable of on many occasions in the promotion year, he will bear favourable comparison with any centre forward in the country. He has not a lot to beat! That, then is the Everton position as I see it so far as the first-teamers are concerned. There are other aspects and the most encouraging one is that the club has so many premising youngsters ready to step into the breach in case of injuries or other emergency. Some of these lads, such as Farrell, Thomas, Lewis, Mayers, and Rankin have previously had senior outings and proved their worth up to a point. Whether they could come in regularly and hold a place down satisfactorily remains to be seen. But at last they are the nucleus on which Everton will reply for replacements and from what I have seen of them the club need not worry unduly in that respect.
PETER FARRELL SAYS –
August 21, 1954. The Liverpool Football Echo
It's Good To Be Back On Famous Grounds
The great day has arrived at last and this afternoon the faithfully thousands up and down the country once again made the turnstiles click merrily in the football grounds of the different leagues. What could or should have been last season is now forgotten, as players and spectators optimistically reviewed their chances for the coming season. The players have been "raring-to-go" after about four weeks of strenuous training which whatever its variations, tends to become a little monotonous without the incentive of competitive games. The main topic among football supporters in Liverpool naturally concerns the prospects of Everton and Liverpool in their change of divisions from last season. The elation which all Evertonians felt at the end of last season on their favourites' return to the First Division is now a thing of the past. We all know, too well, that no club can play on past performances. We shall be judged on our displays this time and the players know that if you have good games followed by one bad one, the former are largely forgotten, and it is the recent poor show that is uppermost in the minds of the fans. Everton's prospects are dealt with elsewhere by Ranger, but I would remind the pessimists who said at the beginning of last season that the Everton side was not good enough to win promotion, and are again criticizing us as being unable to maintain our place in the First Division, that the club has some excellent reserves ready, to fill the breach if necessary. It will be a welcome change to be back again on such famous grounds as Highbury and St. James's Park and meeting some of our old friends from three years ago. There will also be many new faces in the ranks of the opposition to be faced. Most of the present Everton side are familiar with the spacious grounds of this year's opponents, but Hickson and Donovan have yet to play in a First Division game and it will be a special thrill for these to trot out on the arenas of the elite once again. Jock Lindsay has made remarkable progress since that fateful game against Stoke City. He still walks with the aid of crouches, but expects to be promoted to a stick shortly and if his present progress continues it should not be very long now before Jock starts light training. He attends the ground daily for treatment and to exercise the muscles of the injured leg. Mr. Heron, the specialist reasonable for setting Jock's leg and the treatment of it ever since said to me; "I have never met a better patient than Jock. He has been a typical example of dour Scottish courage. "
Everton Playing Staff For 1954-55
Goal keepers Date sign as pro Height Weight Birthplace
>Caldwell B.W 1 sept 1953 5-10 11-0 Liverpool
>Dunlop . A 23 Aug 1949 5-8 ½ 11-5 Liverpool
Leyland H.K. 1 Aug 1950 5-10 ½ 13-9 Liverpool
O'Neill J. 9 May 1949 5-10 ¼ 11-5 Dublin
Full Backs
Clinton T.J 13 March 1948 5-9 11-4 Dublin
Donovan.D 21 May 1949 5-9 ¾ 10-13 Cork
>Heyes 24 Feb 1953 5-6 10-4 Haydock
*Hillsdon 13 May 1954 5-7 ½ 10-2 Liverpool
Lindsay. J.S 15 March 1951 5-7 10-4 Glasgow
Moore. E 13 Feb 1949 5-8 11-11 St. Helens
Molyneux. B. 21 Dec 1951 5-9 ¾ 9-10 Prescot
Rankin G 23 Aug 1948 5-7 ¾ 10-8 Liverpool
Sutherland J.F. 12 May 1950 5-7 ¾ 11-5 Cork
Tansey. J. 3 May 1948 5-7 ¾ 11-5 Liverpool
Half-Backs
Birch K.J. 22 Aug 1951 5-8 11-2 Birkenhead
*Capper B.R 27 July 1953 5-6 10-5 Winsford
Clayton. J.M 22-June 1954 5-6 10-12 St. Asaph
Farrell. P.D. 11 July 1946 5-7 ¾ 12-1 Dublin
*Fitzsimmons CJ 11 July 1953 5-10 ½ 10-10` Liverpool
*Forshaw E. 2 Aug 1950 5-11 12-0 St. Helens
Grant J.A 5 Dec 1942 5-4 ½ 10-4 High Spen
Jones. T.E. 27 Jan 1948 5-10 12-1 Liverpool
Lello. C.F. 19 Sept 1947 5-8 12-1 Ludlow Shrewsbury
Melville. L. 8 April 1950 5-11 11-10 Ormskirk
>Rea K.W 16 June 1952 5-8 10-4 Liverpool
Woods, M 15 Nov 1949 6-0 ½ 12-11 Skelmesdale
Forwards
Buckle E 11 Nov 1949 5-9 ¾ 10-4 London
Eglington. T.J. 11 July 1946 5-6 ½ 10-3 Dublin
>Farrell A 10 March 1953 5-7 10-10 West Kirby
Fielding A.W 7 Sept 1945 5-6 ¾ 10-6 London
Gibson D.J. 1 Aug 1950 5-10 11-3 Liverpool
*Harris B. 16 Jan 1954 5-8 10-10 Bebington
*Harris J 28 Sept 1951 5-10 11-8 Birkenhead
Hickson D 15 May 1948 5-10 13-0 Salford
Keeley J.J. 11 May 1954 5-6 11-11 Liverpool
*Kirby 14 June 1952 6-0 11-10 Liverpool
Lewis G. 3 May 1948 5-7 10-4 Bangor
*Mayers D. 26 August 1952 5-7 9-12 Liverpool
Meagan. M.K. 6 Sept 1952 5-7 10-1 Dublin
McNamara A. 8 May 1950 5-11 ¾ 11-13 Liverpool
Parker. J.W 9 Dec 1948 5-10 11-2 Birkenhead
Potts H 16 October 1950 5-8 ½ 11-5 Helton-Le;H.
Rabone E. 6 July 1951 5-7 10-7 Liverpool
Saunders R 5 February 1951 5-8 ½ 12-1 Birkenhead
Tansey G. 2 October 1951 5-7 ¼ 10-6 Liverpool
*Thomas E. 29 September 1951 5-7 9-8 Newton
>Tomlinson J. 10 June 1952 5-8 10-10 Birkenhead
*vizard C.J. 27 September 1951 5-6 10-1 Newton
Wainwright E.F 23 March 1944 5-8 10-8 Southport
Williams R.A.K 2 March 1954 5-9 ½ 10-6 Bromboro'
*=Part Time, >=Forces
EVERTON RES V WOLVES RES
August 21, 1954 The Liverpool Football Echo
Everton Res-Leyland, goal; Tansey and Rankin, backs; Grant, Woods, and Melville, half-backs; McNamara, Potts, Saunders, Lewis, and Buckle, forwards. Wolves Res;- Dwyer, goal; Guttridge and Flowers, backs; Crook, Timmins, and Clamp, half-backs; McDonald, Stockin, Taylor, Teeler, and Smith, forwards. Referee; Mr. F. Collinge (Rochdale). The Central League champions, Everton, commenced operations at Goodison Park today with a visit from the ex-champions, Wolves, Everton were dominant in the first half, but Dwyer, the Wolves goalkeeper, defended brilliantly in saving magnificent shots from Buckle, Lewis and Potts. In the 35th minute Saunders gave Everton the lead after Taylor had previously hit the foot of the Blues post. Within five minutes Crook scored a lucky goal for the visitors, Leyland allowing the ball to pass out of his hands into the net. Half-time; Everton Reserves 1, Wolves Reserves 1
Upon the resumption Everton again bombarded the visitors quarters where Dyer again came out with flying colours in several good saves. Everton were very unlucky when Lewis hit the upright with a grand header, but he improved upon this in the 60th minute by heading in from a pass by McNamara to put the Blues again in the lead.
Hoylake v. Everton "A"
After six minutes Crowther put the ball through for Madeley to score for Hoylake. Sutherland equalized from a penalty and Everton "A" went ahead with goals by Meagan and Kirby. Half-time; Hoylake Athletic 1, Everton "A" 3
EVERTON OFF TO BEST OF STARTS
August 23, 1954. The Liverpool Daily Post
Sheffield United 2, Everton 5
By Stork
It is essential in these days of keen competition that a team should get off to a good start. Everton did so at Bramell Lane when they won their opening game of the season by 5-2. The score in no way flattered them. They were always far ahead of their opponents in skill and pace. Their first half display was probably as good as anything we will see this season and United were made to look very small meat. Everton moved smoothly and confidently and showed not the slightest trace of nerves in this their initial venture into Division 1. They were complete masters almost throughout apart from one short spell when they lost their poise. Then they did not look so good. United will have to tighten up their defence if they are to steer clear of relegation troubles. They were easily beaten by a fast moving attack and by the probing half-back play of Farrell and Lello. It was as a complete team that Everton gained this handsome success. It was one-for-all and all-for-one and with this idea prevalent Everton should hold a nice position at the end of the competition.
Early Blows
United suffered because they had three quick goals against them in the early part of the game, the first due to a goalkeeping error which no doubt had its effect on the defence. To be three goals down in 30 minutes is a hard blow to any side and United did not seem to ever get over it. On the other hand Everton went from strength to strength and two further goals came to them before the end. Although United did better in the second half their burden was too heavy. They managed to get two goals late on in the period when Everton lost their domince. One cannot quibble about a side that wins 5-2 away from home and the fact that Everton played high grade football for three parts of the game should stand them in good stead. Goals; Parker (10 minutes), Parker (12), Wainwright (23), Wainwright (70), Eglington (74), Hagan (75), and Hawkesworth (84).
EVERTON RES 2, WOLVERHAMPTON RES 1
August 23, 1954. The Liverpool Daily Post
Spectators at Goodison Park on Saturday had plenty to enthuse over in Everton Reserves narrow victory over the Wolves in a Central League game. The result by no means flattered Everton, who would have won by a greater margin but for the fine display of Dwyer in the visitors' goal McNamara shone for Everton and Lewis and Buckle formed a fine wing. Woods was responsible for breaking up many dangerous Wolves attacks. Everton scorers were Saunders and Lewis, Crooks replying for the visitors.
BLUES DO WELL
August 23, 1954. The Liverpool Echo
By Stork
Now then, you doubting Thomases let me put your mind at rest about Everton's prospects in the First Division. They are in their rightful place, for such football as they produced at Bramell Lane is worthy of the highest sphere. If they can maintain it throughout the season there may be one of the honours awaiting them at the end of May. The journey is long and ardous but no team in Division 1 can claim that they are playing a better brand of "soccer" than Everton at the moment. It was football which had a goal look every time they made a forward move, yet it was not the goals alone which made such a good impression. It was the making of them which counted and with a little more luck they could have taken their goal tally much higher than five. They made Sheffield Unite look small beer, and I forecast a grim time for the "Blades" for they seemed to have only one means of progress – the punt up the middle and then a lot of hope. Such methods will not take them far. Everton went on to the field with a confidence that they played good football in Division 2 last season and there was no reason why they should not continue with it in the higher circle. They soon demonstrated that they were not in the least bit nervous about their rise in status and took command immediately and only for one brief spell near the end did they lose poise and became a little loose, due, perhaps to the fact that they were then 5-0 in front.
Loose Spell
They conceded two goals to foemen who were not worthy of them, which only goes to show that it is unwise to case up no matter the state of the score card. Hagan's and Hawksworth's shots found their way to the back of the net through a ruck of players. All Everton's five were the result of brilliant approach work to which the United defence had no answer. Even the first goal, which came through a goalkeeping error by Burgin, had its starting point from a defensive clearance which was being carried through by Lello when Burgin failed to hold his pass to Eglington. There was a Hungarian look about Everton's football, with the ball along the turf, the quick collection and despeth and the man in the open space. That is the essence of good football, and when every man in the side is playing in accord the team moved smoothly into action to completely outwit a poor United; poor because they were made to look poor. They never really got over the hammer blows Everton delivered in the first 20 minutes when three goals were scored –Parker two and Wainwright one. To give you an example however Everton man fitted in I once saw Eglington clearing a corner kick. Nothing was too much trouble to anyone and the link-up one with the other shattered the United defence as effectively as an atom bomb would have done the job. Believe it or not O'Neill did not have one single shot to deal with in the first "45." What does that indicate? A sound and solid defence but Everton's best defence was attack and this was used in full measure to make Sheffield what they are a poor edition of a First Division side. Wainwright and Eglington popped in the remaining goals due to complete understanding of the other's requirements, and then came that annoying loose patch, when for the first time Sheffield became a menace. True, it was desperate methods, but it put some life into a "dead" body, so dead that some of their own spectators were anything but kind in their remarks I didn't like that. The only little difference I could see in Everton's play from that of last season was that it was speeded up a little with the 1-2 plan working splendidly. What is the 1-2 plan? Gathering and passing in two movements. This was a vital victory, for there is nothing like a good start, and if it is backed up with football such as came from the full Everton team, well, there are happy times ahead.
All Everton's players came through Saturday's game without injuries other than very minor knocks and the team to meet Arsenal at Goodison Park on Wednesday evening (6.30) will be the same as that which did so well against Sheffield United. Although Arsenal also have no players on the injured list, selection of their side is being deferred until tomorrow.
ARSENAL TEST FOR EVERTON
August 24, 1954. The Liverpool Daily Post
By John Peel
Everton's grand 5-2 victory over Sheffield United at Bramell Lane on Saturday coupled with Arsenal's 3-1 home defeat by Newcastle United should have given the Goodison Park players considerable confidence in their ability to overcome the mighty Highbury eleven when the sides meet at Goodison Park tomorrow evening. Many Merseyside enthusiasts will be hoping that former Everton player, Tommy Lawton will be included in the Arsenal line-up for he is always a delight to watch. They will not, however want to see his name on the goal scoring list. Even if there is no Lawton the Arsenal will still have plenty of glamour in their make-up both fore and aft. In defence there is Welsh goalkeeper Keisey and half-backs Dickson and Forbes while in attack is Lishman the former Walsall player, Logie and Roper.
No Change
With all the players having come through Saturday's game uninjured Everton are reliable to field an unchanged side tomorrow evening. The side will thus be; O'Neill; Moore, O'Donovan; Farrell, Jones, Lello; Wainwright, Fielding, Hickson, Parker, Eglington.
Although Arsenal have no players on the injured list following their Newcastle match the team to face Everton will not be selected until today. The game should provide a tip-top thriller and ho a long way to let Everton follower's know whether the team who won promotion from the Second Division are good enough to hold their own with credit in the top class of soccer.
ARSENAL AT GOODISON
August 24, 1954. The Liverpool Echo
Everton Should Win, But It Will Be A Harder Job Than At Sheffield
Ranger's Notes
Everton could not have wished for a more attractive game to open their home programme than the one which fate has so kindly dropped into their lap, and there should be a crowd of around 60,000 at Goodison tomorrow evening for the visit of Arsenal. Despite all the unkind things so frequently said about Arsenal and the "lucky" label which often quite unwarranted has so long been attached to them, their drawing power is still the greatest in the land. There is a glamour attaching to the Highbury side which many envy but few can match. Their record over the last 25 years speaks for itself and even when they are doing badly, which is not often, they are still a star attraction. Following on their championship victory the previous season the Gunners started last winter's campaign so shakily that the wiseacres shook their heads and prophesied that the day's of Arsenal's glory were over. It certainly looked like it when they were still without a victory after eight engagements and languished at the bottom of the table, with only two points out of a possible 16.
They Lost No Time
But Arsenal don't let the grass grow under their feet. They brought in Len Willis at left back for veteran Wally Barnes introduced Bill Dickson, ex-Chelsea, at right half, and, with other subsequent changes, soon began to look more like the old Arsenal. True, there was not quite the former invincible look about them, but as they lost only one of their next twelve fixtures their supporters breathed freely once more and anticipated another strong bid for honours. It didn't come off, for the team fell away again after this inspired spell, but to finish twelfth after such a disastrous start was a meritorious performance. Tomorrow's game will provide a rather more reliable measure of Everton's likely showing in the First Division than the visit to Sheffield United. Not that I am in any way belittling that splendid victory. Any side which can take a five goal lead away from home no matter what the opposition, must command the utmost respect.
Blues Look Good
Arsenal did not shine particularly in Saturday's game against Newcastle which brought them a 3-1 defeat and if Everton can reproduce their sparkling Sheffield form. Arsenal may find themselves on the losing and one more. But for easing off against Sheffield United the Blues victory would have been even more convincing. It is easy to say that a side should never ease off, no matter what lead in may hold, and remembering how vital a part goal average may play as the season draws to a close but it is a nature thing to do, especially after a long spell of concentrated effort at top stretch. It is not so bad taking a breather when you are five goals in front. The danger is when it is done with only a narrow lead, which was once an occasional Everton falling through rare last season. I don't think we shall see them falling into the same error this campaign. The players know well enough that they ate up against much sterner opposition in the months ahead, and they mean to demonstrate how wrong are those who have expressed doubts about their ability to make much of a show. They certainly started on the right foot, I hope they will keep in step all the time, we shall have a much better idea after tomorrow evening.
Arsenal's Changes
While Everton will be unchanged Arsenal make no fewer than five alterations compared with the side which lost on Saturday to Newcastle. Derek Tapacott comes in at inside left for Lisman, an 18 years-old debutant in Joe Haresty takes the place of Roper at outside left, and another debutant in Jimmy Bloomfield appears on the opposite flank. Bloomfield is the player Arsenal signed during the close season from Brentford, for whom he appear mainly as an inside forward. He is said to be a player of outstanding promise. Another change is that Dennis Evans comes in at left back for Wade. Evans is a 21-years-old former Ellesmere Port player, and a native of Liverpool. He made his debut for Arsenal in the second match of last season, and altogether appeared in 11 first-team matches. Yet another change is Goring in place of Shaw at left-half. Goring was chosen for last Saturday's game, but to drop out through sciatica. Harerty, who is Irish born, was previously with St. Patrick's a Dublin junior side and only joined the Highbury staff a month ago. He is one of the smallest players on their staff, being 5ft 4ins. Tapscott made his Arsenal debut against Liverpool on April 10 and scored twice in the match in which Joe Mercer had the misfortune to break his leg. A native of Wales he joined the London club from Barry Town last October. Everton; O'Neill; Moore, Donovan; Farrell, Jones, Lello; Wainwright, Fielding, Hickson, Parker, Eglington. Arsenal; Keisey; Willis, Evans; Forbes, Dickson, Goring; Bloomfield, Logie, Holton, Tapascott, Haverty.
TWO THINGS THE RAIN CANNOT DAMPEN
August 25, 1954. The Liverpool Daily Post
By Leslie Edwards
Two things the rain cannot dampen –the enthusiasm of Everton's fans for this evening's game against Arsenal, at Goodison Park and the belief of Birkenhead and Liverpool followers of boxing that Wally Thom will take Gilbert Lavoine's European welterweight title when they meet tomorrow evening at the stadium. Not often do we have such occasions on successive nights. Form points to Everton and Thom, but both matches are open. Can you imagine the effort which will go into the safe arrival, by 6.30 p.m. of the 60,000-odd spectators who will want to see the new Everton tackles the new Arsenal? Goodison Park can hold them all comfortably but many, I fear, will miss the opening gambits. An Arsenal without its Compton, it's George Swindon, its Joe Mercer its Lionel Smith, its Roper is unrecognizable. Indeed, compared with the Arsenal side of not so long ago when they beat Liverpool at Wembley, there are but two survivors –Forbes and Logie. Were any other visiting side so changed we might feel more than usually buoyant about the result, but knowing Manager Tom Whittaker's flair for discovering and welding talent, the team which meets Everton may well be livelier, if less experienced than the Arsenals we have watched in recent seasons. There are two debutants –Joe Haverty at outside left in Roper's place and Derek Tapscott an inside left vice Lishman, Goring appears at left half-back and Bloomfield, the man Arsenal signed recently from Brentford, partners Logie on the right wing.
Itching For It
Everton fans have been itching for this fixture for more than one reason. They went their side to confirm that Sheffield victory and they want even more keenly to see Everton prove, beyond doubt, their right to be in Division 1 by beating the side whose defeat is the particular target of all Division 1 clubs. For this state of affairs Arsenal have themselves to blame. They came here, cockily in immediate post-war's seasons and won cheekily at Goodison before the soundness of the Britton regime began to bolster up performance –and morale. With so many young men in the Arsenal side it promises to be a tough game and a fast one. Nothing would give Everton greater satisfaction than a win with no "ifs and ans" about it. It will be a severe test, too, for Arsenal's redeployed side. Normally every Arsenal team starts a goal to the good by virtue of experience. This new eleven may build into one comparable with other great Arsenals but in a first test, such as this, it would be asking a lot of them to expect them to win handsomely. Yet Arsenal can only survive by winning and one may depend on manager Whittaker having weighed his chances carefully with the gamble of playing inexperienced Haverty an Irishman and Tapscott, whose football was learned in Barry, South Wales. Everton are as they were. An unchanging team makes for confidence and general content. I wonder what the one-time critics of J.W. Parker have to say now? I wonder if Dave Hickson can curb his natural fierness so that every one, including the selectors can see how well and unselfishy he can play when he has his mind wholly on the game? Lello and he have obvious chances to further their status this season if Hickson would demonstrate that he is learning to control himself as well as he controls the ball he would be doing himself, and his side, a service. Everton; O'Neill; Moore, Donovan; Farrell, Jones, Lello; Wainwright, Fielding, Hickson, Parker, Eglington. Arsenal; Keisey; Willis, Evans; Forbes, Dickson, Goring; Bloomfield, Logie, Holton, Tapascott, Haverty.
EGLINGTON GOAL AT SIX MINUTES
August 25, 1954. The Liverpool Echo
Everton's Good Start
Dickson Hurt
Arsenal Battle With Ten Men
By Ranger
Everton; O'Neill, goal; Moore and Donovan, backs; Farrell (captain), Jones and Lello, half-backs; Wainwright, Fielding, Hickson, Parker, and Eglington, forwards. Arsenal; Keisey, goal; Willis and Evans, backs; Forbes, Dickson, and Goring, half-backs; Bloomfield, Logie, Holton, Tapscott, and Haverty, forwards. Referee; Mr. R.M. Griffiths. There was a large attendance for Everton's opening home fixture at Goodison Park, this evening. The crowd must have been in the vicinity of 60,000 when the teams turned out, and people were still streaming in. The final total is almost certain to be a record for a mid-week evening match. While Everton fielded the side which defeated Sheffield United on Saturday. Arsenal had five changes with two debutants on the wing in Joe Haverty and Jimmy Bloomfield. Haverty, aged 18, was signed from a junior Dublin side only a month ago, while Bloomfield went to Highbury from Brentford during the summer. Right back Dennis Evans is a Liverpool boy, one of a family of eight footballing brothers from the Old Swan area. He formerly played with Ellesmere Port and was recommended to Arsenal by Joe Mercer, who watched today's match from the Press box. Welsh-born Erek Tapscott at inside left was another comparative newcomer to the Arsenal team. He made his debut against Liverpool at Highbury last April and this was only his sixth senior appearance. Everton did their limbering up with five balls. Arsenal had to be content with one.
Nice Passes
Debutant Haverty, the smallest man on the field, only 5ft 4 ins, was on his back before he had kicked the ball, losing his footing when endeavoring to slip his way past Moore. More was prominent in the first few minutes with a couple of nicely-judged passes, though one was turned away by Goring rather fortunately just before it reached Wainwright. Everton were keeping the ball on the ground and finding their men well, and after Fielding had set Eglington in motion the latter crossed the ball for Lello to fire just over the bar. Holton was robbed by Jones when Arsenal got away, and the Blues were back on the attack without getting near enough to Kelsey to try a shot. Willis forestalled Eglington at the expense of a throw-in, from which Parker darted towards the middle, but failed in his object when trying to slip the ball through to Hickson with the result that Dickson was able to clear without trouble.
Eglington's Goal
Holton quickly switched places with Haverty, making a rather amusing picture with the centre forward on the wing and the little midget debutant trying to force his way in the middle. It was from this incident that the foundation was laid of Everton's opening goal in the sixth minute. Holton crossed the ball from his wing, for Donovan to head away, and Everton progressed on the left flank through a speedy burst by Eglington. The winger crossed the ball to the middle for Hickson, who gently crossed it back first time for Eglington to head into the net of the upright throwing himself full length on his stomach in the process. This was a grand bit of combination between Eglington and Hickson and a great finishing touch by the winger. Naturally this early success was very much to the liking of the hugh crowd which by now seemed to be in the vicinity of 70,000 though it is difficult to tell just how tightly they are packed under the stands. Little Haverty was showing plenty of Irish pluck and speed as well and although a month ago this laddie had not been heard of outside Dublin he has already shown that he is a born footballer. Whether his lack of inches will be a handicap remains to be seen.
Dickson Carried Off
A tussle between Parker and Dickson saw the latter's pass-back to goalkeeper Keisey caught in mid-air as Dickson fell to the ground. He was hurt apparently in the ribs for the remained flat on his back while play went on for quite a while until Wainwright shot being after a good move which might easily have brought a goal. With the ball dead, attention was given to Dickson and a summons made for the stretcher. The Arsenal centre half was carried off after play had been in progress 15 minutes. It was a pity that Arsenal should be a man short for this always robs any game of its attraction, and most Evertonians would have preferred to see the Blues up against full numerical strength. This match was regarded as a test of Everton's likely progress in the First Division, and to fine themselves up against a handicapped side rather robbed it of some of its evidence value to this direction.
Brilliant Kelsey
Everton continued to be on top and only a brilliant flying save by Kelsey robbed Farrell of a goal. The Everton skipper's shot from 25 yards looked booked for the back of the net when Kelsey clutched it with both heads as he leaped horizontally across goal. Forbes had gone into the centre half berth the Arsenal Logie dropping back to right back. It was obvious that Arsenal meant to hit back despite their depleted forces and when Bloomfield veered into the middle and switched the ball out to Holton this time at outside right, Holton let drive a tremendous shot down a vast narrow angle which O'Neill got away with his finger-nails. Eglington offered a shooting chance to Farrell but this time Farrell miss-hit the ball and Kelsey had nothing to do but watch it go well outside.
Haverty Chance
A long clearance by Donovan saw Hickson try to flick the ball goalwards with a header. Back came Arsenal to give the crowd a thrill when with Bloomfield and Holton once more switching places, Haverty found himself with the chance which all debutants dream off getting on his first match. Haverty hit the ball strongly and accurately but Tommy Jones on the goalline stuck out a leg to block it away. It went towards Logie who shaped it into the middle only for Jones once again to get his leg in front of a scoring effort. The absence of Dickson seemed to have acted as an additional vigor to Arsenal who for some moments had been the more dominant side. As though to make up for their centre half's absence, they were going to the ball quickly and strongly and Everton's better immaculate combination was not now so much in evidence. A foul against Parker for a technical offence against Forbes seemed to take Parker by surprise but the linesman who flagged was right on top of the incident. Logie was putting in some grand foraging work at right half and plying Holton and Bloomfield with some nice passes.
Hickson's Pace
Hickson had hard lines when twice a badly bouncing ball prove to his disadvantage as he was trying to force his way through single-handed against Forbes and Goring, he usually managed while falling to the ground to push the ball back to Wainwright but the latter's shot was blocked. A moment later Wainwright again had a chance but quick tackling by Evans backed up by Goring crowded him out. Everton got a corner as a result and from this both Parker and Hickson just failed to get in shots. Young Haverty once again demonstrated that his tremendous quickly rise to a place in the Arsenal side was no fluke. He picked up a pass from Tapscott and by means of a nice body swerve gave himself a shot at goal. He hit the ball hard but not quite hard enough, though it was no more than a yard on the wrong side of the woodwork. The game still pursued a swift and exciting course, which was now more evenly-balanced. A canny back-header by Hickson presented Wainwright with another shooting chance, only for the winger once more to slice the ball behind.
Goring Tests O'Neill
Straight from this, Arsenal dashed away for Goring to test O'Neill with a 30-yarder and with this it was Eglington turn to have a go, Kelsey tipping the ball over from a similar distance. From the corner, Willis scrambled the ball away from the goal-line after Wainwright had hooked it in from close range. This was a narrow escape for Arsenal, though Willis covering had obviously been promoduated. The crowd was being treated to some excellent football. Both sides were keeping the ball low, passing accurately and making progress by well-conceived and executed movement. One of the best bits of combination so far was between Wainwright, Fielding and Eglington and it ended with Eglington leapt high in the air to head inches over the bar when the crowd was just ready to cheer another goal. Everton's only fault so far had been their finishing. This had not been on a bar with their approach work; but some of their combination had been delightful.
Arsenal's Pack Goal
On one occasion they had six men passing and re-passing with great skill as they bore down on goal, but Arsenal despite the absence of Dickson, were packing their goal when danger threatened and try as they would Everton could not find a way through. Everton's next attack produced a Fielding shot which struck the crossbar so that Everton had now been twice foiled by the woodwork. Eglington having been a sufferer a little earlier when he hit the angle of post and upright following a corner. Arsenal were beginning to feel the pace a little under their ten men handicap and had not for some minutes when in the game on prominently as previously. Parker picked up a clearance from Donovan and let go with a strong shot from 25 yards, it sizzled yards or so outside the post.
Called To Order
Logie had not been seen for quite a while but at last he darted through and slipped the ball upwards for Holton to chase it in an effort to beat O'Neill. O'Neill got there first but as he was gathering it to his chest he fell heavily to earth and Moore and Holton bustled one another one of them trying to protect the goalkeeper and the other trying to hamper him. Referee Griffiths called them both to order. It was Holton again who darted through quickly to try a left foot shot which landed among the spectators and then Tapscott took a course to goal at an angle which landed him in the inside right position before he could try a shot. This too finished up among the spectators. Goring was booed for a foul on Wainwright and from the resulting free kick Fielding placed the ball to the head of Parker, whose scoring effort passed harmlessly across the face of the goal and into touch. This was not one of Parker's best heading efforts, otherwise Kelsey might have been picking it out of the back of the net.
On Strong Note
Everton were now getting little too bunched together in attack and there were also signs that the game which hitherto had been fought out very cleanly might become much more keen and acrimoniously. Referee Griffiths however, is not the type to let vigour get out of hand. The closing minutes of the first half did not produce football as entrancing as in the earlier stages, and Arsenal seemed inclined to take undue liberties to defence. Right on half time Logie settled so much that Hickson robbed him and darted through with two men in close attendance. When he was hampered he flicked the ball to Parker, whose first time shot would probably have beaten Kelsey had it not hit Forbes on the leg and bounced away to safety.
EVERTON WON-AND 10,000 ARE LOCKED OUT
August 26, 1954. The Liverpool Daily Post
Packed Crowds Struggle In Streets Near Goodison Park
Extraordinary scenes outside Goodison Park marked Everton's first home game since their re-entry to the First Division last night, when an estimated 10,000 supporters were turned away. Gates were closed more than ten minutes before the 6.30 kick off, and many of those who did manage to get inside the ground left long before the game was over. They claimed they could not see the game, in which Everton beat Arsenal 1-0. A police official told me; "The only time I have ever seen anything approaching this, was a few years ago when Everton played Manchester United in a Cup-tie. But I think this has been even worse. I am sure at least 10,000 people must have been turned away." Eighty police were on duty dealing with crowds who began to form queues shortly after three o'clock. At 6.30 p.m. Goodison Road from the junction with City Road to Eton Street was packed tight with struggling people going in both directions. It was impossible to park a vehicle within half a mile of the ground near kick-off time. Many vicinity of the ground held disconsolate supporters who, having been unable to get inside were waiting for their more fortunate friends to return with the results. One of these was Mr. Owen Moran, of 19 Meadow Drive, Barnton, near Northwich. "It is the first time I have ever been turned away from Goodison Park," he said. "Four or five coachloads have come from Northwich and judging by the numbers I have seen walking about I don't think a quarter of them could have got in."
Another enthusiastic Everton supporter Mr. Edward Warner, of 7 Hester Close, Hightown was among those who saw the "Ground full" notice go up. He arrived at Goodison Park at 6.10 p.m. to find what he described as a state of chaos" in Gwladys Street where two turnstiles were not operating. He thought they had never been opened. "I consider that the Goodison Park management and the police were overwhelmed by a crowd they had never anticipated. This ought to have been foreseen after Everton's victory at Sheffield, plus the fact that it was their first home game since they returned to the First Division. "I came away because there appeared to be no proper regulation of the crowds, who seemed to have got out of hand, I went round most of the gates in Gwladys Street but it was hopeless –the turnstiles were jammed and everyone appeared to be fighting to get in." One of those who got in and was glad to get out again was a young Irish supporter of Everton who had caught the midnight boat from Dublin the previous night to see the game. He was Tommy Flanagan, of 29 St Mary's Road, Dublin. He had come over with his friend Billy Kelly, who lives in the same road. "I lost Billy as soon as we got inside the ground," said Tommy. As he stood at a bus-stop the roar of the crowd still watching the game punctuated his remarks. "They are packed like sardines in there," he declared.
"Glad To Get Out."
His best view of the game was an occasional glimpse of the footballer's heads. Most of the time he had to content with watching the ball when it saw kicked high. "I was glad to get out at half time, he said."
Another visitor was a Scot from Edinburgh who is on holiday at Southport –Mr. Alexander Goghill. Mr. Goghill, who was accompanied by his young son said; "Conditions inside the ground gradually got worse and worse. "Everyone was jostling and bobbing about trying to see the game and most of them couldn't see a thing at the far side. I decided we had enough shortly after half-time.
Mr. J. McClaston of 18 Daneswell Drive, Lesowe, who has been following Everton for the past twenty-seven years and had been unable to get on to the ground for the first time, listened and said; "It's perhaps just as well I didn't" He had queued up from 5.30 without success.
Mr. Leonard Jones, of Bailey Road, Ellesmere Port, who also left the ground shortly after half time said; "It was terrible. They allowed the gandways and spaces at the back to fill up. It was the hottest and most uncomfortable match I have ever attempted to watch."
ONE GOAL, BUT WHAT A GOAL!
August 26, 1954. The Liverpool Daily Post
Everton 1, Arsenal 0 (Attendance 69,134)
By Leslie Edwards
What is one goal among so many chances. Ask Everton. They will tell you that one goal sufficed to bring two points –though there may have been moments second before the final whistle when the ball's lighting progress from Holton's centre blew icy chill on the spines of all Evertonians present. Yes, Arsenal went that close to bringing off the recovery of the centre after every facet of the game had shown this to be a match of one team only –Everton. Thus Everton won their first home points in Division 1 before a wildly enthusiastic following who asked but one thing more –the goals Everton earned but would not could take against an Arsenal denuded from 15 minutes onwards of the services of centre half Dickson. Between Everton and their heart's desire (a victory so resounding that none would ever take leave to doubt their First Division pretensions) stood a goalkeeper, Kelsey who can look back on his part in honorable defeat with tremendous satisfaction. He came out gallantly to meet Everton forwards who had the ball at their feet and seemed certain to score; he flung himself acrobatically to save, nay hold a hugh distance shot by Farrell and to complete Arsenal's fortune in one of Everton's many barrages he caught, with the surest of hands a point-blank drive, almost straight at him, by Fielding.
Not Alone
But Kelsey alone could not confine Everton to a single goal without help. He got it from two very good full backs from Forbes who took over after Dickson had been carried off by stretcher after dislocating a shoulder and he left the rest to the frame of his goal which Eglington hit twice and other's shampooed and shaved with shots and headers more often than one could note. Everton's danger was always that Arsenal might contrive to smash and grab their way to the countering goal. It was this ever evident threat which gave the game charm; yet long, long before the end it was plain Everton were on top and that they would stay there. They understood each other better than this new edition of Whittaker's Almanac they played with fire and artistry and the only fault was that they were magically denied goals by the combination of Arsenal effort and good fortune. Weighting Everton's single goal win against Arsenal's tremendous handicap –Logie's scheming was lost to the attack when he took over at right half-back –one is forced to the conclusion that if the sides had been at level strength the nature of the game would have been totally different, though the result might have been identical. There was one Arsenal spell, twenty minutes before the interval when one scarcely noticed Dickson's absence, yet once Everton began the second half they took command and only momentarily relaxed their grip. At these times it was the rangy Holton, who hits a ball hard and true as one could wish them it comes by way of a through pass, who had the crowd murmuring with surprise at the promptness and power of his shooting.
What A Goal
Against this Everton might argue; We won by a goal, but what a goal! Seven minutes had gone and Everton were shaping well when Donovan began the move carried through with such inevitability that one sensed a great goal before the ball sped, finally from the head of Eglington into the net. Hickson's flick of the ball was a touch of genius; that Eglington anticipated it to make the glorious final move in a lovely round of passing was equally out of this world. This was a goal which deserved to be the counting one. It was a match packed with incident nearly all of it in the vicinity of Kelsey and company. The story of near-misses and misses would fill a chapter. If the ball was not "touching wood" Arsenal were and if some desperate last-second intervention of a defensive foot was not saving the situation the Everton forwards by their desire to make their chance absolutely fool-proof, were causing their fans to gnaw their fingers nails to the elbow. Had it not been all so desperate Arsenal might have laughed at the way they survived when all the odds mounted against them. Instead, they retained their coolness remarkably for a side not over-loaded with experience and there was usually a telling constructive pass to take the ball away and keep it away –for a time. The trouble was that with the attack lacking Logie there was none, Holton excepted to know how to maintain well-found attacks. Here two very good Everton backs, both of them rarely beaten and Tom Jones in a dominating mood, stepped in and said, as Arsenal's defence did often. "So far but no farther!" Little Haverty showed control and ideas but he was easily brushed off the ball. Also he only rarely received it well enough to show that he could do in a fair field. Initially a ground which was dead and limp affected the pace. Then Everton got the strength of the turf and started to use the ball in lovely, well-knit links, forged so well that Arsenal had their work cut out to break them. Most of Everton's best chances came in that one-way-only second half. Wainwright and Eglington both of whom might have scored twice, seemed incapable of producing the lethal shot or header –a vexatious way of repaying the many unselfish things Hickson did to put everyone around him on the register. This was Hickson's finest hour. He took and gave charges with equity. He "hit" Kelsey and Kelsey returned the compliment (and the charge) and the excellent Mr. Griffiths of Newport said "play on" and tempers were even. In such form Hickson is a delight. His flicked headed passes were defence-0pening. The pity was so little use was made of them.
More Solid
Everton were the more solid side in every way, allowing for Dickson's absence. One felt that they understood each other admirably and that Arsenal did not always have their quality. Nevertheless I would say that Arsenal have the oasis here of a very good side. The captaincy Joe Mercer a spectator last night might give would be invaluable. When Forbes of the red hair and fiery tackle tried of third back negation and said to himself" If we are to score I am the fellow likely to engineer it," he went upfield for the final five minutes and Arsenal "clicked" almost immediately. It was Forbes prompting which produced out of the gloaming two fine movements, the first of which went within inches of giving the game a 1-1 aspect which would have been judicious as a picture of play. This was a match of some memories of Dave Hickson in new and likeable vein of 70,000 packing the stands and terraces in sultry heat with scarcely a casualty (the story outside the ground was not so happy, I gather) of Farrell joyously leading his side to four points out of four; of Fielding still the starting point of so many of his side's attacks, doing it supremacy well as he always does; of the divots carefully replaced when they had been raised as by mashine niblick shots; of Forbes and others indulging themselves in more than a little talk; of Dickson's unaccountable injury in what seemed an innocuous clash of bodies with Parker; of all those Everton strikes which seemed so likely to score…of the ability of young Tapscott and again, of Bloomfield. With such players as these Manager Tom Whittaker hopes (with good reason) to re-establish Arsenal on a fresh basis.
EVERTON WIN AGAIN
August 26, 1954. The Liverpool Echo
Arsenal Defended Magnificent Under A Ten Men Handicap
Ranger's Notes
If Everton could have transfer their good approach work of their first half and superiority of their second portion into goals their would have beaten Arsenal by almost as big a margin as they registered against Sheffield United. But there is a wide difference between possible chances and goal when you are up against a side which can block the way so well as these well drilled Gunners. Dickson was carried off after 15 minutes. As things turned out, this seeming blow to Arsenal appeared to act more as a spur than a handicap for every man on their side pulled out that little extra which made things far more even for the next half hour than one had anticipated. It was a good job that Everton had taken the lead through an Eglington header at the fifth minute, for afterwards though they twice hit the woodwork via efforts by Eglington and Fielding they could not break down Arsenal's cast iron defence. Everton started in great style. Keeping the ball on the ground and progressing by quick and accurate first-time passing they carved out several good openings, only to waste most of them by disappointing finishing or by shooting when somebody had his body in the way. Twice Wainwright sliced shots behind from good openings, one a beauty presented to him on a plate by Hickson. This factor apart it was pleasing to see the ease with which Everton found one another an obvious tribute to the hard work which must have been out in during recent training weeks. Occasionally the forwards got themselves bunched together too tightly but this was only a minor blemish on their otherwise entrancing work.
Unyielding Defence
With the departure o Dickson, Forbes went centre half and little Logie dropped to right half what time Everton's followers began to see visions of a glut of goals. But few sides will do much scoring while Arsenal retain the facility to pack their area so lightly and cover each other so effectively. Time and again an Arsenal man seemed to pop at the right spot at the right moment when a split second earlier there had seemed to be nobody near enough to come to the rescue. During the last 20 minutes of the first portion the losers were just as much in the attacking picture as their matters and only some desperate defensive measure kept the tall and quick shooting Holton from snatching an equalizer. Two of his pile-drivers whizzled dangerously near the woodwork. In the second portion it was largely a question of Everton's forwards ably backed by their wing halves hammering away at the stubborn and unyielding Arsenal defence. One felt that sooner or later another goal must come, but the visitors stuck it grimly to the bitter end with Goring now doing as well as deputy centre half as Forbes had performed earlier. Everton rained in plenty of shots though none of any tremendous power, and those which were not blocked by defenders were capably dealt with by goalkeeper Kelsey who plucked high balls out of the air with the greatest of ease and assurance. Several times the Arsenal goal had narrow escapes. Twice in as many seconds shots were blocked away almost on the goalline, but try as they would Everton could not get the ball into the net. It is a pity that Arsenal had to fight with 10 men for so long, but whether it would have given us any better idea of Everton's future possibilities is a moot point, I don't think Arsenal would have played much better at full strength. Certainty they could not have been any stronger in defence. The only difference might have been that their second half attacks which were mainly spasmodic break aways would probably have been more sustained. Everton were sound in all departments with Moore and Donovan competent at all times, Jones dominant in the centre despite the harassing attentions of Holton and O'Neill reliable with the comparatively little work he had to do. The wing halves were just as good with Farrell putting in the best shot of the match which Kelsey caught brilliantly as he dived horizontally across goal.
Good Distribution
Hickson got some fairly rough treatment at one period but took it all most springly and the momentary feeling did dawn to let the game progress, no more ascendable lines. Fielding distribution was excellent and if Wainwright and Eglington had matched their general work with shooting of equal calibre either could have made the issue safer long before the finish. Parker tired and was nothing like so prominent in the second half as he had been earlier. If he can overcome his lack of inches Arsenal seen to have discovered a possible future star in 18-years-old Joe Haverty a speedy and tricky winger who has a good turn of speed and runs into the open spaces in a manner which shows his football brain. Forbes and Goring played extremely well and Bloomfield also making his debut, showed plenty of promise without being outstanding. Holton is a rare opportunist who wastes no time when a shooting chance presents itself. A gate of 69,134 demonstarted Everton's drawing power, to say nothing of that of Arsenal. There was some difficulty with the queues largely due to the crowd coming in a rush about the same time. So far as the club is concerned I am advised that everything possible was done to avoid delay and that all turnstiles were opened in good time. Some, however, had to be closed before the start to the stands being full. It is this which presumably gave rise to the impression among late-comers that they had not been opened at all. I am assured this was not so.
PRESTON AT GOODISON
August 27, 1954. The Liverpool Echo
Another Attractive Game For Blues
Ranger's Notes
Everton's good start has whetted the appetite of their followers tremendously. The win against Sheffield United even allowing that the Blades are a poor lot, put Everton's followers in happy mood, while Wednesday's game against Arsenal further encouraged their hopes that the Blues are going to make a real splash on the higher sphere. Tomorrow's tussle with Preston North End will be a good guide to further assessing Everton's future prospects. If the Goodison lads can win this engagement also, then we can look ahead with optimism and confidence, for Preston with ten goals to their credit in two games, have already indicated that they are likely to be an even greater force than last season, when they finished on a comfortable position and got to the Cup Final. North End have been under new management for the past month, Mr. Frank Hill, who followed Cliff Britton as manager of Burnley for five years has taken over the job at Deepdale vacated by Scot Symon, now with Glasgow Rangers.
Well-Balanced Side
He found a solid and workmanlike team awaiting him, with a good supply of competent reserves in case of need, the later augmented during the summer by the signing of inside forward Sammy Baird from Clyde. In their two opening games the Preston team had been the same with one exception, as that which lost the cup to West Bromwich, Halsall came in for the injured Wayman in their 5-2 victory over Cardiff City at Ninian Park on Wednesday. This performance rates a trifle better than Everton's win at Sheffield, for Cardiff's defence, whatever the fallings of their attacks, usually gives a sound and reliable display. This time they were at sea against Preston's dazzling forwards who may test Everton's defence more than either of the two teams the Blues have tackled so far. Not that Everton's followers will worry unduly about that. O'Neill, Moore and Donovan make a stalwart and reliable rearguard, Jones has started where he left off last season, a strong and efficient pivot and the wing halves have been in great form. The only fault one could find with Everton against Arsenal was their lack of finishing accuracy. They carved out openings galore by splendid approach work only to slice their final shots on too many occasions. That, however, is something which can be remedied. The fact that the rest of their forward work is so good and that the players are keeping the ball on the ground and finding one another so well, is decidedly encouraging. The finishing power should come in time. Preston are doubtful about one position in their team. Inside right Foster received a knock on Tuesday at Cardiff and is ill under treatment. If he is not fit Baird will make his debut. Wayman injured last Saturday is being given another week's rest so that Halsall again leads the attack. Everton field an unchanged side. Everton; O'Neill; Moore, Donovan; Farrell, Jones, Lello; Wainwright, Fielding, Hickson, Parker, Eglington. Preston; Thompson; Cunningham, Walton; Docherty, Marston, Forbes; Finney, Foster or Baird, Hatsell, Baxter, Morrison.
The central League side away to Stoke City will be the same as last week namely; Leyland; Tansey (J), Rankin; Grant, Woods, Melville; McNamara, Potts, Saunders, Lewis, Buckle.
As there is likely to be another near-record crowd at Goodison tomorrow, Everton appeal to all intending spectators to get to the ground as early as possible and to move well away from the entrances when inside. It is also requested that those awaiting admission will maintain orderly queues and not rush from one turnstile to another.
EASIER SAID THAN DONE
August 28, 1954. The Liverpool Daily Post
By Leslie Edwards
Everton's appeal to spectators not to rush from one turnstile to another and to maintain better order than at the Arsenal game last Wednesday is sensible and timely, but in the circumstances it may go unheeded. People who have travelled long distances to see unbeaten Everton and Preston North End at Goodison Park –thousands come from North Wales and even further afield are not going to miss their entrance due for the want of a jog when one stile closes he rush to others still doing is inevitable, I would if more faith on good order maintained by large numbers of police to point the Everton club know are able to be crowded. In some Everton matches long queues of people who wish to pay at the turnstile merge with queues of people who have tickets for the stand. When turnstiles close those with tickets are liable to miss the first fifteen or twenty minutes play. It is all very aggravating and when things go wrong, as they did on Wednesday it is essential that spectators and police who are trying to sort out the jam, preserve good sense. Goodison Park is capable of holding thousands more than found places for the Arsenal game, but early arrivals, do not always move along to make room for others. The result is that many parts of the ground are comfortable filled and others (I am thinking of a paddock area in the vicinity of the players subway are a solid mass of uncomfortable swaying humanity. "It says much for the enthusiasm and hardihood of followers of football that they should willingly endure ninety minutes in such conditions. The position to-day may be eased because everyone has more time in which to reach the ground. The answer as ever is come early to avoid the crush; yet were this axiom followed by all the position would be worse than ever!
Preston Doubts
Crowding and discomfort will not keep the raid Everton man away. He wants to see Everton's third victory in succession and form and Preston North End mean nothing to him. Everton are fortunate. They will be unchanged, Preston will be without Wayman, injured a week ago, and there are doubts about the fitness of Foster. Hatsell plays in place of Wayman; in the event of Foster crying off the debutant Baird will come in. How good Everton are is more likely to be proved today than in any other match so far. At Sheffield they were at the winning post fifteen minutes after the match started; against Arsenal their job was made easier –say what you will about the alleged difficulty of beating ten-men teams. By Dickson's disappearance after fifteen minutes, it will be good to see Finney and all the good things he can offer –Donovan's the most difficult –of commitment –and it will be good to see Hickson contribute to Everton's power by thought and skill and the poise he is acquiring in company where centre-forward usually get a square deal. Everton; O'Neill; Moore, Donovan; Farrell, Jones, Lello; Wainwright, Fielding, Hickson, Parker, Eglington. Preston; Thompson; Cunningham, Walton; Docherty, Marston, Forbes; Finney, Foster or Baird, Hatsell, Baxter, Morrison.
EVERTON STILL WINNING
August 28, 1954. The Evening Express
By Don Kendall
There's no stopping Everton! The Blues recorded their third successive win today, when they beat Preston North End at Goodison Park.
A Shock Goal From Lello
The stands at Goodison Park today for the match between the hundreds per cent teams, Everton and Preston North End was closed 75 minutes before the kick-off and there were thousands lining the streets surrounding the ground with long queues at every turnstile. Scenes like this have not been witnessed at Goodison since Everton's mighty cup run of the season before last. Everton; O'Neill, goal; Moore and Donovan, backs; Farrell (captain), Jones and Lello, half-backs; Wainwright, Fielding, Hickson, Parker and Eglington, forwards. Preston North End;- Thompson, goal; Cunningham and Walton, backs; Docherty, Marston and Forbes, half-backs; Finney, Foster, Hatsell, Baxter, and Morrison, forwards. Referee; Mr. W. Clements, West Bromwich. Preston won the toss and set Everton to face the slanting sun and a slight breeze as the Blues kicked into the Gwladys-Street stand. We saw Tom Finney –one of the prime attractions of the day –in on of his merriest moods in an early move, for he slipped around Donovan and only quick covering prevented his centre from moving through invitingly to Halsall. Finney took the corner and O'Neill ran out to punch the ball to the ground with one hand as he was fouled. Away went Everton with a lovely combined movement, Eglington's final centre being hurriedly cleared by Walton. Forbes had to go to the touch line for attention after 2 ½ minutes. Apparently he had twisted his right ankle, but he was soon back in action again.
Docherty To Rescue
This was rip-roaring football all along the floor, played in an electric cup-tie atmosphere. Docherty alone saved North End when Eglington pushed the ball through to Parker, Docherty kicking it off his toe for a corner when Parker was only six yards from goal. North End had an escape when the ball was lobbed down the middle, and Hickson brushed his way past Marsden. Thompson was quick to come out and take the ball on the bounce. Another escape for Preston followed a poor clearance by Docherty, but the ball just eased away from Wainwright's toe. Came an escape for the Blues, for with Baxter going through as the result of some delightful interpassing Lello passed back to O'Neill little knowing that Jimmy had advanced from his line. Finney beat Donovan again and cut well into the penalty area to make a fierce low shot which the in running Moore booted away with his left foot. Certainty Donovan had not solved the Finney magic yet.
Eglington's Miss
That man Finney struck again slipping past Donovan and going to within six yards of goal before making his centre which, however, O'Neill took in two hands in perfect style. Good anticipation, this. The Evertonians had the jitters every time Finney got the ball – and believe me they had every reason to be jittery. What an escape Preston had after 22 minutes when Fielding and Parker got Eglington through on his own but as Thompson advanced Eglington shot hurriedly and at least three yards wide. This was the best opposition Everton had struck so far. The North End defence was keeping a tight hold of the Everton forwards. Preston continued to have rather the better of this game their attack running more smoothly and varying their methods cleverly Hickson was spoken to by the referee for swinging out his arm as Thompson made it clear it was an unnecessary thing to do for he had no chance of getting the ball. From Lello's centre, Parker leaped in with a header which Marsden took on his chest to save Thompson trouble. This was a narrow escape for North End, who, however, had been the more convincing side in this high-speed football. Everton seemed to lack their usual calm and confidence, Preston's skill being mainly responsible. Cunningham tackled Eglington just in time a few yards from goal to save a certainty at the expense of a corner. Then Finney struck again, his centre being head behind by Lello. Half-Time; Everton 0, Preston North End 0
Marsden had to be quick to prevent Eglington from dashing in following Parker's pass. Then Fielding was going through when Forbes brought him down inside the area. The referee, however, refused a penalty award, which the crowd thought was an unjust decision –and I was with the crowd.
Off Target
While it may not have been a vicious foul it was definitely a foul. Preston continued to be the more impressive and their attacking football, without doubt, was often streamlined. They were amazingly quick but their shooting in this half had not been accurate. Docherty headed behind to hold up Eglington and from the corner, Hickson made a terrific header only inches over the bar. The referee was booed again when he ruled that Parker in robbing Finney had fouled him. There is no doubt that this Preston, for all their grace in attack, were an exceptionally tough side in defence. In fact, some of their interventions, tackling and use of the arms was more reminiscent of Second Division football. No sooner had I written that, than Marsden brought down Hickson with a particularly vicious tackle and Dave went away limping slightly. Fielding dived in with a header that Thompson saved brilliantly by driving full length. Everton were guilty now of faulty clearances. But the Blues had played better this half and in fact, had slightly more of the game. Hatsell finished a glorious run with a great shot that flashed past the far post. Finney beat Donovan again and from the centre Morrison headed in, but Moore headed out. O'Neill brought the ball down brilliantly from Finney's left-foot centre. Ten minutes from time Everton took the lead with a shock goal from Lello. The Blues had a throw-in near the corner flag on the right and the ball went from Eglington to Farrell and then on to Lello, who from 17 yards drove the ball into the far corner with his right foot. The ball took one bounce as it went past Thompson who was taken completely by surprise. Hickson headed inches over from a centre by Parker. Thompson made a wonder save off Wainwright. Final; Everton 1, Preston North End 0.
Verdict
A great game gave Everton a true idea of the opposition they will meet in the First Division. This was something far better than Arsenal or Sheffield Utd, in that North End in the first half looked a really great side after Eglington had failed with the best chance of the day. Finney had a wonderful first half in fact, he was never stopped once. Only brilliant covering by the Everton defence prevented goals from his great work. Everton, improved immeasurably after the interval. They were rather jittery in the first half but stayed the pace better. Bouquet to Tom Finney for a really magnificent and faultiness display. Brickbats to the North End defenders for the free use of the arms and elbows when they went into the tackle. Everton stood the pace better. Scorer Lello. Official attendance -76,969.
TWO LESSONS OF THE NEW SEASON; BLUES' CORRECT WAY
August 28, 1954. The Evening Express
By Don Kendall
Two of the outstanding lessons of the new season are that players are together in a great campaign to restore British prestige, and that so often it is for easier to play against a team of eleven than it is against ten. Mr. Fred Howarth, secretary of the Football League speaking at our footballers golf tournament at Hesketh, expressed his complete faith in the players to "show the world." Well from what I have seen that faith was not misplaced, and in this great campaign I place Everton among the clubs in the forefront. They have made two splendid contributions to this rehabilitation season, playing football of sheer academic delight, plus effectiveness. All right, I know they missed chances against Arsenal, but I'll come to that in a minute. Long before the season began General manager Cliff Britton said that so long as a team went out and were basically right in their play they would succeed. Well, that is precisely what has happened to Everton. They may have had faults, especially in the goalmouth on Wednesday, but basically they have been 100 per cent correct in two matches. That is the fundamental factor of great import.
Mortals, we know, cannot command success, but they can go the correct way in trying to attain it, and that is what has impressed me about this Everton. There is a general earnest to do the right things in the right way (the way they have practiced at Bellfield) and surely no blame can be attached to anyone for failure if they have tried the right way. My friends in Sheffield who saw the Blues at Hillsborough last season, and at Bramell-lane this term, remarked to me; "Oh, that we in this city could see football like that every week." I appreciate that the way is yet hard and long; that we shall experience many disappointments before next May; but always so long as Everton continue to play the game as it should be played and approach it in the spirit they have shown up to now, then so long shall we be happy. It is possible to become 100 per cent, perfect in anything, but Everton are going the right way to get as near as anything more than admiration and respect. They will win those prizes.
Going back to the 1938-39 season, when at Blackpool, where Everton had won 2-0 to start the season, we were discussing Everton's good play, a companion remarked; "Yes it was good, but there are 41 matches to go yet." How true. There were and Everton took most of them in their stride to win the title. I mention that just to preface the warning that it is far too early to praise too highly or to condemn too much. For instance from what I have seen, Arsenal and Sheffield United seen destined for a struggle to avoid relegation, but it would be ridiculous to suggest that it will happen any more than that Newcastle (top of the League this morning) will win it. Everton's connected with the Goodison club must be delighted with this splendid start, and the only criticisms which can be leveled are for easing off at Sheffield and for failure to force home such tremendous territorial advantage against Arsenal except for that gem of an Eglington goal which in itself was worth the points.
There is not an Everton player who has failed to come up to expectation and provide something even better than the most optimistic expected. I must single out the skipper Peter Farrell. Why Peter, just like good wine is improving with the seasons. What endeavour; what drive; what skill. What an ideal type to have for a skipper, for he is playing so well that he never has to ask his colleagues to do anything which Peter himself cannot do. That is the position in which every captain should be. Tommy Jones, well, I paid tribute to him during the week and here will merely add that, in my opinion, there is not a more complete centre-half in football at the moment. Grand to see that Tommy Eglington has recaptured the form which slipped away from him towards the end of last season in a few games, and that Eddie Wainwright is proving such an effective fighter in this "come back" They have had four of the six goals and any team with wingers who can score must succeed. John Willie has shown that he will still be snatching goals in that inimitable style even though he will wise to forget Wednesday. Yes, and Dave Hickson. In one week Dave the criticized has become Dave the admired, Hickson was condemned many times last season (often I thought without justification) for alleged rough tactics, Dave never was actually rough but rather over enthusiastic and in playing in that virile, have-a-go-at-anything style he wasted a lot of energy. Dave is content to let everyone know that he is very much around and concentrating on accuracy of football. That scooped pass which brought the Eglington goal was the work of a football master. Why Wally Fielding could have done it no better. That is high praise for Wally is the "daddy" of them all that game. Everton have great strength at half-back and in defence I grant that Cyril Lello against Arsenal was not as good as last Saturday, but he will suit men, thank you, and so will the defensive trio of Eric Moore, Don Donovan and Jimmy O'Neill in a team which must –take tremendous heart from the good start. I am certain that Everton would have beaten Arsenal much more convincingly had they been called on to face a full Arsenal team all the time, instead of ten men for 78 minute. It is an amazing thing, but these ten-men sides are the most difficult of all to beat. Everton experienced that at Rotherham two seasons ago and Liverpool on Monday against a Plymouth.
Everton's good start has, I know, come as a shock to a least two readers, who wrote me before the season opened. "Unblassed Red," from Prescott, who cannot understand why I regarded Everton as a better team than Bolton Wanderers last season, says that half the present team were in that struggle to avoid relegation and are not getting any younger. He adds; "As I see it this season, the Everton supporters is going to suffer and the Liverpool supporters rejoice. Being a Liverpool supporter, am I looking forward to the prospect? You bet I am."
A season ticketholder," from Ormskirk who dislikes my views, says Everton have never had a team fit for the First Division since before the war and need new men. He writes; "They will be fighting to keep in the First Division. To O'Neill and his full backs I wish the best of luck. They will need it, because I'm afraid they are going to have to take the can back a few times this season if..They keep their places." Well, there is really no need for me to reply to these views, is there?
EVERTON "C" MORETON ON MARK
August 28, 1954. The Evening Express
By Wirralian
West Cheshire League clubs got off to a flying start, with away teams holding pride of place in the first division, having five wins in the eight games. Both Everton "C" and Moreton last seasons champions and runners-up well, Everton's Colts gaining a five goal to two home victory over Little Sutton while Moreton returned the senior division highest score, with a 6-3 away victory over a strong Bromborough side.
EVERTON SPRING SURPRISE ON PRESTON
August 28, 1954. The Liverpool Football Echo
Lello's Winner Came After 80 Mins
Everton 1, Preston 0
By Ranger
Everton found Preston a much tougher proposition than either of their two previous opponents and it was not until 10 minutes from the finish, following a free kick that Lello put them in the lead. Everton; O'Neill, goal; Moore and Donovan, backs; Farrell (captain), Jones and Lello, half-backs; Wainwright, Fielding, Hickson, Parker and Eglington, forwards. Preston North End;- Thompson, goal; Cunningham and Walton, backs; Docherty, Marston and Forbes, half-backs; Finney, Foster, Hatsell, Baxter, and Morrison, forwards. Referee; Mr. W. Clements, West Bromwich
An hour before the start several of the gates were closed, though there were still thousands of people outside patiently queuing in the hope of seeing this attractive game. There were every possibility of a crowd of over 70,000, and maybe a record if the packing is good." Foster passed a fitness test, this morning so that Baird secured y Preston during the close season did not make his debut after all. Everton got a tremendous reception. Twenty years ago to the day, Preston came here as a newly promoted side. Today it was Everton who were showing off their wares and ability in a higher sphere than for the past three seasons. The game was only three minutes old when Forbes went off for attention following a knock on the right leg. He was back in a minute or so. Donovan up against one of the stiffest tasks he has faced, for a long time in opposing Finney was clearly making it his business to get to the ball first if possible, and twice he foiled the Preston and England winger, despite slipping each time when making his tackle.
Docherty To The Rescue
Docherty forestalled Parker at the expense of a corner as Parker darted through in an effort to pick up an Eglington pass along the ground, and when Everton indulged in a smart bit of combination, it was Docherty again who hooked the ball away from Wainwright's centre. Preston's defence looked apprehensive when Hickson quickly darted through the middle, and in making sure of his pick-up, before the Everton leader could get to the ball, Thompson collided heavily with Walton, who fell to the ground, but was quickly all right again. Lello took a risk when lobbing the ball back to O'Neill as Baxter was coming through and O'Neill had to tip the ball over the bar for safety's sake. The corner brought less danger than the pass back.
Centre Was Too Strong
Foster and Finney paired off beautifully to carve their way through the Everton defence, only for Foster's centre to be too strong for the in-running Morrison, so that O'Neill who had dashed out to the penalty side-line, was able to pick up and clear. Donovan beaten by Finney's body swerve in Preston's next attack, must have heaved a sigh of relief when he saw Lello block away the winger's low cross. The football provided for this hugh crowd was certainty pleasing up to this stage. Both sets of forwards were finding one another with accurate passes, and on the early evidence the spectators had plenty to whet their appetites. Finney was giving Donovan many anxious moments and twice in quick succession rounded the Everton back after he had dilly-dallied for some seconds, feinting first this way and that. At the twenty-second minute Eglington had a great chance, if not to score, at least to test Thompson severely, when Parker slipped the ball through to him beautifully. Eglington, however, although the ball came to his left foot, sliced his shot yards behind. When O'Neill picking up a centre by Finney, tried to side-step Halsell, he found the Preston leader stick to him like a leech and when at last in desperation O'Neill tried to kick the ball past him. Hassall stuck his foot out and it rebounded off his foot towards the Everton goal. Fortunately for Everton this happened no far from the penalty line so that O'Neil was able to switch around before Hallsall could do anything about it. It could have been a costly slip however.
Pressure By Preston
For some minutes Preston had been the better side, their wing halves and inside forwards were using the ball well, and all around the white-shirted Prestonians were showing more fluency and precision in their approach work than Everton. Everton's defence also was a little wild with its clearances at times, and seemed glad to get the ball away without bothering too much where it went. Finney was still rounding Donovan with too much ease for Everton's comfort and Donovan's desire to be there first was not coming off. Lello and Jones, however, were alive to the danger and were giving every possible assistance so that Finney was finding no easy path to goal. Cunningham was injured in the face during Everton's next attack, when Hickson could not help himself as he fell over the Preston full-back. Cunningham, however, seemed to bear some resentment and nudged the Everton leader when he regained his feet. Play had hardly been restarted after this incident when Hickson was laid flat on his back by Marston with what seemed to most folk a foul charge, though no free kick was forthcoming. There was one, however, against Hickson just on the edge of the Preston penalty area as he tried to force a way past two opponents. A couple of minutes later play was stopped while the referee spoke to Hickson, following an incident in which Marston and Thompson were concerned.
Finicky Finney
Finney irritated the crowd, and possibly some of his own colleagues by the way in which he continued to stand still waiting for Donovan to come in to the tackle. It slowed up the game, provided no entertainment and got Preston nowhere. North End had given O'Neill three times as much work as Thompson had, but none of their shots were especially the majority being too far out. The most difficult thing O'Neill had so far was still Lello's lob. Everton's best bit of work came just before half time with Fielding as the starting point. Four players took the ball three parts the length of the field in a very precise fashion until Wainwright's header was scrambled away by Marston as the winger tried to put it back in the middle for Hickson.
A Breakaway
When Finney kept going instead of standing still he was far more dangerous than was comfortable for Everton, but still the home side's covering averted danger as it did when Lello headed away a centre which would have been dangerous had it got over to Hatsell. An Everton breakaway saw Hickson take just too long to get the ball to his liking so that his final shot slewed outside as he fell to the ground. Half-time; Everton nil, Preston North End Nil.
The crowd booed when the referee waved play on after Forbes, tackling Fielding from behind, had brought the Everton man to earth a couple of yards inside the penalty area. It did not seem a deliberate offence although it certainly cut out a possible threat to the visitors goal. Fielding again looked to the referee when Foster bumped in to him, though once again his appeal was in vein.
Poor Shooting
Preston's shooting was not a par with some of these other work, and efforts by Hatsell, Baxter and Docherty were all "miles" off the target. Hickson made a superhuman effort from an English corner. He leaped high to get the ball but his elevation was too much and it flashed over the bar. Another decision of referee Clements upset the crowd when he gave a free kick against Parker for a charge on Finney after the Everton man had dispossessed his opponents.
More Protests.
Eglington required attention after being "winded" by Cunningham and not for the first time the crowd expressed its displeasure when Marston brought down Hickson. Everton made their nearest approach to a goal with a Fielding effort off Eglington's centre from the touch line but Thompson dived to edge the ball away near the far post. Thompson was slow in going to it, and for a split second almost seemed to have left his effort too late. Foster threw himself to the ball to try to head a Finney centre beyond O'Neill. He failed to get hold of it aright, however, and O'Neill had nothing to worry about beyond a simple catch. The play had now become scrappy with the ball too much in the air, and after a rather lengthy spasm of dullness, the crowd got a thrill when Hatsall beat Lello and tore in at top speed to fire a strong shot across the face of the goal.
A Tough Test
Cunningham did a Continental "scissors" type of clearance to get himself out of trouble; the crowd, however, was still waiting for something from Everton comparable with the best they had served up in the two previous matches. This game was certainly a tougher test of the Blues' capabilies and a tough defence also to be up against for Preston's tackling was determined and even at times ruthless. Foster should have done better than put in a very tame bouncing shot after Finney, at the second attempt had managed to get the ball over. It was certainly at an awkward height so far as Foster was concerned but from six yards distance a mere tap might have done the trick had it been rightly applied.
Hickson's Long One
Hickson tried a twenty five yards shot from the inside right position which Thompson caught confidently. When Hickson tried to serve one up for Parker, however, his intended pass swerved away in a very definite are into the hands of the Preston goalkeeper. It was still hard and dogged football, with less of the earlier fluency and combination and for a while Everton had been doing the major portion of the attack without being able to gain the upper hand of Preston's "Rock of Gibralter" rearguard.
Finney Neglected
Preston had not piled Finney with the ball as much this half as they had done previously, and with Finney less prominent the Preston attack had lost much of its effectiveness. Hickson was still Everton's strongest marksman, but was not allowed to get close enough to Thompson to be really dangerous. Just when it looked that the crowd would have to be satisfied with a goal-less draw, Lello put Everton in front with a goal at 80 minutes. The lead up to the goal was a free kick taken by Fielding following a foul by Walton on Wainwright, Fielding pulled the ball for Farrell to help it on and Lello from 25 yards range hit a splendid shot beyond Thompson.
Everton On Top
Hickson headed just over the bar from a Parker centre. Following this was a 20 yards shot which also finished amongst the crowd Fielding also had a strong shot and Everton were now well on top.
Final; Everton 1, Preston N.E. Nil. Official attendance 76,969.
PETER FARRELL ON EVERTON
August 28, 1954. The Liverpool Echo
At the start of every football season, players usually expect to play their heavy programme of two games a week the first month, on bone hard surfaces, in very warm weather. I hope those people who have anxiously been seeking fine weather for a long time now, will not think me selfish when I say that it was a welcome change to step out last Saturday in our first game on a sward of beautiful grass, with plenty of "give" underneath, in anything but summer weather. Many players at the start of a season are troubled with minor injuries such as blisters and bruises due to the hard and unyielding state of the ground. There will certainly not be many complaints in this respect this season, as clubs all over the country have started season 1954-5 in conditions which we generally expect in November. The state of the going at present may make for a better standard of play than on bone hard surfaces, and is a more pleasant surface on which to play from a player's point of view; but if the present conditions continue I should imagine they will play havoc with the grounds and prove a bit of a nightmare for groundsman everywhere. With reference to our game at Sheffield we were lucky that it started at 3 'clock and not 3.30 p.m. Had the kick-off been a half-hour later, I doubt if the game would have been finished. Although the weather during the match was quite good soon after we trotted off the field their started the worst downpour, accompanied by thunder, lighting and darkness I have seen. What a disappointment had the game been abandoned with Everton practically assured of two points. This downpour continued for over an hour, and on leaving Sheffield by coach en route for Liverpool I saw forrent of water rushing through the back doors of many houses and cut through the front doors. The 5-2 victory was great tonic to the lads on their return to the First Division. It was not so much the score that impressed all of us connected with the club but rather the standard of play.
Glamorous Name
We couldn't have wished for a better start to give the lads confidence to face the more difficult hurdles in the future. There is an old proverb which says "One swallow doesn't make a summer." How true, but it certainly helps. I am long enough to the game now to realize that this is also true concerning football. Our first victory certainly delighted our supporters and whetted their appetites for our opening Goodison game against the mighty Arsenal. What a glamour is attached to the name of Arsenal. Whether they are doing well or badly, they certainly draw the crowds where ever they go. As I made my way to the ground last Wednesday, it was obvious from the sight of the teeming masses of people making their way to Goodison Park, that the football public of the City of Liverpool were going to pay their tribute not only to Everton, but also to the famous name of Arsenal. Before the game I spoke to their 18-years-old winger from Dublin, Joe Haverty, who was making his debut that night after only one game in the Arsenal colours, in the "A" team the previous Satuarday. I ask Joe how he liked being at Highbury, and his reply typified the spirit within the famous club; "They have all been very kind to me, Peter, each one going out of his way to make sure I feel at home at Highbury." As we kicked about prior to the start of the game, and I surveyed the wearers of the famous Arsenal colours, the thought struck me that this was rather a strange looking Arsenal, devoid of those great names and personalities such as Compton, Barnes, Mercer, to name but a few whom we encountered when last in the First Division. Only Alex Forbes and Jimmy Logie were left of the old brigade. Nevertheless we knew that Arsenal, no matter who wears their colours, are always a formidable side to overcome. So it proved in the ensuing struggle. You have read the different reports in the various papers about the game and it is not my intention to refresh your memories of the happenings of Wednesday night. Before the injury to Dickson our side was moving well, but as so often when playing against a weakened team, although having nearly all the play, we failed to turn our pressure into goals, and the result was in doubt right up to the final whistle. Personality I should far-rather see our side pitted against a full strength side then a depicted one. Whatever the result; today, it has been an encouraging start to the new season.
STOKE CITY RES V EVERTON RES
August 28, 1954. The Liverpool Football Echo
Stoke City Res;- Hall, goal; Cotton and Bourne, backs; Asprey, Beckett and Martin, half-backs; Bevans, Coleman, Lawton, Finney, and Ward, forwards. Everton Reserves;- Leyland, goal; Tansey (J) and Rankin, backs; Grant, Woods, and Meville, half-backs; McNamara, Potts, Saunders, Lewis, and Buckle, forwards. Referee; Mr. L. Stone (Sheffield). Leyland saved from Lawton and the next move brought Potts to shooting distance, but his effort went wide. Woods was keeping a watch on the Stoke centre forward, but the latter slipped him on one occasion to whip in a hard drive which went just over. Just before the interval Saunders went close and Hall saved at point blank range from Buckle. Half-time; Stoke Res, nil, Everton Res nil.
EVERTON GO TOP OF THE CLASS
August 30, 1954. The Liverpool Daily Post
Everton 1, Preston N.E. 0 (Attendance 76,969)
By Leslie Edwards
Three victories in three starts puts Everton top of the class. And at this rate they will not only finish league champions (says their followers) but will put up record attendance figures. Outside London and Glagsow, with their 100,000 capacity grounds it is uncommon to find a provincial centre at which almost 150,000 have attended two games in the space of four days. This shows the enormous enthusiasm for the winning First Division Everton, included in that massive 150,000 were at least two young babes of about four years. Perched throughout the ninety minutes on Saturday on their father's shoulders they were among the few people on the Everton terraces who had a comfortable uninteresting view of surging masses of humanity and surging thrilling football which had the crowd enthralled from first to last. Let me say straight away that though Everton played well and produced, which is the crux of the matter, the goal which counted, Preston were the better side in other respects. For this reason I think Everton were fortunate to win by a goal out of the blue by that yeoman half-back (and shooter). Cyril Lello. Ten minutes from the end when Preston were fading and Everton seemed to sense their power as the better stayers Lello smashed the ball past Thompson from a distance and close who could raise their arms raised them in acclaim and the sun shone on 76,000 Evertonians who wouldn't have called a King their uncle at that ecstatic moment. From the moment Thompson retrieved the ball from the back of his net and the game restarted Everton were on top. Hickson who had until then been more concerned with making chances for others, now went into the goal-taking business on his own account. He drove the ball as only he can with a header, inches over the bar, he punched a shot narrowly wide to earn an ovation and round off a triumph that seemed distant at all those moments, earlier when Finney and the rest, of the talented Preston side were boring holes part way through the Everton defence and threatening to take not one goal but two or three and more.
Honours To Finney
Preston's fate and Everton's was in Finney's hands –or feet. He and Donovan dueled and duelled again and the honours were nearly always with Finney. Yet Donovan did his side great service. But refusing to go into the tackle quickly he allowed the rest of the defence to tie up all the defensive loop-holes before Finney centred, Donovan is fast; Finney beat him for speed with one quick feint and a lighting stride in the other directions. When Finney decided to go, and went all was well for Preston. When he delayed and indulged himself in standstill, statuesque stuff his play because as grotesque as it was ineffective. So you see winging Maestrons have their limitations. But Preston were so thoughtless of goals in the first half alone they did not convert any of Finney's magic nor the grand work of others notably Foster and Hatsell. Preston's artistry and ability in every department was there for us to see – and Everton to feel –but they always gave the impression that they were happier to approach goal than to fire shots at it. Everton were "on the collar," for long spells, but while Preston jittered and frittered at the business end of attacks the score-sheet could put no tangible result to their pressure. The only real strike in the Preston attack was young Hatsall. For a deputy he performed splendidly. O'Neill who once cannoned a clearance from hand against the young Preston centre forward was not busy but most of his work came from Hatsell.
Incisive Tackling
There were times when a game which began interestingly and at top speed developed into one in which the tackling was incisive to the point of severity. Hickson who maintained his poise well for half the hour, became involved in an incident and it appeared that referee Clements, from West Browmich took his name. Happily the game soon revered to its initial character and the enormous crowd could forget its rage that one of their idols had come to the notice of the referee. More than one man on the ground expressed astonishment that a player like Finney should be able to beat Donovan almost at will and yet be so wide with a cross shot when he had for the first time beaten his back "on the inside." There is a world of difference, of course between being able to hold and cuddle the ball as Finney can, and being able to pin-point the direction of big shots. Finney captivated the crowd's hearts – though he aggravated them when he delayed his move against Donovan –by his ability but he headed a goal to show that he had captured the Everton defence and one was not forthcoming.
Paid For All
And unexpectedly Everton would had they not scored so late have come out of a goalless game with less credit than Preston instead that magic Lello goal paid for all. It set Everton alight for the first time and Fielding and Hickson from that point were full of confidence and played better then ever. Lello's goal capped one of his best games. He and Finney and Fielding were outstanding. Eglington's first half was as good as any this season. Though Preston were on top Everton also enjoyed and missed good chances. Some were used well, but a trifle unluckily, I am thinking of Hickson and Fielding headers, others were wasted in the same way as they were against Arsenal. What this match showed was an Everton capable of beating a team which must be acknowledge to be one of the best in the First Division. They may not have had the skill of Preston but they produced the goal and their defence held a splendid attack when it was moving by some glorious combined football. The club whose team can do this and can attract 150,000 to their ground in two matches is a good one if not a great one. The Everton baroque which has had a pretty rough passage these past five years is sailing serenely and safely with a cargo of pure gold.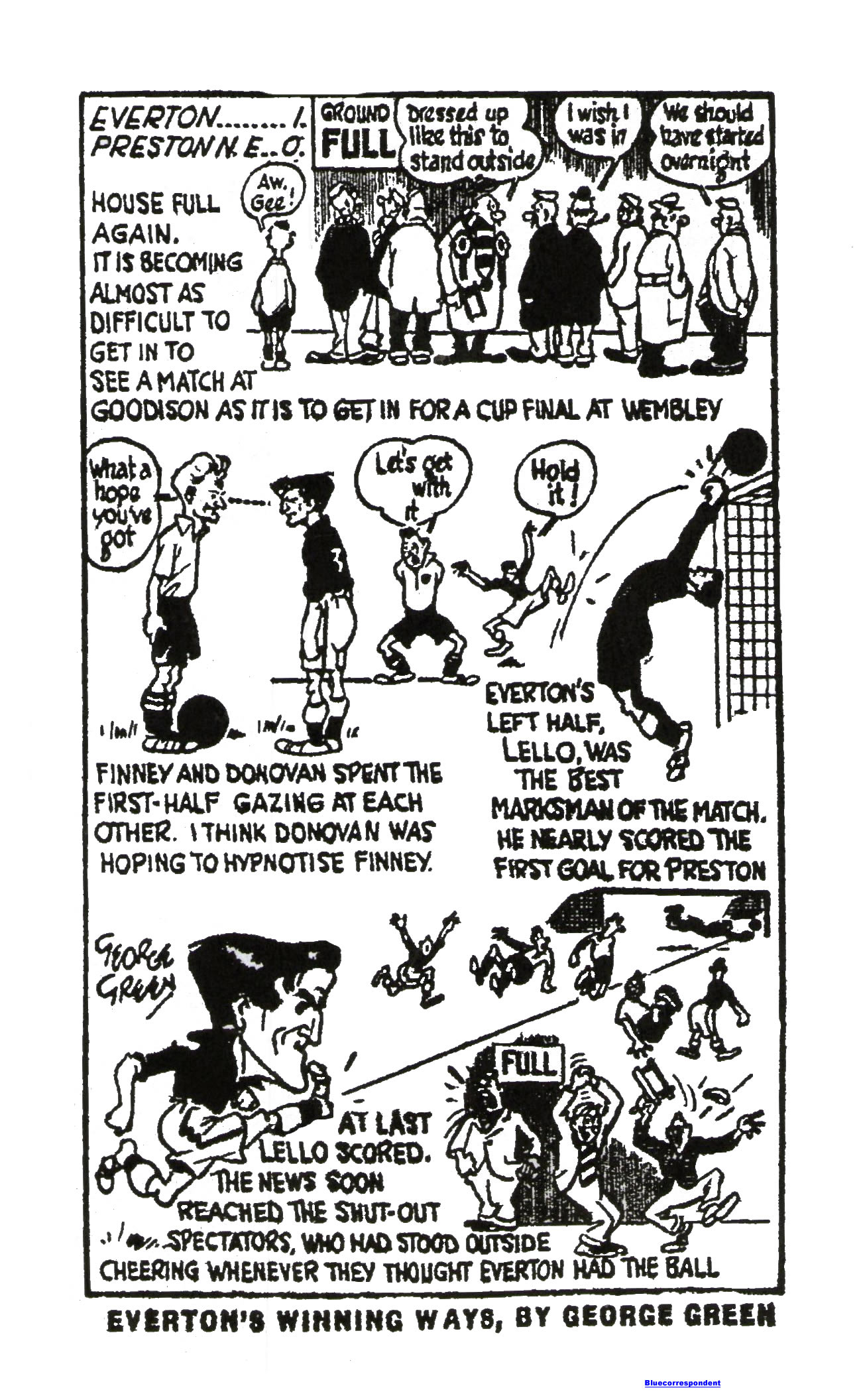 STOKE RES 2 EVERTON RES 0
August 30, 1954. The Liverpool Daily Post
Missed chances and a second half penalty kick failure by Lewis cost Everton a point at Stoke. They showed their co-ordination especially in the first half, but repeatedly broke down in front of goal. Stoke's forwards were the better marksmen and inside left Finney scored both goals in the second half.
• Everton "A" 11, Fleetwood Hesketh 0
• Everton "B" 2, Dunlop Scots 2
HAPPY DAYS ARE HERE AGAIN
August 30, 1954. The Liverpool Echo
Hundred Per Cent, Everton Set Pace For The Rest
Ranger's Notes
Happy days are here again for Everton. It does one ever good to look at the League table and see the Blues, sitting pretty at the top the only First Division Club with a 200 per cent record. It takes a bit of the pleasure from this cheerful position to scan Liverpool's lowly situation. Thank goodness there is plenty of time ahead. Everton's return to the top sphere has been welcomed by all the senior club. After Saturday's tremendously gate of 76,969 –only 1,330 below the record set up when Liverpool were visitors six years ago-many a First Division club with much more modest support will be glad to come to Everton. Their fifth share of the taking though it does not include the extra for the stands will be a very substantial pick-up even despite the inevitable falling off during the depth of the winter. The only folk who lament Everton's rise to the higher sphere are the Second Division teams. They have lost their most lucrative fixtures. Everton may not stay where they are all season. That is almost too much to expect. But they have made a most heartening beginning they have shown by this latest victory that they have the fighting spirit and stamina to more than hold their own with the best sides in the country, and at long last, after much travel and heartburning, the bad times seem to be behind them for good.
Last Rally Did It
Preston, as anticipated, proved to be a harder not to crack than either of Everton's two previous opponents. Indeed, up to the last 15 minutes or so a draw not only looked likely, but would have equitably, reflected the balance of play. Then came' Everton's effective rally. They hammered away at Preston's dour and stern-tackling defence with everything they had and Lello's goal, scored, following a free kick by Fielding with only ten minutes remaining, put the home team's supporters in the seventh heaven of delight. Whether the fact of being a goal behind caused Preston to lose heart and give up the struggle, or whether it was that the tremendous pace and rather humid conditions look more out of them than out of Everton is something nobody can say with certainty. Whatever the cause, there was only one side in it in the last ten minutes, and if the Blues forward finishing had been more accurate they might have had a couple more goals. As it was Hickson (twice) and Fielding almost shaved the bar with splendid efforts, and at the end Preston were a tired and disappointed lot. Up to five minute before the Lello goal there was little to choose between either team. Preston had periods when it looked as though they might pull it off, and their defence which was very rugged at times gave splendid cover to Thompson.
Result Of Fatigue
I thought the first half play of a higher standard than the second portion. The ball was kept more on the ground both sides found their men better, and there was less haphazard kicking by defenders. To some extent the gradual increase in the latter direction towards the end of the game was doubtless caused by tiredness. Defences which have been kept at full stretch for so long as both these were almost inevitable tend towards the end to adopt safety first methods, especially when it becomes clear that a goal either way will decide the issue. Earlier on we saw some intelligent and entertaining use of the ball by defenders. Donovan facing Finney, for the first time in his career will doubtless remember the experience for a long time. He will also have gained from it as indeed, he proved he had by his snowing in the second half. In the first portion, Finney took the main honours in their tussles, though the Preston winger by no means had it all his own way. Finney has still not got over his irritating habit of standing still and holding up play when his opponent does not come to him. It does not serve his side, for on numerous occasions Everton were permitted to regroup their defensive forces while Finney was doing his waiting act. Lello, Jones and Farrell, collectively and individually, gave Donovan splendid support and cover while the Irish lad was fathoming the wiles and tricks of Finney.
Tribute To Team Work
Many times last season I remarked that Everton's victories, rather than being due to the brilliance of one or two players, were the result of all-round consistency and team work, in which everybody fitted into the general plan. So it was on Saturday. Some played a little better than others, which will frequently be the case, football form being subject to go many fluctuations, but Everton on this showing are a team in the best sense of the word. If they can maintain this form they are going to be even higher up the table next April than I had anticipated. That will suit me. For a moment I rather feared that the harsh treatment to which he was subjected was going to be too much for Hickson to keep on suffering without retaliation. There was just one isolated spell when he looked ready to go in off the deep end –apart from those early occasions when he stuck his elbows out a bit too often – but he took it all exceedingly well otherwise, for which he deserves praise. Fielding schemed brilliantly, making nearly every pass a telling one and though Parker and Wainwright have played better, they also did their share towards victory. The defence all round, once Donovan had got his bearings on Finney, was good. Preston will need to produce more punch and balance in their forward line before they can cash in on the strength and solidity of their defence. Halsall is promising enough, but has a lot to learn, Morrison is not the player he was a few years back. Finney, having shed the cares of captaincy, now needs to learn the lesson that the most scintillating play in the world is –little help if the man producing it doesn't make tracks for goal by the shortest and quickest route. To stand still is playing into the hands of the opposition. It is surprising that a player of his skill and experience should so often perpetrate this error.
Everton Unchanged
Everton will again be unchanged, for the fourth time, when they meet Arsenal in the return game at Highbury tomorrow. The Central League team to meet Newcastle Reserves at Goodison Park tonight (6.30) will have one alteration, Jimmy Harris being at centre forward in place of Saunders.
EVERTON –NO CHANGE AT HIGHBURY
August 31, 1954. The Liverpool Daily Post
By John Peel
With maximum points from the three matches they have played so far this season. Everton tackle Arsenal in a return First Division encounter at Highbury tonight. Having won the first meeting at Goodison Park last Wednesday, the Everton players are hoping they can do so again and thus maintain their proud record. As all the players came through last Saturday's game with Preston North End uninjured, there will be no alteration in the Everton line-up for tonight's game so the eleven will be the same who have appeared in the previous three matches namely;- O'Neill; Moore, Donovan; Farrell, Jones, Lello; Wainwright, Fielding, Hickson, Parker, Eglington.
DRAW WOULD SATISFY BLUES
August 31, 1954. The Liverpool Echo
Ranger's Notes
While the result of the Arsenal and Everton return game at Highbury this evening is awaited with great eagerness by Everton followers, who hope that the Blues will add a further victory to the three already chalked up, most folk will be well satisfied if they get one point. Arsenal as last year, have started badly. Once again they figure at the bottom of the table pointless after three outings, despite much reshuffling of their side. Last Wednesday's game at Goodison was not as reliable a guide to this evening's possibilities as it might have been due to Dickson's absence for 75 minutes. There is also the change of venue to take into account. Arsenal, too will be desperately anxious to put a stop to their run of defeats so that it looks like being a tremendous struggle with probably very little either way at the end. A draw appears the likely outcome. Arsenal make forward changes, Logie fit again, returns to inside right, Tapscott moving back to outside right to the exclusion of Walsh. On the left wing, Roper plays, as Haverty is suffering from brushed toes on both feet. The defence is unchanged. Arsenal; Kelsey; Wills, Barnes; Goring, Forbes, Bowen; Tapscott, Logie, Lawton, Lisman, Roper. Everton; O'Neill; Moore, Donovan; Farrell, Jones, Lello; Wainwright, Fielding, Hickson, Parker, Eglington.