HE MAY BECOME THE MAN WHO NEVER MISSED
November 1, 1954. The Liverpool Daily Post
Everton 4, Manchester United 2-Attendance 63,000
By Leslie Edwards
Football fashions change, and not always for the better. This morning I tell of one which has come to stay. It was demonstrated twice in this match by Tom Jones, the Everton centre half-back. He scored from two penalty kicks –one in each half –and never were such a yard put to better use. Manager Cliff Britton and Jones plan these penalties as carefully as plan other tactics. After all when you are virtually presented with a goal it is crazy not to have some penalty plan and someone to put it into effect. Jones –remember his debut day, he was carried off injured at Highbury –has become the Everton penalty king because he is one of those rare footballing artists, a man with a phlegmatic charm. It is no use possessing a cracking shot if the drama of the penalty award, before 63,000 pair of eyes. Twice Jones took up this position twice he kept his head down his eyes glued to the ball, so that the goalkeeper Wood had not so much of a clue to guide him. Golf stand penalties and poker hands are notably expensive because outcome is all too inquisitive. Jones believes the crux of the art of penalty is in not peeping. If you see the ball right you don't need to keep your head up to see where it has gone –cheers will tell that story. Four out of four with no misses is Jones record so far. If he continues to take penalties with such good sense he may well become the man who never missed. This was a game which started uncommonly and had nearly everything a great game should have (had only a few things great games should not have) and ended in Everton nailing their men by 4-2 after being 1-0 and 2-1 behind. Goalkeeper O'Neill gave it the happiest of starts when he emerged from the subway with the white ball and pranced on to the pitch to flick the ball up from his instep and racing on towards position and kept up this juggling for fifty yards during which the ball never once bounced magical from leg to head to knee and back again a dozen times. O'Neill thus proved himself more them a goalkeeper –in training.
Everton won by worrying United and may well win the return match by a similar margin. They had three magnificent inside forwards and the game's best half-back in Gibson to say nothing of the excellent winging of both Rowley and Berry, but Everton still won 4-2 and that after as hard a game and as uphill fight as they can expect in a season's programme. I have known people skeptical of one J.W. Parker and his deceptive gliding style, which makes football look so easy. My opinion is that his reversal to occasional defence (and in this he was joined by others on the attack) important to Everton as anything more spectacularly positive. Matt Busby's side played polished football, Cliff Britton's allied with determination. They won a grueling unrelenting game by their refusal to lie down and courage. For Everton this was the season's greatest test for two reasons. United are a great side, the ground was so yielding after last week's torrents the going could not be other than super-heavy. Oddly the fact that it was so difficult to hit a pass over the dead ball line helped the game's continually and drama. Rarely have we seem such a series of near misses, most of them on the United goal-line. Rarely can one player in his case young Duncan Edwards, have been guilty of two penalty offences, both converted by the same man. I felt there was more than an element of penalty doubt about Edwards tackle from behind, on Parker but Referee Gerrard, from Preston had no doubts, I felt there was more than an element of offside about Taylor when he moved in to make the score 2-1 but Referee Gerrard from Preston had no doubts.
He Was Best Then
I felt there was more than an element of danger that the game should over ride the bounds at one stage but Referee Gerrard after his homily when Chilton seemed to rake control again Hickson always demonstrative was doubly so occasionally when raising his arms in supplication after duels for possession in the air "Referee Gerrard seemed at his best on these occasions. He waved play on. United first goal (ten minutes) was a beauty. Rowley fairly ballooned a lovely squarely made pass to hit the ball with all his power. Within seconds the ball was at the other end and in the United net with Hickson sprawling after safe delivery of that game's hardest shot. Within seconds United had almost restored their lead. Never can here have been the possibility of three goals in less than ninety seconds. My reading of the Taylor goal (twenty minutes) was that the ball which reached him must have been deflected by an Everton defender. The referee ruled the goal and no linesman flag was ever moved. Jones first penalty arrived at third-six minutes. Then at seventy two minutes an out swing United corner kick was almost the lead direct to one of the finest goals Eglington can ever hope to score. He beat Chilton and Foulkes in a forty yards run which included a dash of speed and a delicious feint and just when one looked for one of those hard-hit far-flung centres of his, cracked the ball like a rocket for the complete defeat of Wood. Edwards second penalty offence (eight-four minutes) was a foolish handling when Everton were hardly in a scoring position. This second Jones goal completely put United into Everton's pocket though they still fought on for the glory of narrowing it to 4-3 and nearly succeeded.
Team Spirit
Everton's victory was more due to that much sought but namely found quality team spirit. The forwards have played better the defence occasionally left standing by such as berry and Rowley have played better but they have never shown better spirit or determination. These things can work wonders. It was the sort of game which United did not need Everton victory to make it memorable. That the joy of victory over the leading Division 1 side was added to the days pleasure was dear to Evertonians who have had no little chance post-war to see their side as one of the most successful in the land. Manager Cliff Britton has done his job well; the players give him wonderful support.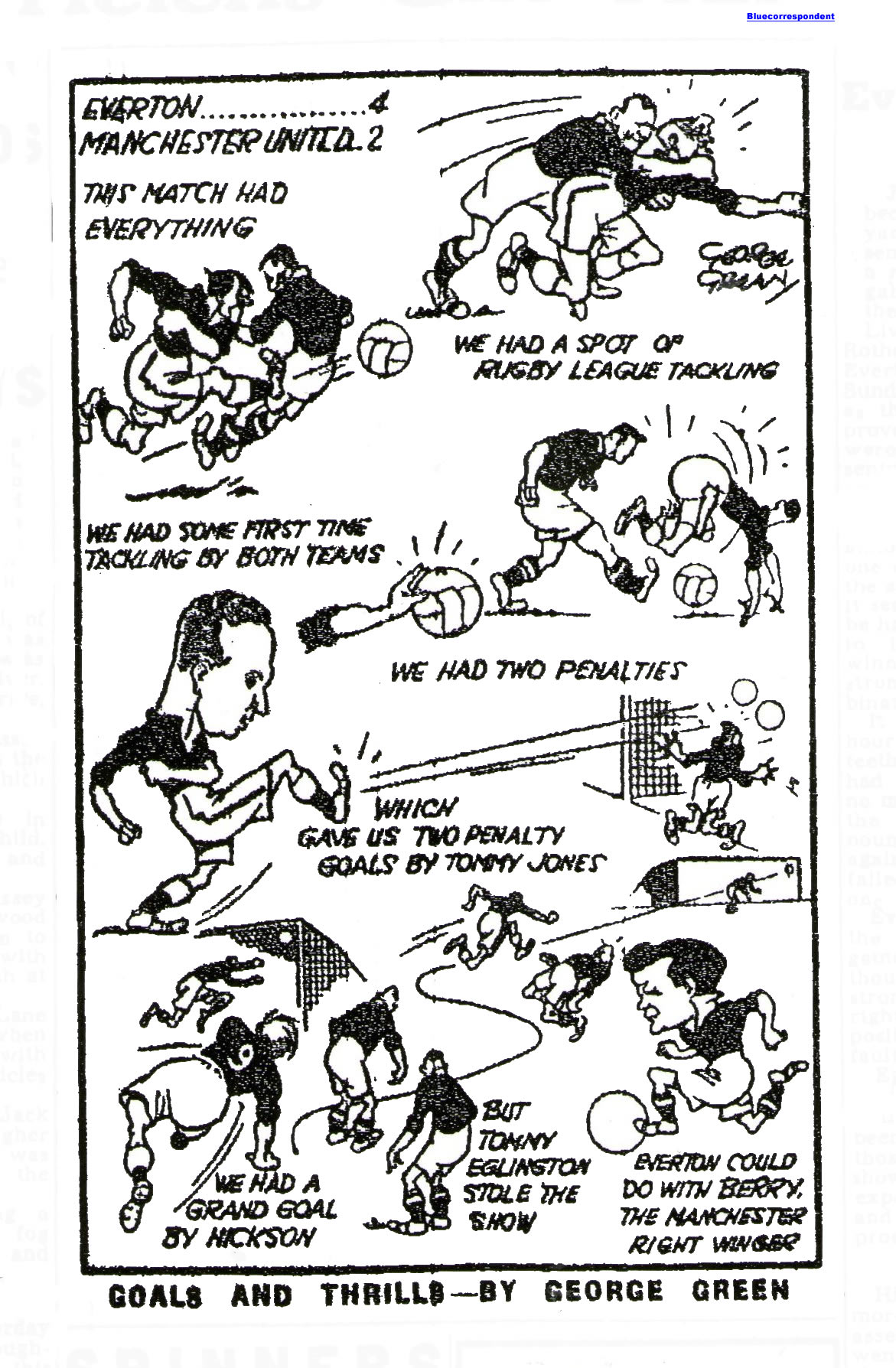 HUDDERSFIELD RES 2 EVERTON RES 2
November 1, 1954. The Liverpool Daily Post
Everton Reserves, were the smarter side without showing the necessary finishing power to round off approach by Saunders, Buckle and Potts. Twice they lowered Huddersfield to equalized, Wormersley and Cockeril replying to goals from Farrell and Saunders. The home side were particularly active in the second half, Leyland accomplished several clever saves and received firm cover from Woods, Everton's best defender and Grant.
GOODISON "GRAVEYARD"
November 1, 1954. The Liverpool Echo
Everton Topple League Leaders For Second Successive Time
Blues' Best
Ranger's Notes
Just as Liverpool Stadium became known as the grave-yard of boxing champions, our senior football sides are earning a reputation for upsetting the gallop of the current leaders in the First and Second Division. Liverpool topped Fulham and Rotherham from their perch. Now Everton have followed suit, with Sunderland and Manchester United as their victims and have amply proved that those supporters who were fearful they might find the senior circle a cut above their capabilities worried needlessly. On a pitch made heavy and treacherous through the week's almost constant rain Everton gave one of their best home displays of the season. The way United began it seemed as though Everton might be hard pressed to save a point, but in the end they were worthy winners. They finished the stronger, fitter and sounder combination. It was not until around the half hour that the Blues really got their teeth into the game. Once they had done so, however, they made no mistake about it, and the longer the match went the more pronounced became their superiority against a side which surprisingly failed to stay the pace as well as one had anticipated. Everton's intermediate line, after the first half came into the game in encouraging fashion and though the home attack was far stronger on the left flank than the right, there was not a single position in which anybody could be faulted to any real except. Eglington had a good innings against Foukles, whose international chances could not have been enhanced any more than those of Byrne. Neither on this showing, measured up to what one expects from England defenders and More looked the better prospect.
Doubtful Goal
Hickson and Chilton clashed in more ways than one, and on final assessment the major honours went to Everton's leader. Parker shaped much better than against Sunderland and was unlucky in twice being kept off the scoring register by goal-line clearances. Two goals at the tenth minute set the tempo of the game very early on. Rowley's opener being neutralized by Hickson right from the re-start. Both were excellent shots. United's second scored by Taylor in the 20th minute, looked to most folk, myself included to be yards offside, but the referee stuck to his verdict on getting a confirmatory nod from his linesman. I was equally doubtful of the validity of Everton's second equalizer from a penalty at the 37th minute. The decision seemed harsh on Edwards who had won possession off Parker and was clear with the ball when the Everton man came to earth. Tommy Jones showed how penalties should be taken. Just a couple of steps and a well-placed shot. He got another in similar fashion five minutes from the end. Edwards again being the offender this time with his hands. The best goal of the lot was Eglington's third on the list at the 72nd minute. A corner to United had been cleared to Parker, who hooked it out to Eglington standing just on the half-way line. Eglington ran like a hare to the goal area, beating two men en route before unleashing a terrific angled shot which gave Wood no chance. The Irish winger has scored many brilliant individual goals in his time, but never a better than this.
Everton's Cup-Tie
Everton Reserves team in the first round Lancashire cup-tie against Accrington Stanley at Accrington this evening (7-30) is; Leyland; Sutherland, Clinton; Birch, Woods, Melvlle; Gibson, Potts, Saunders, Lewis, R. Canavan.
DRAMATIC GOAL FROM 30 YARDS BEAT EVERTON
November 2, 1954. The Liverpool Daily Post
Accrington Stanley 3, Everton Reserves 2
A Dramatic goal from thirty yards three minutes from the end gave Accrington Stanley a deserved victory over Everton in the first round of the Lancashire Senior Cup under floodlight at Accrington last-night. Cocker was the scorer and the goal completed his hat-trick. Everton, however put up a fine display of clever football. They were by far the smarter side in the first half and did well to recover twice after being a goal down. The Goodison Park attack had a smoother quality in contrast to Stanley's fast and direct thrust, but these tactics often broke down in the thick mud.
Gibson Danger Man
Gibson was always a danger man and two of his clever run and centres brought equalizing goals. First to score were Accrington through Cocker after three minutes when a long centre by full back Ashe was smartly headed home. After ten minutes Saunders got a lovely goal for Everton after Gibson had run from the half-way line and sent up a glorious chance. Cocker got a second for Stanley when he resisted two tackles and forced the ball home after twenty-five minutes, but two minutes later Everton had again drawn level, Gibson centre was volleyed through by Cavanan. Everton had to withstand severe second half pressure. Sutherland once kicked the ball off the line while Leyland made several great saves from Wright being in the miracle class. It was a grueling mud battle with Stanley deserving their win if only for their great second half rally.
ENFORCED EVERTON CHANGES
November 4, 1954. The Liverpool Echo
International Calls Mean First Alteration After 21 Games
Ranger's Notes
Everton very sporting gesture in releasing O'Neill, Donovan, Farrell and Eglington from Saturday's game at Portsmouth in order that they may play for Eire against Norway at Dalymount Park the following day mans that for the first time this season there is an alteration in the rear half of the side. actually there has been no change in the first six names on the team sheet since the game against Lincoln at Goodison Park last Good Friday, when Eric Moore was recalled after Jock Lindsay had broken his leg in the match against Stoke the previous Saturday. Thus for 21 consecutive League engagements, Manager Britton has had no worries about his defence or intermediate line. Even now, with replacements necessary in three defensive positions and one attacking berth there has been no real "problem" for the men who have been filling the various positions in the Central League side have all been playing extremely consistently as indeed have all the reserves. Leyland, Rankin, Grant and Buckle, who have been occupying the same positions in the Central League as are now vacant in the first team, have been called upon for the Portsmouth trip. Of these, three have played in every Central League match this season. The exception is Grant, who has missed only one game. Rankin's only appearance in the senior side last season was on August 28 against Oldham, at Goodison Park made three first team outings last winter. Leyland started as first choice after missing the opening match but gave way to O'Neill in November and Buckle was also a regular until the end of last year, when Wainwright took over. Portsmouth make one change compared with last week, due to Wilson having an ankle injury. To fill, this Portsmouth bring in Magee a former petty officer in the Navy and English amateur international. This will be his debut in the first team. Portsmouth; Uprichard; Magee, Mansell; Phillips, Gunter, Dickinson; Harris, Gordon, Henderson, Bernard, Dale. Everton; Leyland; Moore, Rankin; Grant, Jones, Lello; McNamara, Wainwright, Hickson, Parker, Buckle.
Everton Reserves (home to Bolton); Dunlop; Sutherland, Clinton; Birch, Wood, Melville; Harris, Potts, Saunders, Farrell, R. Canavan.
EVERTON AT POMPEY
November 5, 1954. The Liverpool Echo
Ranger's Notes
Everton make their longest journey of the season to oppose Portsmouth at Fratton Park, which has been anything but a happy hunting ground for them since the war. Pompey have recorded four successive home wins over the Blues and have a goal average of 22-4 in their favour. Without O'Neill, Donovan, Farrell, and Eglington, the Blues task will certainly not be eased, but if the reserves fill the bill, and the rest of the regulars pull out that little bit extra they could return with something for their efforts. Portsmouth are unbeaten at home, having dropped only two points out of fourteen at stake. Wolves and Sunderland are the sides to share the points, but Huddersfield, Bolton, Leicester and the two Sheffield clubs all departed without reward. Main danger to Everton appears likely to come from the right flank of Harris and Gordon, who have got 14 of Portsmouth's 25 goals between them. Elsewhere their attack lacks scoring power, Henderson, Bernard and Dale each having netted only three times.
Full Back Debutant
Only one previous change has been necessary in Portsmouth's last three defensive positions since the campaign started, and that was when goalkeeper Uprichard was away on international duty with Ireland, bit for this game McGee comes in at right back for his first senior appearance. Wing halves Phillips and Dickinson compare favourably with any in the country, while at centre half Gunter as filling the gap left by Duggie Reid in satisfactory manner. It is asking a lot of any team to sacrifice four its regular players and turn in a display comparable with that given when at full strength. But Everton's four reserves have all had plenty of previous experience, all are loyal club men, and they as well as the regular first-teamers will be pulling out every ounce in an effort to counterbalance the effect of the club's generosity in releasing their four Eire internationals. Portsmouth; Uprichard; Magee, Mansell; Phillips, Gunter, Dickinson; Harris, Gordon, Henderson, Bernard, Dale. Everton; Leyland; Moore, Rankin; Grant, Jones, Lello; McNamara, Wainwright, Hickson, Parker, Buckle.
FRATTON IS EVERTON BOGY PITCH AND TODAY'S VISIT PROVED NO EXCEPTION
November 6, 1954. The Liverpool Football Echo
Portsmouth 5, Everton nil
By Ranger
Portsmouth;- Uprichard, goal; McGhee and Mansell, backs; Phillips, Gunter and Dickenson, half-backs; Harris, Gordon, Henderson, Bernard and Dale, forwards. Everton; Leyland, goal; Moore and Rankin, backs; Grant, Jones (captain) and Lello, half-backs; McNamara, Wainwright, Hickson, Parker, and Buckle, forwards. Referee; Mr. F.L. Overton (Derby).
Everton were without O'Neill, Donovan, Farrell and Eglington who had been released to play for Eire. Their places were taken by Leyland, Rankin, Grant and Buckle, making their first senior appearance of the season. Portsmouth were at full strength except for the absence of Wilson, for whom they had a debutant in McGhee, a former amateur international. Portsmouth were the first to stage an attack but a timely tackle by Moore on Dale pulled them up short. Hickson was similarly checked y Henderson, though when Everton came again Pompey got out of trouble rather fortunately. A great run by Harris half the length of the field spelled danger to the visitors until the winger put the ball too far forward and lost control. Leyland darted from his goal to pick up a rather weak shot by Dale. Portsmouth though the more aggressive side in the early stages were by no means having it their own way. Parker was slow to tumble to the opportunity presented when Buckle pulled the ball back after rounding McGhee ad a good half chance went west.
Narrowly Wide
Grant was twice prominent in stemming raids, but when next the home side bore down, Henderson was unlucky to see a strong ground shot pass narrowly outside after skidding across the goalmouth. A misheader by Gunter was seized on by Hickson, whose first time drive struck Mansell. From the rebound Hickson had another go, this time firing over. Almost straight from this Portsmouth dashed away and took the lead at 14th minute. Harris was given a chance to centre after Rankin had held off the tackle and had run alongside him. From a strong cross, Gordon made no mistake with a brilliant header which Leyland was unable to reach. It was quite a spectacular goal, for Harris had run nearly half the length of the field. Gunter kicked widely at a Lello header to concede a corner which brought Everton no advantage. Hickson was striving might and main against the quick-tackling Pompey defence with the tall Gunter as form as a rock. Jones was equally confident, but Rankin so far had not been able to cope with Harris, whose speed was a big asset. After Leyland had saved from Gordon and Barnard, Phillips came up and tried a 30 yards pile driver which Leyland just touched the ball going behind after striking the bar. Portsmouth were now well on top, and for some minutes Everton had been defending rather desperately. At the 28th minute Pompey scored at second goal in fortunate fashion. Phillips slipped the ball through to Henderson whose shot was well covered by Leyland until it struck Grant, was deflected out of his grasp, and entered the net just inside the far post.
Always Dangerous
Portsmouth were now playing confident and methodical football. The right flank in particular was always dangerous and Harris was giving Rankin a bad time, Phillips also did some brilliant things and was almost as dangerous as any of his forwards. Everton's defence had lost much of its earlier poise, and now at the 37th minute Henderson got a third goal from Dale's centre, heading the ball downwards, Leyland might have had this one, but he was slow in going down, apparently thinking it was going outside. Three minutes later Dale made it four, when a cross from the right passed behind everybody else and left him unimpeded. He hit a terrific left-foot drive which no goalkeeper on earth could have saved. After the first 15 minutes Everton had been increasingly under the thumb of a side which improved with almost every kick. Their only efforts came from Buckle and Lello.
Half-time; Portsmouth 4, Everton nil.
Jones resumed with plaster over his right eye. A Buckle shot which was only inches wide was the first incident. Then Parker won a corner, but it was Pompey who continued to look the more dangerous. Jones, however, was playing splendidly and was keeping the middle under control as well as could have been expected under the circumstances. The Blues had not given up the fight and Parker was foiled when Uprichard dived at his feet. Parker had hard lines when a grand header hit the bar and McNamara missed a good chance when he miskicked completely following a Wainwright pass which had put him in possession unchallenged. In between these Everton attempts Henderson had delighted the crowd with a brilliant run. He pulled the ball back for Dale to hit the side netting with another terrific shot.
Just Wide
Everton had been in the game more in the last ten minutes than Portsmouth and had again had hard times when Hickson with only Uprichards to beat, put the ball just wide as he came out to narrow the angle. Portsmouth with such a commanding lead were not putting as much into the game as they had earlier on, but they increased their lead at 67th minute, when Dale headed in after a corner kick had bobbed about in front of the Everton goal. Just prior to this Henderson had hi the foot of the upright. Moore came up for a corner and tried a shot which Uprichard pulled down from under the bar. Nothing would go right for Everton in front of goal and the Pompey defence was not seriously extended. Final; Portsmouth 5, Everton nil.
• South Liverpool Res nil, Everton "A" 11
• Everton "C" 3, Port Sunlight nil.
EVERTON RES V BOLTON RES
November 6, 1954. The Liverpool Football Echo
Everton Res;- Dunlop, goal; Sutherland and Clinton, backs; Birch, Woods, and Melville, half-backs; Harris (B), Potts, Saunders, Farrell and Canavan, forwards. Bolton W. Res;- Grieves, goal; Hartle, Bingley, backs; Hennie, Higgins, and Neill, half-backs; Pulling, Allcock, Webster, Stevens, and Gubbins, forwards. Referee; Mr. N.C. Downes (Birmingham). Everton had a weakened side out at Goodison Park today, but were much more constructive. Harris and Potts being conspicuous on the right. Webster nearly gave Bolton the lead skimming the crossbar with a grand header. Half-time; Everton Res nil, Bolton Wanderers Res nil.
EVERTON "JINX" PERSISTS
November 8, 1954, The Liverpool Daily Post
Portsmouth 5, Everton 0
Everton have not beaten Portsmouth at Fratton Park since the war and the "Jinx" continues on this occasion. Memories were revived of the last two matches they played, these when the scores were 7-0 and 6-3 and with Pompey having burst the seams of Everton's already weakened defence wide open with four good goals by the interval it looked as if these scores might be passed. But Portsmouth took things easy in the second half and Everton had time to reassemble their forces and made a counter attack. While the approach work showed many neat touches with inside left Parker the titan of the line the finishing could only be described as pathetic. Tony McNamara was the first culprit. The ball came across to him from Hickson and Wainwright and with only goalkeeper Uprichard to beat the right winger sliced it weakly away from goal. Then Hickson was but through clear of the Pompey defence but shot tamely at Uprichard and in the last few minutes when it seemed that Wainwright could not possibly avoid scoring, he missed the ball completely. It was ill-luck rather than bad shooting that robbed Parker of a couple of goals, once Uprichard made a brilliant save by taking the ball off his toes and later the inside left headed the ball against the bar. It was from the left most of the better Everton moves came, Buckle the deputized for Eglington on the left wing played a sound game and dribble about even in his tussles with the Pompey new player McGhee. Hickson and Wainwright were also both triers but inaccurate in front of goal ruining all their work.
Not Disgraced
But of course the whole trouble lay in defence. The releasing of O'Neill, Donovan and Farrell for the Eire team meant that the defence which had played unchanged since Good Friday was well below standard, particularly against such a high powered attack as Portsmouth have developed this season. Leyland was certainty not disgraced in goal. He could not be blamed for any of the shots that beat him and he made so many wonderful saves that had the crowd applauding. But Rankin and Lello had a hectic afternoon against the Pompey right wing pair, Harris and Gordon and were outpaced for speed in every occasion, Moore fared little better against the skilful positioning of Dale on the opposing wing. Grant was often puzzled by the clever ball control of Barnard. Only in the centre was there anything like solidity where Jones who skippered the side for the first time, gave a good display against elusive Henderson. Gordon headed in the first and goal after 14 minutes, Harris centred and after a similar shot by Henderson was deflected off Grant's leg just inside the post. Eight minutes before the interval Henderson headed in the third and within another three minutes Dale drove on the fourth with a rocket. Little was seen of the Everton attack in the first half and the only really dangerous shot was from Lello. Dale was the only scorer in a disappointing second half.
EIRE 2, NORWAY 1
November 8, 1954.
Notes from Daily Post
Eire scored a well deserved victory over Norway at Dalymount Park, Dublin yesterday before a crowd of about 35,000. Larsen scored for Norway early in the first half, and Eglington hit the crossbar, Irish scored two goals in the second half, O'Neill, Donovan, Farrell and Eglington played for Eire.
TWO EVERTON PLAYERS SENT-OFF
November 8, 1954. The Liverpool Daily Post
Crowd Invaded Pitch-Game Delayed
Everton Reserves 0, Bolton Reserves 2
By Leslie Edwards
Two Everton players –Birch and Potts –were ordered off and a crowd estimated to number 200 encroached on the field and held up play for about five minutes in the Central League match between Everton Reserves and Bolton Wanderers Reserves at Goodison Park on Saturday. The game was goalless until mid-way through he second half when Bolton scored twice in the space of five minutes. Stevens of Bolton and Potts of Everton were then concerned in an incident after which Referee N.C.A. Downes, of Birmingham appeared to order off the Bolton player, Stevens collapsed at that moment. The game resumed after he had received attention and the referee had asked the players concerned to shake hands. The game resumed in an atmosphere of tension and following an incident in which Birch of Everton and Allcock of Bolton were involved, Birch was ordered off, Potts then said something to Referee Downes and he too was ordered from the field. About 200 spectators then climbed from the terraces on to the ground to demonstrate with the referee and with Bolton players. Meantime while this was going on boys who had invaded the pitch spent the time shooting in at both goals. It took police and an appeal through the public address system by Everton secretary Mr. Bill Dickenson, five minutes to clear the pitch so that the match could be resumed.
Spectators View
Mr. R.D. Webster of 591 Cherry-Lane, Walton writes;
"May I give you my opinion of what occurred at Goodison Park on Saturday in the Central League match between Everton and Bolton Wanderers. In the first half shocking tackles were unchecked by the referee, Mr. N.C.A Downes of Birmingham. Then in the second half came the incidents involving Stevens and Potts. The referee appeared to order off Stevens. Then the referee consulted a linesman who was near the incident. More palaver by all the Bolton players caused the referee to go to the other linesman. After this the referee had a talk with Stevens and Potts and then allowed play to continue. All this upset the crowd. "Later Birch who had not given a single ball away all afternoon made one doubtful tackle, and was ordered off. No second opinion from a linesman this time . (To Birch good credit he just walked off without a word). Potts them complain to the referee of his verdict and off he went. At this time the crowd were upset and the game was stop for several minutes before the crowd left the field.
EVERTON COME A CROPPER
November 8, 1954. The Liverpool Echo
But This Was Not a Fair Test For Their Handicapped Side
Ranger's Notes
Everton duly paid the penalty of their generosity in releasing their four Eire internationals but it was a price they had anticipated though possibly not by such a margin and there were no directorial regrets. As I have stated before the club consider it only fair both to players and to Eire to put no obstacle in the way of first team acquiring further international recognition. For those loyal Everton supporters who may be a little downcast at this defeat it may be some consolation to know that even had the Blues been at full strength it is doubtful whether they would have saved a point against this speedy and talented Portsmouth side. It is useless speculating on what might have happened under such circumstances but even making allowances for Everton's weaknesses and handicaps. Portsmouth on this showing are one of the most effectiveness sides I have seen this year. Their forward line has punch and power in every link, interchanges positions in most bewildering fashion, and has that little bit extra in speed which makes such a tremendous differences. They have adopted the old days of making the ball do most of the work, and their passing and inter-passing was executed with remarkable accuracy and confidence. Everton started brightly enough apart from the fact that Rankin was too easily beaten by Harris and for the first quarter of an hour it seemed as though the visitors might make a fight of it. even when Gordon got the best and opening goal of the day, a brilliant header off a Harris centre, Everton were not unduly perturbed but once Portsmouth really settled down to their work and turned on a succession of all-out assaults, the visitors had no counter to their wiles.
The Deciding Blitz
Henderson (2) and Dale added further goals in a twelve minutes blitz which saw Everton hopelessly outclassed for a time. Henderson's first goal was fortunate for Leyland had his shot covered until it struck Grant and was deflected into the opposite corner of the net to which Leyland was diving. In the second half Portsmouth forsook some of their earlier incisive and direct methods for "exhibition" football which though entertaining to watch allowed Everton to come more into the game. The Blues while never in the same class for forward approach managed by sheer endeavour and determination to carve out several openings only to waste them by shocking finishing. McNamara completely missed his shot with only Uprichard to beat. Wainwright trod on the ball when similarly placed and Parker and Buckle also missed reasonable chances. Hickson was Everton's best forward but was playing a lone hand most of the time, with inadequate support. He should not be blamed for a partial miss when he tried to squeeze the ball into a narrow space and Uprichard struck out a foot to foil him. Parker also hit the bar with a header, though this was rubbed out by a Henderson effort which struck the post.
Too Big A Handicap
It is asking a lot of any side to bring in four reserves, particularly against a team which is playing with such confidence and combined football as Portsmouth have been doing lately. The handicap was too much and it would be unfair to criticize any of the referees unduly, for all tried hard and by their second half rally wiped out some of the memory of their first-half weaknesses. Grant started well had too much on his plate during Pompey's blitz period and then came back strongly. Rankin had a fair second half without ever looking likely to fathom the puzzle which Harris presented him with. Leyland's only blot was his uncertainty in coming out; otherwise he did well enough and made some excellent saves. The third goal seemed to take him unawares, probably because he thought Henderson's header was going outside, whereas it was well inside the post. Buckle was not as good as he can be and suffered from the same lack of decision as the others in front of goal.
Regulars Below Form
But all the blame must not be placed on the shoulders of the reserves. Some of the regular first-teamers were much below normal form –possibly due to the absence of their usual partners, Wainwright and Parker were rarely prominent. Moore was nothing like the player he has been recently, and only Jones really stood out. Jones gave a splendid display against heavy odds despite a cut over the eye just before the interval and but for his grand work the final margin might have been even greater than it was. Everton need not worry unduly about this defeat, for very obvious reasons, except in so far as it may show that some of the men on whom they must rely in case of injuries may not be up to the standard required. Yet that is by no means a certainty. It is not a fair test when four reserves are brought in at one time. it takes too much away from the team's balance and understanding and consequently makes the task of the newcomers harder, as well as handicapping those who remain to carry the main burden. In short, this game is not one, on which to make any firm judgment.
MATTHEWS COMING
November 7, 1954. The Liverpool Echo
The one question which everybody wants to know when Blackpool provide the opposition is whether Stanley Matthews is playing I put that question to Joe Smith, the Seasiders manager today, and the answer was in the affirmative. It is a pleasure in store for Everton followers though it has its drawbacks, for Blackpool without Matthews would be an easier job for the Blues. The visitors make one change compared with the side which defeated Newcastle last week at Bloomfield Road. As Taylor is fit again resumes at inside right leaving Mudie free to move over to his normal position at inside left. Allan Brown and Jim Kelly are both absents through injury. The former only came out of hospital a few days ago following his cartilage operation. Everton return to the formation they fielded prior to last week's Eire call upon their players and retain McNamara and Wainwright on the right flank. Fielding plays in the reserves side. Everton; O'Neill; Moore, Donovan; Farrell, Jones, Lello; McNamara, Wainwright, Hickson, Parker, Eglington. Blackpool; Farm; Shimwell, Garrett, Fenton, Johnston, Kelly (H), Matthews, Taylor, Mortensen, Mudie, Parry.
Everton reserves;- (v Blackburn away); Leyland; Sutherland, Rankin; Grant, Woods, Melville; Harris (B), Fielding, Harris (J), Farrell, Buckle.
BLACKPOOL AT GOODISON
November 12, 1954. The Liverpool Echo
Ranger's Notes
There should be another large attendance at Goodison Park tomorrow, for although Blackpool are well down the table and having a tough struggle this season, the chance of seeing Stanley Matthews in action is one which football enthusiasts never turn down. Matthews at his best is worth the admission money himself. Back once again to recent formation, Everton look the more likely victors, though Blackpool have been showing a little improvement lately and their lowly position means that they must pull out every ounce of endeavour. Clubs near the bottom are not always the easiest to defeat. Whether to describe Everton as at full strength is a matter of opinion. Obviously the manager thinks so, and he should know best, but many followers consider the attack more penetrative with Fielding in it. McNamara has not been as good in the last two games as he was earlier. He has a chance of win back his medals tomorrow. As so often happens when a side is struggling Blackpool have been having bad luck in the matter of injuries. Allan Brown whose ill-fortune in this respect has been as bad as that of Laurie Hughes recently underwent a cartilage operation which will keep him out for two months on more while Jim Kelly the Seasiders recent costly signing from Watford, sustained a damaged ankle injury in a friendly game within a week of joining the club and is still unfit. Apart from their 5-1 home victory over Tottenham at the end of September, Blackpool have not been doing much in the scoring time, and frequent changes in the attack have so far not had the desired result.
Only Away Win
Their solitary away win was at Huddersfield in the opening match of the season. Since then, they have collected only two points from their seven subsequent engagements on opponents grounds by way of draw's Charlton and Leicester. They have not yet kept a clean sheet away from home. Nineteen players have been called upon a fulfill their fixtures. Only Farm and Johnston have played in every game, while Taylor missed his first match of the season through injury last Saturday. He is now fit again. Mortensen, who has been twice dropped this winter, is leading marksman with five goals, a distinction which he took from right half Fenton a fortnight ago. Fenton, who was in the Western Command T.A eleven at Anfield on Wednesday, has tour to his credit, two of them via the penalty spot.
Not The Only Measure
Stanley Matthews has been absent three times and though he has not so far opened his scoring account, his value is not assessed by goals but rather by the opportunities he lays on for his colleagues. On his duels with Donovan may largely depend the result of tomorrow's encounter. A display by Everton similar to that put up against Manchester United in their last home game should see them "deliever the goods" all right. The Blues dropped quite a lot in the table through last week's defeat. Now they have a good opportunity to resume their challenge to the leaders for four of the five teams above them are engaged in away games. Everton; O'Neill; Moore, Donovan; Farrell, Jones, Lello; McNamara, Wainwright, Hickson, Parker, Eglington. Blackpool; Farm; Shimwell, Garrett, Fenton, Johnston, Kelly (H), Matthews, Taylor, Mortensen, Mudie, Parry.
GIBSON TRANSFERRED
November 12, 1954. The Liverpool Echo
Ranger's Notes
David Gibson, Everton's reserve outside right, has been transferred to Swindon in order to assist Maurice Lindley, the former Everton player who now manages the Southern Club. No fee is involved. Lindley is badly off for a useful winger, and the move will also be good experience for Gibson. Should Everton at any time want him back, there is an agreement that Swindon will re-transfer him. Gibson, who is 23 was signed as a professional in August 1950, went into the Forces when he was 21 and returned at the start of this season. He has had only three senior outings the first as long ago as April 21 1951, just before the Blues were relegated. He is a former Liverpool and Lancashire schoolboy player, and later assisted Liverpool County F.A. in the National Youth competition.
"WIZ OF DRIB" DELIGHTS GOODISON CROWD
November 13, 1954. The Liverpool Football Echo
Blackpool Lucky To Grab Late-On Goal
By Ranger
Everton 0, Blackpool 1
Everton; O'Neill, goal; Moore and Donovan, backs; Farrell (captain), Jones and Lello, half-backs; McNamara, Wainwright, Hickson, Parker and Eglington, forwards. Blackpool;- Farm, goal; Shimewell and Garrett, backs; Fenton, Johnston, and Kelly (H), half-backs; Matthews, Taylor, Mortensen, Mudie, and McKenna, forwards. Referee; Mr. J.S. McLaughlin. There was a thrill for the big crowd in the first minute when Hickson rounded Garrett and put over a grand centre. Unfortunately there was no other Everton forward up to take advantage. Blackpool gained some corners in quick succession without anyone of them bringing danger to the home goal.
Over The Bar
When Matthews won another corner off Donovan his flag kick was accurately placed to the head of Mortensen. The latter's scoring attempt, however, soared a yard over the bar. Blackpool were playing for more convincingly than I usual from a side in their lowly position though they had not got near enough to O'Neill to give Everton any anxiety. Their best effort so far was a 25 yarder by Fenton which went into O'Neill's safe keeping. A free kick by Lello near the centre circle was double fisted away from Farm as Hickson tried to get his head to it the ball just beating McNamara is he tried to head it back into the middle.
Faultless Corner
A canny pass by Hickson opened the way for McNamara to try a first time shot. Pace and direction were right but the ball struck Garrett and went behind for a fruitless corner. Blackpool were still neglecting Matthews, in most surprising fashion. Had it not been for McKenna's two crossfield passes Matthews would hardly have touched the ball at all. When he had it, Donovan stuck to him like a leech, and the England winger had not score as he normally does. I had only dictator the above paragraph when Taylor brought Matthews into the game and after the winger had held off a challenge he slipped the ball through to give Mortensen a great chance. Mortensen however lost his footing in the act of shooting from the vincity of the penalty area and O'Neill had little to do.
Corners Galore
Donovan was determination Matthews should not have a field day and once again he blocked out an attempted centre of the wingers at the expence of Blackpool's fifth corner when immediately followed yet to another. The only time Matthews got out of Donovan's clutches was when he took the initiative and sent over a across forward to the inside left position. From there he sent McKenna away but O'Neill leapt high in the air to catch the former Huddersfield many centres and cut out any possible danger.
Direct Attacks
At last Wainwright accepted to cut out the fancy work and unnecessarily passing which had cut down Everton's forward effectiveness and let go with a fierce drive from 10 yards which Farm patted down and cleared. Straight from this Blackpool tore away to the other end and after O'Neill had saved brilliantly from Matthews for yet another corner McKenna headed over the bar after Matthews had crossed the ball ideally. Matthews was now treating the crowd to some of his old wizardly though he was still finding Donovan a stunning block. In one brilliant dribble Matthews beat four men, slipped the ball to Taylor them when Taylor passed it to Mortensen, Blackpool should have been in front. Mortensen however was just traction too slow.
Disappointing Display
When Parker went upto help the defence and tried to clear the ball over his head, he only succeeded too toe ending it behind. It was Blackpool ninth corner. Like all the others, it brought nothing. So far this had been a very disappointing display by the Everton forward line and if it had not been for Hickson's persistent efforts and in lesser key those of Eglington, the Blackpool defence would have had a "doddle" of a time. Half-time; Everton Nil, Blackpool nil.
Two shots which might have brought a goal but for being blocked marked the start of the second half Wainwright's effort went behind off Johnson and Mudie had similar hard lines when a shot from a Matthews pass struck Lello and reared of high over the bar. Shimwell came into take a free kick just outside the penalty area given against Parker for a charge on Fenton which hardly seemed to warrant a free kick. Shimwell fired into the wall of lined up defenders Jones clearing after he has been struck by the ball.
Good Chance Missed
Parker missed a good chance when Hickson getting a favourable bounce of the ball slipped through a pass which only needed quick thinking and action to translate into a goal. Parker however was not as speedy on the uptake as usual and by the time he got in his shot, Farm had narrowed the angle and was able to beat away his effort.
Wainwright's Shot
Wainwright made a much better attempt also from a beautiful through ball by Hickson the inside man's fierce shot rising arrive almost skimming the bar. This was the sort of thing the supporters had been looking for in a long time but not getting. A Wainwright shot which struck Johnstone produced a corner which Hickson had a praise worthy effort only for Fenton to head away a few yards from the line. A free kick to Everton near the centre circle also brought Farm into action again when Jones tried a long range drive and then a Parker shot struck Johnston as he was failing to earth and went behind. This was bit of luck for Blackpool.
Matthews Roams
Donovan was still having a good innings against Matthews and it was only when the Blackpool winger roamed out side Donovan's "beat" that he was able to produce his own special brand of intricate dribbling. Hickson continued to be the main driving force of Everton's attack and again was unfortunate when he tried to hook back a McNamara header, but failed to get the right direction. Taylor who all along had been Blackpool's main schemer came into the picture with two splendid dribbles only for his final pass to be cut out by a home defence, at the 80th minute Blackpool took the lead when Donovan headed out a McKenna once and Mudie hit a shot from near the edge of the penalty area that bounced once before entering the net. O'Neill appeared to be unsighted. On balance Blackpool just about deserved their lead, for they forwards had been better than Everton's. Almost straight from the restart Eglington had a header saved by Farm. Everton made a desperate effort to get on terms and from a corner, Lello had a shot blocked away while Eglington screwed one away on the wrong side of the upright. Final; Everton nil, Blackpool 1.
Everton gave a very disappointing display and suffered their second home defeat. Their forward line was unimpressive with Hickson the only man to keep pegging away against the Blackpool rearguard. Donovan had an excellent innings against Matthews and the England winger had to roam before coming to his best, Mudie got the winning goal ten minutes from the end to give Blackpool their second away victory of the season. This was the first occasion at Goodison that the Everton attack had failed to score.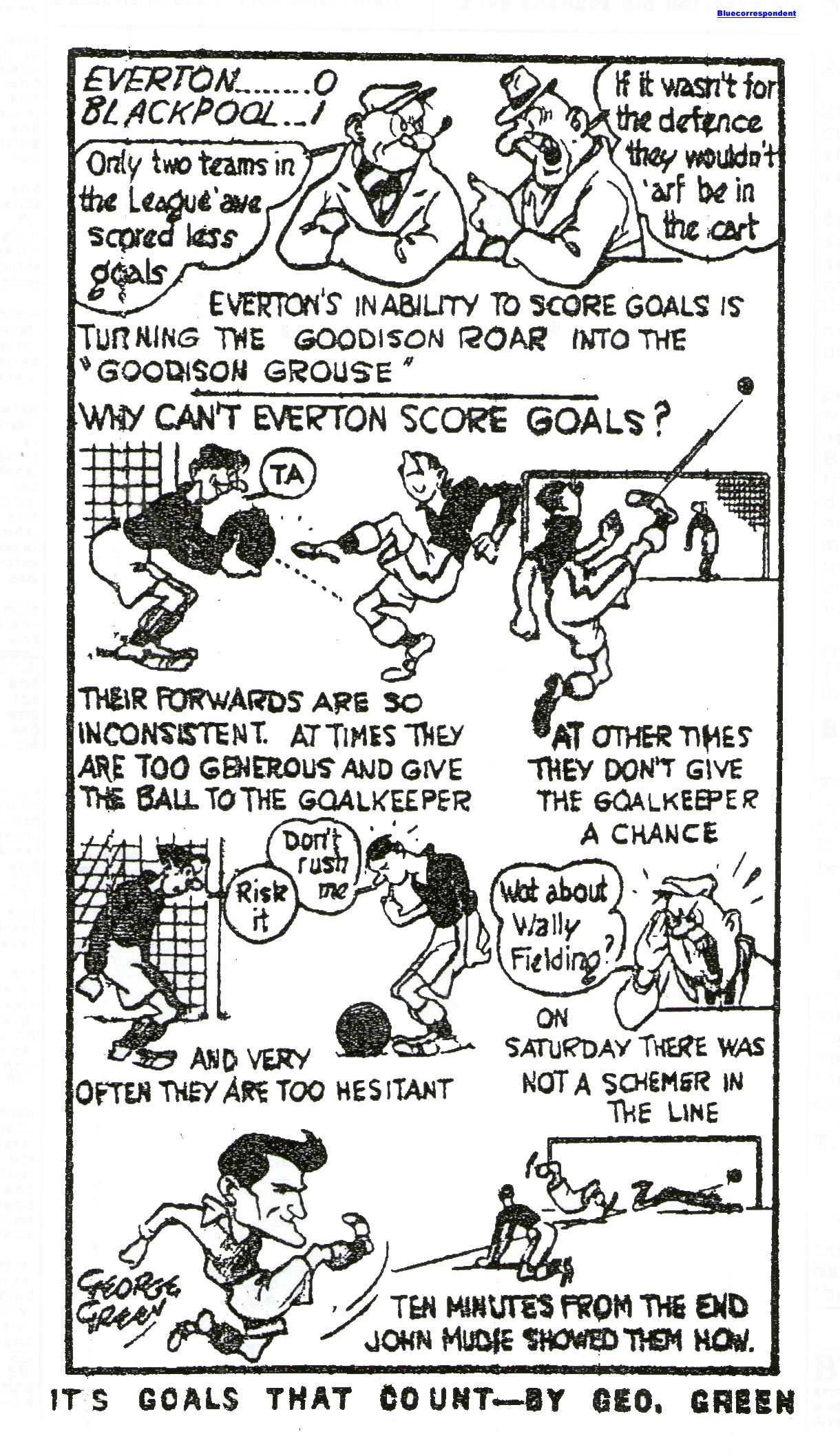 MAKE FOOTBALL RICHES GO THE ROUND
November 13, 1954. The Liverpool Football Echo
Since the post-war football was resumed in 1945-46 season Everton and Liverpool between them have paid a total of £62,386 in benefits to their players, an average of approximately £7,000 per year for the past nine years. In addition to players already on the staffs of the clubs, this sum includes payments made to those who have finished with the game as well as to others who have been transferred elsewhere and have drawn their accrued share of benefit, based on their length of service. The first "wholesale" payment by both clubs was made in August 1950 when players who were on the professional staff when football was resumed after the war qualified for the full benefit of £750. Previously others who had moved elsewhere had their accrued share. The same month Everton paid out full benefits to thirteen players, one more than Liverpool. The men to receive this useful winfall were Bentham, Burnett, Catterick, Dugdale, Falder, Fielding, Grant, Humphreys, Lindley, Wainwright, Greenhalgh, Jones (TG), and Stevenson. In addition Watson and Saunders had benefits in 194-50, while Sagar's cheque by special arrangement, had been presented to him when he made his record-breaking appearance towards the end of the same season. There were some interesting sidelights to the distribution named above. For instance Gordon Dugdale had by that time been out of the game for nearly a year, following medical advice. Though he had made only 64 first team appearances altogether, he got his full benefit plus wages during almost a full season when the club knew that they could have no further service from him. This generous gesture meant that each of his senior outings cost the club over £11 in benefit on top of his wages. The case of Ted Falder was even more indicative of Everton's recognition of loyal services, Falder also got the full permissible amount yet he had made only 24 first team appearances. Then there was the Tommy Jones case. Although on Everton's open to transfer list at £12,000, Tommy had thrown in his lot with Pwillhei which meant that the club's hopes of a fee had been dashed. But the board took the sporting view that the former Welsh international centre half's service had earned reward and a cheque for £750 less what the income tax folk required, duty arrived for mine host of the Tower Hotel, Pwilhell. A few months, after this distribution Jack Hedley, who had broken his contract with the club by going to Bogoto, the South American country which attempted to "poach" several players around that time, was transferred to Sunderland –and in due course received his full benefit. The payment to Hedley brought Everton's distribution in the summer of 1950 to £12,750 covering 17 players. During the next three years various benefits became due at isolated intervals to Everton players who had completed five years post-war service, and were dully paid. The same happened at Anfield. Then in 1953-54 six more Everton players qualified together and Hickson, Parker, Moore, Rankin, Lewis and Tansey (Jim) got their cheques. Prior to the start of the current season there was another happy ceremony in the dressing room the morning the players reported for training when Mr. Ernest Green, the Everton chairman, handed over cheques to Eire internationals Donovan and O'Neill. The following is the full list of Everton players who have had either full benefits since the war of have drawn their accrued share of giving, up the game of moving elsewhere;-
J. Anderson, R. Bell, W. Birkitt, W. Boyes, SJ Bentham, G Burnett, H. Catterick, G. Cummins, T. Clinton, J. Cross, J.W Davies, E. Dodds, G. Dugdale, D. Donovan, W. Edwards, J. Elliott, T. Eglington, D. Falder, A.W Fielding, P. Farrell, F. Fletcher, J.A. Grant, N. Greenhalgh, T. Gardiner, R. Hodgkiss, J. Hedley, JV Humphreys, O' Hold, D. Hickson, A. Hampson, A. Johnson, G. Jackson, JG Jones, TB Jones, WM Lindley, P. Lovett, A. Livingstone, J. Lyons, C. Lello, G. Lewis, J. Mercer, M. McPeake, G. Makin, J. Mcllhatton, E. Moore, W. Owen, J O'Neill, R. Prescott, A. Powell, C. Pinchback, G. Rankin, NW Sharp, E. Sagar, GE Saunders, A. Stevenson, J. Tansey, TG Watson, TC Wyles, E. Wainwright.
All told, Everton have distributed a total of £30,373 to 59 players, most of which has been handed over since August 1950.
DON DONOVAN PLEASES IRELAND AND THE IRISH
November 18, 1954. The Liverpool Football Echo
By Peter Farrell, Everton
Instead of playing football last Saturday, I found myself visiting friends in the afternoon, and needless to say my thoughts were far away down Fratton Park direction. As I was hurrying to listen to "sports Reports" a bus conductor on a moving vehicle whom I recognized as a member of the Dublin Branch of the Everton Supporters Federation shouted to me. "We are down 4-0 at half-time" I didn't believe my friend and you can imagine the disappointment when I heard the result over the radio. This was shared by every scorer follower in Ireland, as everyone hoped that Everton's magnificent gesture in releasing four players for the International would be rewarded by a victory over Portsmouth. Speaking at the banquet after the international, "During the following day Oscar Traynor, president of the F.A of Ireland, thanked the English clubs for releasing the players for international. The occasion was pass without a reference to Everton's gesture. "It was one of the greatest acts of self-sacrifice I have known in football," said Mr. Traynor. "The Everton club has earned the respect and esteem of sportsman throughout Ireland for their action, I hope they will be rewarded by figuring in the season's honours list." Everton fans will be glad to know that Don Donovan's debut in International football was such a brilliant one, I have never seen a player have such a great first appearance for his country. Eddie Gannon of Sheffield Wednesday who played in front of Don against Norway told me after the game that he considered Donovan one of the best full backs he had seen this season. "I wish" said Eddie that he was playing behind me every week. Evertonians know, Don's abilities and we are all glad he did not let down the big crowd. Before the game the teams were introduced to Mr. Sean T. O'Kelly, President of Ireland by the two captains. When I introduced Donal Donovan, the President jokingly remarked "Oh an Italian name." This game gave me an opportunity to study the style and methods of the Norwegians as compared to our own. Unlike most Continental countries, Norway's defensive tactics were rather, orthodox with the centre half marking the centre forward, full backs looking after the wingers and the wing halves keeping a close eye on the opposing inside forwards. The Norwegian attacking methods were also somewhat on the same lines as ours, except that the centre forward lay exceptionally deep and seldom moved to the wings with the result that the inside forwards were generally to be found looking for an opening through the middle. Generally speaking the standard of play of the Norwegian side was not on a par with the top ranking sides of the Continent. Nevertheless they attempted to play constructive football at all times and even in defence rarely resorted to big kicking except on occasions, when necessarily. These ambassadors in sport from Norway were the most sporting representatives of any country, I have ever played against. Throughout the entire game I don't remember an incident by them to which one could take exception. Not once in the game did they show resentment to any decisions by the English Referee, Mr. Clough. All these footballers from Norway are amateurs in the true sense of the word. Speaking to their Press men, who travelled with the team, and who could speak fluent English, he told me he considered Tommy Eglington the fastest winger he had ever seen.
BLACKBURN RES V EVERTON RES
November 13, 1954. The Liverpool Football Echo
Blackburn Rov Res;- Johnson, goal; Smith and Taylor, backs; McGrath, Bean, and Clayton (K), half-backs; McLean, Cairns, Willis, Leaver, and Brown, forwards. Everton Res;- Leyland, goal; Sutherland and Rankin, backs; Grant, Woods, and Melville, half-backs; Harris (B), Fielding, Harris (J), Farrell, and Buckle, forwards. Referee; Mr. F. Smith (Huddersfield). Everton took some time to warm up, but when they got in their stride, Johnson had to throw himself at Farrell's feet to prevent the inside-man running on to a glorious Buckle pass. Everton should have taken the lead when Harris (J) lobbed over from close range with the Blackburn keeper on the ground. Blackburn took the lead when Leaver netted from a free kick just outside the Everton area with an identical shot to the one with which he had beaten Leyland a second earlier. The referee, however, had ordered the kick to be re-taken because the visitors' line of defenders was not at the requisite distance. Half-time; Blackburn Res 1, Everton Res nil.
Everton after the interval went all out for an equalizer and Buckle tested Johnson with a smart downward header from a Harris (B) cross. Then Farrell dribbled down the left wing and turned the ball perfectly across goal to give Harris (J) the simple job of tapping home the ball to put Everton on level terms at 57 minutes.
WANTED –WELDING INFLUENCE OF FIELDING
November 15, 1954. The Liverpool Daily Post
Everton 0, Blackpool 1
By Ranger
Everton failed to produce anything like their usual form against lowly Blackpool and the visitors deserved their narrow victory which came through a goal from the edge of the penalty area by Mudie ten minutes from the finish, when O'Neill was unsighted by a bunch of players in front of him. Everton could not be failed in defence but their forward line was most disappointing. Not only was it, slow hesitant and straggling but time and again particularly in the first half, passes were put with irritating monotony straight to the foot of an opponent. There was a certain amount of improvement in the second half though nothing very impressive. Had it not been for Hickson's hard graft and dogged persistence the Blackpool defence would have had a most easy afternoon. Hickson worked like Trojan from start to finish and considering the woeful lack of support accorded him he put up a splendid show. Frequently he proved good openings for his inside colleagues yet such was Everton's slowness to respond and their inaccuracy in opposing that Hickson might have spared himself much effort and done no worse. Wainwright did make some amends for earlier misses by delivering a few strong drives in the later stages but these were the only redeeming features, McNamara never got going as all and offended time and again in the wilderness of his passing while Parker. Eglington were well below the standard which Everton supporters have come to expect from them.
Missing Influence
The feeling that one has had for some time that Everton are missing the welding influence and scheming of Fielding; was made stronger than ever by lamentable forward display. Even during those second-half periods when Everton held the upper hand and here were signs that the Blackpool defence was feeling the strain the home side's attack never moved with confidence or precision. Instead of consolidating their advantage Everton gave Blackpool time to recover their poise and through the home team finished strongly in a desperate effort to wipe out Mudie's goal they could not break down the opposition resistance. Most of the honours on both sides went to defenders; of Blackpool's attack though more cohesive and better balanced than Everton's was equality as erratic in front of goal. Mortensen is not the player arsed to be. The old fierceness was not there and on miss two simple chances early on. Taylor was the general of the line with Matthews was playing his wonderfully dribbling power only when he moved to the middle or left flank be out of the clutches of Donovan. When on the right wing Matthews was rarely in the picture, Donovan stuck him with great determination and try as he would Matthews could not solve the problem which he presented. Jones was equally outstanding the intelligent anticipation and clever positioned he was able to block the middle most effectively doing it with seemingly ease and superb confidence. Lello was the most prominent of the wing half. Farrell to concerned with helping the defence than the forwards though it was the latter who needed his assistance most. Apart from their many misplaced passes, Everton too often tried to put the ball to colleagues who were closely marked. There was no real attempt to find the open spaces. Hickson was the only man who consistently served up telling passes. It must have been his couraging to him to fine nobody quick enough in the field to anticipate his intentions. Blackpool forced no fewer than nine corners in the first half. Several of these were the result of Donovan a success in blocking away attempted centres by Matthews after the winger had taken the ball right up to the dead ball line from which he usually accomplishes in those pulled back crosses which are so danger. Donovan stopped many Matthews of these accompence and a fruitless corner was cheap price to pay from Everton's viewpoint. This was Everton's second home defeat of the season and Blackpool's second away victory. It was also the only time Everton have failed to get a goal at Goodison Park as well as the first that Blackpool have kept a clean sheet on their opponents ground. While the visitors played much better than anticipated in the view of their lowly League position they were fortunate to meet Everton on a day when the whole forward line, Hickson apart was so much below par. The Goodison club must improve on this showing if they are to arrest their recent slide down the table. The first essential of greater cohesion in the attack. The defence can take care of itself and was in no way to blame on the defeat.
BLACKBURN ROVERS RES 2, EVERTON RES 1
November 15, 1954. The Liverpool Daily Post
Handshakes all round ended a hectic Central League game in which tempers were lost at Blackburn, where Everton Reserves were beaten. Centre forward Harris (J) who fired high when he should have given Everton an early lead –equalized in the fifty seven minutes after a fine run by inside left Farrell. Lever scorer for Rovers in the forty fourth and eightieth minute.
MAIN EVERTON WEAKNESS
November 15, 1954. The Liverpool Echo
Forward Line Is Suffering From Lack Of A "General"
Ranger's Notes
The joy of Everton's followers over their splendid start to the season has been tempered somewhat by the fact that only two points have been obtained from the last four games with a corresponding drop from second to ninth in the table. Temporary disappointments, however, and part and parcel of football and Everton's supporters can take them with reasonable sangfroid. What has disturbed their equanimity, more than recent reverses is the feeling that the present forward formation is not the strongest which can be turned out. The policy of not changing a winning side is sound but that justification went by the board some time ago. While an equally good case could be made but for not rushing into too-burried changes, it would now seem to be established beyond all doubt on the basis of the last few games, that the right wing is not up to standard, even allowing for the disturbance of the side for the Portsmouth fixture. I told no brief for Fielding but I feel as I think the majority of Evertonians do, that without him the attack is far less effective. One of the best ball players in the country he welds the front line together and makes it a cohesive whole instead of the ragged and daunted thing that it was against Blackpool. Last season Fielding helped to get the best out of Wainwright when the latter was on the right wing, and did the scheming and marshalling which made the front line a smooth-running and machine-like combination as it was again in the earlier part of the current campaign.
Fall From Grace
Against Blackpool the forwards gave their worst display this season. There was no combination worth speaking of –just a hopeful banging of the ball up or across the field and reliance on a chance mistake by the opposition providing an opening for somebody. By comparison with some of the artistic and precise progression we have seen in the last twelve months it was a big fall from grace. Even when the chances did come nobody took them for the Blues finishing like their approach work, as most disappointing. While one bad game is no sound platform on which to be too severely critical and I am prepared to accept the general disappointment all-round forward work as just one of those days when everything went wrong simultaneously the fact remains that the decline has been evident for longer than just this one match and that the absence of a "general" who can hold the ball would appear to be the root cause of it. not for a long time can I recall an Everton display when so big a proportion of passes went straight to an opponent or when –apart from the Portsmouth game –the finishing was so inept.
No Prompting Needed
I am sorry that McNamara has not made the grade. He started off reasonable well for one or two games, but latterly seems to have lost his confidence again. The crowd do not help him, which is a pity. The same antipathy is seen at Anfield with regard to Jackson spectators might at least retrain from jeers when they cannot give cheers. Directors and managers need no such prompting to realize when a player is not coming up to expectations. Apart from Hickson whom it thought ld the line well and provided some good openings for his colleagues –which they were not sufficiently quick in the untake to anticipate –no other forward lived up to normal standard though Wainwright did share a couple of stinging shots close on the mark. What honours were going went to defenders with Donovan and Jones heading the list. Donovan had a splendid innings against Matthews and played him better than the vast majority of backs. It was only when Matthews took to wondering that he was able to produce his inimitable brand of dribbling and chance-making. So long as he remained on his wing Donovan had him "taped" most of the time.
Jones At His Best
Jones gave another first-class display. His positional sense these days is such that he is qualifying numerous attacks with well-timed interceptions and has his own job so well in hand that he is able to give considerable help to his backs. I lost count of the time he nipped in to assist one or other of them in the first half, when Blackpool were so much in the ascendancy. Blackpool faded out somewhat in the second half so that Everton had their own share of territorial superiority, but they never mastered the visiting defence, and muffed chances which not long ago would have been accepted without hesitation. If the Seasiders can maintain this form and also improve their own finishing which was not much better than Everton's they will soon start climbing to safely in assessing the merit of their victory we should remember that they had two reserves on the left flank, which is no small handicap. Their defence is sound enough even though Johnston is not as dominant as he used to be. The backs were always to command of the home wingers and Taylor schemed well in attack though sometimes inclined to overdo the dribbling. Mudie's deciding goal scored 10 minutes from the end, touched Jones in flight and though only deflected slightly the change of course beat O'Neill who might otherwise have saved. That was a bit of bad luck but on the whole I thought the result a fair one.
AFTER THE RUBBER
November 19, 1954. The Liverpool Echo
By Ranger
Everton pay their third visit of the season to London where they have so far lost at Arsenal and beaten Chelsea. This time they oppose Charlton, who though one of the least fashionable of the First Division sides in the Metropolis are nevertheless always a hard lot to beat on their own ground. Everton supporters will hope that the return of Fielding will enable the forwards to share better than they did against Blackpool. Charlton's attack has been also strengthened by the return of Leary who has just made a flying visit to South Africa, owing to the illness of his father. He comes in at inside right so that Ayre can remain as leader of the attack. Ayre has eight goals to his credit. The left flank has also been shaping satisfactory. Firman and Kieran having got 11 between them. Charlton have been beaten four times at the valley. They have kept a clean sheet in only one game but to balance this have also scored in every match averaging two goals per game. Everton will have to shoot oftener and more accurately than against Blackpool if they hope to arrest their slide down the table. Fortunately the leeway between them and the top clubs is not so great that they cannot hope to make it up if they can recapture their earlier form. With Hickson lately in the role of provider rather than marksman the onus of scoring has fallen more on Parker but he has fallen on oblige in his last six outings. In the last four matches the Everton forwards have netted three times from Hickson, twice and Eglington. An improvement may come with Fielding recall. The Blues rearguard should be able to take care of the Charlton attack; it rests with the men up front to do the needful. This will not be easy against defenders of the calibre of centre half Ufton and South Africa Hewie who is now playing at right half. Another barrier will be veteran goalkeeper Bartram who always seems to give a display of real top class against Merseyside clubs. Charlton; Bartram; Campbell; Townsend; Hewie, Ufton, Hammond; Hurst, Leary, Ayre, Firman, Kiernan. Everton; O'Neill; Moore, Donovan; Farrell, Jones, Lello; Wainwright, Fielding, Hickson, Parker, Eglington.
CHARLTON PHYTHM BRINGS A GOAL-SCORING SPELL –AND EVERTON HAVE TO FACE THE MUSIC
November 20, 1954, The Liverpool Football Echo
Charlton 5, Everton 0
By Stork
Charlton Athletic; Bartram, goal; Campbell and Townsend, backs; Hewie, Upton, and Hammond, half-backs; Hurst, Leary, Firman, Kiernan, forwards. Everton; O'Neill, goal; Moore and Donovan, backs; Farrell (captain), Jones, and Lello, half-backs; Wainwright, Fielding, Hickson, Parker, and Eglington, forwards. Referee; Mr. R.H. Mann (Worcester). Everton, for their game with Charlton Athletic at the Valley today, reverted t the side which had such a successful run at the beginning of the season. Wainwright moved to outside right as partner to Fielding, who returned following his injury against Cardiff in September. The ground was in excellent conditions as good as I have ever seen it. There was anything but a full house; in fact there were big blank spaces round the terraces. Charlton had the benefit of a slight wind and in the first minute their left wing went through to win a throw-in but were surprised when the referee awarded a goal kick to Everton. Very soon after this Everton's left wing got going and Parker was offered a grand opportunity, but scooped the ball wide of the mark. This was the fore-runner to a spell of attacking in front of the Athletic goalmouth which was lucky not to fall preparatory to a Farrell shot which struck an opponent and the danger was over.
Hickson's Bid
Charlton replied and a through ball to Firman was only half hit, otherwise O'Neill might have been troubled to save. This kept the Charlton forwards in the vicinity of O'Neill's goal without causing any real trouble. When Hickson picked up a defensive clearance there were possibilities for he had the Athletic full back chasing him obviously in vain. Hickson strode on, and tried to place the ball to the far side of the goal, where Bartram was not, but Hickson got too much hook on the ball, and it passed outside. Leary put across a centre close to goal which was not nice to see from an Everton point of view, but there was no colleague close enough to add the finishing touch. A little later Firmani made the best shot of the match so far, but O'Neill took the rising ball confidently and securely. The exchanges were not very exciting, but there was some good football and a link-up between Fielding, playing on his old ground, and Hickson but the Everton centre forward lifted the ball over the bar. Eglington went a shade closer with one of those fiery drives for which he is famous. The ball passed outside, much to Bartram's delight.
Off The Mark
There was a lot of hard and purposeless kicking going on, Everton had not found their rhythm nor were the Athletic displaying the smoothness so necessary for success, Kiernan tried a cross shot which was off the mark and then there was a spell of midfield play which produced nothing to either side. O'Neill was again prominent when he caught a Firman shot under his bar-a very neat save. Hewie hooked away a Fielding centre and Bartram nipped in to take a ball which was hovering too near his goal to be comfortable. It was about a minute before Everton were driven out and it was immediately afterwards that Charlton took the opening goal of the day. Kiernan was responsible for a shot which I think O'Neill had covered until Hurst deflected the ball beyond the Everton goalkeeper. Thus another deflection put Everton on the wrong side. Two minutes later, in the 25th minute, Chelsea went further ahead. Ayre was the scorer. He took an inside forward pass from Farmani and shot instantly for goal. This put a tremendous burden on Everton and brought more enthusiasm to Charlton. Everton had one or two chances, but were not convincing near goal and when Ayre netted a third time for the Athletic it looked bad, until the referee decided that he was offside.
Bartram's Save
Charlton were now in command and O'Neill made an excellent catch from a long ball Everton should have reduced the lead when Parker was put through close to goal, but Bartram made a fine save. Straight from this, O'Neill parried a shot from Ayre and saved at the second attempt. A Farrell-Fielding-Wainwright link almost brought a goal when Parker slipped through to take his winger's centre and guide it outside. Charlton had improved from a very moderate start, whereas Everton were not "clicking" as we know they can. Ayre beat Jones and pushed the ball out of his right wing and the Everton defence was hard pressed until Fielding cleared, but only momentarily for Hurst went close with an effort to the far post. Ayre slipped both Jones and Donovan but O'Neill beat him to the ball. The danger was still there, and Moore kneed the ball out before Kieran shot narrowly over. Everton, apart from the first 15 minutes, had not been convincing. Just on the interval, Charlton made it three when Kiernan shot the ball home in a melee in front of the Everton goal, after O'Neill had kept the ball out with a one-handed save. There were two Everton men in the back of the goal as he scored in the 43rd minute. Half-time; Charlton 3, Everton nil.
The first few minutes of the second half saw Everton in a more spirited frame of mind and Bartram had to save from close in. Hammond gave away a silly corner when passing back to his goalkeeper. Ufton blocked the way through to Hickson and Fielding, with a corner kick, put the Charlton goal on the spot, but there were no takers. A fine bit of anticipation by Jones cut out a dangerous-looking Charlton advances Donovan was applauded for a clever piece of defensive play and a free kick by Everton was of no material use, for the free kick was out to an Athletic man. Hickson had his name taken, but I think Ufton was not entirely free from blame, Farrell tried a first timer after Fielding had allowed the ball to pass along to him, but the Everton captain was well off the target. Donovan was playing Hurst well, and again came in for the plaudits of the crowd. Leary and Lello had a little tussle to themselves, the Charlton man winning and cutting the ball out for Ayre, who shot outside. O'Neill was penalized for carrying. The free kick was cannoned away, but Firmani collected and crashed the ball back into the goal at the 62nd minute. It was not Everton's day which was proved when Hickson shot wide from a reasonably good scoring position. Fielding with a snap shot, saw Bartram make a one handed punch save and Lello slipped one just outside. Everton's shooting power was not there. They became five down when Firmani went through to slip the ball beyond O'Neill from Kieran's pass at 68 minutes.
A Farrell Shot
Everton had been attacking for quite a long time, without giving he Charlton defence much to worry about. Charlton looked the more likely side to score and O'Neill saved twice in quick succession. One of the best movements on the Everton side resulted in Farrell making a fine shot which just passed over. O'Neill made a great side from Ayre and one from Firmani. Final; Charlton Athletic 5, Everton nil. Official attendance 20,448.
This was not Everton's day. They looked a good side for 15 minutes, but afterwards fell away before a more progressive Charlton. Donovan was brilliant, but there was no finishing power in the Everton front line.
LAMENT FOR AN EVERTON ATTACK WITHOUT PUNCH
November 22, 1954. The Liverpool Football Echo
Charlton Athletic 5, Everton 0
By Stork
This was a peculiar game with a result not quite in keeping with play. I am not trying to sate that Charlton did not deserve to win; they did but in midfield they were not an iota, better than Everton. The main difference was that Charlton had forwards who could find the net. Let me take the goals. Two of them were of fluky order the first being a deflection the third a scrambling sort of thing which would not have beaten the Everton defence once in a dozen times. But this was not Everton's day. Nothing would go right for them. For one thing they were out speeded by the pack of their rivals who gave the ball plenty of boot. We saw few combined Charlton movements but they could shoot and that was their greatest asset. For fifteen minutes Everton looked really good and Charlton moderate. During his good period Everton should have had goals, but having escaped Charlton took heart got over their uninspiring start and began to make things not for their adversaries. They took two goals quickly. From the point Everton seemed to lose a belief in themselves and the defence was not always as tight as it might have been. I exempt Donovan; O'Neill and Lello who played their hearts out but the rest of the side fell short of what was required. Parker, Hickson and Fielding had their chances but "Old Reliable" Sam Bartram held up Parker with a magnificent save.
Hickson Named
The referee though necessary to take Hickson's name. He should have taken Upfon's as well for he was as much to blame. Later Hickson was punched on the back of the head and the linesman called the referee's attention but after a word with him the referee did nothing about it. The Charlton attack became live force, yet Everton did as much attacking if not more, in the second half 'Burch was what wanted off Everton just did not have it. Charlton sailed to a convincing looking victory through goals by Hurst, Ayres, and Kiernan, in the first half and Firmani (2) in the second. Everton are rapidly dropping down the table following their wonderful start and until they bring more punch into their game they may drop lower. This is the third game in which they have failed to score. That will never do. Dan Donovan is without double one of Everton's greatest finds. He give a perfect exhibition of full back, play here and was the main topic after the game. The Charlton people had nothing but praise for the way he mastered their best forward, Hurst. He was a joy to watch in his tackling his power of anticipation and his use of the ball. He was closely followed by Lello, but after him I have little good to say about the Everton team. The attack failed lamentably.
EVERTON RESERVES FORTUNATE TO DRAW
November 22, 1954. The Liverpool Daily Post
Everton Res 1, Blackpool Res 1
Everton Reserves were fortunate to divide the points with Blackpool Reserves, in the Central league game at Goodison Park. The visitors were the better side and were always the more dangerous raiders capably led by Hepton who scored their goal in the 20th minute. Everton showed to beat advantage in the second half, Kirby equalizing after 60 minutes. Leyland kept a good goal for Everton and Harris (B) was the pick of a poor forward line.
OFF THE MARK
November 22, 1954. The Liverpool Echo
By Stork
Everton's form at Charlton was very disappointing although the score in the Athletic favour was a wee bit flattering. Oh yes, they were well, worth their victory but two of their goals were stamped "lucky" in big type is common knowledge among footballers that you have got to have a bit of luck but even allowing for those two goals. Charlton had three others in the net. Where was Everton's trouble. They were not the sprightly smooth moving side that they used to be and the forwards could not find a true line for their shooting. They could easily have ripped the confidence from the Athletic in the first quarter of an hour, when the Londoners looked a higgledy-piggledy and I visualized another away victory but 15 minutes out of 90 is not enough. All that was needed was someone in the Everton attack who could hit the target near passes are of no account in the end reckoning. Then suddenly Hurst scored for Charlton, I say scored, but the ball accurately struck his legs and crossed the line, goal number one and the end of Everton's threat for soon afterwards they scored a good goal, Everton lost their rhythm and I could not see their progress of them retrieving that position. They attacked and attacked again but they never appeared dangerous as Charlton did with their spasmodic side which side which produces no goals. Farmani in the second half did. But for endeavour they took full points. The "evergreen" Bartram was as reliable as ever although he did not have a great deal to do because the Everton forwards were shot shy lacking punch. From a moderate start Charlton worked up into a dangerous collection, but I wonder what would have happened had Everton taken a least two easy chances before the Londoners had welded themselves into a progressive side, I think they would have gone to pieces for they were entirely in the hands at a nicely playing Everton for the first 15 minutes. Turning three goals down at the turn round was not a happy position for Everton, and even when Everton attacked in the second half which they did more than their rivals, none never got the idea that they would catch up. There was no "bite" in the visitors to the opposition defenders. No it did not matter what Everton did they could not get things running their way.
More Sinned Against
Hickson once again had his name taken, but Ufton was just as much to blame and he too should have been jotted down in the referee's book. When Hickson has been warned he never seem the same again when he was punched in the back of the net the linesman did not fail to see it and drew the referee's attention, but there was no warning word, for the culprit. I hold no brief to Hickson on Saturday he was more sinned against than sinner. Everton are dropping down the table too rapidly for my liking and Charlton's score makes their goal average look considerably worse but don't let us forget that they have failed to score a goal in their last three matches during which eleven goals have been scored against them. That won't do. It is of no earthly use to say that they enjoyed as much of the play as their opponents if the other chaps get the goals –no matter how. So far as Everton was concerned this was Donovan's game. He gave a perfect exhibition of full back play. His tackling was superb, his artistic potion uncanny and his distribution top-class. He was the recipient of high praise from the Charlton people going round the terraces and in the directors box. Lello was another of the bright lights but of the others I can say little although O'Neill kept the score down to five.
Army Team
The Army team to meet Everton in the annual friendly engagement at Goodison Park on Wednesday includes two English internationals, two Glasgow Rangers players and other senior experience with football League sides. It had been hoped by Merseyside folk that the visitors might include one or more of the three Everton players in the Forces, Caldwell, Farrell and Forshaw , to give the game a little more local favour but the Army selectors have chosen what they regard their strongest ever team. Barnsley (West Brom); Little Rangers), Hopkins (Tottenham); Charles (Swansea), Smith (Birmingham), Ripley (Leeds); McColloch (Rangers), Quixall (Sheff Wed), Shaw (Derby), Anderson (Barnsley), Blunstone (Chelsea).
VIEWS ABOUT EVERTON
November 23, 1954. The Liverpool Echo
Readers Have Their Say On Goodison Park Problems
Ranger's Notes
After the excellent start which Everton made to the season their recent decline judging by letters I have received appears to have caused considerable heart-burning among some of their followers. The good displays of a few weeks back seem to have been almost completely forgotten. Forgotten too is the good football they have served up in some of the matches they have lost. All the stress is laid on recent reverses which though admitted disappointing, hardly seem solid enough grounds for the sweeping statements which are no being made or the pessimistic view of some people. Possibly I am little more tolerant than these readers because at the start of the campaign I never visualized Everton as keeping more than a reasonably safe position around the middle of the table. Though their sparkling start pleased me just as much as the most fervent supporters, I felt that it was too good to last, and accordingly have been more or less resigned to a bit of a slide down the table. Though by no means the full cause, it is a fact that the ball has not been running well for the Blues of late, and that makes a big difference. Many scoring chances have been missed that during last season or the early part of this would have been snapped up with relish. That sort of temporary decline strikes many clubs from time to time.
Dangerous Policy
It is equally true that the Everton forward line could be improved, particularly on the right flank, as I have previously remarked, but that fact hardly seems to warrant wholesale condemnation. Although in the past I have strongly advocated early action by both Everton and Liverpool to arrest an impending slump and still hold the view that procrastination is a dangerous policy, I feel it is a bit too early yet to "get the wind up" despite the meagre return of four points from the last six games and an adverse goal average of 6 to 15. They had a similar lean spell just about this time a year ago, but got over it. The opposition, of course, is sterner now. While one appreciates the concern of Everton followers the man at the helm, who has done so much latterly to put them back on a solid foundation, is the only competent judge, the only one who has full know, ledge on every angle and don't forget has to stand of fall by his managerial record. By the end of the season I think it will be found that Everton have justified themselves in their first senior season. Everybody, however, has a right to his own opinion and the letters below tell you what some readers think. Because I give these it does not necessarily follow that I agree with what they say.
Lot To Admire
Mr. T.D. Wright, of the Victory Club, Seymour Street, London, who is temporarily exiled through business from Merseyside writes.
"Charlton's followers admired a lot of Everton's approach work and were full of praise for Donovan, Lello and O'Neill. They also thought that Hickson while admirably rough, was under severe provocation from Ufton. But their opinion of Everton's finishing was unprintable. May I suggest you use your power to get the club to see the necessity of new forwards," In my opinion they need three. "A few thousand pounds well invested now would quickly repay itself if there are no youngsters ready to take over. Keep plugging away and with such a defence we will have a championship team soon."
Don't Change His Style
W.S writes
It is obvious the forward line is nothing like it was in the Second Division. The main weakness is at outside right and inside left. What about buying a winger. "Parker's nonchalant at the paid off last winter because he as knack of being in the right spot at the right time. Yet can't expect that in the First Division for the defenders are much better. "Hickson was a far more dangerous player last season than this. Now he is just another centre forward, but last season –wow! It is no good trying to change his style. "Except at Pompey there are no complaints about the defence. Each man from O'Neill to Lello has played his part magnificently, in spite of meeting some of the best attacks in the land. Let's hope they keep it up. A good right winger and an inside left, plus the old dashing Hickson and Everton could still be a force to be reckoned with."
Novel Forward Ideas.
Mr. B. Regan 11 Macbeth Street says;- "The solution to Everton's goal-shy forward line would be this; Eglington, Parker, Wainwright, Fielding, Hickson. I think Hickson plays his best football from the wing. Wainwright is now the only forward who is really having a go, and with good support would score a lot of goals. Have Everton tried to get Paddy Ambrose centre forward of Shamrock Rovers? He also could be the answer to the centre forward problem."
Mr. T.K. Plunkett 41a Nevill Street, Southport who says he follows Everton away as well as home, also advocates, buying a first-class right winger. He writes;- "Wainwright tries hard but it is obvious he will never make a fast, dangerous winger. Back came McNamara, and unfortunately a section of the crowd jeer this lad, the worst thing they can do, so Wainwright is recalled. "Unless we get rid of the 'never buy' idea there is a danger of a quick return to the Second Division and the return of the local derby."
Goodison Game
For many years Everton and the Army F.A. have staged an annual game for the benefit of the Army Sports Board funds and though this at one time was always at Aldershot it was switched to Goodison last year where it will again be staged tomorrow (2.30). So far the Army have not been on the winning end a "record" which they hope to break this time when they turn out a very strong side. Included in their line-up is Blunstone who got his first England cap against Wales a fortnight ago, another young England player in Quixall, and others who have already made their names familiar in top-class football. This game should be well worth seeing and as the cause to be helped makes a strong appeal, I thrust the gate will be substantial. Everton; O'Neill; Sutherland, Donovan; Farrell, Woods, Lello; Harris (B), Fielding, Parker, Farrell, Eglington. Army; Barnsley (West Bromwich), Little Rangers), Hopkins (Tottenham); Charles (Swansea), Smith (Birmingham), Ripley (Leeds); McColloch (Rangers), Quixall (Sheff Wed), Shaw (Derby), Anderson (Barnsley), Blunstone (Chelsea).
EVERTON ON MARK IN SECOND HALF
November 25, 1954. The Liverpool Daily Post
By Ranger
Everton 3, Army 1
Six minutes from the end of the game at Goodison Park yesterday, Donovan Everton's left back, who had given a brilliant display was carried off on the shoulders of the two trainers, suffering from a twisted knee. Donovan's injury, however, is not as serious as was at first thought and he may be fit enough to turn out for Saturday's game. The first half started brightly with Everton the superior side in approach work but woefully wild and erratic with their finishing. Parker tried in the centre forward position, missed two good chances of putting his side in front and apart from one tremendous shot by Eglington, which Barnsley, the Army goalkeeper, did well to save at the expense of a corner, the home side produced little of note in the shooting line prior to the interval. In the second half, however Everton got down to their task in real earnest and three goals in fourteen minutes, was the result of a hectic spell in which they had the Army defence at their mercy. Eglington opened the score at the forty-ninth minute after pairing off in a neat move with Parker, Harris headed the second five minutes later off Eglington's centre and the left winger also contributed to the third scored by Parker with a splendid header. Apart from solated raids and a last ten minute spell of endeavour the Army attack was rarely seen in this half, but when Melvyn Charles went centre forward just before Donovan departed he put some ginger into the line, and reduced the lead at the eighty-fourth minute with a tremendous powerful shot from fifteen yards. O'Neill hardly saw the ball until it was in the roof of the net.
Excellent Wing Halves
Parker was disappointing at centre forward. Though he took his goal well he rarely shone otherwise and was well held by Smith (Birmingham City), who was usually first to the ball Sutherland shaped promisingly, for Blunstone was well below form, and held on to the ball most exasperatingly when a end quick pass would have been far more helpful to his side. Everton's wing halves were excellent. It was their prompting which helped the attack to establish and maintains its second half supremacy. Farrell, started well enough but had spells when the ball did not run right for him so that it was left to Eglington to provide the main danger. His speed at times left Little yards behind. Donovan was the best back on the field and soon established complete mastery over McCulloch who did little of note. Though Quixall in the first half hour looked as though he might be the mainstay of the Army attack, once Lello had sized him up he faded out. In addition to the injury to Donovan, Farrell, was also off for five minutes with a cut on the eye.
BILBAO TRIP OFF
November 25, 1954. The Liverpool Echo
Ranger's Notes
Everton's proposed trip to Bilbao has been cancelled owing to the inability of the Spanish football authorities to get the permission of their Government to send the necessary cash to this country in time.
THIS WAS THE GREATEST SQUELCH
November 29, 1954. The Liverpool Daily Post
Everton 0, Bolton Wanderers 0
By Leslie Edwards
Mud, mud, glorious mud –nothing quite like it for cooling the blood
If the Hippopotomus song is right, then Barrass, hero of Bolton Wanderers' defence was the coolest blooded man of the twenty two. He was literally covered in mud by the time he came to the finish of this fast exciting mud-plugging match in which the greatest squelch, I though and for the sound of booing at Everton centre forward Dave Hickson disappeared down the subway. Were my ears and my eyes deceived." I Think No. The most staggering moment of the wars was that in which Barrass was left in the completely knocked-out position while the ball travelled to the other end of the field in a hotly right wing movement. Linesman Ken Seddon (the former Liverpool full back and son of the one-time Bolton Wanderers centre half-back Jim Seddon raised his flag and referee Murdoch of Sheffield stopped the game to hear his version of what had happened. Then Mr. Murdoch shook his head and went of to have a word with Hickson.
Camouflaged
Other heads shook incredibly at other moments of a game badly blemished for the reasons given. Barras became so covered in mud I swear the referee did not discern him standing on the goal line when awarding Bolton an offside decision. But the Bolton player hard as he was treated was never covered in confusion. He saved his side more than once with the timely gallant header when all seemed lost or by grime desperate but fair tackle. Everton should have won comfortably. They played well when the pluck wind and rain were at their backs, they played even better when they faced the elements and the skeptics anticipated that all the second half much go Bolton's way. What kept Everton goal-less was two-fold, Bolton defence and erratic shooting, Parker and Hickson should of seen the ball where it should go when your side has lost three games in a row and necessary that they should help to stop the rot. I have sympathy with all three who missed so notably –Hickson once finished in the net with the ball outside when the odds were heavily on the vice-verse –but they were still tragic blunders.
Hassell Delights
Bolton had Hassell, whose play in attack or defence was such a delight, injured in the first minute. Had he been fit doubt whether Everton would have been less in the picture. They stuck to their job with both remarkable spirit and energy and in the conditions their field play left nothing to be desired. Bolton had their moments but they were few compared with Everton's and the remarkable feature of the Everton attack, I thought was the way they occasionally took the ball through in a series of moves made by lighting passes as though the move had been performed a hundred times before. They did not succeed but only because the finish shot was not so tentatively, so inaccurately. All the Everton half-backs played well. It is odd that Tom Jones never seems to get involved in any feud with the opposition centre forward, Lello worked like two men indeed the important respects Everton showed themselves to have everything a winning side should possess. Bolton's best were goalkeeper Stan Hanson a son of this city who took a knock to the side of the head and still came up smiling. Barras who made friends of some who had been his enemy, Hassell and as perk and competent a reserve centre forward as I have seen.