SLEEPY HOLLOW HAD NOTHING ON HIGHBURY
September 1, 1954. The Liverpool Daily Post
Arsenal 2, Everton 0 (Attendance 42,146)
By Leslie Edwards
For Arsenal this was a first victory, for Everton a first defeat. I do not know what conclusion can be drawn, but one thing is certain. This match in heat-wave conditions at Highbury last night, was one of the sleepiest ever known. It was as though the shirt-sleeved crowd and the players were enjoying a siesta disturbed only by the sound of the ball being thumped accurately and inaccurately about the lush turf. Indeed, it reminded one of an end-of-the-season Central League game in which the crowd was too tried to cheer or had little to cheer about and the players ambled sleeply, providing little fire and little good football. This was Everton's first appearance at Highbury for four years and the odd things about it were that Tom Jones was at his debut ground that Tom Lawton appeared against his old side, and that it was a meeting of clubs as for apart as the poles in the League chart. No play suggested Everton will finish League champions, or that Arsenal will remain where they are at the foot of the table. Yet Arsenal who won cheekily, as is their fashion when they go into a 2-goal lead, had nothing to spare. For this they can thanks a defence which was good and bad in turn. There were times when Forbes and Barnes and Wills were brilliant, there were times when they were not proof against goals; yet Everton did not profit on these occasions, mostly because their luck was completely out. For instance, Eglington crossed a low ball which ricocheted between Parker and Kelsey on the line, but refused to cross it. Hickson with a cross shot, had Kelsey only half-saving, with the result that the ball passed out to Eglington who hit Wills, who was standing on the goal-line with a cracking shot.
Missed By Inches
There were moments, too, in the second half when Arsenal could thanks their lucky stars, notably when Parker, with a back-heel flick turned the direction of a through pass from Lello and the ball beat the outside of the post by inches. Again, Forbes, with a back-header all but beat Kelsey, who was out of position and could only turn the ball with the tips of his fingers for a desperately –given corner. These things were off-set in some measures by some useful shooting by an Arsenal attack which benefited greatly from the introduction of Roper. O'Neill was kept busy from start to finish and he did splendidly with some glorious saves when Arsenal really got on target. Everton were best in two short spells at the beginning of each half. Once Arsenal survived luckily and went into the lead exactly half a minute from the interval and once they took the further initiative of a second goal at sixty-five minutes they were a different side. they were never a great side and rarely a good one, but having lost three times, they found the spark of revival against an Everton who, apart from the opening of each half were never as good as they can be at Goodison Park. The Everton defence was less solid than usual against such artistry as men like Logie and Lisman can produce and the half backs, hard as they tried, seemed to tire, especially Farrell to the point where Arsenal wound up completely in command. Nor was the Everton attack penetrating enough Eglington worked wonderfully well and the ever-ready Lello was always there to help, but there were too many lateral passes against a defence that was content to allow them latitude but which was usually too thoughtful to allow Everton to make deep penetration.
Hickson Earns Praise
Forbes and Hickson might well have had a battle, but the event proved otherwise. They played the game and each other fairly, and Hickson, whose heading was always good earned the praise of the crowd for some of his cute headed passes and scoring efforts. Arsenal missed more than one chance when Everton in general and O'Neill, in particular, were bothered by the glare of the sun. It is clear that though Lawton has lost some zip, his head and brain have lost none of their cunning. He led the Arsenal attack well, and with Roper a dangerous shooter, this was much more like the old Arsenal. Both goals were good ones, Lishman hit a lovely low shot for the first after Logie had beaten Lello and had crossed the ball to him so accurately that he could stride on to it and score almost at his leisure. The second shot by Roper after sixty-five minutes play came from a corner given by Donovan. This saved a goal but it provided one, because Lawton's backward header made an opening for a Roper hook-shot which O'Neill may or may not have had a chance to save according to how you view it.
Disappointing
By this time Arsenal fans were saying; "And now they can go to Moscow!" But the evidence of Arsenal's play proves that they will have to improve a lot if they are going to be too dynamic for Dynamos. O'Neill took a knock to the ankle and Tom Jones one to the head, but both recovered and the match finished with Donovan "losing the ball among the arc lamps in the eaves of the double-decker stand. From an Everton viewpoint it was all rather disappointing, especially as they had promised to nap out of their heat-wave. Lethargy at the openings of the game and after the interval. Moore and Donovan had a tiring uncomfortable evening with little Tapscott and Roper leading Arsenal's forwards and not a great deal of support forthcoming from their own Everton half-backs. Everton had to lose sometime and I suppose that Arsenal even without the captaincy of Mercer were one of the sides most likely to bring it off. We must hope for better things from both teams.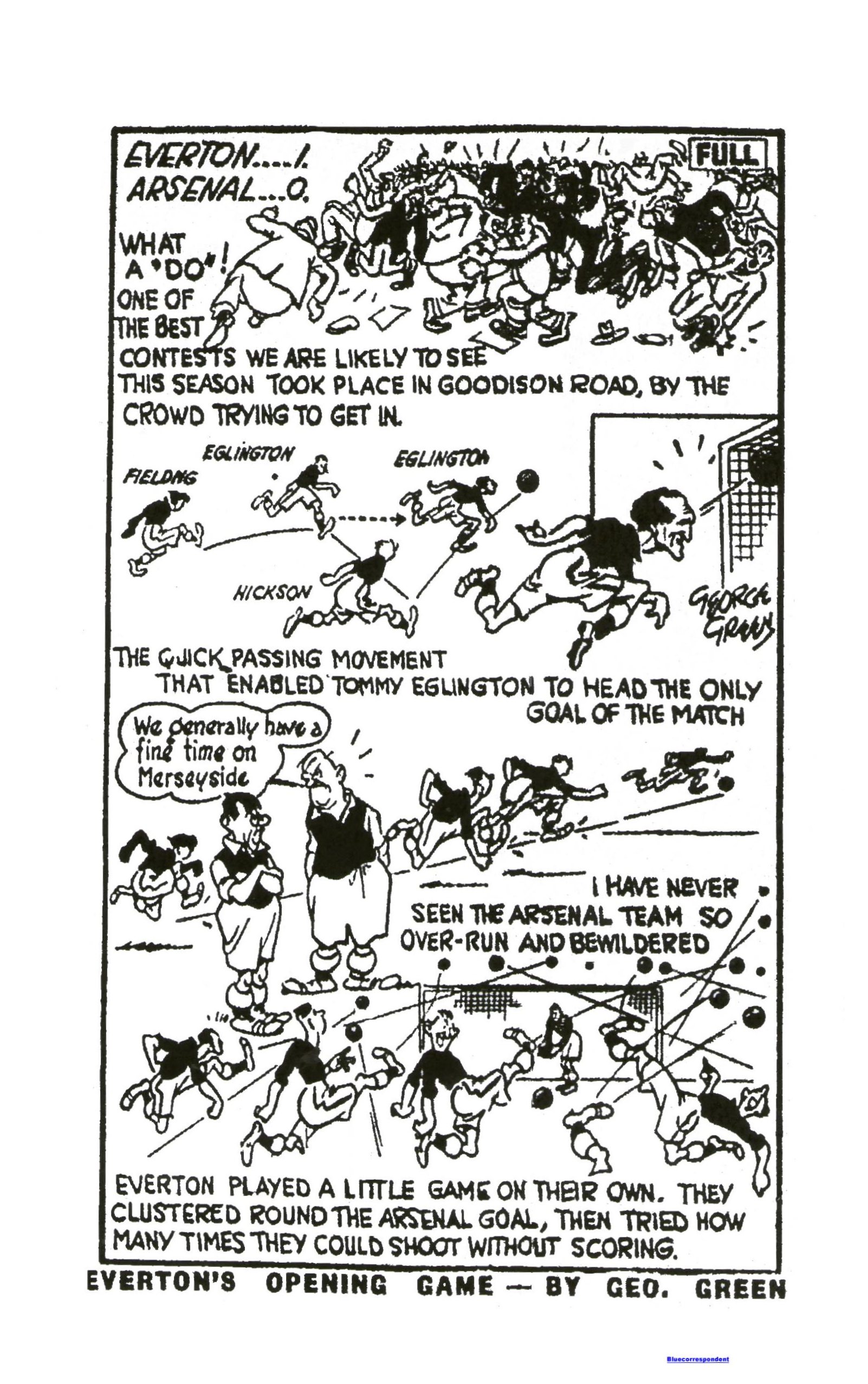 EVERTON BEATEN
September 1, 1954. The Liverpool Echo
By Contact
London breathes freely again and Arsenal won their first match of the season –a very necessary two points u terms of the success which is needed to keep the club solvent. The pity is that Arsenal's triumph meant Everton's tragedy. Yet no club can continue winning indefinitely and Arsenal at Highbury are the team most likely to stop a winging gallop. This was a disappointing game in nearly every way. It produced a gate of 42,000 when 60,000 had been expected some sketchy play from both sides and heat wave lethargy from players and spectators more suited to the end of the season. I may be doing the players less than justice but that was my impression. There was effort on the field but it was so ordinary for so long that spectators all but went to sleep. They were joited into enthusiasm and interest by a handful of excitements before and after the goals. I recall four separate cases in which Everton were within inches of scoring, so they could be said to have had their share of misfortune. But they did not play as well as usual. Farrell did not have a good match and Roper and Tapscott made the evening more uncomfortably warm for Moore and Donovan. It was victory with reservations for Arsenal, Lawton showed much of his old cunning and Barnes had a very good match, but in spite of the cheeky way the side completed their first win this was nothing like Arsenal of old. Goals just before the interval by Lishman and at 65 minutes by Roper were good ones. Logie made the first with a fine square pass and Lishman hit a glorious low shot to get it; a hard won corner kick, a downward nod by Lawton, a solid hook shot by Roper was the lead to the second. The one man in the Everton side who did himself a great deal of good was O'Neill. He kept a brilliant goal despite the difficulty of having the glare of the sun as a handicap in the first half. Hickson and Forbes met in a clash which on paper appeared likely to establish a highly explosive mixture. No such thing happened – it was an unrelenting duel, but fair and gentlemanly.
BURNLEY'S PROBLEM
September 3, 1954. The Liverpool Echo
Ranger's Notes
After Tuesday's somewhat disappointing display at Highbury, Everton will be all out to return to winning ways; but Burnley are a most difficult side to beat on their own ground. At Turf Moor last season they dropped only eight points, and although their record on tour was none too impressive, Cliff Britton's former changes were usually at the heels of the leaders until the closing stages, when they took only four of the last 14 points at stake and finished in seventh place. They started the present campaign in fine style with a first minutes goal from Leslie Shannon formerly of Liverpool, against Cardiff, this being the only score of the match. The following Monday they lost by a similar score at Chelsea and last Saturday fled Manchester City and last Saturday held Manchester City for a goalless draw at Maine Road. While Everton were losing to Arsenal, Chelsea, were learning a 1-1 draw at Turf Moor, so the Lancashire club's return is four points from as many games with two goals for and two against. When Allan Brown – this week appointed manager in succession to Frank Hill –was at centre half. Burnley were very much defensively minded. Latterly they have been placing greater reliance on attack, despite the paucity of goals in the past fortnight. Irish international McIlroy and the highly regarded Holden are usually the live wire. Young outside left Pilkington is thought in many quarters to be a coming international and Peter McKay an inside left signed from Dundee during the summer has done so well in reserve games that he was introduced for the return with Chelsea. Shannon taking on a new role at left half to the exclusive of Seith. Gray ex-Chelsea revealed surprising goal-scoring ability last term topping the Burnley list with 20, but he has yet to open his present account. Everton had a slight doubt up to this morning about Farrell but he passed a fitness test all right and the side is unchanged for the fifth time. Everton; O'Neill; Moore, Donovan; Farrell, Jones, Lello; Wainwright, Fielding, Hickson, Parker and Eglington. Burnley; McDonald; Aird, Mather; Adamson, Cummins, Shannon; Gray, McIlroy, Holden, McKay, and Pilkington.
Everton Reserves (v. Sheffield United Reserves at Goodison (3-15); Leyland; Clinton, Rankin; Grant, Woods, Melville; Gibson, Potts, Harris, Lewis, Buckle.
RECORD CHEQUE
September 4, 1954. The Liverpool Daily Post
By Leslie Edwards
Everton success, so far has set many months watering. When Preston left a week ago they took back the largest cheque ever received by a visiting League club –something over £1,000. The 76,000 spectators who saw the match paid about £8,000 at the gate. True the Chancellor digs deep into the haul but how envious such receipts must make Division 3 clubs who see Everton attract in two home matches as many spectators as watch some Division 3 matches in a half-season. Everton seem to be getting all the testing matches over early. The victory against Preston makes good form, collaterally, and today's tie with Burnley may confirm that Everton are going to be challenger for the championship. Defeat might serve to show that Everton's dash from the gate was unreliable. Manager Cliff Britton having started Burnley years ago on their sure defensive policy, this may be a match in which the defence hold command. Everton will be keen to prove that their Highbury form was wrong. The Burnley side, with Shannon, ex-Liverpool and Gray ex-Chelsea playing well, will offer a greater test than Arsenal. There had been doubts about Peter Farrell's fitness but he passed a test yesterday and will play. Everton are unchanged for the fifth time this season. Everton; O'Neill; Moore, Donovan; Farrell, Jones, Lello; Wainwright, Fielding, Hickson, Parker and Eglington. Burnley; McDonald; Aird, Mather; Adamson, Cummins, Shannon; Gray, McIlroy, Holden, McKay, and Pilkington.
EVERTON RESUME WINNING WAYS WITH A CONVINCING SUCCESS AT BURNLEY
September 4, 1954. The Liverpool Football Echo
Burnley Nil, Everton 2
By Stork
Everton were worthy winners by virtue of good football. Their movements were much ahead of anything Burnley produced, with the possible exception of ten minutes in the first half. The Turf Moor team were eventually played out of the game. Burnley; McDonald, goal; Aird and Mather, backs; Attwell, Cummins, and Shannon, half-backs; Gray, McIlroy, Holden, McKay, and Pilkington, forwards. Everton; O'Neill, goal; Moore and Donovan, backs; Farrell (captain), Jones and Lello, half-backs; Wainwright, Fielding, Hickson, Parker, and Eglington, forwards. Referee; Mr. F. Cowan (Manchester). Burnley made one change, Attwell coming in for the captain Adamson, who has an ankle injury. The first few minutes looked really dangerous for Everton and O'Neill was quickly called to duty, punching away Pilkington's corner kick. A second or two later Gray made a vicious shot from McIlroy's centre and the Everton goalkeeper had to move quickly to keep the ball out. McKay also had a shot, which passed over the bar. This was an encouraging start for the home crowd, but within a minute or two they had their worries for Parker put the ball through to Eglington who hit if without hesitation a matter of inches beyond the post. I doubt whether McDonald could have got to it. Everton maintained their attack for a short spell; before Pilkington and McKay opened the way for a possible goal. Gray volleying his shot against the crossbar. A neat movement on the Everton left culminated in Fielding hitting the ball hard and true, but high over the top. The Burnley ground looked much more comfortable today than I have ever seen it before. The reason for this was that during the close season they had built a new stand on the far side of the ground, which took away the bleak look. Leslie Shannon the former Liverpool player, has been converted into a wing half after a long spell at inside forward, and was doing remarkably well. Holden went through the middle and looked like giving O'Neill some work to do, but Farrell made a last-minute tackle to take the ball off the centre forwards toes. So far the game had been very fast and quite entertaining and a Hickson-Parker-Eglington link-up was full of promise until Eglington shot over. Burnley were having more of the attack but when Everton did move up they were full of danger. McIlroy tried to brush his way through only to half-hit his shot. The Everton defence stood it's ground and Donovan headed away a goal laden effort when O'Neill was at the other side of the net. Hickson had a grand opportunity to put Everton in front when he accepted a pass from Eglington, went on to beat Attwell and then hooked the ball wide. A foul against Parker on McIlroy saw Gray put his free kick much too strongly to the other side of the goal, no colleague there abouts. McIlroy tried a long shot which passed over and Holden set McKay going and went into position for the return but McKay decided that a shot was his best bet. It might have been had it been anywhere near the mark. Everton were now moving more smoothly and at the 34th minute they took the lead, Eglington and Hickson helped in the making Parker shot from just outside the penalty area, and although McDonald got his hands to the ball he could not keep it out. Holden tried a long show which was off the mark and then Eglington made a foul throw which gave Burnley the initative. Gray, who shot wildly from a good position and O'Neill was able to watch the ball pass over his crossbar.
Headed Away
A strong centre by Eglington was headed away in the nick of time by Mather as Hickson came in. Holden mis-hit a shot from a really fine opening just prior to the interval. Half-time;- Burnley nil, Everton 1.
Farrell and Hickson worked an opening for Parker, who headed into McDonald's hands. The first stoppage came when Wainwright had to receive attention. Everton's movements were much better than those of Burnley, whose defence was not nearly as strong as some they have fielded. Fielding's pass to Hickson enabled the centre forward to head the ball forward to Parker, who was well placed but did not connect aright and it trickled to the goalkeeper. In one of Burnley's spasmodic attacks. Gray made a fine run before centring to Pilkington who took a corner off Moore. Farrell had to make a very determined last second tackle on McKay. Everton were playing with all the confidence in the world and at the 55th minute a cross shot by Eglington completely deceived the Burnley goalkeeper, who had to watch the ball pass over his line and settle into the corner of the net. Everton's passing often had Burnley bewildered and Parker was most unlucky not to chalk up a third goal, hitting the bar, from Hickson's pass. Everton were now completely on top, and Parker put a header on to the crossbar. Burnley had promised well, only to peter out as a prospective scoring side. McKay scorer of eight goals in the Central League had an opportunity to prove his worth today when McIlroy and Holden paved the way for him but he shot over.
McDonald Saves
Hickson who was moving out to the right wing quite a lot and was being well plied by Farrell and Fielding swung the ball over to Eglington who took it with his left foot, and McDonald had to fling himself across to turn the shot over the bar. Parker was foiled by McDonald who dropped on the ball and Parker seemed to hurt his hand in this action. O'Neill who had little to do, caught the ball close to his crossbar although surrounded by a bunch of players. McDonald rushed out and dived at the feet of Hickson, who seemed all set for a goal. Shannon had a curling shot which O'Neill saved comfortably. Near the end a centre by Fielding hit the outside edge of the upright. McKay ended gamely shooting wide. Final; Burnley nil, Everton 1. Attendance 33,000.
EVERTON RES V SHEFFIELD UNITED RES
September 4, 1954. The Liverpool Football Echo
Everton Reserves; Leyland, goal; Clinton and Rankin, backs; Grant, Woods, and Melville, half-backs; Gibson, Potts, Harris, Lewis, Buckle, forwards. Sheffield United Reserves; Crooks, goal; Caldwell, and Ridge, backs; Wragg, Cratton, and Ikey, half-backs; Turley, Dodds, Johnson, Davies, and Spencer, forwards. Referee; Mr. N.C.A. Dowds (Birmingham). There was little to enthuse over in the opening minutes at Goodison Park today. Both keepers had a comparatively easy time Sheffield took the lead in the twentieth minute. Leyland having no chance from a header by Dodds. The Blues missed two good scoring chances when Lewis being well positioned did not avail himself of the opportunities. Half-time Everton Res nil, Sheffield United Res 1.
The second half saw Everton playing more confidently, and five minutes after the restart Potts equalized after Gibson had paved the way. This success certainly stimulated their forwards for the Blues went ahead five minutes later through a penalty taken by Lewis. In the 58th minute Buckle from a free kick netted a third from 30 yards and Lewis added a fourth in the 65th minute.
SCHOOL OF SCIENCE PLATE GOES UP AGAIN AT EVERTON
September 6, 1954. The Liverpool Daily Post
Burnley 0, Everton 2
By Stork
There has been a lot of talk that English football, as we knew it before the war, was a thing of the past. I am prepared to admit that our soccer has deteriorate but now and again a team pockets into the limelight to prove that we can still play the game as well as ever. Forget about Manchester United and Tottenham Hopsur. Now we have Everton to carry the banner. No Hungarian ever played better than Everton at Turf Moor on Saturday. Once again Goodison Park is likely to return its reputation as the School of Science. Everton gave Burnley a lesson and with the slightest luck could have doubled theire score. It was all accomplished because Everton were determined on good football. They moved like a well oiled clock. No cog was faulty. Turf Moor is not an easy ground on which to win, but Everton won in a canter with Burnley being out more and more as the game proceeded. There were only ten minutes when Burnley looked like causing any trouble. That was immediately after the opening when the North-East Lancashire team hit Everton with everything they had. The Everton defence stood manfully to their task and having taken the spick without hurt went on to demonstrate their superiority in every phase. As Everton became stronger and stronger, Burnley become weaker and weaker until they were eventually snuffed out by a team which relied soley on fine football. It remained me of the years 1938-39 when I rated the Everton team of that day the best ever. Why were Everton so commanding" That is easy to answer. It was the work of Farrell, Lello and Fielding. They were the back room boy's who drew the blueprint carried out by a forward line that moved sweetly and effectively. The Burnley defence was as one time known as the "Iron curtain." It was a lace curtain which Everton could piece at will. The wonder was that more goals did not follow. The bar and post were hit, one or two chances were missed, and goalkeeper McDonald made some grand saves. He slipped one over the bar from Eglington there were one or two half hit shots by Parker but the openings were made by carpet football allied to speed of pass and the man running into position knowing full well that the ball would eventually come to him. No one man is going to take credit for this smart win, it was a team affair –all for one and one for all I liked the way Hickson slipped out of the wings where his colleagues found him with the greatest of ease. I hope Everton can give us a repeat performance at Goodison Park on Wednesday if only to show the people who could not make the trip to Burnley how good they can be. Such good players as Holden and Cummings were as toys in Everton's hands and the best one in their team was the former Liverpool forward. Shannon, who looks like making a name for himself as a wing half. Now to the goals, which came in the 34th and 55th minutes. Parker got his chance through Eglington and Hickson and his drive although McDonald touched it, swirled away from his hands and into the net. Eglington's goal was a gem. That trusty left foot of his never hit a better. The ball flew past McDonald and Everton's victory was complete. Burnley were the poorest set of marksmen I have seen for some time, I am not surprised that they have scored only two goals in five games. They are in for a rough time unless they can improve their shooting.
EVERTON RES 4, SHEFFIELD UNITED RES 1
September 6, 1954. The Liverpool Daily Post
After being a goal in arrears at the interval, Everton were a different proposition afterwards and were worthy winners. The forward line played well. Potts being outstanding, Lewis was a live wire and has now scored five goals in their four matches. Everton played as champions in the second half and only for Crookes, would have won by a handsome margin. Everton's marksmen were Lewis (2), one of which was a penalty, Potts and Buckle. Dodds scored for Sheffield.
EVERTON EXCEL
September 6, 1954. The Liverpool Echo
By Stork
I had almost given up the idea that I would ever see football as it was played in the pre-war days. Occasionally we had a team like Manchester United and Tottenham Hotspur, and later West Bromwich Albion, reminding us of the "good old days." Now it is the turn of Everton to be the team of the year. This was indeed a high-class performance and the one time "stone well" Burnley defence was made to look a thing of shreads and patches. Everton had too many moves up their sleeve for Cummings and company to cope with and Burnley must have been relieved to hear the final whistle, for they had the complete run around by a team which played super soccer. I have not seen anything approaching it for some years. I am not one to butter the toast too thickly, knowing that perhaps the next time it may be dry bread but their display at Turf Moor warrants all the high praise I can bestow upon it. When I say that it was as good as anything the Hungarians ever turned in I am not flying too high for the former world champions never played better. I hope Everton won't let me down on Wednesday, but make it a repeat performance so that you can see for yourselves.
An Example
Burnley people were captivated by their ball play, their speed of pass, the unerring accuracy of the pass, and the intelligent manner in which the man ran into position to receive. To emphasize this, let me give you one example of the high speed tactics. A goal kick by O'Neill two more passes and the ball was clattering against the Burnley crossbar –all in a matter of seconds. Was it any wonder the Burnley defence recoiled under the impact? That the Burnley goal did not fall more than twice was due not to any defensive strategy by Burnley, but half hit shots, the woodwork and a number of good saves by McDonald. The one he flipped over the bar from Eglington was a save out of this world. Burnley had but ten minutes of the game when they looked distinctly menacing and had the Everton defence made on slip it might have set Burnley ablaze. That slip was never made and having taken the strain, Everton settled down to play precision football with every man filling his part and forging a link in the chain that would not be broken. During those first 10 minute I got the impression that Everton had a fight on their plate. It was not a fight in the true sense of the word, but just a training apin for Everton, who pulled out all the stops and Burnley intimately fizzled out and must have been pleased that Everton's victory was not more convincing so far as goals were concerned in football strategy Everton were miles ahead of the Turf Moorities, who looked like a carthorse alongside a racehorses. I am not surprised that the Burnley forwards have shot only two goals into opponents nets in five games for they were lamentable in their shooting and O'Neill will not have an easier afternoon under the bar.
Eglington's Goal
Everton moved like a smooth flowing river which could not be checked. Cummins at one time on the verge of international honours was easily beaten. He did not know whether to follow Hickson to the wings or stay in front of his goal. He elected to do the latter and this gave Hickson greater scope. Dave was "found" by Fielding and Parker time and again and one of his two centres should have been turned into goals. There was always greater danger of a goal when Everton advanced than when Burnley moved up for fine pass usually left the passes with a goal scoring opening, Parker's goal for instance was made by Hickson whose header left Parker with the ball on the edge of the penalty area. Whuff and the ball was in the net even though McDonald got his fingers to it. John Wille should have had others. Eglington's has scored some grand goals in his time but this one at Burnley was never be bettered. He corrected Parker's pass on the corner of the penalty area and I have not the slightest doubt that McDonald expected a centre but Eglington shot for the far corner of the net and hey presto the ball was in the back of the goal. A grand goal without doubt.
Everton will not choose their side for Wednesday's game against West Bromwich Albion at Goodison until tomorrow. Parker is being X-rayed for a suspected broken thumb. Wainwright has a slight pulled muscle.
CUP WINNERS AT GOODISON
September 7, 1954. The Liverpool Echo
West Bromwich Albion Tomorrow
Ranger's Notes
Another large attendance is certain at Goodison Park tomorrow evening when West Bromwich Albion will try conclusions with the almost all conquering Everton side which shared the First Division leadership with Sunderland until Preston by exhausted them last night. Everton have been fortunate in their early home fixtures –but for ease of conquest, but for attractiveness. First came Arsenal, than the F.A Cup losers and now the Wembley victors. It could not have been arranged better if they had done it themselves. As Everton are getting some of their stiffest engagements over right at the start their good beginning is a most encouraging pointer to continued success when the strength of the opposition is less severe. West Bromwich did not get off to so good a start as the Blues and lost their two opening engagements, which were away to Sunderland and Newcastle. Since then they have defeated Arsenal and Sheffield Wednesday and turned the tables on Newcastle in the return encounter. Their defence which even last season was occasionally subject to palses of form has already conceded eleven goals, seven of them in the first two outings. Compared with the side which won the Cup there have been two changes in the rearguard. Stan Rickaby, now fully recovered from the injury which kept him out of they Wembley game has resumed at right back and Kennedy has taken over at centre half, to the exclusion of Jimmy Dugdale, the Liverpool born player who learned his early football with Harrowby in the West Cheshire League.
Strong Middle Line
Dugdale felt this so much that he asked the Albion whether he could have a transfer. His request was turned down. With Ray Barlow –one of the best attacking halves in the game –and Jim Dudley on either side of Kennedy the Albion's intermediate line is a strong and consistent one while the forwards are a speedy and effective combination with particularly strong marksmen in the three inside positions. Jonny Nicholls, capped for the first time against Scotland last April, has so far got four goals and Allen and Ryan three each. Nicholls however, who did not play on Saturday through ankle trouble is still unfit, and Carter continues in his place. Everybody else is fit. Dave Hickson has yet to open his account for Everton. Will this be the occasion? He has done enough already to earn one or two but luck been against him. His canny passes, however, have helped to make them for others. So long as that continues and Everton get the points nobody will worry unduly about who gets his name on the scoring list. It would, however, be a still further heartening features of the side's already good work if the right flank could take a little bigger share of the scoring. Six goals have now come from the left wing, and only two from the right. The disparity was just as clearly marked last season, but then Hickson was scoring with frequency. Though it matters little who gets them so long as they arrive as already said, the Blues would be an even better balanced and stronger combination up front if the scoring was evened out just a trifle more. That apart, one cannot fault them in any aspect and if they add another victory to their growing list tomorrow night then we can take it as further proof that their first season in the First Division is likely to be more auspicious than some were prepared to grant.
Selected Delayed
Manager Cliff Britton is not able to announce Everton's team until tomorrow. There is still a doubt about Parker (injured thumb) and Wainwright (pulled leg muscle) and it has been decided to wait until they have had further tests tomorrow morning. Elsewhere all the other players are fit. West Bromwich Albion; Sanders; Rickably, Millard; Qudley, Kenendy, Barlow; Griffins, Ryan, Allen, Carter, Lee
Everton Supporters
Everton Supporters Fedaration is sharing in the reflected glory of the team's good start and membership is rapidly increasing. The new branch in Dublin already has a membership of over 200 and especially favorable terms have been arranged for the best trip whenever these Goodison enthusiasts come over. Chairman of the Dublin branch is our old friend Alex Stevenson, who nowadays is managing St. Patrick's Athletic. About 150 Dublin fans are attending the home games with Sunderland on October 16, the first official trip of the season. Inquiries as afoot with the idea of forming branches in Wirral, Old Swan, Wavertree, Runcorn, Southport, North Wales, and even the Channell Islands. From the pamphlet sent me today Mr. G.G. Thompson, the hard-working secretary of the E.S.F I am pleased to learn that the scheme to aid the widow of Johnny Mcllhatton who has been left with four young children is going ahead. Several social functions have been arranged for it which I trust will be well supported. One interesting suggestion in this circular is that Everton might institute a system of stewarding on the terrace as is done by a few clubs here and is a standard part of the organastion of big matches on the Continent. If Everton continue to attract the hugh crowds they have so far. It would be well worth while. Continental stewarding arrangement are exceptionally good.
Everton are making special arrangements to get the crowd in at tomorrow's game with the minimum of delay. All turnstiles will be open early and extra police will be on duty. Intending spectators are asked to maintain order to the queues and tender the correct admission money, I know it is difficult for those working, but the sooner you get to the ground the less will be the last minute conditions.
BRITTON ASKS FOR FOOTBALL SCHOLARSHIPS
September 8, 1954. The Liverpool Daily Post
By Leslie Edwards
One of the novel ideas of Everton Manager, Cliff Britton, is that schoolboys who show an aptitude for soccer should be allowed to develop their game, with a view to taking up football professionally as other youngsters take special studies to fit them for other professions. The Britton notion is that the F.A. should have coaches available to take special studies or that, if necessary, boys should win scholarships to be appreciated to the senior professional clubs in their areas. In a specialist age the plan has lots to commend it, especially as it has been proved that we must do everything we can to ensure that Brittain's football standards compare well with those of other countries. British's plea not to panic because England and Scotland did so indifferently in the World Cup competition (and the reasons he gave) was commonsense. So was the opinion that changes in football must be made painstakingly over a must be made painstaking over the course of years. Everton, by sticking to their policy of the past few seasons, have proved it possible to reach the highest spot in League football. What has to be proved is that they can produce from their junior teams, their League players of the future. If the Britton regime succeeds in this it will have fulfilled all its commitments and the club can consider themselves lucky to have one of the most successful managers in the game. Manager Britton I gather draws a salary of somewhat in the vicinity of £3,500 plus. That is a rather breath taking sum, but when one considers Everton's high standing and the possibility of their having their most successful season since the war it is an economic figure. This evening the club opposed by the cup holders West Bromwich Albion are bound to draw another gate of the order of 70,000. That represents about £8,000 before the Chancellor has started carving it avariciously.
All To Help
Everton are opening in good time all their turnstiles, are increasing police supervision and ask their followers to have the exact admission money ready. The earlier kick-off (6 o'clock) may make the journey to the ground difficult but all going well some of the problems of the Arsenal game may be obviated. Everton can do one more thing for the benefit of their fans. They can announce team changes clearly and slowly enough for all to hear and understand. There are "deaf" spots in the public address system, I am told which prevent certain sections of one stand from hearing the changes. Also it is not always possible for people to be in their places by the time team changes are announced. Would it not be possible please, to repeat changes at the interval? Everton players reaction to life in Division 1 as compared with Second Division football is that they seem to have more space in which to work that the tackling is less severe and that the premium is always on good football. They welcome the change. That Dave Hickson has not so far put himself on the goal register is of no special consequence it merely means that he is continuing, as ever, to find goals for others rather than take them for himself. Hickson's First Division work has been almost entirely free from the stormy petrel stuff in which he was so often concerned in the Second Division. He is no worse a player on the contrary. The position of his club shows that he is still playing his part. The reaction of away crowds proves that he is playing it effectively and in fine spirit.
Allen's Debut
Albion were not half the side they are now when they last appeared at Everton. The occasion was the debut day of Ronnie Allen, newly signed from Port Vale. He played on the wing now he comes in a ore feared role, at centre forward. Physically he seems ill-equipped for the position. The event nearly always shows him to be wiry, wily and anything but wasteful of the chance or half-chance. Tom Jones well as he is playing, will need to keep his head cool and his wits sharp. It should be a fine duel. Rickaby plated at Anfield when he was capped. He is a fine, if lethargic looking back. Half-back Barlow is the big commanding fellow who rarely seems to play badly. Again the test for Everton is a severe one. If they dispose of it as they disposed of Arsenal's and Preston's and Burnley's there can be no doubt that we are in for some more entertaining and successful performances from them with the championship somewhere over the horizon. The more I think of Everton then and now the more convinced I am that Cliff Britton's strongest suit is making the most of the material available. Parker's thumb injury and the fact that Wainwright has pulled a leg muscle makes it impossible to choose a side before these men have been tested this morning. Albion minus Dugdale the former Harowby centre half have selected Sanders; Rickaby, Millard; Dudley, Keenedy, Barlow, Griffin, Ryan, Carter, and Lee.
Buckle's Versatility
A versatile young man is Ted Buckle the former Manchester United winger temporarily out of the Everton team. He cracks the hardest shot for his weight, of any League forward; he knows much more than the rudiments of batting and bowling; he golfs a little and sings well enough to get the occasional professional engagement. Buckle now taking singing lessons recently appeared for a season in an off-stage chorus which accompanied a show at the Empire Threate. The story goes that one day Everton forward J.W. Parker rushed from the dressing room shouting "I've found one at last I've found one" And that on being asked what he had found, answered "A muscle on Ted Buckle."
TWO GOALS IN 4 MINUTES FOUR ALBION AT GOODISON
September 8, 1954. The Liverpool Echo
Griffin and Allen Beat Everton Goalkeeper
Play Switched at Tremendous Pace
By Ranger
Everton; O'Neill, goal; Moore and Donovan, backs; Farrell (captain), Jones and Lello, half-backs; Wainwright, Fielding, Hickson, Parker and Eglington, forwards. West Bromwich Albion; Sanders, goal; Rickaby and Millard, backs; Dudley, Kennedy, and Barlow, half-backs; Griffins, Ryans, Allen, Carter, and Lee, forwards. Referee; Mr. T. Seymour (Wakefield). Although there was a large crowd for the visit of West Bromwich Albion, the Cup holders to Goodison Park this evening, the attendance did not look to be so large as that for the match against Arsenal a fortnight ago. The earlier kick-off, of course made it more difficult for intending spectators to get to the ground in time for the start. Although people were still pouring in when the players took the field, there did not seem to be more than 60,000 present at the outside. Everton were unchanged for the sixth successive time, thanks to Parker and Wainwright having passed their fitness test this morning. West Brom were without Nicholls, who sprained his ankle at home last Friday, and for whom Carter a young local discovery who has just completed his National Service again deputized.
All Keyed Up
Everton came on with five balls to do their pre-match limbering-up and were out three minutes before the visitors appeared. There was an air of suppressed excitement about the crowd which normally one associates mainly with a Cup-tie. Everton's excellent start to the season had keyed them up to a high pitch of expectancy and they were buoyed up with the hope of another victory which would result in the Blues again going to the head of the table. The sun came out strongly as the players lined up for the kick-off but it soon went in again and in any case more than half the field was in the shadow of the Goodison Road stand. Everton started off with a nice move down the left by Eglington whose centre was nodded down by Parker. Parker's idea was obviously to let the ball run on before taking a first time shot but a quick interception by Kennedy got it away.
Kennedy Was There
Everton went nearer still when Hickson's header seemed bound for goal until Kennedy once more stepped into the breach, this time heading away only a yard or so from the upright. It is doubtful, however, whether the ball would have gone in though it would certainly have been a narrow thing one way or the other. Griffin was early in the picture with two centres both of which were scrambled away rather for ruinously and so far as the opening minutes were concerned, the spectators had certainty seen some fast and skilful play. Parker, whose injured right thumb was well bandaged just failed to get to a free kick taken by Jones while Dudley slipped the ball into touch to forestall Eglington when the latter was sent away by a square pass from Fielding.
Grand Albion Move
The best bit of combination came from Albion with all five forwards taking part in a grand move which ended when Lee, trying a low shot saw O'Neill make a diving save. Carter tried to flick in a square pass by Ryan but again O'Neill had the ball well covered. Cater thus early had shown some very bright ideas though his finishing from 20 yards after Allen had slipped the ball through to him, was not on a par with his other work. The shot was well off the mark.
Parker's Chance
Fielding took a quick throw-in, gathered the return pass, from Wainwright and then took the ball up a few yards before delivering a curling shot which Sanders patted away with one hand out of the reach of the onrushing Eglington. Albion were just as lively and enterprising in attack as Everton and it needed a desperate headed intervention by Moore to cut out danger when Allen, Carter and Ryan again purred off. Parker had a great chance to put Everton in the lead at the eleventh minute when Hickson headed the ball across to him and Parker found himself with only Sanders to beat, and the rest of the Albion defence spread-eagled and helpless. Parker's shot went right across the face of the goal and behind, with Wainwright just unable to produce the necessary final spurt to make contact. Parker, however, should himself have made sure.
An Eglington Run
Eglington got a tremendous cheer for a bonny run on the left in which he twice sold Rickaby a beautiful "dummy" and then finished with a high shot which Sanders behind for an unproductive corner. Again it was Eglington who brought Sanders into action from almost the same spot as before. Once more the Albion goalkeeper palmed the ball away almost of the head of Wainwright. This had certainty been a rousing and thrilling opening. Play had been switched from one end to the other by means of clever and well-balanced football with both sets of forwards finding their men exceedingly accurately. The respective defences must have already been aware that they were in for a pretty grueling time. Hickson, Wainwright, Fielding, and Eglington next took part in a well conceived and executed movement which looked rather ominous to the visitors until Sanders again dashed out of his goal and did the needful. Fielding was having a grand game. No player "killed" the ball more quickly or decisively and none was more accurate in his passing. At the 17th minute Albion scored the first goal of the season against Everton at Goodison Park. Griffin was the scorer with a header from a corner taken by Lee, who placed the ball quickly and slipped it through to Allen 10 yards away; before the Everton defence had time to take up position, Allen's centre was met by Griffin at full speed and the winger's header flashed into the net like a rocket. Actually I felt doubtful whether Albion should have had this corner for when Moore had tackled Lee as he (Moore) was at full length on the ground it seemed to me that the ball bounced back off Lee and that the decision should have been a goal-kick.
And Another
This was not the end of the shocks for the home spectators. At the 21st minute, after O'Neill had punched the ball away during a goalmouth scramble Albion went further ahead through Allen. Ryan picking up O'Neill's punch-away side flicked the ball goalwards where Allen rather luckily in the way of it turned the ball quickly out of reach of O'Neill. Two goals in four minutes had shaken Everton badly and for some moments the defence looked decidedly apprehensive whenever the Albion were in the attack. Even O'Neill suffered to the except that he completely misfielded a very angled effort by Ryan which passed right across the face of the goal with nobody up to tap it over the line.
Hickson's Shot
O'Neill was back to his safe catching habit a little later, however, when he plucked a high ball of Griffin out of the air when challenged by Allen. Just before the half-back the Albion goal had a lucky escape when a shot by Hickson struck Sanders on the boot and reared up high over the bar. Hickson was a trifle fortunate to get a shooting chance for the ball cannoned back off Kennedy when the latter seemed to have won his tackle against Everton leader. Hickson was on it like a flash and Sanders seemed to have no chance until he stuck his foot out desperately and must have thanked his luckily stars to find it in the way. Albion were playing now in a confident and almost cheeky fashion which comes easily to any side which finds itself two goals up in an away match before the game is a quarter under way.
Albion Easier Now
A canny pass by Allen saw Ryan take a quick right foot shot which flashed past the Everton goal like an express train with O'Neill unable to make contact although diving full length. Had the ball been on the target however O'Neill would almost certainly have got it. sanders threw the ball away out of the penalty area after Hickson came tearing up with the sense that the Albion goalkeeper had to run out and dribble it back into the area before he could pick up. By this time both Parker and Hickson were harassing him and he was lucky to come out of the scuff as well as he did. Hickson headed over from a Fielding centre but Everton were not now anything like so inspiring as they had been earlier and it was Albion for some minutes who had been the top dogs.
Barlow's Dash
But the Blues were by no means a neglible factor and it took some desperate defensive measures by Kennedy, Barlow and others to break down three Everton attacks. The Albions defenders however, were closing the gap well, and Sanders had not been called upon for some little time. Barlow raised the siege at last with a run half the length of the field and a final up the middle pass to Allen which the latter could not gather before Jones stepped in to clear. Although Barlow did not seen to be moving particularly fast in his rather ungainly way, he nevertheless could not be caught by Parker, who followed him 40 yards.
Tremendous Pace
Ter matnot to be occasion for his intended header completely misfired. Play so far had been fought at a tremendous pace and it seemed impossible it could continue like this for the full 90 minutes. Albion were proving a much more virile and better balanced side than either of the two previously seen herde and whenever they got within shooting distance they had a go, even though their accuracy was not as marked as their clever combination. They switched play splendidly from one wing to another by means of long raking passes, and outside right Griffin had been given rather greater freedom of operation by Donovan than was good for Everton's peace of mind. Wainwright dallied too long, and was crowded out by Millard. Eglington put an intended pass to Hickson straight to the feet of Dudley, and with the Everton defence having all his work cut out against the nappy Albion forwards this game was not taking the course which Everton followers had hopefully anticipated. A grand tackle by Lello averted another threat to the Everton goal just as Jones had done a moment earlier and Everton returned to the attack without producing anything better than a 25 yarder by Farrell had not enough sting about it to beat even an ordinary goalkeeper.
Deserved Lead
It had been a first half of much flucation but there could be no gainsaying that Albion deserved to be in front at the interval. Everton had not lived up to their bright and promising opening and the Albion were not only finding their men better when on the attack but their defence had closed the avenue to goal far more convincingly than the home side. Half-time; Everton nil, West Brom A 2.
PROFESSORS WHO HAD ALL THE ANSWERS
September 9, 1954. The Liverpool Daily Post
Everton 1, West Bromwich Albion 2 (Attendance 55,147)
By Leslie Edwards
Visiting professors from the faculty of footballing art at West Bromwich last night visited the School of Science to demonstrate football facts that are seldom turned our way in Liverpool. There was nothing perfidious about this Albion, indeed the first half display was so fine it rates after mature thought, as the best 45 minutes of football at the ground for years. It was better than what we used to see from Arsenal at their best; an improvement on what Manchester United and Tottenham Hotspur were liable to do when things were going their way a season or so ago. It was as neat perfect as we could expect in League football and it was the sound, and well justified basis on which victory was obtained. Even the two goals –at 18 and 22 minutes –were beautifully planned, carried out. Compared with this smooth compact closely, knit Albion team whose lateral passes were almost invariably made so that the receiver could run on to them. Everton were pedestrian. It might have been otherwise, but it was not because when Parker missed the game's best chance when it was goal-less his side lost a great chance of leading and of taking the imitative. Hickson's headed pass from a long through ball was lobbed but it was directed so well Parker was given every chance of scoring. He took care not to use the ball impetuously. He brought it down with care advanced a few strides, them screwed his shot wide across the goal face. Albion had threatened long minutes they had won a disputed taking what is known in hockey as a short-corner. Instead of using the award orthodoxy he tapped it half-way to goal to where the wandering Allen had taken position. Everton seemed surprised by the speed with which Allen and Lee indulged themselves in this undisturbed duel. When Allen flung across one of those famous quail-high centres of his Griffin on the right rose to it and headed it like a rocket into the net. This was the first debit goal against Everton at Goodison Park this season. It was followed by another four minutes later, when Everton defenders rebounded the ball among themselves in sight panic and the ball went free to Ryan. Whatever chance O'Neill had of covering Ryan's shot disappeared when the shot was cutely deflected en route by Allen, who seems to do all the difficult things with easy grace. That was two down and none could deny that Albion were worth it. Yet again Everton should have drawn up to 2-1 when Hickson, after beating Kennedy in a clinch strode on and shot with pace and direction, Sanders had no chance of getting one hand to the ball; he did better. He struck out a providential foot, the ball struck it and bounded for a corner. Throughout this half Albion were magnificent. When Jesse Carver introduced his Continental ideas to the side three years ago he surely started them on the new and right way. They used short ground passes, beautiful angled and delivered with such effect the ball moved in attack and defence with a smooth certainty and accuracy that had the Everton defence chasing until they were fit to drop. It was not as though Albion were good only departmentally. The team was a team and a very brilliant one. Allen's effervescence his sly appearance first at outside left then on the other wing his ball control and his competence to shoot hard if not always on target were tremendously impressive but the side with the giant Barlow scarcely putting a foot wrong (nor did he in the second half) was the complete football mechanism. Everton fans who deplored Everton's comparatively innocuous football must have been content despite their disappointment, that Albion were worth their lead. With the interval passed the game changed, Everton shook themselves of indecision and began to fight for the ball and get it and show some of the enthusiasm and spirit which enabled them to beat Arsenal and Preston. Eglington half-bit shot off a first rate chance; then Hickson headed across goal and Parker's out stretched foot missed by inches the connection which might well have meant a goal.
Crowd Convinced
One of the games contentious incidents was to follow. Lello ever ready to add weight to the attack lobbed a pass for Eglington and Eglington's roaring cross-shot was lined correctly and seemed certain to score until Millard interposed his body between it and the back of the net. The next we saw from the Press box was Millard lying inside the night and the ball safely out of play. The crowd behind the goal seemed convinced the ball had crossed the line. Referee Seymour of Wakefield was convinced it had not. This was further proof that in football the minority decision –if it is the referee' –is the one which counts. Next Ryan hit an upright after taking up a fine through ball by Allen, and Allen off the mark like a sprinter left Jones yards behind and hit a shot so solidly that O'Neill who took the ball amidships was left holed and in sinking conditions. He revived after being winded for more than a minute. Seventy-nine minute had gone when Everton took a penalty decision and a goal by Tom Jones. There were doubts about this decision too. Parker and Barlow collided innocuously with Parker in no good position to score; indeed not even in possession; Parker went down; Everton appealed and Referee Seymour upfield them Jones scored from the spot with a splendid shot. Barlow clutched a sponge to his head after cutting it in collision and played as gallantly and effectively as ever a hero did! This was his match and injury was not going to interfere with its glory. When Everton encouraged by wave of cheering, threatening to bulldoze their way to the equalizer it was Barlow's commanding head of feet that rescued his side – an outstanding game by a player in an outstanding team.
Solid, Competent, Certain
Most of the glory of his most entertaining game came from Albion. They must rank as the best team in the country; solid, competent, certain and possessing a grand defence and such nip and zip everything that they were able to read. Everton intent and intervene time and again. Dudley and Barlow were thrusting wing-half-backs. Barlow should be one of England's half-backs and Dudley one of Scotland's halves. Kennedy was victor, more often than not, against a Hickson whose few successes were gained laboriously. One obvious difference between Everton's passing and Albion's was that to one case the receiver nearly always ran on to the ball in too many of Everton's moves the ball was passed to a man at a standstill. On the night there was no question that Albion deserved to win. It will be interesting to see how Everton tackle the same problem at West Bromwich next Wednesday. Albion stood not upon the order of going but went –like the wind. Only when Everton took precautionary measures against Allen and really got to grips with their opponents did they began to please us. Yet Moore had a very good match all through and Jones considering the standard of Allen's performance, could scarcely have done better. Wainwright had an unhappy first half. Indeed the Everton line as a whole did not move well until the game was almost over and Jones' penalty came rather unexpectedly, to give them an outside chance. One could not tire of seeing such matches, despite Everton's minor role. It was fast, exciting and sustained with winner's nothing less than superb for 45 minutes. By comparison the faded memory of the Everton game at Arsenal seemed even drabber.
Easy Come, Easy Go
Although arrangements to handle another mammoth crowd were made there was an air of anti-climax about the ground at kick-off time. There were no long queues and people walked in to take up relatively comfortable positions. Remembering the scenes in the last minute before the start of the Arsenal match many spectators decided to go early or not at all. This left about 160 policemen who had been drafted to the ground with a comfortable job. The Assistant Chief Constable Mr. J. W. T. Smith said "We are glad people have answered our appeal." The gates were opened just after 4 p.m. and although at times there were small queues people entered the ground without difficulty.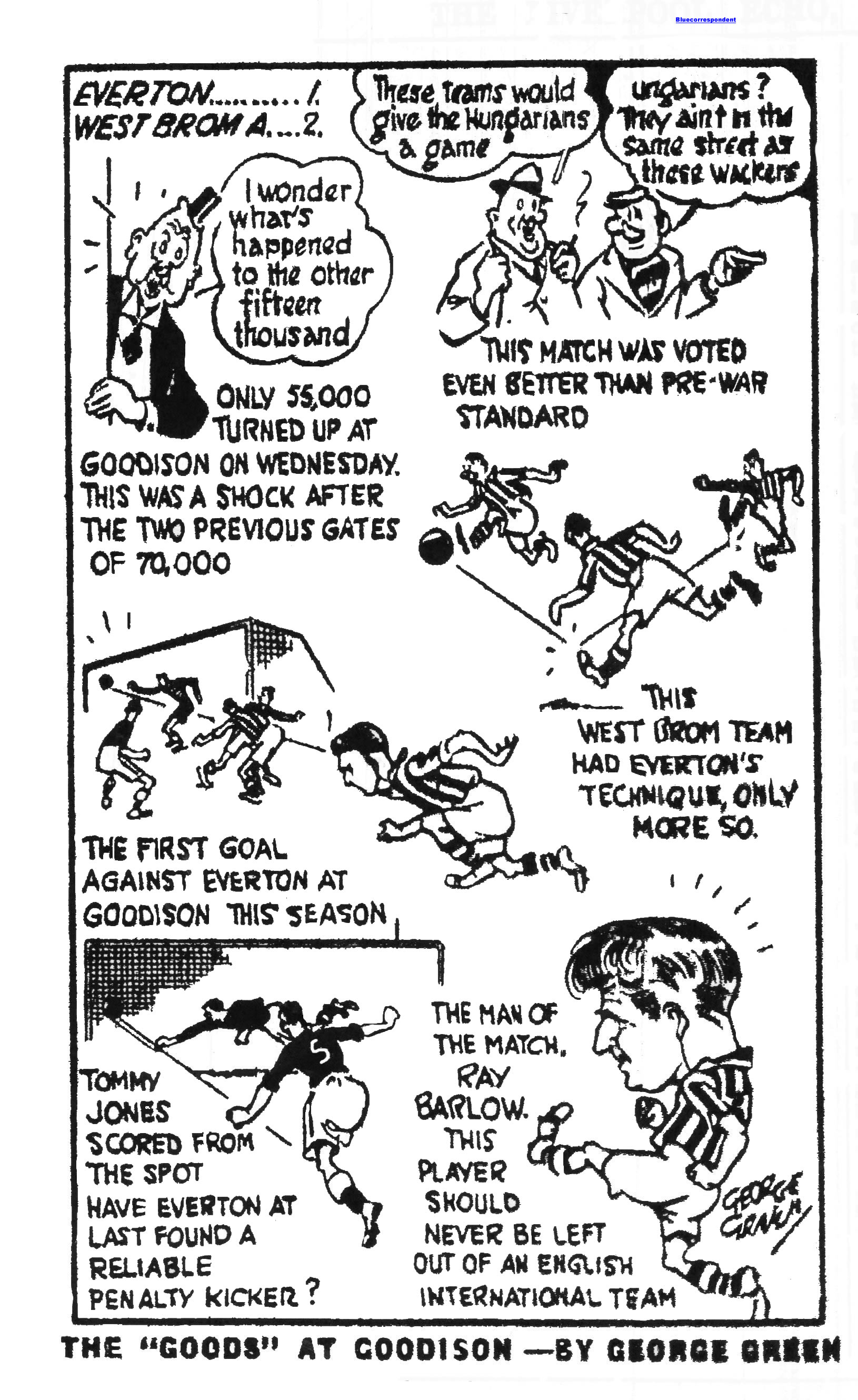 EVERTON LOSE HOME RECORD
September 9, 1954. The Liverpool Echo
But It Was A Game Crammed With Thrills
Ranger's Notes
Neither Everton nor their supporters need worry too much about last night's defeat by West Bromwich Albion, disappointing thought it was that their unbeaten home record should have departed thus early. The Blues will win many a match in the months ahead without playing half so hard or so well as they did in this thrill-packed, speedy and rip-roaring game which produced more excitement, narrow escapes and good football than any at Goodison for a long time. The pace of the first half was such that I visualized the second portion being rather tame y comparison. It was nothing of the kind, if anything it was even more thrilling than the first, for although the exhibition was not quite so polished and stylish, once the players began to feel the strain and tension the ebb and flow of attacks and the tremendous efforts put forth by Everton in the last half hour had everybody on tenterhooks. Both sides started off brilliantly with first one goal and then the other under siege with such fluctuating rapidity that those in the centre of the stands were almost in danger of tennis neck. Everton were first to come within range of opening the score. A Hickson header was nodded out by Kennedy almost on the goal line and then Parker missed a great chance when he had only Sanders to beat. Had the Everton man scored then, or had Wainwright been alive to the possibility that Parker's mis-hit shot would produce a good chance for him, also the course of the game might have been considerably altered. A goal to Everton then playing grand football would have sent their tails right up.
Doubtful Corner
Instead, within five minutes a doubtful corner produced a brilliantly headed goal by Griffin. The Everton players maintain and from my long-distance view, I am of the same opinion that the ball went behind off Lee, not Moore. Albion were two up four minutes later when Ryan side-flicked a shot-cum-pass into the middle from O'Neill's fist-away, and Allen screwed it into the net. After this Everton were on the collar, for Albion, now full of confidence settled down to play a grand open game in which they found their men with almost uncanny accuracy. Though Everton were never over-played to any extent they did not look likely for a time to make any appreciable impression on the visitors' strong and closely-knit defence in which Kennedy and Barlow did valiant work. The nearest approach to an Everton goal at this stage was when Hickson finding himself unexpectedly in possession through a cannon-back off Kennedy, hit a fierce drive to which Sanders stuck out a boot. It as not Hickson's lucky night. His shot bounded high in the air off Sanders and soared over the bar. Everton were still being well held for the first portion of the second half. Then their grim determination gradually began to shake the Albion defence a little and though it never remotely looked like cracking there were times when it took every ounce of endeavour to hold the home attack.
Lucky Escape
Albion had a lucky escape when a strong Eglington effort was booted away y Millard who seemed a good couple of feet over the line when he did so. After Ryan had dashed away to hit the foot of the post, Everton reduced the lead from a penalty by Jones, awarded when Barlow brought Parker to earth. While Albion deserved to win for they were the better balanced side all round and more penetrative in attack, Everton may possibly consider they were a trifle unfortunate not to get some reward for their galliant efforts in the closing stages. But if forwards will not take their chances there can be no complaints when the points elude them. Albion were not only the stronger and more accurate marksmen, but progressed by more finest and effective methods than Everton and always looked the more dangerous once Everton's early lustre had worn off. Due to the earlier kick-off the attendance dropped to 55,147 which is still a splendid crowd for a mid-week engagement and I reckon none of those present will grumble if they are served up with fare of this kind in the future.
A Great Line
Everton's defence looked a bit too wide open for comfort in the early stages when Griffin was given undue scope by Donovan. Later however Donovan to a large extent got his measure. Jones had a good game against the springly and dangerous Allen but Everton half back line, well though it played on the whole, was not so good as Albion's. On this showing there are not likely to be many better intermediate lines this season. It was in attack, however, that the visitors had the greatest pull. Every man in the line fitted into a dovetailed schemer which enabled them to make maximum progress with minimum effort. Everton were rather weak on the extreme right where Wainwright was not up to his best. Fielding was a great schemer in the first half, but faded out somewhat later, while Parker did not find the ball running helpfully on several occasions. Eglington was the main carver of openings, yet he finishing too often was hurried and erratic. Though Hickson rarely got out of the grip of Kennedy he offered up many good passes, two at least of which might have brought goals, had they been properly taken, and did all that could have been expected of him under the circumstances. These were only comparatively minor blemishes on an Everton display which contained much excellent football, and which will be good enough if maintained, to bring them far more victories than defeats. It will also ensure that the attendances stay at a high average. Win or lose, the football-loving public of Merseyside will be satisfied if this coming winter provides entertainment of this calbre throughout. Victories of course, would be preferable but defeat loses much of its sting after a game so crammed with thrills, excitement and high-speed skill.
EVERTON CAN GET BACK ON THE WINNING PATH
September 10, 1954. The Liverpool Echo
Leicester City Visit Goodison Park
Ranger's Notes
Attracts visitors continue to be the order at Goodison Park, where Leicester City, promoted along with Everton last May, Leicester were the first team to take full points from Goodison last term which they did by virtue of a 2-1 victory, on the last day of October in a game in which both sides were reduced to ten men. Leicester goalkeeper Anderson was taken off with concussion and a broken nose, and Hickson incurred the referee's displeasure and dismissal for arguing over a decision. Leicester are not finding things too easy in the higher circle at the moment and after taking three points their two opening matches have suffered four success defeats. The latest was at Burnley on Monday after Everton had won there two day's previously. This gives us a good pointer to tomorrow's possibilities. The Leicester attack which was the strongest part of the side last term has so far not found its best form, and inside left Rowley, who got off to a grand start last autumn has up to now only found the net twice. The other four goals are shared by Froggatt (two) and Hines and Griffiths, one each. It must be remembered, however, that the Filbert Street club has had more than its fair share of injuries already.
Carried Off
The only department which has not suffered in this respect is at full back where Milburn and Jackson have played unchanged. Anderson has again been in the wars and has not played since being carried off in the 33rd minute of the game with Cardiff on the second Saturday of the season. Half backs Baldwin and Russell have also been out of action with injuries and Leicester have had to call upon two young players to fill the vacancies. These are right half, Jakeman, who made his debut last Monday, and left half Appleton whose first senior outing was against Manchester City at Filbert Street a week ago. Russell is the former Wolves and Middlesbrough player whom Leicester signed last October. Outside left Froggatt recruited from Portsmouth just before the end of last season has figured at centre forward outside left and right half since joining the club. At outside right the side has also had to be changed, owing to an injury to Griffiths his place being taken by Hogg. At outside right Morris has yet to get of the mark as a goalscorer. In view of Leicester's handicap and Everton's good start, two points look fairly certain to be added to the Blue's total. But Leicester's defence which has been tightened considerably, will not be easily mastered and Everton good approach work must be allied to prompt and accurate shooting whenever they get in sight of goal.
GOAL AND CORNER-KICK JUDGES MIGHT HELP
September 11, 1954. The Liverpool Daily Post
By Leslie Edwards
People who follow Everton are still rankling that their side should be beaten for the first time as the result of an Albion goal scored from a disputed corner and an Everton goal scored legitimately (they argue), but disallowed. They are not consoled by argument that such tricks of late even themselves out in the course of a season, with eyes only for Everton. Everton they see their team cheated by doubtful decisions. Whether for corner was a corner, whether the goal was a goal is history. What is to be done to obviate such doubtful decisions is of importance. The answer if Manager Cliff Britton had his way, would be to employ goal and corner kick judges. The expense would e trivial; the effect far reaching. These additional arbiters would give goal or corner kick decisions. If the referee was in doubt. Placing the, strategically, to get a first rate view of whether the whole of the ball and passed over the line would not be difficult. My only criticism of such an innovation would be that when you multiply controlling officials you are liable to multiply the possibility of them being wrong. If authority decided to sprinkle 22 referees about the field to see every facet of every phase of play someone would still err. Indeed some linesman today award a throw when the ball is three parts but not wholly over the dead ball line's. Taking referees and linesmen week by week, month by month, their work is excellent. They would never admit I imagine that they were always immaculately correct, but they would be first I think to say to clubs and players who feel aggrieved. You were on the losing end today, tomorrow it may be your "lucky turn." The Leicester City side who meet Everton at Goodison Park, this afternoon (3.15) know that a break means in one of their earlier matches this season one of their forwards made a head-long challenge for the ball which took him into the back of the net. He returned to the field in the thick of an exciting attack, and standing virtually on the goal-line between the posts back-heeled the ball into the net for a goal which did his team a power of good. Leicester City, if their form at Filbert Street last back-end is any criterion are not the knuts West Bromwich are. Thus, Everton have opportunity, despite the absence of Wainwright and Parker, to restore everyone's belief them, McNamara and Lewis come into the attack and if McNamara is in shooting mood he should raise an eyebrows or two among the near-capacity crowd. As co-promotions Everton and Leicester have much in common. They fought a splendid match at Leicester last season and earlier Leicester had won here, thanks to a wonderful goalkeeper exhibition. Froggatt is now operating at half-back. Rowley brother of the Manchester United forward is another great personality and so is Gillies who battled so sternly and fairly on his duels last term with Hickson. With the prospect of a match at West Bromich next Wednesday and another at Chelsea, three days later Everton will be keen to win to ensure against the possibility of points dropped. It promises to be a good enlivening match thought I doubt whether I can equal the memorable one at the same ground last Wednesday. Everton; O'Neill; Moore, Donovan; Farrell, Jones; McNamara, Fielding, Hickson, Lewis, Eglington. Leicester City; Dickson; Milburn, Jackson; Froggatt, Gillies, Appleton, Griffths, Morris, Hines, Rowley, and Small.
ALBION AFTERMATCH
September 11, 1954. The Liverpool Daily Post
Mr. H. Hughes, of 231 Eaton Road, Liverpool 12, writes. While agreeing with most of your reports of the Everton-West Bromwich match and recognisting that on playing ability West Bromwich won deserved to win but certainly by no greater margin. I must join issue with you on one or two points which left unchallenged will perpetuate mischief. Firstly the handling of the crowd. This was as you say, comfortably performed but not by efficient foresight by the management for the gates were not all opened shortly after 4 p.m. as you state. It was 4.15 p.m. when "I passed the stationary queue at Goodison Road and the Gwladys Street and Bullens Road ends did not open fill 4.35 with a waiting queue some fifty yards long on the shortest leg of a letter "S" and over 100 yards on the other. "Mention this type of queue because if anything is going to cause trouble this will. It was near chaps at the Preston game. Obviously it is the easiest form of queue for gate-crashers to break by infiltrating from one line to another. Why not make it a straight approach right up Gwladys Street towards Walton Lane. The line should be one police horse width from the paying on the housing side. Two other policemen at Bullens Road crossing could let groups of fifty or there-abouts across at a time. This system always works well for cup tie tickets.
Sneak Thief Methods
My other point is to query your praise of goal No 1 as being beautifully carried out. This goal started by the sneak thief' method of taking a restart kick before the other fellow was ready. W e have seen Everton do it, but surely it is not to be commended. While it is allowed by some referees, it is taking an unsportsman like advantage and when it produces a goal that decides an issue it must leave a bitter taste when the enthusiasm of the moment has died down. West Bromwich did this on every occasion they could.
EVERTON SCRAPE A LAST GASP POINT
September 11, 1954. The Liverpool Football Echo
Dickson's First Half Saves A Feature
Everton 2, Leicester 2
By Ranger
Dickson was the hero of this game. His brilliant saves in the first half prevented Everton taking a useful lead. Three times he felled Hickson. A rather fortunate goal to Froggatt which cannoned into the net off Jones while Everton were a man short, put the home side "on the collar."
Everton; O'Neill, goal; Moore and Donovan, backs; Farrell (captain), Jones and Lello, half-backs; McNamara, Fielding, Hickson, Lewis, and Eglington, forwards. Leicester City; Dickson, goal; Milburn, and Jackson, backs; Froggatt, Gillies, and Appleton, half-backs; Griffiths, Morris, Hines, Rowley, and Small, forwards. Referee; Mr. H. Beacock, Scunthorpe. Everton faced the sun in the first half, when meant they were defending the Gwlady's Street goal. Twice in the first couple of minutes Farrell passed back to O'Neill to forestall Hines, and then away came Everton for McNamara to veer into the middle and test Dickson with a low drive from the edge of the penalty area. Farrell also had a 25 yards shot in Everton's next attack and the crowd roared its approval of the Blues' willingness to have a go without wasting time. Lello set Eglington in motion only for the winger to pull his square, low centre behind all his colleagues and male a simple clearance for Gillies. Morris was the first to try a shot for Leicester. He got well under it and skied the ball yards over the bar. A badly-sliced clearance by Jackson went right across field to Eglington who whipped it over immediately to McNamara. This was the start of a half-minute of anxiety for Leicester as the ball bobbed backwards and forwards across the goalmouth, without Dickson being called upon. It was obvious however that Everton were determined to throw all their weight into attack and at the ninth minute Gwyn Lewis making his first appearance of the season, put his name on the score sheet. The move had it's beginning well in the Everton half, when Farrell switching the ball out to the left flank, Eglington rounding Froggatt put in a comparatively short pass which Lewis took in his stride and rammed home with a grand shot just out of Dickson's reach.
Nearly Another
Three minutes later Lewis almost got a second when a McNamara offering was deflected by a defender and only Dickson's presence of mind in quickly dashing out robbed the Welshman of another goal. The first 20 minutes had shown Everton as much the superior side. Some of their forward combination had been excellent with the ball being taken several times half the length of the field without a Leicester man being able to get a touch at it.
Making It Level
One attractive four-piece movement was foiled by Milburn making a flying kick and then another equally incisive bit of work saw Hickson head over narrowly from Lewis's pass. Despite Everton's superiority, Leicester were on level terms at the 17th minute, when Rowley scored with a curling shot from the edge of the penalty area, the ball passing only inches out of the reach of O'Neill's dive and scraping the inside of the post before entering the net. This was a rather fortunate goal far as Leicester were concerned for there seemed no particular danger when the ball was slipped through to Rowley with three defenders between him and goal. A quick "shuffle," however and change of feet produced an opening and with the Everton defenders slow to recover this was all that Rowley needed.
Hickson Twice Foiled
Hickson who was still to get his first goal of the season, made a grand effort off an Eglington corner kick, leaping high over everybody else, only for Dickson to make a very confident catch. A couple of minutes later Dickson once more foiled Hickson in almost identical manner. The crowd was bursting for the chance to cheer a goal to the home centre forward but he was having no luck. After Farrell had prevailed upon the referee to consult his linesman to change a throw-in decision for a free kick, Fielding put the ball across the face of goal where both Hickson and Lewis just failed to make contact. Yet a third time Hickson was robbed by a smart save by Dickson, again off a header. Everton for some minutes had been well on top. Their earlier sparkle in combination had reached and Leicester were a very worried and anxious side in defence though Gillies stood firm in the middle and Dickson was sound if rather fortunate in goal. At times, Everton overdid the passing in the penalty area, but otherwise they were impressive enough. Right on half-time O'Neill made a brilliant save from Hines.
Half-time; Everton 1, Leicester City 1
When Leicester were here last year Anderson distinguished himself in the visiting goal. Today it was Dickson's turn and twice in quick succession the Leicester custodian made splendid saves from Lello and Hickson each off headers from corners.
Lewis's Bad Luck
At the 51st minute Everton suffered a cruel misfortunate when Lewis, who had played excellently, fell to the ground after trying to force his way through and rolled over obviously in great pain. There was a quick call for a stretcher and the young Welsh boy, after having his ankles fastened together was covered with a rug and taken off. As though this was not enough, Donovan was accidently kicked in the face and Farrell also had to receive attention sand then at the 57th minute Leicester broke away and got a lucky leading goal. Froggatt was the scorer from a close-in angled position and the ball went in off the back of Jones as he was endeavoring to cover O'Neill who had thrown himself at the foot of the scorer, Froggatt did well to squeeze the ball in and I think it would have entered the net even had it not struck Jones.
Dickson To The Rescue
In spite of their handicap of playing with four forwards Everton pegged away valiantly and once more Dickson came to his side's rescue when he made a brilliant save off Eglington's effort off Hickson's canny pass. This is the second time in succession that a player has been taken off through injury when Leicester have been here. Last year Anderson received a broken nose.
Lewis Returns
After the game had again been stopped for over a minute for attention to Eglington the crowd roared its pleasure when Lewis returned to the field, and limping badly, went to outside left. This was a relief to everybody. With all the stoppage it was natural that the second half had not measured up to the first portion for fluent play, but it had its thrills and narrow escapes, and O'Neill was twice called into action to make quick saves from Griffiths and Small.
Leicester Dominant
Although at full strength numerically, Everton were handicapped for Lewis could not raise a gallop and Leicester for some time had been the more dominant side and also strong in tackling. Rowley skimmed the bar with a fierce angled shot, Hines was not far off the target and for some time Dickson had been unemployed. He had earned his respite, however, and only his splendid saves in the first half had kept his side from being in arrears. Rowley made the crowd gasp with another first time drive, just a yard or so wide of the target Rowley waste no time when a chance presents itself.
Two Escapes
Lello and Rowley came to earth so the Leicester inside man was trying to force his way through and O'Neill, scrambled over the pair of them to pick and clear. After McNamara, Hickson and Eglington had got punched together the ball was tapped through for Lewis from the centre forward position to hit a rasping shot which skimmed the bar as it flew behind. This was a let-off for Leicester. Hickson equalized for Everton at 83 minutes following a free kick which was sented back to the middle by McNamara and hooked into the net by the Everton centre forward. This was Hickson's first goal of the season but a well deserved one and cleverly taken for he had his back to the goal when the ball came to him. Everton were still begging away against a defence in which Froggatt and Gillies were doing herculean work. Hickson failed by inches with a canny lob, it was a thrilling finish. Final; Everton 2, Leicester City 2.
Official Attendance; 49,684
BARNSLEY RES V EVERTON RES
September 11, 1954. The Liverpool Football Echo
Barnsley Res;- Walls, goal; Betts and Hudson, backs; Lees, Sharp, and Jarman, half-backs; Riches, Archer, Kelly, Limley, Bartett, forwards. Everton Reserves;- Leyland, goal; Clinton and Rankin, backs; Grant, Woods, and Melville, half-backs; Gibson, Potts, Harris (J), Meagan, Buckle, forwards. Referee; Mr. C.E. Sharp (Stockport). Barnsley put Everton to play against the bright sun but the Everton goal was not endangered. True, Leyland was called on to fist out a Bartlett shot, but Barnsley winger's kick was a weak one. Everton were no more impressive, but they went ahead in the 19th minute. From a Gibson pass Meagan put a low shot past the Barnsley keeper. Half-time; Barnsley Res nil, Everton Res 1. There was no real fire in either forward line. The Everton attack continued to make the mistake of falling into the offside trap set by the Barnsley defenders and though Barnsley went near several times there was never enough in their moves. A 25-yards shot from Gibson spelt danger to Barnsley but Walls magaged to hold the ball.
West Kirby v. Everton "C"
Everton "C" had a strong wind at their backs and Kidd gave them the lead after 12 minutes, Williams scored a second by meaceurving round the goalkeeper and Winterbottom replied for West Kirby with a well-taken header. Half-time; West Kirby 1, Everton "C" 2
• Everton "B" 2, Liverpool L.C.P.T 1
• Liverpool "A" 1, Everton "A" 4
• West Kirby 1, Everton "C" 3
THE VITAL QUESTION
September 11, 1954. The Liverpool Football Echo
By Rangers
The vital question of the moment is what the board propose to do to remedy the position. Unlike Everton, where Manager Cliff Britton is solely responsible for team selection transfer in or out and has to wrestle with all the manifold problems of a most difficult job.. Liverpool's directors –and quite wisely in the view of many people –retain the right of final veto. At one time I was doubtful whether Everton had adopted the right modus operand. I felt it was not only unwise, but also unfair, to saddle one man with so big a responsibility. After the splendid recovery Everton have made I am inclined to alter my opinion. It may be the best policy, after all. Certainty it has paid Everton after some years of tears and travail, all of which are now forgotten. But it does not necessarily follow that such delegation of responsibility would always succeed as it has at Everton. There are instance where it has not panned out that way and Liverpool's board if prepared to carry the responsibility, must obviously be granted the right to run their affairs as they themselves think best. That is what directors are appointed for.
WHEN A GOALKEEPER IS A GOALKEEPER AND-A-HALF
September 11, 1954. The Liverpool Daily Post
Everton 2, Leicester City 2 –(Attendance 49,350)
When is a goalkeeper a goalkeeper-and a half? When he is playing for Leicester City against Everton at Goodison Park. A year ago the Scot, Anderson, earned an ovation and two points for his side. on Saturday another Scot, Adam Dickson, held up the Everton attack almost single-handed and got his ovation when the game was half-over. "He would have had another round of applause at the end, except that by this time Everton had their own hero to cheer –snub-nosed Gwynfor Lewis, from Bangor in North Wales. Fifty-one minutes' play had gone when Lewis fell heavily and ricked an ankle. The stretcher was called for and the damaged ankle bound to the other so promptly one could not help fearing a break. Yet Lewis came back and not only contributed his limited all to Everton's recovery after being 2-1 down, he sped (one leg and a swinger) to make a minute before the end, the header which all but put his side into the lead. What a reception that would have brought? Lewis, normally used as a centre forward deputy has never played better. He was much quicker –I put this down to Manager Britton attention –scored one of the best goals seen on the ground this season and linked so effectively with Eglington the absence of J.W. Parker was scarcely noticed McNamara in Wainwright's place added and height and strength of shot and header to the line. He too, was a success.
Always There
Dickson's goalkeeping was charming. He is a rather lean last-liner, but his hands were as sure as his methods. Whether he faced the sun or not; it made no difference. He was always there when needed McNamara and Hickson and Eglington must have felt the most frustrated of men as Adam heaved himself to all points of goal to turn out shots and headers which it seemed, must beat him. Everton produced by far the greater number of thrusts Leicester survived only because this brilliant young reserve of theirs had his day. Indeed, the goal by which Hickson made the scores level minutes from the end was long in arriving considering Everton's considerance second half pressure once they considered that unless they found a goal Leicester might cause them to take their third match in four starts. Lewis return seemed to have a psychological bearing on the game while he was off Froggatt; had not only made it 2-1 but had come up boldly in his old attacking role. Though the football was never of the standard of the Albion match it was fast and interesting and Dickson's daring and two bar hitting shots kept interest sustained. The first goal –Lewis –was a gem. Lewis-Eglington-Lewis than the net was now it went and this instant inter-passing was done at top speed without a moment's hesitation. Lewis hit Dickson from McNamara inside pass before Rowley, one of the most intelligent and artistic forwards in the game sensed an open channel in the Everton defence and hit a swerving shot that O'Neill's finger failed with a hair-breath to reach. The ball crossed the line via the inside of the post. Lewis had gone when the score was 1-1 when Froggatt taking up one of many glorious passes by Rowley, shot the ball in which hit Jones and by deflection into the net for the lead. Ironically Everton had half a dozen better chances prior to the one which gave Hickson his first goal of the season. Lello's free kick, hit boldly almost beyond a post, appeared to be going out of play, but McNamara (whose card had been marked about such free kicks) rescued it from the line, hooked it into the centre and an acrobatic Stubbins flick by Hickson (who had his back to goal) did the rest. There followed the brave last-minute effort by Lewis to get up and nod a goal as the ball flew outside near the post. Dickson, Lewis and Rowley – these, for the reason given, were notable. The Rowley menace was ever-present. He moved across the attack, like an invisible man (which at 14 stone odd, he is not!) sliding a pass here; back-heeling an offering there, and generally making himself a number one nuisance to the defence. His goal apart he cracked in one fine shot which flicked the bar, as Lewis did earlier. There may be more fashionable inside forwards than Rowley I am sure there is none with a better supply of grey matter. Leicester strengths too, from schoolmaster Jackson, at left back. He intervened dramatic in many of Everton movements and headed the ball with accuracy, Moore on the Everton side had a remarkably good match, too. He is ever improving and so is Jones who usually had the answer to Hines and was unlucky to be an unwilling aide when Leicester scored their second. Rarely have Eglington and McNamara had such excellent production of the ball. It was not their fault Everton had not won the game by the interval. Like Lewis, Eglington took a knock to in view of Dickson's drawing of the curtain and Lewis injury and a 2-1 deficit; Everton did well to save a point. Hickson who scored only once can console himself that not all goalkeeper, sense with accuracy, the direction of that headed in Fielding did find consolation in the insight that his engineering was worth a victor even if Everton were denied one because Leicester had brought for the second season in succession an almost unbeatable goalkeeper.
UPSET CALCULATIONS
September 13, 1954. The Liverpool Echo
Ranger's Notes
Just what would have happened at Goodison on Saturday had Lewis not been injured, is anybody's guess. Leicester took the lead while he was off the field, and when he came back after 15 minutes he was little more than a passenger. Yet he contrived to put one shot against the crossbar. Whether or not Everton would have won had they been at full strength, they certainly would have done so had it not been for the splendid goalkeepers display of 18-years-old. Again Dickson making only his tenth senior appearance for Leicester is the three years he has been there. Last year it was Anderson who held the fort and gave Leicester their victory. This time Dickson proved that Manager Norman Bullock need not worry about Anderson's absence. Dickson took a bit to settle down but once he had done so be foiled Everton right, left and centre. Hickson, striving nobly against a stern defence, was "robbed" by him three times in quick succession. Still, that is what goalkeepers are there for and Everton had chances enough to have made the issue reasonably secure by half-time if they has been stronger in finishing. The greatest opportunist was Rowley, whose first-time shooting both in power and ear accuracy was an object lesson to Everton. The Blues attack, particularly during these periods in the first half when it was on top was inclined to indulge too much in passing bouts when within reasonable shooting distance.
Not Best Policy
One appreciate the desire to try to make sure but against a defence which tackled so strongly and covered up so well it was not the best paying policy. If this was not Everton's finest display, it was on the other hand, not one to grumble at unduly, except in comparatively minor matters. As a game it was almost as thrill packed and exciting as that against the Throstles three days earlier and though Everton naturally fell away through Lewis's mishap in the second half, compared with their earlier clever approach work, they still served up football full of fighting spirit. It was this attribute which enabled them to snatch a point in the closing stages, thanks to Hickson's canny shot with a most difficult ball. It is good to see Hickson's name on the score-sheet for he has played well in every game I have seen, and has showed as I knew he could that he has good class football in him as well as the more robust kind. It was pleasing also to see McNamara shape so well. It isn't long since the Goodison crowd barracked this lad so unmercifully that he almost dreaded playing before his own folk. On Saturday display he is well worth his place. He may look a little ungainly, but he did many excellent things and took a share of the credit for the vital equalizing goal. Given a fair crack of the whip by the spectators McNamara may yet come to stay if he can continue in this vein. He has improved tremendously and should be full of confidence now. Lewis also shaped most promisingly until his injury, and took the opening goal splendingly. When he was carried off on a stretcher after having his ankles tied together everyone anticipated a broken limb. Actually, it was a severe wrench on the ankle which had badly jarred a nerve. Farrell and Lello a strong motivating force behind Everton's first half attacks did valiant work in defence when Leicester were pilling on the pressure later.
EVERTON'S TWO-GOAL LEAD STAGGERED ALBION FANS
September 16, 1954. The Liverpool Daily Post
By Stork
West Bromwich Albion 3, Everton 3
It would take a page of the Daily Post to describe this game adequately. It was equally as good as the first meeting at Goodison Park a week ago and it would have been a pity if either had been beaten. If we could see games of this description every week there would be no more talk about the decadence of English football. It had top-class football, half a dozen goals, some near misses and some great play by both sides. In fact, I could not fault any player, friend or foe. A side which can take a two goal lead inside five minutes naturally has a tremendous advantage and when Everton scored through Parker and Hickson the home crowd were staggered and could scarcely believe their eyes. Everton, during the first quarter of an hour made Albion look anything but what they are, yet behind it all I could see the power of the Midlanders growing with each minute. Albion develop power and speed at an amazing pace and I attribute a great deal of their success to their two wing half-backs, Dudley and Barlow, particularly the latter who once again had a magnificent game, particularly in this half when he was repeatedly going forward.
Good As Any
Then there is the Albion front line. This attack is as good as any in the country, and I am not unmindful of the fact that Everton's forwards had taken two goals in the space of five minutes. Could Everton hold their two goals advantage. That was the question. They couldn't. Albion would not be denied and before the interval Allen and Lee had made matters square. During the last half-hour Albion put on such enormous pressure the wonder was that any defence could survive. Jones and his comrades fought magnificently right up to the interval, but they could not prevent the power of the Albion taking effect. During the interval a colleague who sees Albion frequently told me that they are inclined to fade in the second half. Well, they did. They did not look the same team. They lost their rhythm, their power, and a little of their confidence. It was then Everton showed that they, too could put up a spirited fight. They went ahead by a goal by Parker. With the slightest bit of fortune they might have gone further ahead for they made some excellent openings. When it seemed that Everton were booked for victory the Albion showed their fighting quality and Allen scored the equalizing goal seven minutes from the end. This goal had its origin in a throw-in well inside the Albion half. Dudley cast the ball to Rickaby who instead of making the usual big clearance ran the ball up field before he finally pushed it out to Allen whose shot went in off the upright. The last few minutes were hectic ones for the Everton defence, but they stood their ground well. In a game of this character it is difficult to pick up one for special favour, I will just say that this great draw at the Hawthorns was accomplished through team work and teamwork alone.
GAME OF THRILLS
September 16, 1954. The Liverpool Echo
By Stork
Everton's 3-3 draw at the Hawthorns was not a match for the faint-hearted or those who suffer with their nerves, for it was the most pulsating game I have seen since Everton beat Sunderland 6-4. The result was just about right for it would have been a pity for either, Everton or West Brom to have lost after such a grand display. Albion are perhaps one of the best footballing teams in the country, yet Everton were able to go there and take a point in fact, with the slightest shade of luck they could have taken two. Everton shocked the locals by scoring two goals in the first five minutes and for some time the Albion lost their confidence but I gained the impression the once they had got over the fright they would pull out something.
Turned To Defence
It took them 20 minutes to rub out those goals by Parker and Hickson, but having done so they developed strong attacks which had Everton turning to defence in an effort to keep their lead. They strove manfully but the weight of the pleasure was such that any defence could not have been blamed had they wilted under the impact. Jones and his colleagues did not wilt but they found those five forwards assisted by two wing halves who were not loath to come up, just a shade too strong for them and before the interval Allen and Lee had leveled matters. The opinion of most people during the interval was that it had been grand football and the thing they wanted to know was who would stay it out the better in the second portion. Personally I was a little fearful of the Albion's power but strange to relate they were never the same side in the second half that they had been in the first and Everton once again got on top and within five minutes they had gone ahead again through Parker.
Barlow Marked
One of the reasons for the Albion's fall away was the marking of Barlow. He was not given the same freedom of he had enjoyed in the opening session. It's effect was most marked for the forward line was not getting the support it had previously. The Everton attack made openings much more readily than Albion's and we all thought that Everton were going to pull off a million-to-one chance. It took Albion a long time to recover their former poise but in the last 10 minutes they found their strength again and the Everton defence has never been so hard pushed this season. They battled grimly and sternly and it was not until seven minutes from the end that Albion secured that all important goal. It came from a throw-in and full back Rickaby, instead of punting the ball upfield as is the usual procedure decided to dribble and then pass to Allen. It was a master move and it brought the desired result for the centre forward's shot struck the inside of the upright and flashed into the net.
BLUES AT CHELSEA
September 17, 1954, The Liverpool Echo
Ranger's Notes
Though Stamford Bridge has not been a very happy hunting ground for Everton in post war football – it has brought them only one point in five visits and that was back in 1946 –this means little to the present day Blues who have already made it clear that they can hold their own with the best in the First Division. What is more they have learned much praise even when losing or drawing and have served up football of a stamp which encourages hopes of a most successful season if they can steer clear of undue injuries. Chelsea, too have been showing good form. The days when the Pensioners, were the constant standby of music-hall comedians have gone now that the Ted Drake regime like the Britton one at Goodison, has had time to prove itself. Last winter Chelsea finished in eight position in the table their highest for many years, and scored more goals than ever before in the First Division. This performance was even better than it sounds, for with 17 games played they were next to bottom with only 11 points. Nobody could dispute their claim to be the season's most improved side.
Not Many Goals
This campaign they started off in great style with two home wins and two away draws but since then have not been so good until their victory over Preston's at Deepdale on Wednesday, which was their first in four outings. Apart from the three goals which they got against Bolton at Stamford Bridge and the two at Preston. Chelsea have not been on the target much. In their six other outings they have scored only five goals. If this is a reliable criterion the Everton defence should not be unduly extended. The man on whom Everton, and Jones in particular will have to keep a wary eye, is centre forward. Bentley the main marksman and schemer of the Pensioner's attack. The Chelsea defence has so far never conceded more than a single goal in any game. Mainstay of the rearguard are last year's England "B" captain, Ken Armstrong and right-back John Harris who has been performing exceptionally well in that position since vacating the centre half berth. Chelsea will field the team which defeated Preston of whom seven have so far appeared in every game this season and three have missed only one match. Armstrong missed the first two. Chelsea; Robertson; Harris, Williams; Armstrong, Greenwood, Saunders; Parsons, McNichol, Bentley, Stubbs, Lewis.
Congratulation to Jimmy O'Neill perhaps a little belated. Last week he made his 100 League appearance for Everton. O'Neill has amply fulfilled what I wrote of him after his debut at Middlesbrough four years ago. There is not a finer goalkeeper in the country today.
EVERTON IN TOWN
September 18, 1954. The Liverpool Daily Post
By John Peel
With all their players fit everything is happy in the Everton camp, and the eleven who gave such a grand display to win a point at West Bromwich on Wednesday will be on duty at Stamford Bridge. The Pensioners, who have lost only one of their eight matches so far this season have been displaying excellent form and will fully extend the Goodison Park side. Chelsea however, are by no means prolific goal scorers and Farrell and his co-defenders should be capable of holding Bentley and company in check. Thus if the Everton attack gets off the mark as well as it did at West Bromwich, victory should not be beyond the Goodison Park side's reach. Teams;- Chelsea; Robertson; Harris, Williams; Armstrong, Greenwood, Saunders; Parsons, McNichol, Bentley, Stubbs, Lewis. Everton; O'Neill; Moore, Donovan; Farrell, Jones, Lello; McNamara, Fielding, Hickson, Parker, Eglington.
EVERTON THE ARTISTS AT CHELSEA; FINAL TOUCHES BY EGLINGTON AND PARKER
September 18, 1954. The Liverpool Football Echo
Scoring Spell After Quiet Start
Chelsea Nil, Everton 2
By Contact
After a half-hour of failure, except that they did not concede a goal, Everton took two chances well, and from that moment were in command. Chelsea enjoyed three fine early chances once they allowed them to pass, Everton, with a defence which always had the answer in the final analysis were completely on top, much as Chelsea enjoyed territorial advantage. Once Everton got the lead, the game became dull and in the second half it had only Everton's occasional well-planned attacks to commend it.
Chelsea;- Robertson, goal; Harris, and Wilemse, backs; Armstrong, Greenwood and Saunders, half-backs; Parsons, McNichol, Bentley, Stubbs, and Lewis, forwards. Everton; O'Neill, goal; Moore and Donovan, backs; Farrell (captain), Jones, and Lello, half-backs; McNamara, Fielding, Hickson, Parker, and Eglington, forwards. Referee; Mr. F. Reed. Everton were last here in 1950 when they were beaten 2-1. The only member of that team playing today are O'Neill, Moore, Farrell, Fielding and Eglington. The appearance of the pitch had a mid-season and rather bumpy took. The 73 years-old father of Manager Cliff Britton was among the 35,000 spectators at the start. Everton played in white. Both sides were on the pitch a good seven or eight minutes before the kick-off. Arthur Askey and Tom White show-piece sons of Liverpool were on the far side –I hope. Everton won the toss but there was not the minutest advantage to be gained. Chelsea should have scored in the first minute, Armstrong put through a glorious pass which Stubbs ran on to without hindrance. Any sort of angled shot must have beaten O'Neill; instead, Stubbs shot straight at the goalkeeper. Everton who settled down well after the escape might well have got a goal too, when Lello's far-flung pass opened the way for Eglington to cut in and shoot. He made it a rather difficult angle and the ball sped low and just wide across the face of goal. McNichol next hit a low shot which O'Neill half saved the post coming to his aid to keep the ball out. A fine Bentley centre from the left seemed certain to provide little Parsons with a headed goal; instead he nodded the ball in cannon-ball style well wide. The Everton goal was fortunate again when O'Neill, in making a pick up, was challenged by Lewis and the ball spun free from the clinch between them. Happily O'Neill soon recovered his poise and the ball. A through ball from Bentley to McNichol all but caused a goal. This time Donovan's last second tackle, and his concession of a corner was the saving grace. The greasy going seemed to disturb McNamara greatly. He slipped up more, than once when in possession Chelsea were quite happy and for the moment were on top. Twice their defence intervened rather luckily when J. W. Parker was in full cry. Yet the Everton half-backs and forwards had not been commanding thus far. The game contained more ballooned and misdirected passes now than I have seen this season. Chelsea still passing by the hard chances, were still in command without being able to apply the necessary finish. Moore now took the full force of the ball from a kick by Lewis and was completely knocked out for a moment or two Hickson and Parker in a close quick-fire duel, were close to a goal via a Parker header but this was really the first time Hickson had been "seen." Only now did the Everton half-backs get to grips with the game, and the attack started moving convincingly. The result was that Parker cheekily flicked the ball towards goal when his back was turned. Robertson anticipated this and all was well for Chelsea. Thirty-two minutes had gone when Hickson from an O'Neill clearance, opened the way beautifully for Eglington to score from almost the centre forward position. Two minute later, after Hickson had a shot crowded out, Parker picked up the rebound and smashed the ball into the net for goal number two.
Donovan's Part
Thus from being lethargic and rather out of sorts, Everton were two goals up and playing altogether differently. Moore standing on the line kept out an angled shot and that was a minor crisis passed and Hickson and company were in full cry again. Donovan was playing splendidly; when Everton were at their most moderate he was outstanding. Eglington and Parker had a period of inter-change when Parker appeared to be slightly damaged but they soon reverted to the old order. Armstrong hit a first-class shot and Farrell almost deflected it into his own goal in the opening minute of the second half. From the corner Armstrong had a splendid chance of making it 2-1. He completely mistimed his close-in effort. This was not the only pressure although except for odd instances Chelsea's finishes were not good Everton, with less of the play, were still dangerous. Half-time; Chelsea nil, Everton 2.
Hickson from an O'Neill clearance, got the ball out to Parker, and that forward's cross-shot flew over the goal angle. Eglington's inclination to go back and fight for the ball Jones's careful policing of Bentley and Donovan's work against the lively Parson's were things in Everton's favour. O'Neill caught with the assurance of an artist a tremendous long-range free kick by Bentley. He could hardly hope to score from such range, Lello's solid close-in shot a moment later had better chances, but flew just too high. O'Neill did his best work when he edged a Stubbs' drive over the bar. Chelsea were still full of fire but many of their vital passes were badly judged. When Greenwood made the classic blunder and let Hickson clean through, Robertson brought off one of his best saves for a corner. The Everton covering was excellent. Chelsea were all but through a dozen times yet one always had the impression that the Everton defence had all the avenues covered. At this point Stubbs of a fast low centre by Parsons headed to the far post where O'Neill just got the tips of his fingers to the ball and turned it outside. Final; Chelsea 0, Everton 2. Official attendance 59, 199.
PETER FARRELL ON EVERTON
September 18, 1954. The Liverpool Football Echo
Jack Humphreys Pass Way
Pathos Triumph and Loyalty
At lunch time last Tuesday, as the Everton players were having their mid-day meal; Trainer Harry Cooke gave us the tragic news that Jack Humphreys had just died. The reaction on those of us who were former team mates of his and those who were not was that of silence and obvious sorrow for a moment or two, before audibly expressing our regret of the untimely passing of our old friend, Jack. He was very popular among the players and staff at Goodison Park and was a great Evertonian. When some of us went through last Christmas to Caernarvon to see Jack in the nursing home, one of his main concerns was Everton's chance of promotion. Among the many telegrams I received before that memorable Oldham game was one with the following message; "Get back, back where you belong tonight," accompanied by the signature of Jack Humphreys.
When we played Bolton in the Cup semi-final the season before last Jack as very ill, yet despite his condition he insisted on going to Maine Road to see the lads in their efforts to reach Wembley. You can see from these two instances that, although he was no longer a player of Everton, he was still just as keenly interested in the fortunes of the club he served so loyally for a number of years. To his widow mother and relatives from all Evertonians our very deepest sympathy on your loss of a really great guy.
After last Saturday's game against Leicester at Goodison Park, when the crowds had filed away and the players had donned their clothes after their bath and had left for home Gwyn Lewis was having treatment for his injured ankle in the Goodison treatment room. Being one of the last to leave, I went in to see Gwyn before I departed and was rather surprised when he greeted me with the words, "Well, Peter that's two pounds bonus for next week. " seeing that he was serious I replied, "Ah, well, I suppose a draw is better than being beaten," You may remember Leicester scored their second goal while Gwyn was in the pavilion injured and when he returned to the field he was still under the impression that the score was 1-1. Poor Gwyn 'You should have seen the expression on his face when I finally convinced him that Dave Hickson's goal was the means, not of getting is two points, as Gwyn thought, but only a share in the spoils. This week sees the end of the mid-week League games for us. I don't know how the fans feel about these matches. Perhaps for those who are very fond of football, two games a week doesn't sufficiently satisfy their appetites but, speaking generally, we players are glad to return to the one-match a week routine. Some people maintain that well-trained and fit athletes should be able to take these games at the start of a season in their stride. Those people forget, however, the little minor knocks received in games. These slight injuries while not sufficient to keep you out of the side a couple of days hence, do affect you in small way, whereas a player has a better chance of recovering from his knocks and bruises when he has a full week in which to do so. I should like to refer briefly to our memorable game last Wednesday with West Bromwich. It was one of the most thrilling matches, it has ever been my good fortune to play in. You will get some idea of the way the game swung when I tell you that for the first 25 minutes Everton held the upper hand, West Brom then gained command for the remainder of the half. The second half went something on the same lines, with never a dull moment. I am only sorry that more of our loyal supporters could not have been present on such a memorable occasion. Speaking to the refer in the hotel after the game, he had this to say of the match. "I have been officiating at football games for a number of games now, Peter, but don't ever remember handling a more exciting, sporting game."
EVERTON RES V BURNLEY RES
September 18, 1954. The Liverpool Football Echo
Everton res;- Leyland, goal; Clinton and Rankin, backs; Grant, Woods and Melville, half-backs; Gibson, Potts, Saunders, Meagan, and Buckle, forwards. Burnley Res;- Thompson, goal; Rudman, and Souter, backs; Atwell, Binns, and Bennion, half-backs; Milner, White, McKay, Alexander, and Cheeseborough, forwards. Referee; Mr. I. Sleddon (Preston). Everton who had the advantage of a dazzling sun made an auspicious start. Within five minutes they were two goals to the good via two headers from Saunders and Gibson. Burnley without doubt were outclassed. Leyland had quite an easy time, The home forwards were serving up capital football with Buckle and Gibson outstanding. Half-time; Everton reserves 2, Everton Reserves nil.
NOW WHO WOULDN'T BE IN EVERTON'S BOOTS?
September 20, 1954. The Liverpool Daily Post
Chelsea 0, Everton 2 –Attendance 59,199
By Leslie Edwards
Everton are leaving footprints on the sands of time…but they are not leather-studded ones. Here, as in all save one of their matches in the past six months, the wing half-backs and all the forwards played in the light, hockey-style boots which Manager Britton introduced not long after seeing the Continentals perform so remarkably at Wembley. The soles of the new Everton knots and the studs are of rubber. On dry grounds there is grip and a lightness which allows averagely fast players to find half-a-yard when needed. When the weather is wet at the start of the game and rubbers are ruled out because they tend to skid the players revert to weather it is always possible for them to change into rubbers again for the second half if conditions warrant it. The players decide which type of boot they will use after they have inspected the pitch. Proof that the extra lightness and speed is of great consequence is contained in the fact that since Everton first started wearing light-weight boots towards the back end of last season they have lost only one match. That was the game against Albion at Goodison Park –an occasion on which it was not possible for them to don their fairly-footsteps. In heavy conditions it is obviously not practicable to use rubber studded boots but they should have splendid holding qualities on iron-hard, frost-bound grounds. Competition in league football today is so intense no one can afford to ignore the new ideas that Continental teams have introduced to improve the speed at which ball and players move. The lighter boot also makes it easier to bring a ball down and "kill it." If Everton's experience is any guide there is no disadvantage in respect of greater risks of injury. Twelve months ago Everton were in the Second Division, who wouldn't be in their boots now?
The Anfield Position
Good to see both Everton and Liverpool flourishing Liverpool's victory was particularity delighting to travelling emissaries. Lawson Martinsdale and Robson Roberts who returned from London (or thereabouts) on the same train as a highly contented. Everton party, I would not say that the player they had seen on Saturday will become a Liverpool player. On the contrary. The Liverpool position in a nutshell is that even if they win another six matches in a row they will still need reinforcing Reserves. That being so one can depend on a Liverpool signing within the next week or two. Everton's victory was a remarkable one in more ways than one Everton's victory was a remarkable one in more ways than one. For nearly half an hour Chelsea were on top with Everton apparently powerless to stop their drive, their enthusiasm and their ability to make gaps in the defence. Three times Chelsea should have scored; three times they failed. Then for no apparent reason Everton suddenly began to hold and work the ball and look dangerous. At 32 minutes Eglington took a splendid goal. Two minutes later a headed contribution by Hickson opened the way for Parker to make it 2-0. The shock of this, when they had ridden so comfortably to that point, was one from which Chelsea never recovered. From that moment Everton took and maintained command. The second half, in sultry heat and with disappointed Chelsea fans leaving by the hundred and then by the thousands was one of the strangest cat-and-mouse games I ever saw. Chelsea always had plenty of the ball and mounted many more attacks than Everton, but the Everton defence held nearly all of them with impudent ease. It was as if they deliberately allowed Chelsea latitude and then, when an attack as reaching its climax stepped in and took the ball and started it, away downfield in attacks which really were threatening, Chelsea can rarely have been so tied up…..and after such a promising beginning. When one considers that Bentley and Parsons were in their front line and that even they could find no openings the covering of the Everton defence was the more remarkable. Donovan saved his special best for this match. Even when Chelsea were on top he was outstanding for his clever tactics against Parsons. The Chelsea winger used his speed and cunning but without effect. Donovan had him completely "tapped." Add some artistic and sure catching by O'Neill (saved early in the game by the foot of the post) some characteristic generalship by Farrell and a first class performance again from Tom Jones and you have the main reasons for Chelsea's gradual degeneration o the point at which one was certain that the longer the game went the more certain Everton were to win it. The mystery of those first 30 minutes when Everton got off on the wrong foot and stayed on it is more difficult to solve.
Lost Their Method
Chelsea have in Armstrong and the red-headed Saunders two fine attacking half-backs. They were good while the score was level once Everton took their goals the Chelsea team as a whole lost their method and had only enthusiasm. Eric Moore took the heaviest of blows to the face and played on like the tough little man he is to earn his share of bonus McNamara was not quite so impressive as against Leicester -this was his first taste of light weight boots –but Eglington took his chance well and was frequently to be found working as the link between the defence and the attack. Apparently Hickson impressed the Londoners though his match by home standards was quite ordinary. Parker, drifting as ever into positions where he could be found with advantage and Fielding his little legs still working twenty to the dozen all had their part in a victory the effect of which will be shown in later League tables. To get three points from games at West Bromwich and the new Chelsea is championship form. The visit, next Saturday of Cardiff City will attract all Liverpool all North Wales. If Everton whose understanding and method are their triump cards win this one we shall think of them not as a Division 2 side making their way in Division 1 again but as rivals to Spurs with the opportunity of doing this season in Division 1 what they did a season ago in Division 2.
EVERTON RESERVES THE MASTERS
September 20, 1954. The Liverpool Daily Post
Everton Res 2, Burnley Res 0
Without doubt Everton Reserves were the complete masters of Burnley Reserves in this Central League game at Goodison Park on Saturday. Burnley gave a very unconvincing display and were lucky to lose by only two goals. The visitors goalkeeper Thompson gave a fine exhibition, saving brilliant shots from Buckle, Saunders and Gibson. The Burnley goal bore a charmed life the woodwork coming to their rescue on many occasions Buckle stood out in the Everton front line. Scorers for Everton were Saunders and Gibson.
THREE FROM FOUR
September 20, 1954. The Liverpool Echo
By Contact
Everton's three points from two away games in the space of four days is magnificent going when one remembers that Albion and the new-style Chelsea are (or were) two of the leading sides so far this season. Though Everton's prospects at the beginning of the season seemed no more than ordinary they are proving in Division 1, almost as successful as they were in Division 2. The great difference between them and so many Division 1 sides is that come what may they persevere with sound methods, Manager Cliff Britton has schooled his side in what he wants and long understanding of what he aims at (and understanding between each other) gives the side an advantage against sides whose policy is more haphazard. This, after Chelsea's first 30 minutes supremacy was clear at Stamford Bridge. Having weathered Chelsea at their best (except that they missed three fine chances) Everton with two goals in two minutes (Eglington and Parker) became a completely changed side and were never in danger of defeat. The second half contained innumerable Chelsea attacks but in scarcely any did they look like scoring. During this period the Everton defence played with better understanding than ever. They allowed the others to go so far, no further. No winder many of the 60,000 crowd tired of Chelsea dismal ineffectiveness and went home long before the end.
All The Answers
Outstanding Everton units were Donovan and O'Neill. They were as good when Everton were out of tune, at the start, as they were when Everton were in command. Donovan faced the lively. Parsons who has given more than one talented back a difficult afternoon. This time Donovan had all the answer. He held Parsons in complete subjection. O'Neill had a good deal of work and did it all surely and artistically. The second quality is not a necessary one in a goalkeeper but it is nice to see good saves and good catches made to look easy. It suggests that O'Neill will be Eire's goalkeeper for a good many years. Once they found their feet after Chelsea's initial burst. Everton played really well. Farrell's captaincy Jones's carefully watching of Bentley and Lello's customary Hearts of Oak contribution, all went to tie up Chelsea as they can rarely have been tied up before. Hickson was not as dynamic as he can be, but Londoners credited him with being one of the best centres they have seen this season. That Everton, with Hickson all out to play football and nothing but that are still winning is justification that Hickson is playing his part and his new style gets him into less trouble, with referee and opponents.
Victory Boots
The disclosure that Everton have played about six months with new lightweight boots (rubber-soled and studded) and that the only match they lost during that period was against Albion, at Goodison Park recently, will intrigue fans. Undoubtedly Manager Britton's introduction of these boots stems from what he saw from Continental teams at Wembley. They not only allow players to bring a ball down more easily they give them an extra half yard of pace and because they are less tiring extra stamina. On wet turf the rubber rolling and studs are useless. On hard dry grounds early in the season or when the ground is frost-bound they are advantage. Only the Everton wing half-backs and forwards have been wearing them but there might even be a good case for defenders. Footwear alone cannot make League champions or Cup winners but that is not to say that Everton will not succeed in one direction or another this season.
CHAMPIONS MEET THE REST
September 21, 1954. The Liverpool Echo
Stork's Notes
Although mid-week football is at an end so far as senior games are considered –thanks goodness say the managers and players –there is an attractive game at Goodison Park tomorrow evening when the champions of the Central League, Everton meet the Rest of the League. Outside the First and Second Divisions the Central League is recognised as one of the best in the country and it should be so for it is the "nursery" for the senior sides. Everton are again in the running, and those who see them regularly tell me they are playing grand football. They are lying third (12) in the tale to Stoke City (13) and Bolton Wanderers (12) and have one or two games in hand, so their prospect of bringing off the "double" is promising. They have played seven and won six games and have an excellent goal average having scored 15 goals against five. The Rest side is undoubtedly a strong one and it will need the best that the Everton "stiffs" can produce to pull of a win. The football should be top class, and with strong attacks meeting determined defences there is every indication of a close match. The game gives up an opportunity of seeing what kind of material is in the second team. I have not seen Everton Reserves for an age but their record suggest that there is any amount of ability in the side, which is made up of experience and youth – an excellent combination. Here are the teams;-
Everton; Leyland; Tansey (J), Rankin; Grant, Woods, Melville; Gibson, Potts, Saunders, Lewis, Buckle. Central league; Dwyer; (Wolverhampton) ; Bourna (Stoke), Batty (Newcastle), Gibson (Man United), Mattinson )Preston), Crowe (Aston Villa), Stephenson (Burnley), McAnearney (Sheff Wed), Carter (West Brom), Stevens (Bolton), Acourt (Liverpool).
RECORD BROKEN
December 23, 1954. The Liverpool Echo
Stork's Notes
Everton Reserves 0, Rest X1 1
Evert since the inauguration of the match between the Central League x1 and the champions in this case Everton; it has always been won by the title holders. Last night was an exception for the Rest beat Everton at Goodison Park by the only goal scored by Sheffield Wednesday inside forward McAnearney a minute from the interval. There were many managers and club officials present to see if there was anyone who would interest them, but there were few shinning stars in this game which fell short of anticipation. At times there were dull and unattractive moments and one reason was an injury to Potts, who carried on to the interval although under a handicap. While he was 100 per cent fit Everton looked the better side. They twice hit the woodwork before the Rest had scored and were much more menacing. There were glimpses of ability here and there, but there was a lackadaisical feeling abroad. One had a feeling that some of them were not full out – that the risk of injury could not be taken. George Rankin had an excellent first half when he practically blotted the busy little Anders out of the game despite the fact that the Manchester City winger was full of tricks and pace, and Acourt was brilliant in patches. He supplied the centre which Leyland palmed out to McAnearney to score. The Liverpool winger did more he produced some fine dribbles yet the game never reached a champion standard. Potts did not return after the interval Eddie Thomas taking his place, and although Everton tried hard to equalize they never succeeded because they were not flowing smoothly. After the goal against they became over anxious over keen to retrieve themselves and their football suffered. Woods was a solid centre half-backs for the Blues. Mattinson was something of the same kidney and Jackie Campbell the former Liverpool player played hard and purposeful but taken throughout the game did not rise o the occasion.
CARDIFF VISIT GOODISON
September 24, 1954. The Liverpool Echo
Stork's Notes
Cardiff City's visit to Goodison Park is sure to attract another tremendous crowd for many North Wales makes City's trips to Merseyside a "must" on their calendar. Last time the Welsh brigade were in this city was in April when they best Liverpool by the only goal and ruined the last Anfield hopes of avoiding relegation. That day, Sherwood went in goal after Howell's had been injured and gave a wonderful performance, culminating in the saving of a Liddell penalty. Although the circumstances of tomorrow's opposition are a good deal happier than Liverpool's were then, Cardiff will be no less easy to beat. After losing three of their first four games, they have not been defeated having taken three points from Sheffield United, beaten Manchester City and drawn with Chelsea and Huddersfield. Sherwood remains one of the two great personalities of the team, his fellow Welsh international. Trevor Ford, being the other. The burly leader fresh from Wednesday's international with Yugoslavia will be yet another star opponent for Tommy Jones to face. If the pivot does as well against him as against Holton, Allen and Bentley, Everton will have cause for rejoicing. Howells receives good defensive cover from Montgomery and Harrington a young wing half who has been in receipt o considerable praise this season. Tiddy is the regular outside right, but four men have been tried on the other flank with Nugent at present in possession. A new face in attack is Sockin, signed from Wolves at the beginning of the month. He has scored in his last two games. Tiddy and Ford have three goals each, Sherwood two from penalties and Sullivan, Grant, Northcott and an own goal, one each. Cardiff have conceded 18 goals 12 of them to Preston, who were unable to get even a "singleton" against Everton in August. Injuries and voluntary alterations have meant that already only two players –Sherwood and Tiddy – have appeared in every game as against Everton's nine with an ever-present record. Youth tempered with experience and traditional fighting spirit conspire to make Cardiff a difficult side to master but Everton are playing with such fluency that I shall be most surprised if their visitors retire with anything more than their share of the gate receipts. Everton; O'Neill; Moore, Donovan; Farrell, Jones, Lello; McNamara, Fielding, Hickson, Parker, Eglington. Cardiff; Howells; Stiffall, Sherwood, Harrington, Montgomery, Jones (I), Tiddy, Sulliuvan, Ford, Stockin, Nugent.
CARDIFF AT GOODISON
September 25, 1954. The Liverpool Daily Post
By John Peel
Cardiff who appear to have a found a winning combination after some poor displays are visitors to Goodison, and as the Welsh side always attract a large following from North Wales when appearing on Merseyside, another vast crowd is likely to pack the Goodison stands and terraces. Like most clubs Cardiff have had their ups and downs, successes and failures but probably one of their proudest moments was when they took the F.A. Cup out of England after beating Arsenal 1-0 at Wembley in the 1926-27 final. The City's present team is a blend of experienced, players and some youthful ones, outstanding personalities in the eleven being Trevor Ford, a dashing workmanlike centre forward; Sherwood, the left full back who led the City back to the First Division in 1951-52 goalkeeper Howell's and centre half Montgomery. Everton are in the position to play the same team successful at Chelsea last week, but Cardiff are forced to make a late change. They bring in 18-years-old Cecil Dixon who is serving in the 10th Hussars at outside right for today's a game. He replaces the injured Tiddy Dixon who has impression in the reserves joined the club during the close season from Trowbridge. Teams; Everton; O'Neill; Moore, Donovan; Farrell, Jones, Lello; McNamara, Fielding, Hickson, Parker, Eglington. Cardiff; Howells; Stiffall, Sherwood, Harrington, Montgomery, Jones (I), Tiddy, Sulliuvan, Ford, Stockin, Nugent.
LIMPING JOHN PARKER SCORES A GOAL
September 25, 1954. The Liverpool Football Echo
Nugent Equalizer In Game of Injuries
Everton 1, Cardiff 1
By Stork
Lack of shooting prevented Everton from winning this game. They had chances enough in the first half to have put themselves way ahead but strange as it may seem they played too much football to getting that only goals count in the final reckoning. C ardiff fought hard and Ford was the key man in their forward schemers. He only beat Jones once but it meant a goal. It had to be allowed that both Fielding and Parker were playing under the handicap of injured legs. Everton; O'Neill, goal; Moore and Donovan, backs; Farrell (captain), Jones (T), and Lello, half-backs; McNamara, Fielding, Hickson, Parker, and Eglington, forwards. Cardiff City; Howeills, goal; Stiffall, and Sherwood, backs; Harrington, Montgomery, and Jones (L), half-backs; Dixon, Sullivan, Ford, Stockin, and Nugent, forwards. Referee; Mr. G.W. Pullin (Bristol). The visit of Cardiff City has always been an attraction on Merseyside not only because it means a good match but also because we can listen to some good Welsh singing. We had it again today and it sounded really fine. Everton were unchanged but Cardiff made one alteration in their attack, Dixon coming in for Tiddy who was injured. Dixon is an 18-years-old boy who is at present doing his National Service. This was his League debut. The side facing the sun would be at a big disadvantage and it was Everton who had the handicap in the first half. The first shot of the game was made by Jones the Cardiff left half, but O'Neill was equal to it just as Howells was when he had to save twice in quick succession. Ford had to be very closely guarded. He showed his ability after he had dribbed away from Tom Jones and then slipped the ball healthy across to Stockin who however fell to the Everton defensive plan.
Narrow Squeak
It was following a Ford incursion which was not allowed to develop that Everton moved up and were distinctly unfortunately not to have scored Sherwood conceded a corner when passing back and when Fielding took the flag kick Sherwood sliced the ball in front of his own goal and Montgomery had to step in and complete the clearance. The resultant corner was nicely placed by Eglington, for the ball went right to Hickson's head. He nodded it down to Parker who shot immediately. Unfortunately he directed it straight at the waiting Howells, who must have been pleased at the opportunity to save for there seemed to be none at the time. Hicksons heady flicks were really the work of the master, and after Eglington had a shot held down he made yet another one, which Parker got his head to and steered just wide of the upright. I don't think Howells could have saved that one had it not been a foot on the wrong side for he was out of position. Parker had a shot blocked and so did Eglington and the game was held up for Parker to receive attention. He was finally taken to the touchline for further treatment. While he was off Hickson from away out on the left made a pass which was deflected into Howell's hands and the next item of note was a job into the Everton goalmouth by Jones (L) which was O'Neill thump the ball into the air, and things looked a wee bit dangerous.
Parker Returns
Parker returned after five minutes just in time to see a promising Everton attack break down in the penalty area. A Nugent centre was full of possibilities until Donovan interfered and fielding and Hickson once left the ball to each other with the result that it went to a Cardiff man. Parker was now operating at outside left, with a bandage round his right leg, but it was obvious he would not be able to do himself full justice for he was limping badly. This upset the rhythm of Everton and Cardiff for a few minutes were on the attack and looking more dangerous man at any other time. They got a free kick but this was wasted by Harrington who scooped the ball wide of the Everton goal. Dixon was finding Donovan a problem and he rarely beat the Irishman. There seemed an excellent opening for Everton but there was no shot only plenty of passing when what was needed was someone to hit the ball hard and strong. Ford was responsible for one of the big thrills of the match thus far, when he tapped the ball and sent it over to Stockin in one movement, Stockin was left with an excellent opening but his shot a feeble sort of things hit O'Neill. Prior to that, however, the Cardiff inside left had handled the ball so it was a free kick to Everton. One of those fast movements for which Everton are becoming renowned nearly brought about the down fall of Cardiff when More sent the ball forward to Hickson who flicked it inside to the oncoming McNamara. The winger just failed to get a real dig at the ball, Parker had now resumed his position at inside left. Just on the interval two Cardiff men tried to "rush" the Everton defence but were held up before they could become really dangerous. A centre by McNamara cross field to Eglington almost prized open the Cardiff defence and it was only Howell's desperate "come-out" which saved the day for Parker was coming in hot foot to apply the finishing touch which was all that was needed.
Half-time; Everton nil, Cardiff City nil.
Fielding resume with his right leg strapped up, so that Everton had two causalities in the front line, Cardiff won a corner in the first minute. Nugent put this a long way back and Jones (T) was able to go forward and clear. Cardiff maintained their attack but these was no finally when it came to the matter of shooting and it was left to left half Jones (L) to test O'Neill with an effort which caused him to heartburn. The Everton goalkeeper had to be alert a minute later when Moore lost his foothold as he was about to clear. This let in Nugent whose ferocious shot was saved splendidly. Things were not going Everton's way because they were not playing with the same unison as they did in the early portion of the game, but Eglington gave Hickson a grand opportunity which the Everton lender took quickly. Had the shot not been blocked, Howells would have been hard put to save, for it was a very fiery shot. Everton had come back more into the game now and a header by McNamara passed over the bar. The same player should have opened the day's account had be taken the risk of a shot, although he was badly angled.
Goal At Last
I had hardly got this sentence when at last Everton went on to score at 54 minutes and it was a three-piece suite which brought it. Started by Eglington it was carried on by Hickson and finally finished off by Parker. This was Parker's first goal at Goodison this season, although he has scored half a dozen away from home. Howells was hurt in trying to save his goal and Sherwood took his place. Merseyside will remember that Sherwood went into goal against Liverpool last season and played the game of his life, one of his many magnificent saves being from a penalty taken by Liddell. Sullivan dropped back to left back so that Cardiff were playing a four forward attack. Sherwood's first handling case was rather "dickie" for he failed to gather a ball from the right, but he was able to recover and clear. A long ball towards the Cardiff goalmouth looked like putting Hickson on the score card, but Sherwood was there a fraction of a second in front to knock the ball away from Hickson's head. The resulting corner was soon disposed of, but Everton were still attacking, Sherwood watching closely as a ball from the right passed his upright. Everton gained a free kick for a foul Hickson but this actually held to play for the award was rather against Everton and not for them Tom Jones hurt his head when he and Ford went up for the ball together but carried on and just after this Howells returned and Sherwood put on his No3 jersey. There had been little between the teams this half and when Dixon crossed the ball into the Everton goalmouth there was Tom Jones, steady as a rock as he has been throughout to nod the ball away. A movement between Eglington and Fielding came to the end when Eglington snapped a short pass from Hickson but the ball came to his wrong foot, and the shot went spinning away from the goal.
Equalizer
Jones had the better of his duels with Ford, when for the first time the Welsh international outwitted him out on the right wing, Ford caught the ball near the corner flag and swept it right across to the far side of the Everton goal. Nugent was coming in like a steam engine. He got the ball plumb on his forehead and it went into the Everton net like a rocket just inside the woodwork. This was at 71 minutes. When Ford and Jones a little later had a race for the ball, Jones rather than take any risks, slipped it aside but it did not reach the touch line as intended for Dixon raced up and centred to cause the Everton defence further trouble. Farrell and the referee had a shot conversation over something and later the ruling officials spoke to Stockin for what must have been a foul on O'Neill. At least I could see no other reason for it. Everton had become rather ragged for some minutes and Cardiff put on heavy pressure. They were not getting in many shots, however, despite this. McNamara was hurt in a tackle with Montgomery and young Dixon dropped a ball just behind the Everton crossbar. A free kick to Everton taken by Moore produced a corner, and Eglington put the ball right across field where it eventually went to Fielding who shot feebly and Howell's had little trouble in making the save. The standard of football had fallen and quite a lot of fouls were creeping into the game. Ford tried to beat Jones again but this time was no successful. Ford was very quick in his movements and once led an assault on the Everton goal, which looked extremely dangerous until O'Neill made a daring save for Stockin. I learned Howells had suffered a cut over his left eye which he had stitched before returning. Final; Everton 1, Cardiff City 1. Official attendance 54,248.
• Preston Res 1, Everton Res 3
• Everton "C" 2, Stork nil
HICKSON-WINGER
September 26, 1954. The Liverpool Football Echo
Stork's Review
Some are saying that Hickson is being too gentle nowadays. What nonsense? He may not be getting goals, but by jingo; he is making them. Ask parker and Eglington. As a centre forward, Hickson no doubt would like to fight among the scores a little more often but if I know him aright he will be perfectly satisfied to make the goals. The bonus money is there just the same whether be or someone else scores them. He is undoubtedly playing better football; in fact he is a better footballer than he is given credit to be. I have often said to myself "What a grand eight winger he would make;" this after he has slipped but to the wing to deliver those telling centres he puts across. Newcastle United turned Jackie Milburn into a winger when that position became a worry, Everton could safely do the same with Hickson if need be. Some dismal Jimmies are asking "What would happen if there is a spate of injuries?" Injuries will come, of course, but Everton are fortunate in having strong reserves.
AUTOGRAPHS?
September 25, 1954. The Liverpool Football Echo
Yes, But Not On The Field Of Play
By Peter Farrell, Everton
It is still very early in the season, but with almost a quarter of our league games completed, I think we at Everton can all feel fairly satisfied not only with our points column, but with the standard of the fare served up to date. The main difference between football in the First and second Division in my opinion is that whereas the pace is a shade faster in the top sphere the tackling is a bit keener "lower down" as I am sure Liverpool are finding out. Another notable difference is that there are far more star players among First Division clubs, which ensures that the standard is higher. Whenever a club enjoys a little success the directors, manager, players and training staff all get deserved credit for their share but an individual who never hits the headlines and yet plays his part on no small ay in the club masseur. At Everton we are very fortunate in having at our disposal Messeur Billy Storey who is held in very high regard not only by those who employ him but also by the players. The pass four weeks have been very busy for Bill with the time between games in headlines minor knocks and bruises. We are lucky at Goodison in having one of the finest treatment rooms in the country with excellent equipments but these would be of little avail without such an expert at his profession as Billy Story who is now in his ninth season with the club. As the players were indulging in the usual pre-match kick about before the game with Leicester a fortnight ago, a small boy came on the field and approached one of the Everton players for their autograph. The players in question refused and the incident as mentioned to me the following day by an Evertonian who seemed to think that the player's action in not signing was in bad taste. There is a notice in most club pavilions including our own asking players to restrain from signing autographs on the playing field. This is a good idea as you can well imagine the chaos before a game if hundreds of enthustaic youngsters were to swarm across the field looking for signatures.
Under Instructions
So in future when you see a player refuse to sign on the playing pitch, don't think he is unsporting as he is only acting under instructions from his club, who remembers are his employers. When part-time professionals and amateurs attached in professional clubs report for training on dark nights their routine is generally restricted to laps, sprints, gym work, etc, and they rarely manage to have ball practice which is such a necessary towards moving ability. During the past couple of weeks, workmen have been busy at Goodison Park fixing floodlights on the small practice ground. This work is now almost completed and will e a big help to those who train at night time. Now they will have plenty of ball practice previously denied them through darkness. Although the space which will be under lights is not large enough to permit a full-scale match, it s ideal for five or six a side games, which play such an important part in the training scheme of the club. It will also be a big advantage to the Everton coaching staff who will be able to demonstrate moves and ideals practically instead of theoretically.
PRESTON RES V EVERTON RES
September 25, 1954. The Liverpool Football Echo
Preston Res; Else, goal; Wilson and Scott, backs; Parkinson, Mathinson, and Dunn, half-backs; Campbell, Evans, Higham, Waterhouse and Jones, forwards. Everton Res;- Leyland, goal; Clinton and Rankin, backs; Grant, Woods, and Melville, half-backs; Wainwright, Farrell, Saunders, Lewis, and Buckle, forwards. Referee; Mr. G.K. Jackson (Bolton). A high wind spoiled the game to a large extent making accurate passing difficult. The Preston forwards played good approach football but near goal the Everton defenders kept on top. Just before the interval a right wing raid by Everton led to Saunders giving them the lead with a drive from 20 yards out. Half-time; Preston N.E. Res nil, Everton Res 1.
EVERTON SPURNED HICKSON-MADE OPENINGS
September 27, 1954. The Liverpool Daily Post
Everton 1, Cardiff City 1
By Stork
A team with championship aspiration such as Everton cannot hope to fulfill their ambition if they lose home points. No one can quibble at Everton's away record so far, but they can say something about their dropping a point to Cardiff City at Goodison Park. Admitting that Everton were handicapped by Fielding and Parker being injured in the first half, there were sufficient chances made to have put the issue beyond doubt. I am beginning to wonder if the new-style Hickson is the right one. It is all very well making chances for others, but on Saturday he made a number and had them spurned. Was this not the time for Hickson to seek goals on his own behalf? I think so, I can only recall him having one shot. Everton were slaves to the perfect football pattern in the first half hour when their approach work was immaculate and their shooting was nonexistent. Cardiff were not world beaters in this respect, but O'Neill had slightly more to do than either Howells or Sherwood. Yes, the full back went in goal, after Howells had been injured when Parker got his goal. I thought the Everton slump came when Fielding seemed to stub his foot when making a pass to Eglington and limped for the rest of the game. Later Parker received a knee injury. Allowing for that the points should have been pocketed long before, Parker should have had goals and Hickson and McNamara should have figured on the score card, but there seemed to be a "passed to you" idea abroad. It won't do. Hickson flipped and glided several passes which simply called out to be converted but no one wanted to take the onus of shooting. I thought the first half-hour was excellent but the game started to fade out and the second half was full of ineffective endeavour. The defence is free from criticism. It covered up exceedingly well; so well that Trevor Ford rarely got a sight of O'Neill.
Ford Pocketed
Tom Jones had put him where he had put all other centre forwards –in his pocket –until the seventy –first minute, when the Welshman slipped him, caught up with the ball near the goalline and swept over the centre which Nugent rammed home with his head to level Parker's goal at fifty-fourth minute. When Howells was injured and Sherwood went into goal our minds went back to last season when he took over from his injured goalkeeper at Anfield and played a stormer finishing off an amazing display with a penalty save. He had nothing like that to do against Everton who were extremely kind to him and Howells. Montgomery was, in my view the big man of the Cardiff side. He held down the middle against Hickson and all others. I liked the way Ford instructed the new boy Cecil Dixon, playing his first senior game, with a word and a nod but Everton must sight their guns on the bull's eye and not be too indulgent in football artistry. It was tantalizing to see them approach in perfect formation and then not squeeze the trigger.
• British and ex-Evertonian who is the Belgium trainer, watch Begium beat world cup winners Germany 2-0 in Brussels, said "Germany will have to make many changes if they expect to beat England."
SHOT SHY
September 27, 1954. The Liverpool Echo
Stork's Notes
Wales was pluming herself on Saturday night for taking three out of a possible four points from Mereseyside. Perhaps we expected Swansea to beat Liverpool, but there were few who gave Cardiff City any hope of a draw at Goodison Park. The Welsh contingent sang before the match but they had more reason to burst into song after the game. I think Cardiff were a shade lucky, for Everton contributed to their lack of success because they would not shoot when the opportunity came along. On yes, they were there for the taking but no one seemed to want to shoulder the burden of goal scoring. We are all pleased that Everton are living up to the pattern they have set themselves of playing good-class football, but where does that get them if they are no goals. Not very far I was involved in a discussion later in the evening as to whether the new-style Hickson in the role of maker of goals instead of taker of goals was the right one. My answer was that had his offering in the first half-hour been accepted he would have been hailed as a great leader. At the same time I had to admit that there were occasions when he should have made the shot himself particularly after he had seen his "gifts" refused. His flicks with his head during that period were brilliant, but there was no punch in the Everton attack on Saturday. The goal Parker got was a good one following a nice movement, Cardiff's goal was Ford made.
Rhythm Vanished
I timed Everton's fall away from the moment that Fielding seemed to stub his foot and jar his leg, and when Parker's also received a knock that necessitated a bandage well, that took the rhythm out of the attack which became patchy and far from accurate. What had promised to be a most attractive game just petered out and became just a moderate display. I won't say that either Fielding or Parker were passengers but they were certainty working under a disadvantage. The link had been broken and instead of Everton being progressive they had to fall back on defence with Cardiff improving. It was well that the Everton covering was sound, otherwise the City might have sprung an even bigger surprise. Yes it was a surprise to see Cardiff battling for a win. Jones, Moore, and Donovan had to work double time when their attack had faded out. The first named had played Ford exceptionally well. He was beaten only once, but it cost a goal for Ford levellered the centre which Nugent hurled himself at it to ram home an unstoppable header. O'Neill had raced across his goal, but could not stop that whiz-bang from going in between him and the upright. It them became a tussle but Everton were still backward in coming forward when the shot was needed. Eglington tried a right footer which swirled away from the target and Hickson, McNamara and Parker missed their way with reasonable scoring chances and had not O'Neill been watchful Stockin would have landed a goal. Much of the science had gone from the game long before the end and quite a number of fouls took its place.
No Worries
Last season Alf Sherwood gave one of the greatest goalkeeping displays when he went in goal for his injured keeper against Liverpool. When he had to don the goalkeeper's jersey when Howells had to leave the field our minds flew back to that day at Anfield when he defied the whole Liverpool attack including a Liddell penalty. Would he put up a repeat. He had no need to do, for there were no shots coming from the Everton front line. He had not one save of any account to make while he was under the "sticks." Howells returned after a short absence but he could have stayed in the dressing room, for he had nothing to do for the remainder of the game. Ford was never allowed any latitude by Jones who despite a nasty bump on the head in collision carried on without stopping. The new boy found Donovan a tough problem for his debut in first Division football. It was nice to see Tottenham him encouragement with a hand clap, a word or a signal as to where he should go and what he should do. Dixon tried to carry out the orders as a good soldier should but Donovan tracked him down most times. Parker and Fielding are under treatment for injuries sustained in the game.
EVERTON CASULATIES
September 29, 1954. The Liverpool Echo
Stork's Notes
Trouble never comes singly. The Everton medical room staff is working double pressure at the moment with the ever prevalent footballer's trouble pulled muscles and other knocks and silments. Under treatment are Wally Fielding and John Willie Parker who are nursing injuries sustained in the game with Cardiff City. Harry Potts who pulled a muscle in the Central League game last Wednesday and Gwyn Lewis, who has a septic heel. There are high hopes that Fielding and Parker will be fit for the visit to Manchester City at Maine Road, at Manchester but for the present all must be considered doubtful. With Lewis, and Potts among the casualties Mr. Britton must be worried for they are the automatic "stands in" for Fielding and Parker. There are still four days to go however and much can be done to get players fit in that time.