TWO YOUNG PLAYERS START CAREERS TODAY
Wednesday, February 3, 1960. The Liverpool Echo and Evening Express
Full-Time Professionals
At Everton
By Leslie Edwards
Two young footballers started their full professional careers with the Everton club this morning-wing half back Michael Gannon, from Liverpool and centre forward Keith Webber from Cardiff.  Both are just 17.  A Manchester businessman friend of the Everton manager, Mr. John Carey, tipped Webber and the old Manchester United half-back, Harry Haslam, confirmed the boys potential.  Webber came to Goodison Park, played a trial match or two and showed enough promise to be considered worth his place professionally.  He is a big boy about 5ft 9 ½ ins, and 11 stone.  His previous club was Barry Town. 
O'HARA NO TO STIRLING TRANSFER BID
Thursday, February 4, 1960. The Liverpool Echo and Evening Express
He Will Stay at Everton
Harris Doubt
By Leslie Edwards
Eddie O'Hara the Everton left-winger, who was made available for transfer at his own request has turned down an offer to join Stirling Albion.  Everton and Stirling Albion had agreed terms and O'Hara would have been playing within 30 miles of his home town, but he telephoned manager Alex McCrae the former Middlesbrough forward at mid-day and told him he was not prepared to go.  Thus the club which has had such difficulty in signing players recently now finds, not for the first time, that most players on their staff are loth to leave when it come to the final decision.  O'Hara joined Everton at the same time as Alex Parker, from Falkirk and made his debut at Leicester on the opening day of last season.  He had a prolonged run in the first team before giving way to Laverick, signed from Chelsea mid-way though last season.  Everton right winger, Jim Harris, who is suffering from tonsillitis, is doubtful for the match at Sheffield Wednesday on Saturday.  Everton are said to be interested in Mike Skidmore, of Newton-le-Willows.  Skidmore an inside-forward with the All Saints team in the Warrington and District League has been watched by scouts from the Merseyside club recently. 
WEDNESDAY AT PEAK
Friday, February 5, 1960. The Liverpool Echo and Evening Echo
BY Leslie Edwards
Everton strike Sheffield Wednesday at peak form, but the memory of that famous debut by Tommy Ring at Goodison Park should give the side renewed confidence and it would not surprise me if they took a point or better.  Wednesday, admirably managed by the old Everton centre-forward Harry Catterick bring back to their defence veteran back Norman Curtis, whose cup duel at Hillsborough is still remembered by Evertonians in general and Tom Eglington in particular.  Curtis gets his place through a thigh injury to Johnson.  Wilkinson who had been doubtful has passed a test and will figure on the right wing.  Finney, little inferior to his famous Preston name-sake is the brains of the Wembley attack though in the Derek Dooley days he was always looked upon as a right winger.  Craige the club's new Scottish importation is also a great player and so is goalkeeper Ron Springett whom Mr. Catterick thinks is sure to "keep" for England for a long time.  Jimmy Harris' bout of tonsillitis means that Brian Harris gets another chance- as a forward.  One of the best games of his career-at Tottenham about three seasons ago-was in this position.  Otherwise the side is unchanged.  Sheffield Wednesday;- Springett; Curtis, Megson; McAneraney, Swan, Kay; Wilkinson, Fantham, Griffin, Craig, Finney.  Everton; O'Neill; Parker, Jones; King, Labone, Meagan; Harris (B.), Thomas, Shackleton, Collins, Ring.
Everton Reserves;- (v Stoke, 3.15);- Dunlop; Tansey, Green; Rea, Billington, Bramwell; Boner, Shepherd, Wignall, O'Hara, Laverick. 
THAT AWAY FEELING
Saturday, February 6, 1960. The Liverpool Daily Post
By Horace Yates
Everton supporters continue to approach away fixtures with very mixed feelings.  Sooner or later they say the team must win away from home for they are the only club without a victory on foreign soil in the First or Second Division and what is more that doubtful distinction has been theirs since November 2, when West Bromwich Albion beat Arsenal at Highbury.  A trip to Sheffield Wednesday's ground is not the best time to forecast an end to this dismal run but it would come at a most opportune moment for their fellow sufferers in the relegation zone-Leicester City, Nottingham Forest, Birmingham and Luton Town- are waging a private war of their own today.  Nottingham Forest entertains Luton and Leicester City receives Birmingham City.  If only we could be sure that Everton were capable of reproducing the sparkle their showed against Nottingham Forest when they won 6-1 but that was at Goodison.  It might be possible to hope for a point at Hillsborough.  Manchester City's 4-1 win at Wednesday's ground last month suggests that the Sheffield side are vulnerable but the thought almost perishes when one realizes that this is the only defeat sustained before their own crowd.  Four games have been drawn and a scoring record of 33 goals against 9 tells a formidable and not very cheerful story. 
FORWARD SWITCH
Ring, of course, may help to make a difference o the Everton side away from home and in place of Jimmy Harris on the right wing is Brian Harris, trying his luck again in the firing line.  At times when the outlook is apparently bleakest, pleasant surprises result and I could think of little that would be pleasanter today than to hear that Everton have done the "impossible."  Sober reasoning does not give them a chance, and so as I see it today is not the day for Everton to earn their first win at Hillborough in their last four visits there.  Wednesday switch their inside forwards so that Craig scorer of nine goals in his last eleven outings will be at inside right and Fantham their leading scorer with eleven goals at inside-left.  Sheffield Wednesday;- Springett; Curtis, Megson; McAnearney, Swan, Kay; Wilkinson, Craig, Griffin, Fantham, Finney.  Everton; O'Neill; Parker, Jones; King, Labone, Meagan; B. Harris, Thomas, Shackleton, Collins, Ring. 
EVERTON'S TWO IN FIVE MINUTES SHOCK FOR WEDNESDAY
Saturday, February 6, 1960. The Liverpool Echo and Evening Express
Sheffield Wednesday 2, Everton 2
By Michael Charters
Sheffield Wednesday;- Springett; Curtis, Megson; McAneaney, Swan, Kay; Wilkinson, Craig, Griffin, Fantham, Finney.  Everton; O'Neill; Parker, Jones (Captain); King, Labone, Meagan; Harris (B.), Thomas, Shackleton, Collins, Ring.  Referee; Mr. R.E. Leafe (Nottingham). 
There was a big crowd at Sheffield to see Everton tackle the greatly improve Wednesday with the added attraction of the issue of vouchers for the home side's F.A Cup game against Manchester United.  "Dixie" Dean was also present to see the form of his old club.  Ring was quickly in action for Everton, coming through a crowd of players near the corner flag to make a right foot centre for Brian Harris to head towards the far corner of the goal; Springett saved beautifully at the expense of a corner.  Wednesday had recovered from the early shock of Harris's header, and the passing and general ball play of Craig was excellent. 
PARKER TO RESCUE
Finney was prone to move into the middle and only the quickness of Labone stopped him in full flight as he moved to take a long pass from Kay.  It was Parker who next came to Everton's rescue with a first rate interception as Griffin sent Finney away, this time in the inside left position.  Everton had a chance when a long clearance from Parker left Shackleton with a good run into goal, but he overran the ball and when he recovered pulled his left foot shot wide.  Ring's overhead gathering of a ball thrown out inaccurately by Springett was superb and he took it on to be brought down just inside the area by McAnearney, I thought Everton a little unlucky not to get a penalty award.  Collins cheekily dispossessed Curtis to send over a centre which beat Swan in the air and Harris running in tried a first-time shot which flew narrowly wide.  Wednesday took the lead after 14 minutes.  The ball went across to Kay, who moved forward a few yards and tried a shot from 35 yards, which bounced twice before it slipped into the net just inside the far post.  It looked to me as though O'Neill had been a little slow to get across to it, possibly thinking the ball would have been cut off before it reached him. 
AT FULL STRETCH
Griffin was escaping the earlier hold Labone had on him by playing deep, and he took one pass from Finney to hit a good shot just wide of the angle.  Everton had not managed an attack for ten minutes due to the way in which Wednesday's half backs and inside men were playing.  Kay and McAnearney kept pushing through a supply of passes and Everton's defenders were at full stretch.  However, Collins did get him away with a glorious pass and Ring moved into the penalty area before hitting a good shot which Springett saved again for a corner.  From Ring's kick Shackleton got the ball in the net but was offside from a lobbed pass by Harris.  Ring was injured when Swan put a boot into the chest-an accident-and Everton got a corner from Collin's free kick, but Springett saved well when the cross from Harris came over.  Wednesday were soon on top again but the shooting of their inside trio was poor, otherwise they must have taken advantage of some excellent work from the wings.  Wednesday were now losing their early snap and Everton although having more of the play, were unable to find a way through Wednesday's defence.  Although their goal had been lucky one, I thought Wednesday deserved to be in the lead at this stage.  Half-time; Sheffield Wednesday 1, Everton nil.
Play was soon held up in the second half while the trainer attended to an injury to Craig's left eye, but Wednesday were soon having more of the play with Everton's forwards unable to strike any sort of collective method.  Curtis was pulled up by the referee for the third time for an obstruction on Ring and the referee indicated quite clearly by gesture that the next time it would be marching orders for the Wednesday full back.  Megson was injured and went on the left wing with Fantham moving to left back.  Everton were inclined to keep the ball too close, and some of their work in taking the ball out of defence looked as though it might bring serious danger, but the Wednesday forwards were slow to take advantage of it.  Jones was the next injury victim and it looked for a moment as though his right ankle had been seriously hurt.  He recovered although limping.  Tomas suddenly brought the game to life with a glorious shot from 30 yards which best Springett but hit the upright and bounced back into play for Swan to clear for a corner.  Shackleton headed just wide from Harry's kick.  Finney was moving all over the place trying to bring some life into his attack and he succeeded once by putting the ball across to Craig from the outside right position.  Craig put a dream pass through to Wilkinson, but Labone came across from nowhere to take the ball off the winger's toe before an open goal.  Everton went further behind after 57 minutes from a penalty by McAnearney.  Without wishing to make any excuses for Everton, who were not playing well they were unlucky to have this award given against them.  Wilkinson now at outside left, centred the ball for Griffin to head strongly straight at Jones standing just inside the six-yards area.  To my mind the ball struck Jones on the body but Mr. Leafe awarded a penalty instantly.  Finney was now established on the right wing and his centres spelled danger to Everton every time.  Apart from Thomas's shot, Everton had hardly moved out of their own half of the field since the interval, and Jones limping badly now went to the right wing with Harris becoming left back.  Thus, both left backs were out of commission but Megson's injury had not unsettled Wednesday very much and their forwards were now working well.  The wonder was that they did not increase their lead.  Then Finney burst into the penalty area from another Craig pass to pull his shot well wide.  Everton did get a goal after 70 minutes when Springett dropped a long free-kick from Parker at the feet of Collins and the Scot turned it back for Thomas to toe-end it into the net with Springett still on the ground.  This was as lucky as Wednesday's goals had been and now Everton started to show more spirit. 
GLORIOUS EQUALISER
Everton were back in the game with a vengeance, for they equalized after 75 minutes with a glorious goal –easily the best of the four, it was due to the superb ball play of Ring, who trapped a high dropping pass from Collins with absolute certainly before dribbling past Curtis and laying on a perfect centre for Shackleton to go high and head it into the net.  Everton's two goals in five minutes brought back some fire into the game and it was O'Neill's turn to make a brilliant save from Finney.  Harris was doing reasonably well as an emergency full back and made one burst up the wing before being brought down by Curtis whose tackling was vigorous to say the least.  Then Ring beat Curtis superbly to centre but Springett finger-tipped the ball away as it was moving into the far corner Jones returned the ball into the middle but Springett had recovered this time and made a good catch.  We were seeing Everton in a better light now than all the match for they were fighting for the ball in attack and the Wednesday defence looked worried for the first time.  The game was going rough in its latter stages and the referee spoke to Griffin, King and Kay after some fierce tackling.  Final; Sheffield Wednesday 2, Everton 2.  Attendance 38,029. 
EVERTON RES V STOKE RES
Saturday, February 6, 1960. The Liverpool Echo and Evening Express
Everton Reserves; Dunlop; Tansey, Green; Rea, Billington, Bramwell; Boner, Shepherd, Wignall, O'Hara, Laverick.  Stoke City Reserves; Hall; Wilson (D.), Wilson (R.); Rayner, Bloor, Philport; Newlands, Bowyer, Wilshaw, Anderson, Cunliffe.  Fifteen minutes before the kick off visibility was quite clear, but when he teams turned out a blanket of fog had descended over the ground and it was impossible to distinguish either goal from the Press box.  Stoke kicked off towards the Stanley Park goal, but the only player visible at times was Laverick who on one occasion combined with O'Hara who in turn back-heeled to Bramwell before the ball was kicked out of play.  After 14 minutes play Everton went ahead, but despite several inquiries the scorer is not yet known.  Another Everton left wing move ended with O'Hara being bundled over the goal-line by a Stoke defender.  After 21 minutes Wilshaw equalized the Everton goal scored earlier by O'Hara.  After about 30 minutes play the fog lifted sufficiently to see Boyer but Stoke ahead but five minutes later Wignall equalized after O'Hara had lost possession in the penalty area.  Stoke were playing good football and Dunlop made splendid saves from Cunliffe and Bowyer.  Half-time; Everton Res 2, Stoke City Res 2.
After 65 minutes play the referee abandoned the game for five minutes, after which he decided that no further play was possible.  Everton Res 2, Stoke City res 2.  Abandoned after 70 minutes play. 
Burnley "A" 0 Everton "A" 0
Griffiths (G); Bentham (B), Griffths; Gannon, Gorrie (D), Peat (T); Athkinson, Edwards (S), Bentley, Harland, Blain.
Burnley "B" 2 Everton "B" 2
Scorers;- Stewart (F), Atherton (J)
Dunne (R.); Watson (F), Parnell (R.); O'Briend, Atherton (J), Bermingham (A); Rees (B), Stewart (F), Webber, Morton (G), Davidson (C.)
Everton "C" 0Burnley "C" 2 (Abandoned 30 minute)
TAKE A BONI YOU ENGLISH CROSS
Saturday, February 6, 1960. The Liverpool Echo and Evening Express
Alex Parker Sees Time and Sees the Difference
Soon after the finish of last Saturday's Cup-tie at Anfield, Tommy Ring and I set off for Scotland, where I was to play in the trial match at Ibrox on Monday.  Tommy went to see his wife and family and I stayed with my wife's parents at Dairy.  Like most people interested in soccer the first thing I did after breakfast was to grab the Sunday papers and there I read that as Tottenham had a Cup replay with Crewe, three of their players had to draw out of the trial and one of the replacements was Bobby Collins.  Bobby travelled up on Sunday night and I met him at the hotel with the rest of the players on the Monday.  The trial itself was a much better game than last season's and I'm glad to say that I did better this time.  Not much mind you, but as I told you last week I could not have played worse than in the last match even if I had tried.  I was disappointed to read that some papers had reported Bobby as only having a mediocre game, I though he played very well, and I am not just saying that because he is a clubmate.  That wasn't the only thing I disagreed with in the report either.  Most of them seemed to think that the Scotland team were lucky to get a draw with the League side, but I thought we fully deserved it.  Huddersfield's Dennis Law put us ahead in the first half, but we lost the lead to Rangers Scott and Motherwell's St. John.  Then young Law got us level again with the best goal of the match, when he rammed one in from outside the penalty area.
PROUD OF HIM
The young inside-forward certainly had a good game and if Mr. Bill Shankley had been there he would have been very proud of his former star point.  The trial was spoiled to a great extent because of the number of people who had to cry off for in addition to Brown, Mackay and White of Spurs, Leggatt (Fulham) Grant (Hibs), McKay (Celtic), Blackwood (Hearts), and Evans (Celtic) were the unable to play.  After the match Bobby and I were taking about the difference in the crowds north of the border.  I must criticize my own countrymen on this occasion for Bobby and I agreed that the crowds in England are more appreciative of good play.  I think I mentioned that point soon after I joined Everton, but having been away from Scottish crowds I found it even more noticeable.  The fans up there see only their own side and unlike the spectators down here, do not applaud good play by the opposition.  Along with most of the Everton players I was at Anfield last week.  I thought United were worthy winners in the finish, but Liverpool with just that bit of luck, might have been two up in the opening minutes when the United defence was rather shaky.  Still after the interval the visitors were on top and I don't think even the most rabid Koptite would disagree with that. 
POOR SUPPORT
My article on the poor support soccer gets on the other side of the Athletic certainly aroused some comment and I am still receiving letters regarding it I have heard many arguments why our game is not popular in American and Tom Hagan, of Massachusetts, has sent me his reasons.  He went there in 1941, but has been back three times.  He tells me that he played left back and left half for Peterborough United and Tranmere Rovers in the Cheshire League.  He represented the Prenton Park club against Everton at Goodison Park in a Charity Cup game in 1919-20 seasons.  When he hung up his boots in 1938 he was 43.  I don't think I shall be playing at that age.  He says that one of the reasons for soccer's lack of popularity is the severe winters they have.  He writes; "O recall playing when the policemen were wearing earmuffs to keep their ears from freezing and we were trying to keep warm by rubbing our legs with alcohol.  The ground was frozen solid and soccer was out of the question, so football was postponed till the spring.  Thus we were finishing our programme when people were going to the beaches."  If it ever gets that cold that our policemen have to wear earmuffs, I should think Goodison will have one of its biggest ever gates from the Liverpool wags who would turn up for the spectitive.  But I doubt if you would see the players turning out- unless we were issued with far longer trousers. 
NOT THE SAME
Mr. Hagan goes on "Another reasons for the lack of interest was that the stands were wide open and as anybody sat through an hour and a half's play they would have to be reopened but as they would be like bricks of ice.  A third reason is that there are not the same number of players emigrating here as in the old days.  Years ago I played against some of the finest players that left the old country.  "There was Willie Crilley, who was top goal scorer in the Scottish Second Division when he was with Alloa and Jock Marshall a Scottish international who had played with Motherwell and Middlesbrough.  "The game is played mainly in the colleagues, but they have a limited schedule and when the snow falls that is the same finished.  There is the American League made up of teams like Scots Americans and Philadelphia-Germans, but they only play about 12 or 14 games.  As you can see, there are difficulties in America, but I am sure the wingers cannot be that severe all over such a vast country.  Still, thank you Mr. Hagan for an interesting letter. 
From further north Ontario in Canada, I have a letter from Mr. J. Williamson of Stony Creek who, in his own words "has flat feet" through standing so many seasons in the paddock at Goodison and acquiring a flat backside watching TV when anything approximating football comes on." Like my original correspondent from New York, Mr. Williamson, also criticizes the sports writers for boosting other sports, particularly "the extraordinary game called football which will never spread beyond the borders of Canada or the U.S.A as soccer has done."  He goes on; "The game of Rugby football here is like a pantomime with the officials dressed in their comical outfits.  It seems a game designed with the idea of preventing the spectators knowing just where the ball is.  "This most necessary piece of equipment is either hidden under a mound of players or else handed round surreptitiously among the players.  Trying to keep the ball hidden is not too difficult with such a small ball. 
GIVE IT TIME
"Rarely is it kicked and only occasionally passed any distance.   But give soccer time.  It is being played at the elementary schools."  Well to be fair, I suppose anybody disliking soccer could make equally severe criticism.  Some of you will no doubt have heard your wife say; "I don't know what enjoyment you get out of watching 22 men kicking a piece of leather around." One man's meat is another man's poison.  Still as Mr. Williamson was so obviously an ardent soccer fan, I can well imagine how he must feel.  Yet, there must be some good soccer even in Canada.  Errol Crossan the Norwich City outside-right who had so much to do with last season's Cup run, learned much of his game there, and Wrexham have the Jones boys on their books.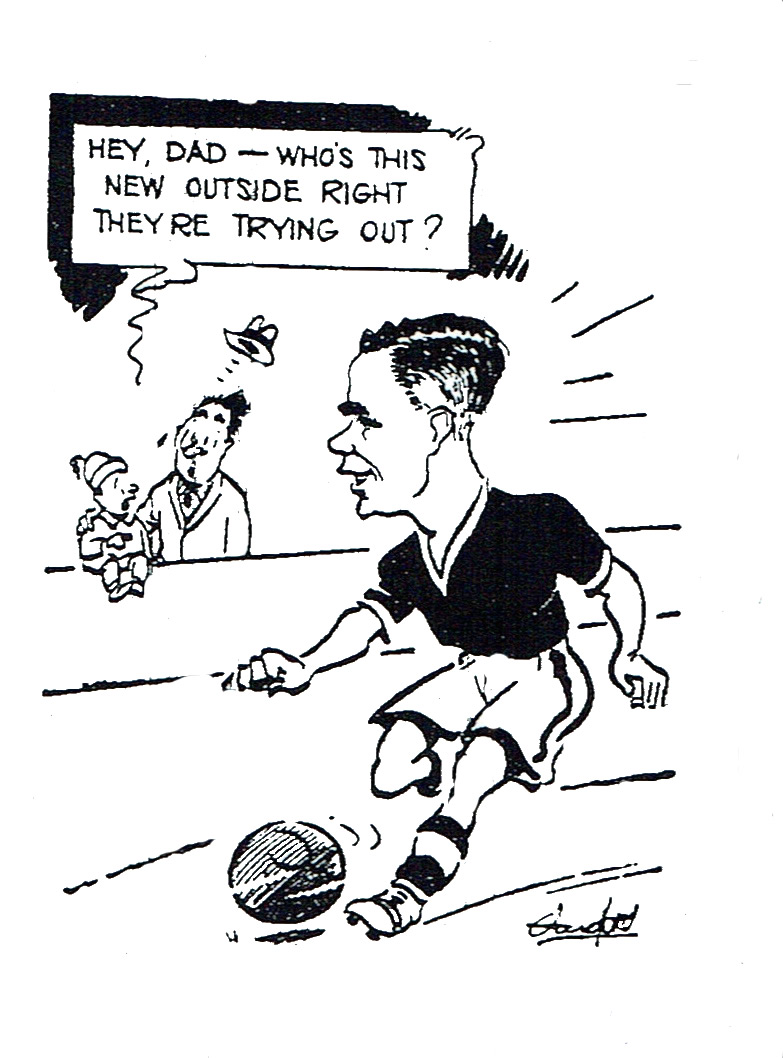 EVERTON RALLY WHEN ALL SEEMED LOST
Monday, February 8, 1960. The Liverpool Daily Post
Sheffield Wednesday 2, Everton 2
By Michael Charters
Everton's valuable point at Hillsborough on Saturday was gained by an excellent recovery in the last twenty minutes, when it seemed the game was past retrieving.  Two goals down at that stage and the forwards not working well together, it looked another lost cause for Everton until a mistake by Wednesday's goalkeeper, Springett, presented them with a goal, and from then on the fortunes of the match swung their way for the first time.  The game itself was not good.  There were spells of fine football, notably from both defences, but neither attack impressed where in mattered most –near goal.  Wednesday had much more of the play, particularly in the first half but unless their forwards can find some punch to round off the excellent midfield distribution of little Craig –the Collins of their line- I cannot see them extending Manchester United in their forthcoming Cup-tie.  It was in keeping with the general scrappy standard of the forwards that only one goal of the four was worth recalling the other three were streaky affairs which added to the unsatisfactory atmosphere of this match.  Referee Leafe playing a concerto on his whistle did not improve matters either. 
ONE MISTAKE
It was remarkable that Everton with far fewer chances than Wednesday, contrived, the cleaner openings and Springett made some excellent saves; O'Neill at fault I thought with the first goal, was mainly employed in cutting out centres, and did not have one firmly directed shot to save.  Apart from his initial error however the Irishman handled everything that came his way in confident sure style.  Wing half Kay's goal after fourteen minutes was an amazing effort in that he shot from some thirty yards and the ball bounced twice before slipping into the net just inside the far post.  O'Neill appeared slow to get across to it, possibly thinking the ball would be cut off by one of his defenders before it reached him.  Before that Brian Harris at outside right for the first time for this season had a good header well saved and was a little unlucky to see his first time shot from Collins centre dip pass the post with Springett beaten.  Springett then made another flying dive to turn Ring's cracking shot around the post, but this was an isolated attack for Everton and Wednesday kept on top throughout the first half.  Shortly after the interval Thomas collected a loose ball outside the area, shaped as though to pass and then suddenly hit a fierce drive which beat Springett and rebounded off the upright.  This the best shot of the game deserved a better fate, and when it did not count it seemed as though this was not Everton's day.  Although Wednesday were unsettled by an injury to Megson which meant Fantham dropping to left back and Megson drifting around harmlessly in the forward line.  They went further ahead with a debatable penalty after 57 minutes.  Griffin's header struck Jones on the arm and body, but Mr. Leafe judged a handling offence when it seemed a clear case is ball-to-hand.  McAnearney made no mistakes from the spot-Wednesday's two goals thus coming from their wing halves. 
TURNING POINT
With twenty minutes to go came the incident which proved a turning point for Everton.  Springett dropped a free kick by Parker at Collins feet, and the Scot turned the ball back to Thomas, who put the ball into the met, with Springett still on the ground.  Everton seemed to sense that a point was there for the taking and began to feed Ring, easily their best forward.  Ring who had been stopped several times by the ruthless body checking of Curtis (which earned a stern censure from the referee on the third occasion), displayed his own particular brand of brilliance and looked like winning the game on his own.  The equalizer after seventy-five minutes was Ring-made.  He trapped a high lob from Collins with the skill of a great player, weaved past Curtis and hi centre was an object lesson in the art of crossing the ball.  Shackleton went high to head it into the net-a first-class goal.  A good fighting point for Everton in which honours went to the defence, with Parker, Labone and Jones outstanding.  Jones was at outside right for the last half hour with an ankle injury and Harris dropped back doing much better there than he had done on the wing.  Meagan and King did a lot of strenuous work defensively when Wednesday's forwards were moving well in midfield but the forwards apart from Ring, never came into the game, until late on.  Collins and Thomas were than often helping the defence to shine in attack. While the "Swan was Shackleton master.  Wednesday manager Harry Catterick former Everton centre forward told me this had been his side's worst display of the season.  Certainly the forward, Finney excepted, were off form and Craig, who began brilliantly, disappeared for long spells.  Their half-back line was good, too good in fact, for Everton's inside trio.  It is here their great strength lies.  Sheffield Wednesday;- Springett; Curtis, Megson; McAneaney, Swan, Kay; Wilkinson, Craig, Griffin, Fantham, Finney.  Everton; O'Neill; Parker, Jones (Captain); King, Labone, Meagan; Harris (B.), Thomas, Shackleton, Collins, Ring.  Referee; Mr. R.E. Leafe (Nottingham).   Attendance 33,029. 
EVERTON RES 2 STOKE CITY RES 2
Monday, February 8, 1960. The Liverpool Daily Post
(Abandoned after 70 Minutes)
Very little of the play could be followed except when the fog relented for about ten minutes at each side of the interval.  The respective dressing rooms confirmed that Wilshaw had put Stoke ahead after six minutes and O'Hara had replied eight minutes later.  Bowyer greeted clearer vision with a brilliant goal but O'Hara's persistency enabled Wignall to equalize again four minutes from half time. Having survived heavy Stoke pressure, Everton were gaining command when the fog suddenly swirled down and the referee after suspending play for five minutes called a halt. 
ARE THERE CLEAR SKIES AHEAD FOR EVERTON?
Monday, February 8, 1960. The Liverpool Echo and Evening Express
By Michael Charters
Everton drove out of fog-enshrouded Merseyside on Saturday morning into the clear skies of Sheffield and the brighter weather seemed a happy omen of events to come.  So it proved as the team recovered well at Hillsborough to snatch a good away point.  The value of this 2-2 draw may be assessed highly in the later stages of the season when the relegation issue reaches its climax.  Its more immediate effect is to give the side confidence that their 6-1 victory over Nottingham Forest was no temporary flash and they will take on Wolves next Saturday with every chance of another lift in the league table.  The chance of a point on Saturday did not emerge however, until the closing stages after Wednesday's international goalkeeper Springett had dropped a free kick to give Thomas Everton's first goal.  Before that Wednesday had gone into a 2-0 lead (both scored by their wing halves) after having more of the play but showing nothing in finish to rate them worthy of their high League position.  Both goals were streaky efforts in keeping with the general scrappy standard of play in this rather unsatisfactory game.  The first from Kay, was a shot from 35 yards which bounced twice before slipping into the net just inside the upright.  O'Neill, I thought, was slow to get across to the ball but this was his only mistake.  The second a penalty, expertly scored by McAnearney, came when referee Reg Leafe, a veritable Larry Adier of the whistle, ruled that Jones had handled a header from centre forward Griffin.  I considered, without making any excuses for Everton, that it was a case of ball to hand.
CURTIS THE CHECKER
When McAneraney's penalty kick hit the back of the net, I would have given nothing for Everton's chances.  The forwards had been well held by the Wednesday defence, in which the only unhappy feature had been the methods of veteran Curtis in keeping a grip on Ring.  When Curtis couldn't use normal tactics to stop the winning wizardly of Ring, he had no compunction about checking him with his body and it was good to see Mr. Leafe giving the back the sternest of warnings when it happened for the third time.  It was a surprise therefore when Springett blundered with an innocent-looking free kick by Parker to present Thomas with his goals, after Collins had turned the ball back.  That was Everton's signal for a resurgence of spirit and endeavour.  They threw off the shackles of defence which Wednesday, with their superior midfield play, had imposed on them and began to move with more urgency and spirit.  The equalizing, five minutes after Thomas' goal was Ring-made and the only good one of the four.  Collins lobbed over a high pass to the wing and Ring killed the ball with the artistry of a great player.  He slipped past Curtis with a swerve and a flick of that deadly left foot, centred perfectly and Shackleon took his only chance of the game expertly to head the ball firmly past Springett.  This was my first view of Ring.  He was easily Everton's best forward, but what marked him as a class player was his general movement with the ball, his complete command of it at whatever angle it came to him, his accurate crosses and his ability to seize the chance when he sensed that Everton were back in the game.  I have not seen a better Everton left winger since the golden days of Jackie Coulter and if manager John Carey has his way in the next few weeks there will be others of Ring's quality coming to Goodison Park.  Ring is the type of player Mr. Carey believes should be wearing Everton blue, he intends to try for more of them. 
LACK OF FINISH
But back to Saturday's game, in which the major honours apart from Ring and winger Finney for Wednesday, went to defenders, Everton were frequently all out to stop Wednesday's forwards, who spoiled some attractive midfield work with a complete absence of finish so that O'Neill hardly had one firmly-directed shot to save, Parker, Labone and Jones were excellent, but Meagan and King were hard-pressed to keep a hold on Craig the little Scot whose early impact on the game was notable.  For them, Craig disappeared for long spells later on but his craft was there for all to see.  Swan was the king-pin of Wednesday's defence and held Shackleton, apart from the bonus-sharing header of the Everton centre forward.  Thomas and Collins worked mightily-but in defence when Everton were hard pressed.  Thomas, however, produced the best shot of the game early in the second half when he shaped to pass and suddenly hit a glorious drive which struck the upright with Springett beaten.  Everton's best attacking work came late on and they might have snatched victory from another Ring centre which Springett just reached with his finger-tips to turn the ball away from the waiting Shackleton and Thomas.  Wednesday's half-back line was their great strength and they were upset by a second half injury to left back Megson, which made him switch places with inside left Fantham, Jones too, was a passenger (but quite a helpful one) on the right wing for the last half hour, during which Brian Harris took his place and played better there the on the wing, a position in which he is not happy and his display showed it. 
EVERTON AND THE SCOTS
Tuesday, February 9, 1960. The Liverpool Echo and Evening Express
By Michael Charters
Reports from Scotland continue to link Everton's name with players from over the border.  The latest say that Everton offered £9,000 for three-wing halves Gabriel of Dundee, and Baxter of Raith Rovers and outside-right Eric Smith of Glasgow Celtic.  They played last week for the Scottish League against the Scottish F.A team which included Everton's Alex Parker and Bobby Collins.  Manager John Carey reply to this was; "No comment."  These Scots are not for transfer and Mr. Carey invariable reaction in these was to give no indication of Everton are interested.  All I do knew with certainly is that Mr. Carey has several top-class players principal and interested in everything that can improve the team. 
EVERTON PLAY ON FIRDAY NIGHT
Everton have taken advantage of the Football League circular advising clubs in close proximity to Aintree that they may bring forward or put back fixture due to be played on Saturday, March 26, the day of the televised Grand National. The First Division match against Newcastle United due to be played at Goodison Park that day, will now take place the night before at 7 o'clock.  Everton had applied for this change before the announcement that the big Aintree steeplechase would be televised. 
ROY VERNON SIGNS FOR EVERTON
Wednesday, February 10, 1960. The Liverpool Echo and Evening Express
Thomas Goes to Blackburn In Part-Exchange
By Leslie Edwards
Royston Vernon, the Blackburn Rovers and Wales inside forward, was transferred to Everton today.  He plays against Wolves at Goodison Park on Saturday, and Eddie Thomas, the Everton inside forward, who goes to Blackburn as part of the deal also makes his debut for his new club on Saturday-against Manchester City at Ewood Park.  The deal was clinched secretly at a meeting point mid-way between Liverpool and Blackburn.  Vernon and Manager Dally Duncan came from Blackburn and Manager Carey and Thomas from Goodison Park.  Rarely has a double signing been negotiated so quickly, so quietly.  Vernon is in the estimation of Everton manager, Mr. John Carey, the finest forward in the game, possessing all the qualities and ranking even better than Denis Law and Joe Baker would class inside men Everton sought without success, before there was any hint that Blackburn Rovers were prepared to accept offers for their Welsh star.  A month ago Mr. Carey agreed terms with Blackburn for Vernon and the player and his wife came over to Liverpool to inspect Everton houses.  Vernon immediately went back home and then telephoned Mr. Carey that he was not prepared to sig,  Vernon joined Blackburn as a youngster during Mr. Carey's managership and developed into a first class League player under the Carey guidance.  The quiet persistence of the Everton manager –with no blare of trumpet to herald his success-in continuing his intension to get a player who could provide Everton with another generating force of the same order as Bobby Collins will not be lost on Everton followers.  With Ring and Collins in the same line Everton now begin to show signs of possessing a side to make a stir.  Mr. Carey has always said that he wants to provide this city with first-class soccer entertainment and his two recent signings suggest that it will not be long before he will reach his goal.  Vernon who comes from the village of Flynnongroew, near Rhyl, and who was educated at Rhyl Grammer School, first played for Wales in 195y as a 20-years-old against Ireland in Belfast.  He has been a member of the Welsh side ever since. 
WHEN EVERTON, WITH 8 RESERVES WON 4-2
Wednesday, February 10, 1960. The Liverpool Echo and Evening Express
By Leslie Edwards
It would be wise for Everton not to set too much store on Wolverhampton Wanderers' European Cup quarter-final game in Barcelona tonight.  It does not follow that because Wolves had a hard match in mid-week they are going to be easy opponents at Goodison Park on Saturday.  The classic surprise of all time was brought off by Everton against their opponents of Saturday as long ago as 1893. A week before the Cup final of that year between the two clubs, Everton still engaged in an almost interminable semi-final against Preston North End, went to Molinuex in a League match and playing three first teamers and eight reserves, shattered Wolves by four goals to two.  For the story of that remarkable first final of Everton's at Fallowfield, Manchester a week after the game at Molineux let us delve into Dr. Percy Young 's famous book dealing with the first 80 years of Wolverhampton Wanderers' history.  "By March 25, the day of the final, however, pessimism was outlawed in Wolverhampton.  The match this year was to be played at Fallowfield, Manchester, and even though it seemed outrageous to allow a Lancashire side to play in Lancashire, none doubted the capacity of Wolves to rise to the occasion.  Every Wanderer was an Englishman and most of them were reared in the neighbourhood of Wolverhampton.  Everton on the other hand were predominantly foreign-with six Scots in the side.
Unprecedented Scenes
"Among those moved to attend at the great event was My Lord of Dartmouth with travelling rug.  His Lordship wore a very pretty buttonhole bouquet," and what pleased everybody most a rosette of black and gold.  It is comforting to reflect that the sporting or rosettes- thought by some to be indecorous-was in fact beatified by a member of the House of Lords.  My Lord of Dartmouth, however, was a democrat and was happy to ride to Manchester in the saloon with the team.  "Arrived at Fallowfield, spectators discovered incredible unprecedented scenes.  Forty-some estimated fifty- thousand people were milling round in disorder to form a record gate who paid the vast sum of £2,559.  The authorities were caught unawares.  They might have taken the hint from the fact that Wolves had on two previous occasions broken existing records; but they didn't. A squad of 176 policemen were virtually helpless and before the game was due to start the slender barriers which separated the crowd from the playing pitch were shattered.  Eventually some sort of discipline was created above the chaos, but the necessary invasion of the fringes of the field put the whole match in jeopardy.  "Would the game reckon as a Cup-tie or a friendly match?  Anxious officials thus questioned the referee, C.J. Hughes.  He, inscrutable and almighty, darkly said that that was his business!  At half-time, however, he was understood to have ruled that this was no friendly match, but a Cup final.  Compared with this the notorious Irish-Italian match in Belfast in December, 1957, was a picnic.
GIFT OF THE GODS
"The game proceeded in a highly emotional atmosphere which was intensified when Everton scored but had the goal disallowed.  Half-time arrived with the sides level at nil-nil.  At that point there was a further alarming incident, as an Everton fire balloon ignited and nearly set the canopy of the stand ablaze.  Midway through the second half Harry Allen, in his second of three Cup finals, scored, thus demonstrating the virtues of an offensive half-back line.  "In keeping with the fantastic atmosphere of the match it was by no means certain who had scored.  Some said Malpass, some said Wykes, while others swore it was Topham, who had already laid out one of the hundred and seventy policemen with a near miss.  Others did not question the score as a gift from the Gods.  The heavens indeed played their part as the one spectator who kept his eye on the ball and put his statement into print testified.  'From near midfield Allan kicked the ball high in the air and it descended as a dropping shot towards goal.  It was brilliant sunshine and as the Everton goalkeeper looked for the ball the sun dazzled his sight so that the ball fell beside him into the net.  "A quarter of an hour from the end Everton protested about the conditions in which the match had been played and when the final whistle blew none appeared to know whether the appeal had been allowed or not.  The Wolves virtuously began to look for the Cup.  But harassed F.A officials said that it was not to be handed over without Lord Kinnaird's sanction-and he had gone home!  After some plain taking by Alfred Hickman, however, they capitulated whereupon Hickman filled the hard won trophy with champagne and passed it round his men.  The teams that day were Wolves; Rise, Baugh, Swift; Malpass, Allen, Kinsey; Topham, Wykes, Butcher, Wood, Griffin.  Everton; Willaims; Kelso, Howarth; Boyle, Holt, Stewart; Latta, Gordon, Maxwell, Chadwick, Milward. 
MERSEYSIDE'S GREAT DAY OF REJOICE
Thursday, February 11, 1960. The Liverpool Echo and Evening Express
Roy Vernon Signed –and Hickson Exonerated
By Horace Yates
Wednesday, February 10! What a day for Merseyside sportsmen to remember.  After months of frustration and disappointment, relieved by the signing of Tommy Ring, Everton manager John Carey, delved into his conjour's hat again yesterday and pulled out, not a rabbit, but a tonic in the super-class-Roy Vernon of Blackburn Rovers.  As part of the price of hailing Vernon, we had to say good-bye to Eddie Thomas, who now joins ex-Liverpool player Louis Bimpson at Ewood Park at a time when Thomas's twelve goals made him Everton's leading scorer.  There was no Everton monopoly of glad tidings however, for the Football Association notified Liverpool and shortly after the football world in general that Dave Hickson had been cleared of the accusation of violent conduct, for which he was dismissed in the Sheffield game.  Many Liverpudlians will undoubtedly say "And quite right too," but viewed dispassionately from a neutral point of view, obviously it is one of the most dramatic findings in football history.  Tit-bits of that variety should be enough to satisfy the appetites for a little while, but I should not be at all surprised if either or both clubs, should toss another triumphant chase-and-capture story, into the pages of the Press before very much longer. 
NOT A WORD
The Vernon signing has been a perfect example of the maintenance of extreme secrecy over a long period for it was not as though the idea blew up suddenly last night and a deal quickly followed.  It has been on the boil for over a fortnight –and still not a word leaked out.  While Everton's name was being connected with players of various attainments in all parts of the country, manager Carey sat on top of a volcano which erupted only at his command.  I know of no-one who can tell you- "Mind your own business" –in a less offensive way than John Carey and yet when he replied to my query "Have you any more secrets up your sleeve?" with the response, "If I told you they would not be secrets any longer," he set me wondering Was this just a merry quip or was it?   Still surprises of the Vernon magnitude are worth waiting for, even if the first whisper is the actual signing which many people consider is the correct way to go about football business.  I should imagine Everton will always have a soft spot for Preston.  It was there that John Carey heard Mr. Dick Searle's invitation to come to Goodison as manager, and it was there that Roy Vernon who only last month turned down a move to Goodison with term's arranged became an Everton player.  He accompanied Mr. Dally Duncan, the Blackburn manager, while Eddie Thomas was Mr. Carey's travelling companion, and the two players exchanged clubs all in a matter of ten minutes or so.  Vernon will be in Everton's team for the home game with Wolves on Saturday and Thomas will play for Blackburn against Manchester City at Ewood Park. 
CHANCE FOR THOMAS
What would have happened if Thomas had shied at the deal of leaving Everton?  The deal would have gone through just the same, but on a purely cash basis.  Everton were prepared to meet Blackburn's demands in that direction.  Actually the story opens a little more than a fortnight ago with Vernon approaching the Rovers chairman and stating that after turning down Everton's invitation to join them, he had given the matter further consideration and was now all in favour of the move.  "Are you still willing to take Vernon?  Mr. Carey was asked, and a question like that to a man who helped to make Vernon one of the best inside forwards of the day could produce only one answer.  The deal could not be concluded then, because of Vernon's suspension.  On Monday, the suspension over, Blackburn contacted Mr. Carey again and said they would like to include Thomas in the deal.  Mr. Carey told me, "I felt in fairness to Thomas that we should give him the opportunity of continuing to play first team football if he wishes to take it.  He has been a loyal servant and a whole-hearted player all the time he has been at Everton and obviously I had to do the right thing by him.  There was a first team opportunity with Blackburn.  "I mentioned it to him yesterday so that he could talk it over with his wife and last night he rang me to say he was agreeable to the move."  Everton, I believe, need one more signing to transform the Goodison scene completely.  I don't believe that is an isolated view.  Vernon has played for Wales nine times and has scored –eight goals, including a penalty for Blackburn this season.  Where will he play?   Only Mr. Carey can say, but my guess is that he will retain his normal inside left role and that the versatile Collins will switch to inside right.  Vernon will meet his new colleagues today and will train with them. 
HICKSON DELIGHTED
Nobody on Merseyside was more delighted and few more surprised than Dave Hickson the Liverpool centre forward when he learned of his vindication by the Football Association Disciplinary Committee yesterday morning.  The findings were announced in the following terms;-
"From the evidence adduced the Commission is satisfied that D. Hickson (Liverpool F.C) was guilty of misconduct during the match and that the referee was justified in administering a caution to the player.  "In view of the conflicting evidence, however, the Commission is not satisfied that Hickson was guilty of deliberate violent conduct, for which he was sent off the field.  The Commission has decided that the caution administrated to Hickson be recorded No order is made as to the costs of the Commission."  The Commission comprised Messrs G.N. Watson (Nottingham Forest), chairman T.R. Jackson (Cheshire County F.A) and L.C Shipman (Leicester City). 
It was to a jubilant Hickson to whom I spoke last night, "What a wonderful result" he said, It has made even the last few days of suspense and torment seem worth while, I must admit quite frankly that I never accepted anything quite so good as this, although I have maintained all along that I considered I did nothing to warrant being sent off.  "What a great tonic this is, not only for me, but for all footballers.  By their decision the Commission showed that footballers can expect a fair crack of the whip and that must count for a great deal.  "I realize my responsibilities but I am sure that I can count on all referees seeing that I get fair play. I want nothing more than that. 
NOW EVERTON WAIT FOR ANOTHER MR. RIGHT
Thursday, February 11, 1960. The Liverpool Echo and Evening Express
By Leslie Edwards
Typical reaction of a typical Everton fan yesterday on hearing the news of Everton's signing of Roy Vernon was "Splendid.  All we want now is a new pitch." Truly, you can only please some of the public some of the time…
I can tell followers of Everton that the incoming of Tommy Ring and Roy Vernon is not the end of the story.  On the contrary.  But none will expect the club to strengthen their playing and further until another Mr. Right comes along.  Mr. Carey's quiet persistence in recent moves he has made must impress Everton supporters as it has done me.  He's persistence personified and the soul of discretion but that does not mean that his intentions are leak-proof!  Vernon's appearance at Goodison Park on Saturday means that the attendance will be jacked up to 60,000 and more.  The further appearance of Ring would have ensured a 40,000 gate.  Thus Vernon will have helped to pay off a thousand or two of the money Everton have spent on him.  And the fact that Ring, Collins and Vernon are now up front in the Everton eleven means that big attendances will patronize home and away. 
NEVER A CITY LIKE OURS
Everton's enterprise towards the end of a season which had nothing in prospect (save far of relegation) be rewarded monetarily as it is likely to be from the playing point of view.  There never was a city like our's for reacting quickly and enthusiastically to the attraction of new faces, and more important new feet.  How came the volte face by Vernon after he had said only a month ago, that he would prefer to stay with Blackburn?  The reason I am told is that far from feeling more satisfied once he returned to Blackburn he felt more unsettled.  His move may therefore be beneficial all round.  Vernon never played for Rhyl the club nearest his home, but while at Rhyl Grammer School has as one of his contemporaries Billy Russell, the son of the former Rhyl manager, who is now doing extremely well with Sheffield United.   Soccer fans from North Wales have always been great followers of our city clubs, but not since the days of T.G. Jones and Tom Griffiths, both Everton and Welsh internationals centre half-backs, has there been any compelling attraction to bring them in their thousands to the terraces of Goodison Park and Anfield.  It was Vernon's father who had scouting links with the Blackburn club, who first drew John Carey's attention to the lad.  His development was rapid.  He moves into his new home in the Maghull area next week. 
EVERTON TRANSFER
Thursday, February 11, 1960. The Liverpool Echo and Evening Express
Everton this afternoon transferred 19-years-old Jimmy Blain to Southport for a small fee.  Blain played in Everton's youth team three seasons ago as a centre-forward, but subsequently switched to wing.  He has appeared on both right and left wings for Everton "A" and has also made several Central League appearances.  He is a Liverpool boy. 
EVERTON NOW START TO HAVE CLASS LOOK
Friday, February 12, 1960. The Liverpool Echo and Evening Express
By Leslie Edwards
A Gala at Goodison Park tomorrow, and let us hope that a pitch which has put a few furrows into Everton foreheads gives the two new boys, Ring and Vernon, a fair chance of demonstrating their skills.  Ring will be making his second home appearance and Vernon his first, and if I was right a fortnight ago when I said I believed Everton had turned the corner.  Wolves are in for their second defeat within a few days.  The knuts from Barcelona who beat them 4-0 on Wednesday furthered their on cause and Everton's.  I expect an attendance of 60,000 plus and only unfavourable weather could prevent Everton from recouping themselves of a thousand or two of the transfer fees they have paid within recent weeks.  But the more important thing is that Ring and Vernon should enable their side to climb clear of danger or relegation.  With an attack such as they now possess Everton should go all one way, though no good judge of the game or of players would argue that their side is ideally balanced.  They have a shop-window attack full of ability, but not I think the necessary power in the half-back line to ensure that both inside forwards can concentrate mainly on the offensive role.  I have not seen Vernon often, but I take the word of the man who signed him that he is like Bobby Collins, something out of the ordinary.  Though he is fairly sim he is tough and it would not surprise me if the combination of Ring, Collins, and Vernon which gives Everton a look of class they have not had for seasons, shocked Wolves and Mr. Cullis especially if Shackleton takes advantage of such strong support.  Given the right conditions this could be a memorable game and one giving further indication that Everton are on the way up as a team and a club.  If Everton can find among their up-and-coming youngsters one or two fit to take their place with the established stars now performancing their team will be a happy amalgam of players bought and players home-made. 
VERNON IN AS PARTNER TO RING
Friday, February 12, 1960. The Liverpool Echo and Evening Express
Everton Move Collins
Jones Out
By Leslie Edwards
The Everton attack against Wolves at Goodison Park tomorrow contains newly-signed Welsh International, Roy Vernon from Blackburn Rovers at inside-left and Bobby Collins at inside-right.  Manager John Carey has redeployed his attack in this way because Collins has always preferred the inside-right position and Vernon is by nature, and inside-left.  Jimmy Harris fit after tonsillitis returns at outside right but Tom Jones injured at Sheffield last Saturday, is unfit and John Bramwell takes his place at left back.  Wolves made two changes- Geoff Sidebottom, a young goalkeeper from the club's Yorkshire nursery in place of Finlayson, injured in the European Cup-tie at Barcelona on Wednesday, and Slater returning for Showell.  Everton; O'Neill; Parker, Bramwell; King, Labone, Meagan; Harris (J), Collins, Shackleton, Vernon, Ring.  Wolves; Sidebottom; Stuart, Harris, Clamp, Slater, Flowers; Deeley, Mason, Murray, Braodhurst, Horner. 
The Reserves; side at Manchester City, has Eddie O'Hara at inside-left where has been performing very well.  He is still transfer-listed at his own request but might well play himself back into favour.  Everton reserve; Dunlop; Parkes, Green; Rea, Billington, Harris (B); Boner, Shepherd, Wignall, O'Hara, Laverick. 
SEASON'S BEST GATE SHOULD GREET VERNON TODAY
Saturday, February 13, 1960. The Liverpool Daily Post
By Horace Yates
Merseyside football followers have won a reputation for knowing what they want and when they get it no crowds, anywhere in the country, respond more heartily or more readily.  If Everton have not yet reached the stage of supplying their every need, I venture of suggest that the Scottish-Welsh tit-bit offered by the signing of Tommy Ring and Roy Vernon, approaches quite closely to the ideal.  If we are able to toss in the additional attraction of an opposition ranked among the greatest draws in football- Wolverhampton Wanderers –the stage would appear to be set to today for Goodison's most cheering attendance figures of the season.  Neither the odd snowflakes nor the threatened biting cold is likely to deter a vast throng from witnessing the re-shaped re-vitalized Everton and it will not surprise me in the less if today does not record Goodison's biggest attendance of the season-possibly within
Reach of the 55,000 mark.  It is true that for the corresponding match last season only 29,414 spectators pushed through the turnstiles but that was the last game in a disappointing Everton season- without any Ring-Vernon fillip.  Biggest League gate last season was the 64,074 for the visit of Manchester United.  Similarly, top figures this season are also those for the United visit-46,095. 
PROVED PLAYER
Vernon is not a hit or miss player, the type who may or may not measure up to requirements.  He is a proved and accomplished player, one whose impact should register immediately, and the Everton line will be the more powerful for his inclusion.  As expected he is selected in his favourite inside left spot with Bobby Collins moving over to inside right, a switch which will in no way defer the Scot and if only Jimmy Harris can celebrate by showing his Manchester United form that Wolves defence, which has already conceded four fours and a five in League games, may be rocked.  It has been suggested that plied with the sort of services he can now reasonably expect.  Alan Shackleton may prove that if he is not exactly in the Baker or Clough category as a marksman, he is at least adequate for requirements. Call it coincidence if you like, but it is a fact that Shackleton has scored in each of his last two games-since Ring opened up possibility from the left.  This incidentally is the first time Shackleton has scored in successive games since leaving Leeds for Everton in September.  With Tom Jones unfit, Bramwell well be introduced at left back for the first senior game this year, which means that Bobby Collins will take over the captaincy.  Wolves goalkeeper Finlayson who damaged his shoulder in Wednesday's European Cup match in Barcelona is unable to play and a call is made on Geoffrey Sidebottom for his first League outing since that at Burnley twelve months last December.  Another change restores Bill Slater to centre half in place of Showell which will undoubtedly stiffen the Wolves resistance.  It will be disappointing if Everton do not claim at least one point.  Everton; O'Neill; Parker, Bramwell; King, Labone, Meagan. J. Harris, Collins, Shackleton, Vernon, Ring.  Wolverhampton Wanderers;- Sidebottom; Stuart, Harris; Clamp, Slater, Flowers; Deeley, Mason, Murray, Broadhurst, Horner. 
HEAT AT GOODISON
At a time when reports of postponed League games were coming into the office last night, victims of the weather it was comforting to know that Everton's electric blanket at Goodison Park was quietly and efficiently doings its job of ensuring that the pitch will be in perfect condition.  The current was switched on from 10 p.m on Thursday evening until 8 a.m yesterday, a precaution which was similarly repeated last night.  Secretary Bill Dickinson told me last night "Our pitch is in excellent condition." 
EXPECT NEW-LOOK EVERTON TO CLIMB
Saturday, February 13 1960. The Liverpool Echo and Evening Express
Vernon Should Add Punch to the Attack
By Leslie Edwards
Wolverhampton Wanderers manager, Stanley Cullis, disappointed at his side's 4-0 defeat in Barcelona on Wednesday in the European Cup, told me yesterday that Wolves could have won that game if they had accepted any one of three easy chances in the first quarter of an hour.  He sensed, during that spell of Wolves supremacy, the apprehension of the crowd which was not dispelled until their on team gained the initiative and then went ahead commandingly to win deservedly.  Today at Goodison Park, Wolves face another great test posted by an Everton attack which now possesses two of the most talented inside forwards, in the game- Bobby Collins and Roy Vernon-to say nothing of the impish importation from Scotland Tommy ring, whose ability to "place" the ball from the wing is no least in his armory of football tricks.  Wolves may be surprised at the size of the gate, but Evertonians, who have yearned too long for a first-class team will not be.  The chance to see the new boys in opposition to the must consistent League team of all time is one not to be missed and Goodison Park may well burst at the seams from the press of people who will want to be there.  It will be a testing occasion for Young Sidebottom, the Yorkshire lad whose chance in goal arises from the injury in Barcelona to Finlayson.  Sidebottom has played several times before in the first team but rarely I imagine in a game which will create as much interest as this.  He stands 5ft 9 ½ ins, not tall as goalkeepers "grow" but if he is good enough he's big enough.  Wolves must be less than fresh after their hard game in mid-week, but even if they were at full strength and rested I should still fancy Everton to take their fifth point out of the last six.  The revitalizing effect of Ring was remarkable and now with Vernon to add punch to the line we can expect even better.  It is a pity Tom Jones' Sheffield injury prevents him taking his place as Alex Parker's partner, but John Bramwell is a first-rate deputy and only at wing half-back, where Everton are rather pushed for size, will the Wolves attack (in which Broadbent is always so prominent) start at an advantage.  My view is that the Wolves defence will be harder put to it to contain the Everton attack than for Everton defence to stopper the Wolves front line.  I'm banking on an Everton victory of the kind which will leave none in doubt that their many lean seasons have ended at last.  And not before time!  Everton; O'Neill; Parker, Bramwell; King, Labone, Meagan. J. Harris, Collins, Shackleton, Vernon, Ring.  Wolverhampton Wanderers;- Sidebottom; Stuart, Harris; Clamp, Slater, Flowers; Deeley, Mason, Murray, Broadhurst, Horner. 
TIPPED TO JOIN SOCCER'S "GREATS"
Saturday, February 13, 1960. The Liverpool Echo and Evening Express
By Leslie Edwards
At the age of 21 years 11 months, with nine caps for Wales to his name already, Thomas Royston Vernon has it in him to become one of soccer's greats.  That is the opinion of the manager who sold him to Everton, Mr. Dally Duncan of Blackburn Rovers, himself a Scottish international outside-left in the years between the wars, and one of the shrewdest judges of a player in the business.  Mr. Duncan's proviso; "If Roy can control his temperament…
But if there is one man who can curb Vernon's sometimes fiery Welsh temper, it is Johnny Carey, who has brought him for Everton-at the highest fee Blackburn have ever got for a player, even with Edie Thomas thrown in.  For Mr. Carey, on the urgent recommendation of his North Wales scout, got Vernon to join the Blackburn ground, staff as soon as he left Rhyl Grammer School in August 1954 when Mr. Carey was in his second year as the Rovers' manager.  Mr. Carey saw him groomed through youth "A" and "B" teams.  He signed professional at the age of 17 on March 26, 1955, and played his first senior game on September 3, 1955 –against Liverpool in the Second Division.  He learned a lot from Edie Quigley.  England's best uncapped inside forward since the war, who finished hi much-travelled career at Blackburn.  Vernon has many of Quigley's trade-marks-the long, accurate ball to both wings in particular.  But he has a brilliant burst of speed, can control the ball beautifully and owns a delightful body swerve to send opponents the wrong way.  The complete footballer, for he adds to all these virtues a cracking shot in both feet.  "The trouble with me is that I grew up with the Rovers," Vernon has said frankly.  A change of club should do him a power of good.  He is intelligent enough to respond to tactful handling and if any man can get the best out of him it is Johnny Carey, who knows him as well as anybody outsider his own family.  Vernon is married to a Blackburn girl and they have one son, 13 months old. 
UNLUCKY SEASON
Vernon did his National Service with the Royal Welsh Fusiliers at Wrexham.  His career record 1955-56, 12 appearances, one goal, 1956-57 31 appearances, 11 goals; 1957-58; 37 appearances 13 goals; last season 30 appearances, 16 goals, this season 15 appearances six goals.  He has been one of the unluckiest players in the game this season.  He was first taken ill with acute appendicitis and had the appendix removed he played one game on his return after a month and strained a thigh muscle when he recovered from that he developed tonsillitis.  He asked for a transfer before the season started while the club was touring Germany.  It was refused but he never withdrew his application.  Then, early last month when it was obvious he was still unsettled at Blackburn the Rovers quietly let Mr. Carey know that they would be prepared to part with him- Mr. Carey had made earlier inquiries and had been promised first refusal.  Mr. Carey travelled over to Blackburn, saw Vernon and arranged for him and his wife to have a look at Everton club houses, the following day Vernon went over with Mrs. Vernon and left saying he would let Mr. Carey know how he felt about Leaving Blackburn.  He phoned the same night with the news that he had decided to stay put.  Two days later Vernon played for Blackburn in the third round of the Cup at Sunderland.  He and O'Neill the Sunderland inside-left clashed in midfield and both were sent-off.  Later O'Neill was suspended for 14 days and Vernon for seven days.  As a result he missed the fourth round Cup replay at Blackpool last Wednesday night, which Blackburn won 3-0 and the league match at Arsenal last Saturday when they were beaten 3-2.  A lot of Rovers supporters are wondering why the club let Vernon go at this stage of the season, less than a fortnight before they played Spurs in London in the fifth round of the Cup.
MURRAY THE MARKSMAN SPOILED EVERTON'S DAY
Saturday, February 13, 1960. The Liverpool Echo and Evening Express
Big Crowd for Vernon Debut see Wolves Win
Everton 0, Wolves 2
By Michael Charters
Everton; O'Neill; Parker, Bramwell; King, Labone, Meagan; Harris (J), Collins (captain), Shackleton, Vernon, and Ring.  Wolverhampton Wanderers;- Sidebottom; Stuart, Harris (G); Clamp, Slater, Flowers; Deeley, Mason, Murray, Broadhurst, and Horne.  Referee; Mr. L. Howarth (Beverley).  There was a crowd around the 60,000 mark at the start attracted by the first appearance of Roy Vernon, a second view of Tommy Ring, and the all-powerful Wolves.  Collins was captain for Everton in the absence of Jones.  Deeley quickly moved over to the left and was instrumental in starting a Wolves attack, but King headed away from Horne's centre.  The first shot of the match came from Ring.  He snapped up a perfect Collins pass to swing inside Stuart, but his shot, taken from outside the area, went wide.  The game soon settled down to a fast pattern and Flowers sent Horne away to centre for Mason to try an acrobatic overhead kick which only succeeded in sending the ball high over the bar.  The crowd roared as new boy Vernon tried a 20-yard dribble but he carried the ball too far and was dispossessed by Stuart.  In these tense opening minutes when you could sense the big crowd willing Everton on.  The top surface of the pitch was inclined to be greasy and when Labone slipped in trying to intercept a long pass from Clamp, O'Neill had to dash out smartly to intercept as Broadbent came in.  Everton's forwards were playing with commendable dash none better than Shackleton, whose headed flicks to his inside men set up several attacks.  He dispossessed Sidebottom in one raid, so that the goalkeeper had to concede a corner which Vernon misheaded. 
RING'S MASTERY
Ring's mastery in controlling the most awkward of passes was demonstrated when he collected a high dropping ball and hipped across a ground centre which Shackleton met first time, but shots just wide.  Deeley proved he was not far behind Ring foe winging quality when he beat Bramwell and Meagan in a right little dribble, but his final pass found Mason offside.  The game was manly based in midfield where the power of Clamp and Flowers was noticeable.  Some of Collins's passes to Jimmy Harris were perfect, but the winger was not making much use of them and with one excellent chance he carried the ball too far forward and was dispossessed when it looked as though a first rate goal build up had been made.  The work of Labone and Parker in defence was brilliant but their interceptions and tackles were no better in their way than those of Slater and Clamp who looked the strong men in this Wolves rearguard.  Although neither side could claim any real superiority, some of the individual work was excellent.  There was one magnificent linkup between Collins and Ring which ended with Slater hurriedly heading away the winger's centre.  Everton kept feeding Ring, mainly via Collin's passes and slowly they were beginning to give the Wolves defence a pounding.  Ring beat Stuart twice in the space of a few yards to gain yet another corner from which the ball came out to Ring, who twice found his shots blocked.  Only the tallness of the Wolves defenders saved them as Ring continued to float across his centres and Everton gained corners in quick succession as Slater and Gerry Harris headed away.  After half an hour O'Neill had not had one shot to save, to indicate now well his co-defenders were playing, but on the other hand Sidebottom had not had anything too difficult to cope with.  Illustrating that much clever midfield play was breaking down in the region of the penalty areas. 
DANGER MAN
Whenever the ball came over to Ring, Deeley was quick to drop back to help Stuart.  It certainly seemed, however, that Ring was Everton's most dangerous man-the only trouble being that Wolves appreciated it too, and were making him accordingly.  Vernon, unfortunately, could hardly do a thing right and most of his passes went to a Wolves man.  As half-time drew near Vernon burst into life to take Collins-pass cut out to the left wing and centre for Shackleton to turn the ball straight at Sidebottom.  Vernon showed his real worth by slamming a fierce shot from outside the area, which Sidebottom saved beautifully at the expense of a corner.  Half-time; Everton nil, Wolverhampton Wanderers nil.
First move of note in the second half came from Ring almost inevitably when he weaved his way through, but his shot went outside.  Stuart's tackling of Ring had the crowd incensed for a time- a little unfair.  I thought on the full back.  Wolves took the lead after 49 minutes with one of their typical smash and grab raids, much against the run of play, it started with Gerry Harris bursting through to slide the ball out to Horne, whose ground centre was hit first time by Murray into the net.  Everton's major falling in their attacking was their over-emphasis on putting the ball in the air, for invariably the big Wolves men were able to intercept and head away.  Horne, who had done little against parker, tried one fierce shot which swung narrowly over the crossbar, and certainly Wolves' forwards had done better in the opening stages of this half than they had done before the interval.  King's too tentative back-pass to O'Neill almost let Deeley through, but O'Neill came out quickly to snatch the ball from the winger's toe.  The quick raids of the Wolves were now beginning to make their mark, Gerry Harris dispossessed his namesake to put Horne away and when the winger centred to the waiting Broadbent, the England man's shot hit the side netting.  Wolves were scenting victory now and were playing much better than Everton.  Their great strength was at half-back, particularly Clamp and Flowers who almost staked 100 per cent possession of midfield.  How Deeley missed the chance to put Wolves further ahead only he knows, for after Horne had taken a ball up the wing and centred, Clamp returned it to the winger's feet as he stood on a position inside the penalty box.  He was far too slow and Meagan took the ball off his toes.  It was not unexpected when Wolves went further ahead after 62 minutes, for they had looked much the better side this half.  The move was very similar to the first goal, but it was Mason who centred from the left wing and Murray turned on a sixpence and hit it into the net with O'Neill just getting a hand to it without stopping its progress.  Thus Murray, who had done very little against Labone had been in the right place on two occasions.  Everton almost got one back a couple of minutes later when Shackleton beat Slater in the air.  The ball was rolling towards the corner of the net with Jimmy Harris after it, when Slater recovered to stick out a foot and divert it just wide of the post.  The switching of the Wolves forwards with every man running perfectly into position, had Everton's defence worried.  On the other hand, Everton's more stereotyped form of attack was firmly held by the Wolves, although they were lucky when Gerry Harris headed Shackleton's centre to safely after the ball had beaten Sidebottom.  O'Neill mad a first class save from a power-drive by Flowers and Wolves were now playing like champions.  Their crossing of the all, low and hard from the wings always spelled danger of Everton.  Both goals had come this way and it looked as though another might arrive at any moment.  Wolves' quick use of the ball was in marked contrast to the slow motion Everton passing and there was one brilliant visiting move when the ball moved 50 yards down the left wing with two passes and ended with Mason hitting a tremendous shot, which O'Neill turned away at full stretch.  Horne was now doing much better against Parker, and most Wolves attacks were along the left wing.  Everton's defence was fully stretched to contain the Wolves forwards who had thrown off their first-half lethargy to dominate the game.  Clamp and Flowers had established such a commanding hold that Vernon and Collins were rarely seen now.  The crowd was growing a little ironical of Everton's efforts, but Wolves were playing faster and better than they had all the match.  Everton's defence was in such trouble at times that when Mason sent over a centre, Deeley and Murray were unmarked by yards and it must have been the surprise of it which caused Deeley to head wide.  I gave full marks to Shackleton for persisting and when Wolves eased off towards the end Shackleton headed over from a Vernon centre.  Deeley missed an even easier chance at the other end, again from a left wing cross when he took his eye off the ball and completely missed his shot.  Vernon tried a left foot volley from a centre by Collins which flew wide and the crowd- easily the biggest of the season –were drifting away before the end. 
Final; Everton nil, Wolves 2. 
Everton Juniors
Rochdale "A" 2 Everton "A" 2- goals-Temple, Tyrer
Team; Griffiths (G); Bentham, Griffiths (B); Peat, Gorrie (D), Sharples (G); Davidson (C), Tyrer, Temple, Harland, Godfrey.
Rochdale "B" 0 Everton "B" 1 –Scores –McKenzie
Team; W, Maley; Parnerll (R.), O'Brien; Atherton (J), Manning (P); Maddock (C.), Norton (G), Webber, Edwards, McKenzie (D)
Bury "A" 3 Everton"C" 1 scorer- Evans
Team; Dunn (P); Burgem (R), Bridge (C.); Cavanagh (J), Turkingham (A), Weir (A); Stewart (F), Evans (A), Rees (B), Alaxander (A)
EVERTON NAMESKE IN CHILE
Saturday, February 13, 1960. The Liverpool Echo and Evening Echo
"Echo" Helps to Link Two Distant Readers, writes Alex Parker
Among the novelties of soccer today is the number of matches played between clubs of different countries-Wolves-Barcelona, Manchester United-Real Madrid &c.  Naturally they tickle the fancy of supporters because they are "different," but I think I could suggest a match which could prove the most novel of all.  Everton v. Everton!  However, we would have to travel many thousands of miles to play it.  I have discovered another club called, Everton.  Believe it or not it's in Chile! I had better explain.  In one of the articles I did last month I referred to a letter I had received from Bob Roberts, of Beverley Hill, California.  You will probably remember that he wrote to say that he had been an Evertonian since early in the century and that he would be returning to England this October to see his favourite team play for the first time for 60 years.  Well, he will not be alone for I have just received a letter from a friend of his, Mr. Eric E. Davies, of Valpasiso, Chile.  Mr. Davies tells me that he has been an Evertonian since 1907 and I shall never change.  Mr. Davies says that he had arranged to come here with his friend from California but apparently the plans were not definite for he adds .  Apparently Bob also gets the Echo.  If you mention this letter in one of your articles perhaps he'll see it in California and will know that September-October is the period I have in mind."  That other Everton team?  Well, it is near where Mr. Davies lives and was founded some 35 years ago by a group of English people.  If I was lucky enough to be selected to go to Chile with the Scottish World Cup party in 1962 I would not feel so out of place as some I would be able to ask somebody to nip round the corner, drop in at Everton and see how they are going on. 
RETURN VISIT
I should be quite a day at Goodison when these two gran old supporters who have been following the club for half a century, pay a return visit to see their favourite team.  As my part of the bargain I will arrange that there are two tickets left for Eric and Bob, and if Eric will contact me nearer the time I will see what I can do about his request.  From the other side of the globe I have had a letter from 424094 L.A.C Ronald Snape R.A.F Kuala Lumpur, Malaya, who tells me that when he was a small boy he was such a keen Evertonian that although he didn't have the money to enter the ground before the kick-off, he wait until three-quarter time when the gates are opened, and see the last 20 minutes for nothing.  Well here's hoping that when he comes home he will be able to afford to see all the game.  Chile, Kuala Lumpur, I think the only places in the world where there are no Evertonians must be Lapland and Russia. 
PATIENCE
You will no doubt remember that when Tommy Ring arrived I asked supporters to have a little patience with him, as he would probably take some time to settle down, and you will also have noted how he has made me look a "right Charlie" by playing two blinders on the run.  As if that isn't bad enough, I am now getting letters from his fans.  David Power, of Manningham Road, Anfield and E. Hodgson of Tudor Avenue Prestatyn are only two who have written to say how pleased they are with Tommy's play.  I must remember to tell Mr. Ring that it he must start a fan club here, I would be very much obliged if he would refrain from using my article as a correspondents column.  While on the subject of Parker Pen Pals, although in view of the above two paragraphs I am not too sure that is the correct title, I have received the photograph you can see here.  It is of the man who must hold the tile "Parker Pen Pal No 1" for he has sent some of the most interesting letters I have received.  Yes, it's Bert Wright, former Evening Express cartoonist, now living in Long Island New York.  A cartoon he did of me appears in this column not so long ago.  I am indebted to his friend Mr. J. Newton of 67 Victoria Road, Wallasay, for this picture. 
PLEASED
Remembering the teams who have been thrashed at Sheffield Wednesday's ground recently we were pleased to come away with a draw last week.  It looked all over for us when we went two down from a penalty but two goals in five minutes by Eddie Thomas and Shack did the trick.  Eddie scored after Springett had dropped my free kick.  If the Wednesday keeper had come out just a little further, I would have brought my total of goals for the season to three.  He only just got his finger tips to it.  Shack's header was a magnificent effort after a Collins-Ring move and was worth a point in itself. 
NO "V" FOR VICTORY IN VERNON PLAN
Monday, February 15, 1960. The Liverpool Daily Post
Everton 0, Wolverhampton Wanderers 2
By Horace Yates
On a day when attendance at Football League games were seriously savaged by the weather, Everton not only pulled in their biggest gate of the season (51,135), but were high and dry as the best patronized soccer club in the land on Saturday, for what was to have been the opening of a new Goodison Park era.  Something went wrong, and the joy almost ended with the comforting click of the turnstiles.  The attraction of attractions of course, was to have been the high priced introduction of Roy Vernon from Blackburn Rovers, the forward who was expected to complete the rhythm and accentuate the punch in the Everton forward line.  Nothing will be lost by being brutally think.  The new "V" plan went sadly astray and for Vernon this could scarcely been a less rewarding day.  How hard he tried –and how little he accomplished.  If only he had profited from the two great scoring chances which came his way in the second half, much that went before would have been forgotten in the ecstasy of a double scoring level.  First a shockingly weak shot (before Wolves had taken their second goal) and then, after pulling the ball across to the seemingly ideal firing position all he could achieve was a shot into the ready hands of a goalkeeper, yards out of his goal. 
WAIT FOR IT
If the crowd was disappointed, what price the player?  Fortunately he had the good sense to realize that far from a dream debut, here was a nightmare best forgotten.  It was one of those days on which nothing went right for him.  That this was not the true Vernon was all too apparent but how better to sum it up than the words of the player; "It will take time to settle down and get to know the play of my new colleagues.  I was running into position as I have grown accustomed to dong at Blackburn, waiting for the ball, but of course my team mates were as unaccustomed to me as I was to them, and the ball did not come as I had hoped."  Had the first half ended at 42 minutes instead of 45, how difficult it would have been to recognize anything in this player remotely resembling his true value but those precious minutes were proof that Everton have not bought rashly.  First he darted through and took the ball to the bye line before pulling it back with remarkable accuracy to the foot of Shackleton.  The centre forward responded with a first time effort in front of goal a situation rich in promise for a first goal.  Commendably though he tried Shackleton only half hit the ball and the opening goal of the game was denied Everton.  Before we had time to reflect that here at last was something like the true Vernon, in he went again to unleash one of the best shots of the match.  Only the flying Sidebottom with the save of the day, killed what must have been Goodison's roar of roars for with his finger tips he pushed the ball over the bar to deny the newcomers the inspiration he so badly needed.  I am not in the least despondent about Vernon.  The reward is there for collection in the games that lie ahead. 
GOALS COUNT
Wolves required all of the first half and more to recover from their European Cup savaging but once they found their feet and form the disparity in the respective League placing took on a much more accurate reflection of possibilities.  These championship-chasing Wolves, with a defence of commanding height and no less impressive performance, forcibly drove home the age-old truism no matter how out of touch they may have been, that it is the team which turns chances into goals that takes the points.  In their moments of stress and strain they were not averse to taking Everton out of their stride.  With the score sheet blank early in the second half.  Collins crossed the ball beautifully for Shackleton who was actually drawing back his foot for the kill, when to the surprise and dismay of all except Wolves he suddenly opened his legs and allowed the ball to pass through for Clamp to clear at his ease.  The loud and prolonged protest of the player to the referee told its own story, but for confirmation I saw Shackleton after the match to confirm my impression.  Shackleton told me "Just as I was about to shoot, I heard someone say, 'Let it go' I naturally assumed it was one of our lads in a better position and I did let it go."  That in my view is undoubtedly ungentlemanly conduct and should not have been allowed to pass unpunished, but on another occasion when Stuart deceived Ring by pointing that the ball had gone out of play obviously Ring should have played to the whistle. 
MORE RING GLITTER
But what a grand player this Ring is.  Without a doubt he is a match winner an entertainment and a sure answer to the football-starved Goodison followers.  Stuart particularly in the first half when Everton were giving the Scot full rein to practice his artistry could make nothing of him at all.  He was as helpless as a rowing boat in a turbulent sea and if ever he lie was given to the saying that nothing is more difficult than to shake off a shadow here it was.  No shadow ever tried harder to cling to the substance than did Stuart to Ring but so abysmal was his failure that Deeley had to be called up as a second line of defence whenever Ring was heading towards goal.  On the outside or the inside, it made no difference Ring went round the full back with the assurance and ability that were their own testimonial to the Scot's artistry.  What a pity there was not a similar response from a Jimmy Harris who was piled almost to perfection by a Collins service which was another early feature of the game and Harris had to be faulted for awaiting the arrival of a long Collins pass that was obviously dropping short.  The intervention of G. Harris made the first goal.  Shackleton accomplished quite a lot without having the finishing power of Murray, who scored in fifty minutes and sixty-two minutes.  Little or nothing was seen of the Wolves leader apart from his goals, but when his turn came to register, no player could have responded more efficiently.  For too long Everton failed to appreciate that when the ball was in the air only Wolves counted.  Everton perished on the rock of the Wolverhampton half back line, plus the failure to recognize chances as point producers.  Everton; O'Neill; Parker, Bramwell; King, Labone, Meagan; Harris (J), Collins (captain), Shackleton, Vernon, and Ring.  Wolverhampton Wanderers;- Sidebottom; Stuart, Harris (G); Clamp, Slater, Flowers; Deeley, Mason, Murray, Broadhurst, and Horne.  Referee; Mr. L. Howarth (Beverley). Attendance; 51,135. 
MANCHESTER CITY RES 3 EVERTON RES 1
Monday, February 15, 1960. The Liverpool Daily Post
Everton Reserves should have won this game was something to spare.  For long periods they over-played the Manchester side only to fail by missing the easiest of chances and of finding the City goalkeeper Fleet in top form.  The Manchester woodwork was hit twice, and when Fleet was beaten on two other occasions the ball was scrambled away practically off the goal line.  There was not a weak link in the visitors' side who served up some great football.  And when the final whistle went the home fans agreed it was their lucky day.  Manchester City scorers were Haydock (2), and Dyson, Shepherd scored for Everton. 
TWENTY SHOTS AND HEADERS-NO GOALS
Monday, February 15, 1960. The Liverpool Echo and Evening Express
By Leslie Edwards
Fifty-one thousand people filled the Everton ground with high hopes; fifty-one thousand went away feeling victims of one of the great anti-climaxes of the season-and there have been many.  Not one of them, I suspect, would deny that Wolves, were demonstrably the better team.  Not one would deny that the debut performance of Roy Vernon fell below expectations.  And yet how different the story could have been.  When you weigh Everton's total of 20 shots and headers (no goals) against Wolves far fewer chances (two goals) you can escape the impression that Everton's performance was rather better, up to a point than most of us reckoned.  Despite the size and weight and compactness of the Wolves defence, Shackleton missed three excellent opportunities; Vernon missed one and both backs, Stuart and Harris headed away when standing almost under the bar.  The lesson would seem to be that you can take £90,000 worth of football talent to the goal line, but you can't make 'em score.  The explanation for Vernon's lapse is that unlike Ring, who already knew Bobby Collins' play long before he first partnered him at Goodison Park, Vernon had only a couple of days in which to acclimatize himself to Everton ideas.  He was seen at his best only three or four times.  It was a first-class weaving run of his on the left which produced a centre from which Shackleton should have scored and a truly brilliant strike at inside-right-Sidebottom deflected his cracking shot over the bar- but he should have scored from a colossal Wolves blunder in defence and in trying to make doubly certain of doing so gave the goalkeeper time to recover and take up position afresh. 
OFF ON THE WRONG FOOT
In short Vernon had a bleak match.  But his positional play was excellent and when he settles down I do not doubt that he will get goals and reproduce the form which made him the outstanding player he was at Blackburn.  As it happened Collins, too, was not at his best; indeed Everton got off on the wrong foot from the outset.  True, they held Wolves well in the first half, but once Murray got those two quick goals- the second should never arisen-his side made mincemeat of their opponents and the margin could have much wider.  One could not help making comparison between the Wolverhampton half-backs and Everton's especially on the flanks Clamp and Flowers, two big men, because commanders-in-chief while King and Meagan, willing as they were, could only defend with desperation and had little time or opportunity to devote to the constructive side of their jobs, I never saw a ball presented so often to the opposition not only by King and Meagan and company but by others in the Everton side.  wolves had a solidity everywhere which was impressive.  When their defence was in trouble there was never lack of aid from half-backs or forwards and the ball was smoothly and safely removed from one end of the field to the other.  Everton's tactical marking was non-existent in some instance.  Even Labone who started brilliantly, had moments of indecision on a pitch very unresponsive.  Everton never moved as quickly and happily as against Nottingham Forest. 
BETTER WITH RING?
Shackleton's general play was good; but his failure with chances meant that he had to be considered something of a failure.  You cannot afford to throw away hard-won chances, especially against team like Wolves, Ring turned in another heartening and artistic contribution at outside-left and one wonders whether or not it would be better to maintain his established partnership with Collins, I liked Bramwell's play against mainspring of the Wolves attack, Deeley, who roamed to good effect and was the most practical unit of the line.  Wolves certainly demonstrated the art of taking chances.  Until Everton can use theirs much of their good approaches will be wasted.  It will be enlightening to see what success they have at Highbury next Saturday, since Arsenal are undoubtedly more vulnerable than Stanley Cullis' side.  Mr. Cullis was absent from Goodison Park, but it would have done him good to see his team jump back with a fine victory after missing their way in Barcelona.  Everton manager, John Carey, had no day of rest yesterday and one can only surmise that his mission was a football one and that it concerned sizeable half-backs of the sort Everton lack. 
HOODOO HIGHBURY
Tuesday, February 16, 1960. The Liverpool Echo and Evening Express
By Leslie Edwards
Everton's game on Saturday takes them to their bogey ground-Highbury.  They have won there only once in the last twenty years.  Arsenal are doing so badly this becomes a doubly vital game for both sides.  It is hoped that tom Jones will be fit to take his place again in which case he would be visiting the ground where he made his League debut.  More than one reader has been amused (why, I wonder?) at my complete faith in John Carey's ability to restore the greatness of Everton.  More than one reader has written assuring me that the Carey plan is bound to succeed in the end.  To thousands of followers of Everton Carey is only a name; to anyone who knows the man and his thinking- and Mr. Pritchard of Alaunia, Heswall is with me in this –you cannot help but have complete faith in him.  In my estimation Everton's success is merely a matter of time.  The pity is that no one, not even the best of managers can guarantee results within 12 months or 24.  If the Carey view of Vernon is that he is the finest inside forward in the game I am prepared to accept that Vernon will substantiate that rating.  Maybe his week's suspension with his former club had some bearing on his failure to hit his true form against Wolves. 
Old-timer S. Brookes, from 17 Coleridge Street Liverpool 6, explains that the Wolf whose goal beat Everton in the final of 1893 was Topham.  How does he know?  At 13 years old he became an employee of Topham, then a gentleman farmer in Shropshire, and heard from his boss all about the goal and the presentation of miniature F.A Cups to the winning team by the Mayor of Wolverhampton. 
O'HARA IN LIKELY MOVE TOMORROW
Monday, February 15, 1960. The Liverpool Echo and Evening Express
Rotherham Fee Agreed
Arsenal Doubt
By Leslie Edwards
Eddie O'Hara the Everton left winger who has been on the transfer list at his own request is likely to sin tomorrow for Rotherham United.  The clubs have agreed a fee of about £4,500.  O'Hara was expected to give his answer to Mr. Tom Johnston the Rotherham manager, today, but Mr. Johnston told me.  "I have not been able to contact the player.  "I shall leave the matter over until the morning.  We needed O'Hara desperately for Saturday's game.  He is not wanted so urgently now as we have no fixture on Saturday.  O'Hara joined Everton from Falkirk with Alex Parker and played many times in the first team last season.  Recently he turned down an offer to join Stirling Albion.  In the past few weeks he has been playing well in the Central league side at inside left. 
BLOOMFIELD INJURED
Arsenal's inside-left Jimmy Bloomfield, is a doubtful starter for Saturday's game against Everton at Highbury.  He was hurt at Blackpool.  The rest of the side came through without injury though Mel Charles ricked his knee slightly.  Vic Groves the club captain who has not played this year is back in full training. 
BLIZZARD HOLDS UP GABRIEL TRANSFER
Tuesday, February 16, 1960. The Liverpool Daily Post
Everton manager in Scotland
The icy blizzard now sweeping Scotland is holding up Everton's plan to strengthen their side by signing Dundee's Scotland Under 23 international wing half-back, Jim Gabriel.  Everton manager John Carey dashed off to Scotland yesterday morning in the hope of signing Gabriel immediately after he had played for Dundee against Hibernian in Scottish Cup-tie last night.  But heavy snow in Edinburgh caused the match to be postponed until Wednesday at the earliest-a local report has it that the game is more likely to take place sometime next week-so Everton's vigil must continue, for Dundee will not consider parting with their nineteen-year-old startlet while they are still in Scottish's most lucrative competition.  The result of Mr. Carey's meeting with Dundee manager Bob Shankly-brother of Liverpool manager Bill Shankly-remains a closely guarded secret.  But Dundee are as unlikely to resist the sort of offer Everton can make them as they are likely to insist on waiting until their Cup commitments are over.  Gabriel a well built youngster of 5 feet 10 inches and eleven stone, has been playing in senior football for two seasons no and has come on remarkably quickly.  Already he has represented Scotland against the Army, and the Scottish League against Scotland and he was one of the stars in Scotland's drawn game with Wales in the Under 23 international at Wrexham last autumn. 
O'HARA MOVE LIKELY
Other news from the Goodison front yesterday was the Scottish Under 23 international left winger Eddie O'Hara, formerly of Falkirk is likely to sign for Second Division championship challengers Rotherham this morning.  Terms were agreed between the two clubs yesterday, but the Rotherham manager Tom Johnston was unable to contact the player.  He hopes to complete the deal today for a fee of about £4,000.  O'Hara, who came to Everton at the same time as full back Alex Parker, has been unable to claim a regular first team place this season.  He recently turned down a chance to go to Stirling Albion. 
GABRIEL UNLIKELY TO SIGN THIS WEEK
Tuesday, February 16, 1960. The Liverpool Echo and Evening Express
A Cup-tie Barrier
Alternative
By Leslie Edwards
It seems unlikely that 19-years-old Jimmy Gabriel, Dundee and Scotland Under-23 right half-back will sign for Everton in time to play for them at Highbury on Saturday.  This was the intention of Manager John Carey when he travelled to Scotland almost immediately after his team's defeat by Wolverhampton on Saturday, but circumstances are all against him.  Dundee re due to play a postponed Cup-tie against Hibernian at Easter Road tomorrow, but the weather in Scotland is such that the tie may be put off for the third time.  Dundee managed by Mr. Bob Shankly, the brother of the Liverpool manager, are not expected to consider allowing this fine young player to leave until they are beaten in the knock-out competition.  Even then it would take a sizeable sum in the region of £25,000 to tempt them.  Mr. Shankly has always said that he is anxious to keep players rather than capitalize on them.  But Everton's monetary pull may be irresistible.  An alternative if the Gabriel deal does not come off, is the possibility of Everton signing Eric Smith, of Glasgow Celtic, transfer listed at his own request and not rarely so much in demand as Gabriel. 
JOE BAKER COMING TO EVERTON-FOR ARMY GAME
Wednesday, February 17, 1960. The Liverpool Daily Post
By Horace Yates
Joe Baker is coming to Everton! If only we could stop there and not read on, what a sensational that would be, far exceeding anything that has gone before it Goodison-way.  Unfortunately, Joe's stay here will be fleeting, for after playing for the Army against Everton on Wednesday, March 2, he will pack his bags and go, after the briefest return to his home town.  This is Everton's annual match against the Army a fixture which started in the early thirties and has been maintained.  It is expected that Baker will be one of the big attractions and if he does no more, it will at least afford Everton (and Liverpool) as well supporters the opportunity of seeing this most talked of centre-forward of the day, in action.  The first Englishman to win a full cap while playing for a Scottish club.  Baker has already been the subject of £40,000 Everton offer in which Hibernian replied with a resounding "No" just as they had done previously when Liverpool chairman, Mr. Tom Williams presented Hibernian chairman, Mr. Harry Swann with a blank cheque and asked him to fill in his own figures.  One game can prove anything or nothing.  It may whet the appetite even more, or it may stifle enthusiasm but my view is that whether Baker disappoints or pleases it will not interfere with the reception which would be accorded him at either Goodison Park or Anfield were he to decide on an English career with either of them.  There may also be in the Army side West Brom's Williams and Tottenham's Allen, but the presence of Baker will be sufficient to provide a healthy looking attendance for a match of this nature. 
YOUTH CUP FINAL
Everton are filling their mid-week dates very attractively, for coming up for decision is the final of the Lancashire League Youth Cup, to be played in two legs.  Their opponents will be Manchester United, who like Everton were winners of their section of the League.  The first leg will be at Old Trafford on Monday next (kick-off 7.30 p.m) and the second at Goodison Park on Monday March 7 (kick-off 7 p.m).  The last time these youth teams clashed as in 1958 in the F.A Youth Cup when Everton forced a 2-2  draw at Old Trafford only to lose the replay 2-1 on their own ground.  At Old Trafford there was an attendance of more than 15,000.
THE GABRIEL STORY
To mention the name Jimmy Gabriel (Dundee wing half) at Everton, is to raise a wall of silence, punctuated only by no comment" as answer to questions.  That Everton are keenly interested in Gabriel there is no possible doubt, but whether Dundee consider this is the moment to give their balance sheet a more appetizing appearance is less certain.  Everton have already been made aware of the fact that money does not open every door no matter how liberal the offer, but Dundee's position is not generally regarded as being quite so secure as that of other clubs who have spurned financial temptation, although they are in no immediate difficulty.  When Mr. Bob Shankly, brother of Liverpool's Mr. Bill Shankley took over management of Dundee this season, he announced that the policy of selling star players would be discontinued, and it was the aim of the club to build the strongest possible side.  The inferences is that until he has a player good enough to replace the man in possession, there will be no sale.  I was told last night; "If Everton pursue the Gabriel chase they will simply be wasting their time.  We shall see. 
O'HARA TRAVELS
Eddie O'Hara, Everton's reserve Scottish winger, for whose terms for transfer have been agreed with Rotherham United will probably decide today whether or not to sample Second Division football.  He spoke to Mr. Tom Johnston, the Rotherham manager, yesterday, and promised to visit the club today.  The fact that O'Hara has decided on the course suggests that he is at least attracted by the prospect and that if conditions are right he will sign, but my information yesterday was that at the present time it would be dangerous to assume that O'Hara will leave Everton.  Although no longer a member of the first team and with no immediate prospect of gaining another opportunity.  O'Hara is quite happy at Goodison and will make no hasty decisions about leaving.  Everton captain Tom Jones out of last week's game with a sprained ankle, was able to start sight training yesterday.
EVERTON WAITE
Thursday, February 18, 1960. The Liverpool Echo and Evening Express
By Leslie Edwards
Arsenal, who meet Everton at Highbury are in trouble.  Their position is dangerous and their list of non-starters or potential non-starters is as long as your arm.  It includes goalkeeper Kelsey, full-back Dennis Evans, and forward Herd, Groves, Bloomfield and Henderson.  Clapton the winger is suffering cartilage damage.  No wonder manager George Swindin keeps his fingers (and toes) crossed today when his inside forward, Barnwell, takes part in an Army game.  If he were to become a casualty, picking a team to face Everton would become a nightmare.  Choice of the Everton team has been left over until tomorrow.
O'HARA WAITS
Eddie O'Hara, the Everton forward transfer-listed at his own request has discussed his transfer to Rotherham with Rotherham manager Ton Johnston.  O'Hara told Mr. Johnston that he would go back to Liverpool to discuss the matter with his fiancée a Liverpool girl, Mr. Johnston is expected to hear O'Hara's answer today and if it is affirmative as he anticipates O'Hara will be asked to travel to Rotherham tomorrow to sign forms. 
EVERTON SIGN MICKEY LILL FROM WOLVES
Friday, February 19, 1960. The Liverpool Daily Post
A £130,000 Spending Spree Within Two Seasons
By Horace Yates
Everton have done it again! Without so much as a hint that the heat has been transferred from their Scottish ambitions, off went manager John Carey yesterday bound for Wolverhampton, where in a matter of hours he opened and completed negotiations with manager Stan Cullis for the transfer to Everton of outside-right Micky Lill and although the Everton team to visit Arsenal tomorrow has not yet been announced I is certain that Lill will be in the side at outside-right.  Everton Chairman Mr. Fred Micklesfield, received the news last night just in time to act as an appetizer to his evening meal.  Earlier criticism of Everton's reluctance to spend to build themselves a team worthy of First Division standards falls firmly to the ground, with the realization that they have now spent something like £130,000 in under two seasons, starting with the capture of Alex Parker and Eddie O'Hara.  If the forward line for tomorrow reads as expected- Lill, Collins, Shackleton, Vernon, Ring, it means that the centre line has been recruited since September 1958 (when Collins was signed) and apart from the Scot the other four are all this season's purchases.  Even more spectacularly in less than a month Ring, Vernon and Lill have been brought to Goodison Park. 
TABLES TURNED
That spells action with a capital A and shows that however reluctant players may have been to come to Everton at one depressing stage of the season, the tables have been turned with a vengeance.  Now it is obvious that they were no idle words when manager Carey promised to try to make Everton into the "Arsenal of the north" soon after his arrival in Liverpool.  Mr. Carey has chosen his men well and it will be as surprising as it will be disappointing if the results do not begin to reward such enterprise.  When Mr. Carey took over the reins of management he was reconciled to the idea of having to make do on a short-string budget, but what a shoe-string it has turned out to be!  The long suffering Everton supporters, who were approaching the depths of despair, must now be elated beyond measure, and it seems obvious that Everton with their spending not yet complete despite the depth to which they have plunged can now expect finance to be their greatest problem in any future building.  Certainly with such a forward line possibilities are great though no-one would pretend that all their troubles are forward.  We are getting back to the days when players will consider it a pleasure and privilege to join the Goodison set-up.  This is no panic buying in the face of a threat of relegation, late in the season though it has come, and obvious though the shadow of Second Division football has become. 
Now, who is this boy Lill?   The fact that his is already a name well known and respected wherever League football is discussed is in itself a testimonial to his ability for in term of matches played his experience is comparatively thin.  He was taken from junior football by Wolves in season 1954-55 while playing for a London side-Storey Athletic, after having gained international honours with West Ham schoolboys.  A native of Romford, he had to wait until season 1957-58 to push his way into the star-studded Wolverhampton Wanderers side, his debut coming against Preston at Deepdale in December 7, 1957 at the age of twenty.  That proved to be his only game of the season.  Last season opened more promisingly, for with Deeley injured, he was called in as deputy in the ninth match of the programme but did not reappear until the F.A Cup third round tie at Barrow, when he opened his scoring account.  Here followed a run –a remarkable run-of seventeen League games at outside-right in the first ten he claimed 11 goals and the country was talking about Wolves luck in hitting on yet another star.  The season closed with Lill record of 12 League and one Cup goal in 19 matches.  Appearances suggested that Lill would continue where he left of this season for in the F.A Charity Shield match with Nottingham Forest-before the opening of the season-he scored a goal in Wolves 3-1 victory.
INJURY'S TOLL
Lill held his place in the opening ten League games, scoring two goals before injury took a hand and although he came back for another match at Tottenham on October 12 when Wolves were beaten 5-1 it was to be his last appearance as a Wolves senior player.  Deeley was switched to the right wing and South African Horne came in on the left and that is the way it has remained.  The transformation in Deeley's record since switching positions is remarkable.  As an outside left he scored ten goals in nine matches and on his first appearance at outside right scored twice.  Since then apart from a Cup goal, his scoring record is blank in 17 matches.  Lill who has cost Everton a fee approaching £20,000 is a determined player, with quite a remarkable turn of speed and has a powerful shot with either foot.  I contacted my Wolverhampton correspondent for an up to date appraisal of Lill's standing.  He told me.  "Although Lill is regarded here as a reserve player, that should not be held against him in view of the talent Wolverhampton have available for the wing positions.  "A winger who cans core goals regularly is obviously a source of great strength to any team and Lill certainly has proved himself capable of doing that.  Given a chance to settle down I don't think Everton ate likely to be disappointed with his ability.  "At the same time it should be remembered that he has not played in the first team for quite a time and it might be unfair on the player to expect him to hit top form with his first game or two.  Undoubtedly the ability is there." 
NOW LILL AND MORE YET FOR EVERTON
Friday, February 19, 1960. The Liverpool Echo and Evening Express
By Leslie Edwards
Everton's cloak-and-dagger signing last night of Mick Lill, the 22-years-old Wolves outside-right, at a fee of £20,000 took the football world by surprise.  Yet Mr. John Carey has had this Romford, Essex, boy in his sights for at least three weeks.  How odd that after failure after failure to get the man he wanted the Everton manager should suddenly find everything going right for a change.  The signing in the space of three weeks of Tommy Ring, Roy Vernon and now the perky little man from Molineux has cost the club the best part of £70,000 and is the biggest spending spree by a club since Arsenal invested big money –rather unlucky as it turns out –in Docherty and Mel Charles.  Lill plays tomorrow at Highbury in the place usually occupied by Jimmy Harris, whose form has been variable.  It is a safe bet that Everton's next move will be for a wing half and their preference is for Gabriel, of Dundee. 
CHANGED
If Mr. Carey succeeded in getting this young Scot, he would go still further towards fulfilling his promise to provide Everton supporters with entertaining and, if possible winning football.  In less than six months the Everton attack has been completely changed, and now bears an international, or near international appearance.  At Goodison Park, as at Buckingham Palace, it is the case of "Welcome Lill Stranger."  There can be no doubt that Everton's prospects of getting their first away victory of the season at Arsenal tomorrow have been improved considerably.  Last season, owing to an injury Deeley, Lill had a run of 17 League games at outside right and in the first tens cored 11 times.  But this season the switching of Deeley to the right wing and the incoming of Horne, the South African, on the left, meant that his chances were limited.  He is clearly a winger with the knack of getting goals and when one considers the few goals obtained by Everton wingers this and last season, it is hardly surprising the club have endeavored to give the inside men better support. 
A BUOYING THOUGHT
Everton's sustained effort to get a big, strong wing half-back for the game at Highbury having failed, but with ex-Wolves man Lill on the right wing, Everton go to their bogey ground with confidence.  Arsenal are no Wolves and even if they were their playing strength has been so sapped by injury in all departments the odds would still be against them getting both points.  When I reminded of Army friend, George Swindin of Everton's dismal record over the past twenty years t Highbury – a solitary victory in all that time –he was not impressed.  He said "Aye, and that was true of West Bromwich before they came here, but they beat us just the same!  So Everton have Albion's example to buoy them and more important, the knowledge that Roy Vernon is likely to hit his real game.  In private trials during the week he has played brilliantly and there is no reason, now he has had time to learn Everton ways, why he should not reproduce international form.  The man who signed him still has complete confidence in him, so I don't see anyone else should be the least dismayed.  That Charles leads the Arsenal line is daunting since he is so good in the air.  We shall be able to make fresh assessments of Brian Labone after his duel with the famous Welshman.  Somehow I don't think Charles is going to get things all his own way.  The points at stake are almost doubly valuable since Arsenal are on the fringe of trouble and Everton are even worse off.  Let us hope for the Everton victory which would encourage us again to think that Everton are very much on the up-not out! 
EVERTON BRING ABCK BRIAN HARRIS
Friday, February 19, 1960. The Liverpool Echo and Evening Express
King Out For Arsenal Game
Lill Plays
By Leslie Edwards
Everton show two changes for the match at Highbury tomorrow- newly signed Mick Lill at outside right in place of Jimmy Harris and Brian Harris at right half for John King.  Tommy Jones, who missed the game against Wolves through injury, is still unfit and thus John Bramwell retains the left back berth.  Lill is travelling independently from Wolverhampton and will join the Everton party in London this evening.  Reaction of Manager Bill Shankley, of Liverpool, to Everton's latest signing was good naturedly.  "He's not leaving much for anybody else, is he?"  Everton; O'Neill; Parker, Bramwell; Harris (B), Labone, Meagan; Lill, Collins, Shackleton, Vernon, Ring.
ARSENAL DOUBTS
Arsenal will pick their team from 14.  Two key men, Jimmy Bloomfield (hamstring) and Dave Herd (pulled muscle), failed tests today, but five others, Jack Kelsey (poisoned leg) Gerry Ward (shin), Bill Dodgin (abscess) Vic Groves (ankle) and Jackie Henderson (ankle) come into the reckoning for team places.  Arsenal- (from); Kelsey, Standen; Magill, McCullough; Ward, Docherty, Dodgin, Wills; Henderson, Barnwell, Charles, Groves, Julians, Haverty. 
O'HARE AGREES
Eddie O'Hara the Everton winger, has finally agreed to join Rotherham United, the Second Division club after a week of debate and delay.  He telephoned Rotherham manager, Tom Johnston this morning to say he would arrive on Monday to complete the transfer forms.  Everton and Rotherham agreed terms of between £4,000 and £5,000 early this week. 
LILL SIGNING HELPS O'HARA TO DECIDE
Saturday, February 20, 1960.  Liverpool Echo and Evening Express
By Horace Yates
Eddie O'Hara, Everton's reserve winger telephoned manager Tom Johnston at Rotherham yesterday within an hour or two of learning of the transfer to Goodison of Mickey Lill of Wolverhampton Wanderers to tell him he had decided to sign for United.  The deal will be completed on Monday.  Undoubtedly the incoming Lill helped O'Hara to make up his mind that there was no future prospect for him at Goodison Park.  Wing Ring and Laverick for the left wing and Lill and Jimmy Harris available for the right, it is not difficult to see now O'Hara arrived at his conclusion.  By the deal Everton will recoup £3,000 of the £20,000 they expended on Lill.  The fact that manager John Carey accompanied his team to London yesterday suggests that Everton supporters can safely relax for a day or two at least with no likelihood of another surprise signing being sprung upon them.  These are eventful days however, at Everton and no one can say how soon manager Carey will strike again. 
KING REPLACED
Both Jimmy Harris and Johnny King deposed from the team to oppose Arsenal at Highbury, have accompanied the party.  King has been replaced by Brian Harris after twenty-six successive outings, which in my view is rather surprising.  That there should be a place for Harris in the half back line under present circumstances, I quite agree, but I must confess that it was not King I expected to be left out.  Because Tommy Jones is still unfit, Bramwell retains his place t left back.  Everton broke a depressing record at Highbury in season 1957-58 when they snatched a 3-2 win.  I cannot remember any previous occasion on which Everton have travelled so far through a season without an away victory.  Can they break the ice roday?  Much will depend on the way their newly constituted forward line performs but it is a fair to assume that the scoring threat from the wings will probably be greater than in any previous game.  According to my records Jimmy Harris, Collins, Laverick, B. Harris, O'Hara, Godfrey, and Ring have all played on the wing at one time, or another this season and the total scoring contribution has been five goals- three to Jimmy Harris and one each to Laverick and Collins (penalty).  Injuries have taken the might out of Arsenal, but two victories in their last three matches indicates some improvement.  Hopes that Jimmy Bloomfield and David Herd might be fit enough to play elapsed yesterday.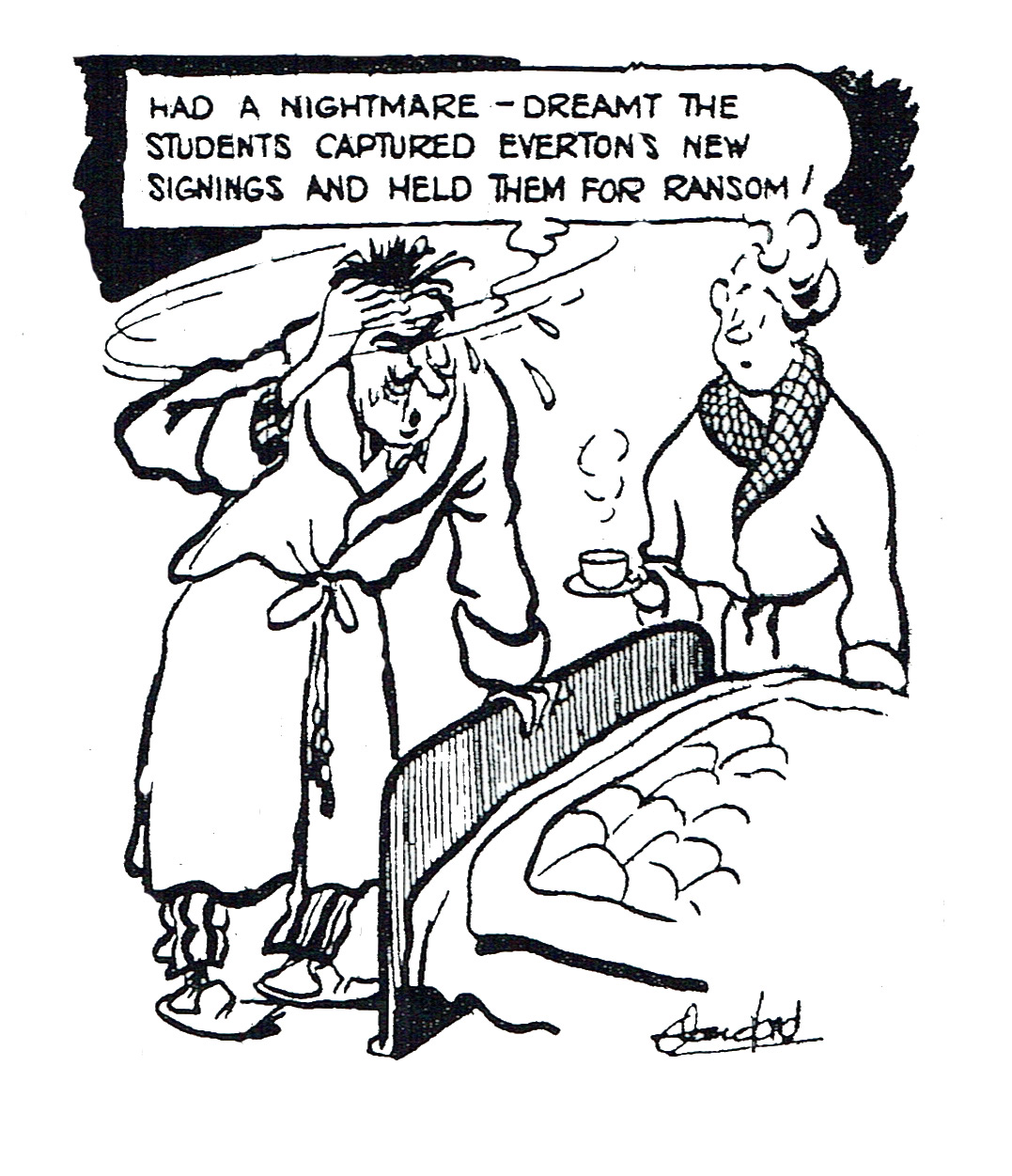 EVERTON STARS SHINE BUT ARSENAL HAD CHARLES (2)
Saturday, February 20, 1960. The Liverpool Echo and Evening Express
Arsenal 2, Everton 1
By Leslie Edwards
Arsenal; Kelsey; Magill, McCullough; Ward, Dodgin, Docherty; Henderson, Barnwell, Charles, Groves, Haverty.  Everton; O'Neill; Parker, Bramwell; Harris (B), Labone, Meagan; Lill, Collins (captain), Shackleon, Vernon, Ring.  Referee- Mr. D. W Smith (Swindon). 
It was a tentative start relieved only by the speculative lob for Parker, which Kelsey watched pass just over the goal angle.  Brian Harris by electing to let the ball pass between his legs almost let Charles and company right in, but fortunately he was able to retrieve and after Ring had been brought down heavily Vernon hit a fierce shot almost straight at Kelsey, who was on the ground with the ball when a foul by Shackleton ended the danger. 
POSSIBLE CHANCE
Kelsey's free kick was a bad one and with any luck Shackleton might have picked it up and returned it to the net but it cannoned with his body and a possible chance went west.  The game was stopped while attention was given to a hand injury to Kesley –almost certainly the result of his earlier clash with Shackleton.  This stoppage delayed a corner by Lill which Kelsey fielded cleanly and confidently. Ring made one glorious trap of a clearance from hand by O'Neill and was promptly flattened by Magill and then Henderson outpaced Bramwell to a long through ball and only a safely-first header for a corner by Bramwell saved the situation when the winger's centre came across. 
A TESTING TIME
Ring's wizardry all but led to Vernon and Shackleton bursting through.  In one way or another Arsenal were having a pretty testing time, though the fact that they were facing quite a strong breeze must have made Arsenal's job more difficult.  Vernon was strong on the ball and playing much better than a week ago and Meagan too, was doing well, and although he could not aid Parker after Haverty had beaten him by the simple process of slipping the ball between his opponent legs, he played his part well as did O'Neill in taking a high ball from the head of Mel Charles.  Arsenal went ahead with a goal by Charles at 20 minutes, Henderson crossed the ball perfectly for the big Welshman to produce a header which O'Neill only succeeded in deflecting upwards into the top netting.  The goal came against the grain in that only during the previous few minutes had Arsenal established any command. 
EVERTON LOOK GOOD
Everton were playing some good stuff up to a point but they were not finishing strongly, though Parker made a first rate effort to dummy his way through to a shot when going far up field, and being put into the picture by a pass by Collins.  Kelsey fielded at the second attempt a skidding shot by Lill and then grasped the ball to beat the outstretched foot of Shackleton and although they were a goal down Everton looked the better side an were indeed the better side, with Ring outstandingly good.  Lill took a knock to the right leg and limped for a while and then Labone who had quite a good innings against Charles almost let in the big man and was glad in the end to lash the ball for a corner to prevent the Arsenal forward getting a second goal. 
THE CHARLES MENACE
Arsenal might not be a good side but while they have Charles at centre forward there must always be a fair chance of them getting goals.  Meagan was having a splendid game and played his part in subduing the Charles menace.  The Arsenal forwards were much more direct and much more penetrating than Everton, hose approaches promised so much and fulfilled so little.  Arsenal went closer to a second when Magill drifted the ball on the face of the bar and Harverty promptly lashed it back wildly and inaccurately across the face of goal.  Half-time; Arsenal 1, Everton nil.
Parker did his utmost to get some direct movement into the attack by going upfield himself but the pattern remained much the same s before, with Everton moving quite sweetly in the conditions up to a point and then breaking down time after time.  No wonder the back seemed a bit aggrieved that all his chasing up and down field had produced such little response from those ahead.  The Arsenal defence survived a grueling few minutes at this point never being able to get the ball clear and more than once all but letting in Vernon and Shackleton in melees in the regions o the penalty spot.  Kelsey made a glorious flying catch of a corner kick by Lill with Shackleton rising high and dangerously close to the same ball.  Ring and Collins between them engineered a left wing move in which Ring all but got through and when the little man won a corner and took it, Kelsey mis-handled the ball and was lucky that Lill could not pick it up and ran it into the net. 
ALL EVERTON NOW
It was all Everton at this point but they still had not rubbed out that Charles goal much less gone in front.  O'Neill too, made a mistake with a corner by Haverty, but Collins who had dropped back, denied Charles a chance to make capital of it, and cleared the ball cleverly.  A peach o a pass by Charles to Barmwell created a wonderful opening and only Meagan's tiredly slashing of the ball for a corner from the feet of the potential shooter saved a critic situation.  A centre cut back by Collins found Vernon, and when that player aimed a shot towards Shackleton, Arsenal were hard put to it to slave him off.  Arsenal looked to be pretty played out from the result of their endeavours on a stamina-testing pitch, but Everton simply could not find a way through despite their marked territorial advantage.  Brian Harris who had been having a good innings, picked up a Collins cross-field pass and enabled Lill to make a strong cross shot which Kelsey fielded with difficulty.  Then at 70 minutes Bramwell close-range shot was palmed away by O'Neill with the result that Charles ever on the alert for such chances slotted the ball home side footed for an easy second goal.  Parker, dropping back to the goal-line denied Charles his trick a moment later when the big man had the goal completely at his mercy and considering Everton's command in midfield their position was tragic.  Docherty came within inches of conceding a penalty when be brought down Collins at the fringes of the penalty area and there followed a bit of argy bargy between Collins and left back McCullough before Vernon took the free kick. 
O'NEILL SAVES PENALTY
It took a flying tackle by Parker to stop Mel Charles when he was in full cry and a likely soccer.  At this stage the referee-rightly in my estimation –adjudged it to be a foul one and Arsenal got a penalty award and Charles a chance to complete his hat-trick, but O'Neill not only saved brilliantly he saved a second time after Harerty had seized on the ball and had shot down a fine angle.  Vernon was strong on the ball despite the very heavy going, but there was still no way through this massed Arsenal defence and now Magill denied Shackleton after a flicked pass by Ring had opened up the way.  A grand header by Vernon from Collins centre from the right dipped over the bar and one way or another Everton must have felt that this was their most unlucky day I have seen Everton play worse many times before and yet win comfortably.  Their persistence was rewarded right on the finish when a shot by Lill hit the foot of the post rebounded to Vernon and was promptly slotted into the net but by the time the ball had been re-centred and kicked off there was the final whistle.  Final; Arsenal 2, Everton 1. 
GIVE VERNON TIME TO SETTLE DOWN
Saturday, February 20, 1960. The Liverpool Echo and Evening Express
ALEX PARKER-Appeals in his Article to the Small Percentage of Everton Fans who Criticized Roy Vernon on his Debut Last Week.  Vernon is a Class player and showed it in Trial Games during the week –so give him a chance to prove his worth, He Says. 
Writes Alex Parker
If somebody had told me before last Saturday that one day I would be criticizing Everton supporters, I would never have believed them, but after hearing some of the comments hurled at Roy Vernon, our new inside forward, during the game with Wolves I feel compelled to hit back.  When Tommy Ring joined us, you will remember that I appealed to supporters to give him time to settle down.  As this was only last month, I didn't think it necessary to make the same appeal for Roy.  Apparently I was wrong.  Having experienced making a debut with a big price on one's head I know what Roy was feeling last Saturday.  Although he is an experienced international it is just as hard for him playing before home supporters as it is for the youngest boy making his debut in fact, it can be harder.  With a youngster, although he is naturally nervous, he knows that providing, he tries hard the crowd will be with him even if all he attempts doesn't come off.  Not so with a star.  For him to try is not enough in the eyes of some fans.  He has to succeed all the time.  they overlook the fact that he is playing with colleagues he may only have met a couple of days before, and in Roy's case he was a little short of match practice.  Everton player has off days but it is terribly disappointing to have one on the very day you want to do well.  Maybe that is why he did not have as good a game as he can do.  There is such a thing as trying too hard, and Wolves' half-back line is not the easiest one against which to make a debut.   Realize that the comments came from only a handful of people, which considering there were over 50,000 present is negligible.  Apparently 99 per cent of you were prepared to give our new signing a chance.
CLASS PLAYER
All credit to Roy.  He said nothing about the crowd's reactions but if he had I wouldn't have blamed him.  For those of you who don't know, it is possible to see that certain players have class even when they are having a bad day.  Most of the 50,000 plus apparently realize this.  In case any of the others didn't take a good look next-time you visit a match.  Take it from me that Roy Vernon is a class player.  Give him time to settle in and I am sure you will agree with me.  About the game itself.  Without making any excuses I think that if we had accepted a couple of chances we could have given Wolves a good run for their money.  We might even have won, but I still think they are a great side.  Without detracting from the rest of the team, their strength is undoubtedly in their half-back line.  From all accounts they are not missing Billy Wright as much as expected, due to the way Bill Slater has taken over lately.  Last week as my first view of Slater with a No. 5 on his back, and on that display he is as good there as any I have seen this season.  Barcelona, who beat them 4-0 must be a famous side.  No doubt many will remember Kocls, the inside right who had much to do with two hidings the Hungarians gave England a few years back.  Well, he can't even get his place in the Spanish team. 
NO CHANCE
To get back to those missed chances I was talking about.  During last Tuesday morning training session at Bellefield Bobby Collins and Roy Vernon scored two goals which would silence even the sternest critics.  They both fired them in from well outside the penalty box and Graham Griffiths our teenage goalkeeper, never stood a chance.  That's one big advantage of playing for Everton.  You don't have to face inside forward set-ups like Collins-Vernon.  It's much nicer to pick up a programme before the game and see that they are on your side.  After last Saturday's match my wife and I set off for Scotland to attend the award to the Scottish Player of the Year in Glasgow last Sunday.  This year's choice was Harry Haddock the Clyde full back.  Funnily enough I wrote an article on Harry only a few weeks ago after his club played a friendly at Tranmere.  These get-together are always enjoyable and practically everybody connected with soccer north of the border is present.  Last year, as the previous winner, I had to make a speech.  This year it was Dave Mackay's turn, so the evening was even more enjoyable from my point of view.  Harry is the ninth player to get the award, the others being; 1951 Gordon Smith (Hibs); 1952, Willie Thornton (Ranger); 1953, Bobby Evans (Celtic); 1954, Jimmy Mcowan (Patrick Thistle); 1955, George Young (Rangers); 1956, Willie McNaught (Raith Rovers); 1957, yours truly (Falkirk); 1958, Davey Mackay (Spurs).
DEFENDERS
Although forwards are supposed to be the glamour boys of the game, seven out of the nine winners of the award have been defenders, Smith and Thornton are the only ones who played in the attack.  Apart from Smith and McNaught, all the others were there last Sunday.  In addition to the many people there, Harry received many telegrams.  Among the senders were Stanley Matthews (an old international rival), Bill Brown, the Spurs goalkeeper, Joe Baker, Hibs' Liverpool-born centre forward, Alec Scott Rangers' outside right and one from a supporter in New Zealand.  Also present was a grand old gentleman of Scottish football, Matha Gemmill.  The name won't mean much to people in England, but he is a very famous character back home.  He is a former Clyde player, attends all their matches, and he made a very good speech, even though he's 88.  In it, he asked Harry when he was going to hang up his boots, to which the Clyde skipper said.  "Five years after you hang up yours."
HUMOUR
Finally here is an amusing story about Harry, who is one of soccer's gentlemen and has never had a caution from a referee.  A few years ago he was playing against a tough winger and Harry had a number of free kicks given in his favour.  After one of them he pointed to the winger and said; "Ref see that fellow.  He doesn't know the first thing about the game."  The official held up his arms and said; "Well, don't blame me Harry, I didn't pick him.  Yes, even referees have a sense of honour. 
RESERVES IN DERBY GAME
Saturday, February 20, 1960. The Liverpool Echo and Evening Express
Everton Lead Soon Wiped Out
Everton Res;- Dunlop; Tansey, Green; Rea, Billington, Shaples; Boner, Tyrer, Wignall, Shepherd, Laverick.  Liverpool Res;- Rudham; Jones, Bryne; Wilkinson, Nicholson, Twentyman; Woodall, Carlin, Arnell, Melia, Morrissey.  Referee; Mr. R.A. Kibbie (Albridge Staffs). 
Liverpool kicked off towards the Stanley Park goal and a perfect pass by Melia enabled Woodall to force a corner off Billington.  Green's clever interception initiated Everton's first attack what ended with Wignall's shot on the turn after being deflected outside by Byrne.  Boner's flag kick found Laverick who fired in to the crowded goalmouth and the ball struck both Jones and Byrne before rebounding for Shepherd to put Everton ahead in the fourth minute.  Five minutes later however, Everton were in arrears, Carlin equalized after good work by Byrne and the same player netted again following a right-wing corner.  Liverpool were now pressing hard and Tansey denied Carlin his hat-trick when he kicked off the goal line.  The Everton defence was rather shaky under pressure and on one occasion Dunlop punched away for Twentyman to drive into the net, but the point was disallowed through Woodall being offside. 
SOME GOOD EFFORTS
Everton at last got going when Shepherd who was working hard put Laverick clear for Rudham to drop the wingers tingling drive but the goalkeeper recovered in time to foil Wignall.  Everton began to have more of the play with Boner and Shepherd going close with good efforts although generally speaking the Everton forwards were hesitant to shoot.  Liverpool continued to be dangerous in breakaways and Melia baffled Dunlop with a lob which dropped on to the crossbar and behind.  After Wignall had missed a reasonable chance of equalizing Liverpool had a narrow squeak when Boner's fast centre was headed unwiffingly by Byrne straight into Rudham's arms.  Half-time; Everton Res 1, Liverpool Res 2.
ALL WILL BE WELL WITH EVERTON
Monday, February 22, 1960. The Liverpool Daily Post
Arsenal 2, Everton 1
By Leslie Edwards
Everton are not the first, and assuredly will not be the last club to realize that you cannot buy success at football.  But all will be well with them, I think, this season in spite of their present position and in spite of sceptics who say, with truth; "But they haven't got much time."  They played well enough at Highbury to have won twice over.  Indeed it was infuriating to see them command the game and their opponents for so long and yet no profit until almost literally the last minute when Vernon scored for the first time for his new club.  In the final twenty minutes when Arsenal two goals ahead, should have been coasting comfortably to victory they were in fact, much on the collar and if Everton had contrived some penetration even at this late stage they might well have escaped with a point.  Instead they walked off beaten and facing the rather grim prospect of meeting their old manager's excellent Preston North End eleven at Goodison Park on Saturday. 
CRITICAL FIXTURE
Now here is a critical fixture because Preston's Cup commitments will not take second place to the natural desire of Mr. Cliff Britton to see his side defeat his old club.  Everton's expensive and almost completely new attack, with Lill, from Wolverhampton making his bow, followed the pattern of most of the club's front line this season-good, if sometimes too involved, approaches…then nothing.  Territorially, Everton won nearly all the honours, but this is always meagre consolation with no tangible value and Arsenal who contrived two goals from much less opportunity were clearly the side who deserved to win, if only because they demonstrated that they had a sense of urgency and necessity for shots and headers.  If one had put Mel Charles into the Everton line how different the story might have been!  Yet this is no disparagement of Shackleton, whose general play was excellent and whose efforts at scoring were quite luckless. 
DOMINENT CHARLES
Charles, with his ability to spread passes, his strength in possession and his propensity for heading goals will keep Arsenal in Division 1.  His scoring since being translated to the attack has been consistent and he might well have gained a hat-trick.  O'Neill touched, but failed to stop the header with which he opened the scoring, the goalkeeper could do nothing about the second, which came to Charles after O'Neill had half saved a cross shot by Barnwell.  Charles was salling through for his third when Parker the game's outstanding figure fouled him and the referee could not do other than award a penalty.  O'Neill saved Charles' shot brilliantly and brought off a second save from the rebound to Haverty.  Everton's goal came to Vernon when a shot by Lill struck the foot of the post and the ball rebounded to make the easiest of chances.  Vernon deserved a goal for his previous determination which enabled him to fasten on the ball like a leech and make it his beyond doubt.  His strength in this respect is remarkable for a man, who carries so little weight. 
LILL ABSOLVED
Lill began well, faded and came back into prominence with good runs and shots.  At least he could be absolved from general criticism about lack of finish.  He almost surprised Kelsey with a left-footer after coming inside; caused the goalkeeper to concede a corner off fine cross shot and finally hit an upright to give Vernon his chance.  But you cannot expect a line which includes three new-comers to have perfect understanding at critical attacking points when understanding is so necessary and it was this handicap I think which caused that otherwise good line to fail in its fundamental mission.  Collins worked tremendously hard to try to ensure success.  The great man of the Everton side, for his inspiration and desire to be direct was Parker and he must have been a very tired man after his many forward excursions to make a sixth forward.  Ring always had the beating of the two defenders he faced, but came in for some pretty tough treatment.  Arsenal; Kelsey; Magill, McCullough; Ward, Dodgin, Docherty; Henderson, Barnwell, Charles, Groves, Haverty.  Everton; O'Neill; Parker, Bramwell; Harris (B), Labone, Meagan; Lill, Collins (captain), Shackleon, Vernon, Ring.  Referee- Mr. D. W Smith (Swindon).  Attendance; 28,872. 
LIVERPOOL HAD BETTER ATTACK
Monday, February 22, 1960. The Liverpool Daily Post
Everton Res 2, Liverpool Res 2
Everton Reserves were rather lucky to salvage a point from this splendid Central League game at Goodison Park on Saturday which, however, lacked the bite usually associated with a local "derby" at any level.  The better balanced Liverpool forward line had more thrust and the constructiness of wing halves, Wilkinson and Twentyman enabled attacks to be built-up more progressively and economically than those of Everton.  Due to inadequate support from the rear.  Everton's inside men Shepherd and Tyrer had so much fetching and carrying to do that the Everton attack was robbed of much of its effectiveness.  Small wonder that Liverpool's quick tackling defenders notably Twentyman, Nicholson and Jones looked much safer.  Only Tansey displayed his normal form in Everton's defence which found Melia the best forward afield, Carlin and Woodall a lively trio, particularly in the first half.  Shepherd scored first for Everton after 4 minutes but Carlin relied twice within the next five minutes.  Tansey denied Carlin a quick hat-trick by clearing off the goalline.  The Everton goal later had further hair-breadth escapes, Wignall equalized in the 56th minute after which the pace slackened and the game ended on a tame note. 
Everton "B" 5 Oldham "B" 0- Scorers;- Morton, Norcott (2), McKenzie, Bentley.
Team; W, Maley; Watson, Parnell (R.); O'Brien, Gorrie (D), Bentham; Notgh (M), Norton (G), Bentley, Edwards, McKenzie (D)
Everton "C" 1 Bury "C" 0 –scorers- Davidson.
Dunne (P); Burgam (R.), Bridge (C.); Athkinson (T), Atherton (J), Bermingham (A); Maddock, Evans (A), Webber, Cavannagh (J), Davidson (C.).
MATT WOODS SHOULD PLAY FOR ENGLAND
Monday, February 22, 1960. The Liverpool Echo and Evening Express
By Leslie Edwards
Arsenal fans, watching their side beat Everton 2-1 seemed to deprive greater satisfaction from the bulletins which kept arriving at Highbury telling of Blackburn's success at Tottenham.  How Ironic that Louis Bimpson, the man Liverpool allowed to go to Ewood should get two goals and Matt Woods, the centre-half Everton transferred to the same club should start the scoring.  Whoever, else is considered for the job of filling the England position, held with such distinction for so long by Billy Wright-Slater of Wolves would seem to be favouritie-I am convinced Matt must stand a fair chance of getting the job.  Did you notice, too, that Brian Jackson, once of Liverpool, got the goal which frightened Villa at Port Vale?  Londoners have written off the Cup and no wonder.  They saw the final might just as well be played at Goodison Park or Maine Road for all the interest it will engender in the South.  My guess is that Wembley will be full as ever and that the game will be as good, if not better than ever.  And because the former Everton players Joe Mercer (Villa), Harry Potts (Burnley), and Harry Catterick (Sheffield Wednesday) are still very much in the picture, managerially, the later stages of the tourney must have much more than academic interest for Merseyside.  Eddie Thomas transferred recently to Blackburn will now come into the reckoning too, having become eligible after being signed a full fourteen days. 
Everton's spending spree and their continued failure have set people talking not football, but money.  They want to know where all the thousands are coming from.  They know where they are going on! 
If the end product justifies the means or lack of it, all will be well, but in other circumstances the club would be left with a milestone such as even they would find it hard to carry. 
NOT ALWAYS UNDERSTANDING
Are Everton about to learn, as Sunderland, Newcastle United, Arsenal and others have learned, that you cannot buy success in football?  I think not, because I believe Mr. Carey can mould his newcomers, and make them produce results.  The fact so many players have come so quickly into the front line has meant that there is not always understanding at critical points of an attack.  This was borne out at Highbury where the forwards, well supported and serviced, did so much that was good and even brilliant on such a mud-heap of a pitch and then fizzled out against a not very good Arsenal defence whose great merit was that they knew how to cover and crowd their goal area.  Everton's failure to get goals used to be frustrating.  Now it is infuriating because the class is there, the enthusiasm is here and none, it seems, can bounce up to the ball confidentially and hit it hard into the net.  Most of Kelsey's saves were all from Lill, who twice had him at full stretch and finally struck an upright so that Vernon
Could pick up the rebound and score with almost literally the last kick of the game.  This was poor consolation for the beaten side who could claim, justifiably, that they were the better team in all respects save the one which matters-the goal-getting department.  Here Mel Charles, eluding twice the grip of young Labone, who played well, headed a goal and, like Vernon, snapped up an easy chance.  O'Neill having palmed out to him a cross shot by Barnwell.  Charles was brought down by Parker, the outstanding player of all twenty-two, and should have completed his hat-trick with a goal from the penalty spot but O'Neill saved splendid.  Perhaps the muddy conditions o a ground found fit for play only an hour before kick-off reacted against Bobby Collins and Roy Vernon whose finesses are more likely to succeed in normal conditions.  But Vernon had a much better game than in his debut and demonstrated fully his ability to hold the ball against all comers. 
A NASTY TOSS
Collins took a nasty toss into the concrete surround and was lucky to escape a broken arm, if no worse, but he was rarely able to help the rest of the line as a striker and for the weight of work they endured the Arsenal defence escaped almost scot free.  Ring's early masterly created many chances which were not properly used and Parker's directness and willingness to do work which should not have been in the full back curriculum also aided the front line up to a point, but the old, old lack of urgency was evident and must be eradicated before the club can benefit from expensive purchases.  Charles' first goal was headed and O'Neill's hands reached the ball, but could not deflect it sufficiently to turn it over the bar rather than just under it.  Everton fans appreciate, I think that the half-back line is next for refurbishing, but on this occasion they were blameless, I thought, and Meagan and Brian Harris could not have done more to ensure the success of the men ahead.  Labone develops surely and well.  He had a very good game indeed.  Shackleton is often enigmatical.  Here he did many things well and some brilliantly; yet there was no goal for him.  One wonders whether in view of his natural style –the clever use of the ball to those around him- there should not be better results from other points of the line.  Bu failure to strike well and often is a general criticism of Everton forwards who are clever enough to work the ball through and then lack the confidence to do more. 
O'HARA; NO DECISION YET
Monday, February 22, 1960. The Liverpool Echo and Evening Express
By Leslie Edwards
Eddie O'Hara, Everton's Scottish left winger, travelled to Rotherham today to discuss with manager Tom Johnston the possibility of his joining the Second Division club.  Mick Lill £20,000 signing from Wolverhampton last Thursday, who played his first game for Everton at Highbury on Saturday was in Liverpool with his wife today inspecting club houses.  Alec Ashworth out of the game after an operation for ligament trouble had a routine visit to a specialist today and hopes to be in training soon. 
EVERTON YOUTH FAIL TO IMPRESS
Tuesday, February 23 1960. The Liverpool Daily Post
Manchester United Youth 3, Everton Youth 0
Everton Youth's failed to impress in attack in the first leg of the Lancashire League Supplementary Cup Final at Old Trafford last night and were beaten by three clear goals before a crowd of 7,967.  They showed promise in the first half when Manchester were kept to the goal scored by Chrisnall in the fourth minute, but they could not produce the essential finish except when right winger Boner hit the foot of the Manchester post and also had an accurate header pushed over the bar.  For the rest, Everton made the mistake of shooting from too far out and in the second half when Manchester scored further goals through Stiles (47 minute) and Chrisnall (64 minutes) centre forward Bentley could have been a menace with better support from his inside men Edwards and Tyrer.  Instead, possible scoring opportunities were wasted and it was the Everton defence that took the honours as Manchester piled on the pressure.  Full back Green and Parnell proved equal in speed to the Manchester wingers, Moir and McMillan and Sharples and Jarvis at wing half, could not be blamed for the defeat.  They were forever trying to bring some thrust to an Everton attack that never really looked the part. 
HE'S LIKE JIM HARRIS IN THE CENTRE
Tuesday, February 23, 1960. The Liverpool Echo and Evening Express
By Leslie Edwards
Mr. G.C Shepherd appropriately, of 30 Carey Avenue, Higher Bebington, writes "The last occasion I wrote was two years ago when I (and many others) urged Everton to secure an ex-professional player as their manager.  This they did and there is no doubt that Mr. Carey was faced with a tremendous task.  I congratulate him on his three recent forward signings, although I was sorry to see a goal scorer like Eddie Thomas go.  I was somewhat surprised about the signing (although it looks to be a good one) as I maintain that if Everton are to remain in the First Division, their most urgent need is a fast, forceful centre-forward to spearhead the two ball-playing inside forwards; otherwise all the clever play of Collins, Ring and Vernon will be to no avail.  "I realize Mr. Carey has shown he is interested in one, by bidding for Baker.  However if there are no others I suggest they play Jimmy Harris there again.  He is fast and has a cracking shot which might be used to better advantage than on the wing.  "Time is running short, and I consider that before any further points are lost this move should be tried." 
Reader D.L. Evans, Garth, Heswall Avenue, Higher Belington, says "I have written to you in the past, stressing Everton's wing half weaknesses and I still consider that this is one of the main reasons for the continual struggle to remain in the First Division.  All the top teams have strong half-back lines.  "I was pleased to see that you pointed this out in your excellent summing up of the Everton-Wolves match.  The difference in the half-back lines stood out like a beacon, I am sure Mr. Carey would be even more disappointed in the result of this game than spectators.  "I see Mr. Carey is endeavouring to remedy the half-back weakness by trying to sign an angel from Dundee.  We certainly need a few to avoid relegation and I hope he is successful." 
POSTBAG POINTS
Thursday, February 25, 1960. The Liverpool Echo and Evening Express
With Leslie Edwards
Mr. Geoffrey R. Miller, of 2 Daffodil Road, Liverpool 15 writes; "So Mr. Carey is trying to emulate Sunderland by buying big.  It is a mystery to me why he has not spotted the weakness of the present eleven.  "Now that Everton have brought Lill, I would give Jimmy Harris his chance in the centre.  May I venture to suggest that Everton should sign Iley of Nottingham Forest, one of the finest attacking wing half-backs in the land." 
Mr. D. Bowker (40 Louis Pasteur Avenue, Liverpool 10) says; "Here one Evertonian who isn't satisfied and not just because the team were beaten at Highbury either!  "You never have a wrong word to say about Shackleton but for months its been obvious to 50,000 supporters that he will not do.  Jimmy Harris should take over.  I thought that was the idea behind the signing of Lill, but much to my disgust I was wrong.  I think you will get many more letters in similar vein."  True Blue of 1 Raven Meols Lane, Formby writes;- "May I express my pleasure in the recent signings by Mr. Carey.  Everton's forward line with an exception, is worthy of the club's great tradition.  But I don't envy Mr. Carey his task in supplying the missing link." 
VERNON SAYS; I AM NO TROUBLE-MAKER
Friday, February 26, 1960. The Liverpool Daily Post
Clayton Controversy one of  Those Things
No Quarrell With Dally Duncan
The Whole Truth By Roy Vernon (Everton and Wales)
"Roy Vernon was allowed to leave Blackburn Rovers; 1;, Because he and the manager, Mr. Dally Duncan, could not get on together and 2; Because there were friction between him and the Skipper Ronnie Clayton."  The words are not mine, but doubtless you will have heard them.  I certainly have over and over again and usually as the story goes the rounds it gains a little more colour with its passage.  Now that I am an Everton player, and very proud of it you will want to know the truth.  Have you brought a trouble-maker into your midst on Merseyside?  I think it is appropriate that in the first of my series of articles I should put the position straight and let you have the facts as I know them. Some of you my recall that at the start of the season, I asked for a transfer.  Believe me there was no sensational store behind that move, I could not give you a specific reason except that I was very unsettled and decided that only a change would give me that peace of mind which would enable e to give of my best on the field.  The application received short shrift I was told that I could not do.  They said they wanted me at Blackburn and advised me to try to settle-down.  "Right" I said "That's that I shall simply go out and do my stuff as well as I am able.  After all there is only one boss-the club."  After five matches I was stricken with appendicitis which meant four or five weeks out of action.  Never have I found it more difficult to strike form.  I played against Preston and strained my thigh.  When I came back I had tonsillitis.  What a rune it was enough to put anybody off their game.  All in all I was having a rough time and my form just eluded me. 
CRITICS WERE WRONG
It did not take my critics long to decide –"He wants away and is playing for it."  They were just as wrong it was possible to be, but this did not help me.  Then the Ronnie Clayton storm blew up.  Some of the lads complained –and I do not disguise the fact that I thought on similar lines- that he was not as sociable with the players as he should have been for the good of team spirit.  A further complaint was that, as captain, he did not spend as much time with us as he might.  I was singled out by some people as being the spokesman in that affair but I can assure you that many of the things was supposed to have said never crossed my lips.  If it had been left to me I would never have said a word about it.  We had a players meeting at which the whole thing was thrashed out.  We found out the true facts and you can take it from me that there was no ill feeling rankling against Ronnie at all.  From just a tiny seed, the whole thing was grossly exaggerated and we all left the meeting resolved that the Clayton incident should be forgotten as though it had never happened.  As regards my association with Mr. Duncan, I got off to a bad start.  Certain players were given permission to play in a benefit game myself includes. Then for some reason I was told that I could not play and not unreasonably I submit, I kicked up a bit of fuss about. 
MINOR DISAGREEMENT
I maintained that all players should be treated equally and in the end I was given permission to play in a match at Rhyl.  That was something that happened many months ago and apart from that I had no quarrel with the Ross."  I disagreed with him on certain point of play, but that happens in the best regulated circles for it, is only by free discussion that manager and players can work best together.  I do not find admitting that on occasion, I told him I thought he expected a little too much of his inside forwards, if we went up and did not get back there was criticism if we went back, we should have been upfield.  But there are only minor niggles as any player will tell you.  Dally Duncan is not the easiest manager in the world to please but I do not quarrel with him on that account.  I respect him for his strong views and the last thing I would attempt to put over is that I was right and he was wrong.  Put it down to my youthful enthusiasm if you like but I wanted to get to the top and only by discussing points with men of experience such as Mr. Duncan would that be possible.  I fully realize that.  I would fail in my duty if I did not make it perfectly clear that there was no ill-feeling whatever between Mr. Duncan and myself.  Difference of opinion yes, but never anything so deep rooted that it left a nasty taste with either of us.  Then the miracle happened I began to retain my form.  We decided that if Blackburn were to hit the headlines this season it would be in the Cup rather than the League so we decided one, big happy party to have a go for the Cup.  My spirits began to soar and for the first time this season I began to feel that after all, Blackburn was not such a bad place and the Rovers quite a good club to be with. 
ON THE WAY OUT
Then out of this beautiful blue sky, sprang up a violent storm, I read in the Press that Blackburn were prepared to let me go.  I just couldn't believe it not at this stage anyway.  I checked up on it and found it was true.  I was on my way out so far as Blackburn were concerned.  Next week I will tell you how at this stage Mr. John Carey, the Everton manager, stepped into the picture. 
TRANSFER FEES-FACT OR FICTION?
Friday, February 26, 1960. The Liverpool Daily Post
By Horace Yates
Are soccer stars really as costly as they are sometimes made out to be?  The thought is prompted by a discussion I heard recently regarding the £130,000 Everton are reputed to have paid out since they started their signing activities with the capture of Alex Parker and Edie O'Hara before the opening of last season.  One football club manager with a reputation for hard commonsense views, gave his opinion that the estimate were erroneous to something like the extent of £30,000.  Transfer fees he said, are never revealed so that at best the figure quoted for a deal is only an estimate by someone who has had no part in the negotiations.  "I saw my own club quoted some time ago as having paid £10,000 for a player," he said.  "That figure was wrong by several thousands pounds, so that with players in the higher-priced brackets the margin for error could be pretty considerable, he said.  I do not doubt the statement but one error surely does not prove that all figures are similarly wide of the mark.  Most of them, I suggest are very close to the mark.  When I suggested that it might be a good idea to abandon the secrecy surrounding fees, so that the club supporters could be brought more closely to the picture my managerial friend promptly dissented.  "The fees that pass between club concern the clubs only," he said.  It is just idle curiosity on the part of the fans to want to probe into fees.  The thing that matters from their point of view, is either that they have a new player to watch, or that a familiar face was found a new home.  Idle curiosity or not, I know at one of the first things a fan wishes to hear after learning a new capture, is the amount of money he has cost.  Whether this is sufficient reason for placing the cards face up on the table, is a matter which might be argued in length. 
EVERTON DIRECTOR RESIGNS
Friday, February 26, 1960. The Liverpool Echo and Evening Express
Mr. Askham's Decision
Ill Health
By Leslie Edwards
Mr. Collins Askham, an Everton F.C., director for nearly five years, has resigned from the board on the grounds of ill-health.  There was no hint of his decision at the club's weekly board meeting on Monday.  Other members of the board discussed the resignation at a special meeting today and then issued the following statement;
"Mr. C.H. Askham has tendered his resignation as a director of Everton F.C., for health reasons and the club, respecting his wishes have accepted his resignation with regret and have expressed to him their sincere appreciation of the valuable services he has rendered to the club during his period of office. 
Mr. Askham joined the Everton board, filling the vacancy resulting from the death of former chairman Dr. Cecil Baxter, in May, 1955.  He has been a shareholder of the club for 30 years and before that was a keen follower of both Manchester clubs.  He is a lifelong friend of Mr. John Moores, the Pools millionaire with whom he worked years ago for a cable company and more recently had been connected with a mail order firm. 
BOTH GROUNDS
Mr. Askham was a familiar figure at both grounds in this city-at Goodison Park for Everton's home matches and very frequently at Anfield when Liverpool had a home fixture.  He is a man who keeps much to himself.  He was chairman of the ground committee when the club put through their soil-warming electrical system which prevent the pitch becoming frost-bound.  The last Everton resignation was that of the late Mr. Harold Williams in the days when Mr. Cliff Britton was manager.  Both Liverpool and Everton Boards now have a vacancy- Liverpool though the death of vice chairman Mr. Robson Roberts. 
 A GREAT TEST FOR BRIAN LABONE
Friday, February 26, 1960. The Liverpool Echo and Evening Express
By Leslie Edwards
Mr. Cliff Britton once the focal point of an Everton crisis which lasted best part of a week, returns to Goodison Park tomorrow with the Preston North End which is within one victory of a Cup semi-final appearance and which could, if they finish very strongly, be pretty close to winning the League championship, too.  Everton riding so close to the bottom of the table that a home defeat would be almost calamitous, thus have their most critical match of the season.  Their trouble has been, recently that they have occasionally scored four, five and six goals at a time at home and still remained almost goalless, and certainly without victory in away fixtures.  A remarkable man, Mr. Britton.  Not a big spender in the footballing sense, a teetotaler, a non-smoker and a man who has the knack of getting 100 per cent effort from players, whether they are at Burnley, Everton or  Preston.  A man, too, who seems destined to pilot four teams to the Cup semi-finals, or better since going to management after coming out of the Army in 1945.  He took Burnley to Division 1 and to Wembley, had two Everton teams in the Cup semi-finals, suffering relegation with one of them, and then, largely by the aid of Dave Hickson recovered Everton's statues before moving to Deepdale after vowing, after the Everton crisis that he would forsake soccer forever. 
EASIER SAID THAN DONE
Of the forthcoming sixth-round tie between Villa (managed by his old contemporary Joe Mercer) and Preston Britton says; "One of us is going to be unlucky," and then adds, implishy "Ah well, Joe can take it!"   The further appearance of the Everton new boys the fact that Tom Finney, the modest man who has "everything" a footballer requires, will be there, and the general tension of a match of this sort suggests that there will be 50,000 or thereabouts to see Brian Labone tackle the commitment of his life.  People say "Snuff Finney out and you'll beat Preston every time."  They used to say the same thing about Stanley Matthews and Blackpool, but it rarely worked out that any defence could put the shackles on the great man, and, like other matters, these things are easier said than done!  Finney's best performance against Everton at Goodison was in the mud a season or two ago when Tom Jones was on the receiving end of Finney's propensity for selling not one dummy, but a tray of them.  Everton an and will win if they remember that the through, penetrating pass is the one best calculated to pierce a defence and that all the territorial advantages in the world counts for nothing unless you seal it with a goal or goals.  Provided they appreciate this I fancy them very much and were they to pay as attractively as they did up to a point at Highbury fans of theirs who appreciate good football would be well satisfied.  Derek Mayers the former Everton player, is still suffering injury and will be missing from the Preston eleven, as will Alec Farrell, from West Kirby, whose first team games have been few this season.  Preston NE.- Else; Wilson, Walton; Milne, Dunn, Smith; Dagger, Thompson, Finney, Sneddon, Taylor. 
EVERTON'S HALF-BACK IN CRASH
Friday, February 26, 1960. The Liverpool Echo and Evening Express
Overturned Car
Badly Shaken
Brian Harris aged 24, of 13 Asterfield Avenue, Bebington, Everton half back, escaped injury when his car overturned and was extensively damaged in Birkenhead early today.  Mr. Harris was driving towards home along Church Road. Higher Tranmere shortly after 2 a.m. when his car apparently skiddled on the wet road.  After demolishing a "no waiting" sign on the edge of the pavement near the junction of Thompson Street the car overturned.  All the glasswork was shattered and strewn over the road but Mr. Harris suffering nothing worse than a severe shaking was able to scramble out unhurt.  Petrol and oil spilled over the roadway and Birkenhead Fire Brigade was called out to wash it away.  The wrecked car had to be towed away. 
HARRIS TO LEAD FOR EVERTON
Friday, February 26, 1960. The Liverpool Echo and Evening Express
Shackleton is Dropped
Dunlop Back
By Leslie Edwards.
Everton make two changes for their vital game against Preston at Goodison Park tomorrow –Albert Dunlop replaces Jimmy O'Neill in goal and Jimmy Harris takes over at centre forward from Alan Shackleton.  The shaking Brian Harris received in a car accident in Birkenhead early this morning effect and he stays in the side at right half.  Shackleton has had a prolonged spell as leader of the attack since he joined Everton from Leeds United early in the season.  It was his incoming which set to train events which led to the transfer of Dave Hickson to Liverpool.  Though his general play has been good he has missed especially in the past few weeks, too many chances to allow him to continue to hold his position. 
SUCCESSFUL
Jimmy Harris came into prominence following Hickson's first transfer from Everton.  He made such a successful start that Everton jumped to the top of the table in the first ten weeks of the season.  Then their new floodlights (and an extra match per (week) came into operation and the team begin its slide.  Many people anticipated the reversion of Harris to the centre and wrote the Echo suggesting it as an effective move.  Dunlop had played so well all season his relegation to the reserves come six weeks ago was a surprise.  No he comes back at a critical juncture.  O'Neill the man he replaces had a penalty save in his credit at Highbury on Saturday.  Everton; Dunlop; Parker, Bramwell; Harris (B), Labone, Meagan; Lill, Collins, Harris (J), Vernon, Ring.
Everton reserves (at Manchester United); O'Neill; Tansey, Green; King, Billington, Sharples; Tyrer, Temple, Shackleton, Wignall, Laverick. 
JIMMY HARRIS BACK IN HIS ORIGINAL POSITION
Saturday, February 27, 1960. The Liverpool Daily Post
By Horace Yates
Everton manager John Carey made the move most fans had been anticipating yesterday when he announced that Jimmy Harris would lead the attack against Preston North End today in place of Alan Shackleton.  Another change sees the reinstatement of Albert Dunlop in goal at the expense of O'Neil but otherwise the side is the same that lost to Arsenal.  There was some doubt about right half Brian Harris, involved in a car accident yesterday, but he has apparently suffered no ill-effects and will play.  Harris no stranger to the centre forward position, for he made his first team debut there after the transfer of Hickson to Aston Villa and was the automatic choice until a couple until a couple of years ago.  Ironically it was Mr. Cliff Britton who brought him into the team, and as everyone knows, Mr. Britton is the man in charge of Goodison visitors Preston today.  This season Harris has rarely been at his best but it is quite possible the switch will suit both him and his colleagues.  A fast direct player with a real shot he has always been a taker rather than a maker of chances- and chances should certainly, not be lacking with men like Vernon and Collins alongside him.  Shackleton demotion can hardly be considered a surprise.  He has rarely hit the target since he was signed from Leeds for a fee of about £10,000 and with a forward line full of guide but singularly lacking in shooting power, it is essential for one player at least to be a genuine marksmen.  Far unluckier is O'Neill, who has never let Everton down and saved a penalty kick only last week but there is no denying Dunlop's skill and it never seemed likely he would be kept out of the senior side for long. 
MAYERS MISSING
Preston who drew 0-0 the first match between the clubs as Deepdale are below full strength for neither in backs Cunningham nor former Everton winger Mayers are fit.  As it is Wilson plays at right back with Dagger on the right wing, Taylor on the left, Finney in the middle and Sneddon a stranger to most Evertonians at inside left.  The presence of Finney should ensue another large crowd as should the first Goodison appearance of Everton right winger Mickey Lill and the second of Roy Vernon.  Certainly as names mean anything there will be a pretty formidable collection of talent on view.  So seriously are Everton situated these days that each week brings peril nearer.  And their record away from Goodison is so dismal that it is highly desirable no further ground should be lost at home.  Apart from Preston, clubs still to visit Goodison are Chelsea, Newcastle, Tottenham, Blackpool and Leeds United.  Preston have won at Goodison on three of their last four visits, scoring four goals each time.  Victory for Everton will not be easy, and though points were never more urgently needed, they may have to be satisfied with a draw.  Everton; Dunlop; Parker, Bramwell; B. Harris, Labone, Meagan; Lill, Vernon, J. Harris, Collins, Ring.  Preston North End;- Else; Wilson, Watson; Milne, Dunn, Smith; Dagger, Thompson, Finney, Sneddon, Taylor. 
LILL MAKES HOME DEBUT FOR EVERTON
Saturday, February 27, 1960. The Liverpool Echo and Evening Express
New-Look Attack May Test Preston Defence
By Leslie Edwards
Many people wrote me during the week suggesting that Jimmy Harris best position was in the centre of the attack and that as Alan Shackleton, though playing well, was not getting goals, Mr. Carey's best plan was to put the winger there.  Not for a moment do I suggest that the Everton manager was influenced by these readers- he has a mind and a will of his own- but rather is it a case of great minds thinking alike… Harris was originally a centre forward and made such an outstanding success of the job when taking over after Dave Hickson had gone to the Villa there was never any doubt that this was his best niche. Only when Hickson returned, via Huddersfield Town was Harris moved to the wing.  He has speed, a great shot and a lot of natural football ability to succeeded as the centre piece of a line whose class has been revolutionized by the signing of Ring, Vernon and Lill, if the new line clicks today Preston's aged looking defence can expect trouble.  Tom Finney's appearance plus the first home bow of Mickey Lill and the further appearance of Vernon and Ring makes the game even attractive than the one against Wolves-and that drew 50,000.  If the Everton attack plays as well as it did against Arsenal with the important proviso that they must produce more shots and better shots, the school of science section of Everton support will begin to think the clock has been turned back to the pamly days of Stevenson, Troup, Gillick, Dunn, Tommy Johnson and others whose pattered attacks, polished off by Dean, used to be accompanied by roars of acclamation.  It's a long long time since we had the picnics we used to be given in these days.  Tom Ring, troubled by a slight-thigh pull in mid-week is fit.  Brian Harris shaken by a car crash yesterday has satisfied the club completely as to his recovery.  Dunlop reappearance in goal is justified in that though Jimmy O'Neill saved a penalty at Highbury the new in his come-back games touched the brilliant form he had been showing in the Central League just prior to his elevation to the first team.  Dunlop was rather unlucky I thought to be left out initially but like the good club man he is he went uncomplainingly, and soldiered on without thought of asking for his papers.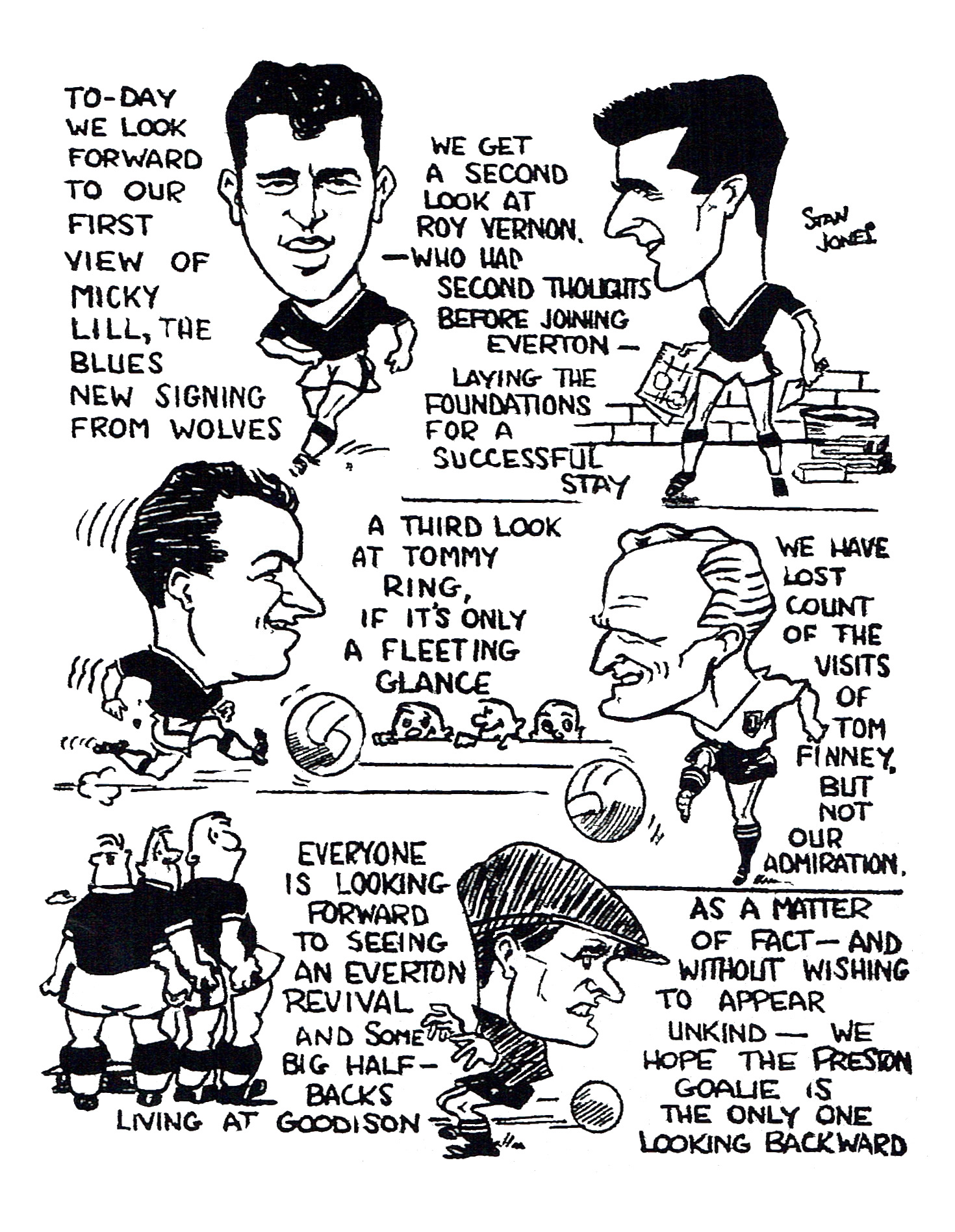 PROUD EVERTON, NOT PRESTON, AT GOODISON
Saturday, February 27, 1960. The Liverpool Echo and Evening Express
New Men Vern On And Lill Among The Goals
Everton 4, Preston 0
By Michael Charters
Everton; Dunlop; Parker, Bramwell; Harris (B), Labone, Meagan; Lill, Collins (Captain), Harris (J), Vernon, Ring.  Preston North End;- Else; Wilson, Walton; Milne, Dunn, Smith, Dagger; Thompson, Finney, Sneddon, Taylor. Referee; Mr. T.H. Cooper, (Bolton).  
Conditions were perfect for that attractive match and there must have been 40,000 present at the start for the home debut of winger Lill, the return after some seasons of Jimmy Harris to centre forward, and of course the presence of Tom Finney.  Everton went immediately into the attack with Parker going down the wing from a Lill pass but the cross was intercepted by Smith.  In the next second Else was the luckiest man on the ground to block two short range shots from Jimmy Harris and Vernon after Ring had pushed the ball over.  Lill's accurate cross field pass to Ring pleased the crowd and Everton gained two corners in quick succession.  From the second the ball ran out loose to Meagan, who hit a shot from 35 yards over the bar.  Everton had done all the attacking and they took the lead after five minutes through Vernon, who started and finished the move.  Vernon recovered the ball in a tackle on Sneddon near the half-way line, fed Ring delightfully and when the winger's cross was deflected out, Vernon hit the ball from the edge of the penalty area and it stuck a Preston defender en route to enter the net off the crossbar.  This was the sort of chance that Everton had failed to capitalize on in other games, and it gave them the encouragement they needed.  Parker was only too eager to come up into attack and he wisely held the ball and went through to beat an obvious Preston offside trap.  He dribbled almost up to the six yards line before crossing, but Walton intercepted.  So far Preston had been a most entirely confined to defence and the Everton forwards were moving the ball well, with Collins the mainspring.  Labone marking Finney as close as two coasts of paint and Parker having a field day against Taylor.  Wing half Milne produced Preston's first shot.   A pass to Dagger looked as though it had reached the winger in an off-side position but he played on and when the cross came the ball ran out to Milne who hit it very hard but over the bar. 
COLLINS BUSY
Finney at last engineered one good looking Preston move, but Parker cleared well when the ball came over in Taylor's direction.  Then Collins, working as busily as any man could, came back to intercept a pass by Smith and cut off a Preston threat.  Altogether Everton were moving really well in all departments with a most welcome urgency and snap about the forwards, although Lill was having a difficulty in getting his centres past the experienced Walton.  It was always on the cards that Everton would score again, for they were so much on top that little was seen of Preston.  The second duly arrived after 18 minutes with Vernon again playing a leading role.  Vernon first gave Lill a perfect pass, and where the winger cut the ball back to him outside the penalty area he fought off two tackles before slipping the ball to Jimmy Harris who hit it just inside the post with Else well beaten.  It seemed that Everton were at last taking the chances their good football was making and certainly the second goal could not have been better finished.  Jimmy Harris almost brought the house down with a magnificent run when he wheeled round Dunn in midfield, outpaced the opposition to cut inside Walton, but his fierce shot was very well saved by Else, who turned the ball over the bar.  This was an Everton of directness and skill we had not seen all season.  They were beating Preston with their speed to the ball and the forwards with Vernon and Collins outstanding had Preston defence really worried.  Lill got into the shooting act by cutting inside Walton and hit a left foot shot was luckily deflected for a corner.  Lill tried another of his favourite tricks by coming inside Walton and showing his two-footed ability with a left-foot shot which Else saved at full length as Collins came in.  Everton's dominance had been so complete that with half an hour gone Dunlop had not had one save to make.  I have rarely seen a more one-sided game this season, with Everton completely on top.  Their strength lay in all sections for Parker and Bramwell were both playing excellently and the half-backs tackling well.  I lost count of the number of lucky interceptions Preston defenders made with their bodies and the great feature was the strength of Vernon on the ball and his willingness to shoot on every occasion.  Everton were moving like a great team-and that is no exaggeration.  There was one magnificent move out of defence and the only thing which prevented hem going further was a first class diving save by Else who turned Vernon's shot round the post after the Welshman had linked with Collins and Jimmy Harris to carve his way through.  This was at last, Everton in the true tradition.  That man Else again came to Preston's rescue with a wonderful save from a thunderbolt shot by Lill from 25 yards.  At one stage near the interval, Everton were almost playing "shot-ins" with Collins and Lill all having shots blocked with the Preston defence bunched and most unhappy.  The wonder of it was that Everton did not go in more than two up.  Preston had to thank Else for some brilliant saves and Everton's display had thrilled the big crowd in every way.  Half-time; Everton 2, Preston North End nil. 
Everton went on the attack again from the restart with Lill and Jimmy Harris working a corner off Dunn and then Ring went through to try a left foot shot which went wide.  Preston seemed to have no answer to the quick dashes of Vernon, and he took a pass from Jimmy Harris to work the ball to the left and cross it for Jimmy Harris to head it just wide.  Then the Everton leader playing splendidly after the incentive of his first goal, gave Ring a fine opening, but the ball came to the winger's right foot and he hit it wide.  One might have thought that Everton after their brilliant first half, would have slowed down later, but there were no signs of it at present.  Dunlop still had not had a shot to save and the Everton forwards looked as though they would increase the lead at any time.  ring had a fine centre, interception by Else at full length and then the winger cut inside Wilson to try a right foot shoot when was equally well, saved.  Then came a moment of note when Preston engineered their first real attack and Sneddon brought a magnificent save from Dunlop when he cleverly hooked the ball in from outside the penalty area.  But Everton immediately retaliated with Lill racing down the wing and hitting a fast cross which Jimmy Harris just failed to touch in.  It was becoming a question of running out of superlatives to describe some of Everton's attacking play and Lill had one shot fortunately blocked by Walton. 
MUCH SUPERIOR
Everton continued to be so much superior that wing halves and full backs were coming up to join with the defence.  Preston looked demoralized at times, but still Everton could not get through goal, which would have made the game safe beyond measure Jimmy Harris delighted the crowd with a meticulous back heel pass to Ring and the winger floated across a centre with Else saved at the far post.  Then, after 62 minutes came Everton's third goal, Collins started the move with a delightful pass to Brian Harris, who went through like a winger and sent across a fine centre which Vernon headed home.  One could say without any doubt that manager Carey's "buy big" policy was indeed paying off.  Everton, so long short of class players, now had many of them, and no doubt Mr. Carey was the happiest man in the ground at seeing this exhilarating display from his side.  Vernon's display proved what Mr. Carey had said about him as the finest inside forward in Britain for his speed off the mark, strength on the ball, were notable on a day when everything was going right for Everton.  Four minutes after Vernon's second goal came a fourth for Everton, with new boy Lill scoring it to make his day complete.  The move began on the left wing with Bramwell and Ring linking and the winger's centre was punched up by Else, headed out by Jimmy Harris, and Lill fired the ball into the net from the narrowest of angles.  Everton were toying with an outplayed and demoralized Preston.  Parker cut off a Preston move to send Ring away and Wilson blanatantly obstructed the winger in the penalty area.  Vernon took the indirect free kick and floated the ball over to the far post where Dunn headed away.  Vernon headed wide from yet another Ring centre and the game had settled down to become a chronicle of Everton's superiority.  Everton's lead never illustrated their overwhelming superiority in this game, but the 50,000 crowd were well pleased anyway for the team had played better than at any time for years.  Final;- Everton 4, Preston North End 0.  Attendance 50,990.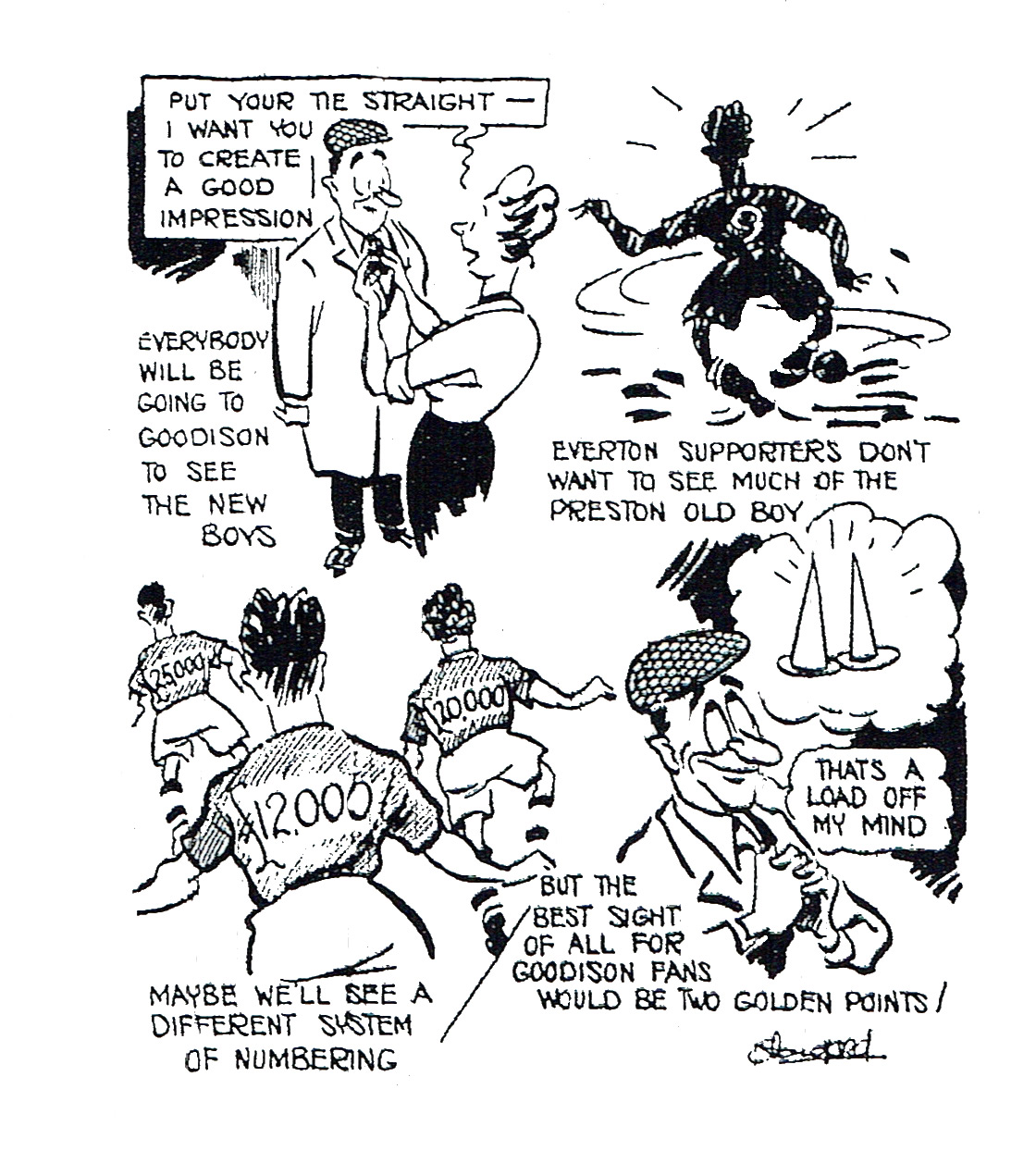 CHARLES PROVES HIS MONEY RATING
Saturday, February 27, 1960. The Liverpool Echo and Evening Express
Give Stars Time in New Team, says Alex Parker
Last week I wrote about the treatment certain Everton supporters give to Roy Vernon on his debut, for us, and I promised that in time he would prove that he was worth what the club paid for him."  On Saturday I saw Mel Charles playing for Arsenal, and you will need to reminding that but for him we might well have won.  The London club paid £45,000 for a big Welshman but since joining them he has been dogged by injury and consequently has not reproduced the form of which he is capable.  Some of the know-alls on the terraces were not slow in letting the club know that Mel was not coming up to their expectations, but manager George Swindin stuck by his judgment and now Charles is making the fans eat their worlds.  Last Saturday he looked a £45,000 player.  Without him it is doubtful if Arsenal would have won.  He scored the first with a powerful header and was on hand to side-foot another, in addition to coming close on many other occasions.  As Everton have brought so many stars lately, I use the Charles case to prove that it is not always possible for them to settle down right away.  In a way I am glad he played so well on Saturday for it proved my point of the previous week.  If the fans had left him alone he may have found his form even sooner.  When we arrived at our London hotel, on the Friday before the match.  Gordon Watson introduced us to our new signings from Wolves Mickey Lill. 
Mickey played against us at Molineux last season and I remember thinking at the time what a good player he was.  At Highbury he showed that he is fast and tricky, with a good shot in both feet.  He brought out the best in Jack Kelsey and it was from one of the efforts which hit the past that Roy Vernon scored.
KNOWN FORM
I think he will prove a big favourite at Goodison .  I was also pleased to see Roy Vernon strike something like his known form, and that goal should give him a lot of confidence.  Jimmy Harris and Johnny King were in the party and on the Friday night we all went to see the musical.  "My Fair Lady" It was the only fair thing about the trip, for I thought we did well enough to have avoided defeat, but all credit to Charles for grabbing his chance.  During the half-time break I met Dennis Evans, Arsenal's Liverpool-born full back.  He will be having the plaster off his broken ankle in a fortnight and hopes to be playing again in five weeks.  He says he gets the Football Echo sent to him every week, ALWAYS reads, Parker's articles and sends his best regards to everybody back home.  The other night, along with several other players, I was invited along to a concert in a club in Walton.  Cyril Conn and his Westernairs provided the music.  Bob Donkin, a terrific comedian produced all the laughs, and in between tapping our feet and laughing Tommy Ring, Dave Hickson, Alan Shackleton, Bert Slater and I provided a fair amount of applause.  A night out of a different nature was at the Everton Supporters Club when we went to see Sydney Smith play Sammy Larnkin at billiards and George Scott and Danny Lenehan at snooker, Danny won one frame, too! 
THRICK SHOTS
Afterwards Sydney Smith showed us some trick shots.  It looks so easy, doesn't it?  Well we players though so and it's a wonder that Frank Blundell who looks after the tables at the ground didn't have some ripped cloths to complain about the following day.  You would think that although Tommy Jones has been injured he would still try to do something to help the club, especially as he is skipper, but I'm afraid that is not the case!  During a practice match at Bellefield last Tuesday morning , Stan Bentham asked Tommy to referee the second half for him.  So on came Mr. T.E. Jones (Everton) in black shorts, blue shirt and a yellow bib to distinguish him from the players.  During his spell in the middle Tommy disallowed a goal by Jimmy Harris for offside.  This made Jimmy and Tommy enemies for life, although in the eyes of Albert Dunlop, the beaten goalkeeper Tommy was the best ref ever.  Then Tommy changed an decision and awarded a goal.  Tommy and Jimmy were the best of friends again but the referee's prestige had dropped more than somewhat in Dunlop's eyes.  "You can change your decision" cried Albert.  "I can and I have said Tommy "Anyway who's the referee?  It was a good goal and it stands.  So Albert thinks that if or not Tommy's a better player than a referee. 
FROM BROOKYN
As I was making my way towards the players entrance prior to our game with Wolves a week last Saturday a young chap gave me a programme and a newspaper cutting.  He was G. Tack of 3 Marcham Way, West Derby, and the programme and cutting related to a match between Dundee ad West Bromwich Albion at Ebbots Field, Brooklyn last May.  The programme is much bigger than what we are used to and is printed on art paper in blue and white which colours, I think you will agree, are as good as any and are better than most.  It included four pictures of the players taking part and I think you will find the following extract from the captions make interesting reading. 
"Bobby Robson who was transferred to West Bromwich Albion from Fulham for 90,000 dollors" I bet Bobby didn't know that.  The other one read "James Gabriel Dundee half back selected by Matt Busby, the Manchester United manager 'Casey Stengel' of English soccer, as one of Scotland's future stars." And I bet Mr. Busby didn't know about the "Casey Stebgel" tag either.  Listed as a reserve for Dundee was Andy Penman, who will be remembered by Evertonians as the Scottish boy who made his debut in a derby match at the age of 15.  The programme Rives the result of previous Scotland-England club clashes and I see they have included a 6-3 win by Everton over Aberdeen.  The newspaper cutting includes the following parapargraph ;-
SOME CROWD
Even Los Angeles Coliseum, or Soliders Field, Chicago reputed to be the biggest stadium in the U.S, could not top this attendance mark.  When Dundee and Motherwell played in the 1952 Scottish Cup Final at Hampden Park, Glasgow, the attendance was 136,274.  One up to us. 
MAN UTD RES V EVERTON RES
Saturday, February 27, 1960. The Liverpool Echo and Evening Express
Manchester United Res;- Gaskell; Greaves, Heron; Miles, Haydock, Goodwin; Morgns, Giles, Chisnell, Pearson, McDowall.  Everton Res;- O'Neill; Tansey, Green; King, Billington, Sharples (G); Tyrer, Temple, Shackleton, Wignall, Laverick.  Referee; Mr. D. Pritchard (Walsall). 
Everton attacked, with Tyrer making headway but Manchester captain Greaves cleared.  A free kick to the visitors next put on pressure but the ball was eventually cleared.  Although Gaskell was lucky to save a low shot from Wignall, Manchester advanced and O'Neill ran out to make a smart clearance.  Both sides were showing good football and the Manchester side took the lead when McDowell scored, but O'Neill saved twice in succession before the ball went in the net.  Everton hit back and Temple scored with a low shot. 
EVERTON OPEN DOOR TO A BRIGHTER ERA
Monday, February 29, 1960. The Liverpool Daily Post
Everton 4, Preston North End 0
By Jack Rowe
Thousands of jubilant Everton fans were saying after this shock result that their team had not played "like this for years." I would not argue that they were wrong or begrudge them joy, for they have had to wait a long time, but there is a simple explanation, and it is that Everton have not had a forward line like this for years.  No longer does the side go out with the weight of the progress on the shoulders to Collins.  Now there are other ball players in Vernon and Ring and an outside right in Lill, whose directness is a most acceptable chance after some of the offerings we have had this season.  It seems strange that the one man who does not quite fit this new Carey conception of what an Everton attack should be is Jimmy Harris, who once led an England under-23 attack and who made such a triumphant return to the Goodison Park forward leadership on Saturday.  Yet I feel the future could be greater than ever for Harris because Everton need his speed amidst all the artistry which Mr. Carey has now produced. 
FINNEY HELD
Rarely have I seen a team win so nonchalantly or so contemptuously.  They made Preston look a very poor outfit and probably the most apt way to describe this match is to say that Tom Finney made so little contribution that his skill and genius were not missed by those discerning followers who like their football neat and hot.  They had it in a abundance from Vernon, Collins, and Ring and that Everton won only by four goals was due to chance-missing fine goalkeeping by Else and some incredible interceptions y defenders who did not know the ball hit them until it did.  Frankly, Everton were so much superior that the game was not interest-holding in the second half.  There were occasion when the Goodison forwards fiddled and toyed in a manner completely out of place when they were exerting their domination, before the interval and immediately afterwards.  Vernon was superb, a player of great skill and ability plus a determination to fight for the ball and at last Everton have a man who some may think is more than on a par with Collins.  Left winger Ring was also a pleasure to watch and it is incredible even to suggest there is a danger of relegation.  Every player was hungry for the ball and the way it was moved from defence to attack was so good, that it is the easiest task of all to sat that not one of the Everton team had a most satisfactory day.  Dunlop's return was rather an easy time for he had only one save to take and which Everton had 20 corners and Preston could force was one in only.  Why the score was not seven or eight was also remarkable and at must be a long time since a Preston with Tom Finney were so humbled.  There were moments when I wondered whether their thoughts were at Villa Park with manager Cliff Britton who was watching their next F.A Cup opponents.  What must have given Everton fans even more joy was the immaculate display of Labone.  Finney was eclipsed and it seems that if you rub out Finney you rub out the Preston attack.  Parker, Bramwell, Brian Harris and Meagan were also grand but the new found glamour lies in attack and the near 51,000 crowd is an example of how support will come flocking back fir this kind of football. 
ELSE THE EXCEPTION
At last Everton have players who are outstanding and those who said that two or three new men would revitalize Everton were bang on the mark.  The only Preston player who came anywhere near Everton standard was goalkeeper Else.  The defence had no answer to the Everton thrusts and Dunlop's quiet afternoon is testimony to the ineptitude of the forwards.  Everton's first goal came in five minutes when Vernon and Ring took the ball through with Vernon striking a power shot from the penalty area edge.  Thirteen minutes later Vernon brilliantly beat three men and laid on a pass for Jimmy Harris to score.  We had to wait until 62 minutes for the next when Vernon headed in from a centre by Brian Harris.  Lill crowned his home debut with the last goal in 66 minutes, hitting a volleyed shot after Jimmy Harris had challenged Else so effectively for a high ball that the goalkeeper could not get it clear.  Everton; Dunlop; Parker, Bramwell; Harris (B), Labone, Meagan; Lill, Collins (Captain), Harris (J), Vernon, Ring.  Preston North End;- Else; Wilson, Walton; Milne, Dunn, Smith, Dagger; Thompson, Finney, Sneddon, Taylor. Referee; Mr. T.H. Cooper, (Bolton).  Attendance 50,990.
O'NEILL SAVES A PENALTY
Monday, February 29, 1960 Liverpool Daily Post
Manchester United Reserves 3, Everton Reserves 1
There was little between these two sides and a draw would have been a fair result.  Unfortunately at one time too much feeling crept into the game and the referee warned several players on both sides for vigorous tackling.  Manchester's second goal was a doubtful decision and only on the verdict of a linesman.  O'Neill protesting strongly that the ball had not crossed the line.  It was after this goal that play deteriorated.  O'Neill played a great game saving a penalty taken by Giles.  Billington was outstanding as the pivot and Tyrer was the visitors' most dangerous winger.  For Manchester United McDowall, Pearson and Chrisnall scored and for Everton Temple. 
AT LAST, AT LAST, AN EVERTON PLAYING LIKE EVERTON
Monday, February 29, 1960. The Liverpool Echo and Evening Express
By Michael Charters
Memories of the great Everton teams of pre-war days came flooding back at Goodison Park on Saturday as the current combination of big-priced transfer and local boys pulverized proud Preston to the tune of 4-0.  The score could have been doubled in Everton's favour only for a brilliant display by Preston goalkeeper, Else, and some fantastically lucky escapes in and around the Preston goal.  Here, at last, after years of post-war wandering in the football wilderness, were signs that Everton can re-establish themselves in the top-light.  I appreciate that one superb performance doesn't automatically mean instant and prolonged success but at least this display should turn even the diehard pessimist into a mild optimist.  Certainly no Everton side since the war has played as well as this.  There wasn't a weak link in the side as they all reached their top form and sustained it throughout 90 minutes to outplay and outclass Preston.  There was flight, speed, skill and a burning desire for possession of the ball which never permitted Preston to offer more than a token resistance in attack themselves-the bare statistics that Everton earned 21 corners to Preston's one and that Dunlop had only one save to make are a true indication of the one-sided flow of the match. 
ON THEIR WAY UP
When I congratulated Mr. Carey after the game, his first comment was "It's about time those people (gesturing towards the now-empty terraces) saw something like this."  His phrase "something like this." His phrases something like this" en braces a brilliant display which must give every hope for the future that Everton are on their way up.  And when I say up I mean up to the top.  Some might say that Preston looked a poor team and Everton had little to beat.  My answer is that Everton never allowed Preston to play well; they established a grip on the game from the start a grip which grew stronger as the minutes passed until at times, they played almost contemptuously successful football.  Preston weren't permitted to have any at all and, remember they have been among the League leaders all season and are still in the Cup.  They can't be that poor.  An outstanding feature to my mind was the way the side has settled down after the quick influx, of Ring, Vernon and Lill into the forward line.  Brilliant though some individuals were, they were still only units in a grand team display with every man fighting for the ball, usually winning possession, and invariably making good use of it in linking into a smooth-flowing attacking pattern which was rounded off with a gratifying desire to shoot.  The switch of Jimmy Harris to centre forward was a success from the moment he collected a particularly well-taken goal after 18 minutes for Everton's second.  This incentive was all he needed for immediately he made a fine run from midfield to smash in a shot which Else turned over the bar for a top-class save. 
WORTH EVERY PENNY
Harris could well have scored a couple more, for his dash and ability to move out to the wings, stamped this as one of his best games for months.  This was one switch that really paid off for he led the line as though it was his best position.  Not that I'm singling out Harris for particular praise in the forward line.  The other four were great in their way.  Vernon's two goals set the seal on a brilliant display in which his strength on the ball, his directness and shooting ability showed him worth every penny of his big fee (incidentally, Mr. Carey said he had seen Vernon play better than this- I can't wait to see it!).  Harris's goal came from Vernon's leech-like holding of the ball, for the inside man fought off two tackles in the penalty area before slipping across a goal-laden chance to the centre forward.  This ability to keep possession in the tackle also started the first goal for Vernon for the dispossessed Sneddon in midfield, passed to Ring, and hammered the return into the net via a defender's body and the underside of the bar.   It was Vernon's second goal after 62 minutes, which clinched the game for Everton as he headed home a cross from Brian Harris.  Up to that point, there was the danger that Preston might score in a breakaway but afterwards there was no chance of Preston achieving anything beyond full marks for the admirably clean and sporting way in which they took a rare hammering. 
RING-LILL ONTRAST
New boy Lill, on the right-wing, provided a fine contrast to the trickery of Ring on the left with his directness and eagerness to cut in and shoot.  He scored the fourth goal when he fired the ball into the net from a narrow angle and he deserved it, for Else had stopped him earlier with the saves.  Ring with much more of the ball than Lill, was a delight with his control, beautifully flighted centres, and the rest of the line went out of their way to lay on his first goal for the club.  Collins was very much the master-mind of the attack and appeared to revel in the knowledge that his far-flung passes were going to be put to good use.  If I have laid emphasis on the forwards, it is only because this department has been under so much criticism in the past.  Against Preston, the defence played excellently.  Labone gave the finest performance of his young life in so controlling Finney that the great man hardly had a kick at the ball.  Labone won every ball in the air, tackled Finney into helplessness and even tried a couple of Finney-like tricks himself to get out of trouble.  Parker and Bramwell were so much in control of their wingers that they played more like half-backs at times.  It was this constant weight o attacking pressure which mastered Preston- wing halves and even backs coming far up field to lend a willing hand.  Meagan and Brian Harris provided a first-class service to their forwards, with Harris particularly coming through with the ball magnificently.  Like the rest of the side, they could not be faulted and that I feel sums up this exhilarating heart-warming performance.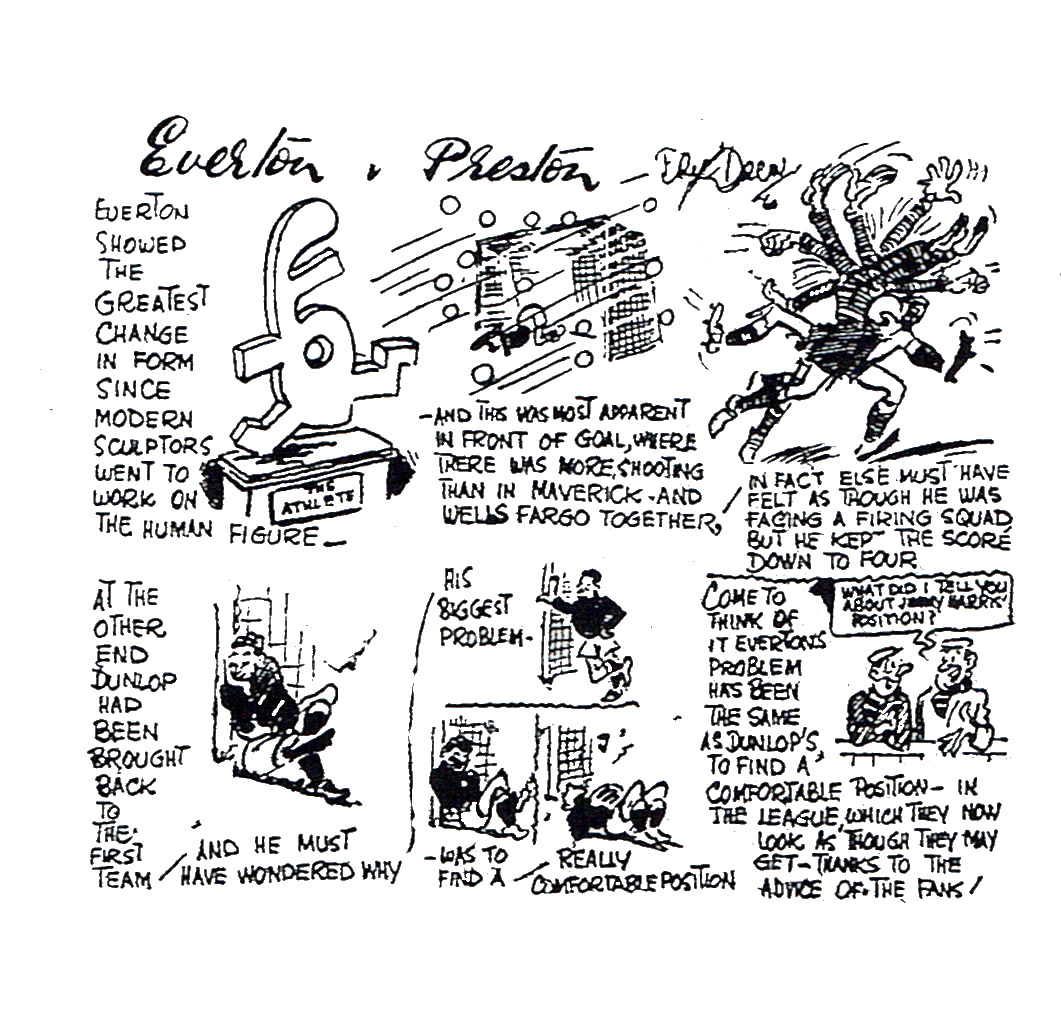 EVERTON ON MOVE FOR ANOTHER STAR
Monday, February 29, 1960. The Liverpool Echo and Evening Express
Gabriel Is New Target
£25,000 Offer
By Leslie Edwards
If Dundee lost their seven times postponed Scottish Cup-tie against Hibs in Edinburgh tonight Everton will almost certainly offer £25,000 for their 19 years-old right half Jim Gabriel.  Everton manager John Carey and his chairman, Mr. Fred Micklesfield, were both out of town today and in view of adamant news from Stoke that full back Tony Allen will be staying at least for the time being, with his present club, one does not need two guesses at Everton's next big-signing target.  Manger Carey is thus making one further move in his ambition to make Everton the Arsenal (or should it be the Tottenham Hotspur?) of the North. 
IMPRESSED
His team's finest performance for year's against Preston on Saturday, has not blunted his keenness to chase the players he needs to give Everton class in every department.  Gabriel first impressed him when playing for the Scottish Under-23 team at Wembley late last year.  He plays again for the Scottish Under-23 side this time against England on Wednesday at Ibrox Park.  Gabriel stands 5ft 11ins, and is well built.  Dundee manager Bob Shankly, a brother of Liverpool's chief Bill Shankly, has said that he will not let Gabriel go, but people on the inside in Scotland feel that Dundee could not afford to miss any offer of £25,000-providing they are out of the Cup. 
TAYLOR THERE
The appearance of Stoke City manager Frank Taylor, at Goodison Park on Saturday suggested that Everton and Stoke were linked again in the matter of the possible transfer of Stoke and England left back Allen.  Nothing could be further from fact.  Stoke themselves went players.  Everton's announced intention to sell players attracted Taylor to Merseyside.  Taylor said today.  "There has been no new approach or offer by Everton for Allen.  I visited Everton with a view to buying a player, not selling one.  "So far as Allen is concerned, the position remains unaltered.  Stoke have no intention of entertaining any bids for Allen's transfer in present circumstances.  Everton have been told that if circumstances alter they will be informed officially.  Everton and Stoke denied months ago any fire behind "smoke" which said Everton were interested in Allen.  On the Thursday before Everton played Chelsea, at Stamford Bridge on October 24, a definite offer of £25,000 was made by Everton for Allen.