DUNDEE TURN DOWN A £30,000 OFFER
Tuesday, March 1, 1960. The Liverpool Echo and Evening Express
Everton Bid For Gabriel
New Attempt?
By Leslie Edwards.
Though Dundee turned down, last night Everton's very big offer-stated to be £30,000 –for wing half-back Jim Gabriel, I understand that the Everton party, consisting of Manager John Carey and two directors will stay over in Scotland to see Gabriel play again this time in the Scottish under-23 team against the England under-23 side at Ibrox Park tomorrow night.  It is possible that they may make a second effort to sign him or even switch their attention elsewhere in the Scottish team.  Mr. Carey and his directors plainly thought it politic to be on hand when Dundee's Cup run came to an end and Hibs victory last night gave them their opportunity.  They conferred with Dundee immediately after the match and although manager Bob Shankly of Dundee would not confirm that the offer was one of £30,000 it is understood that this was the figure Dundee turned down. 
VINDICATION OF CAREY-AND OF ME!
Tuesday, March 1, 1960. The Liverpool Echo and Evening Express
By Leslie Edwards
Just my luck to miss (through a touch of flu) the finest, most heartening Everton performance since the between-Wars seasons when followers of the club had right to expect first-class stuff not occasionally, but throughout a season.  I was sorry to miss the demonstration of approval of 50,000 who would not go home until they had shown their new faith in the old club, I was sorry not to be able to shake John Carey by the hand and say "I never doubted you would succeed, given time.  Many readers were for giving "time" to the Everton manager, and this columnist "because, after all, Mr. Carey has been 18 months at Goodison Park and what had he done?  And why do you still tell us to have confidence in him? 
So, if things had gone differently, I should probably have joined him in the pillory.  That would not have deterred me much, but I confess that his (and my own) vindication came opportunely.  Thousands of fans know Mr. Carey only as a name.  They have no means of appreciating his expertise in matters relating to football; his humour, his patience, his quiet but effective pursuit of players he really wants.  Even now he is not out of the wood, but he can see day-light.  And never forget he wants success as much for the sake of people on the terraces as for himself.  Behind the scenes the Carey career here has not been roses all the way.  But looking at outgoings (and what they have fetched) and at incomings (and the fifty-thousands, gates they will command week by week), one cannot do other than applaud the club and their chief for creating a class side quickly after an almost disastrously unhappy start to initial moves, for men such as Setters, Vernon, Baker, and Law.  Followers of Everton have come to have the highest regard for the negotiating capabilities of John Carey, whose chirks look like roosting more than somewhat as they say, in the next few seasons. 
GUESSING GAME PART TWO-FROM SCOTLAND
Wednesday, March 2 1960. The Liverpool Daily Post
By Horace Yates
A security silence surrounds the activities and even the whereabouts of the ambitious Everton scouting party, headed by the club chairman, Mr. Fred Micklesfield, and manager John Carey.  Any communication from them would certainly be datelined somewhere in Scotland and their mission is undoubtedly the signing of Dundee half back, Jim Gabriel, but apart from that the curtain is chink-proof.  Mr. Carey is most adept at playing the waiting game.  This much is certain.  He saw Gabriel play in Dundee's defeated Cup side on Monday and he liked what he say.  From that moment on, there can only be conjecture.  Why?  Because Dundee manager, Mr. Bob Shankly, who has previously let it be known that no cheque Everton or any other club could write, would persuade him to part with this under-23 international refused point blank yesterday to discuss either Gabriel or Everton.  With Everton similarly in love with silence, facts could hardly be scarcer.  Does the statement that Mr. Shankly declines to be drawn at all indicate that negotiations are going on, that no decision has yet been reached and that Everton supporters can continue to lie in hope?  The questions come easily but not the answers. 
WHY LINGER?
I look at the position this way.  If Mr. Carey has made his approach and been turned down without hope of a change of mind, why then does he linger in Scotland?  I believe the attractions of today's under-23 international game are not sufficiently strong to hold him.  Equally certain it is, that he does not require a further view of Gabriel to enable him to make up his mind about value.  Mr. Carey would not have moved so far without being convinced that the material was right.  The fact then that he is staying on suggests that the reputation he has gained as a man who refuses to take "No" for an answer, has not been idly earned.  I may be wrong, but I fancy the reports of Mr. Carey dashing in with cheque book poised at the ready immediately after Dundee's defeat on Monday, may have been wide of the mark.  Can you imagine a less propitious moment to attempt to do business with a club than when they are in the depths of despair with Cup defeat would still gaping wide?  Mr. Carey is one of the greatest diplomats in the football business and if that sort of reaction strikes us as a possibility you can be sure Mr. Carey will not have over-looked it.  Yesterday, then, may have been the say for negotiations and if there is room for optimism of the outcome it can stern only from the fact that the Everton negotiators are staying on and that Mr. Shankly keeps his own counsel.
NO STATEMENT
If Mr. Shankly had sent the Everton contingent on their way what would have been easier than to say, "Everton made Dundee an offer for Gabriel.  It has been refused and the player is definitely not for sale.  But no such statement, or anything like it is forth-coming.  Obviously, on such flimsy grounds it would e ridiculous to build up any degree of optimism and Everton supporters who do so, invite disappointment.  Until there is a conclusive statement either way, and It can be taken for granted that Everton will not lose a moment in spreading the glad tidings when a deal is accomplished, the obvious policy is- wait and see.  If a way can possibly be found to achieve the desired end have confidence that Mr.  Carey is the man to do it. 
JIM GABRIEL SIGNS FOR EVERTON
Wednesday, March 2, 1960. The Liverpool Echo and Evening Express
Dundee Accept £30,000 Bid As Mr. Carey Persists
Debut Next Week?
By Leslie Edwards
Everton today signed in Dundee 19-years-old Jim Gabriel, Scottish Under-23 international right half.  Earlier today it was announced that Dundee and Everton had agreed terms for the player and that Gabriel would not make up his mind about the chance to join Everton until tomorrow morning.  But shortly after midday Manager John Carey visited Dens Park and Gabriel anxious to play in a big-time soccer in England agreed to sigh there and them.  The feel undisclosed is understood to be £30,000.  Gabriel plays tonight for the Scottish under-23 side against England under-23 at Ibrox Park, Glasgow.  Mr. Carey is staying in Scotland overnight and all going well, will travel to Liverpool with Gabriel tomorrow.  In view of the fact that Gabriel will have played twice already this week it is unlikely that he would be asked to make his debut at West Ham on Saturday.  Gabriel thus becoming one of the most expensive 19-years-olds the game has ever known.  He is almost a six footer; is strongly built and comes of footballing stock.  His father played as a professional for many seasons with East Fife.
FULL TIME
Unlike most other signings from Scotland, Gabriel is a full time professional so when he has rested from a busy week je should fit smoothly into the Everton half-back line, which needs heights and weight behind the superlative front line build so painstakingly in the course of the last few weeks.  The expense of getting Gabriel means that Everton have spent £100,000 on players within the last month.  First they secured Tom Ring from Clyde them they obtained Roy Vernon from Blackburn at the second attempt and immediately prior to their game at Highbury they signed Mick Lill from Wolves.  The Gabriel signing means that Manager Carey and the Board have confirmed that they mean to make their club comparable with Manchester United.  Their watch-word now is "Come and see, today, the team of tomorrow. 
SCHOOL BOY STAR
Gabriel joined Dundee two seasons ago from the junior club Dundee North End.  He captained Scotland as a school-boy and more than once has been commanded to train with the full Scottish international team.  No club had a hope of getting him while Dundee still remained in the Scottish Cup but their defeat by Hibs in Edinburgh on Monday suggested that their attitude might change.  Manager Carey and Mr. Fred Micklesfield the Everton chairman and another director Mr. Holland Hughes, were on hand to negotiate for the player immediately the match ended, but their offer was turned down.  Moreover the Dundee manager, Mr. Bob Shankly was adamant that money could not buy Gabriel, defeat or no defeat.  But money talks and money commands, and as one Scottish expert said when told that Everton meant business "I don't see how Dundee could possibly turn down an offer of anything over £30,000.  Yet it was certain that Everton's opening bid was not enough.  When they raised it, the Dundee board met again yesterday and then told the Everton emissaries "We accept your terms.  It is now up to the player."  I understand that Mr. Shankly brother of the Liverpool manager said that he did not want Gabriel to go, but he would not attempt to persuade the boy one way or the other.  Everton appreciating that Gabriel will have had three games since last Saturday, to say nothing of two long trips by train on Thursday and Friday are not fussy about Gabriel appearing for them in London on Saturday.  In this case his first appearance would be against Chelsea a week on Saturday at Goodison Park, whose 70,000 plus capacity would be tested to the limit to hold all who would want to see the new and so much better Everton.  Everton's interest in Gabriel stemmed from, if not before the player's appearance against Wales at Wrexham last November in the Under-23 match.  The Everton manager so quiet to persistent has never wavered in his desire to bring Gabriel to that city and despite all protestations from Scotland that Gabriel would not go has succeeded characteristically to complete the greatest incoming of football talent to this city in the history of the game here. 
EVERTON PAY £30,000 FOR GABRIEL
Thursday, March 3, 1960. The Liverpool Daily Post
Reconstruction Plan Now Nearing Its End
By Horace Yates
With the signing of nineteen-year-old right-half Jim Gabriel, from Dundee United at a fee approaching £30,000, Everton yesterday slotted into position another important piece in the reconstruction programme.  For the second time in three weeks, manager John Carey has pulled off a triumph of negotiation generally considered beyond him or any other being.  Spending on this scale for remember in a matter of weeks they have paid £20,000 for Lill of Wolverhampton Wanderers, £35,000 for Vernon, of Blackburn and £12,000 for Ring of Clyde writes a new page on history for Everton, and even now I think it would be unwise to assume that Mr. Carey's transplanting programme is at an end.  It is my opinion that with this recent burst of enterprise Mr. Carey has saved Everton from the prospect of Second Division football next season.  The signs are already apparent, that the urn of the tide is at hand. 
BOUGHT SUCCESS
Had Everton considered cash before prestige and dropped into Division Two, their absence from the top flight might have been fairly prolonged.  It is far easier to go down than to get back.  It has been said times without number that success cannot be brought but of course, this is not wholly true.  There have been instance where the most liberal sending has failed to achieve results, but on the contrary judicious speculation has brought reward to others.  There is a difference between spending and building, for they do not necessarily run a parallel course.  At a time when clubs everywhere complain that good men just cannot be brought Mr. Carey has gone out, remodeled his forward line and now added a star half back to his collection.  Not only has he proved that players can be brought but that it is still possible to find quality players as well.  Mr. Carey has spent freely, but not rashly and I shall be surprised if every one of these recent signings do not pay the highest tribute to his judgment.  When he left for Scotland on Monday, he must have known that the Gabriel mission was fraught with doubt and difficulty and even if Dundee were eliminated from the Cup, as they were the bargaining would be tough.  To his great delight; Dundee yesterday accepted his amended offer, no doubt feeling that the handsome cheque would take care of the expenditure on floodlighting and the covering of the enclosure at Den Park.
GABRIEL'S DECISION
Before he left Dundee, for Glasgow for last night's under-23 international game against England, Gabriel was aware that the decision as to whether or not he left for a career in England was then wholly his.  Mr. Carey made contact with him during the afternoon and Gabriel signed about 4-30 p.m.  He said "I am looking forward to playing in English football, but I leave Dundee with some regret for I have been very happy there and it is thanks in large measure to the older players that I have been able to make a success of my career so far.  Dundee manager Mr. Bob Shankly, was most reluctant to part with a player who was on his way to becoming the best wing half in the country.  "The lad told me he wanted to try English football and that settled the issue," said Mr. Shankly, explaining why he had shifted from his former "we will not part" stand.  Mr. Jim Gabriel, himself a former senior player said, "We did not interfere with Jim's decision in any way.  It was obvious he would go to England some time or another.  After all, that's the place where a footballer's future seems to lie."  Mrs. Gabriel, his mother, was happy that he was going to Everton, for he has an auntie, Mrs. McComb, living in Bootle and his young nephew is "Everton daft" added Mrs. Gabriel.  "He should not be homesick" she said.  Gabriel who has made his reputation as a clever and constructive wing half, very strong in the tackle is a former schoolboy international.
MR.BUSBY IMRPRESSED
Still only nineteen, he joined Dundee in October 1956 from a junior club, North End.  After a short-spell with the reserves he became a full time professional the following year and gained a place in the League team.  Last night's game against England was this third under-23 international appearance while he played at centre half for Scotland in a game against the Army at Tynecastle last season.  He has also trained with the full Scottish party at Turnhouse, where he made a big impression on Manchester United manager, Mr. Matt Busby.  I understand that Mr. Carey intended to return to Liverpool overnight and hoped to be able to bring Gabriel along with him.  In the event it might not be too much to expect that Gabriel, like Lill would find himself making his Everton debut in London.  I think the last player Everton signed from Dundee was also a wing half, Jack Thomson who helped Everton to promotion, championship and Cup triumph. 
For the record Scotland drew 4-4 against England Under-23 at Ibrox, which Gabriel played as am Everton player.
CRITICAL EYE ON GABRIEL
Thursday, March 3, 1960. The Liverpool Daily Post
By a Special Correspondent.
The statistics of the Scotland-England Under-23 international in Glasgow last night show Jimmy Greaves the fleet-footed Chelsea inside left shot a hat-trick in the drawn 4-4 game.  These chill figures must prompt Everton supporters to ask where his immediate opponent, nineteen-year-old Jimmy Gabriel who cost the club around £30,000 a few hours before, figured.  The 30,000 crowd at the match would tell them to forget the so-called statistics.  Gabriel did a fine job, indeed he took on two jobs.  He played right half and tried to seal a centre of the field gap which he spotted early in the game.  Centre-half John Martis, an international debutant was slightly nervy and uncertain and England centre-forward Bobby Charlton was able to draw him right out of position. 
The result-Gabriel who has played the centre half role with Dundee provided the power against the through-the-middle pass which the Englishman exploited. 
SEARCHING PASSES
In the first half, with Gabriel and left half Higgins (Hearts) in command, the Scottish forward line maintained a sustained attack.  Gabriel, in addition to feeding his right wing, made several searching cross field passes to switch direction of the attack.  Only once in the first 45 minutes did Greaves get beyond him and he scored for England to go in at half-time 3-1 down.  Gabriel hit in the 40-yard free kick from which Scotland obtained their fourth goal in the second half but then the pace of Greaves and some Scottish defensive errors earned England a draw.  Throughout the game Gabriel played on-the-floor football, even under the pressure of the second half, and his height in clearing the cross balls from the English wings was invaluable.  At £30,000 Gabriel has perhaps cost Everton a little more than current value but his potential certainly rates him as a player who will give full return within two seasons. 
AS AT HOME-BUT HE'S SO RARELY THERE
Thursday, March 3, 1960. The Liverpool Echo
By Leslie Edwards
You'd think from what you've read about him in the papers, these past few months that none could ever pin down Manager John Carey for ten seconds in a pose of response.  But here is the man behind the Everton revival- reading the right paper too- just as you might find him at his Birkdale home.  If you could ever find him at home.  He promised you entertaining attractive football; he promised you winning football, if possible and he promised to make Everton an outstanding team not only in Britain but by world standards.  The secptics scoffed the believers, believed and the team, far from moving up, stayed just where they were- floundering.  He tried to sign Baker; h tried to sign Setters; he tried to sign Law; and the sceptics scuffled again.  He went for Vernon, and Vernon after seeing club houses, went home and straightaway said "No" to Everton's offer.  There was the small matter, too, of Everton's Cup defeat at Bradford City; further home and away failure and then the breaks to swing his way.  First came Ring a man who revolutioned the attack; then Vernon, then Lill, and now Gabriel, and those who wondered where Everton were going now have the unmistakable answer-to the top. 
AND ALL WORTHY THE MONEY
True, Mr. Carey who has hogged the headlines as none since the days of Herbert Chapman, has had money to spend but he's spent to admirable effect and only on men he knew were worth the money asked.  His persistence in face of failure and of refusal; his determination to get his man; his quiet quick striking at the most favourable moment for great players make him the most talked of manager in the game and fit to rank with the other great go-getters who have spent money freely and nearly always profitably.  In the space of a month he has spent some £165,000 and during his comparatively short period at Goodison Park has produced for his club some £40,000 return for the outgoing of such players as Sanders, Kirby, Graham Williams and Harburn, among others who were much in the picture when he arrived to take over from Mr. Ian Buchan about 18 months ago.  Yet for weeks I have received (and don't doubt he was) letters from fans asking "what has Mr. Carey done since coming to Goodison Park and why are Everton still failing?" I am convinced Everton are over the hump and that for the first time since the war are destined for a period of Everton prosperity and success which will make them one of the leading clubs in Britain and not also rans to whom the European Cup competition remains merely a dream. 
HIS DECEPTIVE QUIETNESS
Mr. Carey has had courage –physical and moral.  In two London trips, I learned this at first hand.  His status with me, bounded to the top from these experiences.  He will not be bullied he sees his duly and nothing dissuades him from it.  His quietness as a man is deceptive.  Many could under-estimate him some have.  I believed in him because as a player he was one of the game's adornments; because he so obviously knew every aspect of the game.  He has a streak of kindness one usually finds in the family man-he's essentially that –but he can be tough and relentless when occasion demands.  The Notts Forest win was a turning point for him and in his club; so was the vital victory a most memorable one-against Preston.  If he had missed either of these…But let us not pose situations which did not arise.  Everton are still of the League table is any criterion, in trouble.  Yet my opinion is that they are set for success; that they will command it and that Mr. Carey will be the architect of it.  meantime he'll pull quietly on his pipe shun the limelight and find much I imagine to cause those Evertonians eyes of his to twinkle on the future (and in mediate past) of the club he intends asking to the top. 
JOHNNY ONE BUS
Mr. Eric Pugh, of 2 Olivertree Road, Liverpool 15, writes; - "The real pleasure afforded many thousands of supporters by Everton's exhilarating display, was married by the chaos and confusion created by the antiquated loading facilities provided by the Transport Authority.  One inspects and one conductor loaded one bus at a time and it took this writer and many others over an hour to make a journey which took 15 minutes in the reverse direction.  "This situation has persisted for seasons now and it seems that the officials on the spot have no conception of loading buses with sufficient speed to get the passengers home.  "Now that a positive revival in enthusiasm for our local club is imminent, fare one make a last despairing appeal for substantial improvement from now on. 
"I am credibly informed that Liverpool Corporation Transport Authority have more inspectors to the square mile of route than any other town of comparable size in this country.  Surely some of these could help the inadequate and overworked officials who have to struggle to load one bus at a time?  At least eight vehicles could be loaded at a time with a little ingenuity by an official stationed at convenient points in this more orderly queue, whereas at present poor Johnny One Bus as he has been affectionately nicknamed has to struggle on alone." 
WHY I TURNED DOWN EVERTON-AT FIRST
Friday, March 4, 1960. The Liverpool Daily Post
'My Career At Stake, I Needed Time to Think' Says Roy Vernon.
Rovers Attitude A Stunning Blow
The Whole Truth by Roy Vernon (Everton and Wales).
By the nature of their employment, footballers cannot hope to escape the glare of publicity, and for that matter few of us want to do so.  I am not, however, one of those who believe all publicity is good and that the position is serious only when you are not getting it.  Has there ever been an occasion in your life when you have felt suddenly limp and empty, as though the blood had been drained away from you as a result of some shock or other?  That is the feeling I had when I picked up a newspaper one morning in my Blackburn home to read that the Rovers were prepared to transfer me.  It was a cruel blow, the sort of treatment I would not have wished on my worst enemy.  If I may make a plea on behalf of professional footballers it is that we should be given the same consideration that exits in the best ordered society.  What I mean is that if a player who has come to be looked upon as a regular first-teamer is to be dropped into the reserve, the decision would be conveyed far better in a chat between manager and player than by the cold headlines of a daily newspaper.  How much more does this apply when a club decide to invite offers for a man without so much as a hint that sort of thing is in the wind?  It is a complete denial of the human touch that plays such a big part in team spirit.  To say that I was shocked at the revelation is to understate the position.  Maybe it was not true, I thought.  Possibly it was one of those stories that would be promptly denied.  There was only one way to find out- by asking the manager, and this I did as soon as I was able.  Far from disposing of my fears, the conversation merely confirmed them.  It was true that Rovers had no place for me in their future plans. 
It was while I was in this shocked state that the Everton manager Mr. John Carey, appeared on the scene, only the day after the announcement.  That was fast work, if you like, but knowing Mr. Carey's quickness of decision and his ability to decide what he wants on refection I should not have been surprised.  At that time with surprise following surprise in bewildering confusion, can you wonder that I scarcely knew whether I was on my head or my heels.  There is no man in football I respect more than Mr. Carey's I have very good reason to admire him, as I will tell you later in this series and there was no man to whom I would have preferred to turn for advice.  Without any preamble, Mr. Carey said, "Roy I would like you to come to Everton.  What do you say about it?" 
We had a quite a chat, but a footballer cannot make a decision as important as this in a flash.  I had to consider not only myself but my wife a Blackburn girl.  I knew that if I was convinced that my future on Merseyside, my wife, loyal Blackburn Rovers fan though she was, would not stand in my way, even though it meant tearing up our roots and starting again.   Mr. Carey would have liked a decision there and then, but I just could not give it to him.  No matter who had been asking Spurs, Arsenal, or Manchester United my reaction would have been just the same.  I simply had to play for time so that whatever decision I made was taken at leisure, with a good chance of being the right one in the end.  When Mr. Carey suggested that I should travel to Liverpool the following day, with my wife, to look at houses which could be made available I saw this as the ideal stone-walling opportunity.  It meant another twenty-four hours, or so to turn the whole thing over in my mind. 
WONDERFUL HOSPITALITY
I soon found that the hospitality which is legendary so far as the Everton club are concerned was true.  I could not have failed to be impressed for there was no feeling that they were laying it on specially for me, and painting a picture which might be at danger of fading slightly in later days.  There was a naturalness about everything and we would have been less than human if it had not registered in Everton's favour.  Mr. Carey sought a decision by the next day and I promised to let him have it.  All the way home we ironed out the points for and against, and again at home there was only one topic of conversation.  I consulted those, I thought I thought to be in the best position to advise me and that same night I made up my mind that it was too great a problem to attempt to resolve so hurriedly.  A few hours in advance of the agreed time I told Mr. Carey that I was going to stay at Blackburn. 
Meantime I resumed playing for Rovers but I could not erase from my mind the events of the past months at Ewood Park.  There was the thrill of the F.A Cup progress and some playing success to tempt me to forget my disappointments, but when, even with the glittering prospects of  Wembley appearance hovering on the horizon I still felt out of my depth at Blackburn.  I knew that if Blackburn were still o a mind to transfer me, I would go.  When I told my wife of my crystallized feeling, she was a real brick.  "Whatever you decide Roy, is all right with me, I will go whenever you feel your future lies," she said.  That was wonderful support at the time I needed it most.  If she had pleaded with me to stay on at Blackburn, I just don't know how I would have reacted.  Then there was the haunting thought that there might have been a change of mind on the part of the Rovers.  Perhaps they would no longer desire me to move. 
PERPARED TO GO
Off I went to see the club chairman, Mr. N. Forbes, a gentleman for whom I had the greatest possible respect.  I spoke bluntly and said that if they still wanted to be rid of me, I was prepared to go, always providing that the Everton interest was maintained.  Call it conceit if you like, but I got the impression that so far as Mr. Forbes was concerned he would rather I stayed at Blackburn.  However, he promised to put the new situation to his board and give me a speed answer.  My week's suspension had just ended and every passing minute confirmed my opinion that the call of Everton was too great to resist.  Even friends who pointed to Everton's position in the League table and suggested that I might be flinging myself into Second Division football by next season, failed to damp my spirits.  The decision –which had proved so difficult to reach was now standing out like a beacon light as being the only one possible.  Last lingering doubts had been shattered and I think I would have been greatly shocked if Blackburn had made an about turn.  I had reached the stage at which I could not get away fast enough.  To my great relief Blackburn said I could go and Mr. Carey was still willing to take me. 
A NEW CHAPTER
On the Wednesday of that week I went along to Tarleton with the secretary and chairman and met Mr. Carey, who had Eddie Thomas of Everton with him.  When we parted company, I was an Everton player and Eddie Thomas belonged to Blackburn.  We shook hands, wished each other luck and started out on a new chapter in our lives. 
Next week I will tell you of my early days in North Wales football, my introduction to Blackburn Rovers and now I came to meet and admire my new boss-Mr. John Carey. 
A WEEK TO REMMEBER FOR GABRIEL
Friday, March 4, 1960. The Liverpool Daily Post
By Horace Yates
Jim Gabriel, Everton's £30,000 signing from Dundee, steps out with his new colleagues at West Ham tomorrow at a time when his club, at this advanced stage of the season are still seeking their first away victory.  This was the position also experienced by Mick Lill on his debut at Highbury on February 20 and he failed to prove the lucky mascot.  Will things work out differently for Gabriel?  I think they might, for while luck undoubtedly plays it parts in football results performances generally have to be earned.  Everton today are better placed to make things come right than they have been for several years.  If we could probe the innermost thoughts of manager John Carey, we might find that he would still like to make at least one other signing before putting away his pen and cheque book, but for all that to the average viewer his team now looks good enough to start a steep climb not only to safety but to respectability.  Mr. Carey will not decide until today who goes out to make way for Gabriel,  I do not pretend to have the highest idea as to what his decision will be, but Brian Harris would get my vote in preference to Mick Meagan if only because he gives the impression of greater strength and determination in his work.
BUSY WEEK.
With three matches played from last Saturday, Gabriel has had a busy week, but at nineteen football is still very much a game rather than a job of work and I am not surprised that Mr. Carey should have given the lad this immediate opportunity of making his acquaintance with English League football.  If he starts in top gear it will be a wonderful tribute to his stamina and ability, for travelling don from Scotland through last night and then on to London this afternoon, is scarcely the sort of preparation one might recommend for an opening game.  At this stage of his career Gabriel is much more likely to be able to treat trials lightly them he may be in years to come.  Had this been scheduled as a home game, Goodison Park would have been bursting its seams from the pressure of the crowd which would have wanted to see it.  Still, the excellence is only deferred and if Everton do annex that elusive victory the visit of Chelsea next week ought to produce the biggest attendance of the Everton season.  It undoubtedly has required great courage on the part of the directors to speed to an extent which puts Everton among the game's biggest spectators but even at this early stage, few will attempt to deny that it was a gamble not only worth taking but one which it was very necessary to make.  Without the newcomers Everton at best, could only have struggled through to another First Division season of toil, disappointment and trouble. 
CHANGE PICTURE
Now the picture is completely changed.  Optimism has replaced discontented grousing by a restless following, which has marveled at the successes scored by the manager in his pursuit of players worthy of places in the most successful sides.  Criticism have died a natural death and now the hope is that enterprise of such boundless proportions collects the reward it undoubtedly merits.  Everton have paid a handsome tribute to their following by risking so much for I am sure it was the knowledge that the vast Merseyside sporting public would rally in support, that gave them the courage to take such expensive plunge.
COCK-A-HOOP EVERTON WANT ONLY VICTORIES
Friday, March 4, 1960. The Liverpool Echo and Evening Express
By Leslie Edwards
Cock-a-hoop Everton fans now want only one thing-victories.  For preference away victories.  They haven't won at an opponent's ground since last April when they played at Portsmouth.  Time (and some other sides at the foot of the table) are pressing and Mother Carey's chicks-surely the most expense brood ever collected-must justify their existence again as they did outstandingly against Preston.  Even a hardened old ex-editor of this newspaper came straight from Goodison Park to enthuse boyishly to me about the most entertaining, solidity satisfying Everton performance since those never-forgotten days when the club had a team.  Many may doubt the wisdom of giving young Jim Gabriel from Dundee, his debut so quickly after so much travel and so much play this week, but the lad himself is anxious to get started in his new career and Everton's need for victory is so urgent they could hardly afford to leave him out.  He will bring size and weight to a line which needs it badly on the flanks, though none denies the all-out effort of give-everything-you got Johnny King.  Gabriel will find English football faster, but not necessarily more studious than the stuff he has been used to at home. 
SLOW-COACHES WON
Anyone who saw the Wolves beaten by Barcelona at Molineux, could not fail to be impressed by the slow-coach movement of one side and the break-neck speed of the others; yet the football tortoises won and reminded more than one old player in these parts of football in it used to be in days when there was pattern and certainty about it.  The art of slowing a game to the point at which the ball manipulator can make his skill tell was often practiced by the Arsenal team at its best.  Everton now have the class to make the pace fit their own technique.  And with Collins and Vernon as extra strikers alongside a Harris whose game should benefit considerably from such support I am convinced they will break the spell and win.  West ham's home record, after a good start to the season, is undistinguished.  The new spirit of the Everton team which must now give them a pretty conceit of themselves should assert itself markedly and confirm our belief that we are seeing today the team of tomorrow. 
ALLEN LINKED WITH EVERTON
Friday, March 4, 1960. The Liverpool Echo and Evening Express
By Michael Charters
Star of the Stoke City side playing Liverpool at Anfield tomorrow, is Tony Allen, their England international left back, who Merseyside football fans will remember for his great game in the Under-23 match against Hungary at Goodison Park early in the season.  Allen's name has been linked with Everton in their fantastic build-up of big-name stars.  Three months ago Everton offered £25,000 for him but Stoke refused.  Everton have not lost interest however, and if Stoke decide to part Mr. John Carey will be the first to know and may well renew his bid.  I understand that Allen has not been playing well recently and it will be interesting to see if he retains his place for the Football League against the Scottish League later this month.  This game is regarded as a full-scale test for the international at Hampden Park on April 9 between England and Scotland.  Anfield fans tomorrow may well get a preview of yet another Everton star of the future. 
HARRIS (B.) DROPPED FOR GABRIEL
Friday, March 5, 1960 The Liverpool Echo and Evening Express
Everton Team At West Ham
Only Change
By Leslie Edwards
Brian Harris loses his place to the newly-signed Scot Jim Gabriel, at right half in the Everton team to play West Ham in London tomorrow.  Some people had anticipated that Mick Meagan night go out of the side with Harris switched to the left, but Manager John Carey clearly wants to disturb the eleven which played so well against Preston as little as possible.  Gabriel arrived in Liverpool early this morning on the night train from Scotland and visited Goodison Park to meet his new team-mates and to have a little light training.  Noel Cantwell West Ham's captain returns to left back in place of the injured Lyall Dick, fit again after a leg injury, is an inside left.  Grice replaces Scott at outside right and Moore is at left half for Hurst.  Everton; Dunlop; Parker, Barmwell; Gabriel, Labone, Meagan; Lill, Collins, Harris (J), Vernon, Ring.
West Ham;- Rhodes; Kirkup, Cantwell; Malcolm, Brown, Moore; Grice, Woosnam, Bond, Dick, Musgroves.
Everton Reserves (v. Derby County at Goodison Park);- O'Neill; Tansey, Green; King, Billington, Harris (B); Tyrer, Shepherd, Shackleton, Wignall, Laverick. 
Everton have a very attractive youth match against Manchester United at Goodison Park on Monday (7p.m).  This second leg-tie United won the first game 3-0 will give fans opportunity to see a first-class United side and an Everton team containing a lot of good local material. 
EVERTON'S CHANCE TO SHOW REVIVAL IS GENUINE
Saturday, March 5, 1960. The Liverpool Daily Post
By Horace Yates
Three times this season Everton have jotted their followers with football brilliance and a crop of goals, which suggested that better times were in store, only to be followed on two occasions by the mixture very much as before.  Will the third time, the brightest and best display against Preston last week really prove to be something more substantial than a mirage?  That is a question likely to be more easily answered after the game at West Ham today, for it could well be the most favourite opportunity Everton will have of recording an away victory their first in seventeen League matches away from Goodison.  Grounds for optimism are more solid than at any previous time, and although football flourishes on surprises, Everton are better equipped to do themselves justice than for a long time past.  Astute buying has set the scene anew.  West Ham to me, appear to be just the side to produce Everton celebrations for the Londoners have slumped badly, since their blaze-away earlier in the season.  Their last twelve games Cup and League making dressing reading, for they have won two of them at home to Birmingham and Chelsea.  Curiously enough, in the previous twelve, they lost only two away to Sheffield Wednesday and Fulham and during that run included a 1-0 victory at Goodison. 
GABRIEL TEST
It is a fact that since West Ham came into the First Division two seasons ago, they have dropped only one point to Everton in three games.  Jim Gabriel the £30,000 signing from Dundee is likely to gain a fair impression of the sort of tests that lie ahead for him in English football, for fellow Scot John Dick, tall forceful and experienced, and quite an accomplished scorer, is back in the West Ham side after injury, and it will be Gabriel's task to subdue him, quite one of the biggest responsibilities of the game.  Gabriel has earned for himself glowing reports for his defensive accomplishments and if he triumphs here, after as strenuous a week as he is ever likely to have, the young Scot should make an immediate impact where it is badly needed.  For Meagan too, today could be of useful importance for unless he can command and dominate he must realize that Brian Harris is only too willing to seize the opportunity of showing him how.  Jimmy Harris as happy as a sandboy in his favourite centre forward role, is blessed with a wonderful array of talent around him, and with all the newcomers Vernon, Lill, and Ring, increasingly finding their feet as they settle in the forward line should not fall the side.  Cantwell replaces Lyall at left back in the West Ham team.  Moore is preferred to Hurst at left half and Grice takes over from Scott at outside right.  West Ham; Rhodes; Kirkup, Cantwell; Malcolm, Brown, Moore, Grice, Woosnam, Bond, Dick, Musgrove.  Everton; Dunlop; Parker, Bramwell; Gabriel, Labone, Meagan; Lill, Collins, J. Harris, Vernon, Ring.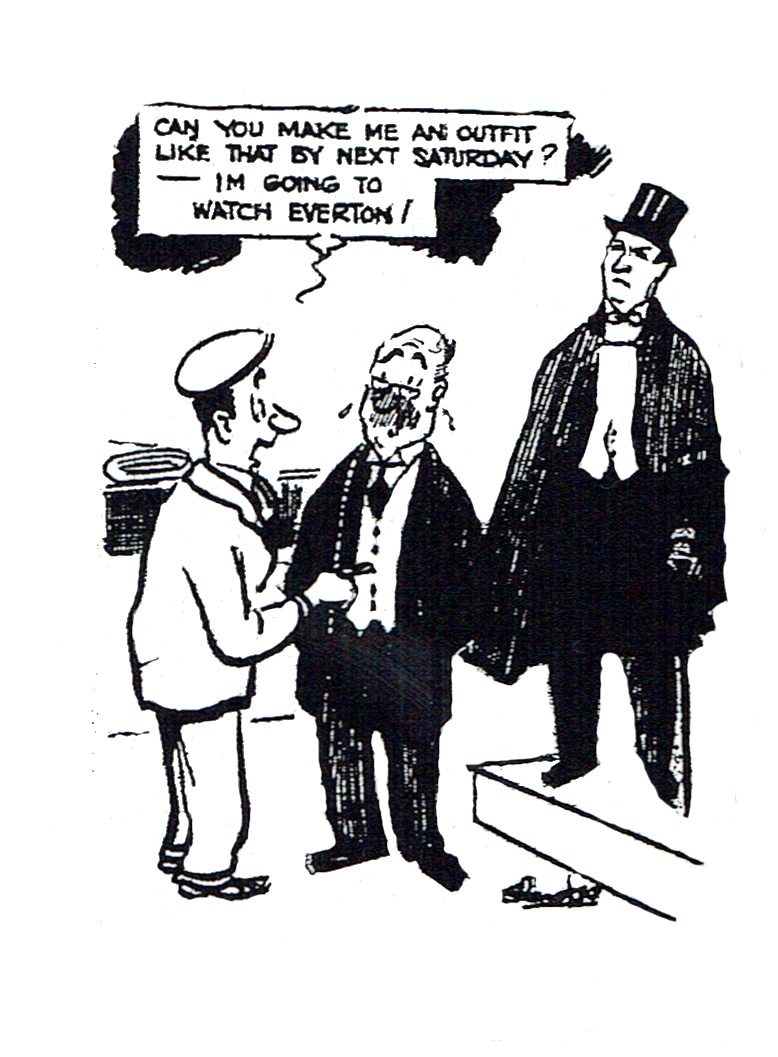 EVERTON HELD ON TO GAIN HARD-EARNED POINT
Saturday, March 5, 1960. The Liverpool Echo and Evening Express
West Ham 2, Everton 2
By Michael Charters
West Ham United;- Rhodes; Kirkup, Cantwell; Malcolm, Brown, Moore; Grice, Woosman, Bond, Dick, Musgrove. Everton; Dunlop; Parker, Bramwell; Gabriel, Labone, Meagan; Lill, Collins (captain), Harris (J), Vernon, Ring.  Referee; Mr. P.H. Carr.
Harris opened for Everton with a splendid run down the left wing but Moore cut off his centre for a corner.  From Ring's kick, Brown conceded another corner, which Lill hooked first time over the bar.  West Ham retaliated with a good run from Musgrove, whose centre was turned just outside the post by Bond. 
OBSTRUCTION TACTICS
A cross field wind was play the tricks with the ball in the air and West Ham's use of obstruction tactics earned Everton three free-kicks in the space of a couple of minutes.  West Ham made a dangerous breakaway attacks the run of play, with Dick putting through a perfect pass for Bond, but Dunlop came out to save what looked a certain goal by diving all the centre forward's feet.  Everton's best shot came after 10 minutes when Ring cut inside Kirkup and tried a right-foot drive from fully 30 yards which skidded wide of the far post with Rhodes scrambling across to cover it.  Labone was doing very well against the former full back Bond and intercepted nearly twice to start Everton attacks which unfortunately, broke down very quickly against the big strong West Ham defenders among whom Brown and Cantwell were particularly good.  Not a lot had been seen of Gabriel yet as the flow of the game just had not gone his way but he suddenly burst into life with a splendid tackle on Dick and a neat back heel flick to Dunlop to break up dangerous West Ham attacks.  Lill who was a former member of the West Ham Youth team, and Harris linked up very well in a move near the corner flag and Lill's long centre was headed wide by Ring. 
OFFSIDE TRAP
Vernon got himself into difficulties with a tight dribble down the left wing and when he was tackled by Kirkup the referee came over and had a word with Everton man before awarding a free kick against him.  Harris was running into many offside positions as he moved along the line from one wing to the other.  This was holding up a lot of Everton moves and Malcolm showed then the way by trying a shot from just outside the penalty area which Dunlop saved at full length at the expense o a corner.  Gabriel was marking Dick very closely and he followed the West Ham man across the pitch in one attack to pick the ball off his toes and slid it across for Bramwell to clear in a bit of work which earned full marks from the small contingent of Everton supporters here.
 ACOLLINS FLICK
Meagan who was doing very well came across to help Gabriel to start an attack in which Collins made the lowest of through flicks for Vernon to take it in his stride but the final shot carried little weight and it bounced harmlessly wide.  West Ham took the lead after 38 minutes from a free kick just outside the penalty area.  The foul was awarded against Lill, who came back some 30 yards to tackle Woosnam from behind.  Cantwell touched the ball a few yards to his right and Bond hit a lovely shot instantly into the far corner of the net.  It seemed to me that Everton's defensive covering here left something to be deceived for there was a large gap through which Bond could aim. 
Half-time; West Ham United 1, Everton nil.
Everton were in trouble quickly as Labone slipped in midfield and Grice put an excellent centre across to Musgrove, whose fast cross was well saved by Dunlop.  The Everton goalkeeper in splendid form, then produced the best save of the match as he pushed over the bar a flying header from Musgrove who went up for a centre from Bond.  Although Everton were having slightly more of the play the inability of Harris to make any headway against Brown was hampering most of their attacks.  West Ham always looked the more dangerous side in their more isolated attacks, and Everton were lucky not to go further behind as Dick hit a lovely long pass for Musgrove to race on to.  The winger for centre was missed by Dunlop but Grice overran the ball and missed a golden chances. 
UP AGAINST IT
The game had not improved very much ad although Everton kept battling away there were no signs that they could find a way through this first class defence.  The only shot of any difficulty that had come Rhodes was in the first hour, was the free kick from Collins just after the interval.  The transformation, if this Everton performance and the one of last week was a remarkable- the wrong way, for any Everton supporters present.  They were but a shadow of the fine side they looked against Preston although the defence was playing well enough with Dunlop and Labone outstanding.  Lill, who had a very quiet match against Cantwell at last slipped the full back and raced brought to try a shot from the edge of the area, but straight at Rhodes. 
THE EQUALISER
Everton at last equalizer in similar fashion to the West Ham goal.  After 70 minutes Cantwell fouled Harris just outside the corner of the penalty area.  Vernon brushed Lill aside as the winger about to take the kick, took it himself, and hit a beautiful shot straight into the net with Rhodes hopelessly beaten.  Two minutes later Vernon put Everton ahead with a fantastic goal right out of the blue.  It followed the only mistake Brown has made throughout the match, as he hastened with goalkeeper Rhodes hovering behind him to steer a hopeless looking pass from Meagan and Vernon taking the chance in a second, nipped between the two of them and lobbed in over their heads towards the empty net before following up completely unmarked to place it into the net. 
WEST HAM HIT BACK
It looked as though Everton were going to fall into the trap of dropping into defence as West Ham went all out for an equalizer when it looked as though the game had been in their keeping Musgrove looked their best proposition and he came flying in to take a cross from Woosnam to side footed the ball wide.  Everton were pinned very much on defence since Vernon's second goal and there were some desperate moment in and around the goalmouth as West Ham pressed very strongly.  During the spell Labone was doing good work in the air and Bramwell had Grice completely under control. 
WONDERFUL SAVE
I don't think anyone could disagree that Everton had the cleverness players individually and when they fought back they produced one brilliant move down the right wing between Lill and Harris for Ring to touch across a centre to Collins who smashed it first time for Rhodes to make a wonderful save.  After Vernon had missed a hat-trick by the width of a post as he side footed across from Harris just outside West Ham equalized five minutes from the end through Dick who owed it all to the persistence of Musgrove.  The winger brake through at tremendous speed and his close range shot was parried by Dunlop and as Bramwell came forward to clear Dick nipped in to place the ball in the net. 
Final; West Ham 2 Everton 2.
ALEX PARKER LOOKS BACK AT EVERTON'S DISPLAY AGAINST PRESTON AND SAYS-
Saturday, March 5 1960. The Liverpool Echo and Evening Express
BEST BY A CLUB SIDE FOR ME
OUR THANKS TO THE FANS
After our performance against Preston last week many critics said it was Everton's best display for years.  Naturally I can't argue with that, not having been here for years but it was definitely the best display by us since I arrived here.  I will go even further and say that it was the best performance by any club side I have played in.  To be fair to Preston I must say that it just wasn't their day, for even the most elementary things weren't coming off for them, whereas the ball was obviously running our way.  Those of you who were there will remember how a pass from Tom Finney, hit the referee and rebounded to Brian Harris.  We nearly scored from that one too.  That's the way things go when you are having the run of the ball.  However, I didn't feel particularly sorry for the Preston team, for we have had more than our fair share of that sort of thing in the past.  What I would like to say though is how despite the hammering they were getting they never resorted to anything that was in the slightest way "shady" They were scrupulously clean throughout.  You will no doubt have heard the expression "I hate to say I told you so, but.  Well, with me it's the reverse I take a great delight in saying "I told you so" about Roy Vernon.  Fans and critics alike were loud in their praises of Roy and whatever the club paid for him I think he is worth it.  For such a slimly built man he showed tremendous strength on the ball and proved tie is also capable of snapping up the half chance.  It heard people say that they heard the styles of Roy and Bobby Collins might not blend, but last Saturday's game squashed that one.  They are both great players who are capable of doing everything expected of an inside man.  For instance against Preston, Roy was the striker and Bobby did the grafting but it won't always be like that and soon you may see Bobby's name in the scorers' list chasing in on openings made by Roy.  It is hard to imagine two wingers more opposite in style than Tommy Ring and Mickey Lill.  As I said last week Mickey can hit a ball with both feet and he certainly proved it.  He hammered shots in and although I don't particularly care who scores for us, it was nice to see him get one on the home debut.  He is one straight from the Wolves mould being fast and direct.  Tommy on the other hand, has often been referred to as a tricky little off winger."  He's still after his first goal for us, but with a little luck he would have had it last week, and no doubt it will come fairly soon. 
WITH A BANG
Jimmy Harris returned with a bang, grabbed one goal and nearly had another couple.  In such a show it is natural that the forwards get the praise but the defence did its part too.  Brian Labone kept Finney quite for the second time this season, Mick Meagan stopped danger man Thompson and Brian Harris cross for Roy Vernon's second was only one of many good things he did. Even Albert Dunlop who must have had one of his quietest day's over got his chance to shine when stopping a volleyed shot by Sheddon in the second half.  The backs? Well Bramwell played well and Parker got himself offside once and stopped the ball with his hands on a another occasion.  After the match some of the Preston team congratulated us and agreed there was no doubt that the better team won.  The victory apart the most satisfying thing from my point of view, and I think I can speak for the rest of the team was the encouragement of the crowd.  We have had over 100,000 at our last two home games which bears out what I have often been told –this is the most soccer city in Britain.  It was a wonderful experience to sense that the crowd was behind us, and I am sure that if we can maintain that form you fans will not let us down I am confident that there are a few victories coming up and no doubt we shall be playing before gates of 60,000 and 70,000 before the season is out. 
WORLD CUP
I am equally confident that you will not be disappointed as anybody who was there last week will tell you.  The draw for the World Cup created interest in the Everton dressing room this week, with Bobby Collins, Tommy Ring and I having played for Scotland.  Roy Vernon playing for Wales and Jimmy O'Neill and Mick Meagan before Eire internationals. 
I read that Eire have been after a match with Scotland for some years.  Well they have been drawn in the same group and Jimmy and Mick have promised all Irishmen a victory.  We shall see! 
The big news Goodison way this week has been the arrival of another Scot Jimmy Gabriel from Dundee.  Jimmy played for the Scottish League against the Scots F.A recently, when Bobby Collins and I were against him in the international trial.  I've met Jimmy before that in Scotland but the rest of the lads got acquainted when he arrived at the ground yesterday morning for some light training before we left Lime Street on the London train.  I hope he's made his debut at West Ham this afternoon a winning one-for himself and the rest of the team, for we are all longing for our first away victory of the season/  If we have played as we did against Preston I think we might have done it.  Jimmy's signing brings the Scottish contingent at Everton up to six.  Billy Liddell wrote in his article last week about the Liverpool, Scots and there are six also at Anfield now that Sammy Reid has joined them.  We had more recently but with Jack Hood and Eddie O'Hara having left us, and despite the fact that some Scousers tried to calm Scottish ancestry it is still six.  They are Jimmy Tommy Bobby, and  plus Davey Boner and Willie Maley, two of our juniors.  Now I would like you to meet an Everton on 25 years standing Mr. Nerman, M Alam of Turkey.  Yes I said Turkey.  For this information I have to thank Mr. Jack Taylor our director.  He heard of him through a business acquaintance of Surrey who asked M. Taylor if he could let Mr. Alam have some pamphlets relative to the club Mr. Taylor did so and received a very nice letters in reply.  In it Mr. Alam laid "Thanks you very much for the literature pertaining to Everton which will be of considerable interest to me and to my son Milat who is now 15 and also like his father –a keen supporter of Everton.  He goes on to day that his interest in the club dates back to the 1930's when Everton won the Second Division, First Division and The cup in three successive years, and every Saturday evening at 9;10 p.m. (7-30) our time he and his son listen in to the football results. 
EVERTON RES V DERBY COUNTY RES
Saturday, March 5, 1960. The Liverpool Echo and Evening Express
Everton Res;- O'Neill; Tansey, Green; King, Billington, Harris (B.); Tyrer, Shepherd, Shackleton, Wignall, Laverick.  Derby County Res;- Jenney; Barrowcliffe, Moore; Daykin, Smith, Richmond; Webster, Thompson, Newbery, Brown, Scarborough.  Referee; Mr. A Lord.  Derby threatened when Brown pushed the ball through Billington legs but Green came across to foil Newbury.  Play was inclined to be scrappy until Brown livened matters up be selling the dummy to allow Thompson to fire inches over.  Scarborough closed in to hit the underside of the Everton bar before Green booted the ball for a corner.  So effective was Everton's attack that Jenney had only one centre from Laverick to deal with in the first 25 minutes.  Wignall however, then raced through to feed him.  Everton gradually gained a tighter grip on the game for Jenney to make sparkling saves from Tyrer and Wignall while Shacklton netted from an offside position.  Half-time; Everton Res nil, Derby County Res nil.
GABRIEL WILL BE BETTER THAN THIS
Monday, March 7, 1960. The Liverpool Echo and Evening Express
West Ham United 2, Everton 2
By Michael Charters
Everton came within five minutes of that so elusive first away win of the season.  Although this point is most welcome and useful, it was disappointing that they never reached the scintillating for shown against Preston and the forwards never started to move as well as they did that day at any stage of this rather scrappy game.  The feature was West Ham's strong, almost cocky defence, with centre half Brown outstanding ad Everton rarely worked any clear cut chances.  It took a two goals in two minutes burst by Vernon to bring them back into the game after seventy minutes, when it looked long odds on the home side holding on to a first half lead.  Vernon scored his first with a tremendous shot from a free kick just outside the corner of then penalty box and the ball was in the net before Rhodes made a move to it.  He put Everton ahead when he snapped up a half chance by slipping between Brown and Rhodes as they hesitated with a bouncing ball on the edge of the area, and lobbed it forward between them into the empty net.  Although West Ham put on tremendous pressure in the closing twenty minutes, it was Everton who looked most likely to make the game safe with a third goal.  Collins had one shot brilliantly saved by Rhodes –the goalkeeper hurting his hand in the prospect –and then Vernon side footed a cross from Harris just wide. 
MUSGROVE'S GOAL
Immediately after this West Ham got their equalizer five minutes from time as Musgrove, their best forward raced through the hard worked Everton defence and shot fiercely at Dunlop, who parried the ball high in the air.  As Bramwell moved forward to clear Dick just beat him to it and pushed the ball into the net for a goal which on the general run of play, brought a fair result to this rather unsatisfactory match.  Both defences were the best departments of the sides.  For long spells the West Ham half back line had Everton's inside men completely held to such an extent the first shot of any quality Everton provided was a free kick from Collins, five minutes after the interval.  The Everton forwards were but a shadow of the fast moving strong finishing line of a week earlier and only Ring had a completely satisfactory match Vernon, his two goals apart, often tried to do too much and was dispossessed at the second or third tackle, while Harris was completely held by the magnificent Brown.  Dunlop and Labone were brilliant Dunlop made several fine saves, none better than the flying header from Musgrove, which he turned over the bar shortly after the interval.  Had this one gone in, I feel sure the game would have gone all one way for West Ham after that.  They always looked the more dangerous side in attack, with their first time passing, which was in marked contrast to the rather laborious way Everton's forwards moved.
DEFENSIVE SLIP
The only time Everton's defence slipped up was in some poor covering as West Ham scored their first goal after 38 minutes.  This also followed a free kick and when Cantwell touched the ball to one side, Bond was able to smash the ball through a large gap in the middle to beat Dunlop comfortably.  What of new boy Gabriel?  This boy's performance must be assessed in the light of the fact that he was playing his fourth game in eight days and was also facing the dangerous Scottish International Dick.  What I will say is that when he has settled down he will undoubtedly be a great asset to the side, for he showed strength a willingness to work and some neat constructive touches against much fierce pressure from this big, fast-moving West Ham side.  I am sure that Mr. John Carey will be well satisfied with the youngster's display and no doubt when he has recovered fully from the hectic experiences he had last week, he will improve his game 100 per cent.  It was disappointing for the Everton players that they were unable to hold on to the lead Vernon had given them, but the result was equitable.  I don't suppose you can expect a football treat every match.  West Ham United;- Rhodes; Kirkup, Cantwell; Malcolm, Brown, Moore; Grice, Woosman, Bond, Dick, Musgrove. Everton; Dunlop; Parker, Bramwell; Gabriel, Labone, Meagan; Lill, Collins (captain), Harris (J), Vernon, Ring.  Referee; Mr. P.H. Carr. (Redditch).  Attendance 25,000.
EVERTON STILL LIKE JOE BAKER
Monday, March 7, 1960. The Liverpool Daily Post
By Horace Yates
Speculation is rife that Everton would like their next capture to be Joe Baker the England and Hibernian centre forward, for whom their £45,000 cheque has previously been refused.  Manager John Carey does not give the slightest clue as to whether negotiation are in being have failed, or are likely to start.  "No comment" is as far as he will go.  Although high spending Everton may now be prepared to go beyond anything Liverpool originally had in mind when they sounded Hibernian for Baker, I expect Liverpool will still be notified before a Baker deal is done with any other club.  So far, there has been no word from Hibs.  Gabriel returned to Scotland after the West Ham game on Saturday, but will be back to stay on Tuesday and will train with his colleagues on Wednesday.  Vernon also expects to take up residence in Liverpool on Wednesday. 
WIGNALL SCORES FOR EVERTON
Monday, March 7, 1960. The Liverpool Daily Post
Everton Res 3, Derby County Res 1
Everton made heavy weather of winning a poor game married by numerous petty fouls and culminating in Moore, the Derby left back being sent off in the last minute.  Everton were so disjointed and slapdash that it seemed R. Webster's picture goal would be decisive until the hitherto sound Derby defence presented Shackleton and Liverick with goals in the 73rd and 82nd minutes respectively.  Wignall Everton's best forward netted the third from the free kick which led to Moore's dismissal. 
EVERTON PLAY THOSE AWAY "BLUES" ONCE AGAIN
Monday, March 7, 1960. The Liverpool Echo and Evening Express
By Michael Charters
Everton's inability to produce anything stembling their home form in away games is one of the puzzles of the season.  What is it that can transform the sweet moving outfit of the Preston match into the mediocrity shown at West Ham on Saturday?  Manager John Carey doesn't know; the players don't know; I don't know.  It must remain a mystery, which no doubt will baffle us until they can produce that so-elusive first away win.  The oddity of Saturday's game was that Everton came within five minutes of victory could have been 4-1 in front just before the end and yet were fortunate to get a draw on the general run of play.  That wants some explaining, so let me try to do it.  for 70 minutes West Ham were the better team, leading by a first half goal and so trying up Everton's forwards that goalkeeper Rhodes had only had one shot of note to stop-just one Everton shot in 70 minutes.  Then Vernon snatched two goals in two minutes when it looked long odds on Everton scoring at all.  West Ham, cocky confident and even arrogant in defence suddenly found themselves behind to a team they had held easily.  Vernon's double had the effect of bringing the best out of Evertonian's forwards, who then moved in something like the previous week's form.  The golden spell lasted some 10 minutes during which Rhodes almost broke a hand making a magnificent save from Collin close range rocket shot and Vernon side-footed an easy one just wide.  A couple of inches either way there could have produced two goals and West Ham could hardly have recovered such leeway take in the game.  As it was they pulled themselves together, dashed down on the Everton goal with all their considerable physical strength and weight and their best forward left winger Musgrove made the equalizing goal for Dick five minutes from the end.  Justice was done, I think for West Ham certainly didn't deserve to lose and probably thought they should have won –a viewpoint which would be shared by the vast majority of those who saw this rather scrappy game. 
BROWN OUTSTANDING
I'm told that West Ham played better than they had done for weeks.  Their defence was excellent with full back Cantwell and centre half Brown outstanding.  Brown in fact, was in the form which won him an England place and he kept Jimmy Harris completely subdued throughout.  He was as fast as Harris and was the brains behind an offside trap, which found Everton's leader drifting into offside positions more times than I could keep count.  Their wing halves Malcolm and Moore, were good in the tackle, thoughtful constructively and for the majority of play had Vernon and Collins tied up.  Had all West Ham's forwards played with the dash of Musgroves and inside right Woosnam they must have won but they were weak in the other positions.  The great disappointment from the Everton point of view was the forward line.  Perhaps it was too much to expect a 100 per cent repeat of their display against Preston but apart from their 10-minute spell after Vernon's goals they were but a shadow of a week earlier.  Ring began brilliantly giving young back Pickup a rare runaround but the back fathomed the winger's wiles later as Ring tried to do too much himself.  Lill, who used to play on this ground as a member of West Ham's youth side had a very quiet match as did Collins while Vernon found he could beat one West Ham tackle but not the second or third as he did against Preston .  But Vernon took his two goals magnificently and came within a fraction of a memorable hat-trick, so he takes major credit for being the one Everton forward who knew how to shoot. 
BRILLIANT SAVE
I could rarely fault the Everton defence, however, Dunlop made many fine saves with one superlative effort from Musgroves early in the second half as he twisted in mid-air to turn a close-range shot over the bar.  Had this gone in to make West Ham 2-0 I'm sure Everton would not even have gathered the one welcome point they did.  Parker facing the game's best forward in Musgrove, did very well to stop the winger from running riot completely while Bramwell had a comfortable and competent time against the out-of-form Grice on the other side.  Labone with Dunlop for top defenders-honours for he was rock-steady against Bond and his constructive work improves each match.  Meagan got through a lot of work against Woosnam with admirable claim and much distinction and so we come to the new boy Gabriel.  You are going to like this fresh faced, cheerful –looking lad.  His display must be assessed in the light of the hectic week which lay behind him-this was his fourth game in eight days and he had travelled around the country no long, tiring train journeys.  He is very strong in the tackle, his height lends support to Everton's defence here it most-in the air- and he is obvious a 90 minute type who never gives up.  He was mainly occupied in defence against West Ham, but he gave every sign that he is going to prove a great asset when he settles in.  All things considered his debut was a notable one and Mr. Carey has made a first-rate capture. 
CRACKING SHOT
West Ham's first goal arrived after 38 minutes as Everton's defence slipped, for the first time, Cantwell pushed a free kick a few yards across to Bond, who was able to direct a crackling shot through the gaps in the defensive cover to beat Dunlop easily.  Vernon's first goal came direct from a free kick just outside the right-hand corner of the penalty area, Lill was eager to take it, but Vernon brushed him aside and hit a shot of the same quality as Bond's past Rhodes.  Two minutes later, Brown erred for the only time as he hesitated fatality to a bouncing ball on the edge of the area as he saw Rhodes looming near him.  Vernon seized up the quarter chance brilliantly to nip between them, lob the ball high towards the empty net and followed up unmarked to smash it joyously home.  Dick had done little against Gabriel's fine tackling but this expert goal-taker was in the right spot for the equalizer.  Musgrove had ripped through Everton's defence on his own and Dunlop did well to parry his shot high in the air, Bramwell guarding the line, moved forward perhaps a little tardily to clear but Dick was there to poke the ball in the net.  So the stage is set with a very useful point tucked away, for a gala occasion at Goodison Park on Saturday against Chelsea.  Let me go out on a limb and say that I'm sure Everton's forwards will produce something nearer their Preston form and Chelsea won't see the way they'll go.
YOUNG EVERTON SHOW HOW IT'S DONE
Tuesday, March 8, 1960. The Liverpool Daily Post
Everton 3, Manchester United 1
The 3,000 football fanatics who braved the bitting cold to watch this second leg of the Lancashire League Supplementary Competition play-off saw Everton make the vaunted Manchester United Youth team look small fry indeed at Goodison Park.  As it was United won 4-3 on aggregate but only because they had established a three goals lead in the first leg at Old Trafford and because Spratt their captain and inside-left volleyed home a centre to increase that advantage against the run of play shortly after the interval.  Even then only their own impetuosity in front of goal prevented a dauntless Everton from striding to what would have been a momentous victory, for they had the United bemused and bewildered in the final quarter hour.  Neither side found their feet in the first half but Webber the Everton centre forward should have scored when a rebound placed him on-side.  With only Briggs in the United goal to beat he somehow contrived to steer his shot wide of the upright.  Following United's goal Everton took charge of the game completely.  Young Jarvis, their dynamic right half, persistently plied his forwards with inviting passes, and United were reduced to desperate measures. 
BONER BRILLANT
So much so that their centre half Atherton (J.) had his name taken by the referee for a tackle on Webber and shortly afterwards left back Ackerley was lectured after a charge on outside right Boner.  Before the interval the elusive Boner had a disappointing innings but he really came into his own in the second half.  He provided the headed pass from which the mobile Edwards nodded an equalizer in the fifty-third minute.  United could find no answer in the problems posed by the Jarvis-Boner combine and they linked up again in the fifth-eight minute for Boner to round Ackerley and slip the ball into the goalmouth where Webber stabbed it wide of Briggs.  Everton called furiously in the closing stages and eight minutes from the end Boner slipped a glorious through pass down the middle to split the United defence wide open and left winger-Norcott who had drifted inside unobtrusively, scored with an unstopped rising drive from the edge of the penalty box. 
 A NEAR MISS
It looked as if Everton's challenge would earn the reward it deserved a few minutes from the end when an Edwards centre opened the way for Norcoft but this time the winger's header sailed a matter of inches the wrong side of the upright.  United must have been very relieved to have got away with this victory on aggregate.  They were never able to match Everton's speed in movement to the ball and to the tackle and all the efforts of the astute Spratt to open up the way for his colleagues brought only negligible.  No doubt on this display that Everton have some extraordinary promising material of which a good deal is certain to be heard in a couple of years' time.  Everton; Maley; Parnell, Green; Jarvis, Atherton (J), Gorrie; Boner, Tyrer, Webber, Edwards, Norcott.  Manchester United;- Briggs; Smith, Ackerley; Nicholson, Atherton (A), Donldson; Moir, Latham, Chrisnall, Spratt, McMillan.  Referee Mr. S. J. Kavay, of Preston. 
EVERTON LOSE INTEREST IN ALLEN
Tuesday, March 8, 1960. The Liverpool Echo and Evening Express
Stoke City Full Back
Baker Queue
By Leslie Edwards
Everton F.C have clearly had second thoughts on the value of Tony Allen, the Stoke City and England left back, for whom they made an unsuccessful offer of £25,000 three months ago.  When I spoke to manager John Carey about the possibility of Allen coming to Goodison Park he left me in no doubt that his interest in Allen had almost completely disappeared.  People who see Stoke regularly say that Allen's play has shimped remarkably in the past few weeks.  At Anfield on Saturday against Liverpool he did nothing to indicate his worth as a player in the £25,000 class.  For the moment it would seem that Everton are content and that their burst o spending is over but if Joe Baker came on the market they would be first in the queue. 
LABONE IS "UNDER-23" RESERVE
Wednesday, March , 9 1960. The Liverpool Echo and Evening Express
His First Recognition
Holland Game
By Leslie Edwards
 Brian Labone 19-years-old Everton centre half is on reserve for the England "Under-23" team to meet Holland "under-23" eleven at Hillsborough, Sheffield on March 16. 
HEAVY COLDS
Everton have two left half backs Mick Meagan and George Sharples suffering from heavy colds and both have had to miss training.  Sharples also missed Everton's splendid 3-1 victory over Manchester United in the Youth match at Goodison Park on Monday.  It is hoped that Meagan who had a very good game against West Ham in London, will be fit to take his place against Chelsea at Goodison Park on Saturday. 
Everton's close season Continental tour will almost certainly comprise matches in Munch and Karlsruhe, Germany and matches in Switzerland and Luxemborg.   The trip is planned for early in May, but match arrangements are not yet finalized because certain German teams may be concerned in plays-offs in their own League. 
AN EVERTON STAR IN THE MAKING
Thursday, March 10, 1960. The Liverpool Daily Post
Will Cup Put Labone In Young England Side?
By Horace Yates
The F.A Cup could be the means of bringing to Everton's centre half Brian Labone his first under-23 international cup against Holland at Hillsborough, Sheffield on Wednesday next.  To make this dream become possible Sheffield Wednesday would have to draw their sixth round tie with Sheffield United on Saturday.  The man at present in possession of the centre half position is Sheffield Wednesday's Swan and Labone is named as reserve.  In the event of a draw in the Sheffield Cup match, it is unthinkable that Wednesday would be asked not to include Swan in their replay team, and it seems quite possible that if Swan has to play in a Cup replay on Monday evening England's selectors might hesitate about holding him to an international selection two nights later.  Wishful thinking?  Maybe so but it could happen and what a terrific boost it would give to one of the brightest young stars of modern football.  If luck should be with him Labone would qualify for inclusion in the ranks of those who have made the quickest climb to under-23 international football for this six foot tall strong and mobile player would have only thirty League games to his name. 
1958 DEBUT
Remember, it was at Birmingham on March 29, 1958 that Labone was introduced to League football and that was the first of four senior matches in which he played that season.  Curiously enough it was at Birmingham last season where he was called upon for his first game of the campaign and again his total number of matches was four.  On Saturday against Chelsea he will be taking part in his twenty-second game this season.  Labone's chance came when Everton worried about the left back position, drafted Tom Jones there in early September and brought the former Liverpool Collegiate schoolboy in at centre half.  He has never looked back and it has become increasingly obvious that his hold on the position was growing with each successive outing.  Labone was such an obvious prospect that when he left collegiate school in July 1957, Everton, Liverpool and Manchester United competed for his signature.  Liverpool were very keen, but because of family leanings towards Goodison Everton won the tussle.  Had Labone listened to the well-meant advice of various experienced friends he would not have made professional football his career, but the decision was left to Brian and he chose football.  Within a month of signing he was face to face with Dave Hickson, in the public practice game preceding the opening of the season and his showing in the match established his claim to a Central League place until now-thirty senior games later-he is a Young England reserve, with just an outside chance of becoming something more by next Wednesday. 
NO BIG SHOT, BUT…
Thursday, March 10, 1960. The Liverpool Echo and Evening Express
The Chelsea whose continued Cup failure brackets them with Liverpool as notables who have never won the trophy have always had great personalities in their side.  Today's is, of course that Johnny Greaves who boasts no big shot but who still gets goals by clever placement of the ball when he has meandered his way effortlessly through a defence.  Greaves, who faces Everton's new Scottish boy, Jim Gabriel for the second time in the space of 10 days, at Goodison Park on Saturday, is the most relaxed looking footballer I ever saw; unhurried, balanced and absolutely lacking in tension.  Greaves, career for this reason is likely to be more lasting than those of many others.  The threat to Everton will be supported by Frank Blunstone once of Crewe, whose services were sought, before his Stamford Bridge days, by both our senor clubs.  Blunstone is one of those rarifies-a man who has come back successfully after a broke leg.  He is built on chuncky lines, like the late Duncan Edwards, of Manchester United, and on at least one previous occasion has almost beaten Everton at Goodison Park off his own bat.  But Everton look to have too many big guns for a team which like themselves are quite deeply involved in the threat of relegation. 
THE REPLY COURTEOUS
Nineteen-years-old Brian Moore, of 120 Gladstone Road, Liverpool 7 writes;- "Unlike most people who write to you I can only boast 13 years of support of Everton, but I think I can, be excused replying to Mr. George Coppell's comments in Looking at Sport.  While not claiming to be a purist, I have exercised as much care as possible to avoid using strong words.  For I detect a hint of sarcasm in his remarks.  Or is it perhaps a tinge of jealousy for certainly they resemble those of an obdurate personality.  "To begin with let me draw our learned friends attention to Micheal Charters report on the Everton v. Preston game- I appreciate that one superb performance doesn't automatically mean instant and prolonged success, but at least this display should turn the diehard pessimist into a mild optimists.  "This echoes the thoughts of all Everton supporters.  Secondly for a team which couldn't care less about a league result, Preston did very well, beating Blackburn 5-3 three days later.  "Thirdly Finney has twice been reduced to an also ran this season against Everton.  Next, one cannot deny that Mr. John Carey was the author of Everton's great victory and was therefore quite rightly showered with praise.  "In conclusion did Mr. Coppell have in mind any special kind of bells?  As to his final query which cannot be discussed in this eulogy I suggest he gets in with Leslie Welch." 
EVERTON ARE UNCHANGED
Thursday, March 10, 1960. The Liverpool Echo and Evening Express
Meagan is Better
By Leslie Edwards
Everton are unchanged, for their match on Saturday.  Everton who meet Chelsea at Goodison Park had doubts about Meagan, who has been suffering from a heavy cold, but he is better.  Everton are already feeling on and off-field, the beneficial effects of their receipt spending.  They are sure to experience a rush for season tickets next season, meanwhile they are reserving certain seats for future matches this term.  The club announces today "Owing to an increased demand for reserved tickets the directors have decided to print additional tickets at 7s 6d for future matches as required for the South end of Bullen Road stand and the Goodison Road stand. 
CHELSEA CHANGES
Chelsea, with two wins and two draws from their last four games are forced to make two changes.  Left back John Sillett is ruled out by an ankle injury and left winger Frank Blunstone has gone down with influenza.  Club captain Peter Sillett crosses to left back and Eire international Dick Whittaker comes in as his partner with Harrison deputizing for Blunstone. Everton; Dunlop; Parker, Bramwell; Gabriel, Labone, Meagan; Lill, Collins, Harris (J), Vernon, Ring.  Chelsea;- Matthews; Whittaker, Sillett; P. Anderson, Mortimore, Crowther; Brabrook, Brooks, Tindall, Greaves, Harrison. 
TOTTENHAM FOLLOW EVERTON
Friday, March 11, 1960. The Liverpool Daily Post
By Horace Yates
Tottenham Hotspurs are the latest club to follow the example of Everton in providing protection for part of their ground by laying down a sheet of Polythene film, which it is claimed is not only the answer to rain and snow, but frost as well.  One third of the White Hart Lane pitch has been covered experimentally this week, the players, breaking off training to place the material in position. 
Everton who us two strips 40 yards by 12 yards, employ them as a protection for the two goals areas, and their experience has been that within mechanical limits the film does its job quite effectively.  High wind is something of a problem for rain seeps underneath as the cover is blown up.  Another difficulty is the disposal of rain water lying on the covering.  Whether this innovation is the complete answer to frost Everton are in no position to advise Tottenham for it has been used complementary to the electric heating system at Goodison Park rather than as a substitute for it. 
EVERTON UNCHANGED
As soon as it became apparent to Mr. John Carey the Everton manager, that Tom Jones was in no position to be considered for a place in the team to receive Chelsea tomorrow and that Mick Meagan had recovered from his cold, team selection presented no problems and yesterday he did as expected-announced an unchanged side.  This will be the first opportunity Everton supporters will have had of seeing their latest capture Jim Gabriel in action and no-one can say that his introduction to English League football has been uneventful.  His first outing brought him face to face with West Ham's bustling scorer John Dick and now he is called upon to oppose an even more dangerous marksman in Peter ("Jimmy") Greaves.  Of course, Gabriel is not entirely unacquainted with the sort of task lies ahead tomorrow for on the day he signed for Everton Gabriel saw Greaves score three goals for the England Under-23 side against Scotland's Under-23 team.  Because of injury Chelsea switch Peter Sillett to left back in place of John Sillett and bring in Whittaker at right back.  Everton; Dunlop; Parker, Bramwell; Gabriel, Labone, Meagan; Lill, Collins, J. Harris, Vernon, Ring.  Chelsea;- Matthews; Whittaker, P. Sillett, Anderton; Mortimore, Crowther, Brabrook, Brooks, Tindall, Greaves, Harrison. 
NO ROOM FOR JEALOUSLY, SAY VERNON
Friday, March 11, 1960. The Liverpool Echo and Evening Express
Team Success Comes Before Everything
The Whole Truth By Roy Vernon.   (Everton and Wales)
The facilities at Goodison Park and the first-class provision for every need are something which cannot fail to impress a player.  Those who have grown up there have possibly got used to the idea and are inclined to take it all for granted, but to a newcomer this new luxury is quite breathtaking.  I know the whole set-up impressed me tremendously and I soon learned that the idea of making Everton the Arsenal of the North, was more than mere propaganda.  Everton will be a great club again.  Of that I am convinced and I honestly believe that steps have already been taken to make it the finest club in the land.  Already I feel flattered that I have been chosen to play in the great revival which is at hand.  When Mr. Carey told me he had big plans for Everton, I know that was not sales talk.  I have always found him a man of his word and goodness me, it did not take him long to prove his point.  It is a fair question to ask how players react to seeing their old colleagues losing places in the team to new comers.  This is not something which applies only to Goodison Park.  It goes on to a certain extent everywhere.  Generally I think you will find that footballers are sensible beings.  There is little place for sentiment in professional soccer, and if a new comer means more success for the team he is accepted.  Though there may be real regret at losing a familiar friend, it is felt to be part of the game.  Never have I known players harbor ill-feeling against a new recruit.  After all, it is the team that counts and the more successful a team is the better for all the individuals in it.  Look at Everton no.  Practically half a side has been introduced in a matter of weeks and yet I can tell you without exaggerating in any way, that Everton's team spirit is sky high.  We are all pals together, and our first target is to ensure that the club supporters will still be watching First Division football next season.
MR. CAREY'S PART
I am not given to counting chickens before they are hatched, but I cannot see a side like Everton possess today losing its place in the top division.  Would I have decided to come to Everton if they had been managed by someone other than Mr. Carey?  That is a question I have been asked several times since coming to Liverpool and it is a difficult one to answer.  I don't mind admitting right away that the name of Everton had a pleasanter ring about it from the moment it was first mentioned to me, because I knew Mr. Carey was the man behind it.  Managers have different ways of achieving their ends.  Some are as tough as others are accommodating, but Mr. Carey must approach the ideal.  Any player will tell you that his reputation as a gentleman is justly earned.  That does not mean he is afraid to take a stand when he considers a stand necessary and I know that he can get across his views on occasion without wasting words in doing it.  He I a straight talker, and that I think adds to the character of the man.  Nobody can really expect more than a square deal, and I doubt if you will find anybody who with accuse Mr. Carey of giving them anything less than that.  It might be appropriate at this stage to skip back a few years to my early days in North Wales football.  Even them I used to love the game and always hoped that one day I would be good enough to make it my living.  When I played for Flintshire I was only 4ft 11ins tall and weighted no more than 8st 6lbs.  Born at Ffynnongroew near Rhyl-so that there is no doubt about my birth qualifications to play for Wales I learned my soccer at Rhyl Grammar School.  People used to say I would never be big enough or strong enough to make a top class footballer, and I don't mind admitting that my lack of inches and pounds was a worry to me.  However, those who knew something about football began to take an interest in my efforts and I was encouraged no end.  While playing with Mostyr Y.M.C.A in 1955 I reached the crossroads of my career.  In February I played for Wales in a youth international match against England, a month later I played in an amateur international match against Scotland and a new world was beginning to take shape.  Having been recommended for a trial to Blackburn Rovers I was lucky enough to impress Mr. Carey right away, and an association began which led to me signing professional forms for the Rovers on March 26, 1955, when I was seventeen.  In those early days Mr. Carey must have thought that I had wandered over from the apprentice jockeys' quarters.  He helped me find my feet by playing me on the wing for the simple reason that I was not strong enough to take an inside position against players of weight, class and ability.  I was very lucky for Mr. Carey seemed to take a personal interest in me from the start.  One thing I will say about Blackburn.  It is they policy to see that their players have the right kind of food and plenty of it.  In addition to this body building they have a great belief in physical exercises, and I had plenty of both during those days.  I was out in the fresh air all the time and instead of finding I was running flesh off my bones I gradually began to grow.  Now I reckon I am about 5fy 9ins, tall and weigh around 10st 7lbs.  Not a lot to throw away, you might say.  Maybe not, but I hope I shall be able to prove that it is enough to keep me in the top flight for a long time to come.  During those early years Mr. Carey was almost like a father to me.  His door was always open.  He was never too busy to drop what he was doing and discuss a player's problems as though they were the only things that mattered in the world.  It is a wonderful feeling for a lad to realize that someone is willing to work things out with him.  If I was worried about my play, I could always go in and discuss it, knowing that from his great experience he would be able to help me iron out the self-created mountains.  Then on September 3, 1955 Mr. Carey told me that I had been waiting to hear.  "You are in the first team on Saturday –against Liverpool."  And so, another dream came true. 
Next week I will tell you of my first game for Everton, and my reaction to the Goodison Crowd's reception. 
GREAVES THE DANGER
Friday, March 11, 1960. The Liverpool Echo and Evening Express
By Leslie Edwards
Chelsea's late change involved Sillett-J left out through injury and Blunstone the former Crewe man, who is suffering from flu.  The danger man Greaves is still there.  He will be a special commitment for young Jim Gabriel, the Dundee boy, who could hardly make his home debut at a more opportune time.  Mid-week results went in Everton's favour and a sold win here would put them on the fringe of trouble rather than in the think of it, I'm banking on them winning convincingly before a gate of between fifty and sixty thousands.  Meanwhile Mr. John Meadie Hillcliffe Lodge Arcrefield Road, Woolton weighs in as follows;- About the sour grapes letter from Liverpool supporters;- J McSpayden.  Has he forgotten that Liverpool have seven players in the present first team who have been brought from other clubs-this includes a full half-back line.  Everton have six brought players and I am hoping Baker will be the seventh.  Good luck to Roger Hunt, but Everton have a star in the making who did not cost a penny, lad called Brian Labone. 
Everton; Dunlop; Parker, Bramwell; Gabriel, Labone, Meagan; Lill, Collins, Harris (J), Vernon, Ring. 
Chelsea;- Matthews; Whittaker, Sillett (P.); Anderton, Mortmore, Crowther; Brabrook, Brooks, Tindall, Greaves, Harrison. 
THE NEW EVERTON
Friday, March 11 1960. The Liverpool Echo and Evening Express
CREY'S CHICKS IN COLOUR
An outstanding feature of tomorrow's "Echo" Sports Special on sale in the city and at Goodison Park before the match will be two great Everton pictures printed in colour. These colour-news pictures were taken at last Saturday's West Ham game.  The special front page colour picture features the new Everton team, while on the back page there is a specially posed full colour picture of the four new signings –Lill, Ring, Gabriel, and Vernon-deal to add to your sports pictures souvenirs.  As well as these colour pictures the Sports Special will have a full review of the Saturday game, team sheet and other pictures features.  This is an outstanding souvenir of the New Everton edition which every Goodison supporter will went to have. 
GABRIEL MEETS JIM GREAVES ONCE MORE
Saturday, March 12, 1960. The Liverpool Echo and Evening Express
By Michael Charters
The memory of Everton's great display a fortnight ago against Preston North End is still so fresh in the minds of the 50,000 people who saw it, that they will be there at Goodison Park today hoping for a repeat performance –and I reinforced by another 10,000 or so who will be anxious to see this new Everton take on Chelsea.  Since the Preston game, manager John Carey has added another young star to his ranks in ex-Dundee Scottish under-23 half-backs Jim Gabriel.  His presence alone for his home debut would guarantee a big gale.  Gabriel's performance at West Ham last week indicated that he is a first rate capture the type of strong-tackling all-out wing half which the Everton side has needed for so long.  His name alongside that of the other newcomers in Ring, Lill and Vernon again will have the fans hoping that they will see definite proof that Everton have the class men they've needed in so many positions.  Gabriel today is facing the ace marksman among inside forwards –Jimmy Greaves.  The last time they met was only 10 days ago in the Under-23 international at Ibrox Park (the day Gabriel signed for Everton) and Greaves hit three goals into the Scottish net.  So the stage is set, for a personal duel this afternoon of the greatest interests which will be only part of Everton's mission of gathering two points.  They are still in such difficulties pearl the foot of the table that home games must be won and won handsomely, for their away form is still so variable that anything dropped at Goodison would put them in greater danger.  Chelsea beat Everton 1-0 at Stamford Bridge with Greaves  inevitably scoring in a match where Everton had 80per cent of the play and missed enough simple chances to have given hem half a dozen goals.  But Everton have changed in more ways than one –since then and I can visualize Chelsea going the way of Preston.  Certainly if Everton's forwards strike the understanding speed and scoring power they showed a fortnight ago Chelsea will be in for a hammering. 
EVERTON SPENDING SPRESS PAYS HIGH DIVIDEND
Saturday, March 12, 1960. The Liverpool Echo and Evening Express
ALL FORWARDS SCORE IN ROUT OF CHELSEA
Everton 6, Chelsea 1
By Michael Charters
Everton;- Dunlop; Parker, Bramwell; Gabriel, Labone, Meagan; Lill, Collins (Captain), Harris (J), Vernon, Ring.  Chelsea;- Matthews; Whittaker, Sillett (P) (Captain); Anderton, Mortimore, Crowther; Brabrook, Brooks, Tindall, Greaves, Harrison.  Referee; Mr. R.H. Mann (Worcester). 
Everton opened so powerfully that Crowther almost presented them with an own goal in the opening minutes, Lill but through but was tackled on the edge of the area by Mortimore and Crowther trying to turn the ball back to Matthews almost beat his own goalkeeper.  Harris had the ball in the net within a few minutes but was given narrowly off-side.  Everton's bright opening had the crowd bubbling with excitement and another first class move with Vernon taking the ball from his on half and feeding Collins, almost brought another opening.  The first Chelsea shot came from Greaves, who collected a good pass from Crowther, but as Gabriel came up for the tackle Greaves shot hurriedly at Dunlop.  Straight from the clearance by Dunlop, Collins whipped a long pass out to Lill who caught the ball inches from the line and turned it inside for Vernon to wheel round and shoot the ball hitting a Chelsea defender on route and being deflected pass Matthews for the opening goal after 10 minutes.  Thus Vernon had scored his sixth goal in the last four games and he almost got another one a couple of minutes later when his good header from Lill's cross was well saved by Matthews.  But the impetus of Vernon's goal had really sat Everton going and two minutes later they went further ahead through a magnificent header by Harris, who flung himself full length at Ring's centre to fairly bullet it past a startled Matthews.  A great pass from Meagan sent Ring away and Matthews came some 10 yards out of goal to punch away the centre.  Apart from Greaves shot Chelsea had rarely been seen in an attacking sense and their defence looked very shaky against the fast moving Everton forwards.  Matthews had to have attention for an hand injury when he dashed out courageously to prevent Harris turning a fine through pass by Vernon into the net, and Everton continued their merry way with Matthews saving a stabbed shot from Harris literally on the line.  Matthews saved his side within a minute with another brilliant effort as Vernon shook off a couple of tackles and took the ball close up to him before shooting.  Whittaker made on strong tackle on Ring which caused the referee to have words with him.  Ring holding his head had to have attention before the game resumed.  From the free kick Everton went three-up with the most causal of goals by Collins.  Harris centred the ball, Mortimore missed it, as it came over and before it had dropped Collins flicked the ball past Matthews with the most delightful of economical effort.  Time 25th minute. 
VERNON'S FINE PASSES
Vernon through passes were always loaded with menace and Matthews once again had to come far from his goal to intercept as Collins raced forward for one of them.  Greaves came brilliantly out of a cluster of Everton players but was so casual in his dribble that Vernon was able to run back and rob him.  Chelsea looked a mediocre side indeed against the strength and brilliance of Everton and with half an hour gone Dunlop had only had one shot to save.  Not a lot had been seen yet of new boy Gabriel for the simple reasons that he had not been called upon.  The game appeared to be centred on the opposite flank, where Meagan and Bramwell were playing exceptionally well.  It came as no surprise when Everton scored their fourth goal after 35 minutes.  The move began with a brilliant interception and pass by Parker to Harris.  With Lill calling for the ball in the centre forward position, Harris passed inside perfectly for Lill to smash the ball past Matthews from 12 yards.  This was an Everton rounding off superbly quick and decisive attacks with goals, the like of which had not been seen at Everton for years.  From the point of view of goals of course, it was even better than their performance a fortnight ago against Preston.  Although possibly their football was of not such a high standard as that day it was high enough to satisfy everybody and more than enough for a severely tried Chelsea.  Matthews hurt his hand once again in saving at the feet of Collins after Lill and Vernon had broken through a seemingly helpless Chelsea defence.  Vernon's first shot was blocked but he recovered the ball and slipped it across to Collins as Matthews dived at his feet.  With Lill being treated for an injury just off the pitch as a result of his pass in this move Everton went nap five minutes from the interval with an own goal from Mortimers, but the credit goes entirely to Ring.  The winger cut in and though his shot as saved by Matthews the ball struck Mortimore and rolled just inside the posts.  Just before half-time Chelsea burst into life with Dunlop making an excellent save from Greaves and Brabrook shooting just wide with a fine effort.  Everton were getting full revenge for their defeat at Chelsea earlier in the season when they had just as much of the play as they had today, but lost 1-nil.  Two minutes Chelsea got one when Greaves touched a free kick a few yards to Sillett, who's fast ground shot from 20 yards hit the inside of the upright and bounced into the net.  But with seconds remaining before the interval came the most joyous moment of all as Ring scored his first goal for Everton to make the score 6-1.  Ring took the ball practically from the kick-off to cut inside, evade Matthews despairing rush and slap the ball into the empty net.  The Everton players trooped off in tremendous applause from a delighted crowd who had seen their side hit the goal trail with real vengeance.  Record books would have to be searched to find out when and if Everton had ever scored six goals in the first half of a match at Goodison.  The point was that they fully deserved to be so far in front at this stage for Chelsea just hadn't seen the way the Everton forwards had gone.  Half-time; Everton 6, Chelsea 1. 
With every Everton forward having scored the crowd were now sitting back to wonder what else could happen in this fantastic match.  And they got their answer in the opening minutes of the second half as Matthews made a wonderful save from Lill after Harris and Vernon had opened the way for him.  After this shot of Lill's Everton began to slacken off and Chelsea were more in the game than at any stage.  There was one in creditable escape in the Everton goalmouth when Chelsea deserved to score for when Dunlop punched out a cross by Harrison, Meagan kicked off the line with his keeper beaten but Brabrook headed the ball back against the crossbar and from the rebound Labone hooked the ball away to safely.  Everton's first half pace and drive had gone for the moment with the forwards not showing anything like the cohesion they had earlier.  As a result Everton's defence was more extended than it had been and I noted Meagan getting through a great deal of work very well.  In fact I haven't seen the half back play better for a long time.  His passes were models of accuracy. 
CROWD'S SHOUTS
Strange are the ways of football crowds for now, presumably because Everton had not scored again they were shouting for the team to get on with it.  One would have thought that six goals in one half would be enough to satisfy them.  There was no doubt however, that Everton were allowing Chelsea to have much more of the game.  Dunlop made a fine close range save from Greaves when it looked odds on the Chelsea marksman scoring.  Everton were much slower to the ball than they had been earlier this allowing Chelsea to intercept passes that they should never have been allowed to.  When Everton did bestir themselves however they cut their way through Chelsea's defence as easily as they had done before the interval.  There was one good moved between Vernon, Collins, and Lill with the wingers dribbling the ball around Matthews, but his centre returned by Ring was headed out for a corner by Sillett.  Gabriel was showing some neat touches constructively and certainly very little had been seen of his opposite number Greaves.  In fact Greaves switched to inside right where Meagan was playing him out of the game.  The transformation of Everton from their first-half excellence still bothered the crowd, who were calling for action but it did give us a chance with Chelsea's forward doing better to see some fine touches from Labone, Meagan and Parker.  Final; Everton 6, Chelsea 1.  Office attendance 50,963.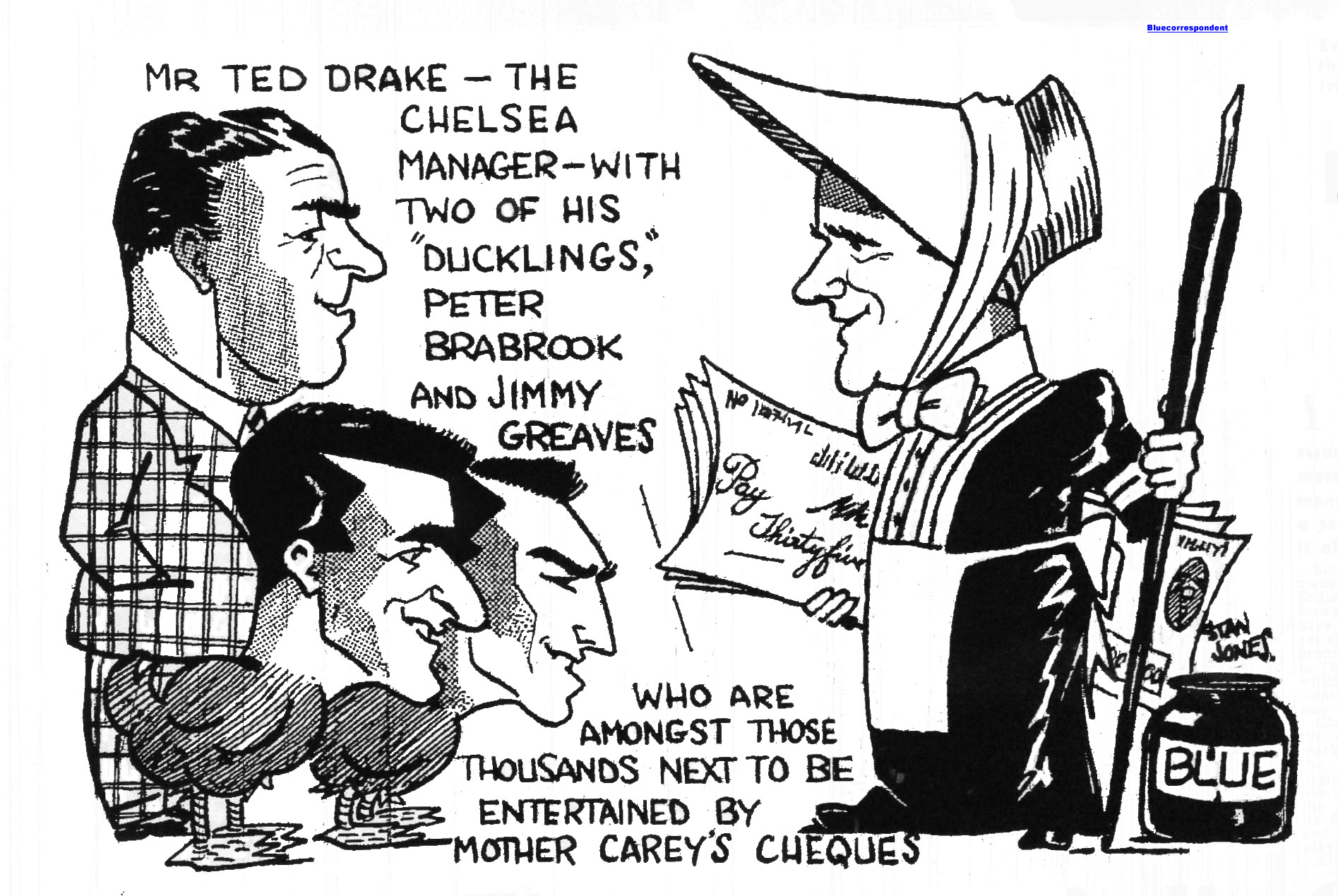 ALEX PARKER WELCOMES ANOTHER SCOT AT GOODISON PARK
Saturday, March 12, 1960. The Liverpool Echo and Evening Express
ENGLISH FOOTBALL IS BETTER SAYS JIM GABRIEL
So another Scotsman has made his debut for Everton and though I am probably biased, reckon he is going to be a good 'un.  Dare I say another good 'un?  Of course I am referring to Jimmy Gabriel ho, at the reported fan of anything between £22,000 and £30,000 must be the highest priced teenage player in Britain. I have heard that this is no new experience for Everton, for when they signed Tommy Lawton from Burnley before the war the reported fee of £6,000 was the highest at that time for a boy still in his teens.  The club didn't lose on that deal, and I don't think they will do so this time.  We did not meet Jimmy until the Friday morning before the West Ham game.  He arrived at the ground just before we set off for training and Gordon Watson introduced him to us, although he knew the Scottish contingent particularly Tommy Ring for they had played against each other only a few months ago.  We took him up the tunnel and when he saw the ground his comments was "It's terrific."  We set of for London by train that afternoon and poor Jimmy who had played a League match the previous Saturday, a Cup-tie on the Monday, and an Under-23 international on the Wednesday in addition to travelling from Dundee to London via Glasgow and Liverpool, was so tired that he went to bed at 7-30 that evening and slept right through until nine the next morning.  During the morning he had two surprised visitors –Bobby Craig and Tom McAnearney of Sheffield Wednesday.  The Hillsborough boys were at Tottenham that day and the two Scots came across London to wish Jimmy all the best.  It was a very nice gesture and very much appreciated not only by Jimmy but by the rest of the Everton party as well. 
STRONG TACKLING
Playing immediately behind him I had as good a view of him as anybody and the thing that struck me most was the strength of his tackling.  Many of you will have seen him this afternoon so will now have your own opinions.  At one time during the match I thought we were going to grab that first away win for one we had taken the lead we came near to making it three or 4-1, but the Hammers took the chance to snatch a late equalizer so now we must try again at West Bromwich next week.  Everton won there 3-2 last season but I didn't play as I was still in Cyprus at that time so it will be my first visit to the famous Hawthornes.  After the West Ham match I had a long chat with Jimmy ad naturally we talked about the difference between English and Scottish football.  As I have said before I don't think there's any difference in the speed of the games but Jimmy disagrees.  He reckons the game is faster in England the tackling is keener and there is more football down here, i.e. there is less big kicking.
ON HIS SIDE
He said how great it was to play before a big crowd of 25,000 and before you start smiling you must remember that such a crowd is big in Scotland.  We told him that against Chelsea he may well be playing before a gate of nearer 60,000 I am not quite sure what effect that had on him but to reassure him I explained that 95 per cent of them would be on his side, at which he brightened up.  Incidentally just before we set off for West Ham Mrs. K. Toole, 51 Castleview Road, Liverpool 12 a keen Everton fan gave Jimmy a lucky horseshoe, Jimmy was very grateful but was surprised and we told him that was the sort of support he would have to get used to.  Last Monday night I went along to see our youth side play Manchester United in the Lancashire League (Division 2) supplementary competition.  They had lost the first leg 3-0 and soon after half-time were 4-0 down, but they fought back so well that United were hanging on like grim death to a 4-3 lend and if the game had lasted another five minutes I am certain our boys would not only have drawn but might even have won.  It was a great performance to give the United team such a shock.  Over the years they have built up a reputation for having the best youth team in the country and their present one year's favorable comparison with the rest which reflects great credit on our side. 
LEG PULLING
There is always a lot of leg-puling between the players of the various teams and from it I gather that Coach Les Shannon is very proud of his youth side.  Naturally we first team players don't get many opportunities to see them but although I wouldn't tell Les to his face he has good cause to be proud of them if they always play like they did last Monday.  After the game Bobby Collins, Tommy Ring, Albert Dunlop, Brian Labone, Jimmy Harris, Bert Slater, and trainers Gordon Watson and Stan Bentham went along to see the selection of the Everton Supporters Club football queen.  Imagine their surprise when they discovered who the judges were- Mrs. Stan Bentham bandleader Mr. Bill Gregson and Mr. Alex Parker.  Well, if Frankie Vaughan can make films with Marilyn Monroe I can judge beauty competitions.  We were all very pleased at Goodison to see that Brian Labone had won his first international honour in being chosen as reserve for England under-23 against Holland Under-23 at Hillsborough next Wednesday.  Brian has been playing very well and exceptionally so at West Ham last week when he was watched by a selector it could well be that Brian will play at Hillsborough if Sheffield Wednesday have to replay at their Cup-tie on Monday night.  Not that I'm wishing Swan the Wednesday centre half any harm but if he's in a replay Brian will step in.  It's Cup day today so along with many others I have tried my hand at fore-casting the results.  You must remember that I am writing this a couple, of days before the matches.  My four for the semi-finals are Aston Villa, Sheffield Wednesday, Wolves, and Burnley.  Now turn to page one and see if I am better fore-caster than a player. 
EVERTON HIT SIX AND THEN DECLARE
Monday, March 14, 1960. The Liverpool Daily Post
Everton 6, Chelsea 1
By Horace Yates
Those-Chelsea Pensioners were really pensioned off by half-time by a glamorous Everton team which had their delighted followers arguing among themselves whether or not this humiliation of Chelsea represented a more superlative display of football than that by which Preston North End had been annihilated at the outset of this new chapter in Goodison pride.  How could any team play better that this? Was the sort of question that made hard labour of an adequate reply.  The football was thrilling, devastating scintillating and satisfying so much so that as the teams left the ground at the interval Goodison Park rang to unrestrained and enthusiastic hero-worship for a side on which the team-building welding had scarcely had time to cool.  The new Carey creation in a few short weeks had already begun to roll back the dust-laden curtains which had fallen and lain so heavily to cloak a distinguished past. 
HALF-TIME HALT
At the end of a half in which goals had come so spontaneously almost as if to order, produced by the most skilled and accurate approach, I doubt if there was anyone on the ground who did not believe that Chelsea were powerless to half the scoring tide, as least before double figures had been recorded.  Whether stern and ell chosen words were spoken in the Chelsea dressing room at half-time can only be imagined, but what is certain is that Chelsea reappeared as a tem transformed.  No longer were they willing to stand back in almost open mouthed admiration, while Everton ripped their defence asunder, until at times resistance appeared to be negligible and cover nil.  First time every time was their new motto, as they moved into the tackle and the supermen were shown to have feet of clay.  Chelsea achievements did not end with the curbing of Everton dominance.  They took over the game and were a shade unfortunate not to be able to show a credit balance at least on the story of the second half.  In one match Everton had given us their new Goodison form and also a liberal helping of that usually reserved for away games and therein lay the sole discordant note of the match.  Everton can still look ordinary.  It would be easy to subscribe to the view that being 6-1 up, the team lost interest and that provided the key to the transformation, but it would need a lot of high-pressure effort to convince me that this was so.  If Everton could have scored a round dozen I believe a dozen it would have been.  Obviously the best work of this team lies ahead.  They have permitted glimpses and a delightful view it has been, but the main task this season is to make the avoidance of relegation as pleasing a spectacle as possible. 
RELEGATION UNTHNKABLE
For a team of such talent and performance, relegation is unthinkable and that is the immediate and very much worthwhile reward for the busting round of activity.  I am as thrilled as the next man with the possibilities of next season for it is a cheering thought that at last there is the material to help make dreams come true.  What a difference we have seen in Roy Vernon, a scorer in his last four matches, since that disappointing start against the Wolves only month ago.  For me, Vernon was the man of this match and is obviously destined to play a leading-role in the good things which promise to come Everton's way.  Not only was his service to others something at which to marvel, with far-flung passes reaching their target with an uncanny accuracy, but always he seemed to do the right thing at the right time.  It was his spilt-second appreciation of possibilities that gave the Chelsea defence such a threadbare look.  Add to that the proved ability to snap up scoring trifles and his credentials could scarcely be more apparent.  For quite a time I found myself trying to decide how far Parker's superb fullback display ranked behind Vernon's for effectiveness, but faced as he was by Chelsea's most dangerous raider in Harrison, the late substitute for Blunstone, Parker was not always able to maintain his grip later in the game, when Brabrook too, showed a sample of his worth.  On a day when Ring found it more difficult to work his will, Lill was more reassuring an purposeful and the speed of Jimmy Harris, which gave Mortimore a nightmare passage, not only earned him a goal, but helped him to look the part. With Collins, almost as effective as Vernon, it was not surprising that scoring chances were created with such abandon that six goals came in 35 minutes and that every member of the forward line joined in the revel. 
ONE OR TWO?
Whether Ring is entitled to be credited with two goals is a matter of some doubt.  Undoubtedly he shot, but as I saw it, the ball rebounded outwards from Whittaker struck Mortimore on the ground, and trickled backwards over the line.  If that adds up to a Ring goal, then the winger, scoring for the first time in English League football, claimed two.  I prefer to regard it as an own goal.  Labone crowded Tindall out of the match and everyone was agreeably surprised with the display of Meagan.  This was easily the best display I have seen from him this season.  Gabriel will be harder worked in days to come when it may be easier to asses this capabilities more accurately, although he showed a shrewed positional sense and a covering ability which demolished one or two awkward looking moments.  Vernon scored the first goal in ten minutes from a Lill offering.  Two minutes later Jimmy Harris headed a Ring cross past Matthews, at express pace.  Jimmy Harris supplied the opportunity for Collins to score in 24 minutes and also invited Lill to join the celebration in 34 minutes.  then came the debated Ring goal, five minutes from the interval, with P. Sillett hitting back for Chelsea from a free kick for a foul by Meagan on Greaves, and on the interval Ring followed a Vernon through ball, which beat the goalkeeper, for the winger to complete the scoring for the half and the game.  Everton;- Dunlop; Parker, Bramwell; Gabriel, Labone, Meagan; Lill, Collins (Captain), Harris (J), Vernon, Ring.  Chelsea; - Matthews; Whittaker, Sillett (P) (Captain); Anderton, Mortimore, Crowther; Brabrook, Brooks, Tindall, Greaves, Harrison.  Referee; Mr. Bob Mann (Worcester).  Attendance 50,963.
WAS THAT FAMINE SUCH A MYSTERY?
Monday, March 14, 1960. The Liverpool Echo and Evening Express
By Leslie Edwards
The great mystery of this Chelsea match was why Everton a team which scored six times in the first half-the interval ovation they received was of the kind usually reserved for the end of a game-should go completely off the boil for the whole of the second-half?  But, come to think about it, was this so surprising?  It is not the way of professional footballers to rub it in for the sake of it, it is the way of soccer men to win a game beyond doubt and then start making life-hard for themselves by performing the same task all over again.  The tendency, of course to stay clear of injury; hold what you have and let the other side do the heroics.  Also don't forget Chelsea's early experience almost certainly stung them to all-out effort and to be fair one must take the point that they deserved (and very nearly got) the three or four goals which would have given the score-sheet so different a complexion.  It was a game with basic evidence for some professor of mass psychology.  Fifty thousand people came to the ground hoping their side would win and thus step up a little from the relegation area; fifty-thousand saw six glorious goals in one of the most effective, dramatic spells of football ever seen from an Everton team.  Fifty thousand saw all five forwards score before the interval, and there could not have been one among them who did not join at the interval in giving the players the ovation they deserved.  But such is the fickleness of human nature (and football fans in particular) the goalless second half led to thousands leaving before the end.  And those who stayed treated this remarkable 6-1 victory no differently from any other home win this season.  Truly you can only please some of the people some of the time. 
FEAST –THEN FAMINE
A similar revel happened at Anfield two seasons ago.  Then Brighton were on the receiving end.  They crossed over five-nil down and that happily for then was the end of the scoring.  Everton's feast of six followed too by famine and the anti-climax was lost on none.  If only wee Bobby Collins scored from point blank range, if only Lill's tremendous cross-shot immediately the second half opened had found the way past Matthews.  But no team can do much more than win as Everton did.  Their careless rapture of those first 45 minutes had to be seen to be properly assessed.  That costly forward line, knitting well, made their goals with an economy of effort strange in football today and as a collection, I doubt whether we shall ever see again six such varied, spectacular scores to ring people to their feet and lead to more smiling faces than have been seen at Goodison Park since the days of Dean and company.  Jim Gabriel from Dundee will have cause to look back on this his home debut for his new club at the most momentous game of his young life and yet ironically, it was the man the other flank.  Meagan, who touched peak form and challenged comparison with an outstanding loser, Anderton, whose supply of passes to Harrison alone should have escaped him the bonus he did not get. 
ALL SET FOR SUCCESS
I doubt whether any side in the land can now match the virtuosity of the Everton attack.  The coming o Lill was given the right wing a striker a magnificent grafter and a man capable of crossing the ball so acceptably a goal is "on" nearly every time Collins we knew as a comparable grather and as a man whose far-flung passes so accurately laid picking up the ball is a mere formality.  Harris I must have been well pleased, as we were with his part in the astonishing avalanche of goals which punctuated the early part of the game and confirmed the belief that his speed and drive in the centre selves the side better than anything he is capable of on the wing.  Vernon's feinting was superb so were his long high passes to the wing flighted so cleverly that they beat by inches the head of the defender and fell, weighted to the last ounce, at the feet of the acceptor.  Add the genius of cheeky chap Tom Ring and you have a front line which looks likely to represent their side for seasons, to have tremendous success and to give the team the class which all must possess if they are to do lasting good.  After Vernon, Jimmy Harris and Collins and Lill had scored it was clear that Ring had to be next on the register to complete the bill.  Oddly it was from his heel the ball had been deflected lethally past Matthews when Vernon scored initially, but it was well the Scott was able to put the finished touch to a club record-and maybe a national one-which, should stand for years.  Mortimore's own goal and the one from a free kick by full-back Sillett completely the half's total of seven and if Harris had not been adjudged offside before it all started there would have been eight. 
HARRI'S WAS BEST
Harris's headed goal with the scorer careering-into the side net- it was a difficult chance and he did wonderfully well to take it- was probably the finest of them all.  Vernon and Collins had big parts in several Ring's contribution and Lill's was not negligible and Jimmy Harris figured prominently in nearly all of them.  From a side disjointed, despairing and disappointing Chelsea soldiered on with remarkable spirit and tenacity, although their case was always hopeless.  They deserved goals denied them as much by luck as by the ability of the other defence, but when you are six-one down that is not unusual.  If Everton reproduce this form at West Bromwich the season will assuredly not pass without any away win. 
THE UNFORGIVABLE CRIME
Tuesday, March 15, 1960. The Liverpool Echo and Evening Express
With Leslie Edwards
Complacency –that is the unforgivable football crime in the book of Mr. Shankley, the Liverpool manager.  He reckons it lost his side both points at Portsmouth and my view is that they may have been more them a trace of it in the Everton who suddenly went to sleep after hitting Chelsea for six.  Time and again one sees teams to command leading by a goal and losing the place, as they say because they have not taken the elementary precaution of winning the match before starting the pretty-pretty stiff.  How quickly the initiative changes in such cases once the others get a goal and how difficult it is to snap back into top gear once the impression has got around.  "We can do it any time we feel like it, chaps." 
Talking of Liverpool reminds me that not a few of their followers have accused me during the time our other club have hit the headlines so often of bias in favour of Everton.  This was a common criticism of my father and like him, I can only suggest to anyone who feels that way inclined to ask at Goodison Park whether they have noticed the bias in their favour.  The reply would be illuminating.  So Mr. Winslow of Ormskirk you can depend on it that the balance will be held evenly, as always with emphasis on whichever, for the moment deserves it.  You cannot spend £100,000 and not be day after day in the public eye as Everton have been…
EVERTON UNCHANGED
Wednesday, March 16, 1960. The Liverpool Echo and Evening Express
Everton announced an unchanged team for their match at West Bromwich on Saturday when they hope to get their first away win of the season.  Everton; Dunlop; Parker, Bramwell; Gabriel, Labone, Meagan; Lill, Collins, Harris (J), Vernon, Ring.
Everton Reserves have a Central League fixture against Stoke City at Goodison Park next Monday (7 p.m.).
CATTERICK MAY MISS A CUP TRIUMPH
Thursday, March 17, 1960. The Liverpool Echo and Evening Express
OFFER FROM ANOTHER CLUB
SOCCER FUTURE
By Leslie Edwards
Harry Catterick, Sheffield Wednesday manager and former Everton centre-forward may take over at another First Division club and thus miss the possibility of taking his present side to a Wembley triumph.  That he has received an offer from a club with a great potential there can be no doubt indeed he told me today that he would have to give great consideration to an offer he had received and that as long term future in soccer was the thing which really mastered.  There are in the First Division several famous clubs, one or two in the London area whose lack of success this season might lead to changes in management.  It is not true, s had been reported that Catterick received a firm offer to manage Leeds United last season. 
SCOPE LIMITED
The Catterick position at Sheffield Wednesday is unusual in that his official rank is still only as team manager.  This limits his scope a little and means that he has reached a ceiling safers there.  Catterick a Stockport boy, joined Everton in pre-war days and figured many times at centre forward in the team in post-war seasons.  He has been with Sheffield Wednesday only 18 months. 
GOODISON CROWD HAD RIGHT TO BE UNKIND
Friday, March 18, 1960. The Liverpool Daily Post
"I WOULD HAVE BEEN JUST AS OUTSPOKEN," SAYS VERNON
The Whole Truth by Roy Vernon (Everton and Wales)
Whenever a player does something for the first time it is only natural for him to try and make it an occasion to remember be it his debut in League football, his initial international appearance, of his first outing with a new club.  February 13 is a date ringed round in my dairy, for that was the day on which I turned out for Everton with a £35,000 price tag to live up to.  I am not superstitious so the date did not worry me.  I believe that transfer fees are something to drive club manager's grey, but are of no concern to the players.  The fee in my case, I have stated to be £35,000 but that is because the newspapers said so.  I have no more information on that point than you have, and frankly I could not care less whether I cost Everton £35,000 or 35,000 pence.  It is for others to assess my value.  All I can do is to strive to the limit of my ability to give the club the best possible service.  To get off on the right foot with a new crowd is highly desirable and nobody could have been more eager to impress than I was against Wolves.  A player does not need telling when he has had a stinker.  Nobody knows it better than himself.  Some people have apologized to me for the reaction of a section of the Everton crowd to my display that day.  They have gone out of their way to impress on me that his did not give a true impression of the Everton supporters, and that no club has a more loyal band of followers.  It was unnecessary advice.  I already knew that clubs far away from Merseyside have only one criticism to make of Everton or Liverpool crowds- that they are worth a goal start to the own team playing at home.  Possibility there was more dissatisfaction with my debut game than I know about. 
COMMENT DISREGARDED
The people in the crowd know a lot more about what goes on there than we do on the field.  Players move about so much that there is little likelihood of them hearing any personal remarks.  Whatever my faults and fallings may be, I can tell you quite frankly that not only do I completely disregard comments which may reach my ears on the field but on the odd occasion when it would need a deaf man to miss a pointed comment, it runs off me like water from a duck's back.  I believe that footballers have quite enough to think about from a pure footballing point of view without worrying about what the crowd might think.  So don't feel sorry for me if you should think somebody in the crowd is being naughty.  Either I won't hear it, or if I do I won't care about it.  I am not merely trying to be nice to the Everton crowd, for I am proud of my reputation for straight talking.  It sometimes gets me into minor trouble but I would not change it.  I always say that you know what a man who speaks his mind is thinking and to me that counts for a lot.  No matter what the Everton crowd may have said about me, no matter what hoots they may have released as they watched me skip from failure to failure in that Wolves game, it was probably not half as bad as I would have said myself if I had been in the crowd, watching a chap for whom my club had paid so much money put up such an abject performance. 
Some members of the crowd enjoy letting themselves go, and they have every right to do so.  If it eases their feelings good luck to them.  I have found generally that it is only at half time and at the end when the teams are leaving the field that shouted remarks carry far enough to be heard and then it does not matter very much.  I have been in football long enough to realize that popularity is fleeting at times and supporters are notoriously fickle.  One minute a player is a little tin god, and the next he is a little tin can.  Well that is the profession we have chosen and people who live in glass houses should not be afraid of the stones.  Don't get me wrong.  Don't think I believe a match would just be the same, if it were played behind closed doors without a crowd.  Obviously it would not, for the crowd make the atmosphere and the atmosphere helps to make the game.  Any player of experience will tell you what when you have a mighty roar behind you, pushing you on with every effort you make it is almost impossible not to pull out that extra bit.  It is almost like being carried forward on the tide.  That is one of the reasons and there are many others, why I count myself so fortunate to have come to Everton, for they have one of the biggest followings in the country, and with such a roar behind us and the team we have now, all things are possible. 
DOBING EASILY UPSET
All players do not react similarly to crowd behavior, Peter Dobing, a colleague of mine at Blackburn, was often upset when the Rovers crowd of a small section of it, were at times unkind to him.  Curiously enough he was not in the least affected by what went on away from home.  The spectators could rant and rave at Peter, and he just did not turn a hair but I think it was the thought of the home fans who should be his staunchest allies, turning on him when he was doing his best that ruffled him a little.  Crowds should know their men, Peter is obviously one to respond more readily to encouragement than condemnation and of course he is not alone.  There are lots like him.  Why spectators should demonstrate against players right in the top class, for believe you me that is where Dobing stands in my estimation, is not always easy to understand.  I have been asked if our manager, Mr. John Carey, gave me a ribbing after the Wolves game.  The answer could not be shorter-No. 
He realized I think that I was lost in a sea of new faces and ideas that were completely different from what I had been accustomed to.  Jimmy Harris for example was a completely different tactician from Brian Douglas, and from long association with Douglas I automatically made my moves accordingly.  At Everton we have any amount of ball practice and five-a-side games and these really are invaluable for teaching positional play and moves. 
STEADY IMPROVEMENT
I have had to modify my game to some extent to suit the new conditions, I find operating at Goodison, but I am falling into it quite nicely.  Already when I have possession in a match, I look up expecting a player to be in a certain position, and lo and behold, he is more often there than not.  I believe our game is improving and now that the players know they are better than they have been given credit for in some quarters, I think it will help us to become a great side.  Relegation?  We never even discuss it, for the simple reason that we have every confidence it will not happen to us. 
TOO GOOD, TOO BAD
Friday, March 18, 1960. The Liverpool Echo and Evening Express
With Leslie Edwards
Attitude of most Everton fans about two of their side's recent home performances is  Almost too good to be true?  Their away record no victory throughout the season so far, is almost too bad to be true.  "I expect them to do something about it tomorrow at West Bromwich and when they have established a lead to maintain it, not lose it vexatiously late as they did at West Ham.  The Everton attack today has the potential to score home or away and if they were to get remotely near to their effectiveness of the match against Chelsea we could anticipated the interval tomorrow with great hope.  All going well Everton should make a valuable move towards safety, in which event the match on Grand National eve against Newcastle United (and Ivor Allchurch) would tax Goodison Park to capacity.  Albion bring back Derek Hogg after a three-match absence.  He replaces the injured Andy Aitkens.  Everton; Dunlop; Parker, Bramwell; Gabriel, Labone, Meagan; Lill, Collins, Harris (J), Vernon, Ring.
West Bromwich Albion; Wallace; Howe, Williams (G); Drury, Kennedy, Robson; Jackson, Burnside, Allen, Kevan, Hogg. 
HOSPITABLE HAWTHORNS
Saturday, March 19, 1960. The Liverpool Daily Post
By Horace Yates
Everton because of their close proximity to danger even to existing circumstances must glide to safely by their own efforts rather than rely on the fallings of others.  On more than one ground last Saturday, when the Goodison half time score was hoisted I have heard that scoreboard operators were suspected of leg-pulling.  I suppose it had to be seen to be believed. 
Still, I consider Merseyside enthusiasts can withstand any number of shocks on a bar with that.  Today for example it would be cheering indeed, to find Everton at the half way stage on the way to their first victory on opponents territory and even more thrilling to have such a verdict confirmed at the final.  Not only are Everton the only team without an away victory but apart from Luton and Birmingham, who have two each the remaining clubs have at least four.  Goodison Park has certainly been a life-saver this season.  West Bromwich Albion are not the most accommodating team in a situation such as Everton now find themselves in and to emulate last season's feat, when a depressing spell at the Hawthorns was broken, something approaching the form that shattered Chelsea will be needed.  None can deny that a display of that quality would have worries any side, but I found a warning note sounded by a stalwart Evertonians, who said "Yes of course, we played well, but it was one of those days on which the bounce of the best was with us.  Let us hesitate a while before reading into that superb exhibition just a trifle too much.  There may be wisdom in these words.  West Brom have not won one of their last five games, but it is important to remember that four of them were away from home and the other was against Bolton.  The fact that Nottingham Forest were able to win there on Boxing Day is surely an indication to the revitalized Everton that those first elusive away points may still be there for the taking even at the usually inhospitable Hawthorns.  Hogg replaces Aitkens at outside left in the West Brom team.  West Bromwich; Wallace; Howe, G. Williams; Drury, Kennedy, Robson; Jackson, Burnside, Allen, Kevan, Hogg.
Everton; Dunlop; Parker, Bramwell; Gabriel, Labone, Meagan; Lill, Collins, J. Harris, Vernon, Ring. 
KEVAN'S FIVE GOALS SHOW HITS LUE FOR SIX
Saturday, March 19, 1960. The Liverpool Echo and Evening Express
West Brom 6, Everton 2
By Michael Charters
West Bromwich Albion;- Wallace; Howe, Williams (G); Drury, Kennedy, Robson; Jackson, Burnside, Allan, Kevan, Hogg.  Everton; Dunlop; Parker, Bramwell; Gabriel, Labone, Meagan; Lill, Collin (Captain), Harris (J), Vernon, Ring.  Referee; Mr. G. W Pullin (Gloucester). 
Albion gained two left wing corners in the opening minutes.  Allen playing his usual deep lying game seemed to have more of the ball than anyone and Labone made a magnificent interception of a through pass by Allen with Burnside in the clear.  It was obvious that Albion's major threat lay in these through passes from Allen with Burnside and Kevan going forward to take them, Labone again stopped the danger quickly and cut off another dangerous looking pass from the centre forward.  But in Everton' first real attack they took the lead with a Collins goal after six minutes.  The goal came through hesitancy by the Albion defence, Ring recovered from Howe's tackle to work the ball infield and pass to Lill and with Albion expecting an offside decision against the winger, Lill was able to take the ball on and turn it inside for Collins to side-foot it firmly into the net from a few yards out. 
FIRST CLASS
Everton seemed to have difficulty in keeping their feet on the turf which was just a little greasy on top, but Collins and Lill had snapped up their only chance very well.   Everton were making it a goal with every attack, for with their second real move they went two up through a fist class goal by Harris.  The build-up came from Vernon's cleverness in midfield, for he wheeled on a sixpence to beat Drury and lob the ball forward for Harris to chase.  The centre forward and Kennedy reached it together but it was Harris' boot which got there first to lob the ball just under the bar, after 12 minutes.  Albion fought back immediately and a right wing move ended with the ball coming across to the unmarked Allen who delayed his shot just long enough for Dunlop to come out of goal and make a magnificent save from close range. 
LILL VOLLEY
Albion continued to have the better of matters territorially and from a long free kick by Howe, Labone went up to head away not knowing that Dunlop had come out to catch the ball which skidded off Labone's head narrowly wide for a corner from which Burnside lobbed the ball just wide of the post.  Lill was making very good use of the ball on the few occasions he got it and one cross-field pass to Vernon was a beauty which led directly to a corner as Vernon's shot was locked.  From the kick, Lill tried a left foot volley which went straight into the hands of Wallace.  Everton were playing more open football than Albion, with the result that their attacks always looked more dangerous.  They were making full use of the cross-field pass and Harris gave Lill a lovely ball for the winger to cut inside and try a left foot drive from 20 yards which swerved over the bar.  Then Kevan broke away and shot on the run for Dunlop to make yet another fine save as Kevan followed up to be penalized for charging the keeper. 
DESERVED
Albion reduced Everton's lead with a beautifully worked goal in which five or six men interpassed without an Everton man touching the ball after 29 minutes.  The move started deep on the right with Howe passing the ball inside to Allen, who moved it on to Hogg, then Robson and then Burnside who flicked it inside for Kevan to hit it firmly in the net from 18 yards range- a goal which Albion deserved on the run of the play.  Vernon recovered from a double tackle by Drury and Burnside to push the ball through for Harris who shot a little hurriedly and rather lamely with a good distance.  Albion came back immediately with a beautiful move between Howe and Drury but Dunlop cut off Burnside's shot with an amazing close range dive.  Everton defence was holding out well, with all the forwards bat Harris, coming back deep to lend a helping hand.  Gabriel put Everton's goal in danger with a poor back pass and fortunately for them Labone stood between Burnside and an open goal.  The closet Everton came to troubling Wallace was when Harris headed wide from Ring's centre after Lill had baffled the Albion defence with a fine cross-field pass.  Vernon and Collins were working tremendously hard to get their attacks going, but Kennedy was Harris master in the air and Ring was not getting very far against the very firm tackling of Howe.  Half-time; West Bromwich Albion 1, Everton 2.
Everton's defence looked a little creaky in some departments under this sustained pressure and Albion threw away a good chance from a free kick awarded, rather harshly I thought for a handling offence by Gabriel. 
VERNON'S EFFORTS
Hogg and Jackson changed position as the left winger had not been getting very far against Parker, who was playing very well.  Vernon suddenly struck his brightest vein and fighting off tackle after tackle, brought Everton back into the game.  Collins was operating on the right wing for a time and from a pass by Harris he sent in a fantastic swerving shot cum-centre which struck the inside of the upright and bounced away to safely.  Bramwell and Gabriel often looked bewildered by the close passing and interchanging of positions by the Albion forwards.  Hesitancy by the left back enabled Howe to come through and put in a beautiful centre across which Kevan headed very firmly and Dunlop punched over.  Major honours for Everton must go to the defence in which I would pick out Dunlop, Meagan, Parker and Labone but full marks to Bramwell for saving on the line when the defence got in a tremendous tangle with Albion switching the point of attack from right to left.  Albion did get their equalizer after 70 minutes through Kevan who received the ball from Drury after Collins had made a mistake in trying a fancy move out of defence instead of hitting it clear first time.  Drury snapped up the chance sent a good pass through to Kevan who breasted the ball down and but it under the diving Dunlop body.  A minute later Kevan got his hat-trick and Albion were a front through another Collins error.  This time on the left side of the pitch, Collins dallied with the ball instead of clearing and only turned it out to Allen who centre instantly and Kevan headed it past Dunlop with a perfect effort.  Kevan's dash and general forcefulness had certainly exposed the inconsistence of Gabriel, who looked a little bewildered at times against this very fine inside forward.  Albion made their superiority very clear cut with a fine goal from Burnside with Kevan again playing a leading part in it.  Kevan held the ball on the edge of the penalty area before slipping it across to the unmarked Burnside whose fine left foot went just under the angle.  Everton's defence which had always looked as though it might break against the flood of Albion's attacks now did so in tragic style.  Kevan got his fourth goal after 81 minutes again through a defensive error for Bramwell failed to clear from Burnside who pushed the ball through to Kevan who was unmarked and he put it firmly into the corner of the net.  I must say that one could not fault Dunlop with this sudden rush of goals four in 11 minutes for each time the scorer had been almost unmarked when he got possession of the ball giving the goalkeeper no chance at all.  Kevan completed a fantastic match with his fifth goal three minutes from the end, turning a cross from Burnside firmly into the net with Everton's defence completely bewildered.  Final; West Bromwich Albion 6, Everton 2.  Attendance 24,300. 
Everton "C" 1 Bolton W "C" 1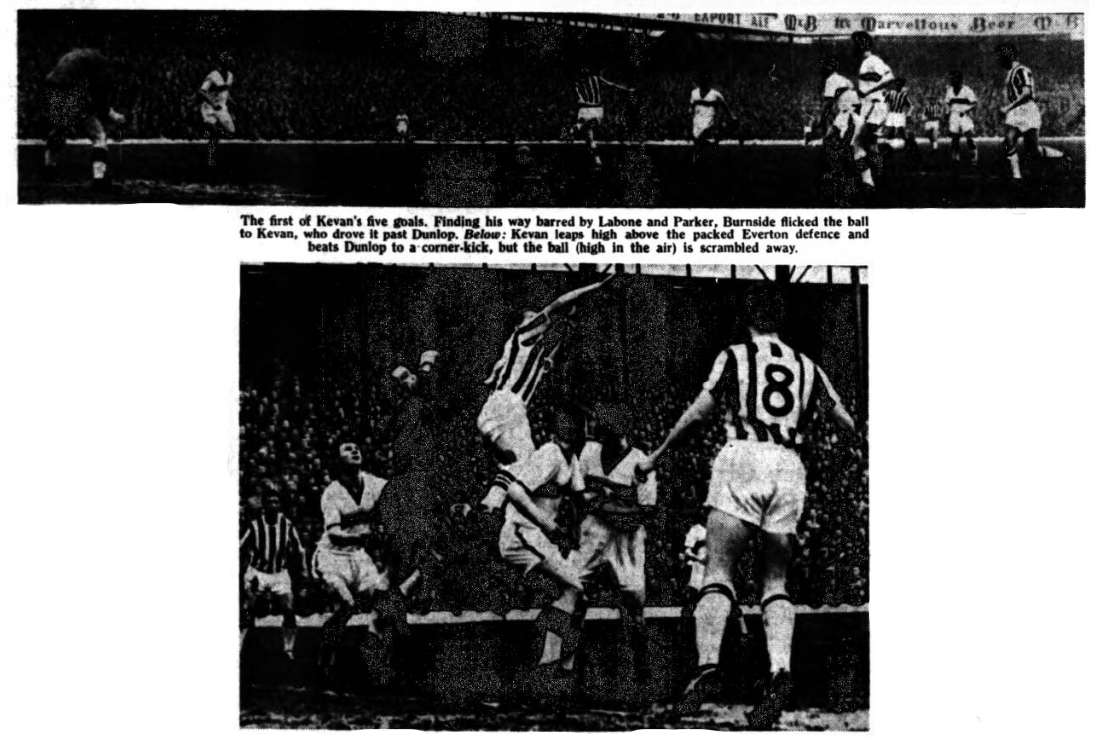 MEAGAN BACK TO HIS EIRE DISPLAY
Saturday, March 19, 1960 The Liverpool Echo and Evening Express
CONFIDENCE IS ALL HE NEEDED, SAYS ALEX PARKER
My first game in an Everton shirt was in a Central League match at Bury nearly 18 months ago just after my return from Cyprus.  The left half was Mick Meagan, and although I had been told he was an Eire international I remember that he had a quite game.  During those first few days at Goodison I inquired about the different players and was told that Mick had made his first team debut just over 12 months previously and had looked a great player, but he had never been the same after a back injury (against our opponents of today, West Bromwich Albion).  He was out of the game for some time as a result of this injury, and when he came back he could not quite reproduce the form he had displayed earlier.  He moved in and out of the reserves and the first team, and to the public it must have appeared that the Irishman's form had deserved him forever.  But at the club we knew differently.  In practice matches at Bellefield he was terrific and many's the time we thought that Meagan was back to his best, but on the Park on Saturday he couldn't reproduce it.  It was obvious that it was not his ability that had departed.  It was his confidence.  As you all know, there have been many alterations in the Everton team of late but Mick has kept his place.  I don't claim to be a psychologist, but this may have been just the thing to give him back his confidence.  Whether that is right or not, I don't know, but the fact remains that over the past few weeks he has been playing better and better.  He had a great game at West Ham, and to prove it he did a repeat against Chelsea last week.  Mick is not one of those players who stands out in a game.  If he not fair or ginger-haired he probably would.  However, in a team that was playing well all round, I have heard that many people thought he was the best player in the side last week. 
THICK OF IT?
Like good referee's Meagan is at his best when he is not being noticed.  Next time you are at a match and think you are not seeing Meagan, take particular care to do so and you will usually find him in the thick of it.  I have heard some say that he is still not playing as well as he can.  I don't know about that as I was not here when he first came into the team, but there's no doubt that he is improving week by week.  Now that the side is having a successful run, his confidence should become even greater and who knows he may yet add to that cap he already has.  From one wing half who is on the way back to another who has just arrived.  It must have been no easy task for Jimmy Gabriel to make his debut before 50,000 people against a man who had scored a hat-trick against him only ten days before, but he had obviously learned something for Jimmy Greaves had a quiet game.  Due to our being so much on top in the first half Jimmy, along with the rest of the defence did not have a great deal to do.  Particularly is this so in the case for his ordeals were to play a defensive role with Mick Meagan being the attacking wing half.
VERY EXCITED
After the game Jimmy was naturally very excited, I still don't think he has got over playing before such a big crowd.  I noticed him coming off against Chelsea at half-time.  His face was flushed and he had a smile they most have been able to see back in Scotland.  When I asked him afterwards what he thought about his home debut, all I could get out of him were such words as stupendous, terrific, tremendous.  I asked him what he thought of the crowd and he said.  "It's a bit different from playing before 15,000 at Dens Park (Dundee's ground)" And that a big gate up there!  I see Tommy Ring finally got among the goals, I told him afterwards that it was about time he put the ball in the net, to which he replied "one?" I got three! Roy Vernon's shot went in off me, the fifth one went in off Mortimore after I shot and I got the sixth myself.  "Any more cracks like that and I chant bother again.  You can get em yourself." Anyway just to prove he is a man of his word he scored another hat-trick in a practice game on Tuesday morning-and everyone was the same.  He dribbled the ball to the corner of the penalty area and then chipped it in just inside the far angle.  He's a promising boy all right. 
WING HALF PLAN
Going back to that wing half plan, whereby Jimmy Gabriel plays mainly in defence and Mick Meagan goes forward.  It is of course the same idea used by Spurs with Blanchflower, and Mackay and it's certainly paying dividends for them.  Also with a Scot and an Irishman, note.  Although we have played well in our last two home games, I don't think that we have played as well yet as we shall.  With so many new comers it will take time for us to get used to each other, to find that little something called blend."  Our manager has done his best with that Meagan –Gabriel move.  Then you get the wingers, Lill (direct) and Ring (a ball player).  At inside forward there is Collins (schemer) and Vernon (striker), although there tasks cane be reversed in their case.  This policy even spreads, though to the full backs, where we have a good one on the left and me on the right.  Following so soon on the news that Brian Labone has been picked as reserve for the England Under-23 side comes the news that Ronnie Moran is to play for the "Great Britain" League side against the Scots at Highbury.  Everybody at Goodison was pleased to hear of this deserved honour and we would only have been more pleased if it had been an Everton player.  Apparently Everton and Liverpool have not had a great number of players honoured since the war particularly by England.  Both clubs now seen to be on the upgrade again and maybe the fact that two Liverpool born players have been honoured within a week is a pointer to brighter things to come.  Apparently there are plans afoot to run an Inter-League different Euro competition between different European countries and like most people interested in soccer, I thought I would pick what I consider our best side, leaving out Everton players.  Here goes;- Brown (Spurs); Howe (West Brom), Moran (Liverpool); Clayton (Blackburn), Brown (West Ham), Mackay (Spurs), Leggat (Fulham), McIlroy (Burnley), Smith (Spurs), Law (Manchester Ciy), Jones (Spurs).  No doubt you disagree, but it's a good side. 
EVERTON RES V NEWCASTLE RES
Saturday, March 19, 1960. The Liverpool Echo and Evening Express
Everton Res;- O'Neill; Tansey, Green; Harris (B), Billington, Sharples; Temple, Wignall, Shackleton, Shepherd, Laverick.  Newcastle Utd Res;- Simpson; McEnney, Scott, Franks, Heston, Luke; Tait, Neale, Gilfialn, McGigan, Taylor.  Referee; Mr. S.A. Leeding.  Harris and Tansey checked dangerous Newcastle moves before Laverick made a good dribble to gave Harris an open, but the wing half delayed his shot.  Laverick did well to keep the ball in play before centering for Shackleton to miss an easy chance, the ball going to Wignall to fired over from a difficult angle.  Everton went ahead in the 24th minute when after Shepherd had hit the underside of the bar, Shackleton netted easily from the rebound.  Two minutes before the interval Newcastle equalized through Taylor, who rounded Tansey before shooting past the unsighted O'Neill.  Half-time; Everton Res 1, Newcastle United Res 1.
Temple scored for Everton after 65 minutes, and McGuigan replied a minute later.  Final; - Everton Res 2, Newcastle Utd Res 2. 
GABRIEL WILL NOT EASILY FORGET KEVAN
Monday, March 21, 1960. The Liverpool Daily Post
West Bromwich Albion 6, Everton 2
By Michael Charters
An incredible exhibition of scoring, made to look easy by Derek Kevan the West Bromwich Albion and England inside forward, shattered Everton to yet another away defeat, in which the score line tells its own story.  This was the Goodison game of a week ago in reverse, but while every Everton forward scored against Chelsea, this was very much a one-man show by Kevan.  Five goals put the seal on one of the most amazing individual displays in football history.  The incredible feature was that Everton were two up after twelve minutes, scoring with the first two attacks, and held a 2-1 lead up to the 70th minute.  Then Kevan broke loose and having scored the first completed a hat-trick with two goals in a minute.  His inside forward partner, Burnside scored the fourth (79 minutes) and Kevan completed the rout with goals in the 81st and 87 minutes.  Thus Everton went from 2-1 to 6-2 down in the space of 17 minutes-which must be some-of a record in itself. 
BIG AND STRONG
Kevan, big and strong, was the one.  Albion forward in deadly form in front of goal and it was just as well that he was for the home side.  Although Albion had much more of the play than Everton their finishing –was poor.  But who needs another scoring forward with Kevan in such magnificent form as this?  I fear that Kevan's power-house display of deadly shooting and ball control exposed the inexperienced and limitations of the young Scot, Gabriel.  Far too often Kevan received the ball when unmarked, and with his shooting in William Tell vein poor Gabriel had an unhappy and even disastrous match, which he will not easily forget.  Gabriel said after his debut in English football at West Ham that he through the style of play down here was much faster than he had known in Scotland.  Kevan hammered the point home too forcibly for the boy's and Everton's peace of mind.  Albion were definitely the better side throughout, even when Everton were in front for the Everton forwards never recaptured the form they showed against Chelsea and Preston, and their defence underwent sustained pressure to much of the game.  The Albion attack, moving swiftly, cleverly, and interchanging positions well had the Everton defence creaking in parts, for Bramwell looked most unhappy, although the rest, with Labone outstanding, struggled against the Albion tide valiantly. 
DUNLOP EXONERATED
Dunlop could not be faulted with any of the goals, but too often Albion were allowed to cut their way through almost at will, past wing halves, who were struggling all the time.  With Collins and Vernon occupied in helping their hard-pressed defenders, Everton's forwards only moved well as a line in the opening 15 minutes or so.  During that time Collins and Harris put them two-up and there were visions of that long awaited away win coming at last.  Then Kevan hit the goal trail after 29 minutes with a beautifully worked goal, in which six Albion men interpassed without an Everton player touching the ball, for Kevan to score.  After the interval the story was very much as before, with Albion always the better side and their defenders completely on top of an innocuous Everton attack, in which only the hard-working efforts of Vernon in midfield could be commended.  Once Kevan started the Albion goal riot, however, Everton's defence did what it had threatened to do for the previous hour- collapse.  The nearest Everton came to scoring in the second half was when a shot-cum-centre by Collins struck the inside of the post with Wallace beaten and bounced away.  Had this one gone in it might have been Albion who collapsed for they would have been 3-1 down, but as it was the game went all one way after this.  West Bromwich Albion;- Wallace; Howe, Williams (G); Drury, Kennedy, Robson; Jackson, Burnside, Allan, Kevan, Hogg.  Everton; Dunlop; Parker, Bramwell; Gabriel, Labone, Meagan; Lill, Collin (Captain), Harris (J), Vernon, Ring.  Referee; Mr. G. W Pullin (Gloucester).  Attendance 24,300. 
EVERTON COLLAPSE AS KEVAN STARTS GOAL RIOT
Monday, March 21, 1960. The Liverpool Echo and Evening Express
By Michael Charters
Watching Everton home and away in successive weeks in a peculiar form of mental fortune not catenulate to soothe the nerves as we hear the end of another football season.  The exhilaration of their home performances is followed, almost inevitably by a disappointing loss of form away which continues to baffle everyone connected with the club.  It was very much the usual mixture at West Bromwich Albion on Saturday when Everton led up to the 70th minute-although never the better side-and then crashed –alarmingly to a 6-2 defeat, in  which Albion scored five goals in 17 minutes.  As a scoring feat, it was remarkable, as an Everton collapse, it was incredible.  Of course everything else that happened in the game was overshadowed by the superb shooting of Derek Kevan Albion's international inside forward, whose five goals were all beautifully taken.  This big strong player with a deadly eye in front of goal, looked world class on this form, and his expert positioning, plus rapid-fire shots, brought chaos in the Everton defence.  It would take a wing half of the highest possible defensive caliber to hold Kevan when he hits the goal target as he did on Saturday.  Certainly his masterly display exposed the inexperienced of young Jim Gabriel, who allowed the Albion man far too much latitude.  The Albion tactics of centre forward Allen playing deep, with Kevan and inside right Burnside forming a twin-scoring threat up front poses a problem to the defending centre half in which he needs a wing half colleague alongside him.  Brian Labone did his full share of the hectic defensive chores which came Everton's way but he lacked support and could not be blamed for the late avalanche of goals.  Gabriel said, after his debut in England at West Ham that he thought football here was faster than he had shown in Scotland.  He won't meet the menace of a top form Kevan every week but the Albion star, an Adnos of a man in build and appearance, gave the young Scot a lesson which will help to improve his own play if he takes due heel of it.
PRESSURE
Albion's forwards moved better than Everton's line except for the opening 15 minutes or so.  Their quick switching and clever short passing with wing halves Robson and Drury always moving up in support produced a sustained pressure on Everton's defence.  Labone, Parker and Meagan helped by some excellent saves from Dunlop held out for 0 minutes but once the flood-gates of goals opened, they disintegrated alarmingly.  Parker had a good game against Hogg, who switched positions with outside right Jackson late in the game.  Jackson had shown himself too good for Bramwell, and did much better against Parker than Hogg had done.  Dunlop could not be faulted I thought, with any of the goal's for Kevan invariably received the ball in the clear and put the ball unerringly away from the goalkeeper.  Everton's forwards looked a far different proposition than against Chelsea the previous week.  Yet when they were two up in 12 minutes (both goals coming in the first real attacks they launched, there was hope that they could go on to their first away win of the season.  But Albion's defence tightened up magnificently with Howe always master of Ring, and Kennedy blotting out Harris except on the one occasion when the Everton leader matched his goal, Howe allowed Ring a lot of room to move but when he came in for his tackle, helped by Ring's slowness to get the ball across, he invariably won possession. 
TURNING POINT
Lill looked the most dangerous Everton forward in the early stages but Williams gradually got a grip on him.  Vernon and Collins were too busy helping their defence for the majority of the game to set up Everton attacks, but Vernon certainly tried hard to do so.  He was inclined to try too much himself in midfield and the firm tackling of Drury, and Robson stopped him.  Just before Kevan began the late goal burst came the turning point of the game, Everton were holding their 2-1 lead through desperate defensive measures with luck at times playing a big part when Collins broke away on the right and smashed a fierce shot-cum-centre which swerved in to hit the upright with Wallace beaten.  Had this gone in to make the score 3-1, who knows that Everton might have held on?  As it was Albion deservedly equalized and moved to a most convincing victory.  the goals tally went; 6 minutes Ring cross the ball to Lill with Albion expecting an offside decision which never came as the winger took the ball to the by-line cut it back and Collins had the easiest of chances to turn it into the net; 12 minutes Vernon lobbed the ball forward and Harris just beat Kennedy to it to lob the ball over Wallace's head; 29 minutes, a magnificent five-man move ended with Kevan receiving the ball 10 yards out and slotting it home. 
EQUALISER
Bramwell cleared a Kevan header off the line, before the collapse began at 70 minutes when Collins failed to clear quickly and Drury passed to Kevan who breasted the ball down and hit it instantly past Dunlop for the equalizer.  That started it, 71 minutes Collins again dallied with the ball, lost possession and Allen centred from the left wing for Kevan to make a perfect glancing header into the net for his hat-trick; 79 minutes Kevan pushed the ball across, to Burnside, who sent in a fine left foot shot just under the angle of bar and upright; 81 minutes Bramwell failed to clear quickly and Burnside crossed the ball to the unmarked Kevan; 87 minutes a similar move and a similar goal with the same players involved.  Kevan's personal glory set the seal on a first class match of much good football in which Everton were never on top in skill and team work, even when they were leading. 
MILLIONAIRE MOORES EVERTON DIRECTOR
Tuesday, March 22, 1960. The Liverpool Daily Post
Mr. John Moores, the Merseyside millionaire was last night appointed a director of Everton Football Club.  A statement issued yesterday by the secretary of Everton Football Club, Mr. W. Dickinson said; at a meeting of the directors of Everton Football Club this evening an invitation was tendered to Mr. John Moores to fill the existing vacancy on the board.  "Mr. Moores, having resigned his directorships of Littlewoods Pools Ltd, and H. Littlewoods Ltd and thereby having qualified himself under the rules of the Football Association to be appointed a director of a football club, accepted the invitation.  He was accordingly appointed a director of Everton Football Club.  The appointments has been made with the full knowledge of the Football Association. 
ERASED FROM THE COUPONS
Sixty-four-years-old Mr. Moores was not available at his home in Shireburn Road, Freshfield, Formby last night for comment.  A Littlewoods, Pools spokesman said last night that Mr. John Moores name was being erased from football coupons and other literature connected with the pools concern of H. Littlewoods Ltd.  In view of this announcement of Mr. Moores decision to relinquish his directorship with the two concerns it is noted that the name on the current catalogue of Littlewoods Mail Order Stores has been changed to John Moores Home Shopping Service, thus forsaking the dame Littlewoods.  The mail order side of the business coupled with the stores are now the major portion of the Littlewoods organization. 
JOHN MOORES ACHIEVES HIS AMBITION
Tuesday, March 22, 1960. The Liverpool Daily Post
EVERTON SPRING ANOTHER SURPRISE
By Horace Yates
Just when sporting journalists, who have recently been caused many sleepless nights by Everton Football Club, wondering just what they would do next, which player they would chase and when, were relaxing in the belief that Goodison had sprung all the surprises they were likely to spring this season, they were last night startled by perhaps the biggest "signing" of them all, the co-option to the board of Mr. John Moores a pioneer of the vast Littlewoods Pools industry.  When the resignation of Mr. Collin Askham from the board was announced on February 26 on the grounds of ill-health it came as a bolt from the blue taking everyone completely by surprise.  Mr. Askham who is confidential secretary to Mr. John Moore by quitting the board left the way clear for his chief to achieve one of his greatest sporting ambitions.  Undoubtedly if there had not previously been barriers set up by football regulations because of Mr. John Moore's association with the Pools, this step would have been taken long before now.  Mr. Moores is a shareholder of both Everton and Liverpool Football Clubs and has been one of the most faithful Everton supporters for years, seeing the team in many of their away games as well as those at Goodison Park.  If the advent of Mr. Moores to the board had preceded Everton's spectacular burst of spending on new players there is no doubt he would have been credited with being the driving force behind the new, enlightened policy, for such is his justly earned reputation.  As he has only now stepped into the official picture most of the questions which have been unanswered up to now still remain unanswered. 
GREAT SPORTSMAN
Despite his vast business compliments-for in addition to the Pools he saw the possibilities in the mail order business and chain stores which put Littlewoods' name before the public in many towns and cities in this country-he was always found time to devote considerable interest to various branches of sport.  Football is probably his favourite, if only by a narrow margin over boxing, while shooting and fishing also have their place.  Mr. Moores is n fact chairman of the Liverpool Stadium Ltd, whose promotions are undertaken by Mr. Mickey Duff and he is an administrative steward of the British Boxing Board of Control.  In his younger days, Mr. Moores enjoyed his game of football with the now defunct Liverpool Azoics Club and he also took part in games in I. Zingari League.  Undoubtedly Mr. Moores will be an acquisition to the board for while his nature is as far removed from dictatorial as it is possible to be, he is unlikely to be a silent partner in his new enterprise, if by speaking up he thinks he can advance the cause of the club for which he has such a warm regard.  Whether at Goodison Park or at Anfield through the years Mr. Moores has always been one of the best informed spectators about the team playing away from home.  He has never been content to wait until half time or the final for news of progress of the away match.  By turning a quizzical glance in the direction of the Press box during a lull in the game he has always kept himself abreast of developments.  I consider that Everton's latest enterprise will receive the general acclamation of both their shareholders and supporters for undoubtedly the club have added a shrewd business brain and acknowledged driving force to the fulfillment of their labours. 
FLAG JUGGLING AT GOODISON PARK
To help to give a start to Merseyside's Italian week, next week.  Everton have arranged for a display of flag juggling by ten Italians in native costume at Goodison Park, immediately before the start of the League match against Newcastle United on Friday (7 p.m).  The display will last about ten minutes. 
MISSING NAME GAVE CLUE TO MR. MOORES' APPOINTMENT
Tuesday, March 22, 1960. The Liverpool Echo and Evening Express
With Leslie Edwards
The removal of a name-printed in minute type at the foot of coupons issued by Littlewoods's Pools Ltd, gave the first hint yesterday morning of one of the most unexpected events in the history of Everton F.C., -the appointment last night of multi-millionaire Pools magnate Mr. John Moores as a director of the club.  Those who noted the absence of the name from its usual place on the coupon and thus anticipated his retirement from Pools betting, little dreamed that the sequel would come so dramatically through the issue, by Everton last night of the following statement;- at a meeting of the directors of Everton Football Club this evening an invitation was tendered to Mr. John Moores to fill the existing vacancy on the board.  "Mr. Moores, having resigned his directorships of Littlewoods Pools Ltd, and H. Littlewoods Ltd and thereby having qualified himself under the rules of the Football Association to be appointed a director of a football club, accepted the invitation.  He was accordingly appointed a director of Everton Football Club.  The appointments has been made with the full knowledge of the Football Association. 
Only a few weeks ago Mr. Colin Askham, a lifelong friend of Mr. Moores and a man connected with the mail order side of the Littlewood's organization resigned his seat at Everton owing to ill-health. 
In becoming a director of the club on retiring after one association with the Pools Mr. Moores follows the lead of Mr. E. Holland Hughes a former President of the Law Society of Liverpool, who relinquished his appointment as secretary to the Pools Promoters Association before joining the club. 
FULL CIRCLES…
For Mr. Moores his appointment means that the wheel has turned a full circle.  More than 20 years ago when there was an initial fixture copyright battle between the Football league and the Pools the League guided by the famous Everton legislator, Mr. Will Cuff, turned down an offer of £100,000 for the right to use the League lists.  The battle ended in statement after fixtures had been kept a secret to the last moment for several weeks and the £100,000 offer was never renewed.  Last year, the League fought the issue a second time and this time succeeded.  The Pools promoters now pay the League copyright fees at the rate of £10,000 per week throughout the season.  Mr. Moores whose general unobtrusiveness is matched only by his desire for efficiency in all things has long been an Everton and Liverpool shareholder and follower of club and international football.  An Everton director who once wrote to the F.A for a ruling as to whether anyone connected with Pool's would be permitted to hold shares in a club received the ruling body's authority that anyone no matter what his business was perfectly entitled to hold shares in any club if he so wished.  But the F.A remain adamant that no one concerned with Pools shall serve as a director.  Hence Mr. Moores retirement. 
KNOWN AS A NAME
To the football public of Merseyside the new Everton director is only a name.  He has long been friend and counselor of members of the boards of both clubs and Everton should benefit considerably from his interests in them, from his commonsense outlook on all matters and from his first-hand association with their problems.  His other sporting love of golf.  Like me, who shared with him the ups and downs inseparable from learning ice skating at Liverpool's old rink, he has long since given up more athletic pursuits though he was a veteran when he finished kicking a football do the Liverpool Ramblers pitch.  With interest in the Stadium, in Everton, in golf and in the arts the multi-millionaire newcomer to what fans are describing as the Bank of England club has a wide variety of things to occupy him.  But football is his special love and I do not doubt that he is achieving a lifelong ambition in being given an active part in it.  He will do a good job of work he will e of invaluable assistance to manager John Carey in helping him to achieve his aim of making football at Goodison Park with the watching. 
FORYTY IS TOO MANY
Chelsea's decision to cup their playing staff from 40 to 28 does not surprise me.  The expense of running four, five or six teams is tremendous and in spite of the general pride of teams in make-your-own policies the teams who have gone out and bought players ready-made or, better, tailor made seem to have had most success.  Arsenal used to get by, in Herbert Chapman's day on a hard core of about 15 first teamers using some of them out of position when injury affected their usual side.  Their argument was that any good footballer should be capable of filling any position.  How right.  The late George Kay at Anfield also pursued this policy and it paid.  At Everton since the War we have had many long-term policies calculated to bring third-teamers to First Division class over several seasons but this costly business has not been successful and in the hour of crisis it was thought necessary, and wisely to revert to the old system and buy fully developed stars whose form was dependable.  One of the few clubs who seem capable in 1960 of finding first-class players on their own doorstep is West Bromwich Albion, whose remarkable shower of goals against Everton shows them to be well above average in spite of their so-called lack of glamour. 
LIVERPOOL COUNTY YOUTHS GIVE A CLASS EXHIBITION
Liverpool County F.A youth team, composed of six Everton players and five Liverpool exposed the great gulf between English and Irish football even at youth level by thrashing the F.A of Ireland Youth 6-0 at Prenton Park last night.  (Report in Echo)
SO HE WANTS MATCHES CUT BY 45 MINUTES!
Wednesday, March 23, 1960. The Liverpool Echo and Evening Express
With Leslie Edwards
The inability of Everton and Liverpool to consolidate after gaining a two-goals lead was not lost on Mr. L. J. Johnson of 16 Rockville Road, Broadgreen.  He writes;-
"I would like to make a suggestion through your columns to the directors of both Liverpool and Everton Football Clubs that at the next meeting of the League Management Committee they should put forward a proposal that matches should in future only last for 45 minutes, that admission charges and the players wages should be halved, as neither the Liverpool nor Everton players seem to be capable of making a sustained effort on the field for longer than a period of 45 minutes once a week.  Incidentally, don't think from this blue ribbon on the typewriter that I'm an Evertonian, because I'm not"
Another reader from Southport, says; "Bet you've had a sleepless week-end trying to explain a 6-2 licking.  You know you really stuck your neck out with your recent ravings about the Bank of England Blues.  You won't remember a previous Bank of England Everton in Stan Fazackeley's days when Crystal Palace beat them 6-0 at Goodison Park. 
My friend is wrong on both counts.  I slept well; I was watching different Blues from Everton and I do remember Stan Fazacerley and that 6-0 Cup defeat.  Didn't the other goalkeeper have time and opportunity to such an orange? 
EVERTON UNCHANGED FOR NEWCASTLE GAME
Wednesday, March 23, 1960. The Liverpool Echo and Evening Express
Eve of the National
Jones Progress
By Leslie Edwards
Everton announced an unchanged team for their even of the Grand National match against Newcastle United at Goodison Park on Friday.  This means that the side which scored six times in the first half against Chelsea and which conceded five goals in the last 20 minutes at West Bromwich last Saturday, takes its chance again. 
Tom Jones is progressing well from an injury and was given a try out this morning with a view in him having a game with the Reserves.  Everton; Dunlop; Parker, Bramwell; Gabriel, Labone, Meagan; Lill, Collins, Harris (J), Vernon, Ring. 
NEWCASTLE U OMIT MITCHELL AT GOODISON
Thursday, March 24, 1960. The Liverpool Daily Post
By Horace Yates
Newcastle United a team convinced they can quality for talent money, this season, visit Goodison Park tomorrow (kick-off 7 p.m) with a selection which has caused no end of discussion among United supporters, for Bobby Mitchell is deposed at left half by a debutant George Luke.  Lukes comes in on the strength of several promising displays with the reserves, and a desire by manager Mitten to look ahead to future requirements, but so well has Mitchell been playing that none of the club followers was tuned in to Mr. Mitten's wave length on this line of thought.  In the last game against Luton Town which United won 3-2. Mitchell was as successful as any member of the side.  Indeed since he was switched from outside left to left half last season, Mitchell has been consistently satisfying.  Curiously enough his successor Luke was also an outside left and is another Mr. Mitten conversion.  Luke is Mitchell's junior by something like ten years.  Another change the substitution of McKinney at right back for Ireland international Keith is enforced because of Keith's leg injury.  Despite the in-and-out form of Everton, who are unchanged a crowd of upwards of 50,000 is expected to see the match.  Everton; Dunlop; Parker, Bramwell; Gabriel, Labone, Meagan; Lill, Collins, J. Harris, Vernon, Ring.  Newcastle United;- Harvey; McKinley, McMichael; Bell, Stokoe, Luke; Hughes, Eastham, White, Allchurch, J. Mitten. 
EVERTON PLAYERS IN LANCS, F.A. X1
Three Everton players Jarvis, Sharples, and Commrie have been selected by the Lancashire F.A for the F.A Youth Cup match against Northumberland at Whitley Bay on April 2.  Team; G. West (Blackpool); Ross (Preston NE), Preston (Smith'sx1 Bolton); Jarvis (Everton), Atherton (Manchester U), Sharples (Everton)' Moir (Manchester U), Bradshaw (Blackburn R), Commrie (Everton), Wilson (Preston NE), Wagstaff (Manchester C). 
EVERTON MUST RECAPTURE THEIR SIX IN 45 MINS. MOOD
Thursday, March 24, 1960.  Liverpool Echo and Evening Express
With Leslie Edwards
Question of the hour among football fans, whose interest in steeple chasing is often lukewarm, is not what will win the big race at Aintree on Saturday, but whether Everton can take tomorrow evening one of several vital steps towards keeping themselves in the First Division.  The thought of this city possessing two Second Division sides- a fate even greybeards cannot recall- is unthinkable, but unhappily possible.  We must hope I suppose, for Everton to be in their six-goals-the-the-first-half form and not as they were when losing 6-2 at West Bromwich after promising to secure their first away victory of the season-and-comfortably.  My belief in Everton as Certain to get the points they need to be safe remains unaltered despite that performance and although Newcastle have two most menacing forwards, Ivor Allchurch and George Eastham, a nephew of the old Liverpool forward of that name.  I expect Everton to put on a show as effective, if not so brilliant as the one they gave against Chelsea.  Everton; Dunlop; Parker, Bramwell; Gabriel, Labone, Meagan; Lill, Collins, J. Harris, Vernon, Ring.  Newcastle United;- Harvey; McKinley, McMichael; Bell, Stokoe, Luke; Hughes, Eastham, White, Allchurch, J. Mitten. 
EVERTON FAIL THROUGH RANK BAD SHOOTING
Saturday, March 26, 1960. The Liverpool Daily Post
Everton 1, Newcastle United 2
By Jack Rowe
Everton's prospects of staying in the First Division were reduced by the eve of the National defeat in a match which saw them attack for three-quarters of the time but fail because the finishing power was just not there.  The truth is that Newcastle scored twice from about four really dangerous attacks, while all Everton's battering and bustle was wasted because of bad shooting.  Newcastle started tremendous and in the third minute Ivor Allchurch picked up a ball near the centre circle wended his way through a different-looking Everton defence and hit a deliberate left foot shot from near the edge of the penalty area which went into the bottom of the net past a diving Dunlop.  Yet the goal spurred Everton not United and for most of the rest of the first half we had the spectacle of the home team bearing down time and time again on the Newcastle goal.  United had several escapes but held on to the lead until the twenty-second minute because Everton's persistence in keeping the ball too close once they got it inside the penalty area.  It was ironical in view of Everton's pressure that when they did equalize in the twenty-second minute, it was due to a bad mistake by Newcastle centre half Stokoe.  Stokoe lobbed a ball back to Harvey from near the touch-line and Collins was able to hook it over the advancing goalkeeper into the net.  Everton kept up their hammering of the Newcastle defence, which if unceremonious on occasions, never lost its composure.  Then in the forty-second minute came the second goal for the North-Eastern side when while showed how chances should be taken by flashing a beautiful pass from Eastham into the net. 
BITTERS MISSED
Before this White had missed a good chance but it was no better than those which fell successfully to Vernon, Lill, and Harris in the seconds immediately afterwards.  And so it went on in the second half, with Everton lacking a cool head near goal.  Even then there was little excuse for Lill's miss when Collins put him through and Harris had the frustration of seeing Harvey, a good goalkeeper, make a wonder-save from his header off a Vernon free kick.  Newcastle had one corner to the dozen or so of Everton, a measure of the latter's pressure.  But whenever Newcastle did get moving up front there was more calculation and method in their approach work.  We did not see a lot of Eastham, probably because Meagan had such a fine game in an Everton defence which was rarely extended although once Dunlop made a terrific save by diving at the feet of White.  It was Everton's forwards who lost them the match.  For Vernon could not make his class tell and all the endeavour of Collins and Harris came to nought because of that failure to make the speedy shot.  Ring was another who did not move the ball fast enough while the trouble with Lill was that when he did move the ball into a shooting position he was unable to take advantage of it.  Gabriel has clearly not settled down to the pace of the game here, but in the second half especially he could not be faulted on the ground of effort.  Like too many of the other Everton players he made his task too complicated by scorning the quick use of the ball.  Everton; Dunlop; Parker, Bramwell; Gabriel, Labone, Meagan; Lill, Collins Captain), Harris (J), Vernon, Ring.  Newcastle United;- Harvey; McKinney, McMichael; Bell, Stokoe, Luke, Hughes, Eastham, White, Allchurch, Mitten.  Referee; Mr. K.R. Tuck, Chesterfield.  Attendance; 53,968.
KEVAN LOOKED GOOD BET FOR ENGLAND
Saturday, March 26, 1960. The Liverpool Echo and Evening Express
BUT ALEX PARKER PRAISES ALLEN TOO
The Everton team are a two-faced lot or at least they soon will be.  Before you start jumping to the conclusion that I have been waging a dressing room war I had better explain.  Albert Dunlop has arranged for all the players to have masks made which will be replicas of their faces.  As I write only Albert and I have had it done, but most of the others will be following.  The man who does it spears your face with cream to prevent the plaster sticking and then spreads the plaster all over your face starting from just in front of your ears.  When this has set he removes it and has the mould from which the makes the mask with a plastic-like substances.  The other day one of our forwards, who shall be nameless left Albert by the billiards room ran down stairs and as surprised to see our goalkeeper stretched out on a table in the treatment room being attended by Frank Blundell one of our training staff.  It took the aforementioned forward some time to figure that one out.  What had happened was that Frank had got hold of Albert's mask and it at one end of the table and put a pair of plimsouls at the other.  He heaped a pile of training gear between them and covered it with a sheet.  When we all have these masks I can see the lads getting up to a number of tricks, I've heard of a few already. 
DANGEROUS
In an article wrote a few months ago I said that I could not understand the criticism being leveled at Derek Kevan as I thought he was a great forward.  Last week I discovered that how great he is.  He looked to be one of the most dangerous men in the country and his five goals against us could made easily have been more, I don't want to be accused of trying to tell the England selectors their job but they could do very much worse than pick him for the match with Scotland next month.  I played in the corresponding match two years ago when England won 4-0 and Derek had a lot to do with that result.  However well as Derek played I think the brains behind the success was Ronnie Allen who although he may be now approaching the veteran side is still a great player.  He made a name for himself as a goal scorer but these days he plays deep and cracks the ball down the middle from 20 to 30 yards with amazing speed and accuracy for Kevan and Burnside to race on to.  When this move clicks as it did last week the West Brom attack can be one of the most devastating in the land and will create problems for any defence.  After the game one of the West Brom trainers brought the ball into our dressing room for us to autograph as the club had decided to give it to Derek.  His own team signed it after us.  Naturally there were one or two comments from one of our players such as "Don't you think we've given him enough today without him getting the ball as well?" 
Next week we return to the Midlands for a match with West Brom's neighbours Birmingham City, who like us are at the wrong end of the table.  It's a good job the transfer deadline is past and there's no fear of their signing Kevan.  He's a nice chap, but playing against him twice a season is quite enough, thank you.  On Monday night we play the Army at Goodison, I played in the corresponding match at Aldershot when Everton won 1-0 last season but then I was in the Army team.  I'm on the right side of the fence this time.  The letters have been coming in again recently.  A few days ago, as a result of what I wrote in this column two Everton supporters of 50 years standing, now living in America contacted each other about a trip they are making to Liverpool later in the year.
DEVOTION
This week I had a letter from one of them Mr. E.D Roberts, of California and in the same post I received one from John Sudlow of County Down, Northern Ireland.  I published part of a letter he sent me earlier in the season and he says;-
"The mention you gave me in your column brought me a letter from a man in Liverpool I had not heard from for over 40 years.  If we could get enough women interested in this weekly article maybe I could set up business as a marriage bureau.  Another Everton supporter of 30 years Mr. T. L. Linnell, of Glover Street Crewe comments on what I wrote recently about our wingers Mickey Lill and Tommy Ring.  He says he believes they are the best since Torry Gillick and Jackie Caskie or Wally Boyes.  I refuse to be drawn into that one as I did not see them I leave those discussions to your fans.  The devotion of the clubs supporters never ceased to amaze me.  I have had a letter from 25 Alder Road, Prescot which says;-  "I don't know whether we are the most ardent Everton followers but we have booked our holidays is September in order to travel down South and up north to see our favourites.  So far we have travelled to 14, different grounds from Sunderland to Charlton.  "We are confident that our first away win is now not far off and that next season Everton will be right up amongst the leaders. 
It is a signed by John Henshall, Ann Platt, Sylvia Lehan John and Mike Nolan and what looks like Margaret Corns.  Sorry that the first away win has not come up yet but I hope your forecast for next season proves correct.  I don't usually like giving anonymous letter but I think the followers case is an exception as it is praising me.  It is from Old Timer Liverpool 17.  "Seeing you were so successful in your semi-final forecast perhaps you could give us the winner of the Grand National?  Three out of four wasn't bad, was it?  However, I can't get anywhere near that percentage off a football coupon.  My wife John does Setter than I do.  I'm afraid I have forgotten to give you my fancy for the National but you turn to Page one you will see the names of three horses in the order they came in the distances and the starting price.  They are what I would have given if I had remembered.  If you care to drop me a line you can do so The sports Dept Liverpool Echo Victoria Street Liverpool 1.  If they are interesting enough and I have the space I will do my best to use them. 
EVERTON JUNIORS
March 26 1960
Everton "A" 1 Burnley "A" 0 ;scorer Harland
Griffiths; Parnell (R.), Jones; Peat, Gorrie (D), Sharples (G); Boner, Tyrer, Webber, Harland, McKenzie (D)
Everton "B" 2, Burnley 0; Scorers; Walker, Morton
Marley (W); Gannon, Griffths (B); Bentham, Atherton (J), O'Brien, Davidson (C.), Notcott (M), Bentley, Morton (G), Walker (B)
Burnley "C" 0 Everton "C" 2; Scorer; Bennett (2)
Dunne (P); Burgan (R.), Jones (S); Stewart (F), Edwards (K), Bermingham (A); Maddock (P), Harvey (C), Bennett (W), Evans (R.), Smith (T). 
EVERTON TEAM
Monday, March 28 1960 Liverpool Echo and Evening Express
By Leslie Edwards
Everton make one change in their side for their game this evening (7 p.m.) against the Army at Goodison Park.  Tom Jones recovered from an ankle injury comes in at left back in place of John Bramwell.  Jones tested himself in the "A" team on Saturday and stood up to the test well.  Everton; Dunlop; Parker, Jones' Gabriel, Labone, Meagan; Lill, Collins, Harris (J), Vernon, Ring.  The Army;- Brodie (Aldershot); Hill (Sheffield Wednesday), Elsebury (Bolton A), Smith (Preston); Kyle (Wolves), Smith (Tottenham); Bazley (Oldham), White (Tottenhanm), Peacock (Middlesbrough).  Barnwell (Arsenal), Stratton (Fulham). 
ARMY X1 WIN NEW FRIENDS AT GOODISON
Tuesday, March 29, 1960. The Liverpool Daily Post
Everton 4, The Army 2
Although the Army finally surrendered to Everton's full First Division strength they won many new friends by the quality of their football in this annual game which attracted 7,775 spectators to Goodison Park last night.  In fact it was not until the Army visibly tried in the second half that Everton really struck top-gear.  In the first half the Army were very much effective and had they shown a greater willingness to round off quickly-executed midfield football by first-time shooting they would have led by more than one goal at the interval.  They took the lead in two minutes when Tait the York City centre forward, drove in powerfully from a centre by White, the Tottenham Hotspur and Scottish international inside forward and when Dunlop turned down the ball back to him he prodded it just inside the right.  It was not until sixteen minutes after the interval that Everton drew level when Vernon split the Army defence with a cute lob into the open space and Harris held off centre half Kyle's challenge to steer the ball slowly over the line.  Within three minutes Everton had forged ahead.  Collins through pass enabling Lill to level a precise centre and Vernon was perfectly positioned to head the ball into the root of the net. 
ONE-WAY TRAFFIC
It was almost one-way traffic in Everton's favour at this point and Godfrey, the young Southampton goalkeeper, brought down the house with a succession of remarkable saves, notably from Harris and Vernon pile-drivers.  Even Godfrey had no chance however when Harris took over from Ring in the 80th minute to sweep the ball across the face of the goal for Lill to unleash an unstoppable right-footer.  Although the Army defence fought gallantly to contain an irresistible form so late in the day, Ring added a fourth goal from a right wing centre three minutes from the end.  The Army, however, still struggled gamely and were well worthy of their second goal scored by centre forward Tait, who had received a gash over the right eye when necessitated the insertion of two stitches shortly before the interval and who was off the field for 20 minutes.  Tait took a pass from Barnwell, the Arsenal inside left, to shoot beyond Dunlop from an acute angle.
WHITE'S SCHEMING
This was excellent fare for the small crowd, who were particularly impressed by the astute scheming of Tottenham's Scottish international forward White and the shrewd wing-half back prompting of Preston North End Jimmy Smith.  Everton skipper Jones, who resumed at left half on recovery from injury, took time to settle down.  Perhaps most encouraging from an Everton viewpoint however, was the performance of young Gabriel, who gave indication that he is now settling down and will soon prove a distinct asset.  Teams;- Everton; Dunlop; Parker, Jones (Captain); Gabriel, Labone, Meagan; Lill, Collins, Harris (J), Vernon, Lill.  Army; Godfrey (Southampton); Smith (J) (Tottenham), Edisbury (Bolton W); McGuffie (Luton Town), Kyle (Wolves), Smith (J) (Preston North End); Bazley (Oldham), White (Tottenham H), Tait (York C), Barnwell (Arsenal), Stratton (Fulham).  Referee; Lieutenant A.V. Tennel (R.A.M.C). 
ROY VERNON BACK IN WELSH TEAM
Tuesday, March 29, 1960. The Liverpool Daily Post
Not surprisingly both Wales and Ireland make changes for their match at Wrexham on Wednesday, April 6.  With the last international as long ago as November the form of players have varied and in any case neither country did very well in the opening matches.  Ireland are still without a win and Wales have two draws to their name.  Graham Williams takes over at left back from Hopkins.  Roy Vernon gets preference over Ivor Allchurch at inside-left.