HOW LEICESTER CITY WERE HIT FOR SIX
Monday, November 2, 1959. The Liverpool Daily Post
Everton Take Sting Out of Hickson Jolt
Everton 6, Leicester City 1
By Leslie Edwards
This match had an extraordinary beginning and an extraordinary end.  First there was a spectator parading a banner with the legend, "If Dave goes, we all go Chase Searle," strolling unconcernedly about the pitch.  Three or four policemen converged on him and escorted him to the exit where presumably he was asked to leave the ground before a ball had been kicked.  The reference to Mr. R.E.Searle came, presumably because he was chairman at the time Hickson rejoined the club from Huddersfield Town.  Whatever Mr. Searle's views were them their can be no doubt he has never ceased to be grateful to Hickson for his valuable contribution to the Everton cause, so this reference was not only unfair but was based on wrong premises.  Within 60 seconds Shackleton, the player in place of Hickson had hit the woodwork twice.  Once with a cracking left-foot shot, which struck the bar, and a moment or two later with a shot which struck a post.  It mattered not that this second effort was adjudged offside.  The electric start "killed" for the moment at criticism of the dropping of Hickson and it was only when Everton slipped back temporarily to some of their less satisfying form that those who had come to condemn turned from the match and directed their barracking to the directors box. 
Remarkable Ending
The target of their anger were then too busy watching their side get six goals –and what good goals some of them were-to feel aggrieved with their detractors.  Thus, from a remarkable beginning we went to a remarkable ending, with Everton cheered off and Shackleton whose position all day had been made difficult getting a hand-shake publicly from one of his own side, as though to say "Well some of the spectators don't fancy you but it isn't every day we score six.  On this theme it is interesting to note than on three occasions when Shackleton has played in his true position for Everton this season games have always gone well.  A draw at Nottingham and victories at home against Arsenal and Leicester City.  Shackleton's part in the six hitting of Leicester, who were by no means five goals the inferior, comprised a goal a run which produced the penalty from which Collins the game's outstanding figure, opened the scoring and some good passes to either wing.  In the end the crowd were convinced I think that Shackleton has something, as they say.  Some of the Everton attack's second-half movements were more like those we used to get week by week in the club's happier days.  They produced five goals and might well have brought one or two more and no answer to critics of club policy could have been more overwhelming.  There was on all sides a patent desire to put every ounce of effort and enthusiasm into the match, as though they knew they were on trial and were determined to show they could succeed.  It was not a win easily gained since, especially in the first half, the defence had to work hard to keep out a Leicester, whose main failing was their inability to cope with Collins, and compared almost throughout the second half.  I consider Leicester rather unlucky in that after Collins had put them a goal behind they missed their own penalty award, which could have had such telling effect.  Cheeseborough tired to hit the ball too hard from the penalty spot and only succeeded in slewing it wide of the post.  A tackle by King might have given Leicester a second penalty chance.  Earlier Parker, who had handled Leek's bulleting header on the line for the award Cheesebrough missed, had saved Dunlop on the goal line, so one way and another Leicester were unlucky in the first half.  afterwards Everton went all one way, Shackleton and Laverick (still far from fit though he elected to help his club out) opened the way for a goal by Thomas; Shackleton with a long left foot slid the ball over the line from a pass by Collins; Brian Harris shot a fine goal to make it 4-0 and Parker, who had a great day joyfully made it five.  Then McDonald scored for Leicester and Thomas glided the ball in with a fine header.  Collins remarkable skill at "killing" a ball; his roaming to do good deeds; his power of shot; his linking on the right with a re-vitalized Jimmy Harris, were heartening features.  So was the team spirit of the side as a whole.  So it was full marks all round for a performance which suggests that the start of a new and more entertaining Everton era is on the way.  Everton; Dunlop; Parker, Bramwell; King, Jones (captain), B. Harris; J. Harris, Thomas, Shackleton, Collins, Laverick.  Leicester City; Banks; Chalmers, Ballie; Newman, Knapp, Appleton, McDonald, Keyworth, Leek, Cheeseborugh, Wills.  Referee; Mr. K.G. Ashton. (Ilford).  Attendance 22,587.
I'M GLAD THE FIRST TEAM WIN SO WELL
Monday, November 2, 1959. The Liverpool Echo and Evening Express
By Michael Charters, goes to Newcastle to watch Dave Hickon, who says…
As Everton Reserves hurried to Newcastle Central Station on Saturday right for their train to Liverpool, director in charge Mr. Jack Taylor made a quick telephone call to Goodison Park and then reported to the party that the first team had thrashed Leicester City 6-1.  And no one was more pleased than the idol of Goodison, Dave Hickson, the deposed centre forward, whose request for a transfer will be considered-and almost certainly granted-by the Everton board tomorrow night.  Hickson, who had scored the winning goal in the Reserve 2-1 victory over Newcastle United Reserves half an hour earlier, said to me as I travelled back with the happy party, "I'm very glad indeed that the first team won so well.  I think it makes it easier now for the club to release me.  Mind you we might have won our last two League games against Chelsea and West Ham by the same sort of score if we taken our chances.  "I have seen that Liverpool are interested in me and I would be very pleased to go to Anfield if the Everton directors release me.  This good win over Leicester seems to have made that more possible."  None of the Liverpool officials who were with their party at neighboring Sunderland on Saturday came over to St. James's Park to see Hickson play.  Obviously they felt such a journey unnecessary as there was no need for a scouting report on a player they know so well.  If Hickson does sign for Liverpool, he will make his debut for them at Anfield on Saturday against one of his old clubs, Aston Villa, current leaders of the Second Division to whom he was transferred from Everton just four years and two months ago for £20,000.  But Liverpool will find another Second Division club very interested in Hickson's future.  Mr. Archie Clark, the former Everton half back and ex-Gillingham manager now chief scout at Sheffield United was at Newcastle to watch Hickson.  The only other club official at the game was Mr. Sam Bartram, manager of York City, but he was interested in a Newcastle reserve.  From what I could gather they were the only two scouting observers at St. James' Park and Mr. Bartram statement that he was not watching Hickson narrows the field down to Sheffield United and Liverpool.  Naturally Mr. Clark would not be drawn to comment on his clubs views on Hickson when I spoke to him after the game, I believe however, that Hickson's desire not to move from Merseyside must make Liverpool very warm favourites indeed for his signature whatever approach Sheffield United may make to Everton. 
Quite Game
Actually Hickson had a very quiet game in which he put the ball into the net, but had it disallowed for offside when I thought he had been played on, and then scoring the winner from what seemed an offside position.  Otherwise he was well held by 21-year-old Helsop an up and coming centre half.  Hickson was scrupulously fair in his demeanour, earning applause for gathering balls out of play for his opponents and running ten yards to shake Helsop's hand after –he had been penalized for "feet up" with the youngster.  He suffered however, from a lack of support.  His inside colleagues Hood and Ashworth were the weakest of a young Everton team which battled courageously against a stronger more mature Newcastle eleven.  The best Everton forward was Eddie O'Hara, who was recovered completely from his ankle operation and told me he had never felt happier about his suspect leg.  He was clever, direct and hard working and it was a pity that many of his attractive touches were wasted by others.  The man of the match was Jimmy O'Neill, who was magnificent in goal.  The only time he looked like being beaten was when his full back Sanders turned the ball past him seven minutes from time. 
First Goal
Earlier, Sanders had followed Newcastle winger Luke into midfield snapped up a bad back=heel pass from him, and went through like a tank to hit a lovely shot just inside the post for Everton's opening goal.  Hickson's winner, and Sanders' own goal, came within a minute of each other and as the smiling Sanders remarked afterwards;  Two out of three is not bad is it?"  His goal was the first he has scored FOR Everton.  Three of Everton's successful youth eleven-left back Green, centre half Watson, and outside right Boner-were in the side gaining valuable experience.  Boner saw little of the ball because he was starved for long periods-but he made a clever pass for Hickson's goal.  Watson and Green played very well for youngsters against a great deal of pressure, but they will be the first to admit that they were coaxed, guided and shepherded around out of trouble by the masterly display from Mick Meagan at left half.  If any of these young lads right half Peat included, looked in difficulties, there was Meagan to lead a capable and willing hand. 
A BANNER WITH A STRANGE DEVICE…
Monday, November 2, 1959. The Liverpool Echo and Evening Express
By Leslie Edwards
Dave Hickson wants to play for Liverpool; Liverpool want him in their team.  Will he play next Saturday at Anfield against his old side, Joe Mercer's Aston Villa?  The answer is largely in the hands of the Everton club.  They will consider the transfer request at their meeting tomorrow and if they decide he can go, as I think they will, they must puzzle their brains a second time and consider whether they can afford to let him go to a team in the same city.  There are reasons why this may prove a longer topic to debate than the request for a move; there are reasons why it might not be wise for them to let Hickson join neighbours and rivals.  If as may happen, Liverpool's offer for the player is so good the temptation to sell cannot be resisted then all the disadvantages of allowing Hickson to go to a local club may be outweighed.  But it is my opinion that Everton will demand a sizeable sum, in which case the boy from Ellesmere Port would become the most lucrative player in the history of Everton, who will have the best of his career and two splendid transfer fees-the first £20,000-into the bargain.  People who came to condemn Everton for dropping Hickson –and were still busy condoning them when Everton led Leicester City by a goal-must have gone away quietly to think again following the evidence put before them in the side's six-one victory on Saturday; a memorable game with memorable goals and a beginning which one could have envisaged only in outlandish fiction.
STRANGE INTERLUDE
Who, for instance, would have anticipated that strange pre-match interlude in which an interloper joined both teams during the kick-in carrying a banner with such a strange device.  Who could have anticipated the stately movement for four policemen to the banner-carrier to remove him and his banner quietly, effectively with the result that (unless he paid to come in again!) he most assuredly saw none of the six goals which answered effectively the propaganda banner line he carried.  And who could have imagined that Shackleton, the man who deposed Dave Hickson, would not only hit the bar with a cannonade shot in the opening thirty seconds, but strike a post with another shot before the first full minute had gone?  Yet these things happened.  A more electric start to a match of implementations for Shackleton, for the rest of the Everton team and for the Board and their manager John Carey, could not have been devised.  No wonder Mr. Carey, the target, with others for barracking from a tiny section of the crowd, could go happily to Ireland on Saturday content that his decision had been justified on the field-which is where things count.  When considering Shackleton, one must not forget the Everton record during the three matches in which he has filled his proper position, in the centre.  They drew at Nottingham, beat Arsenal at home and now sent Leicester away, by six goals, five of them in a second half in which the Everton attack, indeed the team as a whole, moved more convincingly than for months.  Yet oddly Leicester were not five goals the less worthy side as Everton a week ago at Chelsea were not a goal worse than Chelsea on the contrary. 
A LAVERICK EXPLANATION
Shackleton may not have Hickson's dash and may not be proved the answer to the centre forward problem, but he at least scored once, had a hand in two others (notably when gaining the penalty award from which Collins opened the scoring) and skill and accuracy when hitting the ball to either wing.  The pity was that though Jimmy Harris was much improved, Laverick on the other wing had moments of which got him into the crowd's bad books.  Let it be said straightaway that Laverick was not fully fit and played only to help out his team.  A pity explanation of this sort cannot be given to supporters before a ball is kicked, since spectators are always sympathetic and understanding when they are put "in the picture."  Collins, who is playing well enough to glare a world team much less the Scottish eleven, was the man behind this heartening victory.  His killing of the ball, however, awkwardly it arrives is one of the great features of his play, his ability to conjure it this way and that, no matter what the ground surface puts him in a class of his own and as if that were not enough he has the positional and tactical sense of a Matthews.  Note his link on the right with Jimmy Harris who twice offered the little man the short through pass from which big shots –one of them brilliantly saved –arose.  Everton's team spirit was most marked.  There was determined cover for each other by the defence with King the man with the most lively sense of anticipation when doing his famous act.  Parker saved a goal legitimately on the line and saved another illegitately and Cheesebrough's penalty miss was a turning point both for Everton and their opponents. 
TWO FOR EDDIE THOMAS
It was good to see Eddie Thomas getting two goals it was good to see Parker and Brian Harris adding their weight of shots to an Everton attack which fairly justified itself irrespective of the fact that there were times when they did not impressive.  Against that last fault one must place the fact that some of their movements were copybook and of the sort we have not seen at Goodison since the war.  There is room for improvement but there is also room for hope.  And if Mr. Carey were to tempt from Huddersfield Town a player of the class of Dennis Law –his I understand is a possibility if Law is allowed to go –we should be well on the way to the first stage of the fulfillment of the Everton manager's aim to give the fans entertainment football. 
DAVE HICKSON SIGNS FOR THE "ECHO"
Monday, November 2, 1959. The Liverpool Echo and Evening Express
My Side of the Story
By Leslie Edwards
Whether Dave Hickson of Everton signs this week for Liverpool or for any other club the Echo has got first claim on his own story of his football career and of events which have led to his asking for a transfer.  This series "My side of the Story" by Dave Hickson, will begin in the Football Echo next Saturday and will extend over a period of five weeks.  The most controversial player in Everton and Liverpool history must command the ides of football audiences and whatever move he makes this week fans of both Merseyside senior clubs cannot denied to be interested in his personal inside story.  Liverpool manager Mr. Phil Taylor said this morning of his club's interest in whether Everton will agree Hickson's request for transfer.  "We are waiting on Everton's decision.  We have done all we can.  Hickson played in the Everton Central league match at Newcastle on Saturday while Liverpool officials watched their own first team not far away at Sunderland so it would seem that they are quite satisfied about his current form.  Everton chairman Mr. Fred Micklesfield had no comment on Hickson today.  My own belief is that if Hickson feels unhappy at Goodison Park the Board will not want to keep him.  An unhappy Hickson would be unsatisfactory for the player and for the club.  But if Everton say he can go the fee is likely to be large enough to raise a few eyebrows.  It may well be in the region of £15,000.  Manager John Carey, of Everton, was still in Ireland today.  For him the week-end could not have been happier.  After Everton's 6-1 win he went to Dublin to manage the Republic of Ireland eleven in their 3-2 win against Sweden. 
EVERTON FANS "DON'T LET HICKSON GO!"
November 2, 1959.The Liverpool Echo and Evening Express
Controversy Rages on Possible Transfer
Liverpool Approach
By Leslie Edwards.
Not since the Cliff Britton crisis and the dropping of Billy Liddell last season has any football topic set city fans talking harder and louder about the Dave Hickson controversy.  It begin with the player's dropping from the first team last week-end and looks likely to continue throughout a week in which Liverpool will go all-out for his services.  Were Everton right to leave him out?  Are Liverpool wise to try to sign him?  Is Shackleton the better proposition in the Everton centre forward berth?  These are among many angles to the situation.  Club policy has been vindicated in the first round.  The team, minus Hickson won 6-1 against Leicester City on Saturday.
A letter to me from P. Harwood, 4, Boaler Street Liverpool 6, encloses a further letter signed by 60 fans behind the Gwladys Street goal at Goodison Park on Saturday.  It is addressed Everton F.C.,
Points from it are; "We who come here every week to the strongest side Everton can  field are becoming tired of being given second best because of prejudices in certain quarters.   "Even if players are not available from outside to strength the team at least let us have the best on the books.  You appear to be the only people of the opinion that Shackleton is better than Hickson." 
Shaking Up
If Hickson is allowed to leave Everton there requires to be a shaking up of the board.  If some of the other players put half Hickson's zest into the game there would be bigger gates.  So far as I am concerned should he go so do we!"
Before dropping Hickson why not try Shackleton at inside forward.  As the wing position is still the main problem, what's wrong with "Brian Harris –L.J. Holding 18 Raskell Road, Hun's Cross. 
A SCAPE GOAT
Is Mr. Carey using Hickson to cover mistakes by rash buying –C. Purvis, 23 Damwood Road, Liverpool24. 
A DISGRACE
I think it is a disgrace that Hickson should be dropped.  He is not the worst player in the line.   Everton will never be the same without Davy, and if he goes to Liverpool I, and I am sure many more will willingly pay 2s to Liverpool just to watch him-A.A. Drury, 86 Albert Edward Road, Liverpool.
AGGRIEVED
Football is a business.  Thus I fail to understand the prominence given by the Press when players (employees) become aggrieve mainly because their club's (employers) are not pleased with services offered.  As in all cases there is the other side to be taken into consideration.  Wisely and with dignity as befits a board of the standing of Everton the club have not comments to offer.  Surely players would be equally advised to adopt the same attitude.  As indeed, do all other employees in similar situation. –T.W.E.H. Pritchard, Bushel Road, Nelson.
ABOMINABLE
I protest at the abominable treatment afforded Dave Hickson.  Everton supporters know that Hickson is not the best centre forward in football, but of the centre-forwards on Everton's books he is by far the best.  Who can blame him for asking for a transfer when his place is taken by a man who two clubs have though not to be good enough.  It seems ridiculous that other players in the team can play badly and still retain their places while Hickson who has played his heart out (and incidentally is leading goal scorer) should be dropped.- J.C. Pierce, 14 Multion Road, Liverpool 11.
HIS WISH
You asked with a true Liverpudian would think of Hickson coming to us.  I can tell you, I only wish we had Hickson.  We wouldn't be in the Second Division today if we had got him when he left Huddersfield.  If ever a man pulled a team out of the Second Division that man was Hickson.  If Hickson joins Liverpool I can assure him a wonderful welcome-W. F. White, 24 Meadow Road, Weaverham.
DISCARDED
Whether Hickson joins Liverpool or not I want to express the disgust of some Liverpool supporters of thirty years standing that the club should even consider a player who has been discarded by Everton (twice), Aston Villa, and Huddersfield.  If Hickson felt he had the confidence of the directors as he obviously has the backing of the crowd he would be an even better player.  Why not forget your differences?  Hickson has shown that he is willing although he has reached the end of patience and loyalty and has asked to move.  If Everton have a better centre forward by all means give him his chance, but I have seen none at Goodison as good as Dave.  If Everton sell Hickson they will lose a lot of support- W. Foster, 18 High Park Street Liverpool 8.
I believe Hickson should go.  While Shackleton may not be the ideal successor Hickson, at 29 is not capable of scoring the goals to required of a First Division centre forward.  In the Second Division the style may well suit him in a promotion team, but once up I fear Dave would be in trouble with his new club.  Therefore I would seriously recommend Hickson to settle for a club whose pace is slower and where his dash would keep him secure and settled until the day to quit league soccer comes-R.D. Webster, 31 Sandyville Road, Liverpool 4.
GRAND TALK
After talking grandly of Clough, Baker, and Holton, Liverpool have come down to this-A. Alan, 15 Devondale Road, Liverpool 18. 
PROFIT –ANXIOUS
If Liverpool sign Hickson, it will prove to supporters what they have long suspected, namely that Liverpool directors's are more anxious about profits than anything else.  Hickson reckoned as a player could only lead a supreme optimist to believe he is the man to some Liverpool's problem-F. Branberry 228 Forpar Street, Benington.
I have been a keen Everton supporter since 1912, but the dropping of Hickson has disgusted me.  What surprises me is the intention of Shackleton in any place, for in the matter of scoring efforts he has been as good a scorer as anyone –J.R. Bradley, 5a Lang Place, West Kirkby. 
LAST STRAW
When we read that Liverpool are interested in Hickson it is just about the straw that breaks a camel's back.  If Hickson is Liverpool directors idea of a Top notch centre forward, I would like to know what they base their opinions on.  I am pleased to bet that Arnell has scored more goals per appearance than Hickson – J. McManus, 28 Ashfield Place Liverpool 3. 
FANS VIEWS
Once again Hickson has been made the scapegoat.  As one who has seen ten League matches and the two floodlit matches played by Everton this season I feel I have the right to but forward the views of Everton fans.  I agree Hickson has missed goals but can you name one Everton forward who has missed fewer?  The main weakness in the Everton team is on the wings- R.C. Hartley, 84 Ralin Avenue Maghull.
REASONABLE PRICE
After bold statements the money was no object, Liverpool are only prepared to pay a reasonable price for the man they have decided fills the bill –Hickson.  Surely Liverpool's policy should be to say to Everton "You have the man we went, name your price and we will pay it."  -F.J. Pugh, 2 Olive Tree Road, Liverpool 15. 
IF DAVE HICKSON IS RELEASED LIVERPOOL WILL BE FIRST CLUB TO KNOW
Tuesday, November 3, 1959. The Liverpool Echo and Evening Express
Everton Likely to Ask For about £15,000
By Leslie Edwards
If Everton directors at their meeting this evening, grant the transfer request of centre-forward Dave Hickson, the first club to be told of it will be Liverpool F.C., whose directors will be in conference across the park at Anfield at the same time.  Assuming Everton say yes the fee they are likely to ask will be in the neighbourhood of £15,000.  This is far in excess of the one most people would anticipate, but because Liverpool are desperate for someone to fill their centre-forward berth and because they know that the very appearance of Hickson in their colours would put thousands on the gates, a thousand pounds or so above the odds as it were, would probably not deter them.  They would get back a good portion of any fee paid on Saturday against Aston Villa at Anfield which would be packed for a debut by such a Merseyside favourite. 
Straight Cash Deal
The suggestion of Liverpool and Everton doing a Hickson deal involving another Liverpool player is not likely to materalise.  I understand that Liverpool would prefer a straight money buy.  Meantime, Hickson and a hundred thousand fans await the decision of the next few hours. 
The linking of Everton's name with that of Scottish international forward Dennis Law of Huddersfield brings no reaction from Everton manager John Carey.  "This player has not asked for transfer and is not on transfer and it would be most unfair for me to make any statement, he said.  
THE HICKSON CONTROVERSY-MORE LIVE LETTERS
Tuesday, November 3, 1959. The Liverpool Echo and Evening Express
Majority of Writers Against Player Leaving
Admired For Being "So Obviously An Evertonian."
Board Decide Tonight
By Leslie Edwards.
Letters continue to pour in on the Dave Hickson controversy.  The great majority of them are strongly against Everton F.C., agreeing to his request for a transfer after his dropping from the first team last week.  The Everton Board meet tonight to consider the player's request.  There is a feeling that as Hickson has stated that he is not in love with playing for Everton any more the Board will not want to stand in his way. 
Mr. M.T. Lally, 72 Parbrook Road, Huyton, writs on behalf of some 18 other Everton fans employed at the Bold Power Station near St. Helens.  "We the undersigned wish to protest again at the treatment meted out to a great footballer and Evertonian, Dave Hickson.
Mr. Norman Costain, of 7 Latham Avenue Wallasey says, "I have been a loyal Everton supporter since 1945.  We have not had much to cheer about since then except Dave Hickson.  Here is a man who has won admiration because he is so obviously an Evertonian, I hope the Everton Board realized the disgust they have aroused in all followers of the club.  If Dave Hickson goes so will a lot of his fans." 
NOT THE ANSWER
Mr. D. Barber, of 40 Louis Pasteur Avenue, Bootle, Liverpool 10, writes;  "Shackleton will never be the answer to the centre forward problem.  Within a few weeks the Board will realize their folly when they no longer have scape-goat "Dave Hickson to call on.  In what way is the team being run when an unfit man is played and a fully fit Eddie O'Hara is in the reserves. 
From Mr. L. Furlong (19 Putford, Liverpool) comes the following.  "Move over Dave they have broken my heart too.  Over the years the Directors have demolished stone by stone their school of science and built a flashy portal to hidel the debris.  Football is now a business, but must we the customers develop consumer resistance to get what we want?" 
Mr. W. Riley, of 8 Dorrit Street, Liverpool 8 comments "I can't let the latest Hickson incident go without adding my disapproval to that of thousands more.  It is a shame the way he is continually relegated to the reserve.  If Hickson is not getting services from his other forwards, I am sure Shackleton won't.  At present there are about twenty thousand ex-Evertonians in this city.  If Hickson goes this figure will reach thirty thousand.
Mr. G. Bowdler, 9 Gillmoss Close, Croxteth, writes.  "On behalf of myself and my friends I must protest over Hickson's treatment.  We are disgusted and ashamed to think that anyone as loyal as Dave could be treated this way.  To Hickson we say; Don't fall out of love with us supporters because if you go across the park you will not go alone. 
Mr. A. Beattie, 20 Somerford Road, Liverpool, 14 (Row U, No 42 Bullen's Road, B), writes.  "I would like to express my disappointment with Everton at the way they have treated Hickson.  This good footballer has lived for Everton since he first signed for the club when a boy.  If the rest of the Everton staff and directors had the same spirit they would not be in the position they are in now." 
Mr. E.R. Roberts of 45 Heaton Close, Liverpool 24, asks "Why was Hickson dropped for the third time?  Drop Hickson if he is off form by all means but what about the other colleagues of his who have been off form since the beginning of the season?" 
Messrs A. Gibson and F. McHugh, of 61 Ponsonby Street, Liverpool 8, write; "We wish to register the strongest protest against the rotten treatment accorded to Hickson by authority at Goodison Park.  We would be interested to hear the reasons for their actions.  Hickson was the leading scorer last  season with 22 goals and again this with six goals.  Any man capable of scoring 28 goals in 40 odd games supported by the type of players whom the Board and manager think suitable should have a statue erected in his honour." 
EVERTON TELL HICKSON-YOU CAN GO
Wednesday, November 4, 1959. The Liverpool Daily Post
Fee Demanded Takes Liverpool By Surprise
By Horace Yates
Dave Hickson the Everton centre forward was last night placed on the transfer list at his own request.  The surprise fee put so high is the figure quoted that we expected swoop by Liverpool to sign the player did not materialize although their desire to obtain his services is as great as ever.  Neither Everton or Liverpool would discuss the amount of a fee but the fact that Liverpool did not write out a cheque is sufficiently conformation for me to estimate that a demand is £15,000 or even more.  A statement issued by Mr. Phil Taylor, the Liverpool manager brings the position up-to-date.  He said in an endeavour to agree terms quickly with the Everton club, Liverpool submitted an offer well above the price quoted by the players former club two years ago.  We were surprised to learn that Everton were asking a figure which was much more than to day's market value.  Liverpool are still hoping that a more responsible figure will be quoted for we would like to see him in a red jersey.  What would Liverpool be prepared to pay.  They are not saying, but it may be a guide to their assessment that the club referred to in their statement, Huddersfield Town offered him to Liverpool for £4,000 two years ago.  Shortly afterwards he joined Everton for £6,500 and at a time when Hickson is 28.  Everton value him almost as highly now as when he left Aston Villa for Huddersfield in 1955.  Two years ago Hickson would have become a Plymouth Argyle player for about £7,000 had he been prepared to move.
NO PLAYER EXCHANGE
Everton would have been quite happy to have concluded a deal with Liverpool on a player-exchange basis, but the unfortunate barrier here happened to be that Everton fancied players most highly regarded at Anfield.  If you were an Everton director asking for Liverpool players, which men would you name.  I would immediately think in terms of Melia, Hunt, and Moran.  Imagine the reception anyone would receive who wanted to take one or more of those players from Anfield.  Only three weeks ago when Liverpool made a firm offer for Hickson the Everton board were almost unanimous in deciding that the player should stay.  Last night the decision was reversed.  I should say that Hickson's statements that he had no further desire to play for Everton undoubtedly helped to change opinions but it is my view that manager John Carey last night gave the "all clear" for the transfer decision.  I understand that Hickson's request was discussed for about twenty minutes before the decision was taken.  When I spoke to Hickson last night and told him of the developments, he said, "That will do for me.  That is what I wanted.  He sooner I can find a new club the better it will be, I don't want to stay out of football.  "Anfield would suit me down to the ground.  In these matters I have to consider my wife who is a Merseyside girl, and it would be better for both of us if I could stay in Liverpool.  "If other clubs come along of course, I would have to consider them.  "I am sorry my connection with Everton is ending like this, but there was to alternative.  I feel I am good enough to continue in first team football for some time yet.  Everton apparently don't think so.  It is as simple as that.  Obviously there has to be a parting of the ways.  "I don't want to be out of football a moment longer than is necessary, but no matter here I go I shall never forget the Everton supporters.  Their kindness and encouragement to me at all times have been a great urge to give them of my best, I should like them to know how much it has meant to me and how much it has helped me.  "Everton have been my favourite club, and I wish them the best of luck but as a professional footballer I have to look after my own interests and I have been forced to the view that those interests will in future be best served elsewhere." 
Forfeits £300
By his decision to ask for a transfer, Hickson forfeits £300 to which he would have been entitled had the initiative come from the club and not the player.  The League regulations say that in the case of a player transferred at his own request the club shall not be entitled to pay any amount over and above the accrued share of benefit.  Whatever anyone may feel of the Everton decision to release Hickson, one cannot fail to admire them for their courage.  They have taken this step in the full knowledge that it will be almost as unpopular as any hey could possibly have made but because they believed a was in the best interests of the club they have not shirked the responsibility.  Popular opinion is not always right and if the Everton team prove that the removal of Hickson is not visited by the dire consequences which some enthusiasts predict it seems hardly likely that the threats of mass desertions from Goodison Park will be carried into effect.  The dropping of Hickson on three occasions, plus the approach to Newcastle United to see if centre forward White was available for transfer, and the purchase of Shackleton from Leeds United, have been straws in the wind, showing how the official view was shaping at Goodison Park. 
Hickson's Goals
Now that rumour and speculation have been put at rest by Everton's action, club and players can settle down to realities.  Although Liverpool have announced their surprise and disappointment at the fee Everton are asking their interest is far from being at an end.  What is not clear however, is what would be the position if another club were to enter the negotiations and show a willingness to meet Everton's demands.  On the other hand, if Hickson were to take the view – Liverpool or nobody-obviously there would have to be a compromise between the two clubs.  Last season Hickson scored seventeen League goals in thirty-nine appearances, five Cup goals in four matches and four in four friendlies.  This season he has scored six times in twelve games.  Hickson who was born in Salford, signed professional forms for Everton in May 1948 and his first team debut came against Leeds United at Leeds on September 1, 1951.  Plymouth Argyle and Sheffield Wednesday are clubs which have expressed a desire to sign Hickson in recent days and Bolton Wanderers have shown an interest I don't think Hickson will be any more inclined to travel to Plymouth now than he was last the opportunity arose. 
NORWICH CITY SHOW AN INTEREST IN DAVE HICKSON
Wednesday, November 4, 1959. The Liverpool Echo and Evening Express
By Leslie Edwards
There are more dramatic football moves concerning Liverpool and Everton today.  Third Division club Norwich City managed by the old Arsenal half-back Macaulay are interested in transferred Dave Hickson.  Liverpool following their offer last night to sign that player now announce that they are prepared to listen to offers for two of their centre forward, Louis Bimpson and Alan Arnell and for reserve full back Gerry Byrne.  One cannot very well link this move with Liverpool's desire to get Hickson as they have confirmed this morning that they will not pay the figure Everton ask.  Norwich are anxious to sign any player who can help their to clinch promotion hopes this season. 
Confirmed
Norwich City's interest in Hickson was confirmed by Everton Manager, John Carey, this morning.  Mr. McCaulay told me "We are interested in the player but so far nothing has been done I shall not be leaving Norwich today as we have a match this evening and before I say anything more about the possibility of Hickson coming to us I would need to have discussions with members of my board.  Sheffield United chief Mr. John Harris, the former Chester manager, asked about Hickson said "Dave could do us a lot of good, but if the figure wanted is £15,000 we have not got that sort of money?  Over at Hillsbrough Sheffield Wednesday secretary, Mr. Eric Taylor said "I don't think we are likely to sign Hickson.  Brian Labone the young Everton centre half who has been out of football since the game against Arsenal was back in light training today.  The persistent trouble in a foot proved to be a small broken bone.  It is possible that all going well, Labone will have a game in one of the Everton teams this week.  The selection of the Newcastle team to meet Everton on Saturday has been delayed because of injuries and indispositions.  Bob Stokoe, centre-half pulled a thigh muscle at Wolverhampton and Bob Mitchell, outside left was injured in the same game. 
LIVERPOOL'S OFFER FELL SHORT BY £6,000
Wednesday, November 4, 1959. The Liverpool Echo and Evening Express
By Leslie Edwards
Extremely complex.  That is the only way to describe the Hickson situation.  Everton acceding to his request have dug in their toes as to fee.  Liverpool, while wanting the player desperately have dug in their toes about the fee they say they are not going to pay.  Hickson himself saying nuffin as ever (and how wise)may well dig in his toes and refuse to have anything to do with any offers save Liverpool.  So one way and another and in spite of Liverpool's hopes that the sum Everton ask will suddenly become more reasonable it looks like being quite a protracted business with Hickson fans interposing as they have already their views that Everton were wrong to drop him and to agree to his request.  In fairness to Everton it must be said that he is unhappy and that he would like to play elsewhere.  What other course was open to the club in the circumstances?  Before I fill in some of the blanks of last nights board meetings at Anfield and Goodison Park let me gave the clubs' statements.  Liverpool said "in an endeavour to agree terms quickly with the Everton club for the transfer of Dave Hickson we submitted an offer well above the prize quoted by the player's former club (Huddersfield Town) two years ago.  We were surprised to learn that Everton had placed a figure on the player which was much more than today's transfer value.  We are still hoping that a more reasonable figure will be quoted as we would like to see Dave in a red shirt."  Everton's announcement was that the board had considered Hickson's request, which was ascended to and that the price was a private matter.  The crux of the Liverpool statement is contained in, the phrase which was much more than today's transfer value. 
STRAIGHT DIFFERENCE
In short deadlock arises from a straight difference of opinion on Hickson's value today.  It matters not that Everton banked a cheque for £20,000 when they transferred Hickson to Villa or that Huddersfield Town asked of Everton (and incidentally Liverpool) some £6,000 when they were prepared to let the player return to Merseyside.  The essence of the case no is what is Hickson worth and more important what is he worth to the club which has stated publicly how keen they are to obtain him?  Let us get down to figures.  Though neither club will disclose their hand the sum asked is.  I understand £15,000.  The price Liverpool told Everton they were prepared to pay early yesterday, before either board met would appear to be in the neighbourhood between £8,000 and £9,000.  So for the time being at all events, the barrier between the clubs is something of the order of £6,000.  Liverpool were unanimous in wanting Hickson they may well not have been unanimous in thinking that £15,000 was too much to pay.  But the Liverpool Chairman Mr. T.V. Williams, is a man notoriously known for being unyielding and it is clear that he feels that Everton's demands are excessive.  Liverpool's main argument in this direction is that Everton are asking about twice as much for Hickson as they paid for Shackleton the man who deposed him.  Everton might well argue that this is good business and that at any time when the transfer market has never been tighter and more difficult you would go a long way before lighting on a player of Hickson's ability for a fee which by pre-War standards rates at not more than about £6,000. 
Wanted Now…
The argument –a valid one- that Hickson would pay off a great deal of his fee within the next six or seven weeks, and particularly at the home game against Aston Villa on Saturday and the necessity for Liverpool to get the players now, not in a few weeks time when all chance of promotion may have disappeared cannot have been lost on Liverpool directors.  The possibility, too, of Hickson bringing his idolizing fans to Anfield with him cannot have escaped then, though behind scenes there has been indication that irate Liverpool fans might desert the ship if one of the clubs old football "enemies" came over to them.  Everton's fee will have shaken out of the running all the non-League and small-time League clubs, among them Rhyl, New Brighton and Port Vale who have jumped in hopefully believing that they can capitalize on such a famous name and player.  It remains to be seen what the reaction of other club's in more favourable position will be.  Bolton are not interested, Hickson will not go to Plymouth.  It could be that Harry Catterick one of Hickson's old contemporizes at Goodison Park will seek to add another former Evertonian, besides George Kirby to his staff.  But I think not. 
Thus the issue is likely to remain between our two senior clubs one of which must give way-unless there is some compromise –before further moves.  Knowing Liverpool's of stated dictum that if there is to be any paying it will not be through the nose and appreciating Everton's sound reasoning in judging position to be essentially one governed by the law of supply and demand the situation looks bleak.  But never forget that the player has the last word even if it is a rude one.  And more world-shaking soccer events than this may arise within the next few days to overshadow the Hickson controversy and cause a new Everton assessment of their team and the price they ask. 
HICKSON TURNS DOWN NORWICH CITY APPROACH
Thursday, November 5, 1959. The Liverpool Daily Post
By Horace Yates
A Dave Hickson deal still hands fire, Norwich City, a Third Division club, who won the admiration of the soccer world with their exploits in the F.A. Cup last season, sent up their assistant manager Tom Smith to interview Hickson at Goodison Park yesterday and he retired convinced that whichever club, Hickson joins it will not be Norwich.  For well over an hour Mr. Smith extolled the advantages Hickson would derive by linking up at Norwich and when it was obvious that no-progress was likely to be made, it was suggested that Hickson should consult his wife, to see if Norwich had any attractions for her.  "We would be wasting our time by contacting my wife" Hickson said.  "We have talked this thing over so much that we know the position exactly and I can tell you that Norwich appeals to me as little as it appeals to my wife."  The call to Mrs. Hickson was not made.  Hickson made it clear as he has at ever step in this affair that he wanted a club within easy reach of Liverpool.  The only shred of comfort Norwich gained was Dave's statement that he was not prepared to join Norwich at PRESENT.
Obviously he could not afford to slam the door completely not knowing what the future might hold. 
It is no disclosed officially that the fee sought by Everton is £15,000 and this Norwich were prepared to pay.  Their reasoning obviously, was if Hickson helped them to their goal of Second Division football £15,000 would not be an expensive price to pay.  There have been other inquires for Hickson, but no firm bids apart from Liverpool's who are said to be offering £8,000.  If the difference between the valuations was a modest £1,000 or £2,000 hopes of Liverpool bridging the gap might be brighter.  But I was told yesterday that some of the Anfield officials believe that already they have over-bid. I gather there is no liaison between Everton and Liverpool over Hickson no offer for example to keep Liverpool informed if a deal is pending with some other club Liverpool could easily discover that Hickson had signed for some other club without having a chance to take second thoughts.  From Anfield last night I was told, "We have not been in touch with Everton today.  They have turned down our offer and we have no new offer to make."   Manager John Carey was not available for comment last night, having gone to Blackburn to see the inter-League game. 
EVERTON'S BIG, IDEAS
Everton have some big ideas of their own.  Their sights are set on Scottish international star, Denis Law of Huddersfield Town.  Obviously they cannot harbor notions of signing Law without appreciating that they would have to talk in terms of £40,000 to £45,000 unless a part-exchange deal could be arranged.  I hear that if Huddersfield can be persuaded to let Law move to another club they might prefer to take a player they required as part payment.  Obviously Hickson would not fit into a plan of that sort for he has already had a term at Huddersfield and has no overwhelming desire to try a second, but the receipts of £15,000 for Hickson would be a very welcome contribution to Everton in the rebuilding plans they have in mind.  It could very easily be wrong to assume that Everton hopes and ambitions concerning Bertie Auld of Celtic, have died a natural death.  The Everton admiration remains.  Sore though Evertonians are at the thought that they may lose Dave Hickson if Everton can introduce stars of the magnitude of Law or Auld or both, the wound will be less deep and the hurt not so lasting. 
LIVERPOOL MAKE NEW OFFER FOR HICKSON
Thursday, November 5, 1959. The Liverpool Echo and Evening Express
Everton Turn It Down
Reasonable Sum
By Leslie Edwards.
Liverpool F.C, have increased their offer for Everton centre forward Dave Hickson and have been turned down.  The new move for Hickson was made early today following news that Norwich City had agreed to Everton's £15,000 terms last night only to be told by the player that he did not wish to go so far away from Merseyside.  The Liverpool director Mr. Lawson Martindale made the offer to the Everton chairman Mr. Fred Micklesfield, Liverpool's original bid of between £8,000 and £9,000 was increased by a reasonable sum.  Mr. Micklesfiield told Mr. Martindale "I don't think my board will agree to that."  The position is thus that Everton backed by the evidence of Norwich City's preparedness to pay £15,000 seem adamant on that fee being paid, though it is just possible that there might be some compromise with their neighbours.  Though the clubs do not see eye to eye on Hickson's value it is stressed that there is no feeling in the matter nor will there be. 
War of Attrition
Hickson today was busy preparing the first of his articles "My side of the story" for the Football Echo series which begins on Saturday.  The war of attrition between him and Everton and Liverpool continues.  When Liverpool asked a day or two go about the possibility of a player exchange as part of the deal and asked Everton which player they might be interested the answer "Roger Hunt" ended all further discussion.  There is no confirmation of Everton reputed interest in Dennis Law, the Scottish international forward of Huddersfield Town.  Everton manager John Carey said today I have no comment at all on this matter.  A Huddersfield official said, we know nothing of Law leaving.  All we know is that we read in the papers and some of it makes our sides sore." 
LIVERPOOL HOPE TO SIGN DAVE HICKSON TO-DAY
Friday, November 6, 1959. The Liverpool Daily Post
By Horace Yates
The Dave Hickson serial continues, but the final installment may be close at hand.  I consider there is a very real possibility that before today is through the Everton centre forward will be a Liverpool player, and will lead his new club's attack in tomorrow's game with Aston Villa.  It is significant that negotiations are being conducted at director level as against managerial level, obviously with the idea of speeding up a conclusion.  Mr. Lawson Martindale of Liverpool is dealing direct with the Everton chairman, Mr. Fred Micklesfield, although both club managers are naturally kept informed of every move.  Yesterday Liverpool stepped up their original offer "fairly substantially, but it is still short of the £15,000 Everton are demanding.  I was told last night by Mr. Martindale, "We have not quite seen eye to eye with Everton, but I am hoping we will be able to do that.  "I believe there is not a lot dividing us and while Mr. Micklesfield did say that he did not think our offer would be acceptable to the board, he promised to put our proposition to them.  We are waiting now until tomorrow, when I am most hopeful about the outcome. 
DIFFICULTIES REALISED
"Both sides realize each others" difficulties and that is very helpful.  The negotiations are going ahead in the best possible spirit.  I would not have it otherwise.  "For thirty-one years now, I have had dealings with the Everton club and they have always been of the most friendly order.  I would like to pay tribute to the gentlemanly way that Everton have acted in these negotiations."  Liverpool ended the threatened stalemate by their increased offer, and now, with a little bit of give and take on both sides, the way will be clear for Hickson to sign for Liverpool today.  Since the announcement that Hickson was available for transfer the Everton manager, Mr. John Carey has had about a dozen inquires for the player.  Apart from those by Norwich and Liverpool, no firm bid was received. 
NEWCASTLE CHANGES
Newcastle United, who entertained Everton have not found team selection easy, Stokoe was injured at Wolverhampton and his centre half deputy, George Heslop, reported unfit yesterday.  Third choice is Malcolm Scott who played at centre half in some games last season but has also appeared at outside left, left back and centre forward.  Whitehead is preferred at right back y McKinney, and Luke plays at outside left for the injured Mitchell.  There is a slight doubt about Scoular and if he should be unfit Franks will deputise. Newcastle United; S. Mitchell; Whitehead, McMichael; Scoular or Franks, Scott, Bell; Hughes, Eastham, White, Allchurch, Luke.    Brian Labone has made good progress in his training this week and if there are no repercussions after the strenuous testing he gave his ankle yesterday he will probably be valuable for selection for tomorrow. 
Everton announced last night that they have signed as a full time professional John Bentley their seventeen-year-old youth team centre forward who like Labone is a product of Liverpool Collagiate School. 
HICKSON SIGNS FOR LIVERPOOL; LEADS ATTACK TOMORROW
Friday, November 6, 1959. The Liverpool Echo and Evening Express
Clubs Agree Compromise Fee of About £12,000
Everton Show Gratitude
By Leslie Edwards
Liverpool F.C, today signed Dave Hickson at a fee of about £12,000.  He plays tomorrow at centre forward against his old club, Aston Villa at Anfield.  Thus the impasse of the week between the two senior clubs of the city has been broken by compromise.  Liverpool stepped up their original offer; Everton drop down his £15,000 fee they set on Hickson's worth when agreeing his transfer request.  So I hope everyone is satisfied, though fear they won't be.  In announcing the signing the Everton board made this statement "In parting with Dave Hickson the whole of the Everton board wish to place on record their appreciation of the outstanding services this player has rendered the club."  The deal was completed at Goodison Park, after a meeting of Everton directors, not long before the Everton manager Mr. John Carey and his team set out for their fixture at Newcastle tomorrow.  Mr. Lawson Martindale, the Liverpool director who has been chief negotiator for Liverpool thus succeeded at the second attempt.  His increased offer yesterday was turned down but later in consultation with the Everton chairman, Mr. Fred Micklesfield he found new hope from the suggestion that Everton might be prepared to compromise. 
"I am Delighted"
The Liverpool party arrival at Goodison Park at 11-45 a.m., and consisted of Mr. Tom Williams, chairman Mr. Lawson Martindale, director, Manager Phil Taylor and Secretary Jimmy McInnes.  After signing Hickson sale, "I am very pleased indeed that I have signed for Liverpool after a week of uncertainly and I know my wife and family share my feelings.  "It has been an anxious time for me recently but everything is all right now.  I am delighted I am looking forward very much to playing for Liverpool tomorrow, particularly as it will be against one of my old clubs Aston Villa.  "I just want the Liverpool fans to know that I will always do my best for them and the club as I have done at Everton."  Mr. Williams and Mr. Martindale in a long statement expressed their pleasure that Hickson had come to Liverpool as they feel that he will fit in with the rest of the first team forwards at Anfield.  They also expressed pleasure at the way they were received by the Everton directors which has gone further to cement the good friendship which has existed between the boards for a long number of years.  Hickson the blond 29-years-old whose first love was Everton-he joined them as a boy of 15-thus crosses the park to join a club whose need for him was immediate.  This was essentially a now or never signing aimed at allowing Liverpool to strike out for a challenging position in their Division and a promotion.  If Hickson is as effective for his new club as he was for Everton when helping them regain states the 12,000 cheque will have been well spent.  Never in the history of football in this city has there been such a rumpus about a player from one club joining neighbours and rivals.  Everton fans have written that if Hickson goes they go with him; Liverpool have received warning that if Hickson arrives some of their most dyal fans will depart.  It remains to be seen whether these factions will be as good as their word.  The public and football fans have a notorviously short memory.  One thing is certain, when Hickson steps out at Anfield tomorrow it will be to an attendance of between 50,000 and 60,000. 
WELCOME HIM
Hickson has said that he would like to play for Liverpool.  Liverpool players told me yesterday that they would welcome him to their team-as a man whose experience and inability might make a big difference to their hopes of promotion.  So, whatever some Anfield fans may say and think there is no doubt whatever that Liverpool players were as enthusiastic as the directors about Hickson joining forces with them.  Hickson view that the future held nothing for him at Goodison Park was understanding.  So was the decision of Everton to let him go when he was so obviously unhappy.  His dropping for the third time this season was a blow even Hickson could not take.  Ironically it was when he was dropped from the team in the Cliff Britton era that Hickson asked for transfer.  The vital Central League match was in each cases, at Newcastle. 
Earlier Chance
Liverpool missed an earlier chance to sign Hickson when he was at Huddersfield and for all anyone knew, reaching the end of his career.  They would not pay the £6,000 fee Huddersfield wanted and Everton stepped in and took at a cheap rate the man they not long before passed on to Villa for £20,000.  The return of Hickson led to some trouble in the board room, but once the wisdom of the re-signing was apparent all was harmony and it was only when Shackleton was signed from Leeds United this season to take the centre forward berth that the first rumbles of Hickson's discontent were heard.     At the time statements were made by Hickson and Everton that all was well and that Hickson was happy and the club was happy to have him with them.  For a quiet self-effacing manlike Hickson to cause such controversy among the fans on Merseyside is one of the most negilicable things about him.  But on field it is sometimes a different thing and not for nothing he been described as a controversy try of player. 
VITAL FOR EVERTON, TOO
Friday, November 6, 1959. The Liverpool Echo and Evening Express
By Leslie Edwards
Tomorrow's is vital too, for Everton.  Will they confirm at Newcastle the form of their 6-1 win against Leicester or will that form be shown to be unreliable.  One thing is certain Dave Hickson will not be there to help provide the answer which, to my way of thinking may well show that the Everton front line, with Shackleton in the centre, plays very effectively.  Ivor Allchurch the Newcastle inside-forward who played for gallant Wales on Wednesday in Scotland is now in the sights of Cardiff City who want him to finish his playing days with them.  It is just possible that Newcastle, the shrewdest of buyers and sellers may make capital out of the situation.  Meantime, the Everton defence which played so solidly a week ago must face one of Wales' wizard soccer men.  If they cover one another as keenly as they did against Leicester all should be well.  The fact that Bobby Collins is bang in form suggests that his side whose record at St. James' Park is quite good may have yet another happy day there.  Everton; Dunlop' Parker, Bramwell; King, Jones, Harris (B); Harris (J), Thomas, Shackleton, Collins, Laverick.  Newcastle; Mitchell (S); Whitehead, McMichael; Scoular or Franks, Scott, Bell; Hughes, Eastham, White, Allchurch, Luke. 
SANDERS TO SIGN FOR SWANSEA TOWN
Friday, November 6, 1959.  Liverpool Echo and Evening Express
Quick Deal With Everton
£6,000 Fee
By Leslie Edwards
Everton and Swansea Town today agree terms-fee £6,000 for the transfer of Everton's reserve right full-back Alan Sanders.  Sanders left for Swansea today, will sign forms on his arrival late this afternoon and will be in the Swansea League side at Cardiff City tomorrow.  Manager Trevor Morris who took Roy Saunders from Liverpool and Graham Williams from Everton last season, thus completes a remarkable deal, initiated less than 14 hours ago.  In a telephone conversation with me yesterday the Swansea Town manager spoke of his need for a right-back, and remembering his interest in Sanders a season ago I suggested he might find a call to Mr. John Carey profitable.  Mr. Morris contacted Mr. Carey by telephone yesterday agreed a price and all other arrangements were fixed in a further telephone conversation between Mr. Morris and the player last evening.  Sanders played many games for the Everton first team during the past two seasons.  He is big and strong and young and uses a ball well.  He should make a very good proposition in the second grade.  Last December Leyton Orient failed in an effort to sign him because their bid fell short of what Everton required.  Sanders joined Everton on a free transfer from Manchester City and given his chance against Tottenham Hotspur in November 1957; he soon became a regular.  Only on the delayed arrival after service in Cyprus of Scottish international back Alex Parker did Sander's finally lose his first team place.  Sanders a Manchester man, has business interests in Manchester, but Mr. Morris has persuaded him and his wife that a moved to Swansea would be a good thing. 
NEWCASTLE CHANGES
Newcastle make three changes from the side beaten last week at Wolverhampton for the visit of Everton tomorrow.  Whitehead comes in for McKinlay at right back and utility player Scott replaces Jimmy Scoular at centre half who in turn moves to right half.  Third change is on the left wing where George Luke, recently re-purchased from Hartlepool, makes his home debut at outside left in place of Bobby Mitchell.  Newcastle United; Mitchell (S); Whitehead, McMichael; Scoular, Scott, Bell; Hughes, Eastham, White, Allchurch, Luke. 
SANDERS FOR SWANSEA
Saturday, November 7, 1959. The Liverpool Daily Post
By Horace Yates
Hickson was not the only Everton player on the move yesterday, for last night right back Alan Sanders, who has not been in the side for the last seven matches signed for Swansea own at a fee of £6,000.  Sanders and Hickson both Manchester born, were close friends, and strangely enough, like Roy Saunders who joined Swansea from Liverpool last season, Alan makes his debut against Cardiff.  Also at Swansea is Graham Williams, former Everton winger.  It would have been surprising if Everton had done other for their match at Newcastle than pass a note of confidence in the players who swamped Leicester City.  If we can forget last season's 4-0 beating at Newcastle, St. James' Park has been a comparatively happy hunting ground for Everton in recent years, for in the three previous meetings they were successful twice and draw the other.  Newcastle will not know until mid-day whether Scoular will be able to play.  He has been suffering from kidney trouble and has been advised by the club surgeon to stand down.  If he does Allchurch will switch to right half and nineteen-year-old Hale will be at inside left.  Helsop a nineteen-year-old Tynesider, will make his debut at centre half.  Newcastle; S. Mitchell; Whitehead, McMichael; Scoular or Allchurch, Heslop, Bell; Hughes, Eastham, White, Allchurch, or Hale, Luke.  Everton; Dunlop; Parker, Bramwell; King, Jones B), Harris (B); Harris (J), Thomas, Shackleton, Collins, Laverick. 
EVERTON HIT FOR 8 BY NEWCASTLE'S LIVELY LINE
Saturday, November 7, 1959. The Liverpool Echo and Evening Express
Newcastle 8, Everton 2
By Michael Charters
Newcastle United; Mitchell (S); Whitehead, and McMichael; Scoular (captain), Heslop, and Bell; Hughes, Eastham, White, Allchurch, and Luke.  Everton; Dunlop; Parker, and Bramwell; King, Jones (Captain), Harris (B); Harris (J), Thomas, Shackleton, Collins, Laverick.  Referee; J. Powell, (Rotherham). 
Everton cut through in the opening move with Shackleton pushing through a good pass to Collins, who took a quick angled shot straight at the goalkeeper.  Jimmy Harris beat McMichael for speed and cut along the byline to send an inviting pass but Bell was there to head away as Thomas came in. The first time Newcastle attacked they scored.  A brilliant move started by Eastham saw the ball passing across White to the outside left, who ran in and smashed it with his right foot past Dunlop after only three minutes.  This was Luke's home debut and he certainly could not have taken his first kick at the ball in better fashion.  Newcastle went further ahead three minutes later with another brilliant goal from Hughes.  Slack covering by Everton's defence allowed the winger to collect the ball in midfield work his way through the middle and as Everton held off he left loose a terrific shot from 25 yards which had Dunlop beaten all the way.  This was a sensational beginning with Everton looking very unhappy against quick moving home forwards. 
Tragic Slip
Everton were laborious by contrast to the quick thinking and moving Newcastle.  They went further behind after 10 minutes when another tragic slip by the defence presented White with the simplest of goals.  Thomas and Bramwell between them failed to clear a right wing attack, and Scoular was able t lob the ball forward at his pleasure and there was Luke and White unmarked.  Luke headed forward, Dunlop pushed the ball out, but only straight to White, who hit it into the empty net.  I have not seen the Everton defence look so shaky for a long time.  The wing halves were failing to get a grip on the game and the trouble slemmed from there.  Allchurch almost got the ball in the net with a cute back heel flick and altogether this was disaster in a big way for Everton whose marking and tackling was appallingly slack.  The panic in the Everton defence was never better illustrated as Bramwell foolishly handed a cross from Luke which was going out to the wing.  He was only inches inside the area, but the penalty award was indisputable and Eastham made it four-up for Newcastle from the spot after only 19 minutes.  This was even worse than Everton's last visit here, when they lost 4-0 for then they had the excuse that their boots were wrongly studded on an ice rink of a pitch.  The simple truth was that they were being outplayed and playing very badly as well throughout the side. 
ALL OUT OF FORM
With the exception of the outside right and Jones, who was performing heroics back in defence, there was not an Everton man in form.  Collins was finding it very difficult to break Scoular's grip and the left flank right along was weak.  Half-time; Newcastle United 4, Everton nil.
The lights came on at half-time but they couldn't lessen the gloom for Everton for from the first move of the half- Thomas headed a corner from Jimmy Harris on to the cross-bar and the ball bounced back into play for Whitehead to clear.  But after 50 minutes it was the story all over again as White sent No.5 for Newcastle, the move started with Parker failing to tackle Luke, and when the ball was moved inside White burst through to take Eastham's return pass and put it pass Dunlop beautifully though hampered by both Bramwell and Jones.  The feature of Newcastle's play, was the expert way they were rounding off their attacks and White's goal was typical of their thrust in the penalty area.  The great difference I felt between the two sides was at wing half and inside forward.  Scoular and Bell were magnificent for Newcastle and Eastham and Allchurch always too good for the Everton halves.  With the game over well beyond Everton's saving, one could sit back and admire the brilliant ball play of men like Scoular and Eastham.  Everton had no one to compare.  In fact it was difficult for only equitation to be salvaged out of the wreck of this match.  On the hour it was number six for Newcastle following a brilliant run by Hughes.  He swing a long centre over to Luke, the ball came back to Allchurch and he seemed to have all the time in the world to shoot past Dunlop.  Thus every Newcastle forward had now scored- strength all along the line. 
NEARLY SEVENTH
Within a couple f minutes of number six, Hughes was at it again with a fantastic burst of speed down the wing to give White an open goal.  The Newcastle leader shot hard enough but against the upright and as the ball rebounded, Allchurch flushed it wide.  Never have Everton been so humiliated as this. 
LACK OF FINISH
In the midst f this impressive Newcastle pressure there was the odd Everton attack, but lack of finish spoiled their laborious looking moves.  Collins lobbed one over the bar and Shackleton headed into the goalkeepers hands, but that apart their treat was nonexistent.  An error by Mitchell gave Everton a goal after 70 minutes, Collins sent Laverick away with a lovely pass and from the winger's cross Thomas headed down and it looked as though the keeper had it safely but he allowed it to slip under his hand into the net.  But the margin of 6 was quickly restored as White got his hat-trick two minutes later.  Eastham had all the room in the world to burst through the middle to give White an easy chance, and he made it look easy as he made it 7-1.  It was now becoming a matter of an adding machine for Thomas scored Everton's second after 74 minutes, and what a good goal it was.  Parker took the ball down the wing, before crossing it inside to Thomas who side stepped Helsop beautifully and smacked it home.  The game was dying now of to force three consecutive course, but Everton managed corners and from the last King picked up a clearance and lobbed it back against the crossbar.  A minute from time Hughes beat Bramwell once again to give Allchurch an open goal.  In a final flurry McMichael represented a Thomas hat-trick when he headed a shot off the line with the keeper beaten. 
Final; Newcastle United 8, Everton 2. 
Balance Sheet
Everton were shattered beyond belief at Newcastle today.  They were four down after 19 minutes with the defence shaky and panicky under pressure and they never looked like saving the game after that.  With the exception of Jones in defence and Jimmy Harris in attack the whole side was completely off form.  The brilliant Newcastle forwards were doing almost as they liked.  In March 1927, Newcastle beat Everton 6-0 and in 1933 at Goodison they beat the Blues by seven goals to three. 
I COULDN'T CARRY ON NOW-I HAD TO GO
Saturday, November 7, 1959. The Liverpool Echo and Evening Express
My Spirit Was Being Killed At Everton
By Dave Hickson
As Told To Michael Charter
At the start of this series I am writing for the Football Echo I want to give my full, personal reasons why I asked to leave Everton, the club with which I have spent the majority of my playing career.  First I would like to go back to my return to Goodison Park in July, 1957.  At the time I was very glad I was coming back because I had not settled down at either Aston Villa, whom I joined four years ago, or Huddersfield.  When I heard from Bill Shankley, the Huddersfield manager, that Everton had said they wanted me back at Goodison, I was delighted.  Not only for myself but also particularly for my wife Irene, and my daughter Karen, because I knew my wife would be happier to be near Liverpool than anywhere else as we both come from Ellesmere Port and our families are still there.  That wish is just as strong today and had much to do with my desire to join Liverpool.  It was my min thought when I was called to Goodison Park on Wednesday afternoon by the Everton manager, John Carey to meet Mr. Tom Smith, who had rushed in from Norwich that day to ask me to join them.  Apparently Norwich City and Everton had agreed terms.  I was grateful for Norwich's interest but I told Mr. Smith that it was no use me asking my wife for her views because I know only too well what they are.  I thanked Mr. Smith, but told him that I was not interested in joining Norwich as I wished to stay in this area.  However, I must go back after telling you of the Norwich bid to the time I left Huddersfield to rejoin Everton.  I came to Goodison Park and met Mr. Jack Sharp the director, and Mr. Ian Buchan, the chief coach, and when they told me that they had agreed terms with Huddersfield I was thrilled.  You see at that time Everton were THE club for me, the club I wanted to be with more than anyone else.  I had started my career with them had not been happy away from them at Villa Park and Huddersfield and I jumped at the chance to come "home again."  But I was very disappointed once I had signed the transfer form and had settled back at Goodison, to find that there was a certain feeling against me in the club and it appeared to me that Everton's decision to re-sign me was not a unanimous one.  However I did not allow this to unset me then and felt I was playing well enough to hold down a regular place in the first team which I did.  During the close season of 1958 when I went to re-sign at the ground I was told by Mr. Buchan that Everton intended to sign another centre forward who would replace me as first team leader at the start of the 1958-59 season. 
SHOCKED
This proved to be Peter Harburn from Brighton and sure enough he took over from me for the first few games of the new season.  I was shocked when Mr. Buchan gave me the news I felt that the feeling which I have earlier referred to was still there against me and it seemed to me that I had to had a fair chance in one season to prove myself although I must admit that I had not been among the goals.  I was determined, however that I was going to flight my way back into the first team despite Harburn's early selection in my place.  Then I got another change.  Before that season opened Mr. Buchan called me into the office to say that Plymouth Argyle wanted me and had made a suitable offer to Everton I was staggered that Everton would wish to get rid of me after I had been back with them for such a short time.  Although I did go down to Plymouth with my wife I knew in my heart that I would not have liked to have gone so far south.  After discussing it with my wife I turned down the Plymouth offer because I felt sure I could show good enough form to win back my senior place at Everton.  And so it proved.  This I did not turn out well for Peter, and after a few games had gone I was back in Everton's first team and held my place for the rest of that season, scoring more than 20 goals in league and Cup.
REPETITION
That brings me up to date with recent happenings which seemed to be a repetition of the Plymouth Argyle –Harburn serial.  This season began well enough but then I read that Everton were trying to sign another centre forward.  I was with the team travelling to Nottingham Forest on September 1 and we had stopped for lunch at a hotel.  Mr. Carey was here with Alan Shackleton whom he had just signed from Leeds United that morning.  Mr. Carey called me over and told me that I had been dropped and Shackleton would take over from me the next day.  This was a big shock.  That was the first time I had been dropped this season.  Still I said nothing, and was prepared to wait to see what happened.  It was back for the next match against Blackburn Rovers at home.  We won 2-0 and I scored both goals- and was very happy to do so.  I played three more games in the first team, when we beat Sheffield Wednesday, but lost away to Blackburn and Wolves and them found myself dropped for the second time.  It seemed a little harsh that this should happen after playing two such strong sides as Blackburn and Wolves particularly away from home
UPSET
There was talk then that I would ask for a transfer.  Disappointed and upset as I was at what had gone on in the previous few weeks I did not do so.  I was convinced that I could fight my way back into the side believing that I had the ability to do so against the competition of others on the club's books.  I missed the Arsenal and Liverpool matches but was back for the game at Leeds on October 10.  It was a tough sort of game there, but I scored twice and we got a good away point.  The next two matches we lost unluckily by the only goal each time against West Ham and at Chelsea.  The team returned to form with a good win at Anfield under the floodlit match, although I'll be the first to admit that I personally didn't have a very good game.  I was dropped FOR THE THIRD TIME after the for the game last Saturday against Leicester City. It was even more disappointing the way I was told I was not playing for it was second team trainer Stan Bentham who told me to be at the ground to travel to Newcastle last Friday for the reserve game at Newcastle on Saturday.  I realized then that I would have to be something definite about it.  I appreciated that this feeling I have deferred to before was still against me n the club.  I felt that I darted on with Everton being dropped one week and being brought back the next it would kill my enthusiasm and spirit both for football and Everton. 
NO FUTURE
I realized I could do nothing else but ask for a transfer that I felt that Everton were willing to part with me and I believe there was no future for me at Goodison Park.  I appreciated that by asking for a transfer I would lose the £300 which goes to a player transferred without him previously asking to go on the list, but I was determined that I would have to do something final for I could not go on much longer the way things were going against me at Goodison.  I was very glad when the Everton Board granted my request last Tuesday night and even more pleased to know that Liverpool had made an offer for me.  When I signed for them yesterday it put an end to a week of uncertainty, I felt very pleased and know my wife and family feel the same way I want the Liverpool fans to know that I will always do my best for them and the club just as I have done for Everton.  Looking back it seems curious that I might have joined Liverpool at the time I left Huddersfield.  At this point I would like to add that it seems strange to me that Everton placed a figure of £15,000 on me when the players who has replaced me and who apparently they considered better than I was sign for almost half the figure. 
I WAITED SEVEN YEARS FOR LAST SATURDAY
Saturday, November 7, 1959.  The Liverpool Echo and Evening Express
Says Alex Parker
Just as all comedians have an ambition to play Hamlet, so do all full backs long to score goals, so you can understand why I regard last Saturday's match against Leicester City as one of the most momentous of my career.  Although I have scored goals before they have all been from the penalty spot and although it is nice to hit the ball into the net that way, it's not as satisfying as scoring during the general run of the game.  Ever since signing professional forms seven years ago it has been my secret ambition to score like I did last week and when I saw the ball beat the Leicester goalkeeper I thought it had been worth waiting for.  Even if I hadn't scored the match would have been quite memorable for me.  It was lucky enough to be in position to kick a leader off the line, and then had to give away a penalty to prevent a goal when I took on Albert Dunlop's job and used my hands.  As you probably know, most club programmes have pen pictures of the visiting team, I can just imagine how they might describe me. 
Alex Parker (right back); Goal scorer, fond of making excursions into opponents penalty area a move which causes havoc in the defence particularly his own.  Has been known to tackle on occasions. 
No despite the fact that I could score in awful lot of goals before I got bored, I think I had better stick to my job of stopping the other side getting them.  Still, if the occasion ever arises for a shot I shall certainly have a go. 
FIRST OF MANY?
Of course, I was not the only defender to put the ball into the net, Brian Harris right at the top of his form at the moment got our fourth with a 25 yarder.  That was his second in two matches for he scored the previous Wednesday against Liverpool.  It has often puzzled me that with his ability to go through on his own plus the experience he gained when he played in the attack he did not score more often.  Maybe he is now going to do just that.  After the game some people said it was surprising that Everton should score six but I think not.  We could quite easily have equaled that against Liverpool and came very close in the matches against West Ham and Chelsea.  It's just that the shots sent in against Leicester, instead of just outside.  Hard luck on the City, but as they "stole" two points off us last season, I don't think they will complain.  Immediately after the game my wife and I went to Scotland for a few days.  Last Monday I saw the Hibs-Middlesbrough match at Easter Road.  It ended in a 6-6 draw, so the fans certainly had their fill of goals.  Liverpool born Baker grabbed himself a hat-trick and played very well.  It would be funny if a Hibernian player, speaking with a Scottish accept should play for England.  On the night he looked better than Brian Clough.  You will be interested to hear that Bobby Johnstone the former Manchester City player, has hit his best form on his return to Hibs.  I did my training at my old club, Falkirk now managed by Tommy Younger and cheered for them in their 4-4 draw with Stirling Albion on Tuesday.  I told Tommy about the "derby" match, but his only comment was "it's about time you beat them.  You never did it when I was with them."  "However I have since checked up and found that Everton beat Everton 2-0 in the first floodlit match at Goodison.  I'll remind him about that when I see him at tomorrow's match with the TV stars at Stanley Track. 
OLD ACQUAINTANCES
Last Wednesday I went to Hampden Park to see the Scotland v. Wales game, and much as I enjoyed the match, I also enjoyed meeting many old friends before and afterwards.  I was talking to Willie Woodburn the ex-Rangers centre-half and many of Bobby Collins ex-colleagues at Celtic.  All the first teams of Kilmarnock, Rangers, Hearts probably there to cheer Davey Mackay and Falkirk were there.  Bet Slater and I were guests of the Falkirk club.  Before the game the crowd were entertained y the band of the Royal Highland Fusiliers, me old regiment I was talking to a few old Army friends afterwards about old-times at Cyprus.  I thought the game itself was quite good was Scotland rather unlucky not to win.  John Charles had a good game, but he seemed a little down then when I last saw him. 
EVERTON RES V WEST BROM RES
Saturday, November 7, 1959. The Liverpool Echo and Evening Express
Everton Res; O'Neill; Tansey, Griffiths, Rea, Labone, Meagan;  Boner, A. Tyrer, Wignall, Hood, O'Hara.  West Brom Res;- Potter; Wileman, Williams (G); Drury, Hughes, Dudley; Hogg, Lovatt (R.), Hope, Dixon.  Everton kicked off defending the Stanley Park goal, and almost scored in the first few seconds.  Hood fastened on to Wignall's through pass and his first time drive was knocked against the crossbar by Potter and turned out for a corner kick.  Everton continued to be more dangerous with Potter saving well from O'Hara while Wignall missed the easiest of chances.  The Everton defence had so far been in little trouble although a drive from Hogg which went into the side netting almost caught them napping.  In the 17th minute Everton deservedly went ahead when O'Hara headed through from Boner's centre.  Everton almost increased their lead a few minutes later but Wignall's drive grazed the crossbar.  Everton gradually lost the initiative and after Dixon had hit an upright Dudley equalized from at least 30 yards out.  Half-time; Everton Res 1, West Brom Res 1. 
EVERTON HIT BY WINTER MADNESS
Monday, November 9, 1959. The Liverpool Daily Post
By Michael Charters
Newcastle United 8, Everton 2
About this time last year, Everton lost 10-4 at Tottenham and they had they seasonal attack of winter madness at Newcastle on Saturday.  This was a game in which the majority of the Everton players had an off day collectively, with the result that Newcastle who I understand have not been playing well, were made to look world-beaters against a defence which was too bad to be true.  As the despondent Everton party left the ground, they learned of Dave Hickson's two-goal performance against Aston Villa and one Everton player remarked to me, ironically, "That just about makes our day."  The inevitable question is whether Hickson's absence made any difference to this very poor Everton display and my answer would be that he could only have improved them if he had turned out as an additional full back.  It was in defence where Everton tumbled with a crash which must make manager John Carey's player-search all the more urgent.  Weak tackling, poor positional play, lack of cover, panic- all the ingredients of disaster were there and Newcastle made full use of every mistake.  I thought Dunlop could only be faltered with the second goal; when he looked a little slow to Hughes' 25 yarder-the winger's first goal for a year.  Parker had his worst game in Everton colours, while Bramwell had a nightmare against the speed of Hughes.  Too often the backs went late into a tackle or back-pedalled alarmingly; too othen, when they did tackle they allowed their man to recover and win the ball a second time.  King and Brian Harris allowed those brilliant ball-players Allchurch and Eastham far too much room.  It was here that Everton's principal fault lay.  The Newcastle inside men roamed about never properly marked, able to take their time to launch attacks.  Although Newcastle leader White scored a hat-trick I still made Jones the best of the over-worked, harassed, bunging Everton defence.  He performed heroics at times, trying to cover up for the rest of his colleagues and was always master in the air.  Unfortunately roost of Newcastle's scoring raids were along the ground and Jones could not be everywhere.  There were occasions when Everton moved the ball most skillfully in midfield, mainly through Collins.  Not as dominating as recently because of the expert way that ace of wing halves Scoular tackled him, he was still an object lesson to his Everton counter-parts.  He never gave up trying which was more than could be said for others in the forward line.  Everton were four down after 19 minutes, and fight disappeared from the Everton attack.  Jimmy Harris began brilliantly, beating McMichael several times and it is an incredible fact that Everton might have been two up in the opening couple of minutes.  Newcastle scored in their first attack and panic set in defensively from that moment.  Shackleton rarely beat Heslop, a twenty-one year-old centre half making his League debut, while the other Newcastle wing half Bell, was too good for Thomas, who scored twice as Newcastle relaxed when six up.  Laverick was held completely by Whitehead, whose quickness in the tackle was devastatingly effective against the winger struggling to find any sort of form. 
THE GOALS
A rapid scoring round-up is; 3 minutes-Luke and Allchurch unmarked as White stumbled, recovered and pushed the ball across for Luke to shoot home with an angled shot; 6 minutes –Hughes was able to take the ball twice from Bramwell at half-way, cut inside and found the path clear to score from 25 yards; 9 minutes-more faulty covering left Luke and White clear to take a long lob from Whitehead, Luke's header being pushed out to White, who scored from close in; 19 minutes- Bramwell foolishly handled when no danger threatened and Eastham scored with a penalty.  Thomas headed against the crossbar from a corner (50 minutes) before White scored a magnificent goal; 60 minutes-a brilliant run by Hughes, a pass to Luke on to Allchurch, who had time to look and pick his spot; 70 minutes-Thomas headed ina Laverick centre and Mitchell allowed it to slip under his grasp; 72 minutes-Eastham gave White ample chance; 74 minutes –a fine goal by Thomas from a Parker pass; 89 minutes-Allchurch again form a run by Hughes.  Newcastle United; Mitchell (S); Whitehead, and McMichael; Scoular (captain), Heslop, and Bell; Hughes, Eastham, White, Allchurch, and Luke.  Everton; Dunlop; Parker, and Bramwell; King, Jones (Captain), Harris (B); Harris (J), Thomas, Shackleton, Collins, Laverick.  Referee; J. Powell, (Rotherham).   Attendance 23,590.
FINE GOAL BY WIGNALL
Monday, November 9, 1959. The Liverpool Daily Post
Everton Reserve 4, West Bromwich Albion Reserve 2
Showing superior team work and stamina Everton were convincing winners of a splendid game when Drury got Albion's second equalizing goal after seventh-two minute's it seemed that Everton's forwards would regret having wasted so many earlier scoring chances.  Within five minutes however, Wignall netted brilliantly and Boner presented Hood with a gift goal.  Wignall had earlier converted a penalty at the fifty-second minute and O'Hara scored Everton's other goal.  Dudley was West Bromwich's successful marksmen.  The first half Hood and Boner stood out in an excellent Everton forward line, and Meagan and Tansey did well in a very sound rear-guard. 
EVERTON'S DEFENSIVE WEAKNESS IS PINPOINTED
Monday, November 9, 1959. The Liverpool Echo and Evening Express
By Michael Charters
You must laugh if you read it in a boys story book.  The Hickson transfer controversy of last week could not have ended on a more sensational mote with Everton thrashed 8-2 at Newcastle at the same time as the former Goodison idol was scoring two goals for Liverpool against Aston Villa at Anfield.  The ironical pay-off note came from an Everton player as the unhappy party left Newcastle on Saturday night; he remarked to me after learning of Hickson's performance;  "That's just about makes our day."  Before getting into what and wherefores of Everton's alarming display at St. James' Park, let me answer the question that many folk must have asked this week-end.  Would Dave had made any difference if he had been playing at Newcastle instead of Anfield."  My reply is that most effective aid he could have provided would have been turned out as an additional full back for it was the defence that Everton stumbled disastrously to defeat.  Which makes manager John Carey's player hunt more urgent than every.  Mr. Carey did not see the whole game.  He was elsewhere with there cheque book at the ready and there was no official Everton comment to tell where he had gone.  Rumours in Newcastle that he's in the neighboring Middleborough where Huddersfields Dennis Law was playing.  I have it on the best of authority that if Law does move from Huddersfield it will be to a London club, and not to either Everton or Wolves whose name has been linked with the brilliant Scottish youngsters.  My belief is that Mr. Carey was in Glasgow with his eye out for centre forward Joe Baker who was carried off injured towards the end of the St. Mirren-Hibernian game.  On the evidence of the Newcastle display, however, I would say that Everton's most pressing need is not almost for a new forward –weaknesses though there are in the attack-but for a dominating strongs tackling half-back who can put some pen and drive and fight into the defence when things go wrong as they did so alarmingly on Saturday.  Everton have Collins up front to urge and prompt his colleagues but at present there is no one of ample calibre in defence to do the same.  That very fine Newcastle wing half, Scoular made this so obvious that Everton must act quickly to sign someone like him. 
ORDERED TO REST
Scoular was not expected to play as he went into hospital today for examination on a suspect kidney complaint, it is painful and he was first ordered to rest over the week-end but there he was on the field as bold, brush and dominating as if there was nothing wrong with him.  It was he who cracked the goals, whip to turn what previously Bell has been a disappointing Newcastle team into a brilliant combination which made Everton pay for every defensive mistake.  Top class though the Newcastle inside right of Eastham, White and Allchurch are it was Scoular and that other excellent wing half Bell who gave them such a service of pinpoint passes that they could hardly go wrong.  Everton make it easier for them, however, by the most blatant attack of nerves and panic, weak tackling, poor positional play and almost nonexistent cover in defence which it has been my unhappy lot to witness from an Everton team.  Take away the courageous words of Jones trying to do here was little else to praise.  Dunlop had no chance with seven of the goals for the Newcastle shooting was of the Bisley variety, deadly accurate power shots just inside the uprights.  Several times he was faced with two Newcastle men clear in possession, either of whom could have scored.  The Everton defence was however in sight on these occasions.  Parker had his worse game for Everton.  His tackling usual so dominate a part of his make-up was hesitant and lacked bite while Bramwell on the other flank had a nightmare of a match.  His winger, Hughes had the game of his life as his speed and directness let the Everton back toiling in his wake. 
OCEANS OF ROOM
King and Brian Harris suffered in the same way.  They failed to mark or cover Eastham and Allchurch, who too often had oceans of room in which to work.  It was here that Everton's major trouble lay.  Collins never gave up trying to forge a pattern into Everton's attack which is more then could be said for some of his colleagues.  When they were four down after 19 minutes, fight disappointed from the forwards, Collins excepted although Jimmy Harris began brilliantly and looked the most dangerous Everton forward if that men behind him had taken a grip of the Newcastle attack.  Shackleton rarely beat 21-year-old Heslop making his League debut.  Helsop, big and strong took almost promising youngster and he was certainly the good for Everton's leader.  Thomas apart from his two goals was effectively held by Bell while Laverick never eluded the confident strong tackling Whitehead, another excellent Newcastle prospect having his first season of League football Laverick is still struggling to find and sort of form.  But prepared to believe that Everton were not six goals inferior to Newcastle who were expert and smash and raids which invariably paid off.  There was a good deal of clever Everton work in midfield, wasted by poor finishing.
SHOT CLEARED
Thomas was unlucky not to score a hat-trick for he had a good shot cleared of the line by McMichael and he also headed against the crossbar.  King also hit the bar with a three men's work at once and cute, lob from a goalmouth clearance but that apart Newcastle goalkeeper Mitchell had the most comfortable of afternoons.  He erred to be.  Thomas score his first allowing a header to slip out of his hands, and had no chance with inside right other excellent drive.  All the Newcastle forwards scored.  White getting three, Allchurch two, and Hughes, Eastham (penalty) and Luke the others.  Luke scored with the first kick of the match after three minutes, before which Everton incredibly might have scored.  Hughes rammed home a 25-yarder his first goal for a year and it was this goal which I thought Dunlop might have anticipated, and cut off.  Around about this time last year, Everton's defence collapsed in similar vein to go down 10-4 at Tottenham.  I can only end by hoping that this disastrous Newcastle defensive display was their annual and sole attack of winter woe on this scale. 
EVERTON'S BID FOR BAKER REFUSED
Monday, November 9, 1959. The Liverpool Echo and Evening Express
Busy Week-end For Carey
Law Watched
By Leslie Edwards
The closely guarded secret of Manager John Carey's absence from Newcastle where Everton lost 8-2 was solved today.  Mr. Carey had one of the busiest most travelled week-ends of his career.  If something big does not materialize from it, before his clubs game next Saturday at Goodison Park against Birmingham I for one, will be very surprised.  Mr. Carey went first to Edinburgh on Friday to confer with the Hibernian club whose young, Liverpool-born centre forward Joe Baker, is said to be the best in Britain.  Whatever offer Mr. Carey made for Baker's services was so completely turned down the Everton chief felt it invariable to stay on and see Baker play next day.  He travelled straight to Middlesbrough where Dennis Law, Scottish international inside forward of the Huddersfield Town club was on view.  Like Hibernian,  Huddersfield Town have said they are adamant that Law will not leave them. 
IN DUBLIN
From Middlesbrough, Mr. Carey flew to fill a long standing promise to attend a presentation ceremony in Dublin yesterday.  He was due back at Goodison Park today.  Everton directors will hear reports of his busy week-end at their weekly meeting at which decision may be made to go out immediately and find, and sign the player or players who can help the team to rub out that 8-2 memory.  A further move to sign a Scottish centre forward from a famous Scottish club may come up for review.  After a week of Hickson controversy (which a few non football-loving people have described as Hickson hysteria week) the attention of Liverpool fans turns to the chances of Baker also arriving at Anfield. 
LANCASHIRE CUP
Everton have chosen the following team for the Lancashire Senior Cup-tie against Bury tonight (pm) at Goodison Park.  O'Neill; Tansey, Griffiths; Peat, Labone, Sharples; Boner, Ashworth, Wignall, Hood, O'Hara. 
EVERTON FORCED TO A REPLAY
Tuesday, November 10, 1959. The Liverpool Daily Post
Everton 2, Bury 2
Although they did not succeed to equalizing until a minute from the end, Bury's speed and skill clearly surprised an Everton team which included six players with First Division experience in the Lancashire Senior Cup first round tie at Goodison Park last night.  In fact, for three parts of the game Bury were infinitely more impressive, not only in their midfield approach but also in control and distribution.  No one among the small crowd of 1,272 would deny that they thoroughly deserved a replay – yet this was only their second team.  They had the liveliest raider in the game in left-winger Tommy Bartley who might with luck have scored four goals, the powerful left-footer before the interval completely beat O'Neill but the ball struck left-back Brian Griffiths on the knee and was scrambled clear.  Everton improved somewhat in the second half and Wignall gave them the lead in the 50th minute when he brought O'Hara's headed pass under control, raced beyond Bunner and May, and beat Heath with a well-placed right-footer. 
HOLDEN IN FORM
Holden the Bury centre-forward who led his line enterprisingly equalized six minutes after when Hepton's pass spilt the Everton defence.  Ten minutes from the end as Everton took command for the first time, Wignall took over from Hood and swept the ball across the goalmouth for Gallagher the Bury right-back to turn the ball into his own net as he tried to prevent O'Hara from making contact.  Bartley who had earlier struck the post with a powerful left footer equalized in the 89th minute when he drove into the empty net from the centre forward position after O'Neill had dived at Hepton's feet.  Although they could not be accused of lack of fighting spirit the Everton side was never really impressive.  The defence was too easily drawn out of position and only O'Neill was blameless.  There was no real link in attack, although Wignall worked industriously and Hood revealed one or two neat touches.  Everton; O'Neill; Tansey, Griffiths; Rea, Labone, Sharples; Boner, Ashworth, Wignall, Hood, O'Hara.  Bury; Heath; Gallacher, Conroy; May, Bunner, Neill; Lovie, Hepton, Holden, McInnes, Bartley. 
NOW THEY CALL HIM THE RED DEAN
Wednesday, November 11, 1959. The Liverpool Echo and Evening Express
By Leslie Edwards
They are calling Dave Hickson the Red Dean.  One rabid Liverpudian, disgusted at having two Anfield doors closed in his face on Saturday, told me "It's coming to something when a Liverpudian can't get into Anfield for so-and-so Evertonians.  Seriously though they are still writing to me on the pros and cans of Hickson transfer. 
So-called supporters who have followed Davey across the Park surely support not the club but one player.  A true supporter sticks to his team through thick and thin.  If Hickson can get Liverpool back to their rightful position and it seems he will judging by his first game, it will be money well spent- K. Flint, 5 Acala Grove, Aintree.
He asked for Transfer
Now Hickson has gone let us wish all the best to his successor –Shackleton.  I am certain all-true Evertonians will give him the chance of becoming another Everton favourite-R.D. Webster, 31 Sandbillire Road, Walton. 
I have followed Everton for fifty years and have never known them treat any player shabbly.  Dozens of players are dropped from the first team.  Why should Hickson think he is any different from them?  People must remember that Hickson asked for his transfer.  He was not put on the list by his club.  H. Milward, 63 South Street, Liverpool 8.
My name is Valerie Rowlands and I am sixteen.  I have been attending Goodison Park since I was nine.  Everton were wrong to transfer Hickson-they haven't got a better man to replace him- V. Rowlands, 5 Hendon Road, Fairfield. 
Everton directors passed a vote of thanks to Dave Hickson.  Liverpool directors should now pass a vote of thanks to Everton supporters for rallying round Hickson and helping him to make such a memorable debut.  Everton must indeed be confident of their future to afford to let such a talented player leave- R. Almond, 5 Geneva Road Liverpool 8.
Having been an Evertonian for the last sixty years and having seen the famous centre-forwards of international class which Everton often had, I think Hickson had too much to live up to.  Years ago a famous Everton player said; "Matches are lost in the boardroom as well as on the field."  I was delighted to read of Dave's success for his new club.  Men may come and go, but I shall always be an Evertonian-J. Redhead, 242 Reginald Road, Sutton Park, St. Helens. 
Why all this fuss about Hickson? If I were in charge at Everton I would not only have let him go, but most of the rest of the team as well- B. Beckett, 25 Aigburth Street, Liverpool 7. 
EVERTON AGAIN LINKED WITH LAW
Wednesday, November 11, 1959. The Liverpool Echo and Evening Express
Story of £50,000 Offer
By Leslie Edwards
The story that Everton are prepared to pay the equivalent of £50,000 in cash and players for Huddersfield Town's 19-years-old Scottish international inside-forward Dennis Law and that they hope to sign him in time for the match against Birmingham at Goodison Park on Saturday is the latest believe –or not, soccer problems.  When, last week Everton's came was linked with the player, the Everton manager Mr. John Carey said "It would not be proper for me to discuss a player who is not on the transfer list, and Huddersfield Town secretary Mr. A. Celvin said "We have to read the papers to know what is happening and some of the reports about Law make us laugh till our sides are sore."  But today when the reaction of Mr. Carey to the interest Law report would have been enlightening he was for the first time in my experience but available on the telephone.  Mr. Celvin asked about the same matter, said "That is the first I have heard of any £50,000 Everton offer.  If I went to Mr. Shankley, our manager and asked him if there was anything in it he would give me a broadside which would knock me back to where you are in Liverpool."  I can only say said Mr. Galvin "that we have nothing whatever to say and that this is the first I have heard of it." 
EVIDENCE
Nevertheless "there is evidence to suggest that Everton will move for Law.  They have already drawn blank along with several other clubs for Joe Baker from Hibs and that 8-2 Newcastle defeat and the outgoing Dave Hickson have made it essential that Everton induce do something taliable to win back support.  Law is no scoring inside man.  Huddersfield Town have scored more freely this season when he has been absent in International duty or through injury.  The names of Eddie Thomas the Everton inside-right and Alan Shackleton the club's new signed centre forward who displaced Hickson have been mentioned as likely to be considered if Huddersfield agree to let Law go and any excitants of players is involved.  If Everton where to sign a player at an equivalent fee of £50,000 the fee would be a record for Britain, topping the 45,000 Manchester United paid last season for Albert Quixall. 
THE DENIALS ON LAW DO NOT RING TRUE
Thursday, November 12, 1959. The Liverpool Daily Post
By Horace Yates
Everton and Huddersfield Town have between them erected the greatest and most unyielded wall of secrecy imaginable on the future of the Yorkshire club's Scottish International inside forward.  Denis Law, if negotiations between the clubs are proceeding, they could not have been more cunningly disguised.  Despite the official curtain of silence I go out on a limb and confidently state that Everton are interested in Law, that talks are going on and that yesterday they reached a stage in which the Everton manager Mr. John Carey, and his chairman Mr. Fred Micklesfield, travelled to Huddersfield, with anything but admiration of the scenery as their objective.  This much is known.  On Tuesday evening the Hudderfield board meeting was one of the longest of recent times.  It lasted over an hour beyond the normal time for breaking up.  A fair inference could be that it was prolonged because the serious business of contemplating the sale of their star player was not something to be disposed of quickly or lightly.  But, unless Mr. Bill Shankley, the Huddersfield, manager, is deliberately trying to throw inquirers off the scene, such presumption would be wrong.  Mr. Shankley stated yesterday;  "A great deal of rubbish has been written about Law in the past but this £50,000 bid story is the most ridiculous of the lot.  "There has been no contact with the Everton club and Denis Law's name was not even mentioned at our board meeting on Tuesday's night."  If one takes such a statement t its face value, the inquiry closes but what few concrete facts.  It is possible to gather point absolutely in the opposite direction.  Mr. Shankley is supported by his chairman, Mr. Stephen Lister, who says; "The manager does the talking here."  This much is known for certain.  Yesterday it was impossible to contact Mr. Carey by telephone either at his home or at Goodison Park, until last night.  Then I put the direct question to him.  "Are Everton interested in Law."  "I have no comment at all," was Mr. Carey's replay, one which was repeated when I asked if it were true that he and the chairman has been to Huddersfield.  I look at the position this way.  If it were true that Everton had no interest, whatever in law, what could be easier than to issue an official statement saying so?  While Everton have not confirmed an interest, unlike Huddersfield they have not denied it.  My information from Huddersfield is that Mr. Carey's car was not seen outside the Elland Road ground yesterday.
NO GROUND MEETING
Further, it is stated that if a meeting took place, it was not held at the ground, but too much notice must not be taken of that.  Obviously with news paper men aware of some kind of activity, the last place to meet would be the ground.  I tried to contact Mr. Shankley at his home last night only to be informed that he was not accepting any telephone calls until today, but I did establish that he had left Huddersfield for Hillsbrough in the afternoon to see last night's match between a Sheffield and district side and a Glasgow and district team.  With hard facts so few and difficult to pin down, it is not easy to make a forthright statement, but sorting the almost non-existent wheat from a regular harvest of chaff.  I believe the picture is something like this.
Everton are interested in Law and Huddersfield are prepared to release him, provided they can drive the sort of hard bargain they desire.  Mr. Shankley has weighed up possibilities of players Everton may have available for a part-payment deal and is not impressed in this direction.  If Everton can do business then, and their positions such that a signing of this magnitude would be the proof their supporters need that the urge to make Everton great again burns as keenly now as ever it did, the deal must be on a purely cash basis.  I say discount the stories of a £50,000 offer.  I don't believe their admiration for him stretches to that extent. 
TOUGHEST DEAL
Remember when Mr. Dick Searle and Mr. Jack Sharpe went to Scotland last year and brought back Bobby Collins, they left behind them a cheque for only £22,500.  Despite the advantage Law can claim on the grounds of his youth (aged 19), is he more than twice the financial proposition that Collins was or is?   Not only do I doubt it, but much more important I think the Everton board and manager would also doubt it.  Transfer fees are not officially revealed, but sometimes, it is possible to make an inspired estimate.  If Mr. Carey should pull off the toughest deal of his managerial career, and this a Law signing would undoubtedly be, I should be very much surprised if the payment greatly exceeded £35,000.  When propositions of this nature and magnitude are being discussed the need for a certain amount of secrecy is essential.  To place all one's cards on the table in a fiercely competitive world would be inviting trouble but an iron curtain of this toughness is unusual in so far as the club with a player for safe is seldom so backward in letting it be known.  If Mr. Carey were to produce Law in time for Saturday's home game with Birmingham City most people would probably regard that as the complete answer to any criticism. 
LABONE RETURNS TO EVERTON TEAM
Thursday, November 12, 1959. The Liverpool Echo and Evening Express
Law Hopes Not Ended
Bramwell Out
By Leslie Edwards
Everton have chosen their side to play Birmingham City at Goodison Park on Saturday and Dennis Law the Scottish international inside-forward is not in it thought if Everton had their way in negotiations yesterday with Law's club he certainly must have been included.  But that is not to say that Everton have given up their quest for the player and that cloak and dagger negotiations will not break out afresh early next week.  If Everton were to succeed in persuading Huddersfield and Law to the view, it is probable that Huddersfield want a lay in exchange.  The name of Eddie Thomas has been mentioned in this connection.  With cash and cash equivalent Everton might have to go to between £45,000 and £50,000 to get their man.  Whether they succeed or not it will make no difference to the intention from a decision made some days ago to get both Law and Js Baker, the Liverpool born Hibernian centre-forward who leads the England attack at Wembley against Ireland next Wednesday. 
NOTHING TO REPORT
Mr. John Carey the Everton manager, no comment to make today about Law.  There was nothing to report at the moment.  The only inference to be drawn from this and from the face that the Everton team has been chooses and announced is that the Law deal is hanging fire and it is likely to be taken further before the week-end.  Mr. Carey's appearance at the Everton ground this morning after days absence in compass with the club chairman Mr. Fred Micklesfield, indicates that the appearance o a new player in the Everton team on Saturday's match is unlikely.  Everton changes from the side which lost 8-2 at Newcastle are Brian Labone for Tom Jones at centre-half and Jones for Bramwell at left back.  Labone has been out of the first team since an ankle injury sustained against Arsenal.  If necessary Everton's frost precaution will be used tonight.  It has not been turned on so far in view of danger of the pitch being made too heavy. 
CUP REPLAY
The club have a replayed Lancashire Senior Cup tie at Bury on Tuesday evening and their Youth X1 meet Manchester City in the F.A Youth Cup second round at Maine Road next Wednesday.  After Everton's First Division match at Tottenham a week on Saturday the party stay in London so that they can travel on Monday to Ramsgate where they will help to mark the opening of the local club's new floodlights system.  Everton; Dunlop; Parker, Jones; King, Labone, Harris (B); Harris (J), Thomas, Shackleton, Collins, Laverick. 
AND BIRMINGHAM AREEVEN WORSE OFF THAN EVERTON…
Friday, November 13, 1959. The Liverpool Echo and Evening Express
By Leslie Edwards
Everton's inability to sign the players they seek so earnestly must have its bearing tomorrow on the attendance at Goodison Park.  Birmingham are not the most compelling of visitors and the failure for the time being of Everton to persuade Huddersfield Town to let Dennis Law come our way cannot but disappoint the many fans who have been so long without a side comparable with any of the famous ones of the past.  I sympathies with these people because it is as pleasant to report a fine, winning side as to support one.  But criticism of players and officials gets you nowhere…
Everton lost 8-2 at Newcastle and started in motion the story of Dave Hickson being asked whether you would like to come back to Goodison or not.  That led, inevitably, to the answer "I'd eight-two." 
Joking apart, you cannot blame any attack in a side which loses eight-two ad therefore, I appeal to spectators not to make Shackleton difficult position even more difficult.  He's playing for you, don't forget as well as for himself and his club.  When last he led the line Everton won 6-1 and everyone went home satisfied that Everton seemed to have turned the corner. 
DECISION TO BUY BIG
The Newcastle defeat was as jotting to the Board as it was to the fans.  That is why decision was taken to go out and buy big.  That mid-week missions have not produced anything is not.  I am sure, for want of trying Everton know their needs and are moving towards filling them.  Labone's return is timely.  He has been out of the side too long following that ankle injury in the Arsenal match.  This could be a match to give hope to Everton.  It could be a match to set in train the greatest Everton spending in the club's long history.  Whatever problems beset Everton they are nothing compared with those of Mr. Pat Beasley, of Birmingham is facing, Brian Taylor, his outside left, broke a keg in the inter-cities Fairs match at St. Andrews on Wednesday; half-back Neal is down with tonsillitis and Jim Barrett  who pulled a muscle in the Wednesday match is also a definite non-starter.  Everton; Dunlop; Parker, Jones; King, Labone, Harris (B); Harris (J), Thomas, Shackleton, Collins, Laverick. 
COMRADES IN DEEP DISTRESS AT GOODISON
Saturday, November 14, 1959. The Liverpool Daily Post
By Horace Yates
Birmingham's visit to Everton today is scarcely one to find a place in the headlines, and yet, the match could hardly be more vital to both sides, fellow strugglers at the wrong end of the table, and with team problems for which there is no ready-to-hand answer.  Everton supporters in their present mood of disappointment and frustration would find it hard to believe that their cares are light compared with the load of woe carried by Birmingham.  At least Everton are free to choose as they will from the full strength of their regular.  Not so Birmingham, who have injury havoc to add to their tale of distress on the playing field.  Outside left Brian Taylor has a fractured leg, and Jimmy Barrett has thing muscle trouble.  In view of the circumstances Birmingham's attempts to convert Gordon into a centre forward come to a half and back he goes to inside right with Stubbs leading the line.  Orritt and Hooper makeup the left wing.  If Birmingham are great believers in the theory that misfortunes never come simply I can only say that they do not arrive at such a conclusion rashly.  A successful team, riding high, can often surmount what in other circumstances would be crippling blows, but Birmingham can only be apprehensive. 
NO TEARAWAY MOOD
Fortunately for them Everton have not exactly known themselves in tear away mood, if we overlook those inspired moments against Leicester City.  Birmingham have won only two of their last fourteen games and have only once earned full points away from home, while Everton can at least show two wins from their last six games.  Everton have won four of the most recent five meetings of the clubs at Goodison.  Tommy Jones, who played his 350th game for Everton a fortnight ago, will undoubtedly be an improvement on Bramwell, who finds last season's form most difficult to hit, and Labone suggests he will at least be equal to the task confronting him. 
CONSISTENT DUNLOP
Dunlop, recovered from his Newcastle nightmare, chalks up his 150th League game for Everton today, and no matter where he accusing finger of criticism points at Goodison, it cannot fairly involve Dunlop in any degree.  His displays have been remarkably consistent, and I have an idea that Scholfield will be much the busier goalkeeper today.  For various reasons this could be the most disappointing attendance of the season, but I hope it will not be.  Everton cannot afford to be charitable and the greater the roar of the crowd the harder may Everton be able to hit their luckless opposition.  It is not a case of kicking a side when it is down.  They are down together and if advantages are offered Everton, it would be criminal not to make full use of them.  Everton; Dunlop; Parker, Jones; King, Labone, B. Harris; J. Harris, Thomas, Shackleton, Collins, Laverick.  Birmingham; Schofield; Farmer, Allen; Watts, Smith, Larkin; Helliwell, Gordon, Stubbs, Orritt, Hooper. 
FOOT-OF-THE-TABLE CLASH IS VITAL TO EVERTON
Saturday, November 14, 1959. The Liverpool Echo and Evening Express
By Leslie Edwards.
Birmingham, visitors to Goodison Park today are pining for the day when they can field a settled team for consecutive weeks.  Through injury, by which they have been particularly hard-hit, their side has been too disturbed to hope to show its best form, and today's side minus Taylor broken leg and Barrett (pulled muscle) has been much changed in attack.  Eighteen-years-old Robin Stubbs comes in at centre-forward, Gordon moves from the centre to inside right and Orritt, the Bangor North Wales boy who has obtained Army leave, figures at inside left with Hooper as his partner.  For Everton the match could not be more vital.  It will show whether their Leicester City form was reliable or whether that 8-2 defeat at Newcastle –this as a game in which all want right for one side from the start –is the sort of thing we must expect.  The pity is that Everton did not succeed in getting Law (and some sort of order) into their team though Manager John Carey talked long and hard enough to persuade Huddersfield to his way of thinking.  Coming as it did after his fruitless trip to Edinburgh a week ago this failure to sign Law must have left the Everton governor as frustrated as many fans who follow his team. 
OPPORTUNE RETURN
Everton may resume their last week next week, but meantime the side could do their manager good turn by showing themselves capable of beating one of the other side's  neat the foot of the table.  Labone's return after injury in the match against Arsenal could not have been more opportune.  But basically I think the issue is whether the Everton attack can function successfully.  Shackleton gets a further chance in the Dave Hickson spot, and much will depend on his success there to given a reasonable chance by what seems likely to be one of Everton's smallest gates of the season, he should justify his club's faith in him. 
SHACKLETON IS BRUM'S NOVEMBER HANDICAP
Saturday, November 14, 1959. The Liverpool Echo and Evening Express
Only 19, 172 See His Goals;
Watts Sent Off
Everton 4, Birmingham 0
By Michael Charters
Everton; Dunlop; Parker, Jones (captain); King, Labone, and Harris (B); Harris (J), Thomas, Shackleton, Collins, Laverick.  Birmingham; Scholfield; Farmer, Allen; Watts, Smith (Captain), Larkin; Hellawell, Gordon, Stubbs, Orritt, and Hooper.  Referee; Mr. H. Webb (Leeds).  Twenty minutes before the kick-off there was only about 5,000 people in the ground and by the time the teams came out it probable that the figure had only just risen in five figure mark-for this time of the year it must easily have been the smallest crowd ever for a First Division match at Goodison Park.  The ground was obviously going to be holding as the foot prints of the players showed up momentarily in the pre-match kick in.  Scholfield picked up a header from Shacklton but could not get it to respond as he tried to bounce it.  After a good deal of early indifferent play the game burst into life with Everton taking the lead after five minutes.  Collins pushed the ball across from a throw-in to Laverick who quickly slipped it through the middle for Shackleton to hit a lovely ground shot on the half turn wide of Schofield.  Small as the crowd was they made a big enough noise to applaud this splendid shot.  Everton were moving very well and they gained just reward with another excellent goal from Shackleton after ten minutes.  A right wing move started the attack.  When Harris put the ball over Thomas flicked it over Smith's head, and as Scholfield was scrambling back to get it Shackleton came from nowhere to turn it just inside the post and beat the goalkeeper.  It was nearly a third for Everton when Shackleton headed down a centre from Laverick and as Collins came to the ball Scholfield had to dive full length to clutch it.  In isolated Birmingham raid, Hellawell looked their best bet and twice he slipped past Jones neatly but nothing came of it.
NEARLY A HAT-TRICK
At long last Everton were taking their goal chances and it was very nearly a brilliant Shackleton hat-trick as Thomas turned the ball inside to him.  The centre forward's quick shot was turned aside by Scholfield at full length and when the ball was returned Thomas headed against the cross-bar.  It was going to prove a test of endurance on the heavy pitch, which they very quickly got ploughed up, particularly on the Bullens Road side.  The crowd rose to Shackleton for yet another brilliant bit of work when he headed a centre from Jimmy Harris with the utmost firmness only to see Scholfield make a magnificent save to turn the ball on to the upright and scramble after it to recover.  
BRILLIANT SAVE
The young Stubbs with his first real chance showed his quality by side-stepped Labone before going on to hit a shot across the face of goal and Dunlop did wonderfully well to turn out Hooper's return shot for King to kick clear.  This had been Everton's most dangerous moment defensively for up to this point it had been one way traffic.  Scholfield was saving Birmingham from a thrashing.  He made an in creditable have from a point blank shot by Collins after a quick Everton raid had ripped gaps in the visiting defence.  It was Shackleton who had turned the ball inside cleverly for Collins to come up like a train and hit his shot then Everton's leader next hit a volleyed shot over as Laverick turned the ball back to him from the by line.  Everton had now fallen away from their first half hour of brilliance and the game had settled down to a midfield duel with the ground getting heavier by the seconds as the centre area because ploughed up.  The best tactics were obviously first time ones and both teams were trying to swing the ball about as well as they could.  Laverick weaved his way through towards the six yards line and was brought down heavily by Farmer in what seemed to me a clear case for a penalty award.  However, as he came down he managed to push the ball back to Collins and the referee probably employing the advantage rule allowed Collins to hit a shot wildly wide.  Laverick needed the trainer attention but quickly resumed.  With the ball in Jimmy Harris possession on the wing the referee stopped play and went across to the penalty area and took Collins name for an offence which I could not see as my attention had been on the ball some 30 yards away.  Half-time-Everton 2, Birmingham nil.
The lights came on at half-time and with them Birmingham tried a new type of switch designed to baffle the opposition.  Both wingers were wearing number eleven shirts.  This idea had no immediate effect on improvement on the visitors and generally the game continue to be as scrappy and for a time, ill-tempered as it had been in the closing stages of the first half.  Then came a sensational incident with Mr. Webb first taking out his book to take the name of Watts, yet again for an offence I could not see, and after words with the player he sent him off after 50 minutes.  Laverick tried to interpose obviously in persuade the referee of change his mind, but Mr. Webb was adamant and Watts left the field to what appeared to me a burst of sympathy applause from the crowd.  As with the Collins incident the ball was some yards from Watts when the referee stopped play.  Scholfield made another first class pick up in the air from the head of Collins as Laverick flung over a cross and just previously the Everton winger had been remiss in shooting straight at him, when he should have pulled the ball back to a waiting colleague.  Farmer sent a poor pass straight to Collins who hit a lovely swerving shot from which Schofield made yet another excellent save.  Birmingham appeared demonetized by the Watts incident and well they might be for it was one of the most unusually I have seen.  Everton increased their lead after 55 minutes as Collins sent over a free kick from outside the area which Shacklton flicked on cleverly to the unmarked Jimmy Harris who drove it firmly into the net with his left foot.  In the midst of Everton pressure the unceremonious tackling of the Birmingham full backs was stringing the wrath of the crowd.  Then Everton got their fourth and Shacklton a splendid hat-trick after 70 minutes.  Parker put the ball across, Thomas flicked it on, Shackleton was unmarked and able to put his shot into the net almost at his leisure.  Birmingham were using the most desperate defensive measures to keep Everton out.  Whenever the attacked themselves Jones and company had the under hand.  Thomas went through on his own from a Shackleton pass and appeared to be lacked illegally from behind by Smith but Webb allowed him to go on and shoot over.  Thomas had been doing much excellent work unobtrusively and he made a splendid run before turning the ball back and Shackleton just missed getting a foot to it.  The ball went out to King who hit a shot on the run narrowly wide.  The attendance was officially reverted as 19,172 just a little higher than the record low for First Division match post-war on a Saturday, which is 18,039 against Portsmouth in April 1948.  Birmingham almost scored as Dunlop mishandled the greasy ball from a free kick by Hooper, Gordon flicked past the goalkeeper but Jones cleared off the fine. 
BAD MISS
A brilliant movement involving Parker, Jimmy Harris and Collins ended disappointingly as Shacklton screwed a shot wide.  If Everton had taken all their second half chances they might well have run up the same sort of score as Newcastle did against them.  Final; Everton 4, Birmingham nil. 
ANFIELD WELCOME MADE ME FEEL AT HOME
Saturday, November 14, 1959. The Liverpool Echo and Evening Express
The Ball Was Beating Sims As I hurled Myself in the Air…
By Dave Hickson
As to told to Michael Charters
What a wonderful week this has been for me!  At one time last week I thought the ideal of a transfer to Liverpool seemed far away, so you can imagine how thrilled I was when I went to the board-room at Goodison Park On Friday morning to meet the Liverpool officials who had come to arrange the move.  After I signed the transfer forms, I was welcomed warmly by Mr. Williams, the Liverpool chairman, Mr. Martindale, director, Mr. Taylor, the manager and Mr. McInnes, the secretary.  Mr. Dickinson, the Everton secretary, wished me well with my new club, and all that was left for me was to pick up my boots from the dressing room.  It seemed a very matter of fact way to end my career at Everton.
I didn't see any of the Everton players because the party was assembling to go to Newcastle.  I was sorry I missed them because I wanted to with them "all the best" and as I haven't seen them in the past few days, I would like to take this opportunity to do so now. 
People have asked me how I felt leaving Goodison.  All I can say is that my main thought was one of looking ahead to my new club, of doing my best at Anfield and trying all I knew to maintain my top form and help the team all I can.  I went across to Anfield that afternoon and met many of my new colleagues although of course, I knew them all well before that.  The skipper Ronnie Morgan was one of the first to greet me and we all had a chat in the dressing room as training was over for the day.  Looking back on Saturday and the game against Aston Villa I am still amazed at the way things went for me.  It was one of the most wonderful days of my life.  I have played at Anfield many times before, of course, but never have I felt the way I did on Saturday.  As I walked into the dressing room I must admit I left more anxious and tense than usual.  But the other lads helped me tremendously to settle done; their greeting could not have been warmer and in time at all I had lost that now boy feeling.
WELCOME
I ran up the tunnel and onto the pitch and that wonderful welcome I received from the Anfield fans helped me more than anything else to lose the tension.  It was a most moving moment for me and the cheers made me feel at home right away.  Nothing ever happened like this when I made my debut of my other clubs, Aston Villa and Huddersfield.  It was something I have never experienced before and I would like to say "thank you to everyone for your support, your applause and the effect you had on me.  I would like to think that the cheers helped the rest of the lads, too.  They supported me wonderfully well during the game and they seemed to me to give them all and provide their best for a great match which I will always remember.  I was a bit embarrassed when the fan ran on the pitch before the game and jumped and got my arms.  He kissed me first and said "You're a Liverpudian now" and kept on repeating it.  What a welcome.  Playing for the first time in a team is not easy, but I must say that Ronnie Moran and the rest of the boys did everything in their power to help me along. 
Prospect
And don't forget that Aston Villa are a very good side indeed and played as well against us last Saturday as they did when they beat Everton in the Cup last season.  They look a good prospect for promotion, let's hope Liverpool go up with them.  The game was like a Cup tie- fast and strong, with very little in it at any time.  So you can imagine my joy when I was lucky enough to score early in the second half because I thought it might prove to be the winner as both teams were so evenly matched. I got the ball from Jimmy Harrowerer down the right wing cut inside and shot with my right foot.  I think the shot might have gone in but Crowe struck out a foot and it rebounded back to me.  I hit it with my left foot this time and the ball went just inside the near post.  My first goal for Liverpool –what a great moment it was.  After Peter McParland scored that thrilling equalizer I thought, "Well that's it, it seemed as though it would be a draw for the game was still as even as it could be.  But another chance came my way, John Molyneux moved up the right wing beating a couple of Villa men on the way and succeeding in drawing the Villa defence with the exception of right back Lynn over towards him. 
WINNER
When he flung across the centre I was on my own, thanks to John's run, Sims saved outwards but I could see the ball was just beating him.  I injured myself through air and headed I into the net, the opposite side to which my scoring shot had gone.  This proved the winner, for time was running out.  At the end, every Liverpool player shook my hand, and most of the Villa boys too.  It was a wonderful moment for me, one I will never forget.  The rest, of the players stood back and to my surprise I found myself first off the pitch.  The cheers were really more playing and just before I went into the tunnel, I scratched my head with amazement, feeling "Gosh, just listen to that."  As I was coming off a few of the Villa players shouted "well done and that was a very nice touch too.  In the dressing rooms, we were a very happy crowd at having beaten such a good side as Villa and ended their unbeaten run.  All the directors came in, and the manager to congratulate us and the feeling was as though we had just won an important Cup tie.  So ended this wonderful day, I spent a quiet evening at home with my wife, who had been at Anfield for the match.  She had been thrilled as I was at the reception, I had received.  During the week I have been training each day at Melwood and Anfield and I will tell you next week of the interesting programme we have there.  It is different in someways to that at Everton.  By the time you read this we will have played at Lincoln City and I hope that the boys have carried on their good work of last week.  I'll be telling you about the game next Saturday. 
THE MAN WHO STARTED LATE AND MADE IT
Saturday, November 14, 1959. The Liverpool Echo and Evening Express
Alex Parker Meets Clyde; Haddock
Last Monday night I went to Prenton Park to see the Tranmere Rovers v. Clyde match, and renewed acquaintance with some Scottish friends.  It was an entertaining game ending in a 4-4 draw and was also notable for the debuts of Rovers' signings from Manchester United, goalkeeper Clayton and wing-half Harrop. I know it is not always wise to judge on one match, but it looks as a Tranmere have made a couple of shrewd buys.  Although had conceded four, it was unlucky.  Harrop is strong on the ball and when he gets used to Third Division football he will prove a great asset.  Keith Williams was another who played well particularly in the first half, and ex-Evertonian Tommy Eglington also stood out.  However, I though the outstanding man was Clyde's George Herd.  He is originally an outside right, where he has been capped for Scotland but he played a blinder in the No 8 shirt.  After the game I was talking to the Clyde players and the trainer Mr. Dawson Walker, who is also in charge of the Scottish team.  He told me he hopes to be round these parts later in the month when the Scottish Under-23 side play at Wrexham.  I also had an interesting chat with Harry Haddock.  Although now in his thirties Harry looks as if he is still in his early twenties and plays like it too.  He was capped at left back but started last Monday's game at right back.  Later on went to centre half, and his positional play is a joy to watch.  I played with Harry for Scotland in both inter-League and international matches.  I shall tell you a story about him which is not generally known. 
Sold His Boots
Among the most important years in a player's career are those of his early twenties yet Harry hardly kicked a ball during that time.  While stationed in the R.A.F just after the war he played for Exeter City, but when he was posted to Yorkshire there were no clubs near enough for him to join.  After being demobbed and returning to Glasgow, he asked for trails with junior clubs, but was told he did not have enough experience.  He was about 20 then, so he got rid of his boot and took a job.  About three or four years later the boys he worked for decided to form a soccer team and asked Harry to play but he told them he couldn't as he had no boots.  He was eventually persuaded to get a pair and turned out, however, he only played one game for them.  You see, he was immediately picked up by a untold club ad in a matter of months was playing for Clyde.  Later he was capped by his country.  He was a bit driver at that time.  Thus a twist of fate, regained for Scottish football offer of the greatest post-war personalities.  I wonder how many stars the game had lost in the same way.  I was watching television last Wednesday and the England team was under discussion.  To illustrate Ray Parry's powerful shot they showed a film of him shooting against Everton early in the season with a 30-yarder.  I must admit; that the first thing I noticed about the film was a picture of a No 2 shirt in the bottom left hand corner of the screen.  Just think, Perry Como the Everley Brothers.  The Fontaine Sisters and a rear of yours truly, all on TV on the same night.  I can't understand people complaining about the price of a license. 
Charity Work
This week I have had insight into the great amount of work that goes on to this city for charity and those less fortunate than ourselves.  Last Sunday I was one of four linesmen at the soccer match between a team of TV stars and a side of former Everton and Liverpool players plus Reuben Bennett of Liverpool and Abe Rosenthal ex-Tranmere.  After the match there was a three hours show at an Everpool threate organized by Alex Davies a Liverpool business man, and the proceeds went to three charities, it was a most worthy effort and I think the TV personalities do a wonderful job in this respect.  Most of them travelled from London, and such was the fog down there that some arrived late, others were unable to make it at all.  However, true to the profession's belief that the show must go on, they got a team together including Mike and Bernie Winters, Bernard Bresslaw, Anthony Newley, Norman "Cumdake" Rossington.  It was good to see Tommy Younger back on Merseyside, even if it was in the role of referee.  You have often heard the cry that the referee is playing for the other side.  Well, last Sunday he was.  If you don't believe me, ask the Show Blitz boys.  Still, it was a part of the fun.  I don't mind receiving criticism of my ability as a footballer but I absolutely refuse to be faulted on my contribilities at running the line in a coming football match.  I was very good receiving and supplying from Dave Hickson's, Dick White and Alan A'Court.  I think our performance was only bettered by the quality of Tommy Younger to referee.  He is a good player, also manager but he would never make a living with a whistle.  Seriously though big Tom had much to do than the success of the match, his antics proving most popular with the crowd and beneficial to the TV team.
Clubland Show
Last Tuesday evening Bert Slater and I went to a hall in Hunter Street to see the concert put on by members of Liverpool' clubland for about 40 spastics.  These entertainers along with the voluntary workers who look after give the service free to this most worthy cause.  The concert are put on once a fortnight and last Tuesday Bert and I heard comedian Georg Thornton, singer Pat McMullen, pianist Monica Burke ad Billy Charnock who sang and played the guitar and moth organ.  I should imagine these artists have never had such an attentive appreciative audience.  Ber and I signed autographs after enjoying an excellent show.  As Dave Hickson is telling you on Page Two about his debut for Liverpool there is nothing I can say except to mention that all the boys at Goodison were pleased to see him get off to such a good start, here hoping you can keep it up Dave.  –except in "Derby" matches. 
EVERTON MIGHT HAVE RIVALLED ASTON VILLA
Monday, November 16, 1959. The Liverpool Daily Post
Everton 4, Birmingham City 0
By Horace Yates
There is to keeping Everton out of the news these days and after hitting six goals against Leicester, conceding eight at Newcastle, they could easily have rivaled Aston Villa on Saturday as the day's biggest scorers.  That they collected only four was as much due to the brilliance of Scholfield than to any short-comings in shooing.  Depressing though it was to see the smallest crowd at Goodison Park for over three year at least they had thrills which produced cheers to provide an illusion of greater numbers and Alan Shackleton the man who must have realized that he above all others, was on trial, was the first player to cause a rise in temperature.  His first goal, from Lavericks centre, came in five minutes and resulted from a perfect shot.  Three minutes after a Thomas effort, which was sailing outside, was hooked into goal by Shackleton.  It was a start made to order.  No crisis day here, for the Everton machine was working well and even Hickson could not have improved on those Shackleton goals.  Maybe it was imagination and maybe not, but one could almost feel the load of doubt and anxiety lift with the scoring of these goals. Shackleton would have collected a fifteen minute hat-trick had Scholfield not made a spectacular leap to keep the ball out and then Thomas headed against the bar.  Schofield flicked a finely placed Shackleton header against the post and on to safely, and then Shackleton kicked straight into Scholfield instead of trying to pull the ball clear, with an open goal for reward. 
CREDIT TO SCHOLFIELD
Fantastic though it may seem I consider Everton could have had eight goals in the net in twenty minutes.  Give credit to Schofield rather than condemnation to the Everton forwards, for although Birmingham increasingly looked like a Second Division team, and not a good one at that as time went on Scholfield stayed to earn the cheers and praise of the crowd for a display of ability and courage that commanded everybody's admiration.  Collins twice contributed goal worthy shots and was denied reward but if there was no luck about the way Schofield went about his task, there could not have been a more generous helping of good fortune for Birmingham than when the referee decided no penalty was merited when Laverick was brought down almost within touching distance of the post.  Collins name went into the referee's book for hat could only have been a comment passed by the Scot but how lucky he was compared with Watts that Birmingham right half for he was dismissed in 50 minutes presumably for an observation in the referee's hearing.  The ball was flowing well away from Watts and as he turned to give chase his path crossed with that of the referee and we saw the finger pointing to the dressing room.  If any referee might have been persuaded to change his mind by entreaties of players Mr. Webb had all the encouragement but in face of it all and even Laverick intervened quite strongly on Watts behalf, this was a decision to stand off Watts had to go I don't think I have ever heard more prolonged or sympathetic applause for any visiting player, all the way down the steps to the dressing room than Watts received.
TALKING PERIL
Mr. Webb was a bit of an enigma really.  Twice he booked players, apparently for making observations, while he was far more tolerant, and indeed much too tolerant with some questionable defensive activity.  Here at least was a case of words speaking louder than actions.  Birmingham never had a chance even before Watts departed.  Seldom have the Everton defenders enjoyed an easier day and apart from one Hooper shot, and a goal line clearance by Jones, Dunlop's biggest anxiety came from a back pass by Labone.  Jimmy Harris made the score three in fifty-five minutes and Shackleton completed his first treble for the club thirteen minutes later.  Another curious refereeing decision came when Thomas was knocked off the ball in the area and recovering, was allowed to go on under the application of advantage.  What position gives greater advantage than a penalty I don't know.  Although the opportunities were there to register double figures Everton stopped at four.  How pleasant it would be o say that Everton do not need Baker and that Shackleton is good enough but for all his three goals his was not a 100 per cent show.  His distribution could be faulted and I would like to see him more purpose into his work, but he scored three, which is encouraging by any standards, and I can only hope that this will be the start of more tolerant by the crowd. 
NO BRAKE
The heavy ground was no brake to Collins' brilliance, even if all his passes did not reach their target.  While there is no doubt that the playing pitch is in infinitely better shape than at this time last year, it might still be something of a problem child before the winter is through a state of affairs not entirely unexpected.  After Shackleton's goal I considered the most cheering message of the match came from Thomas, for so long struggling to find his form.  This was the best display I have seen him give this season.  His confidence was there for all to see and he used the ball with the sort of efficiency we normally expect mainly from Collins.  He might yet save Everton a lot of money.  Jimmy Harris despite occasional falls from grace, was able to beat Allen almost at will, but Laverick, while registering occasionally, lacks urgency and drive.  Labone offered further evidence that he is now sufficiently matured to allow thoughts of permanency to be given to the idea of playing Tommy Jones at left back.  Scholfield and Smith apart and very occasionally Hellawell Birmingham were such a substandard side that relegation possibilities for them are clear cut.  For that reason it may be wiser to temper greater satisfaction with Everton with a hefty slice of caution.  Everton; Dunlop; Parker, Jones (captain); King, Labone, and Harris (B); Harris (J), Thomas, Shackleton, Collins, Laverick.  Birmingham; Scholfield; Farmer, Allen; Watts, Smith (Captain), Larkin; Hellawell, Gordon, Stubbs, Orritt, and Hooper.  Referee; Mr. H. Webb (Leeds).  Attendance 19,172. 
WAS PARKER TRANSFER REQUEST NECESSARY?
Monday, November 16, 1959. The Liverpool Daily Post
By Horace Yates
A disappointment and possibly slightly angry Mr. John Carey will enter his office at Goodison Park today, to find awaiting him a letter from Scottish international full back Alex Parker, asking for a transfer and intimating that he would like to return to Scotland.  Last night Mr. Carey refused to comment on the position beyond saying; "I have not seen any letter and I cannot comment on something which may not be true."  Unfortunately for Mr. Carey and Everton it is true.  Parker yesterday admitted sending the letter and added "It is a pity this has all come out before the manager knew.  I have nothing to say until Mr. Carey has seen the letter."  I can understand Parker's concern that Mr. Carey's first knowledge of the position should come from reading a newspaper, but I am not so clear as to why that position should have arisen.  It is difficult to find a more approachable manager anywhere than Mr. Carey.  Any player, no matter what his trouble is assured of a friendly hearing from him with the certainly of a so backed by long experience.  Often enough an interview before a letter has been written has shown that there is really no need for a letter. 
EXCHANGE DEAL?
Undoubtedly if Parker leaves Everton it will create a gap which will not be easy to fill for there is general agreement that although he may have lost his place in the Scotland team, he is one of the classiest backs in English football.  The fact that Parker says the solution may be found in an exchange deal with a Scottish club may mean that even if Everton were to agree to his request a move might be held up for a quite a time for finding a substitute of comparable ability in Scotland is obviously not going to be easy.  Throughout the last anxious few weeks when it was apparent that Everton's worries were mounting I have received from readers several letters, all in similar strain to the effect that it is no good saying players are not available.  "They are available if the cash is right" has been the general theme.  Everton, I think, have exploded hat theory, first by offering £40,000 for Huddersfield's Denis Law, an offer turned down as not being high enough, and then going to £45,000 for Joe Baker a player about to receive his first England Cap.  Hibernian made it known that Baker is not for sale at any price.  I have reason to believe that Everton persisted in their Law inquiries until 11 p.m. on Friday night, in the hope of springing a last minute surprise by having Law in the team against Birmingham.  If Huddersfield believe that Everton's interest is so great that they will come back eventually with an even bigger bid for Law I feel they will be disappointed. 
MISSED THE BOAT
So far as Everton are concerned Huddersfield have missed the boat with Law unless of course they gracefully admit that they were wrong to insist on the last pound of flesh.  Everton are right to with-draw from the Law negotiations at that figure.  I doubt very much if any of their supporters would accuse them of a too niggardly approach.  The club are wise, after earlier reticence not to deny the efforts they have made to boost the side in the most spectacular fashion.  Only by concealing the club's activities is the supporters discontent fanned.  Everton were represented at several games in Scotland on Saturday and one of the players watched I understand was Frank Donlevy, Partick Thistle's left half, formerly left back with Hibernian.  Watching the Goodison Park game with interest as Liverpool director, Mr. Lawson Martindale. It may be that he had Birmingham reserve left half, Larkin under special observation.
DISTINCTION FOR SHACKLETON
Alan Shackleton by scoring three goals on Saturday against Birmingham City, after only five outings at centre forward, has achieved something no other Everton centre forward has done since the club returned to First Division football six seasons ago.  Last season J. Harris scored three against Tottenham, but it was from outside right, and when Thomas got four against Preston the season before he was at inside right.  The last time any Everton centre forward scored three was when Dave Hickson did it against Stoke on November 7, 1953 –in the Second Division.
WHY WATTS WENT OFF AS HICKSON STAYED ON
Monday, November 16, 1959. The Liverpool Echo and Evening Express
By Leslie Edwards.
That what you do, it's the way that you do it; tain't what you say, it's the way that you say it."  Take the case, for example of half-back Watts, of Birmingham, at Goodison Park, and of centre-forward Hickson, of Liverpool, at Lincoln.  Watts, eager to get in a tackle, was inadvertently prevented from doing so by a collision with Referee H. Webb, of Leeds.  Not surprisingly, the player said a few words, maybe a little Ill-chosen.  The sequel?  Off he went to the dressing room to nominate on his folly.  And no amount of good natured evidence by witnesses for the defence, including young Bobby Laverick, of Everton could dissuade Mr. Webb from his duty.  He didn't do anything, argued Birmingham team mates.  Maybe not, but he must have said plenty, and Mr. Webb's decision must have rested on the way it was said.  How does Hickson come into all this?  Well, at Lincoln in the dying minutes he had precisely the same experience, up to a point as Watts.  He could not avoid collision with Referee L.N. Peake, of Nottingham.  But Hickson was never in danger of being ordered off.  He had already pardoned himself, saying "sorry Mr. Referee, I didn't know you were there."  And now to that 4-0 Everton victory, and that 19,000 attendance which beat by a few hundreds Everton's lowest ever Saturday attendance in post-war years.  I rate those who attended as the hard core of Everton support- the salt of the football earth.  Others might label them the soft core, I prefer to believe that these were the dyed-in-the-wool team supporters beginning a new Everton era.  They did not demonstrate they carried no banner; they barracked no one.  The pity was there were not twice as many on the terraces to see Shackleton get three goals (no hat-trick in my book) and to see Thomas play the game of his young life. 
I'M PROUD OF HIM
Eddie Thomas is no flamboyant type on or off field.  His name last week was spoken of as almost a make-weight one in connection with the now closed deal for Law of Huddersfield.  Thomas asked for no transfer, indeed in spite of having a fair amount of dropping from the first team this season and last he has been singularly uncomplaining.  I am as proud of him as his club must become has come to stay.  He has proved and especially in the game against Birmingham that any club would be wasting their time paying £40,000 trying to replace him.  Thomas can maintain this sort of game, it is he who will emerge the £40,000 type.  He worked hard, refused to be beaten, positioned himself admirably and was unfortunate not to score once but several times.  Making full allowances for Birmingham's weakness this was Thomas' best contribution and one full of promise.  And of all the players unsulted by a heavy ground which had everyone gasping long before the finish he was most likely, one imagined, not to stay the full 90 minutes.  how ironic it is that Everton who released on Saturday news that they had offered £45,000 for Baker and £40,000 for Law-the club's great secrecy in these operations was due to their fear that publicity would ruin their chances of success-should have scored more goals in their last three fixtures -12 –than any of their rivals in the First Division.  Indeed, only Villa, who got 11 on Saturday in one match, can better Everton's bag over the period.  Surely this odd fact should now lead the club to re-orientate their needs? 
 A FOOT IN ALL FOUR
The return of Brian Labone, too, was a salient feature of an Everton side which had its best spell in the first twenty minutes.  He made scarcely a mistake and was particularly good in the air against the equally young Stubbs and excellent in his provision of the ball.  Yet it was a victory which had to be fought for especially in the second half when Birmingham despite losing Watts were fairly good up to the point where they needed to piece the defence.  Dunlop can never have had an easier match.  The successes of Shackleton, despite his inclination to dwell with the ball, must have been very satisfying to those who put their belief in him.  He holds the line well and is grand when going forward.  It is only when he is forced into moving back that he seems rather slow and hesitant.  He has the knack of being in the right place at the right moment, he cracks a good shot.  He had a foot too in the fourth goal in the fourth goal n that he side-footed Collins free-kick cutely enough to allow Jimmy Harris his chance Shackleton's first goal was well taken; he aid the second and took his third from the chance provided by Parker.  Laverick still suffering from the effects of that appendix operation has plenty of football nous-I'm convinced of that.  He and Bobby Collins, whose brilliance fired Everton almost from start to finish are in process of arriving at good understanding and if the youngster does some unaccountably unhappy things (one of them kicking the ball away when a throw-in is ordered) he also does enough to suggest he will be first-class when he is back to full strength physically.  Everton have given concrete proof of their desire to improve their side; the fact that they failed cannot be held against them.  Mr. Carey has promised spectators entertaining football, and almost concurrently, winning football.  This match, despite the 19,000 attendance, my well have been a turning point in Everton's post-war history.  The two fixtures immediately ahead- at Tottenham and at home against Manchester United gives the team opportuninity to prove this right or wrong.  I have a hunch they are going to surprise us-and with another 10-4 Spurs trip. 
EVERTON RECEIVE PLEA BY PARKER
Monday, November 16, 1959. The Liverpool Echo and Evening Express
Says He is Homesick
Transfer Bid
When Everton manager Mr. John Carey, arrived at Goodison Park this morning there was a letter from Alex Parker, the club's 24-years-old Scottish International right back requesting a transfer.  Mr. Carey said today; "I have received the letter.  This will be put before the directors at their meeting tomorrow, I am not prepared to say anything more."  Parker says the reason for his request is twofold, he and his wife are homesick there are also personal reasons.  The player stresses that he wants to return to Scotland and has no desire to move to another English club as he could not have received better treatment anywhere than he has at Everton.  He and his wife have never settled on Merseyside and this allied to personal reasons has convinced the players that a return to Scotland is the only answer.  This is the second time Mr. Carey has been faced with this problem.  Last May there was talk of Parker and Collins the club's Scottish inside-forward wanting a move.  Then, as now the first intimation the manager received was through the Press.  That was all smoothed over, and a few days later the players resigned for the current season. Everton signed Parker and outside left Eddie O'Hara (who would also not be averse to a move from Falkirk 18-months ago when Mr. Ian Buchan was chief coach.  In return they parted with a cheque for about £25,000 and Willie Haughey, the Scottish inside forward.  Parker was in the Army at the time and soon after returning from Sweden with the Scottish World Cup party, in July last year he was posted to Cyprus.  He returned to this country in the October and after one Central League appearance made his first team debut at Aston Villa on November 8.
SECOND TIME
Mr. Carey was justifiably annoyed when he heard yesterday of Parker's request for the player had given no indication either by word or deed that he was anything other than happy here.  This is the second time in three weeks the Everton manager has learned through the Press, of one of his players wanting a move.  It has always been Everton's policy to accede to a transfer request but whether they will do this time is doubtful.  It is no secret that the club are in the transfer market as buyers not sellers and such is their League position they may feel they cannot afford to let Parker go.  Again with their experience of recent weeks, when they have had fantastically high bids for players turned down Everton know full well how difficult it would be to get a replacement.  Bearing a mind what prices are being mentioned in connection with class players and Parker undoubtedly falls into that category Everton's valuation of the play would certainly restrict the number of Scottish clubs to whom he was available.  As Everton have shown interest in so many Scottish players of late they may decide to utilizes him in a player exchange deal. 
POLICE PATROL WAS ARMED
Tuesday, November 17, 1959. The Liverpool Echo and Evening Express
By Leslie Edwards
In another match at Belfast- and again Chedgzoy was the England right winger-the game was played with armed police patrolling the touchlines.  What a nerve-wracking business for players?  Chedgzoy one of many famous players produced at Ellesmere Port, must be nearly 70, but he's going strong as this wonderful letter from Quebec received by his former Everton colleague Ernie Gault (one of Everton's faithfully 19,000) indicates;-
Your name has come up quite frequently when I have been visiting the Carinthia.  They tell me you are still very much alive and kicking although I hear that you find it hard to believe that I am still in the land of the living.  I assure you that I am feeling fine and enjoying very good health.  In fact I am enjoying life in general.  It's a long time since we played together eh?  I have often wonder how you were all getting along, and what you were doing-and about Alan Grenyer, Billie Stevenson, and all the others too numerous to mention.  I know Harry Cook is still going strong.  If you see him give him my very kindest regards.
YEARS IN THE "STIFFS"
I do believe that of all the years I spent with the club the time I spent in the stiff as the most enjoyable.  "I am still enjoying life, during the summer months most of the leisure is spent on the golf link.  The winters I don't like, and I often wish I could be like the bears and hibernate from December until the following March.  Snow comes down on us in December (I mean to stay) and from then on until the end of March or April we are up to the eyes in it.  "I was all set to pay a visit to England last year, had my berth booked and was all set to sail, I have a number of old country friends, several of whom had taken a trip over your way in recent years. -  "Each one of them said I was crazy to go over there and that I would be frozen to death.  In the end I got cold feet and cancelled my sailing.  I went down to Florida instead where you bask in the sunshine, play golf and sin in winter.  However, I still have a yearning to see the old place again and will most certainly come over within the next year or two. (God willing, of course).  I retired in 1954 from a firm I had been with 25 years, but I soon got tired of doing nothing.  I am now working with a Stock broking company but next year I may quit altogether and do a bit of travelling. 
DEBUTANT'S HAT-TRICK V. EVERTON
Wednesday, November 18, 1959. The Liverpool Daily Post
Bury 4, Everton 1
After promising to make a close fight of their first round Lancashire Senior Cup replay at Gigg Lane Bury last night Everton were swept but of the competition in an eventful finish which yielded Bury two goals in the last three minutes.  After trailing two goals behind with an hour gone, a not over impressive Everton came back into the fight when in the 62nd minute right half.  Peat headed a brilliant goal.  Despairing of his forwards making any impression Peat tried a shot which cannoned off a defender for a corner, and from O'Hara's flag kick Peat ran twenty yards to meet the ball and head into the top corner of the net.  For a ten minute spell Everton then settled down to play the most appealing football of the match.  Scoring chances were created but missed and the impetus of their revival having been spent Bury came back into the game to get their late goal.  The three goal margin exaggerated Bury's superiority but that the home side were good winners was not in question.  They had a power and challenge in attack which Everton never promised to attain.
HAPPY DEBUT
It was a particularly happy debut for eighteen-year-old Stott the Bury centre forward who recently had a trail with the England X1.  His second half goals in the 56th, 87th and 89th were splendidly taken even if the Everton marking was poor on two occasions.  Left winger Bartley had given Bury an interval lead with a neat goal after 25 minutes.  Everton were disappointing in attack and especially on the wings where Balin and O'Hara made little impression.  Wignall was easily Everton's most challenging forward until an injury just before the interval slowed him down.  Peat did a lot of useful work at wing-half and Bramwell was the best of the defenders who lost contact in the closing stages.  Young Mailey in goal, blundered when Stott's got Bury's second goal but showed much promise.  Bury's greater all round strength and especially in attack finally turned the issue decisively in the home side's favour.  Teams; - Bury; Heath; Gallagher, Brennan; May, Bunner, Neill; Lovie, Hepton, Stott, Lawman, Bartley.  Everton; Mailey; Rea, Bramwell; Peat, Billington, Meagan; Blain, Hood, Wignall, Ashworth, O'Hara.  Referee; J. Yates, Aldershot. 
PARKER'S REQUEST IS TURNED DOWN
Wednesday, November 18, 1959. The Liverpool Echo and Evening Express.
'Sympathetic Consideration'
Hood Surprise
By Leslie Edwards
Alex Parker, Everton's Scottish international right back who write to manager John Carey on Monday asking for a transfer on domestic grounds, was told this morning.  "The Board sympathetically considered your application but have decided not to accept to it.  The player conferred with Mr. Carey, before the board nealt with his request and it is clear from the club statement that Parker and his wife had valid personal reasons for wanting to return to Scotland.  In their present position, and having transferred full back Sanders to Swansea to Swansea off a fortnight ago Everton reaction was expected.  A happy solution might be for Parker to withdraw his request.  His reaction today to Everton's refuse to let him go was "Oh well I'll just have to keep playing away. 
CHANGE OF HEART
Another Scot on the club's books centre forward Jack Hood who was listed a few weeks ago after suspension brought about by his walk-out when chosen to play in they third team has asked Mr. Carey to remove his name from the transfer list.  This has been done. 
YOUTH CUP-TIES
Thursday, November 19, 1959. The Liverpool Daily Post
Miskicks Fatal For Everton
Manchester City Youth 2, Everton Youth 0
By David Horridge
Everton were beaten at Maine Road last night in the second round of the F.A Youth Cup competition and there was no denying that City were the better team, for they were faster and stronger on the ball.  The two goals one in each half were the direct result of miskicks.  First two minutes before the interval, Tyrer, let the ball run under his foot and Oakes the massive City left-half hammered it home from 25 yards.  After 76 minutes Griffiths the Everton goalkeeper, hit a short goal kick to his left back Green, and he too missed the ball, allowing outside-right Fletcher to square the ball into the middle for Aimson to score.  It was a pity that the Everton boys should give away two such goals, for their defence played heroically against a strong fast and clever front line.  It is reflects well on them that despite City having far more of the play, it was only left-half Oakes who caused Griffiths any great difficulty.  The Everton forward line while displaying some clever footwork at times were not strong enough to beat the hard-tackling home defenders, and it was not until early in the second half that goalkeeper Guinn had to make a real save when he caught a 30-yard shot from Bentley. Everton wing-halves Gannon and Sharples were unable to give their forwards a good supply of passes, particularly in the first half and the Everton inside-forwards found it difficult to get through the home defence.  It was unfortunate that the City second goal should come when it did, for at that time the visitors were enjoying their best spell and with a bit of luck in some goalmouth melees might have forced the ball home.  Manchester City; Guinn; Thursham, Gomersall, Hill, Harold, Oakes; Fletcher, Aimson, Pearson, Schofield, Wagstaff.  Everton; Griffiths; Parnell, Green; Gannon, Watson, Sharples; Bonar, Tyrer, Bentley, Moreton, Edmondson.  Referee; J.Mort, Golbourne. 
THAT EVERTON SEE-SAW
Friday, November 20, 1959. The Liverpool Echo and Evening Express
By Leslie Edwards
Everton's see-saw of success and failure in recent weeks -6-1 up, 8-2 down and 4-0 up-suggests that tomorrow's White Hart Lane fixture will go against them.  Everything points that way.  But Tottenham good as they are have missed their way in their last two games –the floodlit mid-week one excepted –and Everton have at least scored tweleve times in three starts.  That is encouraging.  Being no pessimist and believing that Everton are surely on the way up, more by the sensible dictums of their manager, than by any startling signings (though these are still necessary) I am hopeful Everton will repeat their form of the Leicester City and Birmingham games.  I think the side is perhaps lacking a little in confidence but there have been signs recently that they are believing.  More in themselves and except for that Newcastle defeat they have played much better recently than at any other time in the season.  Tottenham' Brown; Baker, Marchi; Blanchflower, Norman, Mackay (from) Medwin, White, Harmer, Smith, Dumore, Jones.  Everton; Dunlop; Parker, Jones; King, Labone, Harris (B), Harris (J), Thomas, Shackleton, Collins, Laverick. 
EVERTON AND HARLAND
Friday, November 20, 1959. The Liverpool Echo and Evening Express
New Brighton Agree Terms
By Leslie Edwards
New Brighton and Everton have agreed terms for the transfer of 19-years-old inside forward Stanley Harland, whose professional career covers only ten games with the Lancashire Combination club.  Councillor W.R. Baker, the New Brighton chairman making his announcement today added; "Negotiations are continuing between the clubs.  It is now up to the player to make up his mind.  I, as I understand the fee is in the neighborhood of between £2,000 and £3,000.  Everton would be paying their biggest fee, locally, since they paid Tranmere Rovers £3,000 for Dixie Dean.  But money values are very different today.  Harland a good shot and a go-er I a Liverpool boy.  He work as a clerk in a Liverpool shipping office.  Everton saw him weeks ago and apparently liked him from the start. 
PREVIOUS DEAL
The last transfer between Everton and New Brighton was when Norman Greenhalgh, the back joined Everton from the Rake Lane club pre-war.  Harland joined New Brighton at the outset of the season having offered to play trials for the club.  New Brighton's other inside forward Phil Green a Bromborough Pool boy and an amateur is also attracting attention.  Villa Manager Joe Mercer, thinks highly of him.  Everton's team against Spurs in London tomorrow is unchanged.  Dunlop; Parker, Jones; King, Labone, Harris (B); Harris (J), Thomas, Shackleton, Collins, Laverick. 
IN DANGER
Saturday, November 21, 1959. The Liverpool Daily Post
By Horace Yates
Everton are unchanged at Tottenham, where memories of last season's 10-4 reverse are still fresh in mind.  Most people are expecting this to be another high scoring game, with Everton in danger of taking another emphatic beating.  Not since 1954-55 have Everton won at White Hart lane, and their last three reverses there have been 10-4, 3-1, and 6-0.  It may be interesting that Tottenham have lost at home only once this season –to Bolton on November 7-while Everton are still seeking their first away win, but Everton's consolation is that Tottenham have lost two games in succession, last week to bottom of the table Luton Town.  I hope Everton do well, but find it hard to base such hopes on hard facts.  Tottenham Hotspur; Brown; Baker, Marchi; Blanchflower, Norman, Mackay; (from); Medwin, White, Harris, Smith, Dunmore, Jones. Everton; Dunlop; Parker, Jones; King, Labone, B. Harris; Harris (J), Thomas, Shackleton, Collins, Laverick. 
LUCKLESS EVERTON GAVE SPURS A TWO GOAL START
Saturday, November 21, 1959. The Liverpool Echo and Evening Express
Tottenham 3, Everton 0
By Leslie Edwards
Tottenham Hotspur; Brown; Baker, Marchi; Blanchflower (Captain), Norman, Mackay; Medwin, Harmer, Smith, White, Jones.  Everton; Dunlop; Parker, Jones (captain); King, Labone, Harris (B); Harris (J), Thomas, Shackleton, Collins, Laverick.  Referee; Mr. L.N. Peake, (Yorkshire).  Everton might –well have got a goal in the first minute, Labone put through as astute pas to Collins down the centre and the little man nodded the ball forward attempting a right foot shot as he was tackled by the massive Norman.  The result was that Brown had only a slow-moving ball to pick up at his leisure. 
GOOD SHOT BY THOMAS
Young Labone was having quite a good run against Smith and was using the ball well too.  Some of Everton's football was excellent on a ground which had a rather greasy surface.  The day's first shot was a cracker from Thomas and Brown who was rather taken by surprise by its range moved rather slowly to the vicinity of the far post to palm it away for a corner.  Within half a minute City Jones who had gone into the centre produced an almost equally good drive which Dunlop did well to reach and field brilliantly.  Cliff Jones had the ball in the net after referee Peake had given a free kick against Everton for a foul tackle by Parker and there was much bewailing of Spurs fate to be denied a goal because Mr. Peake had not played the advantage rule.  A moment later Dunlop was going full length to make a first class save from a close in drive by half-back Mackay.  It was quite a stirring opening and one in which Jones was a great nuisance by his inward excursions and trustfulness.
PATTERN WEAVING
Everton's pattern weaving was of the sort to make the home crowd treat their own side a little ironically and it would not have been any injustice if Everton had been two goals up in the opening phrase in which they made so little use of clear openings.  Everton's football today so far was as good as any they have played for months.  Everton suffered a tragic own goal at 25 minutes, King and White moved together for a high through pass and the half-back in his effort to hook the ball away, succeeded only in lopping it slowly over the head of Dunlop into an empty net.  No wonder King held his head after this desperate misfortunate.  Sours would have been two up a minute later if Dunlop had not flung himself like lightning just inside the post to pick up a header from Smith which was surely booked for the net.  A long looping ball from Laverick to the head of Jimmy Harris standing eight yards out put Brown in real trouble, but he edged round the goal the glancing header that might well have put Everton on terms again.  Norman's height and ability was a stumbling block for the Everton forwards but it was incredible that Everton were still goal-less after enjoying half a dozen chances –at least three first-rate ones.  Thomas now caught Marchi napping nodding the ball over him and then rounding him before lobbing the ball over the bar from the closest of range.  And Shacklton with a first time shot from a Collins pass was even higher over target so Everton's lack of finish was absolute galling.  There were more misfortunate's in store for Everton, Harmer juggled the ball wonderfully cleverly into the penalty area and no tackle succeeded.  Laverick who had dropped back swept Harmer off his feet and there could be no other decision than a penalty.  Cliff Jones scored comfortably from the spot at 36 minutes.  Collins worked devilishly hard to get the Everton attack moving properly but he could do nothing about they wastage of chances and at other times the ball was often moved laterally when it should have been made to pierce the big, solid looking Spurs defence.  Half-time; Tottenham Hotspurs 2, Everton nil. 
EVERTON ON ATTACK
Everton had an escape in the first minute of the second half when Brian Harris to kick Harmer centre from the goal line.  Shackleton was brought down at the other end in the box but there was never any hope of a penalty though the Everton man appealed for one.  The way Mackay varied his long and short throw-ins was an affliction to the Everton defence.  Collins picking up a loose ball, slipped it quickly through to Laverick whose left foot shot on the turn struck the goal angle and passed out of play.  There was no lack of effort from Everton's defence and although Spurs led 2-0 there were times when Everton were on the attack for minutes on end.  Brian Harris worked increasingly for the cause it was scandalous that all Collins brilliance should go for nought.  There was an unusual incident when Dunlop came outside the edge of the penalty box to fall on the ball at the feet of the oncoming Cliff Jones.  Spurs claimed that Dunlop had handled it outside the area and that's the way it looked to me but the referee said play on.  A minute later Spurs were appealing for a penalty against Parker for a tackle on Jones.  Everton went 3-0 down in 59 minute.  They were unlucky to concede a corner on the left through a rebound of the ball between heads and when Harmer swung across the corner and the ball ran free to Blanchflower the half-back's shot was deflected beyond hope of saving by the head of Brian Harris.  So what with an own goal and this deflection plus the penalty Spurs goals were anything but clear cut.  Johnny King took the full force of a pile-driving shot from Mackay on the forehead and didn't turn a hair, but Tottenham were now clearly on top with Cliff Jones the man of the match and Everton still incapable of producing the necessary finish to crown so much good approach work.  Thomas was inches wide with a glorious header from a Harris corner.  Everton had another tremendous escape when a glorious header by White beat Dunlop, struck the inside of the post and rebounded along the line with the goalkeeper just beating White for possession when the Spurs man seemed likely to score at the second attempt.  Spurs were now rampaging but all through the place Labone played splendidly and so did Collins.  Everton continued to have chances to bridge the gap but continued to take nothing of them. 
THOMAS OFF TARGET
Indeed after Collins had worked like made to help to produce a clear chance for Thomas that player slashed the ball widely wide from no more than ten yards range.  Considering the chances they had Everton lack of reward was disastrous and even when Thomas did drive one slap on the mark, Brown who must have been pretty unsighted brought off a magnificent save.  The goalkeeper also slapped over the bar a lobbing centre by Thomas that seemed destined to beat him until the last moment.  Everton's weakness on the wings was plain and one could readily understand Collins frustration after playing so magnificently and so hard.  To complete a desperately day for Collins his right foot shot was saved at the foot of the post by Brown who did amazingly even to reach the ball but never less save it.  Final; Tottenham 3, Everton 0.  Attendance 39,412
KOP HAS UP AND DOWN STINT
Saturday, November 21, 1959. The Liverpool Echo and Evening Express
By Dave Hickson
As Told to Michael Charters
We Use The Steps For Training
Training occupies a great part of a footballer's life.  Every professional club has its own ideas of bringing players to peak fitness all of them effective, but I have found some ways more interesting than others.  I think our two city clubs, Liverpool and Everton have as comprehensive a scheme as any in the country.  They both have excellent training grounds at Melwood and Bellefield so that the pitches at Anfield and Goodison Park are kept in good trim for the game on Saturday.  I've found the major difference between the training programmes at Liverpool and Everton has been the choice of ball games.  For example Liverpool spend one-complete margin in nothing but ball practice, instead of mixing it with lapping-physical jerks.  Of course on every other training day we have a mixture of ball game and other training.  To illustrate this I like to tell you of a typical training day.  I've spent this week.  As the weather was fine we changed into training kit and track suits at Anfield and went by coach to Melwood.  We arrived there at about ten under the charge of Mr. Reuben Bennett our coach and Bob Paisley the first team trainer.  Once on the field we limbered up with a couple of lapse around the ground.  We followed with running exercise designed to flex and stretched the leg muscles and then on to P.T spending about half an hour on each.  After P.T. we did some sprinting and then on to a full scale practice match, first team against the reserves.  We have had two games like this during the week and I've found it a great help to get to know the play of my colleagues for after all I have only played three full games with them including this afternoon's match against Leyton Orient.  The more we play together the more we are together. 
NEW IDEAS
After the practice which ended training for the day we had a cup of tea at Melwood and then returned to Anfield for a hot bath and change.  I have found that the great thing to relieve the medium of training is variation and new ideas and believe me I've seen plenty of these in the last few days under Mr. Bennett one big difference between the two club is that Everton have a small practice ground behind the Stanley Park stand and once a week usually Wednesday they spent the day at Goodison instead of going to Bellefield.  This used to make nice break.  At Liverpool however we go every day to Melwood unless the weather is very bad when we stay at Anfield.  There we split into groups and do a lot off running exercise under the Kop-roof.  By this time you've run up and down those steps, a few times you know you've done some real training.  Apart from the Kop one group  will exercise in the gymnasium others will concentrate on skipping.  I can't tell you there never a dull moment. 
MUCH IMPROVED
I was sorry we couldn't repeat our Villa win at Lincoln last Saturday, it is several seasons since I last played there and there is no doubt they're a much improved side recently .  The gate was small they never get a big crowd there, and with Saturday's weather being dull there was a tremendous contrast in atmosphere to the week before at Anfield.  The game itself I think could have gone our way I got a first half equalizer put Lincoln made it 2-1 just before half-time.  After the interval I thought that if we had scored a second equalizer we could really have gone on to win.  As it was they scored their third when we were on top and then added another before Roger Hunt got our second.  Without taking away any credit from Lincoln for their win, I don't think we played together as well as we had done against Villa.  I noticed that some publicity was given to my running into the referee in the closing minutes.  what happened when the referee blew for a foul by me on Middleton and as I carried on running collied with the referee.  He said to me "steady on there, You've done all right up to now."  I apologized for the collision and said I didn't know you was there.  The incident ended happily for the referee as he blew not for full time, Immediately just a  the free kick was taken.  Incidentially we were probably the last team to stay at a famous Lincoln hotel.  We spent Friday night there and were told that it was being demoilished this week to be made into a big store.  We travelled to Lincoln by train but came back by train and coach.  As there was a big delay in Manchester for a train on Saturday night we completed the trip home from there by coach. 
IN BUSINESS
My transfer from Everton made me think of many things particularly my future.  One of my future, one of my biggest worries over the past few months has been the thought of how I would support my family when my playing days are over.  I hope to continue playing for another five or six years, but after that I couldn't see what I was going to do.  However, this week I have started a little business venture of my own – with the consent of the Liverpool club –and have become a representative in clothing and household goods.  It has been a big change for me and a compelte c ontrast from football which has been my life for the past 12 years.  I have opened an office in the city and am full of enthusiasm for my business life which I know I can fit in very happily with my football.  In fact, it would be a wonderful double for me this season if Liverpool can win promotion at the same time as I launch my own "outside" career.  Believe me it won't be for lack of trying on my part. 
WHY I ASKED FOR A TRANSFER
Saturday, November 21, 1959. The Liverpool Echo and Evening Express
It was for my Wife's Sake, says Alex Parker.
This past week has been one of the most eventful in my career, although not one I would like to experience more often than is necessary; I don't think you will need reminding that I am referring to the transfer request I submitted to Everton last Saturday.  Even before my club told me of their feelings about it, and before the board had issued their verdict, there were some pretty harsh things said about me and, to a lesser extent my wife.  By reason of the profession I have choice to follow I am accustomed to criticism.  I would not have lasted as long as I have if I could not take it.  I will not pretend that I have enjoyed hearing some of the harsh comments passed on me recently, but I strongly object to my wife's name being dragged onto it.  As I said before, I expect criticism but I do not object to my wife to be subject to it.  It is mainly for her sake that I have decided to give this the full story behind my request after starting initially that I would not divulge my personnel reasons.  I feel that I have been forced to do this to dispel any rumours you may have heard to clear the name of Jean, my wife and so as you may judge for yourselves whether or not I was justified.  If you are expecting a drama I am afraid you are in for a disappointment.  The reason is quite simple.  First of all I would like to say that my wife has to told me that she will be happy to live were ever I am happy to play.  Nobody could complain about that, but I too, must play my part and if I suspect she is not as happy as she might be I must try to do something about it.  I know all about this business of loyalty to one's club and I agree with it but a married man, also has a loyalty to his wife.  Jean's brother emigrated to New Zealand just over a year ago and now that she is in England her parents have decided to join their son. 
UNHAPPY
Naturally Jean does not like the idea of her brother being the other side of the world but she has got used to it.  However, when she heard her mother and father were going too, I knew she was not happy about it.  I knew that if we were by her home in Scotland my parents-in-law would not leave a state of affairs which would naturally please Jean.  Do far Jean's sake I felt I would like to go back home but I must emphasize that this occasion was mine.  My wife did not bludgeon me into it as some people have tried to make out.  I think the Everton board answered my critics with their answer for they told me that although they could not afford to let me go they gave my request sympathetic consideration which is more than some outsiders did.  I would like to point out that I have no complaint about the treatment I have received from Everton –nor has my wife.  I can understand why they would not let me go, and they understand why I asked.  That's fair enough I hope you too can understand.  I accept their decision and will now enedeavour to help the club climb that League chart by playing my best in the future as I always endeavoured to in the past.  And now I hope that this incident is closed. 
Convincing Win
After the drubbing we received at Newcastle you can imagine how pleased we were to gain such a convincing win over Birmingham last week but I don't think any of us was more happy than Alan Shackleton or "Snack" as he is known to the boys.  Believe it or not I heard some people saying that Shack should have had even more.  If they had substitutes "could for should."  I might have been inclined to agree.  The brilliance of Birmingham's goalkeeper, Scholfield denied him more goals, and if he did miss a chance, so what.  Give me a centre-forward who scores, three and missed fine chances match and I'll be satisfied.  He would command an awful big fee in the transfer market.  Eddie Thomas had a great game, and young Brian Labone looked none the worse for his long layoff.  I doubt if there's a better centre-half of his age in the country.  I went to Maine Road on Wednesday to see our team in their Youth Cup match and as you will know, they lost 2-0.  After having beaten practically the same team 8-0 previously I suspect they through they might do it again but it was not to be.  Still they have had a very good soccer lesson early in their careers.  I think they are sensible enough to have learned from it.  But still maintain they have a good side.  They had one of those matches which comes to every team. 
EVERTON MAKE BUT DO NOT TAKE CHANCES
Monday, November 23, 1959. The Liverpool Daily Post
Tottenham Hospur 3, Everton 0
By Leslie Edwards
Tottenham Hotspur, who had lost their two previous games, were comfortable winners in the end against Everton, but they were not the better side by as much as the margin indicates.  This is little consolation for the losers, who afterwards went on to Ramsgate for tonight's floodlit match.  He dismal truth is that although Everton can make chances-and did at White Hart Lane-they profit little from them.  With even ordinarily punishing finishing they must have scored three of four times.  Every forward in the line enjoyed opportunity to score, one of them twice.  No a goal came their way.  The goals by which they lost were all rather fortunate ones.  First King in trying to hook the ball clear hooked it instead slowly over the head of his own goalkeeper and into the net.  Then Laverick going back to help a defence which was being bamboozled by little Harmer, swept that player's feet from under him and presented Spurs with the penalty award from which Cliff Jones scored at 36 minutes.  early in the second half Blanchflower's bow –at-a-venture shot from a fair distance found the net after being deflected en route by the head of Brian Harris. 
DUNLOP EXONERATED
Although beaten three times goalkeeper Dunlop played absolutely without fault.  Indeed, he had some splendid saves to outdo Brown, how was equally strong on the few occasions on which Everton shots were properly targeted.  In some quarters the Brian Harris deflection was considered on on-goal.  I prefer not to detract from the success of the shooter and if every shot or header which scored through deflection were made an own goal blunder the score sheets would be absurdly full of so-called own goals.  The game had two outstanding performers –Cliff Jones of Spurs and Bobby Collins of Everton.  It was Jones first half rampaging, especially when moving into the inside-forward positions, which led to Everton's downfall after they had missed opportunity not to lead by a goal but by two or three. 
DISAPPOINTED COLLINS
There could be nothing to equal the personal frustration of Collins who had striven unceasingly to open the defence and create scoring openings that were to ill-used.  I don't think I ever saw Collins do so much right and so little wrong and if there is a better inside man in Britain I have yet to see him.  Collins must have been the most tired, most disappointed man as the teams trooped off after the fast, interesting match.  Everton's approaches up to a point had been pretty, if pretty ineffective.  Looking back one wonders how a line in which only Collins was at his best contrived so many good attacks.  Shackleton was inclined to slowness; J. Harris was without inspiration; Thomas, except for being well positioned enough to score at least twice, was not strong enough to midfield and Laverick failed because he tired to make doubly-certain of scoring when the situation called for a shot taken instantly.  Defensively Everton were as good as their opponents though less fortunate I was particularly impressed with Labone.  Most of Spurs danger was on the left wing, where Parker got to grips with Jones rather too late.  There could be nothing but praise for the efforts of such as Brian Harris and King, who were relenting in their endeavour to make the tackle Labone's clever use of the ball once he had won it, was very heartening, but the side cannot hope to win matches while they are guilty of making so many blatant misses.  With all their talent Spurs should have won more convincingly.  Only anyone present could assess the difficulty they had in making the margin one of three goals.  Harmer was more in the picture than White whom both Everton and Liverpool sought earlier in the season, Mackay proved himself a fine half-back with a big shot.  Norman was too strong and tall to leave much scope for Shackleton.  For Everton it as another disappointing result after play which suggested they might not only get a point but two.  Tottenham Hotspur; Brown; Baker, Marchi; Blanchflower (Captain), Norman, Mackay; Medwin, Harmer, Smith, White, Jones.  Everton; Dunlop; Parker, Jones (captain); King, Labone, Harris (B); Harris (J), Thomas, Shackleton, Collins, Laverick.  Referee; Mr. L.N. Peake, (Rotherham).  Attendance 39,412. 
EVERTON RES 4 BURY RES 0
Monday, November 23, 1959. The Liverpool Daily Post
Had Bury possessed the striking power of Everton the result would have been much closer.  Both teams screwed up some delightful football on a quagmire but Everton accepted rather fewer scoring chances with refreshing deadliness.  O'Hara, a progressive outside left was the game's outstanding marksman and to gave Everton an early lead.  He received good support from his inside partner Peat who netted in each half, while young Tyrer, at outside right, also showed up well.  O'Neill, who made a couple of remarkable saves, right back Tansey and centre-half Meagan were most prominent in a sound Everton defence.  Wignall scored the fourth goal. 
TO STOKE AND BACK- BY JET?
Monday, November 23, 1959. The Liverpool Echo and Evening Express
By Leslie Edwards
The rumour that Everton had offered a big transfer fee for England and Stoke left full-back Allen, reached me on Friday at Lime Street immediately before the Everton party entrained for London.  I asked Mr. John Carey, the manager about it.  His reply was " There is nothing in it whatever." Now comes news" that Mr. Carey made a quick visit to Stoke immediately before leaving for London to make a £30,000 offer for Allen.  All I can say is that I spoke to Mr. Carey at Goodison Park on the telephone mid-morning on Friday and that I saw him at lime Street within a couple of hours, so it as is reported, he has been in Stoke that morning he must have gone there and back by jet! 
Many clubs have bid for Allen.  All have been told the same thing- that they are wasting their time.  Stoke will not consider letting him go.  The club have printed this in their programme and are tired of telling the football world that Allen is not for transfer-at any price.  The rest of my news of possible transfer is equally definite. 
The possible deal between New Brighton and Everton for the transfer of young Stanley Harland hangs fire.  I spoke to the player who is in process of making up his mind and he seemed to have doubts.  I assured him that if he was prepared to move he could not do better than put himself in the hands of Mr. Carey of Everton.  He is essentially a lad I imagine who does not want to do anything to give the impression at this early stage of his career that he is "big headed."  And for that reason alone he must be considered almost unique among 1959 contemporaries.  Everton faces the might of Manchester United at Goodison Park on Saturday and if their finishing does not improve on what it was at Tottenham, the register can only have that empty look again.  A more frustrating experience than Everton had at White Hart Lane could scarcely be imagined.  They played so well up to a point –the point where the essential job of pulling the ball in the net arose.  Then they tried to make doubly sure.  They might have done better if they had been more confident and lashed the ball in without recourse to first "killing" it.  But it is easy to talk –so much more difficult to be out there on the field and score.  I've often felt sorry for players, but never so sorry as for Bobby Collins, whose play all through was superb.  He faced phalanxes of big 'Spurs defenders and jockeyed his way to the perfect pass, he hit big shots –some missed by a fraction others were brilliantly saved- his mastery of the ball and his subjection of a big defence virtually assured him o the bonus, but he got home because Everton especially in the first half-hour wasted all their hard-won chances and thus allowed 'Spurs to take the initiative and the lead from goals which were anything but clear cut. 
FAULTLESS GOALKEEPER
The first was an own-goal from the boot of John King who, in trying to hook the ball away only succeeded in lobbing it over the head of Dunlop.  The second came from the penalty spot-Laverick had brought down Harmer-via Cliff Jones 'Spurs liveliest forward and the third had a headed deflection by Brian Harris off a Blanchflower shot as its root cause.  In all cases Dunlop hadn't a chance.  His goalkeeping and the work at the other end, of Brown was faultless.  But the melancholy fact was that Brown should have had no chance with Everton shots or headers not once, but half a dozen times.  Everton's weakness in the finish is costing them matches after match.  Most of the danger to Everton came from Cliff Jones, who is back to his best Swansea form.  Labone made an excellent job of keeping the big burly Smith quiet and when he had done that he invariably put the ball to good use.  The Everton attack except for Collins was very ordinary and the heart and back breaking work of King and Harris (B) thus had no result and left them with Collins wondering just what else they could have done to ensure victory.  A most disappointing game, except for Everton's promising approach work.  But promise is not enough and will not be enough against a side like Manchester United. 
SEASIDE ROMP FOR EVERTON
Tuesday, September 24, 1959. The Liverpool Daily Post
Ramsgate Athletic 0, Everton 7
Everton became the first Division 1 side ever to visit Ramsgate in last night's friendly game.  The team were the guests of the town and in return for their week-end by the sea they gave the most skilful exhibition of soccer ever seen at the Southwood ground.  Ramsgate were made to look just the Southern League side they are by Everton's soccer skill.  The most unfortunate man on the field was Ramsgate's inside-right Jim Mclean, who is on trial from Port Vale.  He had hardly any chance of proving his worth in his first game for Ramsgate.  The most bored player must have been Dunlop in the Everton goal who had little to keep him busy.  Even when the Ramsgate forward did get near goal they shot wide.  After scoring five goals Everton eased off in the first half, and after the interval with the score 7-0 they tried their best, without success to bring Ramsgate into the game.  The match was staged as an experiment by Ramsgate to help pay for their floodlighting but it will probably be the last.  For although the crowd were delighted for the first twenty-five minutes with Everton's magic the match was so one sided that I became boring. 
SCORING MADE EASY
From the start Everton swept into the attack and it took them only three minutes to score.  Laverick beat full back Winfield to put across a perfect centre and up went Shackleton to head home. 
Number two came six minutes later when Shacklton made a magnificent turn in the goalmouth to shoot past Smith in goal,.  Laverick scored the third within a quarter of an hour of the kick-off and Shackleton netted the fourth in the 23rd minute to emphasize Everton's superiority.  With a shot from 30 yards out Collins completed the first half scoring.  Everton scored their sixth immediately from the kick off through Boner before they slackened off.  Number seven came from Collins.  The game might have taught Ramsgate a few football lessons but for Everton it was just a pleasant and leisurely workout.  Ramsgate;- Smith; Winfield, Crombie; Muir, Marshall, Lloyd; Cainn, McLean, Jeans, Watts, Crawford.  Everton; Dunlop; Parker and Jones; King, Labone, Sharples; Boner, Thomas, Shackleton, Collins, Laverick. 
FRIENDLY WAS TOO ONE-SIDED
Tuesday- November 24, 1959. The Liverpool Echo and Evening Express
Just before last night's friendly game at Ramsgate, Everton manager John Carey said with a smile;"May the better team win."  He didn't seem worried about the result and within three minutes of the kick-off his confidence was justified.  The match was so one-sided that after the first 20 minutes it became montorious.  Until then Everton's soccer skill had kept the crowd enthralled but even that could not put life into the game.  It was the first time that Southern League Ramsgate have ever played a First Division side and it will probably be the last.  Once they had shown their superiority with five goals Everton eased off, and it seemed to the crowd they were trying to bring Ramsgate more into the game.  After their match at Tottenham on Saturday the Everton men must have enjoyed their stay at the seaside and this leisurely exhibition game was played for the most part at half pace.  Everton scored through Shackleton in the third minute and the centre forward added a second six minutes later.  Laverick, Shacklton again and Collins completed the first half scoring.  In the second half Boner scored straight from the kick-off and Collins notched number seven. 
EVERTON DELAY SELECTION OF THEIR TEAM
Thursday, November 26, 1959. The Liverpool Echo and Evening Express
Benefit For Dunlop
By Leslie Edwards
Everton are not selecting their side until tomorrow for the game against Manchester United at Goodison Park on Saturday.  Meanwhile their pitch which has become heavy after last night downpour .  Goalkeeper Albert Dunlop will received his benefit cheque –hi second for £1,000.
WANTED –SOMEONE TO CLOUT THE BALL HOME
Friday, November 27, 1959. The Liverpool Echo and Evening Express
By Leslie Edwards
One of the few clubs capable of jacking up Everton's attendance figures, Manchester United are here tomorrow with their famous names-Gregg, Quixall, Violett, and Charlton –to menace Everton's chance.  The man behind scenes Matt Busby is sure as ever of a great welcome from everyone who recalls he gentle artistry as captain and half-back supreme at Anfield.  The bushy managerial performance prior to Munich was remarkable his reconstruction of the club since the disaster is even more remarkable and I am convinced that only a team with the resource tangible and intangible.  Manchester United could have survived in the First Division.  It has been tough going for Mr. Manager, but I am glad to say that he has stood up to the strain well indeed he looks fit as ever. 
AN ART INCULTIVATED
Everton can win this match as they could the one at Tottenham if they finish properly.  The art of hitting a ball into the net is one contemporary players seem to leave uncultivated.  The impression one gets is that everyone wants to tee-up chances and none ants the responsibility of converting them.  How different from times when every team had forwards whose fault was that they sought rather selfishly to do all the scoring.  At White Hart Lane much of Everton's football was first-class.  But their wastage of all this effort was almost criminal.  If Collins would repeat his form of a week ago Everton fans would see him as I do, not as one of the finest inside-forwards in football, but as the best anywhere.  I wouldn't exchange him for all the Laws and Whites.  What Everton need is someone to clout Collins made passes to the net.  Manchester United;- Gregg; Foulkes, Carolan; Goodwin, Cope, McGuinness; Bradley, Quixall, Violett, Charlton, Scanlon.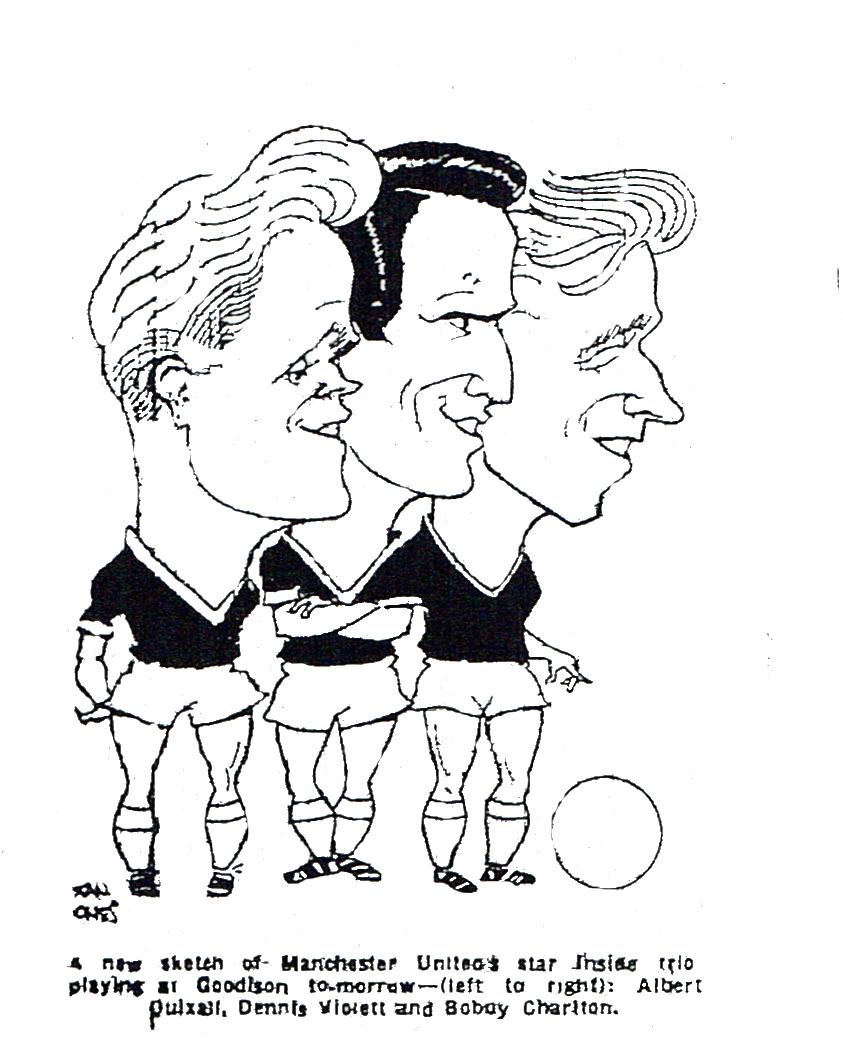 EVERTON UNCHANGED FOR VISIT OF UNITED
Friday, November 27, 1959. The Liverpool Echo and Evening Express
Fixture Coindence
Everton announce an unchanged team for the match tomorrow against Manchester United at Goodison Park.  This means that the side that has been winning home matches and losing away gets it chance again.  By a freak of fixture making three of Everton's fixtures this season come in exactly the same sequence home and away as last season.  Providing there is no more rain the ground should have recovered from Wednesday night's downpour but it is certain to be heavy going.  Everton; Dunlop; Parker, Jones; King, Labone, Harris (B); Harris (J), J. Thomas, Shackleton, Collins, Laverick.
Picture shows Albert Dunlop the Everton goalkeeper being congratulated today by Tommy Jones (captain) after he had been presented with a benefit cheque of £1,000 by Mr. Fred Micksfield the Everton F.C., chairman (centre).  Also on the group are Mr. Harry Cooke, team trainer, Alex Parker, Mr. John Carey, manager, Jimmy Tansey, Bobby Laverick, Brian Harris, Jimmy Harris, Bobby Collins, and Johnny King.  Mr. Micksfield said that the Everton club were always happy when a player qualified for a benefit and Dunlop had well and truly earned his by his long service and loyalty.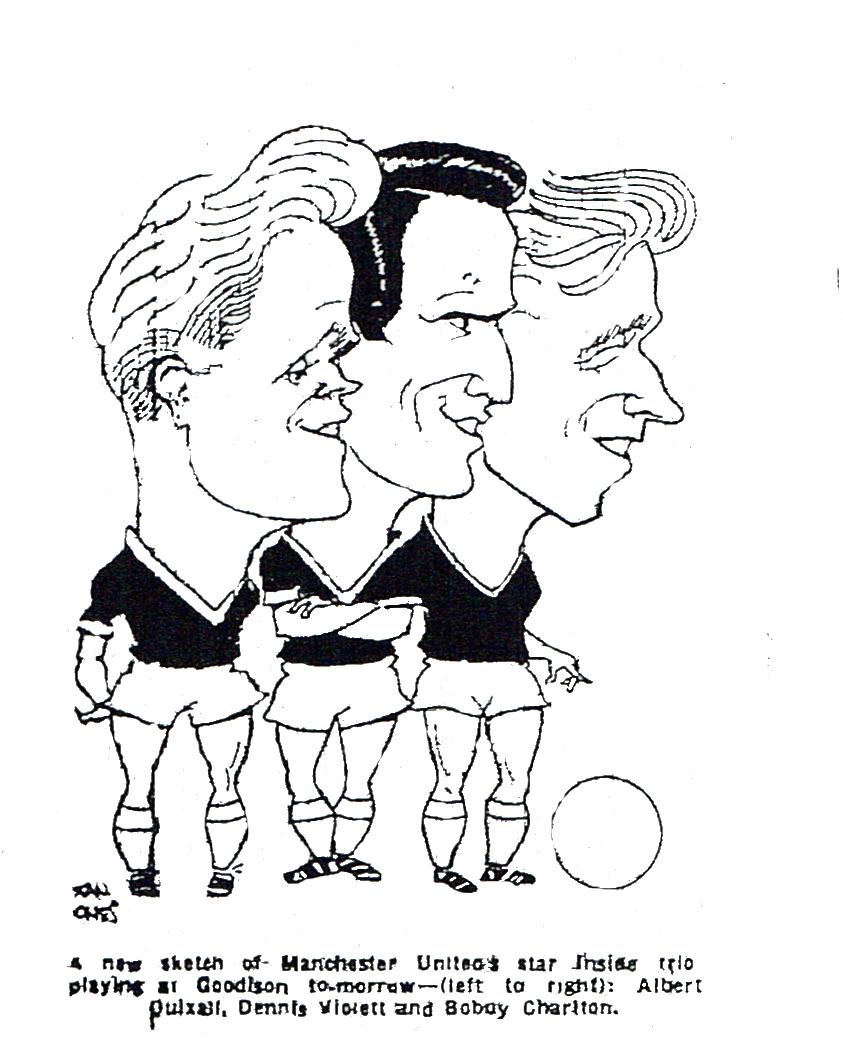 CAN UNITED BRING THE FANS BACK TO GOODISON?
Saturday, November 28 1959. The Liverpool Daily Post
By Horace Yates
Just how serious is the decline in Everton's support may be shown one way or the other today.  If the visit of the attractive –Manchester United sides does not pull at least 45,000 into Goodison Park to give Everton their biggest attendance of the season.  It will be obvious that followers are waiting for new tit-bits in the Everton ranks rather than distinguished opposition to bring them crowding back.  The manager John Carey considering he has found the best combination from available resource seems apparent from the fact that once again he announces an unchanged side.  Some there are who would prefer to see O'Hara given another run at outside left in place of Laverick but otherwise the Everton line-up is as generally expected.  As only two sides have scored more goals than United it is obvious that it is not their attack that is preventing them from occupying their customary place in the table, but defensively they have problems that Mr. Matt Busby has tried hard to solve so far with only limited success.  Foulkes struggling to regain his former dominance, has made only limited progress and Cope's hold at centre half appears to be precarious.  Bobby Charlton with ability acknowledged by all, is experiencing his most tantalizing season since becoming a household name in football.  He has lost his place in the England team, and the suggestion that he may now be in need of a rest from his club side, may not be entirely irresponsible. 
HISTORY COMFORTING
Like Everton, United are twice the side when playing at home, for nine matches on opponents grounds have provided them with only one win although admittedly they have drawn four times.  Only twice have Everton been beaten at home and their record against United is comforting to say the least.  That Manchester team have won at Goodison Park only once in the last five visits.  An indifferent Everton side managed to win the corresponding game last season 3-2 and unless they go to pieces today in Newcastle fashion for example, I expect to see them earn at least one point.  Points are particularly precious just now for while Everton may be a few rungs removed from the bottom of the ladder, failure today would seriously endanger their position.  At the ground yesterday Mr. Fred Micklesfield the chairman presented goalkeeper Albert Dunlop with his £1,000 benefit cheque, commenting appropriately that it was a just reward for a chap who had always given real service.  Dunlop's replay was that while it was nice o receive financial recognition for his labours he placed great value and emphasis on the wonderful friendship he had made within the club and hoped they would continue for many years.  A model of consistency is Dunlop and never more so than this season.  Everton; Dunlop; Parker, Jones; King, Labone,B. Harris; J. Harris, Thomas, Shackleton, Collins, Laverick.  Manchester United;- Gregg; Foulkes, Corolan; Goodwin, Cope, McGuinness, Bradley, Quixall, Voilett, Charlton, Scanlon. 
EVERTON BEAT UNITED IN THRILLER AT GOODISON#
Saturday, November 28, 1959. The Liverpool Echo and Evening Express
Violett Goal Nullified By Thomas and Collins
Everton 2, Manchester United 1
By Michael Charters
Everton;- Dunlop; Parker, Jones (captain); King, Labone, Harris (B); Harris (J), Thomas, Shackleton, Collins, Laverick.  Manchester United;- Gregg; Foulkes, Corolan; Goodwin, Cope, McGuinness, Bradley, Quixall, Violett, Charlton, Scanlon.  Referee; Mr. A. Holland (Barnsley). 
The ground was obviously going to be heavy.  It had been well sanded along the Bullens Road side and in the Stanley Park goal penalty area.  United were ahead after three minutes from a move almost casual in its build-up.  Charlton and Quixall between them walked the ball down the left wing before Quixall put the ball over to Scanlon whose centre was headed against the cross bar by Violett and from the rebound the centre forward put the ball into the net.  Shackleton beat Cope neatly along the left touchline and from his centre both Jimmy Harris and Collins in attempting to tee-up the ball for each other, only managed to present United with a goal-kick.  Charlton looking all over the truly class player beat King and Parker in the space of a few yards before giving Scanlon the most gilt-edged chance, but the winger standing in front of goal pushed his shot wide. 
Laverick's Free-Kick
United got away with palpable, handling by McGuinness but then Foulkes was pulled up for obstruction on Laverick.  The winger crossed the indirect free kick hard and United scrambled the ball away a little luckily after Thomas had completely missed his kick in the ensuing scramble.  Evertonians lack of punch near goal was in evidence again when both Jimmy Harris and Thomas were slow to take chances within a second of each other.  Everton were certainly fighting back and United's defence did not look too steady under pressure.  Thanks to some driving work by Brian Harris a couple more chances were created from one of which Collins trying to side-step his man got bogged down on the edge of the area and lost possession.  Labone's studied use of the ball was most noticeable and one long pass from him was snatched up by Gregg from the feet of Jimmy Harris.  It was all Everton now, but their finishing continued to be weak, soiling much good midfield play. Shackleton however, got up nicely to a centre from Laverick but headed it wide.  The equalizer came after 23 minutes.  Collins flung over a perfect centre and as Gregg came out Thomas beat him to it in the air and headed into the empty net. 
First Class Match
This had settled down to a first-class match in every way.  Although Everton were having more of the game territorially United looked most dangerous in their more infrequent attacks.  Violett thundered one shot over the bar and the only just missed with his header from Scanlon's corner.  From an indirect free kick just outside the area Charlton put a fierce shot into the net off the upright but of course it was no goal although United thought it was.  Little had been seen of Bradley because Jones was in superb form and had his winger under complete control.  When Collins pushed a lovely pass through the middle to Shackleton the leader rounded Gregg who bought him down with the most blatant rugby tackle.  Although United protested the penalty awarded was clear-cut an Collins made no mistake from the spot to put Everton ahead after 40 minutes.  Everton continued to press up to the interval and their all-up attacks, with every man playing his full part made them much the better side of this top-class first half.  Half-time; Everton 2, Manchester United 1.
The lights which had been on from start were now noticeable for the first time.  Violett began a good United attack with a lovely corkscrew run but Jones flung himself headlong to dive and head away Charlton's final cross.  The only apparent Everton weakness as on the left wing where Laverick was getting no change from Foulkes.  The contrast was made greater by the way Jimmy Harris was faring against Carolan.  Harris was having his best game for a long time. 
Gregg Busy
He took a lovely pass from Collins in his stride, turned inside the back and hit a fierce left-foot shot which Gregg finger-tipped away.  King's tremendous tackle of Quixall in his own half saw him get to his feet and find himself with a clear run.  He raced on, and after getting a return pass from Harris, shot into the arms of Gregg-a move which had the crowd roaring its applause.  There was an amazing incident when Charlton collecting the ball outside his own penalty area from Foulkes though the referee had blown and picked up the ball to give Everton a free kick only inches outside the area.  From Collins free kick there was a tremendous scramble in front of goal with the referee stopping play for foul on Gregg.  It continued to be a match of tremendous pace and interest and although Everton were still on top they were not dominating play quite as much as they had done in the first half.  Their main strength came from superb performances by both wing halves, while the attack was functioning well with the exception of Laverick.  King made his first mistake when he miskicked in front of goal to present Charlton with a wonderful chance.  The man with the famous thunderbolt shot missed his initial kick-but got another chance only to find Jones blocking his shot.  The ball flashed to the other end where Jimmy Harris dispossessed Cope but in trying to turn the ball away from the legs of the prostrate United player, pushed it into Gregg's hands.  United were coming more into the game in the last quarter of the match and for the first time we saw the polish of Quixall as he made some lovely runs.  Jimmy Harris continued to be the spearhead of Everton's attack, and it took a foul by McGuinness to stop him on one occasion.  From the free kick Shackleton headed into the net but the goal was disallowed for a foul on Gregg,   Shackleton having pushed the goalkeeper.  Thomas who had previously turned a very strong shot back to his own goalkeeper next tested Gregg with a lovely hooked effort from Jimmy Harris cross after the winger had beaten Carolan for the umpteenth time.  King impeded Charlton in the penalty area to give an indirect free kick.  After an inordinate amount of time wasting the kick was finally taken by Violett to Bradley whose shot almost escaped Dunlop's grasp put he plunged the grab it only inches from the line.  Final; Everton 2, Manchester United 1.
Everton "A" 1 Man United "A" 2
Everton "C" 3 Blackpool "C" 2
IT WAS COCKTAILS WITH THE MAYOR
Saturday, November 28, 1959. The Liverpool Echo and Evening Express
Alex Parker Looks Back on Happy Ramsgate Trip
We gained some consolation for the disappointment of our unlucky defeat at Tottenham with a trip to Ramsgate, where we played the local team on Monday night on the occasion of the switching one of their floodlights.  It was a most enjoyable visit for, as in most of these smaller places the hospitality was tremendous and the Ramsgate club have a lovely little ground with a pitch second to none.  The grass is a beautiful shade of green, and the pitch is as flat as a board.  We had tea in London after the match with Spurs, then left for Ramsgate, arriving about 9.30 p.m.  The weather was nice and on Sunday we all went for a walk, spending the evening at the pictures.  On Monday morning we were the guests of the mayor at a cocktail party.  Mr. Carey was given the honour of switching on the floodlights at the ground that evening.  We were five up in about 20 minutes and eventually won 7-nil.  Two members of our youth team, left-half George Sharples and outside-right Davey Boner, played.  The two Harrieses stood down in the first half and they came on for Johnny King and Shackleton after the interval.  Both lads did very well and showed that inside a couple of years they may well be challenging for a first-team place.  Before the match I saw a young chap selling roasted peanuts and after the game he came round to the Everton team and gave us all a packet each. It was a nice gesture and appreciated by the players.  The Ramsgate goalkeeper Jimmy Smith is a fellow-Scot who used to play for Stirling Albion.  Inside-right McLean also a Scot, only arrived just before the game on trial from Port Vale.  Afterwards Davey Lang the ex-Hearts wing-half came to see Bobby Collins and I.  He is player-coach at Margate and also works as a journalist.  He said that Margate are a good side, have arranged to play Chelsea and Tottenham and hope to meet other First Division clubs. 
Hospitality
We left for Liverpool on Tuesday afternoon but I think I can speak for all the Everton party when I say how much we enjoyed our visit to Ramsgate, its football club and above all its hospitality, I hope I get the chance to go there again some time.  To get back to the Tottenham game it's a curious thing that whereas last year the London side scored 10 against us this time they scored only one and that a penalty.  Poor Johnny King and Brian Harris were credited with the other two.  Despite the three goals margin with a little more luck we could quite easily have returned with a point.  But it was not to be.  It was my first visit to the famous White Hart Lane ground and the result apart I enjoyed it.  There is a great atmosphere surrounding it.  It just oozes football and in appearances is not unlike Goodison.  I was talking to Welsh internationals Cliff Jones and Mel Hopkins before the match.  You will remember that Mel broke his nose in the recent game at Hampden Park, but he tells me he hopes to be playing in about a fortnight. 
Very Popular
I also had a word with Davey Mackay, John White and Bill Brown.  John said that he had believed it would take him some time to get used to English soccer, but he finds he has grown used to it quicker than he thought and is greatly enjoying the experience. Last Wednesday Bert Slater and I went to the Under 23 international between Wales and Scotland at Wrexham.  It was a good hard game considering the terrible yet heavy condition, and I hope you will not think that I am biased when I say I think Scotland should have won.  It was good to see ex-Everton player Graham Williams playing well for Wales.  Unfortunately I was unable to have a chat with him, but I did see Jackie Plenderleith an old Army team colleague, Dennis Law, and the man again John White.  Since their innovation these Under 23 matches have proved very popular.  I had the good fortune to be selected for the first Scotland played, when I was 19 and figured in every one until I became to old, so I think I am qualified to say what a good thing they are from the player's viewpoint.  They give wonderful experience for the exacting business of playing in full internationals and if a player is not quite ready for the full national side, an Under-23 honour encourages him in the belief that he is not forgotten
.  I have had another batch of mail this week, many referring to last week's article and wishing my wife and I all the best for the future.  The letters are too numerous to answer individually, so I hope you will accept the thanks of Jean and I though this column.  Among those who have written recently are John O'Dea, 3 Kenilworth Road, London W5; J. Buckley, 728 Evernia Street, West Palm Beach, Florida U.S.A; Tony Smith 61 Hagterston Road, Walton, Liverpool 4; Micheal Johnson 28 Siddeley Drive Newton-le-Willows; Richard Lloyd 62 Berrylands Road, Moreton; D.R. Wells, of 26 Meadfoot Road, Moreton; and W.J. Simon, 55 Mayfield Road-Moseley, Birmingham.  Thanks you all for taking the trouble to write. 
Before I close I would like to correct a mistake in last week's article.  One part read;- "I expect criticism but I do not object to my wife to be subject to it."  It should have read of course "I do not expect my wife to be subject to it." 
PARKER PEN PALS
You may remember that last month I gave details of a letter I had received from Bert Wright in New York.  Prior to going to America Bert was a well known cartoonist in Liverpool.  His letter dealt with the fact that soccer was far from a popular sport over there, and that baseball was still the first love of the American habits.  I received another letter from him this week in which he tells me he passed on the "Football Echo" referring to his letter to his brother in Hollywood and he enclosed the drawing on the right.  I think it is a very good likeness, although my wife says it flatters me.  I am only sorry that it cannot be reproduced in the colours used by Bert."  Anyway I am taking this opportunity of thanking him for taking the trouble to draw it and I can assure him that it will certainly keep it for my scrap books. 
Until I left Liverpool in August 1953 I had only missed one Everton home game since the war, and I went to most of the reserve team games so you can see I am a good supporter.  I haven't seen you play yet, but I hope to remedy that at Wembley.  I'll be home then, I very nearly saw you in the Under-23 international at Goodison last year, the match that was played in the fog. 
P.S. I went without my tea a few times on Saturday, but it was worth it when they won-R. Hale, P.O. Box 174 Lagos, Nigeria, West Africa.
"I don't think anybody would deny that you are a strong supporter with a record like that.  I wonder if anyone can beat it I remember that Under-23 game quite well, but I didn't realize at the time just how soon Goodison would become my home pitch.  Although I don't wish you any harm when you do come home I hope you have to miss a few more teas because of our victories. 
Although I am a Liverpool supporter I would like to tell you how quick I enjoy reading your articles.  I enjoy Billy Liddle's as well of course.  You may not print this but I forecast Liverpool will get the double this season, promotion and the Cup.  By the way I was speaking to a club mate of yours Derek Temple.  He looked very fit-22043115 Private Garner W-A.C.C. Nairobi Garrison, Kenya East Africa. 
"Well Bill if you had any bets on whether I would print or not, you lose.  I can ensure you that the only club that would be more pleased than Everton at half your forecast proving correct would be Liverpool.  Sorry I can't share your hopes for a Cup success.  It's good to hear that Derek Temple is looking so well.  Funnily enough Mr. Carey received a letter from Derek this week, and he says he is stating to be home about the end of the year.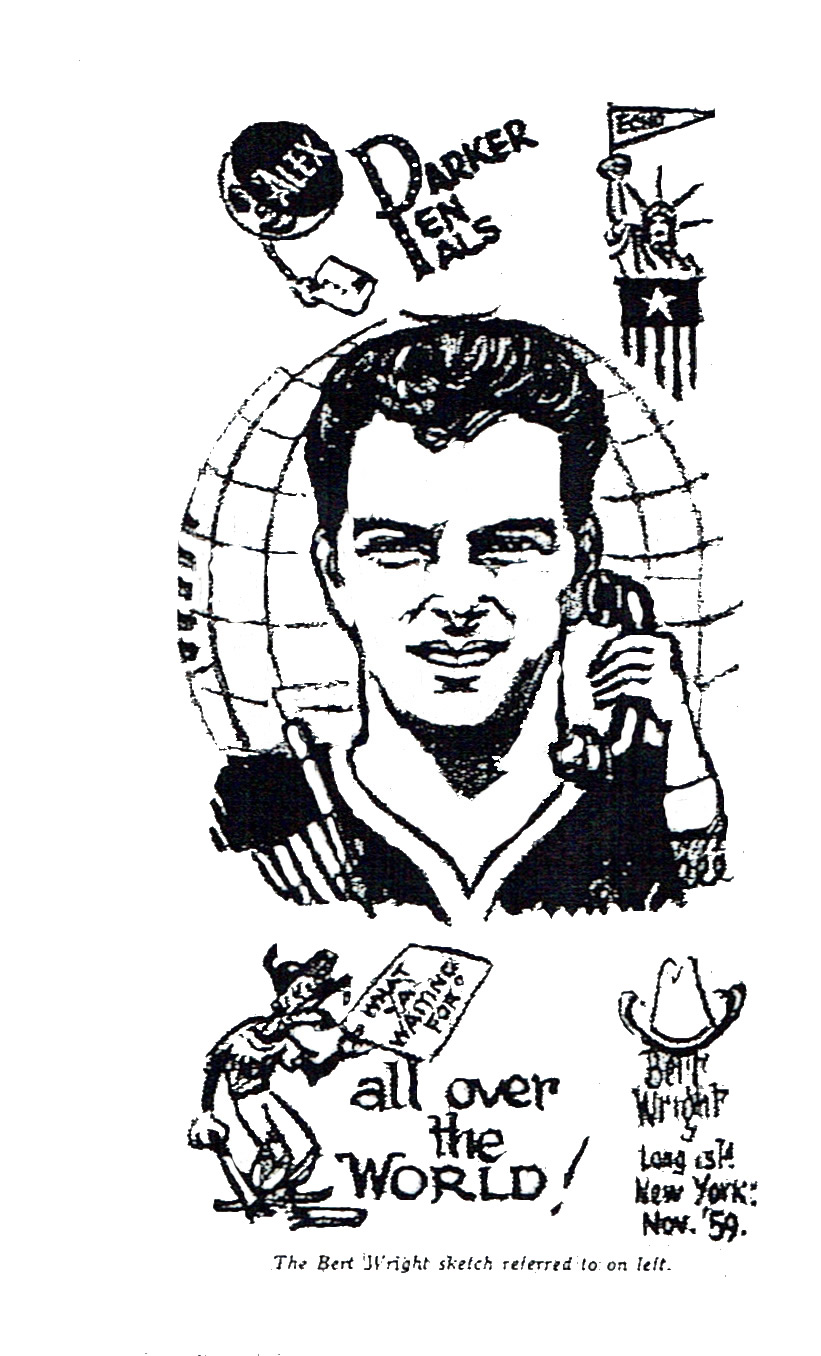 Although far from home we Liverpudians still follow the fortunes of the team of our choice, be it Everton or Liverpool.  Every week I receive the Football Echo.  Can you tell us if Everton have played a friendly match with Aberdeen this season and if so, what was the result?  The lads here would like to say that no matter what position the Toffees are in the table we are still with you and will be there next season- 23492872, Lancer-corporal Lamb T.A. R.A.O.C. Gibraltar.
"No we haven't met Aberdeen in a friendly this season.  Can think how that story got around.  Still I know that the Army is far rumors.  Many thanks for the show of loyalty and I can ensure you that you will be very welcome next season. 
It is 18 years since I saw Everton and apparently recent seasons have not been too kind to the club.  However I am convinced they will rise again.  Two British teams Hearts and Blackpool have met (and thrashed) all opposition when playing here and it is my wish that Everton will one day visit us.  Most of the clubs here do not even have enclosed grounds.  The matches have a definite international flavor as Holland is represented by Wilheirmina, Poland by Potonia and Malta by Georg Cross- D.E. Morgan, 45 Harrow Street E. Preston N.18 Melbourne, Australia. 
"Thanks you on your confidence in the rein, I am also sure we will go back to where we belong if Everton do ever visit Australia, I hope I shall e able to go with them.  It would be quite an experience playing against teams, with such unusual names. 
One of my main hobbies is tape corresponding with people in the British Isles and overseas.  The society to which I belong is called World Tape Pals, one of my correspondents is an American from Ohio, Cleveland and we discuss sport.  I have told him about Everton having the finest club ground in the country and also about the electrically wired pitch.  He had never heard of it before- Bert Cowell, 13 June Road, Anfield, Liverpool 6.
Yours is a very interesting hobby.  I knew tape recorders were popular but I must admit I did not know they were so widely used.  It must have given you satisfaction to "get one over" on an American but no doubt he will be able to come back with one at you.  In a cutting I received from New York this week I read that for the proposed continental soccer league the Polo Grounds might be covered with an aluminum dome!
I ENJOY PLAYING THE CLASS HALF BACK
Saturday, November 28, 1959. The Liverpool Echo and Evening Express
By Dave Hickson
As old to Michael Charters
A lot of people think footballers are finished when they reach the early thirties, but two of the greatest playing today; are over that mark- Stanley Matthews and Tom Finney.  And I think those of you who were at Anfield last Saturday can say they saw another in a similar mould.  I am referring of course to Leyton Orient's Tom Johnston, who had a great game against us, as well as that other veteran, Eddie Brown.  Many spectators have told me this week what a fine match it was and I can tell you that it was just as enjoyable to play in.  I've played against Tom and Eddie before when they were with different club, s but I thought that their display against us linking up so well together to set our defence a real problem was the best I've ever seen from them.  Some of the Orient attacking work was grand but I thought that the Reds team spirit and their never-give-up attitude was just as good in its own way.  Personally I was pleased O kept up my goal-a-match record for the club and I hope I've continued it this afternoon against one of my old clubs, Huddersfield.  I have to thank Fred Morris for the accurate cross which led to my header, for I was just able to beat full back Wright on the air to it. I thought Fred did very well on his return to the side after injury, for he took his two goals well and provided a lot of punch on the right wing.  Looking back on the display of Tom Johnston made me remember many of the other great personalities I've played with and against.  When I first joined Everton as a boy my heroes at that time were Alex Stevenson, Wally Boyes, T.G. Jones and Norman Greenhalgh.  Apart from Tom Jones, I remember the others, best because they were always lending me a helping hand in the Central League, as I was trying to make my way up into the first team.  It was great to play alongside wee Alex for he gave me the encouragement I needed to sharpen up my style.  Alex knew all the answers and I'll always be grateful to him for his help.  Naturally my immediate opponents have been centre halves and I remember a lot of them in more ways than one.  I always used to enjoy my clashes with John Charles when he was with Leeds United. 
A Pleasure
He always played me well and fairly-as the great majority do.  But somehow it was always a particular pleasure to face Big John.  He is a gentleman on and off the field, as I found when I went on a close season tour to Ireland with him and Vic Metcalfe a few years ago.  Neil Franklin the former England pivot was another if he used to bring the best was such a classy player that he used to bring the best out of me, a remark which also applied to Billy Wright.  It always seemed to me when playing against the truly great players like Wright, Franklin, and Charles that it made me play almost above myself.  When the game started I felt I had to do something good to get anywhere against then, and I'm sure that, that feeling made me do my best.
GREAT SHOCK
Mind you, the standard of ability in the First and Second division is also even that no one can afford to take things easily against any of them.  But I mention these top players particularly because of the personal pleasure I used to get out the game, when I faced them.  It was a great shock to me when Leon Leuty the former Derby County and England centre half, died because he was another in the Franklin style against whom I enjoyed playing Leon was a great character and always played the game fairly although going flat out all the time.  Now what about the men I've played with?  Naturally I can't mention them all, but some of them have been outstanding international figures like Peter McParland of Aston Villa, Dennis Law, of Huddersfield, Bobby Collins of Everton and Alan A'Court of my own club.  McParland was one of the players I particularly made friends with at Villa Park, along with Eire's Pat Seward and I agree with those who think Peter the greatest match winning winger in football today.  I've seen him score some wonderful goals.  He has a terrific shot in either foot and when he cuts in and lets loose so accurately there's not many goalkeepers who have any chance of stopping them.  Law was just a youngster coming into the Huddersfield team when I was there, but even at an early age you could see he was going to make a very fine player indeed.  He is a skilful ball player, has plenty of go, good positional sense and it is easy for me to understand why he is a regular in the Scottish team. 
SURPRISED
I am surprised that the Scots don't have Bobby Collins as the other inside forward, but as I don't see all the Scots players I cannot comment further than that.  But so far as I'm concerned, Bobby has everything a class inside forward should have.  Although Alan A'Court has not been in the England team for season or so.  I think he is playing better now than last winter.  Certainly in the three games I've had with the Reds I've found Alan in great form.  Next week sees the final article in my series for the football Echo.  I shall be looking back to my early days in Ellesmere Port, and thinking how graceful I am than I am still playing on Merseyside. 
LEEDS UNITED RES V EVERTON RES
Saturday, November 28, 1959. The Liverpool Echo and Evening Express
Leeds United Reserves;- Wood; Fulton, Kilford; Cush, Halmer, Cairn; Bremner, Francis, Jones, Farrent, Overfield.  Everton Res;- O'Neill; Tansey, Bramwell; Peat, Billington, Sharpless; Bonner, Shepherd, Wignall, Ashworth, O'Hara.  Referee; Mr. D.W.R. Heady, Sheffield.  Leeds were the first to attack a terrific drive by Cush being well saved by O'Neill.  In the 5th minute Shepherd taking the ball down the left drew the goalkeeper-before centering for Wignall to head into the empty net.  Sharples sent in a hard drive but Wood with difficulty tipped over the bar.  Little was seen of the Leeds attack, Bramwell and Tansey repulsing all attacks with ease.  Twice Everton spoiled good approach work by falling into the off-side trap.  Ashworth took the ball from the half way line in a fine solo run only to shoot wide.  The visitors were spoiling good approach work with erratic shooting.  Shepherd and Ashworth both blazing over the bar when well placed.  In an isolated Leeds raid Jones tested O'Neill with a low drive and Francis tried a tricky lob, but the goalkeeper cleared with ease.  Half-time; Leeds nil, Everton 1. 
EVERTON MORE UNITED THAN MANCHESTER
Monday, November 30, 1959. Liverpool Daily Post
Everton 2, Manchester United 1
By Horace Yates
All may not be ideal with Everton, but more displays on the lines of that served up to defeat Manchester United would discomfort many of the critics and certainly reverse the downward trend in attendance, so much in evidence before the United visit.  How many of those who "popped out of hibernation to watch the Old Trafford side," can continue their pick and choose policy is hard to imagine.  Everybody agreed this was a cracking game and Everton contributed every bit as much forwards it as their glamours opponents.  There could be few complaints about this revitalized team.  They have suddenly become candidates for the championship, and even in moment of elation and exuberance flaws cannot be completely glossed over, but when full potential is developed as it was against United.  Everton are not the hopeless cause some might, have us think.  Blame the sticky ground if you like, for breaking Manchester United, but at the same time the mud did nothing to speed up Everton.  If United had been allowed to dictate they might have left a completely different impression for in the opening minutes in which they were a goal up through Violett, they moved gratefully, methodically and effectively.  Their football was a joy to watch and a threat to fear. 
NO CAPITULATION
A weak Everton would have capitulated, but instead they decided this was to be a case of so far and no further.  How those Everton half backs must have chuckled.  The wing halves Brian Harris and John King, criticized and sniped at as much as anybody from time to time rose in their might and annihilated the inside forward power represented by Charlton and Quixall so much so that the attacking rhythm was broken, the fangs drawn.  Moreover the wisdom of playing Labone at centre half and Tommy Jones at left back was never more handsomely confirmed.  Labone was magnificent, particularly in the duels in the air, and this was easily the best game, Jones has played since he received to full back.  Bradley is not the impotent sort of raider he was made to appear.  Far from it, and yet so complete was Jones mastery that it seemed a waste of time by United to put any reliance in a right wing approach.  How King rises so effectively to the high balls beating men inches taller than himself, is his own secret, but a priceless asset in the work he is called upon to do.  His deadly accurate tackling compels admiration and this most underrated of all Everton players with the threatened exception of Eddie Thomas, is progressing at a fantastic pace.  If only he would find a way to keep his elbows to himself the most obvious flaw in his great promise would disappear.  Twice Thomas missed scoring chances of which no top class man should be guilty, but for all that I cannot recall a more satisfying display from him than this, and remember that reputation laden Charlton twice failed in equally favorable circumstances.  Give credit as you must for the masterly way in which Collins put the ball to Thomas for the inside forward to head the equalizing goal in twenty four minutes, but do not forget the way in which the move was finished. 
SPARED NOTHING
How Thomas could so often be in position in attack when he spared himself nothing in the defensive cover he gave to both Harris and King, was remarkable.  If they seemed the slightest chance of Quixall or Charlton cutting loose, with commendable regularly there was Thomas to challenge them for possession.  What a grafter he was.  He bore no comparison to the disappointing figure he was in match after match earlier in the season.  Suddenly confidence has been restored.  Not only can he do it, put he is at least realizing that he can and how important that is.  Jimmy Harris was another revelation.  He toyed with Carolan almost at will and though the Irishman never gave up he was beaten on the inside and the outside according to Harris's fancy.  While excuses are made for others that ground conditions prevented them revealing their true ability as ball players the point is apparently overlooked that those conditions should be no more helpful to Collins than to anybody else and yet the little Scot once again showed artistry of the highest class.  Naturally not everything he attempted received its calculated reward, but so much of his play did, and the way in which he was ably to chip a ball to its target under such conditions was no mere accident but sheer genius.  He never stopped working and undoubtedly here is the master switch in the Everton power house.  How dangerous fraught with peril is the ability to sign cheques as a way out of team difficulties was surely never better illustrated than in this game.
QUIXALL –NO COLLINS
Here we had Quixall possessor of reputation unlimited and costing Manchester United well over £40,000, and yet never remotely in the same class as Bobby Collins, a player whose price was only half.  Not all signings go right but whatever other disappointments Everton may have experienced, the acquisition of Collins is one stroke of business with a 100 per cent dividend.  Some of Shackleton's work was pleasing and it was a mark of his achievement to hear the crowd encouraging him.  "Well done Shack" but if only he put greater speed and purpose into his work, it would he easier to create a more lasting impression.  I don't think there is any doubt he would have scored in 38 minutes when he pulled the ball clear of Gregg only to fall to an ankle pull by the goalkeeper, which shrieked for the penalty which Collins converted so effortlessly.  Parker too, played his part in Everton's defensve grip and only on two occasion did Dunlop create any alarms.  First a Bradley shot almost eluded him to be stopped on the line, and secondly his clearance kick struck Scanlon's back in the final minutes and might easily have rebounded into goal.  wing halves and full backs were unconvincing enough to cause United manager Mr. Matt Busby, food for anxious thought.  Charlton's slide from his pedestal seemed to me as much due to lack of support as anything else.  United either do not appreciate his worth or are just not sufficiently able to exploit it adequately.  Everton;- Dunlop; Parker, Jones (captain); King, Labone, Harris (B); Harris (J), Thomas, Shackleton, Collins, Laverick.  Manchester United;- Gregg; Foulkes, Corolan; Goodwin, Cope, McGuinness, Bradley, Quixall, Violett, Charlton, Scanlon.  Referee; Mr. A. Holland (Barnsley).   Attendance 46,095.
LEEDS UNITED RES 1 EVERTON RES 2
Monday, November 30, 1959. The Liverpool Daily Post
Poor finishing prevented Everton Reserves from gaining a more decisive win at Leeds over the bottom team in the Central League.  Ashworth and Shepherd failed with good chances against Woods, the former New Brighton goalkeeper.  When Leeds became dangerous, O'Neill showed he was in top form.  It took Leeds nearly an hour to beat him through Bremner a young Scottish wingman.  Previously Wignall had put Everton ahead and the winning goal came from Boner. 
AND NOW FOR THE PRESTON TOPPERS
Monday, November 30, 1959. The Liverpool Echo and Evening Express
By Leslie Edwards
Though there was much excitement about Everton's well-merited win by 2-1 against Manchester United, a lot of the drama of the match went on behind scenes long before a ball was kicked.  How near the mid-week deluge of rain came to running any chance of the match being played only those who slaved on the pitch at Goodison Park on Thursday and Friday can assess.  There was double relief when the match had been won and the pitch had proved playable from first to last.  It is clear that if the ground is troublesome at this stage it is likely to be very difficulty indeed in January and February, but so long as Everton continue to show themselves to be mud pluggers of the first order and so long as they can continue to progress against teams like Manchester United the pitch is of a secondary importance.  The latest victory prompted people to ask "Why don't the team always play like this? One answer is they at Tottenham they played even better.  And now they face the Preston top-notchers at Deepdale next Saturday the occasion having extra point because Cliff Britton who has taken his side to the top is the man who se exit from Goodison Park had the work of football agape and aghast for more than a week a few seasons ago.  That other Everton half-back of the same era Joe Mercer is the man behind the leading club in the Second Division, Aston Villa so what with Harry Potts of Burnley and the much in the news Harry Catterick of Sheffield Wednesday whose name has been linked with the vacancy at Anfield the Everton old boys could scarcely be more in the picture. 
ALL HANDS ON DECK
I understand that all hands were on deck were even directorial ones- to help take Saturday's fixture possible.  The effort was worthwhile.  Despite the cluing mud; despite heavily sanded patches which made the job of judging the strength of the pass light of the football was sustained hard exciting satisfying.  Admitting that conditions brought the side to a common level it was a match which wanted a lot of winning and Everton went a goal down had to play with magnificent spirit to get in front and stay there.  The cun was I think the fide, Everton defence against forwards of the class of Charlton, Quixall, and Voilett.  They were given no time in the artistic need little Johnny King a superman in the hearty conditions practically snuffled out Charlton altogether.  How King rose from the mire to out-head men who stood in the taller.  How he timed slided tacklers to take the ball from the feet of men in possession only he can explain.  The big crowd warmed to this great hearted yet pocket defender and if his passing had been more accurate he would have had truly monumental match.  Brian Harris too prevailed in the glutinous going and Brian Labone except for the odd occasion kept Voilett extremely quiet.  All told the middle line would hardly have done better in spite of Quixall a well sustained effort. 
ODD INCIDENTALS
Not often has a match had so many odd incidents.  The first arose when Charlton like Liverpool's Ronnie Moran at Anfield earlier in the season. Forgot the referee's indirect free kick signal and aimed while a shot direct via the foot of the posts only to find the score disallowed and a goal kick following.  Another odd thing came when a United forwards in possession in his penalty area picked the ball up believing the whistle had gone whereas it hadn't.  Happily referee had placed the ball for this free kick just outside the penalty area.  Oddly of all was the fact that the most dangerous shot for Dunlop, except the one which beat him, came from Eddie Thomas who was back in defence when he passed back so determinedly it was lucky for him as goalkeeper happened to be standing plumb in the line of fire.  Dunlop played well as did Gregg and if Thomas had put through his own goal it would have been a mistake to would have found hard to live down.  United's goal came from one of Scanlon low teactory centres which was quite a feature of his game.  Voilett nodded the ball out to the bar and was quick to score with a shot as the rebound came to him- a fine piece of opportunism.  There was more than a hint that Gregg had been impeded when Thomas headed the equalizer from a beautiful frighten centre of Collins, United protested this unavailingly.  Many thought Shackleton would not have scored after rounding Gregg.  We shall never know for certain but what was unmistakable was the rugby tackled goalkeeper on shooter and the penalty decision it produced.  Collins who had found the clinging mud troublesome when attempting shots certainly had no trouble in putting Everton in front from the penalty spot and from that moment it was an unrelenting battle with none sure whether the score would go to 2-2 or 3-1. 
SUSPECT POINTS
In the event in remained a 2-1 despite many good chances which came Everton's way.  One of the reasons for Everton's better show up front was the return to form and not a moment too soon of Jimmy Harris.  He always had the beating of Corolan.  In such heavy conditions to se capable of working the ball were always able to come unstuck but Collins was very consistent and Thomas when going sold often found the success he missed so markedly at Tottenham.  Everton found more than one suspect prompting the Manchester defence and on this evidence United had some way to go before they begin to compare with the greatest elevens the club fielded in Mr. Busby's term of office.