EVERTON'S YOUTH CUP WIN
October 1, 1959 The Liverpool Daily Post
Everton Youth 5 Rhyl Youth 2
Everton youth scored a convincing victory over Rhyl youth in the Football Youth Challenge Cup, preliminary round at Goodison Park last evening.  Centre Forward Bentley soon scored for the home side, and Tyrer added a second goal, after ten minutes.  Staricker, however reduced the lead, then Watson, Everton's centre-half missed a penalty and half-time arrived with Everton leading 2-1.  Edwards equalized for the visitors with a nice header, but Bentley, with a glorious header, restored Everton's lead, and outside right Bowen scored from an acute angle.  Despite brilliant goalkeeping by Davies, Rhyl were unable to prevent Bentley heading another goal for the home side, who were worthy winners of a very cleanly fought game. 
WEDNESDAY FIND OUR LOCAL TALENTS IS SO PLEASING.
October 1, 1959. The Liverpool Echo and Evening Express
By Michael Charters
Sheffield Wednesday managed by former Everton centre forward Harry Catterick have been making  habit of signing promising young players in this area under the noses of our senior clubs.  At the end of last season they captured John Quinn, the Prescot Cables outside right, beating Liverpool and Tranmere Rovers with their quick offer, and this week another Merseyside youngster went to Hillsbrough in Dave Morris, 19-years-old left back from Earlestown.
HICKSON RELEGATION NO REASON FOR TRANSFER PLEA
Friday October 2, 1959. The Liverpool Daily Post Yates
By Horace
For the second time in six games Dave Hickson has been dropped from the Everton team, Alan Shackleton leading the forward line in the home game with Arsenal tomorrow.  Inevitably the question will be asked, just as it was when Hickson missed the match at Nottingham, is this the beginning of the end of Hickson's stay at Goodison?  I would answer the question with another –why on earth should it be?  It is true that when an established player losses his place in a team, far too often the sequel is a "I want a move" reaction.  I have no time for sportsmen of that calibre.  Professional footballers are there to be employed at the will and desire of club management and if it is considered that a man is playing below form, then he should be prepared to step down until he merits promotion again.  If a player is omitted over along period and it becomes obvious that his future employment is only in a reserve or stop-gap capacity, that is a completely different proposition and nobody can blame a man for seeking to improve himself.  If he is not wanted, he should move on.  When last he was omitted, Hickson showed great good sense in announcing that he was prepared to win back his place.  I have no reason to believe that his reaction will in any way differ this time. 
Loss of Form
Hickson's one fear then was stated to be that there were people at Goodison Park who would like to see him go.  Once he is convinced that his omission is due to loss of form and nothing else, Hickson will step down, quite prepared to do battle all over again I feel sure.  He was a member of the Everton party last night which attended the Manchester Unite-Real Madrid match at Old Trafford.  Although I have not seen Hickson in his last outings, my information is that he did not do himself justice at Blackburn or Wolverhampton.  That being so and in view of the way in which Shackleton hammered home two goals to win the game against Sheffield Wednesday, it is not unnatural that Mr. Carey should look to Shackleton, the man Everton brought primarily as a centre forward in the first place, as a solution to the leadership troubles.  Jimmy Harris has recovered from injury and resumes at outside right.  It is just a matter of opinion but I think a forward line of Shackleton, J. Harris, Hickson, Collins and Laverick would be stronger than the one chosen.  Incidentally I am advised that so far as future prospects are concerned, Jack Bentley leader of the youth side, shows marked ability.   Arsenal field the team which defeated Blackpool at Highbury last week.  Everton; Dunlop; Parker, Jones; King, Labone, B. Harris; J. Harris, Thomas, Shackleton, Collins, Laverick.  Arsenal; Standen; Wills, McCullough, Groves, Dodgin; Docherty, Clapton, Barnwell, Herd, Bloomfield, Haverty. 
GOODISON FANS' FIRST LOOK AT LEADER SHACKLETON
Friday October 2, 1959. The Liverpool Echo and Evening Express
By Michael Charters
Everton's stay at home fans will have their first chance of seeing recently signed Alan Shackleton in his true position at centre forward in the game with Arsenal at Goodison Park tomorrow.  The dropping of Dave Hickson, and the return of Jimmy Harris to the right wing after injury, are the only changes from the side defeated at Wolves last week.  This will be Shackleton sixth game for Everton but only the second as leader, for after deposing Hickson in the game at Nottingham Forest the day after he was signed, Shackleton was moved to left wing for the next match with Blackburn Rovers.  Hickson had a two-goal triumph against Blackburn but apparently did not have a good match at Wolves.  The Hickson advocates tomorrow will cast very critical eyes on his replacement but it is only fair that Shackleton signed as a centre forward should have his chance to prove himself after being moved without a murmur of protest to the left wing and then across to the right.  Shackleton scored two good goals against Sheffield Wednesday late in the game after he had drifted into the middle-from outside left where he had been having a very lean time.  Arsenal will prove the stiffest of tests for the former Leeds man to make a favourable impression.  It may well be that he and Jimmy Harris could do a profitable interchange of positions if things are not going well.  Only the flow of the match can prove this, but certainly it will be a possibility not lost on manager John Carey. 
That September Day
Arsenal's visit revives memories of that September day last year when the Gunners trounced Everton 6-1, the prelude to the then chairman Dick Searle's statement that Everton were "yards slower than their opponents" followed by the signing of Bobby Collins from Glasgow Celtic and eventually the arrival of Mr. Carey from Blackburn Rovers.  Yes, Arsenal certainly started something with the best display seen on the ground all last season.  Here they are again with an unchanged team happily perched in third position, having only been beaten once this season in the opening game at home to Sheffield Wednesday.  Even without the massive presence of Mel Charles, whose recent departure from the current soccer scene with a cartilage operation has received almost as much publicity as President Eisenhower's internal disorders.  Arsenal are one of the great teams in the land.  Their reserve strength is so good that the non-appearance of such tried and trusted performers as Charles goalkeeper Jack Kelsey, Gerry Ward ad Jackie Henderson does not prevent them from bagging the points week by week.  How other managers must envy George Swindin. 
Groves Switch
It is amazing how Arsenal centre forward are switched to wing half with great successes.  It happened with Holton and Goring now it is skipper Vic Groves turn.  He is at right half and there keeps that brilliant youngster Ward out of the picture.  To accommodate him Tom Docherty the man Everton might have signed a year ago is at left half while Bill Dodgin the one suspect player in the side is apparently on top form at centre half.  One man who always seems to reserve his best against Everton is Jimmy Bloomfield the inside forward who looks England class but is overlooked by the selectors.  Alex Parker rates him the best inside man he's played against in England.  Everton; Dunlop; Parker, Jones; King, Labone, B. Harris; J. Harris, Thomas, Shackleton, Collins, Laverick.  Arsenal; Standen; Wills, McCullough, Groves, Dodgin; Docherty, Clapton, Barnwell, Herd, Bloomfield, Haverty. 
HOOD IS SUSPENDED BY EVERTON
Friday October 2, 1959 The Liverpool Echo and Evening Express
Ban After Walk-Out
At Home
By Michael Charters
Everton announce today that they have suspended for two weeks Jacky Hood their Scottish reserve centre forward who walked out last weekend and went home to Shetteston, Glasgow.
Hood refused to play inside forward or the "A" team after asking for a move from centre forward.  Manager John Carey thought it best he should try the switch in the third team before the Central league.  Hood had been playing regularly for the reserves and had only missed games through injury.  The dropping of Dave Hickson from the first team for the game against Arsenal at Goodison Park tomorrow is bound to bring critical comment from many fans.  The players reaction however is characteristic for he says he intends to fight his way back into the team to prove he is the best man Everton have for the job.  This is what Hickson said when he was dropped initially for the arrival of newly signed Alan Shackleton for the game at Nottingham Forest.  Hickson was back for the next match at home to Blackburn and now he is prepare to do the same. 
SHACKLETON'S TO CLINCH HIS PLACE
Saturday, October 3, 1959. The Liverpool Daily Post
By Horace Yates
Whether Everton have not added to the interest in the always attractive visit of the Arsenal to Goodison Park today by omitting popular favourite Dave Hickson, is debatable.  Certainly it has produced a tremendous talking point and y guess is that the previous biggest attendance of the season, 41,813 against Blackburn Rovers, will be exceeded.  The vast majority of Everton supporters have seen Alan Shackleton at centre forward for little more than fleeting moments.  His one full game in the position was at Nottingham where lack of opportunity and support did not afford him a genuine chance.  If he can revitalize the attack for the whole game as he did in the later stages of the Sheffield Wednesday match, the Hickson fans can have no squabble.  Clearly Everton's position is such that moves must be judged solely by results and not by sentiment  It is worthy of note that only Burnley have won at Goodison Park this season although both Luton and Fulham shared the points.  The fact that they have only taken one point from all their away games is the main reason Everton are in the doldrums,
Dismal Scoring Record
Hickson has only scored two goals in his last six outings. But he did claim two in the previous three matches.  Shackleton has two from five, Jimmy Harris one from eight, Wignall one from six, Thomas one from four, Collins one from ten, O'Hara none in six outings and Laverick failed to score in his first game last week.  Compare that with the Arsenal record; Herd (7), Clapton (6), Barnwell (3) and Haverty (1) and the difference speaks for itself.  Arsenal began the season by losing at home to Sheffield Wednesday, since when they have not been beaten, so that the task confronting Everton is obviously very difficult.  When Arsenal were last at Goodison they won 6-1, which equals the biggest score by any visiting team there.  Newcastle hit six in 1912 as did Crystal Palace in an F.A Cup game in 1922.  Even without Kelsey, Charles and Henderson there are plenty of names in the Arsenal team to conjure with Groves, who won international fame as a centre forward, now plays at right half with that dynamic Scotsman from Preston, Docherty on the other flank, and McCullough a hot tip for an Irish cap layer in the season at left back.  Another Scottish international Herd, leads the attack with Clayton an England possible on the right wing and that strangely neglected ball player Bloomfield partnering Irish international Haverty at inside left.  Everton; Dunlop; Parker, Jones; King, Labone, B. Harris; J. Harris, Thomas, Shackleton, Collins, Laverick.  Arsenal; Standen; Wills, McCullough, Groves, Dodgin; Docherty, Clapton, Barnwell, Herd, Bloomfield, Haverty. 
ARESENAL GO UNDER TO A MUCH IMPROVED EVERTON
Saturday, October 3, 1959, The Liverpool Echo and Evening Express
Everton 3, Arsenal 1
By Michael Charters
Everton; Dunlop; Parker and Jones (captain); King, Labone, and Harris (B.); Harris (J), Thomas, Shackleton, Collins and Laverick.  Arsenal; Standen; Wills and McCullough; Groves, Dodgin, Docherty; Clapton, Barnwell, Herd, Bloomfield, Harerty.  Referee; Mr. A. Murdoch. 
The crowd was disappointing for the visit of Arsenal to Goodison this afternoon, being well below 40,000 at the kick-off.  Shackleton who was playing his first game at centre forward before the home crowd kicked off for Everton.  Dodgin intercepted an early pass from Collins to turn it back to Standen for a simple clearance.  Labone stopped Herd with a good tackle but the game had began at a leisurely pace, very understandable in the summerlike heat.  Clayton was the first to show any speed and he danced his way past Jones before Brian Harris took the ball off his toe for a corner.  The kick was quickly cleared by Parker and Everton built a good looking attack between Thomas, Collins, and Shacleton with the leader's final cross being cleared for a corner by Dodgins. 
Free Kick
McCullough obstructed Jimmy Harris just outside the box and from the free kick Laverick headed back in and Standen did well to punch away in a crowded goalmouth.  Collins distribution was first class and he put Laverick away for the winger to centre well but Standen made yet another good catch as Shackleton came in.  Jimmy Harris and Shackleton linked well for the centre forward on the wing to cross the ball dangerously to Harris who in trying to flick it around Dodgin, turned it just a little too far and Standen made yet another good save.  In these's opening minutes Everton had looked the more dangerous side with the forwards doing well, particularly Collins who was in brilliant form.  Their reward came after 10 minutes with a leading goal from Thomas.  Standen mis-fielded a long back pass as the ball went over for a left wing corner, Laverick slipped it quickly to Collins whose equally rapid cross found Thomas and the inside right side placed it wide of Standen for a neatly taken goal.  Clapton looked the most dangerous Arsenal forward and he forced one corner before Jimmy Harris who had shown he could beat McCullocgh comfortably on the outside dashed through to deliver a shot-cum-centre watch swerved into Standen's arms by the near upright.  Everton's display was quite heartening for there were showing plenty of fight in their insistence to get the ball first and Arsenal's defence was not in the normal tradition of this great club.  Shackleton made a commendable effort to head a swerving centre from Laverick, McCullocgh getting up to head away for a corner. 
Brilliant Save
Dunlop's first difficult task came after 20 minutes when he saved brilliantly from a close range shot by Herd, losing his cap as he dive-clutched the ball while at the other end Shackleton had been quite impressive under the critical gaze of a crowd which had grown greatly since kick-off time.  King was doing very well indeed in controlling Bloomfield while Thomas was doing much better than many people expected against the razor sharp tackling of Docherty.  Arsenal's pattern weaving in midfield as getting them nowhere against the crisp tackling of Everton and Dunlop so far had a quiet match.  Shackleton with a headed pass sent Jimmy Harris away to beat McCullough once again but the final lob was too far forward and Standen was able to make the easiest of pickups.  Generally however, Everton were the better side.  Everton continued to be on top with some brilliant passing play which had the Arsenal defence dizzy on occasions.  Collins was the inspiration and from a brilliant cross Thomas headed well for the corner of the net from some 15 yards out only for Standen to save his side again with a dive to turn the ball away for a corner.  This was an enterprising Everton which delighted the crowd.  Everton had rationed Arsenal to the barest minimum of attacks but it was from one of them that they equalized after 37 minutes.  It was the speed and brilliance of Clayton which made the chance for he went passed Jones with the greatest of ease and his so accurate pass was headed past Dunlop by Barnwell from close in-the only time that the Arsenal inside man had been seen in the game. 
Bloomfield's Miss
This unexpected goal put Arsenal back in the game and for the first time they began to pile on the pressure.  When Haverty beat Parker for the first time, Bloomfield completely missed his kick with a perfect chance from the winger.  Everton had fallen away in most disappointing fashion and had lost their earlier punch.  When Labone held off his tackle on Herd, the visiting leader was able to shoot hard, Bloomfield just flicked his foot at the ball as it passed him to divert it, but Dunlop recovered with the agility of a cat to make a superb save.  Half-time Everton 1, Arsenal 1.
Everton might well have taken the lead in the opening move of the second half when King's excellent pass spilt the defence for Laverick to centre for Jimmy Harris to lob back, Collins nodded the ball down to Shackleton instead of trying a shot himself and the ball came so awkwardly to him that Shackleton was unable to wheel and shoot.  But Arsenal quickly regained the grip they had secured just before the interval and Herd smashed in a tremendous shot which doubled up Dunlop as he clutched it to his body Everton were not showing their earlier dash, while Arsenal were going from strength to strength.  Labone made a timely interception and Arsenal's best move had left Clayton with a most acceptable chance, and as the winger smashed in a shot Labone thrust out a long leg to turn it over for a corner.  Brian Harris surging through in a brilliant dribble and Shackleton as able to push the ball back to him while off balance, but the wing half toe-ended this shot straight at Standen.  This fine move by Harris seemed to revive Everton for his namesake made a wonderfully close dribble down the line to beat McCloullogh before centring wide to Laverick, who hit it first time with his right foot under Standen's diving body for Everton's second goal after 57 minutes.  In this game of ups and downs it was now Everton's turn to be up.  Laverick goal had given them the spur they needed and when Jimmy Harris repeated his wing dash to leave McCullough sprawling again he sent the ball wide to Laverick.  This time the outside left crossed it and Shackleton headed just over the bar.  Collins was playing beautifully being able to spend more time in attack than in recent games because King and Brian Harris were so much on top of their jobs at wing half.  Wills was very much the strong man of this not-too confident Arsenal defence and he had to be at his best the way Collins was serving Laverick.  Shackleton had a first rate chance of putting the game on ice for Everton when Thomas's through pass spilt the defence, Shackleton wheeled inside Dodgin neatly enough but with only Standen to beat pulled his shot wide of the far post. 
A Let Off
Clapton took the ball right up to Jones and passed him inside the area but the three visiting inside forwards all missed connection with his final low cross –a real let-off for Everton.  Arsenal's first attack for some time ended with another Herd thunderbolt which must have made Dunlop's hands sting as he collected it.  Everton made the game safe a minute from the end with a magnificent Collins goal, but much of the credit goes to a top form Jimmy Harris who beat McCullough for the umpteenth time and slid a perfect pass to Collins.  The Scot dribbled round Standen and slotted the ball home from the narrowest of angles.  Final; Everton 3, Arsenal 1.
LIVERPOOL RES V EVERTON RES
Saturday, October 3, 1959 The Liverpool Echo and Evening Express.
Continued page 10 (Missed until I go back to Record office)
Liverpool almost equalized when Tansey deflected Blore's cross-shot outside for a corner.  The best move of the game ended with Banks being well off the target with a header, but apart from this Everton's quick tackling defence kept the Liverpool forwards on a tight rend.  Half-time; Liverpool Res nil, Everton Res 1.  Jones put through his on goal after 54 minutes.  Palmer replied for Liverpool after 62 minutes. 
NOTHING DOUR ABOUT DOC OFF PITCH
Saturday, October 3, 1959. The Liverpool Echo and Evening Express
He's the Life and Soul of the Party
Says Alex Parker
Many of you reading this will have seen our games with Arsenal this afternoon.  The London side has fast been regaining some of its lost glory over the past year under the managership of George Swindon, but I think he will admit that he's had a great deal of help on the pitch from a great friend of mine Tommy Docherty.  Since leaving Celtic to come to England some years ago, he has made a big name for himself in the game, both with Arsenal and Preston.  He's a good personality and his firmness in his tackle is only equalled by his firmness as a friend.  I should think there are very few players with less enemies in the game than Doc.   This week I'm going to tell you something about Doc, as he is known.  No about Doc the player for most of you will know that side of him, but Doc the man.  On the pitch he gives the impression of being a tough-as-teak, strong-tackling, dour Scot.  And he is!  However, off the pitch he's the life and soul of any party, a leg puller and a wit.  The first time I met him was four years ago when I was selected for the Scottish tour of Yugoslavia, Austria and Hungary.  As I was only 19, I had to take a letter from my father to the Scottish F.A. granting permission for me to make the trip.  During the four Sir George Graham, the S.F.A secretary whenever he as taking to the players, would look at me and say;  "And the cheek from you Alex, or I'll have you sent home."  That was the price I paid for being the baby of the party.  As I was saying I met Doc for the first time before we left Prestwick Airport and we were allocated the same room.  When we arrived in Yugoslavia Doc and I were the last to be given rooms, and by the time they got round to us there were only two single rooms left.  Doc aid that at he'd shared a room with me in England, he would do the same in Yugoslavia and promptly suggested that we should move his bed into my room I thought this a great idea but it was easiest said than done. 
Panicked
We carried the mattress, pillow and bedclothes in all right, but the bed.  It was a big wooden one and Doc and I puffed and heaved to get it through the door of his room.  It took us a long time, but we did it.  Then, as we were struggling along the landing with it we were spotted by a maid, she panicked and poor Doc who doesn't speak the language did his best to explain to her what we were trying to do, but for once he failed and the maid dashed away and called the manager.  There as quite a rumour before the matter was straightened out-but Doc still slept in my room.  After our match with Austria the 15 players were taken to a hotel in the mountains for two or three days break and it was there that Doc pulled off one of his biggest stunts.  The 15 players were having tombola session when Doc hit the idea of ordering tea and cakes –for 15.  You should have seen what we got.  There with 15 cups, 15 saucers, 15 jugs of milk, 15 bowls of sugar, 15 spoons, and 15 plates of cakes.  We drank the tea and ate the cakes but then came the problem of what to do with the dishes, which were holding us up from our game.  Leave it to Doc said one of the players, so we did.  We looked hopefully at Tommy and watched him searching for inspiration.  After a few minutes thought he cried "I've, got it.  The journalists with the party were sharing the same hotel, and Doc and his colleagues carried all the crockery down to me of the reporters room, rolled back the bad clothes and deposited the cups, saucers &tc, there in.  They also took out the light bulb.  Then we waited.
Awful Now
After what seemed an age the inspecting reporters returned to his room.  We heard him turn on the electric light switched but of course the was bulb. Just how much he was in the dark he was soon to find out. After getting undressed he climbed into the bed and them followed the most awful row it has been my misfortune to hear.  It was terrible.  However, the victim took it all in good part, and although he didn't know who was responsible I think he had a good idea.  If I had the space I could tell of many more stories about Arsenal's wing-half but this will suffice to give you some idea of what Tommy Docherty is like of the pitch.  As further evidence of his friendship in 1957; he travelled from Preston to be present at the occasion of my receiving to Scottish Player of the Year award.  He is a great player and a great character.  The game can never have enough of his kind, but there is one subject he always discusses seriously …Soccer.  He lives for the game and is a great student of it.  However, despite being a friend of his I don't expect him to go into tackles on me any easier than he does on anybody else, and he doesn't.  Incidentally he is also a Football Echo fan.  Dennis Evans, the Arsenal's Liverpool born full back has it sent to him and he passes it on to Doc. 
Substitutes
During the week, I was talking to some of the boys about the substitution that took place during last week's England v. Hungary Under-23 match.  Those of you who were there will remember how a player wearing a No. 14 shirt spent few minutes warming up before he came on for the outside left.  I remember playing for Scotland against Austria in Vienne on that 1955 tour when we claimed we were the victims of a switch of players.  The rule was that a goalkeeper could be substituted in any part of the game, and any other player up to the 44th minute, providing they were injured.  We were one up in the first minute and soon afterwards added the second.  Things were looking black for the home side, particularly the inside left, who was having a bad match.  About ten minutes before half-time he collapsed with nobody near him and a player named Deinst came on to take his place.  However, it made no difference to the result for we won 4-1.  Billy Liddell, Bobby Collins, and ex-Liverpool goalkeeper Tommy Younger can vouch for this as they played in the match.  I think we did much better than many people expected at Wolves last week and but for some in creditably bad luck might have returned with a point.  Admittedly we fell away for a few minutes during which time Broadbent and Clemp scored, but we quickly pulled ourselves together and but for the woodwork and a couple of saves by Finlayson which he apparently knew very little about we would have created a surprise result.  An item of interest for Liverpool fans, I was talking to Bert Slater this week and he told me that the club's 19 years old promising left half Philp Ferns went into the Army last Thursday for his National Service.  I'm looking forward to next Wednesday "derby" match at Goodison I played against the Reds at Anfield last season and we were beaten 1-0 in the final of the Lancashire Cup.  As this will be my first game against them on our own ground, I hope we can reverse the result.  The first game I saw after returning from Cyprus 12 month ago was one between Everton and Liverpool at Goodison- I remember thinking than how much I'd like to play in one.  I've had to wait a long time in my wish.  Next week I'll tell you how it went. 
COLLINS GIVES EVERTON A BRIGHTER LOOK
Monday October 5, 1959. The Liverpool Daily Post
By Jack Rowe
Everton 3, Arsenal 1
This was by far Everton's most clear cut victory of the season and the best performance from them as well, although it will not necessarily hold out golden hopes that it is the forerunner of a spectacular climb in the table.  Everton have struggled so much for so little so far that such a victory is welcome and it gains merit as it was achieved over a side challenging for the top position.  Not that Arsenal played like a term with those ambitions for they were strangely lethargic for much of the match and the fiddling by their attack must have brought loads of frustration to Manager George Swindin.  Apart from ten minutes before the interval and another ten minutes afterwards.  Arsenal did not look like doing the expected.  They had clever forwards in Haverty and Clapton and a powerful leader in Herd, but the occasions when they frittered their opportunities were so numerous that the longer the game went so did one became more convinced that a solid Everton defence would prevail. 
Genius of Collins
Everton opened with a forward display which was streets ahead of anything I have seen from them this season and inevitably it was Bobby Collins who was the genius behind it.  He moved the ball about with that precision which makes him so outstanding in present day football and with ten minutes gone he took over a short corner from Laverick, cleverly beat the full back and made such an accurate cross that Thomas could hardy miss.  Later there was a grand save by Standen to stop Thomas getting  second before Arsenal shoot themselves for a time out of their lethargy and provided Dunlop with a couple of chances to show his great worth.  These came from Bloomfield and Herd, and in between Arsenal had drawn level in 38 minutes when Clapton for once, appreciated the need for a quick centre and there was Barnwell to head a good goal.  Everton I thought, then had to do some struggling to keep Arsenal from gaining command but they did with aid of another Dunlop save and an intervention by the ever improving Labone and in 57 minutes regained the lead, and with it superiority.  Jimmy Harris had his best game of the season and the ease with which he beat McCullouh was surprising at times.  He did it in the 57th minute and his long cross goal centre was hit, perhaps rather fortunately by Laverick in the right direction and with Standen mistiming his dive, the ball was in the net.  Laverick, with his goal, did something to eliminate his earlier poor showing and it brought him into the game more so that he was able to provide a chance for Shackleton, which was missed incredibly from six yards out, and the centre forward was even more off target shortly afterwards when he dragged the ball around Dodgin and made his own opening from Collins' pass.  Everton had escapes, notably when Clayton shot hard a cross goal and when Haverty failed to shoot from lethal range, but by then had the measure of an indifferent Arsenal, and with a minute left Collins got the best goal of the match.  Jimmy Harris made the pass and the little Scot took deliberate time in dribbling round Standen and slotting the ball home for his second goal of the season.  Collins deserved this goal just as much as Everton deserved to win, for he was the star man.  Shackleton in the minds of some people, will never adequately replace Hickson, but if there were deficiencies there was ample challenge and his distribution helped to keep the line together, while Thomas got a goal and was an improvement on his performance at Wolves.  If Shackleton had taken his two chances his afternoon would have been complete.  As it was I think he did enough to justify manager's Carey's move.  It was the Everton defence which again pleased me.  From Dunlop there was security, and King and Bran Harris worked so hard that one wondered how they kept going.  Parker and Jones opposed to Arsenal's best forwards, did not lose the battle.  Everton; Dunlop; Parker and Jones (captain); King, Labone, and Harris (B.); Harris (J), Thomas, Shackleton, Collins and Laverick.  Arsenal; Standen; Wills and McCullough; Groves, Dodgin, Docherty; Clapton, Barnwell, Herd, Bloomfield, Harerty.  Referee; Mr. A. Murdoch.  Attendance 40,857.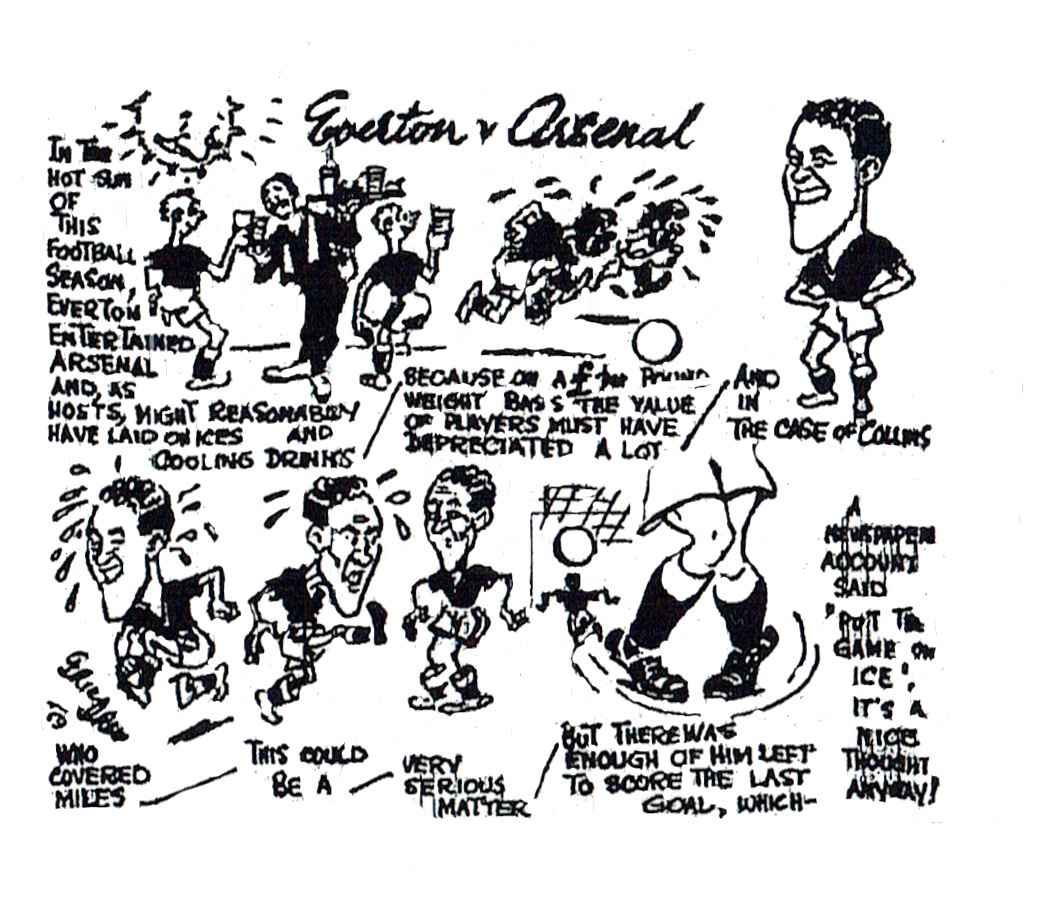 LIVERPOOL RES RALLY TO DRAW
Monday, October 5, 1959. The Liverpool Daily Post
Liverpool Res 2, Everton Res 2
A draw was a fair result to a typically hard fought Central League game at Anfield, on Saturday.  Although never equaling Everton in football ability Liverpool showed commendable spirit to pull back two goals in a rousing rally which almost culminated in a dramatic victory.  The chief architects Liverpool's recovery were Jones, Wheeler and Blore, outside right.  Blore gave Bramwell a harassing time and made some ideal centres which were wasted except when Palmer, playing at outside left, set Liverpool slight with a brilliant headed goal in the 62nd minute.  Eight minutes previously Jones had unluckily netted an own goal, but in the 83rd minute he placed a free kick perfectly for Banks to head the equalizer.  In the final half hour Everton hardly staged an attack but previously Wignall, who netted in the seventh minute and O'Hara, starred in a free moving attack.  Centre-half Sanders distributed well, but otherwise he was given little scope by Nicholson.  Tansey, Rea and O'Neill were outstanding in the keen tackling Everton defence. 
MAYBE IT WAS MADRID; MAYBE THE HEAT…
Monday, October 5, 1959. The Liverpool Echo and Evening News
By Leslie Edward
Maybe it as that television second half view of Real Madrid maybe it was the record-breaking heat of the October day, but the Everton-Arsenal match seemed pedestrianly slow and unsatisfying except as to the score.  That Everton moved up with a home victory, delighted their fans as it did Manager Carey, but I think it would be wrong on this evidence to think that we are much forrander than we were a week ago.  Time will tell, and I hope I am proved wrong.  On the face of it a win by three goals to one should leave little room for doubt, but when you consider the match coldly, analytically you cannot take it at face value.  Laverick's goal, which put his side into a 2-1 lead was from a hit-and-hope right foot shot as the ball came across field from a Jimmy Harris centre.  The shot which beat Standen bounded under him.  I should have been saved.  Scarcely a minute remained when Collins got his and the goal of the game.  Put through by Jimmy Harris he drew Standen out rounded him and then scored at his leisure-a brilliantly executed goal and one which gave the score line a look which was more than a little misleading.  For a side so near the top of the table, Arsenal were extremely disappointing.  I rate them as one of most indifferent Arsenal's since the War and if little Haverty on the left had shot goals as he does in practice matches he must have scored when feinting the most complete of openings not five yards from Dunlop's line.  Instead he tried to find a colleague.  No wonder Manager George Swindon was angry. 
Back into Their Shells
Everton's best spell, I thought was their first twenty minutes when their attack moved so much better as a line.  Shackleton linked both wings and when Thomas scored at 11 minutes with a flip of the feet as Collins centre came in one anticipated that Everton would continue their new and more certain way.  Some slack marking of the light-haired Barnwell, whose header close in always had the beating of Dunlop, had the effect of sending them back into their shells and until Laverick got his unexpected goal the Arsenal wing half-backs, Groves and Docherty imposed their will.  Indeed while the score was at 1-1 it always seemed to me that Arsenal were the more likely winners.  That they did not succeed, I think as more due to their own weaknesses and lack of fight than to Everton's super-ability.  The one thing at which Everton were never second best was their determination and fight.  King and Brian Harris must have finished the match dog-tried and parched from their constant all-out effort and must have yearned more than once to dip their sweating brows in the bucket of water carried to and from the Everton training dug-out by twelfth man.  Dave Hickson, Collins too, who was at least once found in defence denying the massive Herd, had a splendid match the seal of which was his magnificently-taken goal.  But I cannot help thinking that Dunlop's good fortune in being dead in the line of fight of two Herd rockets –to say nothing of his superb save of a Herd shot slightly deflected y Bloomfield, were factors as telling as anything done by Everton players in the outfield.  Shackleton is good in the air and in this respect made serious challenge to the hugh Dodgin but the new Everton leader missed two fine chances one made by himself and the other by Laverick.  He shot too quickly from the first and missed target by inches with the other –a header, which barely bear the bar. 
Something Lacking
Arsenal, if this I true form, are not comparable with old editions from Highbury.  Groves has developed into a splendid wing half-back, but few others in his team played with such admirable spirit and verve.  Clayton whose speed must have been a real menace to Jones if the ball had been properly supplied was not often in the picture and it was left to Parker to stop the feinting and weaving of Haverty for who there was a constant supply of good passes.  No Arsenal were not up to standard and making full allowance for the sultriness of the weather this was a game which left one feeling that something was lacking.  They were two ordinary hard-working side with few ouches of genius and progress made painstakingly and rather cumbersomely.  Herd hits his shots as hard as anyone but he took most of them so far out and with Dunlop so well sighted nothing came of them.  Labone with one intervention against a full-blooded Clapton drive saved his goalkeeper's hands further punishment.  He also used the ball well and in general had a satisfactory game.  Everton's use of the short through pass as demonstrated by Collins and Shackleton, was as effective as it was refreshingly new and the pity was that narrow offside decision killed the move more than once.  Certainty Shackleton and Collins have struck a good understanding.  Thomas with two fine headers one of which had Standon at full stretch and with much honest work in defence played well until the heat and some natural tiredness took toll of him.  Laverick did not move to the ball as quickly as he would have if fully fit, but he has a good football brain and uses it. 
HOOD MAY RETURN TO EVERTON
Tuesday, October 6, 1959. The Liverpool Echo and Evening Express
Advice From Carey
Labone Unfit
By Leslie Edwards
Jacky Hood, the young Scottish centre forward who walked out on Everton when they chose him for their third team and who thus incurred a club suspension of 14 days, is likely to return to Liverpool to settle his difference and make a fresh start.  He has been in touch by telephone with Manager John Carey who has advised him that it would be wiser first to return to his club.  Mr. Carey does not hold anything against the lad and the boy appreciates it seems that his club had no other course than to take disciplinary action against him.  There are signs that Hood is relenting on his decision to give up the game and it is in his own interests that he should continue in soccer. 
Everton's name was linked with that of Scottish international back Eric Caidlow following a hitch in the negotiations between the player and Manchester United but Mr. Carey assumes me that Everton will not make any move for Caidlow. 
Labone Out
Everton's young centre half back, Brian Labone will miss the floodlight game against Liverpool tomorrow.  He suffered ankle trouble against Arsenal and although he played on to help his club to a 3-1 win the injury is proving troublesome. 
CHANGES FORCED ON EVERTON
Wednesday , October 7, 1959, The Liverpool Daily Post
By Horace Yates
In the Everton camp one change is the inclusion of O'Hara for Laverick at outside left while Labone is also an absentee.  Unlukcy Laverick whose appearances this season total only two, were just becoming fully fit, after his appendicitis operation, and now he is out with a boil.  Labone's ankle injury causes a rearrangement at half-back and full back, but the injury is responding to treatment and may have recovered sufficiently by Saturday to allow Labone to be considered for section.  Manager John Carey's ready made solution to restore Jones to his natural centre halve position and bring in Sanders at left-back, where he was already appeared in one League game this season.  Everton; Dunlop; Parker, Sanders; King, Jones, B. Harris; J. Harris, Thomas, Shackleton, Collins, O'Hara. 
LIVERPOOL OUT TO REPEAT LAST YEAR'S WIN
Wednesday, October 7, 1959. The Liverpool Echo and Evening Express
By Leslie Edwards
Tonight's floodlit Everton v. Liverpool cup-tie at Goodison Park will attract all who find it difficult to resist any meeting of neighbors (especially in times when they are literally Leagues apart) but because neither is doing well the occasion is no compelling to all.  A season ago Liverpool won the trophy –one put up by the clubs themselves-by victories in both legs 2-1 at Anfield and 3-2 at Goodison Park, and it will be interesting to see whether they can confirm this form or not.  One thing about these games which could be well dispensed with is the temper such as was engendered a year ago on the field between players.  In that respect we were receiving to the bad old days.  For years prior to the last war good sense and sportsmanship was displayed and matches were enjoyable.  After all there are really exhibition matches and should be played as such despite the intense rivalry between followers of both teams.  Liverpool start on the wrong foot tonight because they will be without Liddell, Melia and White.  This is a great pity since any valid trial of ability between clubs demands full strength from both.  Though both clubs show promise of better things followers still bombard me with critical letters and one thing which seems to stick in the minds of those who frequently Anfield is that despite the oft-repeated statements that Liverpool will not baulk at paying top prices for op players there is still no action.  Everton; Dunlop; Parker, Sanders; King, Jones, B. Harris; J. Harris, Thomas, Shackleton, Collins, O'Hara.  Liverpool; Rudham; Molyneux, Moran; Campbell, Nicholson, Twentyman; Morrissey, Hunt, Arnell, Harrower, A'Court. 
LIVERPOOL LOOK GOOD IN LIGHTS
Thursday, October 8, 1959. The Liverpool Daily Post
Everton Have Polish But Little Punch
Everton 0, Liverpool 3
By Horace Yates
Only those who stayed away had any right to be disappointed with the first of the season's Floodlight Challenge Cup matches at Goodison Park last right, for even the disappointed Everton fans had the memory of superb football by both sides to make their evening well worthwhile.  In a match which provided a study in styles.  Everton particularly in the first half when they enjoyed their brightest moments laid on some beautiful combination with precision ground passing, while Liverpool retaliating with a more direct but equally appealing game, gradually took charge.  Liverpool must have been considerably worried before the match in having to find substitutes for White, Liddle, Campbell, Melia, and Arnell but obviously one has only to put red jerseys on players in a "derby" game of this nature to urge them to the heights.  Collins cleverness was apparent in everything he did, but he was never allowed to dominate the proceedings.  If there had been a greater bite in the forward line some of his efforts might have enjoyed a better fate. 
"We Want Dave"
Five minutes from the end when Everton's defeat was sealed beyond question by a course of magnificently taken goals by Hunt, disgruntled Everton supporters took up a half-hearted chant.  "We want Dave," and whether Hickson could have made the difference or not, certainly there was a lack of drive and punch that always threatened to enforce Everton to occupy a minor role.  Their best chances came in the early minutes and there was no finer Everton thrust in the entire match than when Collins dispossessed Harrower, and shooting from a position outside the penalty area, forced Rudham to a thrilling save and O'Hara took up the cute to fire just over the bar.  Jimmy Harris hit the ball with all his might just as Shackleton was in the act of swinging his leg for a shot.  It is doubtful if Shackleton could have improved on the Harris effort for only a fine save at the second attempt with the ball rebounding from Rudham's body, kept the ball out of the net.  It was thrilling high speed action, was a pace designed more for greyhounds than footballers but no crack was apparent ad the full throated roar of approval was almost continuous in this electricity charged atmosphere.  Hunt whose first sample of "derby" football this was, paid tribute to a Harrower-Carlin built up by shooting past Dunlop in 36 minutes for the opening goal.  It was a typical Hunt shot, fired so beautifully that it was a goal from the moment he made contact.  Hunt was all ready to collect his first double in senior football when Thomas back in defence took the ball of the centre forward's toe as the shot was about to be made.  In a ball of rare excitement there had not been a blameworthy incident.  The players had only one thought –to get on with the game.  How refreshing I all was! 
Grip Lost
Everton, after the interval had lost any grip they might have had and it was Liverpool who resumed as the side more likely to wreak further havoc.  There was the spectacle of Dunlop chasing around outside his penalty area in a vain attempt to dispossess Morrissey with the defence scattered.  He succeeded to the extent of preventing Morrissey hitting the ball goalwards long enough for the backs to be in position to deal with the ball when Morrissey was eventually able to shoot.  Harrower's full-blooded tackling was not to the liking of the crowd, and two of them were very doubtful affairs, to say the least.  The result was that every time the Scot touched the ball for several minutes afterwards, he was roundly booed.  No matter how irritating Harrower must have been to Everton, there was no denying the triumph of the come back to the first team.  He juggled with the ball most artistically and seemed to be taking a delight in replying to the demonstration with trickery of a high order.  Some of his time-wasting activities did him less credit, but the impish gain that scarcely ever left his face was testimony to the enjoyment he took out of ribbing his critics.  On this form Harrower is an undoubted acquisition to any side.  He has not done better in any game this season.  When Liverpool scored their second goal in 71 minutes there was the Harrower touch behind it.  Feinting to pass to A'Court he sent over to Hunt, just outside the penalty area and Hunt scored with a perfect drive.  Such a precision shot was it that Dunlop was scurrying across his goal with never the slightest chance of catching up with the ball.  If Hunt had taken a giant billiards cue with the idea of pointing the white. He could not have been more accurate in his execution of shot.  Here was Hunt shaking off the lethargy of his Swansea outing, and heaping on the evidence of his coming greatness.  Even Everton supporters joined in the tribute to him from time to time and as I saw it their biggest regret was not that Hunt had ended Everton hopes and ambitions so much as the colour of his jersey.  Anybody who still doubts the rich potential of the boy are indeed hard task masters. 
Hunt Temptation
The temptations to Liverpool from the evidence of this game is to go ahead with the idea of playing Hunt at centre forward as the most ready to hand solution to this pressing problem.  I hope they will resist it, although by making it, a place could be found for Harrower at a time when at long last he appears to have shaken off his run of poor form.  Tom Jones slipped back into his normal position with distinction even if Hunt's speed and habit of being the right man in the right place when the chances game, spot-lighted the difficulty of crowding him out of the game.  Parker and Sanders were kept all full strength by the mobile wing play of A'Court and Morrissey and Carlin had no reason to be other than satisfied with his baptism against First Division tackling.  A Liverpool director who told me some time ago if he had seen Carlin serve up some of the displays he has given in the reserve side in colours other than Liverpool's he would have felt justified in recommending his board to offer 15,000 for his transfer. May have been painting the picture rather vividly, but it is easy to see what he meant.  The promise is there in abundance.  Nicholson as White deputy rarely came near making a mistake and his commanding height when the ball was bobbing about in front of goal gave him an advantage which he used to the full.  I suspect that Liverpool were rushed into bringing Wheeler back to this keenly competitive scene a few days early after his recent illness, purely because off the force of circumstances and they had no reason to regret the decision.  He it was who moved up to collect a rebound and drive the ball home for goal number three, four minutes from the end.
Odd Incidents
Forget the odd incident which included a combined lecture by the referee for Jimmy Harris and Harrower for there was so much that was pleasing to remember, even if the second half was only a comparatively pale continuation of the first half excellence.  Long before Wheeler's goal the game had flowed right beyond Everton's ability to reclaim it, and what had threatened to be a sub-strength clash had turned but to be an entertainment which showed once again that Everton's problems were only pushed thinly below the surface by the revival against Arsenal and proved for those willing to see that the long ball is still a potent weapon.  Everton; Dunlop; Parker, Sanders; King, Jones (Captain), B. Harris; J. Harris, Thomas, Shackleton, Collins, O'Hara.  Liverpool; Rudham; Molyneux, Moran; Wheeler, Nicholson, Twentyman; Nicholson, Carlin, Hunt, Harrower, and A.Court.  Referee; Mr. J. Mitchell, (Preston), Attendance; 30,016.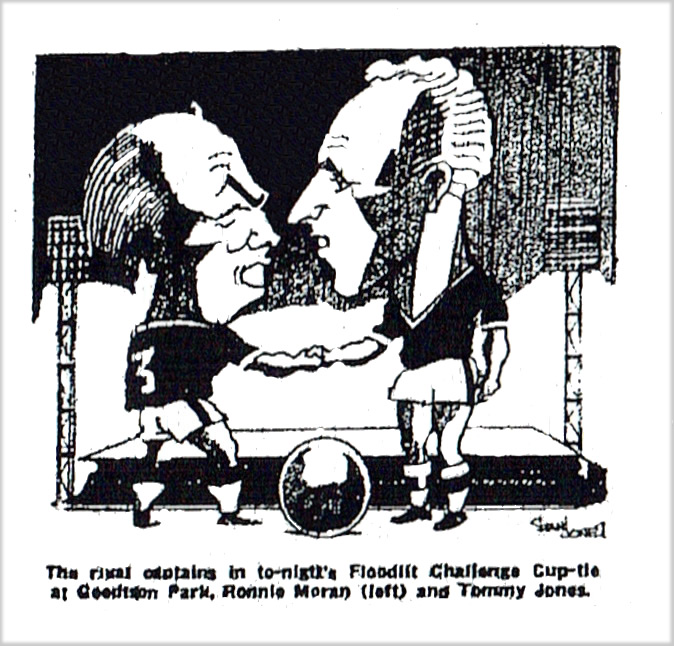 EVERTON RES LATE RALLY
Thursday, October 8, 1959. The Liverpool Daily Post
Blackpool Res 2, Everton Res 2
Two goals in the last ten minutes won Everton a point in the Central League match at Blackpool last night.  Before this late rally, the Everton forwards had constantly been making too many passes and too few shots.  Then Wignall converted a penalty and with the Blackpool defence collapsing under pressure equalized five minutes from time.  Everton played for a long time good precise football without any sort of punch.  When at last the forwards began to shoot it was different story.  Charnley gave Blackpool the lead in 23 minutes and when Hauser made it 2-0 fifteen minutes after the interval Everton seemed a beaten team.  They came back late but were entitled to a point.  Billington was the star in an Everton defence which during the first hour was often but witted by young Stephen Hill, Blackpool's new right wing discover.  Ashworth alone of the forwards seemed to be interested in scoring goals. 
EVERTON GIVE 500 FREE TICKETS TO SCHOOLBOYS
Thursday, October 8, 1959 The Liverpool Echo and Evening Express
By Michael Charters
Following the pattern set years ago by Liverpool F.C., Everton have now deciding to issue 500 free tickets to Liverpool School for each of their home Central League games.  The concession at Liverpool was withdrawn because of the misbehavior of the boys instead of staying on the terraces they resumed wildly around the stands and created such a nuisance that the Anfield club decided to stop it altogether.  The value of the scheme however, is obvious it creates interest in the club among the youngsters of the city and initially it worked so well at Liverpool that Matt Busby manager of Manchester United made a note of it during his playing days at Anfield.  He has been running a similar loss at Old Trafford for some time now and the gates at their reserve matches are always boasted by a big contingent of schoolboys. 
Mr. Carey the Everton chief saw the worth of the scheme during his years at Old Trafford and has now started it at Goodison Park.  The Liverpool School's boys F.A are running a rota among their schools and it is to be hoped that the boys do not abuse the privileges. 
LIVERPOOL TOPPED THE POLL AT GOODISON
Thursday, October 8, 1959. The Liverpool Echo and Evening Express
By Leslie Edwards
Everton go into the second leg of their annual floodlit cup tie against neighbours and rivals Liverpool three goals in arrears and hardly likely if last nights game at Goodison Park is a true guide, to rub out the deficit when the teams meeting at Anfield later this month.  The only consolation for the followers in this, their side's fifth successive defeat in floodlit cup games is t remind us, that the better the opposition the better Liverpool play.  That makes Everton out as very useful indeed, a rating which they most certainly did not live up to last night in  a hard, thrilling entertaining match admirably referred by Mr. J. Mitchell, of Prescott.  No doubt of it, Liverpool despite their many last minutes changes, were the better and more dangerous side.  They won convincingly with two goals from young Hunt and one from Wheeler who showed little effect of his recent illness and indeed, hit the finest shot of them all to complete the scoring and prove that he is far from being a spent force.  The picture I retain above all of many in this grand match was of him punching the ball in and then standing arms upraised to receive our plaudits and those at his team.  In humid hat which did its best to blanket the first minutes of the game with a steamy haze of bathroom consistency Everton had their finest moments, moments in which the crowd forgot for the time being the absence of Dave Hickson.  Shackleton made a brilliant run and completed it with a header from a centre by Collins.  Moran somehow contrived to get his big body in the way of a deliciously back-heeled Bobby Collins effort; Rudham somehow contrived to fling himself at and make contact with a Collins right foot drive, the solidness of which could almost be felt round the ground.  Then after Dunlop had denied A'Court in a great save, Rudham was at his best again, this time with a catch at the second attempt from a powerful shot by Jim Harris. 
But What A Shot!
Having played well in the opening stanza without reward Everton went further and further out of the game and in the end there could be no doubt that Liverpool were the more punishing, more progressive, more penetrating side.  First at 35 minutes Hunt scored with a well hit cross shot from a pass by the dainty little debutant Carlin; then at 71 minutes the same player so angled his shot from 20 yards that Dunlop could only scramble forwards, it hopefully as it found he net just inside the far post.  Wheeler's goal arose out of clinch for the ball between Carlin and a defender.  If it had been rolled out for the very purpose of being hit back into the net the ball could not have arrived more perfectly for Wheeler but what a shot it was and how well the scorer's ply deserved this crowning adornment.  Except for one unhappy incident in the second half it was a match fought in good spirit and it seemed that most of the players on both sides is out with the intention that this should be so.  It was just far better entertainment than the sort we usually see in such matches and Tom Jones' thoughtful booting of the ball to touch when an opponent lay injured and some other equally other obvious attempts to make the game a gentlemanly on, should never have been spoiled by the solitary after-the-interval blot.  As I saw it Liverpool won because Rudham did his stuff in preventing Everton taking an early lead and because neither Everton winger contributed much more then enthusiasm.  The command Wheeler and Twentyman imposed on opponents as mot matched, either by those two untiring Everton counter-parts King and Brian Harris splendidly as Harris played and gallant though King was from start to finish. 
Lot to be Desired
So once again with Collins fetching and carrying and working like a demon to get the attack moving the Everton front line left a lot to be desired.  After his excellent beginning Shackleton was rarely seen.  Thomas also drifted out and was never the forced he can be at best.  By contrast Liverpool became better and better the further the game progressed.  Rudham was then largely left in peace and it was Dunlop's turn to face forwards who not only moved well in the approach but finished just as strongly.  Once Dunlop had to go outside the penalty area and must have been grateful to Brian Harris for a clearance while he was absent from his line.  Liverpool had success on the wings where A'Court did well against Parker and where Morrissey who always saves his best in order to tantalize Everton backs; had the edge on Sanders.  With Harrower mixing some shrewd passes with time-wasting tactics that did not please the Everton section of the crowd and him foraging hard but still having the stamina to be up front when required Liverpool's attack compared most favorably with their rivals and that the scored three times was no fluke.  Molyneux and Moran pocketed the Everton wingers when the business-end of attacks developed and young Nicholson a towering pivot, making his first appearance in the first team, got through a good deal of excellent work and was beaten only occasionally in the air by Shackleton.  Brian Harris for many wonderful surging runs and King even only for the loss he took when opposed to Nicholson did not deserve to be on the losing side but like others they must suffer for Everton's failing in other departments.  For them life at the moment is hard and often unwarding especially when as was the case last night a Second Division side placed mid-way in the table came, saw and conquered in such a way that there could be no question about it.  Congratulations Liverpool, commiserations Everton and our thanks to all who went out of their way to make this inconsequential match quite memorable. 
LIVERPOOL WIN WARNINGON EVERTON
Friday, October 9, 1959. The Liverpool Daily Post
By Horace Yates
In the first of the "derby" games on Wednesday evening, Liverpool by their emphatic victory did their Everton friends a really neighborly turn, although supporters may find such reasoning a little difficult to follow on the surface at least.  As plainly as could be Liverpool served noticed on Everton to pull up their socks immediately, for it is an established fact, that it is far easier to fall into the Second Division than it is to get out of it.  Ask Liverpool.  They know.  The message appears to be that if Liverpool, a Second Division side, can go to Goodison Park and against a team very little below full strength, return with a handsome 3-0 victory, descent into the lower League might confront Everton with a long and difficult road back again.  So far this season Liverpool have found it hard to hold their own, and certainly their performances have not encouraged a belief that they are ready to climb out. 
Not So Friendly
It may b argued that this was a friendly game and that there would be a different approach in a genuine League encounter.  But does such a case hold water?  Whoever, heard of a friendly game between these sides?  Everton failed because of their own shortcomings and because of the greater drive and resolution produced by a Liverpool side, which by any standard must be admired to have been below strength.  At the same time it is true that Liverpool pulled out perhaps their most convincing form of the season, so far for Everton's discomfiture, and that if they produced displays such as this to order, they would not occupy the unimpressive position that is their today.  That Everton forward line is a first class problem and the pity of it that the problem is all their own and not only they create in their opponents ranks.  I would like to see more hostility in the centre forward position than Shackleton has so far shown, for it is the lead given here that can be so infectious for better or worse.  Labone's injury is progressing well, but whether he will be ready to return to League duty tomorrow is something Mr. John Carey will be better able to decide after today's training session.  Both King and King suffered knocks on Wednesday and had treatment yesterday, but most likely they will be declared fit.  The influenza outbreak which has struck so forcibly at Anfield, has skirted Goodison Park and Liverpool players are being given anti-flu tablets in an effort to ensure that the position grows no worse. 
EVERTON AT LEEDS
Friday, October 9, 1959. The Liverpool Echo and Evening Express
By Leslie Edwards
Everton's game at Leeds coming after that welcome victory against Arsenal may confirm or otherwise Everton's revival hopes.  My opinion is that it would be wrong to place great reliance on form against an Arsenal whose ineffectiveness contrasted sharply with their high position in the table.  The defeat by Liverpool at Goodison Park in the floodlit Cup game was not perhaps so shaking as the easy way in which it was gained.  The match was spoiled for many followers of Everton because their side except for the first fifteen minutes, was so, clearly second best. 
Reader R. Almond of 5 Geneva Road, Liverpool 6 says- "The dropping of Hickson astound me.  Why could not Shackleton have played inside right?  The players patience must be stretched to breaking point at the way they are being pushed around.  Swopping and changing has already lost two Everton players international caps and Hickson's omission knocks at least 5,000 off the attendance without adding to the team's effectiveness.  A. you said some week's ago it looks like a season of struggling again.  The worst aspect is that not a thing was done during the close season to remedy the obvious weaknesses of last season.  I have only one regret -that I bothered to renew my season ticket."
Correspondent J. Rice of Holmfrouk Road, Liverpool 11, deplores Everton's 3 o'clock and 7 p.m. kick-offs.  "Everton have had four Saturday home games and two of them have been started early so that the visitors can get away early.  This is wrong Spectators should have first consideration.  Surely the club know what thousands of their dock worker supporters work till 7 p.m.  Fans like me try to make it, but others just don't bother. 
HICKSON IS BACK
Saturday 10th October 1959. The Liverpool Daily Post
By Horace Yates
Elusive Points
Not by any stretch of imagination can Elland Road, Leeds be termed one of Everton's favourite hunting grounds, for they have not scored a single point there in the five games between the clubs in the last seven years, a period in which they conceded 12 goals and could show only two in reply.  Last season it was Alan Shackleton who was the villain of the piece scoring the one goal which decided the game.  Today nothing would please him more and incidentally bring the objection from Everton, if he should again prove to be the match-winner.  Still going the rounds Shackleton will be at outside left in lace of Laverick, whose boil keeps him out of action and this transfer enable Dave Hickson to resume at centre forward.  More plainly than ever before Hickson can now see that his place is in serious jeopardy and I have a feeling that it will be no fault of his if Hickson does not pull out all the stops in an effort to show that he is the man better placed than any other to give the Everton line the dash and drive which has been so disappointingly absent in some of the games.  Labone is still not fit so that Jones after seven successive outings at left back reverts to his normal centre half role, thus permitting Bramwell to nose his way back into the team at left back.  So far this has been an unlucky season for Bramwell.  He began by missing the first match due to suspension and was injured in the second game at Burnley.  If Everton are in one of their brighter moods, success is by no means beyond them for they have all the advantages in a comparison of current form.  From their last six outings Leeds have collected only three points and have been defeated four times while Everton can show a return of seven points from a similar number of engagements and only two defeats.  Revie is a doubtful starter for Leeds due to a groin strain.  McCole the centre forward they brought from Bradford City recently.  Leeds United; Wood; Ashall, Hair; Gibson, Charlton, Cush; (from) Francis, Cameron, McCole, Crowe, Overfield, Revie.  Everton; Dunlop, Parker, Bramwell; King, Jones, B. Harris, J. Harris, Thomas, Hickson, Collins, Shackleton. 
EVERTON HAD REFEREE TROUBLE IN A TOUSY TUSSLE
Saturday, October 10th 1959. The Liverpool Echo and Evening Express
Leeds United 3, Everton 3
By Michael Charters
Leeds United; Wood; Ashall, Hair; Gibson, Charlton, Cush; Francis, Cameron, McCole, Crowe, Overfield. 
Everton; Dunlop; Parker, Bramwell; King, Jones (captain), Harris (B); Harris (J), Thomas, Hickson, Collins, Shackleton.  Referee; Mr. A.W. Sparling, Grimsby. 
Everton manager John Carey was not at Leeds today.  Chairman Mr. Fred Micklesfield would not say where Mr. Carey was but it is obvious that with Everton's need for new players the manager's mission away was to watch a player probably a forward.  The game began slowly in sunshine like a spring day with Collins showing a clever midfield touch to send Shackleton away.  The winger rounded Astall but his cross went straight to Wood.  But after five minutes in Leeds first attack, Francis the colored winger slipped past Brian Harris and Bramwell pulled the ball back o the edge of the penalty area.  As Cush came dashing in for it he was tackled by Thomas, and the referee awarded a penalty from which Crowe scored with a neat-side foot kick.  The referee decision was an odd one but he followed it by ignoring a blatant handling offence by Cush in the penalty area in trying to stop Hickson from gathering a bouncing ball.
Hickson's Reply
Everton were playing the more methodical football and they gained their reward after 11 minutes with a brilliant goal by Hickson.  From a move built up by Collins, Shackleton sent in a good pass out to Hickson on the left and the re-instated leader rounded Ashall out along the ye-line and shot when Wood expected a cross to send the ball through the narrowest of gaps into the far corner.  The crowd was quick to condemn the slow motion moves of the Leeds forwards while Everton looked more dangerous, although no one could call the display of either side top class. 
Quick Recovery
In an isolated Leeds attack Dunlop dived courageous at Francis feet.  Will Gibson lying dramatically injured the referee allowed Everton to go on with Jimmy Harris crossing the ball for Shackelton to head into Woods arms.  Miraculously Gibson recovered when the attack failed.  Francis looked the best in the home attack.  Generally however the game was slow and uninteresting.
Leeds Go Ahead
After a corner Cush returned the ball into the middle and with Everton's defenders in a line expecting an offside decision against McCole the Leeds centre forward was able to challenge Dunlop for the bouncing ball, beat him to it and headed the ball slowly into the empty net.  Hickson and Cush were involved in another incident which resulted in a foul being awarded against the Everton man, who afterwards picked up something from the pitch which had been apparently throw from the terraces.  Hickson inquired and raved at the referee before throwing it onto the track on the side of the pitch. 
Names Taken
In an isolated attack amid much indifferent play Crowe missed a chance for Leeds and Shakcleton was equally guilty at the other end when put through by Collins who was the only Everton forward now playing with any dash.  With five minutes to go before half time Cush had his name taken after clashing with Hickson in the penalty area.  Despite this the referee did not award a penalty –a very strange decision.  But it much more of this goes on it likely both Hickson and Cush will be entering their changing rooms.  It needed a very strong hand from referee Sparling to cool heated tempers and bring the game down from levers pitch.  Up to now he did seem to defuse them.  Half-time Leeds 2, Everton 1. 
The crowd booed Everton before and after the interval without wishing to defend anyone, I must say there was provocation on both sides for the incidents in this most unsatisfactory, almost disgraceful match.  Within a minute of resuming, Everton were level, through a Collins goal.  Initially the scorer pushed out a pass to Shackleton who sent it inside to Thomas.  He sent it on to Collins who hit it first time from 25 yards to beat the diving Wood easily with a lovely shot.  Loose defensive work between Brian Harris and Bramwell let McCole through and he hit a good shot just over.  Then Hickson was firmly pushed off the ball by Ashall just inside the area, but Mr. Sparling though it was a fair charge and indicated so. 
More Pushing
A long pass from Gibson found Crowe unmarked on the left but in attempting to hit his shot inside the far post he allowed Dunlop to finger tip it away for a corner.  King and Crowe were the next to push and barge at each other which called for the referee firm hands, but incredibly he let play go on.  In the tamest words I find it was inadequate refereeing.  Cameron hit a shot just wide, but the football was taking second place to the threat of another flare up in this explosive atmosphere.
From The Wing
Only the goals were worth recording and Leeds came up with another one after 58 minutes.  Cameron burst down the middle transferred to Crowe who send Francis away.  The thisky winger accepted the chance inside for him by indecision between King and Bramwell and strode on to hit a great shot past Dunlop from an angle.  Through all this hotbed of excitement and fouls, Francis had been one of the flew to show their lead and he took it his chance.  Crowe flashed a header just over followed by a good shot on the turn from a Overfield pass.  Seven minutes from time Hickson equalized with a rasping header from a corner taken by Collins.  Final Leeds 3 Everton 3.
YANKS PREFER THE DIAMAND TO PITCH
Saturday, October 10, 1959. The Liverpool Echo and Evening Express
Alex Parker Says Soccer is Still Cinderella Game I States
I don't think anybody would deny that soccer is the most popular game in the world.  Practically every country is soccer conscious and what other sport has competitions to compare with the World Cup, European Cup, or even our own Football League?  Yet, there s one country in which the game has never caught on, a fact that is even more surprising when one considers that the same country prides itself on being able to do most things on a bigger and better scale than anyone else.  You will probably have guessed that I am referring to American where the final is the baseball World Series has been held this week.  When the U.S.A beat England 1-0 in the 1950 World Cup many thought that it would aid the birth of game.  However nine years after that historic win over England I am forced to the conclusion that interest in the game is still as rock-bottom and that if any of you have been wondering when American is going t emerge as an soccer power to be reckoned with, it is not in the foreseeable future.  This view follows a letter from Mr. Bert Wright a former cartoonist with the Evening Express.  Bert is now living in New York.  Not so long ago the famous Brooklyn Dodders baseball team followed some ago-old advice and "went West" to California where they are now known as the Los Angeles Dodgers.  The journey did not apparently affect their form for this week they have been engaged in the play-off for the World Series with the Chicago White Sox.  As a result of this move, their ground at New York. Ebbet Field is being used as a soccer ground, a fact which is not altogether to the liking of New Yorkers, if a newspaper cutting from Mr. Wright is any criterion.  He alleges that the American Press is doing little to help the popularity of soccer and is apparently going out of its way to see that it does not fill the gap in New Yorkers affections –left by the migration of the Dodgers.
Indifference
Bert has sent me a cutting from a New York paper reporting the fact that the vast Ebberts Field housed only 500 people o see a soccer match between Brooklyn Italians and Philadelphia Ujriks last month.  Describing the scene, the reporter say; "On this playing field diamond, where major league baseball players' once threw and hit with flawless grace, a man bounced a ball off his head.  The excitement that once gripped Brooklyn was replaced by indifference or restrained nostalgia.  He quota a policeman who used to their content the big baseball crowds is saying .  It's sort of sacrilege isn't it, playing this game on this ball field."  The manager of the gate of operation at Ebberts had fire men in the stand instead of 100 and an ex-ticket taker said; "It the big game had been played here I wouldn't have taken 3,000 tickets myself.  We would have had 15 men on tickets.  Today we had had two.  On a big night's game it as nothing to put on 50, 75 ushers.  This afternoon we had two.  As you can see the Americans are not wildly enthusiastic about soccer, but I should imagine the same kind of report could be written about a baseball game at Goodison Park if Everton ever left.  I must admit that with the great Italian element over there plus the number of Hungarians who went there after the uprising, I thought the game would have become more popular but apparently not.  Compare the above with that, that there well over 40,000 at the Dodgers –White Sox game this week and you will realize that soccer was a long way to go.  Yet I read this week that in 1903 A New Yorker paper printed the paragraph about the World Series but gave a whole column to a cricket match.  Who knows in 50 years time there may be thousands rolling up to Ebberts Field to see New York United playing Washington Athletic in a cup semi-final.  Bert tells me that the Football Echo is sent to him and after reading it he sends it to his brother in Hollywood.  As I have had a letter from a Football Echo fan in Australia which I gave a few weeks ago I think it is safe to say the paper has found the world circulation.
Cup Night
Bert asked me to give his regards to Harry Choke which I have done.  He was with Harlvin a London Hotel the night Everton won the Cup in 1933.  I would like to thank Bert for taking the trouble to send me a most interesting letter and if any of his friends would like his address its at 62 Evergreen Lane, New Hyde Park Long Islands, New York. 
Last week's victory against Arsenal was the first time this season that I have played on a winning side which is maybe why I feel that we did not get the credit from critics that we deserved for our play.  It was undoubtedly a team effort that inflicted on the London side what was only their second defeat of the season, but I would like to mention  Johnny King and Albert Dunlop.  I played right half against Jimmy Bloomfield and knowing fully too well what a dangerous player he can be and thus of you who were at Goodison last Saturday will know how now infected he was against Johnny King with his keen tackling.  Albert also had another grand game in fact he had a splendid game many will remember. 
Better Side
You may remember that after I Saw Roger Hunt play against Scunthorpe at Anfield, I said that I thought he would make his mark in the game.  Little did I realize just how quickly he would prove me right.  He played well against us on Wednesday and scored two excellent goals. 
I although that little Willie Carlmaslac had a good game.  As he is so young he will undoubtedly put on height and weight and when he does I think he's going to cause some defences a lot of trouble.  Although the game was all over bar the shouting when Johnny Wheeler scored, it does not take any of the credit from what was a wonderful shot.  And he made it look so easy!  Well just have to try to do better in the return match at Anfield. 
Parker Pen Pals
My husband lost his sight three years ago so he not able to travel to Goodison to see the matches, but my cousin sends the Echo every week and I read it to him.  He was at the match you deferred to as being the cause of the change in safes whereby the goalkeeper has a different colored jersey to the rest of the team and he told me to ask you if Harry Cooke remembers Jock Elliott sending someone to buy 10 silk squares to shielded the necks of the players from the sun, it was a match with Manchester City.  Goalkeeper Billy Scott said; "Holly smoke doesn't the goalkeeper play in the sun then?"  Everton won 9-1.  Mention of Val Harris reminds me that altogether he was such a good player he could never score.  A firm in County road offered him a piano it he got a goal and soon afterwards he scored against the great Iremonger of Notts County.  He got his piano, Mr.s L.H. Harrison, 5 Headingley Road Birmingham 21. 
-Thank you for a most interesting letter I mentioned the incident about the silk squares to Harry Cooke and he certainly remembered the match and he also of Billy Scott comments when he realized he was being missed out.  However, Harry took the story a step further for he says that trainer Elliott's rely to Scott's questions was "The goal netting keeps the sun off the goalkeeper.  Some consolation.  Although your husband may have lost his sight he certainly hasn't lost his memory.  I asked a journalist friend the check on the game with City.  It took place on September 9, 1906. A long time ago. 
EVERTON RES V MAN UNITED RES
Saturday October 10, 1959. The Liverpool Echo and Evening Express
Everton Res;- O'Neill; Bentham, Tansey; Rea, Billington, Meagan; Peat, Shepherd, Wignall, Ashworth, O'Hara.  The United kicked off and O'Neill was soon in action in making good saves from Pearson and Giles.  Everton were slow to get into their strode but a smashing piece of passing between Wignall and Ashworth split the United defence wide open.  O'Hara however, blaze over the bar with only the goalkeeper to beat.  Shepherd forced Gaskell to make a finger-tip save and from the corner kick the United swept down the field for Pearson to gave the visitors the lead in the eight minute.  Three minutes later Dawson increased the United lead while after 8 minutes play Giles added a third.  Everton were now struggling against a slick combination although Wignall headed against the underside of the bar from Peat's centre.  The ball, however rebounded to Peat who fired inches over the bar.  Despite being three goals down Everton were still full of fight and right on the stroke of the interval Ashworth deservedly reduced the arrears.  Half-time; Everton Res 1, Manchester United Res 3. 
BRAWL OF A GAME ENDs ALL SQUARE
Monday, October 12, 1959. The Liverpool Daily Post
Leeds United 3, Everton 3
By Michael Charters
Everton fought back three times to take their first point at Elland Road in six visits.  It was a well-deserved point because of the way they recovered late in the second half, and they almost snatched victory with a closing rally.  This is not the story of the match, however.  Here was a classic example of how inadequate referring allowed the game to descend to a brawl with players squaring up to each other, over-tough tackling hacking and kicking and very little done by Referee Sparling to stamp it out.  At times the atmosphere was electric.  Neither side settled down to more than a few minutes of composed football before there was an incident which threatened to make the game explode.  It was more like a boxing match than a soccer game and had not tempers calmed somewhat in the second half, I fear something would have been carried off or others sent off.  The trouble began, early on after Crowe had put Leeds ahead with a penalty goal after five minutes when Thomas brought down Irish international wing half Cush with a late tackle.  Some Everton players protested that the award was unfair; I thought it one of the few good decisions by Mr. Sparling. 
Handling Ignored
Within a minute, however, he ignored blatant handling by Cush in Leeds penalty area, which annoyed Everton, and then had trouble in sorting out a free kick for Everton.  Collins refused to take the kick until the Leeds defenders retreated the required ten yards and the referee spoke to Collins before the kick was taken.  Then Hickson scored a magnificent solo goal, by dribbling past Astall and Charlton, taking the ball along the by-line and shooting hard through the narrowest of gaps as goalkeeper Wood anticipated a low cross to Thomas.  From then on, players provoked each other with tactics which a firm official should have stamped out quickly.  Collins and Gibson were spoken to and the roars and boos of the crowd helped to bring tempers to fever pitch.  It seemed that whenever Hickson restored to lead Everton's attack and the volatile Cush were near the ball, something happened.  Hickson had his name taken after clashing with Charlton following a foul by Thomas on Cush.  Within a few minutes with players on both sides plainly unsettled Everton's defenders stood immobile expecting an offside decision as McCole beat Dunlop to a bouncing ball and headed into an empty net.  The Leeds centre forward looked yards offside to me.  Decisions like this did nothing to calm things down, Hickson and Cush tangled again with arms and legs flatling and Hickson picked something off the pitch (it turned out to be two pieces of brick and an apple core) and showed them to the referee.  Mr. Sparling ignored him and Hickson threw the objects away in disgust.  Just before half-time from a free kick, Hickson was plainly fouled by Cush in the penalty area and the referee took Cush's name.  As Shackleton picked up the ball to place it on the penalty spot, incredibly the referee awarded a throw-in at the point where the ball had gone out when play had stopped for Hickson to receive the trainer's attention.  Everton walked off at half-time 2-1 down, with the boos of the crowd ringing in their ears.  Boos were not out of place, but they should have been shared by both sides.  In fact a stronger referee than Mr. Sparling would have sent of both Hickson and Cush.  Admittedly there was provocation but that does not excuse the unhappy, unsatisfactory happening in this brawl of a game.  Collins equalizing for Everton within a minute of the resumption, Francis put Leeds head for the third time mid-way through the second half with a glorious shot, and Hickson restored equally seven minutes from time with a perfect header from Collins centre.  Only the goals were worth recording.  Fouls came before football, but out of the plethora of incidents, I would single out Collins for a wonderful game of all-out endeavour and flashes of brilliance.  Hickson for quality at least or his two goals and Jones for a quiet effective display at centre half.  Many of the others seemed to be overwhelmed by the brawling around them, and never played calmly or efficiently until late on.  Leeds are a poor wide, who will be struggling to avoid relegation on this display.  Goalkeeper Wood, the former New Brighton player, looked unsteady and the defence was shaky under pressure.  Their star was the coloured wiinger.  Francis who gave Bramwell a testing time.  This was a game best forgotten.  It was no advertisement for First Division football or professionalism at all, and Mr. Sparling must take a major share of the blame for letting events get out of hand to such an extent.  Leeds United; Wood; Ashall, Hair; Gibson, Charlton, Cush; Francis, Cameron, McCole, Crowe, Overfield.  Everton; Dunlop; Parker, Bramwell; King, Jones (captain), Harris (B); Harris (J), Thomas, Hickson, Collins, Shackleton.  Referee; Mr. A.W. Sparling, Grimsby.  Attendance 19,000.
EVERTON RES 3, MANCHESTER UNITED RES 5
Monday October 12, 1959. The Liverpool Daily Post
Although United held a 3-0 lead after eighteen minutes play, the game continued to be fast and entertaining.  Ashworth 44th and 46th minutes goals gave Everton a sporting chance, but the United dispelled their hopes by scoring again almost immediately.  In fact Everton did remarkably well to restrict the powerful and skilful United forwards to only one more goal before Wignall converted a late penalty kick.  Pearson (2), Dawson, Giles and Morgan netted for the United. 
MORE FOULING THAN FOOTBALL IN EVERTON GAME
Monday, October 12, 1959. The Liverpool Echo and Evening Express
And Other Referee Trouble At Elland Road
By Michael Charters
The brawling tangle of events at Elland Road on Saturday when masqueraded under the name of First Division match between Leeds United and Everton was one of the most unsatisfactory affairs I have ever seen.  It made a mockery of the word sport!  Many things contributed to it, but chiefly responsible was the inadequate referring of Mr. A. W. Sparling, of Grimsby, who failed to stop incidents at the outset so that fouls and retaliation almost got out of hand.  In retrospect L marvel that no player was carried off seriously injured or that others were allowed to finish the game.  The match needed, early on a salutary decision by Mr. Sparling that he would have no more of the bickering, hacking and leg-failing that was going on or else someone would be sent off.  He failed.  It was only the good sense of the calmer players late in the second half which cooled heated tempers and enable the teams to finish with a full compliment.  A firmer official would have come down with an iron hand and I'm sure then that we would have seen some attractive football.  As it was, the more composed spells of effective play were invariably disrupted by an outbreak of tough tackling and players squaring up to each other, with Mr. Sparling doing little to stamp out beyond taking the names of Dave Hickson and Wilburn Cush, the Irish international wing half of Leeds.  I find it impossible to describe the play because neither team was allowed to settle down until the closing stages when the waning of the sun seemed to bring a long awaited drop in the temperature of the players attitude to each other.  There was always the feeling that something would explode in the electric atmosphere.  That only two players were "booked" and no one sent off will always remain a mystery to me.  Some of Mr. Sparling decisions baffled me, for example King and Leeds inside left Grove crashed in a tackle which left me as mentally shaken as the players must have been physically.  They got to their feet, and shaped up to each other in a stadium like threat but Mr. Sparling fingering waved play on without a word spoken.  Again Cush fouled Hickson when they jumped for a free kick only a few yards from goal, Hickson went down in a heap with blood streaming from his nose and clutching his body which later showed marks where a boot had landed.  The referee called on the trainer Watson and took Cush's name while Hickson was being helped to pull himself together and resume.  The ball had run out of play but was brought back by Shackleton who placed it on the penalty spot expecting like everyone else I imagine that a penalty would be awarded.  Mr. Sparling removed the ball and gave a throw-in.  I don't understand. 
Objects Thrown
Cush and Hickson had earlier been involved in a clash which started with a foul by Cush on the Everton man, Hickson retaliated and the free kick was given against him.  Then, Hickson was seen to pick up something from the ground and run across towards the referee to call his attention to the objects which had been thrown from the terraces.  The referee ignored him.  Hickson looked disgusted and showed it plainly.  Hickson told me later that he had picked up two small pieces of brick and an apple core, which he throw off the pitch into the running track.  Hickson had his name taken after Cush had been fouled by Thomas.  While Cush was getting up, and the referee had blown up for the free kick, Hickson ran after the ball tangled with centre half Charlton and Mr. Sharling moved over to take out his book.  There were other incidents involving Collins and right half Gibson and Jimmy Harris with the mercurial Cush.  It seemed that this Irishman a magnificent player in his own right, attracted trouble like bee to honey. 
Provocation
Pinning down the start of the bother is not easy but I must say there was provocation on both sides, which is no excuse for some of the disgraceful incidents.  I can believe that provocation of a most blatant kind a difficult to ignore, but men whose living is football should be able to forget it and get on with the game as it should be played.  Outside all this, there were some wonderful goals to applaud.  Hickson scored two in a style which no one else on Everton's books could achieve.  His first to equalize a five minute penalty goal by Crowe awarded when Thomas made a late tackle on Cush (yes, it's that man again) was memorable.  He took a pass from Shackleton, swarmed around full back Ashall and Charlton in a Collins-style dribble and took the ball along the by-line.  With goalkeeper Wood expecting a cross Hickson took the chance to slam home a shot through the narrowest of gaps with unerring accuracy.  Seven minutes from time he put Everton level for the third time with a lovely glancing header from Collins corner kick.  Collins had put a short corner to Thomas, took this return and placed the ball on Hickson's head with the cutest of lobs.  In between these Hickson goals, Leeds had gone to 2-1 and then 3-2 with goals by McCole and Francis, the coloured outside right.  McCole's goal came when Hair returned an Everton clearance from a corner and Everton defenders stood immobile on the edge of the penalty area anticipating an offside decision against the Leeds centre forward.  He looked yards offside to me but he was allowed to go on, challenge Dunlop for the bouncing ball and head it into the empty net.  Collins brought Everton to 2-2 just after half-time with another glorious goal.  He started the move with a pass to Shackleton, who returned it to Thomas, and the ball was flicked to Collins.  The Scot looked up, saw his spot and hammered the ball from twenty five yards, into the top corner with Wood trying in vain.  Leeds third goal as just as good, Francis their best player went through to beat Bramwell and King slipped the ball over to Crowe was in position for the return and swerved it past Dunlop with a rising shot. 
Francis Shines
Francis did well against Bramwell playing only his second League game of the season Bramwell started excellently, but the winger got on top as the game progressed.  No doubt Bramwell found the change of pace from Central League games a difficult handicap.  The very nature of this match unsettled most of the players so criticism would be out of place.  Bu I must commend Collins for a wonderful ninety-minutes display of craft and endeavour to stamp himself as the one great player of the twenty two and also Jones and Dunlop for much excellent work.  On the Leeds side apart from Francis, McCole did reasonably well without over beating Jones consistency, while Overfield had a fair match against Parker, who finished limping and did not seen to be able to call on his top speed at any time.  Generally Leeds looked a mediocre side and will find it tough going to avoid relegation.  In what spells of good football there were, Everton always impressed as the more cultured team.  They were well worth of their point from the 3-3 draw and might even have snatched victory in a late rally. 
EVERTON NEWS
Monday, October 12, 1959. The Liverpool Echo and Evening Express
By Leslie Edwards
At Leeds too, the man in charge was apparently prepared to overlook many things.  Manager John Carey, who missed the match will doubtless hear the pros and cons of his side's performances from Chairman Fred Micksfield and director Holland Hughes.  Besides having a chat with Dave Hickson last week Mr. Carey saw in the office as they say full-back Alan Sanders and winger Eddie O'Hara, both of whom are anxious to know what their position is following spells in and out of the first team.  Mr. Carey stresses the point that these talks were harmonious and that they are of the kind which are normal at any club.  Neither player asked to be placed on the transfer list.  O'Hara told his manager that he did not see a great future for himself at Goodison Park and that if circumstances arose his return to soccer in Scotland it would be a good thing.  Sanders too wanted his chief's explanation about his position. 
EVERTON SCOUT AT SHREWSBURY
Monday, October 12, 1959. The Liverpool Echo and Evening Express
Several scouts including one from Everton, were at the Shrewsbury v. Newport County match on Saturday.  Mr. Ike Robinson a Liverpool member of the F.A also attended practicably to see the form of one or two 16-years-old Chester boys making good at Gay Meadow. 
EVERTON FACE HOLDERS
Tuesday, October 13, 1959. The Liverpool Echo and Evening Express
By Leslie Edwards
Everton and Liverpool have youth club matches this week, Everton's tonight against Blackburn Rovers holders of the F.A Youth Cup and Liverpool's at Anfield tomorrow against Bradford City (3-15).  Liverpool swamped Chester 12-1 in the preliminary rounds of the competition.  Manager John Carey is lucky to have such a fine coach as Leslie Shannon to help him nurse his youngsters of whom Griffiths the former Mold Grammer Schoolboy in goal, and Sharples from Birkenhead have outstanding opportunity to make a hit.  Everton have combed North Wales thoroughly and Green (left-back) and half-backs Jarvis and Watson are all from the area.  The Everton team for tonight's I;- Griffiths; Gannon, Green; Jarvis, Watson, Sharples; Boner, Tyrer, Bentley, Morton, Edmondson. 
Hickson Leads Rhyl!
Rhyl's first big floodlight match of the season kicks off at 7-30 p.m tomorrow hen Manchester United are the visitors.  The match was arranged following the transfer of Rhyl's left winger, Ken McDowell, to United three weeks ago for £1,000 and providing he is fit to play McDowell will be on the left wing against his old club.  Dave Hickson the Everton centre-forward will lead the Rhyl attack, which comprise four guest players and one regular Rhyl forward.  Welsh international Royston Vernon will be at inside-left with former United star now Chester manager, Stan Pearson occupying the other inside berth.  Former Rhyl player Denis Wilson now a first teamer with Stoke City will e at right back and Wrexham winger Grenville Jones on the right wing. 
FINE FIGHT BY EVERTON DEFENCE
Wednesday, October 14, 1959. The Liverpool Daily Post
Youth Cup-Tie
Blackburn Rovers Youth 2, Everton Youth 2
By David Horridge.
The Everton Youth team earned a replay with Blackburn Rovers (Holders) when they drew their First Round F.A. Youth Cup-tie at Ewood Park, last night.  While Everton were on the receiving end for most of the game so well did Everton defence fight that it would have been a pity if they had been on the losing side.  Rovers began as if they meant to sweep the board but after seven minutes Everton broke away on the right wing through Boner who squared the ball across to Bentley who transferred it to Edmondson.  The left winger pushed the ball back into the goalmouth where Morton flicked it in.  The home team took up the attack again, but after 14 minutes Boner again made a forty-yard dash up the wing and again put the ball to Bentley.  The centre-forward passed back to Tyrer on the edge of the penalty area and he promptly banged the ball into the net.  This spurred the home team to still greater efforts and the visiting defence took a terrific pounding.  Some of their tackling was not to the likely of the 10,100 crowd, but the defenders saw to it that goalkeeper Griffiths was not as troubled as he should have been. 
In Trouble
Everton held their lead until the interval but to minutes after this Mulvey reduced the arrears when he scored from 12 yards.  Everton were now really in trouble and after 60 minutes Bradshaw headed the equalizer.  After the great work of the Everton defence this was something of a tragedy for Griffiths.  Moulding took a corner on the right and Bradshaw's header pitched just in front of Griffiths but as the goalkeeper went to gather it the greasy ball bounced and twisted over his shoulder.  Strangely enough after this Everton enjoyed their best spell of the game.  Boner (twice) and Edmundson going near, but this spell did not last long and the Rovers were soon hammering away again at the Everton defence.  In the final minute Jervis nearly put Blackburn in front with a header which shaved the cross bar.  Teams.- Blackburn Rovers; Linacre; Sandford; England, Haynes, Slater; Moulding, Bradshaw, Jervis, Mulvey, Ratcliffe.  Everton; Griffiths; Gannon, Green; Jarvis, Watson. Sharples; Boner, Tyrer, Bentley, Morton, Edmoundson. 
EVERTON YOUTHS GET CUP REPLAY AT BLACKBURN
Wednesday, October 14, 1959.The Liverpool Echo and Evening Express
By David Horridge
Before the start of last night's first round Youth Cup match at Ewood Park Everton's chief scout, Harry Cooke told me he reckoned the club's present team was probably the best they had for a number of years.  By earning a replay with Blackburn Rovers, who won the trophy last season, it looks as though he might be right.  Some people may argue that the score 2-2 was not a true reflection of a match in which Blackburn had far more of the play territorially but the courageous display of the Everton defence warranted their not being on the losing side.  The Rovers attack included four of last season's successful team but such was the covering of the Everton defence that they kept the goalkeeper Griffiths work down to a minimum.  Some of the Everton tackling was not to the liking of the crowd, but the greasy turf tended to make some clashes appears worse than they were. 
Lucky Equaliser.
There is no doubt that these conditions were the reason for Blackburn's equalizing goal after 60 minutes.  When inside-right Bradshaw headed a right wing corner forward goal there seemed little danger with Griffiths and his full-backs guarding the line the ball pitched just in front of the goalkeeper but as he bent to pick it up it "broke" in the manner of cricket ball and slipped over his left shoulder into the net.  This was terrible luck for Griffiths for he had played well.  Blackburn began as if they meant to better the 14 Manchester United had scored against Morecambe the previous night and almost straight from the kick-off Everton left-back Green had to dash across to kick the ball off ex-Liverpool schoolboy Jervis toe.  Then David Boner took a hand.  In the seventh minute the little outsider-right collected a ball on the half-way line, beat two defenders and from the goal line squared the ball into the middle.  Centre forward Bentley helping it across to Edmondson and when the left-winger centred it George Morton flicked in into the net.  Seven minutes later Boner as if the show his first effort was no "fluke" repeated the act.  He made-another 40-yards in dribble down the touchline and again pushed the ball back to Bentley.  Unable to try a shot himself the centre forward feed it up for Tyrer and from the edge of the penalty area he swept it into the net.  In less than a quarter of an hour the visitors were two up from the only real attacks they had made.  From then until the 47th minute Everton were really up against it, and it is great reflection on the defensive covering that Griffiths was not called upon more often than he was although he made one damage drive at a forward's feet to save a certain score. 
Jarvis Great
The brains behind Rovers attack belonged to inside-left Mulvey but great as he was he was no better than Everton's right half, Alan Jarvis.  In addition to marking Mulvey he found time to prompt his own right wing as witness Boner's two runs.  Two minutes after the restart Blackburn made it 2-1 when right-winger Moulding cut in.  It appeared the chance had gone when Jervis missed the pass but Mulvey was backing up and scored from the edge of the area.  Thirteen minutes later came Bradshaw equalizer.  Strangely enough it was immediately followed this that Everton were at their best.  Boner (twice) and Bentley went near and Morton had a grand volley well saved.  Rovers seemed to have run themselves out at this stage but they disproved that by again pounding the Everton defence in the closing minutes and the match ended with Jarvis rocketing a header inches over the bar.  This Everton side s not so well balanced as it might be.  There is room for improvement in more than one position, but I doubt there is any side in the competition with a better pair of wing halves than Sharples and Jarvis.  Much has been said about written about Sharples and he lived up to his reputation last night but Jarvis was every bit as good.  He had a magnificent match and when you consider that Rovers right half Mike England who has played for their first team, looked no better, you can gauge Jarvis's play. 
No Panic
The backs Gannon and Green and centre half Watson while looking a little shaky under the extreme pressure they had to face, never shirked a tackle and made no serious mistakes that I can recall.  After the great first-half Boner found little opportunity to shine later on but with Tyrer, formed Everton's most dangerous wing.  Centre-forward Bentley was often ploughing a lone furrow and when the left wing of Morton and Edmondson realized their chance of adding to the goal tally were limited they gave much useful was stance in defence.  Les Shannon who looks after the boys and afterwards that he was well satisfied with the result.  He had every reason to be.  While the 10,100 crowd must have been disappointed at their side only drawing they had their money worth in excitement and if the replay reaches the same standard it well be well worth seeing. 
YOUTH CUP REPLAY NEXT WEDNESDAY
Wednesday October 14, 1959. The Liverpool Echo and Evening Express
Labone Injury Progressing
By Leslie Edwards
The Blackburn Rovers v. Everton Youth Cup tie will be replayed at Goodison Park next Wednesday (7 pm.) There were 10,000 spectators at Blackburn to see the teams draw 2-2) and as Blackburn held the trophy, it is likely that this figure will be far exceeded when the sides meet a second time.  Everton will not choose their side against West Ham until later in the week.  Brian Labone out of the team through injury, is progressing quite well. 
HOOD BACK AT GOODISON
Thursday October 15, 1959. The Liverpool Echo and Evening Express
By Leslie Edwards
Jackie Hood the young Everton centre forward who went home to Scotland a fortnight ago, after a difference with his club is back at Goodison Park and in training.
EVERTON UNCHANGED FOR TOMORROW
Friday October 16, 1959. The Liverpool Echo and Evening Express
By Leslie Edwards
Everton have chosen the team which got a draw at Leeds for the match tomorrow against West Ham at Goodison Park.  This means that Alan Shackleton continues on the left wing with Tom Jones at centre-half.  Brian Labone is still unfit and so is Eddie O'Hara.  Eve of the match shock for West Ham United is news that Scottish international inside left Johnny Dick misses the game. As Phil Woosnam is playing for Wales at Cardiff, West Ham must take the field without either of their internationals inside forward Dick has developed fluid on the knee.  Into their places step two 18-years-old John Cartwright who will be making his League debut at inside right and Andy Smillee deputy for Dick earlier in the season.  West Ham's third change is at left half where former England youth captain Bobby Moore comes in for John Smith who is a reserve for England at Cardiff.  Everton; Dunlop; Parker, Bramwell; King, Jones, B. Harris; J. Harris, Thomas, Hickson, Collins, Shackleton.  West Ham; Dwyer; Bond, Cantwell, Malcolm, Brown, Moore, Grice, Cartwright, Keeble, Smilie, Musgroves. 
Everton Res (at Derby); O'Neill; Saunders, Tansey; Jarvie, Billington, Meagan; Peat, Shepherd, Wignall, Ashworth, Laverick. 
UNCHANGED EVERTON
Saturday October 17 1959. The Liverpool Daily Post
West Ham, nicely keeping company with the leaders, pay for their successful season by losing Woosnam to Wales and Smith as England's twelfth man.  Blows of this magnitude are series enough, but to lose Johnny Dick through injury is doubly disturbing.  Youth is having a great fling in League football just now and West Ham cannot be accused of taking no part in its encouragement, for they include in their team at Goodison three eighteen years-old John Cartwright at inside right, Andy Smillie at inside left and Bobby Moore at left half.  Cartwright, a former youth international has not previously played in top flight soccer.  Everton's only disturbing note is that Brian Labone is still unfit.  It was obvious yesterday even without a test of the injured ankle that he could not be considered for selection.  His condition is greatly improved for all that and there is a fairly confident prediction that Labone will be in action again next week.  In the circumstances manager John Carey has decided to reply on the same team which brought a point back from Leeds which means that Tom Jones remains at centre half and Bramwell at left back.  When I asked Mr. Carey whose scouting excursions prevented him from seeing his side against Leeds United whether he would be at Goodison today he mysteriously replied; "I shall be watching a match."  When I asked if he could be more specific, he said, "I cannot say which match yet because I don't know."  
Position Is Spur
West Hams' high League placing do nothing to discourage Everton for when Arsenal were at Goodison, Everton pulled off one of their most impressive performances.  Maybe the occasion finds the form.  Let's hope so for their supporters are badly in need of something really worthwhile to cheer these disappointing days.  The corresponding game last season produced a 2-2 draw, when Everton's ground troubles were at their height and the match was played on a pitch almost ankle deep in mud.  One thing is reasonably sure.  The match condition cannot be made the excuse for any sub-standard performance this time.  Everton; Dunlop; Parker, Bramwell; King, Jones, B. Harris; J. Harris, Thomas, Hickson, Collins, Shackleton.  West Ham; Dwyer; Bond, Cantwell, Malcolm, Brown, Moore, Grice, Cartwright, Keeble, Smilie, Musgroves. 
WEST HAM CALL ON YOUTH
Saturday, October 17, 1959. The Liverpool Echo and Evening Express
By Leslie Edwards
West Ham's previous exploits in this city have mostly been at Anfield where a couple of seasons ago they gave clear indication that it would not be long before they gained promotion.  They are a sizeable team and even names three of their stars Phil Woosman, John Smith, and John Dick, they will pose quite a problem for an Everton who have not satisfied their followers in many matches at Goodison Park this season.  Woosnam is playing for Wales at Cardiff, Smith is a travelling reserve for England and Scottish international Dick-dropped out of the selected team yesterday owing to fluid on a knee.  West Ham field today no fewer than three 18-years-old –Cartwright (inside right), Smillie (inside-left), and Moore (left half).  Cartwright who will be making his League debut, and Smillie fill the places usually occupied by Woosnam and Dick.  Moore is normally a centre half and the captained the England Youth X1 in that position.  A lot of good judges of soccer including Everton manager John Carey, think highly of him.  Woosnam, a relative of the old Manchester City amateur who was equally at home playing lawn tennis, is a former Bangor University boy who made good with Leyton Orient.  He cost his club a big fee, but he has proved worth every penny of it and the pity is that we shall be denied opportunity of seeing him.  Manager Ted Fenton, of West Ham, one of a famous family of footballers, is one of the game's most forthright personalities.  It says much for his ability that he has been not only able to help to put his club back in the First Division but to maintain them there in a challenging position.  Almost a year ago West Ham's visit to Goodison Park was notable for the first appearance in the Everton League side of full-back Alex Parker, whose misfortune was that he was posted to Cyprus soon after joining the Carey brigade.  One of the reasons's for West Ham's rise in recent seasons was the signing from Newcastle United of centre-forward Vic Keeble.  Like full-back Bond he is a Colchester back-ground.  Since he arrived, West Ham have gone all one way, in their promotion season they scored more than 100 goals for the first time in their long history.  Though they are not one of London's fashionable clubs West Ham have always been a good tough side and have always tended to have long-serving members in the team and in the office.  Indeed Manager Ted Fenton has been some 35 years with the club, and before him the evergreen Charlie Paynter had a lifetime with the club, starting as a player and ending after being trainer as Manager.  Everton; Dunlop; Parker, Bramwell; King, Jones, B. Harris; J. Harris, Thomas, Hickson, Collins, Shackleton.  West Ham; Dwyer; Bond, Cantwell, Malcolm, Brown, Moore, Grice, Cartwright, Keeble, Smilie, Musgroves. 
WEST HAM SCORE FIVE MINUTES FROM TIME
Saturday, October 17, 1959. The Liverpool Echo and Evening Express
Visiting Defence ad Wind Foil Everton
Everton 0, West Ham 1
By Michael Charters
Everton;- Dunlop; Parker, Bramwell; King, Jones (Captain), B. Harris; J. Harris, Thomas, Hickson, Collins, Shackleton.  West Ham United; Dwyer; Bond, Cantwell; Malcolm, Brown, Moore; Grice, Cartwright, Keeble, Smellie, Musgroves.  Referee; Mr. A.E. Ellis, Halifax. 
The crowd was quite small for the visit of attractive West Ham to Goodison this afternoon.  A boisterous wind with the distinct possibility of further rain meant that the conditions were more in keeping with what we expect at this time of the year.  West Ham's three 18-years-old;- Moore, Cartwright, and Smillie-were all impressive and particularly Moore, who looked much more mature than his years.  In Everton's opening attack the visiting defence got in a tangle and wild kick by Brown landed at the feet of Jimmy Harris whose first time shot went wide.  The swirling wind was playing unexpected tricks with the ball and neither team settled quickly to control it.  Dwyer punted one ball from the edge of the area which landed on the edge of Everton's for Dunlop to make a catch on the first bounce.  Collins was soon in action with some delightful midfield passing while Parker made a superb tackle to whip the ball off Musgrove's toes.  The first shot came from King, who picked up a loose ball and tried a long drive which slid over the bar.  Immediately afterwards Dwyer had to perform some acrobatics when a centre from Jimmy Harris eluded his club mates as it swung in the breeze.  He palmed the ball out to Shackleton who could not control it before the goalkeeper recovered and dived to clutch it. 
Almost
Hickson twice flicked his way past Brown in the space of five yards before hitting a right foot shot just over.  Had it beaten Dwyer it would have been one of the goals of the season.  An early feature had been the excellent tackling by both defences.  It was a pleasure to see it clean and crisp without a suggestion of "needle" in it.  West Ham then produced a lovely move with Dwyer's goal kick going straight to the unmarked Grice who turned it inside for Smillie to take a quick shot which Dunlop saved at full stretch.  The ball came out of his grasp with its speed for Parker to complete the clearance.  Both sides were playing attractive forceful football.  Many good-looking attacks broke down as wingers flung the ball over and found the wind carrying it too far.  Parker back at his best on this display, skimmed one across which swerved violently as Shackleton went up to head it and the winger completely mis-time his effort as a result.  Hickson was doing excellently against the massive Brown, but the whole of the visiting defence had settled down after their early attack of jitters with both backs playing their wingers excellently.  Although the game continued to please goalmouth incidents were rare between two evenly matched sides, although Dunlop made a good save from Cartwright and at the other end West Ham charged up field after an Everton free kick to leave Collins stranded yards offside.  Little had been seen of Keeble but he made a nice header from Grice's centre to send the ball narrowly wide with Dunlop scrambling.  Parker and the West Ham leader suffered a clash of heads in this instance and both trainers came on to treat them.  Everton were inclined to keep the ball in the air too much which was footballing suicide in such a wind, while West Ham moved more smoothly when they did get going –particularly on the right wing where Grice looked first class.  The game had lost a lot of its earlier snap now with both goalkeepers mainly engaged in picking up long through passes which eluded the forwards. 
Touch of Class
Young Moore brought a touch of class to it with a gorgeous 40-yard pass to the feet of the in-rushing Grice, who slewed his shot well wide with his left foot.  Shackleton could do little right on the wing and for a spell changed positions with Hickson-which seemed a mistake for Hickson had been distributing the ball nicely from the middle.  Just on half-time Dwyer had to leap to clutch a bad back-pass from Brown who previously had been pulled up for a foul on Hickson- really the only contentious moment of a first half in which the wind had been the deciding factor in keeping the teams goal-less.
Half-time; Everton 0, West Ham United 0.
There was now too much biff and boot about the game to make it notable although there were some splendid individual touches from such as Collins, and Parker for Everton and Cantwell and Malcolm for the visitors.  Brian Harris brought some life into the game with a great right wing run, but his namesake failed to take a good chance from his cross and when the ball ran out Hickson's first time shot as blocked away.  Everton's falling principally lay in their addiction o giving the ball too much air in attack.  West Ham with their on-the-ground play, always looked more dangerous in their less frequent attacks and Dunlop made a splendid save from Grice.  Brian Harris who was all over the place in his endeavours to get his attack moving went through to try a shot himself which just went wide.  One lesson for Everton stood out above all others and that was that Shackleton was out of place on the wing.  A mistake by Bramwell who hurt his ankle in attempting to tackle Malcolm let West Ham through and Smillie looked as though he had put them ahead only to find Dunlop diving at the last second to save.  Hickson spectacularly flashed a header just over the bar after Jimmy Harris had chased and caught long pass along the wing.  Generally, however, it was the defences who were on top. 
Almost Own Goal
Dunlop surpassed himself with a miraculous recovery when Jones tried to turn a spinning ball back to him.  For a moment it looked certain that an own-goal was n the cards but Dunlop flung himself across to finger-tip the ball onto a post where it bounced out for Bramwell to clear.  Brian Harris from wing half was doing more shooting than any of the Everton forwards, and he hit one across the face of the goal after a lovely break-through with Jimmy Harris.  Cooler or more efficient defence play has not been seen at Goodison for years than that provided by the visiting team.  Dwyer had a chance to prove his worth when Collins smashed a free kick for the corner of the net instead of lobbing it forward conventionally.  The West Ham keeper just got across to tip it away for a corner.  With about 10 minutes to go Everton began a spell of pressure but one had to admire the coolness of the visiting defenders.  A header from Jimmy Harris just missed by the proverbial coat of paint after Hickson had switched to the right wing and crossed the ball and with the cheers of the crowd behind them it was obvious that Everton would not be content with only one point.  King tried a 40-yards  ground shot which almost surprised Dwyer, who recovered brilliantly.  In the first attack for about 15 minutes West Ham took a most undeserved leading goal through Musgrove with only five minutes left.  the move started after Dwyer had saved a Hickson shot and the ball moved down the right wing to Smillie who hold it than crossed it for Musgrove to dribble round Parker and shoot from just inside the area to beat Dunlop.  This was a travesty of a result for Everton had been the better team in the second half. 
Final; Everton 0, West Ham 1.  Attendance 30,563. 
YOUTH CUP IS MOVING UP TO BIG TIME
Saturday, October 17, 1959. The Liverpool Echo and Evening Express
Alex Parker Comments
A Competition fast gaining in popularity in the F.A. Youth Challenge Cup, especially since it has been proved by Blackburn Rovers that clubs other than Manchester United can win it.  Since the start of the season we at Goodison Park have been confident that our own youth team would give a good account of itself this season, and by getting a draw at Blackburn last Tuesday the boys look like proving us right.  When we heard that they were away to the Cup holders in the first round we know that their showing there would give an indication of just how good they are.  Now we know.  The Rovers included five of last season's team including Mike England, who has had experience of First Division football.  The Everton boys are nearly all 16 and 17, with inside left George Morton the former Liverpool Schoolboy star the baby of the side at 15.  They include former English, Scottish and Welsh schoolboy internationals and are looked after by Les Shannon the former Liverpool and Burnley player.  Most mornings Les can be seen at Bellefield with the boys, rehearsing moves and trying out rushes for corners and free-kicks.  Last Tuesday's result must have left him in no doubt that his efforts have all been worthwhile although the keenness showed by his pupils must ease his job considerably.   Goalkeeper Graham Griffiths left-back, Colin Green, right half, Alan Jarvis and centre-half John Watson are Welsh, with Griffiths the veteran of the side at 17.  Wee Davey Boner, at outside-right is the Scottish representative and Mike Gannon, George Sharples, Alan Tyrer, John Bentley, George Morton, and Barry Edmondson are from Merseyside.  Centre-forward John Bentley is an ex-Collegate boy like Brian Labone.  In the preliminary round against Rhly, he scored with two headers with I doubt will be bettered at Goodison this season.  One was from the edge of the penalty area.  It was unlucky for George Sharples that the match at Blackburn should fell on the same night as the England team was due to meet Sunderland for he had to forego an international appearance but I think that the part he played in forcing that draw would more than compensate him.  Anyway, he's almost certain to get his place in the England side later in the season. 
No Easy Game
There were over 10,000 at Blackburn but I expect nearly twice that number at Goodison on Wednesday.  I hear the Rovers received plenty of vocal encouragement.  I've mentioned before just how important this cheering can be, so I'm appealing to you now to give the boys all you've got.  Make no mistake it will be no easy match, for Blackburn are a good side but so are Everton.  Along with the rest of the Everton staff I'll be there cheering for them, and I expect them to pull it off.  At Leeds last week I renewed acquaintance with three old friend.  Before the game I met former Army colleague in Sergeant Laird, of the Royal Scotts Fusiliers.  He tried to train the battalion team.  His cousin David Laird, plays inside-forward for St. Mirren and met with an unfortunate accident last week when he broke an ankle.  The Sergeant was on leave and decided to call at Elland Road to see if ex-Fusilier Parker was behaving himself.  As we got  draw I don't think I let him down.  I also met two ex-Falkirk colleagues n John McCole and Willie Sinclair.  Sinclair is on Huddersfield Town's books and called to our hotel in Huddersfield where we had lunch.  McCole as you probably know, was recently transferred from Bradford City and he tells me he is settling down well.  He's popping goals in regularly, as he should be happy.  We lost the corresponding match last season due to a goal y Alan Shackleton and although he didn't get his name on the score sheet this time he had his hand in a couple of our goals.  Another old friend I met this week was ex-Liverpool goalkeeper Tommy Younger.  You may remember that he organized game with the TV soccer stars a few months ago.  Well, the show Biz X1 are coming back next month and Tommy Younger has again been asked to help, hence his visit.  He tells me that he is quite happy at Falkirk although he misses many of the friends he made on Merseyside.  In the first article I wrote for the Football Echo on my return from Cyprus nearly twelve months ago, I mentioned the name of an Army team colleague, West Ham's Johnny Smith.  I wrote at the time of "his strong penetrative play" Those were my exact words.  Well apparently the English selectors have also noted "his strong, penetrative play" for they named him as reserve for today's international.  Anybody want to buy a selector?   I have given another selection of letters this week.  I am unable to include them all, but in addition to those printed here I would like to thank John Malakas, of the M.M. Maiatian, Patrick Hogan of Carlington, Co Louth Ireland, and Gunner Dave Crabb, 127 Battery, R.A Hong Kong.  If you do wish to contact me you can do so by writing to me c/o the Sports Department Liverpool Echo, Victoria Street, Liverpool 1. 
PARKER PEN PALS
Saturday October 17 1959 The Liverpool Echo and Evening Express
I used to live in Picton Grove and emigrated here just over a year ago.  The standard of soccer is poor but improving with the help of people like Ken Armstrong the former Chelsea player who is coach to the New Zealand Football Federation.  Sunday night here is like Saturday back home, everyone glued to the radio listening to the results of English soccer, and the rivalry between Blues and Reds supporters is as keen as ever.  Here's hoping for a change of fortune for Everton and a speedy return to Division 1 for Liverpool.  David Ryan, 3 Papawasl Terrace Newtown, Wellington, New Zealand. 
(Parker) Thanks for the good wishes and I'm sure I can speak for Liverpool too.  We at Goodison will also be glad to see them back in the First Division.  Interesting to hear of Armstrong's post out there, although Chelsea are only returning a compliment to your side of the world as I remember their having a very good wing half just after the war named Frank Mitchell, who came from Australia. 
(Letter) I have been a great admirer of Everton for over 30 years, but never been to Goodison Park.  The only time I see the team play, is when they are in the Midlands, but I have the Football Echo sent to me every week.  F. Tustain, Burdrop, Sibford Gower, near Banbury, Oxon. 
(Parker) if you ever get the chance to visit Goodison you will find the trip well worth while as it is probably the best club ground in the country.  You will know by now hat your wishes for the Arsenal match came about.
(Letter) I am sailing for Australia soon, and although I am looking forward to my new life "done under" I feel I shall miss my Saturday afternoons at Goodison.  I would like to take this opportunity of thanking you and your colleagues for the enjoyment you have given me over the past two seasons, I hope to keep in touch with Everton activities and maybe hear of your reaching Wembley.  Peter Simpson, 49 Halsall Road Birkdale, Southport.
(Parker) – I don't think you will have much difficulty in following Everton as from what I can gather there are quite a number of our supporters in Australia.  In behalf of the players I would like to thank you for your comments, Brian Harris sends his good wishes to which I would like to add my own. 
(Letter)- Although not as far away as your readers in Australia the fortunes of The team are still followed 1,500 miles away, The Malta football season has just begin but the standard is not very high.  However, Joe Cini has just become the first Maltese to play for an English league club with Queen's Park Rangers.  The reason for the address is that there is no room in the sergeants messes, our bars Sgt.  A. Killikelly, Adelaide Hotel, Malta. 
(Parker)- The army was never like that when I was in it, I was only at Malta for a day on my journey to and from Cyprus.  Maybe if I had stayed a little longer they would have put me up in a hotel too! 
(Letter)- Although I'm at sea, I still have the Echo sent to me each week, and after I've read it don't mind passing it on to the many Reds supporters we have.  I play goalkeeper for the ship's team and six months ago in Buenos Aires we beat a Russian side 3-2, a feat that has made us all rather "big-headed" I'm afraid.  Anyway I'll be home to see you play Leicester –Nick Tennent, S.S. Kenuts, Cristobal, Panama, South America. 
(Parker)- It's a pleasure to hear of a British team winning, no matter what the level of play. I only hope we can do the same when you see the Leicester match. 
(Letter)- When I go to Goodison I look to see what you do when the opposing winger has the ball then, on Monday nights when our team plays I try to do the same, but things always go wrong.  I guess I'm just plain unlucky-Messrs Tony Smith, 81 Haggerston Road, Walton, Liverpool 4.
(Parker)- when I was young my ambition was to be a forward, so my father used to take me to League games and I used to watch the players for tips.  I also used to make mistakes when I tried to put into practice that I had seen.  Com to think of it; still do, so there's no need to worry.  You have the right idea by showing willingness to learn. 
DERBY COUNTY RES V EVERTON RES
Saturday, October 17, 1959.   Liverpool Echo and Evening Express
Derby County Res- Mitchell; Conwell, Guthrie; Daykin, Smith (M), Richmond; Powell, Hall, Newbery, Bowers, Hawley.  Everton Res;- O'Neill; Saunders, Tansey; Jarvies, Billington, Meagan; Peat, Shepherd, Wignall, Ashworth, Laverick.  Referee- R.A. Kibble, (Aldridge).  Hawley raided dangerously down Derby's left wing, leaving Saunders on the ground, but Hall failed to connect with his centre.  O'Neill safely held a direct shot from right half Daykin but seconds later a slip by Derby right half let Wignall through to feed Laverick and dealing with the winger's centre Mitchell was forced to concede a corner.  Apart from this the initiative remained firmly with Derby and after 22 minutes centre forward Newbery put the home team ahead beating O'Neill and Billington single-handed before pushing in a ground shot from 10 yards.  Everton were failing badly to create scoring chance and the Derby defence, if untidy was doing it's job fairly well.  O'Neill safely held a low shot from Hall and then Powell.  Derby's veteran right winger, left Tansey standing, only to have the shot which capped the movement blocked in the goalmouth.  Derby again, and this time O'Neill tipped Hall's opportunist left-footer round the bottom of the post. 
ROBBERY –BUT THIS EVERTON WILL NOT DO
Monday, October 19, 1959. The Liverpool Daily Post
Everton 0, West Ham United 1
By Horace Yates
When a team is down the only breaks it seems to get are heartbreaks.  It was a sheer robbery for West Ham to get away with two points from Goodison Park.  The goal, five minutes from the end, scored by Musgrove, from a build-up was magnificently taken, a real object lesson for Everton, for they must have boasted a three-to-one ratio in shots and yet had nothing to show for it in the end.  One had the impression during a second half in which the West Ham defence was valiantly enough in played, it was never so impregnable that it should not have been penetrated more than once, and that the London side would be thankful to settle for a point.  Even that would probably have been more than they had earned, so that one can imagine they delight when Musgrove's goal kept there firmly placed as third team in the First Division.  Don't imagine that this Everton reverse was all bad luck, for such is not true.  There was an awful lot of bad management about the reverse as well, bad management by the players who had the chances and dealt with them in anything but the manner one I entitled to expect from First Division professionals.  If one can except the wholehearted endeavours of Hickson, though he was not blameless in the matter f missed opportunities, one might be tempted to say that Brian Harris was Everton's most dangerous forward. 
B. Harris Century
I know that Harris wore No 6, on his back and was officially described as left half, but apparently tiring of seeing the men in front fuss and fume and fritter away openings, Harris several times moved up into the attack and helped himself to shots.  True he did not find the target, but how willing was the spirit and how admirable the example in this his hundredth League appearance.  Curiously enough West Ham's Malcolm was also chalking up 100 successive games.  Plainly this Everton forward line simply will not do Thomas rarely contributed anything of note and whenever Alan Shackleton is likely to fit into the attack, it certainly is not as an outside left unless this display was a complete misrepresentation of his potentialities.  He never inspired confidence in his one-way tussles against Bond, and I though his time would have been better employed fighting back than making the sort of half-hearted appeals for fouls, which left him a bystander.  True, on occasion he was roughly treated but very little indeed escaped the referee Mr. Ellis and when the incidents merited it Shackleton antagonist was duly penalized.  Twice I thought Shackleton could have thrust himself into a scoring position with just a little more effort or better anticipation and obviously something better is called for in future games.  Jimmy Harris did not please everybody largely because of his early failure to control the ball, a failure which was not his alone by any means.  For all that he crossed two balls from the wing in such precise fashion that for nothing to come from either of them must have been galling indeed. 
Hickson's Miss
From one Hickson, a player I regard as in the topmost flight so far as heading a ball is concerned, had only to let the ball hit his head, but instead he got under it and high over the bar it went.  Hickson found in Brown a tough relentless defender, but the Everton centre forward still enjoyed his moments.  There was nothing finer in the match than the way Hickson beat Brown twice in the opening minutes, by pulling the ball first one way and then the other and if the final shot had gone just under instead of over the bar, Everton supporters would have been given another great moment to recall with the passing of the years.  It is a tribute to Collins that every time he touches the ball there is an expectant stir and murmur among the crowd, often swelling into appreciation as the little Scot unfolds another example of his artistic talents.  Despite a high wind, which affected play a great deal Collins still made many of his passes speak for themselves and if one had to recall shots that lingered from the game, that from a Collins' free kick, which sent Dwyer leaping into the corner of his goal to keep the ball out, must surely be included.  Although Dwyer was confident and efficient in all he did how much better was he then Dunlop?  Not at all, I suggest, Dunlop's consistency is remarkable and it would be no exaggeration to say that he is probably the most under-rated goalkeeper in the country so far as international selectors are concerned.  Tom Jones had every reason to applaud one of his peak efforts, for Jones mishit a ball just outside the Everton goal and it spun viciously towards the net.  Dunlop actually airborne at the time, fisted it out as he fell and here was one occasion where Everton's luck was in, for Keeble collected the ball and hooked a shot against the upright.  With a Scottish selector looking on, Parker could not have failed to earn a good mark.  If ever a player has made a study of his particular job, it is Parker.  There is not a cleaner or more accurate tackler in the game.  Every tackle looks like a planned operation.  King continues his remarkable improvement but has still not completely cured himself of his habit of climbing up an opponent.  Remarkably promising were the West Ham eighteen-year-olds, Moore, Cartwright, and Smillie.  They like them young and big at West Ham, and these boys appear to have ability to match their physique.  Moore in particular left a healthy respect for his potentialities.  I also admired the play of Grice and Cantwell.  Everton;- Dunlop; Parker, Bramwell; King, Jones (Captain), B. Harris; J. Harris, Thomas, Hickson, Collins, Shackleton.  West Ham United; Dwyer; Bond, Cantwell; Malcolm, Brown, Moore; Grice, Cartwright, Keeble, Smellie, Musgroves.  Referee; Mr. A.E. Ellis, Halifax. 
DERBY COUNTY RES 2 EVERTON RES 0
Monday, October 19, 1959. The Liverpool Daily Post
Everton slipped to defeat at the Baseball Ground without being able to d a thing about it.  Even so it was the law of averages –one shot every so often is bound to find it's target –that them, rather than any brilliance on the part of the Derby side.  Some of Derby's shooting was weak and much of it was in accurate but centre-forward Newbury found the net after 22 minutes having beaten both O'Neill and Billington.  Bowes otherwise inconspicuous made it 2-0 just before the end. 
THIS LITTLE BIRD WHISPER COME FROM NO LARK
Monday October 19, 1959. The Liverpool Echo and Evening Express
By Leslie Edwards
Manager John Carey of Everton saw his side beaten 1-0 at Goodison Park; Liverpool Chairman Tom Williams, missed Liverpool's performance at Stoke in favour of yet another of those missions which seem destined to end fruitlessly.  "There just aren't centre-forwards to be had," he said yesterday.  "Look at the League teams up and down the country and most of them are having to make do with an inside-forward in the centre position. We tried to sign young Moore of Cardiff a few weeks ago.  Nothing doing Hatsell of Preston?  I don't think he's any better than the players we already have." 
If what I heard is correct many of the 30,000 who saw Everton lose 1-0 felt aggrieved, not only because Everton were again sub-standard, but because they felt West Ham were not worth the goal they scored six minutes from the end.  This is not my view.  Although Everton put up a farcade of rallying in the second half the record shows their opponents to have made the better and more dangerous shots; indeed until the seventy-fourth minute that Everton attack, had not provided one on-the-mark shot of real merit. 
So They Are Human…
But praise be, it was a notably clean, sporting match; one well referred by Mr. Ellis and one which produced heartening indication that footballers, even professionals have finer feelings.  Otherwise how could Keeble and Parker whose heads had crashed painfully have got up after attention and shaken hands?  This what should happen more often.  Disregarding a first half in which Hickson touched his best in one inspired –a pity his great shot flew over instead of under the bar-the game only came to life after the interval and even the equally wind had its important swirling effect on any high, long passes.  Whatever mistakes were made outfield, and there were many, both goalkeepers Dunlop and Dwyer came out of the game happily, each with some wonderful saves.  Dunlop's best came when Jones in trying to deal with a centre from the left, curled the ball high and unexpectedly towards his own line.  Dunlop reached out in mid-air to save a ball that seemed destined for the back of the net, and even then Keeble's shot it against an upright before the all-clear came.  Dwyer must have been beaten by a Hickson header if Dave had not got under the ball slightly, but the West Ham goalkeeper fairly earned his bonus with a fine save from a Collins free-kick and with an even better three-pronged save not long afterwards.  First he punched away and then scarcely back in position dropped on King's hard-hit shot aimed at catching him "not at home"  The third phrase was Dwyer's courage in dropping on the ball in spite of the challenge after he had failed to collect it at the first attempt.  Everton missed more than one promising chance to score and Brian Harris and King, oddly enough, were the only men who seemed capable of at least ruling shots on target. 
Much Intent, Little Fulfillment
The crowd were displeased and showed it, with Shackleton by no means in my estimation, the worst man in the line.  Everton are full of good intent, but fulfill little and only if there were points for territorial advantage would they score in such matches as these.  That West Ham defence was poised, polished, clean and massive.   Put Dick and Woosnam and Smith into the framework of the team we saw and you have a side with the championship potential.  That they should be denied three of their finest players and yet compare favourably with ours was one other reason why they deserved to succeed.  The goal when it came, was a fine one, with those two grand youngsters, Cartwright and Smillie, doing the donkey work and winger Musgrove taking the chance with a clever well-placed shot. 
Cartwright had a good first half but the ubiquitous No. 10, Smillie outshone all others in the front line for his positional sense and for his astonishing quickness.  Here is a great player half-made.  Keeble especially in the air, was as effective as he was artistic.  In general West Ham looked the better-balanced side.  They certainly moved with more smoothness and certainty than their opponents.  When the ball goes out to the Everton wings it does not often come back effectually; Hickson's game was a good one in general and Collins worked hard all over the field to get the right responses from those around him.  A striking contrast to the teams was that whenever a West Ham player found himself in trouble he did not have to look far to find the man who had come over to help him.  Parker's work was to the liking of the crowd.  He is determined and shows it and one wishes the play of others in the team would display similar grit.  One wonders too whether Brian Harris natural flair for going up and making a strike would not be better used in the front line.  With Chelsea looming at Stamford Bridge, Everton are still not satisfying us or themselves.  Has the time arrived for some fundamental change?
EVERTON WATCH WINGER ALAN FINNEY
Monday, October 19, 1959. The Liverpool Echo and Evening Express
Inquiries For O'Hara
By Leslie Edwards
One of the several players watched by Everton in recent weeks, Alan Finney, the Sheffield Wednesday winger, will not be coming to Goodison Park.  Who says so?  Manager Harry Catterick one time Everton centre forward who now managers at Hillsborough.  He told me today?  "We would just as soon think of transferring Finney as Everton would Bobby Collins.  We're not going to be tempted to transfer our other winger Derek Wilkinson, either.  Wednesday' attack has an average age of 23 and the whole team's average age is little higher, so it seems they are a side with a great future.  But like everyone else, they want a class centre-forward and can't lay their hands on one. 
Several clubs including Wrexham have approached Everton about the possibility of O'Hara the club's Scottish winger, joining them but Manager John Carey has nothing to report at the moment.  The team for Everton's Youth Cup replay against Blackburn Rovers (holders) at Goodison Park on Wednesday evening will be announced tomorrow. 
TOO FAR BACK FOR HARRY COOK
Tuesday, October 20, 1959. The Liverpool Echo and Evening Express
By Leslie Edwards
A reader who has followed Everton for 70 years wants me to confirm his recollection o events on the Anfield Road ground long before Liverpool F.C were thought of.  He says;- "Everton first came to Anfield from Stanley Park.  Hey were known as St. Peter's and their colours were back and amber.  These were later changed to Oxford and Cambridge blue quarters.  Then they settled for colours of blue.  The playing field as surrounded by ropes and the price of admission was 6d (boys) 1d Ladies free.  They used to play a lot of Scottish team, Renton, Dumbarton, Renfrew, Cowlairs, Battlefields and also a great Welsh team The Druids.  The Derby games hen were against Bootle, Stanley, and White Star Wanderers (who had a one armed player).  "Everton signed four Bootle players, two right wing forwards Weir and Izzat, a centre half, Holt and the name of the right half has slipped my memory.  They played Wolves away and had a rough time.  Some of the players came back with black eyes and when the return match came to Liverpool handbills were sent around asking spectators to give the visitors heart Everton reception.  "Everton were fined £200 and lost their share of the gate for sending their reserve team to play in a Lancashire Senior cup, although they won by two goals to one.  "I saw the match they played against West Bromwich Albion by the light from oil flares.  Later the ground was closed for two months because Everton had played professionals without reporting it to the F.A. 
Perhaps there are among readers of this column equally old Everton followers who can vouch for the correctness of these facts.  I have never heard that Everton played in Oxford and Cambridge blue quarters, but I do know they used Black Watch colours at one stage of their history.  Harry Cook doven of trainers who is in his 55th season with Everton can confirm some of the facts, but not all. 
EVERTON'S BID FOR ALAN FINNEY FAILS
Tuesday, October 20, 1959. The Liverpool Echo and Evening Express
By Jack Rowe
Another determined bid by Everton F.C., to sign Alan Finney, the Sheffield Wednesday outside left, failed today.  Manager Mr. John Carey and Chairman Mr. Fred Micklesfield travelled to Hillsbrough this morning but came away empty handed, after a long talk with Wednesday Manager Mr. Harry Catterick.  Everton, I understand were prepared to step up their original offer of £20,000 which was rejected some days ago for Finney and would have considered a player exchange-plus cash deal, but Mr. Catterick's reaction to a Finney move was unchanged.  He told me today "Several other players were also discussed but I had tell the Everton people that we were not prepared to part with any of then, I cannot see any business being done either especially with regard to Finney whom I regard in the Bobby Collins and Alex Parker class.  He added "Good players are hard to get these days and Mr. Carey had the same experience today as I have had during the past few weeks." 
The Everton Youth team to meet Blackburn Rovers in the F.A Youth Cup replay at Goodison Park tomorrow night is the same as that which drew 2-2 at Ewood Park last week.  Everton; Griffiths; Gannon, Green; Jarvis, Watson, Sharples, Boner, Tyrer, Bentley, Morton, Edmondson. 
EVERTON NEVER HAD CHANCE IN FINNEY CHASE
Wednesday, Monday October 21, 1959. The Liverpool Daily Post
By Horace Yates
Who will be at outside left in the Everton team at Chelsea on Saturday? It could be one of a number but one player it will not be is Alan Finney, Sheffield Wednesday, fast and tricky winger, although it is no fault of Manager John Carey that he will not be available for selection.  With the club chairman, Mr. Fred Micklesfield. Mr. Carey travelled to Sheffield yesterday willing to pay a lot of money for the privilege of bringing Finney back with him.  At no stage of the discussions was the Everton manager given the slightest encouragement for hoping that Wednesday could be persuaded to part and certainly they never got anywhere near naming a figure.  Wednesday are just not interested and nothing the Everton deputation could say or do could alter that position.  Mr. Harry Catterick, the Sheffield Wednesday team manager, told me last night.  "My board don't wish to let Finney go and I certainly do not.  Obviously we are not parting with our best players and Finney definitely comes into this category.  Neither now nor in the foreseeable future is Finney for safe. 
In Demand
"Had we been so inclined we could have transferred him over and over again, but as everybody knows we are hunting players not discarding them.  We are still touring the country trying to satisfy our own requirements and as long as the demand continues to exceed the supply by the present day margin I imagine we will be lone travelers either.  "Finney is perfectly happy with us and has never requested a move."  The conversations with Everton lasted almost an hour and friendly discussions took in many things relating to players of both clubs.  At the present stage however, there are no positive results to report.  This burst of activity by Mr. Carey should not be constructed as an indication that Everton are bent on immediate reinforcement of the side.  Undoubtedly they will act as and when suitable opportunity arises but it would be wrong for supporters to get the idea that a signing is somewhere just around the corner.  It is not or at least there is no reason for thinking so but in football the scene is rapidly changing and it may be concluded that Everton are watching the market most carefully. 
Interest Gone?
For example I learned last night that Bradford City who received £10,000 from Leeds United for John McCole a month ago, might expect to receive another five figures amount if they accede to the request for transfer made yesterday by inside left John Reid, their Scottish forward.  This is a player Everton are said to have made inquires about on several occasions but if Bradford City now seek to tempt the Goodison Park club at that price they are doomed to disappointment.  In fact, it is my opinion that whatever interest Everton may have had in Reid has now completely evaporated.  The report from Goodison yesterday was that Bobby Laverick is in full training but naturally it is taking him time to recover fully from the serious operation he underwent before the start of the season.  Eddie O'Hara who had to cry off a game last week end because of  thigh injury, is fit again and available if needed.  Brian Labone was able to play in a practice match yesterday and came through without ill effects. 
CAREY'S CHICKS, PAST AND PRESENT, IN CUP BATTLE
Wednesday, October 21, 1959. The Liverpool Echo and Evening Express
By Leslie Edwards
The Everton youth team endeavour to join Liverpool in the second round of the F,A. Youth Cup competition tonight, when they meet Blackburn Rovers at Goodison Park (7p.m.) in the replay they earned by drawing 2-2 at Ewood Park last week.  Blackburn includes some of the players which won the trophy for them last season, among them centre forward Jervis, the former Liverpool Schoolboy and Rhyl –Born Mike England, who has played for the first team.  The tall English is a player in the Ronnie Clayton mould.  He has the knack of being in the right place at the right time to gather the loose ball and dispatch it quickly and accurately to where it can do most dangerous.  Mr. Carey the Everton manager who had much to do with the formation of the Rovers team must also be pleased with his own wing-halves for in Jarvis and Sharples has two who are expected to do great things.  Both are 16 and have played for the Central League team.  Matt Busby, who is no slouch when it comes to recognizing talent, reckons that Sharples is the nearest approach to Duncan Edwards, he has come across.  He is a big strong lad and like Edwards has appeared at left-half and centre-forward, where he played for England schoolboys last season.  However, it is thought that he is seen to best advantage in the No. 6 shirt.  Jarvis is a former Wrexham schoolboy who had much to do with last week's draw by helping to put the brakes on Rovers quicksilver inside-left Mulvey at the same time providing the passes for his own outside-right Boner to lay on Everton's goals.  Boner is 17 and came to Goodison as a 16-years-old after gaining Scottish schoolboy caps as inside-forward, but he is developing into a more than useful right winger.  He ran the Blackburn defences dizzy last week laying on to goals in the first quarter of an hour after taking the ball half the length of the field, each time.  Blackburn' defence looked as if it might crack if subjected to any sustained pressure, and with better support centre-forward an ex-Liverpool Collegiate player, is just the boy to apply it.  He may well get it now that Barry Edmondson is feeling better.  He played last week after having a cyst on his cheek cut out, not surprisingly, was not at his best.  Everton are unchanged.  Everton; Griffiths; Gannon, Green; Jarvis, Watson, Sharples, Boner, Tyrer, Bentley, Morton, Edmondson. 
More Irate Fans
Everton and Liverpool fans- at least those who write me-are still irate.  Some of them even dare me to publish their contributions.  –D.Donovan (65 Langrove Street, Liverpool 5) says; "I am not going near Goodison Park until Everton sign a couple of stars.  Spurs with Mackey, Brown and now White proved that they have the right idle.  Everton's last two buys, Laverick and Shackleton, were bad ones." 
From 146 Commercial Road, Liverpool 5, P. O'Grady writes; Everton re one of the best clubs in the First Division, but not the best team.  They have as much money as Spurs, but the difference is that Spurs are prepared to spend theirs.  I would like to see this one up at Goodison; Dunlop; Parker, Allen; King, Labone, Harris (B.); Morrissey, Crowe, Baker, Collins, Holliday." 
"Teams selection and signing recently at Everton?  Says Mr. G.R. Miller, of 2 Daffodil Road, Liverpool 16 "makes me believe that the manager does not have a free hand.  Leeds fans were astounded when Everton brought Shackleton and what wasn't good enough for Leeds United and Burnley would not appear to be good enough for Everton.
'ALL QUIET' ON GOODISON PARK FRONT
Wednesday, October 21 1959. The Liverpool Echo and Evening Express
Hood on List
By Leslie Edwards
Following the failure yesterday of Everton's effort to sign Sheffield Wednesday winger Alan Finney, all was quiet on the Goodison Park from today and the chances are that except perhaps for the return of Brian Labone the team to meet Chelsea at Stamford Bridge on Saturday will be undisturbed.  The fizzle out of the Finney bid is not surprising in view of Manager Harry Catterick's statements to me on Monday that his club had as much chance of signing Bobby Collins as Everton had of getting Finney. 
The position is that Everton will move for new players as and when they become available but it is emphasized that they only out for players of class.  The transfer market could not be more difficult and Manager John Carey's telephone these past few weeks much have nearly been white-hot with the weight of traffic on it to all parts of the British Isles.  Nevertheless the Everton manager is not despondent.  Everton's Scottish centre forward Jacky Hood, who walked out and went home to Scotland a week or two ago after difference with Everton has asked to be placed on the transfer list and the Board have agreed. 
BRIGHT NEW FUTURE IS THE PROMISE FOR GOODISON
Thursday, October 22, 1959. The Liverpool Daily Post
Everton Oust Youth Cup Holders
Everton Youth 1, Blackburn Rovers Youth 0
By Ian Hargreaves
The handful of rain-sodden spectators who braved Goodison's wind-swept terraces last night were rewarded with a first, fleeting glimpse of the bravo new Everton we have long awaited.  Beneath the floodlights impersonal stare Everton's young hopes of tomorrow gained one of the most significant victories in the club's history by knocking out Blackburn Rovers, the holders in the F.A. Youth Cup's very first round.  Satisfying though the result must be to manager John Carey and team coach Leslie Shannon it was the means by which it was accomplished which was so impressive.  Here was football as it should be played, fast, accurate and on the ground.  Defensive covering was first class and whenever an Everton player had the ball –which will often thanks to their splendid half-back line- he invariably had at least two others with him in support.  Ironically the only goal came in the first five minutes Sharples, who tackled like a demon throughout won possession at the second attempt and pushed a long ball through the middle for Bentley, Bentley and centre half Haynes reached it together, the ball shot pass a diving goalkeeper into the net and we later learned it was Bentley's foot which had put it there. 
Defence Shattered
There might so easily have been a hatful of goals.  The Everton right wing partnership of Boner and Tryer, who seemed to know each others play instinctively, dore the Blackburn defence to shreds in the first half, and only two grand saves by Linacre, a timely interception by Swan too on the goal-line and a goal post kept the score down.  At the other end Jervis a former Liverpool Schoolboy worried away like in angry bull terrier, but missed two comparative simple offerings.  Mulvey switched from inside to the wing gave Parnell – a late deputy for Gannon- some anxious moments, but was generally kept under control and neither Holden nor Bradshaw at inside forward was given much room to move in.  Finally, a special word of praise for centre half Watson.  Though harried continually by Jervis he kept calm and confident, missed scarcely a tackle and read the run of play like a veteran.  His accurate distribution was a joy to watch-though his passes had not perhaps.  Sharples power of penetration –and his uncompromising solidity was the rock on which the Rovers foundered.  A few thousand more spectators and this would have been a little classic.  As it was both sides deserve praise for triumphant under such horrible conditions, intelligent soccer of this kind every week would soon bring the crowds flocking back to Goodison.  Draw for the second round of the F.A. Youth Cup ties to be played on November 21 includes Manchester City of Bury v. Everton; Liverpool v. Preston North End.  Everton; Griffiths; Parnell, Green; Gannon, Watson (Captain), Sharples, Boner, Tyrer, Bentley, Morton, Edmondson. 
EVERTON YOUTHS WIN CUP REPLAY
Thursday, October 22, 1959. The Liverpool Echo and Evening Express
By David Horridge
Blackburn Rovers, the Youth Cup holders are out of this years competition, Everton doing the trick with a 1-0 win in a magnificent game at rain swept Goodison Park last night.  As a result of this replay victory Everton visit the winners of next Thursday's Bury –Manchester City match.  On a sodden pitch which made the ball stick and then shoot in most disconcerting fashion, both sides served up football of a standard far higher than what we were entitled to expect.  The fact that the margin was so narrow was due to Everton falling to add to their second minute goal after a first half in which they mesmerized the visiting defence and could quite easily have turned round with a three goals lead.  After the interval Blackburn did better and there were some anxious moments for the home team before the final whistle went, but I don't think even the Rovers would deny that the better team won.  The all-important goal came in the second minute.  Sharples came out of two tackles with the ball and pushed it down the middle for Bentley.  The ball lost pace and the centre forward and Rovers centre half, Haynes reached I before the out coming goalkeeper some 15 yards from goal.  Bentley just got his foot up to the ball and poked it into the far corner.  This was the signal for a siege and Morton, Sharples and Edmondson all went near the latter having a shot blocked after it had beaten the goalkeeper.  The thrills were not all at one end, however, for ex-Liverpool schoolboy Jervis missed one good chance and then when he looked all over a scorer Parnell kicked the ball off his toe less than six yards out. 
A Revelation
Parnell's form, at right back was a revelation.  This former Birkenhead and England boys winger was pressed into service as a result of an injury to right-half Jarvis.  Gannon moved up to take his place.  Parnell substituting for Gannon but well as he played even he was outshone by the skipper and centre-half Watson who had a magnificent game –tackling, intercepting and passing to perfection.  He was always where the battle was fiercest, yet never made the semblance of a mistake. Gannon too, showed that he is adaptable.  When I heard that Jarvis was not playing I feared for Everton, but the star of last week's match at Blackburn was not missed. 
A Good Sign
However, outside right Boner was the boy who really ticked the crowd's fancy.  He popped up in the most unexpected places, always to the embarrassment of the visiting defence and at one time had three of them running in circles without even touching the ball!  He was most unlucky not to score in the second half with a shot that was deflected on to the post.  Green and Sharples were towers of strength in the defence, Tryer paired off beautifully with Boner, and the left wing of Morton and Edmondson made much greater impact than they did in the first game.  Bentley seemed to slow up the more the game progressed, and I heard afterwards that he had hurt his foot the day before.  However, they all played well and if they appeared to tire in the second half, who could wonder?  The conditions would have taxed the stamina of any full-time professional.  The most noticeable satisfying feature of these boys play is their determination to use the ball.  Not for them the hopeful kick down the pitch or the wild bash into the centre.  Once they had gained possession they were most loath to let the other team have it, and even when defenders were under the most intense pressure they always endeavoured to part with the ball to the best advantage.  It was not always possible and it did not always come off, but it's a good sign and augurs well for the future.  Those who forsook the comfort of their fireside to watch must have felt that they were well compensated and they showed it by applauding both teams as they left the field.  Hey deserved it. 
LAVERICK MAY BE OUT TILL CHRISTMAS
Thursday, October 22, 1959. The Liverpool Echo and Evening Express
Suffering From Boils
By Leslie Edwards
Bobby Laverick, one of the players who has filled Everton's problem position at outside-left this season, if not likely to be fully fit until about Christmas. He is run down following his close season appendix operation and is suffering from boils and carbuncles.  Laverick signed from Chelsea last season has made about dozen League games and has scored quite consistently.  Everton choose tomorrow their side to play at Chelsea on Saturday.  Chelsea, who had an exhibition match at Ashford (Kent) on Monday, took advantage of the occasion to go to Broadstairs for a week's special training.  Left back Tindall will be available after injury and Greaves returning after playing for England at Cardiff will be at inside left.  Chelsea;- (probable) Matthews; Sillet, Tinsdall; Anderson, Mortimore, Crowther; Brabrock, Greaves, Livesay, Allen, Blunstone. 
EVERTON MAY RECEIVE AN OFFER FOR HOOD TODAY
Friday, October 23, 1959. The Liverpool Daily Post
By Horace Yates
Everton manager, Mr. John Carey, expects to know today whether an inquiry made yesterday about Jack Hood, the club's reserve centre-forward, now on the transfer list at his own request, will develop into a concrete offer for his services.  Mr. Carey, who last night declined o name the interested party, confirmed that it was not a Scottish League club; I understand that having collected all the details they required, the club concerned stated they would discuss the position last night and decide whether or not to proceed further.  Hood a centre-forward, who joined Everton in 1956, from Shettlesten Rovers, is 21, but not until this season has he been regularly available for football because of National Services calls.  The Everton team to travel to Chelsea will not be announced until today when Chelsea will also name there side.  The London team will welcome back their international inside-right Greaves, following his game against Wales at Cardiff last Saturday. 
Laverick Fit to Play
Although Bobby Laverick the outside-left who joined Everton from Chelsea last season, has been handicapped by a carbuncle recently, he has still been able to play and turned out with the Reserves last week.  He is also expected to be available for selection for one of tomorrow's games, even though medical advice to the club is that he may not be 100 per cent fit for several weeks.  This, I am told is a natural consequence of the operation he underwent before the start of the season, for a perforated appendix, but he will almost certainly be able to continue playing in the meantime although it might be a trifle unfair to judge his performances during this period if semi-convalescence. 
SHORT OF TIME
Friday, October 23, 1959. The Liverpool Echo and Evening Express
By Leslie Edwards
Everton's game at Stamford Bridge recalls the contentious corresponding fixture of last season.  Chelsea have been special training at Broadstairs and with such as Sillett, Brabrook, Greaves and Blunstone in their side there is more than a touch of quality about them.  Everton's failure has not been so much due to not making changes as making them and not taking them.  The side is not good enough and everyone knows it including the club.  But the priority in which different positions should be tackled is not clear.  Everything points to Manager Carey moving fast and determinedly for players of class whenever they can be found and if Everton should be defeated tomorrow next week might be the eventful one. 
Everton are short of time.  Their position in the table demands action; they cannot afford to wait until two or three of their excellent youth side, which did so well on Wednesday, develop into men able to stand the strain of first class football week by week.  But that win against Blackburn must have been the most heartening thing in a long time for John Carey and his side, Leslie Shannon.  If the Everton manager can get a settled First Division side-and it can only be done, I think by bringing fresh talent to Goodison Park-he can face the future with confidence.  The deadly serious business of soccer is relieved occasionally by some manager with a sense of humour.  One must be nameless –but you wouldn't need three guesses-said when asked whether his club was all right for scouts.  "Scouts?  Why, we've got more scouts than Baden Powell.  Joe Mercer the Villa chief, whose side are going so well towards their return to Division 1, I("but they're not playing particularly well") has picked up one of the finest young centre-forward prospects in the game-Ken Price, a 20-years-old former Burnell's Ironworks lad from Joe's Ellesmere Port home town.  A season ago price was playing in junior football.  Since joining Villa he has scored 16 times in eight Central league matches and only the fact that Hitchen is playing well in the fist team keeps him out of the League soccer.  Price is very good in the air, zipping them in after the style of the famous Dixie Dean. 
Mr. J. Mitchell, the Prescott referee hose handling of the Everton v. Liverpool floodlit match recently caused much favourable comment has been notified that he has now been placed on the F.I.F.A list of referees.  Mr. Mitchell usually fills his occasional Saturday free from League commitment by taking a Prescot or St. Helens junior match.
Everton announce an unchanged team for their match tomorrow against Chelsea at Stamford Bridge.  There had been hopes that young Brian Labone would have recovered from injury in order to return to the side but they did not materialize.  Tindall returns to left back in Chelsea's team.  He has recovered from a pulled muscle and displaces John Sillett.  Inside left Allen has developed a chill so young Cliss switches from inside right to fill Allen's place.  Greaves playing for England last week is back in his normal position at inside right.  Chelsea; Matthews; Sillett (P.), Tindall; Anderson, Mortimore, Crowther; Brabrook, Greaves, Livesay, Cliss, Blunstone.  Everton; Dunlop; Parker, Bramwell; King, Jones, Harris (B); Harris (J), Thomas, Hickson, Collins, Shackleton. 
EVERTON UNCHANGED
Saturday, October 24, 1959. The Liverpool Daily Post
By Horace Yates
Chelsea may have suffered three home defeats already this season, but what grounds on Everton followers have for expecting today's visit to produce a fourth?  Very few I would suggest, even though the Goodison club field an unchanged team.  Stamford Bridge has unhappy memories for Bramwell, for it was on this ground last season that he was ordered from the field in a match which left little credit to either side.  There is no reason at all why these teams should not agree to let bygones be bygones and I shall be surprised if the undesirable scenes are in any way repeated.  While there have been occasions when Everton's football has promised better things in store the disappointments make it hard to remember the brighter side.  Hickson must be better supported and other forwards must show a greater hunger for goals if Everton are to climb out of the rut.  Another defeat today could give the League table a depressing appearance in the lower regions for both Leeds United (v. Blackburn) and Leicester City (v. Arsenal) are at home, even if the opposition in both cases is strong enough to make a full points return problematical. 
Records Depressing
The record books offer little consolation for Everton have won only one of their last ten games at Chelsea, and that was as long ago as season 1954-55.  Since then look at the way the scoring has gone in favour of the home teams; 6-1, 5-1, 3-1, 3-1.  That Chelsea are not invincible with their own followers looking on is apparent from the fact that Bolton won there a fortnight ago.  In the previous home game West Ham beat them 4-2, but it is not records that count in the long run.  It is the performance on the field on the day, and because Everton have climbed the depths so often this season it is terribly difficult to expect this game to start a transformation.  Chelsea' Matthews; Sillett (P.), Tindall; Anderson, Mortimore, Crowther; Brabrook, Greaves, Livesey, Cliss, Blunstone.  Everton; Dunlop; Parker, Bramwell; King, Jones, Harris (B.); Harris (J.), Thomas, Hickson, Collins, Shackleton. 
EVERTON MISSED CHANCES GALORE IN A SCRAPPY GAME
Saturday, October 24, 1959. The Liverpool Echo and Evening Express
Chelsea 1, Everton 0
By Leslie Edwards
Chelsea;- Matthews; Sillett (P.), Tindall; Anderton, Mortimore, Crowther, Brabrook, Greaves, Livesey, Cliss, Blunstone.  Everton; Dunlop; Parker, Bramwell; King, Jones (Captain), Harris (B.); Harris (J.), Thomas, Hickson, Collins, Shackleton.  Referee; Mr. R.J. Leafe, (Nottingham).  Everton started by concealing two free kicks, the first against Bramwell for a foul on Brabrook, which caused that player to need the trainer's attention.  It was a contentious start and the game had not been going a couple of minutes before Referee Leafe had to have a chat with Bramwell and Brabrook.  Everton's first attack led to Mortmore having to head from a corner, the ball dropping on the top netting, much to the joy of goalkeeper Matthews. 
Hickson Hurt
Next Hickson challenging goalkeeper Matthews as he jumped up to make a catch inadvertently got the goalkeeper's boot on the back of his head, but he recovered quickly after attention, Referee Leafe now found the original ball used unsuitable and called for a fresh one.  Dunlop did extraordinary well when keeping our one-handed  shot from Greaves and then after turning the ball away recovering it from a forest of legs as the Everton defence and their opponents battled for possession just wide of goal, beyond that far post.  Collins produced Everton's best move to date with a clever run which ended with a centre from which Shackleton headed over.  Brian Harris, too, was responsible for a first rate run and when he lobbed the ball in a clinch the rebound proved fast and not far wide of the upright.  Hickson and Mortimore were the next casualties in a game unusually full of them in its early minutes.  Both of them crashed their heads to a touch-line duel and both needed fairly prolonged attention from the trainer.  Hickson, whose blow was to the back of the head, recovered, but Mortimore as carried to the touch-line to receive attention from both the Chelsea trainer and Gordon Watson. 
Collins Shots
Collins made two useful shots, one over the top and the other saved low by Matthews before Blunstone centred low and fairly fast to cause Dunlop to field the ball at the foot of the post.  Blunstone fell awkwardly into photographers, just over the bye-line and had to leave the field a moment later.  The Thomas-Brian Harris-Shackleton move which came next should have produced divideneds but did not.  The ever ready Collins who had played well in every respect so far, certainly cracked one in beautifully to the bewilderment of Matthews but unhappily for Everton the ball struck the bar and bounced over, instead of under it.  Jimmy Harris who had opened the way for a drive mistimed the ball completely and so did Hickson after his first shot had rebounded to him for him to try with the other foot his left.  None was doing better than Brian Harris, who was unlucky more than once to find the ball running unkindly for him when moving up in attacks of promise. 
Two Near Misses
The game really burst into fire when Jimmy Harris trapped a ball volleyed to him and got Tindall moving the wrong way four times consecutively before centring fast and in such a way that Sillett was glad to head for a corner.  Arising out of this Thomas swerved a shot narrowly over the top.  Everton were lucky when the limping Blunstone coming in to meet a ball from the right with his head got perfect direction on his strike, but found Tom Jones' head cutting the ball off early in its flight towards goal.  Blunstone was virtually a passenger and Everton were on top with Brian Harris here about adding his drive to the attack which was providing much the better.  None could complain that Everton could not shoot, Thomas at this juncture hit a left foot drive from a nice position and like all the rest of them could not get it on target.  Hickson ruined a beautiful chance when after nodding down Shackleton's perfect through he selected to try and weave his way though rather than hit the shot we all expected. 
Half-time; Chelsea nil, Everton nil.
With Blunstone still virtually a passenger, Everton had every chance of making the game theirs, but it was Chelsea who came nearest to scoring early in the second half when Sillett hit a swerving ball down the centre and the bounce almost deceived Dunlop who did well to clear the ball one handed.  #
Over The Top
Matthews had no difficulty at all in catching the cross shot Harris made when using his speed against Tindall and then after Bramwell had needed attention after a blow to the head King came right through and after appearing to lose possession of the ball regained it to make a fierce low shot that certainly beat the far post, if only by a matter of inches.  Jimmy Harris, taking over possession when Thomas was undecided as to what to do got plenty of pace to his effort, but once again it was the old over-the-top story which suggested that if Chelsea's had been Rugby posts there would have been a record crop of goals most of them to Everton.  The only shot on the mark for a long time come from Parker, and it was so weighty Matthews must have been pleased with himself to push it round the post. 
Greaves On Target
Thomas will never have an easier chance than that he had when given the ball when standing clear by a blunder by Tindall but it was no use like all the rest of them he shot wide.  Sixty-three minutes had gone when Brabrook went out to the left wing and made the run which resulted in Greaves getting possession in the six yards line.  He killed the ball gently, and than quietly slid it beyond Dunlop.  The same player juggled with the ball brilliantly and then pivoted and flashed a shot over the ball in the next phase of play.  The goal certainly enlivened the game and Chelsea might well have been so far behind as to have no chance of recovery if Everton had taken a quarter of their opportunities. 
Bobby Brilliant.
Collins had a wonderful match and the pity was that his good work should bear so little fruit.  Dunlop made a good save of a low Mortimore shot and also one from a shot by Blunstone following a free kick by Sillett.  Livesley was guilty of the miss of the match when firing over at point blank range and Greaves also shot across the face of goal when the chances were that he would beat Dunlop for a second time.  All told it had been a most undistinguished match and notable from the Everton standpoint for a colossal waste of good effort.  Final; Chelsea 1, Everton 0.
WERE PROUD OF OUR BOYS
Saturday, October 24, 1959. The Liverpool Echo and Evening Express
Alex Parker Looks at Everton Youths
There's been great excitement at Goodison Park since Wednesday evening when our youth team knocked Blackburn Rovers out of the F.A. Youth Cup.  Considering the conditions –it rained for a long while before the match and nearly all through it- I thought they put a magnificent display.  We senior players have been pulling their legs a bit about the win but quite seriously, along with everybody connected with the club, we are all very proud of them.  And I should think that goes for the supporters as well.  Their win was all the more creditable when one considers that Rovers had many of last season's trophy-winning team, and they are still a good side.  Not one of the Everton boys had a bad game.  Centre-half John Watson played a real captain's part.  I lost count of the number of times he broke up attacks with perfectly-timed tackles and goalkeeper Griffiths on the few occasions the Rovers were allowed through made some great saves on a pitch that must have caused him more trouble than anybody.  I think Roy Parnell and Mike Gannon, right-back and right half respectively deserve special mention.  Parnell made a name for himself with Birkenhead and England schoolboys last season as an outside-right ad was only brought in at the last minute due to an injury to regular right half Alan Jarvis.  Gannon moved from right back to take over from Jarvis.  They were opposed by Blackburn's best forward, Mulvey and the highest compliment I can say then is that Jarvis great boy that he is was not missed. Left-back Colin Green gave a wonderful display of timed tackling and in front of him George Sharples gathered and distributed the ball in the manner of a player years old than he is. 
Great Job
Davey Boner, at outside right delighted the crowd with his dribbling and he had a wonderful understanding with his inside-partner, Alan Tyrer.  I heard somebody in the stands dub them the "terrible twins" I think that just about sums them up.  The left-wing pair of George Morton and Harry Edmondson were also in form.  With a little luck Barry could have figured on the score sheet, and for a 15-years-old George put up an awfully plucky display against the tall Mike England.  Centre-forward John Bentley scored the all-important goal.  Need I say more?  I'll let you into a secret about John.  The day before the game he was helping his father move furniture and the wardrobe fell on his toe.  In the later stages of the game the obviously effected him, but I though he deserved great credit for his pluck.  Our boys are away in the next round to the winners of the Bury-Manchester City replay, but we are confident they can pull it off.  There's a long way to go yet, but who can blame us for being confident about their chances of lifting the cap?  It will take a good side to stop them.  If there's been one person more proud than anybody else I should think it would be coach Les Shannon, I said last week he is doing a great job. I think I've proved me point.  Incidentally I got into a bit of a argument about Les the other day.  Some Liverpool supporters (yes Liverpool) were discussing what representative honours, he had gained after he left Anfield for Burnley.  I asked the person who should know best, and Les tells me he played for the England B side three times.  I hope that settles that one.  One often hears of games that "get a lift out of hand" but I don't think anybody could complain at last week match with West Ham.  Apart from the result it was a most satisfying game and played in a good spirit.  At first sight the Hammers defence all six-footers, look quite capable of "dashing it out" as we say but nothing could be further from the truth.  They play hard, but they play fair, and although it was most frustrating to see our attack break down, one could not but help admired the cool way they went about their task.  To give you an idea of what I mean about their friendly spirit, those of you who were there may remember Vic Keeble their centre-forward accidentally clashing heads with me.  Afterwards he shook my hands and said "sorry Alex.  You've sure got a hard head."  Although my ex-Army colleague was on reserve for England and they were without both regular inside-forwards, the Hammers did not have a weak in their team.  Deputies Moore, Cartwright and Smillie, although only teenagers, did amazingly well and all look like having great futures in the game. 
First Trip
Although we did not have quite as much of the game as we did against Leicester last season, I was reminded of that game, especially when Musgrove scored the winner near the end.  We will have to take care that the boys from Filbert Street don't steal another two points when they visit is next Saturday.  Before that we have a date with Liverpool at Anfield.  Naturally after the last game at Goodison, the Reds supporters are confident but I'm sure that so many of our boys could not be so out of touch again in the one match.  I would remind you that on our last visit to Anfield we won a cup when we beat Tranmere in the Liverpool Senior Cup final.  As you read this you will know how we have fared at Chelsea.  This is our first trip to London this season although we will be fairly frequent visitors in the next few weeks.  Mention of Chelsea brings the name Jimmy Greaves to mind and although he hasn't had a particularly good reports for his last two representative matches he's still a man I'd rather play with than against.  Jimmy is criticized for trying to do too much but his ability to go through on his own is his biggest asset.  He has received some great reports for scoring individual shots this season.  He can't get through every time, and if his critics had their way he wouldn't even have tried for some of those he's scored.  I hope we have managed to put a stop to his gallops this afternoon.  I planned to visit Tommy Docherty last night.  No doubt he will have had something to say about the article I wrote the other week.  I'll tell you about it next week.  After reading the reports on Last Saturday's Wales-England international, it was apparent that Tony Allen, of Stoke and Edwin Holliday, of Middlesbrough, played well on their debuts.  When I saw them against the Hungarians at Goodison last month I thought they looked great players.  It looks as if they will be fixtures for some years to come.  It's quite a nerve-racking experience playing for your country for the first time. Although I may have been lucky on my Scottish debut for I felt as if I was playing in an empty stadium.  And it was at Hampden Park. It was in May 1955 that I first wore the blue of Scotland, Portugal were our guess and we won but there only 20,000 spectators.  The reason for this small gate was that the kick-off was at an unusual time about 5-30 and the weather was terrible.  It purred down and the conditions were more suited to water polo. 
TV Star
Without seeming unpatriotic, I think the worst moment is during the playing of the National Anthem.  The players may appear to be standing to attention but you can take it that there are many knees knocking, I know mine were.  Some of you probably say Goodison newest TV star last Wednesday-Dave Hickson, I'll admit that when I heard Dave was going to appear on television I was determined to do a little leg-pulling on Thursday, but I'm afraid I couldn't.  I've had the experience myself, and it's not as easy as it looks, I thought Dave did exceptionally well, much better that I did so I decided to say nothing.  Well you couldn't expect me to tell him to his face that I thought he's more photo gentle than I am could you?  Parker Pen Pals?  Sorry, space again this week, but I hope to include some more soon.  Amongst those I've had this week is one from Nigeria, West Africa. 
EVERTON RES V SHEFF UTD RES
Saturday, October 24, 1959. The Liverpool Echo and Evening Express
Everton Reserves; O'Neill; Saunders, Green; Rea, Watson, and Meagan; Boner, Hood, Wignall, Ashworth, O'Hara.  Sheffield United Reserves;- Thompson; Ridge, Taylor; Methievson, Finnegan, Orr; Wilson, Hamilton, Nibloe, Rooney, Gould.  Referee; Mr. A. Lord.  A few seconds after testing Thompson with a low angled drive Wignall placed wide from 12 yards out with only the goalkeeper to beat.  As the United were inclined to play too closely on the sodden pitch Everton looked more dangerous.  In the fourth minute, however, Gould put the United ahead with a speculative shot which dipped into the far top corner of the net.  Encouraged by this success the United began to shoot on sight and O'Neill made wonderful saves from Rooney and Nibloe.  Everton were not functioning as a team although Taylor cleared off the goal line from Ashworth who equalized in the 32nd minute.  Previously both Wignall and Hood had fired into the side netting.  Half-time- Everton Res 1, Sheffield United Res 1. 
ONE SIDED IN EVERTON'S FAVOUR
Monday, October 26, 1959. The Liverpool Daily Post
Chelsea 1, Everton 0
By Leslie Edwards
If ever a score-line gave the wrong impression it is the one above.  Chelsea far from being the better side, were infinitely the inferior and hardly a soul of the 37,000 at Stamford Bridge could deny that the team which did so much to deserve victory did not get it.  I have said many critical things of Everton this season and they have deserved scant praise, but here at least, they played well; shot often and were so much the better footballers a win by four or five goals would not have been out of place.  But it was one of those matches in which one side does all the playing and the other gets the goal which matters.  Chelsea were floundering, and nearly foundering when at sixty-three minutes, Brabrook at outside left made the run which led to Greaves tapping the ball, quietly, but effectively for the only goal.  By that time Everton should have had the match won beyond doubt.  The fantastic record of shots beating bar or pos by inches would take too long to tell.  Also Matthews brought off several splendid saves, and when Collins hit one of his best shots and the Chelsea goalkeeper seemed certain to be beaten, the ball struck the bar and bounded up and out of play.  For Collins this misfortune was one of many.  He worked unceasingly and brilliantly to open ways through the defence and succeeded so often one cannot explain why Everton did not win comfortably.  The irony of defeat can only be appreciated by those who saw the pattern of play, with Everton in command from start to finish. 
Blunstone Hobbles
True, Chelsea had Blunstone hobbling on the wing for two thirds of the time and Livesey, too, suffered an injury which reduced his effectiveness, but before or after these injuries there was never any evidence that Chelsea were likely to win or any indication that they could compete with their opponents in football skill.  A season ago the corresponding fixture was one of the most disgraceful I ever saw.  Now Referee Reg Leafe, of Nottingham who had heard all about it kept a tight rein on tempers, though the nature of the opening two or three minutes threatened the possibility of events continuing here they had left off.  But the accidents this time were really accidental and when Hickson and Mortimore crashed heads in a touch-line duel, no one was to blame.  The result was that both resumed dazed but determined to avoid further trouble.  Indeed Hickson's play may have suffered from this and from the fact that once before when Mr. Leafe was in charge he had been ordered from the field.  It could never be a good match because it was so one-sided in Everton's favour.  Though defeat was so hard to take-no one likes losing one-nil to a side that might well have been given a real hiding – Everton's work had promising for the future.  Soon, I think, they must start to get the breaks which are being denied them.  Then they must show dividends for the counsel, and influence of their manager, whose fundamental job is to produce a good team new.  Collins work was outstanding against a side which strikes me as one of the least sound I have seen this season in the First Division.  Take away the genius of Greaves; the strong menacing wing work of Blunstone (when fit), and Brabrook and there is not much at Stamford Bridge- save the uncompromising tackling of Crowther-to give Manager Ted Drake much hope. 
Everton's Best Form
Whatever their fallings in the finishing department.  Everton at least moved combinedly, quickly and with such smoothness that one wondered why they should have to wait until this occasion to show their best form of the season.  Defensively Everton could scarcely have done better.  At half-back, on the wings they had fine service from both Harris and King, two young men whose enthusiasm and guts can never be questioned.  Jimmy Harris had some inspired moments without hitting the fierce shots for which he has won fame or producing laid-on centres which are an open invitation to others to get goals.  Thomas started ordinarily and played better and better as the game progressed.  Like Collins he might feel aggrieved that so much donkey work in the provision of chances should be fruitless.  Everton are not out of the wood- the need for class players in certain position is as urgent as ever-but they did show signs on this occasion of being on the fringe of consistency and success.  Chelsea;- Matthews; Sillett (P.), Tindall; Anderton, Mortimore, Crowther, Brabrook, Greaves, Livesey, Cliss, Blunstone.  Everton; Dunlop; Parker, Bramwell; King, Jones (Captain), Harris (B.); Harris (J.), Thomas, Hickson, Collins, Shackleton.  Referee; Mr. R.J. Leafe, (Nottingham).  Attendance 37,114. 
EVERTON RES 1 V SHEFF UNTIED RES 2
Monday, October 26, 1959. The Liverpool Daily Post
Everton succumbed at Goodison Park to a more methodical and skilful side, Sheffield United made full use of their speedy wingers on the spongy turf, but Everton's front line was disjointed although Boner did well with limited scope and Hood had some inspired moments.  Although Saunders had a harassing time, Everton's defence looked reasonably safe with the Youth team members, centre-half Watson and left full back Green, giving creditable performances.  Gould scored after 4 minutes and presented Hamilton with a 47th minute goal, after Ashworth had equalized for Everton in the 32nd minute. 
GALLING –THAT'S THE ONLY WORD FOR IT
Monday, October 26, 1959. The Liverpool Echo and Evening Express
By Leslie Edwards
Everton played better, shot more often and moved in better style than for months at Chelsea and came away beaten by a goal.  Galling?  You would have thought so if you had seen the pattern of a game with Chelsea at no time seemed likely to win.  No wonder Everton players and their manager showed frustration.  The team did everything a side should do and failed not because they didn't hit the ball hard and often at goal, but because they just could not sight shots inside the post or tinder the bar.  The football belief that there is an eight-foot ceiling to every ground, so far as scoring shots are concerned, has not been appreciated by Everton forwards and I can imagined that failure to score on Saturday will lead to intense practice at keeping the body well over the ball.  The waste of effort after so many quick, well contrived attacks was almost criminal and the only mitigation was that Matthews did bring off two or three fine saves and that Collins best effort, a stunning first-half shot, struck the bar.  Looking at the game through long-term spectators one found hope for the future, but the essence of Mr. Carey's work for the club is not to be found in the first team for the moment, but in his careful rebuilding of the club's foundations from ground-level-where the youngsters are.  That is not to say that he is not anxious about other things.  He wants a good first team now.  To get that he wants better breaks than he had at Stamford Bridge and the player or two not available for the moment, in the never-tighter transfer market.  But don't be despondent.  They will come and so will Everton's long-awaited revival. 
ROOM FOR SYMPATHY
I have never felt keener sympathy for a team or for a manager than after this match, if a quarter of Everton's solid opening had been crowded they would not only have won by four or five goals, but would have had the match won by the interval.  The fact that Blunstone demanded himself mid-way through the first half in collision with photographers and that Livesey, to, was injured later made Everton's failure to finish properly the more aggravating.  They as only one side in it from the beginning.  Whatever Everton fans may say and think of their team, I am convinced Chelsea's problems are even more pressing.  Except for the liveliness of Brabrook the artistry of Greaves and Matthews' sound goalkeeping Chelsea had little to offer.  Everton were a compact smooth-moving side who opened the other defence almost at will and then missed their ay, time and again, with near-miss shots for which there is no reward.  Ho heartening a big win would have been in view of the second Cup battle, on Wednesday against Liverpool at Anfield, I am wondering whether Everton will surprise their neighbours if they repeat their Chelsea's approaches and smack the ball into the net rather than just wide of it.  For Bobby Collins thing could not have been more aggravating.  He was outstanding.  He "killed" the ball in masterly style.  He worked like a demon.  He contributed enough shrew passes and at least two shots to have ensured the bouts in the first forty five minutes.  Who wouldn't feel aggrieved that so much graft and enthusiasm should go for nothing?  Everton's contribution to the game was the only worth-while thing about it, since it was so one-sided the crowd, sometimes derisive about their team, were often silent for minutes on end.  A season ago they had been incensed by one of the roughest and most contentious matches I ever saw. 
GRIPPED FROM THE START
Referee Leafe got a grip on things from their start which was as well since a few fouls at the outset (and I suspect a little foxing in certain quarters) gave some evidence that things were going to continue where they had left off.  Hickson's crash of heads, with Mortimore left both shakes and a little dazed and from that point the impression was that whatever bother was created these two players were going to have no part in it.  Indeed Hickson played as though he had likely recollection of being ordered from the field once before, by Mr. Leafe.  I must confess I was relieved when it was seen that the referee knew all about that infamous fame last season and was determined that it should not be repeated.  Greaves jugglery ct and quick shot on the turn was the most brilliant individual contribution, but Jimmy Harris equally inspired run against Tindall –he got him going the wrong way four times in ten yards-ran it close and the pity is that Harris centre, like so many others on Saturday was not sufficiently well-placed to make a certainty of the goal such approach deserved.  Thomas I thought started tentatively but went better, and better as the game progressed,  if the ball had run kindly for him or if the chances he took such trouble to contrive, had been half-used I should be acclaiming an Everton triumph.  King's hardiness his readiness to rescue his side in the few defensive situations in which they found themselves his general guts are one of the wonder of soccer since he appears to have no size, no weight to aid to his big heartedness.  Brian Harris too, had a good match; indeed the only criticism I would make of the side is that the forwards having gone so far to win the match lost it by enabling Chelsea's only goal by Greaves to count.  There should have been four or five on Everton's register by that time! 
HARROWER AT FORWARD FOR DERBY GAME
Wednesday, October 28, 1959. The Liverpool Daily Post
By Horace Yates
Both Everton and Liverpool resist any temptation there may have been to turn to-night's Floodlight Challenge Cup game (second leg) at Anfield (Kick-off 7;15 p.m.) into an opportunity to make experiments in team formation, which they might have hesitated to attempt had there been League points at stake-and quite rightly so, too.  Even though the clubs are passing through a trying time when one discovery might make a tremendous difference to their prospects they have to keep faith with their followers, who would never forgive either of them if one side or the other were to take a drubbing because they had changed their arm.  Sheer necessity is the only possible reason for the appearance of strange names in these annual battles.  Liverpool for example, will have Nicholson at centre half, but that is purely because White is unfit and Nicholson is the accepted deputy.  Curiously it was against Everton earlier this month that Nicholson was introduced to senior football and he followed this up by making his League debut three days later against Brighton. 
ADVICE ON WHITE
The report on White is that he is to see a specialist tomorrow for advice about the injured ankle which has been troubling him all this month.  On the nature of that advice will depend whether or not White becomes available for Saturday's visit to Sunderland.  If surprise there is in the Liverpool side it can only be the choice of Harrower at centre forward.  Even this is no wild-cat answer to an emergency and Liverpool's centre forward position is all of that for there is little doubt that disappointing though the line was for most of the Portsmouth game it moved more promisingly with Harrower in the middle than when others were leading the line.  I should be as surprised as probably Liverpool would if the Scot proved to be the answer to their prayers, for Jimmy does not give the idea of possessing goal-laden feet.  They could have of course, played Bimpson at centre forward but Louis has not shown the form this season that silenced so many of his critics last, and to have done this would probably have meant Harrower being deprived of a place in the side.  To have dropped him after his spirited Portsmouth display would have been rough justice indeed.  How does Harrower feel about taking on the strange role.  He revels in the idea, but I am sure he has not been given the No. 9 jersey because of the personal pleasure it will bring to him.  No, Liverpool are in a centre forward spot and any solution they hit upon from available talent must be of a temporary nature. 
Two Opinions
There might quite easily be two opinions about the playing of Harrower at centre forward but one good thing at least has certainly been accomplished.  It has meant the removal from the position of Roger Hunt-and I should think it a most happy release.  The younger has been plainly ill-at-ease during the experiment which looked like succeeding only in the match with Everton.  For the rest of the time all the glorious promise that this lad had shown as an inside forward was completely lost and he could have been almost any average player on the showing he gave, rather than the brightest discovery for many months.  After a satisfactory reappearance with the reserves on Saturday, following injury John Morrissey again takes over at outside right.  The clubs go into this match with a recital of three games in a row and not a victory between them.  For all that there is no sign of panic in the Everton ranks.  They boldly announce an unchanged team, the team which apparently was so unlucky to lose against Chelsea, and it you remember was also completely out of luck to yield both points to West Ham the previous week.  Everton team may not be as strong as we would wish, but it is hard to resist the theory that they are not being overburdened by their share of luck.  Brian Labone, understand is still not fit to resume playing following injury against Arsenal, but it is expected that if all goes well he will be in action again on Saturday week.  Whatever may be the current League form of the two teams we can usually rely on these meetings to produce good, interesting and eventful football.  So far as Liverpool are concerned they usually play a degree or two above themselves and a reproduction of their Everton form in League games would provide an interesting study.  When last the clubs met at Goodison, Liverpool won 3-0.  I am asked to announce that tickets for the game will be on sale at the Liverpool club offices until 4 p.m.  After that time all unsold tickets will be transferred to the turnstiles to be sold when the gates are opened.  Liverpool; Rudham; Molyneux, Moran; Wheeler, Nicholson, Twentyman; Morrissey, Hunt, Harrower, Melia, A'Court.  Everton; Dunlop; Parker, Bramwell; King, Jones, B. Harris; J. Harris, Thomas, Hickson, Collins, Shacklton. 
BUT KEEP IT DARK
Wednesday, October 28, 1959. The Liverpool Echo and Evening Express
By Leslie Edward
Another reader who suggests a most outlandish Liverpool line-up, starting with Carlin in goal, says in a post-script; "But on second thoughts, you'd better keep this team dark- they might try it."   Everton's unlucky failure at Chelsea stung one Evertonian C. O'Neill, who is exiled in Putney (33 Balmuir Gardens, London S.W. 15).  He asks;- "Surely the basic fact of football is goal-scoring?  Unless this is realized all the other features –majestic stands ultra-smart rig-out, coaching schemes, crisp, short passes, flicks, and back-heel touches are all meaningless.   "A tenth-rate Chelsea were allowed to take two points to the almost incredulous joy of their supporters as shots whistled by Matthews either three-feet above the bar or five feet wide of the posts.  There is only one kind of practice needed here and I hope Mr. Carey can somehow remedy all the defects which depressed we Everton exiles at Stamford Bridge. 
One cannot help pondering the fact that in an age when it is possible to send a camera to photograph the back of the moon the two senior soccer clubs of the city cannot find and sign, the several players who would help to revolutionize and revitalize their teams.  Is it really true that in the wide world of football there are no better players than those at Anfield and Goodison Park?  Charlie, our long-suffering (in a football sense) publisher from over the border asks "Why don't either of them go with a cheque for £40,000 and get the Baker boys?"  
I suspect it is because there is an awful responsibility in spending a sum of that kind. 
LIVERPOOL PLAY MORRISSEY AND NICHOLSON
Wednesday, October 28, 1959. The Liverpool Echo and Evening Express
Everton Are Unchanged
Tonight's Game
By Micheal Charters
Liverpool make three changes, one positional for tonight's game at Anfield (7-15) against Everton in the second leg of the Floodlit Challenge Cup.  Morrissey comes back at outside right after injury in place of Bimpson, Nicholson is at centre half as deputy to the injured White and Harrower is tried at centre forward with Hunt moving to inside forward, his best position.  Nicholson made his first team debut in the first leg, which Liverpool won 3-0 at Goodison Park, White is to see a specialist about the damaged ankle tomorrow.  Morrissey had a successful run with the reserves last Saturday and with Liddell and Morris both still unfit, he takes over on the wing again.  Everton will be unchanged from the team which lost 1-0 at Chelsea; Brian Labone is still not fit, but may be back in action next week.  Liverpool; Rudham; Molyneux, Moran; Wheeler, Nicholson, Twentyman; Morrissey, Hunt, Harrower, Melia, A'Court.  Everton; Dunlop; Parker, Bramwell; King, Jones (Captain), B. Harris; J. Harris, Thomas, Hickson, Collins, Shackleton
EVERTON WIN GAME-BUT LOSE
Thursday, October 29, 1959. The Liverpool Daily Post
Teams Make Mockery of League Form
By Horace Yates
Liverpool 0, Everton 2
Well of course, this is ridiculous.  Neither Everton nor Liverpool can be faulted for desiring to maintain the traditions of derby football or for heaping excitement on entertainment, but why both teams, struggling as they are should choose at Anfield last night to produce form which makes a mockery of their efforts in League football, is something for which there is no easy explanation.  Only Liverpool's blank score sheet was a grim reminder of more normal conditions, but if ever they could claim extenuating circumstances this was the occasion.  If either side could go into their normal games and play as they did last night we should soon hear the last of falling gates and crestfallen crowds.  Don't get me wrong, I am not claiming perfection.  Too many chances went astray for that but often against it was so much that went right.  It was hard to suppress a smile when during a second half interlude which fell rather below the first half high level entertainment, one was called out.  "Now they think it's League football again."  How true I was, and to complete the picture puzzle we found Liverpool winning the Floodlit Charity Cup although defeated by two clear goals, the three-nil win at Goodison in the first leg carried them through.  That Everton deserved to win there can be no doubt, for they weathered a Liverpool storm that threatened to send them sliding into serious arrears, recovered and hit back so hard that victory was well and worthily won.  In the two years which have passed since the floodlights were introduced the attendance has fallen from 58,771 to last night's disappointing 20,408.  Undoubtedly the poor displays of both teams and the taste of wintry weather cut the attendance, which was a pity for with 40,000 fans roaring away the atmosphere could have been complete. 
Schemer Collins
Although they will count no points for this win, Everton could use it to step-out of their rut.  Some of the football prompted and manufactured by that genial Scot Bobby Collins really sparkled and as exciting as the goals, if less rewarding were some of the many near misses, brought about by excellent goalkeeping by both Dunlop and Rudham.  Quite easily this could have been a high scoring match.  Almost as great a contribution to the Everton march of progress was made.  I thought by the first class attacking half back play of Brian Harris and King.  They used the ball beautifully, so that forwards were able to run on to it in copy book fashion.  Add to this the fact that Jimmy Harris gave Ronnie Moran a most uncomfortable evening and we found the Everton attack if not exactly firing on all cylinders at least running with a smoothness that constituted a real threat while they were in the ascendancy.  It took Everton 20 minutes to roll back the Liverpool siege and when they did Collins profited from a Nicholson error to hit a great shot from the fringe of the penalty area which Rudham did well to keep out.  This was only a score delayed for with Brian Harris positioning himself beautifully for just such an opportunity found himself in the clear.  He shot strongly and in its flight the ball struck Twenyman and rebounded out of Rudham's reach. 
Dunlop in Action.
Brian Harris should have been a scorer a few minutes later, but luck was against him, for a fine drive cannoned off the inside of the post, and refused to roll over the goal line.  Dunlop who had earlier saved brilliantly from Harrower was equally agile in pushing a Hunt header over the bar.  Shackleton is still awaiting his first goal in a derby game and must be wondering why.  He had a glorious chance when Molyneux slipped but Rudham parried his shot and saved again when Jimmy Harris blazed away.  With Rudham out of his goal on another occasion, Shackleton saw Moran kick his shot off the goal line and for good measure the outside left completely miskicked in front of goal.  Still Shackleton had a hand in the second goal in sixty minutes for he caused the ball from the touch line superbly and with Rudham misjudging the flight, Jimmy Harris found himself with an open invitation t score.  His should probably have gone home anyway, but Twentyman, in a despairing effort to keep it out of the net merely helped the ball on its way.  It was not all Everton for Harrower beat Jones in the most accomplished style to pull the ball to one side and fire in a wonderful shot, which Dunlop covered.  What a goal this would have been and what an encouragement to Harrower.  Hunt not so effective as he has been s an inside forward caused the Liverpool followers to shout for goal when a cracking shot spun out of Dunlop's hands over his shoulder.  In some miraculous fashion, Dunlop hit out backwards and kept the ball in play. 
Harrower's Success
Obviously Liverpool must have been disappointed not only to be beaten but to be beaten goalless, but for them it was a match not entirely without consolation.  How wrong it would be to shout from the house tops that Harrower has solved their centre forward problem, but there can be no two opinions that last night he shaped better by far than any other wearer of Liverpool's No.9 jersey this season.  His footwork was as clever as we know it can be, his distribution was really excellent and to cap it all he display a power of shot and an accuracy in heading the ball which many of us have not given him credit for in the past.  He did not score, and yet with a little more luck we might have been applauding a meritorious hat-trick.  One thing is certain Harrower will be leading the Liverpool line at Sunderland.  How could it be otherwise?  Liverpool's other problem positions cannot be written off so satisfactorily.  Morrissey game though he was, did not appear to have the speed to match his attacking ldeas, and although Nicholson recovered from a shaky period in defence, his positional play seemed all wrong.  It was the easiest thing in the world for him to be pulled out of position and so often the way to the Liverpool goal seemed exposed by his wanderings.  I though Everton's full backs the better pair on the night's showing and only because they were not as nimble as their opposite numbers did Twentyman and Wheeler have to take second place to King and B. Harris.  Twentyman's distribution commanded admiration.  Now we know that both sides can play fast, clever attacking football not for just a few minutes but for sustained periods and there was no special license for this game.  The tackling was every bit as keen as will be encouraged in any League game and the will to win was never more in evidence.  If only we could be sure there would be no relapse from this promised recovery the overall picture would improve appreciably.  We shall see!  Liverpool; Rudham; Molyneux, Moran; Wheeler, Nicholson, Twentyman; Morrissey, Hunt, Harrower, Melia, A'Court.  Everton; Dunlop; Parker, Bramwell; King, Jones (Captain), B. Harris; J. Harris, Thomas, Hickson, Collins, Shackleton.  Referee; Mr. F.V. Stringer (Liverpool).  Attendance; 20,408. 
CHANCES WERE THERE FOR EVERTON TO HAVE WON THE CUP
Thursday, October 29, 1959. The Liverpool Echo and Evening Express
By Jack Rowe
Most of the crowd of 20, 408 who went to Anfield last night for the second leg of the Floodlight Cup would have been prepared to lay some odds that Everton could never give Liverpool three goals start on their own ground and beat them.  That was the task which Everton after their 3-0 crash in the first game and in the event the layers would have won their money for Everton did no more than win last night's struggle by 2-0.  So they lost 3-2 on aggregate and no matter what happened in the first meeting there could be no one there last night who could dispute that on the latest occasion not only did the better side succeed, but they should also have succeeded by a margin which would have ensued the return of the Cup to Goodison Park.  Everton apparently lost at Chelsea on Saturday because they could not take their chances.  If they missed as many clear cut openings as they did last night the criticism of inept finishing could not be more fully deserved.  Indeed I find it difficult to recall a game in which a score off 2-0 gave such a fantastically wrong picture for if Everton had beaten Liverpool by five or six goals should have accepted it as a much more correct reading.  If the opportunities had been taken by both sides the score might well have been something like 6-2. 
So Pronounced
Their second half superiority was so pronounced and their ability to carve holes in the Liverpool defence so disconcerting to those who favour the Anfield club that chance after chance was laid on.  Not difficult chances either and I think I am being moderate when I suggest that Hickson (twice) Shackleton (twice) and Thomas failed with opportunities which were as simple as any we have ever seen at Anfield.  Shackleton put his straight at Rudham's less from distances of six and 10 yards, Hickson did the same with one from the six yards line in the last couple of minutes shot outside from near the penalty spot after Thomas had made the dream opening with the best combined dribble and pass of the night.  Thomas himself missed the ball when slap in front of goal and no-one near him and when you add to their amazing misses the facts that Brian Harris saw a first half shot hit one post and then run along the line against the other before coming out, that Moran somehow stopped a shot from Shackleton on the line it is clear that we might have had a football massacre. Everton led by a goal at half-time and were perhaps a little fortunate to do so in a match which rated high entertainment value and had patches of good football, but their second half performances put them in complete command with Bobby Collins spraying passes and directing things in a matter which put him high above anyone else in the game. 
Supers Exhibition
Collins gave a superb exhibition and the general response from the Everton team was such that if only half the chances had been taken it would have been better reward for his efforts.  There were weaknesses of course, particularly at centre forward where Hickson was only really noticeable because he missed those chances, while Shackleton has moments when his anticipation and movement is slow and cumbersome.  At other times however, he is remarkably strong on the ball.  Two other players also stood out on the Everton side for me, King and Brian Harris played splendidly all through and their tackling and decisive challenge for the ball was the reason why Liverpool fell away so badly after the interval.  But the real lesson for the Anfield club from this game lies in the ease with which the defence was taken out of position leaving gaps which were readily utilized by Everton except in the vital matter of finishing.  The big interest from Liverpool's angle was the appearance of Harrower at centre-forward.  Early on the move looked full of promise and certainly worth persevering with.  For one thing Hunt looked more at home at inside right and had a better game than Melia who has lost a lot of his directness.  Neither A'Court or Morrissey, except on rare occasion ever looked like escaping the domination of Parker and Bramwell.  Harrower brought more cohesion to the line and before Everton scored, Liverpool were if anything the more aggressive and went near to scoring on two occasions.  Harrower had a header finely saved by Dunlop, Wheeler shot just outside, A'Court failed with a glorious opening and after Brian Harris had put Everton ahead in 21 minutes with a shot which was deflected into the net by Twentyman.  Hunt had a header knocked on to the bar by Dunlop.  It was these incidents which made it appear a little out of pattern that Everton should be ahead, but how different it was afterwards.  \Yet Everton squandered so many chances that their fans must have despaired of them getting a goal and when one did come-on the hour –again it was Twentyman who helped an angled shot from Jimmy Harris into the net.  This came when Rudham missed a cross from Shackleton and it would have been a miracle if Twentyman had been able to avoid the Harris shot.  Immediately following this goal Liverpool had their only real spell in the second half and it brought a wonder save from Dunlop who leaped backwards to hook away a shot from Hunt he had pushed up with one hand, but this was not the only goalkeeping highlight for Rudham in between the times when the Everton forwards were demonstrating their pathetic lack of finishing, twice hurled himself across the goal to save from Collins when it seemed he must be beaten.  So well did Everton play in the second half and so well were the chances made that the only reasonable assumption is that they must soon start winning First division matches.  I hope that is the true picture of last night's victory because if it is not the outlook for Liverpool is grim. 
EVERTON LIKELY TO BE UNCHANGED
Thursday, October 29, 1959. The Liverpool Echo and Evening Express
Labone Not Yet Fit
By Leslie Edwards
Brian Labone the young Everton centre half-back who has been out of the team through injury is not likely to be fit to resume until a week next Saturday at the earliest.  The team to meet Leicester City at Goodison Park on Saturday is thus most likely to be the one which beat Liverpool 2-0 at Anfield last night, though Johnny King is nursing an ankle injury received in that game.  Everton's transfer listed centre forward Jack Hood was watched by a number of clubs last Saturday and some of them will see him again this week. 
HICKSON ASKS TO GO –LIVERPOOL ANT HIM
Friday, October 30, 1959. The Liverpool Echo and Evening Express
"I'm Not In Love With Playing For Everton Now"
Would Like Anfield
By Leslie Edwards
Dave Hickson, idol of the Everton crowd and dropped for the third time this season-he plays in the Central league match at Newcastle tomorrow-say Manager John Carey this morning asked for his transfer and them told me that prejudice has killed his enthusiasm for ever playing again for Everton.  Everton directors will consider the request at their meeting early next week.  It the answer is yes- and who can see them standing in Hickson's light?- the first club to make an effort to sign him will be Liverpool. 
An influential Liverpool director telephoned the Echo this morning for confirmation of news that Hickson wanted to leave and when told the facts said; "You can print it as definite that if Everton are prepared to let Hickson go, we will be first in the field.  We want Hickson at Anfield and we will do all we can to get him there."  Hickson who is 29 was calm and resigned to going elsewhere when I chatted with him in the referee's room at Goodison Park today.  But he was pretty hurt.  "I've been forced into it" he said"   And you will understand that no one can play his best in these circumstances.  The club have signed two centre-forward in the past 18 months –first Peter Harburn and then Alan Shackleton-and although I was prepared at the outset to fight my way back in to the team, I now feel that the feeling against me is too strong.  "They've knocked the life out of me and I'm prepared to go,"  I'm not in love with playing for Everton any more." 
Not First time
"Don't forget that this is not the first time I been played in the Reserve side at Newcastle has led to my asking for a move it happened in 1955 when Cliff Britton was the govnor here.  "This dropping led to my being transferred to Aston Villa and later to Huddersfield Town.  So the wheel has turned full circle.  "I've been at Goodison Park since I was 14 and Everton have always been my club but I cannot help thinking that the feeling against me in certain quarters when I rejoined Everton from Huddersfield Town two seasons ago is still acting against me.  "I feel I am being made a
EVERTON COULD START WELCOME RISE AGAINST LEICESTER
Friday, October 30, 1959. The Liverpool Echo and Evening Express
By Michael Charters
Leicester City, at Goodison Park tomorrow remember, Everton with a certain amount of gratitude from last season.  The four points they took from their games must have looked very heartening at the season's end when they escaped relegation by a mere couple of points I remember the corresponding match well last December as being the most one-sided encounter of the winter yet it was Leicester who perpetrated football robbery by snatching a late winner after being outplayed for most of the game.  Since then, Leicester have come under the managership of their former centre half Matt Gilles, once of Bolton Wanderers and he is finding it tough going to keep his old team in a respectable First Division place.  We find them today two places above Everton with a point more and no doubt they're hoping that history will repeat itself so that they can widen the gap.  They are struggling like Everton, to find an effective attack and it is six weeks since they won.  It is an oddity that their best forward at present is outside right Tom McDonald, formerly of Hibernian and Wolves who is joint top scorer with five goals, but was placed on the transfer list early in the season and officially is still there.  Mr. Gillies costly close-season signing Albert Cheeseborough whom he took from Burnley, has not yet settled down to his best form, although he also has scored five. 
The Patent Need
There is some justification in believing that Everton may now start an upward trend.  Their performances in the last two games against Chelsea and Liverpool despite the defeat at Stamford Bridge, indicates that the side is playing good football apart from a lamentable lack of finish.  The generalship of Bobby Collins is beginning to bring result in welding the forwards together and with John King and Brian Harris hitting their best form at wing half, it may be that the team will strike a more happy vein than of late.  Even so, if this does happen it may still not obscure the patent need of new strength in some forward positions.  While the search for new talent goes on the current attack must search for their shooting boots.  Too many clear-out chances have been missed in the last couple of games and all the fine approach work in the world is meaningless unless goals come from it.  If the forwards can rediscover the art of scoring I can visualize a convincing win over mediocre Leicester which could be the morale-booster the side so badly needs at present.  Leicester City; Banks; Chambers, Ballie; Newman, Knapp, Appleton; McDonald, Keyworth, Keys, Cheesebrough, Wills. 
Everton Teams
Alan Shackleton moves from outside-left to centre forward in place of Dave Hickson in the Everton team to meet Leicester City at Goodison Park tomorrow and Bobby Laverick now long recovered from the effects of an operation takes the left wing vacancy.  Otherwise the team is unchanged.  Everton; Dunlop; Parker, Bramwell; King, Jones, B. Harris; Harris (J), Thomas, Shackleton, Collins, Laverick. 
LIVERPOOL WAIT TO SIGN HICKSON
October 31, 1959. The Liverpool Daily Post
By Horace Yates
If Everton at their Tuesday board meeting accede to the request of Dave Hickson, their centre-forward to be placed on the transfer list, it is probable that he will become a Liverpool player the same evening, although other prominent clubs, such as Bolton Wanderers and Sheffield Wednesday are known to be interested.  Only the imposition of an outlandish fee could prevent such a deal from materializing for Hickson has publicity stated a desire to move to Anfield Road and the Liverpool board are practically unanimous in their desire to install him as leader of their attack.  As soon as it became known yesterday morning that Hickson had submitted a request for transfer Liverpool moved quickly.  There was a hurried conference between the directors who were accompanying the team to Sunderland and the manager Mr. Phil Taylor.  In consequence Mr. Taylor whose intention it had been to travel with the team stayed behind and with Mr. Lawson Martindale was empowered to acquaint Everton of Liverpool's continuing interest in Hickson and to make a signing within certain financial limits if it was indicated that Hickson was free to go. 
No Auctionerring
The Everton manager, Mr. John Carey, who had an earnest and friendly discussion with Hickson yesterday, scotched hopes of a speedy move by announcing that nothing more would be done until the board had considered Hickson's request on Tuesday.  When he was satisfied that he had done all he could Mr. Taylor left on the afternoon train for Sunderland.  Mr. T.V. Williams the Liverpool chairman told me at the team's hotel last night "We could not be more interested in Hickson.  But we will do nothing to mar the excellent relations which have existed for so long between the to clubs.  "We know just how far we are prepared to go with our bidding but under no circumstances will we enter into any auctionerring, if Everton do decide to release Hickson and the price is right we shall move immediately.  "We know our supporters would give a hearty welcome to Hickson and this could be one of the occasions where the material is right if the price is right. 
CAN EVERTON AFFORD TO LET DAVE HICKSON GO?
October 31, 1959. The Liverpool Daily Post
By Horace Yates
Dave Hickson dramatic transfer request and the probability that he will end up at Anfield with a Liverpool team waiting to welcome him with open arms, has brought the imagination of the soccer public of Merseyside into uncertain manner.  Everton's board meeting on Tuesday will be eagerly awaited, not least by the Liverpool board whose chairman Mr. T.V. Williams stated yesterday that Liverpool would be only too delighted to sign Hickson, if he was made available for transfer at a reasonable price.  The big question now rest on Everton ending speculation which has been boiling under the surface ever since Hickson was first left out and the signing of Shackleton early in the season by placing him on the transfer list.  Last night Mr. Carey would offer no comment put it seems difficult to believe Everton will have any chance to hold on to a disgruntled player for that is clearly what Hickson is today.  He stated yesterday that he experience at Goodison this season had killed his enthusiasm for the club, an enthusiasm which has been almost without equal from the age of fourteen.  Hickson says he has been under the impression for some time that the feeling in certain quarters was strongly against his continued inclusion in the Everton side and he has had no cause to believe that such feeling is on the wane.  "I know Liverpool are interested" he said, "and a move to Anfield would suit me.  In arriving at their decision Everton will have to take into account the feeling of their supporters for there is no doubt that however, questionable may be his popularity in official quarters his hold on the crowd's affections is still considerable.  If Hickson does move it will be for the second time, for about four years ago he was transferred to Aston Villa at a fee of about £18,000.  Shortly afterwards he moved on to Huddersfield Town before rejoining Everton for £6,500.  Ironically at that time Huddersfield contacted Liverpool to see if they had any desire to sign Hickson and a fee of £5,000 was mentioned.  At that time Liverpool were comparatively happy with the play of Billy Liddell at centre at centre forward and the offer was not taken up.  In the meantime the position has changed considerably and the search which has continued various parts of the country increasingly week in and week out for two seasons for a new leader of the attack with unsuccessful results, could now be solved by a journey of no more than a few hundred yards. I have heard it suggested that if Hickson should go to Anfield, Everton wish to take a Liverpool player in part exchange although the club declined to offer any confirmation of such a theory. 
VICTORY OVERDUE
Even without Hickson Everton can terminate their run of three League games without a victory today for their visitors Leicester City are fellow occupants of the lower rungs of the First Division ladder.  Admirer though I am of Hickson's spirit and club loyalties I do not rate him as indispensable.  My worry in seeing him asked to stand aside is a gnawing fear that whatever fallings he may have he has no rival with a more obvious claim.  This will be the third time he has lost his place this season.  Each time his banishment has lasted for one match only and curiously enough he scored twice on each reappearance.  As cheering as anything in this disappointing Everton season has been the advance of the wing halves, John King and Brian Harris in particular is showing real touches of class, as his attacking style develops and the time may not be far distant when that view spreads beyond Merseyside limits.  It is only just over a season ago that the experiment was tried of converting Harris to half back play, and I doubt it at that time his sponsors could have dreamt that the move should be no completely successful.  White we so airily assume that Leicester's visit will bring with it two Everton points, it may be just as well to temper optimism with caution for looking back over the records for the last seven years what do we find?  The staggering fact that Everton have not scored a victory over City, home or away, in the whole of that time and that last season Leicester accomplished the double.  Go to it then Everton.  This state of affairs has continued quite long enough.  Everton; Dunlop; Parker, Bramwell; King, Jones, Harris (B); Harris (J), Thomas, Shackleton, Collins, Laverick.  Leicester City; Banks; Chalmers, Ballie; Newman, Knapp, Appleton, McDonald; Keyworth, Leek, Cheeseborough, Wills. 
EVERTON SCORE BIGGEST VICTORY OF THE SEASON
Saturday, October 31, 1959 Liverpool Echo and Evening Express
Collins Starts It With Penalty; City Miss One
Everton 6, Leicester 1
Everton; Dunlop; Parker, Bramwell; King, Jones (Captain), Harris (B); Harris (J)l Thomas, Shackleton,
Collins, Laverick.  Leicester City; Banks; Chalmers, Ballie; Newman, Knapp, Appleton, McDonald,
Keyworth, Leek, Cheeseborough, Wills.  Referee; Mr. E.G. Aston (Ilford). The crowd at the kick-off seemed the smallest I have ever seen here at this time of the season.  The weather –it was drizzling –may have had something to do with it but so could the Hickson controversy.  In the first minute Shacklton hit a centre from Laverick on the volley and sent it crashing against the Leicester bar with Banks beaten.  This was a wonderful shot and the crowd were still roaring their appreciation when Shackleton next put a shot against the post but on this occasion he was offside.  Leicester looked dangerous in their first two attacks and from Wills cross Jones and Leek collided, so that both had to receive attention for head knocks.  When they recovered it was Wills who again threatened the Everton goal with a high cross which went through to McDonald but the winger tried to beat Bramwell and failed instead of shooting first time. 
Fast Pace
The slippery ground caused one or two mistakes but the pace was quite fast with Leicester finding their men well but their first shot from Leek was well outside.  Some of Leicester's football was most precise and they were certainly looking better than Everton at this stage.  There was a close call for the home side when McDonald was obstructed by Bramwell and from the free kick the tall Keyworth headed just over.  Everton were suffering because of the quick tackling of the Leicester half-backs, but suddenly Collins appeared on right wing to run on to a pass from Jimmy Harris and his hard hit low cross caused a flurry in the City defence before an offside decision ended their trouble.  Most of the attacks were coming from Leicester and twice shots from keyworth and Cheeseborough whistled just outside.  So far Everton had shown nothing like the play which made them look so good against Liverpool on Wednesday night.  Even Collins after beating two men beautifully, took the ball too far and then Shackleton was stooped by Knapp when I seemed likely that he might burst through.  Leicester should have gone ahead when the Everton defence was left standing by Keyworth, who evaded King's tackle and went on to place the ball across goal and just outside the past as Dunlop advanced.  That the views of the crowd were not all one-sided was illustrated when Shackleton made a dash down the left-wing and just failed to keep the ball in play after beating Chalmers and Knapp.  There was a burst of applause for him.  Newman nearly headed into his own net from a Collin chip after Jimmy Harris had centred the ball, but Everton were playing poorly and one felt that the restlessness of the crowd was probably having an effect on the play.  Leicester's falling was lack of punch but they almost got an equalizer when Parker hooked a Keyworth header away from the line and Leek headed straight back into Dunlop's arms.  Then at the 34th minute there was a leading goal to Everton when Collins converted when Shackleton was brought down by Chalmers.  The Everton centre forward had beaten his man and was shaping to shoot when the offence was committed and I thought a penalty was the only just award.  It must have been very near a penalty when Keyworth went down in a tackle by King, but the referee waved play on and Everton went away immediately for Collins to once more out to the right and first in a terrific shot from an angle when Banks flicked over.  Collins stayed on the right wing and at this point Everton were playing better although their goal which nearly fell again when keyworth headed a corner from Wills against Dunlop, the ball going out for another corner which was cleared.  Poor Leicester couldn't get a goal even when they were awarded a penalty when Parker did the only thing possible in punching over a header from Leek, which would otherwise have gone into the net.  Cheeseborough took the kick and with his left foot put it outside.  Everton reverted to their forward programme formation although Collins was always ready to go to any position to try and keep the line moving. 
Half-time; Everton 1, Leicester City nil.
The early minutes of the second half were brightened by a lovely Everton move started by Shackleton and carried on by Collins and King, but in the end it broke down because Laverick could not get the ball past Chalmers.  Everton got another goal in the 51st minute following a corner on the right by Jimmy Harris.  When the ball came over Laverick hooked it back into the middle and it seemed to strike someone before dropping in front of Thomas, who coolly studded it into the net.  The lights came on at the start of the second half.  Dunlop had to drive at the feet of Leek to save a nasty looking situation but there were more potent looking signs from Everton and another grand move by Harris (J) and Collins ended with the ball coming across field to the unmarked Laverick who shot high and wide.  Wills made Dunlop save low down by the post with a quickly taken left foot shot after Cheesebrough had failed to make the most of a good chance provided by Keyworth.  Everton especially with Collins dominating things, had now got a grip on the game and in 61 minutes Shackleton scored a third goal, a goal which got a good reception from the crowd.  It started with Collins and Jimmy Harris getting together and when Collins had his shot charged down the ball rebounded to him.  Quick thinking enabled him to chip it across goal, and Shackleton came running in to hit the ball on the volley with his left foot and it went low into the net.  A fine leap and save by Banks denied Collins a goal when he struck a great shot from just inside the penalty area as Everton kept their command, and the goalkeeper also had to go down nippily to take a drive from Jimmy Harris. 
Goal No. Four
Leicester had faded out completely as an attacking force and with Everton playing with confidence a fourth goal came in 69 minutes, Brian Harris being the scorer.  He came forward to get hold of a loose ball and from 30 yards, shot with his right foot and it went straight into the net from the crossbar.  This was the first of three goals in three minutes for Leicester got one two minutes after Parker's shot when McDonald was ideally placed to hand past Dunlop from Leek's pass.  Everton's fifty goal came in 77 minutes when Parker joining in the now rampant attack reflected the ball from a corner and dribbled in before beating Banks with a low left foot shot.  Ten a minute later Thomas made it half a dozen for Everton with a header into the top corner of the net from a centre by Shackleton who had moved out to the left wing.  There was no shouts from the crowd now except to greet the goals.  And it was almost seven for Everton when Jimmy Harris crashed a terrific shot outside.  The gate was 22,587 was the lowest at Goodison Park this season, rather ironic in view of the fact that Everton have not scored as many goals in one game for such a long time.  in the finish the cry from one section of the crowd had changed to "We want seven"  Rarely have exotics been so silenced so effectively.  Final; Everton 6, Leicester City 1.  Official attendance 22,587. 
HICKSON FANS CREATE SCENE
Saturday, October 31 1959. The Liverpool Echo and Evening Express
Before the game at Goodison Park started there was one or two shouts of "We want Dave" but there was an even more sensational incident when a spectator ran on to the pitch carrying a placard which said in blue letters, "If Dave goes, we all go,.  He was eventually escorted off the field by two police officers and no sooner had the game started than the man who displaced Hickson, Shackleton hit a volley against the crossbar.  During the game there were more shouts of "We want Hickson" aimed at the directors box, and one or two cat calls referring to Mr. Carey the manger. 
FIRST AWAY WIN BEST DISPLAY
Saturday, October 31 1959. The Liverpool Echo and Evening Express
Everton Almost Snatched Floodlit Cup at Anfield
Writes Alex Parker
Well I warned you Liverpool fans last week not to be too confident about Wednesday's "Derby" match and although we didn't win the Floodlit Cup I think we did enough to cross the memory of our disappointing display in the first game three weeks ago.  It must have been a most frustrating match for Anfield supporters.  You will remember how we were beaten by a weakened team at Goodison and then when we are fared with what was on paper a much stronger side, we turn in our best display of the season and gain our first away win.  Before the match a friend asked me if I thought we would win.  When I said yes, he pointed out that we needed a four clear goals margin to lift the cup.  I told him that if we played as well as we did at Chelsea and took our chances, we could do just that.  Those of you who were at Anfield will know just how close we came to doing it, and with a little more luck in front of goal I think we could even have bettered it.  For those of you, who were not there I think we were as much on top as Liverpool were at our ground.  I'll admit that for the first quarter of an hour I thought we were going to be up against it, for Liverpool played as they left off in the first match but gradually our wing halves took command and there is no denying that we had the better of matters afterwards.  I heard people say after the match that Everton did not play so well, it was Liverpool who had an off night, I don't think that's a fair to either team.  As I said earlier, Liverpool opened very well but after that we took a leaf out of their book and played at our best in a "derby" match.  I think  Johnny King deserved special mention for the way he kept that very good player, Jimmy Melia quiet.  For one so small and light he tacklers awfully hard and he knew he had to against a player of Jimmy's calibre.  It was also a grand shot to see Johnny Bramwell showing the form which made him such a great prospect last season.  I said to a Liverpool forward during the second half that he must have found it stranger to hear the Kop roar as an Everton team attacked.  He agreed and admitted it was something he hadn't heard, before or wanted to hear again. 
Quick Fire
Yes, it was a very happy Alex Parker who walked off Anfield at the end of the game, I hope that our display heralds a change in our fortunes and a quick rise in the table for I think we have shown we can do it.  Not many teams win at Anfield.  I spent Wednesday afterwards watching the England-Sweden match on television and although it was a disappointing result for Ronnie Clayton's boys, I can't agree with the critics who said it was a disgraceful result.  I think it was from a disgrace England had one of they youngest ever teams out against what is a very good side.  Remember Sweden were in the final of the World Cup last season.  I had heard that Simdusson was the best centre-forward in Europe and he certainly justified the tag.  He scored two brilliant goals the second with a swerving shot with the inside of his foot.  I wonder how many of you noticed that Sweden wingers are booked to sign for Barry Town the non league club.  On the form they displayed on Wednesday, I am certain they could make a name for themselves in English soccer with a club of far higher standing than the Welsh team, and I am in no way being disrespectful.  Those of you who read these articles regularly will recall the one I did the other week on how little interest is shown in soccer in the U.S.A, despite the visits of England and top club sides.  I was therefore very interested to read that there are moves afoot for running a competition in New York between all the top European teams.  The games would be played on summer evenings.  It is hoped to start the tournament next season, and I will be very interested to see how it goes I can't imagine the Americans failing to be impressed by Real Madrid. 
Nobbling "Doc"
You will remember that I promised to tell you of my visit to Tommy Docherty.  As soon as I arrived at our London hotel on the day before our game with Chelsea I telephoned Doc to ask him the best way to get to his house at East Barnet, but he told me to stay where I was.  Before you jump to any conclusions I hasten to add that he said he would pick me up in his car.  After I put the phone down I wondered how he was going to drive with his broken ankle, I know Doc is capable of doing some unexpected things, but driving with a broken ankle.  Anyway I didn't have long to wait before Doc came hobbling in, and immediately behind him was another old friend and also the chauffeur, Davy Mackay, of Spurs.  The charted to Bobby Collins and I before Doc, Davey and I set off for Doc's home.  Doc told me that he hoped to be playing again in about three months time.  He said that soon after his accident he was stopped in the street by a supporter.  The following conversation took place. 
Supporter-How's your ankle?
Doc –Broken.
Supporter-Yes, I thought so, I read about it in the paper. 
Doc, yes, I believe it was in the papers. 
Supporter- it was I saw it.  Is it a bad break?
Doc's- patience had just about gone by now.
Doc Have you, ever heard of a good one?
(Or words to that effect)
If the supporter had known Doc personally he might have expected an answer like that.
Happy Mackay
He told me that he had read the article I wrote about him in the Football Echo the other week and thanked me for the tribute I paid him.  Just when I was thinking what a nice thing he was saying he added.  Mind you I think the only reason you wrote it is because it's true.  That's Tommy Docherty for you.  Davey Mackey told me how happy he is with Tottenham and the way things are going for his tea.  He said that when he left Scotland he wondered whether or not he would make it in English soccer, but now he's fairly confident that he will.  According to the Press reports I have read he's not only made it, but has been on vocation.  From inquires I have made in London his club supporters are delighted with his play and say that to a great extent he is responsible for his team heading the First Division.  East Barnet must be soccer's equivant of Bevereley Hills.  In addition to Doc, Davey also lives there along with many other Tottenham players, including Danny Blanchflower, Billy Wright is also buying a house there.  And it is not limited to footballers.  There are quite a few TV stars live there including Tad Ray the Liverpool born comedian, who is also a vice president of Liverpool Supporters Club.  After the announcement of the Scottish Shadow X1 last Monday a friend asked me if I was disappointed not to be in the full side.  well, I won't deny that I would like to have been picked to play, but I wouldn't say I was disappointed.  After all it is an honour to know that you are even considered by the selectors.  After the way the team beat Ireland 4-0 I did not expect any changes and I think the same 11 players must have been confident of being selected again, I can well imagine how one of them would have felt had he been overlooked.  I know that if I had been in a side that won so convincingly I would have expected to have been picked again unless of course, I had a real "stinker."  No, I think the selectors took the only course open to them, although I'm still hoping to get back one day.  I'm still receiving letters from exiled Evertonians all over the world.  This week I had one from Kenya.  At the first opportunity I shall give some more in this column.  Although they are still coming in I will welcome any others if you wish to write do so to Alex Parker.