EVERTON MAKE THREE CHANGES
September 1, 1959. The Liverpool Echo and Evening Express
Tansey, Meagan, Thomas Out
Wignall Debut
By Leslie Edwards
Everton have made sweeping changes for their match tomorrow evening ( 7 p.m) against Burnley at Goodison Park.  Sanders replaces Jim Tansey at left-back; King comes in at right half with Brian Harris switched to the place held, until now, by Meagan.  In the attack Wignall, the former Horwick R.M.I boy, gets his League debut at inside-right in place of Thomas.  Everton; Dunlop; Parker, Sanders; King, Jones, Harris (B); Harris (J), Wignall, Hickson, Collins, O'Hara.  Burnley; Blacklaw; Angus, Cummings; Seith, Miller, Adamson; Connelly, McIlroy, Pointer, Robson, Pilkington. 
Sanders made many first-team appearances at right back last season until the return of Scottish International Alex Parker from service in Cyprus.  Now Sanders a Manchester man is preferred at left back to both Bramwell and Tansey. 
Impressive
Johnny King had a place in the League side at Preston early last season.  He played well that night, but was not selected for the following match.  He is fast and full of enthuasim and his marking of Bobby Collins in his club's public trial game must have impressed Manager Carey, as it did many others. 
Wignall joined the Everton club about the same time as Bramwell two seasons ago.  He did not play particularly impressively in the trial match but there has been good report of the Central League performance.  Everton reserves; (a) Bolton; O'Neill; Bentham, Parkes; Rea, Labone, Meagan; Peat, Thomas, Hood, Ashworth, Godfrey. 
UNCHANGED BURNLEY WILL POSE SEVERE PROBLEM
September 2, 1959. The Liverpool Echo and Evening Express
By Leslie Edwards
Everton aim at getting their first victory this evening.  But the unchanged Burnley side they face pose a severe problem.  Certainly there will be no room at Goodison Park tonight, for blunders such as those which virtually presented victory to Burnley when the sides met last week.  The fact that Everton's September fixture are well loaded with home games makes it imperative that they get down to the basic business of winning at home –and quickly.  Otherwise we may find ourselves no better off than we were a year ago.  Indeed, someone has already said that the club are worse off than they were this time last year the important different, they say, being that this time last September we had no Bobby Collins, no Alex Parker, no Manager John Carey –and now we have all three and we're not doing much better.  We must not forget that these men were instrumental in helping to keep the club in the First Division, when the odds against that happening were not very long, also my faith in Manager Carey is absolutely undiminished.  He will prove results, never fear.  But give him time.  You can't get results merely by waving a magic wand.  The time element is important in football as in all other things,
Close Links
I don't blame, the Everton chief for not being panicked into buying players, little if any better than those he has, one good big venture into the transfer market is better and more effective than two or three signings for the sake of signings and when the right man is available I am sure you will find Everton on the job and with sufficient enterprise to being off the deal.  Burnley have some close managerial links with this city.  They sent us Harry Potts as a player and then took him back so that he could prove himself as one of the youngest and most successful managers, it was from Burnley too, that Cliff Britton, now at Preston, joined his old club, as manager, and now we have at Goodison Park Leslie Shannon, lately "transferred" from Burnley to the Everton coaching staff.  Burnley have never spent much transfer and have usually sold shrewdly so it is hardly surprising they are one of the best "lined" clubs in the land.  In McIlroy a splendid schemer, they have a player and a half, in Pointer, spoken of as a potential leader of the England attack they have a man who will keep Tom Jones occupied from first to last.  It says something for the Burnley pool of reserves that they can suffer three players with broken legs and still field a side which suggests on early play, that they will take a hand in the championship battle.  Everton's sweeping changes will, I think provide definite evidence of my belief that John Carey can settle at his problems.  King's return to the half-backs line is welcome and Sanders solidity could be a helpful factor in the defence.  Much depends of course, on how well Wignall, the debutant comes off.  Everton; Dunlop; Parker, Sanders; King, Jones, Harris (B); Harris (J), Wignall, Hickson, Collins, O'Hara.  Burnley; Blacklaw; Angus, Cummings; Seith, Miller, Adamson; Connelly, McIlroy, Pointer, Robson, Pilkington. 
LAVERICK STARTS LIGHT TRAINING
September 2, 1959. The Liverpool Echo and Evening Express
Bramwell Is Still Unfit
By Leslie Edwards
Bobby Laverick, the Everton outside left who was sent home to Durham in recuperate after an appendix operation, is back in light training but will not be match fit for some weeks.  Bramwell the left back whose place in the team tonight is being taken by Sanders, is also troubles by the injury which kept him out of the game at Bolton last Saturday. 
BURNLEY WIN SENDS EVERTON TO THE BOTTOM
September 3, 1959. The Liverpool Daily Post
Everton 1, Burnley 2
By Horace Yates
If Everton had dropped a single point to Burnley at Goodison Park last night, as there seemed every likelihood, many there would have been who would have labelled them unlucky and yet to have that crumb of comfort snatched away four minutes from the end was rough justice indeed, especially as it was a goal which sent them crashing to the foot of Division One.  Allow for the fact that Parker was a passenger, game though he undoubtedly was after receiving an ankle injury in a tackle on Pilkington after only thirty-eight minutes play, and it is not difficult to see how bravely Everton faced a clever and talented opposition with something less than full strength.  That Everton were left to struggle in this fashion was to some extent their own doing, for after Frank Wignall, twenty-years-old debutant forward, had scored at superstition and flashed home a beautiful Everton goal in thirteen minutes the opinion began to grow that the opening Everton win was on it's way.  And so it should have been.  For in twenty-eight minutes with Everton holding their own and more, a Collins more like himself without dominating the scene as he can, repeated his Burnden Park bloomer of Saturday and skied the ball over the bar from five yards. 
Start of Tragedy
It seemed too bad to be true and yet this was only the beginning of the tragedy, for from the goal kick McIlroy but the ball through for Pointer reacted instantaneously centre forward faced a twin tackle but pushed the ball free and away from goal.  Out came Dunlop in an effort to smother the ball, but Pointer reacted instantaneously and crashed the ball against the underside of the bar.  Down it came right on the line, to screw back into the top of the net.  You could almost feel the heart go out of Everton instead of being two up they were level, and they had not recovered their verve when the Parker mishap occurred.  Before this there had been some bonny football with Burnley drawing their patterns and making soccer look something like a science again.  McIlroy was an ardent controller of the ball.  Both Pilkington and Connelly on the wings promised trouble with their every move and the advance made by the blond centre forward Pointer is truly remarkable.  Everton were not left out in this feast of football and it was grand to see the younger Wignall perfectly at home in this senor setting, opening up play with deft touches and clever ball placing.  Indeed had Blacklaw not been at the most brilliant best Everton must have scored on other occasions.  One of his efforts was breath taking in its magnificence.  Running across goal he found Hickson firing the other way, a shot that was moving from the goalkeeper at speed.  He swiveled in mid air to change his direction of movement and pulled the ball down with fingertips.  Collins and O'Hara both deserved goals but Blacklaw was almost invincible, it was not at all one way traffic for Dunlop showed that all the goalkeeping prowess did not end with Blacklaw for he leapt across his goal to beat out a stunning Pointer drive and then hurried himself at the feet of Pilkington, following a rebound from the cross bar, in the most courageous spilt second drive.  It was too much to expect thrills to continue at this pace and it was almost a relief when for a time the game went off the boil.  With Parker on the right wing, Collins at half-back and King at full back in the second half, Everton rearranged side strove vainly to get on top, but the main thing was they were at least holding their own and Burnley's probes were taken care of with the minimums of anxiety.  Yet Burnley never let up.  Like the good team they are they tried again, and when Adamson gave Pilkington the opportunity to centre right across the face of the Everton goal with a precision that commanded admiration the blond-head of Pointer rose inches above every defender to head the ball into the corner of the net, away from Dunlop.  Your matches played and only one point to show for them.  Everton's position is serious enough and yet this was defeat with honour, a much more satisfying way to go down than at Bolton on Saturday.  While the right fouled Sanders was not to his element as a stand-in left back and he did not use the ball as a class back should generally Mr. Carey had reason to be satisfied with his changes. 
Wignall To Start
King was a vast improvement on Meagan, if only for his terrier like tenacity.  He never know when he was beaten and if only he had brought his hands into playless frequently it would not have been difficult to praise his work highly, it was remarkable that he should compete in successfully in the air with the taller Robson.  What of Wignall I can imagine Mr. Carey saying of his performance last night "Let's wait and see before we go into raptures.  But if we don't wait and see and express an opinion on this single outing, one can only say that Wignall's was a splendid debut.  Even without his goal it would have been good, but his brilliant scoring shot showed that Everton have acquired a new punch where they need it worst.  Here  think it is safe to conclude that Wignall in a youngster who has been in the reserves long enough.  In Everton's present state he rightly merits further first team opportunity.  How unlucky he was to find Bracklaw making a line save from a second half header that looked like going home.  Jones did not give Pointer a lot of latitude and it was just as well for here is a marksman to gladden the heart of any club manager.  The half chance seemingly is as he needs to convert late a goal, a heaven-sent virtue in these days of centre forward famine.  Everton; Dunlop; Parker, Sanders; King, Jones (captain), B. Harris; Harris (J), Wignall, Hickson, Collins, O'Hara.  Burnley; Blacklaw; Angus, Cummings; Seith, Miller, Adamson; Connelly, McIlroy, Pointer, Robson, Pilkington.  Referee; Mr. J.S. Birkles.  (Stockport).  Attendance 39,416. 
ALL RIGHT, MR. CAREY, THAT VICTORY IS COMING UP
September 3, 1959. The Liverpool Echo and Evening Express
By Leslie Edwards
Hard luck Everton.  Too bad those splendidly made chances were missed, too bad the Burnley goalkeeper, young Blacklaw, had such an inspired night; too bad the reconstituted Everton should lose a point to a goal five minutes from the end of a half in which full-back Parker spent most of the time, limping on the right wing.  Burnley the better side with deceptive change of pace and direction can count themselves fortunate not to have been fighting off the effect of two or three first half goals.  Coming after the Bolton episode this was a match which helped to rehabilitate Everton and their supporters.  The first half was grand-slam entertainment as fine as anything we have seen for months.  The injury to Parker close on the interval caused such redeployment in the ranks –King at back, Parker a half-back and Jim Harris operating inside –the odds were heavily against Everton.  That they were level five minutes from the end was a tribute to their fight and to tackling, notably by King which had been incisively biting into the sustained Burnley movement in which McIlroy showed his mastery.  In the circumstances Everton I thought were worth a goal.  With more balanced considered finishing they could have gone far ahead in the first half.  They should not be long without that belated first victory when may well come against Fulham here on Saturday. 
Goal on Debut
It could be too, that Wignall the young Horwich boy – still only a part time professional –who got a goal to mark his debut last night will give us further evidence of his potential.  His nodded passes here were first-class and so were many of those hit with the foot.  He disappeared from the game when Everton became diorganised but his general work and that magnificently volleyed goal which put his side in front justified his incoming and the necessity for his further appearance.  Hickson had flicked with his head the O'Hara comer from which the goal came at nine minutes.  The boy made a difficult chance look easy with as good a volley as one could have wished for.  Twenty minutes later Pointer got the defence on the wrong foot, feinted a way to a left-foot shot and scored equally spectacularly.  Right half, Seith shot the ball against the Everton bar in the next phase and while Dunlop was saving from Pilkington, who had come in at full bore, Parker lay injured after tackling later.  Everton were full of fire and grit despite the lead they carried through the second half and to hold out until five minutes from the end made them worth the point they did not get.  The rate of Everton's first half misses (and when they struck of Blacklaw's fine goalkeeping) started with Collins "losing" the ball at his feet when close in and likely to score.  Blacklaw made a grand save, to the right from an angled Hickson drive; Dunlop then joined the goalkeeping honours list with a wonder save from Pointer.  When Wignall cutely found Collins, Blacklaw was at it again, this time from a strong Collins shot.  Immediately before Pointer equalized Collins missed from point-blank range from a lobbed pass from Hickson.  For sustained excitement, good goalkeeping and hard, but fair football the first half was almost beyond praise. 
Opening Gambit
Blacklaw saved brilliantly at the foot of the post from a downward header by Wignall as the opening gambit to the second half, then Hickson shot wide after one of Burnley's rare defensive blunders.  Blacklaw edged over the top the glancing header O'Hara made from a Collins free kick.  No wonder Everton and their following were getting a little frustrated at this goalkeeper's picnic.  Dunlop's hardest work was to drop on the fast moving Brian Harris pass-back.  Blacklaw denied the night's debutant with a flying save before Pointer directed downwards the header off which he scored from Pilkington's fine centre.  And that was it.  Everton fought every inch of the way; Collins ran miles as a utiley half-back; King leaped like a Billy Wright to-out-head men a head taller; Jones defended grimly without always using the ball to advantage; Sanders tried so hard, but not always successfully to place the ball well; O'Hara, Jimmy Harris and Hickson battered themselves for was the reserve the case) against the commanding Burnley defence and gained noting except our praise for their refusal to let the game go.  It seemed as though Burnley with the upper hand for much of the second half, clinched the game by applying the pressure just when it was needed, but how easily things could have gone against them.  McIlroy the conjurer, is wonderful, those wingers too, are tine.  Pointer moves more sharply when on the job than any other centre in the game.  A grand side and a credit to Harry Potts.  Ian Buchan enduring this time last season an Everton famine looked on sympathetically.  He knows the head and heartaches of a time like this.  All right Mr. Carey, don't reach for the aspirits.  It's all comes right –and soon –if you can persuade your  eleven to fight and play as well as this and round off instead of miss, easy chances of the sort they carved out last night. 
FIRST DIVISION WIN?
September 4, 1959. The Liverpool Daily Post
By Horace Yates
Everton, one point better off than this time last year, but now as then at the bottom of Division one, have an outstanding chance of lifting the curtain of gloom by recording their opening win tomorrow, when Fulham are visitors.  The absence of Bramwell has undoubtedly weakened the Everton defence considerably this season but prospects, are bright that he will be able to return against Fulham.  He has a test today.  Whether Parker will be able to join him will depend on the progress of the Scot's injured angle.  In any event Fulham's worries are even greater.  They know for certain that Haynes will not play and a Fulham forward line without him is like strawberries without cream.  In addition to a doubt about Hill, Fulham are now wondering if Leggatt, Scottish international winger and one of the most gifted scorers will be available.  He has returned to Scotland, following the death of his brother, so that if the worst comes to the worst the Fulham forward line will scarcely he recognizable.  By the way, my reference to Billy Liddell being the first Merseyside player to receive a £1,000 benefit cheque should have read, first Liverpool F.C player.  It is a fact that Everton's Tommy Jones and Jimmy Tansey received their £1,000 about twelve months ago and for Jimmy O'Neill it was a nice welcome to Goodison when the players reported for training this season.  The cheque of course, is for £1,000 less income tax. 
EVERTON MUST DEFEAT THAT OVER-ANXIETY
September 4, 1959. The Liverpool Echo and Evening Express
By Leslie Edwards
Fulham, who have not been seen at Goodison Park, since Everton second Division days (but why bring that up!) are here tomorrow to attempt to stop Everton moving off the bottom rung, I think they will fall.  Partly because their main match-winner, Jimmy Haynes is injured and partly because Everton showed so much promise-indeed, so much achievement –against Burnley John Carey was quite happy about the way they performed and thought that if they had taken their chances they would have won comfortably.  Wignall with a fine goal and intelligent accurate placement of passes has proved well worth his place.  Considering he is not in full time training he could scarcely have done better on Wednesday.  It is natural, of course for a side without success to fail through over-anxiety and this is one danger Everton must overcome.  Fulham case has not been improved by the fact that Graham Leggett had to dash overnight to Scotland following the sudden death of his brother.  One way and another Fulham who lost at Manchester City on Wednesday, are having a pretty rough time. 
Ill Fame
Strictures on young Everton fans following the Bolton custodian have left none in doubt that we are gaining ill-fame for partisanship.  The majority of Everton fans are of course fair-minded as was demonstrated when they gave full praise to Pointer, of Burnley for what proved to be a winning goal.  Everton fans must do everything they can to demonstrate their good sportsmanship and help the city recover its old repute.  Or else. 
EVERTON CHANGES
September 4, 1959. The Liverpool Echo and Evening Express
Jones Moves To left Back
Parker Out
By Michael Charters
Injuries in mid-week have caused changes in Everton's team tomorrow –the most surprising being the choice of skipper Tom Jones at left back for Everton against Fulham at Goodison Park.  Both Parker (badly bruised ankle) and Bramwell (thigh injury) are unfit, and manager John Carey has brought in Brian Labone from the Central League side at centre half moving Jones to replace Sanders, who switches over to right back in place of Parker.  Otherwise, the team is unchanged from that which lost to Burnley on Wednesday night, both King and Wignall keeping their places.  Fulham will be without three first team forwards Haynes, Hill and Leggat's young brother has died and the Scottish international will stay at home until Monday.  Key takes over the wing.  The kick-off is at 3 p.m., to allow the Fulham party to catch the evening train to London from Lime Street.  Everton; Dunlop; Sanders, Jones; King, Labone, Harris (B.); Harris (J), Wignall, Hickson, Collins, O'Hara.  Fulham; Macedo; Cohen, Langley; Mullery, Bentley, Lawler, Key, Doherty, Cook, Stokes, Chamberlain. 
Everton Reserves (at Sheffield Wednesday); O'Neill; Bentham, Parkes; Rea, Billington, Meagan; Peat, Thomas, Hood, Shepherd, Godfrey,  Shepherd, the former Blackburn player signed in the close season makes his debut for the reserves. 
NO TIME LIKE TODAY FOR FIRST EVERTON WIN
September 5, 1959. The Liverpool Daily Post
By Horace Yates
Everton must take no mistake today.  For their own peace of mind and future well-being they have to beat Fulham, one of the prominent side, for tension will become more and more unbearable the longer they have to wait for that opening victory, and succeeding fixtures difficult enough in any event, will appear more and more insuperable.  Not for one moment do I believe the position today is fraught with the same anxieties that faced the club twelve months ago, although one point from four games is not a very solid foundation for such a conclusion.  Last year those opening defeats were clear cut and decisive.  This year with anything like reasonable luck, Everton could have had a point at least from both the Bolton and Burnley games.  The disturbing factor in the Everton displays is not so much that they are not making scoring opportunities as their apparent inability to convert them into goals.  It is the team that takes its chances that returns the results. 
Goal-Shy Forwards
Collins is so far goalless.  Why, only he can tell, for in successive matches he has put the ball over the bar from positions which made that feat more than a little difficult.  In each case the acceptable of these gift offerings would have been enough to take Everton above the bottom rung of the ladder.  Still, the signs are that Collins is approaching more normal form.  O'Hara must experience some anxious moments when he reflects on lost opportunities.  Thomas has shown no sort of form this term and the advent of Wignall, inexperienced though he may be will undoubtedly give the line a greater pinch.  Wignall can and does shot hard, I don't think he will let Everton down Everton's anxieties at the failure of Parker and Bramwell, the full-backs to earn a fitness certificate yesterday are understandable but lacking as they do, forwards of the calibre of Haynes, Hill and Leggatt.  Fulham's worries are considerably greater.  Leggatt and Haynes were the London club's leading scorers last season, and lead the way again with five of the seven goals.  Only Stokes of today's forward line has a goal to his name.  Everton tackle their problems by the unexpected move of Tommy Jones from centre half to left back, with Sanders crossing over to the right, a change which will leave him much more comfortable.  In Jones's place goes Brian Labone, a talented understudy who made four senior appearances last season.  It is with some confidence that I forecast an Everton victory.  Everton; Dunlop; Sanders, Jones; King, Labone, B. Harris; J. Harris, Wignall, Hickson, Collins, O'Hara.  Fulham; Macedo; Cohen, Langley; Mullery; Bentley, Lawler; Key, Doherty, Cook, Stokes, Chamberlain. 
EVERTON FAVOURITIES TO WIN TODAY
September 5, 1959. The Liverpool Echo and Evening Express
By Leslie Edwards
Disappointment on disappointment for all who anticipated seeing a full scale Everton v. Fulham this afternoon.  Among those who will not be present are Johnny Haynes, Fulham's England inside forward who is still limping from the result of an early season injury; Graham Leggat, the club's Scottish International winger who was called away suddenly from Fulham's Southport headquarters when news was received on Thursday of his brother's sudden death in Aberdeen, Jimmy Hill, the bearded chairman of the Players' Union; and Alex Parker and John Bramwell, of Everton, both of whom are unfit.  Parker's absence is a especially notable one since this will be the first match, he has missed through injury in seven years of top-class professional football; here and in Scotland On the face of it the lack of these players denudes the match of a lot of its attraction.  In view of their League position Parker's disappearances from the side could scarcely have came at a more inopportune moment.  His non-appearance means that a side which played well against Burnley is much changed in defence with Tom Jones tried not for the first time at full back and young centre half Labone given a further chance in the place usually occupied by Jones. While Labone cannot compared at the moment with Jones as a defending force he is probably the superior man in use of the ball.  Fuham's lack of three of their greatest stars suggests that Everton must now start favourities but it is often surprising how effective deputies can be when they sense they have opportunity to fight their way to a first team place.  Certainly Fulham have in full-back Langley, one of the most artistic, effective players in the game.  He rivals Blackburn's Eckersley for sweeping the ball, accurately to his forwards.
Wignall Again
The further appearance of Wignall in the Everton attack will show whether or not he can maintain the excellence of his debut against Burnley, I liked his quick astute heading of the ball and his ability in general.  If he could be sharpened up a yard or two he would be a splendid prospect.  In any event I think he will justify the good opinion held of him by his club and particularly by Director Jack Sharp, who not only brought Wally Fielding to Everton but sensed first of all the possibilities in the young Horwich boy.
EVERTON STILL LACKING THAT VITAL SPARKLE
September 5, 1959. The Liverpool Football Echo and Evening Express
Macedo's Early Saves Earns Cheers; Injuries
Everton 0, Fulham 0
By Jack Rowe
Everton; Dunlop, goal; Sanders and Jones (captain), backs; King, Labone, and Harris (B.), half-backs; Harris (J.), Wignall, Hickson, Collins and O'Hara, forwards.  Fulham; Macedo, goal; Cohen and Langley, backs; Mullery, Bentley, and Lawler, half-backs; Key, Cook, Doherty, Stokes, and Chamberlain, forwards.  Referee; Mr. Mr. R.H. Windle (Chesterfield).  In a reshuffle Everton team against Fulham at Goodison Parker today Brian Labone made his first appearance of the season at centre half with Tommy Jones moving to left back and Sanders going over to replace the injured Parker.  Fulham without their stars Haynes, Leggat and Hill, also made a late switch; putting Cook at inside right and Doherty to lead the attack.  Jones won the toss so that Fulham had to face the sun.  The Londoners made the first threat when Key ran in for Chamberlains cross and got the ball past Labone, but their was never much prospect or him catching it.  Everton got a corner before Bentley went near to causing Mecedo trouble his back-pass was wide of the goalkeeper, who had to move quickly to pick it up. 
Two Mis-Kicks
When Sanders completely missed King's throw-in, the ball went for corner.  Chamberlain's kick carried right across goal where Key shaped for a shot and then took the ball so high on the leg that it travelled well outside.  In the next minute it was Chamberlain's turn to join the mis-kick brigade when he missed Cook's cross when the obvious intent was a full-blooded drive.  Straight from this Collins produced one of those through passes which leave a defence standing and although Hickson was finely angled his low shot was such that Macedo could only get a hand to it, and as the ball trickled across an open goal, Cohen just beat O'Hara to it.  The first time Wignall got into the game he almost brought a goal for as the Fulham defence retreated just before he suddenly changed pace and let go a left-foot drive which swing close to the angle of the goal.  Another left foot drive, this time from Key at the other end was much more off the target.  As Everton began to turn on the heat Bentley was held to have impeded Hickson.  The free kick by Collins eventually resulted in the ball going to Jimmy Harris and his quick shot had sufficiently swerve on it to make Macedo go down quickly to save by the post. 
Tricky Breeze
Immediately afterwards the Fulham goalkeeper was jumping for a corner taken by Collins and the way the ball moved indicated that the breeze was tricky.  Indeed a goal kick from Dunlop pitched over Bentley and Hickson won the race with Macedo and made a really brilliant attempt to get the ball past the goalkeeper by bending down and heading it on.  Macedo was able to stop it as it threatened ro run away from him.  There was not a lot of good football although Brian Harris made a spectacular run down the left wing and got in his centre which Macedo collected, but generally both forward lines were inaccurate in the pass.  Hickson, however, was troublesome to the Fulham defence and he went very near again with a dribble and then a left foot shot which Macedo did exceptionally well to finger tip round the post for a corner, from which O'Hara headed high over.  A clever bit of work by the young Mullery and a cross-field pass by Cook was the best Fulham movement to date.  Chamberlain's centre was headed downward by the incoming Key and fortunately for Everton straight at Dunlop.  Macedo's failure to make a clean catch from King's high cross brought another exciting moment in the Fulham goalmouth before the ball was got away.  Then Langley contested the referee's decision that he had fouled Collins just outside the area and from the kick which the Everton inside left placed short. Wignall came tearing in to make another powerful shot which scraped the bar. 
Looked Winner
Everton were producing a little more punch and when Wignall once more got in a sot it looked like a winner all the way until it struck someone and passed outside.  The referee's decision of a goal kick suggested that the man in the way had been Jimmy Harris.  Stokes first major contribution came when he beat Labone and got the ball through to Doherty.  When the centre forward tried an angled shot it was the outstretched foot of Dunlop which stopped it sneaking in.  The game needed a goal to stir up up and the crowd appreciated this from the way they reacted when Collins did put the ball into the net, but the referee's decision of off-side was to me, perfectly correct.  More thrills did come however, as Everton had a spell of pressure.  Macedo missed a cross from Jimmy Harris and when Wignall lobbed the ball back the goalkeeper had to make a catch under the bar from Hickson.  This was followed by a longer range drive from Brian Harris which Macedo turned away for a corner.  It seemed to me that the ball would have passed wide but the goalkeeper took no chances although his action might have produced a goal.  From the corner Wignall could not get prompt control so that Macedo was able to fall on the ball. 
Everton Pressure
Everton's pressure continued and How Macedo punched out a deflected centre from Jimmy Harris, was nothing short of remarkable and the Gibraltar-born goalkeeper was next in action when he went down to clutch a deliberately taken shot from Collins.  Half-time; Everton nil, Fulham nil. 
The crowd recognised Macedo's performance with an ovation when he went off at half-time, and within minutes of the second half starting he was leaping high for another drive by Wignall which again was just too high.  Labone, who had played very coolly sustained a cut on the forehead after a heading duel with Stokes and after attention on the field he had to come off.  To meet this emergency Jones went to his normal position with Brian Harris and Collins dropping back.  No sooner had this happened then Mullery went down in agony on the fat side of the pitch after a mix-up and the seriousness of the injury was stretcher.  Ambulance men also went on to the pitch and although it was difficult to see what attention they were giving to Mullery, through the crowd around him, it seemed that they were strapping his legs together. 
Sympathetic Cheer
Signals from the field indicated that an ankle was the trouble, and Mullery was carried off round the pitch.  While this was going on Labone returned.  The crowd gave a sympathetic cheer for the 17-years-old Fulham boy as he disappeared down the subway.  He looked in great agony.  Labone headed over his own goal from Chamberlain's centre who had gone to the right wing under the Fulham rearrangement which brought Cook back to right half.  For several minutes Fulham were more dangerous with their four man attack and a shot from Chamberlain, again at outside left, struck Sanders and was deflected outside.  Everton could not get into an attacking swing and the most serious shot Macedo had to handle that this came from Brian Harris on the other hand Chamberlain made a lot of ground down the wing, but when ideally placed for a drive pulled it yards outside.  Play was very scrappy now and even Jimmy Harris failed to make use of a pass from Collins when he had all the time in the world to get it to his liking.  Information was received that Muller has a badly bruised ankle and was being attended by a doctor. 
Mullery Returns
Everton's failure to make any headway against this ten-man team, plus the paucity of good football, brought a burst of slow hand-clapping from the crowd.  Bentley and Langley were doing great work for Fulham and then came something we had not expected the return of Mullery, limping.  He went to the left wing.  Everton did begin to shaw some spirit and a scramble in the Fulham goal area ended in the ball coming out to Collins but his first time volley sailed high over.  As Mullery began to get more comfortable he went back in defence and once headed away cleverly when Jimmy Harris and Hickson threatened to go through the middle.  At this point Fulham were playing the better football and Everton's threat had been almost non-existent this half.  Twice defensive mistakes were made which almost gave the Craven Cottage side a goal.  Everton's performances in this game did nothing to suggest that they can get along in the future without new strength.  Final; Everton nil, Fulham nil. 
BRITISH FOOTBALL ON THE WAY BACK
September 5, 1959. The Liverpool Football Echo and Evening Express
Alex Parker Sums Up The Season's Start
Since England were surprisingly beaten by American in the World Cup competition of 1950, it is critics have been looking for the revival of the our home countries' soccer prestige.  At the start of each season since, many have wondered if the long-awaited improvement in the standard of football was upon us, but although he may have improved since the Americans trip, last year's World Cup tournament should we had not done enough.  However, from what I have seen and heard of games played this season, I think the game in this country is higher than I have ever known it.  Apparently the standard is improving in all four divisions.  Matches that immediately spring to mind as having had great Press reports are at Chelsea v. Preston match on the opening day of the season; Wolves v. Arsenal and the Chelsea v. Manchester United game last Wednesday.  I saw Liverpool beat Bristol City at Anfield in a really grand game and apparently last Saturday's match with Hull City was also great entertainment.  Even in the Third Division the games are thrilling the crowds, for last Monday's match between Tranmere Rovers and Norwich was also well worth watching.  Despite the fact that we lost our two games with Burnley, I don't think anybody who saw them could complain that they weren't entertained.  This improvement in the standard of League soccer must inevitable result in an improvement at international level, and then British football will be on its way back to the top.  Look at the youngsters who are hitting the headlines each week.  I don't think there have ever been so many players in their teens and early twenties doing so well.  Take that clever Burnley forward line Jimmy McIlroy is the oldest and he's far from the veteran stage.  Yes I think British soccer is on the way back. 
Special Pat
I think that Blacklaw the Burnley goalkeeper deserves a special pat on the back for his game at Goodison, although I wish he hadn't played quite so well.  Deputising for England player Colin McDonald is no easy task, but I don't think Colin could have done any better against us.  By the way Blacklaw's a Scot.  Foiled by one of my own! The twisted ankle I sustained in that game means that today's clash with the boys from Craven Cottage is the first game I've missed through injury in seven years of senior soccer.  However, I'm hoping to be fit in time for consideration for the team to go to Nottingham Forest next week.  When I first went down I thought it was something more serious, but I managed to hobble along on the wing in the second half.  They do say that once you suffer one injury you fall in for a spate of them, and I'm afraid it's true in my case.  Against Luton I hurt my back then three weeks ago, I had to have my tooth out, I've just been to have my ear's airinged and had to have three stitches in a cut under my right eye, I collected at Bolton.  As Eddie O'Hara said – "You're only to hurt your arm Alex and that's about the lot."  When I wrote of Harry Cooke last week I didn't realize I would be under his care so soon Maybe I should have kept my bigmouth shut.  Nevertheless I was in the stand this afternoon hoping for our first win just as much as if I were playing. 
Appreciated
I would like to take this opportunity of thanking the Burnley players for their consideration when I was injured.  After I had been tackled by them, on more than one occasion they asked if I was all right.  I appreciated that.  It's just as well that my wife passed he driving test last Monday.  She's been able to drive me round this week, for with my ankle that size of a football I couldn't have done it.  On T.V on Thursday night people were asked what they were doing on the same date 20 years ago, that day war broke out.   I put the same question to myself and remember that I was in bed –with a broken leg.  Same leg too, only that time it was car that was responsible, not football studs sticking in the Goodison turf.  An interesting spectator at Goodison on Wednesday was Bert Slater.  Bert was telling me how impressed he had been with Goodison Park and the Kop roar.  He is the first to admit that he has been unable to find the real form since coming down here, but I told him I had the same trouble after I had come out of the Army.  I played with him for six years and know his play as Liverpool supporters will take the word of an Evertonian, I can tell you that in Bert Slater you have a goalkeeper capable of carrying on the tradition of the many famous players your club has had in that position, I will stake my reputation that in time you will find I'm right. 
Wignall Goal
Normally we don't care who scores our goals providing somebody does, but I was awfully glad to see young Frank Wignall put that one in on Wednesday.  A debut is never easy, and it must have been a nerve-racing experience for a young Frank to play before nearly 40,000 people on his home pitch against a team as good as Burnley.  When the ball hit the back of the net I remember thinking "That will gave him just the confidence he needs," and the rest of his play proved me right.  He was denied two other goals only by excellent goalkeeping, and he did a lot of good work in midfield.   When he gets used to the difference in pace between Central League and First Division play I am sure he will prove a really good inside forward. 
SHEFFIELD WED RES V EVERTON RES
September 5, 1959. The Liverpool Football Echo and Evening Express
Sheffield Wednesday Res- McLaren, goal; Staniforth and Megson, backs; Gibson, O'Donnell, and Kirby, half-backs; Quinn, Young, Ellis, Ballasher, and McLean, forwards.  Everton Res; O'Neill, goal; Bentham and Parkes, backs; Rea, Billington, and Shepherd, half-backs; Peat, Thomas, Hood, Ashworth, and Godfrey, forwards.  Referee; Mr. C.W. Davis (Birmingham).  Everton won the toss and immediately Hood brought the Wednesday goalkeeper into action with a shot which gave little trouble.  At the other end Gibson fired wide from 25 yards Shepherd broke up a Wednesday attack and offside killed a promising Everton movement by Peat and Thomas.  Only a magnificent save by McLaren prevented Hood from giving Everton the lead after Thomas had spoilt the Wednesday defence wide open with a clever forward pass.  Play was fast and neither goalkeeper was idle for long.  Free kick by Billington and Hood were kept out superbly by McLaren and a swerving shot by Godfrey was pushed away by the keeper when he was at least two feet behind the goalline.  O'Neill came out of a goalmouth scrimmage with the ball before a header by Ellis went like a bullet over the bar.  Bentham struck out a foot to prevent a certain Wednesday goal.  Half-time; Sheffield Wednesday Reserve nil, Everton Reserve nil. 
STORM CLOUDS GATHER OVER GOODISON
September 7, 1959. The Liverpool Daily Post
Everton 0, Fulham 0
By Horace Yates
Only a super optimist could go-on believing any longer that the Everton picture is not as black as the League table paints it, after the failures and shortcomings highlighted in the goalless draw with Fulham at Goodison Park.  Only a Fulham victory could have put more bitterness into the cup that now be filled almost to the brim.  Fortunately, if Everton could not score, Fulham seldom threatened goals, but the second point of the season was just about as uninspiring as it could possibly be, and it was a struggle to find enough moments of excitement to lift the game anywhere near Division One standards.  Not only was the Fulham attack beret of its three most potent weapons in Haynes, Hill and Leggatt but for nearly twenty minutes the Londoners were reduced to ten men as they battled on without Mullery, who suffered a badly bruised ankle, which was at first feared to be something worse.  It made no difference, Everton just did not have the ability to take a grip on the game and with Fulham no more abundantly blessed with talent, the match deteriorated into one of the most lackluster uninspiring affairs seen at Goodison for quite a time. 
Abject Failure
The optimism it had been possible to squeeze out of previous displays, unsuccessful though they may have been, disintegrated in a failure as complete and abject as it could possibly be.  Instead of making last season's early struggles seem just a distressing memory, here we were again tarred with a situation seemingly every bit as serious.  The crowd's slow hand-clap showed what they felt about it and through I believe that outbursts such as this achieve nothing, except possibly the direct opposite of that intended spectators had so little about which to be enthusiastic.  When the game was still young, with time left for better things to come, Hickson twice came near to goals, thwarted by saves by Macedo which brought generous and sporting acknowledgment from the crowd.  Wignall displayed a power of shot, not quite matched by directional accuracy, that promised goals and Collins toiled unceasingly without the unerring accuracy we have come to expect from him, to put rhythm into the line.  But the line, never progressed beyond the stage of initial promise.  Always there was breakdown and failure to carry movements to a successful conclusion and when Hickson's edge was blundered the bankruptidy of the forwards lay revealed in all its nakedness.  Why is it that Everton always appear to be beset by opposing goalkeeping displays that appear to border on the miraculous?  Goodison Park seems to be a home from home for goalkeepers.  There must be something more than coincidence that they all reserve their best for Everton's discomfiture.  The explanation may be that Everton co-operate to an alarming degree by their own inability to make the goalkeeper's lot such a happy one.
Courageous King
There was good reason to admire much of the work of the courageous King at half back and Brian Harris played himself out in an effort to turn the tide of depression, while Labone, despite a cut head gave nothing away.  Jones, no failure was not as masterful at full back as in his more customary role.  Dunlop I considered had only one moment of real anxiety in a match in which his soundness was never put to the best.  It is easy to pay tribute to Langley for an immaculate defensive display at left back, a competent performance by Bentley and a highly creditable show by Mullery, but they probably shone the more brightly because of Everton's drabness.  When Mr. John Carey took over the reins of management at Goodison he confessed that he came in full knowledge that his was not going to be a bed of roses.  There was a time when he might have been accused of over-emphasizing his task, but not now.  The road ahead bears all the appearance of difficulty and distress that had been foreseen.  There can be few matches affording as reasonable an opportunity as this for Everton to look good, and yet their failure was abysmal.  Spectacular solutions do not exist.  Teams other than Everton have found they cannot buy their way out of trouble, for the simple reason that the goods are not there in the shop windows –ready for purchase.  Mention any player of either proved ability or more than average promise with other clubs and the odds are that Mr. Carey can give you chapter and verse off the cuff.  It is not easy to take consolation from the theory that it is always darkest before the dawn, for if this is the best Everton can show us, that glimmer of light some of us though we detected may only be an illusion.  The solution almost certainly is a long term one.  If there were talented reserves pushing and prodding their seniors, ready and ripe for the takeover, we could say, "Look out for changes," but are there? 
Mr. Carey is the last man in the world to panic over his problems, but even he cannot do the impossible.  Pattienge –and in ample measure –will be required in the present Everton trial.  Everton; Dunlop, goal; Sanders and Jones (captain), backs; King, Labone, and Harris (B.), half-backs; Harris (J.), Wignall, Hickson, Collins and O'Hara, forwards.  Fulham; Macedo, goal; Cohen and Langley, backs; Mullery, Bentley, and Lawler, half-backs; Key, Cook, Doherty, Stokes, and Chamberlain, forwards.  Referee; Mr. Mr. R.H. Windle (Chesterfield). Attendance; 31,980. 
O'NEILL SOUND IN DEFEAT
September 7, 1959. The Liverpool Daily Post
Sheffield Wednesday Res 3, Everton Res 0
Failure to finish cost Everton the Central League points against Sheffield Wednesday at Hillsborough where they lost to goals by Ballagher (2) and Young.  Hood, G. Godfrey and Billington were unlucky with tremendous drives but these apart the clever play of Ashworth and the fine support given by Rea and Shepherd should have brought rewards.  O'Neill gave a grand display in goal. 
INCIDENT WHICH TYPIFIED THE GENERAL DISCONTENT
September 7, 1959. The Liverpool Echo and Evening Express
By Leslie Edwards
The most ironic thing at Goodison Park was not that Everton players left the field to the accompaniment of slow handclapping, but that Fulham back.  Langley, should get such a sustained cheer when taking the ball from Jim Harris and waltzing away with it with the artistry of a top-class inside forward.  This incident typified the general discontent of Everton fans with yet another frustrating show from an attack which did much right in the approach to goal and little right when they could see the whites of cat's –eyes Macedo.  Nothing in my opinion, justifies the use of the slow handicap, but one can readily appreciate however, cheated Evertonians must feel that they seem destined for another mixed-middling or mixed-muddling season of the sort we know all too well since the war.  Let Everton and their following ponder on the fact that Manager Carey built the Blackburn Rovers edifice so soundly his old team now tops the First Division table.  He built that team in about five years, why expect him in the space of less than one season to transform Everton from an ordinary side into a highly-successful one?  It is a thousand times easier to "knock" side than to create one.   My view of Everton and other fervid (if not rebid) football followers is that they are too free with their praise, too quick their condemnation.  I think, too, that they base their values too much on results.  If Everton had snatched a late goal on Saturday most of them would have gone home satisfied. 
Rescued By Cohen
Whenever else than may or may be matches so far have established Everton as an second-half team.  Prior to Saturday they had led in three of their four fixtures.  Against Fulham which lacked Leggat, Haynes, and Hill their best came in the first half and again was not good enough.  But Macedo played brilliantly and when he seemed likely to be beaten having half-saved a shot by Hickson, Cohen came to his rescue on the line.  It was from an excellent taken Hickson header that Macedo brought off his most spectacular save and however poor the contributions of others the goalkeeper and Langley (whose long legs must seem like octopus tentacles to any forward in possession) certainly-deserved their ovations.  Fulham's fault was that they were even worse finishers than their opponents in that although they played sustained football all through they scarcely ever troubled Dunlop.  Also they were without young Mullery for a full fifteen minutes of the second-half.  He went off a stretcher case after a tackle by Brian Harris and it was a relief to me as it must have been to thousands when he came back later and took up his normal position.  But for the heroics, in defence of little John King and Bobby Collins.  Fulham might have overcome their propensity for missing chances.  But while Collins lurks in the hinterland lest his services are needed urgently in defence he cannot be expected to do his stuff, as we know he can at the other end of the field.  Broadly speaking Everton's defence was adequate, but the service of the ball for the attack was so persistent the failure to get goals was almost criminal.  Wignall, who cannot find the zip of the whole-time professional, did not play well; only the occasional shot justified his existence. 
Clever Manoeuvring
Labone who received a nasty cut on the crown of his head was like, Mullery off-field awhile he did well against one of the best footballing centre forwards I have seen for a long time, Doherty.  Here was a man whose clever manoeuvring with the ball should have produced dividends for those alongside.  Chamberlanin never had the luck to find a shooting chance coming to his trusty left foot which did such damage at Anfield a season ago, but winger Key was promising and Stokes, wanted by Everton when he played with Tottenham also had a good match Bentley stepped in time and again to out-anticipate Hickson and his display, with Macedo's and Langley produced the few acceptable things the game offered.  Everton's attack was suspect in nearly every position, O'Hara was off form, Jim Harris had an almost completely back day, Hickson was well held and Wignall could not find the aspiration which prompted him against Burnley.  Tom Jones did better than many had anticipated, King's non-stop effort was successful thought it produced inevitably a number of free kicks against his side.  With a match next Saturday against the Cup holders in Nottingham and then successive home fixtures against Blackburn Rovers and Sheffield Wednesday, Everton's position is not enviable.  And the nature of the matches to follow-against Blackburn (a), Wolves (a), and Arsenal (h) are equal formidable.  How invaluable one big confidence-injecting signings would be if it meant that some of the fixtures would yield points.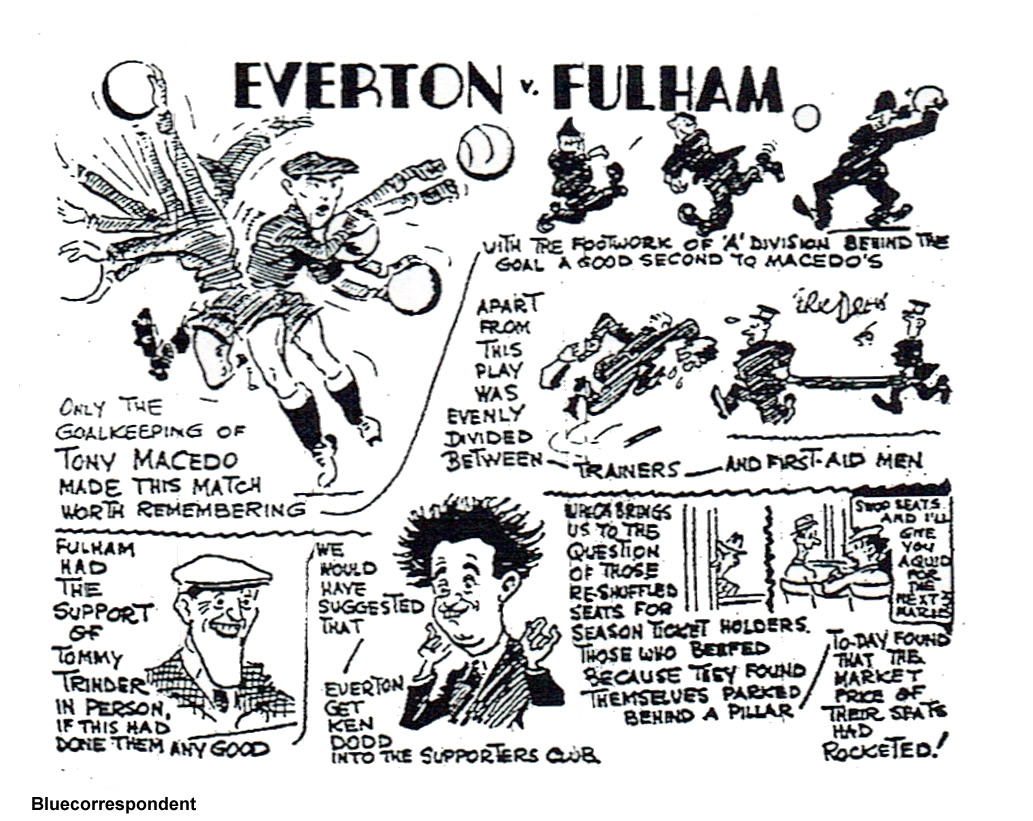 HERE WE GO AGAIN
September 7, 1959. The Liverpool Echo and Evening Express
Mr. Dave Corrin of 113 Heeldson Road, West Derby says; "Here we go again at the start of another post-war season and more we see Everton anguishing at the bottom of the League table.  It gets a bit monotonous wearing a black arm-band at the match inquest the following morning. 
The board policy to make Everton the Arsenal of the North has a most become the laughing stock of the North via playing results and adverse publicity gained by some supporters.  "The facts is that the present team with few exceptions is not good enough.  Admitted the majority of the sides always give of their best and almost run themselves into the ground, but confidence and constructive skill are lacking.  "Everton's reported interest in unknown Second and Third Division players amuses me, especially when one recalls such signings as Williams, Harburn, and Glazzard.  Obviously good players are not easy to obtain but the persuasive maybe, money talks, could help in bringing at least class half-back, inside forward and left winger to Goodison.  Oh for five Alex Parker, in defence, and a forward line of Bobby Charlton." 
From reader HP Taylor, Larksfield Road, Liverpool 17.  "In your report of the Burnley match you failed to stress the point that Everton will only win when the opposition is the same size as they are.  King could only get up to the ball when it was coming straight to him.  Teams with small half-backs never get anywhere and it amazes me that Mr. Carey didn't try to remedy this.  Apart from Laverick it is still Mr. Buchan's team, which in my opinion only goes to show that no matter who you get in charge, it is players who are really required." 
EVERTON TO DISCUSS
September 7, 1959. The Liverpool Echo and Evening Express
Transfer Moves
Three Players Named
Parker Hope
By Leslie Edwards
The determination of the Everton Board to make moves, they consider are necessary to remove the team from the bottom of the First Division table will make their meeting this afternoon a particularly plain-speaking one.  The names of many players said to be available for transfer will be discussed.  Among them will be those of the Falkirk inside-forward.  White the Third Lanark outside-right, Hilley, and the Leeds United forward, Shackleton, who is currently in the reserve team.  Shackleton has said that he is anxious to get back into the first team, but he has not said that he wants a transfer, Hilley will go neither to Everton, nor to any other club in England or Scotland.  His interests and those of the parents are solely with the Third Lanark club.  White, whose manager at Falkirk is the former Liverpool goalkeeper, Tom Younger, composed his differences with his club early in the season and now, it seems his club are toying with the idea that after all the money would be the more useful. 
Means Waiting
Despite the skeptics I believe that Everton are not nearly as bad as they have been painted I am content to leave Manager Carey to do what is best in the long run; even it means waiting awhile.  Meanwhile there are good chances that full-back Alex Parker (strained ankle) will be fit for the match against Cup holders, Nottingham Forest, on Saturday.  Laverick and Bramwell are progressing well.  Everton reserves; (v Blackburn Reserves tonight at Goodison Park 7.0)- O'Neill; Bentham, Tansey; Meagan, Billington, Sharples; Peat, Thomas, Hood, Ashworth, Blain. 
EVERTON RES, WERE FORTUNATE TO DRAW
September 8, 1959. The Liverpool Echo and Evening Express
Everton Reserve 2, Blackburn Rovers 2
Everton Reserves were fortunate to state the points is in a Central League game at Goodison Park last night against the more polished Blackburn who, however, wasted numerous chances including a first-half penalty.  O'Neill made some splendid saves in the home goal while centre-half Billington checked the lively Hudson reasonably well, but the Everton full-backs frequently hesitated to clear their lines.  Of the Everton forwards, who were inclined to bunch outside left Blain was the most dangerous ns progressive, although leader Hood was handicapped by a shoulder injury for most of the game.  Scorers were Peat and Thomas for Everton and Clayton (K) and Hudson for Blackburn.  Everton team was O'Neill; Bentham, Tansey; Meagan, Billington, B. Shapless; Peat, Thomas, Hood, Ashworth, Blain. 
SCHOOLS OF THOUGHT
September 8, 1959. The Liverpool Echo and Evening Express
By Leslie Edwards
There are two schools of thought about Everton.  One says that they must go out now and sign players to strengthen a side which is obviously not good enough; the other says "Leave it to John Carey. If the right players are to be brought he'll get them."  Time, it is argued is not on Everton's side and in view of the record to date and the imminence of some pretty formidable fixtures this may be true.  But that does not say the club should panic.  Indeed quick signings of the wrong players would only tend to philately for a few weeks, the club's great problem.  One of the reasons put forward for Everton's failure is that there is so little talent in the Central League side there is no incentive to first teamers to work for their places; Reader J. Simms (92 Orwell Road) goes further than this; He says Everton have been the worst side in Division 1 since 1954 and that minus Collins and Parker the side is little above Central league standard.  Reader J. O'Brien (22 Lamberth Road, Liverpool 5) commits the heresy of saying that our two senior clubs should amalgamate into one club capable of beating the best in the country!  No chance of amalgation, I fear and if there were I don't think we should have a word-shattering representative eleven. 
Hong Kong Gong
Mr. Robert Benson, an Everton fan who is disturbed by criticism of young Everton followers collected and sent to the Echo nearly seventy signatures of Everton supporters all of whom deplored and condemned the behavior of the few who bring the good name of the club and of other loyal followers into disrepute.  News of the Bolton escapade has reached Hong Kong.  Private Quirk, 1st Battn Lancs (P.W.V.) Regiment sends a cutting from a Hong Kong paper detailing misbehavior by Everton fans.  "This is how Everton's name becomes mud throughout the world" comments Priviate Quirk and adds;  "Whenever an argument develops Everton's football ability is not discussed –only their supporters smashing ability.  When news of the sort of thing is published all over the world things are pretty black."  Wavertree branch of Everton supporters club are holding their annual meeting at Tunnell Hotel.  Tenne Road on Thursday (a.0) and extend a welcome to any fair-minded Evertonians, mate or female who are interested in upholding the good name of the club.  The Wavertree section run subsidized trips to away games and like the parent body, try to cement friendship with supporters of all other clubs. 
EVERTON F.C. DIRECTORS OUT FOR ACTION
September 8, 1959. The Liverpool Echo and Evening Express
Will Explore Every Chance
By Leslie Edwards
Everton directors, I understand were all out for action, at their board meeting last night, to move, their team from last place in the First Division table.  Good players available are scarce, but the club are determined to explore every instance where there is any likelihood of a first class player being listed.  Everton's low position means that they will be made to pay top price wherever they seek their man, or men. 
SHACKLETON REQUESTS
September 10, 1959. The Liverpool Echo and Evening Express
Everton Signing Delay
By Horace Yates
Everton and Leeds United yesterday agreed terms for the transfer to the Goodison Park club of Alan Shackleton a centre forward, who had not been able to command a first team place this season.  I understand that Everton manager John Carey yesterday travelled to Manchester to meet Shackleton and the Leeds officials and after Everton had agreed to pay a fee in the region of £8,000.  Shackleton asked for a little time to think over the move.  Last summer Shackleton married the winner off a beauty queen competition and as she is at present on holiday in the Isle of Man, a final decision must be postponed. 
Decision on Friday.
She returns this evening and Mr. Carey expects to hear from Shackleton tomorrow.  "I am more than hopeful as to what the decision will be."  Mr. Carey told me last night.  As a junior Shackleton played with Bolton Wanderers and on leaving the Army joined Burnley as a professional.  After playing only three games for Burnley in season 1958-59, in which he scored three goals he was transferred to Leeds United for £8,000.  In his twenty-eight games for the Yorkshire club he scored sixteen goals, one of them the goal by which Leeds defeated Everton last season.  It was made known recently that Shackleton would not be averse to a move following his failure to find a place in the first team. 
Both the injured Parker and Bramwell the clubs full backs are in light training but it will be Friday before any announcement can be made about their fitness. 
PLAYER'S WIFE WILL MAKE DECISION
September 10, 1959. The Liverpool Echo and Evening Express
Everton F.C Tansfer Hope
£8,000 Fee
By Michael Charters
Everton manager John Carey does not expect to know until tomorrow if Leeds United centre forward Alan Shackleton will sign for the club or not.  Mrs. Shackleton will have the last word.  Transfer terms were agreed yesterday at a meeting in a Manchester hotel between Mr. Carey and Mr. Jack Taylor the Leeds Manager and Shackleton.  The player was satisfied with the move but said he wished to consult his wife before he signed.  Mrs Jean Shackleton, a beauty queen has been competing in a beauty competition in the Isle of Man this week but is flying back to Manchester today to meet her husband.  Mr. Carey will meet them both tomorrow when he is hopeful that Shackleton will agree to come to Everton in time to play against Cup holders Nottingham Forest on Saturday.  The fee is in the region of £8,000. 
Unsettled
Shackleton 24, joined Burnley after leaving the Forces but with Pointer holding the regular first team place at Turf Moor, he was transferred to Leeds United last season.  He played 28 games for Leeds scoring 16 goals.  This season however, he has not been able to regain his place and has been unsettled at Elland Road.  He played twice against Everton last season –for Burnley and Leeds –scoring the goal by which Leeds won at home.  He is a big strong player, with a good shot in either foot.  Everton backs Parker and Bramwell are making progress after their injuries, but no decision will be made about the team to play Forest until tomorrow. 
SHACKLETON DECIDES TODAY
September 11, 1959. The Liverpool Daily Post
Everton Silence on Position he Would Take
Despite a report that Mrs. Shackleton wife of Alan Shackleton, the Leeds United centre-forward, now sought by Everton, has already agreed to her husband making the change to Goodison Park Everton manager Mr. John Carey last night told me, "I have heard nothing."  The arrangement made between Mr. Carey and Shackleton on Wednesday that the player should announce his intentions on Friday, still stands and today Mr. Carey travels to Leeds to meet the player and his wife.  I understand that for the moment the position is not complicated by any housing problem, although obviously that is something to be faced in the future.  While most people take it for granted that if Shackleton if signed he will play tomorrow, Mr. Carey declined to commit himself further than to say "It is likely."  There was a firm "no comment" when I asked if presuming he does play Shackleton would figure at centre forward, inside right or outside left, where he has played before.  Parker is included in the twelve players to go to Nottingham and of course Shackleton will also travel if the transfer is completed.  Everton (from); Dunlop; Parker, Sanders, Jones, King, Labone, B. Harris, J. Harris, Wignall, Hickson, Collins, O'Hara, Shackleon(?). Bramwell will have a run out in the reserves to test the thigh injury, which has been keeping him out of action.  It does not take long for readers to hit out.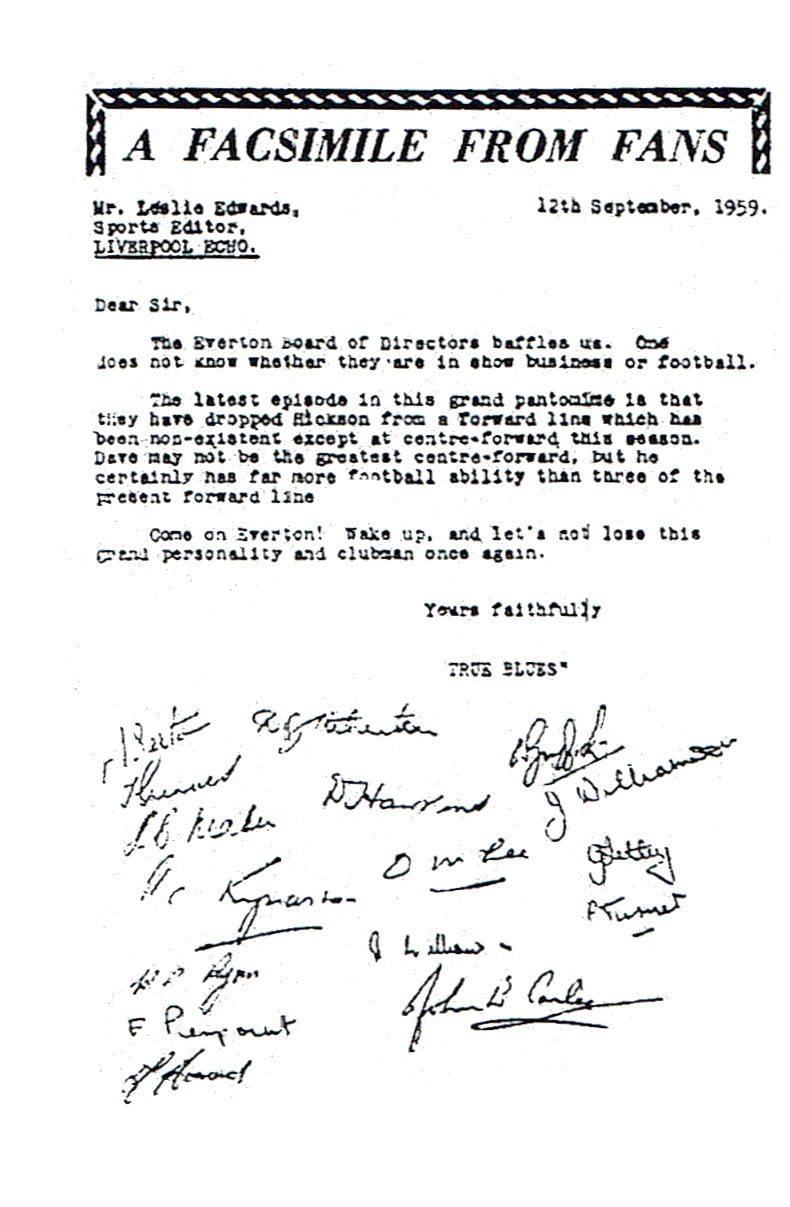 ATTACK SHUFFLED
September 11, 1959, The Liverpool Echo and Evening Express
By Michael Charters
Everton's hopes of gaining their first away point cannot be considered bright when they take on Cupholders Forest.  The Wembley injury to outside right Roy Dwight has meant a reshuffle in the Forest forward line which can delight the eye with brilliant, on-the-ground football.  Outside left Imlach now operates on the right wing, with veteran Billy Gray on the left and Jim Iley, the former Sheffield United and Tottenham wing half, at inside left.  They did not start the season well, but two victories at Blackpool last Saturday and at home to Sheffield Wednesday in mid-week, has shown that they are settling down more effectively.  The rest of the team is the same as their Wembley line-up and unless Everton's forwards can find the punch which they have not shown this season, few people will give them a chance of a point tomorrow.  With the wing halves spending so much time in defence, it is left to Collins to do this own foraging by playing too deep and this has thrown the line off balance,.  Everton's transfer move this week for Shackleton has shown that the club intends to bring in new men rather than experiment and perambulate with players already on their books. 
His Headache
The great need is for players of class.  Manager Carey has a headache no one would wish on their worst enemy, but until the problem is solved it is difficult to see Everton regaining lost ground to prevent a season of struggling all the way.  With Shackleton waiting to give his decision until he has talked to his wife, team selection is delayed.  Notingham Forest; Thomson; Whare, McDonald; Whitefoot, McKinlay, Burkitt; Imlach, Quigley, Wilson, Iley, Gray. 
Stand tickets for the Under-23 international between England and Hungary at Goodison Park on September 23 are now available.  Prices are; Bullens Road stand 10s and 7s 6d; Gwladys street stand 5s.  Application should be made to the club offices enclosing remittance and stamped addressed envelope. 
EVERTON GET SHACKLETON FOR £8,000
September 11, 1959. The Liverpool Echo and Evening Express
Plays Instead Of Hickson
Carey Dash
By Michael Charters
Everton manager, John Carey, today signed Leeds United centre-forward Alan Shackleton as expected at a fee of about £8,000.  Mr. Carey left his Southport home early this morning for Leeds where he met Shackleton and Mrs Shackleton at the Leeds ground, Elland Road.  He completed the deal at noon and immediately set off with Shackleton for Leek, here the Everton team were stopping for lunch on their way to Nottingham for their game against Forest tomorrow.  After introducing Shackleton in his new club-mates, Mr. Carey decided he would play in place of Hickson at centre forward against Forest.  This is the only change from the inside which drew with Fulham last week. 
Off To Dublin
Having made the team announcement, Mr. Carey then set off on another dash –this time by air to Dublin.  His father died yesterday after being ill in hospital for some time, and the Everton manager is returning home for the funeral tomorrow.  Alex Parker is with the Everton party but is not yet fully fit after his ankle injury,.  Everton; Dunlop, Sanders, Jones; King, Labone, Harris (B.); Harris (J.), Wignall, Shackleton, Collins, O'Hara. 
NEWCOMER SHACKLETON PREFERRED TO HICKSON
September 12, 1959. The Liverpool Daily Post
By Horace Yates
Alan Shackleton signed for Everton yesterday and today leads the forward line on the Nottingham Forest ground where last season he scored a hat-trick for Leeds United.  "I only hope I can do the same for Everton," he told me.  Shackleton accompanied by manager John Carey, travelled to Leek after the signing, where he was introduced to his new colleagues.  Hickson stands down as does Parker, who is not 100 per cent, fit so that Shackleton is the only newcomer to the side which drew with Fulham last week.  Mr. Carey will not be present to see Shackleton's debut for he received word on Thursday evening of the death of his seventy-years-old father, John who lived in Adelaide Place Dublin.  Yesterday afternoon Mr. Carey flew to Ireland for the funeral which takes place today and he will fly back in the hope of being able to see part of the reserves game at Goodison.  Shackleton told me he was delighted to become an Everton player.  Although he was leading scorer last season for Leeds United he was not very happy, there and it became apparently at the start of the season that his future was elsewhere.  "I'am glad I have come back to Lancashire" he said.  When I asked which position he preferred he said he would play wherever the club wanted him, "I am perfectly happy on the wing" he said.  "I have a big admiration for Dave Hickson.  I think he is a great player. "
Forest In Form
Even with Shackleton in the team Everton will do well to bring back  point from their visit to the Cupholders, who began with a double defeat by Manchester City (a) and Arsenal (h) but have not been beaten since taking six points from their last four games.  As these have been against Blackburn (h), Arsenal (a), Blackpool (a), and Sheffield W. (h), it is easy to see that Nottingham Forest are coming on nicely.  Last season remember Everton went to Nottingham at a time when they had lost only one game in nine matches, a thrilling recovery from a start even more depressing than that of this season, and came away defeated by two goals to one –the first time Forest had defeated Everton in seven meetings since the 1952-53 season.  Following their display against Fulham which showed them at rock bottom, only a born optimist would dare to forecast success for Everton today, and yet such are the vagries of soccer form.  It might be dangerous to rule put all possibility of a pleasant surprise.  One thing is reasonably certain.  Everton cannot play much worse than against Fulham, and are capable of playing a lot better.  If only Collins can slip back into top gear the whole attack may be revolutionized and the presence of Shackleton may be the spark needed to rekindle their fighting spirit.  Everton; Dunlop; Sanders, Jones; King, Labone, Harris (B.); Harris (J.), Wignall, Shackleton, Collins, O'Hara. 
WILL LIVERPOOL F.C. TRY FOR HICKSON?
September 12, 1959. The Liverpool Echo and Evening Express
Interest in Goodison Park Centre Forward
The Anfield Policy
By Jack Rowe.
Will Liverpool FC make a bad for Everton centre-forward Dave Hickson?  This question is intriguing Anfield supporters following Hickson's displacement be new signing.  Alan Shackleton in the Everton team at Notts Forest today.  The club is saying nothing but there is also no denial of interest in the future of Hickson.  There are reports that now that Shackleton has been signed, Everton would be prepared to listen to offers for Hickson, but again there is nothing official about this although it seems certain that if there is a possibility of them agreeing to let him go several clubs would come along with offers.  Again the fact he has been left out of the side for a new player is enough to arouse interest and approaches are likely without waiting for any word from the Everton club.  If they came they would probably be considered and Liverpool fans are expecting their club to be "there" if Hickson's future becomes a matter for discussion.  I feel they would be "there" for it is no secret that he Anfield chairman, manager and directors have been searching everywhere for a centre forward as part of their promotion drive this season.  Hickson began his football career on Merseyside and although he has had spell at Aston Villa and Huddersfield his family and his heart is here, and I fancy this would count greatly in Liverpool's favour if the reports that Everton are ready to listen to offers are not premature.  Since the news of Everton's negotiations for Shackleton and final settlement the reaction of those Liverpool supporters, I have spoken to leave little doubt in my mind that Hickson would get a big welcome at Anfield.  They remember the part he played in Everton's promotion season and I should imagine that the interest of Liverpool in Hickson is such that they would not let him leave Merseyside.  –If that issue comes –without a big effort to keep him here.  First Division club Bolton Wanderers have already been linked with him, so far there is no official statement from any quarter as to what developments are likely to be.  However, Liverpool's stated policy is that they are interested in all good players, but they are not prepared to consider part exchange deals which take in any of the established members of their staff.  They will play the cash for the men they think will help the promotion cause. 
THE BRIGHTER EVERTON FADE-OUT IS BIG SURPRISE
September 12, 1959. The Liverpool Echo and Evening Express
Nottingham Forest 1, Everton 1
By Horace Yates
Nottingham Forest;- Thomson, goal; Whare and McDonald, backs; Whitefoot, McKinlay, and Burkitt, half-backs; Imlach, Quigley, Wilson, Iley, and Gray, forwards.  Everton; Dunlop, goal; Sanders and Jones (captain), backs; King, Labone, and Harris (B.), half-backs; Harris (J), Wignall, Shackleton, Collins, and O'Hara, forwards.  Referee; Mr. R. Ryalls (Sheffield).  Alan Shackleton, Everton's £8,000 signing from Leeds United, led the blues attack for the first time at Nottingham today in the place of Dave Hickson, who appeared in a reserve capacity.  Shackleton had the encouragement of knowing that when he last appeared on this ground towards the end of last season, for Leeds United, he scored three goals.  Seated in the stands were members of the Scottish International selection committee, who were thought to be weighing up the prospects for international selection of Imlach, Quigley and McKinlay, of Nottingham and Bobby Collins of Everton.  Parker's luck was out.  He was not quite fit enough to resume.  Everton might have been a goal up in a minute.  Sanders lobbed the ball into the Forest goalmouth, over the head of McDonald and Collins raced on to it.  Thomson hesitated whether to come out or stay put.  He stayed where he was, Collins took deliberate aim, and the goalkeeper, beat out the ball. 
First Effort.
Shackleton's first shot was an effort from 30 yards range right along the ground, which did not trouble Thomson unduly.  Shackleton beat Whare with a nice bit of footwork and put the ball across the goal, a foot or two off the ground, only to find the alert McKinlay in position to kick clear before any Everton forward could get near.  If Everton's opening miss was a disappointment it was no more stunning than the shock the home crowd had to endure when they saw Gray's corner kick sail right over the heads of the Everton defence to an unmarked Quigley.  With all the time in the world, Quigley headed wide.  Collins still without a goal to his name this season tried all he knew, and with a drive just outside the penalty area forced Thomson to make a spectacular save.  Labone went within an ace of surprising Forest with a free kick, taken well inside the Everton half.  A half bouncing ball threatened to beat Thomson but he just got his fingertips to it.  Everton playing with commendable punch, were having more than a reasonable share of bad luck, for a shot by Jimmy Harris which had Thomson well beaten, hit the foot of the post and came out.  That was not the end for O'Hara headed strongly for goal and Collins attempted to help it on with a smart back heel.  Despite the surprise intervention.  Thomson still covered the ball. 
Name Taken.
It was remarkable, that the score sheet should still be blank after this series of remarkable escapes at both ends of the ground.  The referee after-awarding a free against Brian Harris on the half-way line chased him back into the penalty area and after a conversation with him took his name.  Collins again figured prominently.  Put through by O'Hara he was faced by Thomson running out.  Collins worked the ball past the goalkeeper and found both full backs swooping on him.  Before Collins could regain contact McDonald kicked out over his own line.  Shackleton with the touch of the class footballer placed the ball admirably for Collins.  Again it was the Scot against the goalkeeper and again it was the goalkeeper who triumphed.
Forward Switch.
Everton made an interesting forward switch with Jimmy Harris on the left and O'Hara as his partner.  Collins was out on the right.  They persisted with his formation for quite a spell and it worked well.  Everton' play richly deserved a goal and a livier, more entertaining, Collins was the man who made it possible.  An admirable through ball saw O'Hara heading strongly forward goal with Thompson well out of line, it ended in McDonald attempting to make a desperate save.  With the ball no more than a yard from the goal line, the full-back kicked it into the roof of the net after 27 minutes play.  A move by Wignall enabled Jimmy Harris to cross the ball to the right for Collins to centre to and close in.  Shackleton got his foot to the ball only to see it pass just outside the post. 
Half-time; Notts Forest nil, Everton 1. 
Without having the opportunity for brilliance, Shackleton had been a great worker.  He showed some clever touches and great speed in going to the ball.  Collins was the man who was firing this Everton forward line into more decisive activity.  Collins was finding the wide open spaces like the super craftsman he can be and he did it splendidly for O'Hara but Whare recovered rapidly enough to prevent the winger making a good shot and it sailed harmlessly wide.  One of the most menacing Forest attacks was terminated when Labone conceded a corner, which Dunlop cleared.  Everton went near to a goal again when Tom Jones sent Jimmy Harris away Shackleton beat McKinlay cleverly, without being able to find a position for a goal.  It was McKinlay who kicked his cross to safely.
Good Tackling
Iley could do little against the effective tackling of King then Jimmy Harris tore up the wing to beat McDonald and hit the ball no more than a foot wide of the post.  There was a dangerous moment for Everton when Labone missed a high ball and fouled Wilson no more than a yard outside the penalty area.  Whare shot through the wall of defenders and a fine effort it was, but Dunlop was perfectly positioned to take the ball.  For once King was absent when Iley moved to the ball and shot splendidly.  Dunlop dived right across goal and although beaten, the ball was narrowly off target.  Dunlop was again in action when he pulled down Imlach's swerving ball almost from under the bar.  The Everton goal fell most surprisingly in 70 minutes when a defensive error allowed Quigley to send the ball across goal to Wilson who shot into the corner of the net.  Collins was well watched in this half and the Everton attack had some of its fangs drawn, Forest were revitalized by the goal and Quigley found a new lease of life and went near to putting Forest ahead.  Then Quigley hooked the ball over the Everton bar, and Forest were just as much on top as Everton had been previously.  Everton's fade out had been sensational and for quite a spell Forest were enjoying target practice without beating Dunlop.  Shackleton raised a glimmer of hope when he outwitted McKinlay and centred in the direction of O'Hara, but Whare who had played extremely well in the second half, was there to intercept.  There was another escape for Everton with one minute to go, when Gray's header hit the top side of the bar.  Final; Nottinghm Forest 1, Everton 1. Attendance 27,518.
Lancashire League
Everton "A" 1, Blackburn "A" 3
Everton "B" 4, Accrington "A" 4
IT'S MORE FUN PLAYING THAN WATCHING
September 12, 1959. The Liverpool Echo and Evening Express
Alex Park surveys Soccer from The Goodison Treatment Room
This has been the most unusual start to a football season I have ever known, as I have watched more games than I have played in, and I'll let you into a secret –I don't like it.  It's not that I don't enjoy watching, but it's a poor substitute for playing.  What's more in between watching I've been spending my time reading.  In fact, I don't think I have ever read so much in my life, but in case you think I've been neglecting my ankle, I must explain.  While the rest of the boys have been training up at Bellefield, I have spent most of the past week stretched out on a table in the treatment room at Goodison Park in the capable hands of Harry Cooke.  Each day I've been having treatment and as I write I did not realize that my ankle would be so much better only a week after my accident.  Harry has been giving the ankle the hot and cold water treatment, heat treatment and following these with a massage.  The hot and cold water treatment is done by my putting my ankle in a bowl of cold water for a minute then in hot water for a minute, and so on.  I suppose you could say that Parker's been in hot water this week!   Where does the reading come in.  Harry has kept me supplied with books while he's been working on me.  On Tuesday afternoon I put a pair of plimsols and trotted round Goodison on my own, and on Wednesday started kicking a rubber ball.  One consolation was that if I miskicked there was no barracking.  There wasn't a soul on the terraces or in the stands.  As I write this I don't know whether or not I am playing against Nottingham Forest, but, if the ankle, keeps on improving as it has been doing I should be available for selection sooner than I expected. 
Nice Gesture
Incidentally since writing last week's article, a journalist friend told me that when I was lying hurt during the game with Burnley, young Connelly their outside right kicked the ball in touch so Gordon Watson could come on and attend to me.  I would like to take this opportunity of thanking him, it was a nice gesture from a player, who looks like having a great future in the game.  In view of my own experience I suppose young Allan Mullery, of Fulham, gained more sympathy from me than anybody when he had to go off a Goodison last Saturday.  He seemed in such a bad way when he disappeared down the tunnel that I was very surprised when he returned but also very glad.  There's nothing so bad as to see a team reduced to 10 men.  While I am on the subject of the Fulham game, I would like to say how well I thought Macedo, Bentley, Langley, Doherty and the reserve winger Key, played.  What an amazing player is that man Bentley.  When I saw the ex-England forward was wearing the No. 5 shirt I must admit I thought he would prove no more than useful, but here is turning in near-international displays.  When I was a schoolboy I remember going to Hampden Park to see Scotland v. England.  Before the game the Scottish F.A. announced the only a win was good enough for their side to go to South America and take part in the World Cup.  They lost 1-0 and Bentley scored the goal.  Nine year's later the same player is preventing my club chalking up its first win of the season.  During the Fulham game I was asked if I would speak to the hospital patients who listen in to the commentaries.  I was only too pleased to say a few words to them, and I'm sure they won't mind if I now say something for them instead of to them.  I don't know the names of the three men who do these commentaries but I'm sure there must be many thousands who are most grateful to them for the work they do each match day.  There can be little wrong with this game of football if it can encourage men to do this service for less fortunate people they don't even know.  I took another trip to Anfield on Wednesday to see the Liverpool-Scunthorpe United game and while it was not as good as the match against Bristol City, I quite enjoyed it. 
Foundation
There was no denying that Liverpool deserved their win, and there's no denying that Jimmy Melia had much to do with it, but in my opinion it was the half-back line of Campbell, White and Wilkinson that laid the foundation of the victory.  I believe the wing-halves did not play so well as they did at Sheffield on Saturday but I though they played well enough particularly when you remember that they are only reserve for Wheeler and Twentyman.  Liverpool are lucky to have such players.  What of Roger Hunt their debutant, centre forward?  Naturally being his first game he opened quietly, but his goal seemed to give him confidence and after that he moved quite well.  With more experience I think he'll make it.  I suppose you will remember my mentioning how I visited Dixie Dean a few weeks ago, and how he sent Harry Cooke a present on the occasion of the trainers 55th season at Goodison.  Well last Monday the great centre forward came to Goodison Park himself.  He called in to see Harry and they had a long chat about old times.  There must be something about Goodison Park that calls its past favourities back, Cyril Lello, now player-manager at Runcorn, and Jackie Grant are another two ex-Evertonians that often call in. 
Cup Coincidence
This week, I had a letter from George McCormick, of 16 Sackville Street, Liverpool 5.  Remembering what I said about keeping an eye on us when the cup-ties come around he writes;-
"Have you numbered the years between 1906 and 1933 Everton's cup winning years?  There are 27.  From 1933 to 1960 is -27.  If you can do it that ill stop the moaners for that is what many so-called Evertonians are now, but I say our time will come, and then you will find a difference in the facts. 
Mr. Carey built the present Blackburn Rovers team in five years and he can do the same at Everton.  Thank you very much for your confidence in us, Mr. MCCormick, I hope we can justify it very soon and thank you for your letter.  If any of you other Evertonians, or Liverpudlians for that matter (were no biased in this column) feel like dropping me a line, it will be very welcome.  If I have the room I will include it in my article.  You can contact me c/o Sports Department, Victoria Street Liverpool 1. 
EVERTON RESERVE V. ASTON VILLA RESERVE
September 12, 1959. The Liverpool Echo and Evening Express
Everton Reserve;- O'Neill; Bentham, Bramwell; Rea, Billington, Meagan; Peat, Tyrer, Ashworth, Thomas, Blain.  Aston Villa; Beaton; Aldis, Lee; Dixon, Morrall, Carter; Smith (J.), McMorran, Sewell, Marsh, Kenning (N.).  Referee- Mr. A.D. Hirst (Notts).  Everton had the advantage of the sun and Ashworth forced a first minute corner, Villa's first attack, however produced a goal in the first minute when O'Neill punched out Sewell's shot straight to the unmarked Kenning who netted easily.  Everton retaliated with a neat bout of passing between Thomas and Ashworth, but Dixon cleverly arrested the move.  Defences were unimpressive and Bentham giving the Villa two corners.  Then Beaton dropped a harmless centre, but quickly retrieved the ball from Blain.  Everton nearly equalized when Ashworth headed against an upright and soon afterwards, Beaton made a full length save from Peat. 
NEARLY SUCH A HAPPY COLLINS' ANNIVERSARY
September 14, 1959. The Liverpool Daily Post
Nottingham Forest 1, Everton 1
By Horace Yates
Everton's first away point of the season at Nottingham a point that so easily could have been two, helped to prove to the hilt the contention that when all is well with Collins, Everton's limitation seem so much less obvious.  The Scot with his country's selectors looking on, danced his way triumphantly through a first half with an exhibition that would have been truly remarkable had be been as good a finisher as he was a manufacturer.  Without a goal to his name this season, Collins could have retired as the interval with a hat trick and leading as they might as well have been by five gals to one.  Everton would have been in an unassailable position.  In addition to the Collins' failures, Jimmy Harris, hit the foot of the post with the goalkeeper well beaten, and only the sight of Quigley failing to take advantage of a glorious opportunity at the other end afforded slight consolation.  O'Hara who like Collins is finding that first goal so terribly elusive, was responsible for Everton's score in 27 minutes but the record books will never give him credit for it.  A much improved header of the ball.  O'Hara sent it hurtling towards goal well clear of Thomson, when McDonald dashed across and with a despairing effort, while the ball was still a yard or so in play, kicked it into the roof of the net. 
No Qualms
Disappointing though it was to find Everton only one goal up there were no qualms.  They were a superior as could be and he harder Forest tried to show some semblance of form the more completely did they fail into the grip of the defence who found interceptions delightfully easy and times without number gratefully accepted direct passes from the opposition.  Everton had been unrecognizable as the side which had floundered against Fulham.  Their football was as effective up to the point of shooting as it was attractive and at half-time I found myself attempting an analysis of the transformation.  With £8,000 signing Alan Shackleton leading the attack, it was natural to begin with him.  Without a doubt he looked clever and able footballer.  He showed us some delightful touches.  He kept McKinlay, normally such a dominating centre-half, haunted by the memory that when last they met Shackleton scored three times for Leeds United, for Shackleton, still found a way of rounding the Scot.  It was all very encouraging, but not once had Shackleton had a real chance to shoot.  He side-footed one ball narrowly wide, but the shot or the header that would have conformed the favourable impression was denied him.  No clearly, it was this little man Collins who had worked the transformation with a display that brought back memories of twelve months ago (except for a single day), when he was making his debut at the Manchester City ground under similar trying circumstances.
Jones Excels
Everton switched their forward line to a Collins, Wignall, Shackleton, O'Hara, Harris formation with brilliantly successful results so much so that this was no fleeting change, but quite a sustained experiment.  Everybody expected with the start of the second half that Forest would pull out all stops in an endeavour to sweep back into a match, from which they had been so completely obliterated.  But no! For a long time, even though they attacked frequently, it was an approached which carried few terrors for a defence in which Tom Jones was excelling himself as watchdog of Imlach without a doubt Forest's most dangerous forward.  Jones was every bit as commanding as he can be at centre half.  King had blotted out flew, so effectively that he scarcely registered and though I though Brian Harris was not so sure of himself at times as we now expect him to be, his obvious reply was "What did Quigley accomplish? "  And the replay could only be.  "Hardly anything."  Similarly Wilson had no terrors for Labone, but where Everton slipped was in their belief that one goal was enough to win this game.  From rampant attack they sought merely to contain Forest.  Admittedly for a long time it seemed to be a plan that was destined to succeed, but as so often happens in situations such as this, there came a slip, with Imlach for once in a way beating Jones and sending the ball across for an unmarked Wilson to equalize the scores in 71 minutes.  It was primilarly Burkitt, a wonderful attacking half-back and to a lessor degree Whare who had shaken Forest into a more spirited retaliation and the goal was a tonic which injected renewed hope and faith into the Forest ranks.  As an attacking force Everton had ceased to exist.  Only a lone raid by Shackleton in which he almost laid on a goal for O'Hara helped to relieve the monotony of the Forest chase after victory.  The Collins magic had gone and it was a case of all hands on deck for Everton to hold what they had.  In this bombardment Dunlop was source of comfort, being steadiness personified as he dealt with everything that came his way in the most accomplished fashion.  The Forest side was unrecognizable as the team which revealed such delightful football last season on their way to their Wembley triumph, and yes normally there was only one change.  Truly, football is a curious game.  Still Everton should take heart from this point and possibly come to appreciate that attack remains the best form of defence.  Nottingham Forest;- Thomson, goal; Whare and McDonald, backs; Whitefoot, McKinlay, and Burkitt, half-backs; Imlach, Quigley, Wilson, Iley, and Gray, forwards.  Everton; Dunlop, goal; Sanders and Jones (captain), backs; King, Labone, and Harris (B.), half-backs; Harris (J), Wignall, Shackleton, Collins, and O'Hara, forwards.  Referee; Mr. R. Ryalls (Sheffield).  Attendance 27,518.
THOMAS SCORES LATE EQUALISER
September 12, 1959. The Liverpool Daily Post
Everton Res 1, Aston Villa Res 1
A dramatic equalizer in the 87th minute enabled Everton to salvage a point.  The Villa goal had survived Everton's almost continuous second half onslaught until goalkeeper Beaton penalized Ashworth.  Beaton saved Rea's spot kick but the ball was whipped across to Thomas who made no mistake.  Except for inside-right Tyrer who formed a progressive wing with Peat, the Everton forwards were slow to shoot and a tendency to bunch did not help.  In defence centre half Billington held his own against Sewell, while Bramwell was constructive at left-back.  Kenning netted Villa's goal three minutes after the start. 
SHACKLETON NEVER HAD CHANCE TO HIT TOP FORM
September 14, 1959. The Liverpool Echo and Evening Express
By Horace Yates
Twelve months ago last Saturday Everton played a debutante forward by the name of Bobby Collins at Maine Road, Manchester, and it marked an agreeable turn in the club's fortune, with the recording of the first win of the season.  On Saturday they again played a debutant forward this time by the name of Alan Shackleton, at Nottingham Forest, and this too should have been marked by an opening win and a scoring of spirits.  Instead their first away point was the consolation wrung out of this match.  Not for Shackleton was the opportunity to take over this match as Collins had done.  The chance of simply did not come his way.  Instead it was this Scot Collins who threatened to steal the show with his brightest form of the season as a sort of anniversary offering.  More accurate shooting or less talented goalkeeping by Thomson, look at it as you will could have give Collins his first Everton hat-trick and placed them so far ahead at half time that one of the most fantastic slumps I have ever seen by any club after the interval would probably have been insufficient to affect the result of the game, for the Everton defence fortunately did not participate in the fade-out.
Collins Inspires
A Scottish international selector had probably seen enough of Collins by half-time to decide that he need not worry any more, and what a good thing for the Collins that would be.  Collins was undoubtedly Everton's attacking inspiration in a half in which they were dominant to a staggering degree, remembering their shortcoming in other games.  Their football was fast, clever, entertaining and dangerous up to the point where it mattered most and it as tough indeed that their only goal should go into the records as an own goal by McDonald.  It was a splendidly worked affair and when O'Hara hit it fully with his head, the ball was undoubtedly going into goal when McDonald with leg outstretched made contact with the toe of his boot and lifted it into the roof of the net.  At what stage a prospective goal becomes an own goal is arguable.   Where an intervention alters the course of the ball to beat the goalkeeper there is no argument.  Where a defender passing back beats his goalkeeper the situation is equally clear, but that in a situation such as this O'Hara should be deprived of scoring credit seems more than a trifle harsh.  The main point of course, is that the goal counted for the side and that I was the only one to do so is probably a measure of the hoodoo that so often appears to haunt a team which is struggling through a lean catch. 
Forest Take Over
A below par Nottingham Forest should have been so downcast by their arrears at half time that they would not have found the heart to hit back.  Instead with Everton content with their goal lead, and making no noticeable second half attempts to add to it.  Forest took over so effectively that they might easily have won, and in the end one had to admit that in a game in which squander mania ran riot on both sides, a draw was a fair result.  Wilson scored Forest's equalizer with 20 minutes left for play.  It would have been a bitter pill indeed if Everton had been beaten in the last minute, as well they might I cannot remember as many mistakes being made in any single game as were made in this by the referee and his two linesmen.  Some decisions were so inexplicable that even the home crowd laughed when their side profited by them.  The most serious error of all could have been the last.  With less than a minute left for play, Forest were given a corner kick when plainly the decision was dead ball.  From the kick Quigley hit the topside of the bar and over went the ball.  Only a matter of inches stood between Everton and defeat with the final whistle ready to sound.  It is hard to say whether Shackleton contributed more to Everton's cause than Hickson might have done, because he never had a real chance to register.  That does not mean there was nothing about his display to encourage Everton to believe they have signed a clever footballer.  On the contrary he distributed the ball well and just as important showed an ability to round a centre half, face to face, that is not possessed by many centre forwards.  He has a beautiful body swerve and McKinlay several times found himself chasing Shackleton in recovery efforts.  Wignall has shown us he can shoot, but for him like Shackleton this was no match to prove it.  The ex-Leeds United forward moves and thinks quickly and it will be fairer to reserve final judgment for a few more matches.  At least nobody could be disappointed with what he did.  For manager John Carey there is a new problem looming up.  When Bramwell is fit, the question will be whether to restore Jones to centre half or to leave well alone, for Jones gave a thrilling display at left back against Nottingham's best forward Imlach, and Labone, despite occasional uncertainty, suggests he is at that stage now where he has been in Central League football quite long enough.  His advance might be the speedier and more certain in first team football than by a continuance with the reserves.  Yet, Bramwell has always been completely reliable as a full back.  As usual Dunlop took everything in his stride a source of real comfort when things could have gone wrong. 
HICKSON HAPPY AT GOODISON
September 14, 1959. The Liverpool Echo and Evening Express
Fight To Win Back Place
By Leslie Edwards
Dave Hickson, controversial dyed in the wool Evertonian will not ask for a transfer merely because he has lost his place in the team to newly signed Alan Shackleton from Leeds United.  He prefers instead to soldier on at Goodison Park believing as he did a year ago when displaced by Peter Harburn, of Brighton that he will win back his position and help this club to move off the bottom place in the First Division.  He has never been happy at any other club and intends to finish his career with the club who developed him from the days when he was a brash youngster who joined them from Ellesmere Port.  Everton manager Mr. John Carey, told me today "Dave has told me that he is quite happy with Everton."  Many Hickson fans –and to the Everton crowd he is something of an idol –have already written to me expressing their anger that he should be deposed. 
Anfield Interest
The linking of Hickson's name with Everton's neighbours across the park! Liverpool, comes about because Liverpool have said that they are interested in any first-class player who is likely to come on the market.  If Hickson were to ask for a transfer –but that is not likely –Liverpool would probably be the first club to hear of it.  In that even they would certainly review the possibility of Hickson joining them provided they could assure themselves that he has not lost his dash.  The feeling of Liverpool fans if Hickson deposed that other city idol, Billy Liddell at centre forward re best left to the imagination.  Ironically nearly twelve months ago when Everton were in need of a winger and Liverpool had Liddell in the reserve for weeks, it was Everton who turned over in their minds the possibility of their neighbour's player joining them.  Despite rumours that Everton are said to be likely to move for White, (Falkirk) or Auld (Glasgow Celtic) no decisions in either directions has been taken at Goodison Park. 
Parker Improving
Everton's team on Wednesday evening against Blackburn Rovers is therefore likely to captain, apart from Shackleton's no new faces.  Alex Parker injured ankle is improving, but it is too early to say whether or not he will be back in the team. 
BLACKBURN ROVERS RESERVE 3, EVERTON RESERVE 1
September 15, 1959. The Liverpool Daily Post
Everton Reserve had little to commend them in this Central League game at Blackburn where they were beaten by a young and inexperienced Rovers reserve side.  Everton's defence was run off its feet in the second half and only O'Neill safe goalkeeping –including a spectacular save from a penalty – prevented a heavier defeat.  Centred forward Ashworth was Everton's lividest forward, but he was badly supported particularly on the wings.  Sanders, Interwood and England scored for Blackburn and Thomas with a header from Peat's long forward pass for Everton. 
SO MUCH EASIER TO REPORT CLUBS WHICH WIN…
Tuesday September 15, 1959. The Liverpool Echo and Evening Express
With Leslie Edwards
Who more than the fans of both clubs wants to see Everton and Liverpool succeeding?  The answer is easy –I do! It's no joy reporting Everton at the wrong end of the First Division and Liverpool half way up the Second Division because there are many personalities in and out of the sides at Goodison Park and Anfield who deserve better fates.  So much easier, too, to be attached (however loosely) to two clubs who are winning.  Yet friendships cannot stand in the way of duty.  That is why through letters such as are given today, I must mirror the thoughts of the people who support and sustain League soccer in this city. 
"I should have thought," says Mr. A. Wharton of 60 Borrowsdale Road, Lower Bebington," that Everton would have realized by now that their weak half-back line is the main cause of trouble.  Few teams have scored more goals than Everton this season.  A pair of dominating wing half-backs would keep the goals against down and give Collins a chance to play as a forward.  Hickson has surely been the club's best forward this season.  Come in, Mr. Carey give us some big strong half-backs. 
Mr. Thomas G. Dobson, 19 Renville Road, Broadgreen asks why drop Hickson?   As a follower of the club for nearly 50 years he says- "It is unfair to saddler the blame for failure on Hickson.  Surely the fault is with the middle line?  The propensity in recent years to buy small players is not the answer. 
From far-off Suffork (54 Blackdown Avenue, Rushmore) comes the cry of an exiled Evertonian, Mr. P. J. O'Hailbran; "I was perturbed to hear of the signing of Shackleton.  When will Everton realize that poor Davy and Bobby Collins cannot play as a five some.  Have Everton seen Jimmy Hill of Northwich or Pearson of Manchester United?" 
Fool's Paradise
According to Mr. F. Close of 4 Tedbury Close, Southdene, I live, with John Carey, in fool's paradise.  "The one man who should not be dropped from the attack is dropped and whoever heard of a class player costing only £8,000?  Everton need big, strong half-backs" comments Mr. Close. 
Reader W.J. Shaw (4 Cobden Terrace, Dingle) says; Surely Everton have weaker links than Hickson who pull's his heart out while others just canter along and keep their place?" 
Mr. H. Arnold (12 Dorrington Street, Liverpool 5) protests against the dropping of Hickson, "If the player who took his place were of higher calbre the dropping would not have been so bad, Hickson's play this season did not permit his absence from the team.  Wignall is not ready for top-class football." 
My long standing faith in the Everton Manager is not shared by Mr. E. Almond (5 Geneva Road, Liverpool 6).  "Everton's signing of Shackleton, a player already transferred by two clubs not altogether noted for outstanding players, is in keeping with Everton policy of the past 45 years.  If the Everton directors had signed Docherty things might have been different. 
Well, Is He a Scapegoat?
Mr. David Simpson, of 24 Falkner Square, Liverpool 8 writes;-
"First let me say that this latest evidence of Everton's cavalier treatment of her loyal stars will serve to divorce even more of her long-suffering supporters.  On Dave! You are in such splendid company…Lawton, T.G. Jones, Mercer… "There are moral, as well as playing weaknesses in the modern Everton.  This latest effort contains some of both- the scape-goat for the short comings of the Everton forward line as a whole.  A centre-forward, left to his own devices has no chance at all.  Most clubs would first examine the inability of the constructive elements of a team to make chances before summarily dismissing the man who is supposed to convert them.
"(2) Hickson has scored most of Everton's goals this season anyway. 
"(3) Hickson, but for the brilliance of Macedo in the Fulham goal, would have had three goals –one right foot, one left foot and one nodded down in superb fashion.  No-one else looked like scoring. 
Romantic Tradition
"To continue on the moral theme. Anyone who was at Goodison and witnessed the genuine relief and happiness of the crowd when Fulham's injured Mullery returned would have to agree that the unduly elements of our supporters are indeed, a minority; Everton are a club in the romantic tradition.  Things always used to happen in a big way, we were either up or down, and always play football on the ground.  Lot's of loyal Evertonians are suspicious about the new Everton, we do not want a big fast-moving, power side, at least not without good football.   "Hickson is the last of Everton's romantics, which is why the crowd love him.  I think they realize that he has it in him to be  great player, given the right support.  But does he get it?   "Hickson again.  How history repeats itself, Everton signed Harburn from Brighton to replace Hickson.  At the time I wondered:-
"(1) Why Hardburn had not been playing regularly, for Brighton's first team?"
"(2) Why Brighton, having last grand promotion to the Second Division were letting him go"
"(3) Why with clubs crying out for good centre-forwards one of the conveniently-placed London sides had not snapped him up"
"(4) Who in these days of inflated values, could hope to buy a First Division class centre-forward for £8,000.  
A Facsimile From FansDear sir, The Everton Board of Directors baffles us.  One does not know whether they are in show business or football.  The latest episode in this grand pantonline is that they have dropped Hickson from a forward line which has been non-existent except at centre-forward this season.  Dave may not be the greatest entre-forward, but he certainly has far more football ability than three of the present forward line.   Come on Everton!  Wake up and lets not lose this grand personality and clubman once again. Your faithfully "True Blues"
IS THERE A PLACE FOR HICKSON?
Tuesday, September 15, 1959. The Liverpool Echo and Evening Express
Everton Side Conjecture
Blackburn Here
By Leslie Edwards
Everton F.C. choose tonight their team to meet Blackburn Rovers at Goodison Park tomorrow and conjecture among fans is whether or not a place will be found in the attack for Dave Hickson, deposed by the club's new signing from Leeds United, Alan Shackleton, at Nottingham on Saturday.  Owing to the funeral of his father in Ireland, Everton Manager, Mr. John Carey, was forced to miss that match.  Everton I understand were in touch with the Falkirk club a few days ago and the subject of conversation must have been inside-forward John White, who has already been watched this season by Mr. Carey and Liverpool manager, Mr. Phil Taylor.  Whether the signing of Shackleton has coolly Everton's interest (Liverpool's seems to have died away) only Mr. Carey can say.  Falkirk manager, the former Liverpool goalkeeper, Tom Younger, when he learned of the dropping of Hickson said' "Wish I had him up here.  'He'd suit us very well.  Bu Hickson prefers to stay put and tonight's Everton meeting is most likely to have any transfer request to consider.   Blackburn Rovers v. Everton tomorrow)-Leyland; Taylor, Whelan; Clayton (R.), Woods, McGrath; Douglas, Dobing, Dougan, McEvoy, MacLeod.
HICKSON RESTORED AS LEADER OF ATTACK TODAY
Wednesday, September 16, 1959. The Liverpool Daily Post
Shackleton At Outside Left
By Horace Yates
Dave Hickson has not long to wait for restoration, for in this evening's game at Goodison Park (kick-off 7 p.m) against Blackburn Rovers.  Shackleton the recent signing from Leeds United, moves to outside-left in place of O'Hara, who is injured, and Hickson leads the Everton attack.  O'Hara has an ankle injury and so misses his first game of the season, and with Laverick still not match fit, the wisdom of Everton's signing of Shackleton becomes apparent.  Shackleton is perfectly happy at outside left and if he had to make a choice of position I would not be in the least surprised if he were to plump for a wing berth.  From what I saw of him at Nottingham on Saturday I am prepared to see Shackleton making quite a success of this role.  Whether Hickson's return would have been so speedy had O'Hara not reported unfit, we do not know, but the Shackleton experiment, enforced possibly though it may be could acquire something of a permanency, especially with Hickson playing his heart out to prove him wrong is the ideal that Everton can manage without his enthusiasm.  This is the only change, for Parker, improving though he is requires a few more days' rest.  He may be able to resume on Saturday for the home game with Sheffield Wednesday.  Everton; Dunlop; Sanders, Jones; King, Labone, B. Harris; J. Harris, Wignall, Hickson, Collins, Shackleton. 
HE'S A CROSS BETWEEN DIXIE AND DOOLEY
Wednesday, September 16, 1959. The Liverpool Echo and Evening Express
By Leslie Edwards
Tonight's game at Goodison Park, which everyone hopes will yield Everton's first win this season, is virtually one between John Carey's past and present elevens.  Having built Blackburn Rovers promoted them, and left them firmly based in the First Division, the former Manchester United player moved on to this city to his second managerial post and perhaps, an even more difficult job.  So far, this season, things have gone wrong and the sceptics are already taking –as sceptics will.  As one who admires Mr. Carey's sound philosophical approach to management as much as I admired his play.  I count myself not his critic but as one perfectly prepared to give him time and opportunity to convert Everton.  Twice, at least I have had good reason to appreciate the Everton Manager's propensity for doing or saying the right and courageous thing, irrespective of the consequences and whatever team he selects, so, whichever players he signs I accept automatically for the simple reason that this man, above all, is wonderfully well qualified to do the job.  I gather that his Shackleton expedition, 1959 style, was confirmed by Leslie Shannon the Everton coach who had special opportunity to weigh the player's potential when they were clubmates at Burnley.
Old Scores…
A year ago Blackburn came here and got a draw; two seasons ago they not only beat Everton Everton in a Cup-tie at Goodison Park, but went on at Blackburn to end Liverpool's Cup run.  So there are several old, unhappy scores to wipe out.  It will be good to renew acquaintances with former Evertonians, Matt Woods and Harry Leyland, both great successes with their new club.  The Blackburn team will be unchanged, so we shall see for the first time in this city that remarkable forward from Belfast; Dougan whose play has been a revelation this season.  Dougan is a cross between the ill-fated Derek Dooley of Sheffield Wednesday, and William Ralph Dean.  Tall with a space-eating stride, a good header of the ball, he left Portsmouth for Blackburn last March for an "a few thousands" and was so troubled by tonsillitis his first appearance for his new club was delayed.  The Blackburn club doctor diagnosed not only tonsil trouble, but adenoids and no one can hope to play top-class stuff' suffering from either!  The sequal was that the big boy had an operation and is now like Kevin Baron, formerly at Anfield twice the player he was.  A further view of Brian Douglas and of Ronnie Clayton will appeal to all overs of artistry; a pity Royston Vernon's appendix trouble keeps him out of our sights though Everton may be relieved he is not there to plague them.  Mention of Dixie Dean reminds me that the Everton Board, just about to have their weekly meeting were surprised recently to find their old centre forward and his wife and young daughter on the premises visiting the scene of father's former triumphs.  Dixie stayed long enough to celebrate with a drink but not long enough to get himself involved in the Board meeting.  Everton want fans to know that they still hold a surplus of the key programme required for the ballot for Cup-tie tickets.  Anyone who missed the first chance of them can get them by applying at the office.  #
Hickson Plays
Dave Hickson's return to the Everton team to meet Blackburn Rovers at Goodison Park tonight will please his fans.  He is in the centre-forward position too.  Newcomer Alan Shackleton moves to outside-left to take the place of the injured O'Hara.  Everton; Dunlop; Sanders, Jones; King, Labone, Harris (B.); Harris (J.), Wignall, Hickson, Collins, Shackleton. 
HICKSON'S DELIVERS HIS OWN REPLAY – TWICE
Thursday, September 17, 1959. The Liverpool Daily Post
Everton's First Win in Seven Games.
Everton 2, Blackburn Rovers 0
By Horace Yates
The ice is broken.  Everton chalked up their first win of the season against Blackburn Rovers at Goodison Park last night in their seventh match.  By a remarkable coincidence it was in the seventh match last season that the first win was forthcoming.  How difficult it is to be over-enthusiastic about beating a side which had virtually only ten men after eight minutes, for Whelan was a hobbling passenger from that time on, courageous and willing, but nevertheless a passenger.  It was a tragedy for both sides for plainly Everton were in the mood to go put an end to this nonsense of going so long without a win, and I would need a lot of convincing that a full strength Blackburn side could have denied them their aim, although Macleod promised to provide a lead of trouble at outside left until switched to replace Whelan.  The signs that were revealed in the first half at Nottingham that the Everton machine is beginning to tick over again, were there in even more obvious and sustained measure last night.  Hickson the man who has made news for years, was still making it here. 
Two For Hickson.
From the moment he stepped on to the field to the accompaniment of a most cordial reception that seemed to say' "Glad to see you back, Dave" it was apparent that Hickson meant business.  To be credited with two goals for a side which had only seven to its name in six previous matches, is not an unagreeable return, and for me Hickson came back so irresistibly that I should imagine all thoughts of further exclusion will be firmly pushed into cold storage.  His critics contend that while he scored twice, he missed three times.  I do not challenge the view, but if every Everton forward could show n average of two goals from five chances to date, Everton would not now be in the lowly position they occupy.  I will not have it that Hickson's first goal, scored after 33 minutes, was a lucky affair at all.  It was the reward for persistence and a refusal to accept defeat even when on the ground and confronted by Woods and Leyland.  It was from Shackleton's choice offering that Hickson had his chance and while some claimed that the ball crossed the line twice, I consider the referee right to rule in the first instance that a line ball was no goal, but a subsequent stab by Hickson left the line cleared by six inches as the defenders tried in vain to take the ball out of Hickson's range. 
By Permission
Hickson collected his second goal in 44 minutes and it is true that this counted only by special permission of goalkeeper Leyland.  A Collins-Harris link-up saw the outside right place the ball immaculately on Hickson's head.  He sent it hurtling at Leyland who seemed to take his eyes off the ball almost as he handled, a fatal mistake.  The result was there was no clean catch and there was still enough momentum left to take the ball over Leyland's shoulder into the net.  Undoubtedly this was Everton's best performance and if they can field a better, more militant forward line than this from the material available, then I could not name it.  They even brought back the beginnings of the Goodison roar.  Here we had Collins, the human dynamo all over again.  Instead of spending so much time fruitlessly on defence, Collins devoted most of his energy to attack, with results which were most gratifying.  He kept the line moving, working to the limit all the time, and nobody could have co-operated more enthusiastically or successfully than King and Brian Harris.  King has been advancing steadily, and last night he reached a new peak as an all-round player, proving how seriously underestimated has been his ability.  To a great extent he has rid himself of the annoying and expensive habit of using hands and arms in the tackle, and is a vastly better player for in case again the experiment of playing Jones at left back worked admirably.  It was no easy task to have to keep the speedy, tricky and experienced Douglas in check, but for the greater part of the time Jones did at least that.  In fact, he dominated the exchanges. 
Flag Of Surrenders?
Whether it as an orthodox team switch or a flag of temporary surrender that sent Douglas to try his fortunes at outside left for a period in the second half, I do not know, but whichever way it was Douglas was not the menace he can be.  Labone, too, had no reason to be dissatisfied with his showing against the rangy and surprisingly mobile Dougan, an obvious sort of threat, which never properly burst.  Dobing, who at times flew past opponents with the urgency of a rocket to the moon, blasted two or three shots, which told their own story.  While not being overworked Dunlop could not have been more efficient in goal.  His closest calls came from shots by Dougan and McGrath, either of which would have beaten less able performers, but the injured Whelan was the only man to beat him, only to find himself beaten in turn by an offside decision.  I think it may take several matches before Shackleton's real worth is appreciated.  He does his work quietly but surprisingly efficiently, and there were fewer balls wasted on Everton's left wing last night than for quite a long time.  That he will build up reassuringly on the present foundations I have every hope just as I am convinced so far as the evidence is available that it will be in a position other than centre forward that Shackleton will do himself most justice and the club greatest credit.  Clayton scarcely registered but Woods as usual could only be beaten the hard way.  Everton might have started their scoring in six minutes and probably would have done so if the opportunity had gone to any of the forwards other than Collins, but there is a hoodoo on Collins so far as scoring is concerned.  His shot hit Leyland and rebounded and when the goalkeeper fly-kicked Hickson nodded the ball back to give Collins a second chance to shoot at a goal this time guarded only by Taylor and Woods, Collins sent wide.  As events turned out the misses were unimportant, but that is the sort of thing that has helped to make Everton's opening so difficult and unrewarding.  When Collins does put the ball into the net it will be like the breaking o a spell and both he and Everton will be the better for it.  Everton; Dunlop, goal; Sanders and Jones (captain), backs; King, Labone and B. Harris, half-backs; J. Harris, Wignall, Hickson, Collins, and Shackleton, forwards.  Blackburn Rovers; Leyland, goal; Taylor, and Whelan, backs; Clayton, Woods and McGrath, half-backs; Douglas, Dobing, Dougan, McEvoy and MacLeod, forward.  Referee Mr. J.S. McLoughlin (Middleton).  Attendance 41,813. 
HICKSON BACK WITH A BANG –AND TWO GOALS
Thursday, September 17, 1959. The Liverpool Echo and Evening Express
By Leslie Edwards
By the light of the silvery moon (Lutnik and all) and the Goodison Park floodlights last night Dave Hickson celebrated his return to the first team by coring the two goals by which his side beat Blackburn Rovers.  Thus Everton got their first victory of the season, but not one which takes them away from other "fivers" at the foot of the League table.  Thus Hickson came back with a bang, and more important two (and very nearly three).  What a salutary effect is gained by leaving out a player for one game!  Like all others in the Everton team last night Hickson had zip in his play.  This was not only the best Everton this season, but the best Everton since mid-way through last season.  Did the cool breeze help, one wonders?  It was certainly football in the right atmosphere and the big crowd many of whom had come to see new boy Shackleton went away delighted even if they had to treat victory with slight reservations.  You see Blackburn, Manager John Carey's old side were troubled by injury from the first minute.  Full back Whelan damaged an ankle then and after being off awhile returned as a passenger, first on the left wing then on the right.  The redeployment of the attack meant that winger McLeod had to go to full-back so Everton faced disorganized opponents for three parts of the journey.  Nevertheless they won readily, deservedly.  And if Hickson and others have made something of their early chances it would have been all over long ago, before it was.  Only McGrath's goal-line rescuing of Harry Leyland in the closing minutes prevented Hickson from getting his hat-trick in this exceptionally fast, sustained quite tough game which proved tragic for former Evertonian, Leyland, and triumphant for the man who went with him from Goodison Park to Ewood; Matt Woods.  On this show Woods is worthy of consideration by England as a towering pivot around whom they build anew. 
The Nerve of It…
He is big, strong, clean and clever and even the cheek of little Bobby Collins who had the nerve to share a charge with him (and get away with it!) could not disturb his splendid defensive work which was worth the bonus for its head ability alone.  Blackburn lost because they didn't know when to stop being clever and start being  practical.  Big Dougan who showed Labone his speed more than once was full of quaint meandering, some of which did not come off.  Little Douglas feinted his way through again and again and then failed to release the ball quickly enough.  No Everton were the better side on the night – and that is saying a great deal –and for once their half-back line really got a grip on things and started to be commanding.  Brian Harris, for instance, has never played better.  He had a glorious second half.  King started by being unable to place a ball correctly, and then settled down to do all manner of good things.  Labone, except for being out-leaped and out-hearted by a man half-a-head tailer, Dougan, did well and showed a laudable desire to use the ball constructionally.  It was wonderfully thrilling stuff from the start but for a long time it looked as though we should be bewalling Everton's fate as a side that made chances and failed to take them.  Leyland mixed a succession of blunders with a succession of good saves.  He lost the ball when challenged bodily by Collins –and get away with it Collins hit him with a shot from point-blank range; while Hickson and Leyland lay on the ground after collision the goal was empty, but Collins could not find the shot to fill it.  Then when Shackleton and Hickson did the spade work and Leyland had advanced far from goal Wignall, with a cute lob, caused the goalkeeper to bring off the save of the match a one-handed one as he made his unbalanced way back to his line. 
Hook From The Prone
Everton's first goal at 32 minutes was shared by Brian Harris, Shackleton and Hickson, the scorer.  Leyland and Hickson and others tangled like Eton wait game players on the goal line (and Everton appealed that the ball had crossed the line) before Hickson put the issue beyond argument by hooking the ball in as he lay struggling on the ground.  A minute before the interval Jimmy Harris, taking up Collins centre pivoted and lobbed the ball all in the same movement and Hickson's strong header flipped joyously into the net from Leyland's attempt to palm save it.  And that was that, though Everton were made to struggle pretty hard to hold that lead through-out the second half.  where Leyland was busy Dunlop had scarcely a thing to do.  Except for that Dougan dash and stinging shot which Dunlop dealt with and for an equally dramatic dash by Dobing (who can put his feet down at bit when in full cry) and a shot which Dunlop dealt with brilliantly it was mostly Everton with the crowd appreciating fully their side's change of fortune and the greater life Manager Carey has somehow coaxed from his men.  It was difficult to assess Shackleton who is sizable does not attempt by do everything at break-neck speed and who had a hand in at least one of the goals and brought some welcome size and weight to the front line.  It was good to see Wignall reverting to his form of the Burnley match.  Collins joined the revels in characteristic style and was at his best when making the instantaneous pass that gives a defence no chance to anticipate it.  I had thought that all Everton's trouble might come from the Blackburn wings.  In the event it did not materalise.  Douglas played himself out and McLeod, who made a first class job of filling the full back's position could never be a threat to Jones pr Sanders.  Everyone is convinced I think that Everton can move up quickly if they reproduce this form.  They have opportunity to do so again against Sheffield Wednesday at Goodison Park on Saturday.  Meanwhile we await the turn of the tide at Anfield.  Perhaps tonight's match at Scunthorpe will being some sign of that long-promised promotion challenge. 
COLLINS AND PARKER MAY MISS THE ARSENAL TIE
Friday, September 18, 1959. The Liverpool Echo and Evening Express
By Leslie Edwards
What a curious and so often what a likeable man is this Dave Hickson, about whom in this city there are two schools of thought.  I first heard of him from his old boss at Shell Mex, the late Mr. Bob Pringe, who said of his mop-headed 15 years-old office boy of his "You'll be hearing of him in football soon, mark my words.  He's a most likeable lad and full of fun.  How prophetic.  Centre-halves in contemporary football would confirm Hickson's sense of humour and none can say that in the past ten years or so we have not heard plenty of our Davy, whose contribution to Everton's promotion from the Second Division is acknowledged everywhere.  Yet to describe Hickson at the stormy petrel of soccer is putting it mildly. His enthusiasm for the club has led him to do things which have created long0standing critics who cannot or will not forget.  A pity because off-field there is no more likeable man and on-field there is no more unselfish player or one more devoted to his club's cause.  Thus at 28 years and to use his own words "feeing great?" It is not surprising that Hickson is a little puzzled a little hurt that he should have been left out even for one game.  Maybe the circumstances forced on Everton by the last minute signing of Shacklton and the consequent dropping of Hickson 24 hours before the match the Nottingham were responsible. 
Almost Providential
Whatever the cause the injury to O'Hara which led to Shackleton to be played on the wing with Hickson back in the centre was almost providential.  The Everton attacked worked splendidly against Blackburn and all being well will confirm the form tomorrow afternoon against Sheffield Wednesday now managed by their old centre-forward Harry Catterick.  Two points from the game would set Everton up for the difficult programme they face within the next week or two.  Blackburn and Wolves away and Arsenal at Arsenal at home, will put the newly constituted side to even greater tests.  One contingency about the Arsenal match is that either Collins or Parker (who is progressing well) or both may be indeed by Scotland against Wales at Cardiff, that day.  The Everton policy has always been not to stand in the light of players capped and were these two famous Scots to be honoured they would go to Cardiff with their club's blessing.  The Scottish team is due to be selected on Monday.  Wednesday met the finest side they have faced for years Nottingham Forest on Wednesday and came out of it with two players so injured that Harry Catterick considers neither has a chance of appearing at Goodison Park.  They are Swan (centre-half) and Johnson (right back) and their absence, plus that of the club's best half-back Kay means that some shuffling and much improvision will be needed.  Springett in the Sheffield goal is a man I fancy for an England job in the near future. 
EVERTON UNCHANGED V. WEDNESDAY
September 18, 1959. The Liverpool Echo and Evening Express
Reserve Run For Laverick
Denial
By Leslie Edwards
Everton announce an unchanged team for the game against Sheffield Wednesday at Goodison Park tomorrow.  Alex Parker's failure to reach fitness means that Sanders and Jones continued as the full back partnership with young Brian Labone, at centre half.  Dave Hickson keeps the place he won back so surely in the match on Wednesday evening.  Manager John Carey told me today there was no truth what so ever in the story of the possibility of Everton negotiating for the Blackburn Rovers and former England back, Eckersley.  Eckersley is back in the Blackburn team following injury to Whelan at the Everton ground on Wednesday.  Bobby Laverick kept out of football since the start of the season by an appendix operation, gets his first run tomorrow in the Everton Central League side at Stoke.
Wednesday Injuries
Former Everton centre forward Harry Catterick who is making such a bold show in management says he is sorry the Sheffield Wednesday side against Everton will be such an improvised one.  Two of his best player, Johnson and Kay are unavailable through injury and there are doubts about centre half Swan.  The Wednesday manager has had to introduce a half-back, Hill at inside forward.  Swan's fitness will be tested before the party leave Sheffield tomorrow morning.  It is just possible that Mr. Catterick will miss the match in favour of a scouting mission.  Everton; Dunlop; Sanders, Jones; King, Labone, Harris (B.); Harris (j.), Wignall, Hickson, Collins, Shackleton.  Sheffield Wednesday; Springett; Martin, Curtis; McAnearney, Swan or O'Donneil, Gibson, Wilkinson, Hill, Froggatt, Fantham, Finney. 
Everton Reserve ;- O'Neill; Tansey, Bramwell; Rea, Billington, Meagan; Boner, Peat, Hood, Ashworth, Laverick. 
EX-EVERTON AMATEUR MAY JOIN BRISTOL ROVERS
Friday, September 18, 1959. The Liverpool Echo and Evening Express
By Leslie Edwards
Only Edge a 22-years-old Morton-born centre forward who is now working in the Devizes area is likely to sign professional forms for Bristol Rovers over the week-end.  Edges who formerly play for Moreton, joined Everton as an amateur when he was sixteen.  He has been playing impressively this season for Devizes.  Originally an inside-forward he has developed into a scoring centre only since he went South. 
EVERTON UNCHANGED
September 19, 1959. The Liverpool Echo and Evening Express
By Horace Yates
Nobody will be surprised that Everton have kept an unchanged team, following the conclusion that Parker requires a few more days to afrain real match fitness for their home game with Sheffield Wednesday, popularly known as the Yo-Yo team because of their up and down movement between the first two divisions.  Wednesday like most other teams have travelled many miles in their search for players in an effort to ensure that their association with Division 1 will this time be a more permanent nature, but they have no more success to report than any of their rivals.  For today's game centre forward Roy Shiner has been replaced by Redfern Froggatt.  Right back Johnson is injured and Martin comes into the side.  There is also a doubt about centre half Swan and O'Donnell will play if he is not declared fit.  Although Wednesday have got away to a better start than Everton the signs are apparent after the Blackburn success that Everton will not find points quite so elusive in the future and I shall be surprised if the Yorkshire side do not provide them with their second victory on the run.  After his two-goal triumph Hickson is certain to be determined to provide further proof that the time to replace him as leader of the attack has not yet arrived and Shackleton still playing himself.  It can be relied on to on prove on previous performances.  We have not yet seen the best of him.  With Collins rapidly recapturing his real form after early disappointments I cannot see Wednesday interrupting the Everton drive which has already brought down three points from the last two games.  Indeed Shackleton may be regarded as something of a mascot for he has not yet appeared in a defeated Everton side.  Everton; Dunlop; Sanders, Jones; King, Labone, Harris (B.); Harris (J.), Wignall, Hickson, Collins, Shackleton.  Sheffield Wednesday; Springett; Martin, Curtis; McAnerney, Swan or O'Donnell, Gibson; Wilkinson, Hill, Froggatt, Fantham, Finney. 
SHACKLETON GOALS LIFT EVERTON FROM DEPTHS
Saturday, September 19, 1959. The Liverpool Echo and Evening Express
New Winger Starts Long Awaited Rally
Everton 2, Sheff Wed 1
By Michael Charters
Everton; Dunlop, goal; Sanders and Jones (captain), backs; King, Labone and Harris (B.), half-backs; Harris (J.), Wignall, Hickson, Collins and Shackleton, forwards.  Sheffield Wednesday;- Springett, goal; Martin and Curtis, backs; McAnearney, Swan and Gibson, half-backs; Wilkinson, Hill, Froggatt, Fantham and Finney, forwards.  Referee; Mr. C.W. Kingston, Newport Mon.
The centre half doubt in the Sheffield Wednesday team was resolved by a fitness test this morning which meant that the regular pivot Swan was able to play.  Wednesday much changed forward line brought in Froggatt for his first appearance of the season at centre forward from his normal berth at inside right.  Wednesday were the first to build up an attack with Froggatt pushing a nice ball to Hill.  The inside man sent it square to Finney and was in position for the return to hook it just over the bar.  When McAnearney missed his kick it enabled Hickson to send a quick through pass for Wignall, but Curtis anticipated the danger and came across to clear.  The visiting inside men looked dangerous and Fantham weaved his way passed three men, but finished with a shot straight at Dunlop.  Labone and King got in each other's way in another Wednesday attack and it was his left to Brian Harris to come in with a header to clear when it looked odds on the first goal, so far Wednesday had been a more attractive side, and Everton had not yet settled down in attack. 
Collins Dribble
Collins dibbled two Wednesday men in a fantastically intricate dribble before pushing the ball back to King whose quick forward lob found Hickson's head in a suspiciously looking offside position, but the Everton man headed just wide.  Everton's wingers were being kept quiet by Martin and Curtis whereas Finney was a constant danger on the left for the visitors.  Everton were not playing anything like their form against Blackburn.  The wing halves were frequently beaten by the cleverness off Wednesday's inside pair and in a game which at this stage lacked much accident as the visitors were clearly the better.  Everton's main mode of attack was the long pass from Collins and with Wednesday's defence looking very firm, they were getting nowhere.  In fact the game was very ordinary, with neither side making any real progress.  The tall, strong Swan was real stumbling block in the centre for Everton and he took the ball of Shackleton's toe to start an upfield surge, which ended in Labone heading the ball back to Dunlop as Hill ran in.
Harris Penalized
Springett the new Football League goalkeeper, had little chance to show his ability so poor had been Everton's attacking.  But when Collins swing in a corner very close to him, he looked in trouble with Jimmy Harris was penalized for a foul.  It was left to Brian Harris to take up Wignall's pass, and deliver Everton's best shot so far –showing the paucity of the home forwards.  In fact the crowd was getting more than a little restive at their lack of ideas.  When Wednesday attacked they always looked the more dangerous.  So it proved when Froggatt causally worked his way through before passing to Finney who beat King and lashed in a fierce shot, Dunlop saved at full length but the ball ran out to Hill who headed into the empty neat, after 25 minutes.  Wednesday, deserved this lead and they were almost two up within a minute when Dunlop misfielded a long lob from McAnerney and was lucky to see the ball strike the angle of the bar and upright as it slipped from his grasp.  The double "F" plan of Finney and Froggatt was tearing Everton's suspect looking defence to pieces.  Froggatt brought the ball down beautiful to take a left foot shot in a flash which Dunlop saved well.  And then Wednesday's right wing showed that they too could get into the act with a brilliant triangular movement, spoiled only by the final pass by Fantham.  Wilkinson went off on the half hour to have a left ankle injury attended to but his absence did not alter the trend of events with Wednesday much the more polished and clever side.  Square passing between Collins and King looked to be getting nowhere until King lobbed one over and Wignall's header flashed inches wide.  Wilkinson returned after a couple of minutes in time for a free kick for a foul by Swan or Hickson.  This incident gave Springett his first chance to shine and he came out beautifully to snatch Sander's kick off the head of Jimmy Harris.  Shackleton did not look happy on the wing and Martin had him completely tied up.  Curtis slipped up when he tried a fancy back heel only a couple of yards from the goal line and the ball rebounded for Wignall to try a first class shot which was so off target that it was for a throw in on the far side of the field.  Everton were now doing more of the pressing, without ever showing the same constructive ideas as their opponents.  Just on half-time Hickson took advantage of a faulty Wednesday pass to cross the ball for the in-running Wignall, who flicked it just wide of the upright as Sprigett came out to challenge. 
Half-time; Everton nil, Sheffield Wednesday 1.
Undoubtedly the loudest applause of the match came for the kilted band of the Liverpool Scottish, who played and marched on the pitch during the interval.  The music must have inspired Everton for they launched a quick raid, with King taking a pass from Hickson and hitting the upright with Springett beaten.  Everton continued the pressure and in one attack with the ball bobbing from head to head for seconds on end, the move finally halted with a foul by Jimmy Harris on Swan.  The long leg of Swan was there again to cut off a good looking shot by Brian Harris when Hickson podded the ball back to him and for the first time in the game Everton's supporters had something to shout about.  But after this brief flurry of excitement the game slipped back again, with Everton failing to make any real headway against a quick tackling and competent-looking Wednesday defence.  Everton's passes were frequently "telegraphed" and when they weren't they were more often than not off the mark.  Wednesday's attacks were always more threatening in their composed, simple methods than Everton's more frenzied efforts. 
Nightmare Match.
Labone had to be quick to concede a corner when the ball came over dangerously from Finney and Sanders who was having a nightmare match against Finney, almost beat Dunlop with a back header.  Collins was always trying to get his line moving and he once pushed the ball back for Brian Harris to take a quick shot which sailed yards over the bar.  The crowd was becoming very ironical over some of Everton's work, for their passing has been very poor and they showed a complete lack of ideas offensively to get anywhere.  Then like a bolt from the blue Everton got an equalizing goal from new boy Shackleton –his first for the team – after 70 minutes.  The move built up from deep in defence, with Jimmy Harris pushing the ball through for Collins in the outside right position and the cross was met by Shackleton who glanced it past Springett from the finest of angles with a neat header.  This had the desired effect for within a minute Collins loosed a thundering shot from 25 yards which hit the cross bar and slipped over.  I thought Wednesday were at fault in thinking that a one-goal lead was sufficient to win this match for now Everton were playing like an inspired side.  It was remarkable that Shackleton, who had been one of the failures in Everton's side up to this point should snatch such a valuable goal.  Curtis who had been playing superbly came to his side's rescue when he cut across to take the ball off Collins toe when the Scott was clean through with only Springett to beat.  But Wednesday were not done with yet, and when Dunlop dropped a corner from Froggatt, Finney found his quick shot being deflected luckily by Sanders just wide.  Slackness in the Wednesday defence allowed Hickson to slip the ball across for Shackleton to make this a memorable game for himself by scoring a leading goal for Everton one minute from time.  with only seconds to go Hickson put the ball into the net, but it was disallowed for a handling offence.  Final; Everton 2, Sheffield Wednesday 1. 
IT'S GREAT –OUR FIRST VICTORY
Saturday, September 19, 1959, The Liverpool Echo and Evening Express
Everton's Alex Parker Looks Back at the Blackburn Triump
Well, we've done it.  Or rather they've done it.  That's what I said to myself as I came down the steps of the big Goodison stand last Wednesday night after the Blackburn Rovers game.  It's a great feeling to get that first win of the season on the record sheet.  It wasn't only the victory that pleased the boy so much but the matter in which it was gained.  Despite the disappointing results in the early matches, Mr. Carey has insisted on our playing football and on Wednesday the result was there for all to see. Admittedly we had a bit more luck with the run of the ball than we've been used to but they say that good fortune evens itself out over the season, and even on the score we must still have some owing to us.  Besides in the home game with Burnley, our team had to play with 10 men.  Even allowing for the injury to Whelan I am convinced Everton would have won.  Some people said that Blackburn did not play up to form, but teams only play as well as they are allowed and it must be remembered that until last Saturday, Rovers were unbeaten.  After such a great all round display, I would not like to pick anybody out for special mention, but from what I heard from the fans around me, Alan Shackleton passed the stiff test of making his first appearance before the home supporters.  Before the game was talking the Rovers outside-left Ally McLeod.  I played against him when he was with Third Lanark and St. Mirren.  I also renewed acquaintance with ex-Army colleagues Dave Whelan and Peter Dobing.  I introduction Peter to our trainer, Gordon Watson and the Rovers player told us he had played with Gordon's son for an Army unit.  They are both stationed at Fulwood Barracks in Preston.  The difference is that Peter has only 19 weeks to do, Watson, junior has 100 to go. 
Friendship!
Matt Woods, Rovers, centre-half popped into the Everton dressing room before the game to speak to some of his former colleagues and then, after wishing them all the best went out and played like an international to try to stop us winning.  That's a friendship for you.  As I write I don't know whether I shall be fit for selection for the Sheffield Wednesday match.  I've been having heat treatment and massage this week, and on Monday put football boots on and had a kick around.  However, Everton are unbeaten in the three matches, I've missed.  Maybe there's something in that saying; "Drop Parker and strengthened the team."  Last week's match at Forest was quite an enjoyable one for me, even though I didn't play.  It was quite a gathering of the clans before the match with Bobby Collins and I speaking to fellow Scots Joe McDonald, Stewart Imlach, John Quigley and Bob McKinlay, and the Scottish selectors, being present in addition we gained our first away point.  On the Friday, before the game our manager met us at Leek with Alan Shackleton.  We were having a cup of tea when Mr. Carey came in and introduced Alan to the lads and he was soon made to feel at home. 
Wonderful Gesture
Members of the Everton Supporters Federation have visited the young Bolton programme seller, Charlton Massey, who was beaten up by hooligans.  Well, the supporters Federation have invited Carlton Massey and his young brother to visit Goodison at the Federation's expense for the return game on January 2.  I think this is a wonderful gesture and sincerely hope the youngster enjoys his trip.  He will learn that the louts at whose hands and feet he suffered are only a minority of people who follow Everton and for my part I will get him all the Everton player's autographs and give them to him on the day of the match.  I am sending the boy a copy of this article and look  forward to seeing him on January 2.  When I invited you to drop me a line I never realized just how many people would take me up on it.  This Football Echo certainly gets around I've heard from people in Australia, Ireland, different parts of England and Wales, not to mention all those from Merseyside. 
Enjoyed Them
I have greatly enjoyed reading them, and as you can see, have given extracts from some this week.  Much as I would like to, I can't possibly give them all due to the shortage of space.  I know the Football Echo is a big paper, but it's not THAT big.  Some omitted to give their names and addresses although I can't think why.  You know mine, and although I don't like giving the anonymous ones, I have stretched a point and included one from Australia, I think he deserves I after taking the trouble to write from that distance.  I even had some from Liverpool supporters, and believe it or not they were quite nice.  Not one insult among the lot.  Anyway, if you feel like writing you can contact me c/p the Sports Department, Liverpool Echo, Victoria Street, Liverpool 1, and if I have the space I will include it in my article. 
Parker Pen Pals
I was born within the sounds of the "Goodison Roar" and believe me the cheers could be heard in Netherfield Road in the years 1923-39 .  Will the mile radius roar come back?  I say never before in the history of the club do so few need so much encouragement from so many –John Hankin, 19 Roden Street, Liverpool 5.
Your plea, for the return of the "Goodison Roar" is very welcome.  Useless you have actually experienced it you have no idea of just how encouraging it is to know the crowd are behind you.  You need only recall that teams invariably win more matches at home than they do away. 
I am an Englishmen in Australia but still call myself a True Blue, and despite being so far from home I still look forward to the football season.  I read your articles every week and they are very interesting for all the Evertonians out here.  A SCOUSER (True Blue), New South Wales, Australia.
You scousers seem to get everywhere, I didn't realize that my articles were read so far from home.  Glad that you and your fellow Evertonians find them so interesting.  Thanks for the good wishes.
There has been an argument at work about an Under-23 match at Goodison Park.  I say you played full back and that Alan A'Court was outside left for England I think it was a foggy night and that England won.  Ronnie Shaw, 18 Howley Street, Liverpool 4.
You are quite correct.  The match was on January 15 last year and Alan A'Court was outside left, although we didn't see much of each other due to the fog which was about the thickest, I've ever played in.  England beat us 3-1 but don't spread that around. I've not used your comments on the Everton-Liverpool cup-, as I don't think our supporters would like to be reminded. 
It seems to me that you are a kopite, judging by the number of times, you go to watch games at Anfield.  You should play the first half of your games in a blue shirt and come out after the interval in a red one.  Ron and Ted, 10 Dewlands Road, Seaforth. 
Before I go any further, I should point out that the above letter was written in a light-hearted manner, and I'll be listening for the cheers, they promised us.  Well, boys, if you are in any doubt bout which team I favour, come along and watch the next "Derby" match.  P.S. Ys, I have read some good books lately.  I've been glancing at a painters colour chart, I'm going to point the house red and blue. 
You made a statement with which I am unable to agree.  Harry Cooke was seldom in the first team infact I can't ever remember him playing for the League side.  I like to think that a memorial to those two great ex-Everton players William Scott and Val Harris, can still be seen in every game played today, I refer to the distinctive jerseys worn by the goalkeeper.  This stems from an incident at Chelsea in the 1908-0 season when, during a scrimmage in the Everton goalmouth the ball was fisted out and the referee gave a penalty.  He alleged that Harris was the culprit, and gave the penalty despite protests from both players.  It was soon after this that the law was brought in stating that goalkeepers had to wear a different coloured jersey from the rest of the team.  H=John Sudlo," Drumiller, Dromore, Co Down, Northern Ireland. 
Actually I didn't say Harry Cooke had played for Everton, I said he was twelfth man for the Cup winning team of 1906.  However, Harry tells me he did play a few games for the first team, plus a couple of Cup rounds, and the club presented him with  a special medal. I have given your remarks about the goalkeeper's jersey as I think
STOKE RES V EVERTON RES
Saturday, September 19, 1959. The Liverpool Echo and Evening Express
Stoke Reserves;- Hall; Rayner, Wilson (R.); Cairns, Andrews, Sketch; Conway, Thursfield, Ward (D.), Howitt, Wallace.  Everton Reserves- O'Neill; Tansey, Bramwell; Rea, Billington, Meagan; Boner, Peat, Hood, Ashworth, Laverick.  Referee; Mr. R.D. Kirk (Nottingham).  The first serious move came from the Stoke left wing when Wallace centred but O'Neill just beat the ball –a very close thing.  Stoke were having more of the game, but they met resolute defence, and O'Neill was not seriously troubled.  Boner did well to put across a perfect centre, but Peat did not connect and a good chance was lost.  In the first 15 minutes Hall, in the Stoke goal, had not had a shot to save.  Conway beat Bramwell, but his centre was intercepted by Billington and the danger was cleared.  Ashworth tried hard to get through and was unfortunate to see his shot diverted with Hall going the wrong way.  A free kick to Stoke brought danger, but again O'Neill saved well by the post, with Ward in close attendance.  It had been a colourless first half, the only redeeming feature being the sound defensive play of the Blues against a superior attack.  Half-time; Stoke Reserves nil, Everton Reserves nil. 
SHACKLETON'S GOALS SAVE EVERTON
Monday, September 21, 1959. The Liverpool Daily Post
By Jack Rowe
Everton 2, Sheffield Wednesday 1
Whatever else may be wrong with Everton –and sections of the crowd at Goodison Park thought, at times, there was much to be rectified –few can suggest, on this showing anyway, that they are in need of fighting spirit.  For seventy minutes there seemed little prospect of a point, yet in the end they collected two, a victory which has taken them from the bottom positions of the First Division.  Against a much changed and weakened Wednesday, they had shaped nothing like as well as they did last Wednesday night when Blackburn Rovers, were beaten and largely had taken a secondary role to Harry Catterick's side, which, if not outstanding sufficient football skill and a greater urgency which made them well worth the goal lead which Hill gave them in the twenty-sixth minutes.  All the hard work of Collins, the drive of Brian Harris and the solidity of Labone and Jones were unavailing because the rest of the team had such a lethargic look that one began to doubt whether anything could shake them up.  That lasted for seventy minutes even if Wignall did miss a good chance before the interval, and the rest of the attack switched and swiveled without doing a thing which justified any contention that the future could be brighter. 
Shackleton Forgiven
Wednesday earlier contribution was a little better because they had more method but rarely did the game reach a standard which spectators are entitled to expect from a First Division fixture.  Fortunately, from an Everton viewpoint, there was redemption in the last twenty minutes and supporters willingly forgave the winning shortcomings of Alan Shackleton, the recent signing from Leeds United when he scored the goals which made this win possible.  Hill's goal was taken coolly when Dunlop did all that could be expected in thrusting up his hands at a short range drive from Finney, leaving the scorer with the simple task of heading in and Everton had their moment of real luck when the goalkeeper, in the next minute mishandled a centre from Wilkinson, who was at half speed for most of the last hour with a leg injury and then caught the ball as it rebound from the bar.  Another goal then and Wednesday must have won because Froggatt at centre forward for the absent Shiner, was playing cleverly and Finney looked to be a match winner, for he had the beating of Sanders.  But full use was not made of Finney, so that Everton were able to start the second half still only one down.  It brought nothing except frustration and Wednesday were beginning to assume control again in spite of all that Collins and Brian Harris could do when in the 70th minute, Sanders side footed a long pass down the right and Collins picked it up to hook over a centre which Shackleton headed into the opposite corner from a narrow angle. 
Hard On Wednesday
Shackleton, by the time was spending more time in the middle and four minutes from the end he flashed through to take King's crossfield pass and took such deliberate aim that Springett never had a chance.  Before this Collins had missed when he distained a first time shot in front of goal and when he did shoot later the ball smacked the top of the bar on its way into the crowd.  Maybe it was hard on Wednesday, not getting a point, but it would have been harder on Collins, Brian Harris, Labone, and Jones, if Everton had not got one.  These four were outstanding and Labone's performance at centre half was most meritorious because Froggatt is still a fine player, but even he could not shake this young man.  Hickson made a vital contribution in the fact that when Shackleton got his goals the long-legged and strong centre half Swan, had been drawn out of position.  The chief satisfaction for Everton is that they took two more points and that Shackleton showed he can get goals.  The complete answer is still far away, but I feel the reconstructed defence, with Parker back, and the chances are he will be fit for the Blackburn game tonight could eliminate a lot of the misgivings, Labone is playing too well to be moved and Jones has fitted in at left back in a way which suggests more solidarity when Parker returns.  Harris (J.), Wignall, Hickson, Collins and Shackleton, forwards.  Sheffield Wednesday;- Springett, goal; Martin and Curtis, backs; McAnearney, Swan and Gibson, half-backs; Wilkinson, Hill, Froggatt, Fantham and Finney, forwards.  Referee; Mr. C.W. Kingston, Newport Mon. Attendance 37,375.
EVERTON WAIT FOR J. HARRIS
Monday, September 21, 1959. The Liverpool Daily Post
By Horace Yates
Everton, who play their return game with Blackburn Rovers, at Ewood Park this evening will not announce their side until a few hours before the game.  Jimmy Harris, who pulled a calf muscle in Saturday's match with Sheffield Wednesday, found the injury quite painful yesterday and received treatment.  Until manager John Carey sees how the injury has reacted to the treatment today, he cannot make a decision.  There will also be a last minute decision about Alec Parker, Scottish international right back, who has not played since the beginning of this month, when he damaged an ankle against Burnley.  Mr. Carey is not without hope that Parker may be available.
Blackburn Unchanged
Blackburn Rovers are expected to make no change from the side which drew with Arsenal on Saturday.  Eckersley, the former England player, will be left back in place of the injured Whelan and Isherwood will probably play again at inside left in place of Vernon who is recovering from an operation for appendicitis.  Probable team;- Leyland; Taylor, Eckersey; Clayton (R.), Woods, McGrath; Douglas, Dobing, Dougan, Isherwood, Macleod. 
Since Falkirk let it be known that there had been a change of heart about allowing inside forward John White to move, several clubs have shown interest in varying degrees, but the sting was in the tail when Falkirk stated the fee they require for him -£30,000.  Manager Carey and Manager Phil Taylor of Liverpool, sat side by side at a pre-season match in Scotland in which White was playing, but there is no indication that Liverpool  will make any attempt to sign him –at least not at anything like that figure.  When I asked Mr. Carey whether or not Everton were interested in White, he replied "There is no likelihood of anything developing in the immediate future." 
SHACKLETON ANSWERED CRITICS WITH TWO GOALS
Monday, September 21, 1959. The Liverpool Echo and Evening Express
By Leslie Edwards
If you want to please your supporters don't play the better football – just win! That is an inescapable, conclusion about football today.  People judge things purely on results.  That is why the Everton team which got such a verbal hammering from their fans during the interval walked off triumphantly against Sheffield Wednesday.  They had come from one-nil down to two-one up.  All was well.  Were they luckily?  In a sense yes.  But I prefer to think that Sheffield Wednesday only got what they deserved for making, the mistake of not putting more than a goal between them and their rivals in their long period of supremacy.  They should have won and might have if they had got a second goal (Instead of hitting the goal angle) immediately after Hill had nodded them into the lead instead they left the way open for an Everton revival what brought the fifth point out of six in the space of eight days.  Everton scored twice, had the ball in the net a third time (from a brilliant shot by Hickson) and hit bar and post so that improved second-half wiped out the memory of the most disappointing first forty-five minutes in which spectators fought off (praise be!) the temptation to give their side the slow hand-clap.  How ironic that new boy Shackleton told so often by some raucous voice to "Wake up" should get both Everton goals.  When I offered to bet both Press-box neightbours that if any Everton forward scored it would be Shackleton they scorned the offer and said I must be made of money.  It was just a hunch.  And the man doing rather badly would save his and Everton's face. 
Seized His Chances
True, Shackleton showed up moderately against the tall reserve backs, Martin.  But he did seize his chances, first with a glancing header from a Collins centre from the right and then with a hard-hit shot, close in, after Hickson had refused to be beaten "in the air."  Neither of these goals was as good as the one Hill got to put Wednesday into the lead.  Finney's feinting run opened the defence so completely he was able to close on goal and leave Dunlop only an outside chance of getting hands to the ball.  This Dunlop did, but he turned, the ball away almost direct to the head of Hill who took his chance exceptionally.  Springett was beaten by a King shot which struck an upright, later Collins, who has remarkable control of the ball with feet head and chest, surprised Springett with a drive which smacked the bar and then bounded over and out of play.  No doubt of it, Wednesday stripped as they were of two of their best, demonstrated the better football skills.  To such an extent that Everton fans, who know good stuff when they see it were left to gain most of the enjoyment from the play of the opposition.  Indeed if Everton had not shaken themselves into some sort of order and got those goals we should have been bewailing another performance like that against Fulham.  What a difference a couple of goals and a couple of points make."  The Everton man who stood out was Brian Harris.  He was in tremendous form and how he stands the racket of going far up-field and being back in position when required only he can say.  This propensity of the wing-half backs to carry the ball up-field, instead of delivering it is-I think a tactical mistake, but one could not quarrel with any part of Brian's contribution and but for his enlivening influence Everton might well have been gonners, as they say. 
One Degree Under
Wednesday's splendidly-linked rounds, of passing were tribute to their manager, Harry Catterick, who was not present owing to a scouting trip in Scotland.  He has some grand forwards and the pity was that his side like Blackburn were handicapped.  Once Wilkinson, on the right, received a knock he was more than one degree under.  Yet the brainy sizeable Redfern  Froggatt aided by Fantham and the brilliant Finney, kept Everton anxious for three parts of the match and must have scored oftener if Everton's early play had not suggested to them that "any old time would do."  Young Brian Labone, still to be on the losing side this season, did exceptionally well in aerial challenge to Froggatt and one must forget that he is but 19 years of age and thus a babe in a football sense, Sanders did not please everyone and particularly, when he indulged himself, in an unnecessary midfield bit of jugglery but he and Jones at least did sufficient to prevent a succession of attacks from having any tangible sequel.  I liked young Wignall's far-flung pass his Sharp shooting on the turn his use of the ball and even though he still needs that little sharpening he looks, a fine player in prospect, Shackleton except for his goals had an ordinary match and one in which he, too, was sometimes a bit lethargic in starting off for the ball.  Hickson's finest moment came when he smashed the ball in for a goal which could not count because the whistle had gone a fraction earlier.  His contribution was mostly of chances made for others rather than chances accepted.  Wednesday are a good side and with old man Curtis playing better than ever it was a quiet day for Jim Harris.  Once again visitors showed us a thing or two in relation to indirect free kicks.  As at Anfield the week before, the crowd laughed when the part was flicked up, rather innocuously over the wall of defenders.  But he rule nearly succeeded and wouldn't our faces have been red again if it had.  Jimmy Harris is a doubtful for tonight's match at Blackburn.  The interesting prospect about this fixture, says reader D. Ross is that if Everton win without allowing Blackburn to score, Everton's jump will be from nineteenth place to a position in the first ten.  What an incentive.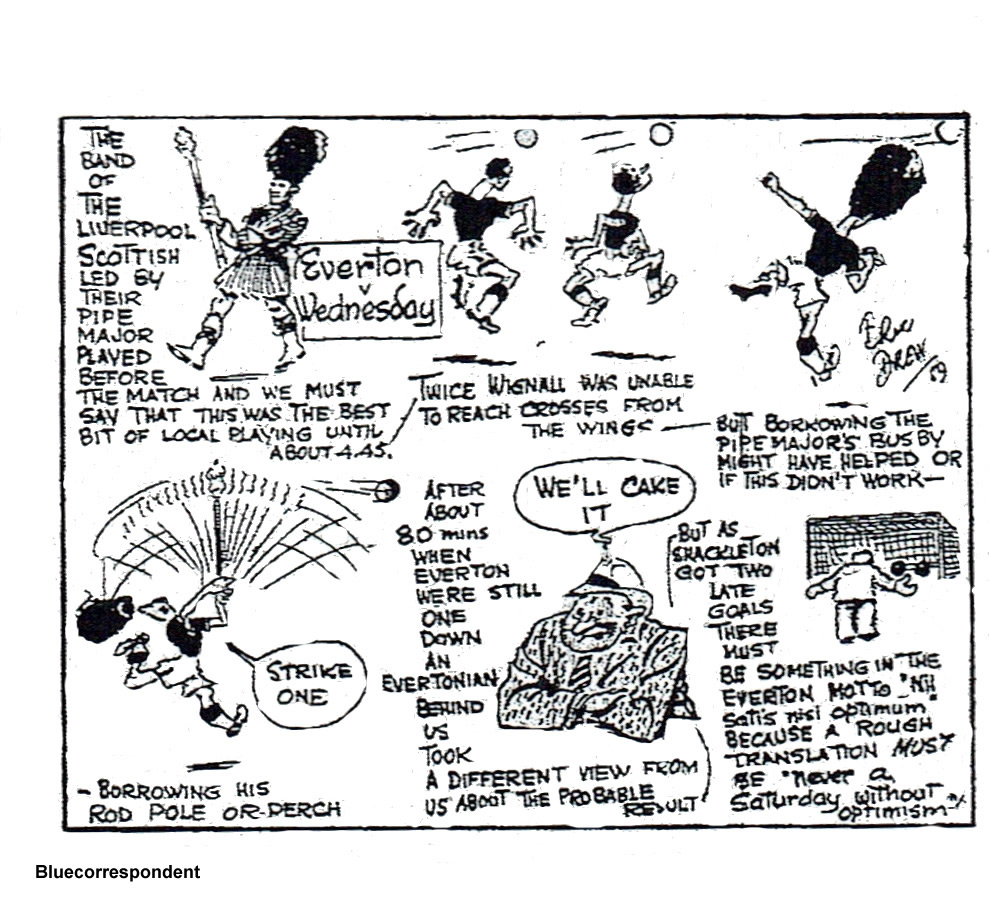 EVERTON PLAY COLLINS ON RIGHT WING
Monday, September 21, 1959. The Liverpool Echo and Evening Express
Injury To Jimmy Harris
Ashworth In
By Leslie Edwards
Everton manager John Carey has been forced to make a starting forward change for the match against Blackburn Rovers at Blackburn, this evening.  Injury to Jim Harris in the game against Sheffield Wednesday on Saturday means that there has been a reshuffle of the attack with Bobby Collins moved to the right wing and the young Southport boy Ashworth brought in at inside-left.  Alex Parker out of the team through injury from the beginning of the month returns a right back to the exclusion of Sanders.  Everton; Dunlop; Parker, Jones, King, Labone, Harris (B); Collins, Wignall, Hickson, Ashworth, Shackleton. 
Blackburn make a shock change too, Brian Douglas their English international out-side right, switches to inside left with Roy Isherwood moving to the right wing.  It will be the first time that Douglas has played inside left since Mr. Carey, former Blackburn manager, converted him to an outside right four years ago.  John Bray makes his League debut, at right back, replacing the injured Ken Taylor.  Blackburn; Leyland; Bray, Eckersley; Clayton (R.), Woods, McGrath; Isherwood, Dobing, Dougan, Douglas, Macleod. 
Hungarians Here
The Hungarians Under-23 players who meet England Under-23 at Goodison Park on Wednesday arrive in London by air late this afternoon and will change planes, reaching Speke this evening at 7.40.  Everton will provide any training facilities' they require tomorrow or on Wednesday at Goodison Park.  The English party assembled today at their Southern head-quarters and will have light training at Southport's ground tonight. 
SHACKLETON'S MISS SEALED FATE OF EVERTON
Tuesday, September 22, 1959. The Liverpool Daily Post
Blackburn Rovers 3, Everton 1
By David Horridge
Everton lost this most entertaining game at Ewood Park last night, but oh how different the final score might have been but for a shocking miss by Shackleton after sixtieth minute when the score was only 2-1.  Hickson found himself, in the clear 15 yards from goal with only Leyland to beat but unselfishly he side-footed the ball to Shackleton who was on the penalty spot.  Unfortunately, the left winger, instead of smashing the ball home, dilled and dallied and allowed Leyland to come out so that when he did decide to shoot he could only tap it past the goalkeeper and also past the post.  Three minutes later McLeod made it 3-1 and it was all over.  Although beaten Everton were far from disgraced.  It is difficult to say how Collins shaped at outside right for he was all over the pitch causing consternation and havoc in the home defence.  He appeared in the other four positions in the attack as frequently as he did on the wing, but his forward colleagues, with the exception of Hickson, were unable to give him the support he deserved.  Hickson is exempt from this criticism as he too had a magnificent game.  His passes with head and feet were a delight to watch, but he too suffered from lack of inside forward support.  Wignall was rarely seen, and Ashworth had one of those matches when little would go right.  Shackleton looked quite dangerous on the occasions in the first half but he too, fell away.
Crackerjack Pace
The defence cannot be blamed in any way, and the miracle is that when Blackburn were pilling on the pressure, as they frequently did, Everton did not give away more goals.  The home team opened at a cracker-jack pace with Clayton (twice), Isherwood and McLeod all going close before the game was ten minutes old.  Then it was Everton's turn with Leyland tipping a twenty-yards shot from Shackleton over the top, and then Hickson making a beautiful diving header to put the ball into the net, only for the referee to rule off-side.  This must have been a near thing.  The thrills continued with Parker kicking off the line from Dobing and Dunlop turning a Dougan header over the bar.  Then came the first goal.  After 25 minutes a beautiful Jones-Hickson-Collins move gave Wignall at outside-right a chance to cut in and his flick into the middle was intercepted by woods hand.  Collins scored from the spot.  Two minutes later Rovers were level, also by the penalty spot.  King handled a ball he could quite easily have headed for a corner, and Douglas beat Dunlop with the resultant spot-kick.  The second half opened in the same vein with Isherwood hitting the crossbar and Dobing nodding as if to bid somebody good-day, also saw his effort hit the bar.  Then Everton went away for Hickson to hit the side netting.  But from one spell of Everton pressure, Eckersley found Dobing on the left wing in the clear.  The inside-right took the ball in towards the goal, beat Labone and hit a hard low cross into the middle, Dunlop could only beat it out, and Dougan was on the spot to turn the ball into the net.  This was after 54 minutes. 
Parting Shot
Everton were still in the game with a chance, but Shackleton's miss was really their parting shot, if you'll pardon the pun, and after sixty-nine minutes, McLeod whipped home No 3, from Douglas' pass.  For the first hour Everton played better than they have done all season.  The wing halves apart from the opening ten minutes had a firm grip on Rovers' inside-men, and were also, finding time to feed their forwards, but all too often they found the ball coming back to them, and this in time told it's tale.  Labone kept the tall Dougan reasonably quiet and Parker, although finding McLeod a rare handiful on occasions, proved that he is back to his best after his injury and Jones showed a surprising turn of speed.  Dunlop could in no way be blamed for the goals and at times saved shots which he could have been well excused for letting through.  But, oh, for two inside-forwards.  Blackburn Rovers;- Leyland; Bray, Eckersley; Clayton, Woods, McGrath; Isherwood, Dobing, Dougan, Douglas, McLeod.  Everton; Dunlop; Parker, Jones; King, Labone, Harris (B); Collins, Wignall, Hickson, Ashworth, Shackleton.  Referee; Mr. K. Howley, of Middlesbrough. 
COLLINS AND PARKER IN SHADOW X1
Monday, September 22, 159. The Liverpool Daily Post
Scotland have included five-Anglo-Scots in their team to play Ireland at Belfast on October 1.  They are Brown and Mackay (Tottenham) Hewie (Charlton), Leggatt (Fulham), and Law (Huddersfield).  Three Anglo-Scots are in the shadow team;- Farm (Blackpool), Parker and Collins (Everton). 
EVERTON'S ATTACK FIRED ON ONLY TWO CYLINDERS
Tuesday, September 22, 1959. The Liverpool Echo and Evening Express
By Michael Charters
Everton manager John Carey took his new club to his old "home" at Blackburn last night to find his one-time team providing a brand of attacking play which he must long to discover among his own players.  Blackburn Rovers, very worthy 3-1 victors of a magnificent match, played with a zest and urgency among their forwards which Everton could only equal defensively.  The simple difference between the sides lay in the fact that Blackburn had five forwards of drive and initiative whereas Everton too often functioned as a two-man line.  The lesson –and the result –was obvious.  Everton's weakness in attack could not have been more clearly pinpointed.  With youngsters Wignall and Ashworth out of their depth in a match of tremendous pace and skill, and Shackleton only occasionally coming into the game, it was left to Hickson and Collins to carry the burden in attack.  Well, as these two played –and I have not seen Hickson particularly do better for ages –they could not hope to pull the game Everton's way on their own.  Everton were weakest where they should be strongest –at inside forward.  Ashworth's lack of experience and drive was painfully apparent at times while Wignall was too often left floundering by the skill of the Blackburn defenders.  Collins worked prodigiously to probe and prod life into the line.  He was outside right in little only, for rarely did he operate on the wing, cutting inside immediately he had possession, leaving Wignall to patrol a lonely beat as his wing partner.  Hickson was excellent in the air, neat is his distribution and did much better than on the occasion of his two goal recall in the Blackburn game at Goodison.  Woods was never his master – and the way the Blackburn centre half is playing these days it takes a good player to worry him. 
At Their Leisure.
Everton's forward deficiencies were so apparent that Blackburn wing halves Clayton (what a player) and McGrath strolled through the game at their leisure and more often than not were up with their forwards to make a seven-man attack.  Had Everton's defenders not been in top-class form I shudder to think what the score might have been.  From goalkeeper to No 6 Everton were excellent and If I had to single anyone out it would be King for a magnificent ninety-minute display of first-rate tackling and better skilly good distribution of the ball.  He was never done better.  But the whole rearguard stood firm and cool under the strongest pressure.  Parker's return brought class and solidity where it was most needed and Jones was soundness personified, Dunlop made a series of superb saves while Labone can look back on this match as the one in which he kept the redoubtable Dougan well subdued for long spells until the long legged Irishman was forced to drift back to escape his clutches.  Harris maintained his great form of the past, few games and I have nothing but praise for the whole Everton defence.  Pity they slaved so hard to serve their attack with so little reward.  Blackburn began with such speed and offensive brilliance that they threatened to sweep Everton out of sight.  Before Everton had launched one effective attack, Dunlop had saved from Clayton and saw Clayton, McLeod, and Isherwood shoot wide.  Jones cut across to take the ball, off Isherwood's foot with the winger clean through and then the storm had been weathered.  Collins stepped in with a beautiful swerving run before passing to Shackleton who cut inside right-back Bray making his League debut, to send in a great shot which Leyland saved superbly.  Within a minute Hickson hurled himself at Wignall's cross to fairly "bullet" the ball past Leyland with a perfect header only to find himself inchs off-side.  Everton were back after the initial Blackburn thrusts and it is to their credit they pulled themselves together when they looked like being overwhelmed. 
First Goal
Douglas (a brilliant inside forward on this display) gave Dobing a perfect chance and Dunlop was beaten by the inside right's shot only to find Parker's excellent positional sense saving the day with a goal-line clearance.  Collins was dragging Everton up by his individual efforts and his inch perfect pass to Wignall gave the youngster an opening.  He tried to cut inside Woods and was moving around him when Woods handled.  A clear cut penalty award and Collins stepped up to score his first goal of the season.  That was after 35 minutes, and two minutes later Blackburn equalized from another penalty when King handled needlessly, I thought, for Douglas to score with the same certainty as Collins had done.  Everton had done well to hold the score to 1-1 at the interval.  After that the pace and general superiority of the home forwards began to weave its inevitable pattern and Everton's attack slipped further and further away until it almost disappeared.  Isherwood hit the crossbar and Dobing headed the rebound on to the bar in one fantastic attack which cut Everton's defence to ribbons.  But after 54 minutes veteran back Eckerlsey, still a beautiful passer of the ball slid one 40 yards to Dobing, who raced on, drew the defence to the left and passed inside for Dougan to shot home on the turn. 
Unselfish
Everton's one great chance of an equalizer followed twelve minutes later when Hickson most unselfishly turned the ball back for the unmarked Shackleton when he might himself have scored.  Shackleton delayed his shot too long and allowed Leyland to come out to intercept.  From that moment on it was all Blackburn.  Three minutes afterwards Douglas cut through to lay one on for Mcleod and the winger made no mistake.  Valiantly did Everton's defence struggle to keep the rampant Blackburn forwards from scoring again.  It is typical of the oddity of football that Everton in many ways played far better than they did against Sheffield Wednesday when they won 2-1.  Some of their passing, their ideas and tactical sense were first rate, but a forward line functioned on two cylinders, will never get the goals.  The game last night, however, was a happy advertisement for First Division football, watched by League president Joe Richards of Barnsley and a host of big named managers including Matt Busby, Ron Stuart and Bill Riddling.  They must have enjoyed their busman's holiday, for here was a game to thrill, not bore. 
LANGUAGE BARRIER HITS HUNGARIANS
Tuesday, September 22, 1959. The Liverpool Echo and Evening Express
Under-23 Footballers
Everton Signing
By Leslie Edwards
The Hungarian Under-23 footballers who meet England's Under-23 brigade at Goodison Park tomorrow evening started off on the wrong foot when they arrived at their Liverpool hotel last night.  The interpreter arranged for them had not arrived.  None of the Hungarians speak English and there was some pantomime and some clever interpreting by a German waiter employed at the hotel before the party were settled in.  This morning the interpreter was still missing and when I spoke to the players before they set off on a sight-seeing tour they received my questions blankly.  They look the typical touring soccer players, with open-necked shirts and a lively interest in all the new things of a country many of them had never visited before.  They are due at Goodison Park this evening for a spell of training on the practice pitch, under lights.  Their team is likely to be Szenfmihalyt; Werner, Oryran; Novak, Nagy, Solymosl; Keglowich, Pal, Monostor, Rakosi, Matesk. 
Everton Signing
Rhyl 16-years-old wonder boy inside left Stan Edwards, has signed amateur forms for Everton.  The news came as a complete shock to Rhyl manager Mr. George Milligan, the former Everton player, who said yesterday that the player had not only failed to notify him but had also not told his father. 
HUNGARIANS WILL POSE BIG TEST FOR OUR UNDER-23'S
Wednesday, September 23, 1959. The Liverpool Echo and Evening Express
By Leslie Edwards
Time was when the provinces (and Anfield and Goodison Park) got a very good share of representative matches.  Now, with the emphasis so much on London and Wembley we are rather left in the cold.  That is why tonight's match at the Everton ground between the Under-23's of England and Hungary has attracted such attention.  The fame of Hungary following their never-t0-be-forgotten victory over us at Wembley a few seasons ago is so compelling I think tonight's attendance will surprise everyone.  That the Continentals have learned their football lessons thoroughly is beyond doubt; indeed I count myself among those who think it is time we began to learn from them.  No one knows a great deal about England's opponents o this evening, but the certainty that they have been trained in the hardest of schools and that they are young and fit, make them formidable opponents.  If our young men can beat them, I shall be surprised.  A pity we have no young players in this city thought good enough to go into the England team, though Jimmy Melia is named as reserve.  From a Northern point of view it is not an attractive side.  But when London has most of the good players going it is hardly surprising that city is so well represented. 
Macedo Fit
Mecedo, the goalkeeper who played so well on the same ground a week or two ago; is fit, following his cut head at Bolton on Saturday, and the other England doubt, Manchester United wing or half-back, McGuinness is also a certain starter now he has recovered from a  damaged knee.  Any match in which the ebullient Bobby Charlton appears, is always one not to be missed and his spilt-second feints and roaring shots could make the occasion memorable.  In the trial at Anfield yesterday, Setters, the West Browmich Albion half-back, who will captain the side tonight looked a tough, knowledgeable skipper out of the Joe Mercer mould.  The young Middleborough boy on the left Holidays, is such a natural and collects hard-hit passes with such aplomb, one looks to him for another show such as he put up at Anfield a week last Saturday.  Trials behind closed doors prove my point that spectators are half the charm of any big soccer match.  Everton and Liverpool fans can join forces this time, to encourage young England to prove that football here is on the up-and-up and not as many suppose on the slide compared with the world standards of others.  England Under 23;- Macedo; Cohen, Allen; Setters, Scott, McGuinness; Brabrook, Greaves, Pointer, Charlton, Holliday. 
VISIT TO CUNARDER BY HUNGARIANS
Wednesday, September 23, 1959. The Liverpool Echo and Evening Express
Comment On Goodison
Everton Wait
By Leslie Edwards
The Hungarian under-23 footballers who meet the English under-23 team at Goodison park this evening are not being over-trained.  They had a trip yesterday afternoon to New Brighton and spent this morning visiting a Cunarder.  The trip to the ship a last minute request, was arranged by Mr. Ike Robinson of the F.A.   The players have already inspected Goodison Park, a ground far better than any they have in their own province.  I gathered that the result of tonight's match is of greater consequence to them than the attendance which is likely to be in the region of 50,000.  Following our paragraph that the Hungarians had no interpreter to help them on arrival, n Echo reader a woman telephoned offering her services.  The fact that the interpreter from the Hungarian Legation in London could not reach Liverpool in time for the team's arrival was no place for him on the plane.
Harris Doubt
Everton F.C manager, Mr. John Carey, will not select his team to play Wolves in Wolverhampton on Saturday until Friday.  There are doubts about Jim Harris who missed the match at Blackburn on Monday and other contingencies.  Two First Division clubs – Luton Ton and Newcastle United –have been told by Grimsby Ton that Jimmy Fell, Town's 23-years-old outside left, is not for sale at the moment. 
EVERTON PLAYER IN WALK-OUT
Wednesday, September 23, 1959. The Liverpool Echo and Evening Express
Jackie Hood Goes Home
Dispute
By Leslie Edwards
Jackie Hood, Everton's young reserve centre forward has walked out on his club and is now at home in Scotland.  His action will be discussed by Everton directors at their board meeting tomorrow evening.  Behind the Hood walk-out is the story of the player who wanted to play in a different position.  Hood, normally a centre forward told the Everton manager, Mr. John Carey that he thought his play would benefit from a move from the centre to one of the inside-forward position.  He was selected in an inside forward position in the third team and this apparently made him set off home straightaway to Glasgow.  Hood, 21 this year, became a full time professional with Everton following his release from the Army in the close season.  He is a rangy type who played quite impressively in the club's only public trial.  One cannot help contrasting Everton's experience in this case with that of their new player from Leeds, Alan Shackleton, who on Saturday played in his third different position in five matches.  When selected for it he said; "I'll play anywhere so long as I can be of service to the club." 
EVERTON'S NEW COLOURS
Thursday, September 24, 1959. The Liverpool Echo and Evening Express
By Michael Charters
Everton played in a new change strip at Blackburn on Monday night –a gold and black outfit, with hooped stockings in Wolves style.  It looked much better than their previous colours of white with thin yellow and blue hopes, which was too much along Rugby League lines to be neat in a soccer sense.  Their new colours did not bring them success but it certainty gave them a workmanlike appearance.  They looked a well turned out side.
Bobby Laverick, now fit after his appendix operation told me at Blackburn that he is making wedding plans.  He was engaged to a local girl last June. 
Brian Harris is also moving along the same lines, for he became engaged last week to Miss Beryl Cupit of Eastham. 
 DISCORDANT HUNGARIAN RHAPSODY
Thursday, September 24, 1959. The Liverpool Echo and Evening Express
By Leslie Edwards
The most disappointing, most ragged, most unsatisfactory representative game I ever saw.  That is the kindest thing I can say of last night's under-par, under-23 international.  The one in which the young Hungarians pulled down their defensive iron curtain and stayed behind it, for nearly 90 minutes, emerging only once or twice to get the game's only goal.  No wonder some of the long suffering crowd booed them off field; no wonder people who had paid ten shillings for a seat felt cheated, no wonder someone shouted mid-way through the second half "Bring On Davy and let's have a football match."  This I thanks to the Hungarians, became a game of supreme frustration with blunt time-washing by the unpronounceable named Hungarian goalkeeper and co-defenders, a travesty of a result the pantomime of a substitute who want a place in the team before the man he was replacing was prepared to come off and enough tugging and pulling and chasing of the player in possession to make the match look like a fifteen a side battle between two teams from some preparatory school.  Or perhaps I am bee lining preparatory schoolboys.  If these occasions are aimed at fostering international goodwill they don't succeed.  On the contrary.  Etc.,
SHACKLETON ONE THE RIGHT
Friday, September 25, 1959. The Liverpool Echo and Evening Express
Everton Changes For Wolves Game
By Leslie Edwards
Shackleton, Everton's newly signed forward, plays in his third different position in five matches when he steps out as an outside right against Wolverhampton Wanderers at Molineux tomorrow.  He joined Everton from Leeds United as a centre forward and played his first match for his new club there at Nottingham a fortnight ago; in the next match against Sheffield Wednesday he was at outside left.  He also played there at Blackburn on Monday.  Other forward changes take Collins to his normal position at inside-left.  Thomas to the inside-right place vice Wignall and Laverick to outside-left for his first League game of the season following a close-season operation for appendicitis.  The defence is unchanged. 
Harris Still Unfit
Jimmy Harris's failure to get fit in time has brought about this forward reshuffle.  Mr. John Carey, the Everton manager, says that Shackleton is happy to play where he can be of best service to his club.  It is felt that Wignall a part-time player who can now train only one night a week, will benefit from a rest.  He is only 19 and has shown enough promise to justify the belief that he will developed into a first-class forward if he is not rushed.  Thomas has been playing well in the Central League side.  It will be interesting to see how the new attack fares in a very testing fixture.  At its face value it looks to me to be the most solid, most experienced front line Everton have fielded this season.  Everton; Dunlop; Parker, Jones, King, Labone, Harris (B); Shackleton, Thomas, Hickson, Collins, Laverick. 
Ron Flowers Wolverhampton's international wing half strained a leg in Belfast on Wednesday and will miss tomorrow's game.  His place is taken by another former international Bill Slater.  Wolves; Finlayson; Stuart, Harris; Camp, Showall, Slater; Lill, Mason, Murray, Broabent, Deeley. 
EVERTON RING CHANGES
Saturday, September 26, 1959. The Liverpool Daily Post
Jimmy Harris failed his fitness test yesterday, and could not be considered for inclusion in the Everton side to visit the champions Wolverhampton Wanderers, a ground on which they have not won since 1954-55 season.  The Wolves won both games last season 1-0.  Wolverhampton is never the most favorable club against which to make experiments, but a forward line, completely reshuffered compared with that which opposed Blackburn, with the exception that Dave Hickson stands fast, in the middle has been forced upon manager John Carey by circumstances.  I cannot say the line fills me with optimum, although it may well be the best that could be fielded from the players available.  When I met Alan Shackleton on the way to Nottingham after his signing a fortnight ago, he said he was quite prepared to play in any position which the club required him; it is a very happy note to sound on joining a new side.  I doubt very much if anybody, most of all Shackleton expected that his first five games would see him occupy three different positions in the forward line.  Yet that is what has happened.  Today Shackleton after starting at centre forward and then spending three games at outside left crosses over to outside right as replacement for Harris. 
Thomas Restored
This is considered to be the time to restore Eddie Thomas at inside right, a decision with which Wignall can scarcely dissent for after a very promising scoring debut, his play has not quite livened up to high hopes.  His turn will surely come again.  Collins returns to his normal inside left berth after an emergency run at outside right.  Back for his first game of the season at outside left is Bobby Laverick, now completely recovered from the close season operation for appendicitis. Bramwell is still finding his feet in the reserve after injury and he may find it very difficult to force his way back, and joining him in the team today is Eddie O'Hara following the injury at Nottingham which terminated a run of six successful first team games.  The Wolves have scored a six and a nine this season, but I am not expecting them to boost their scoring average in any spectacular fashion.  Everton know scoring will be difficult and the Wolves attack may be surprised how hard they will have to work against a defence which prior to the match at Blackburn had conceded only two goals in four games.  The last ten meetings between the clubs have produced definite results.  This would be a very encouraging time for a draw to appear in the records, but maybe that is expecting too much.  Wolverhampton; Finlayson; Stuart, Harris; Camp, Showell, Slater; Lill, Mason, Murray, Broadbent, Deeley.  Everton; Dunlop; Parker, Jones; King, Labone, B. Harris, Shackleton, Thomas, Hickson, Collins, Laverick. 
EVERTON KEPT WOLVES AT BAY UNTIL 51ST MINUTE
Saturday, September 26, 1959. The Liverpool Echo and Evening Express
Wolves 2, Everton 0
By Jack Rowe
Wolverhampton Wanderers;- Finlayson; Stuart, Harris; Slater, Showell, Clamp; Lill, Murray, Broadbent, Deeley.  Everton; Dunlop; Parker, Jones (captain); King, Labone, Harris (B.), Shackleton, Thomas, Hickson, Collins, Laverick.  Referee; Mr. R.E. Smith, (Newport Mon).  Bobby Laverick made his first appearance of the season after his appendicitis operation in a reconstructed Everton attack against wolves at Molyneux today.  He was outside left with Shackleton on the other wing and Eddie Thomas was recalled at inside right.  Wolves were without Flowers who was injured and Slater deputized.  Deeley was in the middle more often the he was on the wing positioned of the Wolves attack began to move with precision , he linked up cleverly with Stuart before hitting the games first shot which swung outside.
Dunlop Save
This was the first clear cut chance of the game so far and certainly frustrated that this Wolves defence was not at all certain in its tactics.  There was much more sureness about the way Lill wended his way through the Everton defence, and Dunlop went down to make the save from the winger's shot, holding the ball well when it looked as though he might have lost control.  Wolves replied repeatedly on the off-side trap, and I thought they were lucky to get away with it when Hickson shot into the net following lovely work by Thomas who was playing really well, but offside it was on the linesman flag so that Hickson's expressions of joy were wasted. 
Sound Defence
Everton's defence, had produced most of the answers to the Wolves attack so far that it was rather surprising when Labone made a slip in attempting to head away so that Broadbent had a chance presented to him but his powerful shot swept across goal and outside although Mason made a great driving effort to reach it.  Deeley was the Wolves forward who was always making progress and he suddenly came on the scene with a wonderful pass inside Jones which left the way completely clear for Lill.  But the winger faced by the out coming Dunlop put his shot outside the far post.  Theer were many misplaced passes from both sides and not a lot of incident although Everton might have got a goal when from Shackleton's corner Hickson tried to make sure instead of shooting first time so that Stuart was finally able to block the ball.  Half-time; Wolves nil, Everton nil. 
The game badly needed a goal to really liven it up but there was no hint of one in the opening stages of the second half in spite of Wolves pressure which broke down against some said work by the Everton defence.  Shackleton was off for a minute or two for treatment for a leg knock and when he came back Laverick lost a chance of going through when Collins but him in the open with a precision pass. 
A Double Blow
Stuart came down to join his forward and he loomed very menacing with a run which took him almost to the line, but Dunlop cut out the intended centre.  In 51 minutes Wolves went ahead with a goal from Broadbent, it was made by Slater who pushed the ball through to Murray and when the centre forward flicked it forward Broadbent was clear.  Although Dunlop came out the England forward's shot went into the net under the diving goalkeeper.  What a difference this goal made to Wolves and in the next seconds Deeley shot inches outside before another goal came in the 53rd minute when Lill crossed a low ball and Broadbent jumped over it so that Clamp was able to come tearing in and beat Dunlop with a cracking low shot from near the edge of the penalty area.  Now the game had really come to life and Collins almost scored with a sensational volleyed shot from fully 35 yards.  It dipped and swerved so deceiving that Finlayson was all at sea as the ball struck the post and rebounded out with Stuart kicking away before Hickson could read it. 
Plenty of Thrills
Almost immediately Collins was shooting again with Finlayson beating the ball away and away went Wolves for Broadbent to drive hard and low from 20 yards out with Dunlop going full length to save.  There were more thrills in the ten minutes after half time than all the first half and Collins added to them with a nice passing move with Thomas, the Scot eventually shooting just over.  Wolves were beginning to play more like champions and a team with European Cup aspirations.  They were starting to cut through speedily and effectively and twice Jones made last seconds interceptions to stop Lill getting a goal.  Indeed the match had increased in tempo and interest with the Wolves supporters appreciating Dunlop's fine leap to turn away a Lill lob in the next attack. 
Dunlop In Form
The supremacy of the Wolves was most evident now and Dunlop, saved Everton twice when he got in the way first of a shot from Deeley and then a header from Broadbent.  Each time the goalkeeper had to fling himself instinctively in the direction the ball was going for the efforts came at him from close in and each time his anticipation and movement was correct.  Wolves though were still ticking to their off-side trap and it almost let them down again for the referee allowed Laverick to go on and Finlayson was fortune to get the cross away for a corner.  Before, this was cleared Laverick should have scored, but put the ball straight at Finlayson and shortly afterwards the Everton left winger had a shot turned over by the Wolves goalkeeper. 
A Near Thing
Everton were certainly showing challenge and they were bit unfortunate not to get a goal when Collins darted through the middle and again Finlayson saved without keeping the ball so that Hickson was able to hit the rebound and see it deflected outside by Showell.  The way Everton had rallied after that devastating Wolves spell was most creditable and fortune was again with the Wolves when Shackleton bore through on the right and Laverick hooked in his low centre only to see Finlayson in the way to stop the ball going into the net although I suspect he knew little about it.  Another save by Dunlop this time from Murray was first class and as Everton kept fighting Shackleton could not quite get the ball to his liking when Thomas "chipped" it over.  Final; Wolves 2, Everton nil. 
EVERTON TAKE TRAINING TIP, FROM MAGYARS
September 26, 1959. The Liverpool Echo and Evening Express
Alex Parker in a Gathering of the Clans at Goodison
As a result of the Hungarian Under-23 teams visit to Goodison, Everton are now using some of the Magyars training methods.  Last Tuesday they trained on our ground, and so impressed were Gordon Watson and our training staff with their sessions that they decided to put them to the test last Thursday at Bellefield, our training ground.  For obvious reasons I can't say what they are, but they have proved most interesting.  By the way, looking after the England team and the Everton boys gave him a cheer the first time he was called on to the pitch.  Like many others I was disappointed with the game, but gained some consolation from the fact that I renewed acquaintance with a number of soccer personalities had not seen for some time.  In fact there were more stars watching the match than there was taking part.  Before the kick-off, I was talking to Willie Cunningham and Tommy Finney, of Preston, Albert Quixall and Dennis Voilett of Manchester United, Andy Kerr of Manchester City, and Billy Liddell.  Andy Kerr, who was transferred from Patrick Thistle in the close season, told me how impressed he as with English soccer.   Tommy Finney, Billy Liddell and I had been chatting for a few minutes before I realized that we all contributed to the Football Echo.  I asked Tom about his injury and he said that he felt O.K and was hoping to return to his best form soon.  I met the above in Goodison Road and as you can see, it was an autograph hunter's paradise-but there were none to be seen.  They were all probably too anxious to get into the ground. 
Bolton Contingent
When I was in the stand, I saw Brian Edwards, Tommy Banks, and other Bolton players, in addition to Dennis Law of Huddersfield, and his manager, Mr. Shankly.  Mr. Shanky told me that towards the end of last season he signed an old Falkirk colleague of mine, Willie Sinclair, an inside forward.  However, before he had kicked a ball for the Yorkshire club, he had a cartilage operation, followed by another for appendicitis.  He is now fit and should soon be challenging for a first team place.  I also noticed our manager, Mr. Carey with his old friend Mr. Matt Busby, and then there were all the Everton and Liverpool players.  Although we lost at Blackburn last Monday night, I really enjoyed the match as it marked my return to the first team after injury, and I'm sure we will play worse this season and win.  I though Everton did well, but we were unlucky in meeting a side that also hit its form, and not many teams will come away from Ewood Park with bonus money if they met the Rovers in that mood.  I was asked after the game why Bobby Collins took our penalty kick instead of me.  The answer's simple, I take penalties with my right foot and as it was my right ankle I hurt, I thought it safer if somebody else took it, so I asked Bobby.  He said yes, and made no mistake.
The Blitz
For the first quarter of an hour, there was only one team in it, and it wasn't Everton.  It was similar to the blitz we encountered at Burnley a few weeks ago, but thanks to Albert Dunlop, and some bad misses we kept them out.  Then it was our turn Alan Shackleton had a great shot turned over the top ad Dave Hickson had a beautiful headed goal disallowed for offside.  That's how the first half went, and the excitement continued after the interval, but there's no denying that once Rovers got their second goal they were the better side.  So Mr. Carey's post v present ended all square –two points and three goals each.  I was surprised at the number of Evertonians we saw on the way to Blackburn and although they must have been disappointed at the result, I think the game was well worth seeing.  There was a coincidence about the two surprise switches in the teams, Brian Douglas, the English international outside right was moved to inside left, and Bobby Collins the Scottish International inside left was moved to outside right.  However, neither was really strange to the switch, as Brian started his career as an inside-forward and Bobby played many times in the No. 7 shirt for Celtic.  I have made no secret of my wish to get back into the Scottish team, so you can imagine that it was a pleasant surprise to learn that I had been named in Scotland's "shadow 11" for the match with Ireland 11's a step in the right direction. 
Big Honour
During the week I saw an article in a national newspaper in which Matt Busby named his world side.  I sat down to read it in the belief that it would prove interesting but little did I realize just how u=interesting.  It was one of the biggest surprises of my life when I say my own name included alongside those of Santos (Brazil) John Charles, Kocsis, Di Stenfano, Puskas, Gento, Mackay, Clayton, Tauntmann, and Tommy Finney.  Despite the fact that I have no cap medal or trophy to show for it, I will always regard that as one of the biggest honours of my career.  Although I am not certain of the players age, I should think I am about the youngest in that team, but such is their ability I think they could probably carry one "baby."  Those letters are still coming in and although there have been none from as far away as Australia they are arriving from all parts of England.  You can get some idea what I mean from the three I have included this week.  Don't forget if you feet you have something you would like to see printed in this column send it to me c/o Sports Department, Liverpool Echo, Victoria Street, Liverpool. 
Parker Pen Pals
Just a line to say how much I enjoy reading your article in the football Echo.  When I am home in Formby I watch all your home matches and as many away fixtures as I can manage, I won't be home again until October 31, but I am going to Leeds in a fortnight to see you play there, so Everton will have at least one cheering for them.  Miss Colette Blundell, Endsleigh Training College, Beverley High Road, Hull Yorks. 
Female fans too 'You're most welcome nevertheless.  It's nice to hear you'll be at Leeds, but knowing our fans the way I do I don't think you'll be cheering on your own. 
I am an Everton supporter and get the Football echo sent to me every week.  I saw your first game for Everton at Villa Park.  What a match!  I only live 12 miles from Wolverhampton so am looking forward to seeing you play the Wolves –Mike Emery, Shifnal, Shrosphere.
No wonder we seem to have plenty of supporters at away matches I thought they all travelled from Merseyside but apparently we have fans all over the country ready to cheer for us. 
John Connelly, Burnley's outside-right to whom you referred in your article two weeks ago comes from this village.  His home is 40 yards from mine, and his friend, John Quinn also an outside right played at Goodison recently for Sheffield Wednesday Reserves.  Incidentally, when Peter Farrell came here some years ago to give a lecture he confessed to me that when he saw the name of our village on the invitation he thought it was sent by a "wise-guy" incidentally a next-door neighbor of mine named Briscoe partnered the great Scottish international Tommy Walker in the Hearts team before the war.-Sam Whittall, 7 Hall-Street, Clock Face, St. Helens.
I must admit that I thought your part at the world bred Rugby League players only, but apparently they have given soccer some stars as well, particularly outside-rights.  It's quite an achievement for a mining village in a Rugby League stronghold.  Incidentally, I found the rest of your letter very interesting.  Maybe you're more Scottish than I am. 
EVERTON RES V MAN CITY RES
Saturday, September 26, 1959. The Liverpool Echo and Evening Express
Everton Res; O'Neill; Sanders, Bramwell; Rea, Billington, Meagan; Boner, Peat, Wignall, Ashworth, O'Hara.  Manchester City Res; Fleet; Brangan, Ewing, Oakes; Greenall, Shawcross, Fagan, Lister, Kerr, Dyson, Fidler.  Referee; Mr. G.M. Lockett, Stoke-on-Trent. 
Everton went straight into the attack which they maintained for several minutes with the City goalkeeper having to clear his lines on no fewer than four occasions.  After only seven minutes' play the City were unfortunate to lose Shawcross who sustained a cut over his right eye.  Just after O'Neill had saved a header from Kerr, Ashworth put Everton ahead in the 14th minute with Shawcross waiting to return to the field.  In the 33rd minute Wignall increased Everton's lead and a few minutes later he hit the underside of the bar with the ball rebounding to safely.  The City's best effort was when Kerr lobbed the ball inches over the bar with O'Neill out of his goal.  Half-time; Everton Reserve 2, Manchester City Reserve nil.
EVERTON DEBT TO COLLINS
Monday September 28, 1959. The Liverpool Daily Post
Wolverhampton Wanderers 2, Everton 0
By Jack Rowe
When the Wolves turn on the heat they can riddle any defence in the country.  They turned it on for about fifteen minutes at the start of the second half of this game, scored two goals in three minutes and only superlative saves by Dunlop prevented them from smashing Everton beyond any hope of a recovery.  Everton did not recover enough to get a point, but the strange thing was that in the last half hour with a little bit of luck they could easily have scored three times.  That they were able to rally at all after the fierce spell by the Wolves was commendable and if their goal had been under siege to a point where one expected the Molineux men to run riot they too had occasion to shake their heads in amazement when the ball did not go into the home net.  There was the fantastic near 35 yards volleyed drive from Collins which dipped and swerved so much that Wolves goalkeeper Finlayson was flat on his face as the ball struck the inside of the post and spun out instead of over the line; there were two close range efforts from Laverick which went straight at and hit the goalkeeper and another time the Everton left winger saw his drive fingered over by Finlayson.  All this happened after Wolves had scored their goals and Dunlop had been in the way of others, so that Everton did not come away without a fight and the knowledge that the ball did not run too kindly for them.  Yet on the general picture, it is doubtful whether a point for Everton would have been deserved because they were never as capable as Wolves in taking a grip, never as progressive and certainly never within sight of equalizing all-round attacking power.  Everton had shaken Wolves more than once, especially when Shackleton should have scored while the home defence were appealing for offside and again when Hickson slofted the ball into the net to finish a three-point move with Thomas and Collins with the decision of offside quite debatable.  I know Stan Cullis did not mince his words at half-time and with the European Cup game in East Berlin on Wednesday much in mind Wolves came out in rampant mood and with Broadbent at last showing why he is an England forward they improved.  The ball was moved sweetly and fast and fifty-one minutes Broadbent was ideally placed to shoot under the falling Dunlop.
Terrific Saves
Dunlop might have left his goal a little prematurely here, but he had no chance with Clamp's eight-yarders when Broadbent allowed a cross from Lill pass on, and a couple of terrific saves in the next few minutes from Deeley and Broadbent made one forget any doubt about the first goal.  Everton owed much to Jones, King, Parker and Labone during the hectic spell, Jones played excellently, and I bracket him with Dunlop as the outstanding defenders for on this occasion Parker and Brian Harris were not as consistent as they have been particularly in distribution.  It was at forward where Everton's present troubles are centred, for Thomas faded after quite a promising start and Hickson was slow in his reaction and challenge when better production could have ruffled the Wolves' defence.  Shackleton's appearance on the right wing was not a failure but one wishes for a little more speed and quicker appreciation of the need to move the ball instead of an inclination to overdo the dribbling.  The top forward was Collins.  One dreads to think what Everton would be like without him, I would not quarrel with a Wolverhampton view that for sheer consistency he was the man of the match although I find it hard to eliminate Dunlop.  Wolverhampton Wanderers;- Finlayson; Stuart, Harris; Slater, Showell, Clamp; Lill, Murray, Broadbent, Deeley.  Everton; Dunlop; Parker, Jones (captain); King, Labone, Harris (B.), Shackleton, Thomas, Hickson, Collins, Laverick.  Referee; Mr. R.E. Smith, (Newport Mon). 
Attendance 39,000.
EVERTON RESERVES 2 MANCHESTER CITY RESERVES 0
Monday, September 28, 1959. The Liverpool Daily Post
With better luck and steadier finishing Everton might easily have trebled their score against feeble opposition.  So ineffective were the City that more than an hour elapsed before goalkeeper O'Neill had his one and only chance to distinguished himself.  The whole Everton attack kept the ball on the ground and moves with pleasing fluency particularly in the first half when Ashworth and Wignall the best forwards scored. 
HOW LONG MUST ALBERT DUNLOP WAIT FOR A CHANCE?
Monday, September 28, 1959. The Liverpool Echo and Evening Express
By Jack Rowe
Everton followers will wonder, as I do just how long Albert Dunlop has to wait before his goalkeeping is recognized by those who select our representative teams.  His latest performance at Wolverhampton Wanderers on Saturday was of the class which poses the question…"Is there a better in the country."  two of his saves at a time when Wolves were threatening to make the score much more than the 2-0 by which they eventually won were miraculous but if these two stood out there were others which made the home crowd remember the glory of his exhibition on the same ground last season.  And the effect of those two saves was not only to deny the Wolves goals which would have wrapped everything up, but they also enabled Everton to make a fighting rally and go very near to getting three goals, themselves after a hectic 15 minutes period immediately after the interval when the home men were showing us the sort of stuff which has given them two successive championships and another crack at the European Cup. 
Storming Shot
Broadbent (51 minutes) and Clamp (53 minutes) had scored for them and if anyone thought that Dunlop might have delayed his run out when Broadbent netted that was forgotten straightaway when he threw himself up and sideway's to stop a storming shot from Deeley and from the corner did almost exactly the same thing to prevent a beautiful header from Broadbent rocketing home.  from those saves Everton were able to get some sort of hold on themselves and they came back so effectively that in quick succession Collins saw a near 35 yards range volleyed drive come back from a post and Laverick twice managed to put the ball against the stationary Finlayson when six inches to either side must have meant a goal.  And in between all this Finlayson kept out shots from Collins and Laverick without real goalkeeping convention.  It is in this come back that Everton take some credit because in those 15 minutes after half-time when Wolves were responding to the strictures of the manager, they played killing stuff for the first time and if four goals had come it would not have been out of keeping with the power of their play.  Earlier there had been few signs that these were the Wolves of championship fame for the forwards were ragged and the defender shaky to a point where over indulgence in the offside trap nearly brought them crashing.  It would have done if Shackleton had been able to hit his shot properly when Jones lobbed  free kick over the advancing Wolves defence with the referee ignoring appeals and it was a close call some minutes later when Hickson shot through only to find this time the decision going against him.
Flying Catches
All told the first half was not warming except when Dunlop made a couple of flying catches from Broadbent and Mason and Lill missed a great chance when the wandering Deeley laid on a pass which wingers dream about and rarely get these days.  Indeed up to half-time there seemed the likelihood that Wolves would not rouse themselves and that Everton would sneak a point which none expected even though they did not give the impression of matching the greater attacking ability of the Wolves.  But that devastating spell, settled things for we saw the Wolves attack, backed by Slater and Clamp in complete ascendency and the heroic deeds of Dunlop were equalled in front of him by Jones, Parker, King and Labone.  Another goal then and I think Wolves might have swept through to a higher score.  As it was their pace slackened quite a bit and Everton were able to produce the fight which needed only the slightest bit of luck to have given the Molineux men a real fright because their defence –how it misses Wright – did not strike me as too confident under pressure, and a goal could have had them panicky.  Whether an Everton point would have been in keeping with the overall trend of the same is open to argument and I think they would have been fortunate to have got one because they never had the incisiveness of the Wolves and certainly did not give us the impression that they could take control of matters. 
They Were Chances
But it is also true that they were within inches of getting goals in the second half and this alone makes it interesting conjecture as to what might have happened if Laverick had taken one of his chances, and they were chances.  I did not make Parker and Brian Harris quite as dominating as they have been in recent matches and I place Jones next to Dunlop as the big men of the defence.  Labone struggled at times, especially when Wolves were at their most rampant, but he did not lose his head and it is clear that he is acquiring experience while King was terrier-like all the time.  Manager John Carey's forward switching's indicate where the chief trouble lies and in this match no one did anything to suggest that there is any danger of Collins being superseded as the king-pin of the line.  He was by far and away the best forward and only Broadbent could equal his genius and capacity for front line work, but the vital difference was that Broadbent had men alongside him who could answer to his promptings when he produced them.  Hickson's challenge did not play a part in this game and Thomas did not fulfill early promise, so that the solution to the other inside forward position has still to be found.  Laverick came through reasonable well considering this was only his second game after the appendicitis operations and he certainly lasted the pace better than a lot expected.  Shackleton also had a reasonable match, but he needs more speed on the wing and less inclination to hold on to the ball.  However, there was plenty of spirit from him and looking ahead a point of great interest will be how Mr. Carey uses a fit Jimmy Harris.  For Wolves the big problem seems to be the defences particularly at full back and unless the whole side can make consistent repetition of the form in the 15 minutes after the interval on Saturday, I cannot fancy their chances in East Berlin on Wednesday when they tackle the first hurdle of the European Cup. 
STAND IN STANDEN
Tuesday, September 29, 1959. The Liverpool Echo and Evening Express
By Leslie Edwards
Arsenal are likely to play the team which beat Blackpool at Goodison Park on Saturday.  That means that young Standen, the goalkeeper who has been deputizing for Welsh International, Kelsey, keeps his place in the team though Kelsey has recovered and is likely to resume in the Welsh side against England on October 17, if required.  Arsenal's record at Goodison Park is a good one and with the side now settled down with Groves in the half-back line it will take a good performance by Everton to get as much as a point.  Docherty; the man Everton anted before Arsenal stepped in and took him has proved a great buy, but that is not to say that Arsenal are infallible in making such choices.  There are on the files at Highbury, the names of ten players who are all figuring in other League teams in England!  The most surprising is that of J.S Williams, the Plymouth half-back who played on Saturday at Anfield.  His father brought him to Highbury in the late Tom Whittaker's day and on the evidence of one trial match he was turned down.  Now all the money in the world couldn't buy him a Everton know to their cost.  The centre-half John Hughes for whom Arsenal paid Bangor City a sizeable sum is not a present in the Arsenal second team and is developing I am told only slowly, but he's fearless and strong and sooner or later will make his mark –somewhere. 
HOODS SAYS HE IS FINISHED WITH EVERTON
Tuesday, September 29, 1959. The Liverpool Echo and Evening Express
Will Never Play Again
In Glasgow
By Leslie Edwards
The 21 years old Scottish centre forward Jacky Hood who walked out on Everton and returned to Glasgow because he was told he was to play inside-forward in the third eleven says he has made up his mind not to play for Everton again.  Hood failed to turn up for the Everton third team game at the week-end.  He said today, I have not been most unhappy with Everton and the way I feel just now I could not care less if I never play again.  Things may change in a couple of months but right now I am finished with football.  Hood says that he hasn't been given a chance since his demobilization last May.  "I know I have not settled but I did not deserved to be put into the third team."  Hood is quite definite.  "I am not going back to Everton," he says.  Everton had no statement to make about the situation this morning.   Their board meets tonight and will discuss Hood's walk-out. 
NO STATEMENT UNTIL HOOD HAS BEEN INFORMED
Wednesday, September 30, 1959. The Liverpool Daily Post
By Horace Yates
The Everton board last night discussed the situation caused by the return to Glasgow his home town, of Jack Hood, one of the club's reserve forwards, following his omission from the Central League team against Manchester City Reserves on Saturday, but decided for the time being, to make no statement.  Whatever decision was arrived at will be communicated first of all to Hood by letter, a procedure which it is difficult to question for obviously even at this stage, it may be easier to repair the position in the absence of publicity.  The trouble-flared up last week when Hood who was little knowed at Goodison until this season because he had been stationed in the Army in the south of England discovered that he was chosen o play in the third team at inside forward.  Mr. John Carey, Everton manager, told me last night "Hood had made a request to me to be switched from centre-forward to inside-forward.  I thought it fairer, as all his previous experiences had been at centre-forward, to play him in the third team in his new position. 
"Happy With Progress"
"He objected to playing with the third team, I was perfectly prepared to discuss the position with him, but he was not prepared to discuss it with me."  "He immediately said, That's me finished, I am going home and off he went. He did not offer any explanation or offer to talk about it."  "We were quite happy with Hood's progress at Goodison.  After all this was his first season as a full time professional.  Saturday as the first time he been omitted from the Central League team, except through injury.  A big young, Hood showed in the public practice match that he has a very powerful shot and it is to be regretted that at this early stage of his career at least he has not chosen to accept advice dictated by Mr. Carey's considerable experience. 
SOCCER MANAGER NEEDS LASHINGS OF LUCK
Wednesday, September 30, 1959. The Liverpool Echo and Evening Express
By Leslie Edwards
In football management you need competence, good will and lashings of good luck.  Only then will you successes thoroughly.  This thought struck me when I considered Matt Busby's stories of some of his signings and near-miss signings,   Incidentally, he reckons that Everton, through John Carey, have got a boy, Sharples, from Birkenhead, whose potential is nearly equal to that of the late Duncan Edwards at the same age.  Sharples might have joined United except that his people are the keenest of Evertonians. 
Hood Told First
The position of Jack Hood, the Scottish forward who has walked out of the club was discussed by the Everton Board at their meeting last night.  The decision they reached will be told to Hood before any official statement is made.  Hood; 21-years-old centre-forward has asked for a switch to inside forward after leading the Central League attack regularly this season.  Everton manager John Carey agreed but through it fairer to the player to try him in the "A" team initially.  Hood' reaction to this was "That's me finished I'M going home."  Hood then left Liverpool for his Glasgow home without expressing any desire to talk the matter over with Mr. Carey, who said last night that the club was happy with Hood's progress in this his first season as a full-time professional.  Last Saturday was the first time he has been omitted from the Central League team except through injury. 
EVERTON YOUTH GAME TONIGHT
Wednesday September 30, 1959. The Liverpool Echo and Evening Express
Cup Tie Against Rhyl
By Michael Charters
Everton Youth team play Rhyl in the preliminary round of the F.A. Youth cup at Goodison Park tonight (7 p.m) the winners meeting the holders Blackburn Rovers in the first round away on October 12.  This match will give Everton supporters opportunity of seeing the youthful talent on the club's books and there are many playing tonight of whom Manager John Carey has great hopes for the future.  Only one of Everton's team –goalkeeper Griffiths – will move out of the age limit this season and several of these bright youngsters are only 15.  The team are; Everton Youth; Griffths; Gannon, Green; Jarvis, Watson, Sharples; Boner, Tyer, Bentley, Merton, Edmondson.  Griffiths will be remembered by those who saw Everton's public trial for his brilliance as second half deputy to Jimmy O'Neill; Watson and Green are former Welsh schoolboys internationals, Merton the forward star of last seaosn's Liverpool City boys team and Bentley is the former Liverpool Collegiate boy.  Sharples, Boner, Tyrer and Edmondson have all played in the Central League team.  Sharrples being an English schoolboy international last season.  The Rhyl team contents two boys who have sign amateur forms for Everton this season –Phil Edwards ad Barry Rees, both former Welsh schoolboys international, Everton have given permission for Rhyl to play them in this competition.