EVERTON FOOTBALL CLUB
August 8 1902. The Liverpool Courier
All the Everton players have arrived, and now training for the new season. The first practice match at Goodiosn Park, will take place on Saturday the 23st inst; kick off at four o'clock. Another practice game being arranged for the following Thursday the 28 th inst.; when a commencement will be made at 5-45p.m.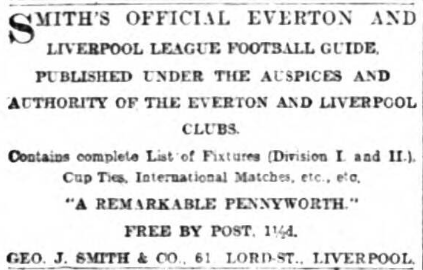 ALEC STEWART
August 15, 1902. Nottingham Evening Post
The negotiations between Leicester Fosse and J. M. Lofthouse having proved unsuccessful, Alick Stewart has been appointed trainer to the Fosse, Stewart is an old footballer, having played for Everton, Notts, Burnley, and Northampton, and he should prove a very good man for the club.
EVERTON.
Lancashire Evening Post - Saturday 23 August 1902
Everton finished second in the League last season, so that they can only one better this. In the Clip competition they were knocked out first round; hero there is more scope for improvement. Unfortunately during the off season they have been hard hit. Secretary Cuff and trainer Elliott being suspended till October for "poaching." The temporary ft Mr. Horace Wright and Wilfred Toman temporary trainer. Of the old players the following have migrated :—Eccles and Blythe to West Ham ; "Weary". Watson and Brown to Tottenham; and Muir and Dicky Boyle, to Dundee. Bert Sharp is not fixed up yet. The complete stud number 26 players, which is none too large for a League and a Reserve team, and two full programmes. The League team will be as follows: —Goal Kitchen; backs. Henderson and W. Balmer; halves, Wolstenholme, Booth, (captain), and Abbott; forwards. Sharp, Brearley, Young. Settle, and Bell. Of the new men, Brearley comes from Middlesborough, the new Leagnista, and played for Everton on May lat against Glasgow Rangers; Henderson hails from Linlithgow. 'The other players available reserves and second /earn, men are C. E. Wilson, goal, a University man; Bowman. R. Balmer. Clarke. Clayton, T. C. Chadwick, Dilly. Monks, Makepeace. Toman. Whiteley, Crelly, Taylor, Sheridan, and Rankin. None of these are last season's players.
PRACTICE GAME AT GOODISON
August 25 1902. The Liverpool Courier
Brilliant weather was seen at the practice match at Goodison Park, when teams representing the defence of the League and the Combination were pitted against each other. The teams were so constituted that the League defence was against the League attack, and the Combination attacked was against their own defence. The eagerness with which the football season is being anticipated was demonstrated by the fact that there were no fewer than 15,000 people present, and the greatest interest was centred in the game, the manner in which the new players acquitted themselves. Of course the subject of criticism amongst the crowd, Sharp would have taker part in the game but the Everton committee had obligated the Lancashire Cricket executive.
The following were the teams. Blues: - Whitley, goal Balmer (w) and Balmer (r) backs Wolstenholme, Booth (captain), and Abbott half-backs, Rankin Monks Bowman, Sheridan and Dilly forwards. Whites: - Joyce goal Crelly, and Henderson (w), backs Clayton, Clarke and Chadwick (t), half-backs Taylor, Brearsley, Young Settle, and Bell forwards. Referee J.F.Langford .
The Whites started at four o'clock and after brief visit to the opposite end-the Blues forwards came along and made a sharp attack, Joyce having to fist out on more than one occasion. The White returned to the attack, and Wolstenholme was injured, and had to leave the field, Makepeace having to fill his place. Whitley had next a handful, Chadwick and Clark, both sending in shots, and the custodian only saved by clever tactics, once just dropping on the ball as it was about to pass though. The pressure on the Blues stronghold was maintained for some time, and once, from a lighting shot from settle Whitley saved in grand style, sending the ball to the centre of the field. Monks, the Ex-Bury man the inside right for the Blues showed good play, good work by the White left wing, resulted in Whitley again having to handle, and the manner in which he cleared, won him hearty applause. The Blues now pressed and gained a good position in front of goal and from a penalty, Abbott scored, Joyce having no chance with the shot. Almost immediately they again took up the attack and both the upright and crossbar were hit with shots. Halt time Blues 1; Whites nil. On changing end, the Whites were not long in drawing level, Brearsley doing the trick. Play alternated a good deal between the ends, the Reserves forwards who were well supported by the defence perhaps showing up the best advantage. Bowman was responsible for two other goals, for the Blues and Abbott for another this side winning by no means an uninteresting game by four goals to one. The Blues forwards, the Reserves men passed well, and were oftened on the ball than the opposing quintette. Whitley especially impressed everybody with his smart goalkeeping, and allowing one shot to pass him, Yoyce also preformed well.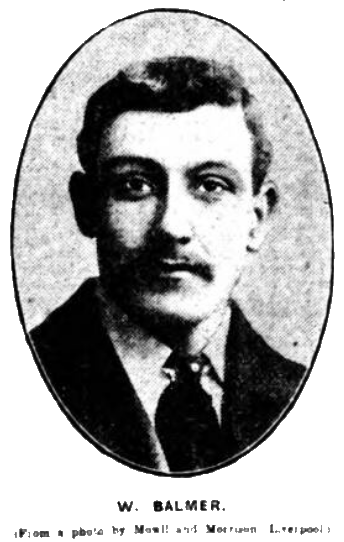 EVERTON
Athletic News - Monday 25 August 1902
By Junius
Time has worked few changes in the Everton camp as far as the First Division League team are concerned, and for this reason the outlook for the coming campaign is viewed with a quiet feeling of security by the officials. The Combination that did so well last winter, and almost secured the League Championship, is, with one exception, ready to take the field once more. During the close season a number of the reserve players have sought "fresh woods and pastures new," amongst them being Muir, and Boyle, who have gone to Deedee, Eccles, Blythe, Green, and Halliday. The directors have filled these vacancies with what they consider equally clever men, and they will have a rare assortment from which to select the eleven to do duty in League matches. In goal there are Kitchen, Whitley, and C.E. Wilson, old Carthusian, the latter having during the summer played cricket with the Huyton club most successfully. He may not be a frequent performer at Goodison Park, though if he can keep goal as well as he can play cricket he would be a rare find for any club. The backs are W. Balmer, Henderson, Crelley, and R. Balmer. This part of the team has been under the serious consideration of the directors for some considerable time, and at left-back Everton are likely to be found wanting unless one is discovered capable of partnering Balmer. The latter's young brother is a capital player, and should come on, but we fancy that Henderson will be allotted the position for the earlier matches. He was connected with Everton before going South to Reading and Southampton. Booth, Wolstenholme, and Abbott will again form the half-back line, with Clark, Clayton –an Ormskirk youth –Makepeace, who is a local lad, and T. Chadwick, who hails from Blackburn, as understudies. Forward, there appears to be abundant material to select a rare attacking line from, the old favourities, jack Sharp, Taylor, Young, Settle, and Bell being ready for the fray. Toman is walking about again, though somewhat stiffly, and from both Bowman and Rankin great things are confidently anticipated. The new –comers are Brearley and Dilly (Arbroath) who played against the Glasgow Rangers last May; Sherdian (inside left, Cambuslang Hibernians), and Monks (Glossop and Bury). Local talent is being encouraged, and on Tuesday evening last two elevens drawn from junior clubs faced each other before the scrutinizing gaze of the directors. On Saturday the first public practice took place, and is referred to under "Liverpool Notes" The stands around the enclosure have been thoroughly tested, to the entire satisfaction of the authorities, and on the large covered stand the holders of 2s, tickets have been allotted increased space. The secretarial duties are being discharged by one of the directors, Mr. H. Wright, until the termination of Mr. Cuff's holiday, at the end of September. Without secretary and trainer, the club has been awkwardly placed, but these difficulties have been surmounted, and everything will be found in trim for the opening League match on the 13th inst. In having to face the two promoted clubs from the Second Division away from home in the first week of the season Everton will be keenly tested. Booth will act as captain, this being his second year of office. I may state, in contradiction to a previous announcement, that Dr. Baxter will be the chairman of the club.
PRACTICE MATCH
Athletic News - Monday 25 August 1902
By Junius
In gloriously fine weather, and before 10,000 spectators, the Everton players indulged in their first trial canter, and a rare Interesting game was witnessed. Unfortunately the proceedings were marred by an untoward incident which happened to Wolstenholme. He was running alongside Bell, attempting to dispossess the left winger, when he suddenly fell, and lay prone on the ground like a log. His comrades carried him off the field on an improvised stretcher, and it appears that his forehead struck the ground in his fall, which, combined with the heat—for the sun shone brilliantly—led to slight unconsciousness. After an hour's rest he recovered somewhat, and will no doubt be fit for the opening the season. Reverting to the game, the sides were termed Blues Whiles, the former being constituted by the League defence and reserve team forwards, whilst the Whiles comprised the probable League forwards with the reserve backs behind them. Some exceedingly interesting play was witnessed, and the Blues' forwards, ably supported by their halves, accomplished some capital work, the result being that they finally won by four goals to one, two of which accrued from penalty kicks. Dilly and Sheridan, on the left wing, proved a most effective pair, and were too smart for the defence opposed to them. Abbott, who revelled in work, gave them every opportunity of displaying their ability, whilst on the other wing Monks and Rankin were not only speedy, but were tricky and determined. Bowman, whose speed has visibly increased since last season, kept his men going in good style, and. with more accuracy in his finishing touches, should develop into a splendid forward, for he has the necessary physique. Of the probable front rank which will open the League tourney. Brearley delighted even-body with his play, and the others gave evidence that if the occasion required they would be equal to any emergency. The half- backs of the Blues were in good trim, and Whiteley kept a splendid goal, good enough for any side. The brothers Balmer partnered each other at full back, a position which, I fear, will prove Everton's weak point this winter. The younger brother possess any amount of pluck and may come on, but another back like Balmer, senior, would be welcomed with open arms by the Goodison Park executive. Abbott scored two goals from penalty kicks. Bowman and Sheridan gaining the other two, whilst Brearley obtained the only point for the Whites.
EVERTON—INJURY TO WOLSTENHOLME.
Dundee Evening Post - Tuesday 26 August 1902
At Liverpool on Saturday Everton had a practice match before 10,000 people. The teams were " Blues " v. " Whites' the former including the League defence and the latter the attack. Fast and interesting play was witnessed, Abbot scoring from a penalty. Wolstenholme fell and was carried off the field. After the interval Brearley equalised. The " Blues'" forwards played capital football, and Bowman scored a second, Abbott adding third from a penalty. Dilly, Whiteley, Brearley, Dudley, Sheridan, and Monks of the newcomers created a favourable impression.
EVERTON PLAYERS PROFILE
August 30 1902. The Liverpool Football Club
Goalkeepers.
Kitchen ; Born 1876, Height 6ft; weight 13st 10lb, came from Stockport. Played regularly 1901-02 after Muir was dropped.
Jack Whitley . The Villa Reserves goalie, for two seasons. Rarely found a League opportunity. Formerly of Darwin.
CE.Wilson . An Old Cathusian amateur, who will assist when his services are call upon.
Backs.
Walter Balmer , height 5ft 8and half in, weight, 12st 8lbs, born in Liverpool 1877. Played for Aintree Church, taken Inter-League honours.
William Henderson, Height 5ft 8in, weight 13st 9lb, born at Broxburn 1878. Played for Broxburn Athletic, Everton, Reading, Southampton. Now returns to Goodison Park.
J.Crelly, has been several seasons at Goodison-road, but rearely figures in the team.
Half-backs
Tom Booth , height 5ft 10in, weights 12st 2lb, born Hooley Hill, age 26, capped against Wales 1896. Played for Blackburn Rovers, Aston North End, joined Everton in 1900.
Walter Abbott , Height 5ft 9 and half in, weights 13st 11lb, Born at Birmingham 1876. Played for Roseward Victoria, Small Heath, joined Everton in 1899.
Sam Wolstenholme , Height 5ft 9 and half in, weights 12st, born at Little Lever 1878. Previous clubs, Farnworth Alliance, and Horwich.
Charlie Clark , secured from Hamilton Acedemicals two years ago. Made few League appearances last season.
T Chadwick , Height 5ft 7 and half in, weights 10 st 8ibs, born in Blackburn 1881, Edgar's young brother. Played for Rising sun, and St George Mission.
Forwards.
Jack Sharp , Height 5ft 6 and half in, weights 11 st 9lbs, age 22. Born at Hereford, played for Hereford Thistle, and Aston Villa.
Jack Taylor , Height 5ft 10in, weights 11 st 8lb, born at Dumbarton 1870. Played for Dumbarton and St Mirren, joined Everton 1895.
John Brearley , Height 5ft 6in, weight 10st 8lb, born in Liverpool 1876. Played for Notts County, Kettering Chatham, Millwall, Notts County again, and Middlesbrough, first season at Goodison Park.
Alex Young , Everton's best "find"last seasons. A smart Young pivot, who has played for St.Mirren, and Falkirk.
William Toman , Height, 5ft 10ins, weights 11 st 11lb, aged 25. Born at Bishop Auckland, played for Aberdeen, Strothers, Victoria United, Dundee, Burnley, Everton, and Southampton, fractured a leg in September 1901.
Jack Bell , Height 5ft 10 and half ins, weights 12st 7lb, born at Dumbarton 1870, capped against England 1892, 1896, 1897, 1898. 1899 and 1900 against Wales 1899, Ireland 1890, and 1899
J Sherdian . A smart young winger of promise from Cambuslang, his first season at Goodison-road.
T Dilly , comes from Abroath, with a good local reputation as outside right. First season in English service. .
Adam Bowman, joined Everton late in 1901-02, and made a fair League debut against Small Heath
Albert Monks , Height 5ft 6ins, weighs 11 st 7lb, age 24. Played for Glossop, Stalybridge Rovers, and Bury, first season with Everton.
Reserves , Robert Balmer, back, Harry Makepeace half-back, and Clayton half-back.