TRAINING FOR FOOTBALL
August 1, 1939. The Liverpool Daily Post
Everton Players Make A Start
The football season will soon be upon us, the opening League matches being due on the 26 inst, while the Scots begin a fortnight earlier. Players all over the county are starting their training. Everton players made their appearance at Goodison Park, yesterday and took part in the opening training operations. There are 42 players on the books and the training staff were busy taking heights and weights. Thirty-six of the players reported. One of them –Sweeney – only returned home from Territorial camp on Sunday. Merritt goes into Territorial training next week and Keenan is away in camp at the moment. There was only one real newcomer, in the person of E. Barber, the inside left from Blyth Spartan, who was signed in the last week of last season; though Griffiths and Lovett –the latter the very promising young goalkeeper –were taking part in full time training for the first time.
Cook And Thomson Make Progress.
Cook and Thomson, who had been injured in a motor accident, were on time at the ground. Cook being the first player to sign on, Cook had the seventeen stitches inserted in his wounds, thirteen in the scalp just over the forehead and the others in his cheek and neck. Both Thomson and Cook, however, are making satisfactory, progress and hope to be fit for the start of the season. Thomson, whose injury was a cracked collar bone, had his right arm in a sting, but is to have the bandages in a week's time. Prior to the accident Thomson spent most of the close season as is his usual custom playing golf at Carnoustie, but this time with a slight difference for he carried off the captain's prize with two net rounds of 70 and 72.
Chairman's Welcome.
Mr. Ernest green, the chairman, in welcoming the players, referred to the remarkable team spirit and good conditions which worked wonders for the Everton club last season, despite the fact that when the campaign opened the critics were practically manimous in prophesying a bad spell for them. "We knew we were up against it last year," said Mr. Green," and felt we had to fight hard to establish ourselves and get on the map. I am glad to say we did it so well as to win the championship. I have only one fear to the coming season, and that is because, being champions we may feel it is going to be easy. Don't make any mistakes it will be just as hard this year. If we remember that some of the lowest clubs in the league beat us twelve months ago we will start this time with the same grim determination, team spirit, and will to win as we did last year. "I hope it is going to be as good a season as the previous one, and I wish you all every success Mr. Green added. After the chairman's welcome the players divided into two sections –one doing road work and the other sprinting and waiting round the ground, which in the hot sun, was no easy task after the weather of late. Everything at Goodison looks spick and span. All the stands have been painted, while the turf is in such splendid condition that it seems almost sacrilege to play on it.
EVERTON
August 1, 1939, The Evening Express.
By Pilot.
Everton Football Club have but one decision to make before they enter on the season of 1939-40. This is to select the skipper for the season. The Blues do not make their appointment until the players have been back in training for some days. The directors are not holding a meeting until next Tuesday, I anticipate that they will choose the skipper at that meeting. Last season Jock Thomson was the skipper and Willie Cook vice-captain. In the latter part of the season when Thomson had a back injury, Cook was the regular first team leader.
ROYAL CONGRATULATIONS FOR ROCK FERRY COUPLE
August 4, 1939. The Liverpool Evening Express
A Telegram of congratulations sent by the King and Queen from Balmorals Castle was today received by Mr. William Harden, aged 82, former professional of Rock Ferry Cricket Club, Birkenhead and Mrs. Harden, aged 79, of Highfield-Grove, Rock Ferry, who celebrated their Diamond wedding anniversary. Mr. Harden, who is a personnel friend of Sir Frank E. Lacey, late secretary of the M.C.C also received numerous telegrams and letters including one from Dick Williams, aged 73, the old Everton goalkeeper and brother of Mrs. Harden and another from Mr. K.G. Stratta former president of Oxton F.C. Dick Williams played for Everton in the English F.A Cup Final at Fallowfield, Manchester. Mr. Harden is a former County Cricket Umpire.
EVERTON'S FIRST GAME.
August 9, 1939. The Liverpool Daily Post
By John Peel.
Everton take the field on Saturday at Goodison Park, kick-off at 3.15, when the championship team, in blue, will oppose the Whites. Everton demonstrated their skill in a convincing manner last term and all being well the players who won the League Cup will again make a bold effort to retain the trophy. No doubt their supporters will turn up in strong force to see the men in this preliminary exposition of the code. There is only one member new to Goodison Park. E. Barber who comes from Blyth Spartans with a good reputation as an inside forward. In the part, Everton have recruited some good players from Blythe Spartans, and Barber is regarded as an excellent inside left. The teams for Saturday's game are; Blues; Sagar; Cook, Greenhalgh; Mercer, Jones, Watson; Gillick, Bentham, Lawton, Stevenson, Boyes. Whites; Lovett; Jackson, Jones; Britton, Gee, Lindley; Barber (A.), Cunliffe, Bell, Barber (E.), Caskie.
THOMSON IS EVERTON'S CAPTAIN AGAIN
August 9, 1939. Evening Express.
Teams For Blues One Trial Match.
Barber Only Newcomer On View
By Pilot.
Jock Thomson, Everton's Scottish international half back, has been appointed captain of the champions for season 1939-40. The decision was made by the directors at their meeting last night, and it is the second season in succession Jock has been given the honour. Thomson is at present on the injured list with a damaged shoulder and so in the early weeks of the season, at least he will be non playing captain. This means he will travel with the first team to all matches and sit with Trainer Harry Cooke on the touchline. The directors have not appointed a vice-captain but will select a skipper for each match when Thomson is not available. This was the procedure last season. During the closing weeks of last campaign Thomson acted as non-playing captain. When he went out of the team with a back injury, Watson took his place at left half with marked success and Willie Cook left the side on the field. Everton are now all set for their only public practise game. This takes place at Goodison on Saturday afternoon when last year's championship side oppose the reserve. The only new comer on view will be Eric Barber, a young inside left from Blyth Spartans, the club from which Everton have secured many fine players. Barber had one trial with the Central League last season, and Mr. Theo Kelly, the club secretary, is certain the Blues have much fine capture. "In the two private trials we have held, said Mr. Kelly, "Barber has shown good form. He is a big strong lad, possessing rare ability, and a foot ball brain." The team for Saturday's trial are; Blues; Sagar; Cook, Greenhalgh; Mercer, Jones, Watson; Gillick, Bentham, Lawton, Stevenson, Boyes. Whites; Lovett; Jackson, Jones; Britton, Gee, Lindley; Barber (A.), Cunliffe, Bell, Barber (E.), Caskie.
EVERTON AGAIN APPOINT THOMSON AS CAPTAIN
August 9, 1939. The Liverpool Echo.
Teams For Saturday Practice Matches.
Ranger's Notes.
Everton stage their first and only practice match on Saturday next, kick-off 3.15, when the League champion championship side will oppose the Central League team. The following week they play Liverpool at Anfield, in the Jubilee Fund match. While there will be on "deputants," on view this week-end, there will be plenty to interest Goodison Park followers in the appearance of Caskie of whom just enough was seen last season to whet the appetite for more, Lovett who is now first reserve as goalkeeper since the departure of Harry Morton to Burnley, and Edwards Barber –no relation to the other forward of the same name –who came on trial from Blyth Spartans at the end of last April, and so impressed that he was signed there and than. Lovett will be remembered as the goalkeeper from Shrewsbury Juniors to get whose capture Mr. Harold Pickering had to sign half the Juniors team. The others have melted away like snow in summer –if snow would melt this weather –but Lovett has more than confirmed Mr. Pickering's judgement, and when Sagar is not available Everton need have no qualms about blooding the Shropshire youngsters. While Cook has quickly got over the effects of the motor smash at Leeds and has been in training the past fortnight, Jock Thomson has not been so fortunate. The upper part of his arm and the shoulder are still strapped up, and though he is making satisfactory progress it will probably be a week yet before the bandages can be removed. Meantime, at last night's board meeting, the directors again appointed Thomson, as captain for the coming season, which means that in the early part of the campaign at any rate, whatever may happen later. Thomson will once again be non-playing skipper, and will accompany the side in all matches. Thomson's influence and comradeship, especially among the younger players, had much to do with Everton's success last term, and the board's chance is a wise one. No deputy captain has been appointed but cook, who acted in that capacity during Thomson's absence last term, will doubtless fill the role again. The Everton players went over to Ellesmere Port today, for their annual cricket, tennis, and bowis matches with Bowaters one of the most pleasant interludes of their pre-season training programme. Next Monday and Tuesday evening a combined Liverpool and Everton side will play Bootle Cricket Club, at hawthorn Road. The team for Saturday are as follows; Blues; Sagar; Cook, Greenhalgh; Mercer, Jones, Watson; Gillick, Bentham, Lawton, Stevenson, Boyes. Whites; Lovett; Jackson, Jones; Britton, Gee, Lindley; Barber (A.), Cunliffe, Bell, Barber (E.), Caskie.
BARBER, OF EVERTON, A NEW PLAYER TO WATCH.
August 11, 1939. Evening Express.
By Pilot.
Everton will have only one new player in action at Goodison Park, where the championship side of last season face the reserves power. The new player is E. Barber, a strongly-built inside-forward who joined the Blues from the north-eastern nursery Blyth Spartans. Everton have had many good players from Blyth in the past of gratitude a year ago they wrote off a debt which the Spartans owed them and if only indications are to be accepted as a true erilorion, Barber is going to make his mark. He is a player with boundless energy –as befitting these hardly lads who hail from the north-east also possesses that essential cleverness that goes to make the ideal footballer. If anyone expects to see the finished article in Barber he will b disappointed, but I accept the opinion of Secretary Mr. Theo Kelly, who states "Barber is a good, strong, clever lad who should make his grade." Barber did will in one trial last season with the Central League side at Goodison Park. Tomorrow he plays inside-left in the Whites' side and he should not lack for support from his immediate left or in fact, from behind. His partner will be the Scottish success of the recent America tour, wee Jimmy Caskie, and behind him will be tall, nonchalant Maurice Lindley.
Bell At Centre.
In addition "Bunny" Bell, a natural footballer, will be there at centre forward ready to be found always in position for the quick thrust through. Yes Barber has a great chance of establishing himself with the Goodison public. The Blues side will be composed of the men who last season upset the prophets –or the vast majority of them –by winning the championship by a margin of four points. They are sure of a warm welcome but that applies to the Whites as well and especially to Cliff Britton, George Jackson and Jack Jones, who did so well with England in South Africa. Everton will, as usual show us the intricate of football, which will more than empensate for the absence of competitive interest. Blues; Sagar; Cook, Greenhalgh; Mercer, Jones, Watson; Gillick, Bentham, Lawton, Stevenson, Boyes. Whites; Lovett; Jackson, Jones; Britton, Gee, Lindley; Barber (A.), Cunliffe, Bell, Barber (E.), Caskie.
EVERTON SET THE BALL ROLLING.
August 11, 1939. The Liverpool Echo.
Ranger's Notes.
Football gets under weigh with increasing momentum tomorrow when the majority of the clubs in all divisions stage practice games. On Merseyside the chief attraction is at Goodison Park, where Everton's championship side will be opposed by the Central League eleven. Major interest at Goodison will be centred in the performance of the younger professionals, including Lovett, now first choice for goal, if Sagar is in disposal; Barber the newcomer from Blyth Spartans, and the promising left half, Lindley. The teams are as follow (kick-off 3.15):- Blues; Sagar; Cook, Greenhalgh; Mercer, Jones, Watson; Gillick, Bentham, Lawton, Stevenson, Boyes. Whites; Lovett; Jackson, Jones; Britton, Gee, Lindley; Barber (A.), Cunliffe, Bell, Barber (E.), Caskie.
FOOTBALL TRIAL GAME
August 12, 1939, The Liverpool Daily Post
By John Peel.
Everton set the ball rolling this afternoon when the League champions and their reserves colleagues will no doubt provide an entertaining display. The kick off is times for 3.15. While the spectators will hope to see that the seniors have lost none of their skill, much attention will be focused on the reserve talent, notably Barber (E.) from Blyth Spartans, Lovett, now Sagar's understudy and the progressing young half back Lindley. The teams are: - Blues; Sagar; Cook, Greenhalgh; Mercer, Jones, Watson; Gillick, Bentham, Lawton, Stevenson, Boyes. Whites; Lovett; Jackson, Jones; Britton, Gee, Lindley; Barber (A.), Cunliffe, Bell, Barber (E.), Caskie.
SUN SHINES ON SOCCER.
August 12, 1939. The Liverpool Echo
Getting Into Top Gear To-Day
Everton Surprise
"Reserves" Take An Early Lead.
Debut Man's Goal.
By Stork.
Blues: - Sagar, goal; Cook (captain) and Greenhalgh, backs; Mercer, Jones and Watson, half-backs; Gillick, Bentham, Lawton, Stevenson, and Boyes, forwards. Whites: - Lovett, goal; Jackson and Jones, backs; Britton, Gee, and Lindley, half-backs; Barber (A.), Cunliffe, Bell, Barber (E.), and Caskie, forwards. Summer arrived for Everton's first practice game at Goodison. The club had little to show in the matter of new faces, for there was only one new man present in the 22 numbered player –E. Barber, from Blyth Spartans. He did so well in the first half-hour, that he made quite an impressive debut, and scored the first goal of the day in seven minutes. The football all round was so good class, if there was not the usual bite about it, one finds in a League clash. Blues which of course is the senior side, were more artistic but there was quite a lot of good football from the Whites. Lovett, for instance, made two superlative saves, one from a header by Lawton, and the other a fierce drive by Stevenson, but taken right through the Whites had the better chances and at 18 minutes they went further ahead through a Caskie goal, Sagar having saved the wingers first effort without being able to prevent the second attempted. I was particularly interested in the heading of Willie Cook. He has had as many stitches inserted in his scalp as would make me a waste coat, but it seemed to make no different. Just on the interval Lawton scored a grand goal. He took a pass from Bentham almost knee high and slammed it into the net like a rocket.
Half-Time; Blues 1, Whites 2.
NEWCOMER OPENS THE SCORING
August 12, 1939. Evening Express.
Whites Take First Half Lead.
By Pilot.
Everton held their only public trial match at Goodison Park today, and there were about 8,000 spectators present. Everton announced today that, like Liverpool these patrons who saved 18 first-team match programme, throughout the season would be guaranteed Cup final tickets if Everton reached Wembley. Blues: - Sagar, goal; Cook (captain) and Greenhalgh, backs; Mercer, Jones and Watson, half-backs; Gillick, Bentham, Lawton, Stevenson, and Boyes, forwards. Whites: - Lovett, goal; Jackson and Jones, backs; Britton, Gee, and Lindley, half-backs; Barber (A.), Cunliffe, Bell, Barber (E.), and Caskie, forwards. Referee Mr. J.N. Brown (Ormskirk). The Blues –last season's championship side –introduced artistry, particularly on the left flank, but it was the Whites who produced effectiveness and twice Cunliffe broke through to put through passes in style. It was Sagar's keen anticipation that prevented their soaring, but in 10 minutes Barber (E.) the only newcomer afield, ran through on his own and gave the Whites the lead with a splendidly judged left-footed shot in the top corner. Subsequently Lovett made two brilliant saves, the first from Lawton's header, and the second from Boyes, who had gone striving in the Eric's Brocks style, and shot from inside right.
Caskie Increases.
In 20 minutes the Whites went further ahead. Barber (A.) to my mind was three yards offside when he went through unchallenged. He did his work well, however, and made a square pass for Caskie. Caskie's first shot was brilliantly parried by Sagar, but he took the rebound to make it 2-0. There was much entertaining football. Cunliffe, ably supported by Bell, was the spearhead of the White's attack and once he headed over in thrilling style as Sagar advanced. Sagar saved well in taking the ball off Bell's head. The Blues were far from idle, and some of their approach work was of real Everton vintage. They were faced with a particularly strong defence, however, in which Lovett was outstanding. The Blues lacked ascendancy in finishing and most of the thrills came at Sagar's end, with Caskie and Bell just failing to improve on good building up work by Barber (A.). Greenhalgh kept out a point blank shot from Barber (a.), and Tom Jones dropped back to kick off the line as Barber shot in again from the rebound. Just on the interval Watson engineered a strong attack for the Blues and his centre was turned back neatly by Bentham, for Lawton to reduce the lead with an unstoppable shot. Half-Time; Blues 1, Whites 2.
10,000 SEE EVERTON GAME.
August 14, 1939. The Liverpool Daily Post
Lovett and Barber (E.) shine At Goodiosn.
By Stork.
The Everton practice match could not tell us much more than we already knew for there was only one new player in the game, but 10,000 people were present at Goodison Park on a day more suitable to summer pastimes. They paid £269 to see this try out in which the players were numbered in accordance with the League's new ruling, and unless they wanted to see fireworks they must have been well satisfied for there were some brilliant football movements throughout the 90 minutes and 7 goals, the Whites beating the Blues (the first team) 4-3. They saw Lovett, the Whites' goalkeeper, give a sparkling display, and but for him the seniors would have run out winners. Lovett is not a newcomer to Everton, for he has been with them well over a season, and on Saturday, he was the star performer in a game which promises well for Everton next season. Good football won them their championship; good football also may win it for them again. There will be no alteration in their style or matter of play, and in the reserve team there are men who could step up to fill any breach in the first team which may arise.
A Problem To Face.
The directors have one problem to face, and that is at outside left. There is not a pinprick between Boyes and Caskie in merit of play. Some favour the former Albion player others think that Caskie should be in. It will make no difference which one of them is in, but I fancy we will see Boyes in the first team. Cook seems to have got over his motor accident although he bears many scars on his head. He headed the ball without any qualms, however, and must have been well tested during training. He showed not the slightest nervousness in putting his head to the fiercest driven ball. Thomson's shoulder is still sore, but he told me he would soon be alright. The new man, E. Barber, from Blyth Spartans scored the first goal of the day, nicely taken and with every confidence and he looked a natural footballer. He has ideas, put them into practice, and generally made an impression. He is stockily built with sturdy legs. It was Lovett, however, who took most of the game's limelight. He made some dazzling saves and had no chance with Lawton's two goals, the second of which was a perfect header, the ball sailing out of the goalkeeper's reach. The Blues seemed to saunter through the game, and some of the Whites did similarly. If Everton can go through the season with so few injuries as in the last term, then all will be well. The scorers were Blues; Lawton (2), Gee (own goal); Whites; E. Barber, Caskie, Cunliffe, and Bell. Result; whites 4, Blues 3. . Blues: - Sagar, goal; Cook (captain) and Greenhalgh, backs; Mercer, Jones and Watson, half-backs; Gillick, Bentham, Lawton, Stevenson, and Boyes, forwards. Whites: - Lovett, goal; Jackson and Jones, backs; Britton, Gee, and Lindley, half-backs; Barber (A.), Cunliffe, Bell, Barber (E.), and Caskie, forwards. Referee Mr. J.N. Brown (Ormskirk).
EVERTON'S TRIAL.
August 14, 1939. The Liverpool Echo.
By Stork.
Well, what did we glean from the Everton practice game? Just one thing that on the score of football ability Everton should again have a good season. I don't mean to say they will win either the Cup or the League, for that would be too optimistic, a note, but judged on their football ability they are not one whit different to last season, when they won the championship. Supporters like to see a few new names in a trail game; Everton had only one to show them, E. Barber, an inside left from Blyth Spartan. He had a good game, scored the first goal of the day's seven goals, and made a good impression in a game which naturally was without the "bite" of a League game. In this class of game one is able to sit back and enjoy the football fare without need for vigorous play. It is usually clever football, perhaps a little overdose in the desire of the players to produce tricks. Well, there was much clever football on Saturday and if the 10,000 spectators did not enjoy it, it was only because they knew the bulk of the players were not at full stretch.
One Who Was Keen.
One who was keen as though it was a Wembley final was goalkeeper Lovett, who was the outstanding man on the field. Some of his saves were brilliantly executed. Everton had to sign practically the whole of his former team (Kenwood Juniors) to obtain him, but on Saturday's play it was well worth it. Many times in these notes have I given him a good "crit" for work well done. Now I say he is well fitted out to step into Sagar's boots should the "regular" not be available. He stopped point black range shots, but it was his handling of the ball which was going away from him that took my eye. Barber, the north-easterner, is not a big 'un, but some of his methods were top class, and he took his goal as though it was an everyday occurrence. Charlie Gee scored –but against his own side. Charlie cannot be curbed even in adversity. In the dressing room after the game he said; "It was a pity I headed into my own goal, for the Arsenal were watching me. Lawton's two goals were gems; his first a footed effort, his second a charming glide with his head. He had other saved, as did Stevenson and Bentham. One of the directors' problems will be the left wing. Boyes and Caskie have their fame, and there is so little between them in point of play that I would not like to have to make a choice. No matter which is in the position, will be well filled. I think Boyes will be first choice. Failing a bundle of injuries, I see no reason why Everton should not hold a high position at the end of April. Willie Cook of the many stitches headed the ball as though he had never been in that motor crash. I think he deliberately left the ball smack up against his forehead to give it a full test. Well, the old pate came through all right. Jock Thomson told me his shoulder is getting along nicely although still a bit sore. Another who reported himself fit was Wyles, who last season had a heap of trouble. Everton, by the way, are following Liverpool in the matter of Cup-tie tickets. Tonight a combined Liveton team will play Bootle at Cricket. The order of the goal scoring was E. Barber, Caskie, Lawton, Gee (own goal), Lawton, Bell, Cunliffe.
EVERTON WILL TAKE SOME BEATING FOR TITLE.
August 14, 1939. Evening Express.
Trail Match Reveals Ideal Blend.
Younger Players Show Up Well
By Pilot.
Everton, the Football League Champions, are all set for the defence of their title when the season opens on August 26. Their trial match revealed no flaws in the makeup, but abundant artistry. If the directors have a problem, it is in regard to the outside left position, where two internationals are clamouring for inclusion. They are Wally Boyes, of England, and Jimmy Caskie, of Scotland. You can almost rest assured, however, that Boyes will play in the opening game against Brentford. Everton do not believe in changing a successful side, and Boyes was the regular left winger last season right up to the concluding games when injury kept him out. Besides, Boyes showed in the trial that he has lost nothing; in fact the work of the left wingers constituted a highlight in the game. The team I expect to line up against Brentford at Goodison Park on August 26 will be that which represented the Blues on Saturday and which lost 4-3. The Blues were often playing at half pace, however. The Blues have made a discovery in young Edward Barber, an inside-left from Blyth Spartans. He is strongly built, forceful, alert in spotting an opening and a nice purveyor of a pass- especially with the left foot. It was good to see Jimmy Cunliffe playing with his 1937-38 season confidence, and producing that quick 15-yards burst with the all, while Barber (A.), the Weston-Super0Mare right winger, has made improvement. Lindley took my eye as a half-back, having all the arts, while Gee was a strong purposeful pivot who will never be allowed to forget, in the dressing-room that he headed a goal against his own side! Everton need have no worries regarding a deputy to Sagar if the form of Lovett can be maintained. He was brilliant and two saves –from Lawton and Boyes –were great. He reminded me a lot of Sagar, and I am certain that he is going to make a fine goalkeeper. All the tried and tested players gave us delightful work. There is experience and youth in the club, and the two blend splendidly. Lawton (2) and Gee (Own goal) scored for the Blues and Barber (E.), Caskie, Bell and Cunliffe for the Whites in a trial watched by 10,611 spectators who paid £269.
FOOTBALLERS AT CRICKET
August 15, 1939. The Liverpool Daily Post.
Good Work In The Field.
The Bootle cricket team treated the attack of the combined side of Everton and Liverpool footballers with great respect for the most part of their game last night at hawthorns Road, which will be continued this evening. They were mainly indebted to the score of 197 to some brisk hitting late on principally by J.W. Greenwood and Shadbolt, who put on 56 in 22 minutes for the ninth wicket. Harrison, with four 4's and much left handed grace, lent most of the colour to the earlier phases, and with 7 wickets down for 116 the footballers had done well. Greenwood, after a tedious opening, however began to take toll, and improved his side's position with seven 4's in his 44. The footballers gave very little away in the field, as witness 3 run out victims and 2 brilliant slip catches by J. Jones and one by Nieuwenhuys. The latter's speed in pursuit and Bentham's "fetching and carrying" were as marked as on the football field. Gee, who captained the side, and at one stage had 3 wickets for 12 runs, had the best return of 8 bowlers with 3 for 26. J. E. Jones taking 3 for 30, Taylor 1 for 17 and W.M. Jones 1 for 19. Interest tonight will centre on the batting displays of Bentham, who has been hitting centuries during the summer, and Taylor, with his Gloucester county credentials: - Scores: - Bottle; H.S. brown, c, Nieuenhuys, b . Jones 18; S, Shepherd ran out 23; J.H. Williams, Ibw b J. Jones 5; F. Harrison c J. Jones b W.H. Jones 23; J. W. Greenwood, b J. Jones 44; E.A. Lawrence C J. Jones b Gee 2; W.E. Lewis c Done b Taylor 3; H. Hobley b Gee 12; J.H. Shadbolt run out 22; T.B. Roberts, run out 7; B.F. Lawrence, not out 3. Extras 29. Total 197.
Combined Everton and Liverpool team. C. Gee (captain), R.C bell, J. E. Jones, C. Milligan, M. Lindley, S. Bentham (Everton). J. Balmer, B. Nieuwenhuys, C.C. Done, E. Spicer, P. Taylor and W. H. Jones (Liverpool).
EVERTON'S JUBILEE FUND TEAM
August 16, 1939. The Liverpool Daily Post
By John Peel.
In aid of the Football League's Jubilee Fund, the clubs stage a number of attractive matches on Saturday, and as this is a full-dress rehearsal for the opening of the campaign on the following Saturday there are sure to be a large attendances. The Jubilee Fund open last season is the means of good work being accomplished and I have no doubt the matches will be supported to the fullest extent. On Merseyside Liverpool and Everton at Anfield provide the chief attraction and the local followers of the game will reveal in the pre-view of the stars who are to carry the club colours in the real business of points gathering. Everton will have their championship side on duty, the eleven being as follows; Sagar; Cook, Greenhalgh, Mercer, Jones, Watson; Gillick, Bentham, Lawton, Stevenson, Boyes.
BALMER HITS 'EM HOME.
August 16, 1939. The Liverpool Echo
Ranger's Notes.
In the gloaming, and in between signing autographs for what appeared to the harassed players every small boy on Merseyside, the combined team of Everton and Liverpool footballers scored a popular victory over Bootle C.C at Hawthorn Road, last night, when they rattled up a stirring 207 for six wickets in reply to the home side's overnight total of 197. One or two brilliant catches were taken, but in other respects the Bootle cricketers gave the footballers an object lesson of how to keep the ball on the ground." Phil Taylor showed obvious signs of his Gloucestershire county upbringing with a stylish 43 that included many choice stokes, and nothing more so than his late cut, but the evening's biggest scorer was Jack Balmer, whom we have come to know through his association with Birkenhead Park and other local clubs. Balmer was undefeated with 69 to his credit and made victory possible by a swashbuckling effort when the light would not have been tolerated by your ordinary cricketer. He hit ten 4's, six of them in successive scoring strokes. If both umpires (in respect) of confident appeals behind the wicket happened to be football fans, that did not detract from the merit of an innings that always kept the game open. Another fine innings, less venturesome but always polished was that of the left handed Spicer, also of Liverpool, who contributed a neat 52 not out to hand out a laugh on his cricketing sponsors, who almost refuse to let him handle a bat lest it should impair his bowling capabilities. And if there is a more enthusiastic captain than Charlie Gee he will be worth meeting. The Goodison pivot "shouted home" every run, and when the light was threatening to rob his side of victory he was making arrangements to "turn up in the morning to finish it."
EVERTON CHOSE CHAMPIONSHIP SIDE FOR "JUBILEE" GAME AT ANFIELD.
August 16, 1939. The Evening Express.
Cook May Lead Side In Absence Of Thomson.
By Pilot.
The Football league Division one Champions will be on parade on Saturday, when the Jubilee Fund matches provide the prologue to the 1939-40 season, which opens on Aug 26. Everton visit Anfield to oppose Liverpool and the Blues directors at their meeting last night decided to select the championship team to do duty. This occasions no surprise. For it was Everton's policy last season to scorn team changes, and it was one of the secrets of their success in taking the First Division title with four points to spare. Thomson, the club captain. Is not available owing to the shoulder injury he received in a motor smash, but Gordon Watson was the regular left half during the closing weeks of last season, and so there is no change. Everton have not appointed a vice-captain, but it is certain that Willie Coo, the Irish international will lead the side. Cook was skipper for the closing matches last season and did the job with enthusiasm and tact. Everton; Sagar; Cook, Greenhalgh; Mercer, Jones, Watson; Gillick, Bentham, Lawton, Stevenson, Boyes.
• Everton directors, players, staff and wives plan a day's outing to Morecambe once the Jubilee game is out of the way.
THE FUND GAME.
August 18, 1939. The Liverpool Echo
Ranger's Notes.
Any of Liverpool-Everton meetings invariably goes down well with the sporting populace of the city. From the crackerjack first team meetings right down the register to the Reserves, and "A" team matches, there is an atmosphere about such clashes. Nothing can equal the interest engendered when something is at stake, but there will undoubtedly be unusual interest in tomorrow's meeting because Everton as champions have prestige to lose and Liverpool want to see how they stand as compared with the best side in the county. It should be a nice, quite exhibition of how to play football –if there are no development. Unfortunately there have been known to be developments along wrong lines in matches between the clubs, but this is one occasion, above all, when it should be a straight fight with football the main objective. It doesn't matter which side wins. The idea is to give the public a fund of football not necessary hard football with no injuries to report at the end. How often the semi-charity games lead to hospital cases the football fan knows well enough. Here is a chance for our senior clubs to show their undoubted skill and to make the occasion memorable. It would be a good ideal to cut out the charge altogether –those Continental visitors who excelled at Anfield gave some indication of what chargness games could be like. Liverpool will be showing Poland in goal for the first time in a senior game, Everton start off minus Thomson (whose job when he is not playing is to "captain" the side from the grandstand seat. Still, most of the names that make football news in this city will be there, and it looks like being a very pleasant occasion with plenty of football meat in the meal. May the fund benefit considerably and may the players who are really "helping themselves" never need to draw from it. Liverpool; Poland; Harley, Ramsdem; Busby, Bush, McInnes; Niuewenhuys, Taylor, Fagan, Balmer, Van Den Berg. Everton; Sagar; Cook, Greenhalgh; Mercer, Jones, Watson; Gillick, Bentham, Lawton, Stevenson, Boyes.
H. ROBERTS
Staffordshire Sentinel - Friday 18 August 1939
Chesterfield's latest signing H. Roberts, an outside-left, season played for Everton reserves as amateur. He was given A trial in Chesterfield's practice game last Saturday and he scored one goal.
ANFIELD CLASH OF REDS AND BLUES
August 18, 1939. Evening Express.
Poland's Debut For Liverpool
By Pilot.
The young footballers do their bit to help the stars of yester-year tomorrow, when the Jubilee Fund matches take place as the "curtain-raiser" to the 1939-40 season which opens a week hence. The Fund was instituted by the late Mr. Charles Sutcliffe, president of the Football league, a few months before he died. A sum of £100,000 is aimed at, and at the moment about 40,000 has been raised. It will be devoted to assisting ex-professional players. The big match on Merseyside will be staged at Anfield where Liverpool and Everton clash. There will be one newcomer in the game, George Poland, the Welsh international goalkeeper, whom the Reds signed in the summer from Wrexham. I look forward to seeing in fine exhibition of football. That there is abundant football ability about the sides there is no doubt. I grant it is the goals which constitute the paramount thrills of football, but play of the copybook variety can give extreme pleasure. The will to win will be there all right. Last season, when the sides met in this game at Goodison Park, Everton won by the odd goal in three. Tomorrow they trot out their full championship side, although lacking Jack Thomson, their captain, who is not yet fit. Still, it was Gordon Watson who wound up last season at left-half, and he carries on where he left off. Liverpool are relying on their young defence of Harley and Ramsden, and it has fallen to the lot of Bush to solve the centre half back, Liddle, Well, Bush has never yet played badly against Everton, Riley of course, is on the injury list. I expect a big crowd for this appetiser to the real league fare. Liverpool; Poland; Harley, Ramsdem; Busby, Bush, McInnes; Niuewenhuys, Taylor, Fagan, Balmer, Van Den Berg. Everton; Sagar; Cook, Greenhalgh; Mercer, Jones, Watson; Gillick, Bentham, Lawton, Stevenson, Boyes.
Everton sign bebington AMATEUR
Liverpool Evening Express - Saturday 19 August 1939
Everton F.C. have signed Harry Lamb, a 14 years old inside-right, who is regarded as one of the finest schoolboy footballers in Wirral. Last season Lamb, a Bebington boy, played for Cheshire County schoolboys and for the West boys against the East boys. He is 9st., and 5ft. 6ins.

ANFIELD DERBY
August 19, 1939. The Liverpool Daily Post
By John Peel.
On Merseyside the chief Soccer attraction is the meeting of Liverpool and Everton, at Anfield, and I am sure supporters of the game will revel in this match. Both teams have enjoyed preliminary runs and this match will enable the players to get really ready for the following Saturday. It should prove a capital exposition of the finer points of the lay. The kick-off is at 3.15 and the teams are; Liverpool; Poland; Harley, Ramsdem; Busby, Bush, McInnes; Niuewenhuys, Taylor, Fagan, Balmer, Van Den Berg. Everton; Sagar; Cook, Greenhalgh; Mercer, Jones, Watson; Gillick, Bentham, Lawton, Stevenson, Boyes.
STUD MARKS.
August 19, 1939. The Liverpool Echo
By Louis T. Kelly.
• George Martin, Luton's just appointed manager, looks little changed from his Everton days. He wed a Walton young lady, and the family branches now includes a girl and boy.
• Everton had all their fourteen internationals on view last week-end, when the outstanding artist of the day was none other than Cliff Britton, who literally made the ball talk.
LIVERPOOL GOT THE GOAL.
August 19, 1939. The Liverpool Echo
Everton Show Their Class
Poland's Hurt
Septic Hand Will Lay Him Up a week.
By Contact.
To mention the heat is almost superfluidous –so I won't. You must be content to know that the Liverpool-Everton Jubilee Fund match was the best bit of pre-season training the players could have. No one envied them their calling! Liverpool; Kemp, goal; Harley and Ramsdem, backs; Busby (captain), Bush, and McInnes, half-backs; Nieuwenhuys, Taylor, Fagan, Balmer, and Van Den Berg, forwards. Everton; Sagar, goal; Cook and Greenhalgh, backs; Mercer, Jones (T.), and Watson, half-backs; Gillick, Bentham, Lawton, Stevenson, and Boyes, forwards. Poland had a septic hand, and Kemp took his place in goal. Poland's injury will keep him out of training for a week. No occasion could have been more picturesque. The green of the turf and the vivid colours, made it an usual sight and so did the fact that the referee and linesmen were garbed in sleeveless shirts. Everton are champions in more than name –they were more together in the first fifteen minutes and only Kemp's ability to hand away Lawton's fierce point-blank shot prevented them from leading. This save was worth the Jubilee Fund admission. Not only were Everton better in attack, many promising Liverpool moves broke down because of Jones and having broken down such moves Jones used the ball as only he can. Liverpool led when Van Den Berg pulled back a nice centre which led to Nieuwenhuys and Taylor both boring in, the credit for the goal going to Taylor. Before that Joe Mercer had nearly claimed the best "own goal" shot with a mistimed clearance which slammed against the post at terrific speed and then rebound away. Everton were still on top when they were a goal down. 25,000 people were enjoying every moment of a hearty game which produced a surprising amount of "the real stuff." Everton went off the boil for a while, and Gillick's two shots from oblique angles sailed over the top harmlessly. But there was harm for the shooter in the second case, because Ramsdem's tackle as the shot was made meant an injury that set Gillick limping. Liverpool had their moments, and Sagar did splendidly to pre-judge the point to where Van den Berg centred after the South Africa had sped away on his own. Nivvy went inside right for a spell, and it was then the referee had to have a word with Greenhalgh, Busby going to the ref, to quite the "offence" away whilst he walked away. Naturally, the game could not maintain its pace, but Referee Evans, of Liverpool, who on this showing is as good a referee as we have, seemed to be lightning in both his decisions and in his sprinting.
Half-Time; Liverpool 1, Everton 0.
Penalty Claimed.
Everton claimed a penalty when Bush tripped Stevenson, yet there was a doubt as to whether the offence was in or outside the penalty area. In any event there was no decision either way in Everton's favour. Liverpool almost become 2 up when Van Den berg across a centre which Nivvy headed towards goal, but not at the right angle. Then Sagar pushed a lovely shot from Balmer –a low one, round the post. Balmer scored for Liverpool 54 minutes.
LIVERPOOL'S SUCCESS
August 21, 1939. The Liverpool Daily Post
Everton Beaten by Odd Goal Of Three.
Hard And Well-Fought Game.
By L.E.E.
Liverpool beat Everton by 2 goals to 1 in the Football League Jubilee Fund match at Anfield, but a better verdict would have been a draw. No matter, the results means little or nothing. The football was the main consideration, and It is to the credit of both winners and losers that nit was an anything but boring exhibition –as so many of these charity matches are. At times it was difficult to realise that there was nothing at stake except the usual bonus. There have been many less acceptable League fixtures the clubs. Everyone went practically full out and there was an element of danger on occasion because the earnestness and the heat of the day engendered fraction. Probably Everton, as champions, felt they should loss. Liverpool too, had the spur to make it a "straight" game because they were meeting the best side in the country, judged on last season's records, I doubt whether any other Jubilee fixture was so hard and well-fought and so interesting to those who were only too willing to help the professional footballer of the future financially, whilst indulging their passion for the winter sport. Rarely does one get, in the season proper, the heat of the day as experienced now. It said a lot for training that the pace, well set, should he almost maintained from end to end. The only flagging was done by the linesman –and that officially!
Everton Forwards Impress.
The assertion that Everton deserved to draw may produce an opposite view, but my estimation of the game was that they were the better side for a long spell in the first half and again in the second period. Liverpool had moments when they played unbeatably well, but Everton, I though, were more together as a side, and had Liverpool pulling hard in defence towards the end when the side in the lead had some hairbreadth escapes from losing their advantage. The Everton forwards impressed the writer as being the more effective combined force. Liverpool's front line strength, when it came, was largely divided between one wing or the other, and able as was their football on these occasions they did not sweep through as efforticessly as the opposition. Of such a game it is obviously right and proper to say that although everyone played hard the tendency to ease up to avoid possible injury was apparent. No one would wish a player to risk a serious knock in such a match. Nine minutes from the start Taylor scored for Liverpool, when he and Niuewenhuys both men in unison to convert Van Den Berg's pulled back centre. Nieuwenhuys was concerned in the second goal. His penchant for shooting is such that nine out of ten people who know his play expected him to shoot when he cut in and had no opposition save Sagar. But unselfishly he planted the ball so that Balmer could hardly fail. A free kick taken by Greenhalgh was the lead up to Lawton's headed goal, and the Everton leader was close up to adding to this several times afterwards. Previously he had made a great shot, a full drive of characteristic power, and Kemp had rehabilitated himself in the minds of Liverpool followers with a superlative save. Kemp did not field the ball as neatly as he can at best but he did well. He gave the impression of playing to orders in cutting out as many unnecessary risk as possible in view of Liverpool's goalkeeper ill-luck. They have two on the injured list thus early.
Encirclement !
I liked Busby's quiet and effective use of the ball, but on this occasion he had to take second place to Tom Jones, another stylist, whose command of the centre of the field, and with such assurance and confidence, makes him the best centre half in the game. By comparison Bush looked almost clumsy, but Bush got through any amount of stein work with his head, and only when Everton kept the ball on the ground did he fail to become master of Lawton. Once Lawton had made his cannon-ball shot, Liverpool concentrated on crowding him out to a point where he became the victim of a policy of encirclement. Gillick's knock prevented him from being numbered among the winners who were outstanding. Van Den Berg struck something like his real form, and was too quick off the mark for the comfort of Cook. Both half-back lines were strong and sure in most of their work, yet Mercer failed to reach his own high standard. Liverpool's inside three were breath taking in their inspired moments, but again the finishing touch did not come easily to them. Result Liverpool 2, Everton 1.
Liverpool; Kemp, goal; Harley and Ramsdem, backs; Busby (captain), Bush, and McInnes, half-backs; Nieuwenhuys, Taylor, Fagan, Balmer, and Van Den Berg, forwards. Everton; Sagar, goal; Cook and Greenhalgh, backs; Mercer, Jones (T.), and Watson, half-backs; Gillick, Bentham, Lawton, Stevenson, and Boyes, forwards.
EVERTON SHOULD HAVE DRAWN
August 21, 1939. The Liverpool Echo
Ranger's Notes.
If Liverpool and Everton served up football this coming season of a standard equal to that of the Jubilee match their followers will have no reason to complain; but having said that we have just about extracted all the real concrete guildance which this game gives as to the uncharted seas ahead, for both clubs during the next eight months. Certainly there was more bite and spirit about it than the usual friendly match, but even so there is all the difference in the world between the game of the type and one where points and are at stake, and while both sides played in a manner which confirms the belief that they will beat more teams than beat them it would be folly to allow optimism based on this showing to run riot. All the same, I reckon both sides will do well in the League tournament Everton are more than likely to be in the running for a repeat championship performance, while if Liverpool can regain some of their old time facility for bringing in the points from away matches they should be well up among the leaders. Much will depend on freedom from injuries for nothing underlines confidence much than a run of bad luck with laid-up key-men. Everton were singularly fortunate in this respect last season, and it had a good deal to do with their success, for the team struck an understanding and belief in one another which was half the battle at the most critical stage. Liverpool will naturally take encouragement from the victory over the champions in the Jubilee game, albeit those who looked on without prejudice will admit that the home side were fortunate to hang on their lead in the second half, when, after Liverpool had an inspiring 15 minutes. Everton piled on such pressure that the home defence was inclined to get a little jittery. That doesn't include Kemp, who made some really excellent saves at the most vital period, yet withal did not inspire the confidence he ought. Interwoven with his brilliancy there is a streak of mediocrity which comes to the surface now and again and makes one fear for the possible consequences. But for that streak Kemp would be one of the best goalkeepers in the land. There is no reason why he should not overcome it.
Everton's Failing.
The first half provided a most entertaining exhibition of the fines arts of football and showed us a Liverpool attack that was not only full precision and spend, but what was more important, was not afraid to shoot at every opportunity. In the latter respect they compared favourably with Everton, for apart from an early Lawton effort, a couple by Gillick and one by Stevenson, Everton were inclined to be shot-shy. They gave me the impression they felt they could win how and when they liked and wanted to walk the ball through. It didn't matter in this game, but it is an attitude of approach that may be costly in league matches. The pattern-weaving was nice to watch, but from the point of view of points gathering, when the real warfare starts they might take an example from Liverpool's more direct methods. However, I don't think Goodison followers need lose any sleep on that account. Everton allied plenty of on-the mark shooting to their clever constructive approach work last term, and there is no reason to assume that this term will witness any change. I would like to see Bentham, though have a go on his own a little oftener. The fetching and carrying business can sometimes be overdone. After Liverpool had tasted blood through Taylor's scrambling goal, they ran through the Everton defence at times in a manner few sides did last season, but the clever work of Jones –who further strengthened my view of him as the finest and fairest centre half in the game today –and the solidity of Sagar, whose catching of a high ball is still as sure as ever kept them from their due reward; though Balmer and Taylor were not without blame for missed chances. We saw some good runs from Van Den Berg, who judicious feeding by McInnes would have been still more effective if the half back had pulled his punches" a little at times; some Balmer howitzer-specials which sailed just over the bar –and some much more than just over –and a display of wise distribution by Fagan, whose only "fault" was that sometimes his intuition was not shared by his colleagues. Fagan has a football brainbox that occasionally works too fast, and certain of his movements are made to appear wasteful when actually the blame is not his.
Liverpool Harassed.
For a quarter of an hour in the second half Liverpool looked almost like world-beaters, but after Balmer had got a second the Blues took up the initiative to such an extent that Liverpool's threats were confined to occasional spasmodic breakaways, and only strong covering of the backs by Busby and McInnes and dour work by Bush, who held up Lawton more by strength than skill, prevented Everton getting on level terms. Lawton reduced the deficit and that was as far as Everton got though Lawton had a goal nullified for an offside decision which from my angled view, seemed rather fine, while Kemp made a miraculous full-length save from a Gillick shot, which seemed certain to score. Like the practice games which went before it, this match did little beyond confirm past knowledge. It showed us Busby as football's outstanding M.A. Liverpool's quickness in striking per their speedy wings. Harley's occasional disadvantage up against a little un like Boyes where his speed is nullified and a Van Den Berg back to something like his pre-injury form, which should lighten Liverpool's anxiety about the left wing problem. Bush can hold most centre forwards when the ball is in the air, but on the ground he found Lawton a difficult handful, even through the Everton leader got few real chances. Mercer was not the Mercer of Hampden Park; Watson took another step, in his quiet unspectacular manner to making his first-team position secure while the defence was never flustered and rarely at fault even during Liverpool's most dangerous period. The barracking of Greenhalgh by a section of Spion Kop, in the first half was foolish. Both incidents which related the crowd's ire happened right in front of the Press box. In the Nieuwenhuys incident it was six of one and half a dozen of the other, while in the Taylor case the Liverpool forward fell over his opponents' leg. It was certainly not a deliberate trip, as the crowd seemed to think and Busby was very sportingly the first to point it out to the referee. Liverpool's two injured goalkeepers are progressing favourably. Riley's dislocated little finger only needs rest, while Poland's septic toe is improving. Upon the doctors report later in the week will depend whether either can be considered, for the opening game on Saturday at Sheffield.
TEAM SELECTION MADE EASY
August 21, 1938. Evening Express.
By Pilot.
Neither Liverpool nor Everton directors need have any worries regarding the choice of their teams for next Saturday's opening football league matches. This was obvious from the Jubilee game at Anfield, on Saturday, when the Reds deservedly reversed the 1938 score by beating the champions 2-1. As a matter of fact, one would be quite safe in stating that the two elves that did duty will be playing against Sheffield United and Brentford respectively. Maybe Liverpool were worried about the position of goalkeeper seeing that Riley is suffering from a dislocated finger and that Poland is down with a septic toe, but Dick Kemp, the tall South African, came into the game on Saturday to give a brilliant display. He becomes an automatic choice. The remainder of the side chooses itself. The manner in which Tom Bush held Tom Lawton earns him the centre-half position, and while Liverpool's only fault was some slowness in recovery in defence, I think the side will be at Bramell lane –yes, and capable of winning. Everton could also be faulted on the point of slowness in recovery in this brilliant game which was more like a cup-tie than a friendly, and their forwards were just inclined to crowd when near goal. Still, all the old craft and cunning were there with that easy progressive way which has become a characteristic of the Blues. Everton played the close-passing game excellently and in the closing stages attacked almost continually without being able to defeat the alert Kemp. Had the equalised it would have been unjust to the Reds, who thrilled and delighted with their quick, yet thoughtful methods of approach. They exploited the cross-field pass splendidly, and there was a nip about then which was highly encouraging. Here was a clash in style, and it made for a grand spectactle. I hope the Liverpool forwards –rest assured they will get all the support they need from Busby and Mcinnes as on Saturday –play with the same verse and deadliness in league games. If they do, then Liverpool will be bang there. One was sorry to see a trace of feeling but this was a match which will go down in memory for its abundance of sheer football artistry and thrills. Gordon Watson, Tommy Jones and Jimmy McInnes were to my mind, the scintillating stars but Kemp, Sagar, Busby, Balmer, Fagan, Taylor, Boyes, Van Den Berg and Stevenson were others who claimed more than "very good," mark one could give all those who participated. There were 15,222 spectators, who paid £773 –and they were well repaid. Taylor and Balmer scored for the Reds before Lawton reduced the lead.
EVERTON SIDE
August 23, 1939. The Liverpool Daily Post
By John Peel.
Everton open the football season at Goodison Park on Saturday with a match against Brentford, who have done well in recent seasons. As champions Everton will be expected to begin with victory, but the London side, I am sure will give them a good run. As was generally anticipated, Everton will have their championship side, and the one which did duty in the Jubilee Fund game at Anfield on Saturday, namely Sagar; Cook, Greenhalgh; Mercer, Jones, Watson; Gillick, Bentham, Lawton, Stevenson, Boyes. The kick-off is at 3.15.
Everton Reserves side to meet Sheffield Wednesday at Hillsborough will be; Lovett; Jackson, Jones; Britton, Gee, Lindley; Barber (A.), Cunliffe, Bell, Barber (E.), Caskie.
EVERTON NO CHANCES
August 23, 1939. Evening Express.
By Pilot.
Everton's determination to continue their no-change policy is proved by their team selection for the opening game-against Brentford at Goodison Park on Saturday. The team that did duty last season will be on view. Of course, Gordon Watsons plays left half, but Jock Thomson is not yet fit. Still, every member of the side gained a championship medal last term. Sagar; Cook, Greenhalgh; Mercer, Jones, Watson; Gillick, Bentham, Lawton, Stevenson, Boyes. Everton Reserves side to meet Sheffield Wednesday at Hillsborough will be; Lovett; Jackson, Jones; Britton, Gee, Lindley; Barber (A.), Cunliffe, Bell, Barber (E.), Caskie.
SAGAR'S 300TH GAME.
August 24, 1939. The Liverpool Daily Post
By John Peel.
Sagar, Everton's goalkeeper, turns out in his 300th League game for the Goodison Park club on Saturday. He joined Everton in March, 1929, from Thorne-Collery, after he had trials with Hull City. Making his League debut V. Derby County, in January, 1930, he took part in eight League games that season, but it was not until 1931-32 that be became the regular first team custodian. Since then he has rendered the club valuable service and has gained international honours against Scotland, Ireland, Austria, and Belgium (1936), A Cup winner's medal (1933), Second Division championship medal (1932), and First Division championship medals in 1931-32 and 1938-39, while he has also played for the Football League v. The Irish League. Lithe and alert Sagar was born at Moorends and stands 5ft 10ins, and weighs 11st, and he can be sure of a warm reception when he turns out for this game.
To Meet Everton.
Brentford are including three new men among the selected players to meet Everton at Goodison Park on Saturday. There is a doubt however about Anderson their Scottish recruit from Queen of the South, who has ankle trouble, but it is hoped to have him fit to play. Team; Crozier; Gorman, Anderson (or Poyser); Scott (W.), James, Manley (Manchester United); Hopkins, Boulter, Cheetham, Saunders (Sunderland), Smith.
EVERTON'S VISITORS.
August 25, 1939. The Liverpool Daily Post
By John Peel.
Brentford, who were beaten 5-1 by Chelsea in the Jubilee game before their own supporters last week provide the opposition to Everton for the opening game of the new season at Goodison Park tomorrow. Last season the London club fared none too well, finishing eighteenth in the League chart with 36 points, of which only a dozen were gained from away matches by three victories and six drawn games. Starting in 1888 as an amateur organisation, Brentford entered the Southern League Division 11 on turning to professionalism. After the war they became members of the Third Division (South), winning promotion first to the Second Division in 1932-33 and then to Division 1 in 1934-35. During their visits to Goodison Park they have taken but 2 points, by means of a 2-1 success on their first appearance but since then they have been defeated by 3-0, 3-0 and 2-1.
AS THEY LEFT OFF?
August 25, 1939. The Liverpool Echo.
By Stork.
While Everton are starting as they left off with the same team that won the championship, their opponents at Goodison Park tomorrow, Brentford have made changes, bringing in their three new men obtained on the close season. It is a great asset to keep the same team together, and although Everton were beaten in the fund match by Liverpool, no great heed need be paid to that game, for you can take it from me that very few of the players were at full stretch. Everton, of course were not expected to make any changes for the team which won them their title played well enough throughout last season that they were noted and quoted up, and down the country, as the best football team of the day. If they can start as they did last term there will be joy in the camp, for they won their first three games against such strong opposition at Blackpool (strng in names), Aston Villa and the Arsenal, the latter game bringing the Londoners to their feet to cheer the visitors praises if you like. There is a confident spirit among the boys, and I don''t wish to infer that they are "cocksure" about everything but they have a brief in themselves, while at the same time realising that they have a stiff task ahead as champions. Brentford have fallen from grace. Last season it took them all their time to stay in the First Division but they we hoping that their luck has changed and that acquisition of new players will make all the difference. No matter what they have done elsewhere the "Bees" can usually be depended upon to a bright show at Goodison. Some of their best game shave been served up at Walton, but I feel that they are in for defeat for Everton are particularly strong on their own ground. Of course, it had to turn out like an Indian summer for the opening day, but I feel that the people are ready for their football. It will not be pleasant playing, but should be nice watching and I am looking forward to a good, sportsman's like contest. Teams; Sagar; Cook, Greenhalgh; Mercer, Jones, Watson; Gillick, Bentham, Lawton, Stevenson, Boyes. Brentford; Crozier; Gorman, Anderson (or Poyser); Scott (W.), James, Manley; (Manchester United); Hopkins, Boulter, Cheetham, Saunders, (Sunderland), and Smith.
SAGAR'S 300TH LEAGUE GAME FOR BLUES
August 25, 1939. The Evening Express.
Everton field their "old brigade" against Brentford at Goodison Park –the boys who landed the championship last season by a margain of four points. This match, should enable them to carry on where they left off, for Brentford, on paper do not appear strong enough to lower the colours of a side that loss only once at Goodison Park last season. This was against Charlton Athletic. Now they carry on an endeavour to equal Liverpool's post-war record of having won the title two season in succession. It will be a red letter day for one player, Ted Sagar, familiarly known as "The Boss," because he is the Blues' longest-service player, will be playing in his 300th Football league game with the club. Sagar joined the Blues from Thorne Colliery in 1928, and has shared a many triumphs, besides securing his place in England's team. It would be a nice gesture if Sagar were selected captain for the day, I know Willie Cook, the acting captain would not mind a bit. Everton have a chance of recording their fourth successive win over the "Bees" on this ground, for Brentford have been defeated ever since their first visit four years ago when they won 2-1. If the Blues play as well as they did in the last half-hour of the Jubilee game against Liverpool then they should win.
Brentford Problem.
No one attaches a great deal of importance to Jubilee match form, but it is worth recording that Brentford were beaten 5-1 on their own ground by Chelsea last Saturday! This seems to indicate a weakness in defence. As a matter of fact Brentford are troubled about their back division. Anderson, their new left back, is a doubtful starter. If he cannot play, Poyser will deputise. Everton have a fine chance of winning, and they will do so if they eradicate one fault in attack. This is a propensity for overcrowding in front of goal. It will be a case of the speed of Brentford's forwards, wherein Cheetham, the ex-Army and Queen's Park Rangers lad, is the danger, being matched against the skill and craft of Everton, and it is with confidence that I expect the champions to celebrate the new season with a win. Teams; Sagar; Cook, Greenhalgh; Mercer, Jones, Watson; Gillick, Bentham, Lawton, Stevenson, Boyes. Brentford; Crozier; Gorman, Anderson (or Poyser); Scott (W.), James, Manley; Hopkins, Boulter, Cheetham, Saunders, and Smith.
EVERTON'S GAME.
August 26, 1939. The Liverpool Daily Post
By John Peel.
Brentford finished low in the table last May, but the club officials believe the team can do much better, and the London side calculate that they can give Everton a good run. As Champions however, the Goodison Park side will feel that they must make a good start and they will. I believe count full mark's this afternoon. It is an attractive match and despite the fact that a repetition of the close atmosphere prevailing yesterday will test the stamina of the teams in a fast strenuous game, the play is likely to be of an interesting character. The Everton side is that which won the championship and they hope to justify their high reputation. Sagar makes his 300th appearance in a League match for the club. That is a fine record and the player has always retained n excellent record in the matter of scientific goalkeeping. The kick-off is at 3.15 and the teams are; - Sagar; Cook, Greenhalgh; Mercer, Jones, Watson; Gillick, Bentham, Lawton, Stevenson, Boyes. Brentford; Crozier; Gorman, Anderson (or Poyser); Scott (W.), James, Manley; Hopkins, Boulter, Cheetham, Saunders, and Smith.
IMPROVED BRENTFORD TAKE A POINT FROM CHAMPIONS.
August 26, 1939. The Liverpool Football Echo.
Everton Defence Lapses After Hectic Opening Half.
Saunders Equalises A Lawton Goal.
By Stork.
Everton must do better than this if they are to retain their title. For one thing they will have to speed up a little and there must be more understanding in defence that there was today. Brentford have improved since last year. Teams: - Everton: - Sagar, goal; Cook (captain) and Greenhalgh, backs; Mercer, Jones and Watson, half-backs; Gillick, Bentham, Lawton, Stevenson and Boyes, forwards. Brentford: - Crozier, goal; Gorman and Anderson, backs; Scott (W.), James, and Manley, half-backs; Hopkins, Boulter, Cheetham, Saunders, and Smith, forwards. Referee Mr. J.H. Parker, Derby. All things considered there was an excellent attendance at Goodison Park for this opening game of the season. I should say there were 35,000 people present, and the late comers missed a thrill in the first ten seconds as in that time Everton had worked for themselves an opening which by all rights should have produced a goal, and had it done so it would undoubtedly have been one of the quickest goals on record. This is what happened, Mercer pitched the ball nicely through to Bentham, who in turn slipped it inside to Lawton. The Everton centre forward was clear of all opposition and it looked a certainty for a goal. Lawton's shot was dead on the mark, but it was also levelled straight at Crozier, who had no difficulty in saving. Lawton might have gone on a step or two, but my part I will always forgive a man who makes a shot even though it is saved, for it is much better to have a shot and had it saved than not to have shot at all. Sagar, who was making his three hundredth appearance for Everton, also had his anxiety when Boulter who had gone over to the left wing made a fiery shot which crashed against the side netting.
Excellent Play
The game thus far had been full of excellent football and Brentford were just as good in their combination and ball control as were the champions. It is strange how some clubs have a reputation for butting up good games on Merseyside. I cannot recall a poor game between Brentford and Everton even when the former were well down the table. today's game promised to live up to any of its predecessors. Gillick through a misunderstanding by the "Bees" defence, almost sneaked through to goal, and them from a corner kicked he headed wide. Even at this early stage one was able to appreciate the glorious work of James, the Brentford centre half. James did one piece of work which was the work of a master and apart from it being excellently accomplished it had the effect of holding up a determined effort on the part of Lawton and Gillick. Everton had pressed almost twice as much as their opponents but there was no gainsaying the fact that the Londoners were a very excellent side when they were on the move. Perhaps it was they were inclined to do a little too much finesse when more direct action would have led to a better result.
Lawton gets Through.
So far Brentford a new men had done quite well, but it was Everton who took the lead, and I though there was an element of offside about Lawton's goal. He must have been offside unless the ball had struck an opponent in transit. Nevertheless it was a fine shot that Lawton piloted into the back of the net at 15 minutes. Cheetham had a similar experience to Lawton in that he was clear of all opposition, due to Jones slipping up as be went into tackle but the former Fulham man hit the ball straight on to Sagar. A free kick against Everton saw Manley make a strong drive that Sagar saved, and Gorman once became so concerned about Boyes that he gave away a corner, nowadays are of small account at least few goals come from them. Lawton netted the ball with a terrific short-range shot, but was obviously offside. He seemed to claim that the ball had touched someone, but the referee had no hesitation in giving a goal kick. The new numbering ideal was undoubtedly a success, and it simplified matters a great deal in goalmouth incidents in particular. Everton claimed a penalty that the linesman as well as the referee ignored. Mr. Parker by the way was very quick on the offside rule. He once caught Lawton offside from a free kick, which is a rare thing these days. There was some uncertainty among the Everton defenders at times, and their goal nearly fell when Sagar, Jones and others all went to the same ball. Hopkins was offered a gilt-edged chance from the ultimate clearance but screwed the ball well wide of the objective. Greenhalgh got a knock on the knee, and Stevenson sneaked a corner from Gorman, and Boyes corner kick had to be pulled from underneath the bar by Crozier.
Sagar Outwits Challengers.
From a free kick just outside the penalty area the ball was caught by Sagar, who was charged at the moment he made contact with the ball. He dropped it, regained possession, and outwitted several challenges to make his clearance. This was the final incident of the half. Everton were not playing with the same smoothness as last season. One had to make certain allowances; the almost are was humid and both sets of players seemed to be suffering from the effect of the heat.
Half-Time; Everton 1, Brentford 0.
The first quarter of an hour of the second half was very ordinary indeed. The players seemed to be tired, but Sagar had to make a tip-top save from Cheetham by fingering the ball over the bar. But as time went on Brentford had the upper hand, and the Everton defence was never quite itself. There was an uncertainty about it which was not apparent last season and many were the times when they were at their wits end as to how to cope with the quicker and more lively Brentford forwards. The Londoners undoubtedly had got a hold on the game and the crowd were not slow to call upon their players for a more determined action, but it was Brentford who called the tune. Cheetham scooped the ball perilously near to goal from a Hopkin's centre, Sagar having to throw himself full length to turn the ball out of the net. The Everton attack was usually well held by the strong Brentford defence, but when Lawton dribbled his way through it took the weight of numbers to check his endeavour.
A Great Equaliser.
A little slackness on the part of Watson and Greenhalgh ended with Saunders getting possession and blazing in a tremendous shot which flashed into the net at 70 minutes. I think the ball must have swerved, for Sagar is not usually caught with shots from such a distance. However, it was a good goal, and set Brentford off with a greater belief in themselves than ever, Sagar having again to come to the rescue with a fine save from Hopkins. Crozier made saves and he once rushed out of goal and dived on top of the ball to prevent Lawton from gaining possession. Final; Everton 1, Brentford 1.
EVERTON GO FOR ANOTHER CHAMPIONSHIP WITH CHAMPSIDE SIDE.
August 26, 1939. The Liverpool Echo.
Clever Seasoned Youngsters Ought To Be Able To Bring It off Again
By Stork.
A championship team must naturally view the coming season with a certain amount of temerity, for they are fully aware that they are the butt of the whole of the other twenty-one clubs in the Division. Each and every club in determined to knock the champions from their pedestal, to bring the title holders to their knees, for they get a greater kick out of a victory of than to defeat a side with no laurels hanging on to their name. When the Arsenal were "farming" the honour they were the best detested club in the country, and if one of the little uns could "wipe their faces" there was general satisfaction throughout the country. The day they were defeated by Walsall I had never seen such joy on the faces of directors. When results were being read out in the board rooms, and the broadcaster gave out "Dumbarton 4, Arsenal 3, "it was positively annoying to see the smirk of satisfaction on the many faces. I never quite understand why the Arsenal had so many "enemies" for to me they were an asset to football rather than otherwise. However. such is the price of fame. The mantle fell on Wolverhampton in later years, but that was not due to their winning any trophies, but for other seasons. Well, where is all this leading us to? Just this, that Everton are the present champions, and they will, to some extent, come in for some of the things which all title-holders must face, one in particular, stern opposition yes, sterner than a non-championship side. But I do not think, everyone will welcome the news of their defeat, for Everton made friends whenever they have been. This is a club which relies on pure football to take them into the high places. No stunts of any kind to bring them publicity. They stand on the equality of their waves. Oh, yes, they will find the path of glory just as thorny as did every other championside side, for it is a peculiar trail in us which delights to see the mighty fallen. It was ever thus, Sympathy is usually on the side of the weak, so this season will be hard one for Everton. They know it, and are prepared to all contingencies. They have not rushed into the market, for there was really no need to do so, and during the close season they have signed only one important name E. Barber, of Blyth Spartan, an inside forward full of promise. So Everton started where they left off, with a championship team. Every man in this place; every man ready and willing to carry the banner just as high as it rose last season. The players know only too well, what faces them, but they are a confident lot; not boastful but just satisfied that their ability will once again carry them through. And I think they played such good football that they were entitled to their honour. Why should they not repeat history. With the same eleven they should be able to produce the same class of football despite the fact that they have another year over their heads. But a year, at their time of life, does not make a great deal of difference, for they are a young team, taken all through. The one thing which may prevent Everton lifting one of the season's honours will be injuries. Last season they were uncommonly free from injuries; it was not until late in the season that they suffered any serious trouble, and then were fortunate in having signed Caskie, and having a suitable reserve for Jock Thomson. Most weeks a directors meeting was unnecessary, for the team picked itself. If Dame Fortune is kind to them again in this respect, I see no reason why they should not win another championship. It is not asking too much. Huddersfield have done it and their friends across the park, Liverpool did it a few years ago. But in each case they had the luck to steer clear of the hospital bays. And those were more peaceful days.
CHAMPIONS FAIL TO WIN.
August 28, 1939. The Liverpool Daily Post
Everton 1, Brentford 1.
Flaws In Everton's Play.
Brentford Stay On To Draw.
By Stork.
A championship side is expected to win at home no matter what they do away, so that it was something of a surprise to find that Everton could not beat Brentford, who last season finished 18 places below the champions. Everton were a shade lucky to hold on to a half, sharing two goals. Brentford have made it a habit of playing well on Merseyside grounds, but Everton's failure to win was a nasty jolt. Analysing the game, I came to the conclusion that Everton must speed up if they are to retain the championship trophy. They were undoubtedly very much slower than the Londoners, but it was not so much that as their inability to get the machine working in the smooth fashion which was so entrancing and brought them so much success last term, that set me wondering. I made allowances for the heat of the day, the fact that it was their first game, and that the international situation may have been weighing heavily on the players. But how can any of those factors be made the subject for excuse, for Brentford were in the same boat, more so, in fact, for they had new man in the side, and one can expect them to be disjointed for a time until the newcomers settle down to the particular style of play expected of them. Where was the fluent forward play and the covering tactics of the defence? They were not there, for on several occasions the defence was tied in knots, and the swing had gone from the forwards. It was all so mystifying, for it was the same team which had gained honours all over the country last season for their brilliant combination. Things may right themselves as time goes on, but a good start is everything, and this was not a good start. I don't care two hoots about the loss of a point, but one must take heed of obvious flaws. Had Brentford been a super team one would not have minded so much. There would have been some reason for the draw, but they were just a moderate side, capable of good football, and undoubtedly the better stayers at least on their showing in the game. No! Everton were not a settled side. The forwards were variable, Gillick had a moderate time after he had showed them the way in the first half-hour. Lawton should have scored in the first few seconds, but shot straight at the goalkeeper, but this was his only error, for after that he took his chances –and how few they were –notched a goal which seemed to me to be tainted with offside, and later netted again when was palpably offside, spite his argumentative manner with the referee.
James And Gorman Stand Out.
But I am not blaming Lawton. He got little support from his right swing pair, and the Brentford defence saw to it that he had plenty of opposition to beat, for immediately he made a challenge there was a host of men surrounding him. James is one of the most difficult centre half backs in the game to master, and he had a great first half when Everton were something like the Everton we know. He and Gorman did great work then. For a time Brentford were not determined in front of goal, whereas the football which took them there was distinctly good. When Watson and Greenhalgh allowed, a ball to run between them in the belief that each was going to take it and Saunders swept in a terrific drive which went into the net at rocket speed they took charge and it was then that we saw the lack of cohesion in the Everton defence. They were often outwitted by the Brentford attack, and had it not been for Sagar, Everton might not have even had the pleasure of a draw. The Everton goalkeeping, making his 300th appearance, was magnificent. He had to be to save the day. Had not Brentford opened out, the second half, would have been very flat, for Everton could not get going. They had lost their rhythm, and although they strove mighty hard to take a win the last five minutes or so, the Brentford defence had no intentions of losing what they had gained –a valuable away point. The attendance was 30,000. Result; Everton 1, Brentford 1. . Teams: - Everton: - Sagar, goal; Cook (captain) and Greenhalgh, backs; Mercer, Jones and Watson, half-backs; Gillick, Bentham, Lawton, Stevenson and Boyes, forwards. Brentford: - Crozier, goal; Gorman and Anderson, backs; Scott (W.), James, and Manley, half-backs; Hopkins, Boulter, Cheetham, Saunders, and Smith, forwards. Referee Mr. J.H. Parker, Derby.
SHEFFIELD WEDNESDAY RESERVES 3 EVERTON RESERVES 1
August 28, 1939. The Liverpool Daily Post
Central League
Lovett, the Everton goalkeeper at Sheffield made some grand saves including the stopping of a penalty shot, but Wednesday won in the end. Lowe scored for the home side in 20 minutes, repeated the performance two minutes later. Although each side scored in the second half, it was Lowe's quick goals which set Everton a stiff fight nearly all the way. Everton combined better in the second half, Barber and Cunliffe being prominent.
Prescot Cables 0, Everton "A" 9
County Combination.
Everton were obviously the better side, and except for one or two shortive attacks, Prescot never came into the picture. They were further handicapped by the retirement of Bush. Sharp (5), Johnson (2), Catterick and Griffiths were the sharpshooters.
DEATH OF MR. W. J. EYTON
August 28, 1939. The Liverpool Echo
Ranger's Notes.
The band of pioneers associated with Everton in their Stanley Park days have had their number reduced by the sudden death at Grange-over-Sands, of Mr. W.J. Eyton. To Mr. Eyton there were no days like the old days, and no player to equal those of the eightest. All the names of players, incidents and happening of those good old days were not, to him, very far distant just happenings of yesterday. He was a veritable encyclopaedia of football's early days. Football was not his only interest, however. He was a regular Stadium visitor, and knew all the finer points of the boxing game, while baseball claimed him during the summer months. After the spilt he became a Liverpool supporter and the Liverpool club had no stauncher patron. His one wish was to see them Cup-winners. During the last 35 years he contributed frequently to this column. His many friends will join with me in sympathy at his passing, which was all the more tragic as it took place a very suddenly within a couple of hours of his return from holiday.
EVERTON DIDN'T PLEASE.
August 28, 1939. The Liverpool Echo
By Stork.
Well, sirs, what did you think of it? I am of course, talking to those who saw the game at Goodison Park. From what I heard as I mingled among the crowd leaving the ground there was not a deal of satisfaction felt over Everton's display. My opinion is that it was like the parson's egg –good in parts. The first half produced some really clever football, for Brentford, with their three new men, were a better side than last year, and Everton's championship side, while not quite the neat, rythmistic side of last season, were doing nicely. Nevertheless, I could see danger in this Brentford team if they were given the least bit of rope. Everton should have put the points well out of reach of their adversaries in the first half, when they were definitely the better team. Even granting that the Brentford defence was in grand form the Everton forwards had enough chances to have riddled the back of the net with shots. In ten seconds Lawton was offered a glorious opportunity of scoring the quickest goal ever, but he shot straight at Crozier. This is becoming a habit of Lawton's. Later he shot the ball into the net from an offside position, there being no case for an argument.
On The Run.
The goal he did get looked offside from the Press Box, unless the ball had struck a Brentford man on its way to the scorer. It was a fine shot from an angular position, but not sufficient to accept as the winner of the match, judged on the way Brentford were shaping. Everton had often advertised the fact that Brentford were a great deal faster than they, and this was seen in the second half when they signed a rally which looked capable of bringing them full marks. Brentford undoubtedly got the champions on the run, and that it had a disturbing influence was soon made manifest for the Everton defence was not nearly so convincing as last season. The equalising goal came through a misunderstanding between Watson and Greennhalgh. Either could have collected the ball, but in the belief that the other would take it they left it to the other, so that Saunders was able to nip n, take the ball and crash it into the net at terrific speed. That put the cat among the pigeons, for Brentford gained a greater belief in themselves, saw a possible win ahead and went for it with vengeance, and had it not been for smart work by Sagar would have taken it, for Everton had fallen from grace.
Cat Among Pigeons.
Their defence became uncertain, and the forwards could not strike their true form. The right wing had a poor innings, so that Lawton was left to his own resources, and let it be said he did uncommonly well against a great centre half –James must be one of the best stoppers in the Division –and a host of others, for Brentford plan was to pack their goal on the slightest suggestion of a Lawton raid. Boyes had a fine first half. Jones was not so sure as usual, and Mercer did much dribbling. This was not a satisfying display from Everton, and they will have to speed up their ideals, tighten up their defence, and above all be first to the ball. It is all very well to say that this was the first game with the weather unfitted for football, but it is nevertheless a fact that a good start is half the battle. I don't mind the losing of a point, but it was the manner in which it was lost which concerned me. Everton were not a championship Everton by any means. Brentford found hoop holes all too often for my liking.
EVERTON MACHINE MISSING SEVERAL CYLINDERS
August 28, 1939.
Defence Will Need To Improve On This Display
Ranger's Notes.
The Everton machine was missing on more than one cylinder against Brentford. This was not the smooth-working combination that put them at the top last season. Some of the side gave me the impression that because they are champions, they feel they can take risks others would scorn. The sooner that idea goes the better. No side can live on its laurels. The championship is a thing of the past, so far as this season is concerned; they start from scratch the same as anybody else. Last year's title cuts no ice with their opponents. Having said that, let me add that if the defence (Sagar accepted) readjusts its mental outlook, there's no reason why Everton should not revive last season's glory. It would be folly to pay too much attention to one day's showing. Saturday's partial failure should not lower their confidence or upset their balance –not that there was much balance against Brentford after the first half-hour. The race is to the sure, not those who get off to a flying start though I am not unminded that a good beginning makes things easier when the testing times comes in mid-April. A victory in their game against Aston Villa at Villa Park tonight would put Everton back in their most rampant mood, providing always that they bear in mind that they will have to fight for they points just as hard as ever they did last season. They were a disappointment against Brentford, but there is time enough to worry when we see what later games produce. The side to meet Villa will be unchanged from that which drew on Saturday. Last season's visit to Villa Park was a memorable occasion, for Everton played one of their best games of the season so much so that the Villa people, always quick to appreciate good football, were loud in their praise of the visitors ability. Villa will make one charge from the side which defeated Middlesbrough on Saturday. Haydock, the former Prescot Cables inside left, who was carried off with a badly twisted knee after only half an hour's play, is a non-starter, but when I telephoned Villa this morning they were undecided who could take his place. And taking of appreciative spectators did you notice those of you who were at Goodison on Saturday, the big cheer which greeted Brentford's equalising goal? It was every bit as loud as that which followed Lawton's opening point. It says a lot for the sportsmanship of the crowd that they recognised the visitors good work, so unstintingly for at that point there was danger not only that Brentford would take a point but that they might win.
An In-Swinger
About Saunder's goal. I was rung up on Saturday evening by a friend who sat in the new Gwlady's Street stand, right behind the posts, to say that the ball swerved fully a couple of yards, after Sagar had dived for it. Through from the Press Box it did not seem so pronounced as that I suspected something of the kind because you don't often find Sagar beaten by long shots like that. The Everton keeper was the only man who played up to championship standard. He celebrated his 300th League appearance in brilliant fashion. Congratulations.
EYES RIGHT, EVERTON!
August 28, 1939. The Evening Express.
This Wing Needs More Thrust
By Watcher.
Although Everton's full championship eleven was held to a 1-1 draw when Brentford visited Goodison on Saturday, the Blues failure to win should not be taken as a form-pointer. There was abundant evidence that the players have lost none of the skill that took the team to the top of the League ladder last season. The only things lacking were thrust on the right wing and real understanding between the defenders. Nearly all Everton's attacks came from the left flank, where Stevenson and Boyes delighted with their ball control and shooting power. Boyes, star of the Everton line, led Gorman a merry dance. Stevenson co-operated effectively with both Boyes and Lawton. The England centre-forward tried hard and fully deserved the goal he scored after 16 minutes. In the first minute he was unfortunate not to beat Crozier –who, incidentally played a brilliant game.
Gillick Has Off Day.
Stan Bentham worked hard as usual, but Torry Gillick had an off day. He was rarely in the picture and could do little against Manley. Brentford's new left half and captain from Manchester United. Everton's half-backs were not as their best, although it must be remembered they were up against a scintillating forward line which had a never-say-die spirit. Saunders (inside left) who scored Brentford's equaliser after 75 minutes and Cheetham (centre-forward) took a lot of holding, and the two wingers Smith and Hopkins were dangerous and fast moving raiders who were always on the goalmouth. There was nothing wrong with Ted Sagar, who celebrated his 300th League appearance with a faultless performance in goal. Cook and Greenhalgh were hard workers, but never rose to the heights of which they are capable. Everton dictated the play in the early stages, but repeatedly fell into the offside trap. In the second half Everton slowed down, and after Brentford had got on level terms the Blues were never on top again.
EVERTON VISIT ASTON VILLA TONIGHT
August 28, 1939. The Evening Express
Championship Side Will Do Duty
By Pilot.
Chief interest centres on Everton's match at Villa Park against Aston Villa. They are the only Merseyside area team engaged. The champions disappointed their followers on Saturday by their failure to beat Brentford at Goodison Park, while the Villa were beating Middlesbrough, but it has not caused team alterations. After the game against Brentford the directors decided to make no team changes tonight's game and so the full championship side will be on duty. Villa Park has often proved a happy hunting ground for the Blues, and if they do as well as they did on the corresponding day last season –it is a year ago to the day-everyone will be satisfied. The Blues them put up a great display and won by three goals to nil. It is certain to be a classic struggle tonight. Everton; Sagar; Cook, Greenhalgh; Mercer, Jones (Tom), Watson; Gillick, Bentham, Lawton, Stevenson, Boyes.
CHAMPIONS STRIKE FORM
August 29, 1939. The Liverpool Daily Post
Aston Villa 1 Everton 2
Victory At Aston Villa's Ground
High Speed Play
By Stork.
Last night at Villa Park we saw the old Everton –the Everton that carried them to a title last season. In the first half they dominated the game with their enchanting football which set Birmingham people wondering what had gone amiss with the Villa. But the boot was on the other feet in the second half for although Everton won 2-1 they had to fight might and main for their victory. The Villa started on a bad note, for in a minute Callaghan had put through his own, but I have no hesitation in saying that Everton were worthy of that lead, even though they had not scored themselves. They had pressed from the word go and got the Villa on the run. The half-backs, Allen, Massey, and Iverson, had not had such a trouncing for many a long day. They did not know which way the Everton forwards would go, for the champions' pulled out every trick in their repertoire, and when at the 24 minute Lawton nodded a second goal from Gillick's centre, it appeared that Everton were again to run out comfortable winners.
Heavy Work For Everton.
But in the second half was a different story. The Villa realised that they must bring up a little more speed into their play, if they were to be any match for their opponents and for half-an-hour they gave Everton some heavy work to do. Everton stood up to it manfully, yet there were times when the Villa chances were so easy that they should have made no mistake in notching a goal or two. Without making any excuses I must explain that Greenhalgh was hurt and was limping for the last half-hour; that he was open to accept any pain so long as his side carried the day. The Villa urged on by their spectators, while not being quite so intricate in their footwork as Everton had been, were just as dominating. They put the ball forward on every conceivable occasion but their forwards were very remiss in front of goal. Edwards, a young man from Norwich, showed excellent ideas, but was rather inclined to overdo his dribbling. He scored a grand goal on Saturday, and was out to show that he could do it again, but found the Everton defence, all powerful although, as I have already stated, there were times when goals lay in front of several of the Villa forwards but they would not accept.
Penalty For Obstruction.
With two minutes to go, Cummings scored from a penalty so that Everton won a hard fought game by 2-1. The penalty arose when Greenhalgh ran in front of Broome and although he did not actually touch him he came under the obstruction rule and the referee awarded the only thing he could –a penalty from which Cummings scored. Everton learned a lesson from the Brentford match, where they were sluggish and slow. Against the Villa their speed particularly so in the first half was amazing. They made Aston Villa look like a team of old gentleman and their football at that stage was almost invincible. Whether they went into defence according to plan I am not at the moment prepared to say, but there was no doubt that the Midlanders were the masters in the second half. Even though their football was not quite so neat it was more of a straightforward character, but it almost paid for itself. It was a great finish and the crowd was on its toes cheering this wonderful recovery by their favourites. Teams: - Aston Villa: - Carey, goal; Callaghan and Cummings, backs; Massey, Allen and Iverson, half-backs; Edwards, Martin, O'Donnell, Starling and Broome, forwards. Everton: - Sagar, goal; Cook (captain), and Greenhalgh, backs; Mercer, Jones, and Watson, half-backs; Gillick, Bentham, Lawton, Stevenson and Boyes, forwards. Referee Mr. H. G. Williams, (Fulham).
EVERTON RESERVES 4 ASTON VILLA RESERVES 2
August 29, 1939. The Liverpool Daily Post
Central League
Play was even in the early stages at Goodison park, but after the home team opened the score in 20 minutes they became definitely on top and the game became a struggle between the Everton forwards and the Villa defence. Wakeman, who was injured soon after the start, played a great game in the visitors goal, while Godfrey and Cobley were grand full backs. Shell and Houghton were the best forwards. All the Everton side played well, but special mention must be made of Lovett, Gee, Cunliffe, and Bell. Cunliffe (2) and Bell (2) scored for Everton, and Shell and Goffin for the Villa.
EVERTON REPEAT VICTORY OVER VILLA
August 29, 1939. The Liverpool Daily Post
By John Peel.
One of Everton's earliest successes last season was gained in the Aston Villa ground, and, indeed they completed the double over the Midland side with an aggregate of six goals. Last evening Everton again took the points at Villa Park when the champions displayed greatly improved form compared with their game with Brentford on Saturday. It was in the first half that Everton were at their best and they gained two goals. Aston Villa fought back but the Goodison park side prevailed in the end by the odd goal in three.
New Rule Infringement.
It is apparent that referees are paying more attention to the note in Rule 12 which emphasises that a player or players must attempt to play the ball and not merely to obstruct or charge an opponent. Apparently a penalty kick was given against Everton for an infringement of this character in the game last night, the referee deciding that the oncoming forward was obstructed without attention being paid directly to the ball. Defenders are not permitted, for instance to charge an opponent who is yards away from the ball in order to allow the ball to go out of play or to enable a colleague to step in to clear. The opinion of the referee of course, is the deciding factor.
EVERTON TOUCH THEIR CHAMPIONSHIP FORM.
August 29, 1939. The Evening Express.
Scientific Soccer Brings Brilliant Triumph
By Pilot.
Everton, the Football League champions, are as good this season as they were last. This was proved at Villa Park last night, when the Blues scored a brilliant 2-1 victory. In the boardroom, after the game, a Villa official said to me "With and luck Everton should retain the title on this form. They are the bets team seen this way for years." This was a win gained rather more easily than the score suggests, for Everton, superlative in the first half, gained a two-goal lead in comfortable style. The goals were the outcome of scientific, easy, unruffled approach. The Villa were hardly seen, but Everton forsook attack for defence in the second half and so the Midlanders came more into the game. Such was the strength of the Everton bulwark, however, that the Villa never looked like scoring.
Goal From New Law.
Three minutes from time, Norman Greenhalgh forgot the new law and charged Starling when they were not within playing distance of the ball and Referee Mr. H. C. Williams, of London –a really good referee by the way –gave the penalty, from which Cummings scored. The second half produced more destructive football, and so it was the first half delighted students of the game. The crowd rose to Everton for their precise measured step and complete understanding. Their attack, well supplied by the half-backs, had the villa harassed. It was just like the masters giving the pupils a football lesson. It was soccer at its brightest and best. Bentham gave Everton the lead in five minutes after Gillick's cuteness had produced a corner. Boyes placed this for Bentham to head downwards and home. The ball struck Allen's feet, as it entered the net, but it was Bentham's goal. Within 23 the Blues had made it two when Mercer received a back pass from Gillick, and his goalmouth lob was timed perfectly so that Lawton headed low into the net. The victory was complete, and there was no real weakness in the Everton side. True, neither Stevenson nor Watson got any luck with their quick passes, but that was all. Bentham was brilliant in attack and defence, and Allen never got a grip on the purposeful Lawton, whose speed off the mark was a feature. Gillick and Boyes used the ball with exactitude. The outstanding half-back was Mercer and Tom Jones gave Frank O'Donnell not the slightest rope. The Scot must have been thankful to move to outside left in the last quarter. Cook was more reliable than Greenhalgh, who, however, suffered a slight injury in the second half –an injury which will not keep him out of the team on Saturday. Greenhalgh was a deadly tackler, and behind this splendid combination stood the immaculate goalkeeper, Ted Sagar, who was brilliant. Everton beat a good team last night, but on this form they will beat many more sides of similar calibre.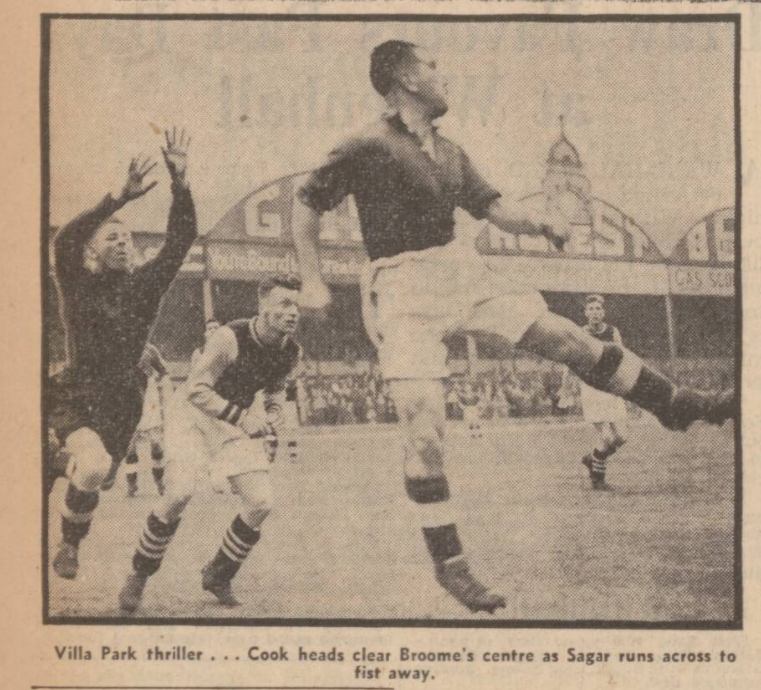 EVERTON HIGHLIGHTS.
August 29, 1939. The Liverpool Echo
By Stork.
Everton struck the highlights last night at Villa Park. One would not have recognised in them the team that played against Brentford on Saturday. They were an entirely different proposition. There was skill; there was speed, and a defensive plan which proved too big for Aston Villa, so that they repeated last year's performance by a victory at Villa Park. Those who saw the Brentford game could hardly have expected so quick a turn-round, but the Everton players themselves were not satisfied with their Saturday showing and were determined that they would not put up such another display if they could help it. Well, in Birmingham, last night, they gave a display of football that was of championship class, particularly in the first half, when they rings round the famous claret and blues. The Villa did not know just how to deal with this smoothly-working, well-oiled machine. They did not know which way a man would turn, and as for passing, the Everton team had the Villa half backs in a whirl. It was here that the once-famous team failed so badly. Massie, Allen, and Iverson, were cut to ribbons and Everton promised to run out victors by a wide margin. They had obtained a two goal lead; one the result of a corner kick, from which few goals come nowadays. Callaghan turned Bentham's short ball into the net. Lawton nodded a perfect goal some minutes later, and the Villa flag was well down the mast as the players went in for the interval break. The topic was as to just how many Everton would win by. They had been so much superior that unless Villa produced something out of their bag there promised to be a riot of goals. But the Villa must have had a conference during the interval, for they resumed in a manner which was rather startling. Where they had been slow they were mow quick, and for a good half-hour they kept the Everton defence on the collar. But don't left me be misunderstood, I grant you they battered the Everton defence, but it was by ramrod tactics more than good class football. The ball was simply booted into the goalmouth, where it was hoped that one of the forwards might take a goal. Everton had accomplished their goal-scoring by neat and clever football. The Villa's type of the game was one of desperation. It was hit-and-run, and it almost proved successful, and would have done had not Sagar brought off two magnificent saves, and O'Donnell and others missed takeable chances. They did get a goal, and it was due to the new rule. Broome was obstructed by Greenhalgh in the penalty area, and the referee (Mr. H.G. Williams, of Fulham, a good one) awarded a penalty from which Cummings scored a consolation goal. It was a grand fighting finish, and satisfied the Birmingham people, who cheered on their men each time they launched an attack. But I would not have been satisfied with their display for it lacked finesses as compared to the great play of Everton in the first half. There was no doubt that Everton's experience on Saturday, when they only took a point from Brentford, at home, had done them good. Not that I think they had a superior complex, but there was no doubt that they though –or they gave me the impression that they thought –they could have won when they liked. Last night they were the old Everton; each and every man played for the other, and although it is not my intention to individualise, I must say Mercer was the great man in the side. But it was every man who made this fine victory possible.
EVERTON UNCHANGED.
August 30, 1939. The Liverpool Daily Post
By John Peel.
The Everton team to visit Ewood Park to meet Blackburn Rovers on Saturday will be unchanged from that which did duty in the opening two matches, namely Sagar; Cook, Greenhalgh; Mercer, Jones, Watson; Gillick, Bentham, Lawton, Stevenson, Boyes. The reserve side to entertain Blackpool at Goodison Park will be; Lovett; Jackson, Jones; Britton, Gee, Lindley; Barber (A.), Cunliffe, Bell, Barber (E.), Caskie.
EVERTON UNCHANGED
August 30, 1939. The Liverpool Echo
Ranger's Notes.
Everton team still continues to pick itself –one might even say almost with monotonous frequently. On their showing against Villa it will not be until injuries arise and I hope that will be a long time off, before Everton have to consider the need of making changes. On Saturday they go to Ewood Park to resume rivalry with last season's Second Division champions. With the champions of two divisions in opposition there should be a big crowd at Blackburn. As the Rovers have a match at Highbury tonight their team to oppose Everton will not be chosen until later. The Everton side as per usual will be; Sagar; Cook, Greenhalgh; Mercer, Jones, Watson; Gillick, Bentham, Lawton, Stevenson, Boyes. Everton Reserves will entertain Blackpool Reserves at Goodison Park on Saturday, when the Blues second string will be:- Lovett; Jackson, Jones; Britton, Gee, Lindley; Barber (A.), Cunliffe, Bell, Barber (E.), Caskie.
Dean Pulls The Crowd
Our old friend "Dixie" Dean started off on the goal trek last night for his new club, and not only did he score a goal for Hurst against Hyde which was reminiscent of his palmist days, but according to a friend, who saw the game he was the brains and guiding force of the Hurst attack. The gate took 6,000 paiding £150, compared with their average last season of £40.