ggggggggggg gggggggggggggggggggggggggggggggggggggg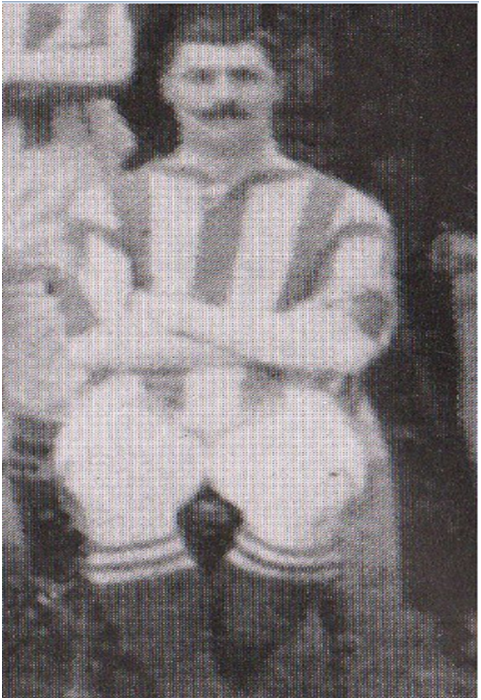 Tom Dilly as a West Bromwich Albion player
Early days
Tom Dilly was born and grew up in Arbroath on Scotland's east coast. His parents, Stewart and Jessie Dilly née Chapman, lived at 15 Kyd Street, Arbroath where Tom was born on 22 nd April 1880. His father, a merchant seaman, died from tuberculosis when Tom was six years old leaving his mother to bring him and his brother up at 10 Helen Street, Arbroath.

The first record of Tom Dilly as a footballer is as an outside left playing for Arbroath FC on 28th April 1900 in a 2-0 County League win over Montrose. He played one further game that season, also against Montrose. Tom also turned out for Heart of Midlothian on 14 th May 1900 in a benefit game against Arbroath at Gayfield. It must have been some experience for Tom as he was lining up with Bobby Walker who had earned his first Scottish cap a month earlier in a 4-1 win against England. The match at Gayfield was a benefit game for John Carrie, the Arbroath captain who had lost the use of his left hand through an accident and could not work. The game – a 3-1 win for Hearts - was watched by a crowd of around 3,000 and the Dundee Courier reported that " Dilly, an Arbroath junior, also did valuable work for the winners, and will play for the Hearts at Inverness this evening ".
Arbroath
Hearts interest in Tom was not pursued but he became the first choice outside left for Arbroath in 1900-01, making 34 appearances. He was in the team that lost 2-1 to Dundee in the District Charity Cup Final. He was selected to play for Forfarshire against Perthshire in 1901. Dilly made at least 38 appearances in 1901-02 (it may have been more but there are not team lines for a few games). He was in the side that lost 3-2 to Dundee Wanderers in the Forfarshire Cup Final. In that season's Scottish Cup he played for Arbroath against Celtic. Celtic, who were top of the First Division at the time, fielded eight internationalists. Arbroath, who were playing in the Northern League, took the lead after five minutes and it was Dilly who scored. Unfortunately Celtic went on to win 3-2.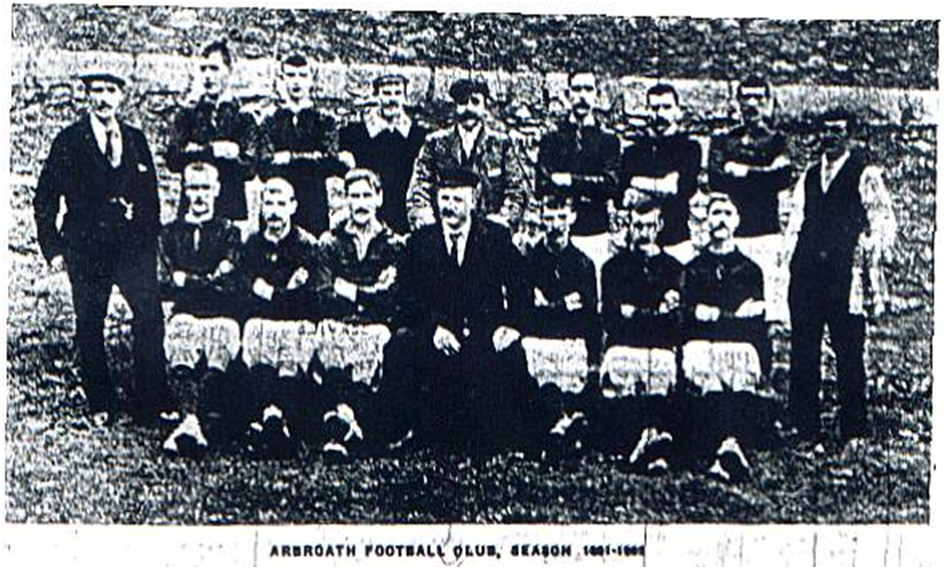 Although the photograph has no names it is thought that Tom Dilly is in the front row far right.

In 1901 Tom was working as a fireman at a local flax mill. That year the Russian flax crop failed leading to the closure of 9 Arbroath flax mills and the loss of 1,500 jobs. His prowess as a footballer was to help him in these tough times.

British Club Championship
At the end of the 1901/02 season Everton, the runners up to Sunderland in the Football League, went on a tour of Scotland and Ireland playing 8 games in 10 days! The final game was against Arbroath on Wednesday 30 th April 1902 with Arbroath winning 3-1. Strangely, although Dilly had been an almost ever present for Arbroath during the season, he did not play in that match. The game was restricted to 35 minutes each way to allow the Everton party to catch its train to return to Liverpool for a match the next day. That next day, 1 st May 1902, twenty two year old Dilly turned out in an Everton shirt to play against Glasgow Rangers in the British League Cup at Goodison Park.
In May 1902 a British Club Championship between Sunderland, Everton, Rangers and Celtic – the Champions and Runners Up in the Football and Scottish Leagues respectively in the 1901/02 Season. The trophy to be played for was the Glasgow International Exhibition Cup. It was originally played for in a competition organised as part of the Glasgow International Exhibition of 1901 to display industrial, scientific and artistic achievements of the nineteenth century.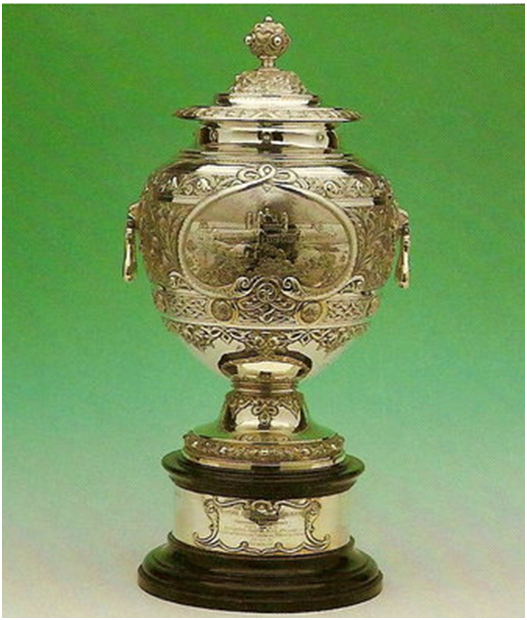 Glasgow International Exhibition Cup.
This tournament was quickly organised by Glasgow Rangers to raise money for those injured and their dependents in the first Ibrox disaster. 25 people died and over 500 were injured when part of the wooden terracing collapsed during the Scotland v England International on Saturday 5th April 1902.

Rangers moved with commendable speed to raise funds for the survivors and dependents they immediately wanted to donate £1,000 (around £82,000 today) its share of the match receipts. However, they were advised not to until the question of liability was resolved. Like all sports clubs at the time Rangers were not insured. The match was organised by the Scottish Football Association in a ground recently constructed from a design by Archibald Leitch, the doyen of football ground architects. On 15 th April 1902 Alexander McDougall, the timber merchant who had supplied and erected the timber for the timber and steel terraces, was charged with culpable homicide. He was accused of not supplying the correct quality and form of pine and then not fitting it according to instructions. McDougall was found not guilty in the case heard at the High Court in Glasgow in July 1902 with the jury taking just 30 minutes to reach its verdict. However, the charges against McDougall allowed Rangers to move swiftly ahead with their fund-raising efforts.

However, in hindsight Rangers may have moved too hastily in putting up the Glasgow International Exhibition Cup as the trophy without clear conditions attached. The 'Newcastle Daily Leader' reporting on Sunderland's participation in the competition recorded that Glasgow Rangers had donated a trophy called the 'Glasgow Rangers Exhibition Cup'.

The Liverpool Courier in reporting this British Club Championship said " A further inducement for the players to exert themselves was the fact that the Bovril Company offer gold medals to the winners of the cup ".

Tom's debut was recorded in the Liverpool Courier " Everton played two of their latest recruits-Bearsley (a Liverpool lad, and formerly of Notts County, and Middlesbrough) at inside right, and Dilly (a Scotch junior international from Arbroath) at outside left. Each made a decidedly favourable impression. Dilly's effort which led to the equalising goal being a smart bit of work ".

The description of Tom as a " Scotch junior international " is intriguing. There were no youth internationals at that time and it is unlikely to be a reference to the Scottish Junior grade of football. What is likely is that this is a reference to his selection for Forfarshire in 1901 together with some journalistic licence to " talk up " the new signing as having played representative football at a level " junior " to full " international ".

The match was drawn 1-1 and replayed at Cathkin Park, Glasgow on Saturday 3rd May 1902 when Glasgow Rangers ran out 3-2 winners. Tom Dilly scored the first of the Everton goals with his fellow new recruit Bearsley scoring the second.

Celtic won the competition beating Rangers in the final. There are reports that on conclusion of the competition the Rangers directors were surprised when the trophy was not returned to them and so arrived to collect it. Celtic pointed out that they had won the trophy in a properly organised competition and would retain it. Rumour has it that ownership of the trophy is still contested.

Everton

The reason for and timing of Tom Dilly's arrival at Everton is not clear. The Glasgow Herald's report of the Everton v Rangers matches has " Dilly (Arbroath) " in the Everton team line-up. So was he on a trial with Everton? Dilly was still an Arbroath player when he turned out for Everton against Rangers and Press reports indicate that he played for Everton without the Arbroath club's permission. Some authoritative references record that he joined Everton from Hearts. In fact, on 6th May 1902, three days after the Rangers game, Arbroath played in a friendly against Hearts at Gayfield but Tom was not recorded in either team line-up in the newspaper reports of the match. There is no record of him playing for the Edinburgh club other than as a trialist in 1900. While it was not unusual for players to sign for a club and then move on without playing a game, there is no evidence to suggest that that this happened to Tom.

However, on Saturday 17 th May 1902 the Dundee Courier reported " In regard to Everton's transaction with Dilly, we understand that the matter has been reported to the Scottish Association, by whom it will be dealt with in due course ". In its edition of 18 th June 1902 it reported " Everton have had to pay over a tidy sum to the Arbroath club for their action in playing Dilly without his club's permission ."

However, Dilly was an Everton player for the start of the 1902/03 season. The Liverpool Mercury of 7th June 1902 in reporting the Everton Annual General Meeting noted that " The Secretary (Mr.W.Cuff.) read the names of the players who had signed on for the next season as follows: - Goalkeepers, Kitchen, Whitley, and C.E.Wilson (Old Carthusians), Full backs, W.Balmer. R.Balmer, W.Henderson, and J.Crelly, Half-backs, Booth, Abbott, Wolstenholmes, Clark, Clayton, Makepeace, and T.Chadwick; Forwards, J.Sharp, Taylor, Brearley, Young, Settle, Bell, Sherdian, Dilly, Bowman, Rankin, Monks, and Toman ".

At the start of the new 1902/03 season the Liverpool Courier noted new arrivals at Everton:

"T Dilly, comes from Arbroath, with a good local reputation as outside right. First season in English service".

It was also likely that Dilly had been signed as a reserve player to build a formidable back-up for Everton's first choice forward line. The Liverpool Mercury said in its pre-season summary on 1st September 1902:
"It must be admitted that the directors have brought together a capital array of talented players from which to select their League team. Particularly is this the case with respect to the forward line, where two really capable quintets might be put on the field, from the men at their disposal. The forward line as chosen to represent the club at West Bromwich to-day, is a splendid Combination but the most satisfactory part of the affair is that there is an excellent substitute for each position in the ranks, should the occasion require. It will be a great surprise if Everton prove weak in attack, with such reserve force as, Bowman, Dilly, Sherdian, Rankin, and Monks to fall back upon".
Tom played his first League game for Everton in a 2-1 defeat by Sunderland - the 1901/02 Champions - at Roker Park on 17th November 1902. In goal that day for Sunderland was Ned/Teddy Doig, Scotland goalkeeper, a former Arbroath FC player and a former neighbour of Tom in Helen Street, Arbroath. Doig had been in goal for Scotland against England at the first Ibrox disaster. Doig was known as the " Prince of Goalkeepers " and the Sunderland team of his day was known as the " team of all the talents "!

Tom was in the Everton touring party that made a continental tour at the end of the 1904/05 season. Everton played and won four matches in Vienna. The party left Exchange Station on 27 th April 1905 and returned almost a month later on 19 th May 1905. The tour was a considerable success. The Liverpool Daily Post and Mercury said " it will long be remembered as a most enjoyable outing from every point of view. The weather was brilliant, the club's reception at each ground most enthusiastic, and their appreciation of the foreigners consequently of a very high standard". The only complaint was the hard state of the grounds to such an extent that the players' studs hurt their feet. The newspaper also reported that "Dilly unfortunately, met with a rather bad accident, which kept him in bed four days." Everton's victories were against Athleukai (11-2), Vienna F.C. (4-0) and Tottenham Hotspur (2-0 & 1-0).

His last First Team game was like his first in the North East of England and against the previous season's Champions – Newcastle United - on 20 th January 1906. This time it was a 4-2 defeat but he signed off as the scorer of both goals – his only goals for Everton. The Liverpool Courier was critical of the players and said " With the exception of Sharp, the forwards play was of a mediocre description. Even a brilliant winger like Sharp must have support if his efforts are to be successful. Bolton's best work was done in the second half, but Dilly, although securing a couple of goals, was disappointing in the centre, while the left wing was outclassed ".

There is a reference to him playing a reserve team match versus Southport Central Reserves on 27 th January 1906 – a 2-1 defeat - but his departure to West Bromwich Albion is not recorded.
In all he played nine games over four seasons.

1902/03 6 apps 0 goals
1903/04 0 apps 0 goals
1904/05 1 apps 0 goals
1905/06 2 apps 2 goals

He also holds an Everton record as the only player to take three penalties in a game – it was a reserve game – he scored one and hit the bar and the post with the other two!

During his time at Everton he would spend part of the Summer back home in Arbroath. He would take part in sprint races at local sports and as an opening batsman for Arbroath Half Holiday – presumably a team playing cricket matches on the local half-day closing day.

West Bromwich Albion

Tom signed for West Bromwich Albion at the end of the 1905/06 season on 29 th March 1906. The Dundee Courier reported on 26 th April 1906 "Everton had no difficulty in fixing up their present players for next season. As stated in this column a few days ago, Tom Dilly, the ex-Arbroathian, and a prominent reserve, has been transferred to West Bromwich Albion."
Tom made his Albion debut on 31 st March 1906 in a 3-1 victory against Leicester Fosse. He remained in the side for the remainder of the season playing 8 games. The following season 1906/07 he played in 21 matches scoring 7 goals. He scored a second half hat-trick in just 21 minutes in a home league match versus Chesterfield Town on 24 th November 1906. The Birmingham Sports Argus ran the headline " Dilly's dazzling doings at the Hawthorns ". In the same season Tom played in all seven FA Cup ties as Second Division Albion reached the semi-final stage where they lost 2-1 to his former club First Division Everton at Burnden Park, Bolton. Albion in recognition of the team's fine achievement awarded gold medals to each member but not before obtaining special permission from the Football Association to do so! A very unusual but well deserved honour. His final Albion appearance, and his only one in season 1907/08, was at centre forward where he scored both goals in Albion's 2-1 away win against Gainsborough Trinity on 12 th October 1907.

In total he made 30 league appearances scoring 9 goals and 7 FA Cup appearances scoring 1 goal - a total for the Albion of 37 appearances and 10 goals.

Derby County

Derby County were so impressed by his performance for Albion against Gainsborough Trinity that they made overtures for his transfer and four days later on 16 th October 1907 he was signed for a £250 fee. He made his league debut for his new club at home against Leeds City on 19 th October 1907 scoring a goal in a 6-1 victory. However, he only made 10 league appearances scoring 2 goals, so he wasn't the success that Derby County hoped he would be.
Bradford (Park Avenue)

The Dundee Courier reported Tom's transfer to Bradford (Park Avenue) on 11 th June 1908. The report said how Tom "had played several clever games for Derby" . However, it went on to report that Tom had played in a friendly for Derby County at Airdrieonians and the home club was impressed and made enquiries about signing him for a return to Scotland. However Derby placed a transfer fee on his head that was beyond Airdrie's means and Bradford (Park Avenue) stepped in to sign him. Season 1908/09 was the Bradford (Park Avenue) club's first season in the Football League. However, Tom made only one appearance, as a centre forward, in a game away to Birmingham City on 7 th September 1908.

Birmingham League
The next period of his career was spent in the Birmingham League. At this time the Football League only had two divisions and the Birmingham League included not only the reserve sides of the local Football League clubs, but also clubs that are now familiar league names.

In the 1908/09 close season Tom joined Walsall in the Birmingham League. He made his debut for in a home game against Kidderminster Harriers on 4 th September 1909. He was an ever present in 1909/10 playing in 34 league matches and scoring seven goals. He played all these matches at outside left except for one at centre forward where he had played a few games earlier in his career. He also played in one FA Cup tie away to Cannock.

He moved to Shrewsbury Town for the 1910/11 season before joining Worcester City for the 1911/12 and 1912/13 seasons. His playing career with Worcester City was:

1911/12 Apps 33 Goals 19
1912/13 Apps 16 Goals 4
He moved on to Kidderminster Harriers for the 1913/14 season only to see his previous club, Worcester City, win the Birmingham League title. In 1911 he was living in Atcham in Shropshire. So a career that started at Gayfield Park, Arbroath on the shores of the North Sea took him to Gay Meadow, Shrewsbury on the banks of the River Severn and beyond. Tom died aged 73 in Birmingham.
Acknowledgements
I would like to acknowledge the help of the following:
Fraser Clyne Historian Arbroath FC and for the Arbroath FC photograph
The Blue Correspondent - Everton Independent Research Data – website created by James Smith
Billy Smith & Tony Onslow for information on his Everton FC career
John of westbromwichalbionhistory.co.uk and for the photograph of Tom Dilly
Julian Pugh Historian Worcester City FC
Contributors to scottishleague.net
Robert S Bradley and Colin MacKenzie West Bromwich Albion fans, historians and statisticians.
douglas.gorman@yahoo.com
10 th November 2012