EVERTON ON TOP
Everton 3 Grimsby Town 0 (Game 1648 over-all)-(Div 1 1606)
September 1 1938, daily post by stork
Grimsby Town well beaten
A game of two halves.
The Everton defence still stands supreme, no goals having landed in their net in their two games. Last night at Goodison Park, Grimsby Town, who once came and conquered through four goals but Robson were well beaten by three goals scored in the first half. Then Everton seemed content to rest on the oars, which is a dangerous procedure at any time. It was a game of two halves. The first was an excellent packed full of thrills, and goals by Gillick, and Lawton (2) sounded the death-roll of the fishermen, who were never really dangerous near goal. Had they been Everton might have found it much more difficult to hold their lead, for the Town were capable of playing good football in midfield, but there it ended. They have been badly hit in the matter of injuries for their crack scorer, Pat Glover, has developed rheumatics and is not likely to be seen out for some weeks. Weather his absence made a difference is only a matter for conjecture, but it is safe that only on two occasions was the Everton goal in danger of falling. A Fine First Half. Everton's first-half display was good enough for anything; in fact they seemed capable of making goals at will. They made three, two off which will be remembered out Goodison way for many a long day. Lawton was the scorer in each case, and Tweedy, good goalkeeper though he is, could done nothing to prevent the ball going into the net. The power behind them was tremendous. The first was a left footed drive which sped as straight as a gun barrel, into the net with Tweedy looking no- it was all he could do. Tweedy did get his hands to the second one, just as Roxburgh did at Blackpool, but he could not turn it out. It was magnificent shooting by the leading marksman. Gillick had stated the goal scoring when he hooked the ball beyond Tweedy at 10 minutes. At first glance it appeared that he had robbed Bentham, but the latter clashed after the ball to the wing and centred for the Scot to hook the ball right away from the goalkeeper. A Satisfying Lead. That was a satisfying lead at interval, particularly so as Grimsby had rarely shown any ability in front of goal. This may have been one of the reasons why the second half was so tame in comparison to what had gone before. Everton still held the whip hand, but they were not really so punchful, and good openings were allowed to pass by Grimsby played some good class football, and it was a pity that they could not bring some finality with it for it was deserving of a better fate. Beattie once did beat Sagar only to see the ball swing around the upright, but pretty midfield play is of no earthly account unless it is followed up with shooting. True, the Everton defence was on the top of its form. Cook and Jones were soundness itself, and Greenhalgh, after a none too certain start, fell into line with his colleagues, so that Sagar's work in goal was easy. The crowd of 25,017, which had been thrilled by Everton in the first half, became restive. They wanted to see some more shooting, but Everton never gave them the trills again, even though Tweedy had to make some saves from long length efforts. Everton forwards switched about in a most disconcerting manner, and this no doubt upset the Grimsby defence, which was often in Queer Street. But, having got their flying start and with the Knowledge that they had nothing to fear from Grimsby, Everton gave the impression that three goals were enough, and that they need not go out to rout their opponents. Jone's Display. Gillick did not produce his Blackpool form yet he did some smart things. He should have had a goal, a remark which also applies to Stevenson and Boyes. I marked down Jones as the best player on the field, with Cook in close attendance and Greenhalgh, Mercer (late on), and Thomson battening down the Grimsby attack when it was inclined to get too close to Sagar. Lawton was up against the experienced Betmend, who found him a proposition because Lawton was inclined to roam. Everton form is most promising. True they will meet better teams than Grimsby before the season is out, but at the moment they are well in front of last season's form. Result Everton 3, Grismby Town 0
Everton (2-3-5); Sagar, goal; Cook, and Greenhalgh, backs; Mercer, Jones (TG), and Thomson (captain), half-backs; Gillick, Bentham, Lawton Stevenson, and Boyes, forwards
Grimsby Town (2-3-5) ; Tweedy, goal; Vincent, and Hodgson, backs Hall, Betmend, and Buck, forwards Boyd, Temple, Beattie, Jones, and Bartholomew, forwards.
EVERTON TO STAY AT BUSHLEY.
September 1, 1938 Liverpool Daily Post
By John Peel
After Everton's match against Aston Villa at Birmingham on Monday the players are to travel to Bushley, near Watford, and will stay there until the following Saturday, when they meet Arsenal at Highbury.
EVERTON'S TEAM DOUBT FOR MATCH WITH BRENTFORD.
September 1, 1938. Evening Express
Stevenson has Leg Injury
By Pilot
Alex Stevenson, Everton's Irish international inside left, is a doubtful starter for Saturday's Football League game against Brentford, at Goodison Park. Stevenson received a kick on the outside of the left leg below the knee in the game against Grimsby Town at Goodison last night. If Stevenson is fit, the side for Saturday will be unchanged for the third successive match. Everton; Sagar; Cook, Greenhalgh; Mercer, Jones (Tom), Thomson; Gillick, Bentham, Lawton, Stevenson, Boyes.
LAWTON'S WONDER SHOOTING.
SEPTEMBER 1, 1938. Evening Express.
Everton's three clear goals victory over Grimsby Town enabled them to claim, with Arsenal the distinction of being the only First Division clubs not to have conceded a goal. My only grumble is that the Blues did not bear in mind that goal-avenge is a vital factor in football. Once they had found the net three times within 25 minutes they eased up. The Town never really impressed as an effective football combination, and they did not pack a shot. The outcome of Everton's easing up was that the second half was drab in comparison with the first half, which was sparkling. The gratifying point to me was the soundness of Everton's defensive –last season's weakness. Although given latitude, the Town forwards were rarely dangerous, so fine was the tackling and so perfect the positional play of the Everton half-backs and backs. Cook was again brilliant. Never has he played better since he came to Goodison Park from Celtic. Tom Jones was classic in all his work, and particularly in his use of the ball, and on his flanks Mercer and Thomson worked zealously and thoughtfully throughout. Thomson's capacity for work was astonishing. Greenhalgh took time to settle down, but was the complete defender later on. In attack Boyes and Lawton took the honours. Boyes was positively scintillating. His ball-control, speed in turning, and accuracy in finishing constituted a feature. Lawton was in international form and his two goals in three minutes were the outcome of wonder shooting. The power behind, his shots was a bewilding to the watchers as it was to Tweedy, the Town's goalkeeper. In my opinion if there is one player likely to break the 60 goals of Dean it is his successor, Tom Lawton. With luck he would have scored three last night. An opportunist header near the end passed just wide, and a brilliant cross-drive from the extreme left wing was near the mark. Bentham worked diligently and well until he tried to become too artistic. His work paved the way for the opening goal by Gillick –an opportunist effort. Stevenson was handicapped by his leg injury, and Gillick had one of those tantalizing shots, and the more he strove, for success the less accurate he became. The win leaves Everton top of the league.
EVERTON WIN AT CAERNARON
Caernarvon 3 Everton reserves 9
September 2 1938, daily post
An Everton team visited Carnarvon yesterday to play a match with the home team and won 9 goals to 3. In the first half Bell (3), and McMurray scored for Everton and Hyde for the Welshmen in the second half Everton added goals though Morton (who changed places with bell) Barber (2), Lindley and Sharp, while Glen Roberts and hanks scored for the homesters at corners.
Caernarvon , Jones (h),goal; Jones (l),and Edwards (L),backs Roberts (A), Swann, and Jones (tg), half-backs Hughes (a) Llewellyn, Jones(g), Roberts(g), Hanks, and Hewitt, forwards
Everton; Morton, goal; Jackson, and Saunders, backs Lindley, Gee, and Watson, half-backs Barber, McMurray, Bell, Sharp, and Merritt, forwards
STEVENSON IS FIT, WILL PLAY AGAINST BRENTFORD
September 2, 1938. Evening Express
Blues at Full Strength for Goodison Duel.
"Bees" Power is in Attack.
By Pilot.
Good news for Everton followers! Alex Stevenson, the Irish International, will be able to play against Brentford at Goodison Park tomorrow. Stevenson, received a kick on the leg in Wednesday's match against Grimsby, but was given a test today and was pronounced fit. So the team which has secured full points up to now and which has yet to concede a goal, should consolidate its position as the head of affairs. Brentford have had no midweek game, but Everton's task against Grimsby Town was not severe and that should gave the Bees little advantage. Last Saturday, Brentford defeated Huddersfield Town 2-1 at Griffin Park after a keen struggle, but I think tomorrow will see them suffering their first defeat. The best part of their team is the attack, which includes such stars as McCulloch, George Eastham, Reid, Hopkins and the latest Scottish capture McAloon. There is craft and bite" about this line. The form of Everton's defence so far, however, has been highly encouraging. Three keen half-backs have had fine covering from Cook and Greenhalgh, and behind them Sagar has not made the slightest trace of a slip. Everton; Sagar; Cook, Greenhalgh; Mercer, Jones (tom), Thomson; Gillick, Bentham, Lawton, Stevenson, Boyes. Brentford; Crozier; Bateman, Poyser; Brown, James, Sneddon; Hopkins, Mcaloon, McCulloch, Eastham, Reid.
Everton Goalie A Scorer!
Harry Morton, the Everton goalkeeper, had the distinction last night, of scoring his first ever goal in the Blues colours. He did so at Caernarvon, where Everton won 9-3 in a friendly game. Everton were leading 4-1 at half-time, and then Morton and Bell, the centre forward changed places. Morton playing at centre forward, scored his goal. The match was to celebrate the opening of the new stand at Caernarvon and the town was en fete. A banded played the Everton players to the ground.
Everton Trial Player
Everton are given a trial to a big lad from Whitby (Wirral) in their Liverpool County Combination match against Prescot Cables –the club sponsored by Liverpool F.C –at Prescot tomorrow. The player is a centre half named Roberts, who is 6ft 2ins and 12st. Roberts played for Wolverhampton Wanderers last season. He could have remained at Molneux, but he wanted to join the Blues. Everton (from); Lovett; Prescott, Lambert; Hill, Roberts, Lindley, Barber, Meritt, Sharp, Catterick, Griffiths, Davies.
THE NEW EVERTON
September 2, 1938. The Liverpool Echo
By Stork.
Everton are on top of the work –two games played, both won, five goals for and none against. The last note is the most pleasing of all, for it shows stiffening up where it was most required –in defence. They head the League which, of course may mean nothing at all at this point of the season, but it is nice to get off with a good start, it gives one a glorious feeling that all is well. The Everton players are feeling the benefit. They are free from worries which "gets hold" of a side which is hitting the low spots. I know it is early to talk and much may happen before the end of the season draws nigh, but I am much more hopeful than I was this time last year. If Everton can gather in two further points from Brentford's visit tomorrow, it will help them materially in their next two matches –hard ones at Villa Park and Highbury. Brentford have a smart side and the inclusion of McAloon at inside forward has made a great difference. It was at one of Brentford's reserve games taking a busman's holiday last season and picked out this young Scot as a coming "star" perhaps you will recall that I mentioned him in these notes. Now someone else has tagged him as a coming Scottish international. He and Eastham are very much alike in their play with the exception that McAloon parts with the ball to greater effect; he does not get himself tried up as Eastham is inclined to do. The grand centre forwards will be on view, Lawton and McCulloch. They are not rivals for international service for they are of different nationally. I have a great admiration for McCulloch' play, but as Lawton is playing today I doubt if there is a better, and a cap surely awaits him this season. However, let me get back to Everton's prospects against the "Bees". They can win, but will find the opposition stronger than they were called upon to met on Wednesday, so there must be no easing up, no matter what lead –if any –they hold. Crozier gave a marvelous exhibition against Everton at Brentford; in fact it was he who held up Everton that day. He will not always be so fortunate.
Banking On Defence.
I am banking a lot on Everton's defence this season, and they have not let me down thus far, which is a apparition for forwards these days, such as there were last term when goals were presented to the opposition, but this season's record speaks for itself. Then there is the half-back line, Thomson is inspiring presence is there. Jones's biting play has been a distinction improvement and Mercer has undoubtedly found his true form. The forwards are switching to effect and Lawton's shooting is tremendous. I think Everton will put another two points in their ledger as a result of Brentford's visit, but I don't want you to think it is going to be all a walkover for Brentford have won at Goodison Park before now. The latest news regarding Stevenson this morning is encouraging and he is practically a certainty for tomorrow. . Everton; Sagar; Cook, Greenhalgh; Mercer, Jones (tom), Thomson; Gillick, Bentham, Lawton, Stevenson, Boyes. Brentford; Crozier; Bateman, Poyser; Brown, James, Sneddon; Hopkins, Mcaloon, McCulloch, Eastham, Reid.
TWO-GOAL LAWTON EVERTON'S MATCH WINNER AT GOODISON
September 3, 1938. Evening Express, Football Edition
Thrilling Drive Regains Lead.
Brentford's Goal In Second Half Rally.
Blues' First-Time Shooting.
By Watcher.
Everton owed their 2-1 victory over Brentford to more brilliant shooting by Lawton. He gave Everton the lead with a great goal after 40 minutes, and after Brentford had equalized, in the second half, he scored a further goal, after 82 minutes. Teams: - Everton: - Sagar, goal; Cook and Greenhalgh, backs; Mercer, Jones and Thomson (captain), half-backs; Gillick, Bentham, Lawton, Stevenson and Boyes, forwards. Brentford: - Crozier, goal; Bateman and Poyser, backs; Brown, James, Sneddon, half-backs; Hopkins, McAloon, McCulloch, Eastham and Reid, forwards. Referee Mr. I.H. W. Wright (Derby). Boyes went close for Everton in an early Everton raid, the ball flashing just pass the far upright. McAloon got away, but Sagar intercepted cleverly. Pretty work on the Everton left flank saw Boyes tap the ball to Stevenson, but Brentford cleared and Reid raced away on the left wing, the shot being smothered by the Everton defence. Lawton tried unsuccessfully to get through and passed to Boyes, who centred to Gillick. The right winger, however, could not take the ball, it having gone too far in. Everton kept on the attack, and Stevenson fed Boyes, but the ball went to touch. From the throw in, play went to the Everton end, where Cook, with a powerful cleared to the half-way line. From a free kick, taken by Cook, the ball went into the Brentford goalmouth, and Gillick went full length in an effort to reach the ball. Crozier was there first to clear –a near have for Brentford.
Confident Everton
Everton were playing confidently, but Brentford went near with a shot from McAloon which went just past the post. The first corner of the match came when Lawton took over the outside left position, but nothing accrued. Eastham was inclined to roam, and he fed Reid, who tested Sagar before Lawton went away down the middle to shoot wide. Everton had an escape when McAloon was through, but Greenhalgh, assisted by Jones, managed to head the ball to safety. At the other end, Lawton got away and put across to Gillick, who could not quite reach the ball. Gillick got Stevenson away, and the inside left's angle shot just skimmed the bar. Everton were certainly the more workmanship side. Brentford were sure in their tackling but Everton made better use of the ball. From a free kick for a foul on Lawton, Boyes headed to Lawton, but Crozier safetly handled the centre forward's header. There was a thrill when Gillick headed over the bar after several players had unsuccessfully tried to score following a corner kick by Boyes.
Boyes Brilliant
There was a brilliant bit of work by Boyes who received a back-heel pass by Lawton and when surrounded by Brentford players managed to put in a hard, rising shot which Crozier just saved. Compared with Crozier, Sagar was having a quiet afternoon, Brentford's forwards being much less forceful than the Blues, who shot at every opportunity. Lawton was through again after a passing bout with Gillick, but the centre forward just failed to connect. A free kick for a foul on Mercer led to Everton's opening goal in the 40th minute, Gillick took the kick and Lawton scored a surprise goal with a lighting shot made on the turn, his left foot drive giving Crozier no chance. Bentham brought Crozier full length to save a minute later, and Lawton just headed over.
Half-time Everton 1, Brentford 0.
The crowd had increased to 30,000 at the resumption. The first incident came after a foul on McAloon, Poyser taking the free kick. The ball went high over the Everton defenders, but Sagar showed fine judgment in collecting the ball. Eastham got Reid away on Brentford's left and from a corner Reid put in a high centre which Thomson headed away. Boyes earned a cheer for a fine dribble on the left, but Lawton could not reach the winger's centre. Cook tried a shot which went wide. Brentford improved at this stage and were now holding their own. They went near when Hopkins fed McAloon, whose shot was just wide of the post. Brentford were having more of the play at this stage, and Hopkins put in some nice ground shots with which Sagar safely dealt. Brentford came nearest scoring when McCulloch put in a lob which hit the upright with Sagar looking helplessly on. The referee spoke to three Brentford players and an Everton player following some rough play on the line. Everton were dangerous when Boyes raced away on the left and centred, Crozier was able to clear. A long thrown-in from Boyes put Stevenson through, but he shot into the side netting. Brentford fully deserved the equalizing goal, which came in the 72nd minute. Reid took a free kick from near the touch line, and McAloon and Sagar jumped to the ball. Both missed, and it went into the top corner of the net. Brentford forced the pace after the equaliser, and Sagar was kept busy. McAloon almost gave the Bees the lead when he was through, and shot hard, the ball going just wide of the far post. Cook, with a long kick, sent Gillick away. The winger centred to Lawton, who with a flashing right-foot drive beat Crozier. Time 82 minutes. Everton looked dangerous again, Boyes putting Lawton through, but Bateman got control and cleared. Greenhalgh cleared in the neck of time when Reid was preparing to shoot, and Sagar had to go full length to save from Reid. Final Everton 2, Brentford 1. Attendance 35,989.
EVERTON WIN 2-1
September 3, 1938. The Liverpool Football Echo
Lawton Sharpshooting Decides
Gets 2 For Winners
By Stork.
A level game in every respect. Everton had their spell in the first half, Brentford theirs in the second. The Londoners also had their share of bad luck, for McCulloch hit the bar. Lawton's sharpshooting however, did the trick. Teams: - Everton: - Sagar, goal; Cook and Greenhalgh, backs; Mercer, Jones and Thomson (captain), half-backs; Gillick, Bentham, Lawton, Stevenson and Boyes, forwards. Brentford: - Crozier, goal; Bateman and Poyser, backs; Brown, James, Sneddon, half-backs; Hopkins, McAloon, McCulloch, Eastham and Reid, forwards. Referee Mr. I.H. W. Wright (Derby). The heavy rain just after noon did not last long, so that it had little effect upon the attendance at Goodison today. It was good; sound, direct football, and such was its fluctuation that Lawton was only just foiled when he failed to connect after a good opening had been worked for him. Brown, the Brentford right half was responsible for as good a shot as anyone when he drove the ball towards his own goalkeeper, who, however, must be accustomed to this sort of thing, for he took the ball quite calmly, as though it were an everyday occurrence with him. Gillick was out of position on one occasion when Boyes centred, but he was in the right place a little later when the ball came into the middle, and was only beaten by power of numbers.
Brentford Defence Tangle
He was also in the right place when the Brentford defence got itself in a bit of a tangle and had he not slipped, he would have taken a goal, for he only half hit the ball, so that Crozier was able to save with ease. Brentford were showing excellent form and were keen to shoot, and Sagar, although he flew across his goal, was unable to connect with McAloon shot which fortunately, curled away into the crowd. For a brief spell Everton clamoured round the Brentford goal and Crozier had to make two comparatively simple saves, and then had to study closely a curling shot by Stevenson, taken from an atrocious angle.
Everton Get Busy.
It was a great effort by the Irishman for a little daylight could be seen between the ball and bar as it went over. Everton were crowding on their opponents but were inclined to keep the ball too close, and a free kick taken by Lawton went as straight as an arrow and Crozier had to have two attempts before he finally disposed of the ball. Crozier again barred the way when Lawton headed straight for goal from a Bentham centre. McCulloch had little chance up to now but when Reid made a shot he was not far off the mark. The ball took a decided curve in flight and hit the side netting just behind the post. Lawton was just as keenly shadowed as was McCulloch, yet he made an opening by running to the right wing, but there was no other Everton man up to take the gift offering. McAloon, as he was about to shoot, stubbed his toe into the ground so that the ball only went slowly towards the Everton goal. During the Everton attacks, Brentford's defence, augmented by forwards and half backs, cut down Everton's prospects of scoring to a fine point. Nevertheless, it was Crozier who had the last say in keeping Everton at bay. Boyes got an ovation all to himself for his clever work in beating Brown and Bateman and finished with a shot which Crozier caught surely. As a matter of fact, Crozier's work had been top class throughout. Gillick was inclined to play too near to the middle, so that all too often he had to run out to the wing to take a pass meant for the outside right. He was sometimes in the right place but more often in the wrong. Lawton appeared to be pushed in the back as he was heading to goal with a bright prospect of scoring. There was a curious incident at the Brentford end when Everton were awarded a foul close to the goal line. Poyser through it was for his side, so took the free kick; only to find that the ball had to be returned because it was Everton's free kick.
Lawton Scores.
This time the ball was out into the Brentford goalmouth, but was cleared not convincing, yet it came as some surprise when the ball was again middle and Lawton whipped it into the net like lightning with his left foot. Time 41 minutes. On the balance of attacks Everton deserved their success, and had it not been for Crozier, Bentham would have made it into two, for it was a fiercy drive that the Brentford goalkeeper turned out.
Half-Time, Everton 1, Brentford 0.
Brentford were a shade unfortunate in the first five minutes of the second half for McCulloch shot on to the bar with the whole of the Everton side beaten. The Londoners maintained their good class play but the Everton defence rarely allowed them to get within striking distance of Sagar. Everton to my mind, were still keeping the ball too close. They sometimes tapped it to a partner only a few yards away when the said partner was well covered by a Brentford man. There did not seem to be any further prospect of a goal, so stubbornly were the two sets of defenders covering their goal-quarters, but at 71 minutes a free kick given against Jones, right out on the touch line produced a Brentford goal, the first one to be debited against Everton this season. I thought it should have been saved, although I must state that Sagar had to keep a wary eye on McAloon, who was hovering around him as the ball was speeding towards the goal. This may have been the reason for the goal, for in ordinary circumstances Sagar would have saved Reid's long free kick. Everton claimed that McAloon had helped the ball into the net with his hands, but the referee paid no heed to it. This set Brentford alight, and the Everton goal had at least two narrow escapes, when the visitors' forwards swarmed round Sagar's charge. It was now Brentford's turn to call the tune, and it needed stiff defensive work on the part of Everton to keep them out.
Lawton Regains Lead.
Lawton had a chance to regain the lead, but the ball bumped badly for him, yet he got his reward at the eighty-first minute when Gillick, a shade fortunate to retain possession, after a tackle, slipped the ball into the middle and Lawton hit it first time. Crozier tried to knock the ball down, but its pace was too much for him and it went into the net. Final Everton 2, Brentford 1.
IF A GOOD START IS HALF THE BATTLE –
September 3, 1938, The Liverpool Football Echo
Everton Are On The Championship Track;
This Is Gillick; That Was
By Stork.
Everton at the top of the League without a goal scored against them. This is something new for the Goodison Parkers. They are strong nowadays where they were weak last season –in defence –so that the outlook looks rosy. You will see how Everton have fared against Brentford. If they have won they can go to Villa Park on Monday and Highbury on Saturday with the will to win. These are two severe games. Blackpool was a difficult fixture, yet they came through it with flying colours. What is the effect of a good start? Does it mean anything, and is it likely to play any part in the future? "I spoke with several of the Everton players after their great triumph over Blackpool last Saturday, and it did not take me long to realize that, that win had put them in great heart, and that the future could be viewed with enthusiasm rather than fear. Prior to the game there was a whole lot of confidence in the side; after it, there was an abundance and confidence can take a side a long long way. To be perfectly frank, I could not see where they had got their confidences, for they had little to boast about last season, but it was there at Bloomfield Road in chunks. I can recall the time when a strong attack by the opposition would have rattled Everton to the very roots; undermined them to such an extent that they became panicky, and loath their heads and very often the game. Blackpool piled on all they had in the second half but it did not perturb Everton in the least. It only made them fight all the harder. Every man jack of them got his shoulder to the wheel, and scotched Blackpool's last fling when it appeared likely to bear fruit. Everton have made a good start, it now only remains to be seen whether they can maintain it, and I see no earthly reason why they cannot, and fetch another championship here. I was not nearly so optimistic as Mr. Chairman Green and Captain Jock Thomson, but Saturday's display has got me thinking along the same groove as themselves. They had the advantage of me in that they saw the team spirit in the Glasgow games, and know what it meant. Jock is an old campaigner. He knows his football from A to Z, and when he says anything it is well worth listening to. None played better than he, yet he gave full credit to the boys for their success. He wanted none of it. Suffice it that the team had won as a team. It was more than pleased to see Gillick playing up to the Scottish reputation. I have been one of the severest critics and was not too sure whether the club had acted wisely in allowing Geldard to move off. I am a wiser man today and not long in putting my hands up. But really, did Gillick touch high-water mark at any time last season? I ask you to answer that readers. The former Ranger seem more contented these days, more satisfied, and showed it in his play. In the practice games aye, in the Fund match, Gillick did more than he had done all last season. There were some who never lost their faith in him, perhaps with good reason. He let me down on Wednesday, spite his goal. Still do not intend to throw bricks yet awhile. What Gillick does is done with thought behind it, even thought it doesn't always bear fruit. But what is going to happen should Gillick, Lawton, Stevenson, or Boyes get injured? That is a question that must ever be in the minds of the directors if they are farseeing, as I think they are. Injuries unfortunately are part and parcel of the game, and one must be prepared for them. Are Everton prepared? Their second team carried off the Central league last term, which suggests worthy reserves strength. Could they drop in a man anywhere in the full knowledge that the first teamer would not be missed? I doubt it. See to it Everton.
Everton have taken to themselves a new club crest. The historic old building, close to the old Everton Toffee shop, will be recognized by those familiar with Rubert Lane and Everton Brow, and the motto in "Spion Kop" reads; "Only the Best is Good Enough."
LAWTON GOALS IN GRAND GAME
Everton 2 Brentford 1 (Game 1649 over-all)-(Div 1 1607)
September 5, 1938, Liverpool Daily Post
By Stork
Everton triumphal match goes on. They are the only team in the first division that has not yet dropped a point but how near they came to forfeiting one against Brentford only those present know. There were many anxious faces around the ground when Brentford equalized and held on to their half share until nine minutes from the end. So it is easily imagined what relief there was when Lawton scorer the winning goal. Brentford had fought a bunny fight against Everton from the start to finish. They had to stand fast practically throughout the whole of the second half, foe Everton were nailing them down to their own quarters with a strong attack which was partly spoiled by their inclination to keep the ball to close. Brentford showed what the sweeping pass would do it again of Everton's. It was however their stubborn defence which held these rampant Everton forwards's at bay, and on that score alone are to be congratulated. Everton Drop a goal. Everton lost, one record in that their goal was pierces for the first time, but they won't mind that so much, so long as they got the balance of goals and, victory. They will, however, not have to fight harder in any game this season, for Brenford showed a fighting spirit, and not until the final whistle did they stop striving. It was claimed that Everton were lucky when Lawton scored the first goal. I disagree for if an opponent elbows, a man away surely a free kick must follow, it was from the free-kick that Lawton got the ball and banged it beyond Crozier at 41 minutes. Everton held this lead until the seventy-first minute when Reid scored with a free-kick against Jones taking from the touch line. It should never have scored but Sagar misjudged the flight for it past over his head and dropped into the net. Prior to that McCulloch was fortunate to see his lob effort strike the crossbar so you see Everton were having a stern tussle to retain their unbeaten certificate.
Defence Tested. Reid's goal set Brentford buzzing like a lot of bees, and the Everton defence was sorely fested , in fact it looked anyone's game for either side might score should there, be a slip in defence. I think we were all settle down to a draw when a long punt by Cook, when out to the right wing. Gillick and Poyser played the ball together but luck was in Everton man's side for it ran towards him. Off he went and made a square pass to Lawton, who hit it as it came to him. Crozier was placed to receive it, but made the mistake to pat it down. It bore too much pace to allow it that and went into the net, so that Everton had won their third game in success. I think they deserved their success, for they had been the attackers in-chief for the major portion of the game. Never less. They kept the game too close against a defence, which was very sure of itself. Lawton got few chances, but he made full use of them, and Boyes was extraordinary clever in his control of the ball, and Bentham gave Crozier an opportunity of showing what a grand keeper he is. Stevenson played as though on Wednesday for he was not so dominating as usual. Gillick's wandering. I don't quite know what to make of Gillck his inclination to run into the middle at every conceivable moment may be the correct tactic, but not unless a colleague runs out to the wing. Time and again Gillick has to race back outside right to take a pass that was sent out to the wing, Gillick will one day get some goals by his manner of play, but on Saturday he was often in the wrong place. It was a grand tussle, but the crowd were still on edge even through Everton were leading, as could be gauged that fact that they started to whistle to inform the referee that time was ''up.'' Everton's defence was excellent. Mercer and Cook tried with end other for the palm but Jones Thomson and Greenhalgh played their part. The Brentford forwards suffered because McCulloch and McAloon and Eastham showed any real force in attack, although Hopkins put in one shot which Sagar thumped onto his crossbar. The final result was Everton 2 Brentford 1. Teams: - Everton: - Sagar, goal; Cook and Greenhalgh, backs; Mercer, Jones and Thomson (captain), half-backs; Gillick, Bentham, Lawton, Stevenson and Boyes, forwards. Brentford: - Crozier, goal; Bateman and Poyser, backs; Brown, James, Sneddon, half-backs; Hopkins, McAloon, McCulloch, Eastham and Reid, forwards. Referee Mr. I.H. W. Wright (Derby).
CENTRAL LEAGUE
Blackpool Reserves 1 Everton Reserves 1
Central League (Game 2)
September 5, 1938 Liverpool Daily Post
In some respect Everton were lucky to secure a point from their visit to Bloomfield Road, when they drew 1-1 with Blackpool reserves. Only the sternly work of the defensive saved their goal at times. Particularly in the second half, when the home attack advanced incessantly on the Everton goal. Gee, however kept a close and efficient guard on Lynch and Jones, and Saunders through sometimes reduced to desperate clearance never faltered. Nothing though the second half too Everton lost Milligan, who retired to the dressing room with a leg injury. The goals came in the first half. Jones scoring from a penalty-twenty-nine minute, and Britton equalizer in the forty minute from a similar kick. Davies (jw), built up promising Everton attacker and Wyles and Trentham were prominent on the wing against Blackpoll reserves. Everton Reserves; Morton, goal; Saunders and Jones, backs; Britton, Gee and Milligan, half-backs; Wykes, McMurray, Bell, Davies (JW), and Trentham, forwards.
LIVERPOOL COUNTY LEAGUE
Prescott cables 2 Everton ''A'' 8
September 5, 1938 The Liverpool Daily Post
Everton's attacked proved to strong for the cables defence. Goals were scored by Barber (4), Catterick (2) Sharp, and hill (penalty). J Ratcliffe in the home goal, also saved a couple of penalty's, taken by Lindley and Prescott. Roscoe and Johnson scored for the losers.
EVERTON SHOULD PRESERVE UNBEATEN RECORD
September 5, 1938. The Evening Express.
Leader's Task at Villa Park Tonight.
By Pilot
I was in touch with Mr. Theo Kelly, the Everton secretary early today with regard to the team to face the Villa. He stated that Stevenson had made sufficient progress over the week-end to enable him to play, and so the Blues' all-conquering eleven will do duty. Stevenson received a kick on the leg in the match against Grimsby, and this was aggravated by a further knock against Brentford. The Villa task is a hard one, for the league leaders. Yet I do not think they will taste defeat. Remember that the Villa will probably be without match-winner Broome, and centre-forward Shell. This will make a lot of difference, as it did on Saturday, when Villa without these star attackers went down at home to Derby County.
A Point For Everton.
I am taking Everton to take a point with them to Bushey Park because of the wonderful improvement in the defence as compared with last season. To concede only one goal in three games –and that a chancy affair –is tribute to the soundness of the back division. There are opportunists in the Blues' attack who can turn half chances into full ones. Villa are a good, purposeful side, but there is balance about Everton, and the side is playing with supreme confidence. After the match the Blues journey direct to Bushey for a week's rest rather than training. Golf will be the chief form of exercise. Everton will remain at Bushey with Mr. Kelly in charge until Saturday morning, when they go on to face Arsenal at Highbury. Aston Villa and Arsenal in one week! That insufficient to test the strength of any side. This early-season special training is an innovation for Everton. They have another –no directors' meeting is being held this week –and it is a long time since that happened. Everton; Sagar; Cook, Greenhalgh; Mercer, Jones (tom), Thomson; Gillick, Bentham, Lawton, Stevenson, Boyes. Aston Villa; (probable) –Biddlestone; Callaghan, Cummings, Massie, Glen, Iverson; Kerr, Morton, Clayton, Starline, Houghton.
THE VALUE OF LAWTON.
September 5, 1938. The Liverpool Echo
By Stork.
Everton are still sitting in the high place in the First Division as a result of their hard-won victory over Brentford at Goodison Park. The seat was reserved for them, but they were late in claiming it, for only nine minutes remained when Lawton came along to occupy it. They dropped one record –that of having a goal scored against them –but I am sure they will not worry about that so long as the two points were theirs. It was the unbeaten boast that they were most concerned about, and it was a big concern, for Brentford put up a solid front when Everton were relentlessly attacking in the first half. When I tell you that McAloon and Eastham were kicking away from their goal area you will have some ideal as to how they were penned in their own goal quarters. "Why did not Everton score then?" you will ask. Firstly because the Londoners defence was a sure and confident, secondly because Everton, in my opinion, were inclined to play too close; make three passes where one should have done. Brentford made quite as much ground with one sweeping pass. Some claim that Everton were lucky when they did score. Why lucky? Mercer was elbowed off by Poyser so was entitled to a free kick. If there was any luck about Lawton's goal it was in the fact that the ball was turned over to him by McAloon who was trying to clear.
Brentford's Goal.
Brentford were lucky with their goal, for Sagar would not be beaten once in ten times by a ball sent in from the touch line. I don't think Reid had flighted it for it seemed just an ordinary plain-sailing ball which Sagar misjudged. He claimed that McAloon had handed the ball into the net, and a friend who was perched on the front row of the double Decker with a bird's eye view of the incident said, "McAloon did handle the ball; but it had crossed the line by them "McCulloch previously had struck the crossbar with everybody beaten, and Sagar thumped a Hopkin effort onto the bar, so you see Everton were up against it. After Reid's goal the Londoners put on the mighty spurt, they saw winning possibilities, but the Everton defence is very stubborn sort of thing these days. No loopholes, or very few, and a distinctly better cover than last year. Cook has never been more secure than he is today; his kicking was perfection under any conditions, and it was from one of his punts that the winning goal got its inception. The ball went between Poyser and Gillick. Both put foot to it and fortunately for Gillick it ran his way, and he neatly slipped the ball over to Lawton, who hit it hard and true.
McCulloch Looks On.
Everton's half and full backs have stiffened up and become a united whole. Mercer was, to my mind, outstanding but it was as a line that the half-backs, did so well. McCulloch rarely got a look at the ball, and Reid and Hopkins were more or less well held. Lawton if only because of his shooting, must take the palm among the forwards, but he was more than a marksman, for he made some choice passes. Stevenson had a quiet day, Boyes a lively time, and Bentham worked like a horse.
A New Departure
Tonight's match will be Everton's fourth in ten days; and in view of that the directors have decided to send the team to Bushey Hall, near Watford, after the Villa game, where they will prepare for their visit to Arsenal on Saturday. This is something of a novelty so early in the season. The move is a wise one, though, and means Everton are leaving nothing to chance. The week will not be spent in special training as usually understood by the term, but will be more of a rest and recuperative period after the early season glut of fixtures, which puts a big strain on players after three months of a close season.
Dixie Dean scored two goals in as many minutes for Notts County on Saturday.
ASTON VILLA WELL BEATEN
Aston Villa 0 Everton 3 (Game 1650 over-all)-(Div 1 1608)
September 6, 1938, Liverpool Daily Post
By Stork
Dazzing footwork.
Everton played magnifiant football to beat Aston Villa 3-0 at Villa Park last night. It was one of the worst blows the Villa have suffered this season, but nevertheless not even the Villa's supporters begrudged the Everton their convincing victory. I have not seen Everton play such entrenching football as that which they showed in the first half. One Villa pressman sitting next to me said. ''just fancy, Everton are showing the Villa how to play football,'' and that's what it amounted to, only for one or two short spell's did the Birmingham side give any great trouble, but once Everton had overcome the shock tactics in the first ten minutes, they went on to play football. The like which will be talked of in Birmingham for many weeks. They did not score for 25 minutes, but that does not give a true verdict at their superiority, for there was no, getting away from the fact that while Everton were a team of positional players. The Villa were ragged and while they at times trouble Sagar they were never so dangerous as Everton. It was football, played on the carpet. They sort of football we expect from a meeting of two such famous teams but the Villa must sigh for the days of Bach and company, for their present eleven is only a shadow of what the Villa ought to be. From Strength to Strength.
Everton seen to go from strength to strength. Their confidence is amazing but is their football which is gaining them honours. Not one man in the side, did not believe but that they would beat the Villa, and they did it in such a fashion that the 30,000 people stood and wondered what had happened to their side which had played so well, even though they lost against Derby last Saturday. Everton started their goal scoring with a goal by Stevenson after 25 minutes, but prior to that Biddlestone the Villa goalkeeper, was lucky to save a shot by Bentham. He flung out his left arm in desperation and the ball struck it. But his luck did not last long for Lawton and Stevenson got together with such purpose that Biddlestone could only handle the Irishman's shot without being able to turn it out of goal.
An Ordinary Villa.
In comparison the Villa's forwards play was very ordinary, they had to make changes in their forward ranks, but I would not say that either Moss or Haycock let the side down. Starling has gone back a lot since his Sheffield Wednesday days, and Allen the centre-half never at any time had the hang of Lawton, who gets better and better with every match. Everton's combination was dazzling. No matter how they changed positions there was always some one there to fill the breach, and at 40 minutes Lawton scored a great goal with his left foot. He also made a hooked shot from a bad angle that almost caught Biddlestone napping. So we reached the interval with Everton leading 2-0, a happy position for any visiting side. The second half was not quite so good because Everton to some extent went into defence. So that naturally the Villa had most of the play and during the first quarter of an hour of the this half Sagar had some shots to deal with. They were not the type however, likely to beat the Everton goalkeeper for in the majority of cases the ball was driven straight at him. Everton Hit back. Having had their 15 minutes of joy, Everton hit back, and always looked like making goals even though they were not playing within yards of their first half form. But the great thing about the Everton team was its defence. Stevenson scored a third goaL at 70 minutes through some excellent play with Boyes. So that once more the Everton remainder in tact, and Everton are still the 100 per cent. Lawton was brought down in the penalty area and should have had a penalty, but it did not matter a great deal then for the game had been won. Final result Aston Villa 0 Everton 3.
Aston Villa, Biddlestone, goal; Callaghan and Cummings, backs Massie, Allen, and Iverson, half-backs Kerr, Haycock, Moss, Stering, Houghton, and forwards.
Everton; Sagar, goal Cook and Greenhalgh, backs Mercer, Jones (TG) and Thomson (captain), half-backs Gillick, Bentham Lawton, Stevenson, and Boyes, forwards.
EVERTON DAZZLE THE VILLA
September 6, 1938 The Evening Express.
Thrilling Team Work in Great Victory Run.
No Stopping Lawton.
By Pilot.
Superlative football. This described the latest triumphant of Everton. They preserved their winning record with a brilliant three-clear-goals win over Aston Villa, at Villa Park, last night. The spectators –about 40,000 –and the Villa players were dazzled by the constructive skill and defensive defiance of the Blues, who have now won their first four matches –two away from home –and conceded only one goal while scoring ten! This is the brightest opening to a season Everton have had in years, and it is no exaggeration to say that if they maintain form they will be the team of the year. It was their soundness in defence which really paved the way for this victory, which became easy and effortless later on. In the opening sallies it was the Villa who tried to call a tune, but while they applied pressure, the attacks broke down at the penalty line, and gradually Everton's superior football ability asserted itself. As Everton improved so the Villa faded out, Everton's defence gave that touch of confidence to the Blues, and then the attack functioned with a grace and art which thrilled with its accuracy and efficiency. Tom Jones was the big man in defence; the acme of cool, concentrated breaking up and diligent use of the ball. On current form there is no better pivot in the land. Behind him was the "reliability trio" –Sagar, Cook and Greenhalgh. On his flanks were Mercer who, by the way, has a perfect understanding with Cook these days, making for vast improvement in the rearguard and Thomson who was quick on the ball, strong in the tackle. Both were artistic in their distribution. In attack Gillick could not escape criticism, but he did some accurate passing and quick thinking which produced the second goal –a crashing left-footer from "goal-a-match-Lawton." Bentham played his best-ever game in the Everton first team, and Stevenson came right back to his game. He scored two perfect goals and hit the bar with a rasping volley. He and Boyes constituted the best wing of the game. Lawton impressed as much as a leader of the line as a marksman. With luck he would have had more goals. This 18-year-old leader is destined to become England's number one centre-forward. Stevenson and Lawton scored in the first half, and after Massie had struck the bar –Villa's best scoring effort –Stevenson made it game end rubber, in a match which again showed the high value of Everton's team work –and football ability.. The players are now having a rest at Bushey –and they have earned it. Naturally there will be no team changes for Saturday's match against Arsenal at Highbury. The team will be: - Sagar; Cook, Greenhalgh; Mercer, Jones, Thomson; Gillick, Bentham, Lawton, Stevenson, Boyes.
CHAMPIONSHIP FORM
September 6, 1938. The Liverpool Echo
By Stork.
Everton set Birmingham alight last night with their delightful football, and must have made the natives sigh for the days of Bache and Hall, when the Villa themselves could show then how to do it. To give praise in the hour of defeat is the greatest praise of all, for it is easy to say "Your boys played well" when you have won. Well the Villa spectators were unstinted in their praise of Everton's football, even though it made their own side look commonplace. People sitting round kept on saying "What beautiful football; think of it, they are showing the Villa of all sides how it should be played."
Hammered Down. It was like a racehorse versus a carthorse, and the former passed the post an easy winner, pulling up as it were, for had Everton persisted with their first half tactics, feel sure they would have run up a big score crop. The Villa had to make forward changes, but I very much doubt whether it made any difference the way Everton played. Clayton has lost cast at Villa Park –don't be surprised if he moves to a nearby club in the very near future – and Moss, the son of Frank Moss, the Villa's captain, was played at centre forward, when he is by right a half back. Haydock the Precot Cables led, was at inside right. For a time both these young men did well, but the rest of the line could do nothing against the sound defence of Everton. The Villa defence could not hold the smart and entertaining Everton forward line, which wheeled and whipped away passed and passed again and shot with venom. Allen could not get the hang of the roving Lawton, who scored one goal and should have had a penalty late on, and Boyes and Stevenson played ducks and drakes with Massin and Callaghan, the two backs strove hard against odds, but were outwitted by Everton's forward dazzle. It was a gorgeous sight to see the Everton forwards dancing their way through the Villa defence by well conceived combination. The ball went from man to man with great precision and each of the three goals was the result of the linking up process.
Left Wing Sparkle.
There was nothing haphazard about the making of them and the last goal of all will be talked of in Birmingham for many a long day for it was a two piece suit between Boyes and Stevenson who are making up a wing something like the Coulter-stevy wing of some few seasons ago. It was a touchline goal, with Boyes riddling to gave Stevenson the easiest of chances. Stevenson had scored the first goal just after Biddlestone in a frantic effort to keep out Bentham's effort range shot, shot out his arm, of course, the ball must hit it. Stevenson also hit the crossbar. Lawton's goal was a three man affair. Stevenson, Bentham, and finally Lawton, who previously made a hook shot that surprised everyone, taken from such an atrocious angle, yet Biddlestone had to save. The Villa had their moments, but they were rarely a menace to Sagar, for their shooting was either rank bad of the shots were delivered straight at the Everton goalkeeper. Massie struck the angle of the woodwork, but that was the only time Sagar seemed in any trouble. Jones, Mercer and Thomson were all-conquering, and behind them stood two men who never put a foot wrong –their names Greenhalgh and Cook. It was a grand and glorious victory which will cause the Villa directorate to do some hard thinking. The players left for Bushey Park immediately after the game, full of confidence for their meeting with the Arsenal at Highbury. Everton's reserves team against Derby County at the Baseball Ground tomorrow, is; - Morton; Saunders, Jones (j); Britton, Gee, Watson; Wykes, McMurray, Bell, Davies, Trentham.
Last night matches left only four teams with a hundred per cent, record –Everton, Blackburn, Oldham and Northampton, one from each division. Blackburn and Northampton, however, have played only three games, to Everton and Oldham's four.
NO CHANGES AGAINST ARSENAL
September 7 1838 Liverpool Daily Post
By John Peel
For the match against Arsenal at Higbury on Saturday. Everton will have the side that has gain full points from four games, team is Sagar; Cook, Greenhalgh; Mercer, Jones, Thomson; Gillick, Bentham, Lawton, Stevenson, Boyes.
THE CENTRAL LEAGUE
Derby County reserves 0 Everton Reserves 1
September 8, 1938 Liverpool Daily Post
Central League (Game 3)
Though superior in the first half Everton reserves were fortunate to beat Derby County by a goal scored by Bell in seven minutes. That was the only chance the visiting centre-forward. Got all through, but Trentham and Wyles failed when well placed. The eager young Derby forwards were foiled by the generalship of Gee. After the interval when the Everton attack was rarely seen and the defence had a grueling time. Jones did duty later hit the bar. Everton Reserves; Morton, goal; Saunders and Jones (j), backs; Britton, Gee and Milligan, half-backs; Wykes, McMurray, Bell, Davies, and Trentham, forwards.
EVERTON WATCH ARSENAL RIVALS
September 9, 1938. Evening Express.
By Pilot.
Everton, the only team in the First Division with maximum points, place their record at stake against Arsenal at Highbury tomorrow. This is the hardest test the Blues have had this term, but they go to face the Gunners well prepared. Last night the Everton players watched the game between Brentford and Arsenal –Brentford won 1-0 –and what they saw will be reviewed at Bushey today between the players. Personally I think Everton can win this game, but it depends on the penetrative power of the attackers. Arsenal's chief weakness at the moment is in attack, despite the presence of £14,000 Bryn Jones. As in past years their power is in keeping the other fellows at bay. Everton's forwards are playing so brilliantly and carrying such shooting power that they may give the Gunners' defence a grueling time and march on to their fifth triumphant. The Blues fielded an unchanged team for the fifth game in successive and a team refreshed by a week's rest in the south. Everton; Sagar; Cook, Greenhalgh; Mercer, Jones, Thomson; Gillick, Bentham, Lawton, Stevenson, Boyes.
A CONFIDENT EVERTON
September 9, 1938. The Liverpool Echo.
By Stork.
Everton are in high feather. Not for years have they held such a handsome lead in the league table at this period of the season, so it is only natural that they are pluming themselves. At one time of the day Everton could not look forward to an away fixture with anything but foreboding, but times have changed, for have they not won at Blackpool, the club with the forward line which was expected to carry all before it, and at Aston Villa, who gained promotion by dint of good football and team work. Is not that enough to give any side a strong belief in itself? Well, tomorrow they re set their biggest task to-date, for a visit to Highbury, the classical home of the Arsenal. Is not looked upon at a pleasant trip by any side. It has not been one of Everton's good grounds, for rarely have they come away with a point, but I can say that they will take the lead with the will to win. Most teams visiting the home of the champions seem to suffer from the "inferiority complex" for some reason or other, but such will not be the case tomorrow.
Determined to Win.
The way Everton are playing at the moment, they should not be afraid of any side, and the Arsenal are not tearing up any trees, this season at any rate. I know it is a difficult fixture, but knowing the Everton lads through and through, you can take it from me that they have set their heart on beating the Arsenal. I will be satisfied if they take a half, but they think they can go one better, and take a whole. Such is the outcome of success. Sagar is still grumbling at himself for letting Brentford score against him, but he will be right on his toss at Highbury. So, for that matter, will the rest of the team, and should they touch their Villa form, then I can promising the Arsenal a warm. Bernard Joy, the amateur who is taking Ernie Roberts's place, at centre half, will of course have a special mission to perform; that of shadowing Lawton, whose form has spend the length and breadth of the country. He has a stiff day on hand. There is a suggestion of age in the Arsenal back division and this may prove their undoing, for the Everton forwards have added pace to their good football.
No Backing Off.
But Everton's a great strength at the moment, is in defence which has yielded only one goal in four games and two Scottish international centre forwards in Frank O'Donnell and McCulloch have failed to penetrate. Can Drake break the spell? Those loopholes which were so apparent last year, have been filled up, so that there is now no open and for no opposing forward. Should he get though, he will have earned his success for the Everton defence is covering up well these days. I can visualize a great game at Highbury tomorrow afternoon and I am more than hopeful that Everton will at least avoid defeat. That will be a very satisfactory result whatever way you look at Arsenal will no doubt attempt to play their old game of snatching goal and then hanging on to it. It is a negative sort of football, but as paid the side well in the last few years. One thing I must impress upon Everton. There must be no stacking off. Should they have a goal or two there is a tendency to go into defence. Well it has always been my contention that a side that can score one goal against the opposition can, if they have the mind to do so, score other. Naturally there is no change in the Everton team which has won all its four matches. Team; Everton; Sagar; Cook, Greenhalgh; Mercer, Jones, Thomson; Gillick, Bentham, Lawton, Stevenson, Boyes.
BLUES EXCEL IN TOWN
September 10, 1938. The Liverpool Football Echo
Splendid Footwork Against Champions
Lawton's Leadership
By Stork.
Teams:- Arsenal:- Swindin, goal; Male and Hapgood, backs; Craystone, B Yob, and Copping Half-Backs Nelson, Jones (L), Carr, Jones (B),and Bastin, forwards. Everton:- Sagar, goal; Cook and Greenhalgh, backs; Mercer, Jones, and Thomson (captain), half-backs; Gillick, Bentham, Lawton, Stevenson and Boyes, forwards. Referee Mr. M.N. Mee, Swindon. The Everton team came direct from Bushey Park this morning and they looked exceedingly well and, of course, were confident of at least holding the Arsenal. They saw Arsenal beaten at Brentford on Thursday in a game which deprived them of the service of Drake and Kirchen, who were injured. A round of heading by Everton brought applause. In fact, Everton's play was bringing nothing but praise from those around me. Boyes and Lawton got the Arsenal defence wide open and Lawton's inward pass became a shot, for it was much too close to Swindin. Nelson was perfectly placed, but wasted the effort by centering behind. Everton were playing like a machine, and Lawton brought Swindon to his knees. Nelson also went over the angle of the post. It was good fare, with Everton undoubtedly showing the way. At 14 minutes Everton took the lead by a perfectly made goal. It started with a free kick by Greenhalgh, which was collected by Thomson. Away went the ball to Lawton, again at inside left. Stevenson, who had run inside, took Lawton's pass, and as Swindin advanced the Irishman piloted the ball beyond him and into the net. Everton were worthy of their lead, fir their football had been magnificent. It was "copybook football," and Swindin had a touch of good fortune when he struck out his right hand and deflected a Gillick shot out of the net. The Arsenal people were staggered by the turn of events. It was strange to find their side overplayed at Highbury, yet they were good enough to admit Everton's form was an eye-opener.
Sagar "Idle Jack"
So far Sagar had been an idle Jack such was the power of his defence, but it was the attack that had made Everton favourites. Gillick crossed over to the left and skirted the woodwork and a strong left footed drive. Bernard Joy could not keep tally on Lawton, who roamed about at will. Bastin and Brye Jones were clever with the passes but Carr was inclined to run into offside positions. He lost a goal through this, for he was palpably offside when he went on to net the ball at the half hour. Lawton almost took a goal with his head, for the ball had beaten Swindin when it swung wide of the goal. Arsenal then had a brief spell of attack without troubling Sagar. Tommy Jones and Greenhalgh were dominating in defence. After 38 minutes Everton scored a second goal –a simple looking goal, but, nevertheless, perfectly made by three players, Bentham, Gillick, and Lawton after Beattie had missed a pass and received a look of admonition from Haygood. Lawton was the scorer, putting a neat shot well wide of Swindin's left hand. Everton had certainly risen to the occasion and had shown Arsenal how to play the best class of football. Stevenson was almost through and Swindin had to make a couple of quick saves before the interval arrived with Everton in commanding position.
Half-Time Arsenal 0, Everton 2.
Arsenal resumed with bite, and Carr was allowed to go on in spite of him being offside. Fortunately Everton were not made to suffer. Lawton and Joy had a tussle on the far side of the field, and from the clearance Lea Jones made a shot that Sagar held up.
Arsenal Get Busy.
The Arsenal altered their tactics, and Everton became more concerned with defence than attack. Arsenal came into the game for the first time and Bryn Jones showed his worth with two clever passes, Sagar having some work to do as a result. Gillick was through and elected to shoot wide when an inward pass to either Lawton or Stevenson, who were coming up at a hot pace, would have done. Everton were standing solid in defence when Arsenal were passing, although their goal had a narrow escape when Les Jones made a header for a corner. Sagar, out of goal, was beaten, and Cook had to kick off the goaline to keep the goal intact. Then followed a great surge by Arsenal, and the Everton defence had many anxious moments and was inclined to crowd back on their goalleeper. Carr was charged among the photographers by T. Jones, and at the other end Stevenson was twice through, the second time attempting to lob the ball over Swindin's head. Having taken the full brunt of the Arsenal's attack, Everton went about getting back to their first half form, and Lawton hanged a ball wide and gave Swindin one to handled. Bentham put one over, which, however, will tell you that Everton had got back to attack. Cook once baulked Sagar and shortly afterwards Arsenal reduced the lead with a first-time shot which to m mind should have been saved. Sagar dived to the ball with one hand, but Bryn Jones shot had beaten him after 65 minutes. This naturally set Arsenal wild with delight for it gave them a fighting chance. Bryn Jones started off a movement which was beautiful to watch, and almost produced a goal for Carr's shot curled only a matter of inches over the bar. Gillick was hurt and had to receive attention behind the goal line. Final; Arsenal 1, Everton 2.
GILLICK HAS SWITCH IDEAS
September 10, 1938. The Liverpool Echo
But Everton Forwards Don't Switch With Him.
Still, The Play Delightful.
By Stork.
If there is any weakness in the Everton team today, it is at outside right. Gillick has not produced his Blackpool form in any of the three games played since I will say that he does better away from home. A footballer is greatly affected when his supporters "get at him" for try how he will to take no notice of the gibes directed at him, he cannot shut his ears to everything. Therefore I would ask the Goodison Park spectators to retrain from shooting at him. Last Saturday's "talk" was all because he did not keep his place on the wing. He comes in with one object, that of being handy should the ball come to the middle. It look silly when the ball travels across and he has to gallop to the touch line to gather it, but is it his fault? It is up to his inside man to run out on the wing when he sees Gillick cut in. That is the success of the "switch" which has crept into football in recent times. Look at Preston North End. When one man strays away from his post another immediately drops into his place. But I have no grumbles with Everton at the moment. How can one quibble with a side that has won all its four matches, scored ten goals, and only fortified one, and that a simple one which should never have been scored. Sagar is quite vexed with himself over that slip. He readily admitted to his error, a thing that few will do. Rather are they apt to blame others. Not so Ted, who frankly said, when I asked him about it. "I missed the ball completely. McAloon did handle, but the ball would have gone in any case." By the way I have had a friendly wager with Tommy Lawton that he gets his cap this season. What do you think? When it was found that Nat Cunliffe would not be able to take his place at inside right there was some concern as to whom should fill the position. McMurray was signed, and showed distinct promise in his practice game, but it was thought that someone with a little experience was needed, and the selectors choice fell on Bentham. It was a fine choice, for Bentham has done yeoman service, and played no small part in his club's success. Strong forceful he is a valuable asset in defence for, having been a half back he can defend magnificently. That brings me to a point which is often argued in football circles that you can make a forward into a half back, but never a half back into a forward. Bentham seems to have scotched that idea. Highbury with its magnificent suits of offices should not find Everton overcome by the wondrous slight, for at the moment they are concerned with nothing but victory. They have confused the critics, myself included by starting off the season as though they were League champions last season instead of being concerned with a relegation battle. In pre-season reviews the critics sounded a doleful note but Everton have done so well that instead of the critics being able to throw bricks they have now to throw bouquets on to their stage. Don't let us overlook n the fact that this is practically the self same team –with one exception –that had to fight so grimly last back end to remain in the senior circle. What has brought back this remarkable change? For many season's Everton's away record made miserable reading for they seemed incapable of winning on foreign soil, and I suppose to some extent the players themselves lost all belief in themselves when away from home. A sequence of away defeats undoubtedly creates that feeling. Today home or away makes no matter. It is just a game with them, and one which is in their compass to win. What a change of front. At Aston Villa on Monday, the team sent the Birmingham people wild with delight at the magnificent football they produce. They themselves had been used to good-class football, but they did not begrudge their praise of Everton, even when the latter were making the Villa look common-place. I could hear remarks all around me which made me proud of Everton. One such was "Have you ever seen such beautiful football?" That coming from the Villa followers, who have been reared on high-class football, was praise indeed. Why were Everton languishing last year?" I was asked and it was difficult to answer, but it was not difficult to say why they had risen from the depths to become the most talked of team today. Happiness, confidence, and the one-for-all thought. The is the reason, added to a whole lot of ability.
EVERTON BRILLIANT AT HIGHBURY
September 10, 1938. Evening Express, Football Edition.
Forward Work Bewilders Arsenal.
Stevenson, Lawton Goals.
By Pilot.
Everton gave London a football treats at Highbury, where they were two goals up against Arsenal, with goals by Stevenson and Lawton in 38 minutes. Arsenal were nonplussed by the collaborative and individual skill of the Blues. Everton made the mistake early in the second half of falling back on defence, but they remained the much superior combination. Bryn Jones scored for Arsenal after 65 minutes. Teams:- Arsenal:- Swindin, goal; Male and Hapgood, backs; Craystone, B Yob, and Copping Half-Backs Nelson, Jones (L), Carr, Jones (B),and Bastin, forwards. Everton: - Sagar, goal; Cook and Greenhalgh, backs; Mercer, Jones, and Thomson (captain), half-backs; Gillick, Bentham, Lawton, Stevenson and Boyes, forwards. Referee Mr. M.N. Mee, Swindon. Lawton's cross shot gave no trouble to Swindin, and Nelson beautifully fed by Carr, gave Tom Jones the go-by and landed a centre on the head of Bryn Jones. The headed ball lacked direction. Arsenal were quicker into their stride, but gradually the Blues settled to their work and there was much honest plodding by Boyes, Thomson, and Lawton, with Bentham leading a useful hand. The only shot was a cheeky one from Boyes which went into the crowd. Bentham gave a neat back-heel pass through, but Gillick went the wrong way. Next came Mercer with a lovely tackle on Leslie Jones, who Jones was on the goal route.
Cheers For Everton.
Lawton went to outside left to take over a quick pass from Boyes, and his right-foot drive was headed out by Joy. Everton the crowd cheering for their precise footwork and complete understanding. They were the more impressive side; in fact, Arsenal appeared to lack confidence. Lawton almost took Swindin by surprise with a quick shot as he was tackled. The save was made low down by the post and away went Arsenal. The ball scraped Mercer's legs for Bastin to win a corner and this led to Nelson shooting over the top. Nelson was pulled up for a foul on the Everton goal-line, and Greenhalgh's free-kick led to the opening goal in 14 minutes, and Stevenson was the scorer. Thomson edged the ball out to Lawton, who once again had gone to outside left. Lawton drew Joy and Male and turned it inside for Stevenson to run right through at centre-forward, draw Swindon, and push the ball into the corner of the net. It was a wonder goal –nearly and effectively engineered and discharged.
Gillick's Bid.
Cook headed away under pressure, and then Gillick almost took a goal when he cut in with his usual enterprise to a long pass-through and shot with his left foot as he was tackled. Swindin seemed to be beaten, but the shot out his right hand to turn it aside for a corner. Next Lawton was almost through, but his foot was touched as he was about to let go one of his famous drives. Gillick was there again just after with a left foot shot which flashed by the post. Arsenal might have had a penalty when Jones pumped Carr over as the centre-forward was racing in to prevent Sagar from clearing. Still, this was only a point of obstruction, and no one knows just where we are on the point. Boyes and Greenhalgh robbed Nelson and sent Bentham away at outside-left. Lawton beat them all in going for the centre, but his header passed across the face of the goal. Everton were interchanging positions in a style bewildering to Arsenal, who were still playing second-fiddle. In 38 minutes, Lawton made Everton two up. This time it was Bentham who paved the way with a neat slip-through to Gillick, who had come inward. Gillick held on the ball just long enough to draw the opposition and then he turned it inside along the floor. Lawton moved to his left and then cracked the ball home. It was the direction rather than the power of the shot which beat Swindin, who never raised a hand to save it. Swindin had to run out to grab a ball from the advancing Stevenson as Everton's rhythmic football machine swept down relentlessly on a wavering Arsenal, who apart from the opening moments were never in Everton's class as a football team. Sagar had to fist away from Leslie Jones –his first job of work of the day.
Half-Time Arsenal 0, Everton 2.
Everton were all lined up for the restart before Arsenal came out for the second half and the usual Cockney wag shouted, "Arsenal are afraid to turn up." Carr looked dangerous and offered a nice chance to Nelson, who missed the ball completely. Next Sagar snapped two hands to a fierce shot from Leslie Jones. By this we knew Arsenal had more "bite" –the outcome of the half-time conference. Everton appeared to be more concerned with defence than attack and this gave Arsenal more opportunities for having a hand in this football pie. Yet the Blues stood firm as a rock and it was Gillick who created the thrill with a hastened forward run and shot which failed to connect. Bastin's corner kick almost led to a goal. Sagar ran out and was beaten, but Leslie Jones's header was kicked off the line by Cook helped by Greenhalgh. Three corners came to the persistent Gunners who seemed to have regained some of their confidence and power –due entirely to Everton's mistaken policy of neglecting attack, just to prevent the others from scoring. He was much too late in going down for a ball. Everton came back into the limelight when they decided that concentrated attack was their best victory way and Lawton, Stevenson, and Bentham were in the picture with speculative shots born of grand football.
Sagar Deceived.
Tom Jones kept a tight grip on Carr but Arsenal reduced the in 65 minutes. This being the first goal scored against Everton in any away game this season. Bryn Jones took a ball on the half volley and a shot of little power completely deceived Sagar who, in my opinion, should have saved.
EVERTON REVIEW THIRD LANARK INSIDE-LEFT
September 10, 1938. Evening Express.
By Lomond.
Everton had a watcher at the Hamilton Academicals Third Lanark game last Saturday. The player under review was Jones, "Third's" inside left, who has been receiving a lot of notice lately.
By Pilot
Frank King
If anyone is interested in the future of Frank King, the Derby County and former Everton goalkeeper, I can assure them that the transfer fee will not be much more than £300. I mentioned in the log a week ago that King was ready to seek pastures new, and at this figure he respects a real bargain. Derby have had excellent service from him, but they are over stocked with goalkeepers at the moment. And the fee they are asking is bigger that which they paid to Everton for Frank.
Ben Williams the former Everton and Newport County full back, is not yet fixed up for this season. Ben who captained Everton in their Second Division championship season, and who gained many international caps, for Wales was coach to Newport last season. He is filling in his time doing a spot of scouting in South Wales and he has become a keen follower of Cardiff City.
Three Everton players had a day out during the week. They were George Jackson, Maurice Lindley, and Bob McMurray. They accompanied the first team to Aston Villa and were as thrilled with the great win as if they were on bonus themselves. McMurray, by the way, mentioned to me that he was happy at Goodison Park. "It's a great club was his comment. Lindley continues to progress and this tall lad should be a regular first team player before a couple of seasons are out. He is one of the best young wing half backs I have seen for a long time.
Arthur Davies the ex-Everton and Southport goalkeeper, is once again with Plymouth Argyle –and playing in their first team. Strange that Arthur failed to hold his senior position with Southport last term and yet can be first choice for Argyle. Perhaps the Devonshire air suits him better.
EVERTON DAZZLING DISPLAY
Arsenal 1 Everton 2 (Game 1651 over-all)-(Div 1 1609)
September 12 1938 The Liverpool Daily Post
By stork
Best play for years " in town"
''The best football seen in London for years.'' That was unanimous verdict of all after Everton had beaten the Arsenal at Highburg. The score 2-1, is not quite fair to Everton, for they were that, and a lot more superior to their opponents. The Arsenal for some years have been put on a pedestal as being the last word whenever soccer as played, but on Saturday they were made to look not second , but fourth rate by Everton for forty-four minutes. Yet the League Leaders almost lost their proud boast of being the only 100 per cent team in the first division, because of a change of tactics in the second half. Their football had been an object lession to one and all, and I heard nothing but high praise for the Merseysiders. ''they are showing, the Arsenal how soccer should be played.'' Come from a thousand, Arsenal supporters throats, yet that one flaw in their armour. It is a flaw for it has been present in each and every one of their five matches played. Nearly let in the Arsenal, who had previously been bewildered and dazzled by Everton, marvellous display of football. Change of Front. That the Arsenal, were not beaten by a much greater margin,, can be placed at Everton's door more than any great brilliance of the part of the Champions for even when they were pressing made in an effort to pull the game out of the fire. They never touched the heights of a artistry shown by their rivals when they (Everton) were calling the tune it was just that Everton changed over from being a high powered, progressive attacking force for a defensive organization, and it was only natural that Arsenal took advantage of Everton's change of front. Neverless, not even the Arsenal, could steal, Everton's thunder. They fought a good flight in the second half, and with the slightest bit of luck might have taken a half, but the memory of Everton's first half exhibition of copybook football will live long. Not for many years have I seen the Arsenal defence so riddled and rotted.
And by sheer football ability.
One cannot help but, as a why do Everton take to defence in the second half? I put it to one or two of their players and all they can say is; ''it just pans out that way.'' That does not satisfy me, for it has always been my contention that a side, which can beat an opposition for 45 minutes, can do it for 90 minutes. If they are determined to do so, it was not because they had run themselves out in the first session, for a lake on that returned to the attack and were well on top once more. They had played with such ease and grace in the first half that they had not taken a lot out of themselves, but I must admit that they look a very ordinary side until well on in thew second half. The Arsenal undoubtedly looked like pulling the game out of the fire, and had they had Kirchen and Drake in the attack, I feel that they would have done so.
Object Lesson Goals.
Twice the Londoners struck the woodwork during their hectic movement, and Sagar made several saves. This experience should be a lesson to Everton not to change their winning tactics. Having taken two goals-two object lesson goals. By Stevenson and Lawton they seemed satisfied that all was well. Then came Bryn Jone's goal: just a shot at a venture which beat Sagar because he was unslighted. At this point Everton were crowding their goalkeeper. They had fallen so far back that they were getting in each other's way in their keenness to hold the Arsenal forwards. Stevenson and Bentham had left the forward line for the sake of defence, and this enabled the previously harassed Arsenal defence to gain confidence.
Team Spirit.
Why did Everton hold such a first half mastery ? This is easily explained. Thus tackling was deadly and quickly made so that Arsenal men were never allowed to get into anything like combined order. Even the great Bryn Jones was just an ordinary footballer until he got his goal, and Bastin, while being the best of the line could do little against Mercer and Cook.
No the Arsenal were simply throttled down by a team which was imbedded with team spirit of the highest grade. It was a great victory for Everton but by right it should have been a ''slaughter.'' And would have been so had they carried on as they started. The passing was the same as perfection. The backing up of the half-backs relentless so that the work of the defence was ''eased'' then came the change and the same defence was not newly so certain of itself. Sagar seemed jumpy, and was once saved by Cook, who kicked off the goal line. Everton's two came in the first half the first a brilliant effort Thomson to Lawton, Lawton to Stevenson, who side stepped a defender and places the ball right away from Swindin. The second, a left footed drive by Lawton who picked up Gillick pass. It was a team victory and Everton have left a grand impression in London. Teams; - Arsenal; Swindon, goal; Male and Hapgood, backs Craystone, Yob, and Copping, half-backs Nelson Jones (l), Carr , Jones (b), and Bastin, forwards. Everton; Sagar, goal Cook, and Greenhalgh, backs; Mercer, Jones (TG), and Thomson (captain), half-backs Gillick, Bentham, Lawton, Stevenson, and Boyes, forwards.
CENTRAL LEAGUE
Everton Reserves 3 Sheffield Wednesday Reserves 2
Central League (Game 4)
September 12, 1938 Liverpool Daily Post
At Goodison park Everton were Worthy Winners of a hard game. The home team received a shock when Mulligan gave Sheffield Wednesday the lead straight from the kick-off. Cunliffe (2) Wyles however gave the blues a commanding lead at the interval. Drivers scored a second for the visitors near the end. Jackson, Gee, weeks and Cunliffe played well for the home side. Bell was held by Millership thoughtout. Westlake and Lester were sound at the back for the Sheffield Wednesday, whose forwards were ably led by Driver. Everton Reserves:- Morton, goal; Lambert and Jones, backs; Britton, Gee and Watson, half-backs; Wykes, Cunliffe, Bell, Davies and Trentham, forwards.
LIVERPOOL COUNTY LEAGUE
Everton ''A'' 2 south Liverpool reserves 1
September 12 ,1938, The Liverpool Daily Post
At Sandforth road, both sides displayed clever combination but Everton proved better finishers. Greenwood having a busy time. Catterick netted in the first minute, Cack failed with an easy chance of drawing level. Barber netted a second. Everton's interval lead was a true reflection. The visitors played much better in the late stages, and Jones reduced the lead. Good defensive play featured the second half. Edwards Lindley and Davies were prominent for Everton and Greenwood, Dodd and Jordan, good workers for the south.
TEACHING THE ARSENAL
September 12, 1938. The Liverpool Daily Post
By Stork.
The old timers never tires of telling the younger generation that present day football is only a matter of banging the ball upfield and chasing after it, whereas in their day it was clever combination which made the game so big an attraction. Well, I am not one who has to delve into the past for all the good things of life for there are many things nowadays which ran vastly superior to what they were in "the good old days." Regarding football, however, there is a lot in what they say, for the art of football is to some extent a lost art, due , no doubt to the changed order of things the craze for speed, &c. I cannot find word good enough in praise of Everton's first half display, so will give you the Arsenal man's impression. "The best football seen for many years. They are teaching us how the game should be played. I have been following football a goodly number of years, yet I rate Everton's play in the first "45" as the best I have ever seen, and my only regret is that the younger generation was not there to see it, for it would have made more patient with the old-timers statement which so often annoys them. Even though the Arsenal were without Drake and Kirchen, and their deputies were not up to their standard, the Champions are a difficult problem on their own ground, but Everton's foot work combination, tackling simply bewildered them, making them look not second-raters but fourth-raters. Everton should have built up such a lead during their "exhibition" moments that the Arsenal should never have had a chance to hit back. They were so dominating that it looked a one horse race, but once again they slipped into their old error of going into defence.
Beautiful Goals.
I asked several of the players why they do this sort of thing –they have done it in all five games to date –and they could only say. "It just pans out that way. It is not planned. Well their change nearly brought disaster for the Arsenal actually got on top, and were distinctly unfortunate on two occasions when Bastin, hit the upright, Crayston playing in the forwards headed against the post and Cook kicked off the goal line with everyone else beaten. Everton's goal were beautifully made, right in line with their dazzling football, which will be talked of out Highbury way for some time. Lawton has taken to wandering, and this upset Joy, who found his task anything but a joy. He was at outside left when he "placed" Stevenson and at centre forward, when he took Gillick's pass and slipped it into the net before Arsenal defenders were aware of what he was about to do. Bryn Jones knocked off a little more of his £14,000 with another goal –he is the Arsenal's only scorer this season, but had not Sagar been unsighted, Jones ground shot would never have hit the "bull" It appeared as though he (Sagar) had dived too late, but that he did so was due to his not seeing the shot until it was almost upon him.
Carving And Cutting.
Stevenson and Boyes pranced all about the place carrying and cutting through the Arsenal defence at will, and Gillick approached his Blackpool form and only bad luck prevented him taking a goal or two. Boyes may have had one and Lawton, in the last few minutes should have had another. I have not seen the half backs play better. They pounced down on the Arsenal forwards like lighting, and having taken possession, piled their forwards well in fact became forwards themselves by their staunch backing up. Cook and Greenhalgh were splendid backs. The latter was inclined to hold-off in the second half and the bounce beat him.
EVERTON GO FROM STRENGTH TO STRENGTH
September 12, 1938. The Liverpool Echo
Ranger's Notes.
When Mr.Ernest Green was appointed chairman of Everton a couple of months ago and I shook his hand and offered congratulations, I murmured sympathy at the same time. "I m afraid it is going to be a difficult first year or office. I said Mr. Green would have none of that; neither would his co-directors. Their optimism, found in Everton's form in Scotland, was boundless I couldn't agree with them, and said so publicly. And I wasn't alone by a long chalk. That these fears have since proved groundless has given pleasure to nobody more than me. To be the only 100 per centers out of the whole 88 clubs is a rare distinction. Let us all take our hats off to Everton. They have got where they are by sheer football ability; no flukes, no biff and bang, but unadulterated artistry and craft. Critics, opponents, and spectators –particularly at Villa Park and Highbury –all pay tribute to this fact. Everton are giving us football as it was meant to be played. Yet there is more to congratulate them on five successive victories for the first team. Everton are running four sides this season, and not one of them has been beaten yet. The Central League team has got seven points out of eight, the County Combination side has won all its three matches and the new "B" team, which played its first game on Saturday, started off in the prevailing happy vein. Cunliffe by the way, is now thoroughly fit. He had his first run in the reserve side at the week-end, scored a couple of goals, both headers, in the best Dean tradition, and his ankle stood the test well. You can take it definitely; however, there will be no changes in the side, which picks itself automatically. Bentham has fully justified himself and the old axiom. Don't change a winning side," is a wise one. Gillick got a nasty blow in the groin at Highbury, but is a certain starter next Saturday unless something unexpected develops.
EVERTON OUT-ARSENAL THE ARSENAL!
September 12, 1938. Evening Express.
All Attack, Then All Defence
All-Round Brilliance Dazzles Champions.
By Pilot
Everton scored their greatest victory of the season on Saturday when they beat League champions Arsenal 2-1 at Highbury, and by exploiting tactics made famous by the Gunners! For some seasons, Arsenal's policy –a successful one –has been to set out to snatch a lead and then rely on concentrated defence to pull them through. Everton did exactly the same thing in this game –and so scored their fifth successive victory of the season! The Everton players having secured a two goal lead in the first half –knew that following an Arsenal "conference" at half-time, the Gunners' would throw everything into attack. Well, Everton were ready for them –with plans already made. They put everything into defence as Arsenal swept to the attack and although they capitulated once –Bryn Jones scored a rather easy goal –they held to their lead and were worthy winners. It was the grandest exhibition of collaborative football I have seen from an Everton side –or any other for that matter –since those days of season 1931-32, when they were running up big scores in those home games. The Londoners, after the game were enthusiastic over Everton's forward switch. Yet. Truth to tell, there is no forward switch at all. Everton's forwards switch at all. Everton's forwards just played correct football with the man always running to that vital open space ready to receive.
Complete Team.
From Sagar to Lawton, the Blues were the complete football team –with emphasis on the word team. Defence was Everton's weakness last season. Today it is their strength; hence the reason why the half-backs and attackers are playing so much better. Dazzling footwork, perfect positional play, remarkable speed on the ball, shooting ability and with every man thinking one and two moves ahead, Everton's work in the first 45 minutes and in the closing stages sent everyone into raptures. After such a victory –made possible by great goals from Stevenson and Lawton, to which Bryn Jones replied –it would be unfair to individualize. Every man played his part attractively and faithfully. Suffice to say that Arsenal are a far better team than they were made to appear on Saturday. They suffered in comparison with the best Everton team seen for many seasons. Keep it up, Blues. It is interesting to note that during the game Everton had six free-kicks for fouls and Arsenal eight; the Blues had four corners and Arsenal six, and Arsenal had 41 throws-in to Everton's 30. Gillick, injured late in the game, is expected to be fit for Saturday's game against Portsmouth.
CENTRAL LEAGUE
Wolverhampton Reserves 5 Everton Reserves 1
September 13, 1938, The Liverpool Daily Post
Central League (Game 5)
A feature of the game at Molyneux, was the opportunism of Westcott the Wolves leader. Who scored four of the five goals. Gee had a bust time and for long spells the visitors were pinned in their own half. Britton and Jones (je), played well for Everton, but Morton in goal had an off-day. Westcott give the Wolves the lead Midway through the first half. McIntosh adding a second shortly afterwards. Wykes reduced the arrears. Shortly before the interval and Westcott got the hat-trick for the Wolves in the second half.
EVERTON'S RECORD OF FOUR UNDEFEATED TEAMS GOES WEST
September 13, 1938. The Liverpool Echo
Rangers Notes.
"Five bells and all well" is the cry at Goodison Park. Five times have they rung the bell and got full marks for it. The team for the sixth attempt against Portsmouth at Goodison Park on Saturday will not be chosen until this evening, but with freedom from casualties there will be no changes from that, which has done dully unaltered in all five games to date. Four teams has suffered this season came last night, the Central League side going down 5-1 against Wolves at Wolverhampton. Ironically enough four of the Wolves goals were scored by a former Wallasey schoolboy player in Dennis Westcott, who might today have been on Everton's books instead of Wolverhampton's. Last time Westcott got four was in a senior game against Leicester City five months ago. He has been an in-and-out member of the first team during the past twelve months, and last season was top scorer with 19 goals in 26 appearances.
SAME ELEVEN TO FACE PORTSMOUTH
September 14 1938, Liverpool Daily Post
By John Peel
Portsmouth are among the strongest teams of the season so far, and they will make a big effort to lower Everton's colours on Saturday at Goodison Park. Everton have a high standard to live up to, and the same eleven players that defeated the Arsenal will endearour to make the visitors into six. Everton; Sagar; Cook, Greenhalgh; Mercer, Jones, Thomson; Gillick, Bentham, Lawton, Stevenson, Boyes.
BLUES UNCHANGED FOR SIXTH SUCCESSIVE GAME
September 14, 1938. The Liverpool Echo
Ranger's Notes.
For the sixth time in successive Everton will field an unchanged side on Saturday, when Portsmouth are the visitors to Goodison Park, so that once more the team reads;- Sagar; Cook, Greenhalgh; Mercer, Jones, Thomson; Gillick, Bentham, Lawton, Stevenson, Boyes. The Reserves team to play Bury at Gigg Lane is; Morton; Saunders, Jones (JE); Britton, Gee, Watson; Barber, McMurray, Bell, N. Sharp, J. Davies.
Tribute To Everton
Mr. T. Francis of Kensal Rise, London, writes; - "When I lived up North I was an ardent Liverpool supporter, and you will probably agree with me when I say that the local rivalry on Merseyside tends to make a Liverpool supporter anti-Everton, and vice-verse. However, I went to see Everton and Arsenal on Saturday, and feel I must write to tell you that I think Everton a grand team. During the first half of this game Everton forwards with Stevenson and Boyes, outstanding, completely dazzled, baffled and bewildered the Arsenal big guns. I felt proud of them, I venture to prophesy an international cap for Greenhalgh and Tommy Lawton. How these boys work! Gillick sparkled in the first half, and Bentham's good play completed a wonderful effective and trustful forward line. Coming from a self confessed ardent Liverpoolian that is praise indeed. But why is it that local rivalry should make a Liverpool follower anti-Everton, and an Evertonian anti-Liverpool? It beats me.
GOODISON AMATEUR TURN "PRO."
September 16, 1938. The Liverpool Echo
Ranger's Notes
Everton have increased their professional staff by two in the last twenty-four hours. Yesterday Barber, the inside forward who came on a month's trial from Weston-Super-Mare signed professional forms, and today Burnett the 18 year-old ex-Liverpool school boy goalkeeper, has followed his example. Burnett is the goalkeeper who played in the second half of the Everton second practice match and did so well.
E .BARBER AND G BURNETT SIGN PROFESSIONAL FORMS
September 16 1938, Liverpool Daily Post
By John Peel.
Barber, the inside forward who went to Everton on a month's trial from Weston-Super-Mare, and Burnett the eighteen-year-old ex-Liverpool schoolboy goalkeeper, have signed professional forms for Everton. Burnett is the goalkeeper who played in the second half of the Everton second practice match and did so well.
EVERTON OUT TO MAKE HISTORY
September 16, 1938. The Evening Express
New Record If They Beat Pompey
Bid For Sixth Win Off The Reel
By Pilot.
Everton have a chance of making football history tomorrow when they face Portsmouth in a Football League match at Goodison Park. If they win they will become the first team in the First Division ever to have opened a season with six victories on the run. Today they stand as the only 100 per cent club in the whole of the Football League. They are the sensation of the competition, having won three matches away from home. The side is playing so well, it seems that even the power of Portsmouth will not present the Blues from setting up the new record and so consolidating their position at the head of the league. Gillick, fortunately has made a good recovery from the thigh injury he received in the match against Arsenal at Highbury last Saturday, and so the Blues will have out the same team for the sixth time this campaign. Everton's attack will find the Portsmouth halfbacks difficult to overcome in Wharton, Rowe and Guthrie, the Pompey side has a line versed in defensive as well as attacking arts. Unless the Everton forwards with their quick inter-changing of positions, can shake off the grip of those half-backs, the record might go. Portsmouth have secured all their six points at home, Worrall, the Warrington player who joined Portsmouth from Oldham Athletic, will be in the side tomorrow. Everton; Sagar; Cook, Greenhalgh; Mercer, Jones, Thomson; Gillick, Bentham, Lawton, Stevenson, Boyes, forwards. Portsmouth; Walker; Morgan, Rochford; Guthrie, Rowe, Wharton; Worrall, Groves, Beattie, Bagley, Parker.
EVERTON AFTER RECORD.
September 16, 1938. The Liverpool Echo
By Stork.
Having spiked the Arsenal guns, Everton tomorrow will attempt to wreck the hopes of Portsmouth who have made an excellent start after having a tough time, last back end, struggling against relegation, just as Everton had. Of course, there is no change in the triumphal Everton team. How could there be? Never change a winning team is an age-old axiom in football and so long as Everton continue their winning ways the team will stand untroubled unless, of course, injuries cut into it. To play the same team in six successive matches is a great slice of luck, and one greatly appreciated out Goodison way. I only hope that Everton will produce their Villa and Arsenal form tomorrow... if they do then the spectators are in for a great treat. To read about their play at Highbury is one thing, to see it with one's eyes is another. Everton certainly set London ablaze, and the Southern critics are never too kindly disposed to anything emanating from the North could not but help themselves in giving Everton a marvelous "crit" after their Arsenal triumph. I have not seen such football for years, so you can understand why I want them to produce it again; if only for your delectation. It was grand, and although the Arsenal defence is still strong it was shaken to the very roots by Everton's brilliance.
The Human Element.
Portsmouth are strong in the section of the side so it behoves Everton to step out with their brightest and don't slack off until the final whistle sounds. It almost cost them a point in London. Whereas had they gone on with their wizardly they would have routed their opponents. Naturally a side particularly a home one, when it is in arrears at the interval, starts the second half with a rush, and this has its reflection in that their opponents must out of necessary fall back. However, it is about Everton and Portsmouth I intended to write. This game has every appearance of being a hard fought battle. Everton will be all out to retain their unbeaten certificate and beat the Arsenal's record of winning their first six matches, and Pompey will be as keen as mustard to be the first team in the country, to lower Everton's standard. Everton; Sagar; Cook, Greenhalgh; Mercer, Jones, Thomson; Gillick, Bentham, Lawton, Stevenson, Boyes.
CAN EVERTON MAKE IT SIX ?
September 17 1938,The Liverpool Daily Post
By John Peel.
I have no doubt supporters of the Everton club will turn out in large numbers to-day. To welcome the team who preformed so magnitiantly this season. The play of the present combination has earned high praise everywhere, and as Portsmouth their opponents at Goodison Park also adopt a high Standard of football, the game should be well worth seeing. To win five matches in succession is a trump for the team spirit which prevails, and supporters of the Everton club hope that the players will be able to make the record into six wins by beating Portsmouth. A most entertaining match is expected. Everton will have the side which played so well at Highbury. Portsmouth will be without captain and right back Guthrie, he twisted his ankle against Huddersfield Town, and Smith will fill the vacancy.
UPS AND DOWNS OF A FOOTBALLER'S LIFE
Gloucestershire Echo -Saturday 17 September 1938
By ALBERT GELDARD The Winger of Bolton Wanderers
MANY are the stories told about football clubs which have their ups and downs. Manchester City, champions of one season and relegated the following season, provide a recent example, and in a way even more striking perhaps is the up, down and up experience of Manchester United in the last three seasons. What is true in the club sense is true in the personal sense. The individual footballer is on the pedestal of fame one moment: the next he is down in the depths, doubting if ever again he will be justified in holding his head up. I wonder if you have given much thought to this personal side of the footballer's life. I know that you are disappointed when your favourite team flops. Probably you are right in being disappointed over the failures of a particular player of whom you had thought quite a lot. But have you ever though of the feelings of the players: ever considered for example that, however disappointed may be the fellows who thought a lot of him,the player himself, going through his period in the dumps, is even more disappointed? Believe me, however, it is so. The other day I was very much interested in a statement said to have been made by a famous cricketer who expressed surprise at the number of friends who disclosed themselves immediately he reached the limelight People whom he had never seen previously, to the best of his knowledge and belief, insisted that they had known him since the day he was born, roughly. It's very much the same in footbail. When you are on top of the tree—perhaps sporting a Cup-winner's medal, you are known to anybody and everybody. Yet within a very short time those selfsame people who were cheering the player to the echo, will be telling him just what they think of him and his play. Mind you, I'm not complaining. After all, the people pay their money, and I suppose they have the right to say whether the footballer is giving them value or not. The ups and downs are part of the life of the footballer, and while I would not say that I have had more than my share of ups and downs, I have certainly experienced the slings and arrows as well as the joys, which fortune hands out.
LIVING TO A REPUTATION
I have been associated with football right from my earliest days. As some readers will probably be aware, I was lucky enough to play a few games for Bradford (Park Avenue) before I was 16 years of age. At that time people were even good enough—or unkind enough—to recall the fact that in one match as schoolboy I had scored something like 22 goals. I think that was the exact number, but when you get so far it's of little use continuing to count. Quite a long time afterwards, when I was playing in a match for Everton, and during a lull in the shouting, I heard somebody call out, "Why didn't you keep some of those 22 goals till to-day?" I would have loved to have been able to do so, but one can't keep goals up a sleeve and produce them as a conjuror produces a rabbit. They either come or they don't come, and nobody, not even the player himself, can tell when success or failure will be the portion. I went to Everton at a time when that club was on top of the football world. They had experienced their "down" just previously—descended into the Second Division of the League for the first time in their history. Well, my luck was in, because at the end of the first season I LOOKING BACK ON SOME STRANGE EXPERIENCES
spent with Everton—they had won the First Division championship the previous season—we had the good luck to win the Cup. It's pretty good to get that off one's chest —a Cup-winner's medal in the first season with a First Division side, was as proud as a dog with two tails, especially as it so happened that soon after the Cup Final I was taken to the Continent to play for England, where, unfortunately, I failed to give a good account of myself. That was six years or so ago. Since then I have been through the gamut of football experiences; have known the day when I simply couldn't do anything right. When Everton came to play the Cup-ties of 1937 I was not in the side. Then they played a match against Tottenham Hotspur and only managed a draw. For the replay it was decided that I should again be given a place in the premier side. My luck took a turn for the better again. Nothing like playing well in London if you want to catch the eye of the people who matter. That was a thrilling replayed Cup-tie between the Spurs and Everton. I was back in the form which satisfied myself—the player's hardest taskmaster. True, we lost, because the Spurs put in a big effort at the finish and snatched the victory after we appeared to have the game well won. But I caught the eye again, and last season found my name once more among the chosen to play for England. In a football team, however, one is only good enough when one is playing well enough, and as often happens if there is another good man to take your place one may be out of the team for months. This happened to me a season or two back before the Tottenham Cup-tie previously mentioned when, though form in the reserves was good I could not gain my first team place owing to "Torry" Gillick's first-rate displays. However, I got back, but it was an unsettling feeling for Torry and I to feel that when one was out of the first eleven one might be out for perhaps half a season or more. The strain often told in matches, and had its. repercussions. No player can hope to be in top form every game. The result was that I felt one of us ought to move and good a club as Everton are, I decided to ask for a change. That, in short, is why I now find myself moved from the club with which I earned what little reputation I have gained, and am now on the Bolton Wanderers pay-roll. So far, I feel my change is for the better, and I now share the very happy atmosphere which surrounds the boys at Burnden Park. A life of ups and downs. It certainly is that. Here's hoping the "ups" will at least be an equal share of my lot in the seasons to come.
EVERTON'S SIXTH VICTORY SETS UP FIRST DIVISION RECORD
September 17, 1938. The Evening Express, Football Edition.
Five Goals Against Pompey
No Mistake After Early Reverse
Lawton's Eight Of The Season
By Watcher.
Everton set up a First Division Record when they beat Portsmouth 5-1 at Goodison Park. It was their sixth victory in succession, a feat no other First Division club has ever accomplished in opening matches of a season. Everton were one down in seven , but fought back splendidly to gain a handsome win with goals by Bentham, Lawton, Gillick, Morgan (own goal), and Boyes. Lawton has scored in every match –eight in all –this season. Everton have signed a professional –John Prescott, the 18-year-old left back from Sedgeley Park, Manchester. Prescott has been playing with the "A" team as an amateur. He is 5tf 7ins and 12st 2lbs. Teams: - Everton: - Sagar, goal; Cook and Greenhalgh, backs; Mercer, Jones, and Thomson (captain), half-backs; Gillick, Bentham, Lawton, Stevenson and Boyes, forwards. Portsmouth: - Walker, goal; Morgan and Rochford, backs; Smith, Rowe and Wharton, half-backs, Worrall, Groves, Beattie, Bagley and Parker, forwards. Referee Mr. A.J. Jewell, (Forest Hill). Everton pressed at the start, and Walker making a weak kick after handling the ball, placed Boyes in position, but the Everton winger could do nothing with the ball. Bagley was prominent when he received the ball down the middle, but Greenhalgh cleared without difficult. After seven minutes Pompey took the lead, Parker laid the foundation when he put the ball to Bagley, and the inside left ran through Everton's rearguard practically unchallenged, Bagley's low drive flashed past Sagar into the left hand corner of the net. Everton straightaway went down the field and looked dangerous when Gillick sent in a curling ball, but Walker cleared. Everton kept up the pressure, but were helding the ball rather too close. Stevenson went near with a great shot that flashed just pass the right upright. Lawton got the ball just outside the penalty area when he was fouled. Mercer took the kick and brought Walker to his knees. The goalkeeper only partially cleared, and Stevenson securing caused Walker again to save. Everton got the equaliser after 17 minutes, Bentham being the scorer, Stevenson created the chance and the inside-right shot from fairly close range, the ball striking the upright as it went into the net.
Everton Recovery.
Everton were now playing more forceful football and had recovered from the earl setback. Lawton, from about 15 yards, headed down to Gillick, but the winger, running in, was beaten by Walker, who cleverly anticipated the more. Boyes was proving difficult to hold on the left, one shot from him rebounding out of play after hitting Morgan. From the throw in Stevenson secured and shot hard, Rowe managing to deflect the ball just outside the upright. A minute later Stevenson again tested Walker. There was a thrill when Boyes took a corner kick, the ball dropping just outside the goal for Lawton to get his head to it. Walker saved brilliantly. Rowe, the Portsmouth centre-half was keeping a tight hold on Lawton; he was never more than five yards away from the centre-forward.
Lawton's "Usual"
Everton took the lead after 31 minutes with a Lawton goal, which concluded by brilliant movement. Gillick secured the ball midway between the half-way line and penalty area. He put in a fine ran and squared the ball into the goalmouth, where Walker, punching away, sent it straight to the head of Lawton, who had moved up with fine anticipation. The centre forward simply nodded his head to score his eight goal of the season and maintain his record of having scored in every Everton match this season.
Half-Time, Everton 2, Portsmouth 1.
Everton started the second half in fine style, forcing a corner on the right. Gillick sent in a beautiful dropping centre right to the feet of Boyes. The left-winger crashed in a hot drive, which hit the upright with Walker well beaten. Mercer was playing a great game at right half, and Gillick and Bentham were metaphorically spoon-fed. From one of Mercer's passes the crowd of about 40,000 had a thrill when Boyes passed to Stevenson, but the inside man was well offside and did not attempt to take the ball. Everton were doing all the attacking with Pompey offering stout resistance, and Rowe keeping almost shoulder to shoulder with Lawton.
Escape For Pompey.
The Portsmouth goal had a narrow escape when Lawton slipped the ball to Boyes about 12 yards from goal. Boyes, however shot straight at Walker. Stevenson got the ball in the net after receiving the ball from Boyes, but apparently Stevenson handled and the referee refused the point. In trying to stop Stevenson's effort Walker collided with the upright. He was not seriously hurt and was able to continue immediately.
Gillick's Goal
Gillick put Everton further ahead after 62 minutes. He received from Mercer, and after beating Wharton near the touch line, passed inside to Mercer and a moment later returned the ball to the right wing. Gillick ran between Rochford and Morgan and shot a perfect goal. Everton's fourth goal came from a Pompey defender. Stevenson, who had played a brilliant game, squared the ball to Lawton, only a short distance out, Morgan, Portsmouth's right back, was only a yard or so from Lawton and pushed his foot out to intercepted the pass. The ball glanced off Morgan's leg out of Walker's reach into the goal. Everton went "nap" when Boyes beat Walker from 15 yards range, after Morgan had missed the ball completely –time 86 minutes. Final; Everton 5, Portsmouth 1.
EVERTON DO IT AGAIN
September 17, 1938. The Liverpool Football Echo
Record Run Of Six Victories
Dashing 5-1 Win.
By Stork.
Everton were shocked in seven minutes by Portsmouth, but once they got their teeth into the game it belonged to them, and the record of winning their first six games as well. Lawton gained his first headed goal this season. Teams: - Everton: - Sagar, goal; Cook and Greenhalgh, backs; Mercer, Jones, and Thomson (captain), half-backs; Gillick, Bentham, Lawton, Stevenson and Boyes, forwards. Portsmouth: - Walker, goal; Morgan and Rochford, backs; Smith, Rowe and Wharton, half-backs, Worrall, Groves, Beattie, Bagley and Parker, forwards. Referee Mr. A.J. Jewell, (Forest Hill). Although the weather prior to the match was not encouraging, I should say there was 30,000 people present when the teams turnout. Portsmouth like Everton have taken an upward turn this season, so that indications were a good match, and a clean one for Pompey have always played the game no matter their position in the League table. Naturally Everton were keen to keep their unbeaten record intact and at the same time put up a record of being the only side in post war football to win the first six games in successive. They opened well, even through there was a slight inclination to keep the ball too close, so that the Portsmouth defence were able to get to grips with the Everton attack before it became dangerous. When Beattie bounded down the middle things did not look too bright for the Everton goal, but the Pompey player kneed the ball too far forward so that Greenhalgh was able to step in and clear.
A Bagley Tonic.
This acted as a sort of tonic to Portsmouth, for in seven minutes they had taken a goal through Bagley. Everton led many to believe that they had asked for this by their nonchalant style of play. It was certainly a lapse on the part of Everton's defence which allowed Bagley to nip through and hoot well wide of Sagar's left hand. It was well this goal came when it did, for it gave Everton an opportunity to tighten up a defence which thus far had not been well knit. Jones was surprised by being out of position so that Beattie became a danger until either Cook or Greenhalgh came forward to close down the way to the Portsmouth attack. Stevenson made a fast drive which lacked the one thing necessary –direct ion. Portsmouth had impressed by their combination which was more with the long sweeping pass. A foul by Parker on Cook produced a free kick which might have proved disastrous to Portsmouth had not Morgan made an excellent clearance to prevent the ball going into the goalmouth, where several Everton men were stationed in readiness. Another free kick for Everton saw Walker saving a hot drive at the second attempt from Mercer, nod then Stevenson got in one of his specials, which the Portsmouth goalkeeper handled ably. Everton swept into the attack time and again and at 17 minutes they were rewarded with the equaliser. The right wing was the root cause of it, and Bentham seemed as though he had robbed Gillick, of a shot and there seemed little danger of a goal coming through that interference.
The Equalizer.
Bentham however, once again, and with outstretched foot he piloted the ball on to the inside of the upright, and it flashed across the goal, to and in the far side of the net. It was a rather simple looking goal, but one of tremendous worth to Everton, for it sent them on an attack which worried the Portsmouth defence more than a little, Walker having to make one or two saves of worth. Stevenson was shooting like a Bisley marksman so that walker had to save on each occasion, but the latter thus far had shown up solidity, and he took a Lawton header perfectly, although interfered with by one of his own men. Rowe was keeping a tight hold of Lawton. In fact he preferred to gave away a corner rather than take a slightest risk. Everybody was waiting for Lawton to get his usual goal. He was some time in doing it, and although it was not one of his big gun shots it was just as effective and had Gillick to thank for the chance.
The Lawton Nod.
Gillick had played excellently, and when he had pulled the ball of the goalline it struck the Portsmouth goalkeeper's hands, and sent on to Lawton, who promptly nodded it into the net –an opportunist's goal if ever there was one. A rather doubtful offside decision against Parker held up what promised to be a dangerous Portsmouth raid. Each time Rowe tackled Lawton his arms were akimbo, and it was a wonder to me that the referee had not taken him to task about the matter. Worrall had not had much chance thus far, but he needed little as he showed when he scooped the ball off the goalline and Sagar cleared it away, Cook completing the clearance. Just on the interval another doubtful offside decision held up Everton.
Half-Time Everton 2, Portsmouth 1.
Everton did not slacken off in the second half as they have been doing. They almost took a goal in the first three minutes when Boyes nearly splintered the upright with a first time drive taken from Gillick's corner kick. Gillick by the way, was the best forward on the field, and Wharton and Rochford did not quite know how to deal with him, so many tricks did he pull on them. Portsmouth had petered out. They could not stand up to the heavy pressure which Everton brought to bear, and had it not been for Walker, Everton's goal record would have been improved for Bentham, Lawton and Stevenson all went close.
Great Goal By Gillick.
It was only right and proper, that Gillick should take a goal in this his best game for Everton, and to a point it was a self-made goal, for he started and finished with the aid of Mercer. Gillick's shot at 62 minutes actually passed between walker's legs on its way to the back of the net. Gillick got a great reception from both colleagues and the spectators. Everton were well out on top, and Stevenson headed against the two uprights. That may seem strange, but it is nevertheless true, for his first header bounded from one upright right on to the other. At 72 minutes Everton scored their fourth goal, or at least Morgan scored it for them, for he turned Stevenson's centre into his own net. Then Lawton, who rarely misses was badly out of alignment from close range with only Walker to beat. Five minutes from the end Boyes scored a nice goal from Mercer's long cross. Final Everton 5, Portsmouth 1.
SCIENCE DOES TELL EVERTON'S PROOF
September 17, 1938. The Liverpool Football Echo
Goin' Places And Paces With The Same Lads, And Jock Thomson Carries A Bagful Of Pats On The Back
By Stork.
So Tommy Lawton has won his first "cap." Even though it is not a full-crowned hat, I hope to collect my little wager over that, and I don't suppose he will begrudge paying me in the least. I think his Inter League selection is only the forerunner to higher honours, for I have no doubt that he will be leading a full international side this season. Lawton took London by storm a week ago. Everton, too, created a wonderful impression in the game with the Arsenal, reviving memories of the great days of Newcastle United and a few others. But why all this talk about Everton's football? Have they not always tried to play the scientific type of game as against the kick-and-rush of some clubs? It did not always being them success, quite the reverse, for when they were relegated for the first time in their history, their football was as good and much better than many clubs sitting in high places. The club's motto is "Only the best is good enough." And they do try to live up to it. They have brought the best, even though it did not turn out the best, but that is one of the gambles of football. The greatest footballer may not fit in with Everton's ideas and plans. It is only a few years since they purchased a Scottish right wing pair which was supposed to be the greatest in Scotland. It failed here, for no apparent reason. The Arsenal have been bitten in the same manner, and other clubs have dipped deeply into their pockets to buy a player of the highest grade, but a few games have proved that he was "not their man." It will always be the same in football. That is one of the worries of a board of directorates. Everton made no signings of note during the close season, and that caused people to shake their heads. They could not see Everton doing much with the same team as that which had to struggle to stay in the senior circle, and I myself was a bit doubtful about things in my pre-season review of the team. But those self-same critics have stayed on to cheer where they expected to jeer. Football is a funny game isn't it? Now this unbeaten certificate is going to be a bite of a nuisance if I am not mistaken. It becomes a bugbear others have found it so, and Everton are bound to feel the strain. It is a strain, for it means that they are playing a cup-tie each match. Every team in the land will be keen to be the first to lower their colours, and when that does happen I am sure Everton will be relieved. They were when they had the first goal scored against them by Brentford. Still being the cynosure of all eyes and efforts is a very happy position to be in. It is much too early to talk about the championship, but let me recall that Everton have started off in the same manner –five wins in a row –as the Arsenal did when they won the championship with the record number of points (66), in season 1930-31.
Is This A Omen?
A good start is said to be half the battle, but that hardly applies to football for so many things can creep into send them toppling down the scales at lighting pace – I refer to injuries. So far Everton have played the same team in all matches. Lucky lads! The subject of my picture this week is Jock Thomson, who has been at Goodison since March, 1930. Never had Everton a better servant, one who has not been the slightest bit of trouble, either on or off the field. He came into the first team almost immediately and kept his place until season before last, when he went into the Central League side and became a full back. He was brought back at the tail-end of last season in an effort to pull things round. Well, Jock pull things round and as recognition of his service last season the directors elected him captain for the season now in progress. It has proved a wise choice, for he has the pulse of the youngster members of the team, who look up to him. He does not throw put stern glances when a youngster makes an error but gives him a pat of encouragement. Jock knows what he wants and goes the right way to get it. Thomson is devilishly hard in his tackle, but fair. When he goes for a ball he means to get it by fair means not foul. Of course he uses his grand body to help him. Why shouldn't be? When he was capped for Scotland against Wales in 1933, he scored a goal –against his own country, he does not like being reminded of that. But it's a detail in the history of a fine player –one of the game's gentlemen.
STUD MARKS
September 17, 1938. The Liverpool Football Echo
By Louis T. Kelly.
• Everton have got a new club crest, the subject of which is that Historic old building so familiar to all those whose ways lead them to Rupert Lane and Brow, where stood in the old days "Ye Old Everton Toffee Shop." The crest reads; "Nil Satis Nist Optimum," Otherwise "Only the best is good enough," Only in the hour of defeat shall we have to add the words "to beat us."
• No First Division club since the way had, to date opened the new season with six successive wins.
• Some people though Boyes was rather dear purchases last February but events have clearly shown that Albion's lose is Everton's gain.
• In 1927-28 Everton lost but one of their first 14 matches, whilst Arsenal four seasons later, had 13 victories from 14 games, but not at the season's dawn.
• Walter Boyes who is making such a success of his job on the Everton left wing, was brought out by Woodhouse Mills F.C. in his native Sheffield.
PORTSMOUTH FAIL TO STOP EVERTON
Everton 5 Portsmouth 1 (Game 1652 over-all)-(Div 1 1610)
September 19, 1938, Liverpool Daily Post
Recovery after shock Goal.
By Stork.
Six victories in succession-that is Everton proud distinction. Where will it end ? No one can tell, for Everton are playing in such a manner that they are likely to go on wining indefinitely. They were shocked by Portsmouth, who scored the first goal of the day at a time when Everton were not the well knot team they have been this season. They had not settle down when Bagley rushed through a surprised and uncertain defence to beat Sagar in 7 minutes and put Everton in arrears for the first time this season. That goal brought a rather lackadaisical- Everton to its senses, for they gave me the impression that they were feeling the strain of their record breaking endeavour. Nothing would go right for them during those first few minutes. Passes failed to reach their man, tackles, did not bring the desired result, and the half-backs line was often surprised by Portsmouth's sweeping methods.
One-Way-Traffic.
It was a blow to their spectators, who were looking for a repeat order, of their Highbury display. Well, while it did not reach those heights, Everton were soon treading the high road, to victory. They took stock of themselves after that Bagley goal, and when Bentham equalised it was a one-way traffic, after Portsmouth trying to put up the ''stop'' signal against a team which had Learned its lesson, and were determined to benefit by it, so that in the end ''Pompey'' were crushed 5-1. Everton were inclined to be too clever in the opening 10 minutes. Portsmouth played quite well, until Everton got into their stride. Then it was, one-sided affair, and had Everton taken 10 goals they would not have been flattered. Twice they struck the wood-work; a dozen times Walker. The Portsmouth goalkeeper barred their way, and several rather simple chances were missed. Walker was the strong man in Portsmouth team, had he not been secure in his defence, Stevenson, himself would have taken high toll with some rasping drives. The Irishman was one of the smartest forwards on the Everton's side, yet he was the only one not to score. He shot with amazing power early on, and kept Walker constantly on the watch. Everyone wanted to see a Lawton quick-fire goal; he had two changes to make them, but missed fire, and showed his disappointment with himself. He got a goal; the leading one of great value, with his head after Walker had failed to stop Gillick cross with his hands, Lawton being bang on the spot to nod the ball into the empty net. There, and then the game was won, Everton took complete charge and by brilliant combination cut through the Portsmouth team, with ease. The Southerners defence was so heavily pounded that forwards had to, full backs to lend a hand, so that their attack was reduced to three, sometimes two forwards which of course, could do little damage to the Everton defence. Two week's ago, Gillick was the subject of the spectators jibes. On Saturday, he became their favourite with an excellent display, quite his best since he joined Everton. For a change the right wing of Mercer, Gillick and Bentham overshadowed Boyes and Stevenson.
Bentham's Skill.
It was Bentham's best game and he produced some tricks and glides usually associated with a James or a Buchan, Gillick scored the third goal by shooting through Walker's leg. He had earned, his reward and applause, Lawton was rather harshly dealt with by Rowe, the Portsmouth centre-half who used his arms, too, much. So harassed were the Portsmouth defence that Morgan the right back, placed the ball from a Stevenson centre into his own goal and close on time Boyes banged home Everton's fifth goal. Portsmouth were a weary lot at the call of time. They had been run off their feet in the second half. Result; Everton 5 Portsmouth 1, teams: - Teams: - Everton: - Sagar, goal; Cook and Greenhalgh, backs; Mercer, Jones, and Thomson (captain), half-backs; Gillick, Bentham, Lawton, Stevenson and Boyes, forwards. Portsmouth: - Walker, goal; Morgan and Rochford, backs; Smith, Rowe and Wharton, half-backs, Worrall, Groves, Beattie, Bagley and Parker, forwards. Referee Mr. A.J. Jewell, (Forest Hill) . Attendance 43,913.
CENTRAL LEAGUE
Bury Reserves 1 Everton Reserves 2
September 19,1938, Liverpool Daily Post
Central League (Game 6)
Everton Reserves had a hard struggle at Bury, and had many shocks before Winning 2-1. Bury, who have gained only one at from six games played quickly open football, but they had not nearly so much method as their opponents. Britton was a clever schemer. For the winner, with Gee a great help to the steady defence. Bell missed two easy chances, but led the attack aggressively and Sharp and Barber were useful forwards, Windle scored first for Bury, Barber and Bell replying for Everton. Everton team, Morton, goal; Saunders, and Jones (je), backs; Britton, Gee (captain), and Watson, half-backs Barber, McMurray, Bell , Sharp, and Davies (j), forwards.
LIVERPOOL COUNTY LEAGUE
Wigan Athletic Reserves 4 Everton ''A'' 1.
September 19, 1938. The Liverpool daily Post
At Springfield Park, the home side gave a much improved display, Thomas Littler, and Pearson being outstanding for Everton, Lovett was excellent While Hesketh, Wyles and Merritt were the pick of a hardworking side. Thomas (2), Pearson, and Shirley scored goals for Wigan, and Merritt replied with a late goal for Everton.
EVERTON DID NOT LIKE BEING IN ARREARS!
September 19, 1938. The Evening Express.
Brilliant Forward Work.
By Watcher.
The remarkable feature of Everton's biggest victory this season –their 5-1 win over Portsmouth at Goodison –was that for the first time the Blues found themselves in arrears before they had scored! When Bagley scored for Portsmouth in seven minutes, the outlook for Everton was anything but promising. Everton were making the mistake of keeping the ball too close. But what a transformation later! The Blues made the ball do the work and movements executed with tremendous speed left Pompey bewildered. Portsmouth were never in it in the second half. This was Everton's sixth victory on the run and it established a post-war record. Arsenal who had a run of five wins in 1930-31, previously held the record. That season Arsenal won the championship with the record total of 66 points. It is likely Everton will take another record from the Gunners –that of gaining 15 out of the first 16 possible points. Alec Stevenson, although he was the only player in the Everton attack not to score, was the outstanding forward of the match; he has scored in each of Everton's three away games, but just cannot get a goal at Goodison. He did everything but score against Portsmouth and must have had more shot than anyone else. The diminutive inside left generally had the better of the exchanges with Smith and Morgan, and only really brilliant goalkeeping by walker barred Stevenson's path. Walker had six shots to deal with to Sagar's one. Cook and Greenhalgh were a much safer pair of backs than Rochford and Morgan. Had the Blues taken all their chances they would have reached double figures. Close-working of the ball held Everton up at the start. The Blues altered their tactics after this shock. Then there was only one team in it –Everton. Gillick, Bentham, Lawton, Boyes and Morgan (own goal) scored for Everton.
GOAL THAT MADE EVERTON
September 19, 1938. The Liverpool Echo
By Stork
I was glad to see Bagley's shot go into the Everton goal after seven minutes' play, for it had the right effect upon the Everton team which appeared rather nonchalant in the opening minutes of the game with Portsmouth. Their defence had not been at all convincing during those opening minutes, which rather convincing me that Everton are feeling the strain of this 100 per cent feeling. In the end they won in a canter to create a new record of winning the first six matches on succession. They won 5-1 it could have been 10-1, and would have been had it not been for the presence of Walker in the Portsmouth goal, the woodwork, and one or two missed chances. Pompey were made to suffer for Bagley's goal, for Everton turned on such pressure that the Portsmouth defence could not stand up to it, and were ultimately crushed to dust. The Bagley goal, instead of becoming hurtful, became an assert, for it was sour needed to bring Everton to their normal game, assertive, more conclusive and so intillating. It was not quite up to Highbury standard but it was much too good for Portsmouth who, in the end were smashed to places. Who is going to stop Everton's all conquering career? I don't know of any team playing more convincing and effective football. Of course there is always the danger of a lowly placed club springing a surprise. If it is left to Liverpool to lower their colours how the "Reds" will plume themselves. The left wing had carried practically all the honours of the attack up to Saturday when it was switched over to the other side, and those who had railed at Gillick a fortnight ago, had to change their tune after his display against Pompey. It was an excellent display, undoubtedly his best since he joined Everton. He had played well at Blackpool, Villa Park, and Highbury, but of course, you had not seen that.
Bitter Critic.
One very bitter critic of the Scot stayed behind purposely to say "I retract everything I have said about him." That is the spirit. I myself had to climb down after Blackpool, but that was as nothing compared to his Saturday game. He, Bentham and Mercer were brilliant. It was a happy trinity, and Bentham's play was an eye-opener. He flicked and glided the ball like a master, and Mercer kept them going with nicely tamed forward passes. Don't think the left wing was idle Boyes and Stevenson were just as good as ever, and they will not begrudge the opposition wing their due praise. It was the wings which won the game, for Lawton had an unenviable task against Rowe, who was too res in the use of his arms to hold Lawton off for my liking. Why the referee give him a warning I cannot understand, for was patent to all that he was breaking the law. Naturally, we were all on the look-out for Lawton's crack shots. He has led us to expect then from his boot. He had two chances to produce them missed them, and had to keen his goal tally intact by a headed goal –his first and opportunists's goal to be sure. I don't know what can say about Portsmouth. They had their moments but after that it was a case of their defence particularly Walker versus the clever Everton team, and it wilted under the pressure. Morgan popped one into his own net under stress, Gillick's shot went through Walker's; legs, and the goalkeeper did not see Boyes's shot which sped like an arrow to the back of the net. He had hit the post with a similar of effort, and Stevenson the only non-scorer of the forwards, despite the fact that he was the team's best shooter headed on to the upright. It was a very comfortable win, after Everton had caused us to gasp through half back lapses, for Thomson could do nothing right in the first ten minutes and Jones was several times caught on the wrong side of the man and ball. That goal against worked marvels.
EVERTON KEEP THEIR WINNING WAYS IN FITTING CELEBRATION OF THEIR DIAMOND JUBILEE
September 19, 1938, Liverpool Echo
Gillick's Best
And An Appeal To Spectators.
Ranger's Notes.
Item No 1 on todays agenda, ladies and gentlemen, is to offer congratulations to Everton on setting up a new record in post-war football. When Portsmouth scored first and showed us some good football for fifteen minutes there were fears the record was " going west." It was the first time this season Everton had been behind in any match, but they soon came to their best, and had they won by seven or eight goals it would have been no more than they deserved. Their superiority was unquestionable, and in the second half it was hardly more than a shooting-in match. Six victories on the run is a great performance. My heartiest congratulations to Jock Thomson and his colleagues. Everton are an eye-opener this season. With maintains now that class football does not pay? What have the biff-and-bang exponents to say? Everton's wonderful run of success has come at an appropriate time, for this season marks the club's diamond jubilee. It is sixty years almost to the day that a body of youths connected with the Methodist Chapel at the top of St. Domingo Vale formed in their modest way the club that was later to become one of the most famous in the country. So far Everton have taken no steps towards celebrating their sixtieth birthday officially. Probably the directors consider the players have taken the matter into their own hands sufficiently satisfactorily I maybe the board will have to do something in the celebration line –by way of signifying another championship –by the time next May comes round. It is absurd, of course, to jump to conclusions so early in the season. There is still a long way to travel before we start shouting the odds, but certainly Everton's performances and the brilliance of their football are already conjuring up visions of a repetition of the triumphs of 1931-32. Who can blame the Goodison "fans" for indulgence in the remains of joyful anticipation? They have lived on lean times for long enough, when the only anticipation, was the dread one of relegation.
Mr. Jack Tinn's Offer.
Mr. Jack Tinn, the Portsmouth manager, was first to compliment the Everton directors on their victory. "But wait until you come to Portsmouth," he added, "I'll lay an even sixpenny we beat you at Fratton Park. There were no takers. Possibly the home directors felt the way the team is playing just now, is was too much like robbing the blind –which is said in no disparagement of Portsmouth, who will extend the best on their own ground. The Southern side will remember their visits to Goodison Park of recent years. They had five goals run up against them last April, and in the last five games at Goodison, Everton have scored 20 goals to Pompey's four.
Gillick Outstanding
More than anything else, on Saturday, was glad to see Torry Gillick's return in form. Last season some of his displays were, to say the least, extremely disappointing. Frequently has he been criticized adversely in this column therefore let me be the first to pay tribute to his splendid play against Portsmouth. I reckon he was the best forward on the field, despite Boyes first-class work. He isn't as quick off the mark as Boyes he doesn't always seem to be putting his whole heart and soul into it like the left winger, but everything he did on Saturday had the stamp of class and artistry, and there was nothing stereotyped about his work. He varied his moves and tactics every time, never doing the same thing twice in succession, and always his anticipation and positioning were faultless. The Everton Board itself has not been in one mind regarding Gillick. There were those who felt he was not pulling his weight. Others had faith in him and struck to their guns in face of criticism. Hitherto, unfortunately, he has been giving his best display's away from home, a fact which didn't cut much ice with the Goodison supporters, because they hadn't seen them.
An Appeal to Spectators.
But perhaps they saw the note in the Everton programme in which Jock Thomson, asked spectators to refrain from loud-voiced disparagement of any player's efforts. Jock knows that the whole of the present eleven are triers," it went on to say, "but even when all are such there might appear to be bad blunders made. If so, you can believe the error was inadvertent, and that the player was attempting something which to him was in the interest of the team. Give of your best in encouraging the players, to keep us at the top of the league ladder." While the appeal is a general one, I know that Thomson had the case of Gillick mainly in mind. One reason Gillick has not done as well at home as away is because of the attitude of a small sprinkling of spectators near the line, who have hurled insulting remarks and "instructions" at him. No player can do himself justice under such circumstances. Gillick showed on Saturday of what he is capable. Let the spectators give him encouragement and not discouragement, leave him free to express his individuality, to play the game in his own way, and they will have an eye-opener.
ALL EYES WILL BE ON LAWTON TOMORROW
September 20, 1938. Evening Express.
Everton Young Leader's Inter-League Test
By Pilot.
Tommy Lawton, Everton's 18-year old centre forward who has scored in every Football League game this season, begins his career as an international footballer tomorrow. He well lead the Football League attack against the Irish League in the second game of the 1938-39 Inter-League tournament, won last season by the Scottish League. Lawton has enjoyed a meteoric rise to football fame. He has only been a regular First Division player about a year, and yet stands out as first choice, despite the competition of such as Drake, Steele, and Fenton. I expect Lawton to set the seal on his debut with goals. There is no better shot in football at the moment, and he should receive splendid support from Robinson and Goulden, two bonny schemers. If Lawton is properly supported then I feel certain the Englishmen will do as well against the Irish side as did the Scottish League a couple of weeks ago, when the Scots won 6-1.
Everton's Lancs, Cup Duel.
Burnley are bring their full Second Division team to Goodison Park tomorrow afternoon to face Everton in the first round of the Lancashire Senior Cup. I regard Burnley as the classical side of the Second Division. They set out to play football in the copybook style, and with a little better finishing could walk away with promotion. In Brocklebank, Hornby, and the 17-year-old Martindale, they have three forwards for whom they could command big fees right away, and the entire side possesses splendid understanding and a flair for constructive art. Last season Burnley beat Everton at Goodison in this competition, so Everton's young enthusiasts will be out for revenge tomorrow. Everton (probable); Morton; Jackson, Jones (je); Briton, Gee, Watson; Barber, McMurray, Bell, Sharp, Trentham (or Joe Davies). Burnley (probable); Adams; Woodfruff, Chester; Gardiner, Johnson, Smith; Taylor, Martindale, Brockiebank, Fisher, Hornby.
EVERTON STILL UNCHANGED AGAINST HUDDERSFIELD
September 21 1938, Liverpool Daily Post
By John Peel
Everton go to Huddersfield on Saturday, and will endeavour to preserve their 100 per cent record. The Yorkshire side is not so powerful these days as in former seasons, but they are always liable to strike their best. Everton for the seventh time, field the same team. This side, providing the players escape injury, will oppose Aberdeen, at Aberdeen on Monday in a friendly game.
EVERTON AGAIN UNCHANGED
September 21, 1938. The Liverpool Echo
Ranger's Notes
Everton are unchanged for the seventh time when they go to Huddersfield on Saturday. Providing the players escape injury, the same side will oppose Aberdeen in the friendly game at Aberdeen on Monday. Players and officials travel north by sleeper coach on Saturday from Crewe, and after the match will go to Harrogate in preparation for the "derby" game with Liverpool the following Saturday, October 1. Their stay will not be so much a matter of special training, as a recuperative and recreational period similar to that they had at Bushey prior to the Arsenal game. The Everton directors at their meeting last night, agreed to release Cook and Stevenson for Ireland, and Gillick for Scotland, if chosen for the Ireland-Scotland international match on October 8, at Belfast. Everton are due to meet Wolves at Goodison the same day.
EVERTON LEAD IN LANCS. CUP-TIE
September 21, 1938. The Evening Express
By Pilot.
Everton entertained Burnley at Goodison Park today, in the first round of the Lancashire Senior Cup. Miller, the former Everton forward, was in Burnley's team. Everton; Morton, goal; Jackson, Jones; Britton, Gee, Watson; Barber, McMurray, Bell, Davies (jw), Davies (j).Burnley; Adams, goal; Woodruff, Chester, backs; Martindale, Johnson, Smith, half-backs; Taylor, Miller, Robson, Brocklebank, and Hornby, forwards. Referee Mr. T. Bentley (Manchester). In 15 minutes Barber, Everton's latest professional signing, continued his scoring run with the Blues by improving on sound work by McMurray and Bell to beat Adams. Everton revealed greater enthusiasm and Britton took a quick shot after Adams had been drawn from goal, but the goalkeeper was there to make a smart clearance. Everton increased their lead in 25 minutes, when Bell took over from Britton and scored with a lob, and eight minutes later, with Everton still forcing the pace, Davies (J.) increased the lead with a shot that went in off the foot of the post. McMurray engineered some delightful moves in the Everton attack and always found Barber an enterprising partner while Gee took complete command of Burnley's inside-forwards. Everton continued to do practically all the attacking. Adams once saving a scoring shot from Barber by sticking out his foot.
Half-time Everton 3, Burnley 0.
LANCS SENIOR CUP
September 21, 1938. The Liverpool Echo
Everton's Lead Against Burnley
Teams:- Everton; Morton, goal; Jackson, Jones; Britton, Gee, Watson; Barber, McMurray, Bell, Davies (jw), Davies (j).Burnley; Adams, goal; Woodruff, Chester, backs; Martindale, Johnson, Smith, half-backs; Taylor, Miller, Robson, Brocklebank, and Hornby, forwards. Referee Mr. T. Bentley (Manchester). The Lancashire Cup is not a worth-while competition –at least that is what the attendance at Everton proved beyond doubt. There were no more than 600 or 700 present, and besides hearing every thud as the ball was kicked there was some caustic humour about the price of admission. Everton led by three goals to nil against a Burnley first team which tried forward experiments. The score sheet tells the story of how the changes panned out. Everton's youthful wingers, Barber and Davies (J.) took a goal apiece, and Bunny Bell sandwiched one in between. Cliff Britton provided the lead in all three instances. Ex-Everton "Dusty" Miller and the locally born Adams were in the Burnley ranks, but Everton's first class defence with Jones outstanding, never had an easier task. Half-Time Everton 3, Burnley 0.
LAWTON SCORE'S FOUR FOR FOOTBALL LEAGUE
September 22 , 1938. The Liverpool Daily Post
Four goals by Lawton in a 8-2 victory against the Irish League at Windsor Park, Belfast, in front of 15,000, in a grand debut.
Emulating Dean
Lawton is proving himself a worthy successor to Dean, and it is a remarkable fact that last time the Irish League suffered a heavy loss of goals such as that of yesterday, Dean scored four- this was at Newcastle in the 1927-28 season when the football league ran up 9-1, at St James Park on that occasion.
EVERTON SCORE SIX IN LANCASHIRE CUP VICTORY
Everton Reserves 6 Burnley 1
September 22 ,1938, Liverpool Daily Post
By Stork
Nothing succeeds like success, and any Everton team nowadays seems to be able to win as it likes. An Everton side yesterday took six goals out of Burnley-with but one by way of reply-in the Lancashire senior cup-tie a competition that seems to have outlived its popularity. There was only 1,300 spectators at Goodison Park to see this very one sided match, and some of these could not help passing a comment or two, on having paid one shilling to see a game they considered was not worth more than half that amount. Burnley played a first team with some experimental moves in the attack, but the measure of the defeat showed them to be of exceedingly ordinary second division class. The winners-who had a goodly sprinkling of former first teamers in defence and some live young material in attack, found success coming easily all along the line. Only towards the end, when there was no use in their straining for extra goals, did Burnley really come into the game.
''Half- Back Superiority''
The scoring was done by Barber (2), Bell (2), Davies (jw), and Davies (j) with the Burnley goal from Brocklebank coming when Everton led 4-0. There was much to enthuse about on the play of Barber in particular and this young Weston-super-mare right winger who has just turned professional, showed ability and judgement besides a strong and, for the most part, accurate chat. On the other wing the long-legged Davies (j) had his moments and his namesake partner who came to the club from Chester as a half-back, showed some nine touches and a well-taken goal. Everton's marked superiority was at half-back. Here Watson played exceedingly well and the ripe experience off Gee and Britton led to the undoing of flyaway forwards who persisted in doing everything save go forward and short. Jackson and Jones both enjoyed themselves at the expense of the type of negligible play, and Jones hardly put a foot wrong from end to end. His first half display being as near prefect as makes no matter. As a match it was unenjoyable. Since it was so obviously a cake of Everton forest. Burnley nowhere teams: - Everton; Morton, goal; Jackson, Jones; Britton, Gee, Watson; Barber, McMurray, Bell, Davies (jw), Davies (j). Burnley; Adams, goal; Woodruff, Chester, backs; Martindale, Johnson, Smith, half-backs; Taylor, Miller, Robson, Brocklebank, and Hornby, forwards. Referee Mr. T. Bentley (Manchester).
CONGRATULATIONS TOMMY!
September 22, 1938. The Liverpool Echo
Tommy Lawton staked his claim to an international cap in convincing fashion by his performance against the Irish-League at Belfast, last night. Four goals in his first representative game is good going, even allowing for the weakness of the opposition, which has become hardened to taking slashing defeat from the Football league side. There is remarkable coincidence about Lawton's quartet, for eleven years ago almost to the day Dixie Dean, also playing in his first inter-league match, bagged the same number against the Irish League at Newcastle. The coincidence doesn't stop there. When Dean appeared at Newcastle he had previously that season figured in six League matches for Everton and scored 8 goals. Tommy Lawton has done the same. More than that both players got their 8 League goals by means of singles and two sets of 2, thus scoring in every game. That season Dean went on to set up his record of 60 League goals, but the Lawton-Dean coincidence are not likely to go that far. Brilliant though Lawton is, in these days of safety first, defences there is little fear of Dean's record being smashed.
CORINTHIANS F.C. TO HAVE PROFESSIONAL COACH
Dundee Evening Telegraph- Friday 23 September 1938
Corinthian F.C have engaged a professional coach, Mr. E. Magner, in an effort to win back some of their prestige as the leading amateur club. A former Gainsborough Trinity and Everton player, Mr. Magner, who begins his new duties immediately, has spent 15 years on the Continent teaching soccer. In addition to helping Corinthians, he will act in a similar capacity with the Casuals, the Isthmian League club.
PROFESSIONAL COACH
Glkoucestershire Echo-Friday 23 September 1938
New Appointment By Corinthians Corinthians F.C. have engaged a professional coach, Mr. E. Magner, in an effort to win back some of their prestige as the leading amateur club. A former Gainsborough Trinity and Everton player, Mr. Magner, who begins his new duties immediately, has spent 15 years on the Continent teaching Soccer. In addition to helping Corinthians, he will act in a similar capacity with the Casuals, the Isthmian League club.
TOP VERSUS BOTTOM
September 23, 1938. The Liverpool Echo
By Stork.
Huddersfield at the foot of the table will relish the visit of Everton for it should mean a good gate, and gates at Leeds road are uncommon. Unless there is a turn in the tide for the Town and a win or two marked up for them, the spectators will shun the ground, for they will not support a team which is not winning or at least showing good form. All the critics have sung their praises of Everton's brilliant football, and if the Yorkshire people will not come to see good football I do not know what will attract them. They have been brought up on good football for years, and often recall to visitors the days of Glen Stephenson, W.H. Smith, and Alec Jackson, but they are not prepared to live in the past the present is what concerns the Town followers. Huddersfield must have a winning team; it is the only way they can fight against the Rugby element which is very strong in the woolen town.
Record Breaking
Everton are out to break all records. If they can beat Huddersfield they will have broken all figures, for the one they mashed last week was only a post war Preston North End via with them with six wins. Two points tomorrow and that goes by the board. Di I think they can win? Of course I do. Nothing succeeds like success and Everton have had plenty of that since the season opened. Everton are not a one man team some would have us believe. They proved that against Portsmouth when Lawton was "held" by Rowe, for three others forwards placed their names in the scorers column. There was a time when a goal against would have sent Everton down in the doldrums. That Portsmouth goal did just the reverse, it caused their to tighten up all round, forget the nervous tension which natural attacks any team set on a record run, and ultimately settled down to high-class football which has brought then their 100 per cent bag. I was glad Everton produced something like their Arsenals display, for it enabled their followers to see for themselves what they had previously only been able to read about. They saw a new Gillick, and were not slow to recognize his best display. People who had been bitter had nothing but praise for his work. Very often the bottom team comes along with an inspired game to unseat the topmost club, but I don't think this will happen at Huddersfield tomorrow. Everton are playing so well within themselves that only a sensational slump on their part is likely to bring defeat, and that slump seems far distant at the moment. Whereas Everton's team remains untouched from that selected for the first match. Huddersfield have been ringing the changes in an effort to build up a winning side. Everton are lucky in that respect and I go to Huddersfield tomorrow full of confidence that the team which has won at Blackpool, Villa Park, and Highbury can pull it off at Leeds Road. Team; Everton; Sagar; Cook, Greenhalgh; Mercer, Jones, Thomson; Gillick, Bentham, Lawton, Stevenson, Boyes.
BLUES SHOULD KEEP UNBEATEN CERTIFICATE
September 23, 1938. Evening Express.
By Pilot.
Everton, the only 100 per cent team in the country, visit one of their lucky grounds tomorrow; Leeds Road –to face Huddersfield Town. This is a case of top team opposing the bottom team, and I think Everton can record their seventh successive win of the season. The Blues are playing effortless yet effective football this season, and Huddersfield's young forwards, will find it difficult to break down the solid Everton defence. After the match the Blues travel to Aberdeen to play in a friendly on Monday day, and then they return for a week's rest at Harrogate. Everton; Sagar; Cook, Greenhalgh; Mercer, Jones, Thomson; Gillick, Bentham, Lawton, Stevenson, Boyes.
Lindley Re-appears
Lindley, Everton's tall young left half back, who has been showing fine form with the third team this season, is brought into the Blues side to oppose Huddersfield Town Reserve in a Central League match at Goodison Park tomorrow. He takes the place of Gordon Watson, this being the only change in the side which beat Burnley in the Lancashire Cup, apart from the amateur Sharp at inside left for Davies (JW). Everton Reserves; Morton; Jackson, Jones; Britton, Gee, Lindley; Barber, McMurray, Bell, N.W. Sharp, Davies (Joe).
Cunliffe's Test.
Jimmy Cunliffe Everton's English international inside right who was operated on during August for the removal of small pieces of bone in an ankle, is to play for the "A" team tomorrow in their match against Prescot B.I. at Bellefield, West Derby. Prescot are unbeaten at the moment and with Cunliffe in the side that record should go by the board. Everton "A" Lovett; Precott, Saunders; Wykes, Edwards, M. Hill; Merrritt, Cunliffe, Catterick, T. Griffiths, H. Roberts. Everton's "B" team visit St. Joan's Boy Club at Orrell with the following side; J. Canavan; R. Ireland, G. Dugdale; G. Sherratt, M.R. Beardwood, D. Atkins, W. Sumner, F. McDonald, W.S. Price, J. Lyon, G. Bailey.
EVERTON OUT FOR FULL LEAGUE RECORD
September 24 1938, Liverpool Daily Post
By John Peel
Can Everton keep it up ? This is an inevitable question with a team making the pace so that if required a tremendous lot of skill stamina and a considerable mount of luck, to maintain a record such as Everton have achieved. The club has had a share of good fortune in the Sharpe of been able to field the same eleven players in each match. This in itself is a great asset for the players have learned to fit in their moves with the reasonable certainly that their colleagues know what is coming next. Team spirit and positional play go a long way towards success in these days as at all other times and these are the secrets of Everton's success. The players are called upon to face a team to-day that has always held a reputation for powerful defence. True they have not done will this term, but Huddersfield will be all out this afternoon to stop Everton's gallop. In facing young, Lawton will have a seasoned opponent who knows all the counter moves to the wiles of centre or any other forward and the young Everton leader will thus be tested to the full. Everton however will play the game that has brought them six victories on the run, and they hope to make it seven, and thus make a record for an opening run in the whole history of the league.
TOWN END EVERTON'S VICTORY RUN
September 24, 1938. Evening Express, Football Edition.
Three Goals Without Reply
'Double' By Hinchcliffe In Three Minutes
By Pilot.
Huddersfield beat Everton 3-0 at Leeds road and bang went the Blues' 100 per cent record. Alf Young was the rock on which Everton's record foundered. The Blues' suffering their first defeat of the season, conceded three goals for the first time, and failed to score for the first time. Lawton's goal per-match record also went west. Two goals in three minutes by Hinchcliffe, and a brilliant tackling put the Everton machine out of gear. Huddersfield Town fielded Baird, their new inside forward from Manchester United against Everton at Leeds-road today. Beasley crossed to outside right, allowing Hinchcliffe to move to outside left. In view of the national crisis the 20,000 spectators sang the National Anthem before the start. Everton were in white to avoid a clash of colours. Huddersfield Town: - Hesford, goal; Mountford and Willingham, backs; Young, Brown and Beasley, half-backs; Isaac, Price, Baird, and Hinchcliffe, forwards. Everton: - Sagar, goal; Cook and Greenhalgh, backs; Mercer, Jones and Thomson, (captain), half-backs; Gillick, Bentham , Lawton, Stevenson and Boyes, forwards. Referee Mr. H. Whitfield (Middlesbrough). Even the home spectators had to applaud the Blues good constructive work at the opening –work which fell down against the fine interception of Alf Young. Sagar saved easily from Price's header, and then Boyes conceded a corner. The Blues were settling down to their work quickly. I though Gillick was fouled when he went through. A combined forward movement, revealing the best of Bentham, saw Boyes step up with a cross shot which Hesford tipped over the bar. Gillick was fouled on the edge of the penalty area, and Lawton's free kick flashed wide. Tom Jones made a faulty interception, and Price went through to force Sagar to save low down. Next, following a free kick, Hinchcliffe placed over from an easy position. Hesford kicked away Boyes' corner, and then Mountford kicked away to prevent Lawton from getting to business. Beasley flashed a centre across goal, and when he tried the same thing again. Hinchcliffe just failed to connect with his head.
Town On Their Toes.
Town were on their toes and always looked dangerous when they broke away, but Everton were producing the better collaborative football. Everton's defence was wide open when Baird put the ball through for Price, but Greenhalgh came across with the winning tackle. Young was the giant in the Huddersfield defence. It was interesting football, with Everton the cleverest side, but Town looking more dangerous. A scoring shot by Hinchcliffe was rather luckily turned aside by Cook. This was the keenest opposition Everton had faced this season. Town were playing far better than their League position indicates. The Blues' forward moves nicely executed, were petering out without that vital shot, because Town were too quick in the tackle for them.
Stevenson's Chances.
Stevenson had two good chances of making a scoring opening, yet dallied. Isaac produced a shot, a scorcher which just passed outside. The Blues were playing well in midfield in face of this all conquering Young. Baird placed across a beautiful centre, which Sagar came out to and missed. Greenhalgh kicked away from the line as the ball looked like from the line as the ball looked like curling in. At last an Everton shot –from Gillick –and this passed outside with Hesford falling rather late.
Half-Time Huddersfield Town 0, Everton 0.
There was a thrill right on the resumption, when Sagar's attempt to intercept Price failed, and he had to dive back quickly to fall on the ball to prevent a score. By the way, this is the first time Everton have failed to score in the first half in any match this season. Dalliance on the part of Mercer led to the Town taking the lead in 50 minutes. Hinchcliffe being the scorer. Brown robbed Mercer and tried to enlist the aid of Cook, who pushed the ball through for Hinchcliffe, who had run inside. Hinchcliffe ran on unattended to score with a brilliant shot to the corner of the net. Sagar had no chance. Within three minutes Hinchcliffe had made it two. Hesford had saved a header from Gillick in great style, and away swept Town. The first challenge was repulsed, but Willingham lobbed it back into the goalmouth, and Hinchcliffe, standing close in, hooked the ball through. There was a certain slowness about the Everton intervention today. Or was it the Town's speed on the ball? Huddersfield certainly dominated the play. Stevenson almost reduced the lead with a low shot deflected with Hesford beaten, and then Bentham hooked the ball over in fine style as he ran through to a lob by Greenhalgh.
Young's Great Tackle.
Stevenson and Bentham put Lawton through, but Young brought off the tackle of the day to prevent a certain goal. Greenhalgh intervened in the nick of time to prevent Hinchcliffe getting his "hat-trick." The offence attendance was 27,210. Lawton twice headed over and Jones ran right through only to be beaten at the last fence. Jones even became centre forward but after getting Town on the run, the Blues failed because of keeping the ball too close. Isaac scored a third for Huddersfield after 86 minutes. Price pushed the ball through for Isaacs to run on and score easily. Everton were beaten by a quicker side, Town scored as many goals as all Everton's opponents have done in the six previous games. Final; Huddersfield 3, Everton 0.
NEW WEEK'S MERSEYSIDE 'DERBY' WILL BE THE GREATEST EVER
September 24, 1938. The Evening Express.
Everton And Liverpool Rivals Should Draw Record Crowd.
By Pilot.
Goodison Park will stage the greatest ever Merseyside football "Derby" match next Saturday when Everton and Liverpool get to grips for the 75th time under the auspices of the Football League. With Everton the leaders of the First Division and Liverpool right on their heels, it is expected that ground record of 68,158 set up for the Everton-Sunderland F.A. Cuptie last season will be broken. Football in the city has not been in such a flourishing state for seasons. We have two really good teams here. It is pleasing to me in particular, for before the season began I wrote of Liverpool in these terms; "I feel Liverpool will have their best season since they won the championship in 1922-23" Of Everton I wrote; I think we shall find Everton having a grand season –better than many people expect." The players of both teams have proved me correct –and I say that while fully appreciative of the fact that the season is yet young. Next Saturday's game is going to be a real winner. Can the sound, quick-tackling Liverpool defence upset the rhythmic Everton forward machine? That is the big point. The Blues are playing great football with ease and grace and effectiveness, while Liverpool are relying on real "back-to-the-wall" defensive measures and dashing, electric raids by the forwards. We have the ingredients for a really grand encounter, and, because of the Blues' great run, they are certain to open favourities. "Derby" match records, however, contain some really shock results. Take the last match between the sides, for instance. Liverpool were not expected to do much against Everton at Goodison Park, but they won 3-1. It is curious, too, that so many times the visiting team carries off the points. No fewer than 26 of the games have produced an away won –Liverpool having recorded 11 and Everton 15. So those who imagine that this game is going to be a "walk-over" for the Blues had better ponder over those facts. A curious thing about Saturday's match is that all the players participating will have had "Derby" match experience before. There is little likelihood of there being any "baptisms" – unless the injury bogy dictates. The Blues have had the better of the "Derby" argument so far. Of the 74 matches played they claim 32 victories to 24 by Liverpool. That leaves 18 drawn games. At Goodison Park Everton have had 17 wins to 11 by the Reds. Liverpool have not fared so well at Goodison Park in recent years; in fact, last season's win was their first since 1924-25 season. Since Everton's return to the First Division –in 1931 –the 14 matches have averaged out evenly, both clubs taking six wins with two matches drawn.
Jock Thomson, Everton's popular captain, who is a keen boxing fan, figured in an amusing incident in the dressing-room during the week. Jock was demonstrating to his colleagues just how boxers train and he proceeded to do a little shadow-boxing. Suddenly he swung a vicious right, and just at that moment Bobby McMurray thought to move from his seat. The blow caught Bobby on the side of the head! The pout an end to the skipper's fistic demonstration and the only lad who could not laugh was MuMurray!
Hullett, the former Everton, and New Brighton centre-forward, is hitting the high spots with Plymouth Argyle. He got another "hat-trick" last Saturday, for the Pilgrims and he is now joint leading goal-scorer of the Football league. Hullett was loaned to New Brighton by the Blues, and when he returned to Goodison Park, Plymouth came along and snapped him up. He has come on by leaps and bounds since he went to Home Park.
PILOT'S SPORTS LOG
September 24, 1938. Evening Express.
Tommy Lawton, Everton's 18-year-old centre-forward, has established himself as England's leader for this season, thanks to his four goals for the Football League against the Irish League. This was the best scoring feet in his short career. Previously he had never scored more than two goals in a first class match. Everyone was delighted with his display –the epitome of brilliant shooting and unselfish leadership. In addition to his own goals he made two others. The display of the entire team was most gratifying, and augers well for England's international hopes this season.
Shareholders' Trip.
The Everton Football Club Shareholders Association is to be a real live organization this season. For instance they will organize special trips to Everton away matches. The first trip will be to see the Blues oppose Bolton Wanderers at Burnden Park on Saturday Oct 15. It was hoped to secure sufficient grand stands seats to make it a combined trip, but the hon, secretary Mr. A Lomax states that the Wanderers do not reserve seats, and so the Association will be responsible for rail transport only.
Blues' Advance
Everton reserves were in complete command from the start against Burnley in the Lancashire Senior Cup-tie at Goodison Park yesterday. The Blues won 6-1. Barber, the new professional from Weston-super-Mare, about whom I wrote last week, was splendid. He looks like developing into a good player. Joe Davis, the tall Haydock left winger, was also a real success. These young men show signs of developing into tip-top players.
Was It Offside?
The last goal, scored by Bell, caused some talk in the board-room later. Bell headed against an upright and then scored from the rebound. The question was asked whether Bell was offside. He was not. It was then argued that if a player taking a penalty hits the bar and then shots into the net from the rebound, it is no goal. That is true enough, but the circumstances are different. A penalty is, in every sense, a place kick and no player can play the ball twice from such a kick. Bell got his goal in ordinary play and so was onside.
HUDDERSFIELD BARRIER.
September 24, 1938. The Liverpool Football Echo
Everton's Gallop Stopped
Red Light Young
Hinchcliffe Scores Two In Three Minutes.
By Stork.
Everton did not touch their best. Quick tackling by Huddersfield brought about their downfall. There was very little shooting by Everton until it was too late. Record-breakers broken! Huddersfield Town: - Hesford, goal; Mountford and Willingham, backs; Young, Brown and Beasley, half-backs; Isaac, Price, Baird, and Hinchcliffe, forwards. Everton: - Sagar, goal; Cook and Greenhalgh, backs; Mercer, Jones and Thomson, (captain), half-backs; Gillick, Bentham , Lawton, Stevenson and Boyes, forwards. Referee Mr. H. Whitfield (Middlesbrough). Everton were out record seeking at Huddersfield today, for a victory would put up a record for all time –that of winning their first seven matches is succession. Huddersfield Town, who are having unhappy time with injuries &c, played their new man, Baird from Manchester United, and had Young back in the team. I have not seen such a crowd at Leeds Road for many years, which shows the drawing power of a winning team. Everton had a good following. The National Anthem was played before the game opened. Everton wore their white shirts and black knickers. After the game they are going to Aberdeen for a friendly, on Monday. Young was soon on the scene stopping a movement by the Everton right wing just nipping in to keep Lawton off a ball that was running through the middle. Huddersfield were the first to call on the goalkeeper, Sagar having handle a simple bouncing ball from the right wing, and later Boyes conceded a corner. Young was again the stumbling block when Everton were about to round off a bout of passing which looked like bringing something in its train in the nature of a shot. Everton were now getting into something like their known form, and despite the heroic work of Young. Hesford had to turn a fast drive from Boyes over the bar. Gillick and Bentham changed places repeatedly much to the consternation of Mountford and once when Gillick was through he had his feet swept from under him. Lawton shot wide from the free kick. Jones let Price beat him and the result was a low shot, which Sagar saved on his knees. Hinchcliffe screwed the ball well wide with a solemn effort. Gillick's fine positional play too him into the middle and he only failed by inches to get his head to Lawton's forward pass. Young was being more around a bit and it was questionable whether he could keep it up for the full 90 minutes. Huddersfield were not playing bottom-of-the-league form, for some of their work was effective, even though their finishing was not convincing. Young, however, was the strong man of their side, and he cleared away many dangerous-looking Everton movements by clever intervention with his head. Lawton tried a shot but only half hit the ball, Hesford having no difficulty in saving. Issac made a shot, Sagar saving as Price bumped into him, a bump which brought him an injury. Everton's football was good, but without its usual equality, the reason for this being Huddersfield's quick tackling. At long last Young was drawn out of position, but Stevenson delayed his centre and the Town defence was able to close up the gap. Lawton could not find an opening for his big shot, and Baird almost scored for Town, the ball passing over Sagar's hands and Greenhalgh kicking off the goalline. This was indeed a lucky break for Everton.
Half-Time Huddersfield Town 0, Everton 0.
Huddersfield opened the second half with a grand start, and a misunderstanding between Sagar and one of his own defenders produced an awkward situation for Everton until a foul against Sagar closed it down. Huddersfield had threatened to score for some time, but few expected two goals in three minutes. But this is what happened. Hinchcliffe was the scorer in each case, and he scored with two unstoppable shots. The first, at 50 minutes, came through hesitancy on Mercer's part, Hinchcliffe cutting in to take Brown's pass and crash it into the net. Naturally, the cheers were increased with the second goal, which came at 53 minutes, Hinchcliffe taking a Willingham pass on the volley and sweeping the all into the net like lightning. This was something new for Everton –and for Huddersfield for that matter. Hesford had kept a Gillick header out of the net but it was Town who were calling the tune and for some minutes they swept through the Everton defence at ease. The Everton half-backs had completely lost their grip on the Huddersfield forwards. Everton were not done with and Hesford had to "finger" a shot by Stevenson outside the post. Everton did not give up trying, and Gillick gave Hesford a fast ground shot to deal with. Young saved a certain goal when he stepped in to stop Lawton –a great bit of work which was duly recognized. Huddersfield were mainly on defence now, and it was a grand defence. Stevenson had a good shot saved by Hesford and Boyes put the ball straight to his goalkeeper's hands. Jones made a run of note. In fact, Everton were well on top without getting anything for their endeavour. Lawton lifted over the bar. There was too much finesse when Everton were in the Town goal area. Sagar made a great save from Hinchcliffe, tipping the all over the bar. With five minutes to go Issac scored a third for Huddersfield. He picked up a splendid through-pass by Price and strode forward to beat Sagar with a fast low shot. Final; Huddersfield Town 3, Everton 0.
LEAVES FROM MY NOTEBOOK AND TAPPING FROM MY TYPEWRITER
September 24, 1938. The Liverpool Football Echo
By Ranger
Everton F.C. have recently completed an addition to their office accommodation in the form of a room in which directors or officials can retire for private conversation. Paneled in oak with a large glass-topped table and handsome chairs embossed with the club's coat of arms and motto, it makes a splendid addition to the directiorial smile. Everton by the way are one of the few clubs in the country –possibly the only one –who contribute to a Press cuttings agency, which for suitable recompense provided clippings of all reference made to them in the papers.
The idea was the product of the nimble brain of Secretary Theo. Kelly, who, had he not been destined for football, would have made a first class journalist. His weekly contribution on the programme under the heading of "Evertonia" is one of the best things of its kind. Mr. Kelly also keeps a scrapbook into which he pastes indexes and dates all interesting matter published relating to the club. It runs into several volumes now, the value and interest of which will be incalculable in the days to come.
Some few days ago, I did a little dallying into the past records to trace runs of consecutive victories comparable to that of Everton this season, particulars of which I gave in my notes during the week. At the same time I extracted interesting date on the reverse side of the medal. For instance in 1926-27 we find Everton losing their first five matches of 1926-27, and getting only one point from the right opening games. That, however, was not as bad as Preston North End, who did not record a victory until the twelfth engagement of the season in 1923-24. Three years before that Cardiff City opened in inverse fashion to Everton today, with six successive defeats and –here's something for the anti-Arsenal folk –the crack s of Highbury did not win one of their last eight matches in 1927-28. Leicester City still have nightmare when they think of their wretched opening to season 1932-33. They won only one and drew three of their first 21 games, while Manchester United, two years before that collected a meager six points up to Christmas. Two seasons ago, Huddersfield Town went through fourteen games without a win, while last winter Portsmouth did so badly –having to wait until their sixteen game before tasting the joys of victory –that Manager Jack Tinn publicly stated that he had practically resigned himself to a spell in the Second Division. Then came a partial revival which landed Portsmouth just clear of the morass with a couple of points to spare. Such are the vicissitudes of famous clubs. Top of the world today struggling in the rock tomorrow. Let us hope it will be a long time before the turn of fortune's when reverses Everton's position.
Shareholders Outing
Mr. A. Lomax, hon secretary of the Everton Association, writes me with regard to the association's outing to the Everton-Bolton match on October 15. He say it will not be possible to reserve seats at the match, as Bolton do not book in advance. Shareholders and friends who propose to make the journey will have seats reserved on the train if they will advise Mr. Lomax (41 Cedar Road, Liverpool 9), but will have to get their own railway tickets at the station and make their own way into the ground. The next quitting will be arranged at a ground where seats for the party can be reserved beforehand.
Hullett in The Goal Queue
Curious that Tommy Lawton's co-leader in the marksmanship stakes should be a former Evertonian, in the person of Bill Hullett, of Plymouth Argyle. Hullett was transferred to Plymouth last October, and prior to that had been loaned by Everton to New Brighton for a spell. He was born in Liverpool, not far from the Goodison ground, and first came to Everton's notice in the Liverpool School boy's team. He has registered two hat-tricks this season –the only League player to do so.
An Old Favourite.
Among those gathered in the Everton boardroom after the Portsmouth match was Jesper Kerr, the former Everton and Preston North End full back, who is filling in what little spare time he has from his commercial travelling job by doing a spot of scouting for Hearts. He was not watching Everton, but came along afterwards to offer his congratulations. He's putting on an extra stone or so in weight, he has altered little in the ten years since he left Everton. Nowadays he is living at Burnley.
EVERTON YOUNSTERS HAVE COME ON
September 24, 1938. The Liverpool Football Echo
Sing As They Goal And Let The Rest Go By; Wonder Defence
By Stork.
I have been asked what are the real causes of Everton's revival. Several reasons have been put to me, but as I told you before, the Glasgow trip is behind it all. It started there. The team spirit was worked up from the moment they beat the Rangers, and fortunately it still permeates the whole team. But team spirit alone could not have done it. It is the gradual improvement of the young members of the team. Jock Thomson told me before the season began that he was putting all his faith in these youngsters, who, he said, were bound to come on. Far-seeing fellow, Jock. They have come on, and with that necessary blend of experience, the team has knit itself into a complete whole. There are no units in Everton today; no one man standing out as in the days of Dixie Dean, but a united front. No one cares who scorers the goals so long as they are scored; no one minds who saves the goal so long as it is saved, and each and every man has but one object in view; not to let his colleagues down. Happiness is the keynote with these Everton boys. No sooner is a match over than there is a burst of song. The team spirit even enters into that, for there are no "shysters." It is a grand and glorious feeling to be with them. No doubt there will come a day when defeat has hit them. Well, I don't think for one minute that the singing will cease, or that the team spirit will go out of the team, for it is too well embedded in their make-up. When that day comes, it will not be for the want of trying. Congratulating Wally Boyes after his game in London, this is the reply he gave, "It's about time." He has been some time in reaching his best, but it has come at last, so that he and Stevenson are hitting it off, perfectly, to the great concern of the opposition. Prior to the Portsmouth game, Tommy Lawton said, "How many do you want today, "Stork?" "Just one more than Pompey," I replied. Tommy only got one, a header, his first this season. I was glad to see Jock Thomson appealing to the sportsmanship of the man in the paddock not to hurl nasty remarks at a player should he make, in their opinion, an error. Need I say it was Gillick, who was the "injured party?" Barracking never did any good. Many brilliant players have asked for their papers because of it, and who can blame them? Let us have no more of it, please. Gillick's display against Portsmouth was one of the most pleasing features of the game. One of Everton's strong point this season has been their defence –the self-same defence which was somewhat uncertain last season, when there was a lack of cover. Today only three goals have been scored against Cook, Sagar, and Greenhalgh. Two of them were fluky things, and should have been saved. Greenhalgh has come on by leaps and bounds, and it would not surprise me if he landed in one of our international teams this season. What must Bolton Wanderers think about him? And New Brighton will be pleased. But to my mind, the man in defence is Billy Cook, the Irish captain with the broad Scottish accent. Billy was only born in Ireland. He was brought up in Glasgow, and anyone who is not acquainted with his origin would think he claimed Eire as his homeland. I know of no other player who can volley a ball with such accuracy as Cook. He can do it with either foot. He had an in-and-out season last term, and there were rumblings that another back would have to be purchased in case Billy struck another bad patch. There are no such rumblings now, for Cook is playing as well as he did. Not a big 'un by any means for a full back, but he has a strong body, a grim tackle, and his recovery has improved since last season, when he was undoubtedly slow at getting back into position. Today he is very sure in all he does, and his kicking is prodigious. Cook has come back to his best, and his best can be very, very good. He has "caps" galore –he is the proud possessor of a dozen –but they all fit him.
EVERTON'S CRASH AT HUDDERSFIELD
Huddersfield Town 3 Everton 0 (Game 1653 over-all)-(Div 1 1611)
September 26 , 1938. The Liverpool Daily Post
By Stork
Collapse of Half-Backs
Everton who were out to break records, found Huddersfield Town one to many for them, so that their long run of success was brought to an end in a manner which brooked no denied. On the day's play Huddersfield rightly enjoyed their success. The score of 3-0 may have been a shad flattering but it was nevertheless on which gave the Huddersfield town people something to boast about. This season Huddersfield have had a lean time, so lean that they were losing quite a lot of their spectators, so that this success over the Leaders should do them a deal of good. Everton never touched their Highbury form. In fact they did not yet ff Lawton's toe as the latter was moving up for a certain goal, four minutes from the end after Everton had been attacking for a period of 15 minutes. Price and Isaac broke through and with the Everton defence spread-eagled. Price slipped the ball over to Isaac who beat Sager with a fast low drive. Hesford was not without work. In fact he made one or two fine saves from Gillick and Stevenson, but there was no question that Huddersfield had fully earned their Victory. The forward shuffle of the two side had brought result expected of them, but I do not anticipate for one moment that anybody in Huddersfield Town expected their team to Win by such a handsome Margin. Baird who was signed from Manchester United by Town on Friday met with Success, but the Town's secret was team Spirit and, of course the dominating power of Young at centre-half.
Left Wing Out Of Joint.
The Boyes-Stevenson wing was strangely out of join. Thus was due to a great extent through the pair display of Stevenson. Who did not find the ball run kindly for him, and as I have explained Lawton was never out of the grip of Young and I should say Gillick was the best of the forwards. The half-backs once there had suffered the pangs of a goal fell to pieces for a matter of 10 minutes or so, and when they came back to their game it was to late for Huddersfield had won. The attendance of 27,710 tells of the value of a winning side at Huddersfield. It must be some time such such a fine attendance gathered at the Leeds Road ground, but should Huddersfield maintain the form such a figure is not unlikely for sometime to come. Teams: - Huddersfield Town; Hesford, goal Hayes, and Mountford , backs; Willingham Young, and Brown, Half-Backs Bessley, Isaac , Price, Baird (debut), and Hinchcliffe, forwards. Everton; Sagar, goal; Cook, and Greenhalgh, backs; Mercer, Jones (TG), and Thomson (captain), half-backs Gillick, Bentham, Lawton, Stevenson and Boyes, forwards. referee H Whitfield.
CENTRAL LEAGUE
Everton Reserves 2 Huddersfield Town Reserves 1
September 26 1938 Liverpool Daily Post
Central League (Game 7)
At Goodison Park, Everton were lucky to secure both points, as Huddersfield were the superior team throughout. Barber opened the score for the home team and McPadyen equalized. The deciding goal was a gift as Graig , the Town full back, had the misfortune to put through his own goal. The Everton defence played its usual safe game, while the halves, of whom Gee was most prominent, served up many fine passes to the forwards who, however, were subdued by the Huddersfield backs. Only the extreme wingers, Barber and Davies (j), impressed. The visitors were very sound side and field a splendid forward line, Wien and the South African player, being the most dangerous.
Everton team; Morton, Saunders, Jones (je), Britton, Gee (captain), Watson, Barber, McMurray, Bell, Sharp, Davies (j)
LIVERPOOL COUNTY LEAGUE
Everton ''A'' 2 Prescot B.I. Social 0
September 26 1938, The Liverpool Daily Post
At Sandforth road. Everton ''A'' had to fight hard for the points, the social were their equal during a goalless first half that the home side superiority in the later stages, when goals were netted by Catterick, and Merritt, earned them victory. The visitors, through rather robust in their methods played good football but their pace of the opening half-was not maintained, where's Everton's clever scheming wore them down and their defence was kept fully extended. Wyles, Edwards, Saunders and Roberts were prominent for Everton and Townley Dagnall, Forshaw and Cromton good workers for the Social.
YOUNG BEATS EVERTON ARTISTS
September 26, 1938. Evening Express.
Brilliant Centre-Half Play
By Pilot.
England's greatest centre-half brought about the down fall of Everton at Leeds-road on Saturday, when Huddersfield Town beat the league leaders by three clear goals. His name is Alf Young, one of the most inspiring forces in football today. Young broke up the Everton machine, and set to his colleagues an example they simple had to follow. There was no disgrace attached to this defeat. Everton played with their customary skill and always struck religiously to the copybook style, yet it failed against relentless intervention –with Young showing Town the way to stop a fine football machine. Naturally Town went wild with delight at lowering the Everton colours. They were quite entitled to. Town were the more effective if not the better constructive side. They had the snap in finishing which Everton failed to produce –not because they would not, but because they could not in face of this intrepid Town defence. Everton had more of the game than Town, but an inspired 10 minutes, immediately after the interval, put paid to all hopes of establishing a Football League record by winning the opening seven games in succession. Young should play for England, but Tom Jones, of Everton was quite as good. Young was forceful, Jones was classic. Both centre half backs were brilliant, yet their styles were as apart as the poles. Jones was cool, calm and collected in everything. He was the 100 per cent, defender and yet the driving force behind the attack which never struck its real game. No centre-forward has scored against Tom Jones this season. What will happen when he plays for Wales against England with his colleague, Tommy Lawton, opposing him? Yes, I think this game produced the finest centre-half play I have seen in years –and there was an abundance of good football to delight the best crowd Huddersfield have had for many a day. Huddersfield's dash and brilliant tackling was opposed to the more considered effort of Everton. This time incisiveness won. Lawton could not escape Young, and neither Gillick nor Boyes were brought into the game as much as usual. I deemed Bentham the most effective forward. The wing half-backs were not so quick on the ball as usual, but Cook, Greenhalgh and Sagar constituted a grand defence against swift-raiding attackers. Yes, a keen, hard game, with Huddersfield, playing as if it were a Cup final, pulling out the extra bit to defeat the rather too dainty Blues. Hinchcliffe's two goals were excellent, and Issac's final point was neatly taken, with Everton more concerned with attack than defence at the time.
EVERTON AT ABERDEEN
September 26, 1938. Evening Express.
Everton were at Aberdeen today, engaged in a friendly fixture which attracted 20,000 spectators. Aberdeen had reserve backs on duty but Everton were at full strength. Teams: - Aberdeen: - Johnstone, goal; Donald and Thomson, backs; Dunlop, Nicholson and Taylor, half-backs; Smith, Hamilton, Armstrong, McKenzie, and Williams, forwards. Everton: - Sagar, goal; Cook and Greenhalgh, backs; Mercer, Jones and Thomson (captain), half-backs; Gillick, Bentham, Lawton, Stevenson and Boyes, forwards. Referee Mr. J. Marton (Fife). Everton were given a great reception. They early attacked on the left, but Dunlop stopped a promising movement, and in Aberdeen's first raid Sagar saved from McKenzie. The game was fast and the Everton forwards scintillated. Aberdeen took the lead in surprising fashion. Hamilton sent in a long-range shot. Sagar pushed the ball up, but it dropped behind him, and although he recovered possession the referee decided the ball was over the line. A minute later Stevenson equalized with a brilliant goal, hitting the ball into the net first time as it reached him from Mercer. Lawton had a terrific shot brilliantly stopped, but after being on the defensive for a spell, Aberdeen again took the lead. Smith, broke away to centre strongly, and Williams, who was unmarked headed into the net. Aberdeen had tenaciously to their lead until just on the interval, when, after Stevenson had hit the bar, a penalty was awarded and Lawton equalized. Half-Time Aberdeen 2, Everton 2.
NOT EVERTON'S DAY
September 26, 1938. The Liverpool Echo
By Stork
At Huddersfield, Everton were a good second when it came to tackling, and this along with the open play of Huddersfield brought the Yorkshire side a well-earned victory. Another factor in the Town's triumph –for it was a triumph to be the first side to beat Everton this season –was Alf Young, who played the game of his life, particularly so in the first half, when Everton were showing a trace that they might run into their smooth-running style, which had brought them six victories on the run. Everton lost their record endeavour at Huddersfield, though one could not say that they were disgraced, for, to a point, they were the better side in actual football ware. That is not to say that Huddersfield were not worthy of their victory, for they were, yet the actual result was somewhat flattering to them. They were, however, much more effective than Everton, because, they adopted the more straightforward methods, and were definitely quicker into the tackle. That was the main thing, Everton, in their wonderful run of six consecutive victories, had shown a team spirit and tackling of such determination that had brought them their successes. But the Everton finish was very feeble on this season, for, as Lawton was held by Young, some of the effectiveness of the line went out of it. It was not until after the interval that Huddersfield got on top. Within five minutes they had taken a two goals lead, but secured by Hinchcliffe, who, up to this point, had been one of the poorest forwards in the Huddersfield team. After this the Everton half backs seemed to fall from grace. Where they had been so strong they were now definitely weak. They appeared to collapse, and for some time the Huddersfield team simply ran through the Everton ranks with ease, and had it not been for Sagar they would have taken more goals than they did, Everton, however, pulled themselves together, and for the last half hour simply crowded round the Huddersfield goal. One could not say, that Hesford the Town goalkeeper, had a lot of work to do. He turned away one good header by Gillick, and edged out a worthy shot by Stevenson, but, taken all through the Everton forwards were too finicky when they had the opportunity. It was not Everton's day. They are not unduly perturbed about their defeat. They know it had to come but had hardly expected Huddersfield, who are at the bottom of the League to bring it about.
EVERTON LOSE THEIR STRIPES
September 26, 1938. The Liverpool Echo
Ranger's Notes.
An Everton defeat had to come sooner or later but few expected it would be left to lowly Huddersfield to administer the pill, which was not even sugar-coated by a consolation goal to Lawton to enable him to keep up his record of scoring in every game. Everton, it goes without saying were anxious to maintain their unbeaten certificate. All the same such a record is not an unmixed blessing. Its continuance would have meant that each succeeding match would be more of it needle affair than the ones before it, with everyone intent on being the first to call on them to surrender. Now the side can go on form this point without quite the same force blaze of limelight and in a less tense atmosphere, which in the long run may perhaps be all for the good. Second thoughts on the part of Mr. Clem Stephenson the Huddersfield manager helped to torpedo Everton's record. Twice this season Huddersfield have dropped Tom Hinchcliffe, the former Grimsby player, who is one of the cleverest insider forwards in the game, but not always as penetrative as he is pattern-weaving. Hinchcliffe was almost left out of the side against Everton, but finally it was decided to gave him a trial at outside left. Result, two goals in three minutes, and a victory which will give Huddersfield any amount of confidence in their fight to get away from the lower rungs. That they may do so quickly, is my wish. The Leeds-road folk have a constant struggle in a lukewarm area, where support deserts them whenever things start to go wrong, and seldom get gates, even when doing well, which a First Division side had a right to expect. Good luck to them.
EVERTON IN ABERDEEN
September 26, 1938. The Liverpool Echo.
Teams: - Aberdeen: - Johnston, goal; Donald, and Thomson, backs; Dunlop, Nicholson, and Taylor, Half-Back Smith, Hamilton, Armstrong, McKenzie, William, forwards. Everton; Sagar, goal; Cook, and Greenhalgh, backs; Mercer, Jones (TG), and Thomson (captain), Half-Backs Gillick, Bentham, Lawton Stevenson, and Boyes, forwards. Referee Mr. J. M. Martin (Fife). Aberdeen were under strength for this friendly, and Everton were early prominent, Mercer showing brilliant touches. Sagar was the first to save, holding a shot by McKenzie. Aberdeen took the lead unexpectedly, Hamilton scoring. He shot from a Williams pass and Sagar dropped the ball over the line. Everton swept down from the kick-off and as the ball came over from Mercer, Stevenson hit it into the net like a flash. Aberdeen's pressure told after 34 minutes when Williams headed a wonderful goal from a centre by Smith. Just on the interval Stevenson hit the bar and from the rebound Gillick shot and Thomson handled in the area, Lawton scored from the spot kick to level. Half-Time Aberdeen 2, Everton 2. Williams was showing delightful trickery, and Everton's defence was sorely pressed. In an attack by the Liverpool side, Stephenson gave Johnson a grounder to hold. Cooke tricked Williams neatly and cleared. Final Everton 2, Aberdeen 2.
EVERTON DREW AT ABERDEEN
Aberdeen 2 Everton 2
September 27, 1938 Liverpool Daily Post
Exhilarating Friendly Match
By Stork
In a friendly game at Aberdeen yesterday, the home side and Everton drew 2-2. The 20,000 holiday crowd enjoyed by exhilarating encounter, and a draw was a fair result. Everton had fine players in Sagar, Cook, Mercer Lawton and Stevenson, and they were accorded a grand reception. Aberdeen's best were Johnstone, Thomson, Nicholson and Taylor. Everton fielded their full strength, while Abe redden were without their regular backs. Fine triangular work, by Mercer, Gillick and Bentham feature the opening stages, Lawton twice being dispossessed by Nicholson. The home pivot was glad to concede a corner when Lawton worked into shooting position by brilliant footwork, Boyes flag kick being cleared midway through the first period Aberdeen, went ahead when Sagar dropped Hamilton's shot, the referee add=judged the ball to have crossed the line.
Stevenson's Fine Shot.
Within a minute Everton equalised with a brilliant goal, Mercer crossed accurately and Stevenson drove into the net with a great first time shot. Both forwards ranks showed clever football, and in 31 minutes Smith centred for Williams lying unmarked to head past, Sagar. Everton staged a great rally just before the interval. Stevenson drove against the crossbar, and Gillick caught the rebound to shot hard. Thomson handled and Lawton equalized from the resultant penalty kick. The highlight of the second half was a magnificent save by Sager from Armstrong. The centre wheeled quickly and drove a terrific ball which Sager at full stretch, turned past the post, the keeper being cheered to the echo. Previously Everton had been the more dangerous and Johnstone had cleared for Bentham, Lawton and Jones in quick success. Aberdeen improved and with Sagar out of position Greenhalgh averted a certain goal, when he headed clear from Williams. Towards the end-Thomson fired in a great drive which Johnston tipped over the bar, and Taylor hooked the ball away after Gillick effort had beaten the home keeper. Teams: - Aberdeen: - Johnston, goal; Donald, and Thomson, backs; Dunlop, Nicholson, and Taylor, Half-Back Smith, Hamilton, Armstrong, McKenzie, William, forwards. Everton; Sagar, goal; Cook, and Greenhalgh, backs; Mercer, Jones (TG), and Thomson (captain), Half-Backs Gillick, Bentham, Lawton Stevenson, and Boyes, forwards.
EVERTON UPSET BY GRIM ABERDEEN
September 27, 1938. The Aberdeen Journal
But English Side Showed Crowd Best Type of Football
Mercer Star Man A-Field, With Scotsman Brains of Attack
Aberdeen 2; Everton 2
Everton visit to Pittodrie was a gratifying success both from a finical and a playing point of view. The English side were ahead of Aberdeen in football skill, but they could not complain about the result. Aberdeen, with all four backs on their books on the injured list, fielded a somewhat makeshift team, Donald and Thomson playing at back, but they fought grimly, and were a big improvement on their showing at Easter Road. Everton playing copybook football, and finding their men with machine-like precision, threatened to sweep the Dons off the field early on, but later in the game they were fighting hard to keep level. Mercer, their right half, gave a brilliant display, and was the star man afield. Aberdeen chief was in the forward line, where there was again that lack of finish which has characterized their matches this season. In the early stages it looked as if Aberdeen would be over-run. The Liverpool side made ground rapidly and had the defence in a tangle, but Bentham twice shot wide of the mark from a favourable position, while Lawton had one terrific drive brilliantly parried y Johnstone.
Dons Lead
Aberdeen dashed to the other end and Sagar dived full length to push out a cross shot by Smith, with Williams rushing in to connect. The Dons unexpectedly took the lead in twenty minutes, when Hamilton gained possession out on the left. He swung round and sent in a high ball, which Sagar stopped but could not hold, and the ball dropped over the line. It did not take the English side long to equalize. Mercer swung the ball over from the right, and Stevenson hit it first time into the back of the net –a lovely goal. Aberdeen had another spell of attack, and a grand header by Hamilton left Sagar helpless but passed wide. Williams restored Aberdeen's lead, when he found the net with a perfectly placed header from a cross by Smith. Everton had another narrow escape after this when Greenhalgh kicked clear on the line from Williams with Sagar out of his goal. It seemed that Aberdeen would go into the pavilion at half-time with a 2-1 lead, but close on the interval Gillick shot in a goalmouth melee had Thomson handled the ball. Lawton flashed home a terrific shot from the spot.
Sagar In Action
Play was quieter in the opening stages of the second half, but Hamilton led Aberdeen to the attack. He passed to Armstrong who shot on the run for Sagar to bring off a flying save. Immediately after this, as the result of a corner, Williams was unfortunate not to find the net, Greenhalgh heading clear with Sagar beaten. Everton made a big effort, but Aberdeen were dangerous when they got going. Everton might have taken the lead when Stevenson had a try blocked. Lawton was dangerous with his quick bursts, caused the home defence several anxious with some tricky headers put the end came with Aberdeen holding their own. Johnstone was safe in the home goal and Donald and Thomson did remarkably well. They were puzzled at times by the Everton players assistant changing of positions but Thomson in particular tackled well. There were the features in the half back line. The latter who is now recognized as the reserve centre-forward has a sound chance of maintaining his place on the side on this form. Smith and Hamilton comprised a good right wing, the winger crossing some fine balls, while he thrived on the support given to him by Hamilton. Armstrong was off colour, and seldom outwitted Jones. McKenzie clever on the ball as usual, had not much punch when it came to finishing, but he worked hard in defence after the interval, Williams took his goal well and Kept Cook busy
Gillick Off Colour
Everton's teamwork was far ahead of Aberdeen's, and there was only one weak link in the side. This was Gillick, who was evidently determined to regard the match as a friendly and put little zest into his work. Sagar had some grand saves, and Cook and Greenhalgh showed that they know the duties of a full back to the full. But the star of the Everton side was undoubtedly Mercer. He is a brilliant footballer, and was seen to advantage both in defence and attack. At times he could beat three or four men in the course of one movement, and he seldom sent his passes astray. Jones and Thomson were not so prominent, but the latter saved himself a lot of running by his "heady" play. Gillick, as stated, was the one weak link in the Everton side, and the result was that much of Bentham's foraging went for naught. Lawton, Stevenson, and Boyes were constantly changing position, and caused the home defence plenty of trouble. Although only a boy of seventeen years, Lawton is a great player, and he is now slow to profit from the brainy play of his colleagues. Stevenson is the "brains" of this clever Everton attack, while Boyes is extremely clever at working the ball. His fondness for roaming over the field does not detract from his effectiveness, and he several times had tries for goal from inside right position. Teams;- Aberdeen; Johnstone; Donald and Thomson; Dunlop, Nicholson, and Taylor; Smith, Hamilton, Armstrong, McKenzie, and Williams. Everton; Sagar; Cook and Greenhalgh; Mercer, Jones and Thomson; Gillick, Bentham, Lawton, Stevenson, and Boyes. Referee; Mr. J.M. Martin, Ladybank. Attendance 17,000.
EVERTON UNCHANGED FOR 8TH TIME IN SUCCESSION
September 27, 1938. The Evening Express.
"Derby" Game With Liverpool At Goodison
Blues At Harrogate
By Pilot.
Everton are all set for Saturday's great Mersey side Derby match at Goodison Park against Liverpool. Their team is chosen. The Blues will play the side that has captured 12 points out of a possible 14 –the same eleven that has represented the club in every game this season. The team was announced after Everton had forced a 2-2 draw against Aberdeen at Pittodrie, when it was known that all the players had come through the match without injury. It must be a long time since the Blues fielded an unchanged team for the opening eight matches in a campaign. The Everton players left Aberdeen today for Harrogate, the regular side being accomplished by Gordon Watson, the reserve left half-back. Mr. Theo Kelly, the secretary, is in charge of the party with trainer Harry Cooke. The stay at Harrogate will be a rest and tonic. The Blues travel back to Liverpool on Saturday morning. Everton delighted the Scottish football followers with their display at Pittodrie and with better finishing they would have won well. Their combined play in the opening half was as good as anyone could wish, and the ease with which the ball was made to do the work thrilled the 15,000 watchers. The defence was hardly as keen as usual, although Sagar and Cook were outstanding, but Thomson and Mercer exploited the intricate and clever attack in fine style. Boyes and Stevenson were the best forwards in the field. Hamilton scored for Aberdeen, although Sagar though the ball was not over the line, and Stevenson equalized. A header by Williams restored the lead, but Lawton equalized just before the interval from a penalty. This was awarded when Thomson fisted the ball away as Gillick shot in after Stevenson's volley had come back off the bar.
Pilot's Sport s Log
Everton said it with confetti in Aberdeen last night –and said it in a big way. I was right in the thick of it. After the Blues' highly-entertaining game with Aberdeen at Pittodrie, a small party of us left to travel back on the overnight train. There was the chairman, Mr. Ernest Green, Mr. W. C. Gibbins, Mr. G. Evans, and myself. We were surprised when all the players decided to come to the station to see us off, with Mr. W.Mitchell, the Aberdeen chairman; Mr. Dave Halliday, manager, and Mr. George Clubb, secretary. When we were getting into the train, however, there was a signal, and before you could say "Tom Lawton" all the players were "on us" showering us with bags and bags of confetti
At Balmoral.
This was my first visit to the beautiful Granite City." I hope it is not the last. We had a really wonderful trip with the Aberdeen Club the perfect hosts. After lunch the Aberdeen club organized a motor-coach trip for the officials and players of both clubs. We travelled about 150 miles through the Ben Nevis, Lochnagar county to Aboyne, Braemar and Ballater. We stopped at Balmoral to see the castle. Right outside the front door, a full pitch is laid out.
The Rocky Road.
We went up Dee-side, and then over the watershed to the Don Valley Going over that Watershed provided the big thrill. My one regret was that the stay in Aberdeen was so short, but we came away with happy memories of a fine city a fine game and fine folk.
EVERTON'S NURSEY SIDE MAKING JUNIOR FOOTBALL HISTORY
September 27, 1938. The Liverpool Echo
Ranger's Notes.
Everton's "B" team has now played three games in the Bootle J.O.C League and won them by a total of 44 goals to 3. On the face of it that is good enough but when I tell you that the average age of the Everton's lads is only 15 years and one month, and that of their opponents about 18 months more, you will realize what training and encouragement has done for these youngsters. They attend for coaching and training at Goodison Park every Tuesday and Thursday night, go in for sprinting, ball practice, gymnasium work, Etc, and are given massage and electrical treatment –in short they have the same care and attention that a senior player gets.
The Pickering Pick.
These youngsters were gathered together by Mr. Harold Pickering, who watched them all bar one in action last season, and when the Everton board agreed to the suggestion to run a fourth team he signed them on amateur forms during the summer. At the moment there are fourteen on the books, all carefully chosen. Here are brief cameos of the eleven that has done duty so far.
J. Canavan (goal) An "unknown" who wrote for a trial, got one, and clicked by reason of a great performance.
R. Ireland (right-back); Played for Liverpool and Lancashire schoolboys last year.
G. Dugdale (left back); Last season played for Bootle and Lancashire boys. Only 14, but full of promise.
J. Sharrett (right half); Recommenced by Skelmersdale friends.
N. Breadwood (Centre-half) –The oldest "man" in the side just turned 16. Has played for the City school-boys.
H. Atkins (Left-back) –Spotted by Mr. Pickering in the Catholic Schools final at Goodison last May.
W. Sumner (Outside right); A hefty lad for his 15 summers, stands 5ft 10ins, and weighs 10 ½ st. From Buckerstaffe.
F. McDonald ((Inside-right); Scored winning goal for Liverpool's Boys in the School Shield final against Blyth.
W. Price (Centre-forward); Fourteen years old, Liverpool and Lancashire player.
J. Lyons (Inside-left); St. Helens, Lancashire and England schoolboy international.
G. Bailey (Outside-left); Liverpool, Lancashire and England boy international.
On The Ground Staff.
Lyon, the inside left, is working on the ground staff at Goodison Park as an apprentice joiner. He is one of only three lads who got two English school boys caps last season. He is not yet 15, and while I am always hesitant about youthful prodigies, I have heard from more than one source that he is reckoned one of the best forward schoolboy football had produced since the war which goes for Cliff Bastin, Albert Geldard, Horato Carter, and the rest. Time will tell. At any rate, it is a fact that several League clubs were anxious to sign him.
The "B" team is being trained by George Thompson, who was associated with Harold Pickering when the latter was running the successful Bedford Amateurs side, and are looked after on the administrative side by Cyril Webster. The only fly in the ointment is the lack of support which the new "under seventeen" league of the J.O.C has received. So far seven teams have joined up, and two others have applied but there is room for several more yet. In my opinion the development of junior sides of this nature will become more and more a recognized part of the work of senior clubs. Obviously it is a slower method than buying readymade players. It will be a couple of seasons, at the earliest, before Everton can look at any of their present "B" team boys to fill first-team vacancies, but as the years go by these youngsters will provide the sinews of replenishment. Everton have taken the long view. I needs patience, but unless I am mistaken will be infinitely cheaper in the end, and certainly more a source of pride to the club and its supporters.
EVERTON IN SCOTLAND.
September 27, 1938. The Liverpool Echo
By Stork.
Everton have made their marks in Aberdeen, not only from the point of view of good football, but also from a social angle. Their visit to Scotland for the Exhibition Games was the commcement of the desire for more visits of English teams to Scotland, and after their great game with Aberdeen in the Exhibition Matches, Aberdeen were keen to have Everton visit their city so that they could display their high-class football before their own supporters. It has been a wonderful week-end and although Everton only drew with Aberdeen in this friendly game, they gained for themselves a great name. Their football was described to me by the vice-chairman of the Aberdeen Club, Mr. W. Phillips, as the best he had seen his long experience of football, and that dates back for fifty years. Everton were naturally delighted that they had learned such a good name, but I did not think the game was nearly so good as some I have seen this season. Naturally, there was a friendly spirit abroad, and the grim determined tackling of completive football was missing. Everton undoubtedly played the Scots at their own game in the first half, finding their men with amazing accuracy, but in their endeavour to display their science I am afraid they missed the more important factor of goals.
Result Did Not Matter.
There were very few shots by Everton, but suppose the result did not matter –the game was the thing and 15,000 people evidently enjoyed it to the full. I am not going into a long rigmarole about the game, but would like to tell you of the kindness of all conceded with the Aberdeen club. They set out to make the visit one to be remembered, and I am sure it will be remembered by everyone in the Everton party for many years to come. We did not arrival there until Sunday noon, but in the afternoon we were taken a tour as far as Braemar, passing en route the lovely Balmoral Castle. Although most of the Everton party were somewhat tried, after their long journey, this trip among the mountains was well worth everything. On the morning of the match Everton were taken round the city on a slight seeing expedition. At dinner on Sunday night, Mr. W. Mitchell, the Aberdeen chairman, lead welcomed Everton and Mr. Ernest Green, chairman of Everton, had replied. Both teams were present at the function. On behalf of the Everton club and myself, I would like to thank the Aberdeen directors for making this one of the happiest trips I have ever had in connection with football. The Everton team, which will be the same for the Derby game at Goodison Park on Saturday, left for Harrogate this morning. The directors, Mr. Ernest Green, chairman, Mr. Geo Evans, and Mr. W. Gibbons, returned to Liverpool last night. They got a big surprise as they were about to apart for the whole of the Everton team gave them a send-off worthy of a newly married couple. They were simply deluged with confetti.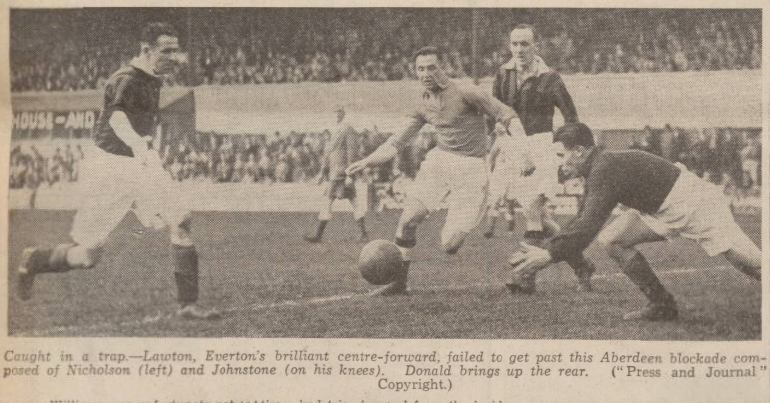 SPEEDING OFFENCE
Derby Daily Telegraph-Wednesday 28 September 1938
On a summons for exceeding 30 m.p.h with a motor car in a built up area at Melbourne on September 4 George Harrison of the Rising Sun Inn, Church Gresley, was fined 15s and his license was endorsed.
EVERTON REPORT CLEAN BILL OF HEALTH FROM HARROGATE
September 29, 1938. The Liverpool Echo
Golf Chief Relaxation
Ranger's Notes.
I had a word with Mr. Theo Kelly, the Everton secretary, by telephone this morning, at Harrogate. He reports a clean bill of health, with everyone fit and well and looking forward to Saturday's encounter with their friendly rivals from over the park. Ball practice in the morning, a round of golf, in the afternoon, and a threate or cinema in the evening represents the usual day's promamme. The old Harrogate Town F.C, ground now owned by the Corporation has been placed at the club's disposal for training purposes. Golf creases after today and tomorrow will be a restful sort of period. Opinions very as to whether golf is the ideal relaxation for football players. Some time ago Arsenal decided to cut down this side of their training, but Mr. Kelly is a firm believer in its efficiency, not only for the exercise and general loosening up which it provides but also because it takes the players mind off the task ahead. One round a day, however, is the maximum allowance, and it is not permitted on the last day before the match. Some of the lads would do a couple of rounds every day if allowed, so keen is their interest in chasing the little ball, but Mr. Kelly says "No," one round is good for you; two would undo it all." Liverpool put up the bar on golf after Tuesday. They are treating the "Derby" game as nothing out of the ordinary, the only change in their usual routine being that both first and reserves team will go to Hoylake on Friday afternoon to take the sea-air –and tea. Manager George Kay, would say nothing of what he thought of Saturday's prospects when I sounded him about the game –he is not one to venture rashly into prophecy –but judging by the fact that Liverpool have kept together the side that beat Leeds United, there must be a fair amount of confidence that Everton will not take another victory without a desperate struggle for the points. Twenty-four hours ago it looked as through few of us would have had much enthusiasm for football by the week-end, even for so attractive a game as this local "Derby". With the easing of tension and today's brighter outlook, however, enthusiasm will be restored and given favourable conditions on Saturday there is every hope of a record crowd at Goodison Park. The biggest attendance at a "Derby" there is 67,000, and the record gate of all the 68,158 for the Sunderland Cup-tie last January.
GREATEST "DERBY" BATTLE FOR YEARS.
September 30, 1938. The Evening Express.
L'Pool's Joust With League Leaders At Goodison
By Pilot.
What should prove to be the most exciting Merseyside "Derby" game for years will be staged at Goodison Park tomorrow, when Everton, the Football League leaders, face their neighbours, Liverpool, who are third in the table. Such is the interest in the game that I expect the ground record of 68,158, established last season, to be broken. Everton play the team which has served them throughout the season and dropped only two points, and Liverpool play the side that defeated Leeds United. Everton are undefeated at home, Liverpool will be seeking their first away points of the season. After a look at the form book one must come to the conclusion that Everton should win –there is no getting away from that –yet form goes by the board in these struggles which have the atmosphere of a cup final. Liverpool will fight like demons to smash the Blues 100 per cent home record. In my opinion the result of the game depends on the ability of the Liverpool defence to break up Everton's forward progress. If they can do that then the points will go to Anfield.
Quick-Tackling Defence.
For tackling merit commend me to Tommy Cooper and his merry men who will guard the avenue to Arthur Riley's charge. Liverpool have, in my opinion, one of the quickest-tackling defences in the country. They make their tackles quickly and strongly. Subtlety is one thing that can beat them, and Everton possess this. They are an unorthodox as Liverpool in their forward work. They are the complete masters of the interchange of positions move, and must reply on these tactics if they are to succeed. Any inclination to over-dribble would prove fatal against a solid Red defence, which, remember, has conceded only six goals this season –the same as the Everton defence. Apart from that Blues' forwards v Red's defence –duel, I think we shall see wonder half-back play in this game. Go along either line, and you will find not only defensive ability but constructive art. Busby, Mercer, McInnes, Jones, Thomson, Bush. They are versed in all the crafts of football and may easily be the dominant personalities. Rarely have we had two sides in a "Derby" game so evenly matched –and so able in their individual and collective football. So, whatever the result I am looking forward to the game of the century. May the better side gain the day. Everton; Sagar; Cook, Greenhalgh; Mercer, Jones, Thomson; Gillick, Bentham, Lawton, Stevenson, Boyes. Liverpool; Riley; Cooper, Rodgers; Busby, Bush, McInnes; Nieuwenhuys, Taylor, Fagan, Balmer, Van Den Berg.
• League Match at Goodison Park Tomorrow (Saturday) Everton v. Liverpool, Kick-off 3.15 p.m. Admission 1/- Boys 4d, Stands extra. Booked Seats Sharp's Whitechapel. Don't Forget Your Official Programme.
• Central League Match at Anfield, Liverpool Res v. Everton Res, Tomorrow (Saturday), 1st October, Kick-off 3.15 p.m. Admission 6d, Boys 2d, Stands 9d (Incl Tax) Car Parking Free.
ALL SET FOR TOMORROW GREAT DERBY AT GOODISON
September 30, 1938. The Liverpool Echo
Ranger's Notes
Everton and Liverpool add one more game tomorrow to the long series of memorable encounters between the two sides. When they met two years ago at Goodison –last season, it will be remembered, the Goodison game was in mid-week –the attendance was 55,835. Given good weather tomorrow's figure should exceed that, for Everton's long run of success has fired public interest, while Liverpool themselves are running close at their heels. The record attendance at the "Derby" game was the 67,000 at Goodison, in October eleven years ago. The Anfield folk were very disappointed that Everton did not maintain their winning sequence at Huddersfield last week. Liverpool felt they can win the match, and would have relished the chance of being the first to force they friendly enemies to strike their winning colours. That is not to be. As things are we find Everton going into the encounter with an unbeaten home record and a goal average at Goodison of ten goals to two. Liverpool owe their position as third in the table to five victories. Their two away games at –Preston and Bolton –have resulted in defeats. A visit to Goodison Park can hardly be regarded in the light of an away game in the usual sense. The "visitors" on this occasion will have as much local encouragement as the home side. All I hope is that the best side wins, and that both teams will play the game in the right spotting spirit.
When Reds Were Supreme.
Last season Liverpool sprang a surprise by winning 3-1 at Goodison when Van Den Berg made his senior debut for the Reds and played a sparkling game. Shafto got two of the goals and Balmer the other. Prior to that we have to go back fourteen years for the Reds' last previous success on October 4, 1924, when they won by the only goal, scored by Rawling. Between 1909 and 1914, however, Liverpool were top dog with a vengeance five out of six Goodison and all six at Anfield. Anything less than an outright victory may result in Everton losing their place at the top of the table, for Derby County are running them close, look good enough to take both points from Blackpool, in spite of the latter's big improvement. Apart from their nap hand against Stole last week, Derby have not been plastering the "goals for" column to any extent; but they have been playing good, constructive football.
Close Game Likely.
By Stork.
Tomorrow is one of the greatest days in Merseyside football. No fixture during the season makes such an appeal as the Liverton "Derby" and this season's match has created more interest than ever because of the high opposition of the two teams. Games between Liverpool and Everton have always been noted for their cleanliness. Occasionally a little "hast" has crept into the game, but as a general rule they are spotlessly clean. Judged on the positions of the two clubs it should be a close game, with perhaps a draw as the most likely result, yet somehow I don't think it will be a draw, it will be a clear-cut victory for either one of the other side, and on balance I fancy that Everton will get back to winning ways. I have seen all Everton's games this season, and I have not seen a better side. They made the Arsenal look commoners, put paid to Blackpool's Bank of England teams, and sent the Aston Villa people into ecstasies with their high class football. In their last two games have included the friendly with Aberdeen –they were inclined to be too elaborate, and promised the more salient point, shooting. In each game they were the better tactician and craftsmen, but their style of play played right into the hands of their opponents. If they repeat that on Saturday it will help the Liverpool defence for defenders like nothing better than to see the opposition play the close game, it is made for them. Therefore I would suggest to Everton that they keep the game more open. I have seen Liverpool several times this season, and there has been a great improvement in their football. There is nothing slap-dash about it today there is method and constructive ability to their play. They have always been more lively than Everton, and there will not be a great deal between them in point of skill on this occasion. It will be a case of Greek meeting Greek, but I fancy that Everton's team as it is compared today, will be good enough to win. They must realize that they will have to give of their best to do so, but I have never known such a spirit as that which is at present running through the team. Neither side make a change. This is Everton's eighth game without an alteration. That is a bit of luck if you like. Teams: -
Everton; Sagar; Cook, Greenhalgh; Mercer, Jones, Thomson; Gillick, Bentham, Lawton, Stevenson, Boyes. Liverpool; Riley; Cooper, Rodgers; Busby, Bush, McInnes; Nieuwenhuys, Taylor, Fagan, Balmer, Van Den Berg.