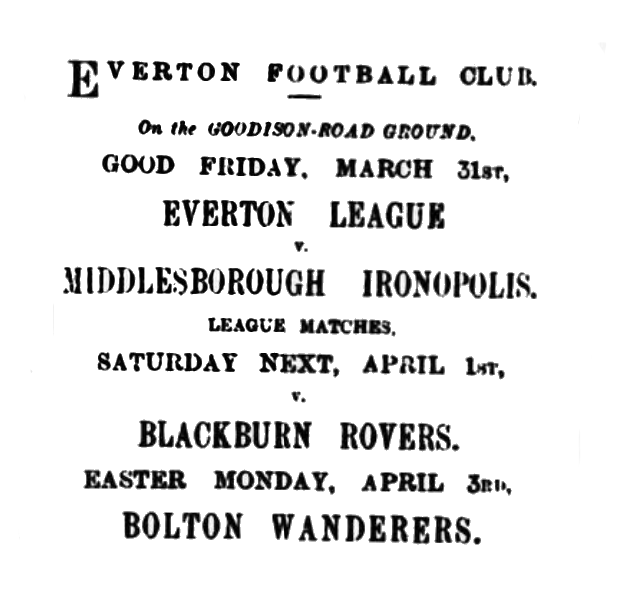 Cricket & Football Fields
KILLED WHILE GOING TO A FOOTBALL MATCH
April 1, 1893. The Leicester Chronicle
On Tuesday, a man named Alexander Wilson, mechanic, died at the Blackburn Infirmary of shocking injuries received near the Ewood Park Football Ground, Blackburn. The deceased was in the great crowd of people going to witness the Everton v. Preston North End Cup-tie, when he was knocked down by three horses drawing a heavily-laden wagonette, the wheels passing over his head and body.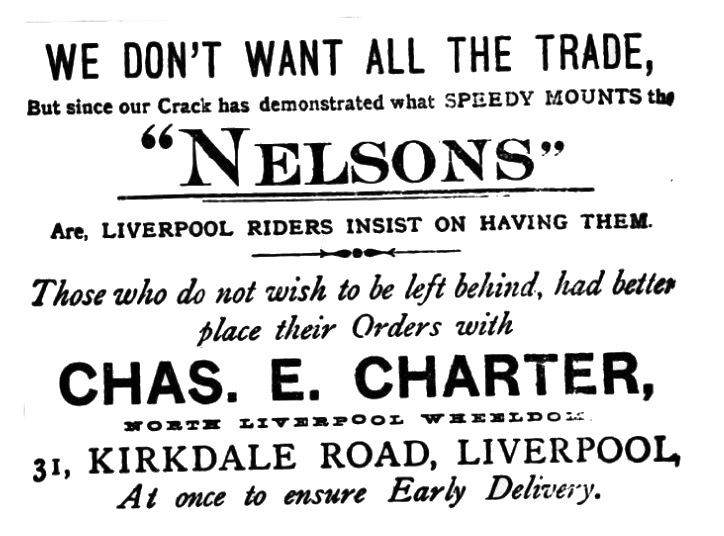 EVERTON 2 MIDDLESBROUGH IRONOPOLIS 2
April 1 1893. The Liverpool Mercury
These teams met at Goodison Park Liverpool yesterday, in beautiful weather before 15,000 spectataots. The visitors were strongly represnted, but Everton were without Howarth, Williams Stewart, Chadwick, and Milward. The teams were as follows. Everton, Jardine, goal, Parry, and Kelso, backs, Jones, Coyle,, and Walker, hallf-backs, Latta (captain), Boyle, Geary, Elliott, and McMillan, forwards, Middlesbrough Ironopolis:- Watts,, goal, Langley, and Elliott, backs, Brown, Nicholson and Gordon, half-backs, Hill, Hughes, McArthur Seymour,, and McReddie, forwards Everton had the wind in their favour,, and at once attacked the visitors stronghold, the ball, however, being run over the line. Jardine had to save at the other end, and then Geary and Latta became prominent the latter causing the visiitor custodian to save. A corner to Everton was cleared after more pressure and ''hands'' against McMillan caused bother at the other end of the field. Play was not long here, however, for the Everton, left came away and from Elliott's pass Geary made a caspital attempt to score, his shot only just shaving the post. The home side pressed hotly and twice in close successtion, corners fell to them. There were cleared. But few minutes later a capital bit of play between Geary and Latta enabled the outside right to score. The play following was even for some time, the ''Nope''making several good efforts to score, but without avail. Elliott and McMillan insisted an attack on the visitos goal, which was repelled by Langley and shortly afterwards the Middlesbrough forward came away and Hughes scored, with a fine shot, quite out of Jardine reach. This was all that was done up to the interval, the score thus being one goal each, upon resuming, the visitors dashed off in good style, and were decidedly dangerous for the first five minutes, Jardine and Parry having to save shots from the left and right wings. After the Everton custodian had saved from McArthur,McMillan and Elliott, made a raid on the other goal. A free kick against Geary removed the danger, but the Evertonians returned, and Elliott only just missed scoring. After a grand run. McReddie headed into Jardine's hands at the other end the latter player only just, saving. The home forwards now showed, fine passing tactics, and elliott shot a second goal, amid much cheering. McReddie almost equalised-the ball hitting the upright-but not long afterwards the same player scored with a similar shot, Jardine misjudged the ball. Kelso was applauded for tricky play, and almost scored but nothing further was added, and the game ended in a draw of 2 goals each.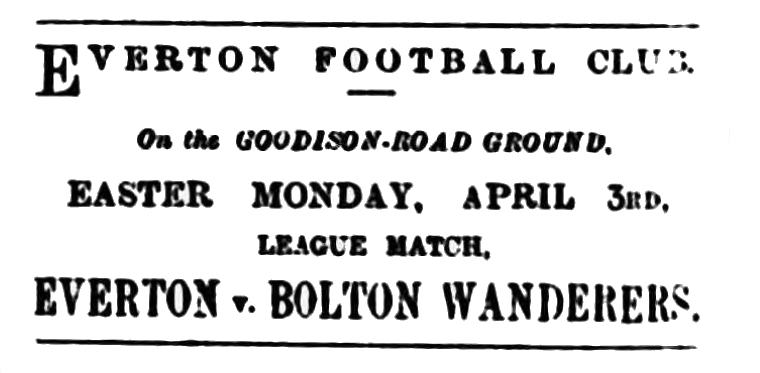 THE CUP FINAL
Cricket and Football Field - Saturday 01 April 1893
By Richard Samuel
The English Cup final for 1892-3 is now a memory only.  The Wolverhampton Wanderers after a most singular experience in the competition, have carried off the Cup, and our friends from Toffeedom have instead carried off a load of keen disappointment which a few days ago they would never have credited themselves with being able to bear.  The story of the struggle was well told, and fully told, in your pages of last week.  Indeed, I question whether any other paper had so complete a record of the doings of the day as had the Football Field.  I do not say that after the manner of the puff paragraph writer, because the Field needs no other commendation than its own introduction; but so much having been said as to the details of the game and its environments only the shreds of the story need now be gathered up and a few general impressions and reflections added.  In the first place, I do not think it at all fair to blame the executive for the unfortunate breaking-in episode, which completely spoiled the game to the vast majority. Their arrangements could under the circumstances have scarcely been improved, but they were in the hands of the police, and a more self-satisfied, happy-go-lucky, don't-care-a-cuss lot of fellows I don't want to meet.  Any three men could have stopped the first rush.  There were three men there to stop it, but they let first one come over, then another, and then another, until a rail was smashed. One would have thought they would have looked lively after that, but they smiled inanely, and first let them through by handfuls and then put up their own hands in the most deprecatory fashion as they were called to account by some irate individual who protested against being thrust in the back-ground when the final overwhelming rush came.  One thing our friends in blue did, however, -they carefully posted themselves where they got the best view of the game, and to some extent they kept they play from being interfered with.  I say "to some extent" because there can be so doubt that both Latta and Milward for Everton, and Topham for Wolverhampton, were very much bothered by the rows of feet on the touchlines.  They dared not go so close as is their went, and man a time the ball was allowed to roll out of play when it would have been kept in if the wing men could have sped along the touchline as they often do.  The consequence was that the match resolved itself more into a half-back game than anything else, for the forwards had to keep closer together, and the half-backs had far more chance of shinning and keeping up the pace than they would have had if the forwards could have played as openly as usual.  Now I am neither seeking an excuse for Everton nor attempting to rob the Wolves of their victory, when I say that this state of affairs bothered the Liverpudlians far more than it did the Wolverhampton men.  In the first half Milward was often hampered and lost the ball more than once owing to having to keep his eye on the rows of feet, and in the second half this state of affairs was the same, whilst Latta had some of his most effective bits of work spoiled in this way.  Topham also suffered, but Griffin's play is rather difficult.  He seemed to part with the ball directly he got it.  That seemed to be his special mission, and he had no difficulty in fulfilling it.  How it helped the Wolves, anybody who knows their half-backs and who knows the Everton forwards will easily realize.  The Wolves half-backs depend more on dash and speed then on real tackling ability, the Everton forwards depend more upon their tricky and fast wing play than upon their all-round combination, and dash and speed on the part of the half-backs had more chance in the circumscribed area than had the tricky flightiness of the wings.  It almost goes without saying that Messrs Malpass, Allen, and Kinsey would have had to skip about even more than they did had things on the line been right, and not having to exert themselves, as they otherwise would have had to do, they were enabled to play with more effect at the close.  And to do them credit they did play after that goal was scored!  They always kept their eye on the defence of their goal, but they did not waste time in more defence as such.  They carried the war time after time into Everton territory, and it is no exaggeration to say that they played so well during the last twenty minutes that they would have held in check the best line of forwards we have in England.  Whilst this is true there is little excuses for the Everton forwards, who were first careless, and then seemed to play into the hands of their opponents by dalliance.  They seemed so anxious to score when the pinch came that they could not trust themselves to shoot until they got a certain opening, and the Wolverhampton backs were too lively to allow any such thing.  Not much fault can be found with the Everton defence.  At any rate it was good enough for everything opposed to it, if we except that terrible miss of Williams', for which that young man was not forgive himself as long as he lives.  It was a great pity too, for besides giving the match away by as big a fluke as could be, it was a blot on a brilliant goalkeeper's career in the ties.  It is a curious reflection that, as "Nick" Ross saved Preston at Sheffield and then gave his side away by a blunder at Blackburn, so Williams saved his side at Blackburn and then let them go smash at Fallowfield.  Much as we may admit the fluky character of the Wolves' win, however, it is impossible to do other than admit their pluck.  There they were dead beaten at Bolton, and yet drew level.  Again, when the Trotters went to Wolverhampton the Wolves were outplayed and outstayed, and yet won.  At one time during the match against Middlesbrough they seemed certain to be beaten, but pulled through.  The Rovers too, thought they had them on a bit of bread when they scored that first goal, but again they pulled through on the right side.  On Saturday they did not on form seem to have a three to one chance, and yet they never at any time lost heart or played as though they had any thought of anything but winning.  They were quick on the ball, they let fly, bang! Whenever they got the least opening.  Though robbed, they never gave up, though floored, they were up again and after the man with that dogged pertinacity which never gives up; and I firmly believe that if Everton had scored they would have worked all the harder even up to the close.  They might be inferior to Everton as a whole team, and I think they were, but they meant business, and Everton apparently made the grand mistake of thinking there was no need to put in all they know –until it was too late.  Nobody seemed more astonished than they when they found themselves not only in arrear but helpless, and they seemed to go worse and worse until the end.  It was far from being a great game, and from what I saw of it the school lads of Manchester and Sheffield –the former of whom, by the way, won by two to one to the infinite of our old friend George Sharples, who coaches them- often put in better bits of real football.  It would be a libel on both and the Wolves –especially the former-to say they could not do better; but then we rarely do have good football in ties like these.  There is too much excitement and too little real play, and on Saturday those who parted with big sums to see the game would get very little satisfaction for their money.  However, if there was little good football and little satisfaction from a spectator's point of view, there was plenty of money, and the "gate" will, I should fancy, create a record which will take a lot of beating.  2,300 pounds is a sum which counts up very nicely, but why it should all go to the Association, which already has a large sum invested, is one of those things which no fellah can understand.  Why should clubs work themselves to death for nothing?  The sum of 800 pounds would have been all the Association require, and 750 pounds would have been very acceptable to the Wolves, whilst even Everton would not have thrown it into the Mersey. 
Liverpool Association
A committee meeting was held on Tuesday evening when there were numerous applications to play benefit matches, the Everton club receiving permission to play one for that deserving player A. Latta (and I hope it will be a good one), and another for the National Lifeboat Fund.  Aintree Church v. Everton, which will be played on the Bootle ground on April 11th.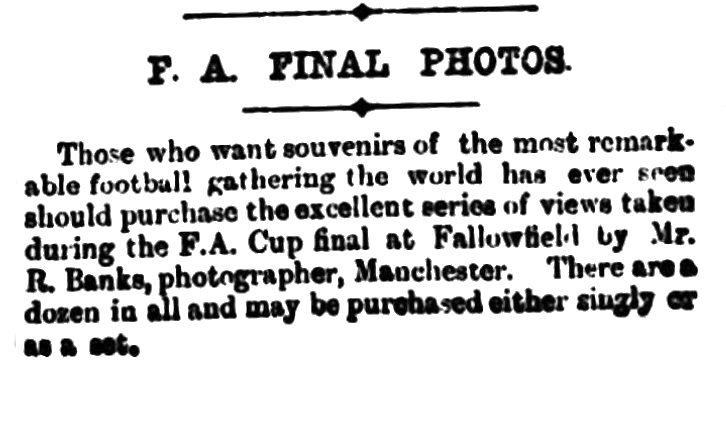 EVERTON V. BLACKBURN ROVERS
Cricket and Football Field - Saturday 01 April 1893
Everton's second Easter holiday fixture was brought off this afternoon, when the Rovers from Blackburn made their initial bow at Goodison Park.  The day was rather dull, but there was a good attendance.  Everton; Williams, goal; Kelso and Howarth (Captain); Parry, Jones and Boyle, half-backs; Elliott, McMillian, Geary, Maxwell and Latta, forwards.  Blackburn Rovers;- Walton, goal; Murray and Forbes, backs; Forest, Anderson, and Dewar, half-backs; Bowdler, Sawers, Southworth, Campbell, and Taylor, forwards.  Referee; Mr. Stacey, Sheffield.  It will be seen that the home team were minus Milward (incapacitated with North end), Chadwick, Holt, and Stewart, and Marshall from the Rovers.  The Rovers kicked off and immediately got over the line.  The visitors were very threatening, but from good heading by Geary and Elliott the home team won a corner, which ended fruitlessly.  Again the Rovers were very near Williams, Taylor missing Southworth sent in a fifty yards' shot, which scored amidst great cheering.  Latta centred accurately, which Elliott just headed over.  Williams now saved cleverly twice from Bowdler and Southworth, and then Maxwell made a good attempt at Walton's charge.  Taylor put one in skillfully, which Williams did really well to save, Kelso almost heading through.  The referee was hooted for disallowing an apparently good goal of Geary's.  Southworth had extremely hard lines, striking the upright with a hard shot, and again from many concerted tries the Rovers all but scored.  The visitors were certainly having the best of the game, their close and neat passing being taking, and serviceable.  Walton did well from Maxwell, but a grand header by Latta, McMillan scored number two.  The Rovers now pressed to the interval, Williams clearing often.  Half-time Everton 2, Blackburn Rovers 0. 
Five minutes after resuming Geary added No. 3, Walton saving one from Maxwell a minute later.  Everton pressed hard and Walton was again busy.  The Rovers went to Williams but shots from Sawers and Anderson went wide.  Williams saved amidst loud cheers from a corner, Walton doing ditto from Maxwell, but the latter soon added another from McMillan.  The Rovers could not get through although they made good attempts.  Final; Everton 4, Blackburn Rovers 0. 
GREAT MATCH AT RICHMOND
Cricket and Football Field - Saturday 01 April 1893
England v Scotland
England;- L.H. Gay, (Old Brightonians) goal; A.H. Harrison (old Westerminister), Right back; R.Holmes (Preston), Left back; R. Reynolds (West Brom), Right half-back; J. Holt (Everton), centre half-back; G. Kinsey (Wolves), Left half-back; W,J. Bassett (West Brom), Outside right; R.C. Gosling (Old Etonian), Inside-right; G. Cotterill (Old Brightonians), Centre forward.  E. Chadwick (Everton), Inside left; T. Spikesley (Sheffield Wednesday), Outside-left.  Scotland;- J. Lindsay (Renton), goal; W. Arnott (Queens Park), Right back; R. Smellie (Queens Park), Left-back; J. Mitchell (Rangers), Right half-back; J. Kelly (Celtic), Centre half back; W. Maley (Celtic) Left half-back; W. Sellar (Queens Park) Outside right; T. Waddell (Queens Park), Inside right; J. Hamilton (Queens Park), Centre forward; A. McMahon (Celtic), Inside left; J. Campbell (Celtic), Outside left. 
Waddell (1-1)
Half-time; England 1, Scotland 1
Full Time England 5, Scotland 2
Waddell (1-2)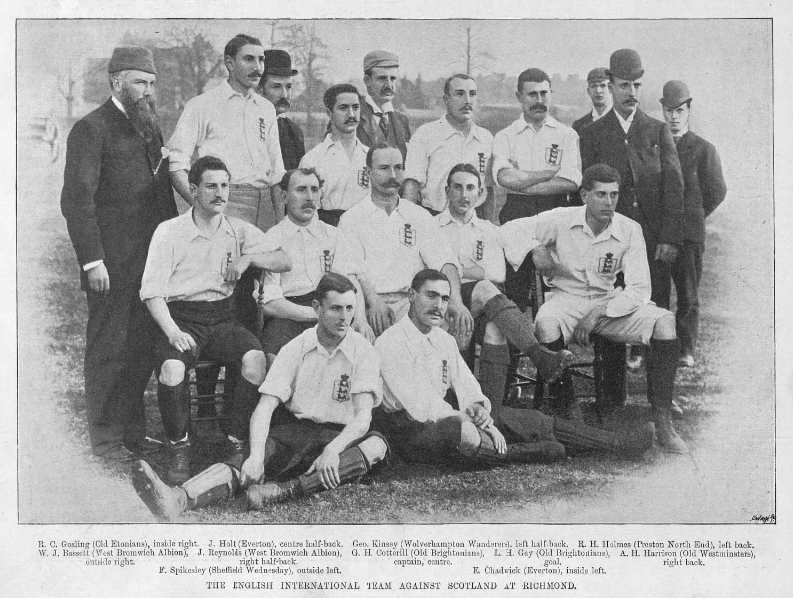 OPINIONS FROM PRESTON
Cricket and Football Field - Saturday 01 April 1893
Everton At Deepdale Again
We had been rather inclined to look with disgust on cup-ties during the past fortnight in Preston, ever since that unlucky goal dismissed North End from the English Cup competition at Blackburn.  For all that we are still of opinion that North End are at least two or three goals better than Everton, and that if we had a hard-working centre forward our club should have passed into the final round for "that blessed pot" by more than a goal, at any rate.  However, the competition is now over and done with, leaving Everton saddler if not wiser men.  They will not be over-confident the next time they reach the final stages for the cup, or perhaps they will take a lesson from North End and scorn to protest when they find themselves beaten.  Both the Lancashire Association and Everton have receded considerably in the good opinion of North end supporters since the cup tie played on March 11 was ordered to be replayed.  As a matter of fact, we shall never expect any generous or even fair treatment while it is composed as at present.  One or two prominent Lancashire Association men were very pleased at Blackburn the other week when North End went down, which is just what one might expect from those who gave such a foolish decision the other week against the Preston club.  The result of Thursday's match at Deepdale proves that the crowd in the first match did not contribute much to the defeat of the Evertonians, for with only three or four thousand spectators North End won with even a greater balance of goals.  Everton supporters agreed that their team had fallen to pieces since the struggle at Fallowfield, and that they were much handicapped by the absence of Holt.  I quite agree with them in the latter excuse for without Holt the Everton defence is depreciated at least 50 per cent.  Then they had Geary in the centre, but he was practically of no use against the nimble North Enders, and every time he got hear N.J. Ross he lost the ball.  I should mention that Russell was unable to play for the home team, on account of an injured leg.  This brought George Drummond again to the front, whilst J. Holmes (from the Reserve) was the right half-back.  There was a most phenomenal opening of the game, which was not 20 minutes old before North End had recorded four goals.  From the very start the home team, it was very apparent, meant business, and their combination was superior all through.  In nine minutes Jimmy Ross scored from a well-placed corner.  Three minutes later Beckton added a second after Elliott had missed his kick.  Then Drummond rushed right past Kelso and Howarth – who appeared to have a misunderstanding –and coolly steadying himself scored no. 3, while a grand centre by Cowan enabled Jimmy Ross to make the score four.  Evertonians looked at each other in dismay, for they recognized that fact that all chance of a cup going to Liverpool this year had vanished.  There was nothing more in the way of scoring in the first half, although there would have been if Kelso and Howarth had not kept cool.  In the second half, when North End were playing uphill, Beckton scored a fifth point from a beautiful centre by Gordon near the finish, in the last few minutes Chadwick scored Everton's only goal out of a scrimmage, and so the game ended –Preston five, Everton one.  In addition to this North End had all the best of the game, and placed the Everton goal many times in great jeopardy, as Williams can testify.  On the other hand Trainer never handled the ball once until the goal was scored against time.  All thaw winners played hard and well, and forced the pace for a long time.  Even the J. Holmes did some good things.  Drummond excelled himself superb football.  None of the Everton forwards shone.  Stewart and Boyle worked hard at half-back, and so did Kelso and Howarth; while Williams cleared grandly several times.  I have only to add that the prevailing question in Preston on Thursday night was – "Will Everton protest!"  I don't think they will, for they were very fortunate in not being defeated in a far more disastrous manner. 
 A MODTCUM OF MIDLAND MATTER
Cricket and Football Field - Saturday 01 April 1893
By "Our Old Fogey"
I think I shall always have a vivid recollection of last Saturday's final.  Whether Mr. Olympian reviews it from the editorial chair in the same light I don't know, but on the whole, and though when looking up the economy of my habiliments I find a few corners rounded off here and there and a little foreign blood and hair embroidery sticking on in several places, I rather enjoyed the afternoon.  It has been my pleasure in past seasons, when rubbing shoulders with one or another of the Lancashire clubs who have fought for and won the cup, to see the big struggle at the finish, but the present has been the first happy experience of seeing one particular eleven right through from the starting post.  What an eventful day to be sure.  For choice the little trip on Friday to the "National" took second place easily.  "The Little Wanderers" could complain of nothing wanting in the way of a sendoff.  It did one's heart good to see the have shows right away along the line as far as the confines of Shropshire, and then when the battle had been won and the Cup brought back, what a howling reception! My eye! I had never seen the strength of a Black Country reception before.  The scene when the Olympic first brought the dearest trophy of all into Lancashire was not in it.  Of course, you'll expect a few lines from this side on the big game itself, though I'm going to be modest, and leave the bulk of it in hands of those whose misfortune it is to explain away the Everton defeat.  Needs of praise in honour of the Wanderers victory will not be of such very remarkable interest to you Northerners.  It was more by luck than good management –and especially police and official management – that I managed to get a sight of the game at all.  The crowd must have lit their pipes with the remains of the press stand when I had got to the end of that "eight minutes' walk" for Levenshulme (aged! Those Athletic people can hoof it) and already the police having facing about to repulse a flying discharge of clods.  These smart, intelligent blue-coated glue-pots never did move till they were hit.  They seemed to have come for their own especial pleasure and a good view of the match.  If you asked 'em anything they "knew nuffink" and their superior "hossifers" were invested with the same order though a correspondedly higher equality of stupidity.  No thanks to them that I managed at last to work the oracle and got something on the wires for the benefit of those who had paid their bobs, and crowns, too- to see the match –false delusion, and those who wisely kept their railway fares in their pockets and stayed at home.  Up to half-time, you know, I thought Everton had the match in hand, but their collapse was as complete as it was sudden.  I never saw a team so thoroughly broken up through a single goal, and it strikes me –I have not their cup records by me- that they are not such game cup fighters as I have been led to imagine they were.  They "went" like a drum with the sides stove in, and the transition from the confidence of the first half to the chap fallen surrounding a quarter of hour after the interval was most extraordinary.  Make it out as you may, that the best team lost I can't for one moment go with you.  When I was a young and over-enthusiastic football reporter- I invariably said that my pet team went down, and if there was the least occasion for the remark.  Everton's football may have been the prettier fashioned of the two styles –I grant you that freely- but at the wear and tear business they were surely second best.  Hard fighting found the conquerors.  The halves had orders to bang on to the enemy and weary them.  They hung on, the tip came off, and once ahead with a lucky sort of goal, for two out of every three goalkeepers would have saved the point, the rest was comparatively easy for them; the defence became almost doubly sure then.  Yes, the Wanderers went home to Wolverhampton with their laurels well won, to be hereafter well worn.  In a by no means ignoble stifle they conquered, and the victory is a proud thing to boast of.  And yet, I never saw a more unpretending lot of fellows.  They were jolly- how could they miss being under the circumstances, but of ostentatious show there wasn't the slightest, and that they were far from overcome in such as generally follows in the wake of an English Cup victory is shown by the fact that on the Monday they turned up on their native heath and did their supporters another good turn by thrashing the Albion in the Birmingham Cup tie.  There are no better pleased people at the success of the Wolves than the neighboring Thistles.  The Major of West Bromwich, at the complimentary dinner given to the Albion on Monday night hoped the cup might stop in Wolverhampton until it once more returned to his sideboard!  All very nice for Lancashire's considerations, ah! Well you know you must admit that the Palatinate is fairly beaten this time.  It had the worst of luck last season, but if ever you folks had a rich chance it was this time, and you see you wouldn't have it.  Have you ever reckoned up the commercial value of that goal which Harry Wood got in the last 30 seconds at Pike Lane? Just tot it up, my worthy Trotters and think what you've lost.  But anyhow the English Cup has come the English and gentlemen with any sentiment of national pride will, I'm sure extend their congratulations this way.  Procession on Monday was a fine thing.  Unfortunately there was no balcony on the Town Hall, so that the Cup winners were deprived of the happiness of smiling at the assembled ineptitudes for a few minutes.  But they were squat like animated mummies on the stage of the Theatre Royal on Thursday night between the acts, and the histrionic section got plenty for their money.  Offers have come from Queen's Park and other big pots on the other side of the Tweed, but whether the blessed Cup will be hawked up their or not I can't say.  Nor am I as yet in a position to inform you whether an invitation to visit Chicago Exhibition will be accepted –that is to say, if it comes.  And, if you get this contribution tacked on to other ideas and things concerning Saturday last, it strikes me there'll be 'nuff said about this year's English Cup.  I should however, say before finishing that I am desired to acknowledge, among others, the hearty congratulations of the "Lothian Lames."  Thanks, my dear girls we are well.  Can I throw a smile that way, Mr. Printer?
NUGGETS
Cricket and Football Field - Saturday 01 April 1893
Want of Condition, not superior play, beat Everton.
The latest missing words are –Fullerton, and English Cup
The trip to the Chicago Exhibition is "orph" now –at any rate, as regards Everton.
Is there anything in a name?  Everton put up at the "Spread Eagle" in Manchester.
"Play up Everton!"  "Play up, England?"
Remarks of a prominent "Wolf" well, Everton are not lacking in chivalry anyhow!"
Colonel North feels the loss of Fullerton very much, yet not half so bad as Everton folk do the loss of the English Cup.
"Meet me at the Press box."  Alas! The Press stands had been relegated to oblivion at the conclusion of the encounter.
Wolves one, Everton less.  Result, "Funeral cards of Everton," followed by the death of the same –a rasping cry on Evertonians' ears.
To see some of Everton's players after the match (notably Milward) one would think they had lost all that was near and dear to them.
Bootle v. Liverpool and Everton v. Aintree Church for the Liverpool Cup.  The old rivals Bootle and Everton should meet once more.
There is no love lost between Liverpool and Everton, and I hear a tremendous and universal "Hooray" when the League team's defeat was known.
"Smart" Arridge is determined to stick to the blue and white verticals of Bootle.  This should be gratifying to the prominent few of Bootle's supporters.
A Glasgow man, and Celtic supporter –Mr. P. Brennan –witnessed Everton's victory over Chirk at the Park, and declared to me that the Combination's blocking and tackling were grand.
The why and the wherefore of Everton's defeat has been daily debated by crowds and groups in Walton-rd.  All agree that Everton did not show their true form, especially the forwards.
Everton had an immense following at Fallowfield
Oh, cruel Wolves?  Why did you devour the Everton toffee?
"Barney" Sullivan pinned his faith on Everton, but it was no go.
Everton thought they had the Wolves weighted up, but soon found out their mistake.
Will Everton get bell, of Dumbarton?
Everton had too big a pill to swallow at Fallowfield.
Contrasts last Saturday night-Wolverhampton and Everton.
Everton will finish up with the Liverpool Cup in their possession.  That's all.
Geary's yarn at Wolverhampton about P.N.E. has been well read at Deepdale.
Everton's defeat at Preston and Fallowfield does not seem to have affected the Liverpool public.
North End popped on four goals in five minutes against Everton on Thursday.  Oh, that English Cup!
When 15,000 people will turn out to witness an ordinary at Everton, it speaks well for the popularity of the game.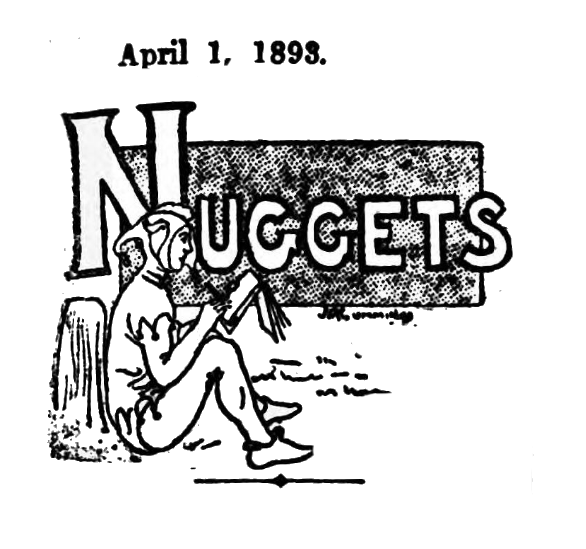 EVERTON V. MIDDLESBROUGH IRONOPOLIS
April 1, 1893. The Yorkshire Herald
At Liverpool yesterday, before 15,000 spectators. At the opening play was even, Everton having a trifle the best of matters. After 15 minutes play Everton rushed off, and after good work by Geary, Latta scored. Everton generally had the best of the play, but Ironoplis broke away and Hughes scored. After change of ends Elliott shot a second goal for Everton, the game ending in a draw -2 goals each. MACCLESFIELD 0 EVERTON COMBINATION 0
April 1, 1893. The Liverpool Mercury.
The return fixture between these teams was decided at Macclesfield yesterday, in beautiful weather before 5,000 spectators. Everton started the game with the sun and a strong wind again them. Macclesfield at once took up the attack, forcing Rennie to save. All though this half the home team had much the best of the game, indeed it was only on one occasion their custodian was injured to clear several corner fell to them. But none were converted Collins and Chadwick oneach occasion were successfully negotiation, and at half-time no score had been recorded by either side. Notwithstanding the adverse wind-the opening of the second half saw the home team again the first in attack. Heath and Beresford severly testing the defence. From this to the finish, however, Everton with one or two exceptions had all the play; but Kent, Hendley, and Chambers cleared spendidly, and were successfulo in preventing any adverse score, an exciting but by no means scientic game ending in a draw-neither team having scored.
EVERTON V. BLACKBURN ROVERS
April 3, 1893. The Yorkshire Herald
At Liverpool, before some 12,000 on lookers. The home side opened well, Jones scoring with a long shot seven minutes from the start. The Rovers' forwards played a fine game, but Williams defended grandly. Geary got the ball in the net but it was ruled off-side. McMillan soon afterwards scored a second goal for Everton. The Rovers pressed to the interval, but could not score. Half-time –Everton 2 goals to Rovers nil. Early in the second portion Everton assumed the aggressive, Geary and Maxwell both scoring. The game continued very fast and exciting, both goals being endangered. Result-Everton 4 goals to Rovers nil.
EVERTON V BLACKBURN ROVERS
April 3, 1893. The Birmingham Daily Post
A crowd numbering some 12,000 some 12,000 people, assembled to witness this match on the ground of the Everton club at Liverpool. The Everton team was not representative, three of their reserves being included. The Rovers pressed at starting, but the Everton defence was superb. Five minutes from the commencement Everton attacked, and Jones scored with a long shot, and subsequently McMillian scored again for Everton, who at the interval were 2 goals to 0. After crossing over Everton continued to keep up a strong pressure, and very soon Geary scored the third point with a shot close at goal. Then for some time the play was of an even character, but before the finish Latta got possession of the ball, and, taking it up with a fine run, he centred well, and enabled Maxwell to kick the fourth goal for Everton, who were left victorious by 4 goals to 0.
EVERTON 4 BLACKBURN ROVERS 0
April 3, 1893. The Liverpool Mercury
The return match was played at Goodison Park on Saturday in the presence of about 15,000 spectators. Previously this season Everton had drawn with the Rovers in a League match and beaten them in a lancashire cup-tie-both at Blackburn, but confidence was not great that they would emerge successfully on Saturday owing to several men suffering from the effect of the recent hard work and further, glowing absence of Holt and Chadwick, who had the honour in the overthrow of England at Richmond. Milward were given rest, and the team were as follows:- Everton; Williams goals, Kelso and Howarth (captain) backs, Boyle, Jones, and Parry half-backs, Latta, Maxwell, Geary, McMillan, and Elliott forwards. Blackburn Rovers:- Walton, goal, Murray, and Forbes, backs, Dewar, anderson and Forrest, half-backs, Taylor, Campbell, Southworth, Sawers, and Bowdler forwards . Everton had the advantage of what wind was blowing at the outset but the Rovers opened on the left, and were forced to kick out. A netaliatory movement was made by the Everton right, which met with no further success than that of their opponents had done. The run was even and spirited for some time neither side getting in shots at goal so effective were the respective defences, until Elliott forced Murray to concede a corner, from which Geary nearly scored with his head. Campbell and Taylor each shot outside a few minutes later, but the latter was more accurate at a second attempt, and compelled Williams to use his hands. Everton got down to goal, chiefly through some good tackling by Jones, and Geary had a chance, but shot out. This led up to an unexpected slice of luck to Everton, as Jones after beating Southworth, took aim at goal from near the centre of the field, and the ball lobbed into the net; a mixed demonstration of laugher and cheers greeting, the incident. Keeping well to the fore, Latta centred to Elliott. Who headed over the bar when close in. a spurt on the Rovers left next looked ominous, as, on, Bowder shooting, Williams ran out to clear, and was only just in time. Forrest supolemented this effort by lobbing over the bar. Elliott removed operations by getting well down, and shooting in to Maxwell who headed too high. It was not many moments before Williams was in reaminition again; but he was safe to a shot from Taylor and Elliott once more came to the relief of his colleague by leading an attack and centring to Geary who rushed the ball though as Walton was making up his mind what to do; but the referee vetoed the point, though it seemed perfectly legitimate. The Rovers with this let off became very dangerous, but the whistle sounded when Bowdler was getting into position for a shot. The visitors were not to be essay dispossessed just now, however, and were near scoring several times. Sawyers missed by a few inches, a second attempt by the same player being neutralised jointly by Williams and the referee, as the whistle sounded on some informality. Just as the gaolkeeper had reached the ball. Willimas gave further evidence of being in good form, whilst Bowdler went too high with a hard shot. A spell of midfield play intervented of a most intersting kind, each side being good in possessing and dispossessing. This tended in favour of Everton, who went down and attacked powerfully. Maxwell hit Walton on the chest with a terrific shot which momentarily staggered the custodian, and after further smart work in close quarters, Latta sent across, and McMillan headed beautifully into goal, the game than having been in progess half an hour. The success thus attained aroused great enthusiasm which had been bubbling up for some minutes previously owing to the brilliant all round tactics at this period. On restarting the Rovers were certainly the more aggressive and during a persistent siege, Bowdler shot hard, but Williams was safe in the extreme. Williams next gave a corner when Howarth brought the ball out of the scrimmage, Elliott then got under weight. But before more shot could be essayed the interval arrived, with Everton leading by 2 goals to nil. Elliott initiated the second half by receiving the ball from Geary running down and shooting behind. Everton went back on the right, and foillowing a passing movement Latta had a chance but could not get a fair kick at the ball, and went wide. Before another loophole was discovered. Bowdler assited his partner in a sturdy breakaway. Severe having hard luck in placing just outside the far post. Everton thyen took up the attack, Geary being very prominent with his sprintes,, and one of thses raids proved successful, an Elliott shot in, and Geary took the rebound from Murray, and scored. Maxwell drove in along the ground to Walton, who gave a corner, when Kelso headed over the bar. The game became even more exciting fot the Rovers were full of energy notwithstanding the strong lead of their opponents, and they looked like scoring. Sawyer again going a lille wide with a ratting shot. Howarth kicked out an entuing scrimmage. Williams also saved well. Everton were then in the acendant again, returning to the attack now and again until Maxwell got the mastery of Walton with a straight aim. For a time Rovers were busy on the defensive, but they held out, and in turn were enabled to press, when Forrest from the play arising out of a corner kick, was very near with a long curling shot. This Williams caught, and McMillan was next to experience hard lines. He hit the bar, but no one was near enough to take the ball when it bounced into play, or a goal, would have been inevitable. Geary made a fine attempt to score are the scene of operations changed. But just failed, and Everton were placed on the defensive. Williams saved well from Sawers, and this was followed by a terrific shot by Forrest, but once more Williams used his fist to some purpose, this time giving a futile corner. Southworth mulled an easy chance, but the Rovers continued to have the best of play for some minutes, and with a little luck would perhaps have scored but Williams made no misjudgement and fisted out, however, hard the shots were, whilst others almost grazwd the upright, and another just skimmed the bar. The play then became more open, and when the end came Everton had won by 4 goals to nil.
LEEK 0 EVERTON 4
April 2, 1893. The Liverpool Mercury
At Leek. At the start Leek gave the Everton defence a lot of trouble but Smith headed the first goal for Everton after ten minutes, play and the viistors added another before the interval. In the second half Hartley contributed a third. The game slowed down considerable, but Everton added a fourth. Result Everton 4 Leeks nil.
MACCLESFIELD DRAW WITH THE CHAMPIONS
Athletic News - Monday 03 April 1893
On Good Friday Macclesfield had the champions as visitors, a grand game being witnessed by 5,000 spectators.  Everton started off with a rush, but met with a very determined resistance, the game ending without any score being made.  The visitors were surprised many a time by the smart play of the home team.
EVERTON COME AGAIN.
Athletic News - Monday 03 April 1893
By the Loiterer
In Liverpool we experience a great disappointment a week ago.  That is the general ran of football enthusiasts, but to the more reasoned few the result in the final was not altogether unexpected. Still, it was a disappointment, and certainly counts No. 1; but then the Everton team had an opportunity of somewhat retrieving their prestige at Preston on Thursday last, but behold! They collapsed entirely and came back not only defeated, but entirely routed, by five goals to one. Then it was depicted that the team, now they had failed to obtain possession of the English Cup, would go to pieces. And the result of Thursday's match for the Lancashire Cup lent some colour to this view, for so for the Everton team have had a pull over the North End fellows, but failed entirely in this match, and another cup has been lost. Then comes the first of two stiff matches under the auspices of the League, and the team rose to the occasion. The Rovers turned with a full team, barring one man, for whom Forrest proved a rare good substitute ; Everton, on the other hand, had no fewer than four of the Combination team in the eleven, the team ; Everton; Williams, goal; Kelso and Howarth, backs; Parry, Jones, and Boyle, half-backs; Maxwell, Latta, Geary, McMillan, and Elliott, forwards.  Rovers;- Walton, goal; Murray and Forbes, backs; Dewar, Anderson and Forrest, half-backs; Taylor, Campbell, Southworth, Sawers, and Bowdler, forwards. As you all know, Everton won by four goals to nothing, Now, I am not going to say that Everton did not deserve the victory by this margin, but all the same, as far as the play went, there was not anything like the difference. Of the two goalkeepers—and to show the true state of the play, this is a fairly good test—Williams had his share of the work and more shots, and they were, if anything, more difficult than those Walton had, only the Everton man negotiated his all right and "Nat"  was only very so-so. This sums up the whole affair. The first goal came from a long kick by Jones from midfield, and the others were deserved. On the other hand, the Rovers showed quite as good workmanship, but no goals came. The Everton defence was perfect, for Williams, as the last line, was simply superb. This to a great extent explains the difference in the scoring, but not altogether. The play was fairly even, taking the gams all through, but the Everton forwards had more go in their movements, and went for goal in better style. The left wing, Elliott and McMillan, played a very taking game, for they never hesitated to put the ball across at the right moment, and this can be appreciated to the full when I say that they had a hand in three out the four goals scored. The other forwards worked well, and so did the halves, all did their level best for the success of the afternoon's entertainment. The play, to my mind, was equal, if not superior to anything I have seen on the Everton ground this season, and the only difference in the teams were the better adaptation of the forwards in front of goal and the splendid goalkeeper of  Williams. As I have intimated, the Rovers had a full share of the game, but, apart from the really effective work of Williams, there was, at critical times, a slackness observable in the efforts of their forwards, which could not put down to the debit of the Everton men. Bowdler, for instance, was fed all through the game, and Dicky Boyle upset him repeatedly. Then again, the Rovers passed and repassed in front, and were robbed before they got in a position to shoot. This was not so with the Everton men, whose passes were not only more effective, but more to the point, for they went for goal in a felling style and scored.  The Everton halves, as indeed the whole defence, were slightly superior, inasmuch as they had infused more dash in their movements, for they tackled unflinchingly.  This was chiefly noticeable with Kelso and Howarth, who left nothing to chance when pressed.  On the other hand, Murray and Forbes at times were a bit slack, but I do not see that this affected the game, for it did not lead to any damage, but it shows they either did not appreciate the efforts of the Everton men, or were more indifferent than the home backs.  Anyway, Everton won, and that handsomely, but it might easily have been different. 
LIVERPOOL DISTRICT AND NOTES
Athletic News - Monday 03 April 1893
By The Loiterer
On Good Friday our three clubs were engaged, and each had attractive fixtures.  Middlesbrough Ironopolis were at Goodison Park, and ran a mixed eleven of the Everton Club to a draw of two goals each.  Today (Monday) football will be all the go, and there is bound to be a big crowd at Goodison Park to see the conquerors of the champions and Everton meet in their return League fixture.  I anticipate fully 30,000 people being present, and I understand a portion of the stand will be reserved at 3s, a seat.  The Combination lads that formed substitutes in the Everton team were not a whit behind their companions, for at all times they were clever, and I should say the play of Elliott and McMillan was more effective than the League left wing.  This wing had a hand in three out of the four goals scored, and at other times Elliott put in some capital centres.  The Rovers were decidedly unfortunate in sustaining such a heavy defeat, for there was nothing like this difference in the play.  They did not make the most of their chances to score, that is true, but, all the same some capital shots were sent in, only to find Williams there.  How the Everton custodian kept out some of the shots was marvelous; but he never lacked resource, for he actually headed out one shot when hard pressed, and did other clever things with the utmost coolness. 
The turf is not so good as could be wished; but it is a grand sight to see a crowd present, for with the Goodison-road side banked up now there is a sea of faces all-round the ground. 
EVERTON REVIEW
April 3, 1893. The Liverpool Mercury
The three leading clubs have fixtures for today. Everton have their old popular friends the Bolton Wanderers as visitors, the occasion being the return League match. There are several incidents that make this contest attractive. In the first place, the "Trotters" won by 4 goals to 1 when Everton were at Bolton, and so there is the incentive of sweet revenge" to spur on Everton, and the corresponding impulse on the part of the Wanderers to confirm the previous result. Then the Wanderers and the Blackburn Rovers, as it happened, tried their fortune on successive days with Sunderland, and, whereas the Rovers had to be content with a draw on Friday, the Boltonians were clever enough on Saturday to beat the famous Wearsiders by two goals to one. Though this line of play it would seem that Everton have a more formidable task set them today than on Saturday; but they will have all their "stars" available, and will, moreover, it is expected, be assisted by Bell of Dumbarton, who played centre-forward for Scotland against England last year. He is a man of weight and height, we understand, and will be of great value in rushes upon goal. For the occasion the Everton directors have made arrangements to reserve a number of seats on the covered stand at an extra charge of a shilling.
EVERTON 3 BOLTON WANDERERS 0
April 4, 1893. The Liverpool Mercury
The return League match between these clubs was played off yesterday at Goodison Park, and proved a very popular Easter Monday attraction, which was not surprising seeing that the Wanderers had on Friday and Saturday beaten Notts Forest and Sunderland respectively. They had moreover, defeated Everton whan at Bolton on October 29 by 4 goals to 1. On the other hand, the substanial victory of Everton on sAturday over the Blackburn Rovers had encouraged the belief that the home team would again show up strongly, especially as it included Bell, who hales from Dumbarton, the Scotch international who denned the Everton jersey for the first time and Holt and Chadwick fresh from their significant play in the cause of the victory on Saturday of England against Scotland. The attendance was large, and numbered about 20,000. The teams were Everton:- Williams, goal, Kelso, and Howarth (captain), backs, Boyle, holt, and Parry, half-backs, Latta, Bell, Geary, Chadwick, and Milward, forward. Bolton Wanderers:- Sutcliffe, goal, Somerville, and Jones, backs, Paton Gardiner, and Turner half-backs, Wilson Wilcox, Weir, Bentley, and Dickson forwards. Whilst waiting for the visiting team Everton judulged in the usual practice, Bell giving at least one specimen of a hard long straight shot. Howarth won the toss, and,, of course, elected to play with sun at his back, but the Wanderers had the help of the wind. Which was not considerable. Everton lost no time in getting near goal, when Chadwick took aim twice. The first time straight into Sutcliffe. Dickenson sprinted away in fine style, but Howarth cleared, and Milward in a rush charged down an opponent, and from play arising out of a throwe-in, and Sutcliffe mulling the ball, Latta had a course open to him, and scored five minutes from the kicked off. The Wanderers went off, after protesting in vain against the legality of the point, and the Everton defenders were kept busy for a time. Kelso gave a corner which Howarth neutralised, and then Latta and Bell several times to get down, but Jones with a strong clean kicking, had them in check. A free kick was given to Everton, but Boyle kicked too powerfully. Everton confined play for a few minutes in their opponents quarters, when Milward screwed behind in a good attempt. The visitors broke away in reply to no purpose Kelso robbing them. A further bit of good forward play by Everton seemed likely to bear fruit but Sutcliffe saved grandly. Turner lobbed at goal from midfield almost under the bar, but Williams punched the ball aside and then more spendid combination was seen by the Everton vanguard, Bell keeping in touch thouroughly with his four Colleagues, who were all in a busness like mood. Once Geary unselfishly lifted his foot in order to left the ball pass under it to Chadwick, and this move threw the defenders somewhat off their guard, but they prompty took in the situration and successfully grapped with a vigourous onslaught. The Wanderers then lodged operations rather persistenly in the Everton half, chiefly on the right wing, though not permitted to get in a shot Howarth made a timely clearance, and the bell gave a demonostration of his dribbling power wiading up with a long swift shot which was so near taking effect that the large company burst forth into a rousing cheer. Bentley found himself provided with a golden chance, but he made miserable use of it. Geary at the other end, had a grand attempt to improve the lead of the team,, the ball being kicked out. Latta, shortly following also shot grandly, as the result of brilliant play by the forwwards, but Sutcliffe picked up the ball with great coolness. The Boltonians once more tried to get at Williams, but Kelso and Howarth, in particular, always seemed in their place, and Everton, were soon busy in the neighbourhood of Sutcliffe. Bell shot hard close in, but Jones jumped just in front of the ball giving a corner. In a moment or so, however, the left wing drove across to Latta whot shot into the net magnificently. Everton renewed the attack in the same spirited manner but without success this time., and the Wanderers got into a better stride, Wilcox getting sufficently near in to take aim twice, forcing a corner off Williams. Wilcox was soon in evident again with a long flying shot, likewise exacting a corner from Williams save. Geary was furished with the next chance, but got too much under the ball, and nearing half-time latta went across to Milward, who shot in terrifically against the end of the net. Latta ran down but was checked bu Jones, and Milward clung to the ball too long and lost it, when the Wanderers raced off, and Wilcox sent flying over the bar. The interval coming with Everton leading by 2 goals to nil. Immediately on resuming, the Wanderers got a free kick taken by Jones, from which danger thrented through some neat heading work; but Kelso intercepted and, kicking away very cleanly, out the Everton forwards in possession, who swooped down on goal. The defence, however, stood the assult. Then Boyle drove in at a lengthy range but Sutcliffe easily gauged the best shot. Latta supplemented this effort by sending across to Milward, who failing to fully gather the ball kicked it into the end stand. Everton maintained the pressure and Latta had a swift shie, which went a little too high. Howarth being deceived through the sun shining in his eyes, then made a miskick, which looked omineu, but the ball went into touch, and from the thrown in Milward went down at a capital pace and passed to Chadwick, who essayed a curling, dropping shot, which Sutcliffe negotiated at the second attempt. Chadwick tested Sutcliffe with an identical aim and with similar result, and then Geary was too tame close in. a fine thrust by Latta decserved better reward than it met with, and for a few minutes Sutcliffe had a warm experience shots coming in quickly from variuos directions. The half-backs play of Everton was superb all through the piece, and Holt especially enjoyed great success in outing short aggressive tendencies by the Wanderers. Bell next lifted too skyward, and then a diversion was created by Dickenson from Gardiner, the former shooting well, as did Wilson from a return. Williams used his fist. The visitors managed to keep Everton on the defensive for a few minute but were weak in shooting. Gardiner making a very poor aim. Geary ran and passed to the left, Milward could not reach the ball, but he had been lilping for some time, having given his left leg a wrench in stretching out to the ball. Chadwick at this juncture also got hurt, and was helped off the field. Everton were thus weakened. But the right wing rushed upon goal on re-starting, and the further downfall of the Wanderers scented certain, but Milward lifted the ball on to the net. Chadwick returned in a few minutes with his left knee bandaged and his reappereance was inangorated by some dashing play near to Sutcliffe in which Geary was prominent. Bell finished of a run by shooting once more just too high, and soon Howarth gave a corner from which Latta raced off as far as the back; but Everton had again to act on the defence, when Howarth, Kelso, Holt and Williams played the ball. Asome nice passing changed the venue, and after Chadwick had caused Sutcliffe to use his pretogative, Geary shot in well, the custodian apparently not seeing the ball. Making no effect to stop it. Shortly afterwards the whistle sounded. Everton having won a fst and good game, through an oerior all round tactics, by 3 goals to nil. Making their eight League win in succession.
BUXTON 0 EVERTON COMBINATION 2
April 4, 1893. The Liverpool Mercury.
At Buxton, in tropical weather. Gordon played with the visitos. For 25 minutes the play ruled exceedingly fast, each side bombarding the goal. Then Murray scored. The Derbyshire team were once or twice hotely pressed, but played a grand defensive game. Half way through the second half. McLaren headed the second goal for Everton. Result Everton 2 goals Buxton nil.
Placed 1 st played 22, won 18, lost 2,, draw 2, for 107, against 13, points 38.
EVERTON V. BOLTON WANDERERS
April 4, 1893. The Lancashire Evening Post
Bolton Wanderers played their last League engagement of the season at Goodison Park, where they were opposed to Everton. The weather was quite summer-like, and the crowd of 20,000 persons assembled. Everton played a new man in Bell, late of Dumbarton. The Wanderers were fully represented, with the exception that Gardiner was substituted for Monro. Weir started the game which opened in a sensational manner, and the home forwards showed some fine combination. Latta scored after five minutes for Everton. Both teams then showed fine form, but the mode of attack adopted by the home men was far in excess of that shown by Bolton. After repeated unsuccessful attempts by Everton to increase their score, Latta at length go a second past Sutcliffe, and at the interval Everton was leading by two goals to nil. Early in the second half the homesters assumed the aggressive, and persistently attacked Bolton's citadel, Latta and Chadwick being very near, but Sutcliffe splendidly cleared his charge. Everton attacked very strongly, and Geary and Holt were both loudly cheered for fine movements. After fully 15 minutes pressure by Everton, Toone gave relief, and Dickenson got off on the visiting left, sending in to Williams, who fisted away cleverly, repeating the performance a moment later from Wilson. Chadwick was injured and retired 20 minutes from the finish, but re-appeared soon afterwards with his knee bandaged. Sutcliffe again saved brilliantly, and Bell shot over. Another lengthened attack by Everton followed and then a fruitless corner fell to the Wanderers. Everton once more got in front of Sutcliffe, and Geary at last scored. Before the finish both goals were endangered. Result-Everton 3, Bolton 0.
EVERTON COMBINATION 5 AINTREE CHURCH 1
April 7, 1893. The Liverpool Mercury
This friendly fixture was played at Goodison Patk last evening before a moderate attendance. Pinnell kicked off for Everton, who forced the matter at the start. Pinnel kicking a couple of goals. Aintree then pressed for some time, but their shooting was weak, for some time, and they were kept from scoring, Hughes and Killip put in some backplay,, but Elliott got a third for Everton. Aintree had a point disallowed for off-side and at half-time were in a minprity of 3 goals to nil. Upon resuming, Everton attcked strongly, Grattan saved finely, from Smith but only to be defeated by the same playa few minutes later. The churchites play up well after this, and after being repulsed by Parry, returned and scored. Everton only playing ten men through the retirement of Elliott. The home side, however, scored again, and won by 5 goals to 1.
GOODISONIA
Cricket and Football Field - Saturday 08 April 1893
Four More League Points For Everton.
By "Black Rock."
Everton's Easter holiday fixtures proved very attractive, and included two league games, besides a visit from the Ironopolis of Middlesbrough.  The gates were up to the usual high standard-averaging about 20,000 and totting up to $900, the sport was of an interesting character, and everybody departed apparently as pleased with the varied show as they must have been with the invigorating and glories weather.  And, no wonder, for have not Everton ascended four points nearer the apex of the League ladder- where Sunderland rests in all their glory for the second time-by defeating the Rovers, who drew with the champions on Good Friday, and Bolton Wanderers, who even conquered the champions on the following day?  Middlesbrough Ironopolis was the bill of fare on Good Friday.  The visitors gave a good all-round and sound exhibition, from their custodian to the centre forward.  Everton had anything but a representative lot, and the Combination deserve credit for drawing -2 all- with the dashing "Nops." 
The Rovers Come and Go Down
The Blackburn Rovers for the first time paid a visit to the great grand ground of Goodison Park on Saturday.  Barring Marshall, whose place was taken by Forrest, they brought their strongest eleven.  Everton on the other side, gave those two clever Combination lads, Elliott and McMillan, places, and right well did they deserve them.  Jones fell into Holt's place, and Perry once more figured for Everton as left half, vice Stewart.  This inclusion of the Combination left-wing did not weaken the attack, although Jones was only a poor substitute for the usual centre half, who was fighting near his friend Chadwick for his country at Richmond.  The Rovers, as is well-known, failed to score, whilst Everton put on four goals.  Little fault could be found with the Rovers' halves and backs, but not one of the front line exhibited their usual precision with the final kicks.  Their combination was very pretty and effective, and it was a great pity, after all their clever work, to see their hard-through efforts kicked away.  Walton should have stopped that long shot by Jones –a similar one that routed long shots by Jones –a similar one that routed Everton for the English Cup-and, besides, he did not warm many to him by his general display.  Williams, his vis-à-vis, was a hero; no better goalkeeping have I seen this season.  It was his day out, and all manner of shots, high and low, were dealt with by a master hand.  Parry, although he played and headed as usual, is not a half-back, and is of much greater service behind.  He is acquiring some questionable tactics in his tackling, which will lead, if not stopped, to serious results.  Boyle beat Bowdler continually, and yet to my mind the latter was superior to the ex-Hearts' right-winger, who could do little or nothing with Parry.  Campbell and Sawers were of the prominent, and it was wonderful how the latter played missed scoring on many occasions.  Howarth and Kelso showed a perfect understanding, the former treating the crowd to some ponderous kicks, and the latter chipping in at the right moment.  Forbes and Murray were very useful, but the latter missed sadly towards the finish.  Taken altogether, it was a splendid game.
The Wanderers at Goodison Park
A much bigger crowd assembled on Monday to witness how the Wanderers would fare with the Parkites, for the Evertonians were extremely anxious to wipe out the defeat at Bolton sustained on October 29th by four goals to one.  Gardiner was seen at centre half for the visitors, and much talked of and long expected Bell, of Dumbarton, partnered Latta, with Geary in the centre.  The result was another victory for Everton, who deserve a good word for winning two League games in three days.  The first half was much better contested than he second, for, after the interval, the Wanderers failed to stay the course, and were generally kept on the defensive.  It was here where Gardiner shone amongst the halves, and where all the knowledge of Sutcliffe, Somerville, and Jones was called into action.  The play was only four minutes old when Milward floored Somerville and Sutcliffe, neglecting to clear far enough, Latta easily roused the crowd to show their common congratulations.  The passing five of Everton (perhaps due to Bell, who soon fell in with the style of his brother "Son of the Rock") perhaps was never better, going in line down the field, and as serviceable as it was pretty to look at.  Generally owing to wing play did the Boltonians progress and once Gardiner gave Williams a handful from forty yards.  The game was very interesting and exciting.  Latta's centre (continually supplied by the new comer) being once had a beautiful chance of equalizing, but he threw it away by kicking astray, but Wilcox, who acquitted himself well right through, brought out the sterling abilities of Williams by a magnificent shot.  The outside right of Everton added a second goal, and apart from scoring two out of the three goals, gave everybody reason to talk of him with pleasure.  The day was so delightful, the air was so inspiriting, that everyone appeared through the influence of the genial atmosphere to be on good terms with themselves and others and they applauded every good move of the forwards, or the next chiming in of the halves, or the saving propensities of the backs and goalkeepers.  Holt's tactics to deceive Weir originated much merriment, and Perry's peculiarities was of the sterner kind, but just as humorous.  Now if we had had Pinnell in the centre the show would have been perfect!
Bell and Sutcliffe received a great ovation at half-time.  The former of his play, is a good capture; he knows how, when, and where to pass with foot or head, can play inside as well as centre, is fairly fast, and can shoot with either foot.  Sutcliffe saved his charge splendidly, and he had more difficult shots to contend with than Williams.  The home team allowed the Wanderers less liberties after the interval, and it speaks well for the defence that only one goal was added and that by Geary, the custodian being taken by surprise.  I fancy the backs impeded his view, and that he did not see it until it was in the net.  It must be acknowledged that Everton were stronger than their opponents, the Bolton attack paling before Holt, Boyle, and Parry.  The little man was always on the alert, and his heading away the crosses of Dickinson and Wilson was, to say the least of it, very good.  Boyle is unassuming, but very useful, but Parry is becoming too funny for a football player.  Jones and Somerville are two sturdy backs, the Welshman fighting very gamely with Latta.  Geary improved vastly on his Friday and Saturday's display, and with Bell next to him, should add a few more goals to his credit.  
Chadwick and Milward each received knocks and were consequently not quite up to par, although it might be questioned whether the latter was only "gamin."  The reappearance of Chadwick after his collision with Somerville was the signal for another burst of cheers.  The strong sun appeared to bother the Wanderers more than the home team, for Kelso and Howarth were more at home with Old Sol in their eyes than were Somerville and Jones and Everton won by 3 to 0, the people here still wondering how they let the English Cup fall from their grasp. 
LIVERPOOL CUP
Cricket and Football Field - Saturday 08 April 1893
By Richard Samuel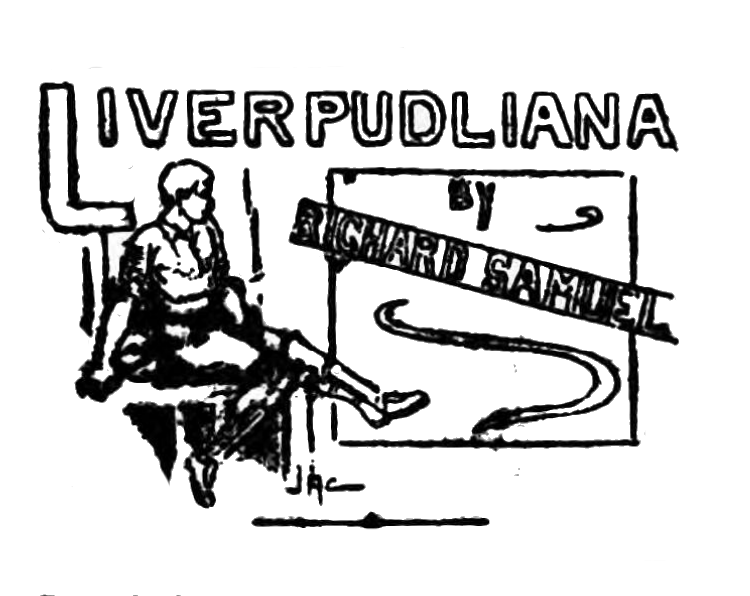 I understand the Everton executive have decided to run the Combination team for the trophy, and in that case some complications may arise, for it is very probable that Liverpool or Bootle will meet them with their reserve team, for there is no glory to be deprived in beating the Combination team, good as it is, and no profit whatever, for there is no division of spoils in the final.  In case this farce is carried out, what action will the Association take?  We have had to do with this sort of thing in connection with the Lancashire competition, and I should think the Liverpool Association will have a word to say in the event of such a thing happening.  Liverpool and Bootle play their tie on April 18th. 
BURNLEY V EVERTON
Cricket and Football Field - Saturday 08 April 1893
At Turf Moor today, in the presence of 8,000 spectators.  Teams;- Burnley; Hillman, goal; Nichol and Lang, backs; Mullienuex, Espie, and Livingstone, half-backs; Brady, Buchanan, Turnbull, Bowes and Hill, forwards.  Everton; Williams, goal; Kelso and Parry, backs; Boyle, Holt and Stewart, half-backs; Latta, Bell, Maxwell, Chadwick and Elliott, forwards.  Referee; Mr. J.Fox, Sheffield. 
The home captain won the toss and defended the bottom goal, thus having the advantage of a strong wind.  Everton were the first to become dangerous but Burnley at once got up and Williams saved splendidly twice in succession, but in the next attack the Everton goalkeeper was beaten with a fast shot by Buchanan inside five minutes, while directly after the home side got through again from fine work by the left wing.  The point was disallowed, and Williams saved a scorcher from Brady.  Everton then pressed hard, but the defence proved reliable.  Coming again Everton looked like scoring, but Mullineaus and Livingstone shone, from a free kick Burnley notched a second and gave series trouble Williams saving several times.  Everton became dangerous a time or two, Lang, Livingstone and Mullineaux being conspicuous, and Burnley taking up the attack once more found Williams more work, that player saving smartly three or four times.  The visitors got very near, and Hillman cleared magnificently amidst a storm of applause.  For some time Burnley kept their opponents on the defensive and gained fruitless corners all to no purpose.  At length Everton changed the venue without result Burnley quickly transferred the play and the Everton goal was hotly assailed.  In the breakaway bell was injured and had to retire just before the interval.  Then Bowes notched the third for Burnley, and the home team crossed over leading by three to nil.  Everton scarcely having a look in.  Bell was still absent. 
Half-time; Burnley 3, Everton 0
On resuming, directly after the restart Hillman had to save, while the Everton right got off nicely and centred well, a series of attacks being resultless.  Burnley put on desperate pressure and Williams got the ball away in clever style.  Bell coming on again Hillman had to clear.  Then Burnley maintained a long siege.  Hill and Brady sent in good shots, and Maxwell shot against the Burnley crossbar.  Play was then very even for some time.  Everton having somewhat the best of matters.  However, Burnley wrested corners and Turnbull sent against the crossbar.  Half an hour from the resumption there had been nothing scored in this half, and Everton was pressing.  Final; Burnley 3, Everton 0.
ENGLISH LEAGUE V SCOTTISH LEAGUE
Cricket and Football Field - Saturday 08 April 1893
Great Match at Glasgow
English league; W. Rowley (Stoke), goal; T. Clare (Stoke), and R. Howarth (Everton)(Captain) , backs; J. Reynold (West Brom), C. Perry (West Brom), and W. Needham (Sheffield United), half-backs; W. Bassett (West Brom), and Geary (Everton), J Southworth (Blackburn Rovers), H. Woods (Wolverhampton), and J. Scholfield (Stoke), forwards. 
Scottish league;- McLeod (Dumbarton), goal; Doyle (Celtic) and Adams (Hearts) (Captain) , backs; Beguie (Hearts), Kelly (Celtic), and Mitchell (Rangers), half-backs; Campbell, McMahon, and Madden (Celtic), H. McCreadie (Rangers), and Taylor (Dumbarton), forwards. 
Perry scored for England 15 minutes (1-0)
Geary scored for England 20 minutes (2-0)
Taylor scored in first half (1-2)
Half-time Scotland 1, England 2
Madden scored second half (2-2)
Geary scored (3-2)
Scotland (3-3)
England (4-3)
Full time; Scotland 3, England 4
NUGGETTS
Cricket and Football Field - Saturday 08 April 1893
What price Everton league for the Liverpool Cup
What that brickfield player that Everton is said to have given 5 pounds to as a retaining fee.
That shot goal allowed to Everton on Monday knocked all the steam out of the Wanderers.
That breach between Bootle and Everton is widening and deepening.  "Pity 'tis, ';tis true."
How many men in Scotland have signed for the "Toffee" club? What about Foyer, Adams, &c.
Geary left yesterday to take Goodall's place in the Inter-League match, and was to join Howarth at Preston.
Kelso and Forrest "lunged" out two final parting kicks that deserved to be chronicled as major points.
Elliott is thought to be very made in his play, but yet there is method, and much of it, in his madness.  Play up, Milward!
"Pa" Jackson was present at the Bolton v. Everton match and declared that "Kelso is the best right back he has seen this season."
If Bootle report Everton to the Association for not keeping their word with regard to the League team, Evertonians think they will be ill-advised.
What Evertonian allows Sunderland to be the best team in England, North End the second, and Everton the third.  Where do the Wolves come in?
Had Williams kept his charge as well at Fallowfield as he has lately at Goodison-rd, Everton would not now be bemoaning the loss of that Cup.
Levisthan crowds at Goodison Park for the Easter Holidays, but the great number of urchins make the corresponding decrease in the amount expected.
"Holt is a daisy" shout the Englishmen present, as the little wonder races through a crowd of his opponents and finishes up with a clinking shot.
Bicycles are not now allowed on Everton's ground.  Shame!  "Must be left at the tobacconists."  Charge, 2d, each.  Liverpool F.C. are not so exacting.
Latta was in Glasgow this week arranging with the Celtic for his benefit at Goodison Park on the 18th.  I understand the return match is not as yet definitely settled.
Nothing but sympathy is felt for poor "Watty" Campbell, and more especially now, when Mr. Love had him almost fit and ready for the field.  Here's to his return safe and sound.
Mr. Mitchell, of the Rovers, sat ill at ease whilst his pets were shooting anywhere but at the bull's eye.  The match with Everton was worth going miles to see-especially for the Evertonians.  Their own esteemed "Pa" thought the Everton ground the best in the county and asked why didn't the boys play like this (as against the Wanderers) at Fallowfield?  That's what we want to know.
You are very rich and powerful Everton, and it will be to your own, as well as Bootle's advantage, to find the tail as promised in Bootle's Town Hall.  Let not the ancient rancor return, but be together of the game winter sport.
Everton are extremely sore with the knowledge that a Bootleite rushed out of the pavilion shouting at the top of his voice, "Wolves 1, Everton 0," and that the crowd took it up.  They think they deserve better treatment for past favours.
Oh, sir! I long and sigh to be a football player, and receive all those nice big wages and presents which Evertonians get, not to mention noise stirring orations and demonstrative demonstrations as have fallen to Williams and Sutcliffe lately.
Some nincompoops and unrestrained upstarts have been telling Mr. Love-Everton's trainer- to go back to Scotland because his men, by the chance, failed to bring off the greatest cup of the season.  They want ducking in the pond.
The wanderers were short of dash and go at Goodison Park.
Holt played his usual International game against Scotland.
What do Everton think of Burnley's triplets?  They are fine and large.
There is every probability of a lawsuit between North End and Everton over the gate in the Lancashire Cup tie.
That was a funny decision of Mr. Stacey's when Everton scored the first goal against Wanderers with Somerville injured on the ground and one half of the Wanderers looking after him.
OTHER MATCH WITH EVERTON.
April 8, 1893. Chester Observer.
Two defeats that Chester inflicted on Everton Combination this season has caused much heart-burning among the Evertonians, and a third match has been arranged between the two teams, to take place at Chester ground on April 19.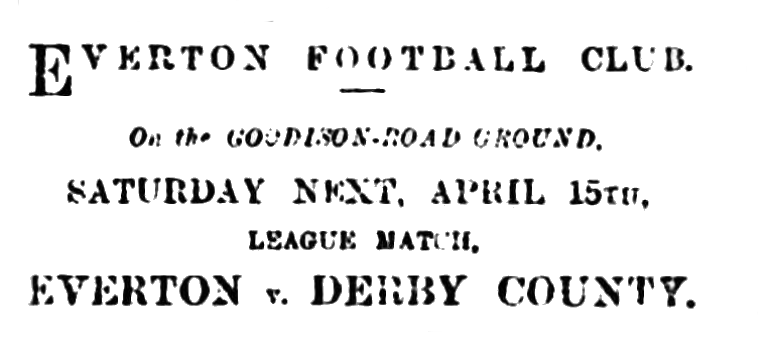 TODAY MATCH
April 8, 1893. The Liverpool Mercury
Everton are away from home again and visit Turf Moor, where they have a formidable task before them if they are to emerge with the success of their recent matches, as they meet Burnley in the deferred return League contest. Burnley it will be remembered, defeated Everton at Goodiosn Park on Dec, 24 by a goal to nil, since when the Turf Moor Moorities have done well, especially in their later matches as in succession they have recently beaten Preston North End, Sheffield Wednesday, Wolverhampton Wanderers, and Aston Villa, and it is evident that Everton will require to be very active and determined if they are to return home more successfully this evening than has been their general experience. Everton Combination will be in possession of Goodison Park, where they will try conclusions with Newtown, a team whom they beat in Wales, on January 21, by only 2 goals to 1.
Everton League v Burnley, Burnley, -kick-off at 3 p.m. The following will play for Everton; Williams, goal; Kelso and Parry, backs; Boyle, Holt, and Stewart, half-backs; Latta, Bell, Maxwell, Chadwick, and Milward, forwards,
Everton Comb v Newton, Goodison Park, kick-off at four p.m. The following will play for Everton; Rennie, goal; Chadwick and Collins, backs; Walker, Jones, and Jamieson, half-backs; Smith, Murray, Pinnell, Hartley, and Elliott, forwards.
Everton Football club and The Hospital Saturday Fund
A match in aid of the Saturday Hospital Fund will be played at Goodison Park on Wednesday next, between Everton (League) and Sheffield Wednesday), kick-off at six p.m. The Liverpool Police Band will be in attendance, and play during the evening. Tickets 1s, and 6d, each, can be had from members of the Hospital Saturday Committee and various places of business.
BURNLEY 3 EVERTON 0 (game 121)
April 9 1893. The Liverpool Mercury
This return League match, the last of the Everton away games for the season was played at Burnley on sayurday in fine weather and before 7,000 A fresh breeze blew from goal to goal. Crabtree King and McNab it will be seen from the appexed names were absent from the Burnley team, as were Milward, Howarth, and others from that of Everton, the teams being consistituted as follow:- Everton: Willams goal, Kelso, and Parry, backs, Boyle, Holt, and Stewart, backs, Latta (captain), Bell, Maxwell, Chadwick, and Elliott, forwards. Burnley; Hillman goal, Nicol, and Lang, backs, Mullineux, Espie, and Livingstone, half-backs, Brady (a), Buchanan, Turnbull, Bowes, and Hill, forwards.
Maxwell kicked off against the wind but Everton moved on the left, and Bell failing to take the pass the home team made an attempt to get away, but Kelso kicked hard into touch. Burnley then went down to goal, and Williams saved twice with his fist, despite smart work by Holt. Stewart next put out and Burnley, helped by the strong wind, got within range, when Buchanan gave Williams no chance with a long shot. Brady followed with a good aim, but this time Williams cleared. Burnley were not yet to be beaten off, and found their way into the netinformally. Everton their had a turn and kept play for some minutes well within reach of goal, but Burnley defended strongly. Maxwell returned and passed to Bell, who was brought down by Espie, but still the new man took a far aim. Mullineanx made a clearance, and a free kick being taken by Nicol, the ball was headed into the net. Burnley thus scoring 2 goals within a quarter of an hour of the start. Williams soon had to use his fiest twice to capiatl shots, whist Kelso especially kicked and headed grandly during this crisis. Williams a little later was just too quick for Hill, who was bent on turning a pass from the right wing to account. Espie assayed the next shot, which Williams parred, as he did a better one from Brady and Everton took a flying visit to the other end, when Bell missed a chance which Holt and Maxwell had opened up. Lang was again in requistion in tackling Bell, and Latta, and he did successfully. Espie also got in a useful kick, and altogether Burnley were more compelety on the ball than Everton, but the wind was a great assiatance to them, and they had another severe opnslaught, during which Kelso and Williams saved remarkably. Everton on clearing from a corner, rushed down, and Chadwick had a running shot which looked like taking effect, but Hillman threw himself for the ball in grand style and saved near the far post. The Burnley left wing all through had been playing an exceptonally fine game, and from their work men pressure was brough to near on the Everton goal, when Buchanan had a couple of meritorious shots, each of which Willimas shopped beautifully. A corner was also awarded the right wing, and this was followed by more good defence by Kelso. From one of the latter's clean kicks Holt helped the ball along, when Chadwick shot to high. Latta tried to get down but Lang beat him. Burnley clustered in front of goal again, and Parry headed a corner which Williams leared. A disater then befel Everton, as on Bell and Latta going strongly Bell was kicked by Lang and so seriuosly hurt that he had to be led off the field. Resuming with ten men. Everton were quickly thrown on the defence, Bowes scoring a rather easy goal. This brought up the interval with Burnley, in a strong lead by 3 goals to nil. Latta inaugurated the second half by taking long aim, which found Hillman in two minds, but he was safe, and kick away. Burnley replied by running in on the left, when it was seen that Kelso was limping, but he joined in promptly putting the Everton forwards on the offensive, they being about this time reinforced by Bell, who was cheered on making his reappearance. Burnley, however, rushed down on the right, and Turnbull was really dangerous until Kelso robbed him right in front of goal. Turnbull next missed a chance, but the home team swooped on goal again and once more Kelso bespoiled them. Bell, who was now playing outside to Latta, ran and shot grandly, Hillman just meeting the ball near the bar. Amidst much excitement, Burnley attacked powerfully, Hill and Buchanan each shooting spendidly. Bradley also took good aim. This was negotiated by Williams and Everton were seen to better advantage than they had hitherto, as arising from firm play Maxwell shot in straight Hillman jumping up to clear. Bell was not far out with an oblique shot, and a little later Holt got hurt, put resumed with play. A nice bit of passing by Holt and Maxwell and Chadwick was finished off by the latter placing wide of the mark. Everton kept operations within the home quarters but were not seen in good combination, and were seldon dangerous. Bell put high over the bar, and this effort was followed by Everton having to defend stoutly. They conceded a corner from which Williams fisted, but without clearing and it remained for Holt to rescue his side from a difficult situration. Hillman saved easily from Maxwell, who fired away again. This led to a throw in taken by Stewart which Hillman neutralised by running out. Chadwick then had hard lines with a brilliant shot, which exacted a corner and from now to the finish Everton were busy trying to reduce the Burnley goal, shooting well and forcing corners, but no opening for the ball was found, and the result was a win by 3 goals to nil for Burnley.
EVERTON COMBINATION 9 NEWTOWN 0
April 9 1893. The Liverpool Mercury
This return match was played at Goodison Park on Saturday, in the presence of about 3,000 spectators. The previous match had resulted in a win for Everton by 2 goals to 1. But now the affair was very one-sided. Newtown beoing defeat by 9 goals to nil. The teams were as followed.
Everton :- Rennie goal, Chadwick (a), and Collins backs, Walker, Oinnell, and Jamieson half-backs, Smith, Muuray, McMillan, McLaren and Hartley, forwards. Newtown:- Edwards (a) goal, Jones (dr), and Goodwin (r) backs, Tucker (h), Chapinson (t), and Rees (r), half-backs. Pryce-jones (wr), Evans (f), Pryce-jones (aw) Morgan (w), and Parry (w), forwards
LIVERPOOL DISTRICT AND NOTES
Athletic News - Monday 10 April 1893
By The Loiterer
Visitors to Liverpool this Easter have only fared indifferently against our clubs.  Of course, the victory over Bolton Wanderers on Monday was the event, and despite the fact that the Everton team was beaten at Burnley, they should come in for third place in the League table.  There was a big crowd at Goodison Park, and the day was a trifle too hot, but for all that the game was a fast one.  Bell, of Dumbarton, partnered Latta, and as he stepped on the field he was heartily cheered, as was every kick he made.  There is no mistake about it, he played a rare good game in the first half, for he fed his partner, Geary, with good judgement.  He was generally voted as an acquisition to the team, and considering that the homesters were nearly always attacking, and the result was favourable to them to the extent of three goals to none, the spectators fairly enjoyed themselves. 
The final for the Liverpool Cup is fixed for April 22, and promises to cause a little unpleasantness, as the Everton directors appear to think their reserve team good enough to meet either Liverpool or Bootle.  Of course, this is assuming that Everton reach the final, for "there's many a slip," &c.  Everton have everything to gain and nothing to lose, but I think the Liverpool Cup if worth entering for is worth competing for by a representative eleven, and I dare say the Liverpool Association will have something to say about it if the final is competed for by reserve teams.  Except in the matter of dividing the gates, the Liverpool Association behave handsomely, for the cup is a fairly valuable one, and the medals given are worth wearing.  So that there is no reasons why they should be snubbed, for it is nothing else, and I fancy they are strong enough to resist this treatment. 
BURNLEY'S S FIFTH VICTORY IN SUCCESSION.
Athletic News - Monday 10 April 1893
By turf Moor
After the fine form displayed by Burnley of late it was not surprising that the supporters of the club should feel confident respecting the outcome of the return League match with Everton, which had been delayed owing to the English Cup tie, Turf Moor. The weather was fine, and there was a good  attendance, some 7,000 or 8,000 spectators putting in an appearance. Neither club was able to place it full strength in the field. King, Crabtree, and McNab being absent from the borne ranks, while Everton were minus Howarth and Millward. A good deal of satisfaction was expressed, however, that the Burnley committee selected the same team which had won the two previous matches in preference to running the risk of playing at least one whose complete recovery was doubtful. The team had done so well that, even allowing that the eleven could have been strengthened—provided, of course, the men were fit and well—it would have been a pity to disturb an arrangement which had brought such happy results. The elevens were composed of the following players; — Burnley; - Hillman, goal; Nicol, and Lang, backs; Mullineaux, Espie and Livingstone, half-backs; Brady, Buchanan, Turnbull, Bowes, and Hill, forwards.  Everton; Williams, goal; Kelso and Parry, backs; Boyle, Holt, and Stewart, half-backs; Latta, Bell, Maxwell, Chadwick, and Elliott, forwards.  Referee; Mr. Fox (Sheffield). . Lang was in fortune's way, as he emerged from the tossing preliminary with the privilege of playing up the slope with a strong breeze. This suited the homesters in every respect, for they have a strong liking for breasting the slight hill, and then, as they had the additional advantage of the wind, it is not surprising that they at once assumed a very aggressive attitude. Before a couple of minutes had expired Williams put in two good saves, but the game was not more than three minutes old when Buchanan, getting the ball from a neat pass, shot a grand goal for Burnley, with which the Everton custodian had no chance. A few minutes later, Williams keeping out more shots in the interim, the ball was put through the visitors' posts, following a rather prolonged assault, but the point was disallowed, presumably for off-side. The home players were not to be denied, however, and they very soon registered a second. Despite almost continuous attacks on the Everton goal, Burnley could not score again for a long time - until, in fact, just before the whistle sounded for half-time, when Bowes did the trick. The Turfites had wrested several corners, and Williams had done splendid work, but, to say the least, the visitors were lucky that the margin was not a larger one, as the goal had some miraculous escapes, although, at the same time, the defenders are entitled to very high praise for keeping down the score, Kelso being especially conspicuous. While Williams had any quantity of employment, the home custodian had, as nearly as possible, a sinecure, only having two or three shots to stop, but one of his saves was worth undertaking a long journey to see.  He left his goal to assist in clearing, and while he was away Chadwick sent in a shot which everybody looked upon as a certain goal; but no, Hillman never knows when he is beaten—the more difficult the save the more he seems to be at home. At any rate, he got back with the greatest alacrity and cleared, but in achieving the exploit he went his whole length, and then got the ball away with his finger ends. The crowd were inclined to blame him for leaving his charge, but they quickly forgave him and cheered the feat to the echo. This was undoubtedly the finest thing of the match. The second half requires very little description. There was not much in the teams, but on the whole I think the home side had rather the best of the play in this moiety. The work of the goal-keepers was more equally divided. Both sides had some bad luck, but generally speaking the Turfites were the better team, and they richly deserved their fifth League victory in succession by three goals to none, the score remaining unaltered from half-time. In fairness to the visitors I should state that Bell was off a few minutes hurt, while Holt was also temporarily disabled. Coming to the individual players on the losing side, I must award the palm to Williams (who kept goal in champion style), Kelso (who kicked very cleanly), and Boyle and Holt, of the division more closely identified with the defence, and it was in this branch of the game that Everton were found by far the most work. Stewart was not quite so successful in the opening half, but he showed a great improvement in the closing stage; while of the attacking party, Chadwick, Maxwell, and Latta were the pick. Respecting the winners I cannot speak in any other terms than of the most unqualified praise. Hillman's one particular save was of the utmost brilliancy, and the remainder of his work, which was not very much, was well done. Lang and Nicol were safe at back; the trio of halves gave a very good account of themselves, with Espie, perhaps, for choice, while forward the left wing and centre did best. Hill being especially conspicuous all through, and notably for his placing of corners. The opposite wing did better than of late, Buchanan showing greatly improved form as regards shooting. The victory was well received, the players being heartily cheered on returning to the dressing-room.
EVERTON REVIEW
April 10, 1893. The Liverpool Mercy
Everton opened the past week brilliantly by defeating the Bolton Wanderers by 3 goals to nil, but finished it dimly with an inverted achievement, as on Saturday they fell at Turf Moor, beaten in turn, also by 3 goals to nil. A wide discrepancy surely, but it is this uncertainty that gives sport a charm. Everton on Monday performed grandly, for the Bolton Wanderers had won their six preceding League matches, including that with Sunderland. The easy manner in which Everton held the Wanderers in check came as an agreeable surprise even to many of their most uncompromising partisans. All round the tam had the advantage, but the department that served Everton more especially was that in command of Boyle, Holt, and Parry, each of this trio, in their varied style, being exceptionally effective in cracking the combination of the opposing forwards. The back play of Kelso and Howarth was not heavy, but it was good; whilst Williams cleared the comparatively few shots which were sent in to him in the same masterly way he did those of the Blackburn Rovers on the previous Saturday. The forward division, however, excited most curiosity, as in it Bell, Everton's latest recruit from Dumbarton, was to make his debut. He had for his colleagues Latta and Geary as his immediate supports, with Chadwick and Milward in possession once more of the left wing. The quintet soon settled down, and got into and maintained splendid combination, their passing being quick and sure, and their raids on goal solid. The shooting was hard and well directed as a rule, but left room for improvement. Geary's display was an advance on that of some recent matches and he and Bell got on well together throughout. Latta, too, seemed happy in the company of his old clubmate, and the right wing was the strongest, perhaps, that has done duty for Everton this season. Bell made a good impression for the first appearance, and as he has height and weight combined with skill he should prove a great acquisition. He put in one or two fine shots, one of which, though it was rendered abortive by the watchful Sutcliffe, fairly "bringing down the house" and the feat at once established him a favourite with the Evertonians. To be popular gibes responsibility as well as pleasure to the happy individual, and it is hoped that bell will remain at Goodison Park, and sustain the high esteem in which he is already held for several years to come.
Everton were fully alive to the fact that in tackling Burnley at Turf Moor, where they have won but one League match, they had a tough job on hand, and one which they undertook somewhat reluctantly. They remembered the roughness which characterized the play of Burnley when at Goodison Park on December 24 and on other occasions, and they were also aware that despite their too vigorous style Burnley were a smart team, in good form at present, as evident by the fact that they had in succession, within the last fortnight, won four League matches, notably that with Aston Villa on Tuesday. Everton had a strong team, for though Howarth and Geary were absence their places were confidently entrusted to Parry and Maxwell. Burnley were also without three of their usual men, but the substitutes were all good ones. The ground was in splendid condition, but unfortunately a strong wind swept from goal to goal. This Burnley had the assistance of during the first half, and so well did it serve them –or rather, so full advantage did they turn it to –that they scored 3 goals of the match before the interval, and thus won decisively. The smarter team was undoubtedly that of Burnley, who had matters nearly all their own way during the first half, and they would perhaps have won had they depended solely on science and obtained from so much man play. The Everton players complain of the kicks on the legs they received. Kelso and Holt were both hurt, but the most serious injury was that received by Bell, who was kicked near the knee so badly that he had to leave the field for about a quarter of an hour. It was during his absence that Burnley scored their third goal. Still, better things were expected of Everton, but it was not until near the finish that they played up to their reputation and then Burnley strengthened their defence. A few of the shots of the visitors were good, especially one from Chadwick but which Hillman literally flew at, and just managed to knock it aside, and particularly smart on the left wing. Hill being conspicuous all through. Holt and Kelso were the Evertonians of mark. Bell, like most of the other, cannot be complimented on his work; but it must not be forgotten that he had been trying hard with Latta to beat Lang up to the time of getting hurt. Afterwards he played outside right, but was, of course, handicapped through his injury.
BURNLEY V EVERTON
April 10, 1893. The Birmingham Daily Post
Pleasant weather favoured this contest at Burnley, and the attendance numbered nearly eight thousand. Playing with the wing behind them during the opening half Burnley speedily attacked, and though the strong breeze interfered somewhat with scientific play, two goals were soon placed to the credit of the home team. Afterwards the game was vigorously contested, but though the passing was good the shooting for the most part proved ineffective. Burnley, however, added another point despite the efforts of the Everton backs, and thus led at half-time by 3 goals to 0. Afterwards the game was very evenly contested. Bell, who had been injured, resumed his place in the field, but later on the game was interruption through an injury to Holt. The international half-back soon recovered, but try as they might the Everton players were unable to score. Frequent attacks were made on each goal but to no purpose, and the call of time left Burnley with a highly creditable victory by 3 goals to 0.
AINTREE CHURCH 1 EVERTON 7
April 12, 1893. The Liverpool Mercury
Liverpool senior cup semi-final
Teams representing these clubs met at the Hawthorne road ground last evening for the purpose of playing their semi-final tie in the Liverpool senior cup competition, about 1,000 spectators were present, at anticipated the match, proved one sided in the first half. Everton scored three goals from Murray gordon in the 21 minute and again from Gordon att the 30 minute mark. Everton scoring regular during the second half hartley with three,, elliott and Jones for aintree scoring when seven goals to nil. And collins as concede a penalty , however the everton cutodian saving this spot kick. Everton winning by 7 goals to nil. Aintree church team was, Gratton, goal, killip, and hughes, backs Taylr Jones (a) and Gorman, half-backs, Shaw (j), Meakin (f) Jones (c), Roberts, and Jones
SHEFFIELD WEDNESDAY V EVERTON
April 13, 1893. THE Sheffield Independent.
Charity match, on behalf of the Liverpool Hospital, was played yesterday between the above teams in fine weather on the ground of the latter. The attendance numbered over 7,000. Punctually to time the teams was faced as follows:- Sheffield Wednesday:- Allan, goal; Darroch and Mumford, backs; Brandon, Shepherds, and Chalmers, half-backs; McIntosh, Davis, Brown, Brady, and Woolhouse, forwards. Everton: - Jardine, goal; Parry and Kelso, backs; Stewart, Holt and Boyle, half-backs; Elliott, McMillian, Geary, Maxwell, and Latta, forwards. Shepherd kick-off, and each half was the scene of action in turn, but Brady was successful in getting through and made for Jardine, but he was foiled by Parry. The left wing then got possession, and passing over to the right, Latta sent in a good shot, which Allan saved well. This was shortly after followed by a fine screw shot from a good effort to save. Sheffield next made for the Everton goal; but without any good result, and the Homesters again got possession, Maxwell nearly scoring. The same player immediately after came with a warm shot, which had every appearance of going straight into the net, but Allan made a magnificent save, and was loudly cheered. The visitors pressed, and Jardine saved a good shot from McIntosh, and after a little give and take Brown had a shot at goal. But the ball went well over the crossbar, and again another attempt was made at Jardine's charge, but he was able to clear, play for a little time was taken to Wednesday's half, where Allan was called upon repeatedly to defend, and a shot sent along by Geary was too much for the Wednesday custodian. The venue was shortly after this again changed, but Half-time arrived before anything further was done, and Everton lead by two goals to nil. Restarting, Sheffield were soon prominent, putting in some splendid play. Eventually McIntosh got possession, and passed over to Brady, who sent the ball through in nice style, this being the first goal for the visitors, who from this point appeared go with considerably more dash, with the result that very shortly afterwards McIntosh again got; possession, and, with a similar movement over to the left wing, Brady added another goal to the visitors score. The homesters, seeing how matters were going, began to press and run down on the left wing resulted in McMillian passing to Latta, who shot clean into the net. The game now assumed a give and take character for a short period, but being anxious to get on even terms Sheffield, by the aid of McIntosh, endeavoured to get through, but failed. They, however, soon after got a slight advantage, and Woodhouse sent a warm shot, which Jardine failed to top. Both sides tried to get the lead, but were unable, and the game ended in a tie – Everton 3goals, Sheffield Wednesday 3 goals.
EVERTON 3 SHEFFIELD WEDNESDAY 3
April 131893. The Liverpool Mercury
Hospital Saturday funds
The Everton executive determined to maintain their enviable distinction at the most generous of clubs, provided a very attractive feature in their programme last evening which was witness by about 6,000 specatators. Previous to the match taking place, the Liverpool constainlary Band gave a spendid selected of music and upon retiring they received a hearty round of applause . Everton won the toss and when the referee signalled the start the teams were- Everton : Jardine, goal, Kelso Parry, backs, Boyle, Holt, and Stewart half-back. Latta (captain) Maxwell Geary,, McMillian and Elliott, forwards
Sheffield Wendnesday, Allen goal, Brown (j), and Mumford,, backs,. Hall, Shepherd and Calmers, half-backs, McIntosh, Davis, Brown (r), Brady (a) and Woodhouse, forwards . It will be noticed that neither team was at its full strength but nevertheless a very fine game ensued, Sheffield excelling in passing, which at time was overdone wjile Everton's play was of a more solid description and generally more effective. Brown kicked off, but the home halves rushed the opposing forwards and Latta securing obtained a corner very in the game, Allen being called upon to clear. Scientitic play by Sheffield brough the Leather in front of Jardine, but the emerged from a severe test with honours. Elliott raplied on behalf of the home team with a fast run and fine centre, which Latta just failed to turn to account, but the latter plays immediately retrieved his former miss by scoring with a grand shot. A lengthed period of even play followed, and then Allen exhibted spendidly judgment with two terrific shots, which it appeared impossible to stops. However, before half-time arrived Geary had added's a second point. The visitors went off with a rush on re-opening, and after Kelso had stopped his opponents once, Woodhouse centred, and Bradyscored Holt not being on the field when this goal was obtained. The Sheffield had now rather more of the play, as a little later on a second point was scored by them from a free kick. This state of affair did not seem to suit the Evertonians and a heavy bombardment of Allen's charged took place. Eventually Latta was able to convert, by a piece of dashing play. An overhead shot by McMillan, which feat was greatly applauded as it deserved, to be. In no was daunted Brown led his men towards Jardine and but for excellent half-back play the visiitors must have scored. As it was Sheffield increased their total to three and thus a pleasant game-full of neat and intersting points. But lacking the fierceness of a League match-fittingly concluded in a draw of three goals each.
TODAY MATCH
April 15, 1893. The Liverpool Mercury
Everton and Aston Villa are equal in points for third place. Each has a match for today, so that if one should win and the other lose, the positions will be influenced accordingly. Everton have the best chance of improving their record, for they meet Derby County at Goodison Park. Everton v. Derby County, Goodison Park, Kick-off at four o'clock. As selection will be made from the following to play for Everton; Williams, goal; Kelso and Howarth or Parry, backs; Boyle, Holt, and Stewart, half-backs; Latta, Bell, Geary, or Maxwell, Chadwick, and Milward, forwards.
Monday
Tranmere Rovers v Everton, Engineers' Parade Ground, Birkenhead, Kick-off at 5.45 p.m. The following will play for Tranmere Rovers;- F. Baxter, goal; W. Price and J. Mordan, backs; D. Clow, T. McChray, and G. Sheridan, half-backs; W. Williams, J. Spencer, H. Baedsley, T. Fish, and C. Roberts, forwards.
Everton League v. Newcasle United, Goodison Park.
Tuesday
Everton v. Celtic, Goodison Park (Latta's benefit)
GOODISONIA
Cricket and Football Field - Saturday 15 April 1893
By "Black Rock"
To swell the Hospital Saturday Fund the League team from Sheffield were invited last Wednesday, and surely for the eighteen charities, which tends to alleviate, temporarily or permanently, 182,831 patients (as was done last year), a larger gate than 4,000 was undoubtedly expected.  Only 35 pounds was taken in hard cash, but as the tickets were pretty wildly distributed, it is to be hoped that the team of charities will have close on 100 for the deserving cause.  Before the kick-off for the hour's game the Liverpool Constabulary Band, under the conductorship of Mr. Crawley (never mind his initials), brought forth to the present sweet recollections of picnics and athletic festivals of the past.  For half-an-hour the most expected (and we have many of that ilk here) watched with more than ordinary pleasure the more than usual –in friendly match – interesting incidents that occurred, drawing them away, for the time being, to a field of labour wherein one plays his part, and works to live.  Neither club had its beat representatives present, yet the absentees, especially in the visitors case, could scarcely have been improved upon.  Both elevens offered and sustained a sturdy defence, both sets of halves unwrapped themselves in a luscious halo, but the visiting vanguard, by a closer and better defined understanding, outshone the home quintette as far as the eulogistic and spontaneous exclamations of the musicians were concerned.  Indeed right through the sixty minutes they (the police) paid impartially the usual honours to those who succeed.  R.N. Brown made a most admirable centre, and with clever Brady on his left, and the tricky and go ahead Davis on his right, reminded one of North End's palmy and almost invincible days.  Nor must I forget Woodhouse and McIntosh, the former displaying skill worthy of the Spikesley whose place he so worthily filled.  Holt was oftener beaten than in his custom, but what can a half do under such expressive combination?  Kelso, Parry, and Jardine had many anxious moments, and the first named gave another sample of hi still being a first-class footballer –some of his kicks finding a lengthy space in critical moments.  Everton's famed reserve wing added little to their glory, and Geary, when fairly distributing, earned praise, but invariably succeeded not, when the spirit prompted him to individuality.  Latta and Maxwell were really good and pleasing, the right winger behaving as if for his benefit, and the partner as true in his passing as he is known to be game.  It was unfortunate he had to retire from an injury to his thigh soon after the immediate turn round.  Shepherd is a hard and tough centre half, who allowed little harm without paying with interest.  His display as a feeder would satisfy the most voracious.  Allan was not so tried as Jardine, and he departed to Sheffield without loss of much prestige.  Although the result was a draw of three goals each, Sheffield showed the better football, took more interest in their work, delighted better the crowd by their display, and were rather unfortunate in not adding one more win to their list of successes. 
LIVERPOOL CUP
Cricket and Football Field - Saturday 15 April 1893
By Richard Samuel
What with Cup ties and charity matches, there is scarcely a day but what we have a game at one or another of our grounds.  Aintree Church made a gallant fight of it with Everton in the semi-final for our Cup.  The expressed intention of the Everton Club to reply on the Combination team to bring this Cup to Goodison Park has given rise to much comment.  This is right enough in its way, but surely they should bestow a thought on the clubs who have done quite as much for the game as the Everton club, and if the clubs are not in so flourishing a state as Everton there is no occasion for the rubbing in process.  As I have said, Aintree Church made a good show against the Combination teams on Tuesday evening, and there was nothing like six goals difference in the play.  Fully half an hour elapsed before a goal came, but the Everton men had certainly much more of the play than the Aintree lads, but do what they would they could not get in a point, and as time went on the Everton supporters began to get a bit anxious.  When once the scoring began it was kept up, and the interval found Everton leading by three goals to nil.  The juniors had much more of the play in the second half, but good work in the open was spoiled by indifferent shooting, and the splendid defence of Chadwick, Collins, and Jardine.  The youngsters were too anxious when in close quarters, and though they shaped all right up to what should have been the crowning point, it was thrown away.  Even from a penalty kick they failed, but just before the close a goal came.  The Everton men were much more successful at goal, for with the game ruling even they put on four more goals and won by seven goals to one. 
Latta's Benefit
Latta takes his benefit on Tuesday evening next, when the Celtic club will play Everton.  It is bound to be a rare fight, and Latta has been fortunate to get such a strong combination as the Celtic club, which includes no fewer than seven internationals.  I trust the Liverpool public will show their appreciation of the services rendered to the Everton club by Latta by turning up at the match in their thousands.  Latta, as a Scotch International, holds Welsh and English caps, nine inter-county caps, and 18 medals.  Madden, McMahon, and Campbell, of the Celtic are now considered the cleverest trio in Scotland. 
Items McLoughlin has received his papers from the Bootle club.  A deputation waited upon the Everton directors to see if a date could not be found for the clubs to meet this season.  Charity matches seem to be "off" at Goodison Park, as only a poor gate witnessed the match in aid of the Saturday Hospital Fund.  The combination team would have to show different form to that against Aintree Church to win the Liverpool Cup.  I hear that it has been decided to run the League team in the final. 
EVERTON V. DERBY COUNTY
Cricket and Football Field - Saturday 15 April 1893
Everton played their last league match at Goodison Park this afternoon, before 10,000 spectators.  Teams;- Everton; Williams, goal; Kelso and Howarth (captain), backs; Boyle, Holt and Stewart, half-backs; Latta, Bell, Geary, Chadwick and Milward, forwards.  Derby County; Robinson, goal; Methven, and Leiper, backs; Cox, A. Goodall, and Hickinbottom, half-backs; McLachlan, Bloomer, J. Goodall, McMillan and Little, forwards.   Much interest was excited when J. Goodall started, a cross wind blowing.  Everton at once won a corner which proved abortive.  Both ends were visited in turn, Geary raising a cheer with a long try.  Milward and Chadwick raced down in combination, winning a corner, from which Geary headed through.  Archie Goodall next outwitted Holt, but shot over the bar.  Derby won a corner, and Williams had to fist to clear, and the next minute also from McLaughlin- a grand save.  Too much dallying on the part of Everton spoilt many good openings.  J. Goodall and his inside partners exhibited pretty passing, but Boyle sent them back, and Milward added a second goal with a terrific grounder.  Everton had much the best of matters, Methven and Leiper defending well.  Kelso brought J. Goodall down when on Williams, clearing the foul gained.  Both custodians saved twice, and each of the Everton forwards had more than one shy without success.  Half-time; Everton 2, Derby County 0.  Final; Everton 5, Derby County 0.
NUGGETS
Cricket and Football Field - Saturday 15 April 1893
Alec Latta showed some discrimination in engaging the Celtic Club for his benefit.  The return is a week later.
Burnley fainty surprised Everton on Saturday, and Hillman showed that he is not far behind any goalkeeper in the country.
Aintree Church mulled that penalty kick with Everton-the first one, I believe, ever given against the Combination champions.
Liverpool people are anxiously waiting the turn of events in the final tie.  Will Everton insist on playing their Combination team?
Mr. Roche has still a great liking for local talent, and declares that Sam Parker, of Landsdowne, is even better than Elliott, of Everton.
Mr. Clipelton tells me that he intends next season to place before the Goodisonian patrons such a programme that will make all its predecessors blush.
Hope Robertson and McLoughlin will no longer be heard of with Bootle F.C.  The reason given is that they absented themselves continually from training. 
There was an exodus of Everton pressmen early in the second half.
Everton had two or three players absent, and so had Burnley.  On that score they were quits.
Stewart did not obey the injunction of the Burnley crowd, and it was not the first time he has disobeyed either.
Didn't the spectators at Turf Moor remind Stewart of the fact that he was there.  They told him to give the ball to Jimmy.
Everton people, though their misconduct, have lost the final for the Lancashire Cup.  Perhaps they will behave themselves in future.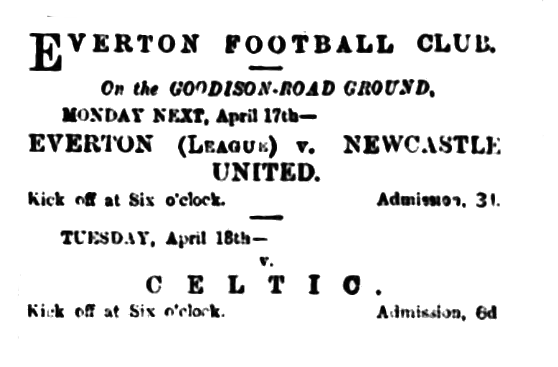 ANOTHER TO THE STRING OF SUCCESSES
Cricket and Football Field - Saturday 15 April 1893
By Busy Bee"
People nowadays are taking in Burnley about the bold front which has been assumed of late by the Turfites, and the question is often asked "How far off the top of the League would Burnley have been if they had only begun the season as they are winding up?"  Of course, this affords no end of speculation, but the problem is beyond solution.  That Burnley would have been nearer everybody agrees.  The precise position differs according to different persons.  There was every confidence in Burnley that Everton would knuckle under for the third year in succession, and the sequel shows how well founded was that confidence.  The team which had succeeded in beating the Wolves and the Villans were entrusted with the task of breaking another record by vanquishing Everton for the second time in one season, and right well did they acquit themselves.  There were many in the town who wished to see Crabtree make his re-appearance in the team, and I believe that player was anxious to take part in the match, but the committee thought it best to leave well alone, mainly, I believe, because they did not feel over-sanguine as to Crabtree's complete recovery.  In view of the good form displayed by the half-back line on Saturday last the committee have had a thankless task before them in selecting the team to face, and, I hope beat the champions.  Whatever they did they are sure to fall foul of somebody.  But to the Everton game.  Profiting by the toss, which enabled them to play uphill, with the strong wind at their backs, the Turfit's soon made matters hot for the visitors as after Williams had given a foretaste of his abilities he was beaten twice in about five minutes, but one of the points was not allowed to count.  The first was got by Buchanan with a splendid shot, and if that player would only keep up to his shooting in this match he would increase the number of his friends.  About ten minutes later the second was notched, but despite almost continual bombardment of the Liverpool fortress the third was not obtained till just before the interval.  Williams kept out numberless shots, and but for his activity Burnley must have plied on a heavy record.  The home custodian had practically nothing to do – that is, if I except one clearance, which was without doubt as brilliant an achievement as ever fell to the lot of any goalkeeper.  Hillman was away from his charge when a fast low shot was sent in, but the burly guardian rushing back as though his very life were at stake got to the goal in time to save it, though he had to throw himself all his length and then only reach the sphere with his finger ends.  During the second half there was little to choose between the forces, and had not Burnley got the best of the closing phrases, Everton would have been justly entitled to any consolation they could find from being credited with the best of the argument.  Both goalkeepers had a fair share of the work of defence, and they just about divided it.  Nothing was scored in this moiety, so that Burnley ran out the winners by three goals to mil-a verdict to which they were fully entitled.  Of course, Burnley were fortunate in winning the toss, and playing with the wind, but then Everton had their chances during the second stage, though its force had abated a little perhaps.  The visitors were fairly and squarely defeated and the victory was in every sense satisfactory to the home supporters.  Should Lang's men wind up by defeating the Wearside cracks, they will have finished up their programme in a brilliant manner.  As it is they have beaten all previous records in the League – their own records of course-though the notching of eight League points in as many days is an achievement which few, if any clubs can surpass. 

GAME CANCELLED.
April 15, 1893. Chester Observer.
In view of the important Cup-tie with Crewe on Saturday, the match with Everton combination, which was to be played next Wednesday at Chester, has been cancelled. It now rests with the Everton committee to give Chester another date.
EVERTON 5 DERBY COUNTY 0
April 16, 1893. The Liverpool Mercury.
This the last of the Everton League matches was brought to a definite issue Saturday at Goodison Park, be fore 10,000 spectators. The teams turned out as follws:- Everton willams, goal, Kelso, and Howarth (captain), Boyle, Holt and Stewart, half-backs, Latta, Bell, Geary Chadwick, and Milward, forwards. Derby County:- Robinson, goal, Methven, and Leipiar, backs,, Cox, Goodall (a), and Higginbottom, half-backs, McLachan,, Bloomer, Goodall (j) Little and McMillan forwards.
Howarth having won the toss, elected to play with the sun at his back and J Goodall giving the initial kick the ball, was at once carried towards the Everton goal, where Holt fouled, but the free kick being badly taken allowed the Everton forwards to race away, Mathven conceded a corner, which Leipier cleared in such an excellent manner as to bring himself at once into prominence. The Derby left, receiving from A Goodall dribbled a short distance and centred , and Howarth only just nipped in time to save. Everton now began to assert superiority and after Bell had propelled a very weak shot Geary topped the bar with a beauty. Returning to the attack the Everton forwards making most of the opportunities obtained a corner, which being spendidly taken by Chadwick resulted in Geary heading through the first point, after ten minutes play. In no way disheartened Derby played skilfully, and threatened Williams several time, But Howarth generally managed to clear all attempts. Geary then endeavoured to beat Goodall, but was outwitted, and the latter shot over the bar. Being nicely fed by Boyle, the home right and centre sailed along in taking style, and Geary slipping though his opponents gave an easy chance to Bell, who mulled in a most inexpicable fashion. Determined not to allow Everton to have too much of the game. A Goodall with a hugh kick, sent out to McLachan and Williams had to save twice in succession, one from Bllomer being a close shave. Stewart next sent on to Chadwick, who in his usual style dodged two or three opponents and crossed over to Latta but Liepier returned the latter's centre to midfield, which being well met by Boyle, was punted forward to Milward who rushed up and scored the second goal with a low fast shot. A period of even play followed, in which the backs of both sides had most to do, and then Latta stretched himself a bit, and by superb play gave both Bell and Geary grand chances, both of which failed to reach the desired destination. After a pronlonged interval, the Everton centre got in a shot which cox fouled, but danger was removed, and a brief visit was paid to Everton quarters. Howarth defending extremely well. stewart then dribbled smartly and sent over to Latta who called upon Robinson to handle, a performance. He repeated severaltimes within a few minutes, and then the Goodalls were in unenviable prominence for a couple of wretched shots. Spendidly play and judgement by Stewart led up an attack, and Latta passing to Geary enabled the centre to notch a three point. He immediately supplemented this success with a supreme effort worthy of a better fate, the only reward being the inevitable applause. Although confronted with so great a score the visitors exhibted any amount of dash and were unforunate in not scoring, a curious decision of the referee awarding-after a sustained consultation- a throw in instead of a goal, the ball having been not through by Bloomer. A corner was the next item of importance, and A Goodall made a mertitorious effect with his head. Boyle raised the siege, and it was not long before Latta had put on a fourth from a clever pass by Milward, which being one of the finest pieces of play thown was greatly cheered,, as the shot deserved. Everton won by 5 goals to nil.
GORTON VILLA 0 EVERTON COMBINATION 1
April 16, 1893. The Liverpool Mercury
At Gorton. The home team, which included several local lads, a played a grand game, but were unfortunate in front of goal. During the second half Everton managed to score once. The home team played up afterwards but misfortune again met their final efforts. Result Everton 1, Gorton Villa nil.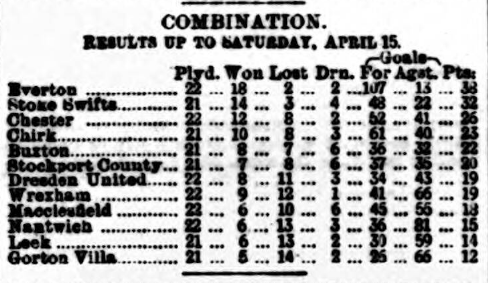 EVERTON REVIEW
Aoril 16 1893. The Liverpool Mercury
The importance of the last League match at Goodison Park was recognised by the assembling of a large crowd to withness the home team emphasise their right to be third place of honour in the League tourney, despite the one-sidedness of the score a fine game ensued, and if the Derby forwards had property used their opportunitie, and had a less capable custodian to face than Williams, the score could not have failed to be more even. The visitors showed a excellent in every subject but goal getting. Taken on the whole they had nearly was much of the game as their opponents, William played a perfect game and the manner in which he treated himself out of one crucial period was well worth seeing. Howarth rather outshone his compattion Kelso, and saved in first class style throughout, and the way he defeated the speedy right wing against him showns that he is still one of the finest of backs. Kelso was eased of a lot of work by the really superb and judicious play of Boyle, but when pressed was never found waiting, and by his charging Everton were certainly saved a certain goal. At usual the three halves were in great form, and it was to their untiring cleverness that Everton gradually assumed such a tremendous lead. Boyle's brilliancy was indeed a treat, and was lavishly noticed throughout the game. Holt was not up to his usual pitch in the first half, but regained his form later on, and was then a veritable thorn alaways. Stewart also gave a very effective exhibition. But was better in the attack then the defence. Chadwick and Milward were the left wing of old, some of their touches fairly rousing the whole crowd. Geary was brilliant at times, but the very careful way in which he was attended to when near goal prevented him sustaining his fine shooting form; as it was he obtained two capital goals. Latta did a lot of good and heavy work, but was not assisted, as was expected, to any great extent by Bell. The latter player seemed out of his element on Saturday, as he was robbed with ease, and often his passes to Latta were not of the first water. Derby County have got a very fine team, but the two most important matters to be attended to are a more reliable goalkeeper and improved scoring proclivities among the forwards. Liepier was the best of the backs, his strong and safe kicking being a noticeable feature. A Goodall and Cox were about on a par in the first way division, being very clever tacklers and skilful dribblers. The whole of the forwards showed remarkable spitutude in passing and dodging, but lacked the most important feature when near goal. J Goodall was hurt, and did out little afterwards.
EVERTON V. DERBY COUNTY
April 17, 1893. The Yorkshire Herald
At Liverpool, before 12,000 spectators, in beautiful weather. Goodall started and Everton were soon on the aggressive, Geary adding the first goal from a corner. Milward followed shortly after with a second goal, while Geary had hard lines for a third. Everton having all the best of the play, Half-time score; Everton 2 goals to nil. Derby County played up well on resuming, but Geary scored, and Everton pressed towards the finish. Result; Everton, 5 goals; Derby County, nil.
EVERTON V DERBY COUNTY
April 17, 1893. The Liverpool Daily Post
An immense crowd assembled on the ground of Everton, at Liverpool, to see the home club play their fast league match of the season with Derby County, the spectators numbering some 12,000, and the contest was favoured with charming weather. The play was of an extremely interesting character, though Everton had decidedly the best of matters. Fifteen minutes from the start a corner was awarded to Everton, and, on the ball being centred, Geary succeeded it through the visitors' goal. Continuing the pressure afterwards, two hard shots were sent in, in quick succession, by, which Robertson had to exert himself to the utmost to save; and very soon Milward put on a second goal for Everton. Subsequently Derby County made great efforts, and the play was a little more even; but at half time Everton were leading by 2 goals to o. After the change of ends the game became very one-sided, Derby County being quite outplayed. Geary scored a third goal for Everton, and before the finish Latta put on 2 more, Everton winning by 5 goals to 0.
LIVERPOOL AND DISTRICT NOTES
Athletic News - Monday 17 April 1893
By The Loiterer
We had football on four days out of the six last week, and there is ample evidence that this number will be kept up to the end of the season.  But the interest is waning.  Tuesday saw Aintree Church and Everton fighting in the semi-final for the Liverpool cup.  I was surprised at the form Aintree showed, and the play does not warrant the result, which read;- Everton, seven; Aintree, one.  The play during the period Everton scored the most goals was, if anything, in favour of Aintree, but the lads when near goal lost their heads.  Sheffield Wednesday paid us a visit on Wednesday evening to play a match for the benefit of the Saturday Hospital Fund.  The attendance was not large, but I should say the sate fetch £50 or £60.  The game, I though, was a good one, but no game, unless it is a League match, suits the palate of some people.  There are lots of these individuals knocking about Everton, but I should have thought the play was robust enough- certainly it was good enough- to satisfy anyone.  The Sheffield men played well at all times, and a draw of three goals each hardly gives them their full credit.
This is the time for signing on players for next season, and the Everton people are quietly doing their work.  Newcastle United are supposed to have some men that are good enough, and they will be on view tonight.  The Everton people do not stand at trifles either in the matter of price or the feelings of other club who suffer.  Poor Ironopolis have been watched, but I think the man wanted was not good enough.  Money will fetch anything, and it will be unsparingly used to keep the club in the foremost position.  Tomorrow evening we shall have the powerful Celtic club down, and the meeting of the two clubs is bound to end in a good game and a close result.  They travel from Edinburgh tonight, so that they will be in good trim, and with the full team up we expect to see a splendid game of football.  The kick-off is timed for six o'clock. 
EVERTON FINISH WELL
Athletic News - Monday 17 April 1893
By The Loiterer
There is no mistake about it, the Everton club have done better in their League engagements than at one time seemed possible.  They began indifferently to badly and have finished splendidly.  At Christmas it looked long odds against their being third in position, for they were down amongst the last four or thereabouts; but so close has the competition been this season that a win or two enabled the club to jump up into quite a respectable position.  And there is this to be said of them, when once in possession they stuck, and now at the end of their engagements they are in third place.  Derby County wound up the League tournament at Goodison Park, and though the weather was fine, the match did not attract a big gate, as gates go at Everton, although there would not be quite 12,000 people present.  From the following list it will be seen that each side had a good eleven up, the players being as follow; - Derby County; - Robinson, goal; Methven and Leiper, backs; Cox, A. Goodall, and Hickinbottom, half-backs; McLachlan, Bloomer, J. Goodall, McMillan, and Little, forwards.  Everton; Williams, goal; Kelso and Howarth, backs; Boyle, Holt, and Stewart, half-backs; Latta, Bell, Geary, Chadwick, and Milward, forwards.  Johnny Goodall kicked off, and for the first 10 minutes the game was even.  The players thus early on did not show a disposition to get their backs down, and there was consequently very little enthusiasm shown by the spectators.  In midfield both sets of forwards worked well, but when near goal they were weak.  This was especially so with Bell, who somehow could not do the right thing at the right time.  It was the same with the rest, only he was the centre of attraction.  However, from a corner, Geary headed through, and right away Derby had a shy at the Everton goal only to find Williams at his post.  Without enlarging on the game this player had a lot to do with the result.  Except for the last 15 or 20 minutes the game was even, but during this period Everton had the best of it and scored two goals.  In all, the Everton men obtained five to none, a big total for a League match.  As regards the play the score hardly gives an outsider a true reflex of the game, but, all the same, there was no mistake as to which was the better team.  No one will begrudge the Derby men a certain amount of cleverness, and give them credit for having above their share of bad luck at goal.  But, putting the play of the two teams alongside each other, and gauging it accordingly, there is no question as to which victory would come five times out of six.  The afternoon's play consisted of a series of very clever movements in midfield, with disappointing results in the scoring department.  Even the five goals scored by Everton ought to have been augmented, and up to ten minutes from the close the scoring, considering the play, was poor.  Both teams seemed be it only on getting goals on principle that is, earning them; and, taking the game from this standpoint, the score should have been much smaller, for the visitors had a cleverer custodian than their own to face, and, besides, they experienced hard lines on two occasions.  The weather, perhaps did not favour energetic football, for really the only bit in this line was furnished by Milward.  And it was a grand effort.  He worked through his men in quite a refreshing manner, and only just missed the goal at the finish.  With the exception of this movement there was nothing to excite enthusiasm, although the play was frequently characterized as beautiful and clever.  In this way the Derby men were often congratulated, but generally a faulty pass took the gilt off the performance.  Robinson, in goal, was no great shakes, but the two backs did clever work throughout the proceedings.  Cox and Archie Goodall were often effective, if not brilliant, and with the forwards only poor in front of goal, the team did not do at all badly on the Everton side.  Williams kept goal well, and of the two keepers, I should think he did the better work, for what came his way needed skillful handling.  The defence of Everton was superior to that of Derby, and if anyone is deserving of praise it is Boyd.  Throughout he played a grand defensive game, whilst his placing was at all times judicious.  Forward Bell was given every chance, but did not do at all well.  Geary, too was bested often, and only Latta displayed an aptitude for getting goals.  This was late in the game, and I should say that Milward made the best of what came to him.  Chadwick was always good, but from a scoring point of view he was not at his best. 
EVERTON V NEWCASTLE UNITED
April 18, 1893. The Birmingham Daily Post
At Liverpool. Sorby kicked off for Newcastle, and the opening play was even. Then Gordon scored, points following from Hartley, Gordon, and Milward. Half-time Everton 4, United 0. Upon resuming the United had the better of the play for a time, but ultimately Gordon shot a fifth goal. Near the finish Collins scored for Newcastle, Crate following suit, and the match ended Everton 5, United 2.
EVERTON 5 NEWCASTLE UNITED 2
April 18 1893. The Liverpool Mercury
The second meeting of these teams this season, the former hame having ended in a win for Newcastle by 4 goals to 2., took place at Goodison Park last evening, these neing only a moderate attendance of spectators. Everton placed a strong team in the field, including Lindsay late of Stockton Sorley started on behalf of the United , but play opened in favour of Everton, Bell having a couple of shots, both passing over the bar. The United right then made play, but the shooting of their forwards was weak and they were kept from scoring. Bell, Hartley, and Gordon made repeated incurators to the United territory, and then Gordon opened Everton's scoring account. After this some warm play ensued in front of Whelton who saved shots from Parry, Bell, and Hartley. The efforts of the United were spasmodic and Hartley put on a second goal for Everton, and the Gordon struck the post, but got a third goal a moment later. Holt shot in, but Wheldon fisted out, and Reay and Crate raced to the other end. Walker however, was playing a particularly good game along with Holt at half, and repeatedly checked the advances. Parry took a free kick, and from the Gordon headed a fourth point for his home-side. Play continued in favour of Everton, who led at half-time by 4 goals to nil. Hartley restarted on behalf of Everton, whose advance was checked by jeffrey, and the United had a turn at the Everton goal, Jardine saving a weak shot from Sorley, Bell and Gordon made a raid on the Newcastle goal, but Jeffrey and McKane defenced well and drove these out. Midfield play followed, and the ball was sent over the bar from a free kick taken by McKane. Everton at this juncture was playing rather cistlessly, and in consequence Newcastle were constantly hovering round their goal. Jardine saved a rather difficult, shot from Reay, but on the whole the shooting of the visitors was very weak and they were unable to score Hartley dribbled well down the centre, and Gordon shot a fifth goal, the ball going right out of Whelton's reach. Reay and Crate were the beat. If the visitors forwards, and made repeated raids on the home goal. Parry, however, was in exceptionally good form,and stopped dangerous rallies in capital style. Milward was hurt and left the field ten minutes before ''time'' Everton thus playing one short. Just before the finish the United scored, Crate adding a second final result:- Everton 5 goals; Newcastle United . Teams Everton:- Jardine, goal, Parry, and Lindsay backs, Holt, Stewart, and Walker, half-backs, Chadwick, Milward, Hartley, Gordon, and Bell, forwards. Newcastle United :- Wheltton, goal, Miller and Jeffrey backs, Creilly, Graham,and McKane, half-backs, Reay, Crate, Sorley, Wallace, and Collins forwards .
EVERTON V. CELTIC
Latta's Benefit
April 19, 1893. The Yorkshire Herald
At Everton, yesterday, in glorious when play commenced, at six o'clock. The game ruled very even and interesting character throughout the first half, McMahon and Kelly being prominent for the Celts, and Latta and Williams for Everton, and goals were frequently visited, but no score had been made at the interval. The Celts played ten men nearly all the second half, which proved interesting. Result;- Everton, two goals, Celtic one.
EVERTON 2 CELTIC 1
April 19 1893. The Liverpool Mercury
.A Latta's Benefit match.
Alec Latta one of Everton's most popular plarers, who is just completing his fourth season's enagement took his benefit last evening, and being fortunate in securing fine weather was gratified in seeing a large crowd, numbering about 12,000 present as well merited recognition of his worth. The teams were - Everton; Williams goal, Kelso, and Howarth (capatin), Boyle, Holt and Stewart, half-backs, Latta, Bell, Geary, Chadwick, and Milward, forwards. Celtic; Cullen goal, adams (Hearts of Midlothian) and Reynolds, backs, Maley, Kelly, and Dunbar half-backs, Towie, Blessington McMahon, Davidson, and Campbell forwards. Latta of course had a good reception on making his entry on the field, which he acknowledge. Celtic were the first to be aggressive the left wing moving down cleverly. But the ball lifted over the bar. Geary forced his way down, and Milward shot well, but went behind. Bell soon followed by screwing across the face of goal,, a fine effort which deserved better reward. The visiting left wing were again in evidence, and drove across when Holt cleared out the attackers, and Latta got the ball under control, sending in a beautiful shot which Cullen stretched out to neutralise in brilliant style. Everton were seen to great advantage at this period, and on the right wing putting over to the left Milward essayed a terrifically hard shot, which would have been difficult to stop but it went too high. Kelly put in some fine touches as centre half, and thus enabled his forwards to reach the goal, but Towie made poor use of a pass and shot wide and high. In striking contrast to this weak play, Milward received the ball from Latta and shot up in grandly , missing the mark by a mere trifie. The Everton forwards combined well, and had much the best of play, but Bell was slow in taking the ball for a final shot. Geary was cheered for the clever way in which he ran round kelly, but nothing came of the raids which followed. A delay then occurred in the play owing to Reynolds, in trying to dispossess Bell, receiving an accidental kick, but he did not leave the field, Latta went down twice, when he was checked by Reynolds the first time, and gave to Geary the other, the centre's shot being wide. Kelly created a division, and danger to Everton was experienced clearance coming from a weak long shot by the right wing, which Williams easily negotiated. McMahon was charged down smartly by Stewart , but Celtic returned with renewed power, and Williams had one or two very difficult shots to attend to, using his fists brilliantly, A corner was conceded, which Holt nullified. The pressure however, was sutained by Celtic, and then Howarth came to the rescue of his team. Play was lodged at the other end shortly afterwards, when Latta shot straight, but too skyward. Geary drove in along the ground whilst Bell banged the ball against an opponent. Chadwick likewise tried his skill, but he put over the bar. The game genorally ran the ball was never allowed to remain long at either end. Once Bell headed into Cullen from a long pass by Chadwick but he was ruled off side. Then Williams fisted out cleanly from Bleesington, and with a flying visit by Geary, which was cut short, the interval arrived with nothing scored. Soon after resuming Williams was hard put to, but came out of the trying oredeal most satisfactorily., and in reply Chadwick was given a chance by Milward, and made a very good use of it as he shot narrowly over the bar. Williams were soon called upon again, this time by the Celtic left wing. He was safe as usual, and Everton took up the attack with much persistency. The defence, however, was quite equal to the emergency-in fact the defensive tactics of both sides were a conspiculous feature of the teams. Towie at length shot in beautifully, but found Williams in readiness to clear, and then play tended in favour of Everton, Milward shot the ball hard into the end stand, but in a few minutes a free kick fell to Everton. This was entrusted to Stewart who tipped the ball to Milward, and the latter drove into the net thus scoring. The Celtic defenders,, evidently thinking the free kick was being taken by Milward, allowed the ball to go into goal without attempting to arrest it, and Everton's success was received with cheers and laughter. The home team now played with renewed energy and combining compactly, were repeatedly menacing goal, Bell was conspicuous in some pretty play, but Kelly baffed him before he could shoot. Then Chadwick shot in, and Bell was very near rushing the ball into the net. Chadwick screwed into Cullen's hands. Everton could not be held in check, and had not the defence been so strong several goals must have resulted from the powerful onslaughter and grand shooting. On behalf of the Celtic, it must be recorded that Maley had retired some 15 minutes from the start of the second half. Nearing time Geary passed to Bell, who gave Cullen no chance with a hard low shot, and immediately on restarting from the centre, Holt foulded McMahon, who had his revenge by scoring out of play arising from the freekick. The visitors then survived severe tussle in the goal mouth, followed by Geary slemming the bar by a shave and when the whistle sounded, the result of a grand game was-Everton 2 Celtic 1.
EVERTON V CELTIC
April 19, 1893. The Birmingham Daily Post
At Liverpool. Geary kicked off, and play was interesting, both goals being visited. The Celtic had some narrow escapes of scoring, Kelly playing grandly, while Holt was also in capital form; and nothing was scored up to the interval. McMahon restarted, Williams twice saving grandly for Everton. Then Milward scored for Everton from a free kick, and Bell added another point. Towards the close McMahon scored for Celtic, who were defeated by 2 goals to 1.
GRIMSBY TOWN 2 EVERTON 2
April 21 1893. The Liverpool Mercury
Played at Hull yesterday evening before 3,000 specatators. The proceeds were for the benefit of Grimsby Town Football club. Grimsby kicked off and had to defend,, McMillan after fine play scored for Everton, who led at the interval by a goal to nil. In the second half Elliott scored for Everton and crawford and Fletcher for grimsbt, the game ending in a draw of 2 goals each.
GRIMSBY TOWN V. EVERTON
April 21, 1893. The Hull Daily Mail
It is not often that a good Association match can be witnessed at Hull, but those who assembled on the Holderness-road ground last evening were treated to a fine exhibition of the dribbling code. Grimsby Town and Everton were the opposing teams, the latter being in this year's final tie for the English Cup. It was shortly after the advertised time when the players entered the arena, there being about 3,000 spectators present. The following were the teams;- Everton; Rennie, goal; Lindsay and Parry, backs; Latta, F. Walker and Jamieson, half-backs; Reay, Murray, Hartley, McMillian, and Elliott, forwards. Grimsby; Whitehouse, goal; Ogilvie and Lundie, backs; McHardy, Graham, and Morrill, half-backs; Mullen, Crawford, Ackroyd, Fletcher, and Riddock, forwards. Amidst a round of applause Grimsby made the initial move, and Graham and Morrill took the leather well into the Everton territory. Their progress, however, was stopped by Reay and Murray, who raced the ball down the field, the former heading it through, but Grimsby appealed for offside play, and the referee would not allow the point. A minute or so afterwards Reay again put the ball through the sticks, but his off-side tactics caused the referee to disallow this point also. Lindsay and Latta got the ball away, but for foul play the Everton men were penalised. This did them little harm, as Walker and Jamieson rushed finely down the field, and some capital play was witnessed near the Grimsby goal. For a long while Everton aggressed, and lost easy chances to score. Lundie and McHardy at last cleared and good work by their forwards transferred play to the opposite goal, and when the Fishermen appeared to have a good chance, Lundie kicked foolishly, which ended in a bye. The game was exceedingly fast, each goal being in turn threatened. After scrambling play McMilloian scored for Everton, who led at the interval by 1 goal to nil. The latter portion of the contest was grandly exciting. Everton were successful in register in another goal, and then Grimsby set to, Crawford scoring their first point after splendid shooting. The Fletcher scored remarkably, thus equalising; and Grimsby are to be complimented on being able to draw with a team as renowned as Everton.
GRIMSBY V. EVERTON
April 21, 1893. The Yorkshire Herald
At Hull last evening, before 3,000 spectators. The proceeds were for the Grimsby Football Club. Grimsby kicked off and had to defend. McMillan scored for Everton, who led at the interval by a goal to nil. In the second half Elliott scored for Everton, and Crawford and Fletcher for Grimsby, the game ending in a draw of two goals each.
GOODISONIA
Cricket and Football Field - Saturday 22 April 1893
Everton in Their Last League Match
By "Black Rock"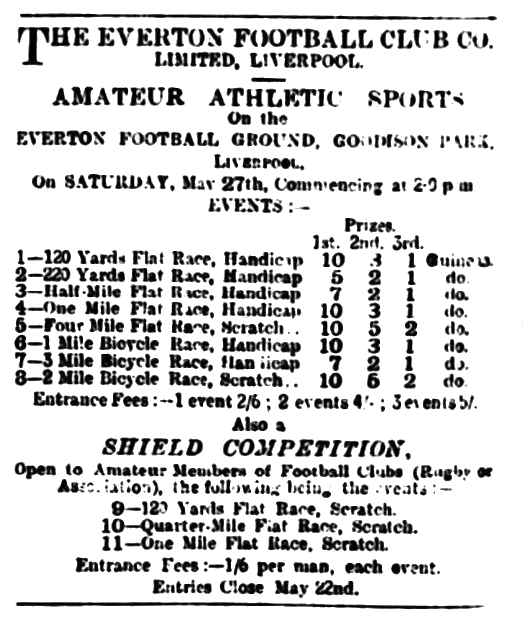 Not more than 12,000 – a small number for Goodison Park-saw Derby County retire defeated in a minority of five goals. Judging the play as a whole, a difference of two or three points would have better represented the merits of the contestants than the actual score, as "Johnny" Goodall and his crew found themselves often in front of Williams, with apparently easy chances to find a small opening in the 5 square yards of space.  But the cool custodian was ever ready, and kept such a good goal that the visitors themselves afterwards praised his performance.  Notably, Archie Goodall (who is well-known here for playing with Stanley when the writer was the captain of the team, and afterwards with Everton) and the right half-Cox, gave their front five every advantage, but apart from the acknowledged three most responsible defenders-Kelso, Howarth, and Williams –they impressed more than one with an over anxiety to hit the net, and were consequently cleared, or cheated themselves.  "Johnny" Goodall treated the spectators to some individual brilliance, and was once on the point of dribbling through –shooting seemed to be useless-when Kelso rolled over him.  Holt was always a thorn in his side, laying on him, and stickling to him like a leech.  The consequence was he went outside left in the second half, where he fared no better before the very useful and improving Boyle.  Five to nil is a meritorious victory, and the end of the League battle sees Everton two steps from their goal of ambition.  Now, if they had begun as they ended, they would no doubt have had something to say to Sunderland as to who were the champions.  A last test of strength between the two this season will be afforded to Liverpool patrons on the 29th.  It should be worth seeing.
Latta's Benefit.- Visit of the Celtic
For their length of standing I should think that no two clubs have done more for charity in their various cities and elsewhere than the organisations which met last Tuesday at Goodison Park.  This was but the second visit of the Glasgow Club to the second city of the Empire-away Glasgow –and the occasion of meeting was for the benefit of the reliable and straightforward player - Alec Latta, who has, for four seasons, shown his ability here and which fortunately does not appear to be on the wane.  The popularity of Alec was proved by the fine crowd – in numbers and positions-fully 12,000 welcoming the visitors in honour of the true Scot.  The evening was beautiful from a spectator's point of view, but rather warm for those who slacked not their pace, nor relinquished their efforts.  Doyle was absent, Adams, of the Hearts partnering Reynolds.  Their usual halves –Maley, Kelly, and Dunbar –appeared, but there was a mixture among the forwards, McMahon in centre, Davidson (reserve), and Campbell on the left, with Towie, and Blessington on the right.  The home lot had their best men out, including Bell and Geary. It may be described as a splendid exhibition of scientific football from the first poll of the ball to its cessation, and it was relished with that true zest that the cultivated enjoy.  It was a game that men did nothing else but praise, and that ladies followed in delight –marred only by an early accident to Reynolds by Bell.  It was such a show that even trainer, of North End (who had a seat behind us), regretted its termination before its time.  Of the pressure indulged in the home team did the most, yet there was not superiority (when we consider Adam's accident, and Maley's enforced leaving soon after the interval, although one goal was scored when he was present), that the narrow result 2-1 indicates.  The good feeling evinced by the players free from rough, undue, and questionable tactics, extended to the spectators, who gave the Irishman "cead mille faithe" from their appearance their initial dexterity, to the ringing down of the curtain.  The home forwards as a body worked more in harmony than the Celts, the wings being slightly better, and to the purpose.  But the passing of the visitors' central three, the towering light of McMahon ever beaming, was more defined and regular then Geary, Bell, and Chadwick.  The halves were about equal, but one could not help but admire the brilliance of Maley against the trickery of Milward and Chadwick.  Both sets of backs were firm, sure and pleasing.  Adams doing a tremendous amount of work in a polished manner.  Williams was but once beaten, and who could have prevented it, as after Bell added the second for his side McMahon got the ball from the result of afoul, and by an uncommon piece of twisting, back heeled it beautifully through the coveted space.  The opposition of Holt to the last named player was often the source of attraction, and yet I have not seen him beaten so often, and in so clever a manner.  It was wonderful to watch Kelly's dashes and activity. He is truly a great half for a veteran.  Indeed all the players of both sides shone often, Kelso having more work than Howarth.  The return is down for Tuesday next, at Parkhead, and many must wish they could but manage to see it.  I do.
Items
An unusually strong eleven of Everton meet Bootle at Hawthorne-rd, next Tuesday, and Bootle will leave no stone unturned to send them home defeated.  A very mixed team of Everton beat Newcastle United last Monday by 5 to 2, Lindsay, of Stockton, a youth of 19 years, making his debut for the home team at the Park.  I am told the directors were fairly well pleased at his performance.  Mr. J.D. MacMurray deserves the thanks of Bootleites for his eloquence in arranging the game with Everton.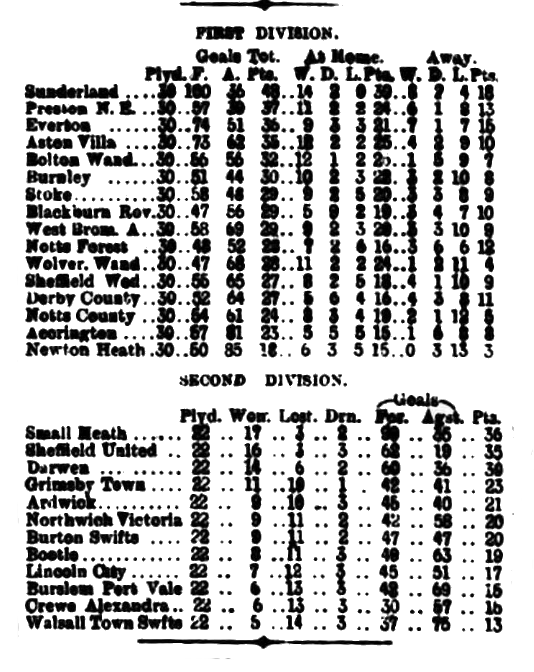 LIVERPOOL CUP
Cricket and Football Field - Saturday 22 April 1893
By Richard Samuel
Liverpool now meet Everton in the final which takes place today, and the result will be found in another column.  The Everton club are bringing Renton down to Goodison Park, and on Monday last Newcastle United were playing at the same ground.  Of course the Everton club may be within their rights in arranging these matches to clash with the Liverpool Association cup ties, but in doing so I fail to see where the high-flown sportsmanship which is constantly put before us by the Everton executives comes in. 
Latta's Benefit
This match was originally fixed for the 17th instant but so as not to interfere in any way with it the Liverpool Association decided on the semi-final being played on the following night.  As things turned out the Celtic could not come on that date, but so as not to deprive this deserving player of nay support whatever, the cup tie was put down for the 17th, when lo and behold the Newcastle United are brought down on this date.  Now on which side does the qualities of a sportsman lie?  Here we have the Liverpool Association showing by their willingness to accommodate true sportsmanship and actions in this, as most other things, are the only true test of sincerity.  As to the composition of the teams today's cup tie there are various rumours flying about, but I was informed by one of the Everton executive last week that they would play their first team.  This can be twisted any way you like, but I am inclined to favour the proposition that they will give those members of the two teams that have not yet received a Liverpool medal the chance of winning one, in which case the team will be a fairly representative one. 
Liverpool League
I am pleased to notice that the Everton Executives are taking an interest in our representative junior matches, for Mr. Leyland paid a visit to Whiston on this occasion. 
EVERTON V. RENTON
Cricket and Football Field - Saturday 22 April 1893
At Walton. Renton made their bow before a very small gate but two short of their best eleven.  The home team had a mixed lot, Lindsay, late of Stockton, and Reay, of Newcastle United, appearing. Both goalkeepers saved in the first five minutes.  Then nice passing between Chadwick and Bell ended in the latter shooting over.  Everton chiefly pressed, Lindsay saving very often.  Glen then nearly scored for Renton enjoyed many chances near Jardine.  The game was rather slow, due to the lazy day, neither side over-exerting themselves.  Play was conspicuous of the visitors, but their forwards were on the whole poor in front of goal.  Lindsay saved very cleverly from Geary and Chadwick and Jardine was but once tested.  Amidst cries of "Play up," Everton all but scored.  Half-time, Everton 1, Renton 0.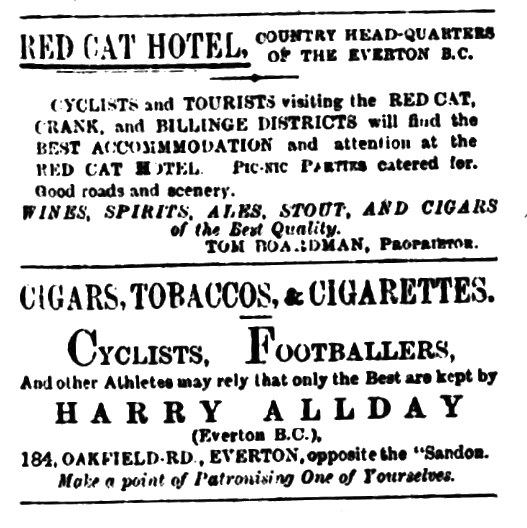 LIVERPOOL CUP FINAL TIE
Cricket and Football Field - Saturday 22 April 1893
Liverpool v. Everton
At Bootle, before 8,000 people.  With exception of Holt, Boyle, and Williams, Everton were represented by the Combination team whilst Liverpool were fully represented.  Playing with the wind Liverpool had much the best of the opening play, and Williams had several shots to stop and keeping up the pressure McBride hit the cross-bar.  It was rarely that the Everton men crossed the half-way line, but Boyle and Holt played a grand defensive game.  At length a free kick put Everton in possession and McEwan was tested.  However, Liverpool continued to have the most of the play, and M. McQueen hit the bar.  Presently Everton had more of the game, but most work was done in the Everton half, and Wylie eventually scored.  Liverpool continued to press, and led by one goal to nil at the interval.  Final;
Liverpool 1, Everton 0.
NUGGETS
Cricket and Football Field - Saturday 22 April 1893
North End are only one point over their dear friend-Everton.
Everton beat North End both on the field and the committee-room.
Goodisonians must please not shout at Liverpool-the team may break.
Everton, after Sunderland have scored the most number of goals in the League.
Latta was the recipient of a great ovation, and better still- a good bag of shekels on Tuesday night.
Goodisonians are now at war with Bootle and Liverpool –to the loss of the latter clubs, undoubtedly.
I am disgusted to think that a big man like McMahon should threaten little Holt, and in Glasgow, too.
500 pounds, said the Celtic president, will not bring Doyle to Everton next season. He is too comfortable to leave Glasgow.
Was that an unrehearsed incident when the Everton toffee lady presented "Alec" Latta at half-time with a sample of her wares?
"Jim" MacMurray was as diplomatic, courteous, and civil to the Everton directors as became himself and cause.  But B-should have said less.
Heard off Everton ground.  "It was well worth a tanner to see that big Irish son of a sea cook with his head down walking through his opponents"
Allow me to thank you Everton, for your goodiness in allowing Bootle two-thirds of the gate next Tuesday, and may your third be equal to some halves.
The general verdict of the Everton v. Celtic match is that it was one of the best games ever witnessed; pure science in all its branches, holding the people spell-bound.
Trainer (unassuming as ever) witnessed the Everton v. Celtic display, and was delighted with the game and with the performances of his old pal –Kelso and Howarth.
The local cup semi-final realized only 36 pounds and yet this amount put the Everton v. Newcastle United entirely in the shade.  Were the patrons thinking of Latta' benefit. 
You remember your respected "Mickey Free" Will he still takes more than a private interest in the winter sports in both Liverpool and Everton.  Reference –his neighbor, Mr. Mahon.
Kelso and Howarth will take a lot of beating at present, judging by the fact that neither the Rovers, Wanderers, nor Derby County could score a point.  Of course Williams has had something to say about this.
As Latta was on his rounds in a public-house on Derby-rd with his tickets a little ragged hearing that the famed Glasgow's club was coming to Everton, exclaimed with much "I must see the Celts!"
Frank Brettle, Gibson &c were at the Sandon last Monday.
They will not want that agreement drawing up at Everton for George Ross of Bury, now.
Notwithstanding the promises of his international by Everton's representative, George Ross has remained loyal to his club.
All the bright gold of Everton did not induce George Ross to leave Bury.  Don't go through Heywood, next time, Chadwick.
A certain Everton forward who was disporting himself at New Brighton evidently thinks himself a gay Lothario.
TODAY'S MATCH
April 22, 1893. The Liverpool Mercury
With Associationists, however, the most interesting stage locally is reached, as the final tie down for decision this afternoon of the Liverpool Senior Cup. This important event is to be fought out between Everton and Liverpool, and very appropriately at the neutral ground of the Bootle Club. It is the very irony of fate that these two clubs should be thus thrown together after having designedly kept apart hitherto for well understood reasons. They are the divided representation of the old Everton club, and having taken rival side on a matter of policy, are in strong competition for local prestige, almost to estrangement. However, they meet at last, and the issue of their first contest will be watched with great interest. Everton are holders of the cup, and will not readily part with its possession. They will thus depute a strong team to champion the cause of the club. It may not be the most powerful at their command, but it will be one in which they will place confidence and one which it will be not derogatory for Liverpool to tackle. Everton are in the happy position of being wealthy enough to engage some thirty first-class players. They cannot all be selected for local cup honours, and the plums are to be liberally distributed so that several deserving players who have not hitherto been deputed to play in a final tie are to receive their reward. This seems equitable without any slight upon the opposing club, but it has not given satisfaction in all directions, though no doubt the play this afternoon will justify the course proposed. The Everton Club, however, have launched a rival attraction at Goodison Park, as another good team will there encounter Renton, which scarcely secure a judicious arrangement, for the final struggle for the local trophy should be all absorbing for the day. But the die is cast, and the public will make their choice between the match at Hawthorns road or Goodison Park.
Everton v. Renton, Goodison Park, Kick-off at four p.m. The following will play for Everton; Jardine, goal; Lindsay and Parry, backs; Walker, Holt, and Stewart, half-backs; Reay, Maxwell, Geary, Chadwick and Bell, forwards.
Everton v. Liverpool, Hawthorne-road
Monday
Everton v. Preston North End, Goodison Park
Tuesday
Everton v. Sheffield United, at Goodison Park
EVERTON V CHESTER
April 23, 1893. The Wrexham Advertiser
At Chester, on Saturday in a heavy snowfall. In the first half Carter and Fleming scored one each for Chester, and Pinnell and Murray made the score level for the visitors. Before the interval, however, Everton were deprived of the services of Campbell and Pinnell, both being injured. In the second half Chester rushed a third, and Lewis shot a fourth for them. A fifth came from another rally and Ashton scored a sixth. Final; Chester, 6 goals; Everton Combination, 2 goals.
EVERTON 1 RENTON 1
April 24 1893. The Liverpool Mercury
This fixture on Saturday on account of the greater counter attraction at Bbotle, did not succeed in drawing to Goodison Park more than 2,000 people. The team were not at their full strength, although Everton had the assitance of their three new men each of whom filled his place with marked success. Renton, winning the choice took adavantage of the fierce sun, and when Geary started the game, the teams were as Follow:- Everton:- Jardine, goal, Lindsay, and Howarth (captain), backs, Stewart, Walker, and Parry, half-backs, Bell, Chadwick, Geary, Maxwell, and Reay, forwards. Renton; Lindsay,, goal, McGregor, and Mccoll, backs, Tait, Allioson, and Glen, half-backs, Mathieson, Kelso, ball, Mccoll and Duncan, forwards. Everton were the first to open the attack Chadwick winning a friutless corner. The Renton forwards replied with good combination and Mathieson round upthe movement by shooting into Jardine hands. The Everton forwards kept the Renton defence ever in the move, and Maxwell Geary and Chadwick, each ion turn tested the defence. Lindsay spendid work and judgement by Glen shook orr the homesters, and then Maxwell lifted to high to score. From a foul near goal, Glen sent in a scorcher which all but scored. Then McGregor then pulled up Bell, but Geary securing dashed off, and on being tackled wisley put over to Reay, who in turn sent to Maxwell, and that player earned applaused for securing a really good goal. Everton had Slightly the best of the game after this, Reay in particularly centring in accurate style, but they were unable to score goials again before half-time. The sulriness of the atmosphere caused a lengthen but yet excumable absence and when the players got to busniess again Renton showed themselves to a great advantage. Bell the visitors centre reaugurated an attacking movement, Duncan and McColl also combining, and from ma fine pass from the latter allowed Mathieson to run up and equalise in less than a minute from the restarting. Everton then by a series of throw-ins obtained a footing in Renton's quarter, but a strong kick by McColl gave relief, and Kelso and Ball broke the home defence, the former skimming the bar with a trimmer. The game continued of almost even naturn, although Reay and Bell nearly scored in two occasions, but the defence of Glen, McColl and Allison was so good that the game terminated in a draw of 1 goal each.
LIVERPOOL DISTRICT AND NOTES
Athletic News - Monday 24 April 1893
By the Loiterer
Liverpool and Everton managed to steer clear of each other until Saturday, when the Liverpool Cup brought them together, and it was only to be expected there would be a good attendance. The scene was an animated one, for the Bootle ground is not adapted for a big crowd, and I should think there would be quite 9,000 spectators. The feeling, of these present caused some boisterousness, but, taking all things into consideration, they behaved splendidly, and favours were pretty equally divided. The Everton team was not a strong one. In fact, with the exception of Williams, in goal, and Boyle and Holt, half-backs, it was the Combination team that did duty, whilst Liverpool, with the exception that McOwen kept goal, had a full team up. The game itself was a warm one, and Liverpool won by one goal to none. That the score was not heavier is due to the splendid way Williams kept goal.  In the first half Liverpool pressed for fully thirty-five out of the forty-five minutes played, and only once during this period were the Everton men really dangerous. At the other end there was always something interesting going on, but although the pressure was pretty continuous, Williams had not a great amount of work, but what he had came awkwardly, and the way he cleared several shots was really  fine. The otter parts of the defence was always employed during this period, and the lot came out very well.  Boyle and Holt, of course can always be depended upon, but, though they were the most serviceable, Coyle, Collins, and Chadwick were very energetic and made no mistakes, and this is very good, for they had not much rest.  It was a long time ere Wyllie scored, but when it did come the goal was a good one.  Before this the Liverpool men had very hard lines with two shots which struck the crossbar, and as far as the play had gone there was only one team in it, and that was Liverpool.  The second half opened in a promising fashion for Everton, for the game had not been in progress long before Gordon sent in a beautiful shot, which McOwen could not properly get at, and how the goal was saved is a mystery.  But it was, and of what hard lines were knocking about in the remaining portion of the game, the Liverpool men suffered most.  In this half the game on the whole was even, with Liverpool always more fight in them, and they certainly had more chances at goal and made far better attempts to save than their opponents.  The Everton forwards were about as weak as could be, and, with the exception of Gordon, made no more impression on the Liverpool halves than a lot of schoolboys.  Whatever combination was attempted was easily smashed up, and but for those long shots from Gordon and others from the half-backs, Hannah and Mclean's positions would have been sinecures.  With time going on, and leading by one goal to nil, the Liverpool team men did not hurry themselves, and did not hesitate to kick out, but although such proceedings did not add to the interest in the match, no one can blame them.  I can tell you matters were kinder exciting as Everton won a corner, and the referee took up his position on one side of the goal-posts, watch in hand.  I may as well say that time was up before the corner was taken, but taken it was, and landed beautifully in front, when up jumps someone and the ball is knocked out.  For this Everton claimed a penalty kick, but I am confident Arthur, the referee, saw no "hands" as he was intently looking at his watch.  Things were getting lively, for the crowd evinced a disposition to come and argue the point with him as he went to each linesman to get their opinion.  Some few minutes were wasted in this manner, and I suppose he compromised the matter in his own mind, and threw the ball up in the goal mouth, and eventually McQue came through the ruck of players with it at his toes, and all was over, Liverpool winning by one goal to none.  But it appears the game will have to be played over again in the committee-room, for Everton have laid a protest on account of the general incompetence of the referee.  If that is the ground of protest I can only characterize it as utter bush.  I watched the game closely, and thought Arthur did fairly well, and for a Cup tie his decisions were accepted by the excited crowd in a most impartial manner, I have given my version of the incident, and the matter will be dealt with this (Monday) evening. 
Latta had a great benefit on Tuesday evening, and I should think he will net a considerable sum as the result of the match with the Celtic.  He is a deserving player, and I think his services have been duly acknowledged by the Liverpool public.  Of course the match itself was a great attraction, and deservedly so; but I cannot put the play on the same level as that which we were treated to on the occasion of the visit of the Queen's Park.  Then the excellence of the play was general, but in the Celtic match it was the individuality of three persons who raised the game so high in the estimation of the Liverpool public.  McMahon was the shining light, and I certainly give him every credit for his splendid play in the centre, a position said to be new to him, but I rather think it was his position in the Hibernian team.  He undoubtedly gave us a splendid exposition of centre-forward play, but the performance of the other forwards was only medium, and not anything like so good as our own.  Maley and Kelly also played finely, and considering Reynolds was hurt early on, and Maley off for the most part of the second half, the Celts did well to only be a goal behind at the finish.  Tomorrow Everton play them a return in Glasgow, and the cost of the journey will form Latta's portion of expense in connection with his benefit. 
EVERTON V. RENTON
There was not a very large crowd at Goodison Park on Saturday to witness the trail of skill between the Everton League team and the Renton goalkeeper, had a tremendous lot to work to do, and performed in a very creditable manner.  Shortly after the restart Mathieson headed a goal for Renton, subsequent to fine work by the left wing.  During the remainder of the game the play of the Everton men was ragged, and in consequence the Renton men showed to advantage.  However, nothing further was scored, and the match thus ended in a draw, one goal on each side having been scored.  Lindsay, the new Everton back, and also Reay, gained many friends by their display; but Bell was at times disappointing.  The Renton men were very quick on the ball when they had anything like a chance, and altogether they gave the Everton players a good game. 
LIVERPOOL 1 EVERTON COMBINATION 0
April 24, 1893. The Liverpool Mercury.
Liverpool senior cup final
The final stage of the local cup competition was reached on Saturday when Everton and Liverpool , who had not hitherto met, played for possession of the trophy for the next twelve months. Great interst was centred in the event, notwithstanding threats that only second teams would be placed in the field. Better counsels at the last hour prevailed, and though Everton were dependant on a mixed eleven, the side were strong as will be seen from the follwing:- Everton, Williams, goal, Chadwick (a), and Collins, backs, Boyle, Holt, and Coyle half-backs, Gordon, Murray, Harley, McMillan, and Elliott, forwards. Liverpool:- McOwen, goal, Hannah, and McLean, backs, McCartney, Mcque and Mcbride,, half-backs, McVean, Wylie, Miller, Mcqueen (m)., and McQueen (hm), forwards .
Everton were first tp appear to be followed quickly by Liverpool on the Boolt ground, Hawthorn road. And each were well received. Herbie Arthur was referee. Elliott won the toss and Liverpool kicked off, in the presence of about 10,000 people, with nthe wind, but had to face the sun.The Anfield men lost no time in getting down to goal, and Williams was forced to give a corner in fisting out a fine shot by H.M.McQueen. pressure was great, and another corner was conceded by Williams. A third flagkick was taken-all to no purpose, A foul was given against Everton, and this led up to more hard defence, during which Williams put behind from McCarthy's heading shot. Wylie also aimed very well, and the Liverpool had to defend briefly but Hannah checked the left wing. MCvean ran down nicely, when Gordon kicked out. Liverpool had the best of the play so far, being quicker and better combined then their opponents. A good movement by Hartley, McMillan and Elliott was the cleverest thing up to now for Everton, but the ball went out, and on McLean kicking up McBride shot in beautifully, and Williams saved finely, to the high aim. Hands against Boyle broke up a raid by Everton, and this was followed by exciting and good play near Williams. McQueen (m), screwed the ball just over the bar and then McQueen (hm), sent across but the pass could not be reached. McOwen was at length called upon, running, out and clearing cleverly, and Liverpool again bothered the Everton backs for some time , But Chadwick put in some useful kicks. McLean also was effective until Gordon beat him and McBride though a shot eas prevented. Gordon, after futher pressure by Liverpool with Murray worked the ball along bvery neatly, when Hannah rushed across and removed the danger. In reply McQueen defeated Boyle and McQueen (hm) made a jumping charge at Holt in such a manner as to be reprmanded by the referee. McCartney was then penalised for holding, but the free kick was adroitly turned to Liverpool's advantage, as no Miller passing to Wylie, the latter scored a good goal with a low shot, Liverpool thus taking the lead after 35 minutes play. McQueen next had a fair chance,, but was unsteady and put wildly over the line. Chadwick stopped a hard one from a tussle at the corner and then the ball went into the net from a free kick untouched . mCque dispossessed the Everton right wing very cleanly and shortly following he and Murray were at combat, the referee, after explanations deciding to throw the ball up. Liverpool took up the attack, and sutained it almost up to the interavl, which arrived with Everton in a minority of a goal. On resuming McCartney fouled McMillan but Elliott coulsd not quite succeed in heading into goal from Collins place kick, and Gordon rattled in with good shots forcing corners. Liverpool moved down on the right without getting in a shie at goal, and in reply Coyle came out well for effentive play against Wylle and McVean. The ball was again propelled on the Everton right, but it went out, and the Wylle had an opening. He would not tackle Williams, however, and the otherwise smart play prove abortive. Everton came smartly back,, when Elliott headed behind. McLean was next cheered for grand work, and Liverpool looked kilely to jump further ahead, as, an clustering in fron t of goal,, Wylle shot in hard and straight, but Williams saved brilliantly. Everton tried once more to get the mastery of Boyle and succeeded but Holt went to the rescue, and was bowled over by M.McQueen. Coyle gave hands and this threw H.M.McQueen on the ball, he shooting very fairly. A hot tussle in front of McQueen was the next incident and so hard put to were Liverpool that three corners were exacted. These were not any use, and danger was soon experienced at the other end. Miller, however, just failed to take a fine centre by McVean. Holt foulded M.McQueen and, after some play, Miller made poor use of an easy chance. Amidst great excitement both teams determinedly, Everton, if anything, were more frequently on the attack, but there was a weakness at close quarters. Hartley invariably being too slow for the active defenders. The Liverpool right wing menced goal once or twice, but Collins made a good save whilst on another occasion Wylle almost grazed the post on taking a running pass from his partner. Liverpool then resorted to kicking out as Everton woke up for a determined effort to save the match. They were very nearacquilising in the last few minutes. A corner was given them, and during the scrimmage Everton allege that tha ball had been fisted deliberatley bu one of the backs, and claimed a penalty kick. This the referee would not allow after consulting the linesmen (Messrs Hull and Lamout),Mr. Arthur Threw up the ball, and it having been kicked clear, the whistle sounded amidst much confession with the result Liverpool 1 goal, Everton nil. On behalf of Everton a protest has been lodged against the general in competence of the referee and the cup was not presented.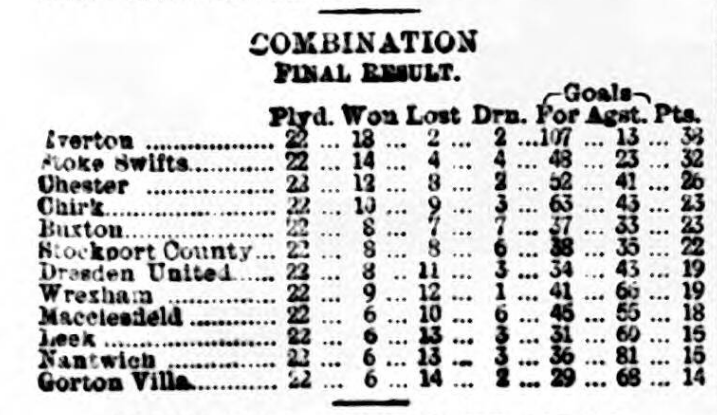 LIVERPOOL CUP FINAL TIE
April 24, 1893. The Liverpool Daily Post
Everton v Liverpool.
The meeting of these neighbouring clubs at Bootle attracted about 10,000 people. The weather was very bright and hot, but the Liverpool club players, although facing the sun had the best of the struggle, and a low shot from Wyllie scored for them. This point proved to be not only the only score of the opening, but the only goal of the match, and consequently Liverpool won the cup by 1 goal to 0. Everton, who suffered defeat, lost the trophy after holding it for three years in succession.
EVERTON REVIEW
April 24, 1893. The Liverpool Mercury
The wisdom, or otherwise of arranging fixtures to clash with the local association was fairly tested last week at Goodison Park. In each instance the gate was extremely poor, and proves that the majority of even the most loyal Evertonians relish the cup ties in preferance to a plain ordinary fixture. Renton, ther erstwhile '' worlds'' champions'' was the fare laid before the assembly on Saturday. Thanks to the ''Scotch agent'' and others this team is now with three exceptions composed of mere striplings, but nevertheless they know the game, and that they can play it lies in the fact of having obtained a creditable draw against the strong team placed on the field by Everton. The new men who played for Everton got through their work in capital style especially Lindsay, and Reay. Both are big fellows and being tricky without being slow will prove decidling good captures, before long. Bell shaped much better in his old position as outside left. His play was freer then hitherto whle his centres were very accurate, and on several occasion ought to have been turned to account. A distance, however, seemed to prevade the forward at time and although the better and weighter team the homsters failed to indic a defeat. In Glen, the left half Renton have another McBride whose play throughout was marked by judicious determination, and who is likely to be heard of again. The whole of the visitoing team exhibted clever combination. Bell, in the centre, performing his share with great skill, and preminent among the others was Kelso a younger brother of the famous Evertonian. He is only 18 years old. But played a sericable game as inside right.
EVERTON 1 PRESTON NORTH END 0
April 24, 1893. The Liverpool Mercury
These teams met for the eight, and last tine this season at Goodison Park, lats evening. The weather was fine and about 5,000 spectators were present. Prestonians were withoiu N.J.and J Ross and Stewart, whilst Everton had Kelso, Howarth, Geary and Chadwick away. Everton kicked off, and ''hands'' have them a good chance, but Trainor saved well and then Thornton shot outside at the other end. Both goals were visited in turn, but the defence was good, and no score resulted. Beckton and Cowan ran away pretily on the left, and Parry was penalised for holding the former, J Holmes,, howver, putting over from the free kick. Milward. After a dribble along with McMillan shot hard, but Bel, although a good attempt was made, headed outside the post. Everton at this pointwere having slightly the best of the game, and several warm attacks were initisted on ther Preston goal, the shooting, however, being at fault . barton had a capital chance at the other end, but kicking too far ahead, the opportunity of scoring was lost, Bell was also at fault for Everton, and sent high over the bar. Play was of an even character although the Evertonians were having slightly the best of the game. Milward and McMillan were next prominent, and from the latter's pass Bell shot pass Trainer, amidst cheers. The North Enders were next prominent and Beckton finished up with a fast shot, which passed over the bar. Everton now had extremely hard lines from Maxwell, who shot hard and true, at Trainor. The latyter saved grandly, and following an offside goal by Everton's centre forward half-time was called wiith Preston a goal in arrears. Drummond restarted on behalf of the visitors for whom Gordon and Barton at once became pominent. Parry cleared out the invaders, and Maxwell shot ineffectually at the Preston goal. Milward and McMillan were prominent on the Everton left and after Trainor had saved from the former, Bell dashed up and scored, but the referee (Mr Lewis, Blackburn) for some unexlainable reason disallowed the goal. Gordon and Barton then initiated a raid on Everton; but the former was pulled up for off-side play, and Everton raced away, Bell waiting too long and missing a good opportunity. Drummond spoiled a fair chance at the other end, and then Trainor saved Grandly from Bell and McMillan. A free kick against Everton looked ominous, but Drummond relieved ten tension by shooting hard over the bar. The play from now to the finish was an even charctaer, and Everton had another goal disallowed. Nothing further was done, and Everton were vicxtorious by 1 goal to nil. Teams:- North End:- Trainor (captain), goal, Holmes,, and Griers, backs, Thornber, Sanders, and Holmes (j), half-backs, Gordon (j), Barton, Drummond, Beckton, and Cowan, forwartds. Everton:- Williams goal, Parry and Lindsay (w) backs, Stewart (a), Boyle, and Holt, half-backs, Milward, McMillan, Maxwell, Bell,, and Latta (captain), forwards.
EVERTON V. RENTON
April 24, 1893. The Yorkshire Herald
At Liverpool. During the first portion of the game the Everton team had much the best of the argument, and before the interval Maxwell, for Everton, with a splendid shot, scored. Lindsay saved many times, and was cheered at the interval. Shortly after the restart Mathieson headed a goal for Renton, after a neat bit of work. Then the Scotchmen had the best of play for some time, but could not score, Jardine performing well in goal. Eventually the game ended in a draw –one goal each.
EVERTON V. PRESTON NORTH END
April 25, 1893. The Yorkshire Herald
At Liverpool last evening. Everton kicked off at six o'clock. During the first half play was even and fairly interesting. After thirty five minutes' play Maxwell scored for Everton, the home side leading by one goal to nil at the interval. Drummond restarted and Bell had a goal disallowed. Play was uninteresting during the second portion of the game, nothing being scored. Final; Everton, 1 goal; Preston, nil.
CELTIC V EVERTON
April 26, 1893. Edinburgh Evening News
These teams met last night on Celtic Park, before 4,000 spectators. The Celtic were assisted by Adams, Baird, and Scott of the Hearts, and Johnstone of the Airdrieonians. Maxwell kicked off for Everton, who soon began to press, but were driven back by Adams. Ten minutes after the start McMahon, after some clever play, scored the first goal for the Celts. The Celts still kept, at it and Williams was called upon repeatedly to save, which he did in fine style. The Combination of the Celtic forwards was excellent, but they could not pass Kelso and Parry, was excellent, but they could not pass Kelso and Parry. Everton now began to weaken up bit. Milward and Chadwick made a splendid attempt to equalize, but Cullen proved too much for them. McMahon and Campbell tired hard to score, but were caught by Kelso. At half-time the score was Celtic, one goal; Everton, nil. On resuming, Everton played for all they were worth to equaliser, but the Celtic defended well. The Celtic came away in a body, but a foul against McMahon brought belief. Towards the close the play became very fast. After a scrimmage at the Everton goal Dunbar sent a long shot, which Williams failed to catch, scoring a second goal for the Celts. A hard game ended in favour of the Celtic by two goals to nil.
Bootle v. Everton. At Bootle last night, before 1000 spectators. The home side had rather the better of the play, but before the interval Coyle scored. Bootle scored on resuming, and after even play Everton won. Result; Everton two goals; Boole, one.
CELTIC V EVERTON
April 26, 1893. The Glasgow Herald
These teams met last night on Celtic Park, before 4,000 spectators, neither side being fully represented. Maxwell kicked off for Everton, who soon began to press, but were driven back by Adams. Ten minutes after the start McMahon, after some clever play, scored the first goal for the Celts. The Celts still kept at it, and Williams was called upon repeatedly to save, which he did in fine style. Then Everton attacked, but Boyle shot wide of the mark. The Combination of the Celtic forwards was excellent, but they could not pass Kelso and Parry at back, who were kicking strongly. A foul against Everton proved abortive, as McMahon shot past. Everton now against Everton proved abortive, as McMahon shot past. Everton now began to waken up a bit, Milward and Chadwick made a splendid attempt to equalise, but Cullen proved too much for them. The play became of give-and-take character, such side attacking in turn. A foul against the Celts brought relief. McMahon and Campbell tried hard to score, but were caught by Kelso. At half-time the score was;- Celtic 1 goal; Everton, nil. On resuming the Celtic at once bore down, but Williams saved a hot shot from McMahon. Everton now played for all they were worth to equalise, but the Celtic defended well. The Everton forwards were playing well, but lacked help from the half-backs, who were to the slow side. The Celtic came away in a body, but a foul against McMahon brought relief. Towards the close the play became very fast. After a scrimmage at the Everton goal Dunbar sent a long shot, which Williams failed to catch, scoring a second goal for the Celts. A hard game ended in favour of the Celtic by 2 goals to nil. Teams; Celtic; Cullen, goal; Adams (Hearts) and Dunbar, backs; Curran, Byrne, and Johnston (Airdrieonians), backs; Baird (Hearts), and Bleasington, McMahon, Scott (Hearts), and Campbell, forwards. Everton;- Williams, goal; Kelso and Parry, backs; Boyle, Jones, and Stewart, half-backs; Latta, Bell, Maxwell, Chadwick and Milward, forwards.
CELTIC 2 EVERTON 0
April 26 1893. The Liverpool Mercury
Played at Parkhead, Glasgow yesterday, before 4,000 spectators. Everton were minus Howarth, Holt, and Geary, while the Celtic were without the services of Doyle Reynold, Maley and Kelly, Adams,, Swift and Baird of the Hearths of Midlethains lent their services. McMahon scored in ten minutes, at Half-time the Celtic lead by a goal to nil,, and the result of a good game was Celtic 2 Everton nil.
Everton, Williams, goal, Kelso, and Chadwik, Stewart, Boyle, and Parry, half-backs, Latta (captain),, Bell, Maxwell, Chadwick, and Milward.
BOOTLE 1 EVERTON COMBINATION 2
April 26, 1893. The Liverpool Mercury
At Hawthorn Road before 1,500 spectators. The homesters started and fast play ruled through the first portion of the game. Both back division played safety but just on the interva Reay head through for Everton from a corner, bootle equalised on restarting from McLafferty, and Hartlet repling for Everton. Bootle had most of the play after this and missed several opening through fautly shooting. Final result Bootle 1 Everton 2. Bootle, team, Whitehead, goal, Hutchinson, and Arridge, backs, Grierson, Hughes, and McEwan (J) half-backs, Clarkin (w), Gallacher, Brandon, Montogomery, and McLafferty forwards. Everton;- Jardine (j), goal, Lindsay (w), and Collins (j), backs, Coyle, Walker (j), and Jamieson (r), half-backs, Reay (h), Murray (j), Hartley (a), McMillan (j), Elliott (j), forwards.
EVERTON V. CELTIC
April 26, 1893. The Yorkshire Herald
Played at Parkhead, Glasgow, yesterday, before 4,000 spectators. Everton were without Howarth, Holt, and Geary, while the Celtic were without the services of Doyle, Reynoulds, Maley, and Kelly, Adams, Scott, and Baird, of the Heart of Midlothian, lending their services. McMahon scored in ten minutes, and at half-time the Celts led by 1 to nil. The result of a good game was Celtic, 2 goals, Everton nil.
BOOTLE V. EVERTON
April 26, 1893. The Yorkshire Herald.
At Bootle yesterday. The homesters started and fast play ruled through the first portion of the game. Both back divisions played safely, but just on the interval Reay headed through for Everton from a corner. Bootle equalised immediately on restarting. Hartley replying for Everton. Bootle had most of the play after this, and missed several openings through faulty shootings. Final; Everton, 2 goals; Bootle 1.
EVERTON V SHEFFIELD UNITED
April 27, 1893. The Liverpool Mercury
Played at Goodison Park yesterday, before a poor gate. Hill started for United, but Everton had the best of matters through the first portion of the game, Geary scoring from a pass by Reay, after five minutes, and adding two more before the interval, when Everton lead by 3 goals to nil. Hammond scored on restarting, and the second half was of an even character, Reay and Geary playing well for the homesters. Final Result;- Everton 3, goals; Sheffield United 1.
EVERTON V. SHEFFIELD UNITED
April 27, 1893. The Yorkshire Hearld
At Liverpool yesterday, before a poor gate United kick-off, but Everton had the best of matters throughout the first portion of the game, Geary scoring from a pass by Reay and adding two more before the interval when Everton led by three goals to nil. United scored on restarting, but this half was of an even character, Reay playing well for the homesters. Final result Everton three goals; United, one.
EVERTON V SHEFFIELD UNITED.
April 27 1893. The Sheffield Independent.
This match took place last evening on the ground of the former, Goodison Park, the attendance at the start being somewhat small, and the weather was extremely warm. Hill started the ball for Sheffield, and the front rank at once made for Jardine. A movement initiated by the right wing looked dangerous the ball, however, going clean over. Then Everton got an opening and Reay and Maxwell took the ball right away, the former centring nicely to Geary who shot clean into the net, and scored within a couple of minutes from the commencement. Restarting Drummond was prominent in a move on the right, and a shot at goal, which followed, went wide of the mark; after which the ball was returned to midfield, where the exchanges were of an even character. Everton pressed towards Howlett, and despite the defence of Cain and Whittam the home front rank got well up to goal, and Geary scored again in pretty style. A brief visit to Sheffielders half was unproductive, and Reay getting possession, worked the leather along nicely, but was robbed by Hammond. Still the homesters kept up the pressure, and continued to bombard Howlett's charge, and during a tussle in front of goal Reay had hard lines, a beautiful shot into the net bouncing clean out again, and then Whittam cleared at the expense of a corner, which was taken by Reay, and prove abortive. Sheffielders soon got the ball, and a movement led by the right wing looked dangerous, Hammond's kick, however going outside. Quickly the home forwards got possession, and racing away the right wing got a good position, and passed to Geary, who again sent in a shot which Howlett was unable to negotiate. Sheffielders now put on a spurt, and the play was located in the Everton half for a time, during which Jardine was called upon several times to save some capital shots, one of which sent along by Hill was capitally judged. Everton pressed for a little while and when the whistle sounded for half-time the scored stood Everton three goals Sheffield United none. On resuming the game United were quickly prominent, and by determined pressure the left wing got an opening, and Hammond scored nicely. Immediately after restarting the ball the homseters rushed away, and Maxwell shot into the net, but the whistle went for offside. Each half was visited in turn without anything resulting. Then from a foul against the visitors well in front of goal Everton looked dangerous, but Parry's shot was headed out by Whittam, after which Reay got possession, and had hard lines in not scoring, The shot just skimmed the crossbar. Soon after this the Everton team was reduced to ten men, owing to Boyle receiving an injury to his leg, and had to retire. Notwithstanding this, they kept up a determined pressure, and Howlett's charge was several times bombarded, but Cain and Whittam defended in fine style. Then a brief visit was paid to the Everton quarters, and a shot from Hill looked like sailing through, but Jardine cleared, Sheffield continued to press to the finish, but could not make headway. Final Score Everton three goals, Sheffield United one goal. Teams: - Sheffield United: - Howlett, goal; Cain and Whittam, backs; Howell, Hendry, and Davies, half-backs; Drummond, Wallace, Hill, Hammond, and Gallacher, forwards. Everton: - Jardine, goal; Collins and Parry backs; Boyle, Watson and Coyle, half-backs; Reay, Maxwell, Geary, McMillian, and Elliott forwards.
EVERTON 3 SHEFFIELD UNITED 1
April 28, 1893, the Liverpool Courier.
In glorious summer weather. Everton were last night visited by Sheffield United the Attendance at the start being rather small. Punctually to time the teams faced as follows:- Everton; Jardine, goal, Collins, and Parry, backs, Boyle, Walker, and Coyle, half-backs, Reay,, Maxwell,, Geary, McMillan Elliott, forwards. Sheffield United:- Howlett, goal, Cain and Whitham backs, Howell, Henry, and Davies, half-backs, Drummond, Wallace Hill Hammond, and Gallacher forwards. Hill put the ball in motion for Sheffield and the fronk rank at once made for Jardine. A movement intiated by the right wing looked dangerous the ball, however, going over. Then the homsters got an opening and Reay and Maxwell took the ball right away the former cenrtreing nicely to Geary, who shot clean into the net. Restarting, Drummond was prominent in a move on the right, and a shot at goal which followed went wide of the mark, after which the ball was returned to midfield where the exchange were of an even character. The homesters pressed towards Howlett, and despite the defence of Cain and Whitham the home front rank got well up to goal, and Geary scored agin in pretty style. A brief visit to the United's half was unproductive, and Reay getting possession worked the leather along nicely, but was robbed by Hammond. Still Everton kept up the pressure and continued to bombard Howlett's charge and during a tussle in front of goal Reay had hard line, a beauitful shot into the net bouncing clean out again and then Whitham cleared at the expense of a corner, which was taken by Reay,, but proved abortive. Sheffield soon got the ball, and a movement led by the right wing looked dangerous Hammond's kick however, going outside. Quickly the home forwards got possession and racing away the right wing getting a good position passed to Geary, who again sent in a shot which Howlett was unable to negotiate. United now put a spurb and the play was located in the Everton half for a time, during which Jardine was called upon several times to save some capital shots, one of which sent along by Hill was capitally judged. Everton pressed for a little while and the whistle sounded for half-time the score standing Everton, three goals Sheffield United nil. On resuming, the game, with the attendance increased to about 1,500, United were quickly prominent, and owing to a determined pressure the left wing got an opening, and Hammond scored nicely. Immediately after restarting homesters rushed away, and Maxwell shot into the net but the whistle went for off-side. Each half was visited in turn without anything resulting. Then from a foul against the visitors well in front of goal lokked dangerous but Reay shot was headed out by Whitham after which Reay got possession, and bad hard lines in not scoring, the shot just skimming the crossbar. Sood after this the Everton team was reduced to ten men, owing to Coyle receiving an injury to his leg, necessitating his retirement from the field. Notwithstanding this the Homesters kept up a determined pressure and Howlett's charge was several times bombardment but Cain and Whitham defended ably. Then a brief visited was made to Everton's quarters, and a shot from Hill. Looled like sailing through but Jardine cleared. Final result- Everton three goals, Sheffield United, one goal.

GOODISONIA
Cricket and Football Field - Saturday 29 April 1893
By "Black Rock"
I don't know the guarantee to Renton last Saturday, but this I do, that the meeting from a financial point of view was a surprising fiasco.  Nor was there much good football exhibited, as neither side broke their necks with hard work, although they each broke through the defence once.  Renton had nine of their best eleven available –mostly youths, and "Bob" Kelso's brother, a lad not 18 years of age, appeared in the first team for the first time.  The score about represents the game as it finished, Glen, the left-half with the backs and Lindsay, brightened the easy, go-as-you-please dullness of the contestants. 
North End and Everton Once More
This was the eighth meeting of these clubs this season, and after Monday's so called match we have had quite sufficient for a few months.  Loud and frequent were the demands to "Play up" for be it known to all that wished to be present the charge was sixpence.  The teams were as mixed as the game –yes, it was a game and great game was made of it, especially by the visitors.  Here we had Saunders in his "rowdy" style, exhibiting the loose sods to "Jimmy" Ross and friends on the stand, "George" Drummond in his immaterial passivity, there we had the earth coming up and McMillan falling down – and sometimes on the goalkeeper-Trainer, or the wanderings of Gordon who evidently had no position for he kept it.  And to these the hard and monotonous blasts from the cornet of an itinerant musician present when any point of the game was worth sounding –which was seldom, and the vain and useless efforts of "Give Pinchy a chance," –when he got it, not to forget Beckton with his independent air, and all preceded by flashes of lightning, and followed by the only claps I heard that evening, and you will then have an ideal how we relished it.  Of course Everton won by a single major to a good many minor due to Preston but once after trainer saved and Bell put through we wanted to know why the goal was not legitimate.  It was soon explained, for Mr. Referee Lewis on the point of sweetly pulling up McMillan for offside was seen lying on mother earth with his head-gear further away, no doubt blessing the unconnected terra without the firma.  It was a ragged and disjointed diversion, and when I tell you that after only thirty minutes' play in the second portion the few thousands were not altogether displeased that the final shrill sound had sounded.  But it was only a mistake and amidst that new and heart-stirring melody-"Get your hair cut!"  Recommenced once more the kickers.  Nothing further was done by anyone, and even the musical two had enough of it, as they gathered up their trunks and quickly hurried away. So did I. 
Everton 3, Sheffield United 1
Last Wednesday, the new first league team of Sheffield paid their second visit to the Park before a very niggardly number of spectators.  The home lot had practically their Combination out, as only Boyle, Geary, and Maxwell were seen in their ranks, but the Sheffielders were strongly represented.  The first portion saw the Parkites with a strong tendency towards Howlett, Cain, and Whittam being active and clever in their clearances.  Yet the visitors' attack on the whole, was anything but like what they showed at the commencement of the season, Hammond, who usually is so deadly in front of goal, generally failing to get through the stubborn defence of Boyle and Collins.  They somewhat improved towards the latter stages of the game, after Coyle's departure through an injury to his leg.  Yet still they will have to show better individual and combined play, not to mention shooting, if they intend to grace well their division.  Walker has been doing many smart things during the week, and should next season advance in the esteem of his critics.  He was a sharp thorn in the side of Hill, his great height serving him well amongst his opposers.  Geary scored the three goals in this portion, and indeed they were not bad ones-quick, low, and decisive shots.  Soon after resuming, the visitors' full back, Whittam, left the field for some unexplained reason, and did not return.  His services were much missed, and Cain, with henry, who fell behind, were kept constantly on the move in resisting the now weighty, serious pressure of the home invaders.  It was during this invasion that Cain's ugly rushes and unnecessary roughness drew down on him anything but complimentary remarks, he and Geary (who lost his temper from the treatment) going for one another with as much spleen as would make one fearful of the consequences.  I think Mr. Lythgoe might have been a little sterner, and then the authority invested in him must have produced the desired and pacific effect.  Sheffield rallied, and worked well towards the finish, Drummond and Wallace giving Parry many opportunities to shine, which he did.  The Welshman's general performance was strong, sound, and serviceable, and free from those tactics which characterized Cain's display on the opposite side at back.  The turf was in still worse condition, and many were the mounds observable.  Indeed, it is wonderful why there have not been more accidents, and I hope nothing serious has happened today, the last of season '92-3.  Jardine kept a good goal, but he has lost some of his old cleverness; still he will, with ordinary care, do justice for some League club next September.  Reay, the ex-Newcastle United forward, is going on nicely, and by next season should go on better, as he is rather slow.  Maxwell still can pass anywhere in any position, but if he is wise he will practice goal-shooting this summer, for some of his efforts were simply ludicrous.  Collins was very safe at first, but his kicks were anything but accurate towards the close.  Hammond scored the only point for his side, and he deserved it. 
THE LIVERPOOL CUP
Cricket and Football Field - Saturday 29 April 1893
By Richard Samuel
The competition for the Liverpool Cup this season has had additional interest infused into the later stages, and especially the last stage, by the fact that the competition of the teams left in was an unknown, or at any rate, of uncertain quality.  Everton and Liverpool were the clubs left in, and the latter were anxious to meet their rivals from Goodison Park,  The League team was, of course, preferred and when it was mooted that Everton intend playing the Combination team there was some talk of Liverpool placing their reserve team on the field.  Better counsels, however, prevailed, and with the exception of their goalkeeper Ross, who, I am sorry to say, has not yet recovered from the injuries he received at Bootle in the Lancashire tie, the Liverpool team was fully represented.  The Everton team consisted of the Combination forwards and backs, but the inclusion of Williams, Boyle, and Holt undoubtedly strengthened the most trying position on the field, so that on the whole the team was a fairly good one.  I would much rather seen the full strength of Everton on the field, and so would lots of their supporters, but the executive I suppose considered the team quite good enough to again win the cup, but when they failed it is bad form then to step in with a protest and this on the most flimsy ground.  The run of the game was an eye opener to many, but with the exception of occasional breakaways by the Everton forwards, the play throughout the first half was in Everton quarters, and but for some clever work by Williams between the sticks, and the stubborn manner in which Chadwick and Collins defended the score would have been larger at the interval.  The Liverpool forwards played a good game, Miller, Wyllie and M. McQueen always being prominent, and generally speaking they had the best of the argument with the Everton halves. Twice the ball hit the cross-bar, and when at last Wyllie scored the point was thoroughly deserved.  The second half was much better contested, and right off the reel Gordon gave McQueen a hot shot which took the combined efforts of himself and Hannah to clear.  For a time the Everton forwards kept play in the Liverpool half, but their efforts were disjointed, and the three Macs, who form the Liverpool half-back line, easily dealt with their attacks.  The game gradually opened out, and once in possession the Liverpool forwards made better progress and on several occasions Williams' charge was almost captured.  As the game progressed the Everton forwards went completely to pieces, and except for some long shots at goal they never made a decent attempt to score.  In the last minute, or probably the last half minute, Everton won a corner which was splendidly placed and fisted out by someone, and a cry raised for a penalty kick.  Mr. Arthur, the referee, did not see who fisted the ball out, and the players flocking round him and in their excited state jostled him so that he could not follow the play and consequently he blew his whistle and went to consult the linesmen, which by the way, were members of the Association and neutral.  This action on the part of the referee gave rise to some comment, but under the circumstances I don't see that there is much in it as he could not get any assistance from then, he was perfectly in order in throwing the ball up.  A warm scuffle ensued, but McQue came away with the ball at his toes, and all was over, Liverpool winning by one goal to nil. 
Some Criticisms
There is doubt that the Liverpool men deserved the victory, and on the play the margin should have been greater.  The Everton forwards were weak in the extreme, and although they occasionally put in a nice bit of work they never got in proper working order.  The Liverpool men played a much better game, and played to win.  There was nothing flashy about them, but their work was more effective, and they had lots of near shaves.  Miller was always in the thick of it, and Holt for once had all his work cut out in dealing with him.  It was the half backs that did the damage, and the Liverpool trio proved to be much too good for the Everton forwards.  No fault could be found with the backs or goalkeepers, and the goal that Wyllie scored would have beaten most custodians. 
The Protest
After the match a protest was laid by Mr. Clayton, on behalf of the Everton club, against the general incompetency of the referee.  That is a very large order, but on investigation it dwindled down to a question of a matter of fact.  It is alleged that someone other than the goalkeeper fisted the ball out, and on this a charge of general incompetency put in.  perhaps this was the only plan that would justify acceptance of the protest, for it must be apparent to all that there would be no end of confusion of protests were allowed on matters of fact which only the referee can decide; but if the protest was laid with the object of preventing the presentation of the cup to the Liverpool team, then it succeeded for the time being.  If the ball was handled by Mclean or McQueen, as alleged –for no one seems to know which – then it is very unfortunate for Everton; but Liverpool have just as good grounds for protesting on account of time being up before the corner was taken, so you see the hollowness of the affair all through. 
Closing Scenes
Matches are being rushed through this week with a vengeance, but warm as the weather is the ordinary games have been that slow that it is a wonder the players have not caught cold.  The match between Bootle and Everton, on Tuesday evening, was quite a passable affair, and was won by the Everton team which included some new men, by two goals to one.  The score hardly represented the play, as of the two Bootle had rather the better of it.  I am pleased to say that the Bootle directors intend going on next season, and have signed several players.  On Tuesday Mr. A.B. Bull presented the Liverpool Cup to Hannah, the Liverpool captain, and some nice little speeches were delivered. 
EVERTON V. SUNDERLAND
Cricket and Football Field - Saturday 29 April 1893
The last match of the season was played at Everton today, before 9,000 spectators.  Sunderland brought their full strength and the home team were well represented, Gordon playing vice Latta.  Sunderland started against the wind, after which Williams saved from Campbell.  Chadwick beat Doig with a long high shot.  Auld robbed the home inside left, and Kelso cleverly beat J. Hannah, after much interesting midfield play.  Doig saved a splendid low one from Geary.  Gillespie made matters equal after Williams had saved.  Sunderland were decidedly having the best of it, Boyle and Kelso again and again saving well.  Wilson's hugh throws and general tackling earned commendation.  Everton played up better, but Porteous and Smellie were very safe.  The strong wind spoilt accurate passing, and both sides were brought up through fouls more than once when close in.  Milward then just missed.  Final Everton 1, Sunderland 3.
UP-TO-DATE CHAT
Cricket and Football Field - Saturday 29 April 1893
"There's many a slip 'twixt cup and lip," is an old saw which applies very strongly to the Everton team on this season's performances.  Always ambitious, with the most enthusiastic following in the country, and a mine of money behind them, the Evertonians have not raked in one solitary cup.  Their great rivals in the League –Sunderland and Preston North End –have each secured a valuable trophy, the former holding the League Cup and the latter the Lancashire Cup.  Everton lost the blue riband of football when they failed to master the Wolves, and now they have succumbed to Liverpool in the competition for the Liverpool pot.  It is no use of Everton crying over spilt milk now, and no use quoting "what might have been."  The Combination team proved too good for the Cupholders at Wolverhampton, and the League team, when it came to the pinch, proved inferior to the Wolves on a neutral ground.  The Combination lot were reckoned good enough to whack Liverpool, or they would not have been played.  The idea proved to be fallacious and the Liverpool team must be awarded a mead of praise, for as Lancashire League champions and Liverpool Cupholders they have fully earned the right to rank as a first-class club. 
NUGGETS
Cricket and Football Field - Saturday 29 April 1893
230 POUNDS Liverpool and Everton gate, and the ground looked as packed as it could be.
Lindsay and Reay are likely to prove very valuable recruits to the Everton ranks.
Great interest is centred in the forthcoming Everton, Liverpool and Bootle balance sheets.
Is Cain able to beat Geary?  That exhibition of pluck, Fred, endeared you more to your friends.
There is no question about it, Liverpool wasted time by delay and by kicking out, but was the time deducted?
That was indeed a good goal, Coyle, and you deserve every credit for it, which you didn't get from some scribes.
Each Liverpudlian received 10 pounds a man for taking down Everton in the Liverpool Cup.  And well was it merited.
We had some excitable incidents in the Everton v. Bootle meeting, and the subscribers to the 30 pound gate were well rewarded.
Everton's directors think more of Williams than of even Trainer, of North End.  Sorry, old boy, as you are equal to the best yet.
If Bob Kelso is worth keeping he is worth what he asks, but if not, why detain him?  He has a few good offers from good clubs.
Surely and certainly did the scandalous work of Bootle's forwards lose last Tuesday's game.  "Monty" was good right through.
A certain Everton director –I'll spare his name –shouted out publicly to Herby Arthur to go and keep goal instead or refereeing.
If a bad artists makes a good critic, then apparently a good artist makes a bad critic, judging by Herby Arthur's refereeing on Saturday.
I have heard of some butterflies that have muted across the park, sipping the honey on their way from the Hawthorne to the Liverpool Cup.
Lindsay had a small bone broken in his shoulder with Booth last Tuesday, but did not know until after the match.  It is thought "Monty" was the actor.
Mr. J. D. MacMurray personally objected on principle to the Bootle v. Everton (Combination) match but, in deference to his colleagues, waived his claim.
Three corners to Everton for the local cup in succession, the last one on the net.  The excitement I cannot forget; ah, vain regret they cannot now "wet" their whistle in their pet cup.
Everton have won more protest than cups.
Everton have not been too kind in their treatment of the Liverpool Association.
After the Sunderland v. Everton match this evening the Stewart's of the latter engage in deadly and diabolical conflict-the Captain's team v. sub captain's.  And then to tea with what appetite they have –if there is anything left of their manly fever. 
The Long looked for meeting between Everton and Liverpool has bene realized –the weather was sultry-and so was the game.
Mr. Houlding said although they were not Everton in mane they were in spirit.  Councillor Hounding presented the Bovril Co's gold medals to the victors.
EVERTON 1 SUNDERLAND 3
April 30 1893. The Liverpool Mercury
For the last time of asking the loyalty of the Everton partisians was spendidly shown by the enoromous crowd who essemble at Goodison Park to withness the exodds of the old Football years. As be fitted the occasion both side were very powerfully represented, and the weather being more reasonable than for some weeks past,, a fine game was looked forward to Howarth placed his team with their backs to the sun, and with his advantage Everton were early visitors to the Sunderland custodian, and Geary with a fast low shot almost secured the downfall of Doig's charge. Allowing their opponents no chance, the Evertonians were not to be denied, and but eight minutes had elapsed when Chadwick, with one of his long curling shots, successfully placed the ball into the net., and gave his side the lead. Geary immediately followed with another splendid but fruitless effort the ball just glancing off the bar. Sunderland did not seem to appreciate this monopoly by the home team, as rallying themselves in grand fashion, the ball was worked down the centre by Campbell and passed out to Miller, who contined with the forward movement which culminated in Gillespie equalising after Williams had got rid of Miller's shot. After this Sunderland improved and each goal received fairly diived attention, but the half-backs play of both teams was so exceptionally good that the attacks from the respectative forwards were generilly neutralised by the time the goalkeeper was called upon. Auld, of Sunderland allowed a grand opportunity to slipon one occasion, and Geary handled on another when a grand chance offered itself. Half-time brought no alterations to the game, but when the Visitors returned to work, with the sun behind them, the fairly Bothered. Howarth and Williams and after the latter had handled several times, Stewart, who thoughout had shown grand form, relieved abnormal pressure, and allowed Milward to carry the ball along the home left, when Bell missed a ridiculously easy chance from Milward's centre. The game now settled down in the home half, and Kelso and Williams conceded several corners, from one of which Gillespie added the second point, and , as if to make their victory more premonued, Hannah played another to Sunderland's account who thus won a magnificent game by 3 goals to 1. Teams as follws:- Everton, williams, goal, kelso, and Howarth (capt), backs, Boyle, Holt, and Stewart half-backs, Gordon, Bell, Geary, Chadwick, and Milward forwards. Sunderland:- doig goal, Portus, and Smellie backs, Wilson, Auld, and Gibson half-backs, Gillespie, Hannah (d), Campell, Miller,and Hannah (j), forwards. Att 9,000 .
EVERTON REVIEW
April 30, 1893. The Liverpool Mercury.
Locally it is hard to say weather football has grown in popularity ir receded. On the whole, it has perhaps stationary. Support given has been more titful than usual. The season is conspiculous for several record''gates,'' not only locally but nationally, for the club matches, the high water mark so far reached being that of the Preston North End against Everton League match At Goodison Park on February 11, when the money taken amounted to £376, and the numbered upwards of 30,000. But the interst has not been uniformly sustained as in the preceding years, and the public seemed to have grown weary of football rather more prematurley than usual. Taken broadly the season, however, has been the most brilliant in the history of Liverpool, not even forgetting the year in which Everton won the league championship. For the first time Liverpool has been represented in the final tie of the English Cup competeition, but though Everton fell at the last jump, to the intense disappontment of all Evertonians, they have made the season memorable by attaining final-tie status after three severe games in the penultimate stage with Preston North End. If Everton did fail on the first apperance as finalists they have the consolation of knowing that only on rare occasions have clubs been successful at the, initial attempts in the last stage of the competition. Everton have finished third in the League competition-an hourable position, which gain enhanced merit from the fact that they were unfortunate up to christmas'at which period they looked likely to be included in the last three. They had been up to this period under a cloud their ill-luck dated from the Aston Villa defeat on September 10, whom Jardine received an injury that incapaciated him for many weeks. With Williams not suficiently recovered from injury to a foot he received during the preceding closed season, Everton found themselves thus early without a reliable goalkeeper and were greatly handicapped. Accordingly they had to experiment with possible custodians Pinnel Thomas Rennie and others being tried and the results were in the main disastrous, kelso too, about this time was seized with illness and the defence was further weakened. The situation becoming desperate new men in Stewart, and Parry were secured, and with Williams at length well again, the changes effected in Everton's play was as agreeable as it was surpoising and from January 14 the march was a triumphant one during which eight League matches were won in consective order, dovetailed with successes in the English cup competition. In all Everton first team have played 63 matches, won 32 lost 18, drawn 13;against 31 wins 19 losses and 12 drawss last year. So there has been a slight improvement but still a long way off that of the preceding season, when Everton's wins numbered 50 and loses but 11 the combination team have also been seen to much advantage again securing the championship. There are no cups for Everton howwever, save the West Bromwich Charity trophy, but they have lost the local one is their own fault.
WEST BROMWICH ALBION AND THEIR PLAYERS.
May 1, 1893. The Liverpool Daily Post
We are informed that Groves and Reynolds, of the West Bromwich Albion, will probably be seen in the Everton team next season, and it is stated that Fred Geary, of Everton, wishes to join the Albion. Groves has been offered every inducement to stay with the Albion, but he appears to have made up his mind to join Everton, who have offered the Albion £50, for his transfer, which has been refused. Reynolds, it is stated, is also desirous of joining the same club.
LIVERPOOL DISTRICT AND NOTES
Athletic News - Monday 01 May 1893
By The Loiterer
Preston North End and Everton met once more, but the game on Monday evening was in direct contrast to those the team have played previously.  It is a good job it was a warm evening, or some of the players would have caught cold.  A much better game was played on Wednesday evening with Sheffield United, for the play was that keen that two of the players got at loggerheads.  The game all through was well contested, but the latest addition to the League had to put up with a defeat of three goals to one.
Everton occupied the Bootle ground on Tuesday, when the Combination team was strengthened by the inclusion of some of their new men, one of whom, Lindsay, had the misfortune to break a small bone in his shoulder.  The composition of the Bootle team did not give satisfaction, and many thought that Jones and Carthy, of the reserve, ought to have been inclined, instead of McLafferty and Brandon.  The game was rather in favour of Bootle, but Jardine was in good form in goal, whilst Whitehead was only moderate.  Hartley, too, played a grand game for Everton, and in the end his side won by two goals to one. 
The protest brought by the Everton Club against the "personal incompetency of the referee" in the Cup-tie last Saturday came before the Liverpool Association on Monday last, and was dismissed.  Mr. Clayton took exception to my remarks last week re this protest, and said that I had prejudged the case.  Now I at all times take good care not to go into the merits of any case that is sub judice, and in this instance I did not enter into the question as to whether the referee ought or ought not to have given a penalty kick.  I characterized the protest on the grounds of general incompetency of the referee as utter bosh, and I repeat it, and Mr. Clayton himself did not attempt to substantiate his objection.  There was really no grounds for protesting at all, for it must be patent to everyone that the only person who can decide whether a penalty kick should be given or not is the referee, and as he did not see it he could not give it.  Mr. Arthur was perfectly clear in his statement and his subsequently action in throwing up the ball was good and according to rule.  I cannot stand a gentleman like Mr. Arthur being charged with incompetency when he has played the game going into teens of years, and has attained the highest rung in the ladder on the field of play, especially when this action is the outcome of disappointed aspirations more than any ground for complaint.  The Everton Club have come out very badly in this case.  All through the piece they have cut a ridiculous figure, and, after insulting the Association and the Liverpool Club by placing such a team on the field, they are not sportsmen enough to take defeat with a good grace.  Fancy Mr. Clayton posing as an authority on football when he does not know even the elementary rules of the game, and putting himself in the beam against such a man as Arthur, who had won his spurs years before Mr. Clayton was heard of in connection with the game. 
EVERTON V SUNDERLAND
May 1, 1893. Yorkshire Herald
At Everton, before 12,000 people. The game opened in favour of Everton, who scored after eight minutes, Chadwick beating Doig with a shot from long range. Play then ruled even, each goal being the scene of spirited work, and at length Gillespie got one past Williams, the score being one each at the interval. Williams, the score being one each at the interval. Ten minutes from the finish Gillespie scored a second, and J. Hannah added a third. Result;- Sunderland, 3 goals; Everton, 1 goal.
GOODISONIA
Cricket and Football Field - Saturday 06 May 1893
Sunderland Win For The Third Time This Season
By "Black Rock."
Once more have the League champions defeated our pets of the proud Park.  On October 8th they won by 4-1 after a grand exhibition on both sides of all-round play, if I except the then Everton keeper Pinnell-who was surprisingly and disappointingly weak.  Again on January 3rd at Sunderland, had our men to knuckle under, but only after the toughest fight by a single goal -4-3- and last week end by 3-1, after a rather sorry show by the usual scorers in the shooting line.  The first half was very evenly contested, as the score 1-1 at half time testified.  If there was any advantage, no doubt the visitors may fairly claim to have had it.  A strong and variable wind militated against what would have been very scientific play, and North End might easily learn a lesson from the thorough earnestness and business-like manner of the champions, who evidently appreciate their reputation by always trying to sustain it.  Their forwards never relaxed, for they tired not, their halves were wonderfully quick and persistent, and Porteous, Smellie, and Doig were as reliable as they were bent on winning.  One of the features of the game-if not the chief-was the dash, method, and general performance of Hugh Wilson at right half, who earned commendations of no mean order.  Now was he seen bringing up Milward and Chadwick –especially the former in a manner too abrupt to please-who appeared extremely small before the towering personality of their opponent.  Then was he having a shy, which we call a try, at him who has not failed since Fallowfield.  Milward wound up in the worst manner, and, as for his shooting, it was simply ludicrous.  Bell and Gordon were no great shakes, the late acquisition being a vacillating as business good, dull, and "awful" while the reserve had but one good quality, viz., his centres –that's all.  The former missed such a chance that a schoolboy would have turned to account.  Let us hope that by application to strict training during the summer, he will consistently prove a shining light, and not a mere flash to dazzle ad deceive.  He certainly can if he will.  Boyle was the best of the home halves, sending back the advances of Miller and J. Hannah.  The turf will have to be seen to, as it appeared that Bell, Gordon, and Smellie were playing a game of Amercian Skittles.  The backs on both sides were equally good, and it will be the greatest of pities if Kelso will not make up his mind to remain.  Doig had more shots than Williams but the quality of the latter's was much superior to those of the Sunderland custodian.  Great interest is centred in the forthcoming balance sheet and to say the least of it, will surprise even the natives.  The public, and players, have sighed for the usual summer rest, the public for they have had a surfeit of the ball during the past delightful weather, and, the players, as they are entirely worn out with the Plethora of matches.  The game has died hard, but it has been killed badly.  Try the spice of variety in cricket, and whilst you are ruminating, on the fullness of the green sward under the benign smile of Old Sol, bestow a thought whether Everton will land the English pit in 94.  Then, till next September, adieu! 
EVERTON
Cricket and Football Field - Saturday 06 May 1893
By Richard Samuel
To a great extent the public bestow their favours on the Everton Club alone, and this is hardly to be wondered at when one considers the accommodation they provide for those who can only afford the popular sixpence.  From various causes, but especially the want of a reliable goalkeeper, the team did badly up to Christmas but since the advent of the New Year they have a splendid record in League matches and English Cup-ties.  The three hard tussles they had with the North End team in the latter will live long in the memory of "Dicky Sam," as will the collapse at the finish.  The Everton team have done a
Shade better than last season, but are a long way short of the performances accomplished in their championship year.  The turf at Goodison Park, thanks to the favourable weather has done fairly well, but is not what it should be, and the directors have a big job in hand in dealing with it this summer. 
The Exodus
There was quite an exodus of football players from Exchange Station on Monday morning.  Several of the Bootle players had gone home at midnight, but the bulk went by the 9.45 a.m. train, a saloon being attached for them.  Most of the Liverpool players left by this train, whilst Everton men and the defunct "Callies" made the number up to about 17. 
NUGGETS
Cricket and Football Field - Saturday 06 May 1893
Have Kelso and the Everton club comes to yet
Sunderland Everton how to play forward by combining a maximum of effect with a minimum of effort.
In all matches against the best of English and Scotch organizations, Everton league team has scored 147 gainst 108, an average of 1.3.
Will Reynolds and Groves be seen in Everton next year.  100 pounds for the first and 75 pounds for the other international (Scotch) is rather "think."
Because Sunderland beat Everton, the first defeat administered (save the Celtic at Park head) since April 12th should I say that they can't play for toffee?  Would it be a sweet remark?
Only Sunderland and Burnley defeated Everton in both engagements during the past season; whereas they have been double victors over Newton Heath, Derby County and Notts County.
EVERTON NEWS
Athletic News - Monday 08 May 1893
Although they have not won any cups, the Everton Club has done very well, and especially since Christmas.  With the advent of the New Year they pulled themselves together in wonderful fashion, and, as is well known, entered the final for the English for the English Cup.  The attendances have been enormous, and the energy displayed in providing one of the best grounds in the kingdom has been amply repaid.  We are not aware what the exact balance in hand will be, but should not be surprised to find its amount to £3,000.  We mean to say the club is actually worth that sum, but that the profits on the year will be somewhere near it.  The expenses of making the ground and erecting the stands will, of course, more than absorb it, but that is expenditure on capital account that ought not to be included in the ordinary receipts and expenses. 
LIVERPOOL DISTRICT AND NOTES
Athletic News - Monday 08 May 1893
By The Loiterer
Everybody seems to be glad that football is having a well-earned rest.  We have had our share of the game in Liverpool, and the thing was over-done in the last week.  Everton have a very satisfactory statement to show, the first team having factory statements to show, the first team having played 62 matches, won 32, lost 18, drawn 12, goals for 147 against 108.  Considering the poor show the team made previous to Christmas this is capital.  The Combination record is even better, for out of 57 matches played, 47 have been won, lost 5, and drawn 5, goals for 269, against 32.  It is a pity this team cannot get into better company than the Combination, for, with the exception of Stoke Swifts, the clubs have invariably proved easy victims.  On several occasions the team have scored double figures, and it seems strange that Chester, a club that that suffered a ten goals to one defeat at Everton on September 10, should twice beat them at Chester.  Beyond the Combination play, Everton have nothing to show for the above results, but I should think they have a good balance at their bankers, and this is something.  The same team will take the field next season, as far as we can see at present, the only charge being that Stewart will be absent.  Groves has been talked of, but I hear there is some hitch in the proceedings at the eleventh hour. 
We are likely to have a change in our representative on the Lancashire Association, as Mr. Heard has resigned.  Mr. Barclay is in the field, and I have not heard of any opposition so far, thought it is not likely Everton will allow him to have a walk over.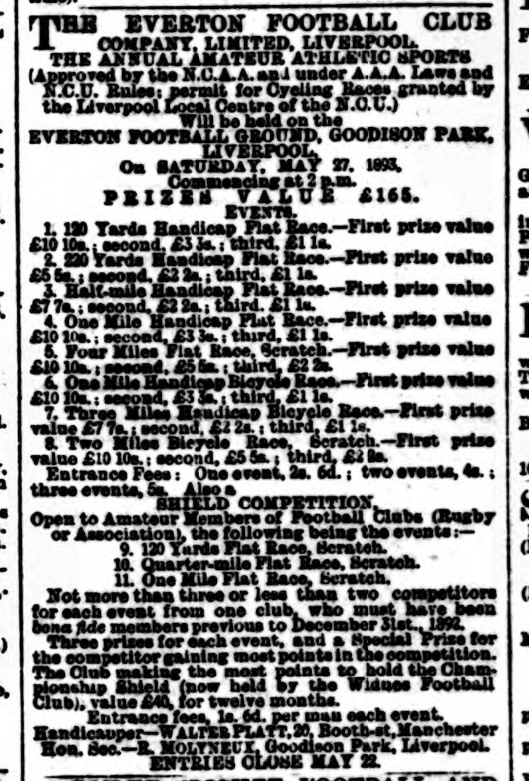 NUGGETS
Cricket and Football Field - Saturday 13 May 1893
Geary and Williams playing cricket for Stanley
Everton are working hard putting their ground in order for the 27th and for September
Everton F.C. do not desire Bassett from all accounts, although I should like to see him here.
Kelso and the Everton F.C. are now O.K.  Please allow me to shout "Hoorah!" as his display gave great satisfaction this way.
Everton F.C sports, May 27.  For further particulars see advertisement in the "Football Field" and note the "Championship Shield."
T. Chadwick knocked the bowling of the Civil Servants about without any civility.  Moran was the best of the visitors as a trundler and scorer. 
Zimmerman would receive a tremendous reception if he visited Goodison Park on the 27th inst.  We have not forgotten his superhuman sport last summer at Fairfield.  Come!
Rumour is again rife with regard to the engagements of footballers and Everton, according to the "lying jade" will have more players than they can possibly find work for. 
MR. JACKSON RESIGNATION
Athletic News - Monday 29 May 1893
We are sorry to hear that Mr. Jackson has decided to send in his resignation as a director of the Everton Football Club.  Mr. Jackson is about the only old member left in office, and it is on business grounds that he wishes to be relieved of taking active part in football matters.  Mr. Jackson retires after thirteen years' active service, having been treasurer for several years, and has always been in office of some kind.  The value of Mr. Jackson's services to the Everton Club cannot be over-estimated, for, at the time of the unfortunate split, he went with the majority, along with Mr. Currier and Mr. Molyneux, and there is no doubt that his action at that time strengthened the position of the club to an extent which cannot now be fully appreciated. 
EVERTON FOOTBALL CLUB
Athletic News - Monday 29 May 1893
The spacious and well-appointed grounds of the Everton Football Club at Goodison Park, Walton, was on Saturday the scene of the annual athletic sports promoted by the famous Liverpool organization, and as fine weather graced the proceedings, a large crowd, estimated between seven and eight thousand, patronized the fixture, and were rewarded by witnessing an interesting though somewhat lengthy afternoon's sport.  A fairly numerous entry had been obtained and though Bradley failed to put in an appearance for the Sprints, the spectators were consoled by seeing Bacon, Souch, A.B. George, and Waring in the foot events, and Harris in the cycle races.  Two capital finishes were witnessed in the 130 yards and Mile Handicaps, the later in particularly being a most exciting affair.  Nancarrow (135) led until entering the last lap, when Finclear, of Dublin, went to the front and going up the back stretch took a lead of six yards.  Here, however, the veteran Liverpool runner, Paddy Shay, made an effort, and running strongly he got to within half a yard of the Irishman entering the straight.  The virtual scratch man, Goble, of Altrincham (75), than ran to the heels of the leaders, but Fincler just managed to hold his own to the end, winning all out by half a yard from Goble, who passed Shay in the last few strides.  The spirit was secured by the successful local runner, Wigglesworth, who got home, after a desperate finish, by a foot from A. Leybourne, of the New Brighton F.C., the latter being a few inches only in front of Winrow of Ormskirk, and Purcell of Formby.  A shield competition open to members of football clubs, was included in the programmed, the events being 120 yards.  Quarter Mile, and Mile scratch Races, the scoring better by points.  Widnes F.C., and Tuebrooks F.C., tied with eight points each, but as the Widnes representative won the Miles, they were, under the rules of the competition entitled to the Shield.  It may be stated that a capital grass track, five laps to the mile, had been staked out, and no accidents occurred in the bicycle races.  These latter were hardly as interesting as they might have been, and no comment on the racing is necessary.  The meeting was excellently managed. 
EVERTON FOOTBALL CLUB SPORTS
May 29, 1893. Liverpool Mercury
The annual amateur athletic sports in connection with the Everton Football Club took place on Saturday on the grounds of the club, Goodison-road. The day was beautifully fine, and consequently here was a large gathering of spectators, who watched the events with the keenest interest. Prizes to the value of £165 were offered. The officials were President; Mr. Geo. Mahon, Handicapper, Timekeeper, and Referee; Mr. Walter Platt. Judges; Inspector Churchill, Mr. F.T. Parry, (N.C.D), and Mr. R.E. Lythgoe. Starter; Mr. E.A. Bainbridge. Marksmen; Messrs, Bush, Griffiths, Linaker, Ravenscroft, Savage, and Worthy. Call Stewarts; Mr. Green, and Mr. Leyland. Press Stewart; Mr. P. Nelson, Field Stewarts; Messrs W. Wilson (cheif) W. Ashcroft, J. Atkinson, H. Bernie, J. Davies, jun, J.H. Maxwell, H. Smethurst, A.E. Talbot, R. Wilson, and A. Yates. Hon Treasurers;- Mr. A.T. Coates and Mr. J. Davies. Hon Secretary; Mr. R. Molyneux. During the afternoon selections of music were played by the band of the Training ship Indefatigable. The results were as follow;- 120 yards Flat Race Handicap (run in eight heats); 1, A. Ryelsworth, Liverpool Harriers; 2, A. Laybourne, New Brighton F.C.,; 3, A. Winrow, time 11 3-5secs. One Mile Bicycle Handicap; 1, M. Bailey, St Helens C.C,; 2, A.T. Dainteth, Warrington C.C.; 3, G. Campkin, time 2 mins 48 4-5 secs. 120 yards' Flat Race scratch; 1, R. P. Waring, Tuuebrook F.C.; 2, H. Webster, Warrington F.C. ; 3, J.S. Craig, Widnes F.C., time 12-3 secs. Half-mile Flat race Handicap; 1, A. Travis, Bolton Gymnasium Harriers; 2, F.S. Friend, Croxteth C/.C.; 3, R.H. Walker, late Ashton Harriers, time 1 min, 59 -4-seconds. Two miles Bicycle (scratch); 1, A.W. Harris, Polytechnic C.C., A.J. Cherry, Electric C.C.; 3, F.H. Ainsworth, Everton B.C.: time, 7 mins, 9.3 secs. One Mile Flat Race Handicap; 1, G.B. Fincler, Bective Rangers F,C.; 2, C.H. Goble, Manchester Athletic Club; 3, P. Shaw; time 4 mins 29 secs. Three miles Bicycle Handicap; 1, M. Bailey, St Helens C.C.,; 2, W. Watson, Liverpool Wheelers; 3, H. Brown, Leigh A.C.,; time, 9 mins 50 2 secs. Quarter mile Flat Race (scratch); 1 C.H. Stewart, Tuebrook F.C.; 2. J. S. Craig, Widnes F.C; time, 57 3 secs. 220 Yards Flat Race Handicap; 1, F.P.Jones, Swinton F.C., 2 A. J. Mottran, Warrington Gymnassium; 3 H. Webster, Warrington F.C; 1, E. Gordon, Widnes F.C., 2 G. Wright, Widnes F.C., 3, T.C. Orchardson, uesbrook F.C; time, 4 mins 48 secs. Four Miles Flat Race (scratch); 1 F.E. Bacon, Ashton Harriers; 2. J.J. Crook, Blackburn; 3, C. Souch; time, 20 min, 49 secs. The challenge Shield top be held for twelve months by the football club whose representatives scored most points in certain of the competitions, was secured by the Widnes Football Club. As a matter of fact that club tied with the Tuebrook Football Club, but as Widnes Football Club. As a matter of fact that club tied with the Tuebrook Football Club, but as Widnes won the longer distance events, it, according to the rules, gained the shield. At the close of the sports the prizes were distributed by Mrs. Griffiths.
SUCCESS OF LOCAL CYCLISITS.
June 3 1893. Leicester Chronicle
At the Everton Football Club sports on Saturday, A.W. Harris continued his long winning sequence by carrying off the first prize in a two-mile scratch race.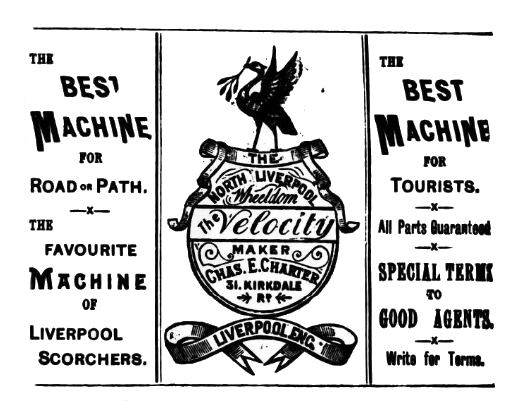 Cricket & Football Field
A RESIGNATION
Cricket and Football Field - Saturday 03 June 1893
By Richard Samuel
The announcement of Mr. Jackson's resignation came as a great surprise Evertonians. Mr. Jackson has been an associated with the Everton club almost from its infancy. He has seen some ups and downs in connection with the club, but has manfully kept his post. He was one of the guarantors Mr. Houlding, when the latter secured for the club the Anfleld site, and he had not much encouragement to fill this responsible position, for the first "gate" on this site only realized £1 14s. 10d. He has now the satisfaction of retiring after seeing the magnificent sum £765 taken under the auspices of the Everton club; In other words he has seen the revenue of the club increased from £300 per annum to between £9,000 and £10,000 per annum. In all Mr. Jackson has put in 13 years' service, and deserves well of the club, at the time of the split took the side of the majority of members. I remember looking over the well-kept volumes of the Football Field at the Sandon Hotel, and I find his son at the time of his death in 1885 was goalkeeper for the second eleven of the Everton club. Mr. Jackson resigns through his business engagements, but he leaves the club as a first-rate going concern and not in a sinking state.
NUGGETTS
Cricket and Football Field - Saturday 03 June 1893
£150 was the gate at the sports last Saturday in Goodison-rd.
I did not notice W. Leatherbarrow riding at Goodison Park, although his number went up.
Billy Cooke, of Bootle was not in good form at the Everton sports.  But he doesn't mind, for he only runs for sport.
We had two bands at Everton sport last Saturday, and taking the events right through they were enjoyed by the 6000 present.
A certain director of Everton F.C, tried to get some refreshments last week with a railway contract ticket.  Be wise in time, director mine!
A.J. Cherry was a proper cherry-skin and "nicks" to the match.  He was soon known, and "Go on, Cheery!" resounded from the hill of Everton."
Everton's general meeting will be, I hear, about the middle of June.  We all are looking anxiously forward for the various items of receipts and expenditure.
Mrs. Griffiths, wife of the director, distributed the prizes gracefully, as became herself and cause.  But she was awfully nervous, you know, beforehand, as also her lady friend.
C.H. Goble was baulked by some of the Everton officials at the Park, or he must have beaten Fincier, to whom he had to concede 20 yards.  Out of the way next time, Doctor!
It looked any odds on T.G. Stewart in the mile at Everton, but E. Gordon could not be beaten, although G. Wright came with a tremendous spurt in the last 50 yards and just beat Richardson.
I hope you all enjoyed yourself at Southport last Tuesday in the old-fashioned four horse race.  And half a sovereign each covered the expenses.  If you want to know more apply at Mr. Parle's Hotel, opposite Everton ground.
Everton's ground is now undergoing a course of treatment as to drainage.  The general appearance of the ground at present with the uplifted earth and thousands of pipes, gives it the look of a brickfield.  It must cost at least upwards of £100.
DEATH OF A HALLIWELL FOOTBALLER IN AMERCIA
Cricket and Football Field - Saturday 03 June 1893
James Wilding, who was formerly connected with the Halliwell Jubilee F.C but who some considerable time ago left for America, has died as Frankford, Philadelphia; whither he had taken up his abode at the early age of 31 years.  Whilst there he had trained considerable popularity as a footballer, having joined the Frankford club, the members of which greatly deplore his death and the loss they have sustained thereby.  Two hundred of his friends followed his remains to their last resting place, whilst numerous floral embletus, including one from the club with which he was connected, testified to the respect in which he was held. 
THE GROVES INCIDENT
Athletic News - Monday 05 June 1893
 It would not be wise to speak too abruptly as to the proceedings in connection with the arrangements in relation William Groves, the clever half-back and centre-forward of West Bromwich Albion. Just now the relations between Aston Villa and the Albion are strained pretty severely over the matter, and all sorts of wild talk is being indulged in; but there can be no question about two things. The Villa secretary was shockingly slow in the first place in not going about the business in a less haphazard way than he did, and that the Albion are to blame in not declaring at once that Groves had been transferred to Everton, instead of allowing their love of lucre to tempt them to temporize and attempt the impossible feat of sitting on two stools. There is no doubt that the West Bromwich officials were overwhelmingly jealous of the Villa getting hold of one of the best men they ever had; and yet at least one of them would have liked to have handled the extra money offered for his club. As the matter stands, it does not redound greatly to the honour of the ex-Cup-holders, and if the friction at present so acute is allowed to remain it will be very much to the detriment of the Albion club, who have far more to lose than the Villa by being in bad odour with their neighbours. It is to be hoped for the credit of the game that some amicable arrangement will be made engender kindlier feelings than now prevail.
LIVERPOOL DISTRICT AND NOTES
Athletic News - Monday 05 June 1893
By the Loiterer
Three directors of the Everton Club retire at the annual meeting-that is, two in addition to Mr. Jackson, and already the fight for the positions promises to be keen.  I hear of no fewer than five candidates, and I suppose the old directors will put up, so that the general meeting will be a lively affair.  I rather fancy the seats would not be in such great demand were the club in a less favourable financial state.  I know there is no great anxiety shown for seats on the Bootle directorate. 
NUGGETS
Cricket and Football Field - Saturday 10 June 1893
Rennie, late of Everton, offered his services to Bootle, but-I'm thinking of going into training for it myself.  What is it worth?
Mr. Jackson remained on board till his barque was safely moored in the good old harbor of Goodison-rd.  May his shadow never glow less.
Jardine is at last content, and so are the Everton directors. Hope things will sail more smoothly next winter.  Still, Williams will be the boss custodian.
I believe on three occasions only in the League fixtures, do Liverpool clash with Everton-viz., September 30th, December 30th, and March 24th, 1894.  Well-arranged sirs!
Everton are said to have a balance in hand of £4,000.  Good business.
STANLEY V NEWTON-LE-WILLIOWS (Cricket)
June 12, 1893. The Liverpool Mercury
The great feature of the match was the grand battling of R. Williams, the popular Everton goalkeeper, who compiled 60 in a brilliant manner he putting the ball out of the ground on more than one occasion. F. Geary, another Everton football expert, also battled prettily and successfully for 31. R. Williams, demonstrating that he was in bowling as well as in batting form, wrought confusion and secured four wickets for 14 runs only.
DICK WILLIAMS
Cricket and Football Field - Saturday 17 June 1893
By Richard Samuel
The Stanley Club
"Dick" Williams is doing splendid work for this club, for against Newton on Saturday the popular Everton goalkeeper was top scorer with 60, and in addition took four wickets for 14 runs.  This he further supplemented by scoring 43 against Walton on Wednesday and took seven wickets at a small cost.  Geary in the first named match, scored 31, while another footballer Bradshaw, who by the bye, has not done much this season, took two wickets. 
Now is the time for setting up accounts.  By this time this is in print the Everton balance sheet will be published, and will be found interesting reading.  The turnover is enormous and although several items will be severely criticized at the meeting on Monday, the 16th inst., the directors are in the favourable position of showing a splendid balance in hand.  Three directors retire, and I notice they are Messrs, Mahon, Currier, and Jackson.  Well, well!  This will do away with some keen opposition that was threatened. 
NUGGETS
Cricket and Football Field - Saturday 17 June 1893
What is the Everton balance?  If rumour speaketh truly, then £3,000, or something near it, will be in the hands of the treasure.
Everton's trainer, Love, strongly believes in footballers working during the week, and the game, he said, would then be only a relaxation to them.
YEARS FINANCES OF THE EVERTON FOOTBALL CLUB
June 17, 1893. The Liverpool Mercury
The balance-sheet of the Everton Football Club Company, Limited, during the ten months of its existence shows that the receipts have amounted to £10,892 13s, 10d, the chief items in which have been –Gate receipts, £8815 19s, 1d,; proceeds of matches played away, £1099 10s. 3d; profits from athletic sports, £322 17s 5d; and season tickets £390 13s, 6d. Players 'wages and bonuses have amounted to £3539 1s, 6d; amount paid to visiting clubs £1595 1s 6d.; amount paid to visiting clubs, £1595 1s, 6d; amount paid to visiting clubs, £1595 1s 2d; travelling expenses, 11s, 9d.; gate expenses and wages, £462 10s, 9d; entertaining visiting clubs, &c, and sundry expenses', £125 17s. A balance of £1814 7s 5d, remains in hand on the working accent shows that the stands, hoarding, and erections at Goodison park cost the company £3820 16s 6d, of which £764 3s 2d, had already been paid off. The directors recommend the payment of a divided at the rate of 5 per cent, on the called up capital.
EVERTON BALANCE SHEET
Cricket and Football Field - Saturday 24 June 1893
By Richard Samuel
The Everton balance sheet has been favourably received on the whole, but the meeting on Monday evening next promises to be as lively as any of its predecessors.  I take it that Mr. Mahon will have no difficulty in retaining his seat on the board, but over the two other vacancies there will be a stiffest fight.  Mr. Currier intends going to the poll, and the only objection to him, as far as I can gather, is that he has not attended so well.  It should be borne in mind that for a long time he suffered from illness during the winter, whilst lately he has been in London on business.  Mr. Jackson, of course, does not intend to seek re-election, and the fight for the two vacancies promises to be keen.  As regards the balance-sheet itself I am fairly well satisfied.  Several items are large, but it must be borne in mind the club had to contend with a strong opposition throughout the season, and with their revenue they could afford to be a bit lavish in their expenditure.  Probably another year several items will be considerably less.  It must be satisfactory to the shareholders to receive a dividend of five per cent., and to carry such an excellent amount forward to next year, besides having paid off a fifth of the stands account.  The only thing that I am disappointed in is that out of all this money expended the club have nothing to show to the sporting world.  Barring the West Bromwich Charity cup not a single trophy has been won by the club, and, however well the club has been financed this must be a source of disappointment to many.  All the honours of the game have gone to clubs having nothing like the support we have, and to my mind the shareholders would do well to get men who understand the game on the directorate.  Better results ought to have been obtained out of the money expended on the club.
EVERTON FOOTBALL CLUB
June 27, 1893. The Liverpool Mercury
The annual meeting of the shareholders of the Everton Football Club Company, Limited, was held last evening at the Presbyterian Schools, Royal-Street, under the presidency of Mr. George Mahon. The report and accounts, were submitted. A dividend of 5 per cent, per annum was recommended on called-up capital, and Messrs, Mahon, Currier, and Jackson, retiring directors, were proposed for re-election. The Chairman, in moving the adoption of the report, said the club had passed through a crisis. Notwithstanding that, he regarded the balance sheet as one of a memorable character. One side of the balance sheet recalled reminiscences of a troublesome past, while the other side showed strong traces of the old club, and offered a cheerful augury of a successful future. He claimed that the balance sheet was a distinct and able vindication of the part which they had all along assumed. They had endeavoured to conduct the club on broad and liberal lines. They had catered for working men to a more liberal extent than any other club in the country, providing for those who could not afford out of their small weekly wages to pay a shilling to see the League matches. He drew the attention of other League clubs, which now complained of inadequate support to the way in which the Everton club had been rewarded for providing the accommodation for the working classes. Alluding to some private meetings which had taken place, he said the directors did not approve of such meeting, and with reference to the proposed divided he said he would prefer that 100 per cent, should be declared instead of 8 per cent. A member second the resolution and after considerable discussion the motion was agreed to. The next subject discussed was the question of dividend, and on the motion of the Chairman, seconded by Mr. Montgomery, it was resolved that the dividend of 5 per cent should be declared. According to the rules a dividend of a higher rate could not be declared. Messrs, Mahon, Currie, and Jackson were the retiring directors, and the meeting proceeded to consider these denominations.
Mr. Mahon, the chairman, said the matter had been one of serious import to him taken from a health standpoint. For the greater portion of the past 18 months he had not been up to the mark, and he felt that for the next six or twelve months he should conserve his strength to perform the obligations imposed upon him. At the same time he had discussed matters with his directors, and what he might call terms had been arrived at, which Mr. Clayton would explain.
Mr. Clayton said what he had you propose was that in the ensuing year Mr. George Mahon be president of the club, with full power to attend any meeting of the directors, but the directors would not call upon him to attend all the meetings. This was agreed to. Messrs. Currier and Jackson having declined to stand, the meeting proceeded to vote on the nominations of Messars B.Kelly, John Read, Frank Hall, and William Wilson. Messrs, Kelly and Read were elected, receiving respectively 79 and 51 votes. The meeting shortly afterwards closed.
ROGER ORD
JUNE 27, 1893. Nottingham Evening Post
It is said that Roger Ord, a clever goalkeeper belonging to the Shankhouse Football Club, will play for Everton next season.