LIVERPOOL CALEDONIAN 1 EVERTON 1
November 1, 1892,
The Liverpool Mercury
Fresh from their English Cup victory over Bootle on Saturday, the Liverpool Caledonians yesterday, afternoon received a visit from the Everton legue team. About 4,000 were presnt when the following sides commenced operations:- Caledonians:- Whitehead, goal, Lyons, and Parry, backs, Graham, Ross Muir and and Farmer half-backs Deighton (j), Deighton (t) Kirkwood (d), Bryce and Hasting forwards, Everton :- Pinnell goal, Chadwick and Coyle backs, Robertson, Jones, and Jamieson, half-back, Geary, Smith, Maxwell, McLaren, and Milward forwards. It will be seen that Everton had a majority of their men from the Combination team, whilst Caledonians made one change from the side that beat Bootle, McCabe who got hurt on the head on Saturday standing out, and Ross muir stepping in. the visitors had the wind slightly in their favour at the outset, and took up the attack, which they sustained more or less during which pressure, Whitehead and Parry each made fine clearances. Once the home right wing got well down, when J Deighton had a shot. Bryce showed up well on the left, but got small support, and so Robertson and Chadwick could not be beaten. Milward became several time dangerous, shooting strongly and in the right direction though Whitehead was equal to the emergancy. At the other end J Deighton again had a shie, but Pinnel used his hands and cleared easily. He soon had to fist aside. The Caledonians were not to be denied and after J Deighton had been driven to shoot just outside. Kirkwood had a golden chance from Hasting and Bryce. Profiting by this let off Everton made a visit to Whitehead, but Maxwell was to slow in front and Milward followed by driving over at the outside. The home backs and hal;f-backs now had plenty of work to do, and came out very well. still Maxwell wormed his way though, after Milward had shot a wide from long range, and finished up by scoring a neat goal. The Callies however, immediately had revenge, as Bryce essayed a shot,. This Pinnel played,, but sending the ball only a few yards J Deighton promptly banged in successfully. The Caledonains had rather the best of play now up to the interval, but no change was effected in the score-a goal each. On resuming, hostilities for some time were carried on in the home half the Everton forwards being industriously fed, but they were not allowed a grow dangerous so well did Parry, Lyons and the half-backs defend. Smith aty length shot over the bar, from the goal-kick T Deighton went away in a speedy run, until Chadwick interfered. Hasting next moved along and Kirkwood receiving the ball put it to J Deighton, whose shot was erratic. Everton then penetrated goal, but the whistle sounded before the final touch was put on. Everton returned, when Milward sent in a very hot shot which struck the post. Hasting shortly following. Forced his way down and though Chadwick admonstrated a check the ball got to Bryce, who shot too eagerly. In reply Geary sprinted along the wing, and narrowed in, but Lyons blocked the ball smartly, giving a corner. The Caledonians now became the aggressors, causing some anxienty; but Kirkwood was too high in heading. Whitehead then stopped a warm on from Smith. Everton tried hard to force a goal. They passed and shot with great spirit but were repelled time after time, Parry making some marvellous clearances right at the goal mouth. Whilst Whitehead was always safe when called upon. Near the finish Farmer passed out to Kirkwood who shot into Pinnell's hands and from the kick, Everton swarmed round the home goal. In the short time available Pinnel was again tested but was safe, and a well contested game resulted in a draw-one goal each.
EVERTON (COMBINATION) V. HALLIWELL
November 2, 1892. The Liverpool Courier
This match for the benefit of Halliwell F.C will be played at Goodison park tomorrow (Thursday) and Everton will be represented as follows;- Williams, goal; Chadwick and Collins, backs; Coyle, Jones, and Campbell, half-backs; Smith, Murray, Pinnell, McMillian, and Elliott, forwards. Kick-off 3p.m.
THE EVERTON GOALKEEPER
November 2, 1892. The Liverpool Courier
We are informed that Richard Williams, the Everton goalkeeper, who so creditably to himself and club filled that position during the greater part of last season with the Everton League team, has now completely recovered from the accident which befell him some three months ago while employed at the Mersey Tunnel works, adjoining the Birkenhead Central Station. Evertonians will therefore be glad to know that Williams will play in goal for Everton tomorrow when they oppose Halliwell at Goodison Park. It is also expected that Williams will play against Derby County on Saturday next at Derby. It will be remembered that Williams principally, by his fine exhibition of goalkeeping, enabled Everton to win their last League match at Derby, last season, by three goals to one.
EVERTON COMBINATION 6 HALLIWELL 0
Novemberr 3, 1982, the Liverpool Mercury
The club, ever ready to render to help to clubs less fortunate than themselves financially organised a match at Goodison Park yesterday, between the above teams for the benefit of the Halliwell club, who but a few years ago were keen opponents to Everton, and who have gained in some capital contest at the old Anfield ground in the pre-league days,. The weather yesterday forturutely proved fine, but the company of spectators was disappointly small. Everton who assisted by Law late of Bootle, as centre forward leead at the interval 3 goals to nil. In the second portion Everton added 3 goals, and finally won by goals to nil. Everton team, Thomas,, goals, Chadwick and Coyle, backs, Wharmby, Jones and Robertson, half-backs, Smith Murray Law, McMillan Elliott, forwards.
TODAY GAME
November 5, 1892. The Liverpool Mercury
With Everton League again away from home, this time visiting Derby County –with better luck than last week at Bolton will be the hope of their supporters –and Everton Combination and Leek will be in possession of Goodison Park.
Everton v. Derby County, Derby. Kick-off at 2.45 p.m. The following will play for Everton; Williams, goal; Howarth and Collins, backs; Boyle, Holt, and Jamieson half-backs; Latta, Maxwell, Geary, Chadwick, and Milward, forwards.
Everton Combination v Leek, Goodison Park, Kick-off at three p.m. The following will play for Everton; Thomas, goal; Chadwick and Coyle, backs; Wharmby, Jones, and Robertson, half-backs; Smith, Murray, Pinnel, McMillan, and Elliott, forwa DERBY COUNTY 1 EVERTON 6
TODAY GAME
November 5, 1892. The Liverpool Mercury
With Everton League again away from home, this time visiting Derby County –with better luck than last week at Bolton will be the hope of their supporters –and Everton Combination and Leek will be in possession of Goodison Park.
Everton v. Derby County, Derby. Kick-off at 2.45 p.m. The following will play for Everton; Williams, goal; Howarth and Collins, backs; Boyle, Holt, and Jamieson half-backs; Latta, Maxwell, Geary, Chadwick, and Milward, forwards.
Everton Combination v Leek, Goodison Park, Kick-off at three p.m. The following will play for Everton; Thomas, goal; Chadwick and Coyle, backs; Wharmby, Jones, and Robertson, half-backs; Smith, Murray, Pinnel, McMillan, and Elliott, forward.
LICKERING THE TOFFY AT PIKES-LANE
Cricket and Football Field - Saturday 05 November 1892
When the Wanderers were returning from Wolverhampton, the players, taking over the chances of the game of the next few weeks, came to the conclusion that they had as one of them said, "some stiff 'uns"; "and," added another player, "Everton 'ill want as much licking as any of them."  "Well," said a third, "we can do it if we try," and they did do it, despite the fact that friend Lewis seemed to be in a very singular and erratic humour.  Zest had been added to the match by the statements that Mcleod and Fryer were to play for Everton, but these gentlemen had thought differently, and Everton were "as you were" only that Edgar Chadwick was not included, and Gordon was let in as partner for Latta, Maxwell going across and helping Milward, whilst the volatile Fred Geary was at centre.  The Everton backs were up to full strength, and were a decidedly good lot, but there was not much about Murray to infuse confidence into anybody.  The wanderers placed exactly the same team in the field as against the "Wolves" and there was a "do or die" –and certainly not "die" –sort of look in their eyes as they faced the keen wind and pitiless drizzle which told against them in the first half.  For a time there was nothing in the play of the Boltonians to inspire their friends with any great degree of cocksureness; but the backs worked hard, Sutcliffe was clever as a man could be, and the half-backs had an awkward knack of hanging on a man as he tried to make headway.  There were a lot of corners, a good many scrambles, and then at last Latta met the ball as it came out of a scrimmage, and getting his foot fairly to it, he sconed with a roarer, that gave Sutcliffe no chance.  Folk from Trotterdom looked glum, and people from the land of toffy smiled; but this state of things was soon reversed, for grand work by the Wanderers' right and centre earned a corner, it was well put in by Wilson, and lifted through by Wilcox almost before we could say Jack Robinson.  Loud were the shouts as the wanderers darted off again, but this time Howarth got in the way and Sutcliffe had to save a scorcher from Latta, whilst a long one from Boyle bothered him.  He, however, cleared grandly, and again the home right got going and the ball was grandly shot, a corner ensuing.  This was well taken from the left and ball went through.  An Evertonian kicked it out again, but the referee was close up and unhesitatingly gave the point.  With the score at two to one for the Trotters in the second half, and the wind in their favour, it seemed odds on them winning; but, still, Everton did not give up, a fine dash by Alf Milward might, with a bit of luck, have been a goal.  Directly afterwards Dickinson put the ball in beautifully and Wilson seemed certain to get through, but just missed the leather.  For some minutes the Everton backs were badly bothered, but again their forwards came up the field.  There was a tussle between Matthews and Geary, Jones claimed a foul, and people were expecting this coming off, when, to their amazement, a penalty was given against the Wanderers, Jones evidently protesting with all the emphasis of a warm-blooded Taffy.  Still, the penalty kick had to be taken.  The Wanderers seemed unusually eager as to this, and once rushed past Geary as he was attempting to kick.  Mr. Lewis, however, very properly insisted on the players standing behind, and Geary took the kick, which was a comical failure.  Fred had prepared for the kick as though he were going to annihilate poor Sutcliffe if he got in the way.  McNee had implored Sutcliffe to come on the six-yard line, and everyone seemed to think it was a good goal gone wrong, when the sphere rolled aimlessly and helplessly into touch.  The Wanderers' captain forgot his dignity and jumped for joy, whilst poor Fred stuck his hands into the bottomest depths of his pockets, looked mad, and walked away.  Then the Pikes-laners had a "go," and a long shot from Cassidy was awfully bungled by Murray, who let it slip through his hands and then banged his thigh because he had not banged the ball.  When shortly afterwards the wanderers rushed the leather through for the fourth time it was seen that Everton's hope had departed, and although play was continued for some time there was nothing in it, the whistle sounding with the score at 4 to 1 for Bolton.  It was rather a singular feature of the match that both sides played better football against the wind than with it, but there was this difference, that the wanderers did much better with the wind than their opponents and that they fairly went for goal when they got a chance, although it is pretty near certain that had they shot oftener from long range their score would have been much heavier.  The play of the Wanderers' right wing against the wind was about as fine as anything seen on the ground, and the left and centre also did well.  The half-backs all worked manfully, but Matthews was nothing like so good as he was against the Wolves.  He seemed to have an attack of the demon of selfishness. And this spoiled him often.  Jones and Somerville were a grand pair, and worked like horses, only that there was nothing heavy-except their charges and kicks-their tackling being as clever as could be.  Sutcliffe played about the best game of the season, and really seems to get better every match he plays, now that his leg is getting stronger.  On the Liverpool side very little need be said of Murray.  He is not a goalkeeper.  He did not pass muster, at any rate he allowed the ball to pass once when a third-rater would have stopped it, and he was decidedly lucky to stop it on several occasions when he fumbled with it.  Howarth was the great rock of the Everton defence, and the way he stuck to his goal was a caution.  Collins was no great shakes, and Boyle and Holt were a long way the best of the half-backs.  Lattas and Gordon and Milward were the best of the forwards, but after the first half-hour they were all of a knot, and seemed to try to do all the work themselves. 
"KNOCKED" AGAIN
Cricket and Football Field - Saturday 05 November 1892
By Richard Samuel
It is not so long since September 1st when Everton beat the Wanderers by four goals to two, but on Saturday the tables were turned with a vengeance, and instead of a win Everton have to put up with a defeat by four goals to one.  There is a wide difference between the scores, and our team have come out badly.  There was Chadwick short, and Fryer failed to show up, otherwise we had our full team.  No doubt your Bolton scribe will deal with the game for our edification or otherwise.  The play did not suit the four hundred old staunch supporters that journeyed to Bolton, and there was very little noise made on landing back in Liverpool.  Some trotted out the old story of the team having most of the play, but this is getting threadbare, and when a player cannot place a penalty kick to within some yards of the goal it strikes me there is some bad play knocking about.  Murray, too, seems to have been a failure in goal, but what are the committee doing to remedy these defects?  There have been one or two journies to Scotland, which I'll be bound to say will cost a good round sum, with no result so far.  It has been proclaimed this week that Williams will be fit for Saturday, and it is significantly pointed out that it was in the match with Derby County last season he did so much towards winning they game.  This is all right in its way- it will certainly put us on till Saturday, but there is not such satisfaction about the news.   His presence may keep the scoring down, and if it doesn't, I daresay we shall have another starting announcement of the engagement of some of the numerous white elephants attached to the show.  They come here and play a match or two, and off they go, like Kent, Fairbrother, Marsden, and others too numerous to mention; and there would have been another lot from Kirkdale, only a section of the committee stopped it.  It would thus appear that these eliques are useful at times.  Does it never strike you what a peculiar way we have in Liverpool of managing a football club, and the treatment meted out to our secretaries, and at Everton in particular?  Mr. Molyneux may be all nice and comfortable at the registered office- he ought to be, if he isn't – but, I think he would serve his club better by being with them, I know his absence is commented upon by the officials of the clubs visited; and, with important matters continually springing up, it is in the interests of the club that the secretary should have every opportunity of an interchange of views on football topics with them.  We got accustomed to the cry of "one man's show" under what is styled as the old regime, but there is more of it today than ever there was before, and what is worse, their knowledge of football is only of mushroom growth.  Take last Saturday's team.  It was settled that Latta play in the centre and then altered at one of these hole and corner meetings, and there was also these engagements of players, bell, McLeod, and Wilson have been freely mentioned as certainties, and on venturing an opinion a month or two back that they were rather too sanguine I was assured with a significant nod that bell would be down with October.  Somebody will have to stand father for all this, and then there will be some quibbling, and finally it will drop on the poor secretary.  But really, from what I can see he is a nonentity and one or two of the committee or directors as well.  All the directors are very nice gentlemen, but the majority of them don't even know the rudiments of football to say nothing of the artful dodges which have to be employed to catch such as McLeod and Co.  These accounts of narrow escapes, &c., are all nice enough reading, but there has been nothing practical from them.  What is wanted is some "hard-face" which can only be acquired by experience.  The directors have managed the laying and arranging of the new ground admirably and if there were only one or two practical men to look after football matters it would be a great deal better. 
DERBY COUNTY V. EVERTON
Cricket and Football Field - Saturday 05 November 1892
THESE CLUBS MET AT Derby, this afternoon, before 7,000 spectators.  Teams;- Derby County;-  Robinson, goal; Maclean, and Leiper, backs; Cox, A. Goodall, and Roulestone, half-backs; Mills, J. Goodall, Storer, Bloomer, and McMillian, forwards.  Everton; Williams, goal; Howarth and A. Chadwick, backs; Jamieson, Holt, and Boyle, half-backs; Milward, E, Chadwick, Geary, Maxwell, and Latta, forwards.  Referee; Mr. Tilsotson.  Everton, through Maxwell, missed a chance almost immediately.  Derby than ran down, Goodall shooting wide.  Fine passing by Derby saw the ball in the Everton goal.  Williams punted out, but Goodall headed into the net three minutes from the start.  Everton dashed to the Derby goal, which narrowly escaped capture, Chadwick grazing the post.  Milward easily equalized four minutes later.  A. Goodall frequently came in for applause.  Geary made a dashing run and shot skywards.  Both goals were visited in time but Everton were having the best of the game, although J. Goodall and Storer each troubled Williams without effect.  Maxwell and Latta travelled well and caused Robinson trouble, but the scene changed.  Bloomer passed to Storer, who sent a scorcher at Williams.  Geary here got in an electric run but A. Robinson relieved marvelously, whilst a second almost immediately by Maxwell was similarly served.  The fine play of Everton at length was successful, Latta passing to Geary, who ran in and shot Liverpool a second goal.  Bloomer and Roustone had shots at the Everton custodian, but he repelled them.  Everton had now the best of the argument, their forwards being far better than their opponents.  Everton scored again. Half-time; Derby County 1, Everton 3
Resuming the home men ran up, and Goodall shot a hot one at Williams, but he stopped it grandly.  Everton gain pulled themselves together, Geary being a demon.  He shot Everton a fourth goal three minutes from the restart.  The County tried hard to make headway but were beaten by the fine defence of their antagonists, Holt, being in his best mood, whilst Latta, E. Chadwick, and Geary were like machinery itself.  At length Derby, through Bloomer and T. Goodall, caused Williams trouble but he freed on every occasion.  Storer at length got away and passing all opposition hit the Everton crossbar.  Fred Geary again got under weigh, and shot at Robinson, who cleared luckily.  Everton still played finely, and looked like scoring frequently, but Maxwell was hurt-a sprained back – and left the field.  Goodall missed an easy chance for Derby, as did Storer, but Everton had also hard lines.  However, they scored again, and won by six goals to one.  Final; Derby County 1, Everton 6
The game was evenly contested, but after Everton equalized –a rather doubtful point-the visitors were never seriously troubled, Geary, Latta, Chadwick and Maxwell being seen to great advantage.  Robinson was seen to distinct advantage, but he most certainly ought to have stopped two of the goals obtained.  Millan was Derby's weakest man and Heiper the best.  The better team won. 
COMBINATION
EVERTON V. LEEK
At Everton, today, before 4,000 spectators.  After 10 minutes' good play McMillian scored.  Four minutes later Gordon neatly beat Hall.  Leek had next some chances, and Elliott added a third.  Pinnell's manipulation was amusing at back, and Gordon ran through from half-way, eliciting cheers.  The next ball compelled Thomas to save cleverly close in.  Immediately from a corner, Cade put in No. 1 for Leek.  The game was interesting up to the interval, Leek playing up well.  Half-time; Everton 5 Five Leek one. 
Full Time; Everton 10, Leek 1.
NUGGETS
Cricket and Football Field - Saturday 05 November 1892
Milward always obliges ladies
On form Gordon is the best forward Everton have got
Gordon didn't love Harry Matthews.  Neither did Geary
Everton "paid their money, but they did not get their chice."
Will Foyer officiate soon?  I have heard some talk of his eligibility.
Law is now in Everton, and helped both the home team and Halliwell.
When Everton's warmest supporters find fault it is time to affect an alteration.
Coyle showed miserable defence on Saturday, and excellent qualities on Monday.
The old Liverpool clubs are going down, and the young ones coming to the front.
Bob Stockton's stump speech collapsed when Wanderers 4, Everton 1 was shouted.
It will be a moth said Kelso "before I will be fit and proper for the football field."
Why is Pinnell a smart goalkeeper? Because he just saves-"Only this, and nothing more."
Kelso is improving so fast as to put on a pound of flesh a day.  Dr. Baxter was pleasantly astonished.
If I except Milward at Woodcroft Park last Monday, not one of the League players performed worth mentioning.
Geary is losing caste.  From the top of the ladder he is stepping lower very game.  Rouse yourself ere it is too late!
That shot from Milward must have scored had it not shaken the upright.  Robertson also disturbed the air a little on Saturday.
Who offered 1,000 pounds aye, and has it ready for Everton F.C., when required" Spend it on a few willing hands to use their feet better!
The air is filled with Rumours (capital R, please) anent Everton's forward rank, that "one cannot be to careful" for "one never knows."
Mr. Roche brought his better half to see his eleven slaughter the much despised and harshly (?) criticized Goodisonians.  But, not yet; no, not yet! 
Heard at Woodcroft Park last Monday.  "Now, Callies, give them (Everton) come Hawthorne (alas, Bootle they haven't forgotten it yet), you're losing nothing as yet." 
September 19th. Everton Combination (pure) 4 goals, Caledonian 0; October 31st, Everton Combination, mixed or assisted (???) by Maxwell, Geary, Milward and Robertson 1 goal, Caledonians 1.  Some have been weighed in the balance, and found wanting.
Liverpool are going to cover in their end stands, thereby following Everton's lead.
Those Evertonians at the Liverpool v. Newton match seemed to enjoy the game immensely.
The Bolton spectators set up a loud cry when they heard the young Everton "ricker" on Saturday.
He quite amused the spectators in his opinions of Murray.  He said that Murray couldn't stop a cart, much less a ball!
The Everton rattle-carrier caused great amusement at Bolton Station when he "let go the rick for Sheffield Wednesday."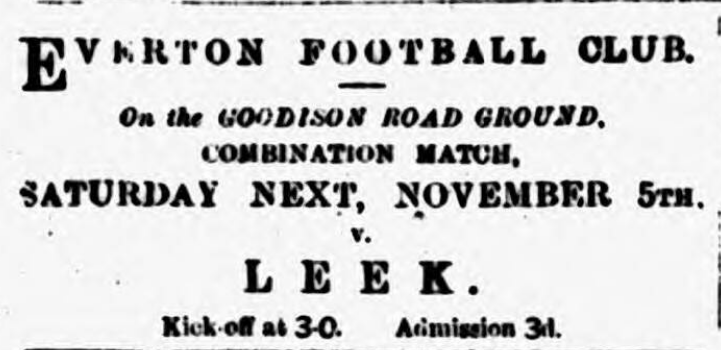 EVERTON REVIEW
November 7, 1892. The Liverpool Mercury
Everton emerged from under the cloud which had settled over their heads for sometime on Saturday, and won brilliantly when opposed to Derby County by 6 goals to 1. This is exactly the same kind of defeat Derby suffered at Perry Barr the week previously, but then they were away from home, whereas now they were on their "native health" a condition which enhances the merit of Everton's achievement. The situation had been seriously debated and "conferences" held between the Everton officials and the players during the week, to see what could be done to wriggle out of the rut into which the good old club had fallen. The interviews have borne early fruit, for here appeared to be a much better reciprocal feeling among the members of the team and great determination to show that, after all, had deteriorated in skill and staying power. Williams was at last in a fit state to resume the place he had often filled so well in goal-notably when at Derby, a twelve month ago –and as he soon gave evidence that he was as reliable as ever, though still suffering a little from the injury he received in July, a general confidence overspread the team, and they always looked like winners. They were certainly bent on putting in all they knew, and the pace was set by Geary at the quickest, who found a ready response in his wings. They attacked always with refreshing vitality, and shot so consistently well that it was hard at times to reconcile oneself to the fact that these deadly shots came from the players who had been of late so erratic and tame. Milward was not well, and would have been excused but for the importance of the occasion, but he kept well in touch with his colleagues, Geary was the most conspicuous man in the game, his running being of his best well-known style, and his shooting invariably very sure. Both Chadwick and Maxwell worked beautifully immediately on either side of him, and the middle tried were accordingly compact and powerful. Latta was brilliant in the extreme on the outside right, and it was from his centres that nearly all the goals were scored. The play of Boyle, Holt, and jamieson left nothing to be desired, and Howarth was again great in defence, doing his own work and some of that which belonged to his less experienced colleagues, whilst Williams saved many good shots from taking effect. Derby had little chance and were inferior at each department, the goal they scored arising from Howarth slipping down. It was a great victory well earned. Let us hope it is not a mere flash.
DERBY COUNTY CRUSHED AT HOME
Athletic News - Monday 07 November 1892
By Peakite
It appears to be the fortune of Derby County just now to on catch their opponents in merry moods. Everyone agrees that Alton Villa showed against them last week the very best form they have exhibited this season, and I am told by those who have seen Everton in all their matches that their game at Derby on Saturday was by far the best they have played in the current competition. For one thing they had a reliable goalkeeper, Williams not having donned the blue until he played in a practice game this week. Their team in other respects was a thoroughly workmanlike one, as the event proved. On the other hand the County suffered a double bereavement. Not only was Staley still absent on the sick list, where he is likely to remain some time, but his fellow full-back. Methven, had gone to Scotland, in consequence,  it is understood, of domestic trouble, and had not returned. Consequently, the reserve backs, McLean and Leiper, had to be called upon, the elevens being as under;-
Derby County; J. Robertson, goal; J. Leiper, and T. Mclean, backs; J. Cox, A. Goodall, and Roulston, Half-backs; Mills, Bloomer, J. Goodall, McMillian, and Storer, forwards.  Everton; Williams, goal;  Howarth and Chadwick, backs; Boyle, Holt, and Jamieson, half-backs; Latta, Maxwell, Geary, E. Chadwick, and Milward, forwards.  Referee; Mr. J.C. Tillotson (Birmingham). 
John Goodall won the toss, but there was no advantage in choice of ends. The start gave augury of something very different from what subsequently happened, for ere the game was five minutes old the homesters had taken the lead.  The disaster occurred through bob Howarth slipping down (the ground being rendered greasy by the mild weather following upon frosts), and letting in Mills, who passed in front to Storer.  The latter shot at the under edge of the crossbar, and though Williams assisted the rebound the ball dropped on to the head of the Derby captain, who promptly placed it in the net.  Five minutes more and the game was equalized by Milward pitching on to Robertson just as he received a shot from the right, and after this it soon became evident which was the better team.  The game was not very uneven, as the County repeatedly attacked, Storer, Bloomer, and John Goodall being conspicuous, but the onslaught at the other end was much more deadly.  The Derby backs were beaten time after time, Geary, Chadwick, and Latta being particularly persistent, and Robinson only kept the ball out by some brilliant work.  At length he was defeated by Geary, and again just before the interval by Latte.  In the second portion of the game the visitors showed even greater superiority. The County played an up and down kind of game. For the most part they were like a thoroughly beaten team, but there were several periods when they attacked with great spirit, and severely taxed the Everton defence, Goodall, Storer, and Bloomer being again chiefly responsible, but the Everton defence was as strong as that of the County was weak, and whilst Williams was usually saved from trouble by the backs, Robinson was called upon time after time.  Geary was in great form, putting on two goals in capital style whilst Latta added another just before the whistle blew, and the County, who used to be considered almost invincible on their own ground, and who had up to last week not been beaten by more than a goal this season, were for the second Saturday in succession defeated by the heavy score of six goals to one.  Considering the splendid all-round form displayed by Everton, it would be rash to say that they would not have won even had the County League backs been present, but this was undoubtedly the weak part of the Derby team, and one cannot help recalling how the committee were at the commencement of the season recommended to make sure of at least one really reliable reserve full back.  Leiper did some clever things, and was deservedly applauded on not a few occasions, but he was no match for Maxwell and Latta, with Geary in the centre.  It is fair to say that the support he received from Roulston was not up to that plucky and persevering player's usual standard.  On the other side, McLean was slow, and his clearances weak, and Cox was in no great form.  Archie Goodall showed up well, seeing that he had to deal with two such scorchers as Geary and Holt, both at their best.  I have already referred to the three forwards who made the best efforts, and if I were to mention the one who seemed to me the most meritorious of the lot it would be young Bloomer.  Of the Evertonians not already individualized, A. Chadwick showed himself, on the day, well worthy of his promotion, and Jamieson gave further confirmation of his merits.  It may be said generally that there was not a weak spot in the eleven, and the play of the forwards reminded one of their performances of a couple of seasons since.  This was the thirteenth meeting of the clubs, and the record is little credit to Derby, including only one win-that at Everton towards the close of the season-and two drawn games, Everton having scored 54 goals to 15. 
THE LIVERPOOL AND DISTRICT NOTES
Athletic News - Monday 07 November 1892
By the Loiterer
Everton gave Halliwell a bit of a lift on Thursday, the Combination team beating them by six goals to nil.  I understand the game was played for another object as well, for Everton are in want of a goalkeeper, and Halliwell, it appears, have a likely one on sale.  He had plenty to do, and despite the heavy score against him, did any amount of good work, and by all accounts he gave so much satisfaction that he was engaged.  Rennie is his name.  Law, late of Bootle was tried for Everton, but was a failure.  Another late Bootle player, I see, played for Heywood Central on Saturday, but Gillies, who was also approached, has decided to stay with Bootle Athletic. 
The Everton team appear to have got in their scoring mood at last, and a six goals to one victory should do them a lot of good.  It was at Derby last season that the team turned over a new leaf, and I hope the same will occur this season.  By their successes Sheffield Wednesday should draw a crowd at Goodison Park on the 26th inst, that will almost beat the record. 
Three thousand spectators watched the Everton Combination team dress down Leek by ten goals to one, at Goodison Park.  It will naturally be supposed from the score, that the Staffordshire men had not a look in.  Thus surmise was a correct one, and it was only after a supreme effort that leek, who managed to secure a corner kick after Everton had scored their fourth goal, that Greathorne managed to get one into the net.  This was their only point, and they had to put up with a ten goals to one defeat.  It is unnecessary to say that the game was one-sided.  Everton really might have extended their scoring if the play of the visitors had been at all "promising" instead of which it was sickly weak.  The announcement on the ground that the League team had defeated Derby County, and with such a good majority was hailed with tremendous cheering. 
EVERTON REVIEW
November 7, 1892. The Liverpool Mercury
Everton emerged from under the cloud which had settled over their heads for some time on Saturday, and won brilliantly when opposed to Derby County by 6 goals to 1. This is exactly the same kind of defeat Derby suffered at Perry Barr the week previously, but then they were away from home, whereas now they were on their "native health," a condition which enhances the merit of Everton's achievement. The situation had been seriously debated, and "conferences" held between the Everton officials and the players during the past week, to see what could be done to wriggle out of the rut into which the good old club had fallen. The interviews have borne early fruit, for there appeared to be a much better reciprocal feeling among the members of the team and great determination to show that after all, they had been unlucky, rather than that they had deteriorated in skill and staying powers. Williams was at last in a fit state to resume the place he had often filled so well in goal- notably when at Derby, a twelve month ago –and as he soon gave evidence that he was as reliable as ever, though still suffering a little from the injury he received in July, a general confidence overspread the team, and they always looked like winners. They were certainly bent on putting in all they knew, and the pace was set by Geary at the quickest, who found a ready response in his wings. They attacked always with refreshing vitality, ad shot so erratic and tame. Milward was not well, and the occasion, but he kept well in touch with his colleagues. Geary was the most conspicuous man in the game, his running being of his best well-known style, and his shooting invariably very sure. Both Chadwick and Maxwell, worked beautifully immediately on either side of him, and the middle tried were accordingly compact and powerful. Latta was brilliant in the extreme on the outside right, and it was from his centres that nearly all the goals were scored. The play of Boyle, Holt, and Jamieson left nothing to be desired, and Howarth was again great in defence, doing his own work and some of that which belonged to his less experienced colleagues, whilst Williams saved many good shots from taking effect. Derby had little chance, and were inferior at each department, the goal they scored arising from Howarth slipping down. It was a great victory well earned. Let us hope it is no a mere flash.
November 7, 1892. The Liverpool Mercury
The first meeting between these teams took place at Derby on Saturday in fine weather, and in the presence of about 6,000 spectators, including among whom were a number of excurisons from Liverpool. The home club were without their two usual backs, Methven being called home though domestic affiction and Stanley absent owing to a fractured collar bone: while Everton also had to take in a reserve back in A.Chadwick vise Collins, which necessited Howarth on the left instead of the right. The teams were thus as follows Derby County:- Robinson, goals, McLean and Leiper backs, Cox, Goodall (a) and Roulstone, half-backs Mills, Goodall (j), Storer, Bloomer (s) and McMillan forwards, Everton:- Williams goal, Chadwick (a), and Howarth (captain), backs, Boyle, Holt and Jamieson, half-backs, Latta, Maxwell, Geary Chadwick (e), and Milward forwards. Mr Tollotson acted as Referee , and at ten minutes to three Geary opened the play by passing to the right. He followed up by robbing Roustone, and ran towards Chadwick, who centred, but Maxwell failed to Utilise the first chance that was created. With this escape Derby charged the venue promptly on the right, when Howarth gave a free kick near in, but this was no help to the home side as J Goodall drove among the specatators in shooting goal, Derby very smartly eturned. Jamison administered a check,, but could not clear, and so the right wing men moved ahead. Howarth was on the alert, but unfortunately, just when about to take his man, his feet slipped from under him and he fell . this gave an opening to Storer who shot against the bar with terrific force and J Goodall headed a goal from the rebound within five minutes of the start. Everton went down in earnest from the midfield kick, and from hands Chadwick shot well without the desired result, and then followed with a speedly shie, but which struck the far post. Latta took up the theme, and shooting into goal, Milward charged the ball through, end thus in seven minutes the score was even. Bloomer essayed the next shot, but was wide, but Derby could not be driven away until Williams had made two fine saves, Geary and Jamieson each having assited substautially in tiding over the pressure. Once clear, Geary was soon showing his heels, but finished up with a long shot to high. Storer was next penalised for tripping Howarth, and this gave Maxwell the ball, which he passed to Chadwick, but who went a little astray in his aim.Jamieson intercepted timely a few moments later, and Everton took up a rather proprated opportunity in front of the home goal, during which Period Latta and geary tested Robinson. Williams was soon called upon to attend to a good effort by Storer, which he did most satiosfactorily by hitting clear./ holt here gave a free kick, in neutralising which Geary wormed his way down and put in a cross shot, but Robinson gamely picked up the ball, before Maxwell could meet it. Everton continued to display great animation, and during the attack, Maxwell shot so neatly, as to force a corner. McMillan when Derby had made one of then rare forward movements shot wretchly. But not so, with Everton, as on Latta working down, he placed to Geary who got closer in, and then had a shot which gave Robinson no chance, and Everton thus assured the lead after 25 minutes play. They resumed the attack, when Milward was prominent. But the Derby defence held out, and the home team had a short innings, and though not in such a way as could defeat the cool custodain., who saved twice capitally. An off-side arrested Latta when dangerous, but after Geary and Milward had each failed with long shots., the outside right wing man had his revenge, as he took a pass from the left and scored spendidly. Robinson vainly trying to scooped the ball away. Geary than had a shot saved by Robinson, and the half-time arrived with Evertoon leading by 3 goals to1. Soon after resuming Williams made an admirable cleanance an incident which was followed by Geary again driving hard straight and succesfully.he supplemented this stroke with a similar aim, but this time Robinson was ready for him., and Maxwell experimented with a low one, which might have borne fruit, had it been sent in with more force, but which Robinson played with his hands. Everton were not satisfied, and Latta placed a goal, but the whistle sounded for a doubtful claim off-side, just as he took aim following this uncornfortable quarters of an hour. Derby were seen to some advantage but they were not welcome combined, and could not become dangerous. Towards the finish Everton again attacked with effect, as Geary possing off a pass by Maxwell, and once more beatening Robinso, and as the final incident from a threw in by Milward , Chadwick paseed to Geary, who shot, Robinson saved the ball, but Latta net it, shooting through, and then thus scoring Everton six goal,
EVERTON COMBINATION 10 LEEK 1
November 7, 1892, The Liverpool Mercury
At Goodison Park before 4,000 spectators. Everton pressed, and only upon one occasion did the visitors successfully invade their opponents quarter. Half-time Everton 5 Leek 1. After the interavl Everton still pressed, and scored five goals result Everton 10, Leeki 1.mCMilland (2), Gordon (2), Smith (2), Elliott (2) murray
Everton Team, Thomas, goal, Chadwick,, and Coyle backs, Wharmby, Jones and Robertson, half-backs, Smith, Murray, Pinnel, McMillan and Elliott, forwards
Places 1 st play 9, won 9 lost 0, drew 0, for 61 against 3 points 18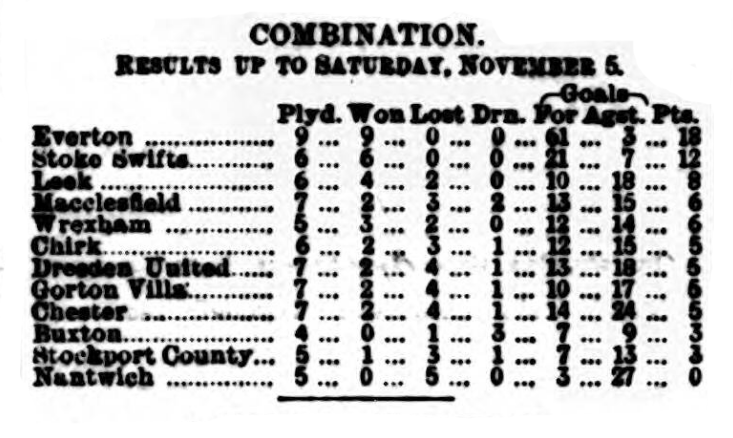 VISITING COMMITTEE OF HERBREW CONGREGATIONS
November 10, 1892. The Liverpool Mercury
The eight annual report of the visiting committee of the Hebrew congregations of Manchester and Liverpool (covering a period of 15 months) states that during the past year the number of visits has again increased, being 450 -291 in Manchester and 159 in Liverpool –against 363 last year. The annual meeting at Manchester, Mr. B. Barnett, the president, occupying the chair. The report and balance sheet were adopted, and a letter was read from Mr. W.E. Barclay, governor of the Industrial Schools, Everton consenting to admit Jewish boys committed by the magistrates, and to allow them privilages in the institution consistent with their faith. The committee agreed that this arrangement should be accepted, and that the authorities he thanked for their courtesy. Special reference was made to be valuable services rendered in this matter by the Rev. S. Friedeberg, minister of the Synagrogue, Prince's road, Liverpool. A vote of thanks to the chairman concluded the proceedings.
TODAY MATCH
November 12, 1892. The Liverpool Mercury
Everton reign almost alone today in Liverpool. They play a League match, and that being the case, the fare will be all sufficing and enticing. The visitors are Stoke, who come with perhaps better credentials than ever before. They are, in fact, but one point, after playing the same number of matches behind Everton in the League results, a position they hold chiefly through having won their last three matches, beating in turn Notts Forest, the Wolverhampton Wanderers and Notts County. Stoke also beat Notts Forest in first match on Sept 10. That they can play up to form on any ground, is shown in the fact that two of their four victories were obtained away from home. They have drawn with Accrington and Bolton Wanderers (at Pike's lane, too), but have succumbed to Derby County, and Sunderland. In the matter of goals they also very equally held their own in scoring 20 against their opponents 22. The Potteries men are evidently difficult to overthrow just now; but if the Everton team, which has been selected identically with that of last week, sustain the high-class play shown in the Derby County match, in which determination and skill excelled, there need be no anxiety among Evertonains about the issue, but no chances must go begging.
Everton v. Stoke, Goodison Park, Kick-off at 2.45 p.m. The following will play for Everton;- Williams, goal; A. Chadwick, and Howarth, backs; Boyle, Holt, and Jamieson, half-backs; Latta, Maxwell, Geary, Chadwick, and Milward, forwards.
Combination
Everton v. Stoke Swifts, Stoke. Kick-off at three p.m. The following will play for Everton;- Rennie, goal; Pinnell and Collins, backs; Wharmby, Jones, and Mclaren, half-backs; Smith, Murray, Gordon, McMillian, and Elliott, forwards.
 A GOOD WIN FOR EVERTON
Cricket and Football Field - Saturday 12 November 1892
By Richard Samuel
It would appear that the Everton forwards have at last got into a scoring mood.  Some of the gilt is, however, knocked off the performances by the fact of Derby County having to play two reserve backs, but, judging from recent matches, the fact of scoring six goals by the Everton forwards, even if there were no backs at all, must be put down as prodigious. 
MEMS
The Everton directors seem to be studying economy.  Dewar has got his papers back.  Hope Robertson is also leaving of his own accord, not caring to stay, as he appears to think that he does not enjoy the confidence of the directors.  He may be missed before the season is out. 
EVERTON V. STOKE
Cricket and Football Field - Saturday 12 November 1892
The conquerors of the Celtic made their first appearance this afternoon at Goodison-road, before quite 10,000 spectators.  Both elevens were well received, the home team being ten minutes late.  The ground looked well owing to the quantity of sand used.  Everton kicked off against a slight wind.  Immediately Stoke appeared dangerous, Scholfield compelling Williams to save.  Everton then run down, Geary putting over the bar.  A neat centre by Scholfield and Robertson scored for Stoke.  Williams cleared with difficulty a few minutes later, when Geary about outside close in.  Stoke nearly scored again from Naughton.  Latta made a few good runs, but underwood was safe, aided by Brodie.  From a really good pass across the goal by Milward, a grand opportunity was missed, no one being up.  Chadwick next had a shy, a corner resulting.  Rowley then saved from Holt.  Everton now exhibited some pretty combination, but the visitors' defence was rather good.  From a foul against Holt Rowley saved twice from Maxwell and Latta had hard lines.  Both defence were well tried and found safe.  Everton missed another easy opportunity to the disgust of the spectators.  Rowley was soon busy again, another corner being put outside.  Stoke passed nicely, Williams saving.  Milward was noticeable for smart work, and deserved to score, which Everton did through Latta and Geary.  Stoke used their weight, Holt being floored a few times.  Scholfield put in accurate shots, and Jamieson was cheered for his play against Dickson.  Rowley next saved a beauty from Geary, Williams also handling.  Howarth was quite safe.  The home team gained another corner which was well placed, but Rowley was ready for the ball as usual.  Fouls and corners came and went, nothing tangible resulting.  In this portion of the game Everton certainly had the most of the play.  Half-time; Everton 1, Stoke 1.
On resuming, after one or two denials, Everton scored, Milward taking a return shot sharply.  In a few minutes Stoke rushed the goalkeeper though from Scholfield's shot and equalized.  Evans then kicked Holt, and he was offered off, Holt being carried off disabled.  Play of a dashing other ensued for the winning point, each side having a chance near the finish.  Final; Everton 2, Stoke 2.
NUGGETS
Cricket and Football Field - Saturday 12 November 1892
D. Doyle, is said to be going to Everton next season.  But perhaps the Football Association will have something to say about his conduct at Stoke last Monday.
D. Doyle refused to go off the field at Stoke when ordered to do so by Mr. Norris.  Doyle will probably admit that the Football Association has some control over him. 
Everton have at last roused themselves.
Geary played a splendid game and went through Derby County's defence.
How's this for high, Everton 61 goals for, and three against" Combination form.
Have Everton added to their collection of white elephants in engaging Rennie?
Gordon kicks for goals and not for adjacent warehouse like others I could mention.
Last season Everton's medical expenses were 58. 2s. 8d.  This season it will be much more.
Surprise is no name for the feelings of Evertonians on hearing the result of the Derby County match.
What players of Everton are "up the slevee," of the Committee? Robertson is not, that certain.
Jamieson ought to brain on.  He doesn't know when he is beaten and can use his cranium to some extent.
Who gave "beans" to the Everton secretary? And the sum total of the argument was "we want practical men."
5 pounds to the Scotchman who can tell the truth.  The above reward will be paid by the Everton Committee.
Is it true that Liverpool are going to give out some cups of hot Bovril and a new sixpence to all that go to their ground.
It is true that Latta and Geary have become alive to the fact that there are three other forwards beside themselves?
It is a fact the Goodisonian directors intend to have a "hole and corner" meeting?  I'm afraid it's too late; the rising morn is clear.
Said Geary to the "extraordinary meeting" a week ago;- "Yes, put in the combination lot; I'm not against standing down, nor Latta either," But yet, ah! But yet. 
Fancy Everton playing a charity match for Halliwell-not the other "Ally" –and collaring their goalkeeper!  But he's no Rennie-gade.  Would you call him A. Sloper.
What! No! Yes! Everton 6, Derby County 1.  Silence, please, lest they hear you; and then – perhaps, perchance, possibly, &c., for great victories only once had a look in.  But seeing is believing, and hearing is-well, offside. 
An unheard of match for the benefit of Bootle, who are now lying low.  Everton's goalkeepers-Williams, Jardine, Thomas, Pinnell, Robertson, Murray, Rennie, Geary, and Hanlon? V. Burnley (a la last Saturday).
So Albert Chadwick has had a try at last, and why has he been kept back so long?  Simply because, first, he wasn't named MacSpropzer, or had some other Scotch patronymic; and, second, because he was English.
Our quaint and versatile artist may be seen at "ye old curiosities shoppe," Goodison rd.  In goal he's funny, excruciatingly; at back, fearfully; at half, middligly; and at forward, attackingly so.  Oh! P—I sign for thee, for thee, each Saturdee.
Bell, Foyers, and Wilson.  It takes the Everton directors a long time in inducing these players to cross the border for good.
Will Everton reserves oblige the Rovers' Reserves with a couple of matches. 
EVERTON REVIEW
November 14, 1892. The Liverpool Mercury
Everton had a popular fixture for Saturday at Goodison Park with Stoke, and this was demonstrated in the large company present, which probably numbered 16,000. Stoke had been making considerable stir in the football world recently, having consistently displayed considerable power during the last few weeks. This improvement was initiated on October 15, when they made a draw at Pike's lane with the Bolton Wanderers, which served as the prelude to successive League victories over Notts Forest, Wolverhampton Wanderers and Notts Couny. Again, on Monday, last they defeated the famous Celtic team, who were in full strength with the exception of McManon by the decisiveness of 5 goals to nil. Everton thus had a most formidable task before them if they were to succeed where several other good teams had failed. The easy and well-merited win over Derby County the week previously had inspired a feeling of confidence that Everton would just about carry the day, but the anticipations were only partially realized, as the result of a well-fought game was a draw of 2 goals each. Everton were certainly more frequently on the attack than Stoke, and were always spirited in their movements and invariably accurate in their passing and shooting, but they found Rowley at his best, shielded as he was by two gallant and fearless backs in Clare and Underwood, and so goals were prizes that could only be won with difficulty and by dint of dogged perseverance. Stoke, on the other hand, had nonce to surmount, and thus, though their assaults were less frequent, they emerged on an equality in the matter of goals with Everton. The result is not altogether satisfactory from a Liverpool standpoint, but bearing in mind the form referred to above of Stoke, is was a very creditable performance of Everton to even stave off defeat. The team was the same that had beaten Derby County, and the good all-round play of that match received confirmation on Saturday, for none gave cause for complaint, inclement in properly ridding himself of the ball. Stoke were strongest in defence but had good half-backs especially in Proctor at centre, whilst the dominating feature of the forward play was that of Scholfield, who, though in the light side, was often too speedy for Boyle and A. Chadwick, and generally wound up a neat run with a dangerous centre. He had a suitable partner in Evans, who, however, lost command of himself during the second half and for kicking Holt in the stomach, in a manner that looked willful, he was ordered off. Holt was injured from the kick, and had to be carried to the dressing room, when upon examination it was found that several ribs were grazed so badly that he was taken to the hospital, and will be incapacitated, it is feared, for a few weeks. If so the committee will have some trouble in satisfactorily filling his place. Singularly the Everton Combination and Stoke Swifts also participated in a draw, and these two teams, not having lost a match, are thus in keen competition as to who shall finally emerge champions of the Combination. When Stoke Swifts pay their return visit on January 2, and it will be scarcely less than that of a League match.
Everton mean to maintain their charitable characteristic. On Monday next they play at Stoney-lane the Albion for the West Bromwich charities, and are already making preparations for the annual theatrical match to be played for the benefit of the Stanley Hospital and Royal Infirmary. A committee has been appointed from the directorate and gentlemen interested from outside.
STOKE DRAW EVERTON.
Athletic News - Monday 14 November 1892
By The Free Critic  
Owing to the Liverpool races. There was not quite as big a crowd at Everton as the executive had had expected, but still, several League clubs I know would not grumble at a £265 gate. All the same, the recent clever performances of the Stoke team warranted the Everton people in thinking that there would be a substantial crowd, especially as the day was fine and from their point of view, 10,000 were not sufficient.  Many improvements have been made since last visited the ground, and it is estimated that no fewer than 16,000  persons can witness a match without getting wet, even if the clouds burst. This is all right, and no doubt the public of Liverpool are much obliged. They ought to be. But far greater difficulty is presenting itself, and that is the condition of the playing portion. As most people know, a common tip was changed into football ground within a short space of three months, and now, unfortunately, the centre is lifting—that is to say, the sods are separating. "Something will have to be done." say the energetic directors, and that is so. The teams on Saturday were representative of the strength of the two clubs, as the following names show Everton;- Williams, goal; A. Chadwick and Howarth, backs; Boyle, Holt and Jamieson, half-backs; Latta, Maxwell, Geary, Chadwick, and Milward, forwards.  Stoke;- W. Rowley, goals; T. Clare and A Underwood, backs; D. Christie, J. Proctor, and D. Brodie, half-backs; W. Naughton, W.A. Dickson, J. Robertson, J.E. Evans, and J. Scholfield, forwards.  Referee; J. McIntyre (Manchester).   Stoke had the benefit of a cross, ubiquitous sort of wind in the first half, and started well, their forwards pouncing on the ball like so many cats, while their defence was perfectly sound. Schofield soon came in for notice, and he was voted a clever little 'un as he kicked the ball in with the side of his foot. Williams partially cleared, but it was scrummaged through. For a little while Stoke seemed likely to increase their score, but Williams and the backs were in good form. Gradually Everton roused themselves, and many were the tussles between their forwards and the Stoke backs. But the Stoke backs were as usual, and even if they missed there was the aristocratic Rowley behind, as cool as the proverbial cucumber. Matters went on chiefly in favour of Everton, and the only reason why Geary did not score an easy goal was that he kicked a disentombed sod instead of the ball, but ultimately had his revenge from a splendid bit of play by Latta, and gave Rowley no chance whatever with a short, quick shot. Even after this the Stoke goalkeeper had to be pretty smart to clear away a header by Geary, but he brought it off all right, and at the interval it was a case of one goal each. It was clear to be seen that the game would be a stubborn one, and there was not much to choose between the teams for some time after resuming, although Rowley and his backs had more work than the gentlemen on the opposite side of the ground, but they did it so well, and their forwards made such good use of their opportunities, that there was very little to choose between the teams. At length Everton got the upper hand, and the forwards made several fine sports, but it was left to Geary to be the means of putting his side ahead. The "flyer" got away with the ball and shot at Rowley, who cleared, but Milward was in waiting and soon had it through. The Stoke people did not like this, and said so; at least, they rushed away to the other end. Schofield put in capital centre, Williams was unceremoniously bundled through, and the ball followed him. Not long after this a most regrettable incident occurred, for Evans went deliberately for Holt, jumped at him, and the little Evertonian had to be carried off the ground, Evans preceding him by order the referee. Why the Stoke man so far forgot himself I cannot say, neither can I understand his action, for there was nothing to be gained by it, and up to this point he had played a most gentlemanly game. However, matters were resumed with ten men on each aide, and there was not a pin to choose between the teams. About five minutes from the finish the proceedings became rather exciting, for the Everton goal had very near escape—it was a miracle the ball did not go through. Then Rowley was en evidence. First of all he intercepted a curling shot from Chadwick, which dropped right in front of the bar; but the crowning point was when he stopped one of Geary's, with just 60 seconds to go. Fred had distanced the backs, worked himself within half-a-dozen yards of Rowley, and then let fly at a point where Rowley wasn't, so to speak. But Rowley was there, at full length on the ground, and the ball went outside. It was one of the beat bits of goalkeeping I have ever seen, for it required not only activity but nerve to stop that shot, which would have decided the match. It didn't count, however, and the result was a draw of two goals each. The game could hardly be said to be a first-class one, but it was exciting, and occasionally we had capital bits of play from both sides. If the Everton forwards would a take tip from me they would dodge less in front of goal, and shoot more. The dodging looks well, but it doesn't pay. The halves played well, and Jamieson seems likely to turn out a catch, while Howarth played a capital game, and A. Chadwick did very well indeed, and evidently has a head on his shoulders. Williams was a success in goal, and cleared away many difficult shots. On the Stoke side I should give first praise to Rowley, not because he had a great deal to do (the Everton forwards took care of that) but because the shots he had to stop were difficult ones, and he cleared them like a champion. The last one of Geary's was sufficient to stamp him one of our best goalkeepers. Clare and Underwood went about their work in the old sweet way, kicking when they could, but bowling over their opponents in the interim, and while they are about the heaviest charging backs I know, they are also the fairest. The half backs were about on a par, all doing well and keeping at it, but although the forwards played an effective game, they were not quite as combined as I expected, and I am rather afraid that Schofield, clever as he undoubtedly is, is getting a bit too selfish. In the second half he had no one to play with him, and this may probably account for it. Dickson was, to my mind, the most useful of the whole lot, and towards the finish he not only played forward when required, but he went half-back when the ball was in that direction. As a whole, the Stoke team is one which will require shaking off, for they are all there.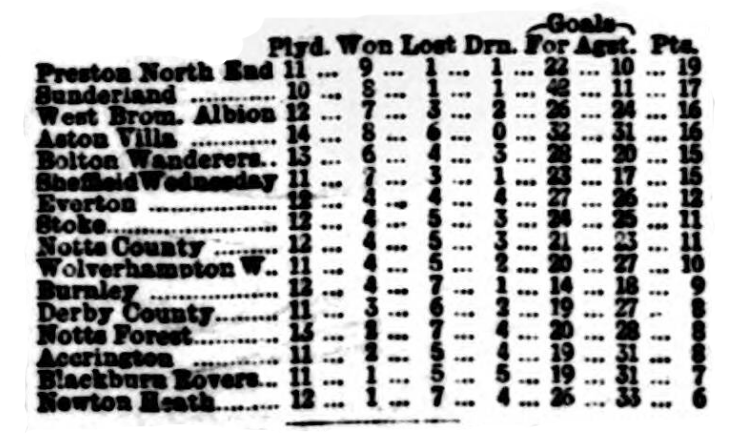 NORTH STAFFORDSHIRE NOTES
Athletic News - Monday 14 November 1892
The much talk of match between the Stoke Swifts and Everton reserves came off on Saturday, on the Stoke ground.  As all the football world is aware, these two elevens were the only undefeated teams in the Combination, and the result of their meeting naturally caused considerable speculation.  Quite 3,000 spectators assembled to witness the game, both elevens being strongly represented.  Everton won the toss, and the game in the first half –in fact, the match all through –was sternly contested, and the play was of the fastest character.  During the early part of the game the home team had decidedly the best of matters, and the Everton custodian had a very lively time of it.  Both teams then settled down to good, steady play, and during the last portion of the initial half the visitors did more pressing than the homesters.  Half-time arrived with a clean sheet.  In the second portion both teams strove with might and main, and the play was, if possible, faster, than in the first part, but play as they would, and work as hard as they could, neither team could score, and a magnificent game ended in a draw of no goal each.  For the home team, Brooks kept goal in a style that reflects credit both on himself and his instructor in the art, viz., Rowley, while the half-backs fairly excelled themselves.  The forwards all played well, and had it not been for the grand defence of the Everton backs, they must have scored on several occasions. 
Considerable interest was taken in the result of the League match at Everton, and strong hopes were expressed of a victory.  A draw of two goals were looked upon as satisfactory, but strong regrets were expressed at the fact that Evans had been ordered from the ground, and that Holt was injured, and much curiosity is felt as to the nature of the occurrence. 
EVERTON 2 STOKE CITY 2
November 14,1892. The Liverpool Mercury
Evan sent off
The first of the two league matches between these clubs was played at Goodison Park on Saturday in the presence of about 16,000 spectators. The following were the teams:- Everton Williams goal, Howarth (captain), and Chadwick,, backs, Boyle, Holt, and Jamieson half-backs, Latta, Maxwell, Geary, Chadwick and Milward, forward. Stoke City:- Rowley goal, Clare and Underwood, backs, Christie, Proctor, and Brodie half-backs, Naughton Dickson Robinson, Evans, and ScHolfield, forwards, Everton started against the wind Geary making the first aggressive movement but he was promtly pulled up by Clare. Stoke took play smartly to the other end. When Dickson put over the bar, but ScHofield was more dangerous, as he drove in hard from longrange and would probably have scored had not Howarth grandly cleared the ball almost out of goal mouth. Geary, in reply, got off in one of his especially runs, and located play for some minutes near Rowley's charge. Here Latta shot outside, Geary went too high, and Latta at a second attempt hit the rope affixed to the net, the scene then changed as Stoke moved down quickly and shot twice. Willimas stopped the first aim from taking effect, but not the second, as ScHofield screwing Williams did not knock the ball far enough away, and was beaten by Robertson, who rushed in. stoke thus assumed the lead in seven minutes. Everton went strongly on restarting but the best chance that occurred was spoilt by Geary shooting wide when near in. At the other end. Naughton essayed a ticklish shot, which Williams was only just in time to clear with his hands. Everton again became aggressive, and Milward centring the ball was narrowly sent out from the right. The pressure contining, Clare conceded a corner, which was followed by Holt shooting into Rowley's hands. Another chance was opened up, but Geary could only shoot tamely, so quick were the stoke backs, and when Latta and Maxwell each took aim, Rowley picked the ball up on both occasions. Proctor next cleverly robbed Geary, but the visitors could make little headway, and were once more driven back. Chadwick lobbed in nicely, but neither Latta nor Geary could meet the ball. Latta, however, soon shot hard and low into goal, when Rowley scooped the ball away. The home half-backs kept their forwards well fed, and as a result of the hard work that was carried on in the Stoke quarters the turf was literally ploughed up the lumps causing much inconvenience to the players, and diverting the course of ball at times. Keeping up the attack so persistently as they did. It was evident Everton must score, and at length they did, a fast movement being finished of successfully by Geary scoring from a pass by Latta. Each goalkeeperwas called upon between now and Half-time, and was sound the interval arriving with the score 1 goal each. Rowley had a good reception upon taking up his position at the other goal for the brilliant display, he had so far given. Williams was at once called upon by Robinson, on resuming, and cleared easily. Milward then made his presence felt by shooting finely, but unsuccessfully, and by nearly rushing the ball through from the right wing's pass. A turn was given to the Stoke attacking party, when Proctor sent in-a-beautiful shot from a throw in. the ball went in at a height but Williams reached it, and punched over the bar, Geary now made his best run of the day, winding up with a hard, straight shot. Then Rowley played, but Milward rushed in and took the return with effect. Loud cheers signified appreciation of this piece of smart play, and also the fact that Everton were leading, but their command was quickly taken from them, as ScHofield ran in smartly shot Williams and the ball charged through. Soon afterwards Evens kicked Holt, in a manner which look spiteful, and was order off the field. Holt was badly hurt, and had to be carried from the field, when it was found that several ribs were brusihed, his injury was so great as to compell his removal to the Hospital, where he will remain, it is feared for few weeks. Each side vcery near getting it in the last five minutes, but the defensive held out, and the result was a draw of 2 goals each.
STOKE SWIFY O EVERTON COMBINATION 0
November 14 1892. The Liverpool Mercury
At Stoke. Both teams were strong, and the play was very even, neither side scoring upon half-time. The second stage of the game was a repetition of the first. Neither side putting on a single goal. Both teams thus remain unbeaten. Everton team, Rennie goal, Pinnel, and Collins, back, Wharmby, Jones and McLaren, half-backs Smith, Murray, Gordon, McMillan,, and Elliott, forwards.
Place 1 st , play 10, won 9, lost 0 drew 1, for 61, against 3, points 19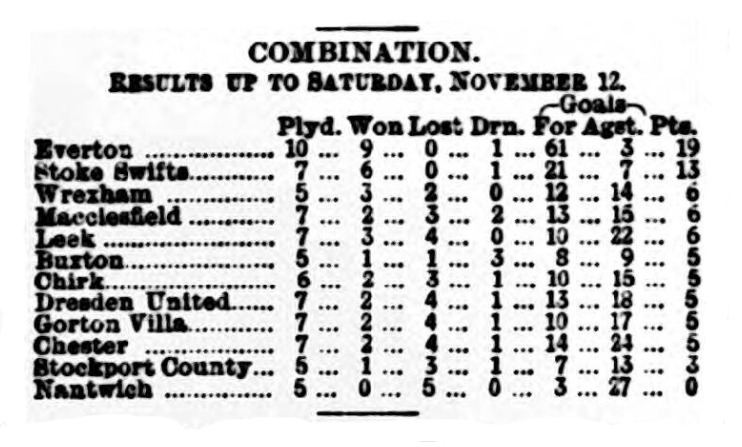 PRESTON NORTH END 4 EVERTON 2
November 17, 1892, The Liverpool Mercury
Everton played at Ardwick yesterday, for the benefit of the Halliwell football club, before 3,000 spectators. Gordon and Geary scored for Everton in the first 15 minuyes. Everton leading by 2 goals to nil at half-time. On resuming Preston North End had the best of the game, Russell and Becton scoring near time, Russell score again, Rodd following that. Final result Preston North End 4 Everton 2
EVERTON V PRESTON NORTH END
November 17, 1892. The Manchester Courier
A match between these teams was played on the Ardwick ground for the benefit of the once well-known Halliwell Football Club. The Hyde-road executive generously granted the use of the ground free, and both players and referee gave their services to make the game financially successful. The full and foggy morning was against the venture, and though the afternoon turned out fine, there would not be above 3,000 spectators when the game commenced. Everton were the first on the field, closely followed by the Prestonians, and Russell, started, Cowan being at once prominent, and hands still further helped them, Jones, from a corner to North End, headed in finely, Rennie giving another corner, which was got away. Jimmy Ross passed over to Beckton, who shot in grandly, but the goalkeeper saved a grand style. A burst to the other end followed, but only a goal kick was taken, and another attack by the Everton men ended in Geary being forced off the ball. Cowan was pulled up for off-side, and each set of half-backs put in good work, and a grand run was made by J. Ross, who was only dispossessed by Rennie just on the goal-line. A strong attack by Geary ended in Gordon placing the ball between the posts, scoring first blood for the Liverpool team. Latta gave Geary a chance in a moment, which he utilized by scoring a second goal. A corner next fell to North End, but nothing came of it. Play ruled in the Everton half for a time, and Ross forced another abortive corner. By good combination Everton took the upper hand, Milward and Chadwick being every tricky, and often troubling Holmes and Gordon. A grand run by Geary gave Trainer a chance of showing his fine abilities, the way he saved being little short of marvelous. After Geary had been tripped, Beckton became dangerous, but Rennie saved his final shot, and a good centre by Cowan was missed. Hands against Wharmby gave the Prestonians another chance, a good shot by Cowan nearly taking effect. Ross, by sticking to the ball, lost two or three good openings, and eventually another corner to North End was taken, but Howarth out it out of danger. Saunders was unluckily hurt. Half-time Everton two goals, North End nil. Geary restarted, and the opposing left wing got away well, but Beckton over-ran the ball. They were soon again troubling Rennie and Saunders nearly scored with an overhead kick. Becton forced another corner, but at the other end a single-handled effort by Milward nearly took effect. Individual play was rather the order, and both Beckton and Russell strove hard to get through. Everton only broke away spasmodically, seeming content to defend with the lead of a couple of goals. Ross trickily got past several of his opponents, and after Rennie had smartly cleared, Russell beat him with a good one. Beckton next scored and thus equalized. Close upon time Russell notched the third point for Preston, while immediately afterwards Ross added a fourth. Final; Preston North End 4, Everton 2.
Preston North End; Trainer, goal; Holmes and J. Gordon, backs; Grier, Sanders, and Thornber, half-backs; Cowan, J. Ross, Russell, Beckton, and Gallacher, forwards. Everton; Rennie, goal; Howarth and Collins, backs; Wharmby, Jones and Jamieson, half-backs; Latta, Gordon, Geary, Chadwick and Milward, forwards.
BOLTON AND DISTRICT
Lancashire Evening Post - Saturday 19 November 1892
The feeling in Bolton is that Preston North End, at any rate, dealt very generously with the Halliwelll club.  Everton had some reason to play the benefit mtach, because they have been supplied with a custodian, but North End gave help from far more worthy motives.  One question asked in Totterdom is what the price paid for Rennie really was and what will become of the money?  After all, good custodians are not easy to get, as Everton know to their cost.  
TODAY MATCH
November 19, 1892. The Liverpool Mercury
Everton have no League match but play off their return at Goodison Park with the Hearts of Midlothian, and the change from their eager play associated with the League encounters should be welcomed. Everton defeated the Hearts, at Edinburgh on September 19 by 3 goals to nil, and the visitors from Auld Reekie will be sure to endeavour keenly to turn the tables on their van, a fat they may accomplish, since the home team, through injuries suffered last week or some of the players, will be somewhat of an experiment one. The sides, however, on this account, will balance more evenly, and the probability is great that the game will be somewhat of an experimental one. The sides however, on this account, will balance more evenly, and the probability is great that the game will prove an interestingly close one.
Everton League v. Hearts of Midlothian, Goodison Park. Kick-off at 2.45 p.m. The following will play for Everton; Rennie, goal; A. Chadwick, and Howarth, backs; Wharmby, Jones and Jamieson, half-backs; Latta, Gordon, Geary, Chadwick, and Milward, forwards.
EVERTON V HEARTS OF MIDLOTHIAN
Cricket and Football Field - Saturday 19 November 1892
AT Everton, before 6,000 people.  Geary kicked off and both ends were visited.  At the start the home eleven all but scored.  Pretty combination by Chadwick and Milward resulted in the former shooting by.  The Hearts had a turn, but the final shot went outside.  Immediately, Latta and Gordon gave Geary an opportunity, and he headed well in, but Fairburn saved, great cheers attending the achievement.  Mr. Churchill gaves foul against Geary, which was not well received, after which the visitors exhibited neat combination, giving Campbell (new from Glasgow Thistle) anxious moment.  Fairburn made a splendid save from MIlward, Rennie doing ditto.  Roos left the field through injuring his arm but soon returned.  Marvellous escapes had the Hearts' goal, Fairbairn proving clever.  The players with difficulty kept their feet in the centre.  A great struggle round the visitors goal was the next item, but Adams and Goodfellow defended grandly, Jameison being often brilliant.  The members of the Combination team;- Jones, Gordon, and Coyle- did good work, Everton having certainly most of the play.  Half-time, No score.  Final; Everton 2, Hearts of Midlothian 0
EVERTON V. FAIRFIELD
Before 3,000 spectators today at Fairfield.  Everton won the toss and played with a strong wind in their favour.  The game was very even from about five minutes from half-time when Evertons cored.  Half time, Everton one, Fairfield nil.  In the second half Fairfield pressed very much, but were bad in front of goal, missing many easy chances, whilst Everton scored twice.  Final; Fairfield 0, Everton 3.
GOODISONIA
Cricket and Football Field - Saturday 19 November 1892
By "Black Rock"
Since I wrote you last our team has passed through the varied vicissitudes –in a League battle –of a defeat, a victory, and a draw.  From fiasco at Bolton to the grand surprise at Derby was a welcome and happy transformation.  But to last Saturday's match.  Stoke's successive success, including their dethroning of Preston last Monday from its proud position, not actually but virtually prove that the draw at Goodison Park was by no means a means a mean achievement on the part of the homesters, and but for that master head, factor, and benefactor to his own, Rowley, we should still see ourselves one point above them and nearer the apex of the League hill.  Another reason why we should feel satisfied the teams during the last two seasons, if I except the three to one defeat at Stoke last February.  (League games) The last game might be termed good but not grand.  Stiffest struggles, fearless tackling, and a few excitable incidents were the chief characteristics.  We will take the last first.  There were mainly in the neighbourhood of Rowley and Williams, the latter filling to clear far enough from a long shot by Scholfield, which lost the first goal.  On the other side many good attempts by all our forwards, save Maxwell, put Rowley and his backs on their mettle, and many were the disappointments as the efforts really deserved success.  At length the ball travelled from Latta to Geary, and thence past Rowley, and then there was a terrible din on the stand.  The telegraph board, beg pardon, Mr. Macintyre's book, recorded one all.  But we will have one of these things –telegraph boards –some day.  How useful it would prove to the late comers, &c.  The Stoke halves, especially Proctor, exhibited some tenacious tackling, and the powerful Clare was solicitous, but to save.  Our trio appeared to me to do their business in a smarter cleaner manner, and Holt was here and there, up and down (knocked) as if it were a pleasure to Dickson and friends.  At this stage Chadwick did not appear to be outclassed in meeting that smart Staffordshire lad –Scholfield, of whom so much was said and written, before he was given a trial in the first team.  The struggles, which were keen and stubborn, were mostly in midfield, and here I fancied I saw some shady tactics by both sides.  In these encounters, it was as if the area was too limited to display their prowess, so close and thick was the mixture.  During the interval the band of the Beacon-lane Orphanage discoursed sweet music.  On the restart, the pace was as fast as ever, and a stirring tussle between Scholfield and Holt, in which the little man gained the ascendency, was watched and cheered greatly, Latta passed to Maxwell, on the half way line, he to Geary, who banged the ball in, Rowley barely saved, and it was left to Milward to earn the deafening cheers –for Evertonians can cheer sometimes.  But Stoke would not be denied, and a surprising centre by Scholfield enabled Dickson to put Williams and the ball through together.  I don't think they were many approbations this time.  And, soon after, occurred the most regrettable and lamentable incident of the afternoon –the sad accident to Holt by Evans.  I have written accident, for I could hardly believe that he would do it intentionally.  It occurred almost opposite the press seats, so we may believe our eyes.  Holt had the ball, and actually got rid of it before the Stoke player, with a sort of a jump, placed his foot on the ribs of the international, who fell to the ground in agony.  That it looked glaring, none will doubt, and that it was, to say the least of it, reckless, the culprit himself must admit.  And when we consider that Holt had angered him by superior play, it leads greater weight to the occurrence.  As you know, he was ordered off the ground, and I earnestly hope that if he be found guilty his punishment will he be a warming and have a detergent effect on others.  The game was continued with ten aside.  Latta figuring very well at right half.  No other points were added and the result was a draw of two goals each.
Some Comments
Williams played well in goal, but he should clear further.  "Bob" was a Trojan at back, and now appears to delight in his work.  The halves were all right, Jamieson being the most prominent.  Maxwell was indeed the weakest in front, and is evidently afraid of shooting.  Yet the one shot deserved to score, and would have beaten any ordinary goalkeeper.  Geary created a furore with his runs, and Milward is now settled down.  He put in a tremendous amount of work, and was deservedly cheered,  Latta and Chadwick certainly showed improvement in the shooting line.  Of Stoke, I have mentioned Rowley, whilst Underwood was more gentle and quicker than Clare, both proved solid defenders.  Robertson was a good centre, Scholfield played up to his reputation, and Dickson is a good and quick man, hardworking, but rather rough.  The gate was 264 19s 3d.  Holt is at home and improving nicely, to use the words of the energetic sec.  The annual theatrical match will take place early in the new year and Foyer after all is not coming, so I am informed by the ruling spirits.  I may be imprisoned for spreading false news, but you can see even the powers have been deceived, and with them I and you. 
NUGGETS
Cricket and Football Field - Saturday 19 November 1892
At present Milward is far and away the best of the forwards at Goodison Park.
A warning to visiting teams at Goodison-rd- "Keep the door closed!" That's all I say this time.
"Everton will double this score in the next half."  But it was N.E that scored the four goals. 
Advertisement.- A grand half-back, lately from Everton, to be sold; good tackler, swift and a good dispenser to his forwards.  Apply, Hope Robertson, Liverpool.
North End added another to their long list of wins over Everton.
Only to think that Everton were not included in the list of first class clubs according to a Liverpool local.
And Everton's charity is worthy of the greatest consideration.
They are offering some players their papers at Everton.  Fact.
So Doyle will likely be strung up sine die, and Everton's big back again slips.
We all wish Holt a speedy recovery.  He has been very unfortunate this season.
Everton's sick list;- Kelso, Jardine, and Holt.  Truly that Nemesis still dodges Everton.
Jamieson played a dashing game against Stoke, but Scholfield got round Boyle very often.
Everton's turf really looked well at the commencement but at the finish was treacherous.
What a feeble save of Williams' that gave Stoke their first goal!  It came as a surprise to those behind the goal.
Have the Everton directors no one with experience to send for players?
Who has brought all the white elephants to Everton?  Asked Griffiths.
Why don't Everton get some good players.  Because they send Griffiths and Leyland to look for them.
PRESTON V EVERTON
November 19, 1892.
Preston Guardian
On Wednesday, North End were at Ardwick where they played a match with Everton, in aid of the funds of the Halliwell F.C. Everton were fully represented, and North End had the following team; Trainer; Holmes, Gordon; Grier, Saunders; Thronber, Cowan, Ross Jun, Russell, Beckton and Gallacher. It will be noticed that Thornber was included in the team after being on the injured list since almost the opening of the season. The game was a give and take character for some time, but at last, after some passing, Everton were credited with a goal, and Geary soon earned them another. Up to the interval Everton had the best of matters, and for a few minutes the game was stopped owing to Saunders being injured by a nasty kick. In the second half North End appeared in something like their true form, pressed most of the time, and scored four goals, thus winning by 4 goals to 2. It is positively refreshing to hear of the forwards scoring so many as four goals, and they simply ran round the Everton defence in the second half.

EVERTON 2 HEARTS OF MIDLOTHIAN 0
November 20, 1892, The Liverpool Mercury
These teams played off a return match at Goodison Park on Saturday, the first game having having been won by Everton with the score of 3 goals to nil. The weather being favourable attendance was affected by 6,000 being presnt. The teams were Everton:- Rennie goal, Chadwick (a), and Campbell (j), backs, Coyle, Jones, and Jamieson half-backs, Latta, Gordon, Geary (capatain), Chadwick (e) and milward forwards. Hearts of Midlothian:- Fairbairn goal,, adams and Goodfellow backs Baird, Hogg, and Moyes, half-backs Taylor Ross, Ellis Scott, and McDonald,, forwards. Mr churchill officiated as Referee. Everton at once open the attack, Geary taking a shot, which was repelled and Milward driving over the line. Jones put in good work at centre half, and this enabled Everton to go to the front again, but to no purpose. The Hearts then caused a divesion, and exercised some pressure , but A Chadwick, in particular defend effectively, getting good assistance from Campbell,, and so Rennie was not troubled. Everton then returned to goal, several times the right wing being especially active, but no likely shot was the outcome. On Campbell robbing Taylor and Ross the left wing men worked smartly up, when the pass gave to Geary, who headed out. Having outlived some narrow escapes from the close forward play of Everton the visitors got well down, but without becoming dangerous, and soon Jones shot outside by a yard or so from long range. This lodged play in close proximity to goal, which Geary had a chance of reducing from a fine centre by Latta but he seemed fairly stuck in the mud. He had a shot a minute or so later, and this Fairbairn saved, Adams eased the pressure and a spell of open play followed. Milward was next to grow threatening he sending in hard at close quarters; but Adams got his foot to the ball just in time. By way of change Taylor went within range and shot grandly, which gave Rennie an opportunity of showing, how well he could neutralise a well-directed sahrp aim. Everton strove hard to make a start in the scoringline, between now and half-time, and Geary and Milward jointly appeared likely to force Goalkeeper and ball though, but Fairbairn was too quick for them. A marvellous scrimmage was also tided over by the Hearts, and when the interval arrived nothing had been scored. Rennie was early called upon on resuming, and was safe. Jamieson put his wing in possession the next moment, and a quick movements by Chadwick, Milward, and Geary brought about the long wished-for downfall of Fairbairn's citadel. The Hearts had a trying time of it at this period Geary press the custodian with a warm-one which he had no soon begotiation than he was in requisition again, this time cleverly putting the ball away. When on his knee , Scott than give his backs a respite by arun on the left and driving out, but Everton returned and Latta sent right across to E Chadwick, who shot out with a long, low aim. During the outslaught Geary gave in with an injured hip leaving Everton with only four forwards Latta went inside. The Heatrts were hard to hold in check for the next 20 minutes, but they were and Everton after a few spurts in vain, made a succesful dash in nthe last few minutes, Chadwick taking the ball from the right and scoring aa fine goal, and in almost darkness a goodgame terminated in a win for Everton by 2 goals to nil.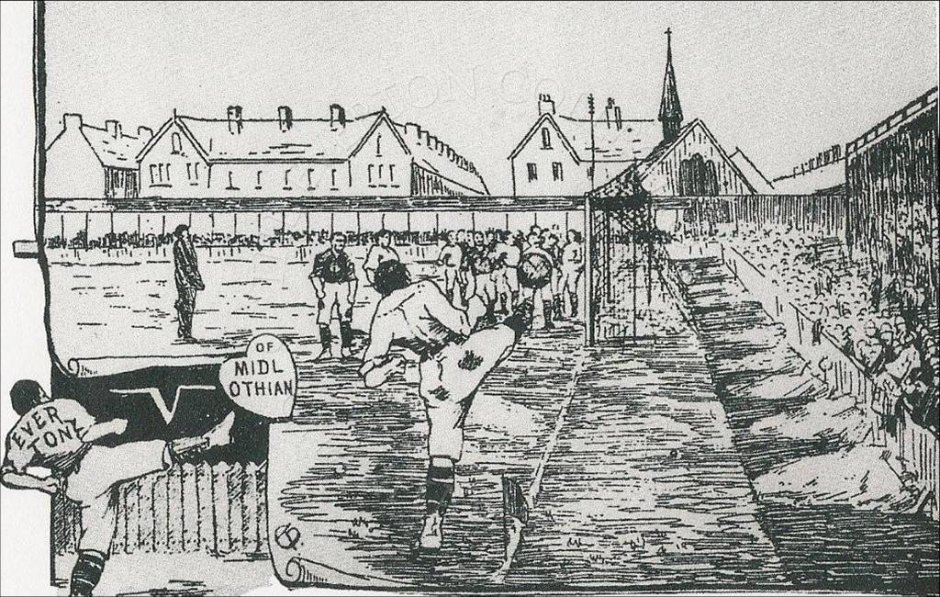 FAIRFIELD 0 EVERTON COMBINATION 3
November 20 1892. The LiverpoolMercury
At Fairfield. Everton kick-off with a strong wind and pressed, but found the Fairfield defeance very strong, but just before half-time Mcillan scored a grand goal. On the restart Fairfield pressed,, but the forwards were weak, in front of goal, missing some easy chances. The game still continued open, and it was about ten minutes from time when Everton scored a second goal Result Fairfield nil Everton 3.
EVERTON REVIEW
November 21 1892. The Liverpool Mercury
Everton offered a mild sensation for the delectation of their patrons on Saturday in a return match between the League team and the Hearts of Midlothian, who, notwithstanding the loss of one or two of their best exponents, who had succumbed to the inducements of English League clubs, still hold a forward rank in the Scottish League –third to the Glasgow Rangers and Celtic. This friendly or club game was a return, and as Everton had been smart enough to defeat the Hearts at Edinburgh on September 19 last, a close game was not altogether to be expected had the home club been in a position to place their strongest team in the field. This could not be done owing to the injury received by both Holt and Boyle, in the recent Stoke contest, should have had an off day with so many men finding a rest imperative, and it also offered a favourable chance of experimenting with other resources of the club. A new full back in J. Campbell, of Glasgow Thistle, made his debut on the left in company with A. Chadwick; Rennie took charge of goal; R Jones filled Holt's place, and Coyle that of Boyle, whilst Gordon supplanted Maxwell as Latta's partner. Speaking broadly, the formation worked capitally, and had not the heavy ground, which is wearing badly at the park end, proved such an impediment to the attackers in the first half, a very substantial score would probably have ensued. As it was, though the half-backs supported the forwards judiciously, and the wings were clever, nothing could be done in the scoring line, owing in a great measure to the difficulty Geary found. In the second half the forwards had a better chance of success, the turf at the goal they now directed their attention to wearing very well. In a few minutes a goal was secured, but having assisted in obtaining this success, Geary soon found it necessary to withdraw from the game through an injury to a hip. Everton fell off with only four forwards, and the Hearts were often very neat drawing even, but the defence of Everton came out of the ordeal most satisfactorily, and Rennie gave strength to the fair promise he showed in the match at Ardwick on Wednesday. He has the appearance of an ideal goalkeeper; is active, watchful, and resourceful, and is likely to turn out a Jardine or a Williams. If an, Everton are in luck's way for once. Campbell, the new back, is of medium weight and height, and showed a knowledge of the responsible work expected of him. He went about his duties in a quiet manner, and was thus not a striking figure, but he made no apparent blunder, and was very useful. For a first match in new company the impression he made was favourable. A. Chadwick was an enthusiastic and effective colleague, Jamieson was conspicuous all through in tackling and robbing the right wing, and assisting Milward and Chadwick, his meritorious play calling forth praise on all hands. Jones and Coyle each shaped well, and stuck to their work without flinching. The Everton attack was confined much to the wings, for causes above referred to, and Latta and Gordon vied with Milward and E. Chadwick in equal turns at smart play. The forwards, until after Geary's retirement, were seldom dangerous, being so well guarded by the home half-backs. The middle line offered little obstacle to the Everton vanguard, but they had strong backs, and Fairbairn proved a goalkeeper to be not easily overpowered. The Combination team added another clever win, beating Fairfield –a Lancashire League club –by 3 goals to nil.
EVERTON V. HEARTS OF MIDLETHIAN.
November 21, 1892. The Dundee Courier and Argus.
The principal match at Liverpool was decided at Goodison Park, where the Hearts of Midothian played their return match with Everton. The first match was played at Tynecastle on the September holiday, and by means of excellent football the Liverpool man won deservedly by three to nil. Although the Hearts have recently fallen off in form, it was the opinion on Liverpool that they had a good chance of turning the table on their opponents, as Everton have been knocked about in league matches, and owing to injuries several of the player were unavailable. There were 4,000 spectator on the ground. Everton won two nil.
CAMPBELL AND ARDWICK
Athletic News - Monday 21 November 1892
Ardwick have been man-hutting in Scotland.  So have Everton, and so have Newton Heath and Blackburn Rovers.  Both Everton and Ardwick were after the same player-Campbell, of Glasgow Thistle-and Ardwick were first in the field, and carried Campbell away.  Everton followed and before matters had been definitely settled by Ardwick signed him.  However, the two clubs are not bad friends over the trans-action for Everton have agreed to play a benefit match at Ardwick in January.  The Ardwick club is not in good financial position, and the committee are working very hard to retrieve themselves. 
THE LIVERPOOL AND DISTRICT NOTES
Athletic News - Monday 21 November 1892
Everton v Hearts
By the Loiterer
Everton for first Saturday this season, took no part in League campaign, and by way of a change had a match with the Heart of Midlothian at Goodison Park. How far the novelty suited the palates of Liverpudlians It is not easy to determine; but there would most assuredly have been more than 6.000 present had not the weather been of an ideal November cast—dull, damp and dreary. The ground was, of course, in a bad condition tor reliable play, and soon the unknit sods began to be dislodged in the neighbourhood of the Mere-lane goal. This was the object of Everton's attack during the first half, and they were often making determined and well-meant efforts to reduce it at his period, but the lumps proved a galling obstacle at times, especially to the central men, whilst when hard knocks came from the wings the defence held out strongly. The ''Hearts were seldom dangerous up the interval, so good was the work of the Everton half-backs and backs, and so ends were changed, with much attempted and nothing done. More accuracy was possible with the Everton forwards on turning round, the turf at the other end being in much better coalition, and in a few minutes, on Jamieson and Chadwick opening up a chance, Milward scored a long-deferred goal. Everton returned again and again at this juncture, and then Geary, receiving an injury to his hip, was forced to retire, Latta took centre in this dilemma, and the "Hearts," alive to the accidental assistance they thus received, had much the best of the argument for the next half-hour. They ran, passed, and shot with zest, and looked likely to score several times, but Rennie and his backs always seemed in the right place at the right moment. Everton's movements were spasmodic with four forwards, and from one of these breakaways, Chadwick, receiving a pass from the right, clinched the issue just on time with a grand shot, giving his side win of two goals to nil, which pretty accurately reflects the tendency of play. This was a return match, and as Everton won the game at Edinburgh on September 19 by three goals to nil, they can boast of beating the "Hearts" twice, pointless- a by no means insignificant achievement. Everton, by the way, had a moderate, or rather experimental, team, as Williams, Howarth, Holt, Boyle, and Maxwell were absent, their places being filled respectively by Rennie, Campbell, Jones. Coyle, and Gordon, all these "subs," however, justifying their selection. Rennie made no mistake, never faltering, and the impression he created was distinctly favourable as a goalkeeper that has a future before him to the advantage of his new employers. Campbell, who has been imported from Glasgow Thistle, and is of avenge weight and medium height, showed much knowledge in an unobtrusive way, but it is not well to speak emphatically on his initial appearance, particularly as the ground was heavy and the footing uncertain. Jones and Coyle, who joined Jamieson in half-back work, were often in evidence in both tackling and feeding, but the one man who shone brightly under all conditions was Jamieson. He improves every week, and his effectiveness was greater than ever. A. Chadwick was the best back the field, and of the forwards the wings were good, but Geary, though striving hard, could not do much that was great on account of the rough state of the ground. The "Hearts" hardly came np to expectations. They also seemed handicapped by the imperfect footing. They were perhaps weakest half-back; but the defence of Adams and Goodfellow was of high order, and the goalkeeping of Fairfield of the beat quality. The forwards were quick in passing and shooting when they had the chance, and were deserving of goals on more than one occasion.
WEST BROMWICH ALBION 0 EVERTON 2
November 22, 1892 The Liverpool Mercury
A friendly game between these clubs for the benefit of the West Bromwich Hospital took place at Stone-lane yesterday, neither club was strongly represtented. J Reynold being absent from the home side, whilst the exception that Pinnell was substituted for Geary Everton had the same team that had beaten the Hearts of Midlothian on Saturday. Everton scored in the first half and Pinnel added a second point . everton winning a rather poor game by 2 goals to nil.
Everton Team:- Rennie goal, Chadwick (a) and Campbell,, backs, Coyle jones and Jamieson half-backs, Latta (captain), Gordon, Pinnell Chadwick (e) and Milward forwards .
WEST BROMWICH ABLION V. EVERTON
November 22, 1892. The Yorkshire Herald
A friendly game between these clubs, for the benefit of the West Bromwich Hospital, took place at West Bromwich yesterday. Everton scored in the first half, Chadwick putting it through. In the latter half Pinnell added a second point, the visitors winning a rather poor game by 2 goals to none.
WEST BROMWICH ALBION V EVERTON
November 22, 1892. The Birmingham Daily Post
These teams met at the Stoney Lane ground, West Bromwich, before about 2,000 spectators. Boyd made his first appearance with the Albion team, but Reynolds was unable to play in consequence of the injuries he sustained on Saturday. The Albion started downhill, and soon afterwards pressed. Bassett centred, but Campbell cleared nicely. Boyd passed to Bassett, who again shot for the Everton goal, Chadwick heading out. The Everton team paid a visit to the upper territory, but they did not become dangerous, McCulloch and Horton defending very stubbornly. Horton missed his kick, and gave the Everton forwards an opening. Chadwick aimed at goal, but Reader threw out. The visitors attacked again, and a fierce scrimmage ensued within a few yards of the Albion goal. For a few moments the ball was bobbing about close to Reader, and but for mis-kicks the visitors must have scored. Shortly after this Chadwick, during a hot attack, scored the first point for Everton with a long swift shot. The Albion broke away and ran down to the lower end, where they made a most determined attack, but they were repulsed by Campbell. Towards the close of the first half the home eleven pressed. Some tricky play between Groves and Bassett ended in the ball being passed over to the right wing. Bassett nimbly took advantage of the opportunity and shied at goal, but ball up the hill, and made several unsuccessful attempts to score. Once when a good chance presented itself to Latta, shot wide. At half-time the game stood –Everton 1, Albion 0. On changing over the Albion at once commenced a vigorous attack upon Rennie's position, but the Everton man resisted with great determination. Campbell and Chadwick saving several exceedingly well placed shots. Breaking away the visitors ran down the slope, and the outside right man centred beautifully, Chadwick stopped the ball, and when the goal appeared to be at his mercy he shot wildly over the bar. The game was carried into the Everton quarters, Bassett got possession on the right, and centring nicely the ball dropped in the mouth of goal. Rennie, however, saved grandly, and he repeated the performance a few minutes later, when the Albion pressed hard. Milward ended a smart run by shooting high over the bar, and a moment later a fruitless corner fell to the Everton eleven. The remainder of the game was stubbornly fought. From a pass by Chadwick, Pinnell scored the second point for Everton. Result;- Everton 2; Albion 0. West Bromwich Albion; Reader, goal; Horton and McCulloch, backs; Groves, C. Parry, and T. Perry, half-backs; Bassett, McLeod, Boyd, Bostock, and Geddes, forwards. Everton; Rennie, goal; Campbell and A. Chadwick, backs; Jamieson, Jones, and Boyle, half-backs; Latta, Gordon, Pinnell, E. Chadwick and Milward, forwards. Referee, Mr. Lowles, of Derby. At the close of the match the teams sat down to a meat tea, at the Star and Carter Hotel, West Bromwich. Councillor, Phillips, on behalf of the Friendly Societies Committee, presented the cup to the Everton team.
FOOTBALL MATCH IN AID OF THE LOCAL HOSPITALS
November 23, 1892. The Liverpool Mercury
The Everton Football Club have lost no time in arranging for a theatrical football match at the beginning of next year, in aid of the Stanley hospital and the Royal Infirmary. Yesterday afternoon a meeting was held in the Bee Hotel, for the purpose of forming a committee to make the arrangements. Mr. G. Mahon occupied the chair, and there were also present a large number of gentlemen interested in the movement. Various suggestions were made for the future organization of the match, and also matters which would contribute towards its success were put forward. A committee having been elected it was decided to hold a meeting of that committee at the Bee Hotel on Thursday week, at three o'clock.
MAYOR OF LIVERPOOL AND THE EVERTON FOOTBALL CLUB
November 24, 1892. The Liverpool Mercury
The match at Goodison Park on Saturday , which is between Everton League and Sheffield Wednesday, should prove very attractive, seeing that the visitors are the only League club that have defeated Sunderland this season. In additional, the Mayor of Liverpool and several city councillors have signified their intention of being present to witness the match. The public will also have an opportunity of seeing the magnificent West Bromwich Charity Cup which was won by Everton on Monday last. It will be exhibited round the ground.
TODAY'S GAME
November 26, 1892. The Liverpool Mercury
With Associationists in Liverpool the event that will monopolies the attention of the public is the League match between Everton and Sheffield Wednesday. Indeed, there is nothing much in the way of counter attraction. The visit of Sheffield Wednesday is an occasion of much moment by virtue of the fact that they are in a more forward position in the League, with 15 points, than Everton who can boast of but 12 points for the same number of matches. The Wednesday are likewise famous as the only team which have managed to defeat Sunderland in a League match this season. The Mayor of Liverpool and several city councilors have signified their intention of being present at Goodison Park, and is thus to be given to the entertainment, it is also intimated that the supporters of the club are to be afforded the opportunity of witnessing the handsome cup which Everton qualified to hold by defeating West Bromwich last Monday in the annual match played for the benefit of the West Bromwich charities.
Everton v Sheffield Wednesday, Goodison Park.
EVERTON V.  SHEFFIELD WEDNESDAY
Cricket and Football Field - Saturday 26 November 1892
At Everton.  Sheffield Wednesday brought their strongest eleven, Darroch taking the place of Mumford, who figured at half-back vice Hall.  Gordon and Murray played centre and inside forward respectively instead of Geary and Maxwell.  The Mayor of Liverpool, Mr. Holt, patronized the match, walking round the ground, the band of the Beacon-lane Orphanage bringing up the rear.  He met with a great ovation.  Holt played against his will.  The gate numbered 12,000.  Wednesday kicked off, a cross-wind blowing, Milward put in a good centre, Murray kicking wide.  Gordon almost scored amid excitement.  The ground was in a horrid state.  Both ends were visited, and Allan saved from Latta.  The Brady, who got close in, beat Rennie.  Three minutes after, Brady sent a splendid low shot, recording the second goal for Sheffield.  Chadwick next shot over the bar.  The visitors ploughed better than the home team, and were quicker on the ball.  Spikesley added a third, and after Rennie had saved, Brandon and the other Sheffield, backs were quite safe.  The visitors nearly scored again and Milward's good work was applauded.  Chadwick dribbled down from the centre of the field scoring with a fast long shot a minute later amid intense excitement.  Allan next kicked clear.  At this point the game was of a sensational character, Spikesley adding No. 4 for Sheffield.  Howarth missed his kick, Rennie saving.  Brandon then cleared twice grandly.  A fast game ensued , Everton being often dangerous.  Boyle and Holt seemed feeble, Rowan and Spikesley beating them often.  Latta and Mumford had a sharp tussle, the Evertonians being successful.  Davis sent a slow high shot, which Rennie missed, to the astonishment of the spectators.  Sheffielders threw nothing away, their combination being almost perfection.  The halves and backs tackled and kicked splendidly.  The Everton forwards threw away chances away, the ground not suiting them.  Murray was outclassed and Rennie very poor.
Half-time; Everton 1, Sheffield Wednesday 5.
Everton tried a change in the front line on resuming, Latta going centre-half.  This certainly was an improvement in their play in front of goal, and generally the play in this half was even.  In the last twenty minutes Everton were often very threatening, being quicker on the ball than hitherto, but Sheffield kept them in check.  Milward scored twice in the last few minutes. 
Final; Everton 3, Sheffield Wednesday 5.
GOODISONIA
Cricket and Football Field - Saturday 26 November 1892
By "Black Rock."
The Hearts from Midlothian fulfilled their return fixture here last Saturday, before 6,000, the smallest first team gate on the new ground.  The main cause for this deterioration was the inclemency of the weather-rain having fallen from early morning to the time of kick-off -2-45 p.m.  The Scots brought a fairly representative team-having, I understand, but three men short of their usual eleven viz, Watterson, Morrison, and Begley.  On the other hand (or should I say side) no fewer requisitioned, who, be it said to their credit, displayed form a little above their usual, and surely not far from their higher expectations.  In fact to me their performances were one of the most gratifying features of the match.  A strange and unusual thing about this game was that each club played a player who was expected elsewhere.  Taylor, of the visitors, was due (and reported as such) at Blackburn, whilst J. Campbell (Glasgow Thistle) was expected to give his services to Ardwick.  Though Everton succeeded in signing this latter player, they intend by a gate consideration in January, to assuage their (Ardwick's) loss by a welcome addition.  But the game's the thing. 
The fact of no goal being scored in the first half, seems to imply that either the shooting was weak or the defence strong.  I am inclined to the latter opinion.  Though it is certain that our quintette reveled near Fairbairn (with a notable exception) through the hard and telling play of Jamieson and Coyle at half and the neat passing of Chadwick and Milward, and the prompt passes of Gordon to Latta, and the right winger's centres –which were uncommonly accurate –yet our visitors, especially Hogg, J. Adams, and Goodfellow (nice name this) with their capable custodian, defended with spirit, cleverness, and judgement.  But when the Hearts go under weigh, they proceeded in a merry and taking swing.  There was an uniformity of cohesion, and a kind of take-it—for-granted reliability in their movements.  Ellis was unselfish, and therefore serviceable, Taylor and Ross returned rightly, with interest, progressing the while, and Scott and McDonald would not be left behind in their distribution of labour.  It was here were Coyle retreated with honour, where A. Chadwick stuck with glory, Jamieson with fortitude, and the new man with more gamenous than discernment.  But behind these (yet equal in the scale) stood Rennie, always ready, cool, and every steady.
Geary and The Ground
I have purposely omitted to mention these two affairs.  Both were bad.  At about 20 to 30 yards from the goal –Mere-lane end-the ground was simply unplayable.  But, why Geary at this particular point and period should be so execrated, I am at a loss to know.  In the second half the denouncing reached its culmination.  It's no chimera for me to say that such epithets as "Go off!" "You're selling the match" strung together 'midst uncomplimentary adjectival clauses, bring into disrepute and dishonor the name of Everton and with the name all honorable associations and connections.  "Play up!" is good, proper, and encouraging, but those adverse exclamations, he and we had to endure, tend not to stimulate, but to dishearten the man and make the rest miserable.  The football field is not a theatre, where if we approve, we show our approbation; if we disapprove we should be silent, or leave.  The cause of exit is strange and inviting.  The evil (if any) may be removed by ourselves; the door awaits us, and closes after us.  Then please let us have no more, of these groundless insinuations. 
THE SECOND PORTION.
Chief points were;  The periods in which the two goals came, immediately after the restart and just before the termination; the hard lines experienced on both sides, particularly by the Scots; the determined and improved form of the visiting forwards, and the tackling of Coyle and Jamieson, together with Albert Chadwick's success.  Geary's goal was a good one, he receiving the sphere from Milward (previously passed by Chadwick) in mid air, and putting it out of the reach of Fairbairn.  But this was his last effort, for soon after he collided with Baird, and the weaker went to the –dressing room.  The shades of night had fallen very fast, and Chadwick's goal was scarcely distinguishable.  And so we have administrated a double defeat to the Hearts this season, the combination reading five to nil.  The visitors as a body gave a good account of themselves, especially Fairbairn, Adams, Hogg, and Taylor.  Jamieson, Rennie, and Chadwick were the pick of the home team, but each and all did very well indeed.  Campbell was very fair.
ITEMS
Attention has bene turned this week to the weak spots of the ground.  The hard soil underneath has been removed, and some inches of cinders with large thick sods, instead of the ordinary brick ones may, it is thought, improve it.  There are, it appears, two executives in the field re" the annual theatrical football match."  Now since the object is charity, show your charitable natures by uniting for this worthy project and since Goodison-rd, is larger and more suitable, in point of accommodation, let us have it there.  If J. Campbell has not turned out to-day, he has permission.  His trade called him to Glasgow during the last few days, and it is not expected that he will remain there.  I understand that Gordon and Murray are chosen to play today v. Sheffield Wednesday.  This is a tribute to the Combination after their creditable show last week. 
NUGGETS
Cricket and Football Field - Saturday 26 November 1892
What kind of a reception awaits Brady, the Everton runaway, today?
Everton could have one of the Midlothian defenders if they wanted him.
Who are the three Everton players suspected of not doing their best?  I could name one at least.
Campbell was a success last Monday, and Chadwick and Jamieson very conspicuous behind.
What a surprise!  Everton's Combination tam with three league players beat W. B. Albion at Stoney-lane.  No wonder the Combination figure so well.
'Twas a good joke, Mr. Ramsey, when you wanted to know from the company why W.B. Albion invited Everton to play for the cup.  Who said they might pawn it?
Well!  What do you think of our Charity Cup?  It looks like a happy augury of better things.  Will Mr. McMahon bring it home to keep company with the Liverpool pot?
When will the Everton crowd learn to do justice to their players?
Geary deserves better treatment than he receives at Goodison Park.
The Goodison Park ground is getting more like a ploughed field every week.  Can nothing be done to remedy it?
Everton appear to have two banners, one flying over the ground and the other over Threlfall's public house.  Who authorized Threlfall's to use the Everton colours? 
EVERTON REVIEW
November 28, 1892. The Liverpool Mercury
The patrons of Everton were again denied the pleasure of witnessing their team win a League match –a privilege they have not enjoyed since October 1, when Aston Villa succumbed at Goodison-road, and even when the margin of success as but a goal to nil. But Evertonians are very loyal. No matter how often they are disappointed, hey "stick to their guns" and generally secure a "full house" before which the players may perform. Again on Saturday there would be about 14,000 spectators present, and as these included the Mayor and other members of the Corporation, it was all the more galling that Everton on this particular occasion should play second fiddle to their opponents, even though they were Sheffield Wednesday, the first, and until Saturday the only, vanquishers of the great Sunderland team but in truth Everton were caught at a disadvantage. They had but a patched up eleven, with so many men on the sick list, and Holt, though playing, protesting that he was not in a sufficiently recruited state to do justice to himself or his club. The ground, too, was in a flooded condition, as a result of the forenoon rain, and Everton are not generally seen to advantage when the going is heavy. They worked every bit as hard as Sheffield Wednesday, but they did not keep so well on the ball, and were not so consistently prompt and strong in their passing and shooting. The Wednesday nearly always had a quick pop at goal when they got near, whereas Everton were more calculating, and whilst considering how best to reduce goal, dallied till the opportunity passed away. This was the characteristic play of the first half, but afterwards, on Latta going centre, the Everton forwards were as expeditious and incisive in their work as had the Wednesday been in the earlier stage and had they opened as brightly as they finished, the victory would probably have been heirs instead of Sheffield's. The winners on Saturday, beyond doubt, gave a magnificent exposition of football on a slippery ground. They seemed to revel in the mud, and they worked so harmoniously as to be equally strong in every department. Brady the old Evertonian giving very striking proof that he is as clever as ever. There were several failures on the Everton side. The defence, except that of Howarth, was weak, and Rennie fell to nearly every shot he received in the first half, but allowance must be made on account of the slippery footing. Holt and Boyle were neither in good condition, but Jamieson came out well. The forwards were upset by Murray, who is not apparently destined to shine in a League match, however, such he may sparkle in connection with the combination team. The left wing were in good form, and Latta and Gordon, after exchanging positions, gave every satisfaction.
EVERTON V SHEFFIELD WEDNESDAY
November 28, 1892. The Sheffield Independent.
A Sensational Game.
Brilliant Victory of the Sheffielders
The occasion of the first visit of Sheffield Wednesday to Liverpool as members of the large body was made festive by the executive of Everton club, invitations being issued to the Mayor of Liverpool, and other civic dignitaries of the City to witness the match, which to Liverpool-football-goers is a novelty, unfortunately the morning opened stormy, and a terrific fall of rain in the forenoon tended to make matters anything but agreeable to the many thousands of people who intended to give the victorious Sheffielders a hearty welcome to one of the most popular centres of the Association game. However, as though the gods were mindful of the fact that the occasion was a great one, the rain clouds and thick hazy atmosphere cleared away, and before the game was started old sol was beaming in all his autumn glory, and had it not been for the fact that pools of water deluge was visible just as the rival teams entered the grand from the dressing rooms, a local brass band struck up the stirring sir of "see the conquering here comes," but whether this referred to the moment to Everton or to Wednesday no one was able to tell. Both clubs, as will be seen, were well represented, Holt having sufficiently recovered to take the field though the latest acquisition to the back division, Campbell, did not play, Howarth being partnered by Albert Chadwick, the brother of the international forward. When Rowan kick-off for Sheffield about half-past two scarcely less the 15,000 people were present. The Wednesday right wing were soon busy at work and took the ball up the field, when Howarth rushed in and cleared, for a minute or so the play ragged in midfield, Latta here got possession and sent in a longshot, which was thrown clear by Allen, Holt dribbled a short distance and transferred to Chadwick, who dodging past Brady, passed on to Milward, and a series of five exchanges ended in the latter again troubling the Sheffield goalkeeper. Everton, at this stage of the game, looked like drawing first blood, Latta made another good attempt to beat Allen with a header, but the "Blades" was all there, and saved smartly. Then some very tricky play on the part of the Sheffield left wing opened up a chance, which the visitors were not slow to avail themselves of, Brady scoring a very nice goal, which Rennie had no chance of stopping. From the restart, the visitors were again in the Everton half, and almost immediately Brady, from a pass by Spikesley, notched a second point for Wednesday, with two goals to the bad the Evertonians from the extreme wings were nearly defeating Allan, Gordon also narrowly missed the Wednesday citadel, his shot, however being rather weak. After a spell of play in the centre, a Sheffield forwards plunged their way through the slush when Davies and Rowan each called upon. Rennie to save. A stiff scrimmage in front of the Everton goal followed, and before the home goalkeeper could get the ball clear, Brown slipped in and scored the third goal for the visitors, for a foul in the centre against the visitors Howarth took a free kick, which sent the ball straight into the net, but it went through without touching any one. Despite the wretched condition of the ground, the Wednesdayities were remarkably quick in getting on the ball, and their attacks were also of a more dangerous character those initiated by Everton. The next item of notice was a smart run by Milward, who beat three or four of the opponents in the race up, but as there was no one at the finish to render him assistance his effort was abortive. E. Chadwick next tried, and this time met with success, and opened the Everton account with an oblique shot, which first of all struck the upright and then bounced through. After Holt had very nearly beaten Allan, the Sheffield forwards went away with splendid combination, which defied all opposition, and Spikesley scored the fourth goal, a performance which met with tremendous cheers from the crowd. Still keeping up their attacks, the Everton defence was sorely troubled but Howarth came out splendidly, and was well applauded for his fine play. The "Blades" had a futile corner from which Latta and Milward led an exceedingly hot onslaught on the Sheffield charge. T. Brandon, meets, and Mumford were, however, equal to the tension, and after a while the Evertonians had to beat another retreat, the result of which was that Davis scored the fifth goal for Sheffield just before the interval, the visitors thus crossing over five goals to one, to the good. This was a tremendous balance for Everton to tackle, Latta took Gordon's place at centre, the last named going right outside. The early staged of this half were of a very even character. Gordon, however, took the ball down the touch line, and made a splendid effort at goal, only however, to see the ball sliding over the crossbar on to the top of the referee. The Everton men were soon attacking again, but luck was all against them. Wednesday next exerted themselves, and Spikesley, who received a fine centre from Davis, was nearly adding a sixth goal, and at this stage the home goal was fairly bombarded, and once the ball went through, but the whistle had just previously sounded for a foul. At this juncture the Sheffielders held the complete power over their opponents, and the vast crowd began to ironically cheer the home players. This stirred up the "toffy boys" who infused much vigour into their final effort, and fairly swarmed round the Sheffield posts. Gordon, Boyle, and Holt made some wonderful attempts, without avail. Then Chadwick took up the pressure with success and scored a second point for Everton, Milward adding a third within the last half minute of play. Thus left Sheffield winners by five goals to three, a well-earned victory for which they received the applaud of the spectators. The Sheffield forwards were always much faster and trickier with the ball than Everton. Everton 3 goals, Sheffield Wednesday 5 goals. Teams: - Everton: - Rennie, goal; Howarth and A. Chadwick, backs; Boyle, Holt and Jamieson, half-backs; Latta, Murray, Gordon, E. Chadwick, and Milward, forwards. Sheffield Wednesday: - Allan, goal; T. Brandon and Darroch, backs; H. Brandon, Betts, and Mumford, half-backs; Davis, Brown, Rowan, Brady, and Spikesley, forwards.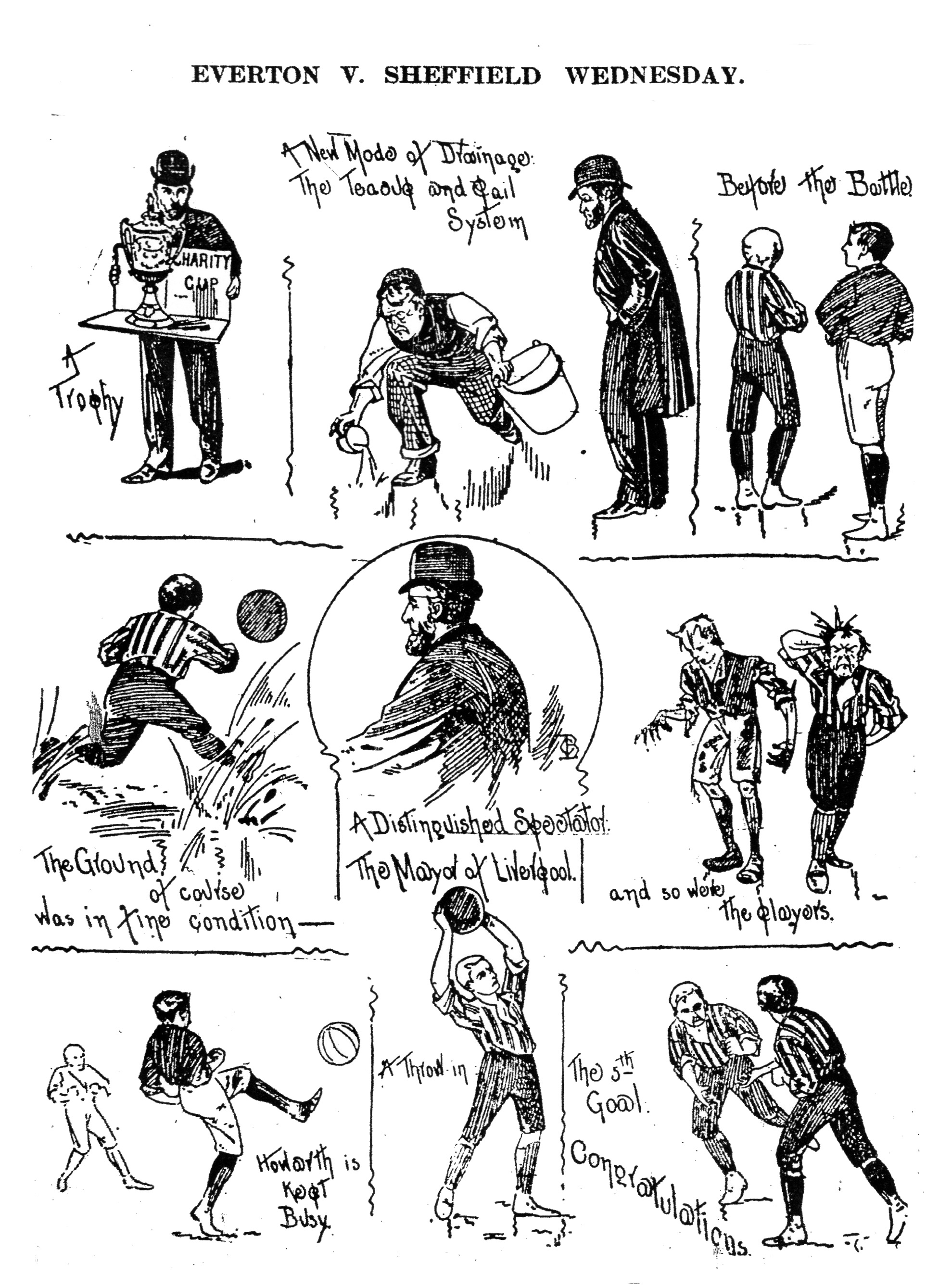 Liverpool Echo
EVERTON 3 SHEFFIELD WEDNESDAY 5
November 28, 1892, The Liverpool Mercury
Special interst was given to the first League match between these clubs at Goodsion Park on Saturday by the fact that the visitors had beaten Sunderland. In addition to which the mayor of Liverpool and other influenial gemtlemen patronised the event. The mayor on his arrival was welcomed, on behalf of the Everton Club, by Mr Mahon, president, in a brief speech, and his worship having expressed himself gratifield with the welcome given him and the hope that good sport was in store, proceeded rounf the ground to the reserved stands avoidst the appaluse of the compant, which numberred about 14,000. The ground unfortunately, was in soft condition, owing to the recent rains, and it was evident the players who were as follow, had a laborous task before them. Everton, Rennie goal, Howarth (captain) and Chadwick (a) backs, Boyle, Holt and Jamieson, half-backs, Latta, Murray, Gordon Chadwick (e), and Milward forwards. Sheffield Wednesday:- Allen goal, Branton (t), and Darroch, backs, Brandon (h), Betts and Muinford, half-backs, Davies, Brown Rowan Brady and Spikesley left wing. Everton had the sun in their Everton commencing, but opened the attack on the left, when Murray put outside from the pass. Everton were not yet to be driven back, and, helped from the left, Latta tested Allen, who used his hands to good purpose and the venue changed. Davies outman Jamieson, and placing across to the left wing Brady closed in and scored at short range, the distiguished part thus played by the late popular Evertonian being heartily cheered. The ball had no sooner been restarted from the centre than the visitors again took up the attack, at the lead of Spikesley who ran quickly along and placed the ball in the safe charge of Brady, who for the second time smartly beat Rennie. In seven minutes Everton had presumably victory snatched from their grasp.,for it would be a herculean task to overtake this double success of the Sheffielders. They strove very hard on resuming, and attacked again and again Milward, Chadwick, and Latta being particularly smart but there was a weakness in the middle, and the quick backs completely held their own. Gordon certainly shot well on one occasion forcing a corner. A free kick next fell to Everton, but this was of no use, as the ball dropped into the net untouched. Even play intervened the passing being very good all round, and then Wednesday jumped further ahead, as Spikesley took the ball nicely from Brown's centre and scored with ease. The home defender were in troubled waters immediately afterwards until Howarth got the ball away from the goal mouth grandly and Milward sprintled off but it was in vain as no one was at hand to assist. The left wing of Everton was once more in evidence and E Chadwick made a running shot which had the desired effect the ball rebounding through from off the post. A severe tussel followed in front of the home goal, which seemed in immientent danger of being again puctuired but the defender stood out, and, the siege once raised Spikesley went down and scored a fouth goal with a spanking shot. Some likely pressure was initiated by Everton during which T Brandon repulsed the home left wing more than once and than a futher mishap occurred to Everton,, as Jamieson and Howarth failed to arrest the advance of Davies who shot out of the reach of Rennie into the net and a futile movement by Milward brough on the interval with Sheffield Wednesday leading by 5goals to 1. For the second half Everton made change in the disposwition of the front line, Latta going centre and Gordon outside, right, but Everton were the first to defend and, coming out of the ordeal with satisfaction, the home-team gave evidence of more vitality in their kicking and fastening on the ball. Gordon shot in beautifully from the wing, but went to high. In reply Spikeley raced off and shot, which Rennie thgough having plenty of time to use his hands, resorted to the more risky experiemnet of neitralising with his foot. He got the ball clear however, though it was not Everton's time for attacking yet. The visitors showed an inclination of taking things more easily at this period, but Everton had not given up hope, and the determination they evinced compelled the Wednesday also to be on the alert. The visitors tried to get through on the right once or twice, but Howarth checked them magificently. The subsequent play was greatly in favour of Everton., who at this junction kicked hard and often shots accurtely but it was getting very near time before they could score, Milward claiming the distinction. He repeated the a=chievement just before the whistle sounded, and the result of a hard tussle was a win for Sheffield Wednesday by 5 goals to 3.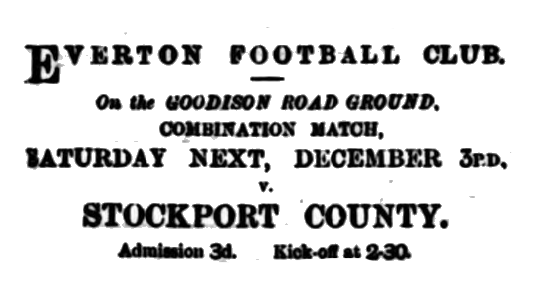 GOODISON SODS
Athletic News - Monday 28 November 1892
The Everton club have covered up the bad places on their ground by carting hugh sods six feet in length and laying them on specially prepared surface, to which it is hoped, they will cling.  It will, indeed, be a strong-footed forward who can kick up six feet by four of good turf.  It is intended to cover the whole of the bare spots in this matter. 
EVERTON BEATEN AND OVER PLAYED
Athletic News - Monday 28 November 1892
By the Loiterer
By reason of their splendid performances, the visit of the Sheffield Wednesday team to Liverpool was looked forward to with some interest.  In the League table they hold a slight advantage over Everton, and by the result of the match their position and also their reputation has gone up.  From the list of players it will be seen that the home team includes three recognized reserve men, while perhaps some enthusiast will put the reverse contingent down as five.  But the team that did duty was considered the best at command.  The weather was very bad in the forenoon, but cleared up afterwards.  Nevertheless the ground was in a bad state. I suppose there would be 12,000 or 14,000 spectators, including the Major of Liverpool, the receipts being 268 pounds.  The players were;-
Everton; Rennie, goal; A. Chadwick, and Campbell, backs; Boyle, Holt, and Jamieson, half-backs; Latta, Murray, Gordon, E. Chadwick, and Milward, forwards.  Sheffield Wednesday;- Allan, goal; T. Brandon, and J. Darroch, backs; H. Brandon, W. Betts, and R.G. A Mumford, half-backs; H. Davis, R.N. brown, A. Rowan, A. Brady, and F. Spikesley, forwards.  Referee; Mr. Jope. 
To say that the spectators went into ecstasy over the play would be a long way off the mark, but several good bits between Chadwick and Milward were duly recognized.  With these exceptions there was nothing to arouse enthusiasm in the minds of the home supporters.  Early on the visitors gave evidence of being in a manner which this player has not been accustomed to.  The play was remarkably open, and Allan had a ticklish shot which he cleared all right.  It was now that the visitors who had certainly showed the better football, began to put the advantage they undoubtedly held into something tangible.  There was not a weak spot discernible, but Brady and Spikelsey did the most work, and each player scored twice.  It was a treat to see them make for goal –no messing about – but every pass meanly yards nearer their object.  Neither was there any faltering, and although two of the shots might have been saved, all four goals were obtained by sterling play.  In the meantime Chadwick had scored a goal by a grand individual effort, but generally speaking, the home contingent were powerless against the Sheffield attack, although Chadwick and Milward alone of the forwards played anything like a game, and these two did many clever things.  Before the interval Davis scored a fifth goal with a well-judged screw kick, and the visitors led by five goals to one.  On resuming the Sheffield men were not near so eager to score, yet they could claim some superiority in play.  Latta and Gordon changed places, and the play of the whole side benefitted thereby.  There was more method about their actions and the half-backs played a much improved game.  The game, therefore, took a turn and the visitors' defence was kept busy for the succeeding period.  Their forwards however, gave them plenty of breathing time, by runs which were occasionally menacing, and in these bursts both wings were prominent.  But the most serious work was done at the other end, and Allan on two occasions was beaten, but in each case Darroch rushed up and cleared in the nick of time.  Milward at length scored a second goal, and, just before the final, added a third Everton being beaten by five goals to three.  The Sheffield men played the best game seen on the Everton ground this season, and Evertonians fail to see anything astonishing in the Wednesday lads beating Sunderland.  The general run of the play was similar to what we had in the Sunderland match at Everton but the Sheffield style was more effective than that of the Wearsiders.  The game was splendidly contested throughout but the superiority of the visitors in the first half was most prounced.  It was general –forward, half-back, back, and goal-keeping; but on the Everton side the only two forwards who showed any method worth speaking of were Chadwick and Milward.  The others worked hard, but to no purpose.  On the other hand, the Wednesday men all round played a fine
Game—clever, resourceful,  and full of flash.  The soft and treacherous ground did not seem to hamper their movements at all, and in the first half the home halves cut a sorry figure. All were good, but Brady and Spikesley were the most brilliant. Betts and Mumford were the stubborn pair, and behind them Darroch and T. Brandon were very safe. Despite the score reading five goals to one in their favour, in many instances these two backs were called upon put forth all the energy at command to avert disaster. The way Tom Brandon covered goal and the huge punts which he cleared must have disheartening to the home forwards. Allan did very well, but in the second half he was beaten twice, and in each case it was not his fault that the goal escaped. The only men on the home side that played a good game throughout were Milward, Chadwick, and Howarth. Murray was no use, neither was Latta nor Gordon until they changed places in the second half; then both played an improved game. As a tribute to the skill of the home left, it is fitting that all three goals scored by the team should be placed to their credit. I have never seen the Everton halves in such a pickle as they were in the early part of the game. They were simply outclassed. Like the rest of the team they did much better in the second portion. A. A. Chadwick was too slow for the lively Spikesley and Brady, for they were round him before he properly grasped the situation. Whilst not playing such a game as Brandon, Howarth did good work, blemished only by a few mistakes. It is the first time I have seen Rennie, and I am not favourably impressed by his performance. He was not energetic enough for the metal he had against him, and what he did was not accomplished in that finished and confident manner which one likes to see goalkeeper.
THE LIVERPOOL AND DISTRICT NOTES
Athletic News - Monday 28 November 1892
By the Loiterer
Jealously between the Everton and Liverpool executives promises to spoil our annual theatrical event of the season for the benefit of two of our deserving hospitals.  I am one of those who have given up all hope of reconciliation between the two clubs, even when charity is to be benefited, and was quite prepared for each club working on district lines this year.  The affair has never been a club matter at all, beyond the granting of the use of the ground and lending the players.  The late Mr. Albert smith was the promoter, and I remember he had some difficulty in getting the Everton committee to take an interest in the event, and only Mr. Barclay, Mr. Stockton, and one or two others assisted him.  Last year other prominent members of the present Liverpool club had the arrangements in hand.  Of course, there is no objection to Everton having a match – more the merrier-if additional grist is brought to the mill; but an attempt has bene made by the insertion of a par in one of our evening papers to cause this jealousy, and consequent disgust on the part of the public, which is sure to be detrimental to the fund.
The turf at Goodison Park is causing the Everton directors some uneasiness.  It is bad and no mistake.  Football players are accustomed to mud, but they naturally object to being hampered by carry whole sods about with them.  For the match on Saturday the worst part had been re-laid with sods of an enormous size, and the experiment was a decided success, and I see nothing for it but to repeat the process as the necessity arises.  The directors are prepared to go to nearly any expense in securing a passable piece of playing ground.