LIVERPOOL POLICE
Athletic News - Monday 08 July 1901
A most successful meeting was the sixteenth annual gathering of the Liverpool Police, held at Everton before 25,000 spectators. The 100 Yards Police Race brought out several smart runners, the final falling to T. J. Elliott, of the promoting club, who was followed home by club mates in W. McDowall and W. Gay. In the Quarter, McDowell turned the tables Elliott. The Half-mile was won, as everyone expected, by J. T. Rimmer, but this was not his only success, for later in the evening he won the Mile Inter-Divisional Race. The Two Miles Walk was taken E. Morse, of the London City Police, who travelled in faultless style. The Liverpool Police came out very easy winners of the Shield. The Open Race over five score yards was won clever fashion by Elliott, of the Liverpool Police (7 ¾). A large field turned out for the Mile, which fell to R. G. Dover, Sefton Harriers (126).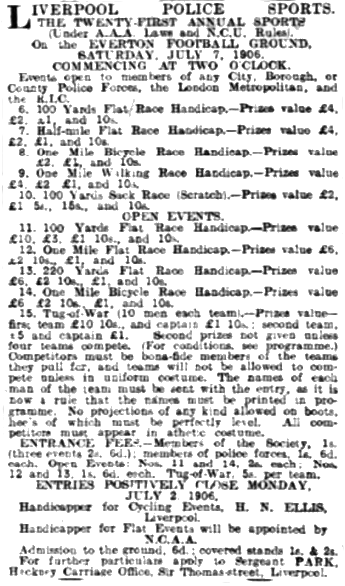 Toman
Nottingham Evening Post - Monday 15 July 1901
In addition to John Bell, the famous Scottish international, Everton have engaged another of their old players, Toman, the ex-Burnley centre-forward, who has been playing in the Southern League for the past two seasons.
TRANSFER NEWS
Dundee Evening Post - Saturday 20 July 1901
The following transfer were passed at the English Association meeting; C. Clark, Hamilton Academicals to Everton, F. Halliday, Everton to Bolton Wanderers, J. Bell, New Brighton Tower to Everton.
Wolstenholmes
Dundee Evening Post - Thursday 25 July 1901
Wolstenholmes, Everton's popular right back, and a man well qualified for captaincy cares in the opinion of many people, is in the matrimonial market, and will be married shortly in Liverpool to a Farnworth young lady. Mr Molyneux, does not return for another week. Gray, clever winger, who has been identified with Everton for a conple of seasons, during which period hat performed more than creditably, is at present of the great unsigned. In style is not unlike Meredith, of Manchester City, although he does not possess the remarkably fine speed of the City right-winger. Four years ago Gray played for Scotland versus Ireland a junior, whilst as a senior he has represented Glasgow against Sheffield.