WEST BROMWICH ALBION RESERVES 2 EVERTON RESERVES 1
April 1 st 1930. The Liverpool Post and Mercury
CENTRAL LEAGUE (Game 34)
Everton Reserves were unable to maintain their interval lead at the Hawthorns, where West Bromwich Albion won by two goals to one. The visitors gained the lead through Attwood just prior to the interval, after Coggins had repeatedly saved his charge from keen Albion rushes. Richardson gained a remarkable equaliser when Coggins lost the ball after running to the edge of the penalty are. Murphy got the winning goal near the end, and Albion then played for safety to keep Everton out.
EVERTON PLAYERS FOR TRANSFER
April 2, 1930. Evening Telegraph
Everton Football club again placed the following players on the transfer list;- J. Dunn, Scottish international; A.J. Kennedy, the ex-Arsenal and Irish international back; A. Weldon, J. Kelly, French and White, the ex-Blackburn Rovers half-back.
EVERTON PLAYERS FOR TRANSFER
Dundee Evening Telegraph - Wednesday 02 April 1930
Everton F.C. have again placed the following players on the transfer list;- J. Dunn, Scottish international; A.L. Kennedy, the ex-Arsenal and Irish International back; A. Weldon, J. Kelly, French, and White, the ex-Blackburn half-back
EVERTON TO PART WITH NOTED PLAYERS
April 2 nd 1930. The Evening Express.
TWO INTERNATIONAL TO LEAVE GOODISON; WELDON AND KELLY ALSO
TRANMERE'S EYES ON KENNEDY
Everton's already are putting their books in order for next seasons. During the past few months the club had signed at least half a dozen first class players, and at present the playing staff is usually large. This points to the necessary of the club parting with a number of men now on the books. The Evening Express as announced exclusively in the lunch edition today, knowns that the club are placing on the transfer list Dunn, the Scottish International Kennedy who has been capped by Ireland, Weldon, Kelly, French and Whyte, the ex-Blackburn half-back. Additionally the club is likely to part company with several players who have never attained first team states.
FINE SERVICES.
Dunn, Weldon and Kelly have all rendered the club yeoman services. The two latter were members of the team that won the championship in 1927-28. Dunn came from Hibernians Weldon was secured in the secured in the second half of the season proceeding the championship year, at a time when Everton stood in danger of relegation. He played a valuable part in saving the club from the second division and was a vital force in the forward line. The following season he played inside left to Dean, and contributed remarkably to the latter, and establishment of a world goal-scoring record of 60 goals in a season. Kennedy although an International has never had a real chance at Goodison Park. The soundness of Cresswell and O'Donnell has kept him in the Reserves side. Kelly is a right half-back, who has had to give way to Robson. French is a forward who has never played in the English league team. All these players posses undoubted ability and are likely to be fixed with new clubs of an early date.
CHAMPIONSHIP TEAM BROKEN UP
Only a few weeks ago Everton had transfer Ritchie, T. Troup to Dundee. Both were internationals, and the latter was a member of the championship side of 1927-28.
KENNDY FOR TRANMERE?
Rovers said to have approached Everton. Tranmere Rovers would like to secure the services of Kennedy. He is the type of player who would be a distinguished acquisition to the Tranmere club. The Evening Express learns that the representatives of the Tranmere Rovers have already sounded the Everton officials concerning his signature. At the moment nothing definite has been fixed, but negotiations are still in progress.
EVERTON TO PLAY IN IRELAND.
This month Everton will send a team to meet Ballymena, the Irish league club. The match is arranged provisionary for Monday April 14. This game is to be played as part of the agreement under which Everton secured the services of McCambridge the Ballymena and Irish International forward.
GONE TO BUXTON
The Everton team selected for the match at Leicester left Liverpool today for Buxton, where they will holiday prior to going to the Midland city on Saturday. The team will return to Liverpool from Leicester on Saturday night.
EVERTON'S IMPORTANT CHANGES; DEAN RETURNS TO THE ATTACK; THOMSON PIVOT.
Everton are making no fewer them eight positional changes for their important League match against Leicester City, at Filbert-Street, on Saturday, the most important of which is the return of Dixie dean to the leadership of the attack. Owing to injury Williams will not be able to play and Cresswell will take his place, while O'Donnell after two games with the Reserves returns to left back. Important changes are made in the intermediate division where Thomson displaces Griffiths as pivot, and Griffiths in turn takes the place of Robson on the right. McPherson who has recently been operating in the side forward positions with the Reserves, returns to left half. Critchley and Martin again constitute the right wing of the attack, and Johnson and Rigby will operate on the other flank to the exclusion of Stein. The team will be; Sagar; Cresswell, O'Donnell; Griffiths, Thomson, McPherson; Critchley, Martin, Dean, Johnson, Rigby.
JUNIOR'S ON TRIAL.
The Reserves will be at home to the Sheffield United in the Central league, and will give extended trials to the two young players from the North-East, Hewitt and Powers. Both preformed with credit at Huddersfield last Saturday. Liggins the amateur will figure at outside left. The team to line up at 3-15 p.m. will be; Coggins; Common, Kennedy; Bryan, White, Powers; Wilkinson, Weldon, Hewitt, McCambridge, Liggins.
BUNDLES OF LETTERS TO RIGHT THE EVERTON WRONG.
April 2 nd 1930. The Liverpool Echo
"Up, up, up" writes –having followed the team since 1899, and having had experience in the soccer world in all grades of football. I think I am entitled to express my opinion without prejudice, I am going to take you to task for your criticism of Dean, which I think in the first place, is uncalled for. Here is a mere boy, who has done more for the club in the last thirty years than any other player I can recall, and, owing to the fact that he has been unable to give of his best during the last few weeks, owing to injuries, etc; has made him the scapegoat which in my mind, is all piffle. It is only a short time ago that you yourself, also Mr. Howcroft, was writing and broadcasting this boy as the greatest centre and now, today, owing to his being unable to do himself justice, you are running him down as unfit, for his p-lace in the first eleven. Well, after all is said and done, what would Everton's position have been without the player's services during the last three seasons? Take the number of goals scored and deduct Dean's distribution. How many games has he won off his own bat? It is easy to criticism, but much more difficult to play the game, and with the exception of one, how many of Everton's directors have had the experience of playing the game? It is not the players "Bee" but had management that is the cause of trouble. They never gave the players a chance, and are chopping and changing their team. One man has played in five different positions this season. The most capable chairman they ever had (Mr. Clayton) was put off the board because he knew a footballer when he saw one, but when they lost him they lost everything the club possessed. I could go on writing forever about the management, but the present is not for words, but deeds. My team to see Everton through; - Sagar; Cresswell, O'Donnell; Griffiths, Hart, Thomson; Martin, Johnson, Dean, McCambridge, Rigby.
I give the letter almost as written, because it shall not be said I his my critics in the wastepaper basket. He Dean; I have always give him credit; what I have said I have said. Today I have other opinions –at the moment –and must state them frankly and fearlessly. It is the fact that the Dean of old is older than the average men of his years, because he started young, and went through a hefty testy period. I make allowances have always made them; but today I am not satisfied that he is fast enough, and he has temporarily lost his form and his show and sparkle. He's not alone in such a sequence of events. The clock does not always strike twelve!
THE CALL TO 49,999.
What does it matter to the "fellows upstairs" what league Everton play in, be it first, second of third? They are banking on Everton's famed name to draw crowds to pay the dividend allowed by the association. That about all that matters to them, but to us followers it is different. We are proud of Everton's record; it's a worthy one says "Faded Blue." It's such a business and we men in the street are the mugs who pay our shilling and swallow anything they serve up. We pay the piper and never even suggest a tune, but there is nothing to prevent me, "going solo" and I am asking 49,999 people and as many more as wish, to join me in a game of "nap" for the "rest" of the season. This will make the "fellow upstairs" aft up and take notice –their dividend would be in danger of relegation.
ANY DEPUTIES.
Mr. Thomas Yeats, of Wallasey writes; -A correspondent talks a abardly about luck running the circles. The ordinary spectator would call this "tripe" and as the management have been under the evil influence of the cycle of ill-luck, is it not clear that a change might bring a change. But are the facts not as follows? The present directors have never; except in one year, shown decent results. Their efforts have taken the team to the lower end of the League table each year. They cannot be said to have been biggardly. They have had the money provided by the public and they have spent it lavisby in securing players. They have spent more money and bought more players than any other club in the country, with wretched results. Three years ago they retained their position in the First Division by purchase as, had West Bromwich and or Leeds United been able to spend £20,000 on players as Everton did, Everton would have gone down to the Second Division. The position then is that the management is a failure. Cannot the directors appoint a committee from the shareholders or supporters who know something of football management, football players, and who could take charge until the end of the season, and put the club through? Judging by the views I as a shareholder of the club, have taken at the annual general meetings, I would ask what deputies are on offer.
THE CALL FOR DEAN.
Surely Dixie's absence was disastrous –could be possibly have missed as often as the others. You have been such a consistent supporter of Dean that I was very sorry you turned him down. He is not the Dixie of two years ago; neither has he had the passes of two years ago. A latter from "Bob." I suppose even you, a hardened journalist are not averse to a little more support or encouragement (call it what you like) occasional I write (says W.G.L) re your recent mild criticism of Dean. I have heard expressions of opinion in the paddock, the popular side, and behind each goal, and as a result I believe the great majority of Everton supporters are with you in all you have written. Further I believe you along with the supporters trust he will "come again" and that very soon.
HIS LAST HOPE.
Credit is due to Everton for their rally after being three goals down and a full back off, I for one did not fancy Everton's team for their match with Birmingham. O'Donnell, even if he has his "off " days is surely reliable. Robson, a 100 per cent tryer, works himself to death to give of his best, but has not yet that subtleness of foot or power to play a real forcing game. Critchley was really splendid as a right half-back and if he has the will to make good there, I see him the possibilities of another Harry Makepeace, I felt sorry for Everton with their make shift backs.
Here's my team for Everton as a last "hope" trusting that the "Pool" will do us a good turn against their old "enemies" Newcastle, whom they have to meet twice; - Sagar; Cresswell, O'Donnell; Critchley, (or Williams), Thomson (who looks much like Jock Taylor of the old days), Hart. (Williams or Critchley), Griffiths, Dean Johnson, Rigby. If this team "nucked in" I believe they would romp home with enough points to reach safety (says "Latta-day" Evertonians).
CUT OUT THE AFTER-SEASON CONTINENTAL TOURS.
April 5 th 1930. The Evening Express.
HUNTER HART SAYS FROM A FOOTBALL VIEWPOINT THEY ARE NOT ALL HONEY
TRAVELLERS DO NOT TAKE MATCHES SERIOUSLY, BUT NATIVES DO.
LEAGUE PLAYERS FAIL TO GET REST THEY NEED IF THEY GO ALL OUT.
By Hunter Hart, Everton's captain.
At this time of the season many League clubs are making arrangements for Continental tours during May and early June. The point arises, are they worth while? Personally, I say no. In this matter I speak from experience for, during my stay with Everton, I have had the opportunity of participating in some really grand tours to foreign countries –tours which I would not have missed for anything. Still, speaking strictly from a football point of view, they are not all honey. Mark you; the players of any club will welcome the news that they are to embark on a Continental tour. I have good ideas of the feelings such an announcement stirs up in one when coming from the lips of the club secretary. It is a holiday, a chance to see how the other half of the world exists, it tells you how foreigners take their football, and the total costs is three or four matches about which you do not brother much in your hearts. That is the point. You do not brother much, but Continental does. This is one of the chief reasons why I say cut out the after-season tour.
VALUE OF TOURS.
Continentals have been taught the game of football by English clubs. Before tours came into being they were novices, but with the League teams only too willing to give their players break in the monotony of their life, they took touring sides out and initiated, the Continentals into the subtle arts of the game. That was some seasons ago, however, and conditions have altered to such an extent that an English touring team cannot be as certain that they will win all their matches as they were years ago. The Continentals have proved able students. My first tour was Denmark in 1922, when we won all our games without overexerting ourselves. This was primarily because the Danes knew little about the game, and we were the masters demonstrating to them just how it should be done. If we went to Denmark today I do not for a moment think we should have such an easy task. In 1925 Everton visited Spain and received their first Continental defeat. This was at Barcelona and we lost by two goals to one. Later, we met Newcastle United there for a cup and won by three goals to two, but our Barcelona defeat just slows how the Continental had improved in his football education. What is the position today? The Continental is no longer a novice. He is an expert footballer, a man who can even hold his own with many a Football league player. Why should the Englishmen go out to a strange land and try to teach another person –in a disinterested way-what that person already knows? I do not for a moment mean to suggest that Continental football is better than ours. It is not, but touring teams do not take things to seriously as do the natives, and defeats are administered to the tourists which, is serious football would never happen. Take the case of Newcastle United last season, for instance. Could anyone blame them for taking things a little bit easy after a strenuous season in League Football? I know full well that Newcastle, all out, could have beaten any team in Austria by a goodly margin had they not been playing exhibition football. That they were playing as exhibitors of an English game is without question, and their experience go to show that the spectators –the Continentals spectators –will not recognise that English clubs are merely trying to educate the locals into the finer points of the game. With them it is the victory, which counts, yet with the tourists it matters little or nothing.
HARD WORK.
English players, are going through a season of hard matches against level opponents. Cannot be expected to put their all into matches against players who are little inferiors. In addition, they will not take the risks or serious injuries, which the Continentals will, and so treat any defeats, which might be their lot with indifference. Yet the foreigner does not view it in the same light, and will go into raptures because his team has got the better of an English team –a side which might include four or five of the reserve players who are always given this holiday, and which has no thought of the victory. I must say that I have those. My enjoyed my Continental tours with Everton. Had it not been for them I do not suppose I should have travelled through such fairylands as France, Switzerland, Germany, Denmark, Spain, and Belgium. Yet I an not speaking from a football point of view. It has been a holiday for us and we have enjoyed it, but we have been taken either a victory –and we have generally won-or a defeat seriously.
PUT ALL INTO GAME.
Touring clubs today are being made to look inept by the improving Continental, and the only way in which they can be taught a lesson is for every team visiting a foreign land to put their all into the match, and take that air of superiority out of the natives. It is the only way. That is the chief reason why I say the tours are doing more harm than good to English football. Unless you give of your best and win you are made the laughing stock of people who are infants in the game, and yet if you pull out every ounce you are not doing justice by your club because you are not getting the rest you need for another strenuous season in a few months time. The only remedy is for clubs to cut out tours altogether. Any financial gain is discounted by the loss of prestige or playing strength in the season to come.
LEICESTER CITY 5 EVERTON 4
April 7 th 1930. The Liverpool Post and Mercury.
EVERTON'S HARD FIGHT.
GOOD HALF BACKS AND FORWARDS AT LEICESTER.
GOODISON SIDE BEATEN BY ODD GOAL IN NONE.
By "Stork."
Leicester city defeated Everton at Filbert-Street, and thereby made Everton relegation problem much more difficult bit I am sanquine enough to think that the Goodison Park club will work its way out of the last two before the season runs its full course. I gained more confidence out of the defeat than the victories over Derby County and Manchester City, for Everton were up against a great side. Those who were not present had nothing but the bare results of guide them. As a fact the form displayed by Everton was not relegation form, they have not done anything better this season, and they will not play, such another game, and figure on the losing side, and it is on those facts that I think Everton will miss the fated two last positions.
EVERTON MISFORTUNE.
"The bottom dog gets all the kicks," and it is so with Everton at the moment Martin shot and hit the upright when he could reasonably have been expected to score. It was his anxiety not to miss which made him drive it too close. Still, this same player had previously scored 2 goals, but neither of them would have been of the value of this shot had it succeeded for Everton were so much on top at that period that I doubt if the City could have fought back again the lead and regained it the way Everton were playing. To demonstrate further how Leicester's luck was right in and Everton's right out. I must point out Johnson's free kick, which cracked up against the crossbar with McAllen never moving a limb in an effort to save it, while later Black heading out when Griffiths made a header that had McLaren beaten, and Brown also kicked off the goal line from Critchley. Everton's form was a revelation, and it was small wonder that many asked "Why are they in such dire straits? They should be nearer the top than the bottom."
THREE GOALS IN EIGHT MINUTES.
They were in arrears three times, and than actually took the lead. Three goals were crushed into the space of eight minutes-two to Leicester and one by Everton, and the game swung first one way and then another right up to the interval, when Leicester led 3-2. There were, however, have to be found in Everton's half-back line, and they had not gone unseen by the Everton directors present, and on resuming the middle line read McPherson, Griffiths, and Thomson. The value of the change became instantly apparent for Leicester's brilliant attack which had enjoyed far too much latitude was held while never has Dean and his colleagues received such unstinted support. Leicester, were forced to retreat to fall back into defence, whereas attack had previously been their great defence and so persistent was the Everton pressure that the City rarely broke over the half way line, and how their goal did not fall before Martin and Critchley scored was surprising.
A GREAT SECOND HALF.
McPherson had a great second half. When it came to feeding he had no superior on the field, and Thomson was so vastly different man at left half back than he had been at centre, while Griffiths worked double time against Lochhead, Hine and Chandler. It was Chandler who scored the equalising goal when Everton had the hand of their rivals. He got away from Cresswell, but even than Sagar should have saved the shot. He may have erred when the last goal was scored, for he edged Adcock's centre on to Barry, who promptly returned it into the net. It was a fine game and the Everton forwards were brilliant and quite the equal of their opponents, in fact, the whole Everton team played up to championship form. The goals were scored in this order; - two minutes, Lochhead for Leicester; six minutes Martin for Everton; eight minutes Chandler, for Leicester; forty minutes, Johnson, for Everton; forty two minutes, Chandler, for Leicester; fifty-eight minutes, Martin, for Everton; sixty nine minutes, Critchley, for Everton; seventy-six minutes Chandler for Leciester; eight-eight minutes Barry for Leciester. Teams ; - Leicester City; - McLaren, goal; Black and Brown, backs; Duncan, Harrison and Watson, half-backs; Adcock, Milne, Chandler, Lochhead, and Barry, forwards. Everton; - Sagar, goal; Cresswell and O'Donnell, backs; Griffiths, Thomson, McPherson, half-backs; Martin, Dean (captain), Johnson and Rigby, forwards.

EVERTON RESERVES 0 SHEFFIELD UNITED RESERVES 2
April 7 th 1930. The Liverpool Post and Mercury
CENTRAL LEAGUE (Game 35)
At Goodison Park. The Sheffield side throughout were superior in tactical skill. Still Common, Kennedy, and White defended resolutely with Coggins showing ability in dealing with shots from all the visiting forwards. Everton were not at all convincing in attack, although Wilkinson and Liggins had good efforts saved. Still, the line as a whole seemed unable to knit together, and consequently much good progressive work came to nought. Johnson headed United's first goal early on and Everton's nearest attempt to equaliser came soon after the interval, when Wharlton had to effect a full length drive to save from Liggins. Sheffield's second goal also came from Johnson ten minutes from the end . Everton; - Coggins, goal; Common and Kennedy, backs; Bryan, White and Tower, half-backs; Wilkinson, Weldon, Hewitt, McCambridge, and A.G. Leggins forwards.
WHISTON 2 EVERTON "A" 5
Liverpool county combination
Everton "A" were much the superior side at Whiston. The winners were seen at their best in the opening half, when they scored four goals. French (2), Webster, and Dyke netted. Play had not long been restarted when French scored Everton's fifth point. In the closing stages Rigby and Forshaw (penalty) scored for Whiston.
EVERTON'S DOCTORS GIVE THEIR SURE-CURE;
April 9 th 1930. The Liverpool Echo
SORING INTO THE BOARD.
"Gorny" resumes; - "And after two years silence with your permission I am going to reiterate my former criticisms of the Everton board. Enthusiasts in every county have no sympathy with Everton or Arsenal on that matter of relegation, because the recent history of those clubs make pungently with commaterialism to the detriment of sport and fairness. Sport should represents competition without favour, malice or ambition for rewards Everton's chequebooks for some years part has saved a deserved entry into the second division. It is not necessary to mention the numarous clubs that would have experienced relegation has they been in a similar position to the Blues on many occasions. And with the enormous advantages of money and enviable support, Everton's " wise heads" by bad management have created the present crisis. Revise the board and you will revise the fortune of the club in general I shall anticipate the usual reply that we correspondents only venture forth when the outlook is black, and hit our opponents when they are down. Do they forget we make ourselves hoarse in praise when it is justified. Do they forget that appreciation is always found for work well done while a rap on the knookies is expected for a bad job. The fault with Everton all this season has been in the defence. "Leave the forward alone."
"GEE EFF."
"Gee Eff" writes.
Having seen all Everton's home games –except one –I think I can tell you what is wrong with Everton it is panic in the boardroom. The players presumably, picked their captain at the beginning of the season. Therefore, he is the man they have confidence in That man is Hunter Hart. Everton's rapid decline started with the dropping of the captain. And why? Because of lack of confidence. There is still hope while Newcastle and Grimsby are unable to improve that position. Vocal support enabled Everton to wipe off two goals arrears. But why did the crowd forget all about that so that they could indulge in foolish barracking? It will give now the team, which will pull Everton out of the mire; - Sagar; Cresswell, Williams; McPherson, Hart (capt), Thomson; Critchley, Johnson, Dean, O'Donnell, Rigby, and what is more, do not change the team. If one man does not play up to form the first match he will play well the next. Give the team a chance to understand each other. Sunderland have not changed their team for the past seven matches. They are now virtually safe, yet at one time they were two or three points below Everton. Might I become superstitious for a moment and ask Everton to play in red jersey? It might give them the necessary moral stimulus to overcome their bad luck. A glance at the fixture list shows that every team that has played at Goodison except Middlesbrough, has gone home with at least one point, and in most cases two. Whenever Everton have had to change they have gained at least one point.
DESIRE TO HELP.
"Liverpoolian" writes; - With a real desire to assist I suggest our friends, the enemy, try the following team; Sagar; Cresswell, O'Donnell; Griffiths, Hart, Thomson; Martin, Weldon, Dean, Johnson, Rigby. I don't want to see the "Blues" go down. If they do we shall miss the two outstanding games of the season, vis., the "Derby" games. How one looks forward to these games and wants his team to win these games more than any other in the season. Then again, who wants to watch Second Division football? I wish the Everton players the very best of luck, it is not too late, even yet. A win on Saturday (t is so impossible as it seems) may just mean the turning of the corner. Anyhow, I hope so.
WHAT IS WRONG.
Fazakerley's Constantine says;-
Can you wonder some of Everton's men are not playing as well as most of us expect when the directors mess a man about like they have McPherson. After a couple of games he was dropped and played in the reserves at left-half. But since his first game in the reserves onwards he has been inside left, inside right, right half, and the last two games back again at inside right. And where do we now find him on his reappearance in the first eleven? Back again at left half. "Birkenhead" wants; - Sagar; Cresswell, Williams; Griffiths, Hart, Thomson; Critchley, Johnson, Dean, O'Donnell, Stein or Martin. You will note I have put the club H-art in its right place, and I venture to say will win on Saturday. What1 yes, without a doubt and your notes will be more cheerful in Saturday's "Echo."
"True Blue" says; - I think Everton directors could do with somebody in pick a team for them, who knows what blending means. I would depend on the following; - Coggins or Sagar; Cresswell (capt), Williams or Kennedy; Thomson, Griffiths, Hart; Critchley, Wilkinson, Dean or White, Johnson, Stein.
The Liverpool Post and Mercury
Towers (Cockefield Durham), T Parker (Northern Nomads), Fryer (from Helsby) are playing on trail for the reserves to day in against Liverpool reserves.
LIVERPOOL RESERVES 1 EVERTON RESERVES 0
April 10 th 1930. The Liverpool Post and Mercury
CENTRAL LEAGUE (Game 36)
By "Bee."
Liverpool Reserves had two experienced and capable footworkers in their Central League Derby day game with Everton Reserves, yesterday, and it was not a surprise that these man "held" the Anfielder youngster to the wisest game to play in the shocking conditions –there had been a heavy rainfall all day, and at one time play was doubtful. Liverpool won 1-0. Wright of Sunderland, and Clark, of Newcastle, paved the way towards football of a character that the turf allowed. Everton, on the other hand, had no compelling and controlling force, and the result was that the Everton were outweighed and over-played for most of the time. Everton sprang a surprise in the closing minutes and came near equalising the only goal of the day thanks to Stain's centres, but Liverpool held on to a penalty kick success taken by Done, for an offence on Wright, when the latter had ploughed through the waters and muds, and had been pitched well nigh into the surrounding wall. Liverpool were worthy their victory and were not seriously extended. They should however, have learned the lesson of the elements, which meant miskicks, and mistakes were plentiful, and therefore a goal lead was slender. It sufficed, and Everton's main measure against a bigger lead was centred in Coggins, the Bristol goalkeeper, whose clever diving act saved four goals. Coggins was confident, safe, sure, and ably placed himself for the possible position of the shot. It was indeed, a very impressive display, and allowing for Barton's miss in front of goal, there remains the memory of Coggins clutching the ball securely and keeping the goal account down to the narrowest part of a victory. Everton had some new youngsters from the North. They were not suited to the occasion or the conditions. The inside-left could not get his passes right and Stein suffered correspondingly; on the right wing they resurrected Tom Parker, who signed for Everton some years ago after graduating with Stalybride Celtic. A centre-forward there was no chance against the height and wiles of the dour James, a local boy who has come to stay, while Thompson and Done and Kelly did much brilliant work, especially when one remembered that Done accidentally kicked his own captain, Ireland, in the face leading to seven stitches being applied by the doctor –Ireland did not play a part in the second half. Moreover, Race ran into Barton, so that the uncommon slight of the only two stoppages were due to accidents between the home players –"amongst themselves," Towers of Cockfield and Hewitt, the centre of the same place, were on view, and the former promised something, and probably the centre could make nothing of the mud pools. Wright's presence in the Anfield side has transformed the eleven into a working party rather than a mere bustling side. Liverpool have languished at the foot of the Central League chart and the incoming of Clark and Wright has brought to the attack a sense of skill and formative combination that has been sadly lacking. In a word, Wright has taken charge of the Central League side. He has many wiles and his dribbling and passing skill are undoubted in spite of his one time big shot, which seems to have been left behind in Scotland. Teams; - Liverpool; - Scott goal, Done, and Charlton, backs; Ireland, James, and Thompson, half-backs; Barton, Race, Clarke, Wright, and Kelly, forwards. Everton; - Coggins; Common and O'Donnell, backs, Robson, White and Towers, half-backs; Parker, Dunn, Hewitt, Fryer, and Stein, forwards.
EVERTON CHANGES
April 11 th 1930. The Liverpool Post and Mercury
Everton have made a surprise change in their team for their vital game with Grimsby Town to-morrow, Sager had been chosen to keep goal, but so well did Coggins the former BristolCcity goalkeeper play in the reserves match on Wednesday, that the directors decided to place on him the onerous duties of defendering the goal against the rushes of the fisherman. Coggins is the third goalkeeper tried by Everton in the first division this season. While five different players filled the centre-forward Perth.
RELEGATION TUSSLE AT GOODISON
April 12 th 1930. The Liverpool Post and Mercury
By John Peel.
The flight for safety will be advanced a further stage today, when the struggle will be continued will unabated energy. Time is getting short and each match brings the decision nearer. The issue is being narrowed, and today the two bottom clubs, Everton and Grimsby Town meet at Goodison Park, and on the result depends whether Everton are to have a further chance. The Goodison park club simply must win the game, but with the sides in such desperate mood victory will not be easily achieved. Everton, however, showed vastly improved form at Leicester last week, and though beaten, the play of the side as a whole gave rise to hope of better things. The men are fresh and ready to make a fight today, and I am sure there will be a big crowd to cheer them on. Coggins will make his debut in the home goal. The kick off is at 3-15, and the teams are; - Everton; - Coggins; Cresswell, O'Donnell; McPherson, Griffiths, Thomson; Critchley, Martin, Dean, Johnson, Rigby. Grimsby Town; - Read; Wilson, Jacobson; Hall, Priestley, Buck; Prior, Bestall, Robson, Cooper, Marshall.
EVERTON 2 GRIMSBY TOWN 4
April 14 th 1930. Liverpool Post and Mercury
ROBSON'S GREAT DAY.
GRIMSBY SHARPSHOOTER UPSETS EVERTON
FOLLY OF TIP-TAP METHODS
Everton lost to Grimsby Town by 4-2 in a game that was vital to both sides, and Everton's position in the First Division has reached the critical stage. It is difficult to see any ray of hope, and while the unexpected may happen it must be admitted –that Everton themselves have done little to inspire confidence. On Saturday they had most of the play, yet were three goals down twenty minutes from the end. They rallied, and goals by Martin and Johnson gave them a chance of a half-share, but Robson, the Grimsby sharpshooter, got his fourth goal three minutes from the end (he scored three in the first half), and Everton retired well beaten. It was the triumph of sound, practical work against Everton's tip-tap methods that generally went without a shot worthy of the name. Griffiths was Everton best shooter and a player that stood head and shoulders above his colleagues in his ability of anticipate openings and take advantage of them.
A THANKLESS TASK.
Coggins, especially introduced into the Everton goal following a good mid-week display, had a thankless task, and it must be a rare thing for a goalkeeper to have as little to do as had Coggins and yet finish on the losing side. The Everton forwards could not complain of lack of chances. They got plenty of the ball, notwithstanding the rather poor support of the wing half-backs, but they made poor use of it and in the main blame rested with the three inside players. By no argument could Grimsby be regarded as an impressive side, but in Robson they had a leader who on his day, must be considered one of the most deadly shooters in the game. He wastes little time in finesse, and having worked into a shootable position he takes a chance and on Saturday four of his efforts found the net. Coggins had no chance with any of the shots.
READ TAKES RISKS.
By contrast Everton's efforts were of the drawing-room type; they wanted to make certain, what time the Grimsby backs nipped in or Read pounced on the ball and the opportunity was gone. Read took many risks, but his sound and daring work helped his side immensely, and he well deserved the ovation he received at the end of a capital display. Everton seemed slow and without sparkle against the nippy movements of their opponents. Little blame, however, attached to the Everton defence, at both Cresswell and O'Donnell kept a tight grip on the Grimsby attack. In the middle line Griffiths played a great game, and even in the second half, although bleeding freely from a facial injury, he held well to his task. Rigby was perhaps the most convincing of the forwards, although Critchley had a number of good efforts wasted by the weakness of the inside trio. The worst offender was Martin, who needed the prompting of the crowd to induce him to shoot, and when he accepted the advice Read only got the ball away at the second attempt. Grimsby's best were Read, Robson, Betstall, Hall, and Jacobson. Teams; - Everton; - Coggins, goal; Cresswell and O'Donnell, backs; Thomson, Griffiths and McPherson, half-backs; Critchley, Martin, Dean (captain), Johnson and Rigby, forwards. Grimsby Town; - Read, goal; Wilson and Jacobson, backs; Hall, Priestley, and Buck, half-backs; Prior, Bestall, Robson, Cooper, Marshall, forwards .
BURY RESERVES 1 EVERTON RESERVES 1
April 14 th 1930. Liverpool Post and Mercury
CENTRAL LEAGUE (Game 37)
At Bury. Bury opened the scoring through Ryder, Dunn equalising from Stein's flag kick. In a second half minus goals Davies played brilliantly in goal. Common and O'Donnell were stubborn defenders, and Hart an outstanding half-backs, while Wilkinson was a most enterprising forager.
EVERTON "2" BOOTLE CELTIC 3
Liverpool county combination.
AT Strawberry-lane, Bootle with the advantage of a strong wind, and most of the play in the first half, and led at the interval 3-0, the scorers being Clarke (penalty), and Larkin (2). Lewis, of the home side struck the foot of the post from a free kick, which was Everton's nearest approach to scoring. The home forwards were the more accurate in their finishing during the second half, and the visiting defence was severely tested. Wallace and Lewis scored for Everton, but the visitors held on to their lead.
HART'S NEW POST
April 14 th 1930. The Evening Express.
The Evening Express under-stands that Hunter Hart, the Everton captain and Half-back, will be seen in a new post at Goodison park next season. The directors have invited him to act in the role of player coach, and it is also understood that he will spend much of his time searching for new talent. Hart has the longest service of any first team player on the Everton book's, and his long experience should see him in good stead who takes up his new duties. It is reported from Leicester that the City side, are taking a keen interest in Kelly, and it is likely that the Everton right half will be seen at Filbert-street in the near future. Hearts have their eyes on Dunn and are hoping to secure the famous international signature on an early date.
ELLESMERE PORT 2 EVERTON "A" 2
April 15 th 1930. Liverpool Post and Mercury
WAVERTREE CUP
At Ellesmere Port. In a spirited game the home side played well, but lost chances through over-eagerness. Lewis opened Everton's score, but Storey quickly equalised. Early in the second half Ellesmere Port were dangerous, and some fine centres from Hughes were missed by his colleagues. Storey scored again with a third yards drive, and later Hadley in clearing, saw the ball cannon back from Chedgzoy into the net.
BALLYMENA BEAT EVERTON
Northern Whig - Wednesday 16 April 1930
McCambridge Misses a Penalty
Ballymena defeated Everton in a friendly match at Ballymena last night by two goals to one. The game was dull at the start, and the visitors forwards, among whom was McCambridge, recently transferred from Balltmena, were poor finishes. Gough in the home goal was seldom tested. A penalty was awarded against Bellymena, but McCambridge missed from the spot kick, and shortly afterwards he failed when presented with an open goal. The Everton wingers, Wilkinson and Stein, were excellent raiders, but their inside colleagues were weak. Davy Reid gave yet another fine display at centre-half, and Shiels and Cassidy were outstanding in the Ballymena forward line. There was no score on the first half. Soon after resumption clever play by Murphy and Cassidy led to Shields giving the home side the lead with a shot with which Coggins had no chance. Everton tried hard to equalize, but their advances were met by a defence that gave nothing away, and then Ballymena got going again, and Shields gave Kilpatrick a chance which the winger accepted to score with a fine first-time drive. Near the end Everton forced a corner and from this Hart reduced the lead. Teams;- Everton; Coggins; Common, Kennedy; Robson, Hart, and Bryan; Wilkinson, Dunn, Hewitt, McCambridge, and Stein. Ballymena;- Gough; McNinch and McDairmid; Dalrymple, Reid and Howard; Kitpatrick, Cassidy, Shields, O'Reilly, and Murphy. Referee; Mr. W. Mclean.
On the invitation of the Directors of the Bellymena club the Everton team was entertained to luncheon in the Adair Arms Hotel. Mr. A.L. McClelland, who presided, extended a hearty welcome to the visitors and was supported by Mr. D. Caruth, J.P; Mr. H. O'Hara and Captain Small, D.L. Mr. Coffey, a director of the visiting club, replied.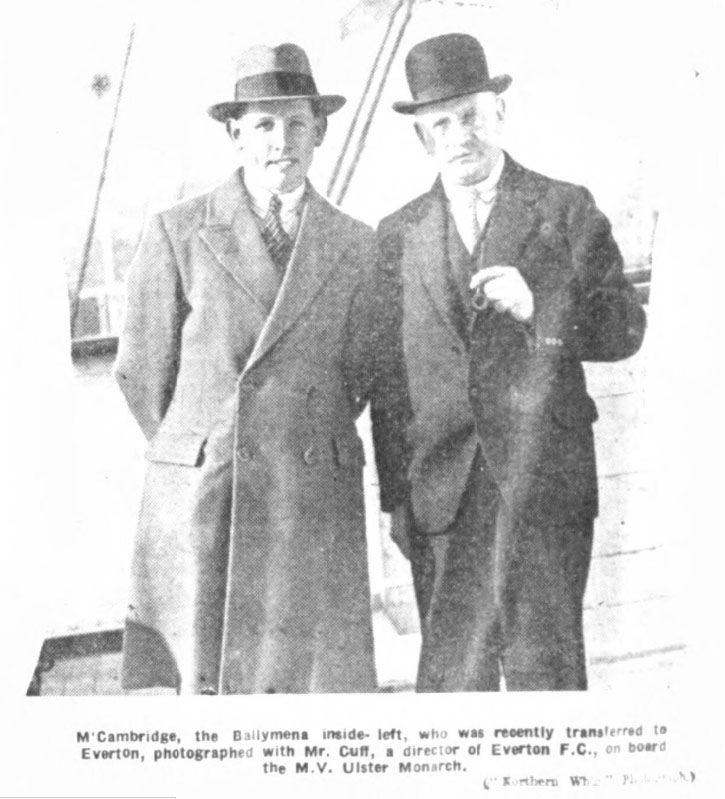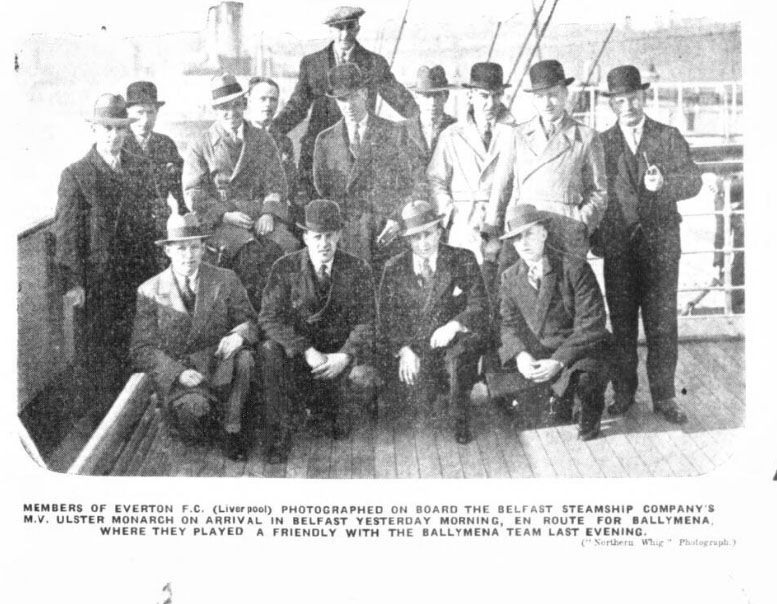 DEAN LEFT OUT OF TEAM
April 16 th 1930. Liverpool Post and Mercury
EVERTON'S SURPRISE DECISION
WHITE TO LEAD FORWARD LINE IN VITAL GAME.
Dean the Everton International centre-forward and record goal scorer will not play in the Everton vital game against Burnley at Goodison Park on Friday. The Everton directors in choosing the team decided to replace Dean by White who has assisted the club in various positions through out the ardvouy campaign, dean has not been playing in that form, which gained for him the reputation of being the finest centre-forward England has had for years. But the fact that former Tranmere Rovers player has been deposed at this critical period in the club's history has caused great surprise, and a deal of comment among the supports, who fear that for the first time the Goodison club, will go into the second division. Mr. C.W. Cuff, the chairman of the club interviewed last night by the ''Daily Post'' give a denial to a report that dean would not play again for the club in the remaining matches this season. The club has not suspended dean,'' Mr. Cuff said'' in regard to the statement that he will not play again, this season the club has not decided that, the selections of the team for future matches will depend entirely as usual on the immediate circumstance.
EVERTON'S VISIT
Ballymena Observer - Friday 18 April 1930
Ballymena Win The Match
Quiet Game; Neat Football
Last Tuesday Everton fulfilled the promise made at the time of Cambridge's transfer to visitor Ballymena, and in anticipation of seeing a game out of the ordinary a good seized crowd turned out at the Show Grounds, but the attendance was much smaller than at the Kilmarnock match last season. Everton's team consisted mainly of reserves, the only two players who have made consistent appearances in the first eleven being Hart, the captain, and Robson, both of whom now mostly assist the Reserves. Other members of the team have appeared at intervals with the first eleven, notably Coggins, who was in goal last Saturday, and Attwood, who has deputized for Dixie Dean one or twice. Kennedy, the ex-Arsenal back, who has been capped for Ireland, has also assisted Everton, but now appears in the Reserves. Fine but cold weather, with a breeze blowing from the Slemish end, favoured the match. Ballymena turned out the same team which defeated Celtic last Saturday-Gough; McNinch, McDairmid; Dalrymple, Reid, Howard; Kilpatrick, Cassidy, Shiels, O'Reilly, Murphy. Everton; Coggins; Common, Kennedy; Robson, Hart, Bryan; Wilkinson, Dunn, Attwood, McCambridge, Stein. Referee-Mr. W. McClean, Linesmen- Messrs E. Staunton, and W.R. Boyd. As is usual in friendlys matches of this description, there was hardly a particle of excitement at any stage of the game, the exchanges, while keen enough, being quiet. Some flashes of delightful football were seen, and these were by no means confined to the Everton side. Ballymena showing time and again that the visitors had little or nothing to teach them regarding ball control, or, indeed, any other feature of the game. Shiels was first to get within shooting distance, working his way up to near goal only to be foiled at the last minute. The Everton forwards were fast, especially Wilkinson on the right wing, but he rarely strove to give his inside men a chance to score, taking all the responsibility of shooting himself. What was wrong with the Everton forwards was their weak finishing. They were past-masters at building up attacks, and often got dangerously near the home goal, but lack of shooting power deprived them of a goal in this half. On the left wing Stein was fast, but Dalrymple saw that he did not get it all his own way. The first thrill of the match came when McCambridge headed in at amazing speed, but Gough was on the spot. Then when Wilson had beaten McDiamid and was almost through McNinch saved the situation at the expense of a corner. Again hart got the better of Shiels in a great race for goal. Though both sides forced corners the much desired goal still elided them. Ballymena's wing men were leading their opponents a merry dance, and both got across centres, but Common and Kennedy were steady defenders, and Coggins kept a fine goal. At the end of thirty-five minutes play Everton received a penalty for "Hands" against Howard. McCambridge, who was entrusted with the kick, drove past at a terrific rate.
Half-time; Ballymena 0, Everton 0
Within three minutes from the resumption of play Shiels led a Ballymena attack, and passed out to Murphy, who returned in for Cassidy to head forward to Sheils, who burst through and opened the scoring. Everton put more life into their play now, but Ballymena managed to keep play largely in the visitors end, where Shiels gave the defence something to think about, worrying them incessantly. At intervals Everton carried play to the home end, but a sturdy defence kept the scheming forward at bay. Shiels broke through again and volleyed in a danty shot, which Coggins pushed over the bar. Later O'Reilly fired in another, which met the same treatment. Then Kilpatrick got away from shiels's pass and beat Coggins with a terrific drive which left the goalie standing. Ultimately Hart reduced the lead from a corner and the game ended;- Ballymena 2, Everton 1
A Few Pars
Seen after the match Hart, the Everton captain, spoke in complimentary terms of the Ballymena team. Asked what he thought about Shiels he said he was a regular worrier and had the makings of a good centre-forward. Shiels, he said, had some nice moves. He liked the way he passed back to his inside men and then ran forward into position ready for a forward pass. The Everton captain said that he had made a tentative offer for Sheils, but that it was turned down. On our representative remarking about Wilkinson's extraordinary speed Hart said that this outside right would be a top-notcher if he had Joe Cassidy's head. Wilkinson seems to have got the idea into his head that he must score himself before he can get any credit, and so all his good wing work is lost, as he almost invariably triers for goal himself instead of letting some of the inside forwards have a chance. He spoke confidentially about Dixie Dean's amazing fall from grace. Two seasons ago; he said, Dean was undoubtedly the greatest centre-forward that ever toad a ball. Dean is largely blamed for Everton's unfortunate position in the English League this season. There is only the slenderest hope that Everton will escape relegation. They can only do so if they win all their remaining matches, which is a tall order. If Everton drop down to the Second division it will be the first time in the history of this club that the like has happened. Mr. Coffey, the director of the Club, who accompanied the team to Ballymena, told a number of the guests at the luncheon in the Adair Arms Hotel on Tuesday that Everton and Newcastle United are the two richest clubs in the English league. Sorrow is expressed everywhere at Everton's impending relegation, but, as Hart said, their misfortune will put more flight into them next season, and they will look forward eagerly to climbing up into the first division again. The Everton captain says that this is his last season as a playing member of the team. He has been with them ten years now and has served them right well. It is remoured that he is to be given a post on the staff of the club. He and Davy Reid, Ballymena's captain played alongside each other for years. Davy told our representative that Hart was the best thrower-in of a ball ever he saw. He could put it to Davy's head or toe, just as he pleased and his passes were equally accurate. The Ballymena Captain thinks that Ballymena's team as constituted at present, could give Everton's best team a good flight.
EVERTON 3 BURNLEY 0
April 19 th 1930. Liverpool Post and Mercury
EVERTON WIN AT LAST.
GOODISON PARK SPELL BROKEN.
COGGINS MAKES VICTORY POSSIBLE.
By "Bees."
Everton's first home win since January 18 th was over Burnley, at Goodison Park, before 40,000 spectators. It was a fine bright day, the ground inclined to be hard, and the played a very strenuous character. Many times the home inside forwards were faulty and would not shoot when well placed. At times one had a vision of Burnley being good and worthy wingers, even though White had taken the lead in the first half. Somervile had good fortune in his saves, saves of a distinctly different vein to those of Coggins, whose display of goalkeeping will be remembered as having turned the course of the game into Everton's favour. When Everton were leading by a goal they were not playing well and were not convincing, and Burnley at least had the power of shot and the direction. It was Coggins with a half dozen really marvellous saves that encouraged the members of his side to go ahead with the goalgetting business. Griffiths the centre half-back, headed a goal at the eightieth minute, and a moment later, Critchley fired enthusiasm and getting a stray pass went on to make danger. White centred and Rigby put on a third in one minute. The game was over.
A FAULTY SIDE.
Everton had gone beyond the veil with their home-graveyard for the first time in six efforts. They can, through the victory –aided by other victories –just escaped the pangs of Second Division life, but when one remembers Burnley were a faulty side the value of the victory is somewhat blurred. Beel, for instance was a poor centre forward, and he missed in tragic manner early on. White missed two, and by his side Johnson and White took a long time to settle to a practiced and worthy game –finesse with them had become something of a disease. Their efforts and their endeavour cannot be doubted, it is merely that they were playing the wrong type of game against defenders of the sturdiness of McGuggage and Waterfield, two who compared favourably with the home pair. Cresswell, and O'Donnell did best in the first half and then with some other members of the side began to tire and fade away before the capacity for centring and taking up space as evidenced by priest and more particularly Page. At least Burnley forwards shot hard and often in contrast to Everton's line. Page began this principle with a cross-goal drive Coggins dived at and edged away. It was all Coggins after half-time. He seemed to be in perfect position, yet unable to stop well rammed shots –yet he cleared them all without semblance of fluke. Confident, clean goalkeeping, whereas Somerville lost the ball three times without giving a goal away. The work of McPherson at half-back was of a special constructive pattern, and he was not averse to shooting, a feature which his comrades Griifiths and Thomson added their occasional drive. The game fought clean and incessant had two penalty appeals by Burnley, and no accident, so that under the thrilling circumstances of the relegation battle it was a tribute to all the players that there was such a fine spirit abroad. The margin favours Everton; if may encourage them to go in and win all their remaining games, starting with Manchester United today. But it will be impossible if the forwards idea of conclusive finishing to their rambles is not altered.
WHITE'S GAME.
White acted a deputy for Dean, and scored a goal in the first half, but he had not a good chance against the big upstanding O'Dowd, and his backs named. By his side there was much work and weaving when a pass could have been delivered and actually the extreme wingers came out best, although they had so few chances to reveal their skill. Stage and Helsop changed places late on to attempt to turn the game and Steel was always a force at half-back, but when Everton had clamped on the 2 goals in two minutes they had caught their old-time spirit and their memory of the bad season faded out for a moment. They had won; they had not beaten much perhaps, and it had taken them a tremendous portion of the game to get on a rational lead, and Coggins was the one man who under their victory possible. Teams ; - Everton; - Coggins, goal; Cresswell (captain) and O'Donnell, backs; McPherson, Griifths, and Thomson, half-backs; Critchley, Martin, White, Johnson, and Rigby, forwards. Burnley; - Somerville, goal; McClugage, and Waterfield, backs; Steel, O'Dowd, and Forrest, half-backs; Helsop, Stage, Beel, Priest, and Page, forwards.
LEEDS UNITED RESERVES 4 EVERTON RESERVES 0
April 19 th 1930. Liverpool Post and Mercury
CENTRAL LEAGUE (Game 38)
Leeds United too clever for Everton at Leeds. Everton finished badly, Leeds had a sound plan of attack and were sound in defence Cochrare scored two clever goals, and Wilson and Firth also scored from well placed angles.
MANCHESTER UNITED 3 EVERTON 3
April 21 st 1930. Liverpool Post and Mercury
SLIPPING INTO THE SECOND DIVISION.
POINT THROW AWAY BY EVERTON
STEIN'S LAPSES IN FIRST HALF.
By "Bee."
If Saturday game was a true reflection Everton would have won at Old Trafford by a large margin. Manchester United have collapsed under the stress of goals and the gale of wind tat favoured Everton, who won the toss and had Stein at outside left instead of the injured Rigby. I mentioned this change particularly, because it so happened that while the team must bear the burden of pitching a point away by drawing instead of winning. Stein had a big hand in the absence of goals. He got one and he missed two that should have been easy of pilotage. White also got a goal and missed one, and Martin got the other after Johnson had done intricate work near the goalmouth, forced a corner and turned that had corner kick of Stein's outwards to martin. At half-time Everton led 3-1, Spence having replied by goalling one from three yards out. McLenahan made a quick goal, after half-time through a centre forward opening his legs and letting the ball travel of and finally Rowley, a tough little inside forward, good for dribble and good for a shot, drew the score level. Manchester United had played in such a mediocre manner, even granting the difficulty of facing the gate of wind, that Stewart, the goalkeeper, should have been made to pay for his lapses. Everton cast them away; they had goal-making chances that should have been taken; it wasn't a question of snapping a goal under stress of time or tackle, it was a matter of tapping a conversion from a simply position. This was not done and Manchester were enabled to fight back in the second half, and in their own known rugged rambling manner were able to take a point for a half.
NEED OF EXTRA POINTS.
Everton had need of this extra point, it had been offered them, a gale could have sailed them straight into the safe harbour. The team was not good enough to realise this match' (a benefit for Moore, and Hanson) was "made for them." In the parlance of sport-talkers. Everton can blame themselves for not accepting the grits offered to them. They played well for half an hour, and after that they were more units struggling against a good general in Hilditch who made Griffiths, the tired pivot, look very cumbersome and ordinary. The defence of Manchester was one of its weaknesses; Rowley and McLenahan were cute inside forwards, but the leader was moderate in football craft and generally speaking was a mere pushful young man. McLachan was the best of the attackers and his task was made the easier by the lay-off of the opposition defence. On the Everton side Coggins kept a great goal and had two earnest attempts to hand out two of the goals that scored, and O'Donnell gave him much assistance. At half-back Thomson was best, and in the forward line Critchley had a grand first half rounding Wilson and centring with fine fluency, but later he fell away, and so did his partner Martin. White had a difficult passage against a tall, experienced pivot and captain, but he did well under the circumstances and his opening goal, by a back-header, was a capital bit of head work and brain throught.
VEXATIOUS FOOTBALL.
It was vexatious football to those who followed Everton –and many went from Liverpool –because the victory was so plainly there for the acceptance of any forward line worthy its salt. The art of taking simple goals seemed to have fallen from power since the relegation bogey stood in front of the Everton forward line. Teams; - Manchester United; - Stewart goal; Jones and Silcock, backs; Bennion, Hildith, and Wilson, half-backs; Spence, McLanahan, Thomson, Rowley, and Mclachlan, forwards. Everton; - Coggins, goal; Cresswell (captain) and O'Donnell, backs; McPherson, Griffiths, and Thomson, half-backs; Critchley, Martin, White, Johnson, and Stein, forwards.
EVERTON RESERVES 1 BLACKPOOL RESERVES 0
April 21 st 1930. Liverpool Post and Mercury
CENTRAL LEAGUE (Game 39)
A strong, gusty wind made football a difficult proposition, but Everton countered it with commendable merit and earned a good victory. They were persistent attackers for practically two-thirds of the game, and it was the brilliant custodianship of Randle in the Blackpool goal, aided by the sturdy defensive work of Gibson, Jennings, and Brooks, that prevented a heavier goal margin. Common struck the crossbar with a terrific free kick, and Gibson in an effort to relieve pressure back-headed against the bar –these were but two of the many incidents in the Seasiders' goalmouth where Randle cleared shots from Weldon, who played a convincing game throughout, Wilkinson, Attwood, and McClure. Blackpool, against the wind, showed practically ideas in the first half, but during the concluding half the losers were unable to master the home halves and backs. Everton's goal came after half an hour. McCambridge scoring from a Wilkinson corner. The winners played well enough to more than merit –the victory.
BLUNDELLISANDS 4 EVERTON "A" 2
Liverpool county combination.
Dominating the game in the first half, Blundellsands led at the interval by 3-0. Hills, Roberts, and Harrington netting. In the second half Everton "A" reduced the margin with goals by Hanson, and Liggins, but Snape scored the fourth for Blundellsands.
EVERTON RESERVES 4 PRESTON NORTH END RESERVES 0
April 22 nd 1930. Liverpool Post and Mercury
CENTRAL LEAGUE (Game 40)
Everton conclusion their home Central League programme in a convincing victory over Preston North End. The winners thoroughly deserved the better-balanced team and harassed a strong defence. The home attacks in the art of penetration that was lacking in the North End line, Owen had a shot which Sagar tipped over the bar, there was little prospect of a Preston goal, although they made a good number of attacks that were easy repulsed by Common and Kennedy –or McClure. Everton in contrast severely tested Foster in the losers goal. French, Wilkinson, Weldon, Lewis and Kelly all making good efforts. Wilkinson and French scored for Everton in the first half, and although North End made forward changes on resuming, their came to nothing and French added further goals for Everton.
RIGBY BACK IN TEAM
April 24 th 1930. The Liverpool Post and Mercury
Everton against Sheffield United on Saturday makes a meeting of the utmost importance. By winning five goals to nothing Everton's goal average would be in front of Sheffield United's average by a thousand part of a goal. As Sheffield United have two away matches each in Lancashire. Everton have chosen the same side that beat Burnley and drew with Manchester United last week. Except that at Manchester United, Rigby was unable to play, and now returned to the side. A record crowd is expected at Goodison Park. It is noteworthy that Dean for the third match in succession is not in the eleven.
EVERTON "A" 4 MARINE 0
April 25 th 1930. Liverpool Post and Mercury
Liverpool county combination
At Goodison park. The winners displayed clever combination, and Drury was kept busy. Everton scored straight from the kick off, Chedgzoy netting; Watson scored a second goal for Everton. Britt saved splendidly from Almond and Crilley. Watson obtained Everton's third goal early in the second half, and Liggins later scored a fourth.
EVERTON 3 SHEFFIELD UNITED 2
April 26 th 1930. The Liverpool Football Echo
THREE GOALS IN LAST EIGHT MINUTES OF FIRST HALF
By Stork.
Everton; - Coggins, goal; Cresswell (captain) and O'Donnell, backs; McPherson, Griffiths, and Thomson, half-backs; Critchley, Martin, White, Johnson, and Rigby, forwards. Sheffield United; - Wharton, goal; Gibson, and Birk, backs; Sampey, Matthews and Green, half-backs; Gibson (s), Pickering, Dunne, Gillespie, and Tunstall, forwards. Referee E.R. Westwood, Walsall .
Considering the importance of this match the crowd was very thin. I establimated not more than 33,, 000. Of course the conditions of the morning had a lot to do with it. The United were so much concerned about the composition of their team that it was not until a quarter of an hour before the game opened that they decided upon their eleven. Everton, of course were as originally selected. Gillespie, I understand, had intended to give up active play some time ago, but such was the position of the Yorkshire team, that he had to be called into action today, and his worth to the side was seen in the first minute when he slipped the ball up the middle for Dunne, who with a gliding pass, but Tunstall through. The winger was close in and hit a tremendous ball, which, however, struck the supporting, posts of the goal net and almost uprooted it. The ball rebounded to Gillespie, who put a shot up against Cresswell's body. Of course. He should have never been allowed a shooting chance for the ball had been out of play. Away went Everton, and when Critchley centred White made a header of more than average worth, but Wharton fielded it confidently as he did a tame shot a little later.
A ROBSON REMINDER.
Then came the first sensation, and very nearly a goal to Sheffield. Tunstall, always the danger man on the United side, was so well –placed by a colleague that he could afford to take his time with his centre, which he put across in perfect style. Pickering bounded forward to meet it, and with his right foot hit one of the fierces shots, I have seen for some time. In fact, if reminded me of a Robson drive. Coggin's however, shot up his hands and turned the ball out. It was a stunning shot, and a stunning save. Of course there may have been an atom of luck about Coggins work but there was no denying that he was in the right position when the shot was taken. Coggins was also very much alive when Pickering came along the second time, and he timed the drive just at the right moment so that he could edge the ball away from a corner. This led to some hot work in front of the Everton goal, and Pickering was to the fore with another shooting effort that was not very far off the mark. There was not a lot of enthuse over but one could not forget the strain under which these sides were playing. The United, when the play was running against them, never hesitated to pack their goal, such was the fear of a goal. Still, Wharton was made to field a centre from Critchley, and although he caught the ball securely, a charge by White caused him to loss possession and matters were looking a bit black for him but before an Everton man could get into contact with the ball, Wharton recovered and kicked away.
A COGGINS CATCH.
United were unquestionably the more dangerous set in front of goal, and when S. Gibson centred Dunne, who is one of the best headers of the ball I know, caused Coggins to make a catch, and I took particular notice of the position while doing so, and he looked to be well over the goal-line. His feet and body were of that I am certain, but his hands and the ball may not have been. Rigby was hurt in a heading affair, and then we were treated to one of the nicest movements thus far. McPherson started it, with a canny pass, on that Martin and Critchley could link up in an inter-passing movement which nearly brought a goal, for when finally Critchley sent the ball across the goalmouth, Rigby headed in, and with Wharton out of position a goal appeared likely but Gibson, the full back, took the ball on his chest and kept it out. It was a very near call, and the goalkeeper had another near squeek when White shot, for he slipped as he was going for the ball. Fortunately, White's directions was not true, and the ball trickled outside the woodwork. There was some very intricate passing on both sides, and nothing was given away by the rival defences. Coggin again delighted his supporters when he divvied at the feet of Dunne and saved an awkward situation. Birks headed out, and then Martin tried a long shot which appeared going straight for the target, but the ball must have pulled a shade in its passage and went on the wrong side of the post. Everton were going hot and strong at this point, and if Rigby could only have tuned quickly, he was certain of a goal for he had an excellent shooting position. Even as it was he made an effort full of merit, and there could not have been much daylight between the ball and the upright when he shot. There was more life now than at any other point, and Everton certainly showed plenty of fight, but White was just a shade too small to get his head to the ball when an opportunity offered itself. The crowd appeared for a penalty for what they considered a push in the back on Johnson, but as the referee was right on the spot –he was not more than five yards away from the incidents –his decision had to be accepted, for he was undoubtedly better placed than anyone.
CRITCHLEY SHINES.
It was worthy of note that Critchley so far, had not put one centre wrong, and on top of that he made up a rare link with Martin and McPherson. S. Gibson was also accurate with his centres, and Dunne was once again beaten by Coggins, who made a smart save even though Pickering was ever ready to charge the goalkeeper. So keen was the United inside right that he finished up in the back of the net.
TWO QUICK GOALS.
A corner to Everton at the thirty-seventh minute proved fatal to Sheffield. Wharton punched away, Critchley quick centre, which, however, was headed back into the goalmouth by McPherson. Wharton at this point was well out of goal, and was beaten by McPherson. The two full backs, however, saw the position of things, and instantly dropped back into goal, but went to the wrong side and White had an easy job to touch the ball into the net. It was a highley satisfactory position for Everton, but Sheffield were not at all inclined to sit down to the position and Tunstall gave Gillespie a pass. The veteran when he took it, was surrounded by three men, and he looked like losing the ball any minute, but suddenly he turned the other way, and got clean away from his attendants letting out a shot that beat Coggins, more because of its surprise than any thing else.
YET EVERTON LEAD.
There was not a lot of pace behind it, but it was well away from the goalkeeper's reach. One minute remained for play, but its was sufficient to give Everton a half-time lead for Johnson supplied a wonderful centre that White headed in as Wharton came out. United nearly levelled matters through Tunstall almost on time. Half-time Everton 2; Sheffield United 1. In the first half White scored twice for Everton and Gillespie for Sheffield United.
It took Sheffield United just six minutes to obtain the equaliser. Prior to its arrival, Turnstall showed what he could do in dropping a ball on the top netting. The goal, however, was of much more important, and the making of it, was due to Pickering, who put a ball up between the backs as that Dunne, onetime New Brighton could move up a la Robson, and shoot past Coggins. With the score all square it now became a tense struggle. First one side attacked then the other, in an effort to obtain the lead. There was no doubt that the United were extremely dangerous when it came to finishing, much more so than Everton. For one thing White was not nearly so quickly off the mark as Dunne, but the rival centre half backs both did great work. Birks had no superior in defence, did not like Wharton in his methods. He seemed to be nervous; came out too soon, and nearly suffered when White and he came into collision, the ball bouncing short of the upright. Rigby was hurt again, and full back Gibson also suffered an injury.
Critchley crowns.
Critchley scored for Everton after 86 minutes. Wharton conceded a corner when it was unnecessary, and Sheffiled got two quick corners, which brought then nothing. Wharton was responsible for another poor clearance and Johnson had the hardest of hard luck when he shot towards an empty net and found Gibson's body blocking the way. It was worth a goal, and when Critchley made a shot at the eighty sixth minute, a goal was the result, the ball striking a defender and beating Wharton and another full back, who were lined up against the Everton man. This goal meant a tremendous lot to Everton. As a matter of fact, it meant that they yet had a chance to remain in the senior circle. The crowd realised it, and became tremendously enthusiastic, for they also knew that one point would have been of very little help. It was a matter of two or nothing. When the final whistle sounded the crowd cheered vocilfermusly, and gave the Everton team an enthusiastic reception as they left the field.
Everton "A" v Wavertree
At Stopgate lane. Everton started well Ryan hitting the post with Robinson beaten. After twenty minutes French scored for the home team. Ten minutes later Walton added a second. Half-time Everton 3, Wavertree nil.
HUDDERSFIELD TOWN 1 EVERTON 2
April 28 th 1930. The Evening Express.
WILL EVERTON BE SAVED BY A FRACTION OF A GOAL.
THEY MUST BEAT SUNDERLAND OR SAY GOOD-BYE TO FIRST DIVISION
EVERTON'S FINE FIGHTING PLAY.
By the Pilot
Yesterday this was said, "Who is going to accompany Everton into the Second Division."Today it is transformed into a plain statement. "Who is bound for the Second Division.? This change is due to that gallant display put up by the Blues at Huddersfield. From what Clent Stephenson, and that official prominent Huddersfield officials said, after the great Everton victory. The Blues gave the Town a harder flight then did the Arsenal at Wembley, and they were opposing the same eleven. Huddersfiled, I am told, penned the Arsenal into their own half in London during the second period, but there was never such a situation in the vital match which emblarons hope in bold letters on the Everton horizon. To sum up, they were as good as the Town, and even though a continuance of methodical football later on might have brought further goals, their policy of holding that which they had gained showed a profit. I, for one am well content.
EVEN MORE CHANCES
The Blues have a good even money chance of escaping that which many have averted was inevitable. They have well and truly given the lie to the cry that they had no fight in them, and even if the success of rivals in distress robs them of that for which they have so gallantly labored, no one can say, after this game, that the players have not possessed the necessary grit to take them out of danger. Without exaggeration it was drawing room football in the opening period, with the ball invariably being made to do the work, the masters of the heading art found these talents going to waste, so accurate were the men to slide the ball along the floor. It was a source of sheer delight to those who worship at the shrine of scientific football, and let it be recorded the Town showed the way to this satisfying exhibition. The Town labored under the handicap of an injury to Campbell in the second half which caused him to go outside right, but their forwards even when they got within striking distance, suffered from the same complaint as the Blues –they were over anxious.
Given a wonderful reception by the townsfolk in the afternoon, and another when they took the field with their full Wembley side, they were keen to demonstrate how unfortunate they were on Saturday, and their mood was infectious. Everton would not let anyone think they could not maintain the good traditions of the Everton Football Club for science. Naylor's goal was wonderful in that he took up Jackson's cute pass so quickly and got such force behind his 35 yard drive. Coggins though the ball was going outside, but it swerved as Coggins was getting ready to retrieve it for a goal kick, and he looked bewildered as the ball wormed its way through just under the bar. It speaks for the spirit of the Blues that they seemed to ignore this goal and the enterprise of Arthur Rigby placed them in front though he would be the first to admit the ground work put in by Johnson and Critchley in the first instance, and Martin and Critchley in the second.
PANIC PLAY.
Everton were ahead of the cup finalists, and the Town were striving to regain their lost prestige. This was responsible for tremendous deterioration in the second half. Panic took a hand and there were innumerable mistakes by the most efficient on the field. Still, Everton adopted the Horatio attitude, and worked like galley-slaves to achieve such a glorious end. True, the second half was disappointing, and I might mention, tantalising to those who have the welfare of the Goodison brigade at heart. The Town wanted to compensate their supporters with a home victory yet they could not break down a great defence in which Coggins was again the past master. Cresswell, and O'Donnell were brilliant, the former especially, and –well, in this game credit goes to every man. They were real footballers in the first half, and grim, though oft-times frenzied, fighting in the second. It is unfair to individualise in such circumstances. Teams; - Huddersfield Town; - Turner, goal; Goodall and Spencer, backs; Spencer, Naylor and Wilson (captain), half-backs; Campbell, Jackson, Kelly, Davies, Raw, and Smith, forwards. Everton; - Coggins, goal; Cresswell and O'Donnell (captain), backs; McPherson, Griffiths, and Thomson half-backs; Critchley, Martin, White Johnson, and Rigby, forwards .
GOGGINS VALUE TO EVERTON.
April 28 th 1930. The Evening Express
Great display which helped in vital victory.
By the Pilot.
In recent years Everton have started the football world with their expense purchases, but though they have practically equalled the Arsenal in their spending propensites they have made the better bargain since the war than Coggins, the goalkeeper discovered by Alex Raisebeck in Bristol. Coggins had an unfortunate experienced in his first match with the Everton first team in that he found Robson, of Grimsby in remarkable shooting form, put since then he has proved himself a great ciustodian. Against Burnley on Good Friday he payed the way for victory, and at Manchester he was brilliant. Truth to tell he won the Blues three points from these two matches, but he added another two to his tally as the result of his masterly exhibition against Sheffield United. The man who decided that Coggins shoulsd become an Everton can give himself a pat on the back.
EVERTON CAN AND WILL
APRIL 29 TH 1930. The Liverpool Echo.
Very irksome very entertaining; a nervous atrain upon the players of all the clubs concerned. I expect there will be 60,000 at Goodsion Park (to celebrate?) to see Sunderland final game here, and to learn the verdicts from Newcastle, Manchester, and Burnley. It will be a remarkable curtain of football a wonderful season. Meantime, let me say that when the protestor's gather together it would be considerate if they saw to it that those present were shareholders. One of the longest speakers at last night's protest was a man who has not a share. Then I am rather perturbed to know some of their principles. For instance, four years ago a protest meeting was held, and the chairman slammed the officials for their supposed poverty of football ideals. Later on the same gentleman congratulated Everton upon their championship, and frankly admitted that these same gentleman merited his warm thanks. Now the team has gone back he is nominated for a seat on the board, and the same board of directors is said to be useless. Maybe it is. I am not expressing an opinion; I merely want to know if the shareholders realise that two teams must go out; that money alone is not a guarantee against relegation that if the selections are to be made according to the position of the club, then this gentleman, who desires to go to the board must, by such a rule move off at very early date. The chairman (Mr. W.G. Cuff) was not able to be at the game, but he sent his ambassadors, Mrs. Cuff, who after a lapse of twenty-odd years, has forsaken the garden of roses and come in to be the best mascot the club has got. She resumed her "innings" a few weeks ago. The club has picked up seven points out of the last eight possible, and their goal-getting lists reads very well-2, 3, 3, 2, 4, 2, 1 in successive games! Some of those goals have been picture-goals. Rigby's got a couple yesterday, aided by the consistently good Critchley, I should like to see one filmed –the one White scored yesterday.
Alec's one defect.
When he and Rigby and Johnson combined with rare effect, White was clean through. He scored a grand goal, Tom Wilson running back tried to stop the shot. The ball and Wilson were on the goal-line at practically, the same moment. Yet the referee said, "off-side." As goalkeeper Turner was "handy" I reckoned this an injustice. The goal that James got a Wembley was a picture goal. It has been filmed and I rather relish the joy of watching the excellent Pathe film, which shows a well remembered dribble by Alec James. It is noteworthy "slip" on Pathe's part, also on the part of James, for it happens this was the only time during the whole of his heroic game that Alec James was beaten in a dribbling run. It is not surprising in the circumstances that Newcastle's manger, Andy Cunningham, should have been present at Huddersfield last night, when Everton won after a desperate struggle not desperate so much where Huddersfield were concerned, but full of thrill, and fear and foreboding on the part of Everton, more particularly when Naylor took the lead for the home side in twelve minutes, it was a glorious shot, with a slight swerve upon it, identical to his afford in the Cup final, but this time the swerve turned the ball inwards instead of round the top of the posts. There was no debate about this goal, but the manner of its obtaining was a curiosity.
Rigby's equaliser.
Jackson, and O'Donnell stood to attention near the touchline and Jackson dilled, and diddled, without touching the ball. Eventually he made what the crowd considered a ridiculous pass back. Yet it was by these means that Naylor obtained his chance to set Everton in a state of consternation. Everton had a pile of misfortune soon after this, but they drew level at the twenty-first minute though Rigby scoring close in after Critchley had made a beautiful shot which saved by luck through the ball hitting a defender, this cannon back gave Rigby his chance, and three minutes later Critchley made one of his many solid, year quick runs, and his good work opened the way for Rigby's to hit the ball hard to the left side of the goal. This is the point at which Coggins came into the picture. He made a dive at the ball from Davies, and when Jackson closed to which three yards of him he smothered the ball, and Cresswell, in the melee, looked to be near putting through his own goal. Coggins fell, but hung on to the ball, and eventually threw away. Griffiths made a hit that surprised Rigby to the point that he could not accept what had become rather a gift goal. Smith was yards offside, when he was allowed to go on, but fate came to Everton's aid because the ball was put into the side net. The last quarter of an hour of the game was the most exciting of the day. Naylor and Davies always threatened a goal, and Everton, in a measure, simply could not do themselves justice through after fear. To do them justice, they did not resort to excessive kicking out, and the referee had not to bring ion the rule of allowing for extra time though wastage of time. They played out to a finish, these Everton strugglers and stragglers, and Griffiths gave his best from three quarter time when it was most needed, whereas, on the first half, he played like a tired man. It would seem that Griffiths had ran himself to send through overwork. The Huddersfield people expressed themselves as "rather glad that Everton had won," and they were sporting enough in the way they received the defeated Cup final team. One of the authorities here on the ground said that if they had won the cup their reception home could not have been more thrilling. It is impossible under the strained conditions to individualize where Everton are concerned. Everton pulled out their best. They were all under the stress of aiming at victory to help to save the situation, and I do not purpose to name any one of the eleven, I class them all in the same earnest enthusiastic category, and I make few allowances for the Cup final side that had been toasting its regrets during the week-end.
TOMMY BROWELL.
Hull Daily Mail-Monday 14 July 1930
FORMER HULL CITY PLAYER TAKES MANAGER'S POST.
Tommy Browell, who went to Blackpool from Manchester City on September 1926, at a transfer fee of £1,000, is to be player-manager next season for Lytham, a Lancashire Combination club. The club was reorganised some months ago, and will serve rapidly-growing district. Browell was prominent on a number of occasions with Blackpool last season, notably in the F.A. Cup-ties. He played against his old club, Hull City, the Fourth Round. That game was only the second time he had figured in the Blackpool team since the beginning of the season. Browell began his senior football career with Hull City after figuring in the Shildon team in the North-Eastern League and the Newburn club in the Northern Alliance League. He was the youngest of three brothers playing with the Anlaby-road club, and earned the title of Boy Browell.
HIS EYERTON DEBUT.
He was still in his teens when he was transferred to Everton, making his first appearance against Manchester United and Bcoring two goals. He was wonderful goalscorer when with the Goodison Park team- He continued his good form with Manchester City, and in company with Horace Barnes made their forward line one of the most dangerous of their time.
TRANSFER OF THREE PLAYERS RECALLED.
He came to the Hull City club in eeason 1910-11. On October 22nd, 1910, he scored three goals against Stockport and repeated the performance fortnight later against Barnsley. He was transferred to Everton, the fee being £1,650. The following season Andy Browell and Joe Smith were also transferred to the Merseyside club for .£3,100 for the three players, figure which was claimed record for that period.