DEAN NOT DAMAGED
February 4 th 1928. The Daily Courier.
The Daily Courier is in a position to retute a statement circulated regarding Dean. Everton's crack centre forward who, it was said, would be unable to turn out against Huddersfield Town at Leeds road today owing to a leg injury. An official of the Everton club, when approached by the Daily Courier on the matter, discredited the who story. Brilliant Huddersfield loom, large ones again on the League horizon, and their meeting with Everton today is a momentous one, and one having a most important one might not be too fulsome in using the word " vital" –bearing on the championship. The die, unfortunately seems already cast against the stylish blues in this all important crash for the Town are much nearer too being unbeatable at home than Everton are at being impregnable away. The Lees road side are playing in championship form at the moment, and are sure to see that, at this critical stage of the tournament, the three points already dropped in their doorstep will not become augmented. This battle of giants, both creative artists in football, if ever there was any, will have a country wide appeals, and a "Gate" if the elements are kind, that will he worthy of such a Trojan conflict. The teams have met already this season at Goodison Park, where honours were declared even.
LET EVERTON REMEMBER.
Let Everton remember that if the Town are victorious today, the Yorkshiremen will have but one point fewer, with a game in hand, the Goodison Park fellows "happy family" way of doing things can achieve remarkable feats as in the not remote past, but the demands today for team work will be more insistent than at any time during this season, excepting perhaps, in the great cup-tie at Highbury. A man like Dean could accomplish wonderful things in a match of this decription, where pent-up feeling is likely to destroy, partially at any rate, the skill of many of the players, but one can safely predict a restricted ambit for him today, and many furtive shadowers. Everton taking form for what it is worth, must unleash all the craft, and fight like demons to bring away the one point that gleams like the twinkling lights of the will-o-the-wisp from Leeds road way. Teams, Everton –Taylor, Cresswell, O'Donnell, Kelly, Hart, Virr, Critchley, Irvine, Dean, Weldon, Troup. Huddersfield Town –Mercer, Goodall, Wadsworth, Redfern, Wilson, Steele, Jackson, Kelly, Brown, Stephenson, Smith.
LOST TO LIVERPOOL CATHOLICTY
Catholic Pictorial –February 4 1928
Death of Dr. J.C. Baxter
Civic Leader and Football Club Director
The death took place last Friday of Dr. James Clement Baxter, J.P., at his residence, 110, Robson Street, Evrton. He had been ailing for some time past –R.I.P.
Deceased who was aged seventy-one, was a native of Liverpool, and received his education at St. Francis Xavier's Colleague. Qualifying in the medical profession, he carried on an extensive practice for many years and was one of the best-known doctors in the City. In 1906 he was appointed a justice of the peace. He also represented the St. Anne's ward as a Liberal member in the City Council from 1906 and 1920. For many years Dr. Baxter was a director of the Everton Football Club, a member of the Football Association, and a member of the Football League Management Committee.
Twenty-One Year's Service.
His official connection with the Everton Football Club dated back to 1890, when he joined the Everton Board. In 1921 he was the recipient of a presentation from his colleagues on the board. In celebration of the twenty-one years of service as director. For many years he also acted as medical adviser to the Everton team, a position which he ion later years relinquished to his son, Dr. Cecil Baxter. He leaves a widow, two sons, both doctors, and a daughter. Requiem Mass was offered on Monday at the Church of Our Lady Immaculate by Fr. O'Shea, nd Mr. McAuley gave a short address on the loyalty which had distinguished the life of a great and much-loved man. There were also presents; Frs. Casey, Gorman, and Mell, with the Rector of the St. Francis Xavier's (Fr. Magee), and the vice-president (Fr. Gurrin). The interment took place in the Anfield Cemetery. The prinicipal mourers were Mrs. Baxter (Widow), Miss Baxter (daughter), Drs. C.S. and C. Baxter (sons), the Misses Connelly and Mrs. Balmforth (sister-in-law), W.F. and F.S Flinn (nephews), C. Alston and T.L. Hughes (cousins), Nurse Ford, F. Jones, etc. The following organiastions were represented; St. Francis Xavier's school by the two school captains; Ild Xaverian, Mr. E. A. Morton, J.P., our Lady's School, Mr. Merriman, headmaster; All Saints' S.V. Society, Mr. J.Hill, president; St. Vincent de Paul Societym Mr. J.A. Sloan, C.Y.M.S, Mr. J. Kennan.
51,000 FOLK IN POURING RAIN!
WHY HUDDERSFIELD TOWN DEFEATED THE LEAGUE LEADERS AT LEEDS-ROAD
Athletic News - Monday 06 February 1928
Mud, Manceuves and Match Winners
By Ivan Sharpe
Huddersfield Town 4, Everton 1
Less than ten years ago most of the people of Huddersfield would not take a tram-car ride to see the Town team play. Today the call of the club is heard in all the neighboring cities and –yes- counties. For when I went to Huddersfield to see the Everton match on Saturday I started out with a party who were travelling from Southport –partly attracted, no doubt, by Everton –but on the Huddersfield side of Manchester it was obvious that Lancashire and Cheshire, in addition to the West Riding, are now tapped by this transformed Huddersfield Town. Less than ten years ago Huddersfield Town were drawing crowds of about 5,000 –sometimes less. On Saturday 51,284 people paid to see them play Everton on a day when it rained from morning till night and, between times, poured. Forty thousand of these people accepted the drenching that was involved in the afternoon's entertainment, for they were in the open –on the terraces. Ponder that. Forty thousand dripping hats and squelching raincoats kind of rubbing shoulders at the exits and on the way home and everyone more or less happy and content! At last I thought, Huddersfield Town have had the kind of gate they deserve. It was a record for the ground (receipts 2,963), but it was a record League scrap that all these folk set out in cheerful defiance of the weather to behold.
Best and Worst
Normally, Huddersfield Town have to be content with less than half this support, but the meeting of League leaders and runners-up made this match an event to see. How many people would have invaded Colne Valley if the day had been fine? It is reasonable to say a third more. Well, the absentees missed a match in which the teams, as a whole, showed the world that it is possible for the best British footballers to beat the worst British weather. It was a ploughing match in the sense that there were inches of heavy, clinging mud on the ground, yet the players fought it out at a great pace right to the end, and treated the heroes on the terraces to many a bout of brilliant football –brilliant, that is, considering the conditions. The result suggests that Huddersfield are decidedly the better team, and that was the question that drew all these people into the West Yorkshire town. But a score of 4-1 is a little flattering. I am assured by an International in Everton's team that Everton are used to and quite happy in mud – that they have become accustomed to it at Goodison Park. But that impression did not come to the observer during this display, Everton were beaten because they had not the combined strength and skill in attack to plough through the mire. For a time their football was superior, and when Huddersfield Town opened the scoring after 15 minutes it was against the run of the play.
Attacks and Goals
But there was a lesson in this goal of Dent's that Everton failed to grasp. A long pass, an open attack, an accurate centre, a ball at the centre's toe (as the result of the defence being forced to spread out and run), and Smith had started a wonderful day's work by giving his centre-forward a goal. The lesson for Everton was that half-a dozen close attacks in which the ball was moved from man to man in the mud did not pay like one open, sweeping advance by their opponents. And there you have the story of the match, if we add that Tom Wilson played policeman very effectively on Dean, and Everton by overdoing the short game, locked themselves up. The luck was not with them. Huddersfield's second goal was a fortunate affair inasmuch as Smith's corner kick was a bad one and was falling short – a low ball curling in towards the near post – when Kelly (of Everton), thinking the ball was going to curl over the line and rest against the side net, merely covered it and did not play it. He "Let it go." So he blocked Taylor's view, and unfortunately for the visitors the ball curled round the post and into the net – a goal direct from the flag-kick. The third goal was Smith's too – a fine one; the result of an outside man going for goal and swerving round men at close quarters before punting through from two or three yards out. Immediately Dean dived in with a header –very neatly –to make it 3-1, but Smith completed a hat-trick from the wing and another day of personal triumph by accepting an opening provided by Dent early in the second half after Cresswell had preferred to hesitate rather than play for safety and concede a corner.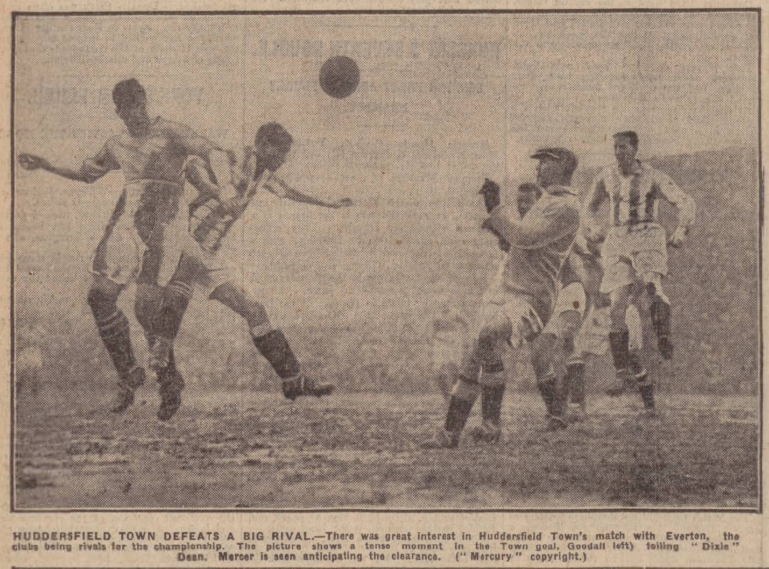 A Comparison
Perhaps Everton should have had a penalty kick soon after –I could not see the incident clearly –but they were well beaten, even though they were game to the last. Perhaps Everton are a prettier side than Huddersfield Town in good going – even this had to be proved, for the Town's attack can play pranks. In mud –on this showing –they have not the combined skill and thrust that overcomes obstacles,. They had their full share of the game but they could not develop the telling onslaughts on goal that came from men like Smith and Jackson. And, Dean being under arrest, they had not forwards to skim through the mud like Kelly and Brown, and, before running into difficulties, to sweep the ball to firmer footing on the wing. That is the secret of this decisive score – Huddersfield Town were more adaptable and powerful. Whatever would happen on a perfect pitch, Everton did not bring into action as many guns in attack as the Town, who remember, also lacked the aid of their general –Clem Stephenson.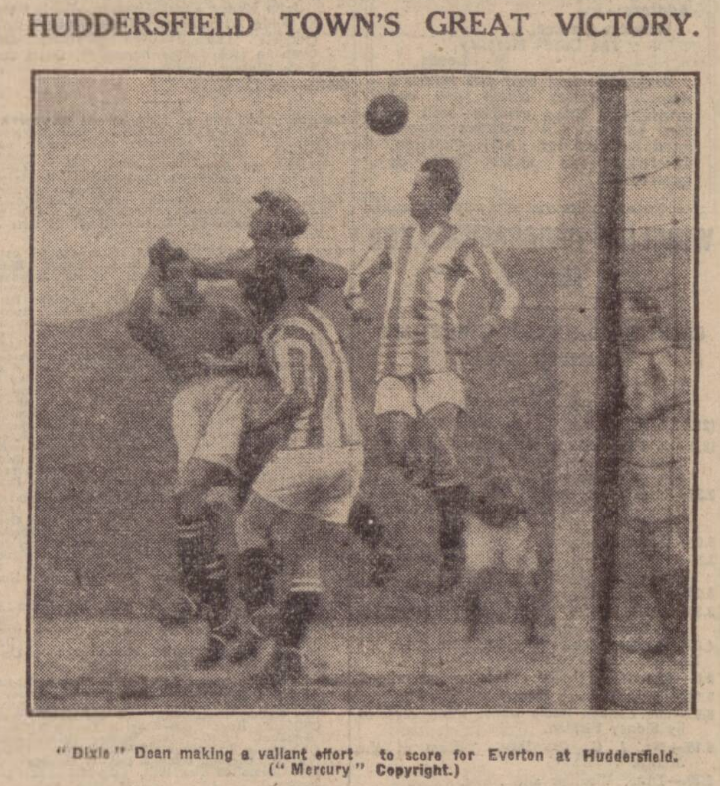 Smith's Day
Huddersfield had the match-winners, and their great man was Smith, who, cleverly plied by Brown and Kelly, scored three goals and paved the way for the other. I am not going to individualize, because the day was so bad. I commend the players all for a gallant exhibition under difficulties. But some, of course, were better than others, and I thought the back play disappointing. Cresswell was overcome by Smith. He played a waiting game and Smith beat a fine back at his own game. But Smith was in the mood that defies the best. I wonder if he could catch the inspiration at Wembley, with Scotland there. Goodall, sliced his clearances, and Wadsworth had his old coolness and confidence but not the old mastery and nip. Leaving O'Donnell, who kicked at times like an International and, without being too sure, was the best back afield, I thought. As Everton's Kelly had much trouble with Smith, Huddersfield were more sure at half-back, where Hart gave good leads without getting the ball to the wings with sufficient frequency. Of the forward play I have told. Dean was held, and the left wing of Everton was better than the right because Troup played the correct game in giving the ball air, while Weldon work with a will. Everton had skill and style and flourish but not the same force or finish. Generally, their big guns stuck in the mud. Mobility won. And, so Huddersfield are on the leader's heels and, to quote a director's whisper, are beginning to dream of the "double event." I will be content to use scissors and paste on my report of last October; "Huddersfield surely cannot fail to be once more a power in the land." Huddersfield Town; Mercer; Goodall, Wadsworth; Redfern, Wilson, Steel; Jackson, Kelly, Bent, Brown, and Smith, Everton; Taylor; Cresswell, O'Donnell; Kelly, Hart, Virr; Crithcley, Irvine, Dean, Weldon, and Troup. Referee; T.J. Botham, Walsall.
HUDDERSFILED TOWN 4 EVERTON 1
February 6 th 1928. The Daily Courier.
HUDDERSFILED'S CHALLENGE FOR EVERTON'S CROWN.
INJURED PLAYERS REFUSE TO LEAVE THE BLUES' SINKING SHIP .
Everton's chance of winning the League Championship received a severe setback by their defeat at Huddersfield. The victors are now their most dangerous rivals, being only one point behind with a game in hand. It was a memorable game, and the tremendous interest in the match was reflected by the record attendance for the ground of more than 51,000, the gate receipts amounting to £2,963. This was surprising considering the wet weather and the fact that the bulk of the crowd had no protection from the rain. The quality of play was worthy of the occasion. On the ground that was inches deep in mud and water the game was fought tooth and nail from start to finish. There was not that disparity between the teams that the scores would suggest. Everton had almost as much of the play as Huddersfield until well in the second half.
KELLY'S GRIT.
One remarkable feature of the game was that Kelly, the Everton right half-back, had one of his ribs injured when the game had been in progress 20 minutes. He, however, played on to the end, not reporting his injury until the end of the match when a doctor had to be sent for. O'Donnell also showed great courage in remaining on the field in the closing stages when an ankle injury caused so much pain that he could hardly limp about. Everton opened most promisingly, a swerving shot from Dean went over Mercer's outstretched hand, but pasted just in front of the far upright, then Critchley was only inches wide with a low shot. After 14 minutes Huddersfield scored, a centre by Smith saw Dent throw himself forward, his shot went off Taylors arm into the far corner of the net. Then Smith followed with a "hat-trick." His first goal was scored direct from a corner kick, Taylor was unsighted by Virr, who was standing by the near upright when Smith's shot came across and swerved into the net. His second was scored from a range of about two yards, and he dodged several opponents before placing past Taylor. His third goal came after 27 minute's play in the second half, Cresswell made a mistake in thinking the ball was out of play, when Dent sent to the left for Smith to rush up and sending it into the net.
DEAN'S "ORPHAN."
Dean scored Everton's solitary goal a minute before the interval with a header from Critchley's centre. The Everton forwards were never convincing, owing to the bad ground. They and the half-backs seemed to be a yard slower on the ball than their opponents. Dean ploughed a lonely furrow, true, he was well watched by Wilson, but he rarely received the ball in an unmarked position. There were two occasions when Dean ought to have been given a penalty kick, early in the first half he was deliberately pushed from behind when a few yards from goal. At the same time the Everton leader was at fault in delaying his shot. In the second half he was again unfairly brought down when almost in the goalmouth. Kelly, despite, his injury, was the best of the half-back's Virr being the least satisfactory. Cresswell repeatedly found himself beaten by Smith, and O'Donnell was never a match for Jackson, Taylor could not be blamed for any of the shots that beat him. Besides the four goals they scored Huddersfield had tow disallowed for offside. Although without Stephenson, and with a reserve centre-forward in Dent, a bustling youth of 20, Huddersfield forward rose to their best form. Teams. Hudderfield Town: - Mercer, goal, Goodall and Wadsworth, backs, Redfern, Wilson and Steele, half-backs, Jackson, Kelly, Dent, Brown, and Smith, forwards. Everton: - Taylor, goal, Cresswell (captain), and O'Donnell, backs, Kelly, Hart, and Virr, half-backs, Critchley, Irvine, Dean, Weldon, and Troup, forwards.
EVERTON RESERVES 2 HUDDERSFIELD TOWN RESERVES 4
February 6 th 1928. The Daily Courier
CENTRE LEAGUE (Game 25)
Huddersfield were too good for Everton at Goodison Park. The Blues had a shock in the first minute when Rooney, in attempting to pass back to Hardy, placed the ball into the net. Raw, the Huddersfield inside right, was a rare schemer and also tested Hardy with many good shots which the goalkeeper saved cleverly. Spence, however, placed the visitors further ahead. After the interval French went through for Everton, then Easton equalised with the best shot of the match, only for Cumming and Meads to again place Huddersfield ahead. The visiting defence, in which Barkas was a conspicuous figure, generally dominated the proceedings. Easton was a hard worker, but Roscoe could make nothing of the robust Barkas. Common and Kennedy did good work for Everton, and Hardy, who made some fine saves, could not be blamed for any of the goals scored against him. Everton: - Hardy, goal, Common and Kennedy, backs, Bain, Griffiths, and Rooney, half-backs, Roscoe, Easton, French, White, and Lewis, forwards.
KELLY'S DEPUTY.
February 8 th 1928. The Daily Courier.
EVERTON SELECT BROWN FOR "SPURS" MATCH.
W. Brown, takes the place of the injured Kelly, Everton's regular right half-back, for the match with Tottenham Hotspur at Goodison Park on Saturday, Kick off 3'o'clock. Although Brown was a fairly frequent performer in the Everton first team last season, when he made 25 appearances, he has been called upon very few time this season to assist the senior eleven. This is the only change from the team who lost to Huddersfield. Kelly who sustained a rib injury, not a fracture, in the match with Huddersfield, is going on as well as can be expected.
TRIUMP OF DEAN
February 9 th 1928. The Daily Courier.
DEAN SCORED FIVE
ENGLAND 8 THE REST 3
Dean, the Everton idol, carried England to a comfortable victory over the Rest in the second international trial at Middlesbrough yesterday. Dean, in scoring five goals, carried off the honours of the game. The match attracted a crowd of 20,000 people.
SPURS FOR THE BLUE
February 11 th 1928. The Daily Courier.
Everton were the first team to defeat Tottenham Hotspurs at White Hart Lane this season, and the Londoners carried their escutcheon with this one blot through a hazardous period until the beginning of this week when another Lancashire club, Bolton Wanderers, inflicted the second home reverse. In the circumstances with the Trotters, no matter how much they have improved lately, being good enough to knock Hotspur off the house roof, the prospects for Everton at Goodison Park today are distinctly pleasant. Everton must take this opportunity of gaining two fairly easy points with celevisy, for the shadow of might Huddersfield, the greatest power, in post-war football, is fast appearing over the Goodison Park skyline. As Huddersfield may not be great enough to win at Cardiff, it is up to Everton to try and widen the gulf.
TERRIER LIKE TOWN.
Once on terms-at present the Town are only a point behind with a game in hand –Huddersfield with a goal average which is very little inferior to the excellent one of the Blues, can hardly be shaken off. Tottenham were not at full strength against Bolton, but for today's match it is expected that both Grimsdell and Lowdell will be fit enough to play. The inclusion of Frank Osborne is doubtful, but if he cannot turn out Lindsay will lead the attack while Armstrong will play at inside left. Everton's only change is the substitution of Billy Brown for Kelly, injured in the Huddersfield match. The team as follows, (kick off being at 3.0) Everton: - Taylor, Cresswell, O'Donnell, Brown, Hart, Virr, Critchley, Irvine, Dean, Weldon, Troup. Tottenham Hotspur: - Spiers, Clay, Richardson, Lowsdell, Skitt, Grimsdell, Handley, O'Callagan, Osborne (or Lindsay), Armstrong, Dimmock.
By the way, Everton's match with Newcastle United has been re-arranged once again, this time for April 18. It had been decided to play it on Wednesday march 28 but as England are to meet Scotland at Wembley on March 31 st a curious position would have been arisen over Dean.
EVERTON THRASHED AT HOME.
Athletic News - Monday 13 February 1928
O'CALLAGHAN'S QUARTET OF GOALS IN TEAM-WORK TRIUMPH FOR TOTTENHAM.
DEAN'S BLANK DAY
Everton 2 Tottenham Hotspurs 5
By Junius.
This was a punishing game, played under conditions that were atrocious. To begin with, the ground became churned into a sea of mud, and midway through the second half a terrific hailstorm swept the pitch for ten minutes with such severity that the players were scarcely distinguishable. But, amid it all, it was obvious from first to last that the 'Spurs were the more complete footballers, for they combated the ground defects, wind and hail, found their men with more accuracy, rarely indulged In frills. Still, the game was never as one-sided as the score suggests, but there could be no mistaking the fact that the London men were the better-balanced and faster moving set. Their team work was cleverly executed, and, all round, the side did not, reveal any weakness in any position. On the other hand, Everton were fitful, and were often at fault in attempting close play. This was not altogether confined to the forwards, for the defence, too, was inclined to dribble on the heavy turf when it was obviously the best policy to boot the ball, and strongly, too.
Capable Half-Backs
All the Spurs' forwards played well, for they were constructive and moved about with an easy assurance, and were alert to every chance that came along. Everton's attacks were frequently nipped at their inception by a capable line of half-backs and as Dean was constantly under the watchful eye of Skitt and Clay his colleagues were unable to make progress with their customary skill. Thus the attack became lop-sided but I am rather inclined to think that they allowed themselves to be thrown off their game by failing to counter the off-side methods adopted by the opposing defenders. Dean was the man mostly feared, and stoppages due to these tactics became irritating. The 'Spurs led by two goals at half time and were certain full value for them. Handley provided Dimmock with the opportunity to open the score, after twenty minutes and at the half-hour, Cresswell paved the way for the second when he passed the ball back to Taylor from close quarters. The ball only travelled a couple of yards, and O'Callaghan was there first to place it into the untenanted goal. Five minutes after the resumption Troup reduced the lead, but the margin was restored within a minute on O'Callaghan rounding Cresswell to completely defeat Taylor, the inside right ten minutes later placing his side further ahead on taking a pass from Armstrong.
Cresswell's Mistakes
Troup again reduced the lead, but he appeared to me to be off-side and though Everton struggled strenuously to make up the leeway, the 'Spurs returned to the attack, and on Drimmock taking the ball from Cresswell, who was attempting to dribble, O'Callaghan took the pass almost on the half-way line to race on and score his fourth goal of the game two minutes from time. Cresswell had an unfortunate day. It may be that he missed Kelly, who was injured the previous week; at any rate, there was little understanding between the captain and Brown. Cresswell was unfortunate in that his few lapses conceded goals; otherwise his work was up to a good standard. All the Tottenham half-hacks played well, and here it was that than slight lead was maintained. Grimsdell has still a wise old head his shoulders and though occasionally penalized, anticipated the movements of Irvine and Critchley to a nicety, while he was power in defence when Everton were pressing Skitt was successful In shadowing Dean and he often swung the ball out to Handley and Dimmoek, who were more virile raiders than the Everton outside men. Troup was the more effective, but his partner indulged in too many frills and fancies, a drawback that "retorted progressive movements. Clay and Richardson were tenacious pair defenders, who refused to run risks in the goal area as did the home defenders. But the man of the match, apart from O'Callaghan, was Spiers, who often saved strong drives, all potential scoring shots. Two notable saves were those shots from Critchlcy and Troup, for on each occasion all seemed lost. The 'Spurs fully earned their success and spectators were left wondering how they have only managed to record three victories in their away engagements this season. Everton.—Taylor; Cresswell. O Donnell; Brown, Hart, Virr; Critchley. Irvine, Dean, Weldon, and Troup. Tottenham Hotspur. Spiers: Clay, Richardson; Lowdell, Skitt, Grimsdell, Handley, O Callaghan, Lindsay, and Dimmock. Referee: W. Thomas, Willenhall.
EVERTON 2 TOTTENHAM HOTSPURS 5
February 20 th 1928. The Daily Courier.
WELSH LAD CHIEF ACTOR IN LATEST EVERTON CRASH
O'CALLAGHAN'S FOUR GOAL FOR TOTTENHAM HOTSPUR AT GOODISON PARK
TROUP THE ONLY BLUEBIRD TO TWITTER
The display of Everton against the Spurs at Goodison Park set one thinking. The Bluebirds flopped, certainly, but there is no particular significance about it. They can and will do better. Everton threw away chances in the first half, but although they were up again in with a grin in the second they were quite unable, although they tried hard, to make good against the elements. It was must certainly Evertons' "off-day." There was trouble almost everywhere. Cresswell has not been up against it as on this occasion for many a long day. He was not the strategist he usually is, and seemed to be unsettled after the Spurs' first goal by Dimmock, in which little blame attached to him. The same could not be said in what followed, for a bad pass back by Cresswell to Taylor, who could not reach the ball, led to O'Callaghan obtaining the first of his bunch of four goals.
KELLY MISSED.
Undoubtedly Cresswell missed Kelly, who is injured, in front of him, for they understand each other's game, and adopt a system of covering in which Cresswell think out some of the moves. Brown apparently, did not tumble to it, and required more speed to cope with Dimmock (a box of tricks) and Armstrong. Yet they should have been countered, because the 'Spurs' idol is a forward who hangs on to the ball. Virr, on the other Everton in middle line flank played quite a useful parr, and Hart a hard general utility played without much reward. O'Donnell did well, and with Virr, tried hard, with variable success, to take care of a great pair O'Callaghan and Handley, the former the Welsh slip of a lad who made a meteoric rise to fame last season, and the latter a wiry ball controller with a way of changing his tactics. O'Callaghan's four goals included one in the first half, and one had the impression that Taylor, who had not a great amount of work, had not the confidence of his best days at close quarters.
DEAN WELL HELD.
Dean came into view with a few headlong efforts, but generally speaking he was snuffed cut like a candle in a gate. When he obtained the ball three men held him. Young Skitt never left him, and he covered up well, while Grimsdell, the many times capped veteran, if he has not his former speed, was most tenacious, and never waited on ceremony in a tackle. In Lowdell, whom the 'Spurs exchanged for Jimmy Seed with the Wednesday, the Londoners had also another hard working destructive type of half-back. Everton wings were often ineffective, but, to give them their due, the forwards deserved some reward only the superb goalkeeping of Spiers, the ex-Villa goalkeeper, robbing them of it. We should like to have seen Irvine giving more though to the men on each side of him; neither was the Weldon and Troup blend perfect, for the inside man, who can shoot was inclined to wonder. Troup had scored a couple of goals in the second half, but there seemed grounds for the 'Spurs' appeal for offside in the second.
OFFSIDE EXPERTS.
The 'Spurs' are past masters in the offside game, and did not overlook it this time. They were however, the more methodical and faster side, and found their men with their passes, which could not be always said of Everton. the crop of goals was a new experience for the Bluebirds, who have had more goals put up against them in the past three weeks than during the whole of their preceding home matches. Teams: - Everton: - Taylor, goal, Cresswell (captain) and O'Donnell, backs, Brown, Hart, and Virr, half-backs, Critchley, Irvine, Dean, Weldon, and Troup, forwards. Tottenham Hotspurs: - Spiers, goal, Clay and Richardson, backs, Lowdell, Skitt and Grimsdell, half-backs, Handley, O'Callagahn, Lindsay, Armstrong and Dimmock, forwards.
MANCHESTER UNITED RESERVES 2 EVERTON RESERVES 2
February 20 th 1928. The Daily Courier.
CENTRAL LEAGUE (Game 26)
A large crowd saw Everton make several early raids in this Central League game, and after the United custodian had twice saved Houghton drove in to give the Blues an early lead. This goal should have been followed by others, but White and Forshaw missed fine openings. Clayton, ex-Marine, displayed any amount of dash, and had the satisfaction of levelling the scores, thus netting on his first appearances for the United. He also had a hand in the second point, which was scored by Sweeney. For long spells in the second half the Everton forwards hammered at the Manchester goal without success. Whitehead made several daring if rather lucky saves and Dale kicked off the line with the goalkeeper well beaten. After a previous penalty claim had been igorned, Everton were awarded a spot kick, when the Manchester goalkeeper pulled down White, Forshaw scored without difficulty. Everton: - Davies, goal, Common and Kennedy, backs, Bain, Griffirths, and Rooney, half-backs, Kendrick, Forshaw, White, Houghton, and Lewis, forwards.
OLDHAM ATHLETIC RESERVES 3 EVERTON RESERVES 4
February 22 nd 1928. The Daily Courier.
CENTRAL LEAGUE (Game 27)
Everton Reserves fielding the best Central League attack seem at Boundard Park this season gained a well earned win over Oldham Athletic Reserves yesterday. Easton and kendrick displayed brilliant form on the right, and had Cooper hopelessly chasing shadows all the afternoon. The pair had the Oldham defence a merry dance, with White was a thrustful leader and Lewis a dangerous on the other flank. Bain was the pick of the half-backs, for while Griffiths supported his own forwards well he was not always equal to holding Stapton, who although often playing a lone hand, worrying the Everton defence to some purpose. Kennedy stood out head and shoulders among the backs and never put a foot wrong. Hardy was a capable goalkeeper and no chance with the shots that beat him, and twice being twice unsigned, and he saved a penalty taken by Goodier. Easton opened the scoring and restored the Everton lead after Stanton had netted in the second half. White and Houghton added goals for the winners, Crompton and Dyson scored with a couple of good shots. Everton: - Hardy, goal, Common and Kennedy, backs, Bain, Griffiths, and Rooney, half-backs, Kendrick, Forshaw, White, Houghton, and Lewis, forwards.
DAVID REID
February 24 th 1928. The Liverpool Post and Mercury.
David Reid has severed his connection with Everton and gone back to the distillery club. I well remember this fresh complexioned player figuring in the Irish league team against the English league team at Anfield in 1919-20 season, when the result was 2-2 draw. Reid was at centre-forward that day and his fine play led to Everton signing him on from the distillery club. He proved a fine servant for the Goodison club, and at different times figured in most of the forward and half-back positions. His best position is half-back, but he is the type of player, who can do well anywhere, and he should strengthen his old club. He is a brother of john and max, who have played for New Brighton, all three being half-backs.
EVERTON DEFENCE ALTERED FOR GREAT DERBY
February 25 th 1928. The Daily Courier.
TAYLOR STANDS DOWN OWING TO INJURY
Everton have had the misfortune to be compelled to make a change for the great "Derby" match with Liverpool at Anfield today. Ted Taylor, their famous goalkeeper, has had to stand down owing to an old hand injury, and Hardy will deputise between the posts. This is hard luck indeed, for the Goodison Park side, who, however, will be at full strength otherwise, Liverpool will, of course, field a combination which has been re-invigorated by an expensive transfusion of new blood and the return of Hodgson. This match, more than any other meeting of local sides today provides a double barrels problem for the prophets, for when there is a clashing of the two great Merseyside clans anything is bound to happen. This will be the 25 th meeting between the clubs in the League at Anfield, Liverpool have won eight, including the last three, and Everton 11.
EVERTON'S CROWN IN DANGER?
The affair of today will be invested with interest by reason of Everton's position at the top of the table. Huddersfield who visit Bolton, are not likely to do more than draw their defeat quite possible –but if they divide the spoils with the Wanderers and if Everton lose, the Leeds road people's goal average is so little inferior that arrears could be soon made up. And they still have a match in hand. All this, by the way, is suppose them. It is simply meant to show that Everton will have an added zest if any were needed to gain a clear-cut win and help to counteract that one match advantage with Huddersfield hold. The town too, will be keen on avoiding defeat at Burnden Park, for the Leicester menace is growing. Leicester could easily pop into second place today by winning against the Arsenal (which they can do) but first Huddersfield must lose. Bolton also have a chance of going into the third berth today if Leicester do no more than draw, while Cardiff whose win during the week brought them up next best to the Wanderers, are in the swim as well, but to a lessor degree.
LIVERPOOL 3 EVERTON 3
February 27 th 1928. The Daily Courier.
HUDDERSFIELD LEVEL ON POINTS
DEAN BRINGS HIS LEAGUE TOTAL TO 43
Merseyside has never seen a keener and more wonderful "Derby" game than that at Anfield since their inception in the season 1894-95. This was like a typical full-blooded Cup-tie, and it brought out all that is best in football and players. Although the game went at a tremendous pace until the end it was fought out in the best of spirits. If the game revealed, but one thing it was a most value revelation for Liverpool and that was in Chambers they have an ideal centre half. It will be revealed that the tabulation of injury to the stalwart Lucas induced Liverpool to make various shifts, the latest move being that Chambers was given the pivot position. Whether he will eventually graduate into a centre-half remains to be seen, but Chambers was no carbon copy. It is of course, a grueling job at times. He had the weight, which was most useful, and it was a new satisfaction to see how the wings were having the ball slung out to them.
GOOD TEMPER PREVAILS.
This, however, is a digression. There was an atmosphere about the game, which could be felt yet, partisanship never went out of bounds, although one has to tread warily in summing up for fear of being thought a partisan of one side or the other. The cheering ran round the ground in waves that swelled, but did not break as each side in turn provided the entertainment. The large crowd were made the more comfortable because one end of the mammoth Spion Kop covering had been joined up with the grand stand, and the extension was opened for the first time. My opinion was that Everton deserved their narrow lead in the first half, writes a Daily Courier representative. But, having said that, ungrudging credit must be given to Liverpool for the way they fought back, with Everton putting up a desperate rearguard action. It must be remembered that all the first session Liverpool were a disorganised side, for Lucas, who had been on the top of his form at his regular job, was doing his best in the second to hold down the right wing position and doing it manfully with one sound limb and a swinger.
JACKSON AS RIGHT BACK.
This necessitated Jackson going to the right back position, while Edmed, whom Liverpool must keep on the wing at all, cost was now in the danger zone at centre-forward. Liverpool certainly were running risks in putting this brilliant winger there for he is hardly built for the role. Anyway, all's well that ends well, and Red and Blue supporters could retire to their homes with the feeling that the result was right. Why could not Everton, when they had a 3-1 lead early in the second half hold on to it, 1 have been asked possibly there will be some who will disagree with the opinion that their last line of defence was not the strongest feature of the side and that the middle line can do better. I do not attach blame to Hardy, who generally inspired confidence, and who came in goal for Taylor, who was keenly disappointed that a finger injury picked up in the Huddersfield game kept him out. Everton eased up. Dean, of course, with his three goals, bringing his League total to 43 was a host in himself. What would Everton do without him? Yet he did not start too convincing, but I do not suppose we shall ever see a better goal than his second.
THE RIGHT MATERIAL.
It was really the right material, and spectator at that. Weldon first trapped the ball and passed it on to Dean invited Lucas to come and catch him, and then unloaded a stiff shot and beat Riley, who had come running out. Dean had previously scored in this session, so that he was making a most auspicious 100 th League appearance for his side. This was certainly a turn in the wheel of fortune for it was Liverpool, though Hopkin, who had opened the scoring. Hodgson, who was using his head, and putting every ounce into the game, initiated the move. Race was proving a capable partner to Hopkin, and judging his play from every standard he must certainly be put down as a Liverpool discovery and the credit passed on to whoever was responsible for making it. The versatile Chambers also took some taking care of as a centre-forward during his spell in that position. Pleasing impressions remain of both Hodgson, a sterling player with the team spirit, and Edmed, who never really had time to settle down in either the wing or his new centre-forward position. Hodgson by his resistency in forcing his way through, had the satisfaction of bringing the sides level in the second half, and just previously Bromilow whom we were all pleased to see steadily coming back to something like his true form, had the pleasure of scoring, which had been questioned during the game from some yards out.
HARDY'S GREAT EFFORT.
Hardy made a game effort to turn the ball out, and some of the Everton players had the impression the ball had not crossed the goal-line, but from my position it certainly appealed to have done so before Hardy made his effort, in which two or three of his clubmates tried to help him, and the referee signalled a goal without hesitation. It is a tribute to Dean that although he was so well watched –he was not always able to use the ball when it came to him –and his moves well known, he scored a trio, although Jackson patrolled him well during the time he was on duty at centre-half and Chambers was so successful later in a heavy role when necessary. With certain periods excepted, Everton's half back line came up to requirements Hart, time after time rooting out the ball and making the best use of it. Virr was sound, if he has played even better while Kelly helped Cresswell in some commendable positional play between the pair. Troup, always a good little one, and Weldon ran up against stiff opposition in Morrison, a distinct acquisition, and an outstanding back in Lucas until he was hurt, while McKinlay was never allowed to forget he was meeting a flyer in Critchley, and his work had to be done in a hurry. Teams : - Liverpool: - Riley, goal, Lucas, and McKinlay, backs, Morrsion, Jackson, and Bromilow, half-back, Edmed, Hodgson, Chambers, Race, and Hopkin, forwards. Everton: - Hardy, goal, Cresswell (captain) and O'Donnell, backs, Kelly, Hart, and Virr, half-backs, Critchley, Forshaw, Dean, Weldon, and Troup, forwards . Attendance 57,000, Receipts £3,400.
CENTRAL LEAGUE GAME.
Thursday 28 February 1928 Yorkshire Post
Everton Successful at Huddersfield.
Everton Reserves defeated Huddersfield Town Reserves in Central League match at Leeds Road yesterday 2 goals to 1. Both sides had strong elevens on the field, the home men playing Cumming, fresh from the International match at Belfast, while the Everton forwards were led by Attwood, who was signed earlier in the week from Walsall. Most attacking was done by Everton, Ritchie being a difficult man to hold. It was he who put his side ahead with splendid shot from near the penalty area, after good work by Attwood, Forshaw, and himself. Attwood originated and completed the move that lead the second goal. Just before the close Young scored for Huddersfield.